In today's competitive workplace landscape, companies across all industries can benefit from curating intentional opportunities for team building. But team building doesn't have to mean trust falls and guest lectures on people skills in the workplace. In fact, you can build strong teams by using engaging activities like a scavenger hunt! Scavenger hunts are one of the best tools to encourage teams to practice and demonstrate the skills necessary to succeed, all while having a blast. Keep reading to learn more about scavenger hunts and some key business benefits. We've also compiled all the best resources you'll need to plan your next one!
Table of Contents
7 Scavenger Hunt Benefits for Team Building
Everything You Need: 21 Ideas to Help Plan Your Next Scavenger Hunt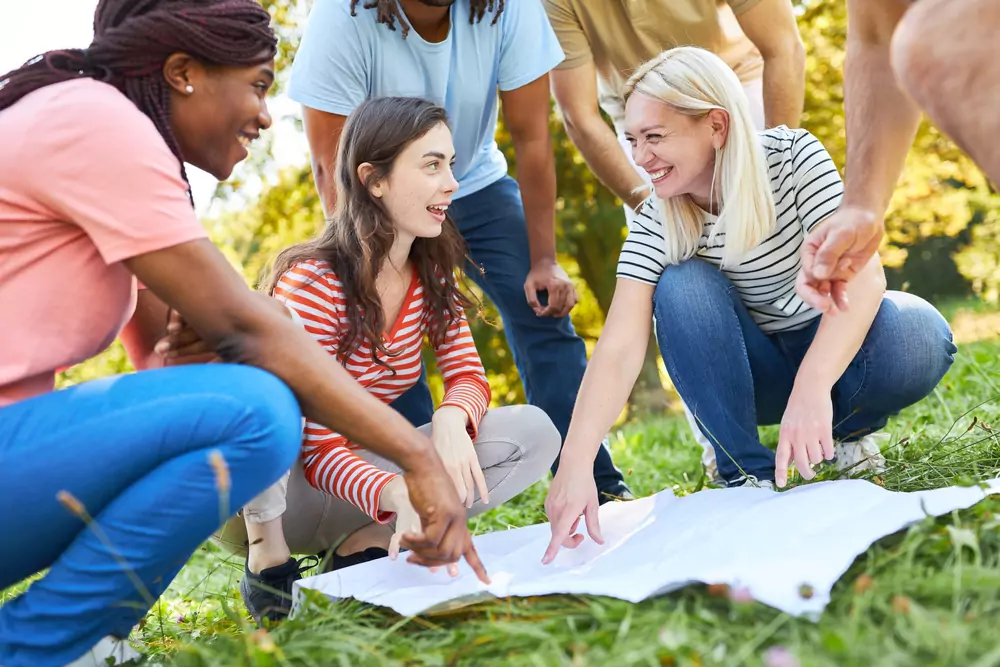 What is a Scavenger Hunt?
Before we dive into exactly why you need to start planning your next team scavenger hunt, let's define it. A scavenger hunt is a game or activity, often played outdoors, in which participants are tasked with collecting several items or completing activities. The Easter egg hunt is a classic and common example of a scavenger hunt.
But these days, scavenger hunts can even be played virtually using meeting platforms like Zoom, Google Hangout, or Microsoft Teams. With the ability to be virtual or in-person, outdoors or indoors, scavenger hunts are fantastic and endlessly customizable for any team dynamic, season, or theme. No matter which way you customize it, the result is a strong team!
So, how can your team benefit from having a scavenger hunt?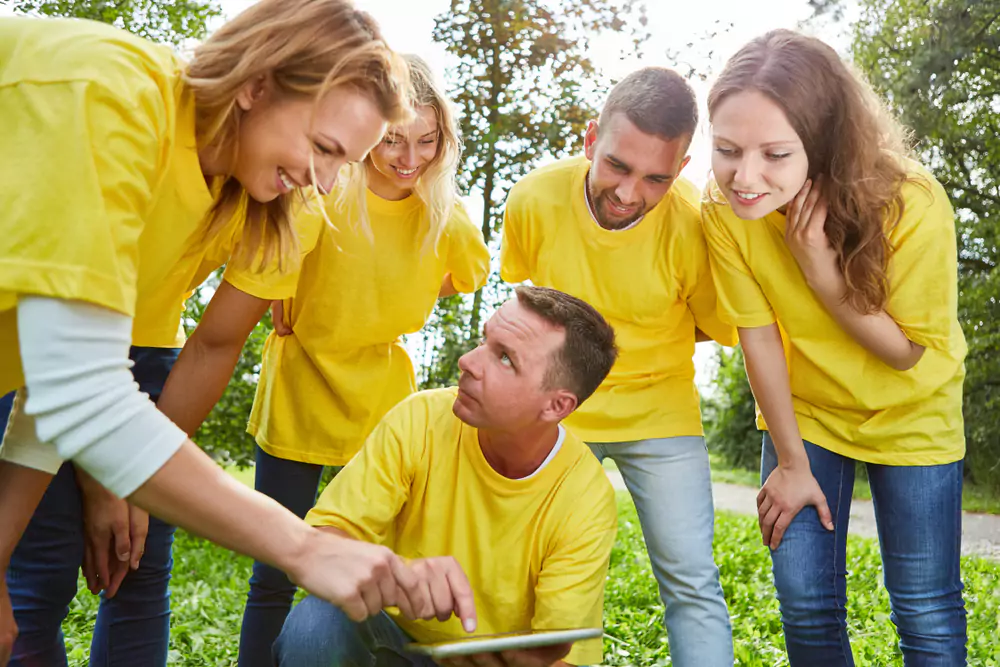 7 Scavenger Hunt Benefits for Team Building
This powerful team building activity has a host of benefits that support both team and business. Here are several reasons why you should consider a scavenger hunt for your team, company, or organization. 
You'll create a natural opportunity for increased team communication.
Workplace communication is critical to success. Yet one study suggests that a whopping 69% of managers said they're often uncomfortable communicating with employees. If your folks don't know how to relay information to one another, your bottom line will suffer. And one survey suggests that communication barriers could be costing companies tens of millions per year in lost productivity.
When your employees are completing a scavenger hunt, they're focused on communicating with one another to complete activities and win. You create a fun yet competitive environment with a common goal that encourages teams to communicate efficiently as they race to the finish.
---
---
Join Us For A FREE Demo!
See exactly how our games work, ask questions about logistics and add some energy to your work day. Demos are 30 minutes long and take place on Zoom. There may even be a DoorDash giveaway!
---
---
Scavenger hunts encourage problem-solving skills.
Problems in the workplace are a given — from customer concerns to supply chain bottlenecks and everything in between. One of the most valuable skills your team can possess is the ability to solve the problems that pop up. Problem-solving includes understanding and defining the problem, collaborating on a potential solution, testing that solution, and adjusting as needed.
In a scavenger hunt, teams race to solve puzzles, riddles, and codes to learn the location of an item. As teams put their heads together, they're learning to work on these roadblocks to succeed as a team and lean on the strengths of various members.
You'll boost your team camaraderie levels
To enable teams to function at a high level, team camaraderie or a sense of trust and friendship is critical. Each member relies on another, and teams are likely to fracture or function inefficiently without camaraderie.
So, how can you boost trust and friendship at work? The answer isn't much different from how you build trust and friendship with folks outside of work: spend quality time together. A scavenger hunt allows teams to do just that without the pressure. Plus, they have the chance to win a fun prize for all their efforts! The more intentional time you spend together as a team, the more memories you make together on the journey to high levels of trust. That history of shared experiences is one of the primary drivers of trust and friendship.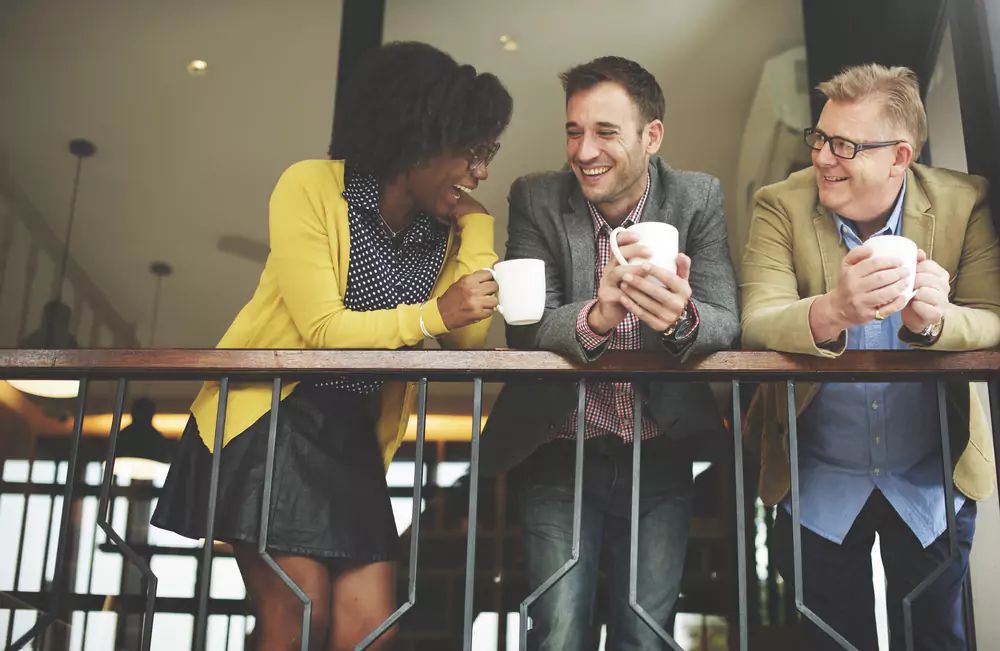 Your team will practice collaboration skills.
Collaboration is key for both in-person and virtual workers. And remote work is here to stay — so we'll need to learn how best to keep folks engaged and ready to collaborate virtually too. One McKinsey & Company study even suggests that remote workers are aware of the need for connection and the difficulties of virtual work, with 43% of employees fearing reduced levels of collaboration for individuals and teams.
Collaboration involves working with someone to produce or create something, making scavenger hunts a fun way to encourage high levels of cooperation. In a scavenger hunt, teams put their heads together to produce evidence that they've collected specific items or completed certain activities.
You can encourage this even further by including a few activities in your scavenger hunt that require participation from every team member.
You'll boost workplace and team morale.
Low team morale is expensive — because low morale employees are more likely to leave. Employees who are increasingly silent or lacking enthusiasm and initiative might be experiencing low levels of morale.
Participating in a fun scavenger hunt where you get to see another side of team members, earn prizes, and focus on something other than workplace demands is a great way to reduce pressure and boost morale.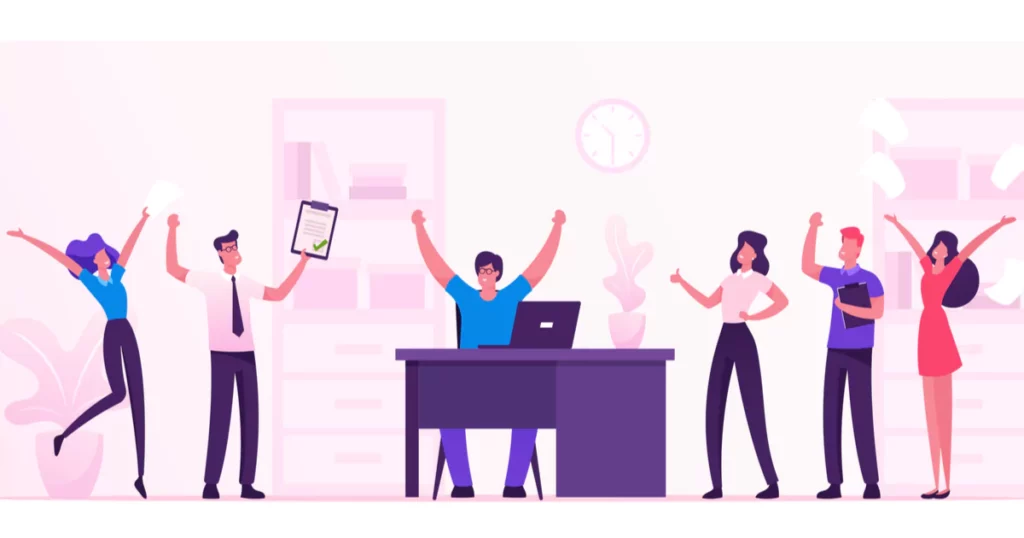 You can help increase employee retention rates and lower turnover.
The combined effect of all these benefits? Employees who problem-solve better, collaborate, and feel more engaged. That means you'll end up benefiting the company overall with higher retention rates and lower turnover. As Gallup estimates, replacing employees can often cost anywhere from one-half to two times an individual's salary. In fact, U.S. companies may be losing about a trillion dollars every year due to high turnover. That's a lot!
The bottom line? It saves and it pays to invest in low-cost, fun team building activities like scavenger hunts.
Scavenger hunts are fun!
Lastly, if we haven't mentioned this enough — scavenger hunts are just a blast! You can make the event extra special by including amazing prizes for the winners, snapping photos and videos, and awarding wacky prizes to individuals like Most Likely to Miss an Item in Plain Sight, Best Team Hype Person, and King or Queen of the Hunt. As you do scavenger hunts more regularly, you're guaranteed to notice folks looking forward to seeing the funny ways team members are acknowledged.
Work is work — but it's good for the soul and team to have some fun together too.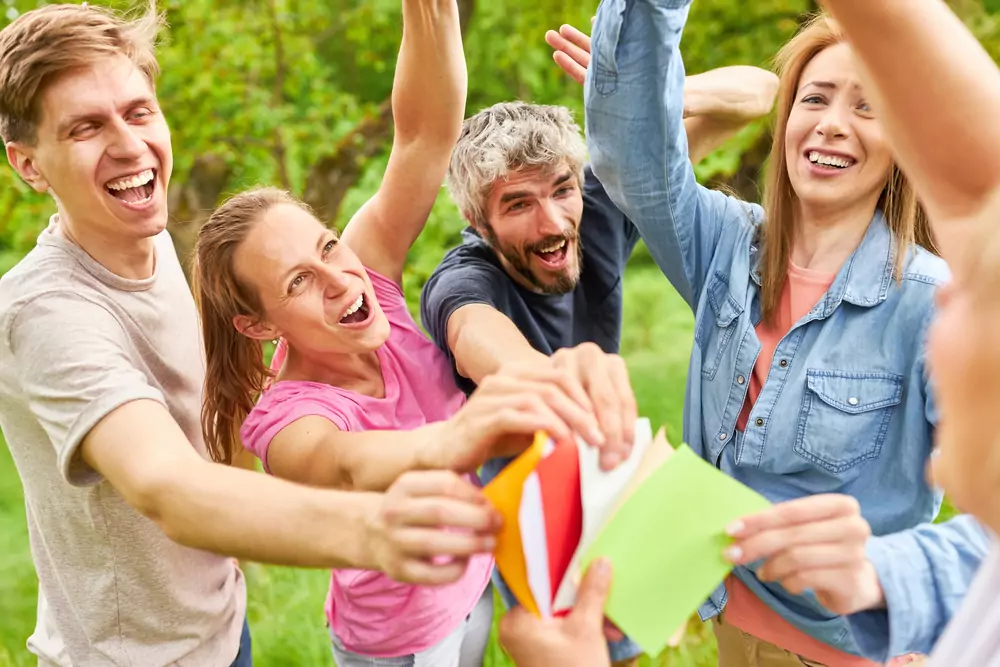 Everything You Need: 21 Ideas to Help Plan Your Next Scavenger Hunt
By now we've convinced you to try a scavenger hunt. But how do you get started? For starters, don't get overwhelmed. We've curated the best resources for planning, inviting, hosting, and awarding prizes at your next scavenger hunt. You'll find tips and tricks for planning both in-person and virtual scavenger hunts, plus some creative ways to award prizes to the winning teams. And if you're interested in professional support, that's possible too!
How to Plan a Scavenger Hunt
Ice Breakers to Start the Party
Virtual Ice Breakers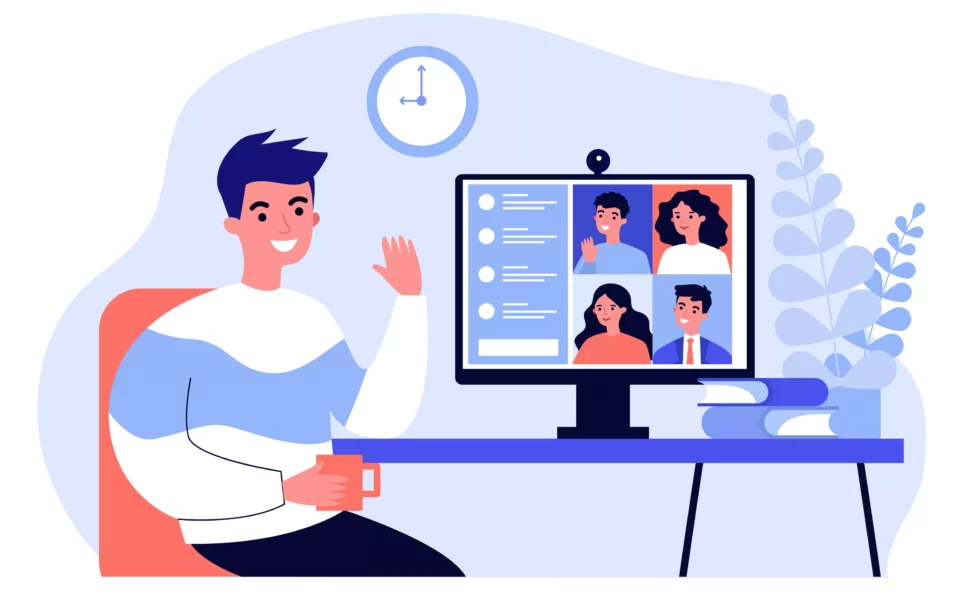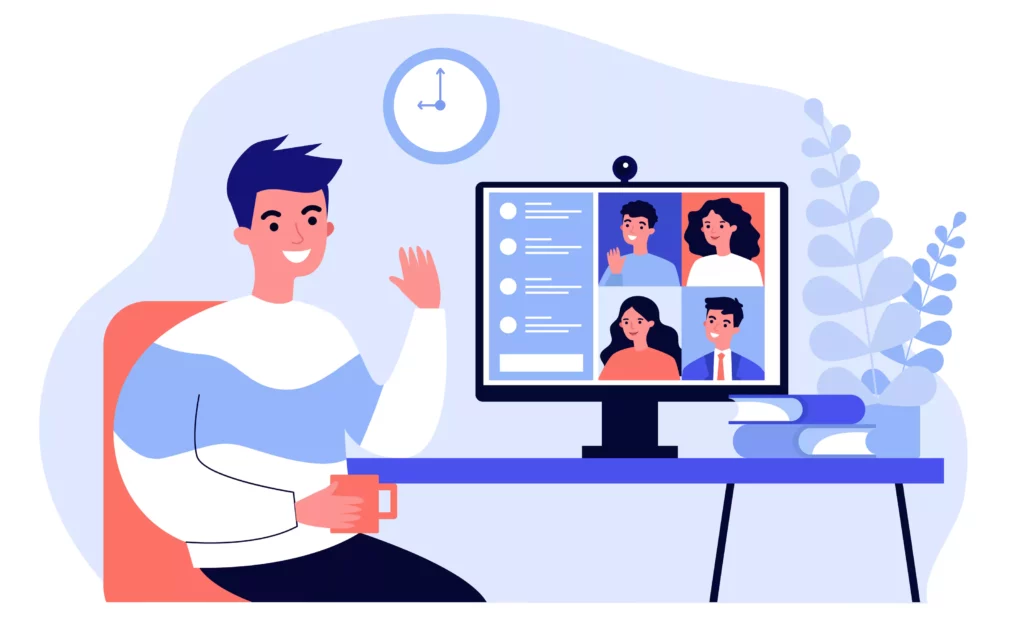 Creative and Unique Scavenger Hunt Ideas
Fun Scavenger Hunt Prizes
Professional Help for Your Scavenger Hunt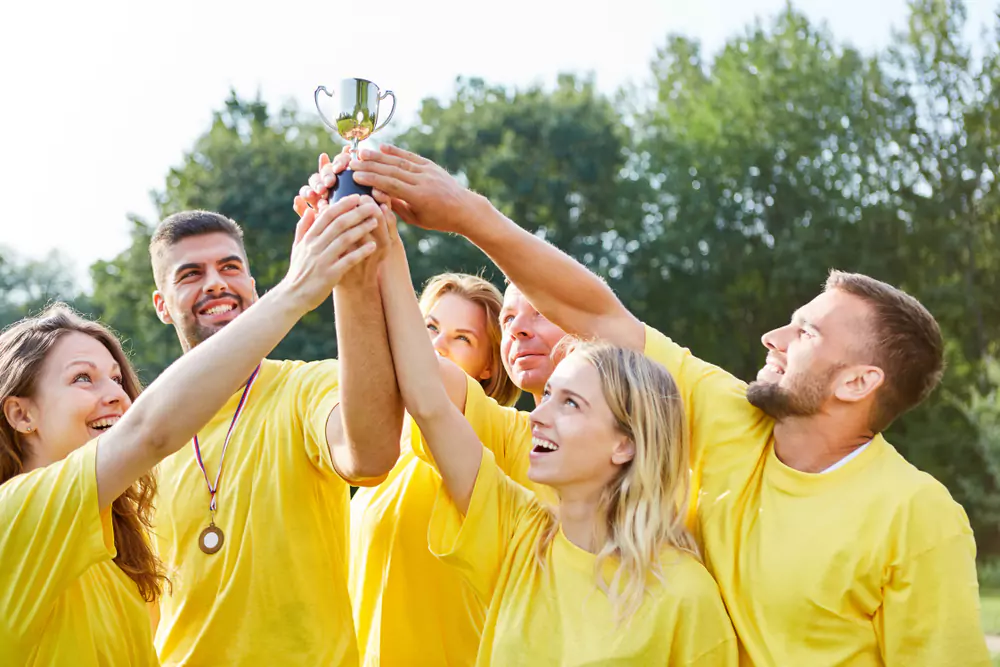 Conclusion
Team building has many business benefits, and scavenger hunts are an excellent way to capitalize on them. Now that you're armed with the benefits, business case, and all the tools and resources you need to plan one, you just need to get started. Good luck!