​​A Harvard Business Review study suggests that creating virtual opportunities for ​remote ​coworkers to gather socially is ​critical to maintaining connections. Don't let remote work interfere with coworker bonds – get on Zoom and grab a drink! Hosting a virtual happy hour is the perfect way for employees to relax and spend an enjoyable time together as a team.
Here, we cover the essentials of hosting and share fun virtual happy hour ideas so your team's time together is more about bonding and less about boozing!
Table of Contents
Why Schedule a Virtual Team Happy Hour?
How Do Virtual Happy Hours Work?
How To Plan a Virtual Happy Hour
How To Host a Virtual Happy Hour
How To Make Virtual Happy Hours Interesting and Fun (with themes!)
The Best Virtual Games to Play on Zoom Happy Hour
Why Schedule a Virtual Team Happy Hour?
According to one study, virtual team building happy hours significantly increase the chances that people will feel good and bond with each other. Though team members see each other in virtual business meetings, they are not experiencing the kinds of casual interactions that lead to strong team bonds and high company morale. Bringing your crew together in a non-work setting, like a virtual happy hour, builds camaraderie to fulfill that necessary component of a thriving team.
While not quite the same as clinking glasses at the end of a successful team project, virtual happy hours make the most important aspects of interpersonal relationships possible. Coworkers have an opportunity to discover details about each other that they wouldn't have at an in-person event. For example, most people attending a virtual happy hour are at home and dressed casually, not in work garb. Remote workers have a chance to show off their space and introduce their families and pets!
Virtual happy hours don't have to be just a time to chat. Planning virtual happy hour games with coworkers ensures that the team socializes as a whole and that those who might be a bit shy at an in-person happy hour are still included in the fun.
Hosting a virtual happy hour but want to gather smaller groups of nearby teammates in the same places? Book unique venues on Peerspaces so team members living in the same cities can join the virtual happy hours in smaller groups—together! Choose from hidden rooftops to sun-drenched lofts, beautiful backyards to funky studios, and delight your team by changing their everyday scenery and giving them some facetime with colleagues!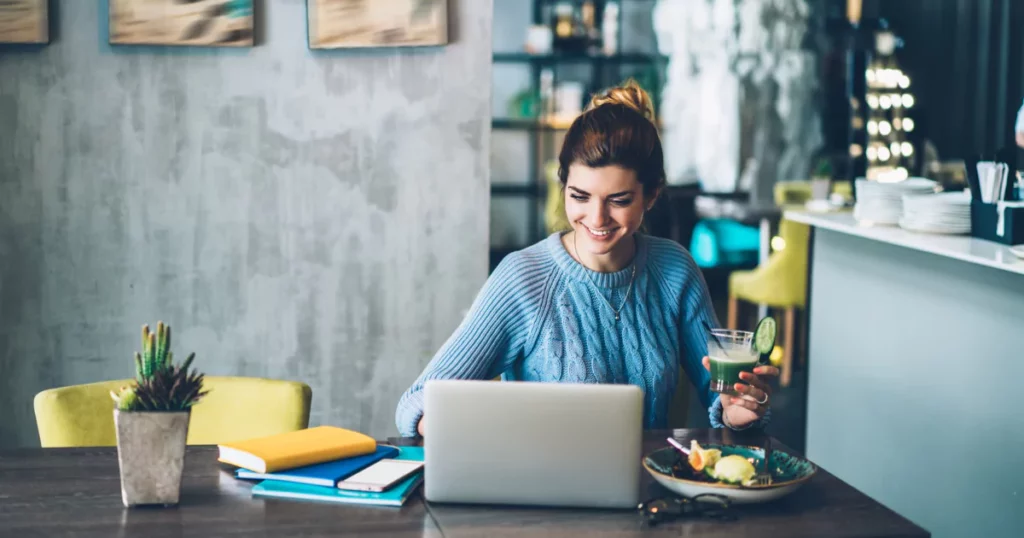 How Do Virtual Happy Hours Work?
The logistics of running a virtual happy hour are the same as a virtual meeting. You'll need to decide on a time, create a guest list, send invites, and select a video conferencing platform. The key difference between a virtual meeting and a virtual happy hour is that there isn't a set agenda to keep people focused. You can, however, plan an activity or play a game to keep your guests engaged. You can find virtual happy hour games and activities here, but first, here are the basics.
---
Get Your Free Game
The 3-Minute Non-Cringey Ice Breaker for Your Next Meeting
A ready-set-go game to run at your next fully remote or hybrid meeting without the hassle or added pressure of developing a team-building exercise yourself. Get it here →
---
How To Plan a Virtual Happy Hour
The logistics of running a virtual happy hour are the same as a virtual meeting. You'll need to decide on a time, create a guest list, send invites, and select a video conferencing platform. The key difference between a virtual meeting and a virtual happy hour is that there isn't a set agenda to keep people focused. You can, however, plan an activity or play a game to keep your guests engaged. You can find virtual happy hour games and activities here, but first, here are the basics.
1. Create a Guest List
First, you will want to consider who will be attending. Is this a company-wide event with lots of employees? Will it be departmental or for a small team? All the other decisions you make hinge on the size of the group as the needs of large groups are different from small to medium-sized groups. For your first virtual happy hour, you may want to start small – try a team or department-based gathering and grow in size from there.
2. Pick a Date and Time
Now that you know who's been invited, think about times that will work best for them. While Fridays at 5 pm have traditionally been set aside for happy hour, be flexible. The simplest way to pick a time and date is to poll everyone! Send an email with a few options and tally up the responses. Voila! You've got your date set!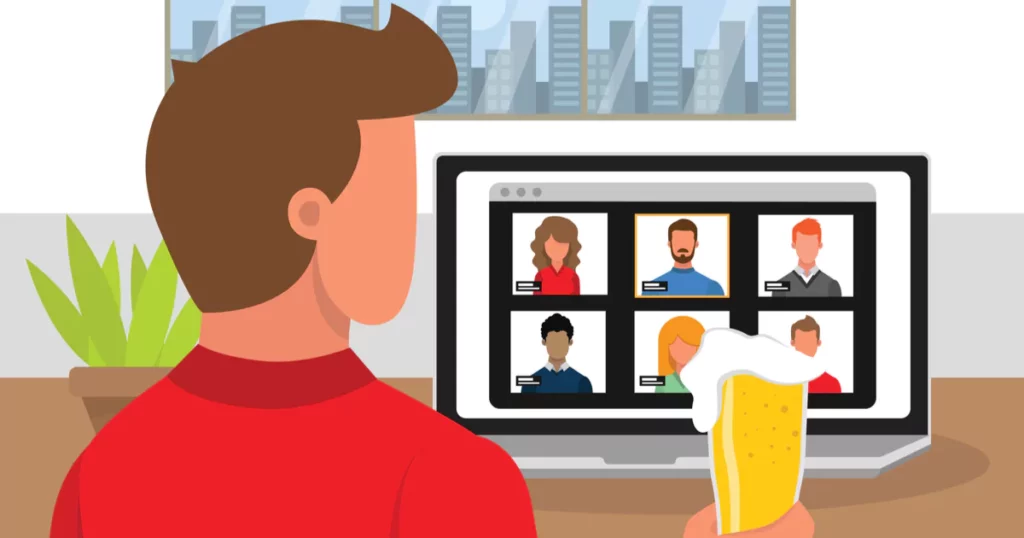 3. Decide What To Do During Your Virtual Happy Hour
Here's the part of hosting a virtual happy hour that requires the most thought. You can certainly have everyone get on a Zoom call with a drink in their hand and start schmoozing. This format works for teams that are well-acquainted and need some casual time together to chat and catch up. But if your group has some members who stand on the sideline or feel awkward in virtual social gatherings, find a format to ensure that no one feels left out.
There are all sorts of activities your group can enjoy. From virtual beer tasting and trivia to theme parties and virtual scavenger hunts, the event can be whatever kind of bonding experience you'd like!
4. Send Out Invitations
Now that you know the time and your activity, skip the basic email and send a playful invite instead! You can find free pre-designed virtual happy hour invitations at online sites like Evite or Paperless Post. Be sure to keep track of RSVPs! That way you'll have all the essential materials for each team member.
In your invite, let guests know what to expect at the virtual happy hour. If you decide to play a group game or activity, include information about any items (if any) guests will need to play. If you are going with a theme, be as specific as possible so guests know how to dress. A fun touch to add to your invitation is a drink recipe. Hosting a Hawaiian night? Include recipes for Hawaiian cocktails like Mai-tais! You can find drink recipes for every occasion
How Do You Set Up a Virtual Happy Hour?
Just as you would for a virtual meeting or event, choose the platform your team likes best, like Zoom, Microsoft Teams, Google Hangouts, or Skype. Brush up on your Complete Guide to Zoom knowledge (or whichever platform you choose) so you know the ins and outs of the software ahead of time.
Don't forget to include a link to the video meeting call in your invitation. You don't want guests, especially slightly tipsy ones, having tech issues!
How To Host a Virtual Happy Hour
A good host is a well-prepared host. At this point in the planning, you have all the ingredients you need to throw a smashing virtual happy hour. When guests start 'arriving' by popping up on the screen, welcome them. If any guests haven't met, make introductions. Keep an eye on quiet guests. Not everyone feels as comfortable with virtual socializing as they are with in-person interaction.
If you do not plan a special activity for your virtual happy hour, be sure to keep guests engaged in conversation. Be prepared with topics to discuss, like favorite restaurants, foods, books, and movies. You can find a whole list of ice breaker questions here. Avoid shop talk! If you want to take some of the pressure off yourself, plan an activity or game like one of those we go over below!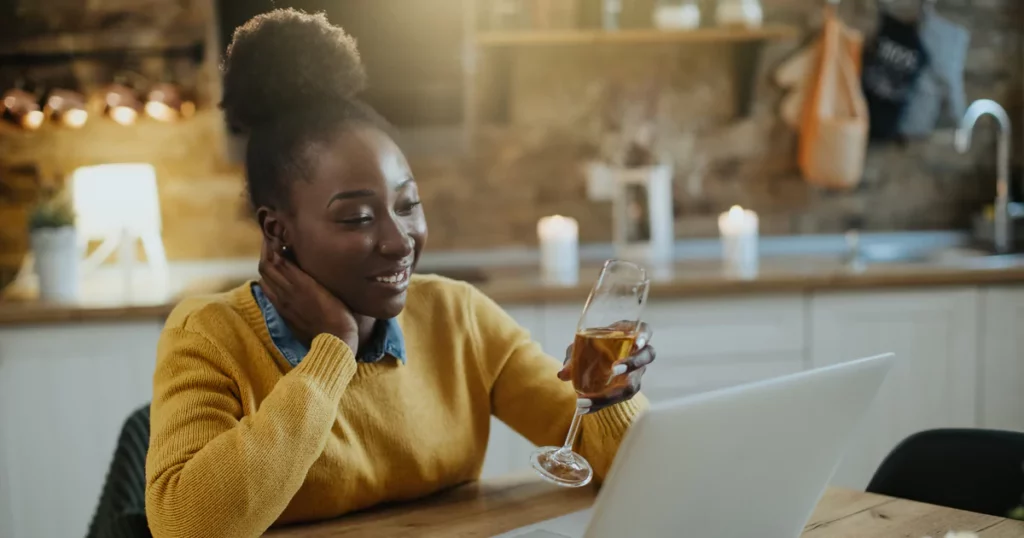 How To Make Virtual Happy Hours Interesting and Fun
To give your virtual happy hour a little something extra, consider having a theme like one of the 10 below.
1. Cocktail Night
Turn happy hour into something special by drinking signature cocktails that everyone makes at home. Don't forget a mocktail option as well. After everyone has their drink in hand, play drinking games or reminisce about each person's most memorable night out. Bonus points for those who can teach the team their special drink recipe. Take mixology night to the next level and feature a virtual cocktail-making class as part of your virtual happy hour.
2. Virtual Wine Tasting
Turn your happy hour into an upscale virtual wine tasting! You can send virtual wine tasting kits to attendees in advance or you can partner with a wine tasting company. Some online hosted options for wine tastings include:
Take this activity to a higher level by adding on some gourmet cheese tasting! You can create your own virtual wine and cheese tasting happy hour using this helpful guide. If you want to add on a bit of creativity, try a Red Wine Painting Airbnb Experience!
3. Murder Mystery Night
If you have a team member who's never joined an in-person murder mystery game, show them what they've been missing with a killer happy hour! There are several excellent murder mystery games you can play online. Choose one that matches a theme, like A Bad Vintage then drink some wine and solve the crime!
4. Virtual Holiday Party
Celebrate any holiday or occasion virtually during your happy hour! For Christmas, organize a Secret Santa and drink eggnog. If it's the Halloween season, have a costume contest and tell everyone to bring their favorite candy. Birthdays and retirement parties are also ideal for a celebratory happy hour!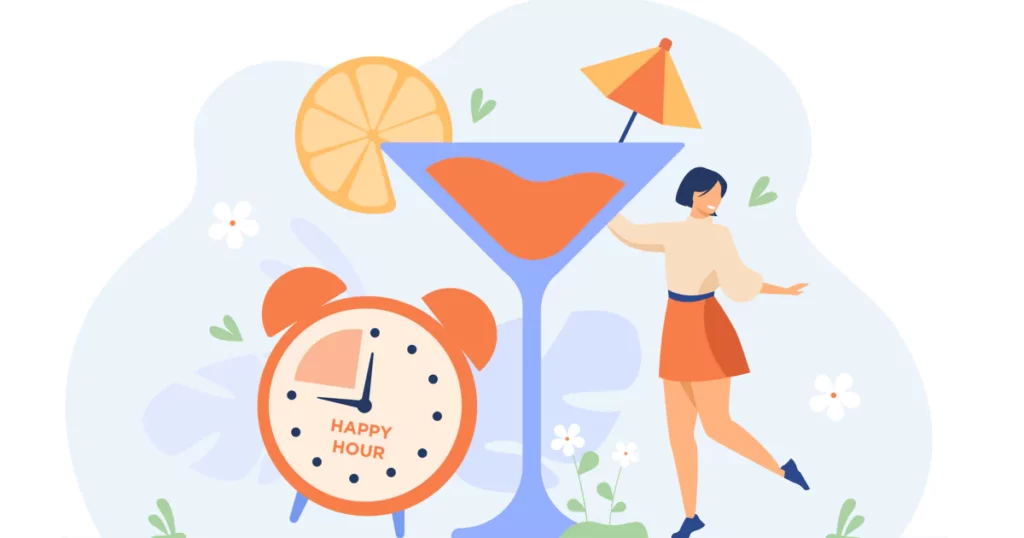 5. Black Tie Soiree
Invite your team to dress their best for a formal wear happy hour. Send out invitations with recipes for a classic cocktail like a Bellini or a Manhattan. You can even arrange for a pre-made package of hors d'oeuvres to be sent to guests. Keep the conversation flowing with questions like "Which celebrity would you want to meet and why?" or "If you had all the money in the world, what would be the first thing you'd buy?"
6. Culture Night
Choose a foreign culture (perhaps those of one of your team members) and share the recipe for a typical drink and food from that country. Learn to say cheers in the local language or invite anyone to share stories about international trips they've taken. You can even take a 'trip' to another country using Google's Arts and Culture Explore feature.
7. Decades Night
With past fashions coming back in style, it won't be hard to get your friends or coworkers dressed up for a fun 80s,'90s, or 2000s night. Share your favorite memories from the time or a fun fact about the chosen decade. For an extra nostalgic touch, see if you can track down some vintage snacks. Don't forget to make a playlist of decade-appropriate hits! Bonus points for team members who whip out their old yearbooks.
8. Classic Board Game Night
Lots of classic games like Scrabble and Clue are available to play online as a group. Make a night of it and play board games to your hearts' content with friends and colleagues. You can also hunker down for an intense game of Settlers of Catan, or browse Playrento for some popular board game options.
9. Beer Tasting
There's never been a bigger selection of craft beers than there is now! It's likely that someone in your group is a purveyor of fine beer! If so, ask them if they'd like to host a virtual beer tasting for the group during happy hour. Alternatively, you can purchase pre-made beer tasting kits. City Brew Tours is a customizable Beer and Cheese Tasting kit. Confetti also offers a virtual beer tasting experience.
10. Book Club
This is a nice alternative for a group of people who prefer a chai over a cold beer. Ask each team member what they read in their spare time—you might learn an unexpected thing or two about them. People have a wide variety of interests, so sharing their latest read can engage your team in new and interesting conversations.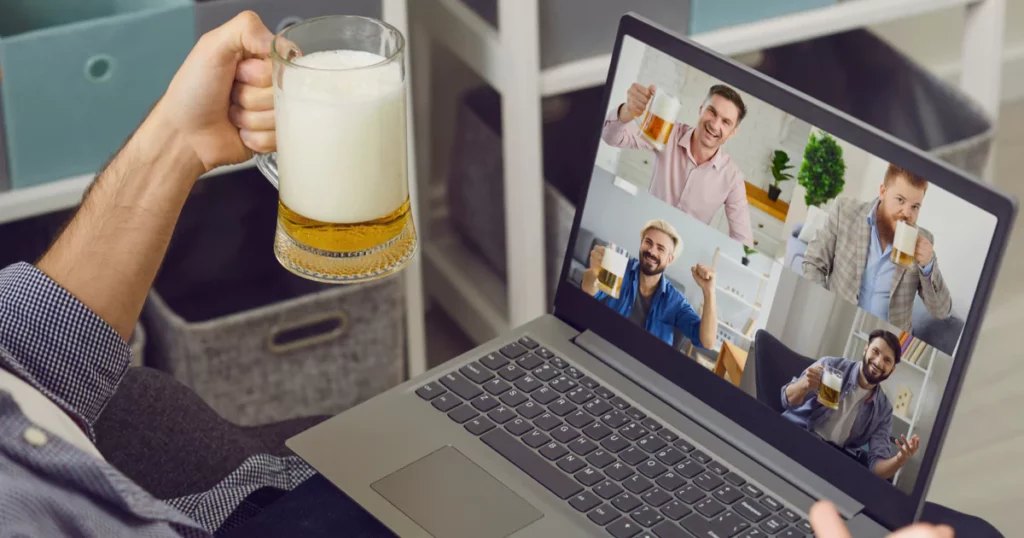 What Are the Best Virtual Games To Play on Zoom Happy Hour?
We've rounded up 14 virtual happy hour games to play with coworkers to liven up your gathering and strengthen team camaraderie.
1. Online Trivia
Studies show that playing trivia games causes our bodies to release extra dopamine, also known as the "happy hormone". Combine that good mood with a good drink and your happy hour crowd will be feeling pretty great! You can certainly make your own trivia game, but there are some awesome online trivia games to try from free versions to paid hosted games.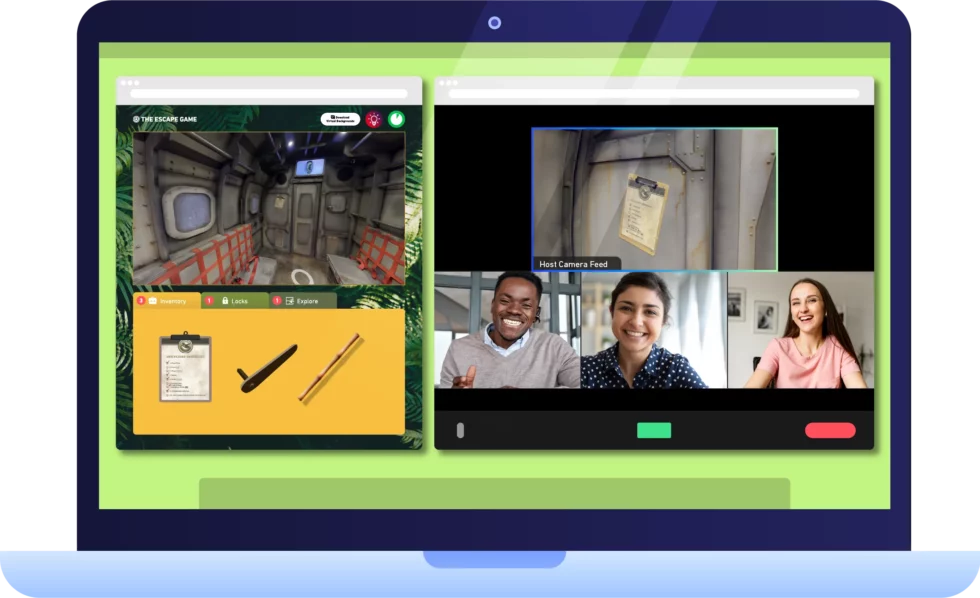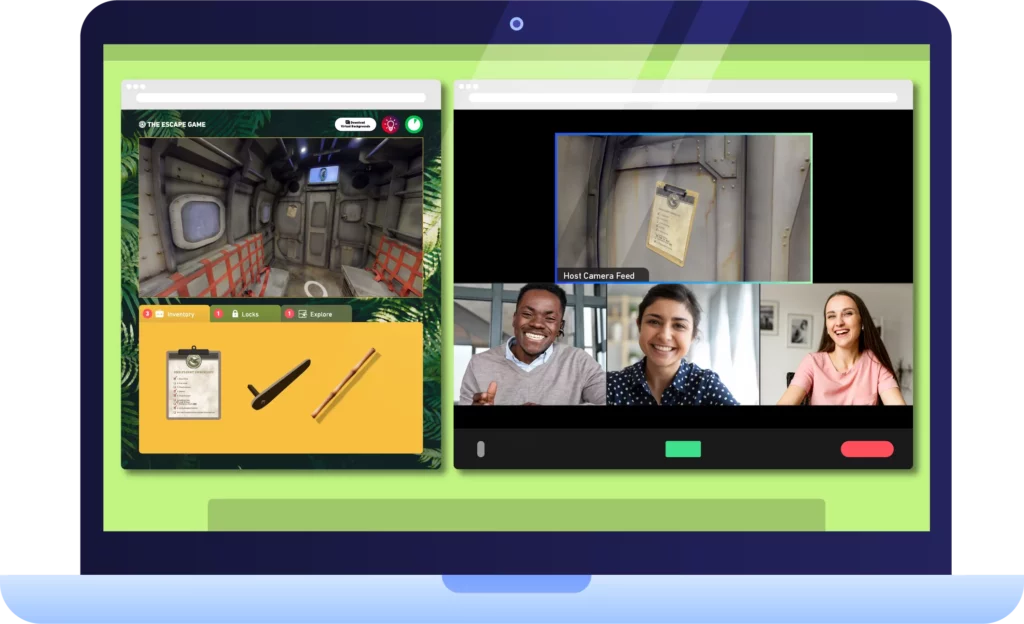 2. Virtual Escape Room
Test your team's ability to make it out of a virtual escape room for an unforgettable virtual happy hour. Team Building Hub's escape room games are 60-minutes long, with the entire event lasting 75-90 minutes —perfect for your next social night. Online escape room games include The Heist, Prison Break, and The Depths set everywhere from art museums to the bottom of the ocean! Your event includes both a Game Host and Game Guide to engage the team and help you escape!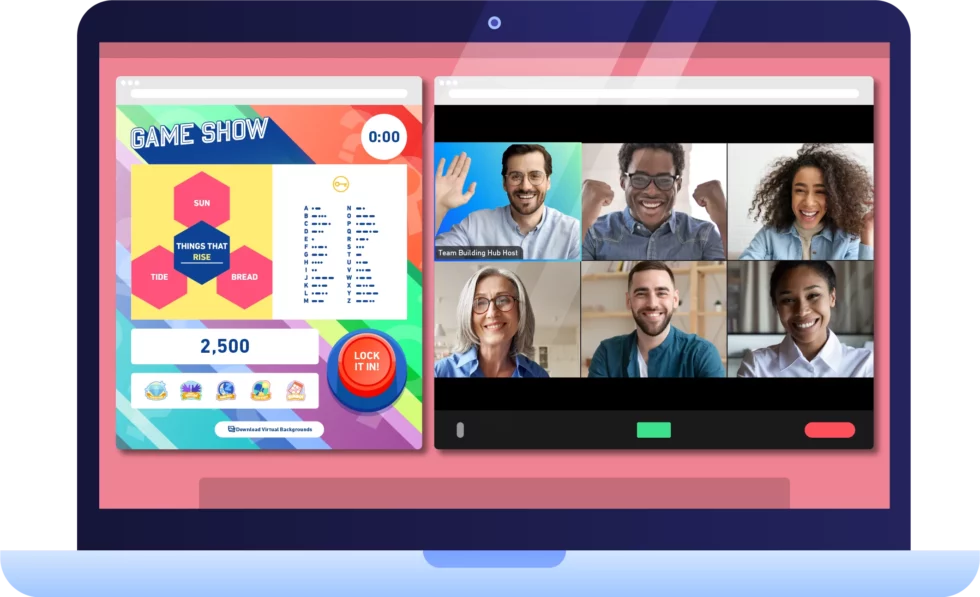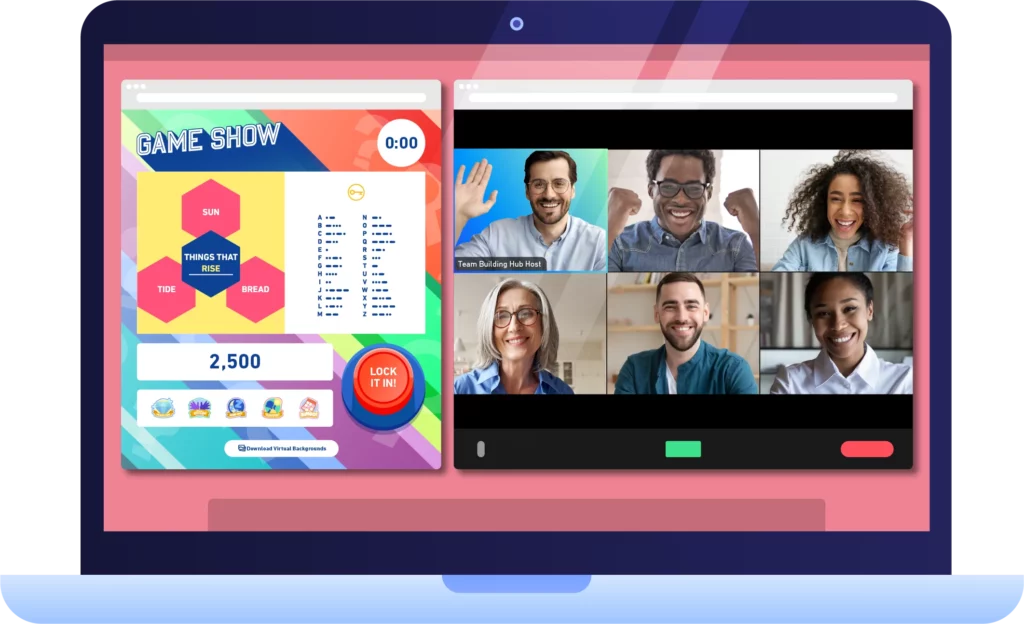 3. Online Game Shows
Playing an online game show from Team Building Hub is a great activity for groups between 10-150 players! These games are live, hosted competitions where teams compete to rack up points, collect badges, and earn the top spot on the leaderboard! The event doesn't require players to be tech-savvy and an enthusiastic host makes sure everyone has an awesome time!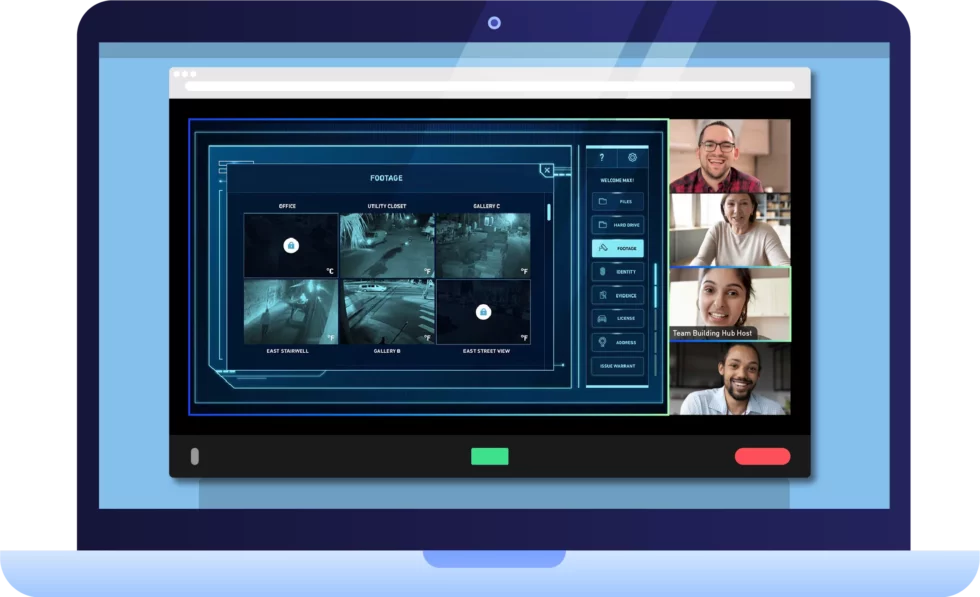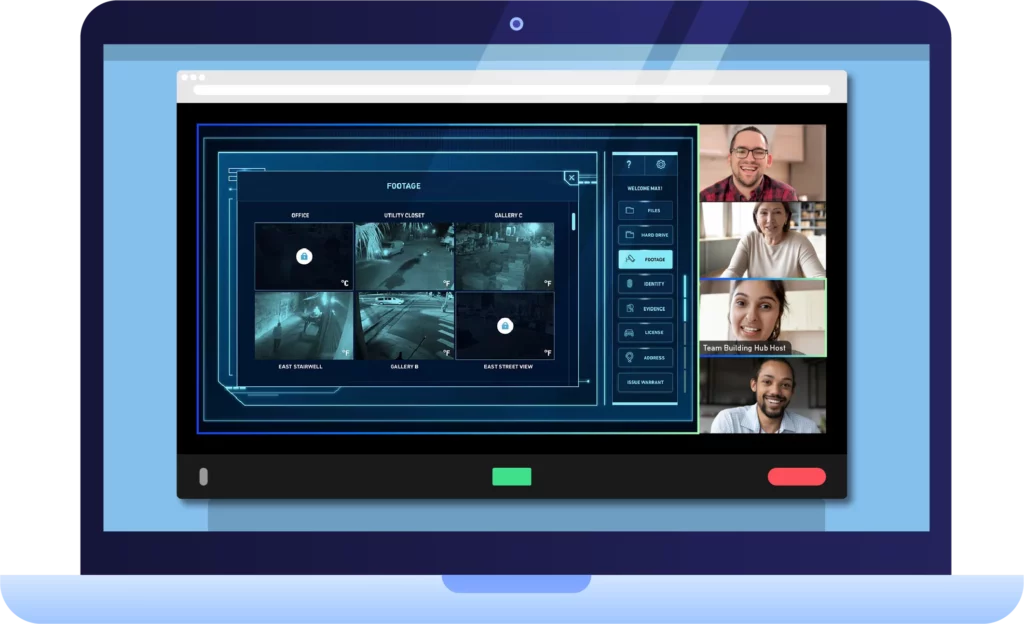 4. Mystery Games
​​In these online mystery games, teams within your group compete in a virtual detective race. They'll search for clues, unlock codes, and interpret evidence, to solve an international crime before the competition. The team that solves the mystery first wins! Your event also features live hosts who are there to guide you through the adventure and help with any potential issues. The best part? This game can host up to 1000+ people, perfect if you have a large organization.
5. Virtual Scavenger Hunt
Challenge your team differently with a virtual scavenger hunt. Much like the in-person version, a virtual scavenger hunt has teams rush to locate objects from a list. There are many online virtual scavenger hunts to play or you can even make your own! A spin-off of a virtual scavenger hunt is a virtual museum scavenger hunt. Take advantage of Google Arts and Culture's explore page to see various options for online museum visits and tours. Your team could explore in pairs or have one leader take the team through a museum, letting people chat and socialize in between items or features. Encourage guests to bring drinks native to the country the museum is in. Visit the British Museum and sip on Gin and Tonics or grab a Heineken for the Van Gogh Museum.
6. Compliment Train
Boost your team's morale with a compliment train. In this team building quick activity, one person compliments another, and then that person chooses a new person to compliment, and so on. Keep sharing compliments until everyone has received one. The great part about this game is that you can do as many rounds as you'd like to get everyone smiling together. It's also a great way to show appreciation for each other after a long week.
7. Ocean's 5 or So
Ocean's 11 is a hit, heist-based movie. Bring this premise to your happy hour by playing Ocean's 5 or So. Split your group up into teams of 5 and have them meet in their own break-out rooms. Assign your people to small breakout rooms with around five people. The mission is for each team to devise a masterful heist. After a short time, regroup as a whole and vote on whose plan is most likely to succeed, whose is most ambitious, or whose is most ridiculous.
8. Useless Talent Show
This is a somewhat unusual activity for your virtual happy hour. You'd be surprised at how many folks on your team may have a secret talent that they haven't yet shared. It might be something like wiggling their ears or touching their tongue to their nose. Open up the virtual stage for your group to each share a useless talent and see what your team can do. This activity is better suited for smaller or more intimate teams.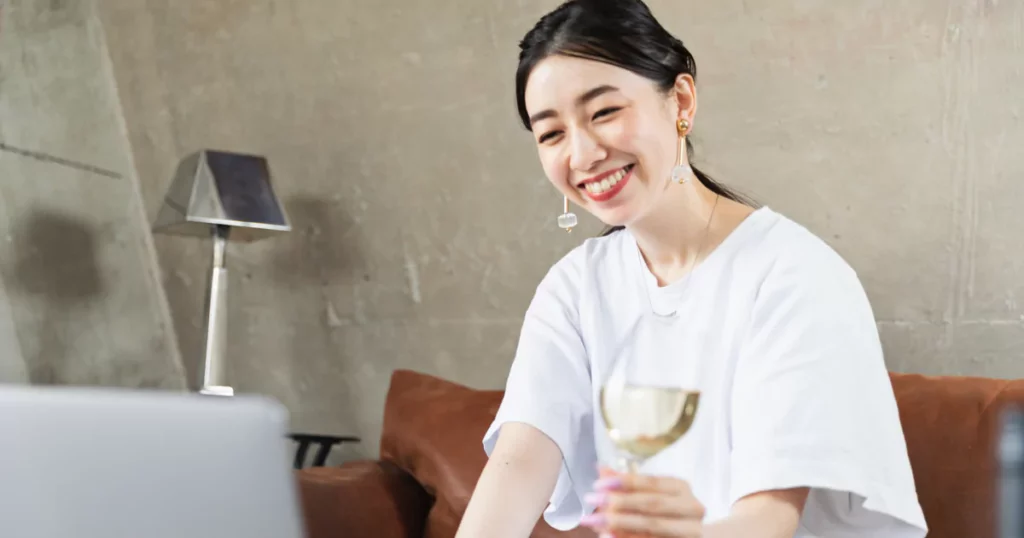 9. Netflix Party
Connect with your team over a show or movie that you can all watch together. Most Netflix party sites require everyone participating to have a Netflix account, so be sure to confirm that each member of your team is prepared.​ Send out an email in advance asking everyone for suggestions for comedies — laughter is the best medicine, after all! Compile their ideas into a poll and whichever movie gets the most votes is the featured film for the night!
10. Never Have I Ever
This game goes way back—even Oprah has a list of 100 Never Have I Ever Questions. The game is simple, so just about anyone can get the hang of it in time for your virtual happy hour. To play, make sure everyone has a beverage (alcoholic or not), and have someone share something that they've never done before. If someone in the group has done that, they must drink. This is a great game to have people connect over stories and funny moments of the past. Just make sure to keep prompts workplace appropriate!
11. Charades
Many people know and love the game of charades. Typically, one person receives a prompt and then silently acts it out, trying to win a point by getting someone to guess the correct answer. This is an easy game to warm up your creative muscles and have the team loosen up! For word options, check out this charade word list.
12. Virtual Pictionary
Virtual Pictionary is both hilarious and easy for the entire team to use. Some versions are similar to virtual telephone, while some are about coming up with the silliest thing you can. You can host an online game of Pictionary for free with Skribbl.io. All your group members have to do is join using your invite link to the game and voila! No registration or information is required.
13. Mario Kart
Launched in 1992, Mario Kart ​​​is one of the most popular games that Nintendo ever devised! ​With Zoom, you can play with others during your virtual happy hour! No game consoles or app purchases are required as the game is free to download to smartphones. Ask everyone to install the app prior to the event. Then have the group meet up on Zoom with their smartphone in one hand and a drink in the other. Add to the feeling of nostalgia with popular drinks from the 1990s like Jell-O shots, Appletinis, or Cosmopolitans!
14. Virtual Bingo
Create and play with your own bingo cards with My Free Bingo Cards. It's free for teams of up to 29 people, which means most small businesses and friend groups can play online at no cost. Celebrate wins by including prizes such as company merch or gift cards for an online store.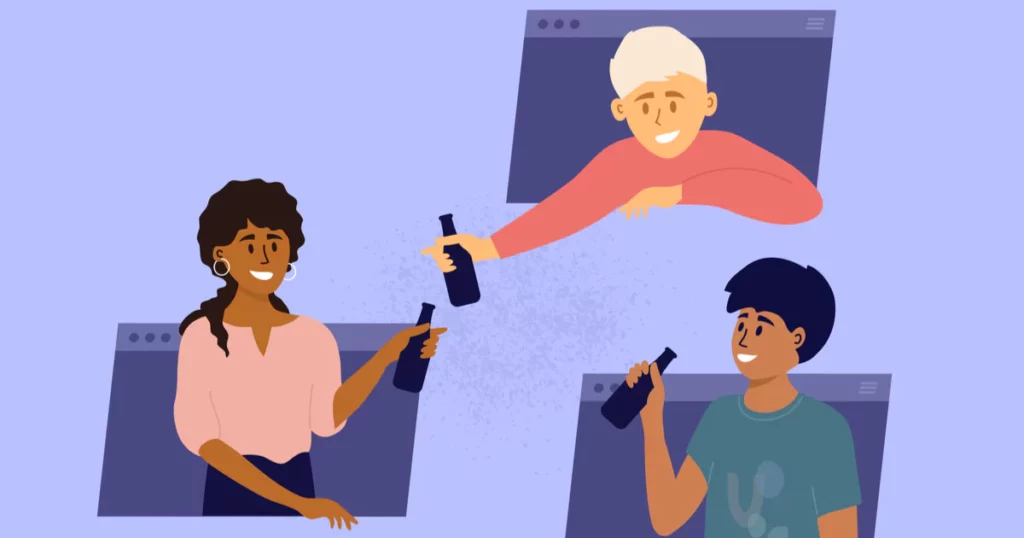 Final Thoughts
Virtual happy hours are an easy and fun way to keep your group connected no matter how far apart they are. Whether you pick one of the games or themes above or choose something else, your virtual happy hour is sure to leave your team members in good spirits!