Incorporating team building activities into your workplace can help to dramatically improve your team's communication, as well as developing and progressing many of the skills they need to thrive and therefore maximizing your team's workplace potential. Along with this, your team's engagement, morale, and employee retention will drastically improve! For teams based in San Diego, there are plenty of engaging and exciting team building activities to get your team feeling stronger and better connected.
Enhance your team's ability to work efficiently together with the 21 fun activities for team building in San Diego listed below. Through laughing, exploring, and unwinding together, your team will return to the office feeling better connected than ever before.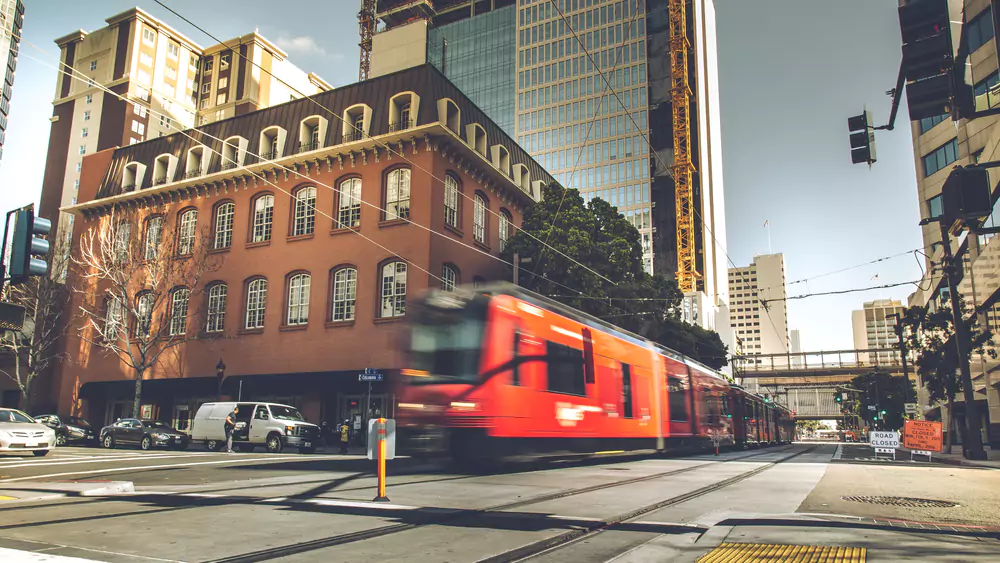 Table Of Contents
21 Team Building Activities in San Diego
What To See On Your Team Building Trip To San Diego
21 Team Building Activities in San Diego
1. Escape Reality with a Unique Escape Room Experience
Escape rooms are one of the best team building San Diego activities that you and your team can play together. They encourage healthy communication, create a sense of camaraderie within your team, and promote teamwork and problem-solving skills.
Coming soon to San Diego, The Escape Game is a highly immersive escape room where your team must work together to crack codes, solve puzzles and uncover clues. Your team can immerse themselves in different adventures, such as heading on a mission to mars, breaking out of prison or exploring the deepest, darkest depths of the ocean! Throughout, an experienced game guide will help your team and encourage them to work together.
If this sounds like a fantastic team building activity, but your team is wholly or partially remote, the Escape Game also offers virtual escape rooms! In these games, a virtual guide explores the escape room with a camera on their head and your team will give them instructions to solve the clues and break out of the room in time!
Top tip: sign up today and get invited to the San Diego's team building escape room's opening night!
2. Plan a San Diego Team Building Event with the Team Building Hub
If you want to plan one of the best team building events San Diego has ever seen, then the Team Building Hub has a team of experts that specialize in planning fun and effective team building events.
The experts at the team building hub take care of the entire event and customize it to include activities that meet your team's specific goals, strengths, and weaknesses. You can do an in-person team building event in San Diego, or if your team is remote then you can do a virtual event. To organize, contact Team Building Hub, where you will be connected to an experienced event planner who will manage all the logistics of your event. It's a fantastic, stress-free way to arrange a team building activity in King of Prussia.
3. Test Your Physical and Mental Strength with an Obstacle Course
Obstacle courses are designed to create both a physical and mental challenge for your workplace team! At UCSD Challenge course, your team members will have to use their strength, agility and their brains to get past obstacles that are suspended up to 45 off the ground! At UCSD, team building experts can help you create a custom program that will meet your teams specific goals. So whether you need to work on making decision together, your group cohesiveness, or pushing your team to their limits to develop trust, give this team building activity in San Diego a try!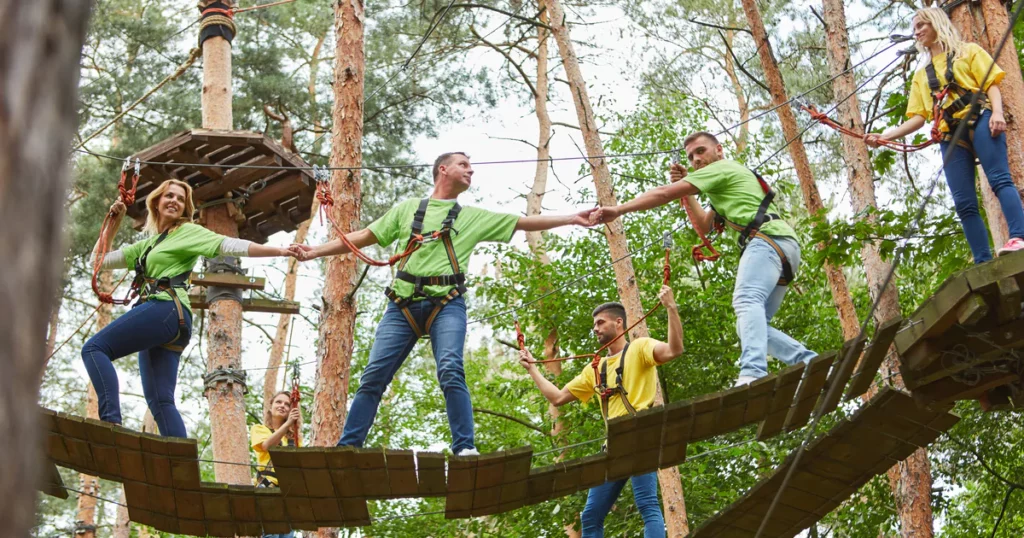 4. Explore San Diego with a Segway Tour
San Diego has many charming sites to see. A great way to see them all in a short period of time is to join a segway tour as a truly unique and hair-raising San Diego team building activity! From $100 per person, your team can take a trip along the Gaslamp Quarter, Petco park, Balboa park, the USS Midway Museum, the homecoming statue, and much more with Gaslam Segway Tours.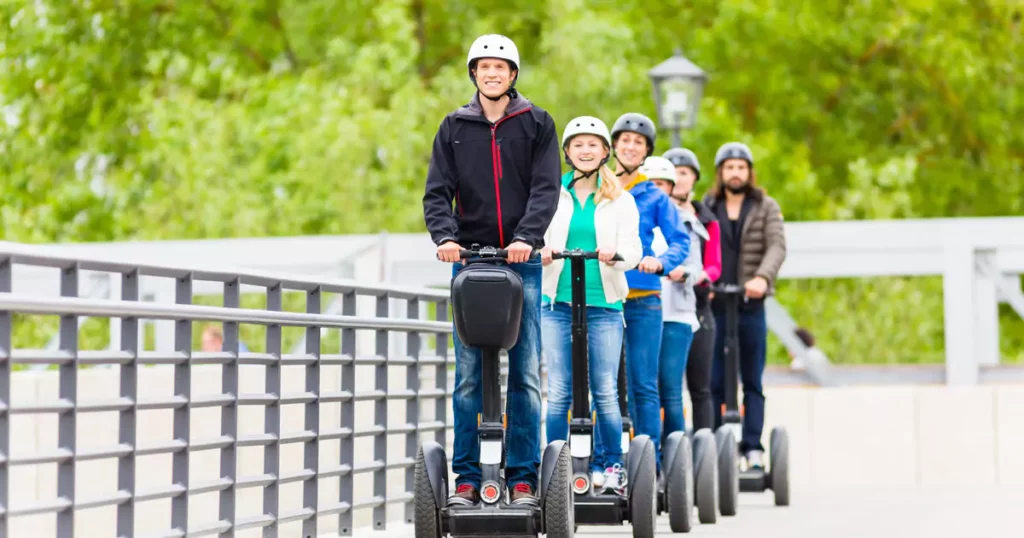 5. E-Bike Tour
If a Segway sounds a little too adventurous, then another easy team building San Diego activity is an E-Bike tour. Requiring less coordination and balance than a Segway, your team can cruise through San Diego's beautiful beaches, parks, and streets. With plenty of e-bike tours which exploring different areas and are suitable for different budgets, there is a guaranteed to be a team building tour for your team!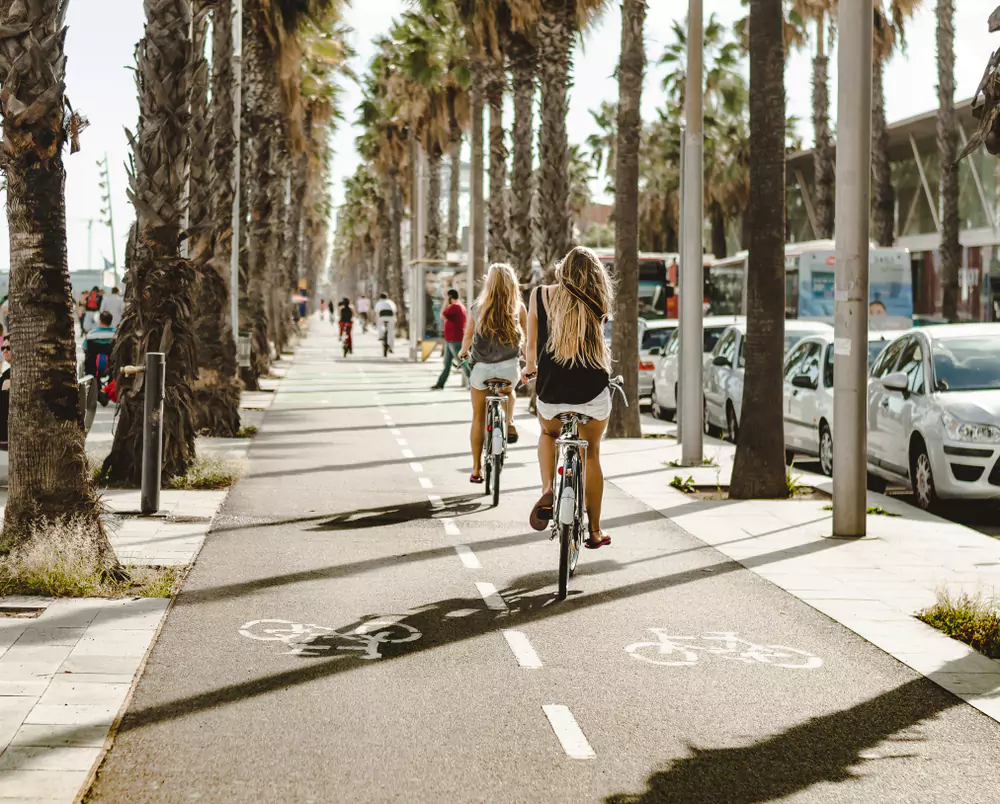 6. Unleash Some Creativity with a Pottery Class
A group pottery class is a hands-on way to unlock your team's creative thinking with a fun and relaxing activity. At the Mud Lily Clay studio, your team can shape and paint handmade keepsakes in a pottery class together. Starting from $60 per person, these two hour workshops are great ways to get conversations flowing and create unbreakable bonds between team members.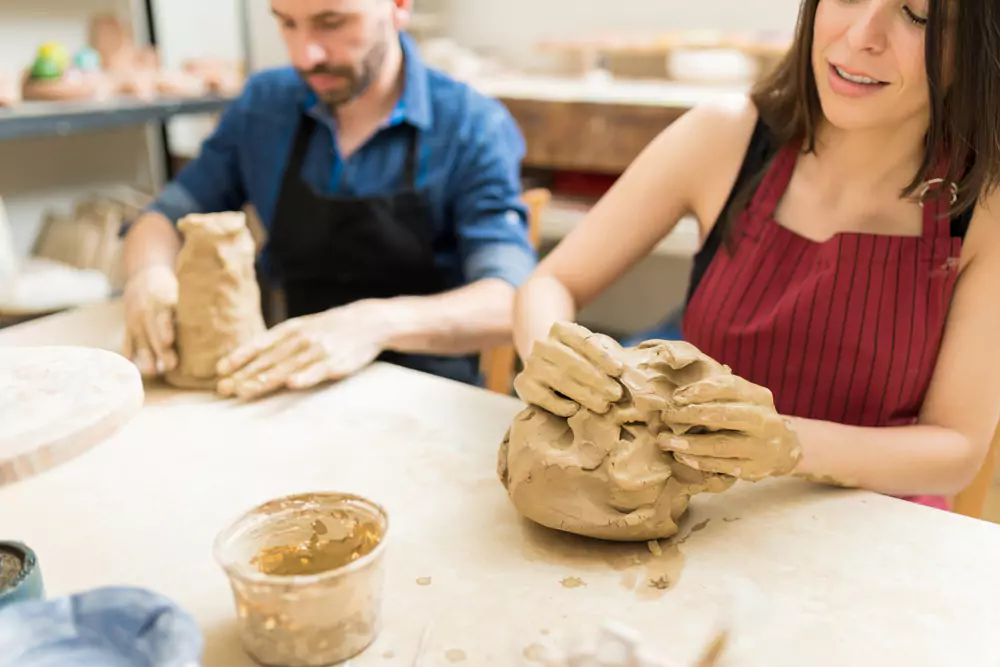 7. Play a Mystery Game Online
Created by a team of experts, the Team Building Hubs online mystery game is a great San Diego team building activity to create some friendly competition between team members, as well as promote decision-making, teamwork, and thinking outside the box.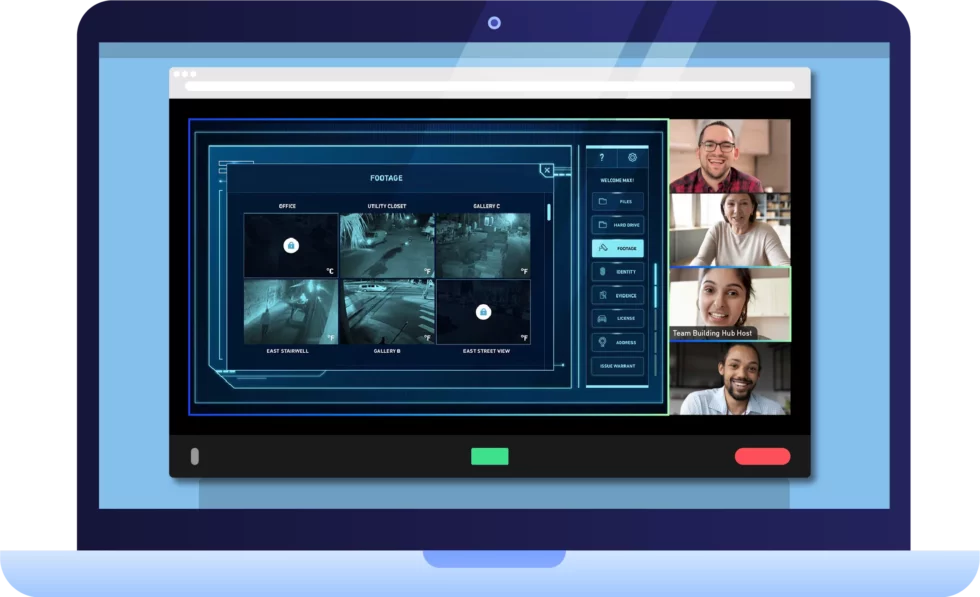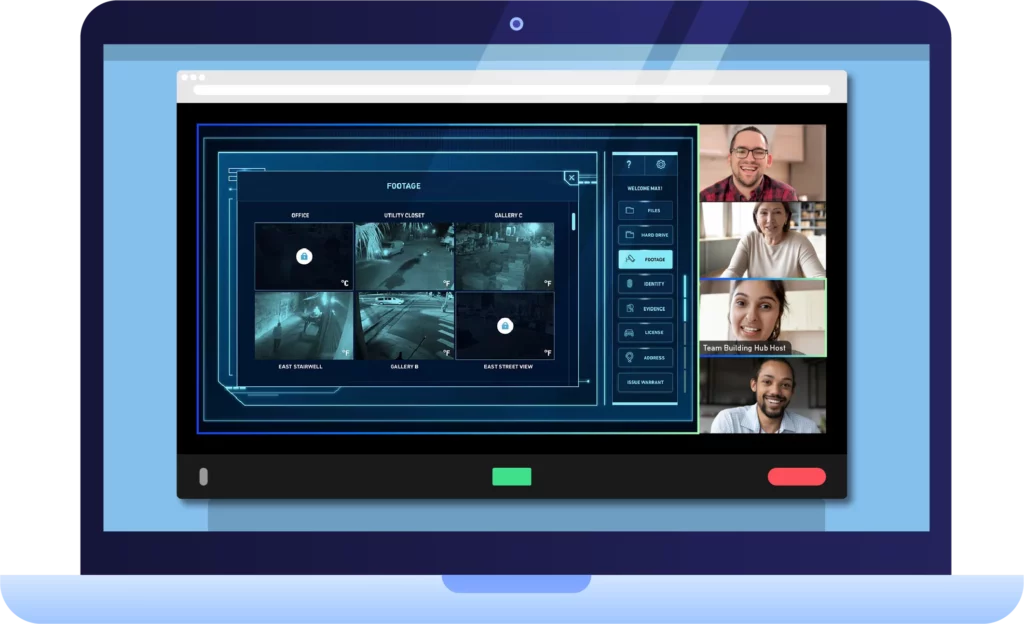 Suitable for teams between 15 to 1,000 members and taking around 90 minutes to complete, your team will explore surveillance videos, and websites, and work through riddles and clues to solve the mystery before any other team!
8. Enhance your Corporate Culture with Corporate to Canvas
Corporate to Canvas focuses on enhancing corporate culture, encouraging creativity, and fostering collaboration through group painting classes. With trained professional artists and a flexible event schedule, it's easy to plan a tailored San Diego team building event to meet your vision and needs.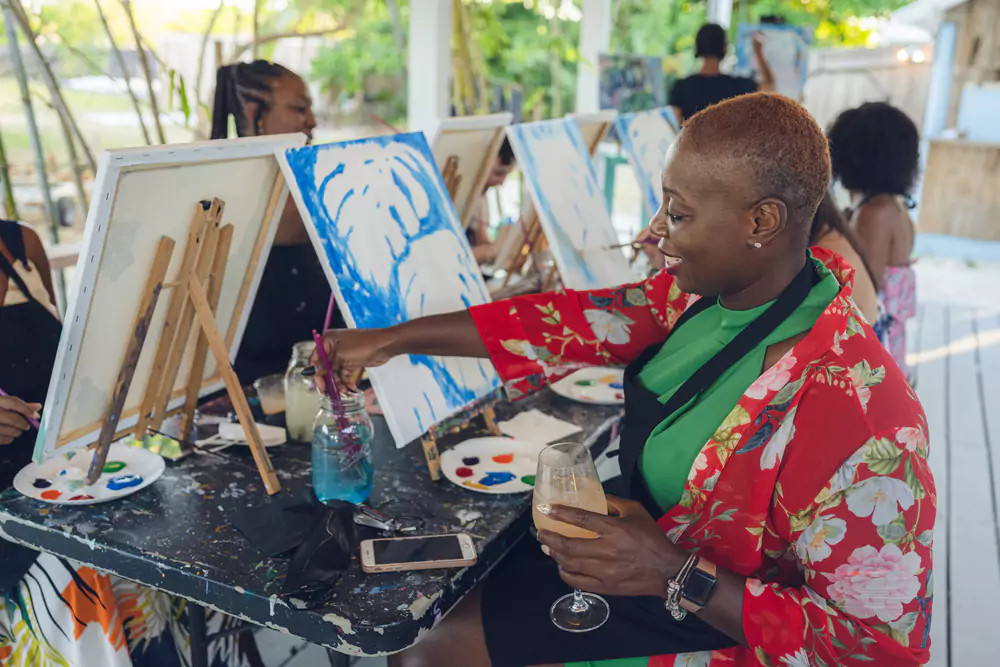 9. Enjoy a Secret Food Tour
Suitable only for 11 people, the Secret Food Tour is an intimate San Diego team building activity. Led by an experienced guide, this provides the perfect food adventure for your team to explore San Diego's diverse cuisine. With a whole host of tours available, there will be something for everyone to explore. For example, you can explore San Diego's downtown area and enjoy a range of dishes, from Mexican to Italian. Or, you can explore San Diego's more cultural and historical side whilst enjoying its cuisine from the western coast.
10. Get Your Team Together for a Virtual Game Show 
If you're wanting a San Diego team building activity that promotes friendly competition and encourages your team to use their problem-solving skills, then an online game show is the perfect activity for your team.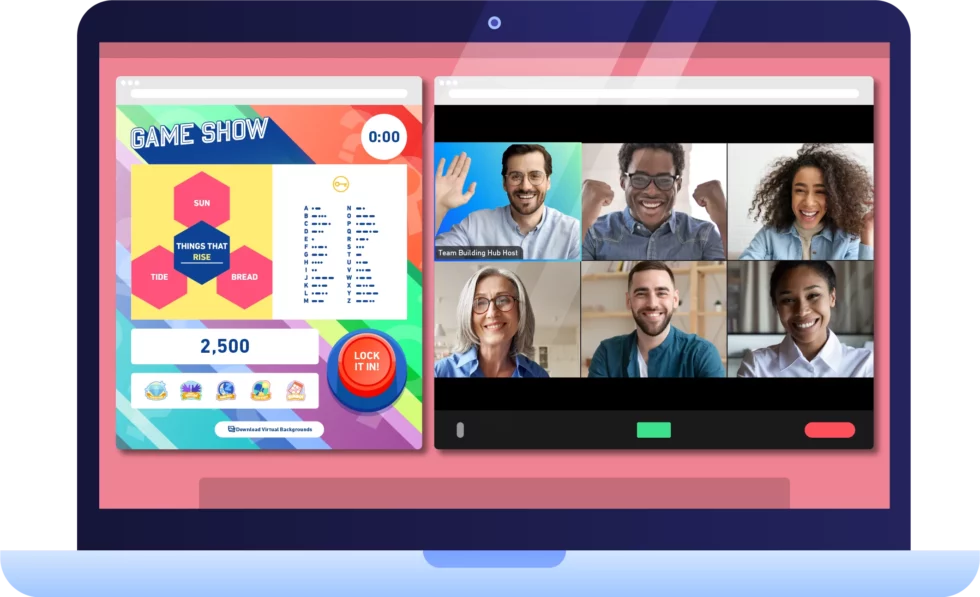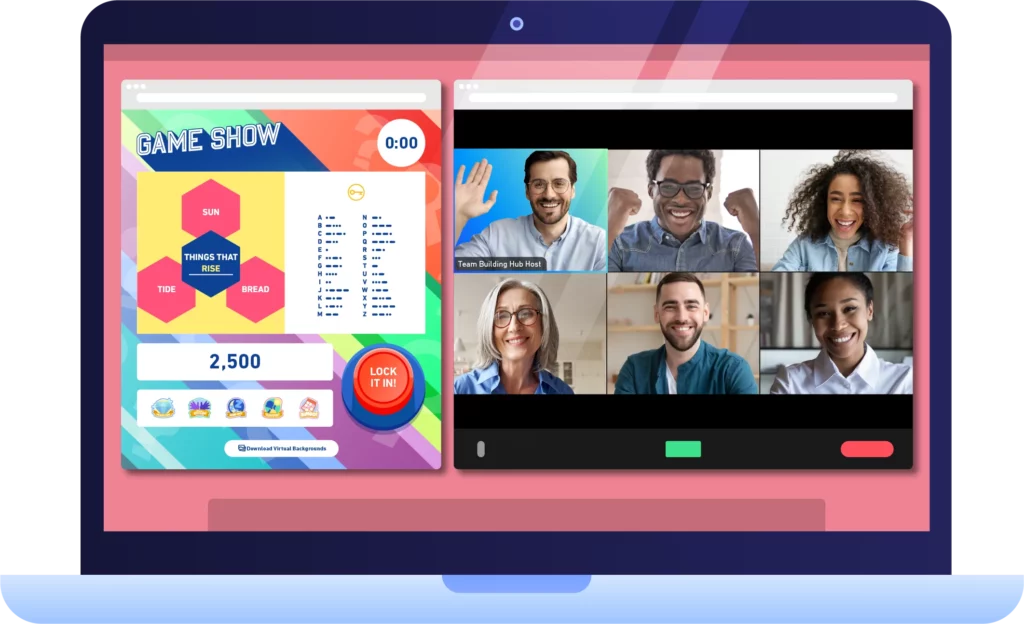 Team Building Hubs online game show is designed by team building experts to bring your team together and strengthen their skills. On Zoom, your team can enjoy 5 rounds of fast-paced fun that will leave them feeling stronger and better connected. With the ability to accommodate between 10 to 150 players, your team will have an experienced game show host lead the entire event.
11. Cook Together with a Cozymeal Class
One of the best team building events San Diego to help your team form lasting connections is to help them experience the joys of cooking as a team. Starting at $75 a person, Cozymeal offers a range of cooking classes for your team to get stuck into. From learning how to prepare Ravioli from scratch and various gluten-free pizza techniques to Sushi and Thai cooking master classes, there is plenty of exciting and unique classes to choose from. Some of Cozymeal's chefs will travel to your team, while others require you to meet at a location in San Diego.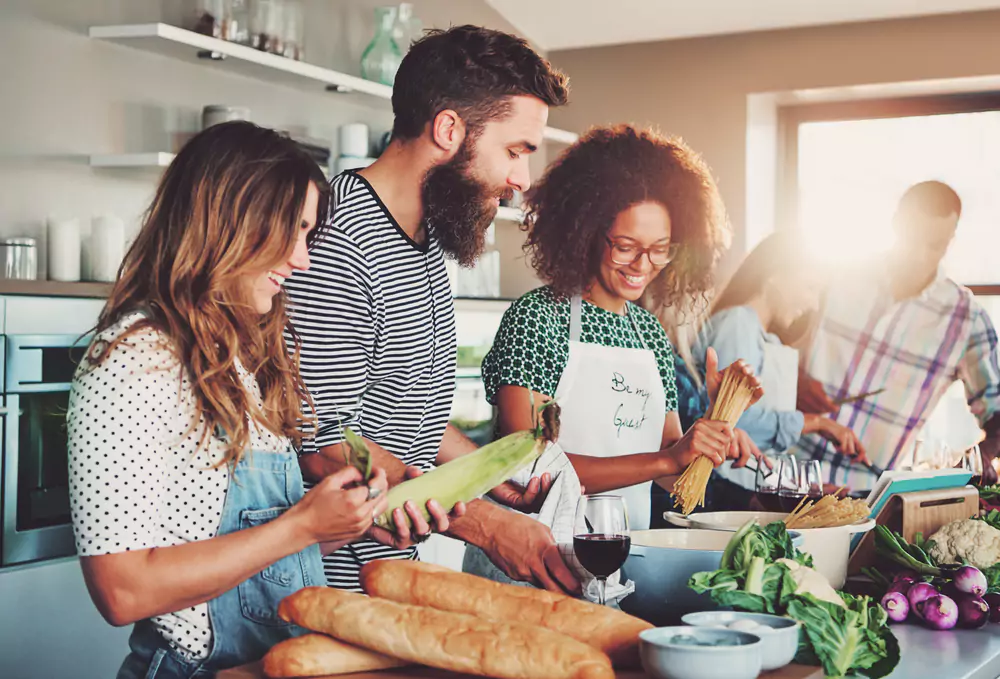 So whether you fancy getting your team working together to create a seriously tasty gluten-free Italian dish, or you want to get a taste of Thai cuisine as a team, this cooking team building San Diego activity will get your team hungry for success!
12. Try Something Different with Foot Golf
Foot Golf is the perfect San Diego team building activity to play with your workplace team. A bit like normal golf, your team will go around a course and aim to get a ball into holes in as few attempts as possible … but in this game of golf they will use their feet! With plenty of courses around San Diego, Foot Golf is the perfect activity to get your team working together and having fun.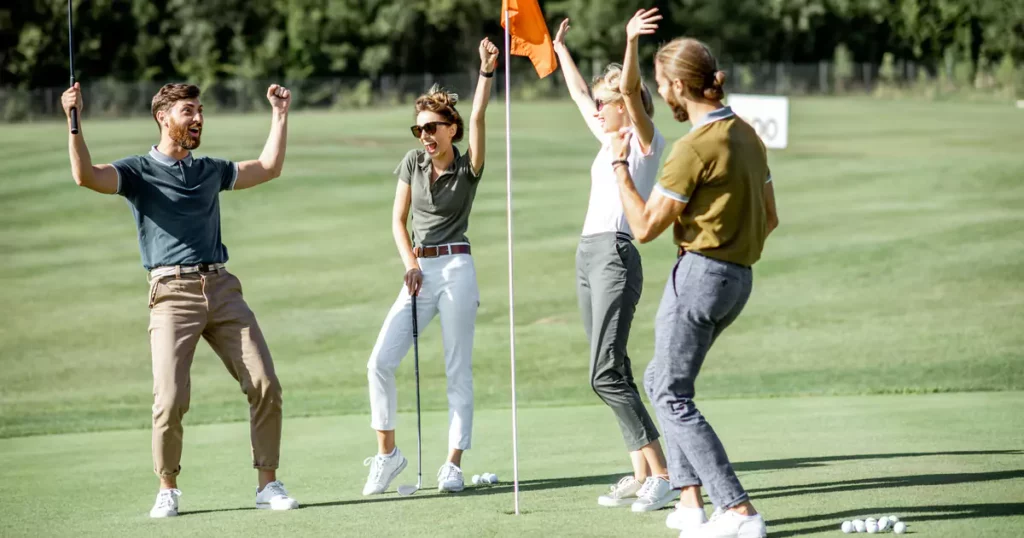 13. Axe Thro Co
One of the best San Diego team building activities is to take your team to Axe Thro Co and encourage them to relieve any pent up frustration that they might have. Suitable for both large and small teams, your team will practice throwing axes at pieces of wood. Accompanied by a dedicated host, this can be turned into a fun axe throwing contest for everyone to participate in!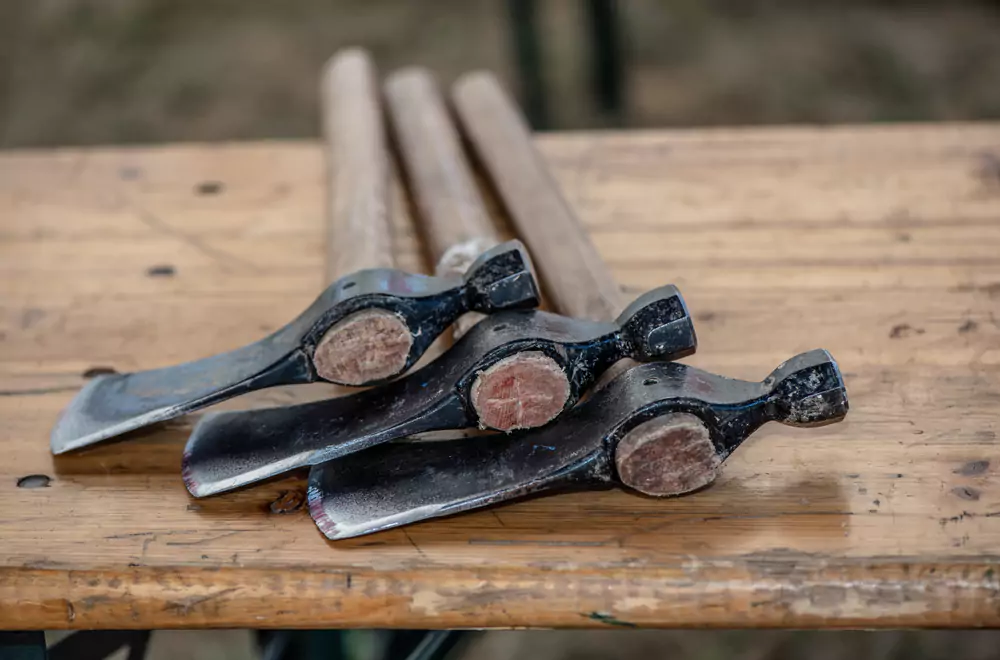 14. Get Competitive Playing Knockerball
Knockerball is one of the best San Diego team building activities because it is fun, fast-paced, and gently competitive. It encourages your team to work together and support each other, whilst also encouraging them to think fast and build resilience.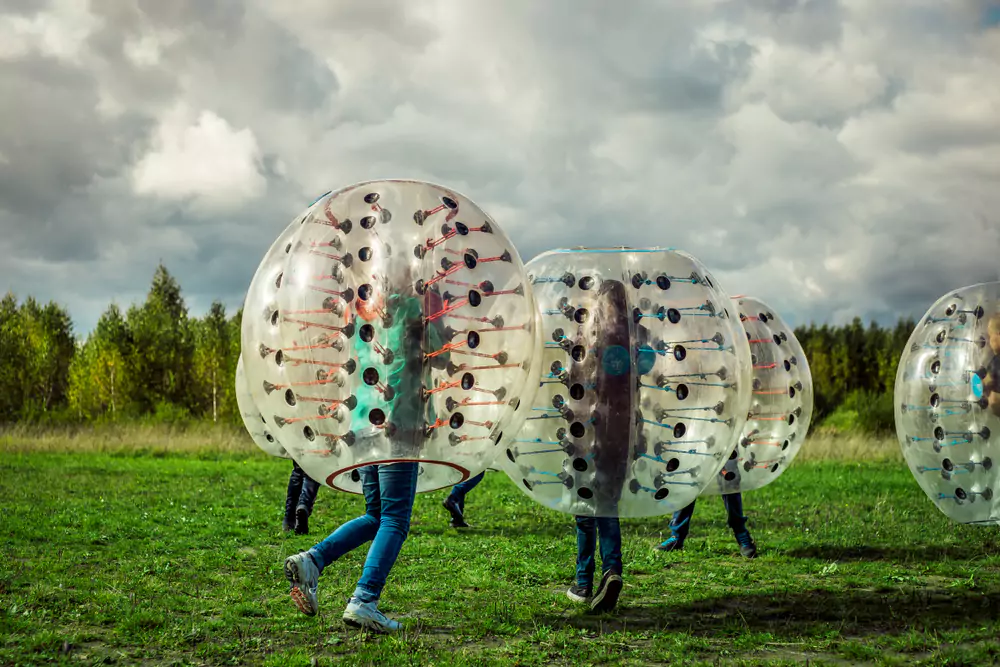 At Knockerball San Diego, your team will be in a single inflatable sphere with inner handles and adjustable shoulder straps. In these knockerballs your team will have the sensation of defying gravity whilst they crash into each other and cause chaos in a game of bubble soccer.
15. Have a Booze-Filled Cycle with Social Cycle San Diego
Social Cycle is a human powered way for you and your team to see the city! On an 16-person bike, your team will use their legs to power their way around San Diego in a completely unique way. You can pick from a tour of San Diego's downtown, north park, pacific beach, Little Italy, and hillcrest. Each tour also stops off at three predetermined bars, making this one of the booziest team building activities in San Diego!
16. Explore San Diego Through a Team Scavenger Hunt
If you're looking for a fun and free San Diego team building activity then a scavenger hunt is a great team building tool. Scavenger hunts are excellent activities for encouraging your team to use their problem-solving skills and work as a cohesive team, whilst creating a sense of adventure and excitement.
To play, create a list of landmarks and other significant places in San Diego that you want your team to find within a time limit. Then, separate your team into smaller teams and send them on a wild scavenger hunt around the city to find these objects, ensuring that they take a photo with each one! The first team to take photos with all the correct objects is crowned the winner.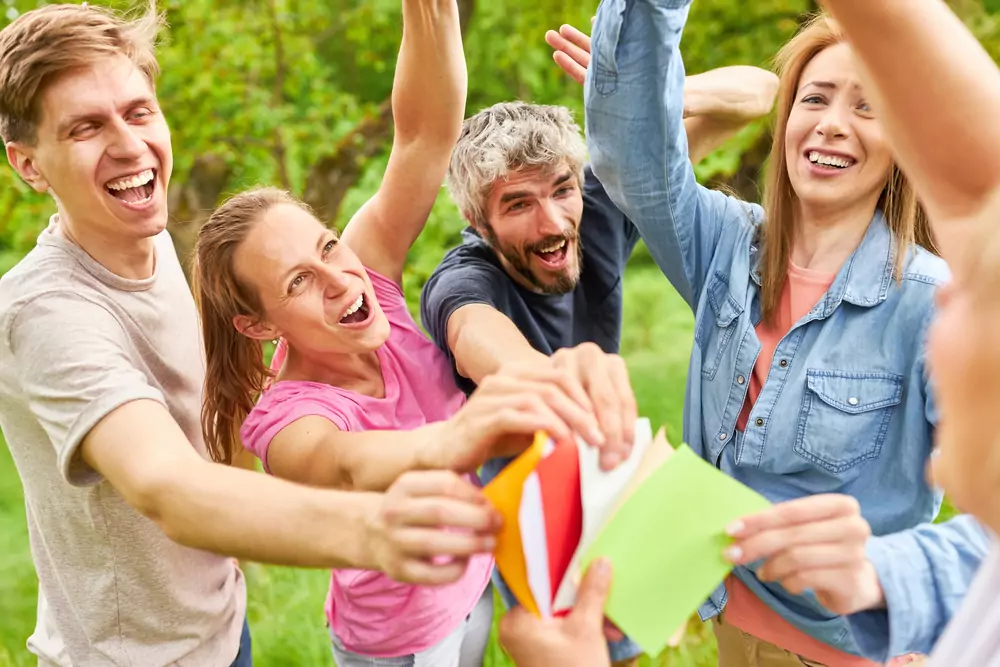 Examples of good San Diego landmarks:
Old Town San Diego State Historic Park
San Diego Museum of Art
Seaport Village
USS Midway Museum
San Diego Harbor
Mt. Soledad National Veterans Memorial
Homecoming Statue
Star of India
Desert Garden
17. Try Some Team Building Activities at Venture Up
Venture up offer plenty of San Diego team building activities for your team to get stuck into. Experts at Venture Up will organize a whole range of team events, such as a charity bike build, a 'jam fest' where your team gets moving and jamming to music, or strategic games where your team will work together creatively.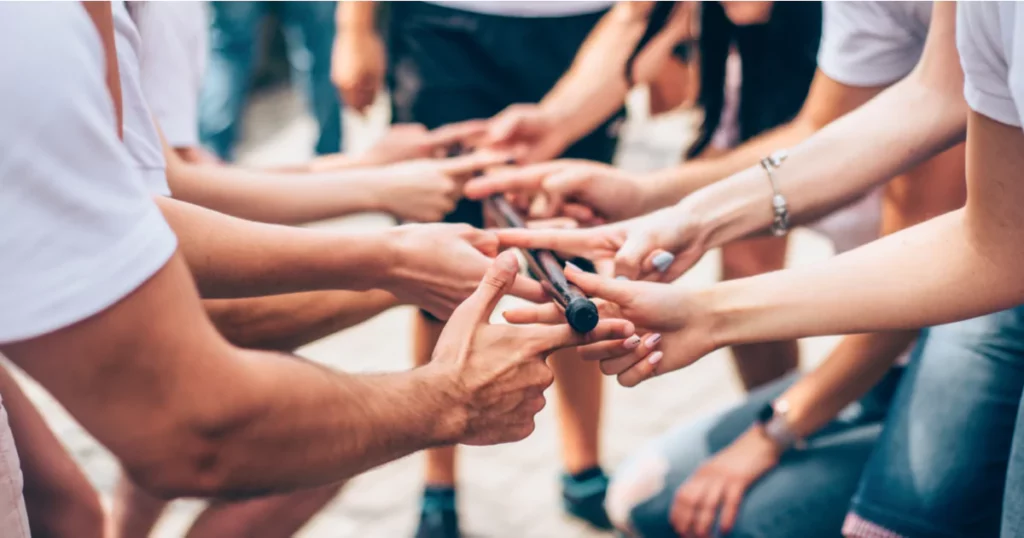 You can meet Venture Ups team building experts at a meeting hall, one of San Diego's many parts, or at your offices.
18. Get Creative with Paint and Glow by Davina
At the paint and glow studio in San Diego, your team's senses will come alive as they create a masterpiece in complete darkness! Using glow in the dark paints, your team can unleash their creative spirit and let their senses come alive. At the end of the session, you can organize a show and tell where your team members can explain what they've drawn and why they drew it!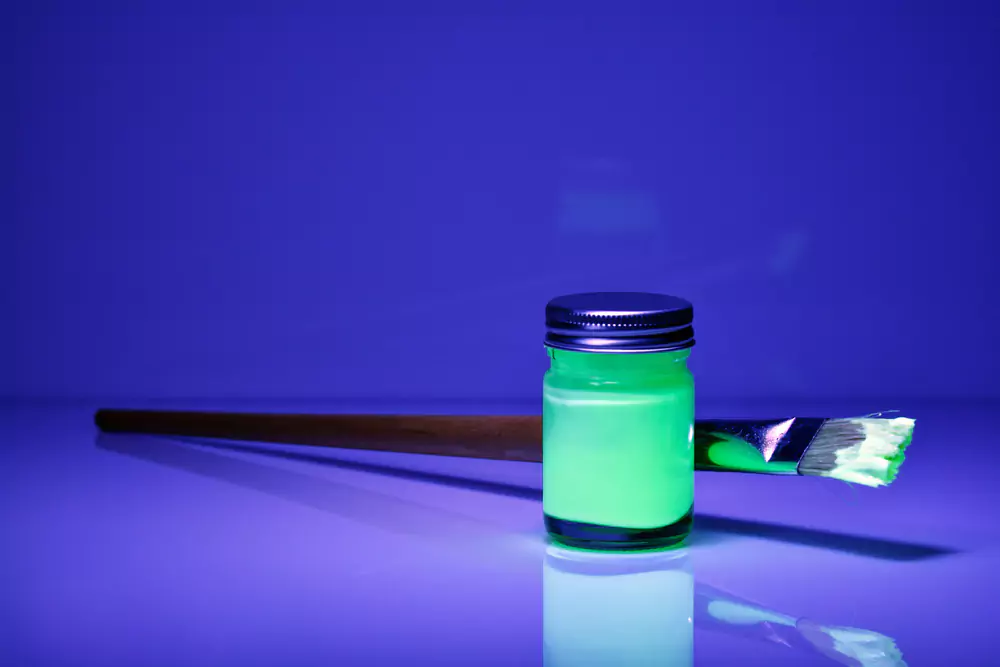 19. Spread Your Wings with Total Raptor eXperience
Get at one with one of nature's most beautiful birds with this unique San Diego team building activity. Described as "fascinating, peaceful, spiritual and a true bonding with nature", this is a team building experience not to miss. For $500 for 8 participants the Total Raptor eXperience will give your team the totally unique experience of holding a trained falcon and hawk and releasing them to soaring heights. It's the perfect opportunity to encourage some excitement and trust within your team.
20. Play Gingerbread Wars
If you're planning your team building extravaganza during the holiday season, then help your team get into the festive spirit with Gingerbread Wars. In a fast-paced and exciting team building challenge, your team will build gingerbread houses together. Putting their teamwork skills to the test, your team will decorate their beautiful gingerbread houses and figures together in 90 minutes. It's a fantastic team building activity, that can be done in person or virtually, to get your team feeling festive, unleash their creativity, and build lasting bonds!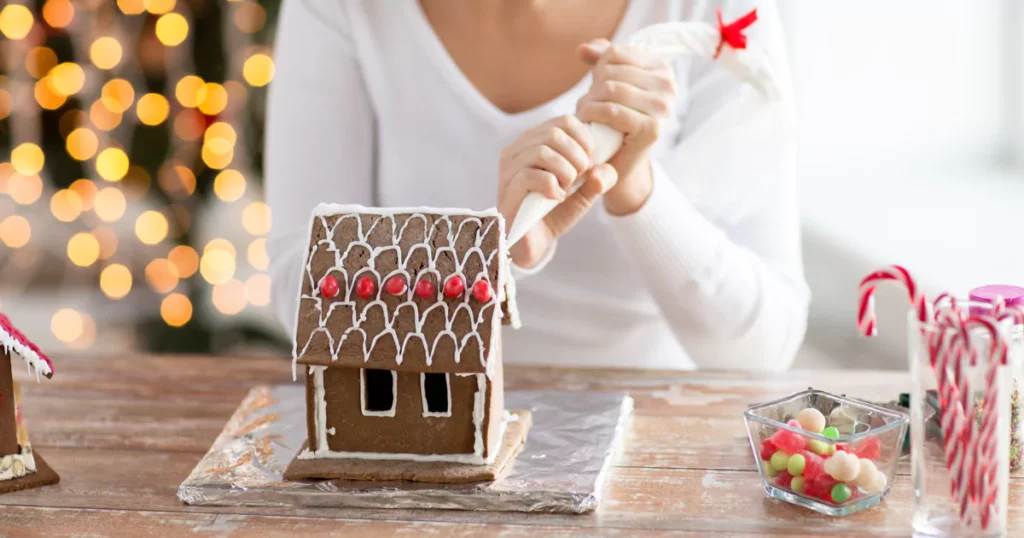 21. Have a Friendly Competition Playing Laser Tag
Requiring excellent problem solving skills, the ability to make vital decisions, communication skills, adaptability, and the ability to think under pressure, laser tag is an excellent team building activity.
Laser tag is a pain free way to get your team feeling adventurous. With plenty of laser tag places to choose from in San Diego, this is a great way to unwind and build bonds together.
What To See On Your Team Building Trip To San Diego
Renowned for its idyllic climate, 70 miles of pristine beaches, and dazzling tourist attractions, there is so much to do in San Deigo. Whether you are visiting San Diego for a corporate team building retreat, or whether you're based here, you will have plenty of things to do outside the typical team building activities listed above.
Exploring San Diego's beaches, old town, and world-famous zoo together outside of corporate team building gives your team the chance to unwind and get to know each other outside of work and 'forced' team building activities. It reminds us that our colleagues are ordinary people, just like us!
If you want to explore San Diego with your team outside your typical team building activities, here are our 6 must-see places!
1. Go Wild at San Diego Zoo
San Diego's Zoo is world-famous for its abundance of wild animals. From big cats and giraffes to komodo dragons and birds of prey, you will never see so many exotic animals. As well as exploring the abundance of wild animals, you and your team can unwind and relax as they take part in animal experiences. Such experiences include becoming a zoo keeper for the day or taking a sunrise stroll to see all the animals in their natural environment before other visitors arrive!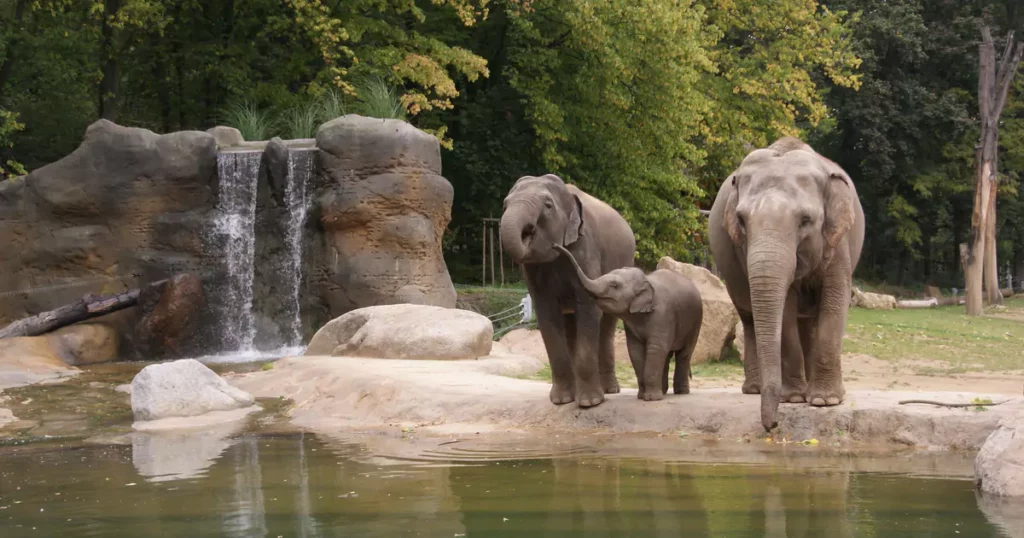 2. Take a Trip to Balboa Park
Described as San Diego's ever-changing backyard, Balboa park offers plenty to explore! From as little as $56 a pass, your team can explore this cultural oasis that includes 17 museums. Museums at Balboa park include the Centro Cultural de la Raza, the Japanese friendship garden, the Museum of Photographic Arts, the Fleet Science Center, the Air and Space Museum, the Timken Museum of Art, and so much more.
3. Explore Belmont Park
Belmont Park is a vintage amusement park on mission beach. Dating back to 1925, this place was built in the 'Golden Age' of wooden rollercoasters but has since had a $2 million restoration and has been crowned a national and historic landmark in its own rights. For just $7 a person, your team can take a trip on a rollercoaster that goes up to 48mph and is famous for its dips and turns. You can also play a game of laser tag here, climb a rock wall, climb a coconut wall or give go-karting a whirl!
4. Spend Some Time in La Jolla
Crowned as the jewel of Southern California, La Jolla is a quaint Mediterranean-style village that is a few minutes' drive from downtown San Diego. Spanning 11km, La Jolla is a seaside neighborhood that is often mistaken for a beautiful European city, such as the ones seen in Greece and Italy.
Spending an afternoon here, you can browse local art museums, visit a war memorial or explore the architecture at one of La Jolla's many grand hotels!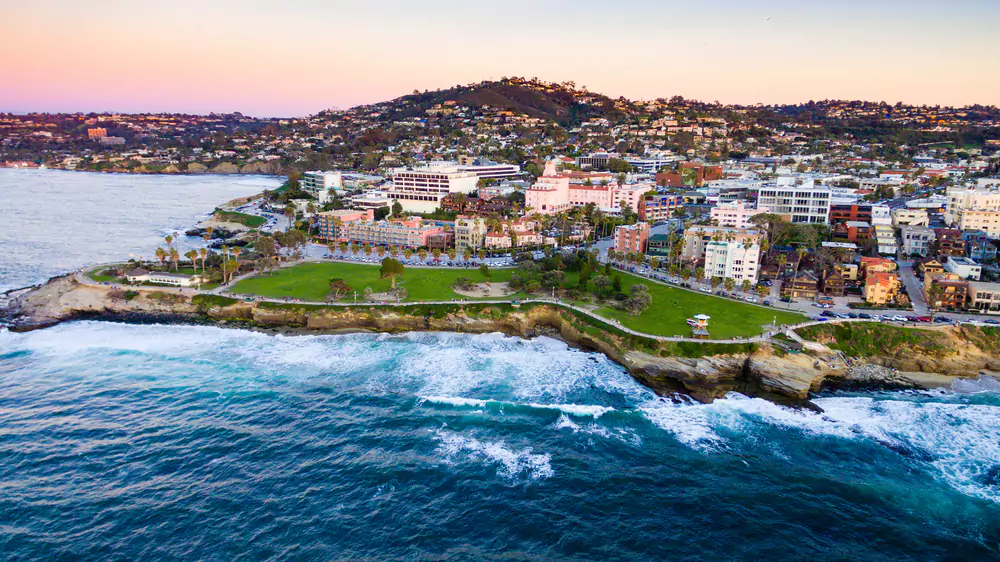 5. Get Stuck in with the Atmosphere at Petco Park
Home to San Diego's Padres MLB team, Petco baseball stadium, which is located smack-bang in the middle of downtown San Diego, has an electric atmosphere when a sporting event is on.
Offering everything from your classic hot dogs and light beers, to the high-end culinary experience and cocktails, and with tickets from as low as $18, you can find something for everyone here.
6. Take a Trip to San Diego's Gaslamp District
The Gaslamp District is viewed as the heart and soul of Downtown San Diego. Spanning 16 and a half blocks, the Gaslamp district spans plenty of charming 21st-century entertainment attractions, over 100 retail shops, and a fantastic nightlife scene. Whether you fancy heading here to dine out, buy something designer, visit a comedy show or view some live music, then you can explore everything that this place has to offer.
Start Your Team Building in San Diego Today!
San Diego team building activities are one of the best ways to help your team improve productivity, trust, morale, and communication. In these team building activities, your team will bond as they either relax in each other's company or push themselves outside their comfort zone. Through these activities, they will develop more empathy and understanding of each other, which ultimately leads to a better connection and a stronger team.
If you want to create an unstoppable team, don't wait any longer to start planning the perfect San Diego team building activities! Get in touch with Team Building Hub and let us help you plan the perfect team building event in San Diego!