Although team building activities sometimes get a bad rap, their reputation for being lame isn't entirely warranted. Choosing unusual team building activities can help beat the bad rap and get your group excited to participate! There are plenty of fun, unconventional team building activities to engage and amuse your team.
Forbes has found that engaged teams are "good for company culture and boosting the bottom line." Essentially, team building is one investment your company cannot afford to ignore.
In this article, we explain how to use unique team building activities to reap the rewards that team building offers. We also share a list of 19 out-of-the-ordinary games that your team won't hate. Choose one of these activities and you won't see any eye-rolling. Instead, you'll hear your team rolling with laughter!
Table of Contents
Team Building Benefits and Games
Why Trying New Team Building Activities is Important
19 Unique Virtual Activities and Games
Team Building Benefits and Games
Talented individuals are only as good as their team. You may have exceptional people at your company, but their talent may not be serving the organization as best as it could. The benefits of team building activities will help your team become more than a collection of talented individuals, but instead a high-performing cohesive group. Here are some of the key team building benefits: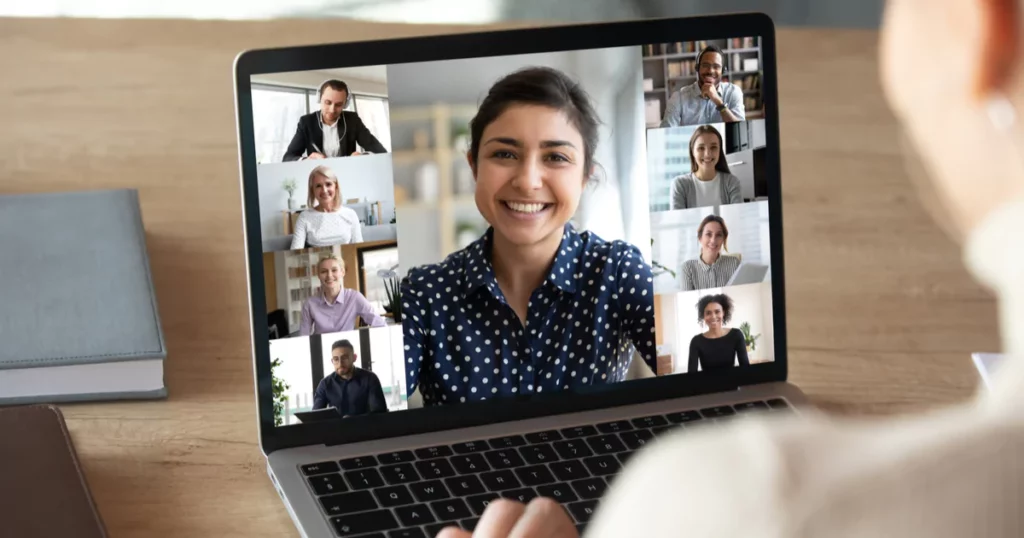 Encourage Creativity
Creativity leads to innovation and innovation plays a major role in a company's success. If you want your team to think in new ways, get creative with your team building game choices. Play a round of Aliens Have Landed and see just how far out of the box your team can go!
Develop Camaraderie
Fun, unique team building activities that invite members to experience something new together create shared memories and are more likely to remain in everyone's minds. Looking back at an unusual shared experience increases camaraderie within a group. Taking a virtual trip to India and making a Bollywood movie is not something your team is likely to forget!
Foster Relationships
Just because your team members are not physically in the same space, genuine interpersonal connections can still form. Games involving personality tests enable team members to learn about each other's traits, talents, and weak spots. Recognizing similarities creates a bond between group members. Alternatively, acknowledging differences creates empathy and allows individuals to feel understood and part of the group.
Boost Morale
A series of studies demonstrate that humor in the workplace has an overall positive impact. Laughter reduces stress, improves productivity, and increases job satisfaction. Believe it or not, just playing giggle-worthy games boosts your company's culture! A 'silly talent' contest, where team members show off useless skills, like ear wiggling, will get your virtual team smiling and feeling good!
---
Get Your Free Game
The 3-Minute Non-Cringey Ice Breaker for Your Next Meeting
A ready-set-go game to run at your next fully remote or hybrid meeting without the hassle or added pressure of developing a team-building exercise yourself. Get it here →
---
Why Trying New Team Building Activities is Important
The mere mention of virtual team building to your crew may be countered with moans and groans. Why is that? Team building activities mean approved time away from the desk! Who doesn't want a break from the monotony of work? Unfortunately, some team building activities – especially overdone, lackluster options – can be equally as monotonous.
When most people think about virtual team building activities, they picture routine games they may have played many times before at prior events or jobs. Maybe they had a bad experience because they felt bored and unengaged. Perhaps the advantages of the activities weren't apparent to them and these activities felt like a waste of time. If you and your team have played the most common and somewhat standard virtual team building activities (think Ice Breakers or Two Truths and a Lie), it's time to try something new!
19 Unique Virtual Activities and Games That Your Employees Won't Hate!
The best unusual team building activities for virtual meetings are games that build critical team skills like communication, collaboration, and creativity. As your team navigates unfamiliar territory, they form unforgettable memories, increase camaraderie, and reach new levels of morale while sharing some serious laughter and fun times!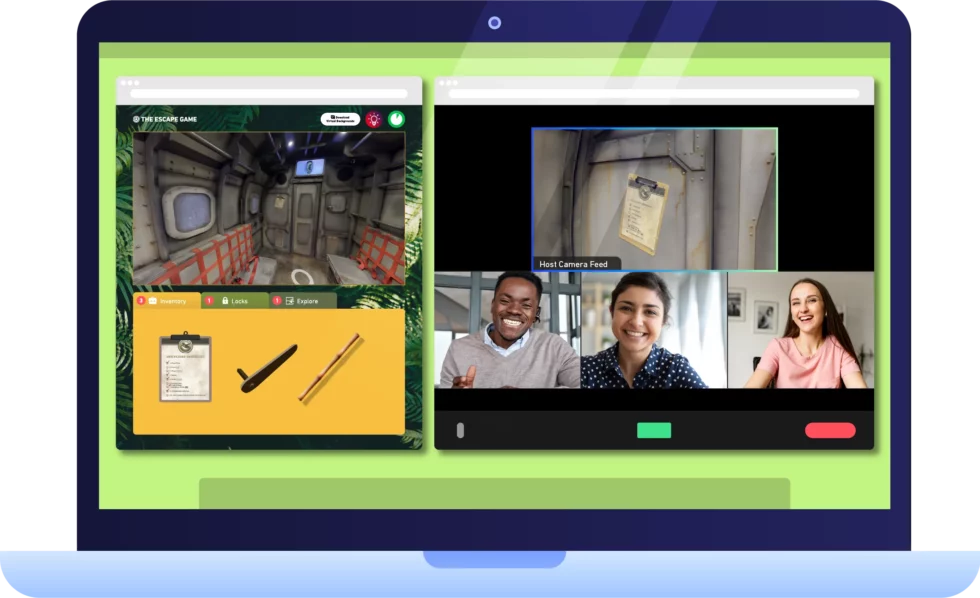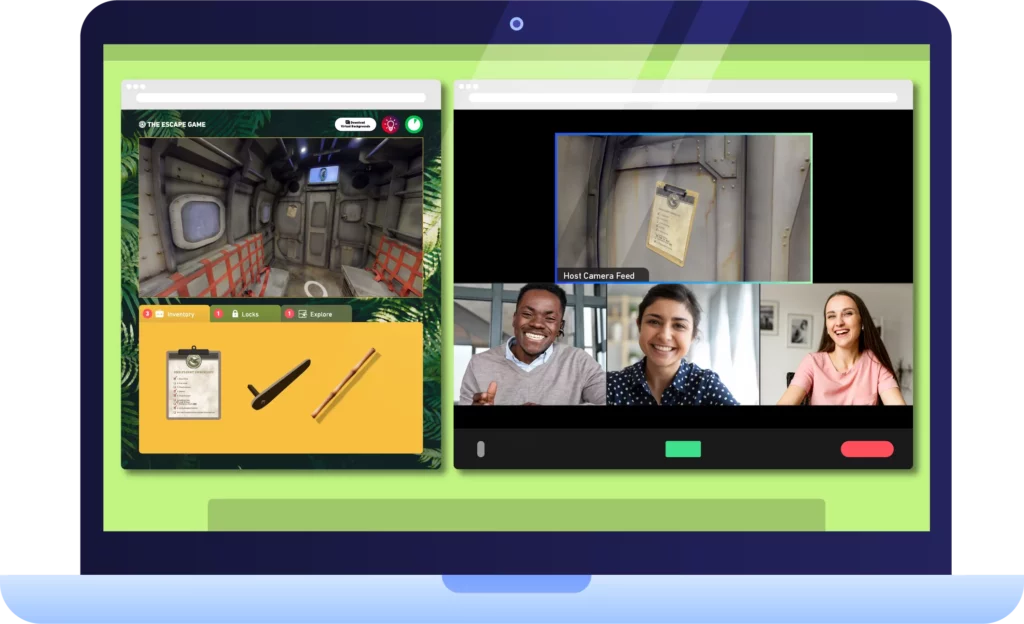 1. Virtual Escape Rooms
Virtual escape room games hit at the heart of team building! They require problem-solving, creative thinking, collaboration, and communication. It's likely that not many team members have played a virtual escape game, they're in for a treat. These immersive hour-long games offer a uniquely fun experience! In "Prison Break", the team has just 60 minutes to escape their cells and break out of jail together before it's too late!
2. Virtual Scavenger Hunts
Much like the in-person version, a virtual scavenger hunt has teams rushing to locate objects from a list. Good communication and collaboration are essential to a team that wants to be the first to complete the list and win the game! Virtual scavenger hunts offer teams the unique opportunity to play this game in all sorts of environments and even in other countries! With Woyago, send the team on an Italian scavenger hunt! Another variation is to play a virtual museum scavenger hunt. Teams must find obscure images or objects within masterful pieces of art, like a clock set to 2:50 at the Getty or a spotted veil at the Van Gogh Museum!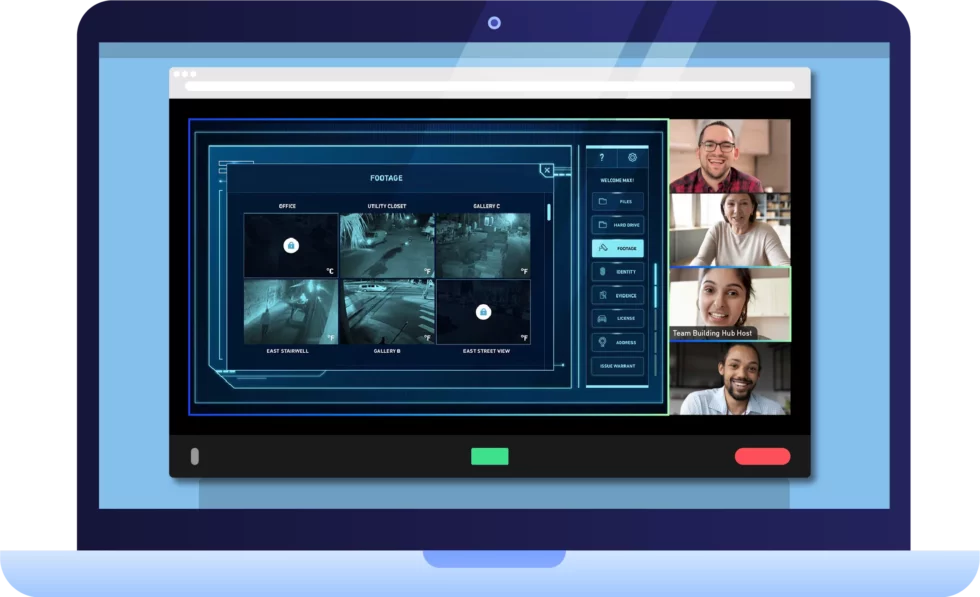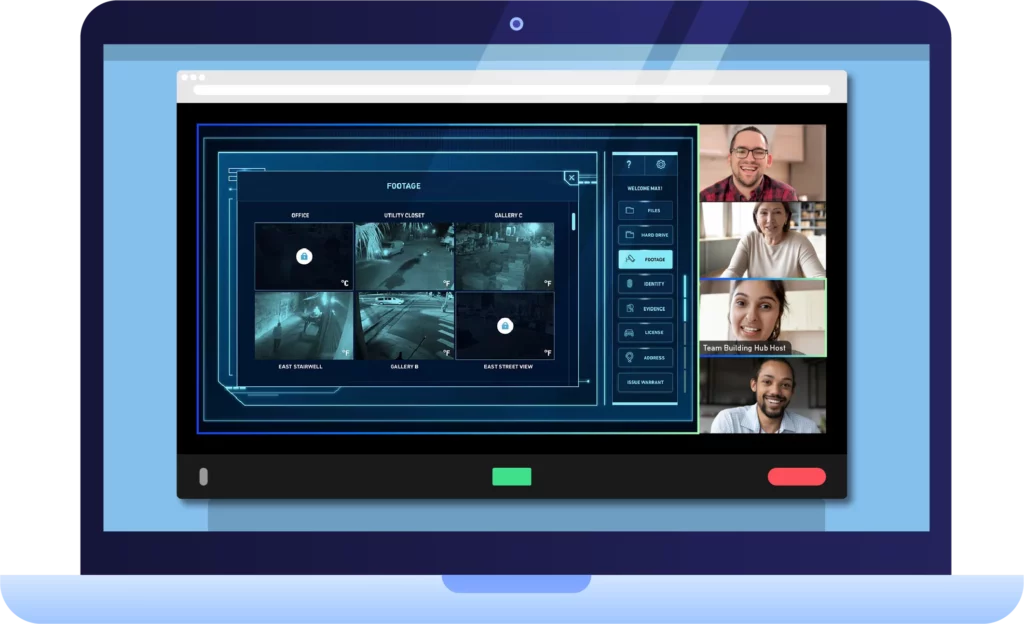 3. Online Mystery Games
Online mystery games are engaging activities that demand strong collaboration as teams work quickly to interpret clues from surveillance footage, psych reports, and other evidence, to solve the mystery. Online mystery games stimulate creativity, encourage teamwork, and necessitate good communication. Because many online mystery games have offbeat themes, they are more than an exercise in problem-solving. The storylines themselves are funny!
4. Virtual Murder Mystery Games
Just like online mystery games, virtual murder mystery games have some element that needs to be solved in order to win. But murder mysteries feature an added thrill, making the experience both unusual and memorable. To find the killer, teams review the evidence and decipher clues, utilizing their best problem-solving skills.
Team members practice communication skills as they take turns hearing each other out and forming opinions as to who the suspected killer is. Effective collaboration is vital to solving the crime. Some murder mystery games have players act as different characters within the story, which brings a creative element into the mix. Virtual murder mystery games have the four Cs of team building benefits covered: collaboration, communication, creativity, and camaraderie!
5. Tiny Campfire
Did you ever imagine in a million years your team sitting around a campfire telling ghost stories and making S'mores? Well, they can! Tiny Campfire runs virtual team campfires where your group can hear historic ghost stories and play icebreaker games to get to know one another better. You'll even make S'mores over tea lights! This unique virtual team activity will definitely leave your team feeling warm and fuzzy.
6. Aliens Have Landed
Split your group into teams of three or four. Then, inform them that aliens have recently landed on earth and naturally, are very curious about your company. They want to learn not just what the organization does, but also your company culture. Unsurprisingly, the aliens don't speak English so teams have to communicate with them by other means. Teams must choose just five symbols or pictures that describe the company and its culture. Using the break-out room feature of Zoom, groups meet to decide what symbols to present to the aliens.
By necessity, teams will have to discuss the essence of the company before choosing their five symbols. Once teams have made their selections, have them share and ask the other teams to interpret what the symbols say about the company, just as the aliens would. This quirky virtual team building game fosters out-of-the-box thinking and enhances non-verbal communication skills. From a management standpoint, you'll learn a lot about how your employees regard the company and if you need to make any adjustments to company culture.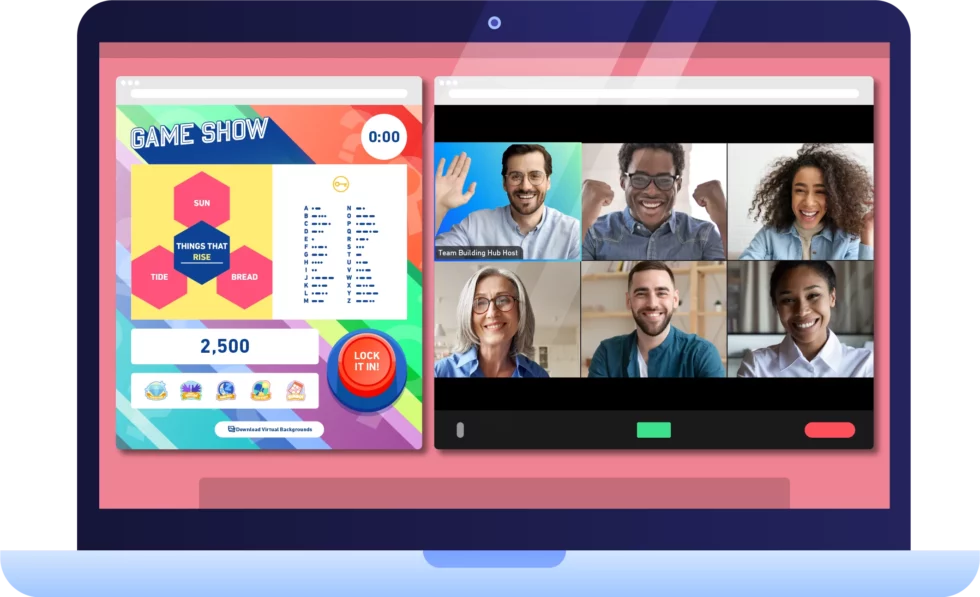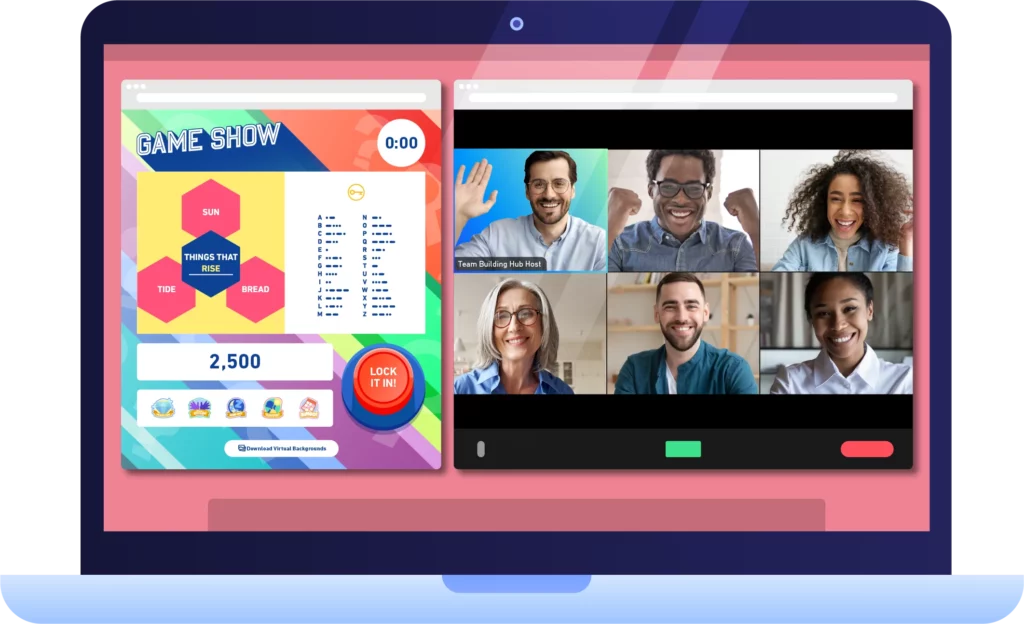 7. Online Game Shows
Online game shows are a quick way to get right to the good stuff! These games don't require that your team be tech-savvy or involve a ton of set-up. Online Game Shows are live, hosted competitions where participants compete against each other through several exhilarating rounds of brain teasers, word puzzles, and code-cracking. Finding the answers to puzzles and riddles calls upon your team's creative and problem-solving skills. Good communication and collaboration are crucial to winning. A dose of healthy rivalry makes this virtual team building activity one that your team will love!
8. Weird Trivia
Sporcle is well known for its hosted virtual trivia games. Playing virtual trivia games is perfect for any occasion. If you are looking for free, quick, and totally weird virtual trivia games, look no further than Sporcle's website with hundreds of 5-minute free trivia quizzes that your team can play together. Forget about questions on topics like history, science, and entertainment. With quiz categories like "Strange and Creepy Facts" or "Odd But True Facts" your team will learn new things together, including some things they probably don't want to know!
9. Personal User Manuals
Having your employees write user manuals about themselves and sharing them with the team is a fun and effective way for colleagues to get to know each other better. A user manual should contain information about one's work style, likes, dislikes, and anything else a team member wants to let others know about themselves.
Have them share their communication preferences: "If you want to get hold of me, use Slack or WhatsApp. Your emails may sink to the bottom of my inbox!" Writers can list their strongest skills as well as share which skills they could use some tips about. Be sure to include a section on "Favorites", such as favorite quotes, favorite movies, favorite hobbies, and more. Encourage the writers to use the manual to give others insight into what makes them tick. You can find some example user manuals here.
10. Personality Tests
Help your employees understand each other better through personality test activities. There are many different team building personality tests to use and you can employ them in a number of ways depending on your goals. Perhaps you want colleagues to find similarities and develop good office rapport. Use test results to group people together on traits they share. If you want to help your team work more efficiently, group people based on differences and ask them to examine how those differences help and hurt team productivity. Personality test-based activities will amplify collaboration, strengthen communication, and camaraderie!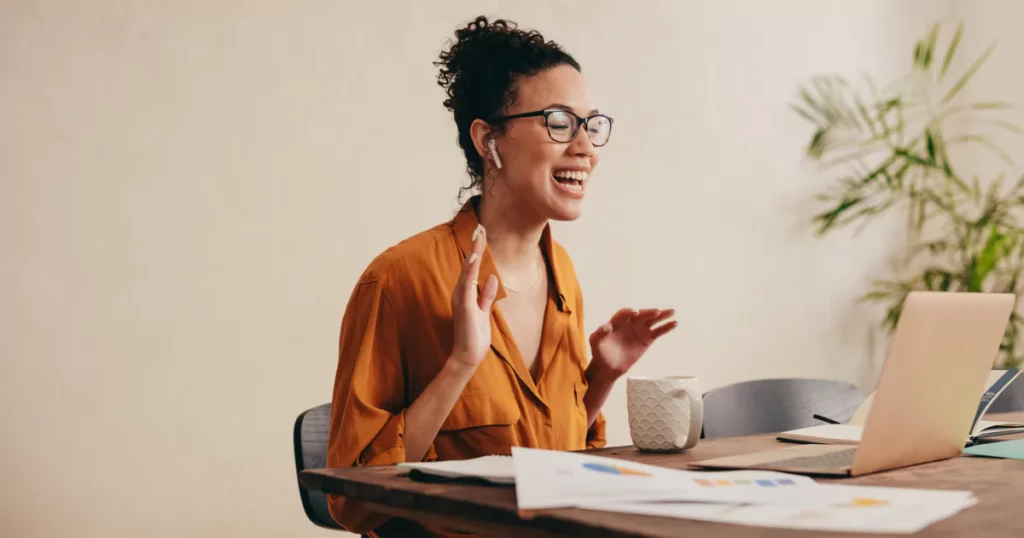 11. Talent Show
Give your team members an opportunity to show off their personal talents with a virtual talent night! This zany team event allows teammates to see each other in a new light. Performers will dance, sing, lip-sync, put on magic acts, juggle, do imitations of famous people…who knows what talents your team possesses? If you need a quick team building activity to break up the monotony of a business meeting, have your team members perform a 'silly talent' show! All ear wigglers, pen twirlers welcome, and air guitarists welcome!
12. Can You Hear Me Now?
Communication has a central role in this challenging game. Your group members also have roles! Choose one person to be the 'describer' and everyone else will be the 'drawers'. Tell the drawers to have a pen and paper for this activity. The describer chooses a random image and then attempts to describe the image in a way that helps the drawers draw it correctly. Here's the twist…the describer can use only geometric shapes to describe the image.
For example, the describer is allowed to say "draw a circle with two small triangles on top of the circle. In the center of the circle, draw a medium-sized upside-down triangle". The describer cannot say "draw a cat". With such restrictions, the describer must carefully craft their descriptions and the drawers must listen well and interpret even better!
13. Online Group Cooking Classes
Food nurtures the mind, body, and soul. Cooking food together can nurture your team as well! Online Group Cooking Classes are an innovative approach to bringing people together. You and your teammates will, from the comfort of your own kitchens, learn how to cook scrumptious meals from experienced chefs. The team benefits of this activity may not be readily apparent, but they are there.
Depending on their level of cooking expertise, individual team members are challenged to learn new skills. Feeling accomplished instills confidence in them and team members will bring that inner sense of pride back to the office. Also, communication is essential if you want to create a culinary masterpiece or just a decent taco! Team members will practice their listening skills as they closely follow instructions. Finally, when it's time to eat, the team will enjoy the fruits of their labor together!
14. Virtual Acts of Kindness
You don't need to be in-person to demonstrate an act of kindness. Pairing your team with a local non-profit organization to perform a virtual service project connects your team with the community and with each other. There are some unusual team building charity activities that tap into your team members' creativity and foster empathy. One charity, Together We Rise, has projects your team can do together while apart! Their Superhero Box project lets your team decorate and assemble individual kits for foster children. Each kit comes with a cape, a mask, power cuffs, a pillowcase, and a Superhero registration card. Some great kids out there will feel special and your team will be proud to know they gave back!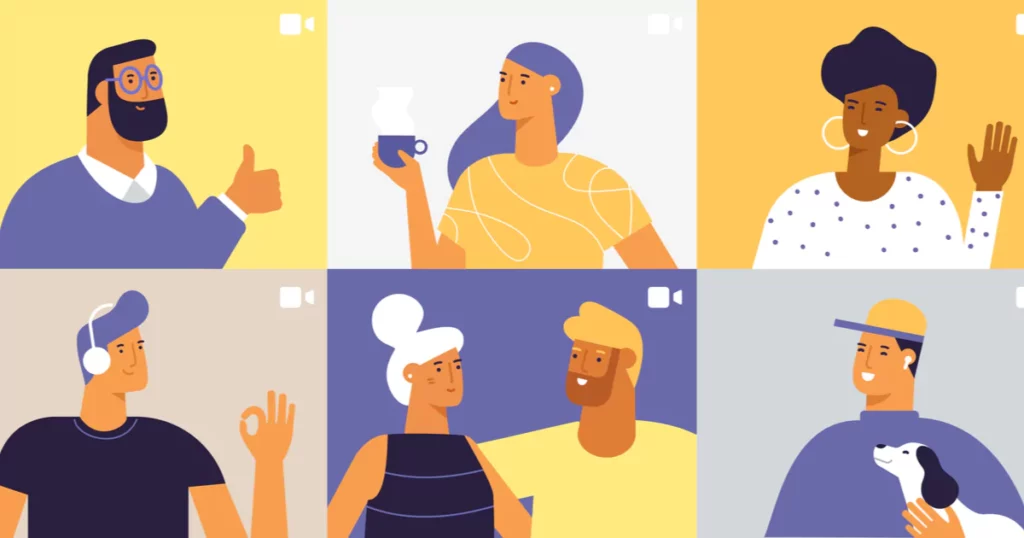 15. Travel Abroad
The virtual world provides endless unique experiences for your remote team. Traveling abroad has never been so easy! Take a virtual trip to India where you can make a Bollywood movie together! Visit some European cities and indulge in learning about local culture! If you want a totally free foreign adventure, take advantage of Google Arts and Culture's Explore feature and take a 360-degree tour of a famous museum or historic site. Visit the museum as a group or if your team is more than just a handful of people, tour the museum in pairs. For quick jaunts to other cities, check out Google's curated Street View projects. These unforgettable escapades will create deeper bonds among the team and leave lasting memories!
16. Costume Contest
No need to wait for Halloween to have a costume contest! Themed costume parties are an awesome virtual activity to get your team laughing and laughter is a key contributing factor to team morale. Choose a unique theme like Famous Dead People or Disney Characters then have group members try to guess each other's personas. The team member who guesses the most personas right wins a prize. At the end of the event, the group votes on the best costume, and that person also wins a prize. This amusing contest will get those creative juices flowing and spark some healthy competition! A costume contest is also a good unusual team building activity for kids so for those team members with families, tell them to bring the whole gang! Even dress up the pets!
17. Airbnb Experiences
Surprise your team with one of the dozens of Airbnb virtual experiences! The array of experiences offered is mind-boggling! Give your team some time to relax by virtually meditating with Buddhist monks. Take the team on a Sri Lankan safari! Or discover what this virtual experience, "Magic & Scam for Honest Remote Workers" is all about! From the utterly unusual to familiar but fun, unique virtual experiences nurture camaraderie as team members will bond over adventures that they have experienced together!
18. MTV Cribs Remote Edition
A spin on MTV's show Cribs, this virtual version has a twist. Have your team members make a very short video of their homes and some of their favorite objects. Ask them to send the videos to you. Then when your group is together, show them the videos and have them guess whose home they have just seen. This game helps team members get to know one another on a personal basis. Knowing a bit about your teammates outside of a work environment adds an extra layer to the team's cohesion!
19. Virtual Happy Hours
We know, we know…virtual happy hours aren't anywhere close to being unusual. But there are ways you can add some flavor to this already successful team building activity. Throw some unique drinking employee team building activities into the mix! For example, turn happy hour into an educational experience. Have your team learn to make unique cocktails by taking an online mixology class!
For something a bit more sophisticated, host a virtual wine and cheese tasting event using this helpful guide! Add some pizzazz with a theme like Black Tie and have the team show up in their swankiest clothes and sip a classy cocktail! You may not realize but some team building benefits can be found in boozy happy hours. Studies have shown that happy hours increase the chances that people will feel good and bond with others in that setting. The day after a happy hour, your team may have a spring in their step and a smile for the team!
Final Thoughts
Participating in unique virtual team building activities leaves teams feeling accomplished, with improved communication and more effective collaboration skills. That feeling of achievement is a powerful takeaway. Back at work, they can reflect on the challenges they faced together and laugh about the fun times they shared!