Nothing unites people quite like sharing a meal together. The same holds true for coworkers. An office lunch can be a casual yet meaningful team building activity. But when your team is working remotely, breaking bread together isn't so easy. Taking a virtual group cooking class is a pretty good substitute!
In these classes, your team will learn new culinary skills virtually "side-by-side" and bond over this fun activity from their own kitchens! Team building never tasted so good!
We've put together this list of the ten best interactive virtual group cooking classes. There are options for varying skill levels, tastes, and dietary preferences and even a few drink mixing classes. Bon appétit!
---
The 9 Best Virtual Group Cooking Classes
1. CocuSocial
If you're looking for an interactive cooking class experience, CocuSocial is the way to go!
With small class sizes and customized experiences, they focus on interaction amongst participants. Groups also receive a list of ingredients and equipment list in advance!
Hosted by chefs around the U.S., classes include learning how to make Stromboli from scratch, handmade empanadas, steamed bao buns, and New Orleans style beignets. Yum!
---
2. Life At The Table
Life At The Table is a virtual cooking school that offers various virtual cooking classes. They ship ingredients to all team members, taking care of the headache. However, groups can purchase ingredients on their own using the recipe list if they'd like.
Chefs can adjust recipes to accommodate dietary restrictions and groups don't need any cooking skills to enjoy this class together!
---
3. The Chef & The Dish
The Chef & The Dish offers live online cooking classes where your team can learn how to cook a meal with expert chefs.
They provide everything you'll need to connect with your team while learning about a new country and culture.
Teams can learn to create delicious international meals like made-from-scratch pasta, Spanish tapas, and a traditional Turkish wedding feast!
---
Get Your Free Game
The 3-Minute Non-Cringey Ice Breaker for Your Next Meeting
A ready-set-go game to run at your next fully remote or hybrid meeting without the hassle or added pressure of developing a team-building exercise yourself. Get it here →
---
4. Online Cooking Experiences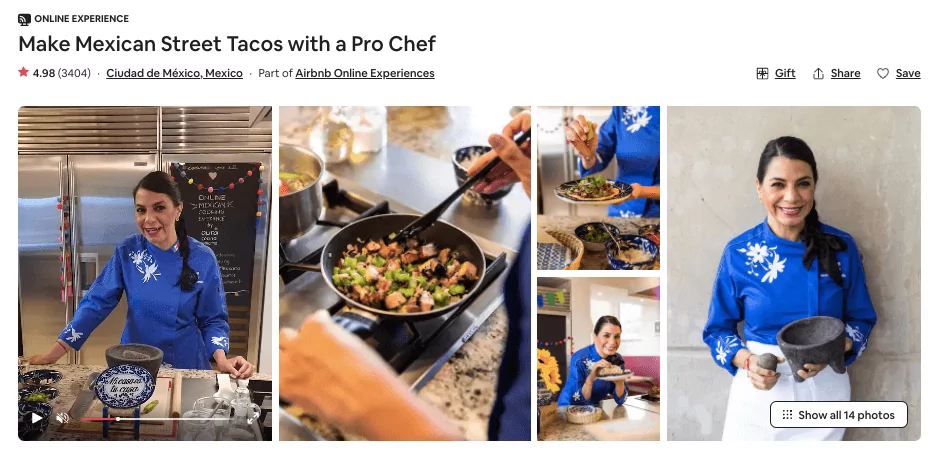 You can do more than find cozy mountain cottages or seaside villas on Airbnb. Airbnb Virtual Experiences lets hosts share live, interactive activities from anywhere in the world!
Learn how to make fresh pasta in Italy, Mexican street tacos, sushi from a Japanese chef, or kimchi in South Korea all from your kitchen!
---
5. Kitchen On Fire
Kitchen on Fire turns up the heat in this virtual version of their popular in-person team building private events.
Team members can enjoy this educational food experience while learning how to cook hearty meals like Grilled Bistro Steak and Almond Olive Oil Cake.
Choose from five virtual group cooking classes, including a virtual interactive happy hour!
All participants will be sent a shopping list, equipment list and prep instructions before the event.
---
6. Tiny Campfire
Enjoy some summertime nostalgia with Tiny Campfire, a virtual team building service modeled after summer camp fun. The 90-minute event includes telling ghost stories, playing Icebreaker games, and of course, making S'mores!
---
7. Positive Adventures
Get a head start on the holiday season with Positive Adventures' Virtual Holiday Program!
With Merry Mixology and holiday cooking courses, Positive Adventures helps teams connect and keep office morale strong!
---
8. Top Chef University
If you're a fan of reality cooking competitions, this is the experience you don't want to miss! Using the app, team members learn how to cook delicious meals from contestants of the tv show Top Chef!
---
9. Fest Cooking
Does your team have a sweet tooth? If so, take a virtual baking class with Fest Cooking.
Participants learn how to make intricate desserts like Strawberries and Cream Napoleon, Cannolis with Ricotta Cream Filling, and Chocolate Peanut Butter Macarons.
Fest Cooking also offers ​​other virtual cooking, baking, wine, and mixology classes. The hard part will be deciding what to make!
---
Virtual Group Drinking Experiences
What goes better with a tasty meal than a fresh cocktail or glass of wine?
Cozymeal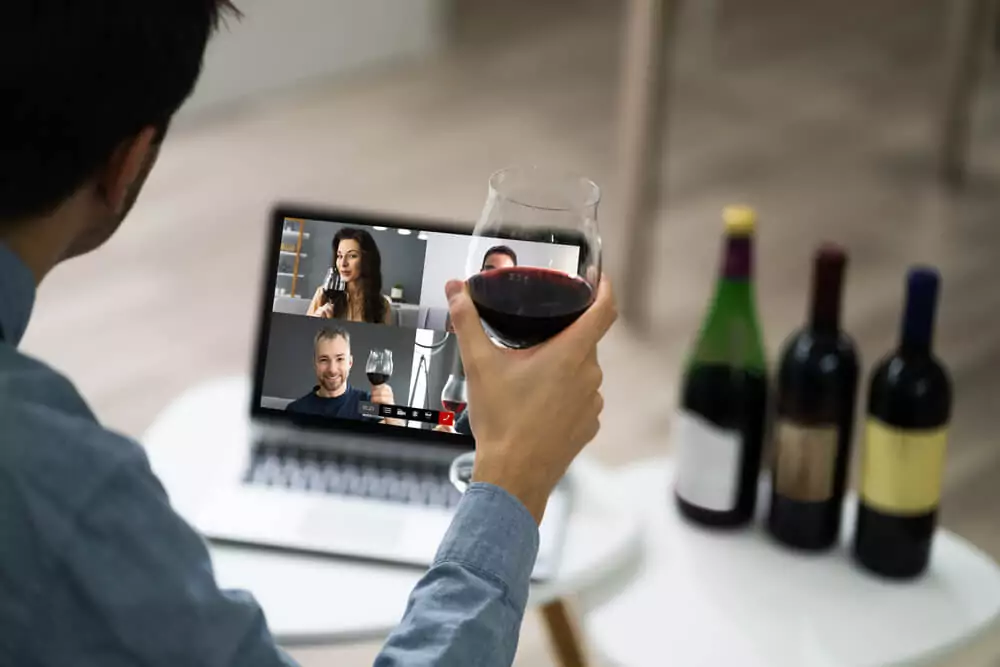 Cozymeal is one of the leading food-based experience companies in the country with some of the best virtual cooking classes for groups!
One standout event is their fully interactive virtual wine tastings led by world-class sommeliers and chefs. During the virtual wine tasting, team members enjoy in-depth wine samplings along with palate-pleasing food pairings to complement each glass.
---
DrinkMaster
DrinkMaster, a Master Bartending School in Boston, MA, offers virtual team building cocktail-making classes! They ship all the necessary ingredients and bar tending tools to team members. There's also a non-alcoholic version of each cocktail!
The instructor also often shares some fun cocktail-related trivia and stories while guiding the team to whip up a delicious boozy drink.
---
Final Thoughts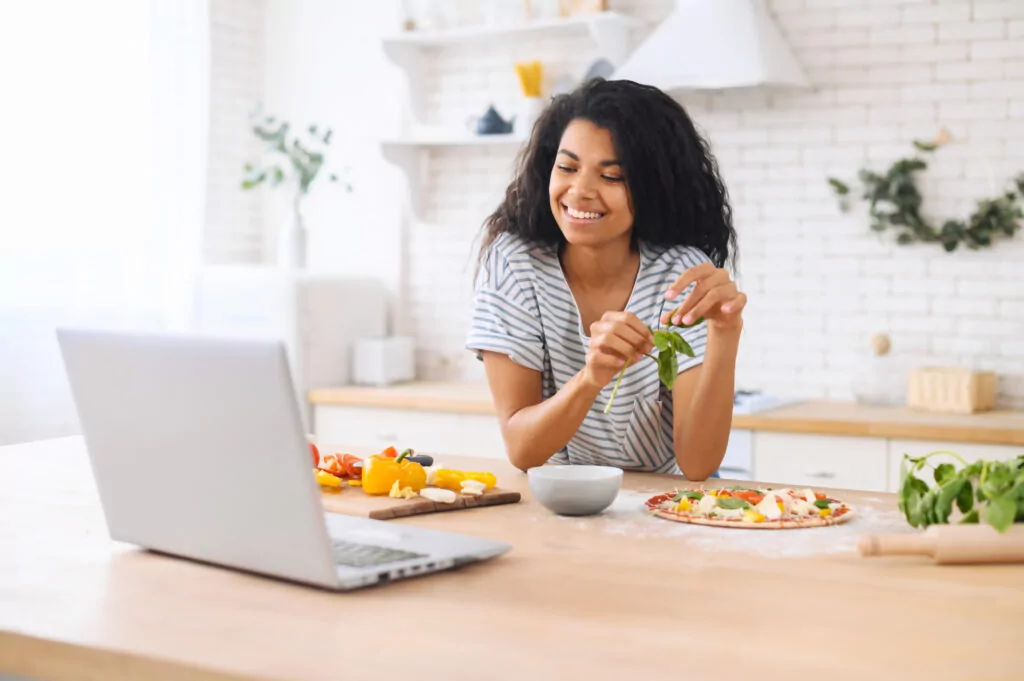 We hope you and your group whip up some delicious new meals together in your next virtual, corporate team building event!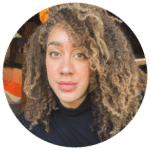 Anecia is a Nashville-based writer who believes in the power of team building. She writes a variety of content focused on creative corporate team building ideas, to help teams become more dynamic, unified, and successful.