Team building activities are some of the best ways to develop your team, and New Jersey is full of options for you to choose from! The Garden State has plenty to offer as you strengthen your team's skills and abilities, plus a quick trip will help bond your teammates together outside of the office. Keep reading for some of our favorite team building activities in New Jersey!
Table Of Contents
22 Team Building Activities in New Jersey
What To See On Your Team Building Trip To New Jersey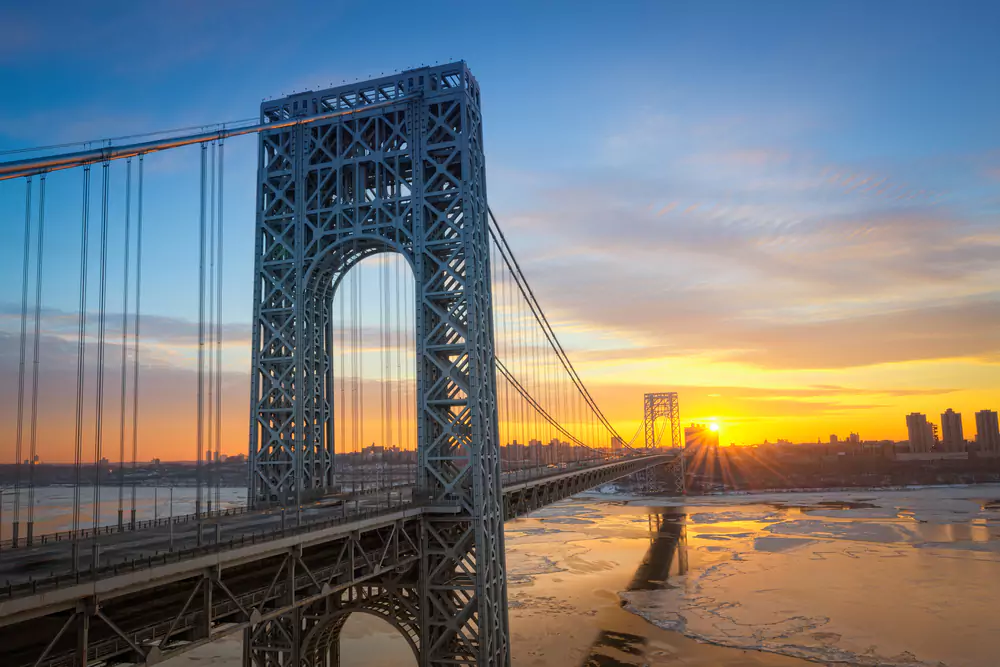 22 Team Building Activities in New Jersey
If you manage a team, you know how important it is to have healthy team dynamics and teamwork skills. Team building activities are great (and often fun) tools that help strengthen your team's communication, unity, camaraderie, problem-solving, and more. When these kinds of skills are solid on a team, you can expect to see better results and products at work.
For a memorable time with your team, explore some team building activities in New Jersey! The Garden State is full of unique options for team building and sightseeing, and your employees will be grateful for a nice trip out of the office.
Here are 22 team building activities in New Jersey for your team to try.
1. Book a room at The Escape Game
The Escape Game is the perfect team building activity to build communication, problem-solving skills, and have a ton of fun! You'll get to see who some natural leaders on your team are as you work together to escape a locked room in under sixty minutes. Clues are spread out throughout each game room, but each room is full of surprises that will keep you on your toes. Whether or not you make it out within the hour, you can also pick up some classic Escape Game merch to commemorate your trip!
As a bonus, the Escape Game in New Jersey is located in the American Dream shopping center, so you'll be in the right spot for a team meeting before or after you jump into the Escape Game.
2. Plan an event with Team Building Hub
Team Building Hub has all the knowledge about team building, plus the activities to go along with it! Our team offers virtual and in-person team building experiences that your employees will remember and have fun with. If you're not quite sure where to start with developing new skills for your team, we can help. You'll work with our experts to strengthen your team's communication skills, strategic thinking, problem-solving abilities, and more. Team Building Hub also has plenty of resources for you to check out that can help you figure out what's best for your team!
3. Go paddle boarding
Paddle boarding (or SUP to some insiders) can be a bit of an adventurous and relaxing team building activity for your team that likes to experience nature or be on the water. New Jersey is home to several scenic waterways and waterfronts that you can paddle board through, such as Ocean City and the Wallkill River, and some paddle board companies offer tours as well!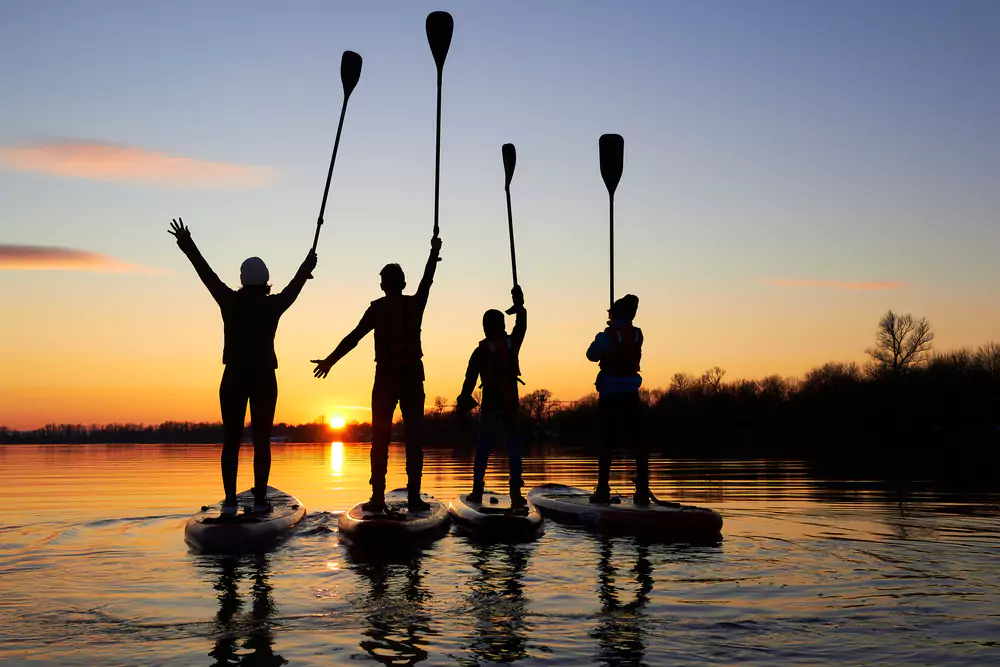 Paddle boarding offers your team an opportunity to experience something new together and build bonds with each other. For those who may be familiar or comfortable with the sport, it's also an opportunity for them to help another teammate figure out how to stand up on their board, get moving, and get better.
Check out Daks Kayaks & Paddleboards and Flatwater Paddle Co. for rental and tour options!
4. Play a virtual game show
History shows that people are big fans of game shows—they're still popular on television, people do iterations of them at house parties, and they're just super fun! Plan a team building activity that's based around a game show, and don't forget to include the prizes.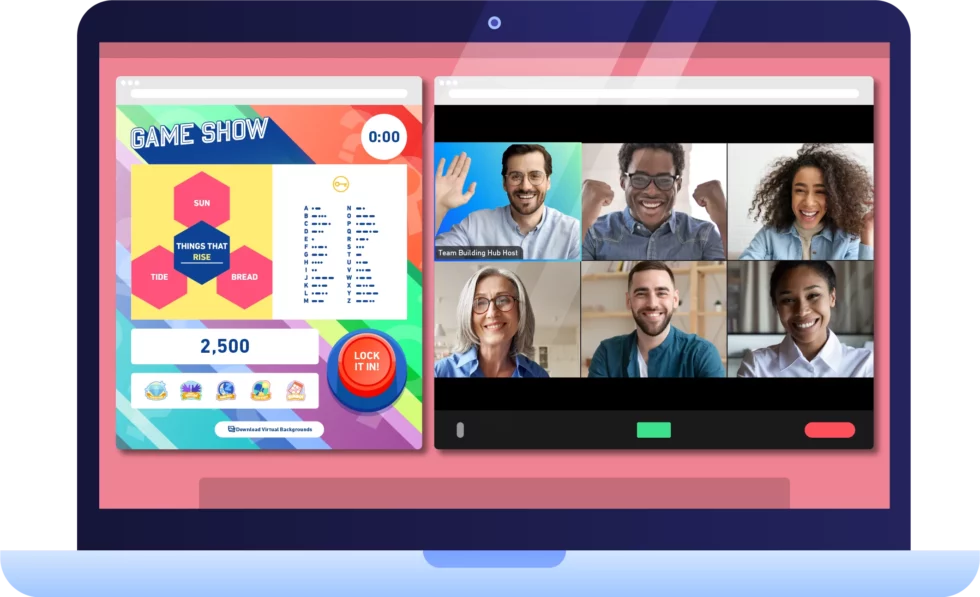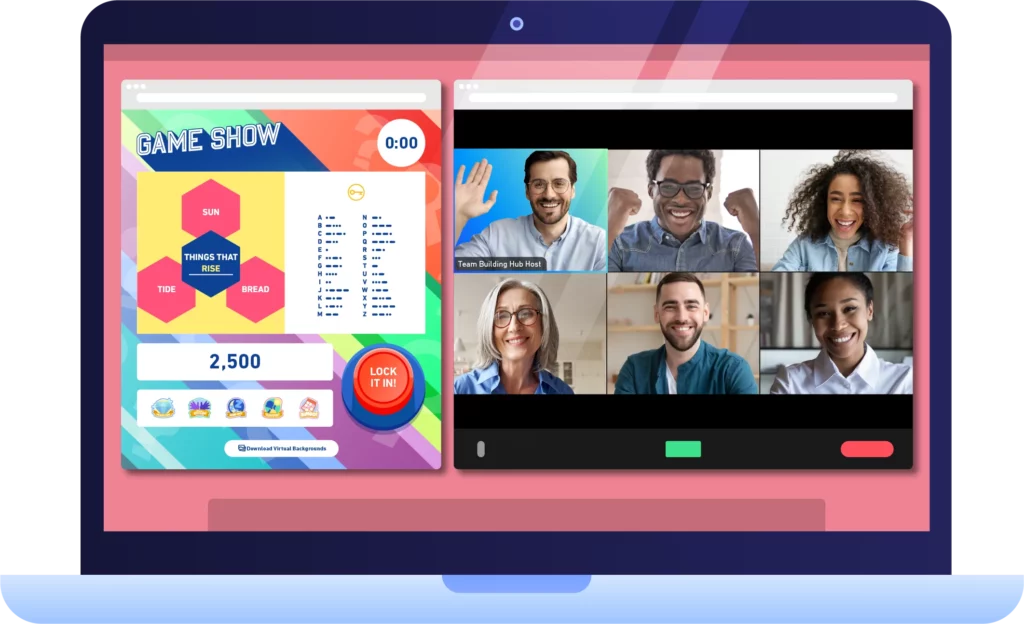 Team Building Hub offers in-person and virtual options for your team to either work together or on their own. Their game show activity will allow your team to work on communication skills, problem-solving, quick-thinking, and building camaraderie.
5. Learn the art of fencing
While there might be someone on your team that you don't trust with a sword (there's nothing wrong with having an accident-prone teammate!), there's a lot of team building that can happen through the art of fencing! You'll have a chance to learn the game of "physical chess" and build decision-making skills, learn how to perform well under pressure, develop strategic thinking, and strengthen communication among your employees. Even though there might be a learning curve for some of your teammates, as they get the hang of fencing, they'll be able to look forward to each bout.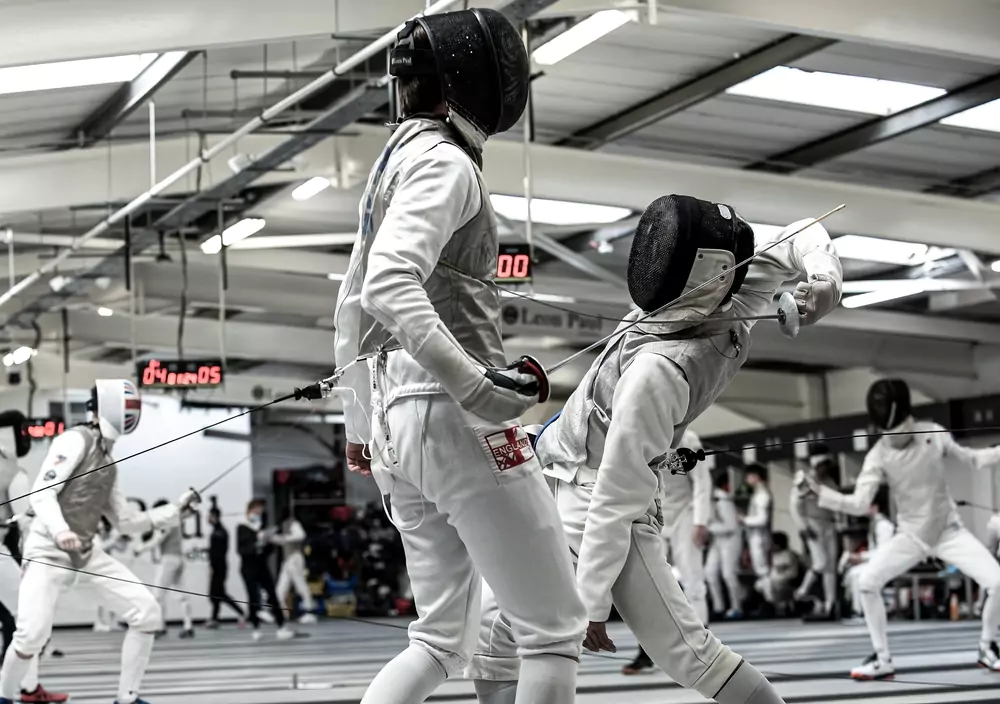 Visit Manhattan Fencing's website to book your team's spot and start team building. En garde!
6. Embark on a scavenger hunt in Hoboken
As a walkable and generally cool city, Hoboken is the perfect place to embark on a scavenger hunt. A scavenger hunt is a great option for team building—there's a bit of competition, a bit of exploration, a bit of observation, and a whole lot of fun!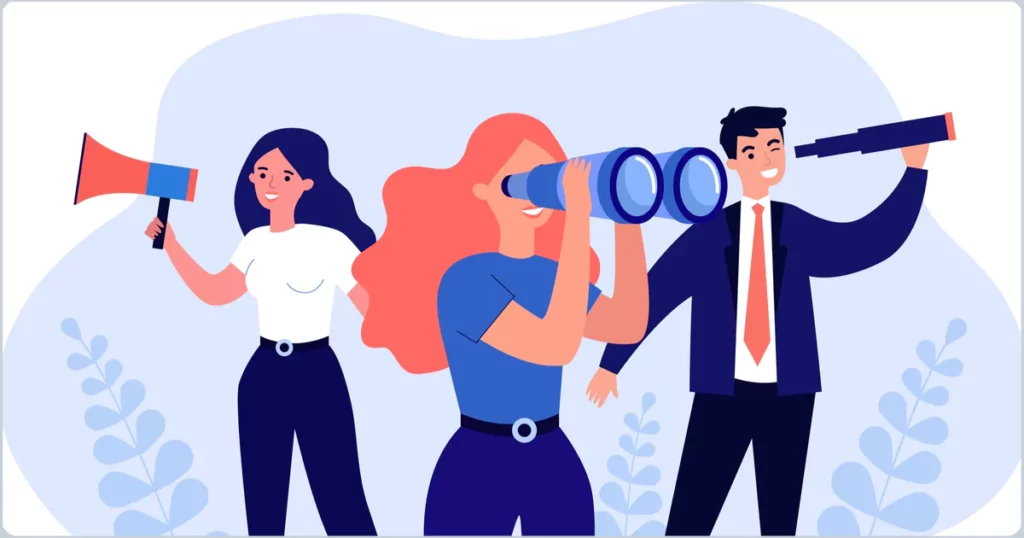 The good news is, you don't have to come up with scavenger hunt clues on your own! For a fun and educational option in Hoboken, check out the Hoboken Harbor and History scavenger hunt. If you want to check out some different cities as well, Strayboots also offers a handful of different scavenger hunts that your team will love to choose from.
7. Try your hands at woodworking
Your team will love the chance to put their hands to work at this unique team building activity in New Jersey. The DIY Joint offers woodworking and DIY classes that your team will really enjoy with a unique, handmade souvenir to take home at the end. Expert instructors will help spark some creativity in your team as they guide you through a project. While you may not see explicit "teamwork" happening on a particular project, you can bet that your team is building unity through learning new skills together. As they learn to lean on the experts for instruction, they're also building an important part of communication skills—listening to comprehend!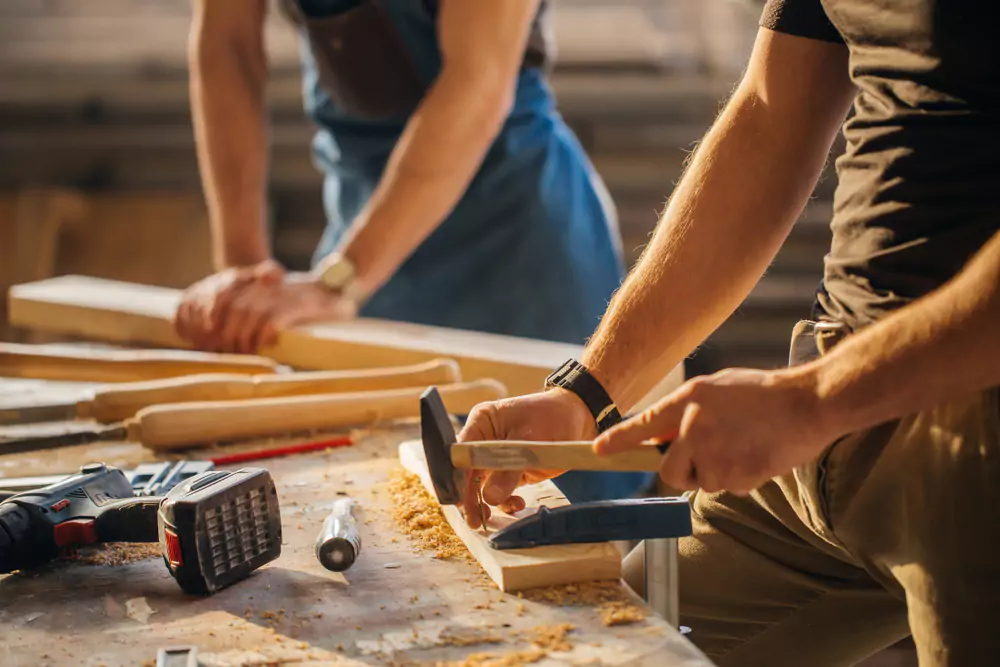 8. Go-kart racing
Go-kart racing is a great way to get your team on the same page with some competition and laughs! Racing involves strategy and can be a stress-relief for your employees. Having fun is an easy way to build trust among your teammates, and you'll get a boost of employee engagement as well. Just like any race or competition, make sure you offer prizes, and to push the team building aspect, consider how you can make the races team-centric! RPM Raceway will give you keys to go karts as well as other fun games that you can play, such as bowling and virtual reality.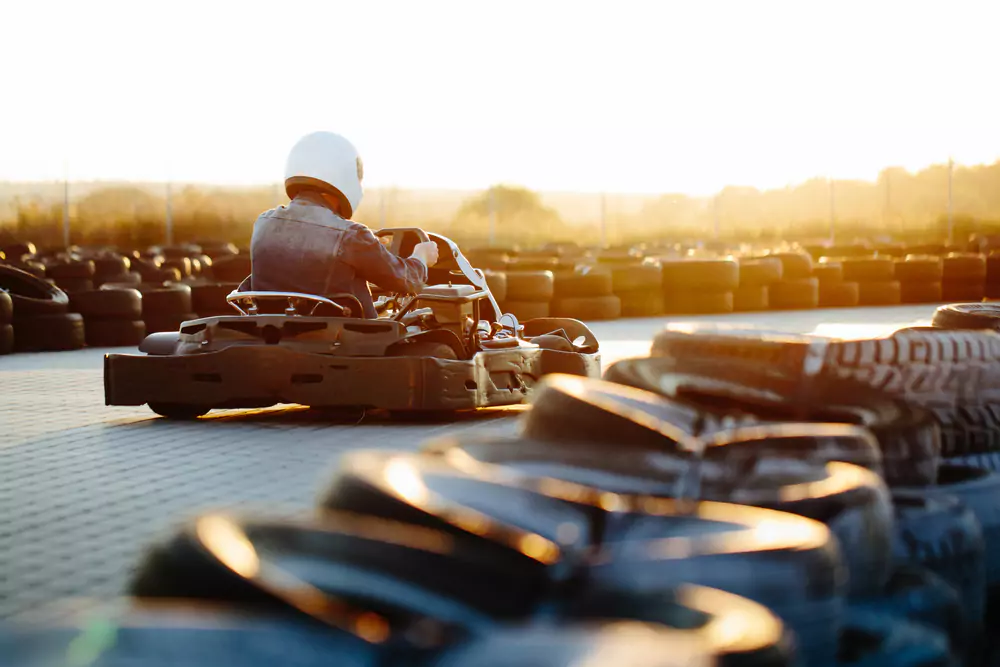 9. Take a bike tour
Up for a little fresh air and exercise? Book a bike tour around a New Jersey city for your team, and you'll get a bit of both! NJ Bike Tours offer excellent tours that have a little bit of a European flair to them. You'll get a chance to see why New Jersey got the nickname "the Garden State" and enjoy some of the best scenery in the state.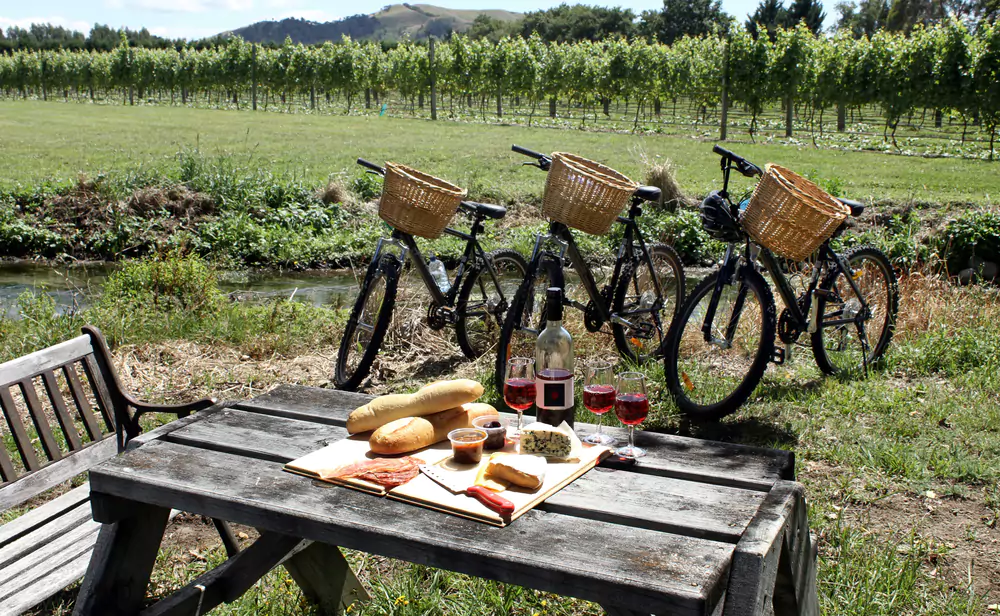 As your team rides along on their bike tour, they'll naturally build unity. Getting a chance to see new sights will have them talking about their shared experience for a long time!
10. Make unique art with glassblowing
Glassblowing can seem like it belongs in medieval times, but the art is still well and alive today! Your team can try their hand at glassblowing with Glassworks in Morristown, New Jersey. At Glassworks, you can have your employees work individually on a project or put them together in groups to work with teammates. They'll strengthen the creative side of their brain and learn to work together to bring a vision to reality.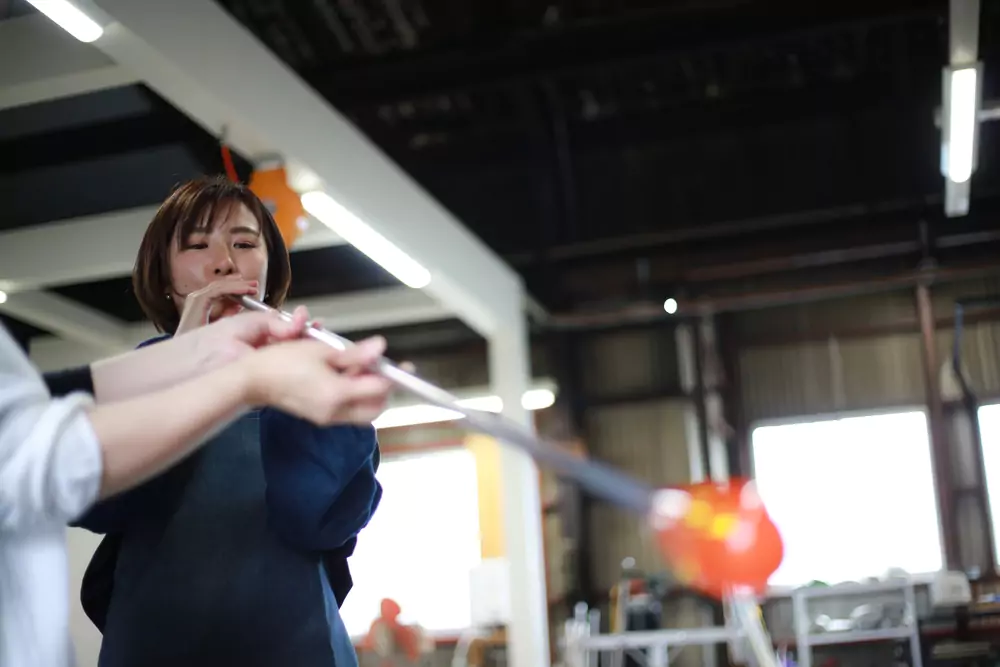 11. Outdoor laser tag
Laser tag is always a good time, and with the added element of being outside, you'll give your team a new experience as they work on team building. Fireball Mountain Outdoor Laser Tag will give your teammates a common objective as they work together. Not only will they work on talking with one another and listening to teammates but they'll also have to build trust with each other and figure out a team strategy that everyone can be part of. A friendly game of outdoor laser tag will quickly turn into a fun round of competition!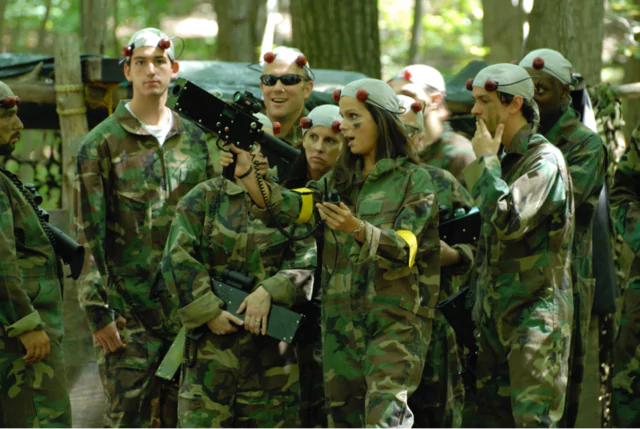 12. Throw some axes
Axe throwing is becoming more and more of a recreational hobby, and with that, axe throwing companies are incorporating team building with it. There's no skill level required in axe throwing, making it perfect for anyone who's willing to try it. It's anything but mundane, and you're sure to engage your employees by letting them throw a sharp object at a target. As they learn a new physical skill, they'll get a chance to take their minds off any pressing or stressful work situation and have some fun with their coworkers.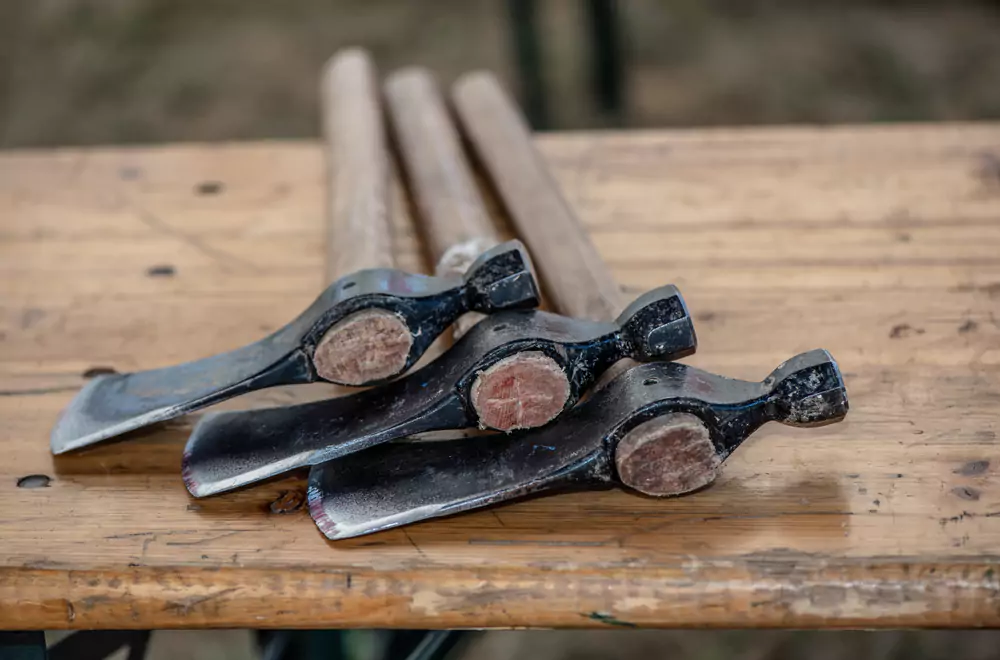 Check out Bury the Hatchet for a great New Jersey team building option, and remember to build your team's excitement in this new activity!
13. Play a virtual mystery game
Remember the board game "Clue"? Well, now your team can participate in a real-life version of it, but don't worry—we can promise that no one gets hurt! A mystery game will put clues in your teammates' hands that they must puzzle together. As they work as a team to find who dunnit, they'll be able to test out their intuitive skills. You'll see some leaders step forward to drive the game, which can be helpful for you as a manager when you get back to the real world of work.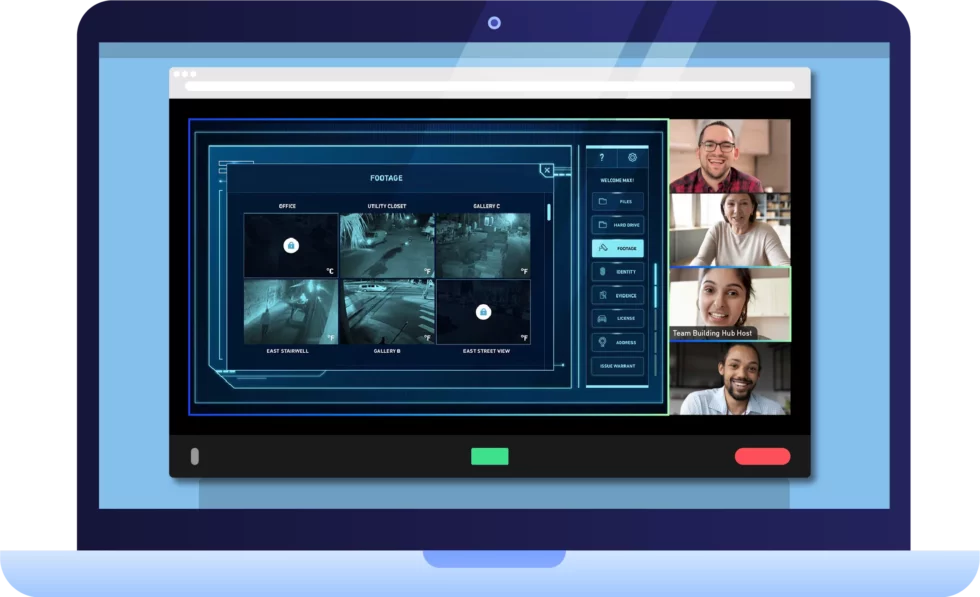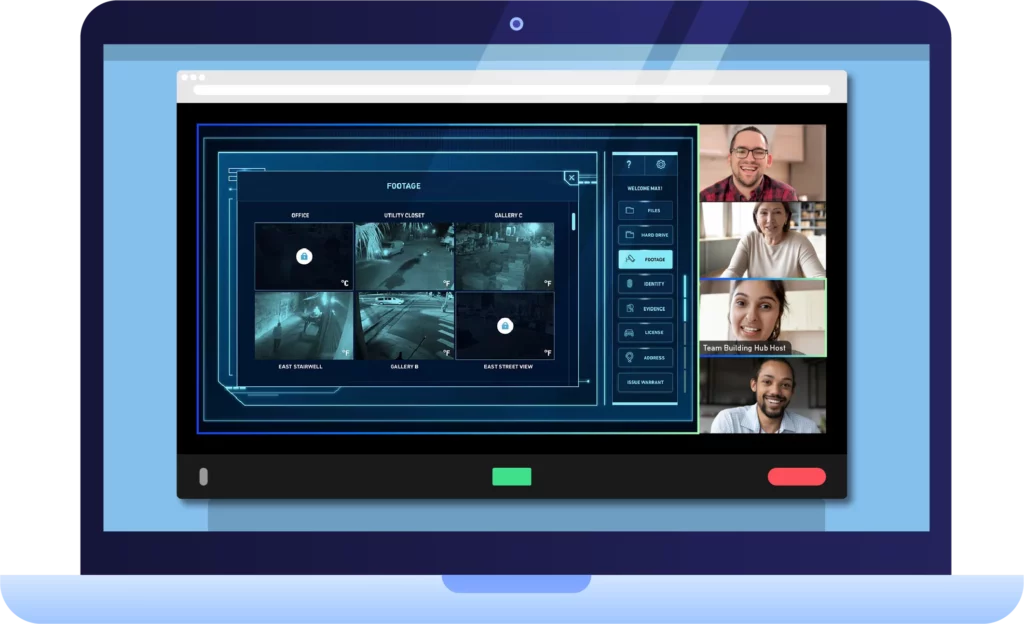 Two great options for you to choose from include the Murder Mystery dinner in Wayne, New Jersey, and a virtual option with Team Building Hub that you can access from anywhere!
14. Complete a ropes course
Want to give your team a challenge with their hand-eye-foot coordination? Book a ropes course challenge! A ropes course is a physical activity that will make your team use parts of their brains that they might not use on a daily basis in the office. On some courses, your teammates will truly have to work together to succeed. They'll cheer each other on and maybe literally lift each other to the next level so that they can succeed as a whole.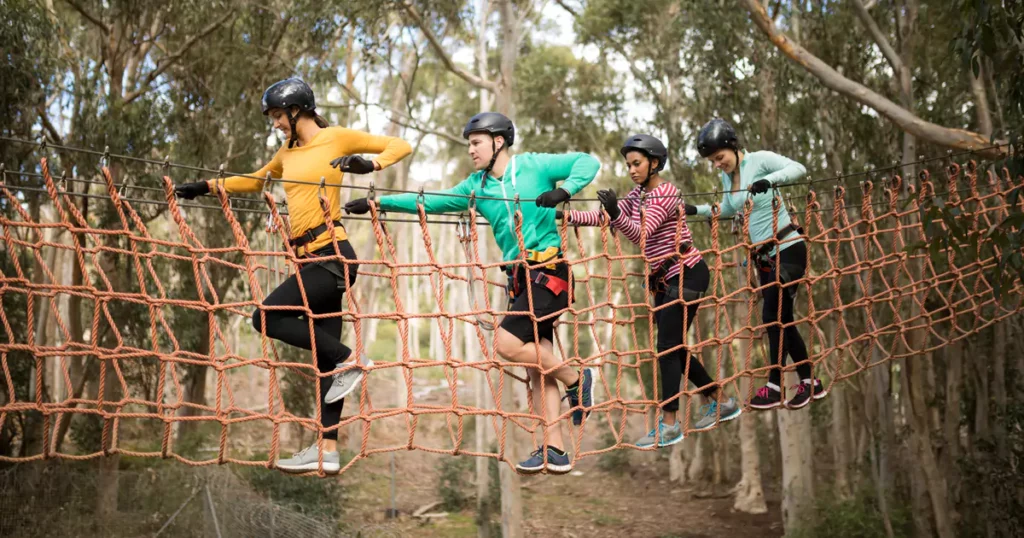 Tree to Tree Adventures is the perfect option for this team building activity. Be sure to check them out and schedule a time to go!
15. Take a culinary class
Culinary classes are great opportunities for your teammates to learn some skills that they could use in their personal lives as well as in their work lives. As they learn some new recipes, they'll stretch their own creativity and abilities in cooking that'll give them an edge in stretching themselves in their workload. Cooking involves trying new things, getting out of your comfort zone, being patient, and sometimes learning how to start over and finish strong.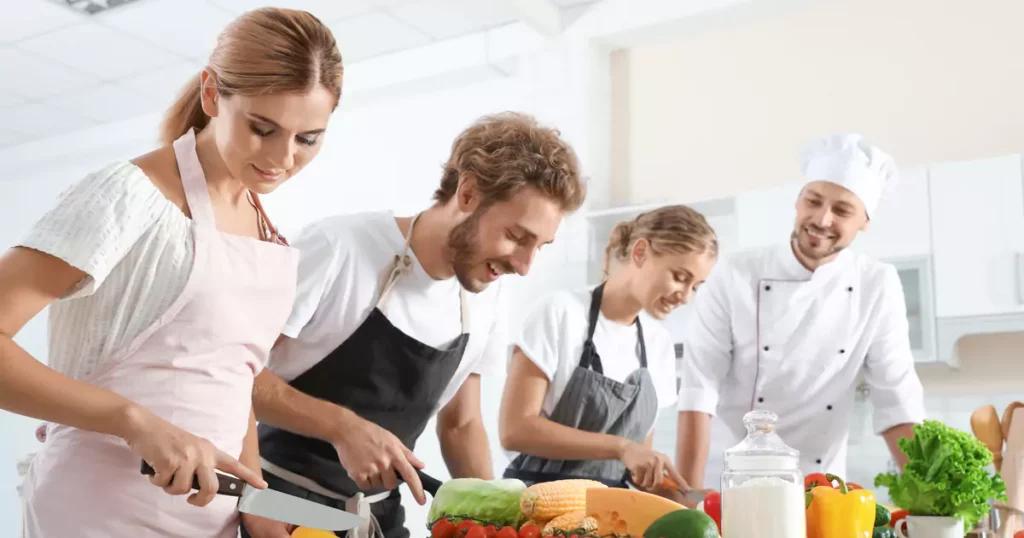 Some great cooking classes for you to choose from include Cozy Meal, Olde Mill Inn, and Hudson Table's private events.
16. Book a virtual bartender for a happy hour
Book a virtual bartender to help your team with a happy hour! It'll be a happy hour to remember as your team follows the bartender's instructions to make a fantastic drink. Hey Bartender is an easy way to book your server, and they also send out ingredients for your team. This mixology class will get your teammates excited and allow them to wind down together in the best way. Make sure you bring some snacks for this virtual happy hour!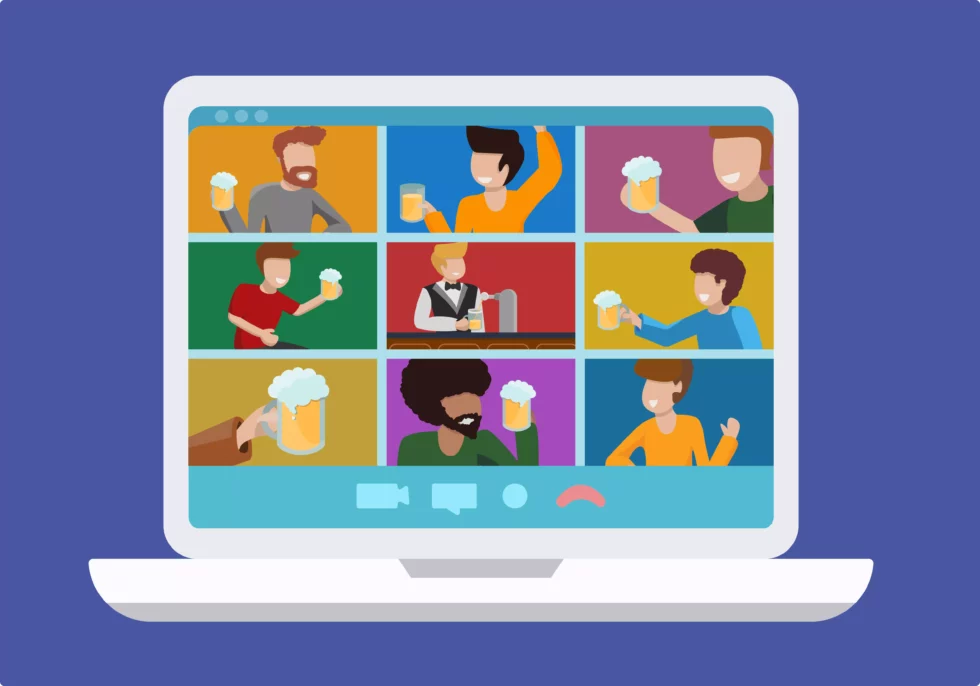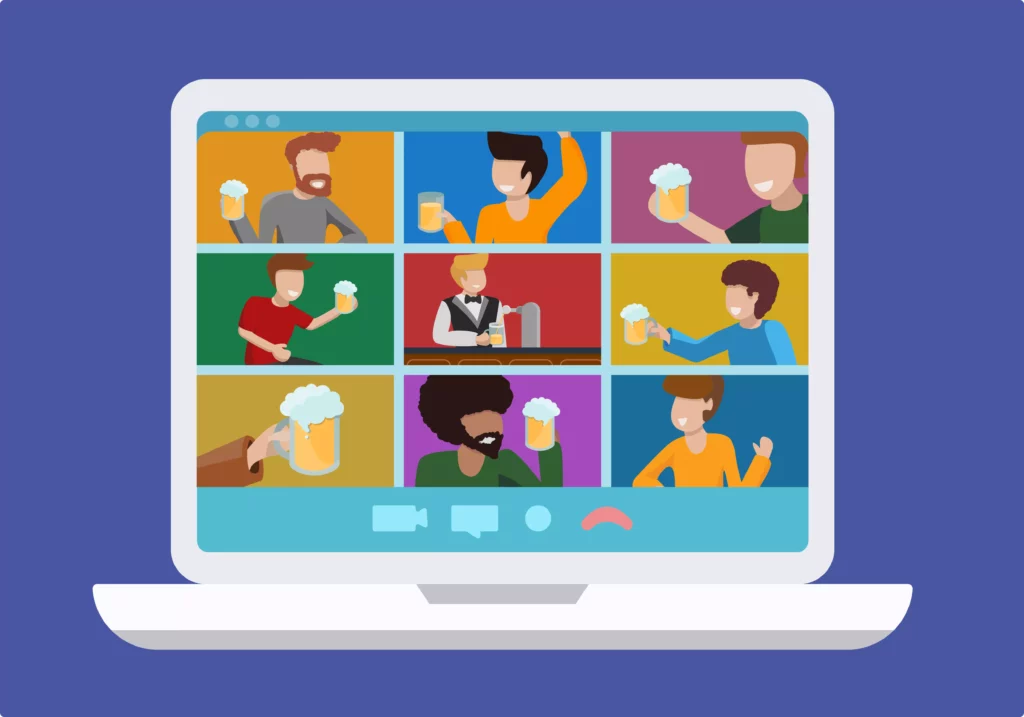 17. Book a team building session with an improv company
Most everyone loves improv, but not everyone has given improv a chance themselves! THEY Improv gives your team a team building boost by bringing the laughs and opening them up to each other. Improv is a great way to push creativity boundaries while getting to know one another. Unscripted Productions is another great improv option that will help you create a culture of fun and openness with your team.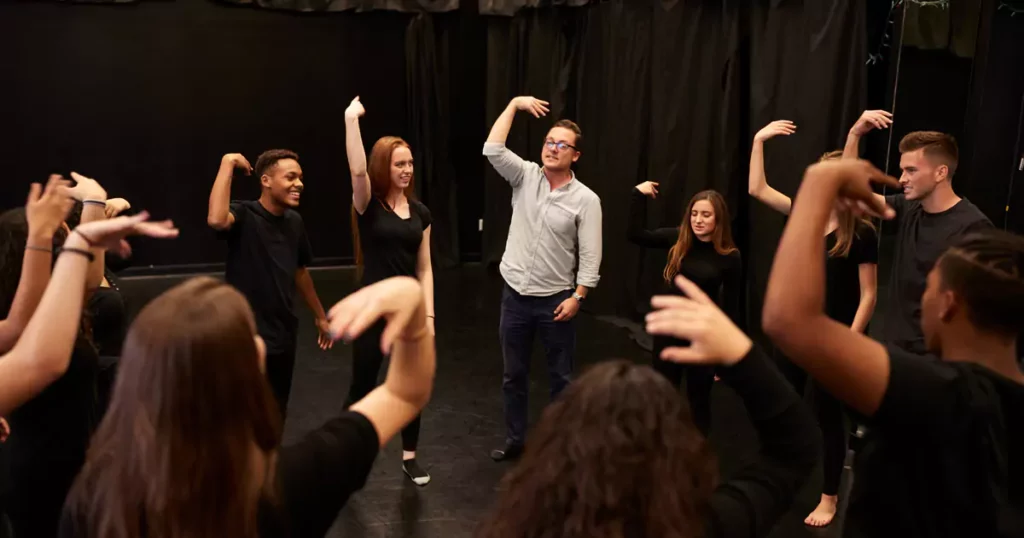 18. Battle it out in a paintball match
Paintball might sound like an extreme activity for team building, but Battle Creek Paintball will give your team a great and fun experience. They'll get the exhilaration of playing paintball and a chance to team up with each other in competition. Your team will learn how to trust each other (or at least the ones they team up with!) in a fun and memorable way, plus they'll playfully recall what it's like to hit each other with paintballs.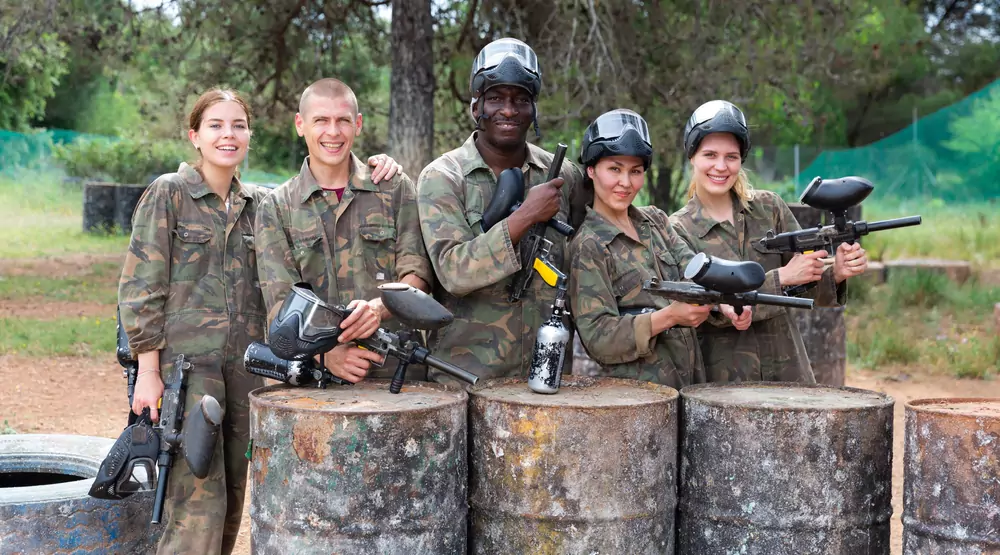 Before you book your spot, make sure that your team is physically prepared for running, jumping, hiding, and big laughs!
19. Paint and sip as a team
If paintball doesn't work for your team, you can always play with paint in a different way! Paint and sip classes are fun and relaxed ways to learn how to paint a particular picture while having a drink! This kind of team building activity gives your team a chance to encourage each other in a skill that may be new for some people, while also getting a souvenir that can commemorate your time together. Canvas and Grapes lets you BYOB, provides all your painting materials, and even has a karaoke option to add to your team building activity. Note that they require a minimum class size to book.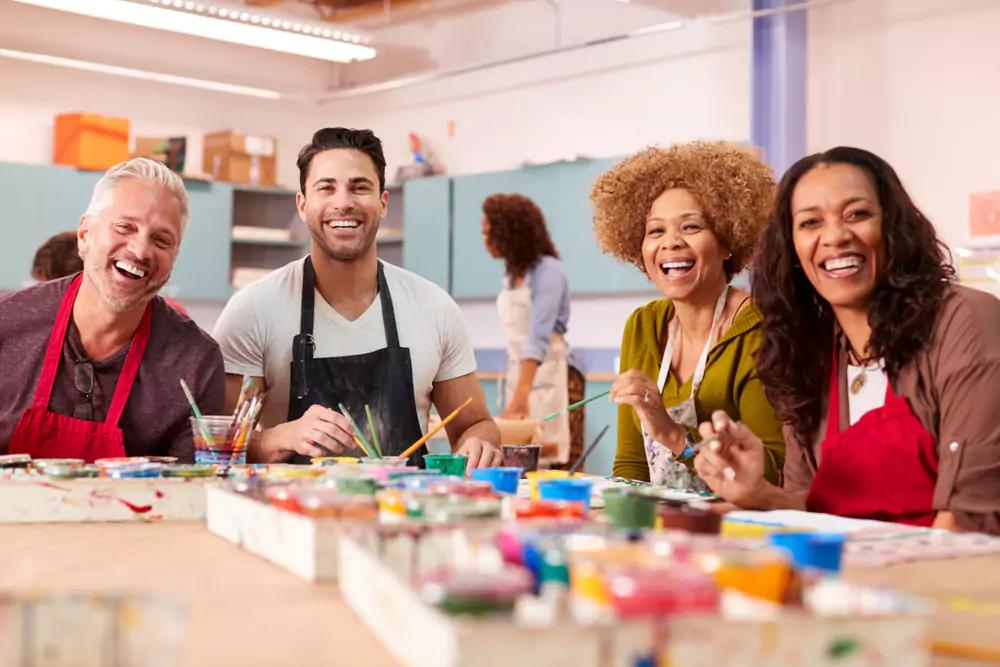 20. Learn how to properly brew coffee
Coffee is an essential in every office environment, and properly brewed coffee tends to be an art for the local coffee shops. But as a team, your coworkers can get a chance for themselves to learn that art and maybe even bring it back to the office for everyone to enjoy! Coffee classes incorporate more than just your standard coffee maker. Your team can learn how to make a pour over or use an Aeropress, and as they learn some new skills, you'll be able to better boost their morale. Check out Penstock Coffee's classes for this great team building activity in New Jersey.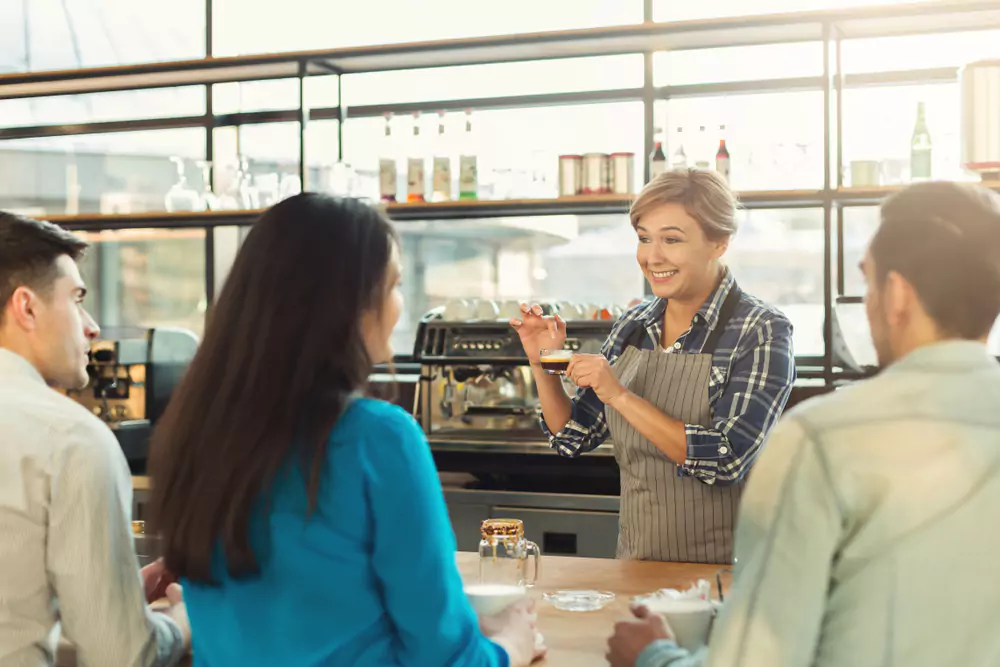 21. Grow teamwork skills with LEGO
You remember playing with LEGO as a kid, or maybe you've stepped on your kid's LEGO, but did you know that these building blocks are great for building up your team? Bricks 4 Kidz offers great team building activities in New Jersey where you'll learn how to physically build structures together. Building structures will help your team with their communication skills as they have to give instructions and listen to each other and the staff. As your team works together, you'll see certain teammates build leadership skills that will help them as you encourage them in their career. Book a session and play as kids again!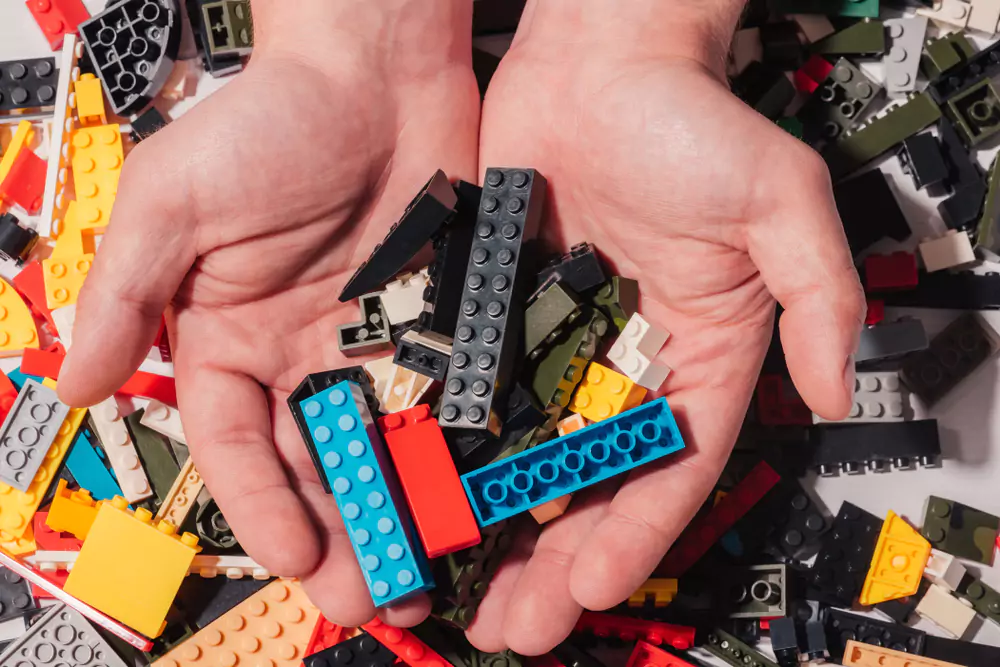 22. Experience new heights while rock climbing
Rock climbing is a great outlet to build physical stamina as well as mental stamina. As a team building activity, climbing encourages your team to encourage one another and congratulate each other on an accomplishment. It's not as easy as it looks, and your employees will grow to appreciate each other a little bit more as they express positivity and understanding.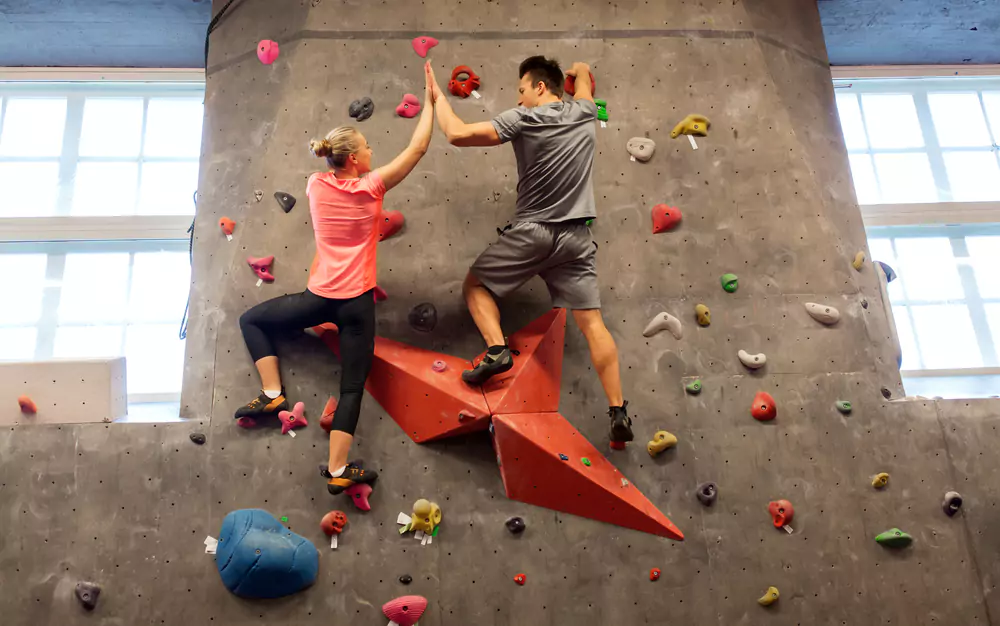 The Gravity Vault has many locations across New Jersey that you can choose from. When you book your group session, make sure you let them know that you're there for some team building fun!
What to See on Your Team Building Trip to New Jersey
While you're in New Jersey doing some team building activities, it's worthwhile to check out other things that the state has to offer. Schedule a relaxing and touristy time in your trip, and remember that having fun and creating memories can also be part of building a strong and trusting work team!
There are a few places in New Jersey where you can look across the Hudson River and see the New York City skyline, but at Liberty State Park, you can also get a beautiful view of Ellis Island and Lady Liberty herself. There's plenty of green space for your team to relax or bring lunch and hang out, and you can even hop on a ferry to the Statue of Liberty and Ellis Island.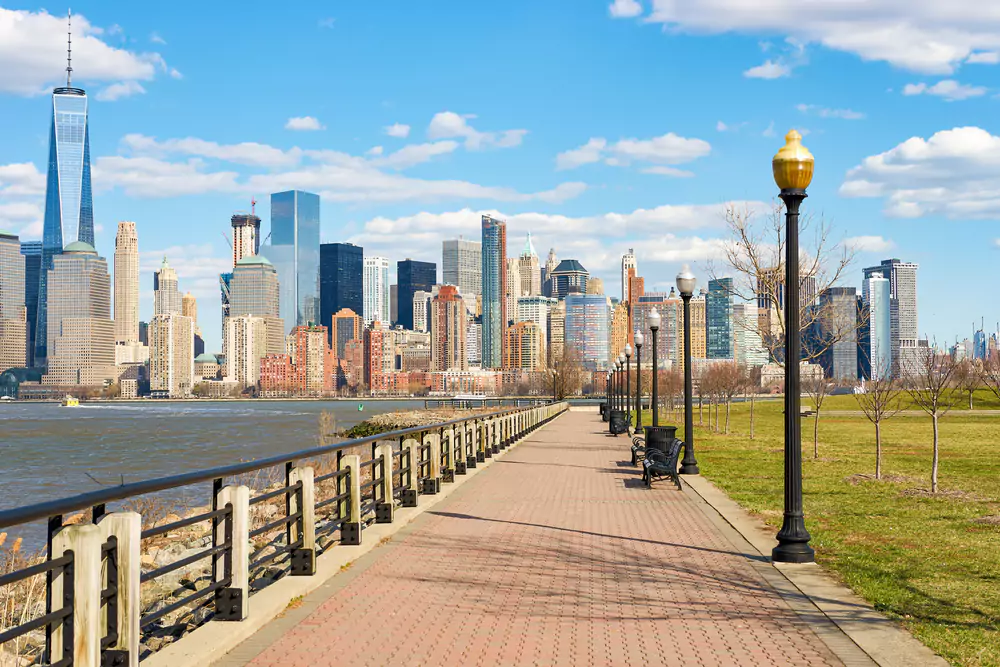 If you're in New Jersey at all, you can't miss Grounds for Sculpture. It's an outdoor museum, an arboretum, and a sculpture garden rolled into one! Your team will find inspiration for creativity and appreciation for art while here. Make sure you take your time seeing all you can see over the 42 acres of garden space.
Climb to the top of the Cape May Lighthouse and see some mind-blowing sights! The Atlantic Ocean, Delaware Bay, Cape May Point State Park, and Cape May Point Borough are all stunning views that are visible from the lighthouse. Tickets to visit won't break the bank, and who else in your office would be able to say that they climbed to the top of a national historic place?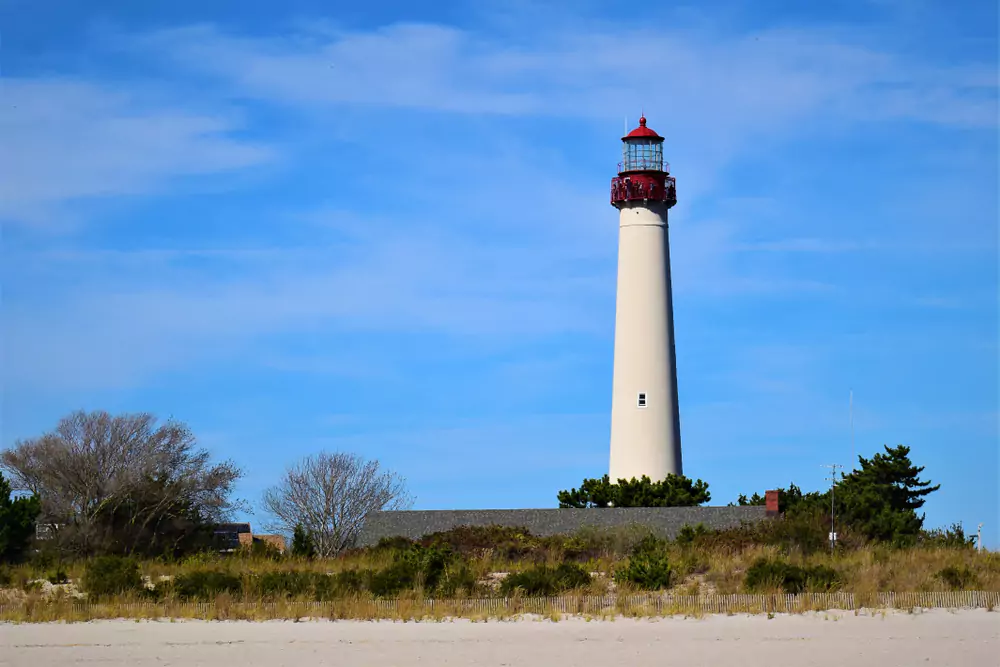 The Atlantic City Boardwalk is the oldest and longest boardwalk in the world! While you can plan specific stops along the boardwalk or choose to rent a bike to get around, we suggest taking a stroll down the boardwalk and seeing where you end up. There's tons of food and entertainment options to explore on the boardwalk, and to see it all, you might need to come back another day.
This beautiful park is a history lesson and a sight to see, all in one. When Paterson, New Jersey was established in 1792, the industrial city was centered around the Great Falls of the Passaic River. Your team can take a free tour of the falls area to learn more about it. After you take a little walk across the bridge over the falls, make sure to also check out the district's architecture and imagine how busy this little town must have been in its heyday!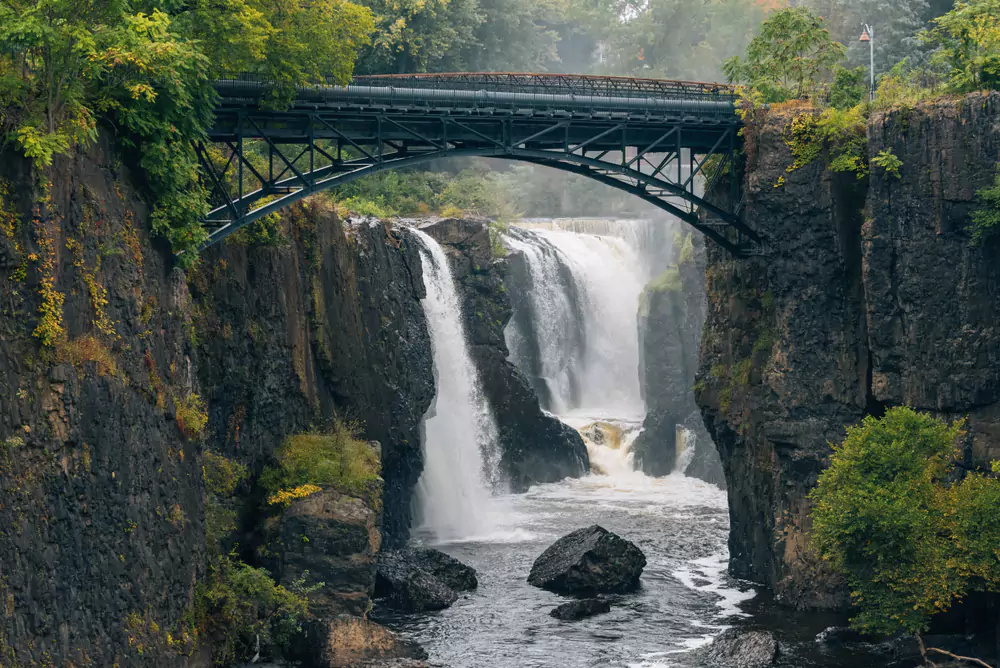 If you're in New Jersey for a couple of days in the warmer months, plan a trip to the Morey's! The piers will give you the best summer experience you can ask for, complete with rides, dining options, and two water parks. Morey's does have an off-season, so if this is on your list, make sure you schedule your trip while the piers are open.
The Thomas Edison National Historical Park gives you a chance to explore where "modern America" began. Mr. Edison is largely known for his invention of the light bulb, but at his home and laboratory, you'll get a chance to see the full scope of his innovative mind! Make sure you book a tour and tell your team that they're in for a good time!
If you're lucky, you'll be in town while the Trenton Punk Rock Flea Market is happening. This creative fair opens up to five times every year and hosts over 500 vendors of DIY crafts. You can find everything from handmade jewelry to original artwork, vintage clothing, vinyls and cassettes, taxidermy, collectibles, and comics. You'll find some unique pieces at the flea market to take back home and get a taste of punk rock culture while you're at it!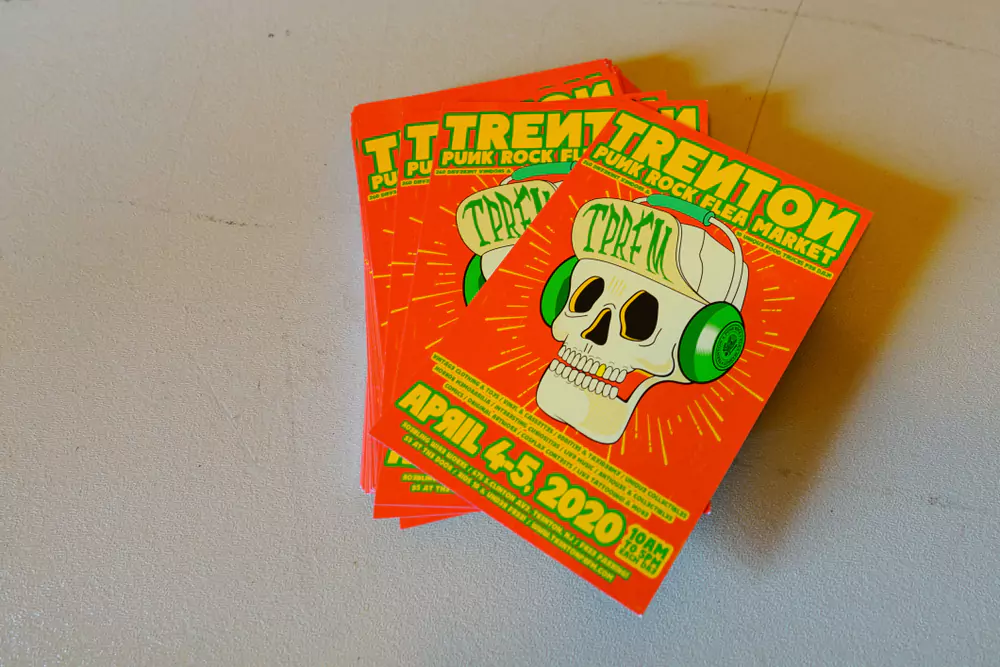 Book your trip to New Jersey today!
Whether you're going for a weekend or a quick day trip, New Jersey has some incredible things to offer for you and your team for some team building fun. You won't be disappointed in whatever activity you decide on, plus your team will have some fond memories to look back on! So what are you waiting for? Put it on the calendar and head to the Garden State!