The tradition of colleagues gathering to celebrate the retirement of one of their own is nothing new. Retirement parties have been a norm at companies since at least 1935, if not earlier, when The Social Security Act was passed. That's nearly a century of parties honoring devoted employees! What is new to retirement parties is that many are being held virtually.
With increasing numbers of offices operating entirely or partially remotely, day-to-day work interactions have taken place over video-conferencing platforms like Zoom. Virtual meetings, virtual team building, and even virtual happy hours have moved online successfully.
Even though your company is physically dispersed, you can still hold a fantastic retirement party to show you care! There are so many virtual retirement party ideas during Covid, you'll have no trouble planning and hosting a memorable virtual goodbye to show the retiree how valued they are and how much you will miss them!
Table of Contents
How Do You Celebrate Someone's Retirement Virtually?
Tips For How To Throw A Virtual Retirement Party
What Are The Best Virtual Retirement Party Ideas?
How Do You Celebrate Someone's Retirement Virtually?
A virtual retirement party is nearly the same as an in-person retirement party, except that the guest of honor and his or her colleagues gather over a video-conferencing platform like Zoom, Google Chats, Skype, or Microsoft Teams. Celebrating a retiree virtually should be an occasion filled with recounting shared work memories, laughing at funny office stories, and honoring the retiree with toasts and other well-wishes.
Below we go over how to plan a virtual retirement party, from creating a guest list, designing a virtual retirement party invitation, picking a virtual background, choosing virtual retirement party games, and more!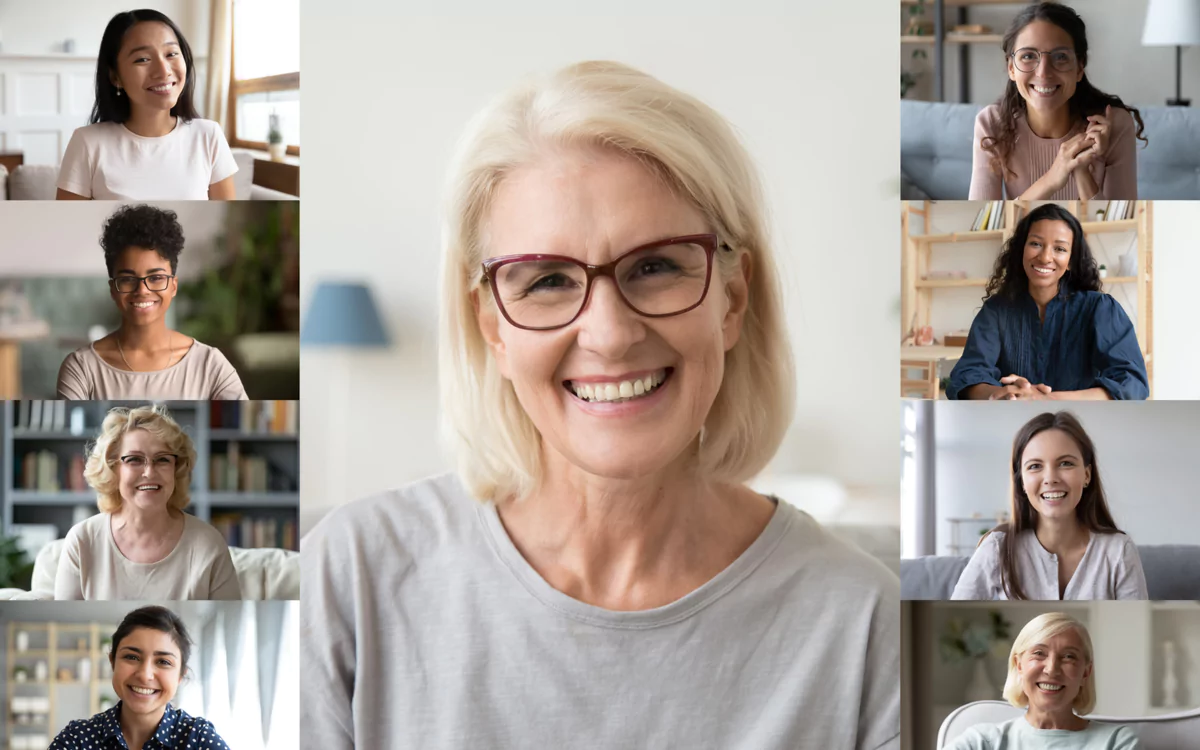 Tips For How To Throw A Virtual Retirement Party
If you've previously organized an in-person work party, or even specifically a retirement party, then you already know the basics of planning a festive event. You just need to adapt your party-planning talents to a virtual format. If you are new to party planning, that's fine too! Just follow our tips on how to do a virtual retirement party for a seamless experience.
1. Create A Guest List
Before anything else, put together your guest list. Doing this first helps you narrow down possible dates for the party. It also informs your choice of activities and what video-conferencing platform you will use.
When coming up with the list, take into consideration the retiree's position within the company. If the retiree is high up in the company and known by most if not all employees, invite the whole company! Alternatively, if this is the case, and you expect the guest list will be huge, consider working with a virtual event planning company that takes care of all the retirement virtual party logistics.
If the retiree is mostly known by his or her department or team, ask yourself what kind of atmosphere the retiree would want. Would he or she want a loud party or something intimate with a few colleagues? Make sure to invite immediate family members. Retiring is a huge moment in someone's life to be celebrated with both colleagues and loved ones alike!
2. Schedule The Date
It's best to throw the virtual retirement party as close as possible to the retiree's actual end date. Aim for his or her last day if possible. Keep in mind that more than two weeks out from the departure date and you risk losing momentum and possibly even attendees, as people may forget. When finalizing the date, check with family members if they can make it. Also, look at the company's shared calendar to avoid any scheduling conflicts.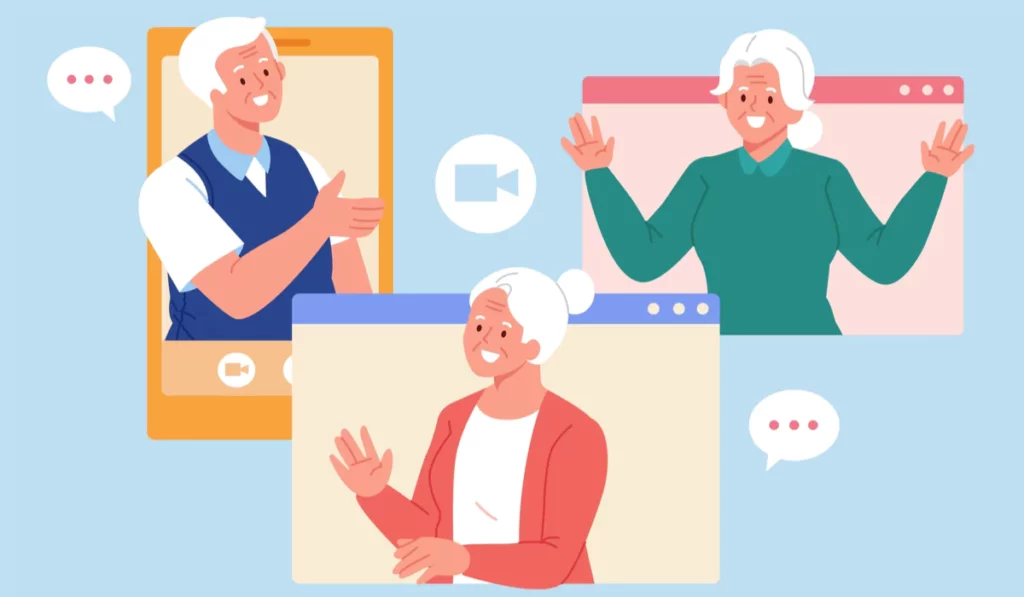 3. Choose A Video-Conferencing Platform
When choosing the right video-conferencing platform for the party, consider the following: which platform can accommodate the number of attendees and how likely are the attendees (especially the retiree!) to be comfortable with that platform. The most popular platforms are Zoom, Google Hangouts, Microsoft Teams, and Skype. If your company already uses a particular platform, stick with that one. Zoom is particularly well-suited for virtual parties. The free version of Zooom offers 49 screens on view at once, which should be more than enough for a small to medium-sized company. See if your company has a paid Zoom plan that allows for longer periods and more participants. Here's a guide on how to use Zoom.
4. Pick A Background Photo Or Video
One retirement party idea that you may not have thought of is using a virtual retirement party background. On a Zoom or Microsoft Teams call, you can easily swap out your actual background with a custom virtual background using a photo or video. Ask the part attendees to use the same background. Having everyone at the party use the same virtual background adds to the feel of celebrating in the same place!
For a classic party feel, go with a party-themed background with streamers, balloons, and party favors! You can find a virtual background for an elegant soiree. If the retiree has a favorite activity or hobby, for example, backpacking, knitting, and yes — even golf–, look for a background with related images. You can find the perfect free retirement party virtual background from Pixabay, Zoom, Shutterstock, Unsplash, Pexels, and Canva, just to name a few.
5. Send Out Invitations
Now that you have set the date, made a guest list, and chosen a video-conferencing platform and virtual background, you can finally design and send the virtual retirement party invitation. The invitation sets the tone for the party before it has begun so don't use emails as invites as that diminishes the significance of the occasion. A virtual retirement party is not just another virtual meeting. It's the beginning of a new chapter in someone's life!
Create an online invitation using a digital invitation site with pre-designed templates. Evite has free virtual retirement party invitations as does Punchbowl. PaperlessPost has a smaller, but still very nice, collection of invitation templates.
As for the virtual retirement party invitation wording, include the obvious details such as the date, time, instructions on how to RSVP, the virtual background, and most importantly the link to sign in to the chosen platform to attend the party! Take a little time to consider what else to write in the invitation. You want to strike the right tone based on the audience.
If the guest list includes a close group of colleagues who know the retiree well, you can be a bit playful with your wording. For example,
Office walls are now Jane Doe's past. She's retiring to the sunny shores at last! Join us to wave her goodbye!
The Man, The Myth, The Legend…John Doe is retiring! Join us to commemorate the special occasion!
If the guest list includes work acquaintances and longtime co-workers, stick with simple, classic retirement wording like:
Please join us for a Retirement Party for Jane Doe for 22 years of dedicated service.
Please join us in wishing John Doe a fond farewell!
Oh, don't forget to keep an eye on the RSVPs!
6. Launch A Virtual Countdown Clock
You know the retiree is counting down the days, so why not build momentum for all the guests by sharing a live animated countdown clock! This is a nifty, and under-used, idea for a virtual retirement party. It's also incredibly easy to set up! Time and Date lets you create your own design. They even have a cute retirement template ready to go!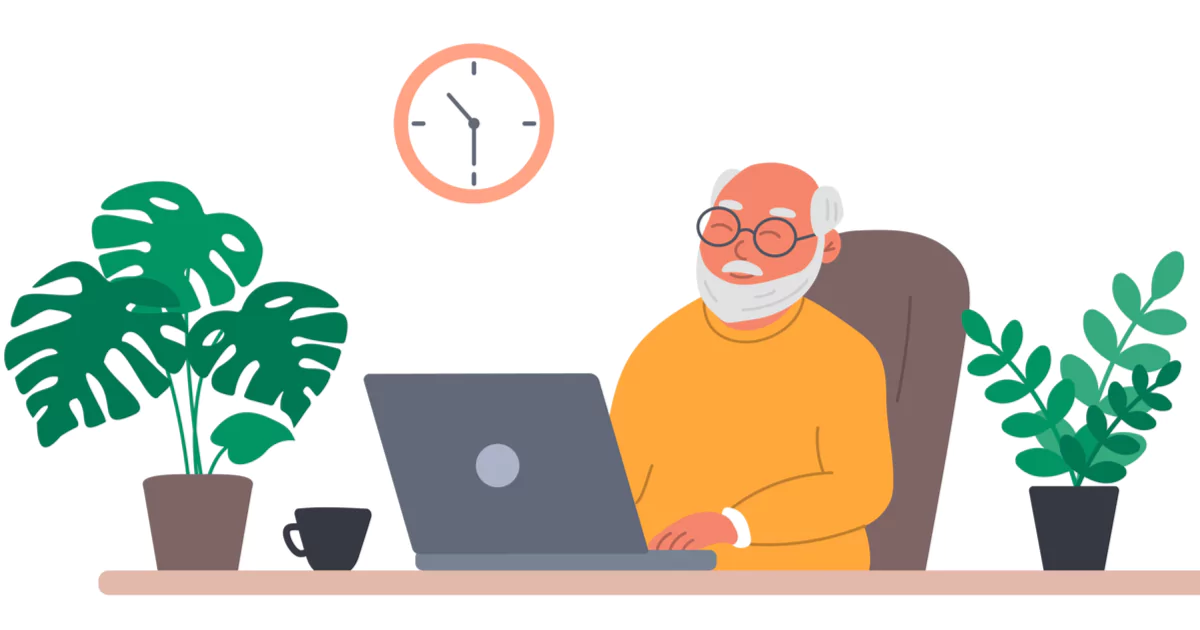 7. Send A Gift To The Retiree
Your company might already be sending the retiree a gift, but if he or she is part of a close-knit team, you may want to ask everyone to pitch in for a gift that's a little more personal. If you are on a low budget, choose a coffee mug with a silly saying or a gift card to their favorite store. If your budget is on the high end, look into something related to their hobbies or interests. No matter what you get them, your retiree will appreciate your thoughtfulness.
8. Send Party Food To Guests
What's a party without food? Send the party guests food baskets to give the feel of being at the same party eating the same scrumptious treats. Try a pre-made package of hors d'oeuvres. You can also customize a basket or choose a curated one from Mouth. Stonewall Kitchen makes incredibly delicious food baskets! Etsy also has a wide assortment of snack packages.
---
Get Your Free Game
The 3-Minute Non-Cringey Ice Breaker for Your Next Meeting
A ready-set-go game to run at your next fully remote or hybrid meeting without the hassle or added pressure of developing a team-building exercise yourself. Get it here →
---
9. Pick Activities Or Games To Play
Virtual retirement parties stir up emotions for both the retiree and his or her coworkers. There will be some spontaneous sentimentality and that's normal. If you schedule some virtual retirement party games, you can keep the party from becoming a long, sad farewell.
Among the best games to play at a virtual retirement party are those that bring the team together collaboratively one last time like Escape Room games or Online Mystery games. Classic party games like Virtual Bingo or Pictionary also hit the spot. You can combine fun and nostalgia by creating some personalized virtual retirement party trivia questions.
What Are The Best Virtual Retirement Party Ideas?
Below are some of the best virtual retirement party ideas, games, and activities. These activities run the gambit from free virtual retirement party games to hiring professional performers. For any budget and any atmosphere, there is something on this list for you!
Since most virtual games played on other occasions are adaptable for a virtual retirement party, check out these party ideas for virtual going away parties, virtual award ceremonies, and virtual work holiday parties.
1. Virtual World Travel
Many retirees have been waiting years to take that dream vacation or travel the globe. Why not get the adventure started early! Visit the City of Lights with a virtual trip to Paris or a virtual walking tour of Rome! See the Taj Mahal on a virtual trip to India! This is the kind of retirement gift your retiree will not forget, though they probably didn't imagine his or her big post-retirement trip would include the whole office!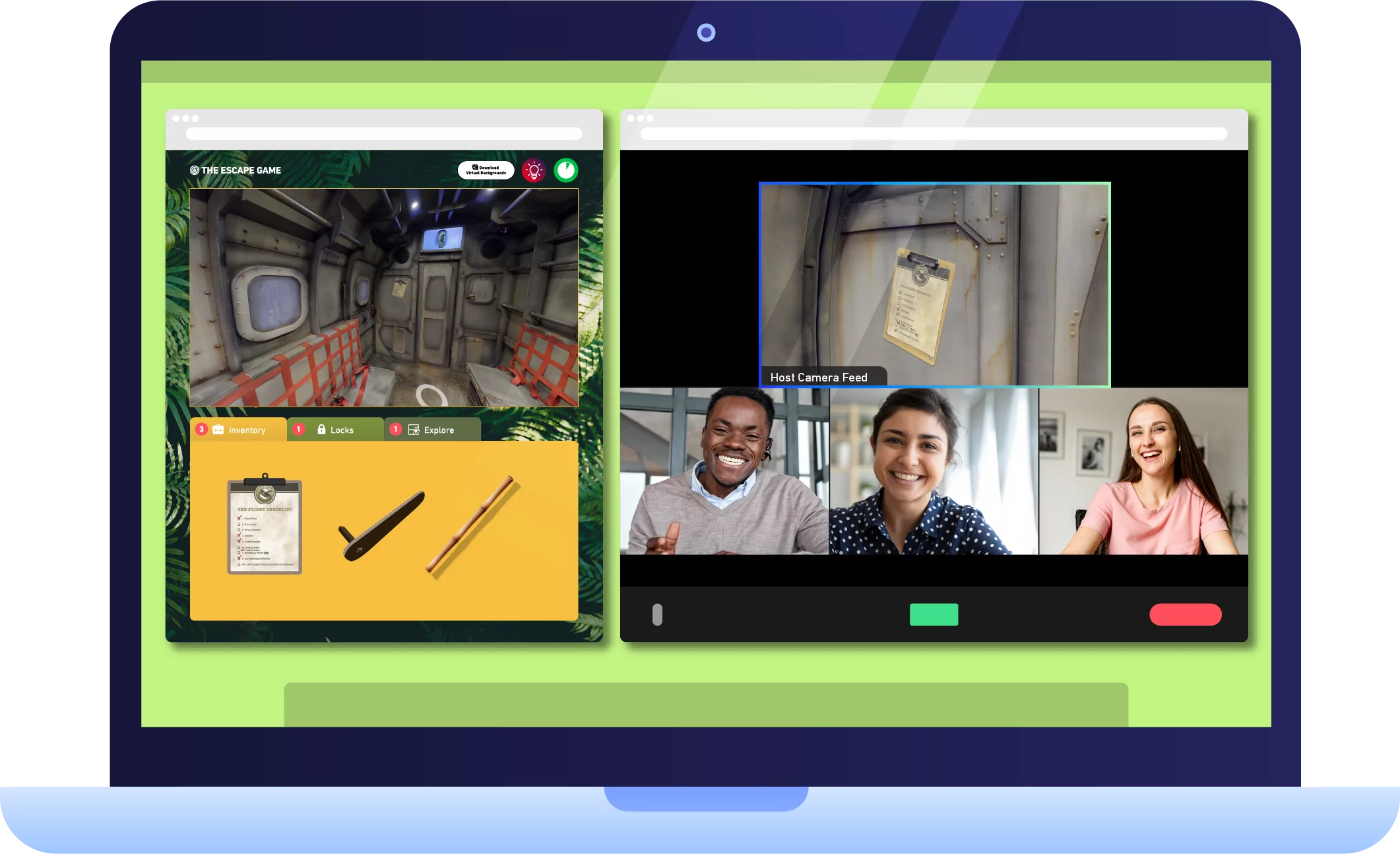 2. Virtual Escape Games
Retiring is like escaping so what better occasion to play a virtual escape game than a virtual retirement party! These immersive, exhilarating hour-long games with a live host are played on a special platform that allows party guests to see each other while playing. Your team will have this one last chance to collaborate on something entertaining by solving puzzles and finding clues before it's too late!
3. Video Tribute
Speeches about the retiree at the party will certainly make the guest of honor feel special. You can make that feeling last for more than a few hours by creating a video tribute that will last a lifetime! A video tribute works very well at a large virtual retirement party as not everyone will have a chance to speak.
Ask colleagues to make short videos of themselves using a smartphone or other equipment recollecting special moments with the retiree, like finishing a successful project or playing virtual team building activities together. They can talk about how the retiree nurtured them in their career or helped out at a tough time. This is also a good way to share funny office stories about the retiree – though nothing too embarrassing!
4. Retirement Photo Album
Making a retirement photo album has never been easier! There is an awesome Powerpoint template just for this occasion. Collect photos of the group from the times you were together in person and show the Powerpoint at the party. At the end of the party, the retiree can download the slideshow to remember the good times. Even better, use Clipchamp to make a video montage memorializing the retiree's work life with both photos and videos, put together with smooth transitions, special effects, and a soundtrack!
Consider making a real photo album by printing and binding the pages. In a time when so much of our lives is spent on computers, your retiree will enjoy flipping through the pages of a photo-filled album of memories.
5. Retiree Trivia
Trivia games are a good pick for any party, especially when you can choose categories that guests are likely to know something about. In Retiree Trivia, there is only one category: the retiree! Come up with questions that at least some party guests will know the answers to. Some examples: How do they take their coffee or do they prefer tea? Do they have a favorite type of pen? What is the first thing they plan to do after their last day at work? (You can find lots of downloadable retiree-related questions on Etsy).
Another option is to use Kahoot!, an online trivia game company that allows users to create a trivia quiz using your questions, have questions timed, and automatically tally scores. If you prefer a less competitive game, read the questions to the group and whoever's hand goes up first gets to answer. The retiree says if the answer is right or wrong. If wrong, let others have a guess. Keep score and whoever racks up the most right answers knows the retiree best!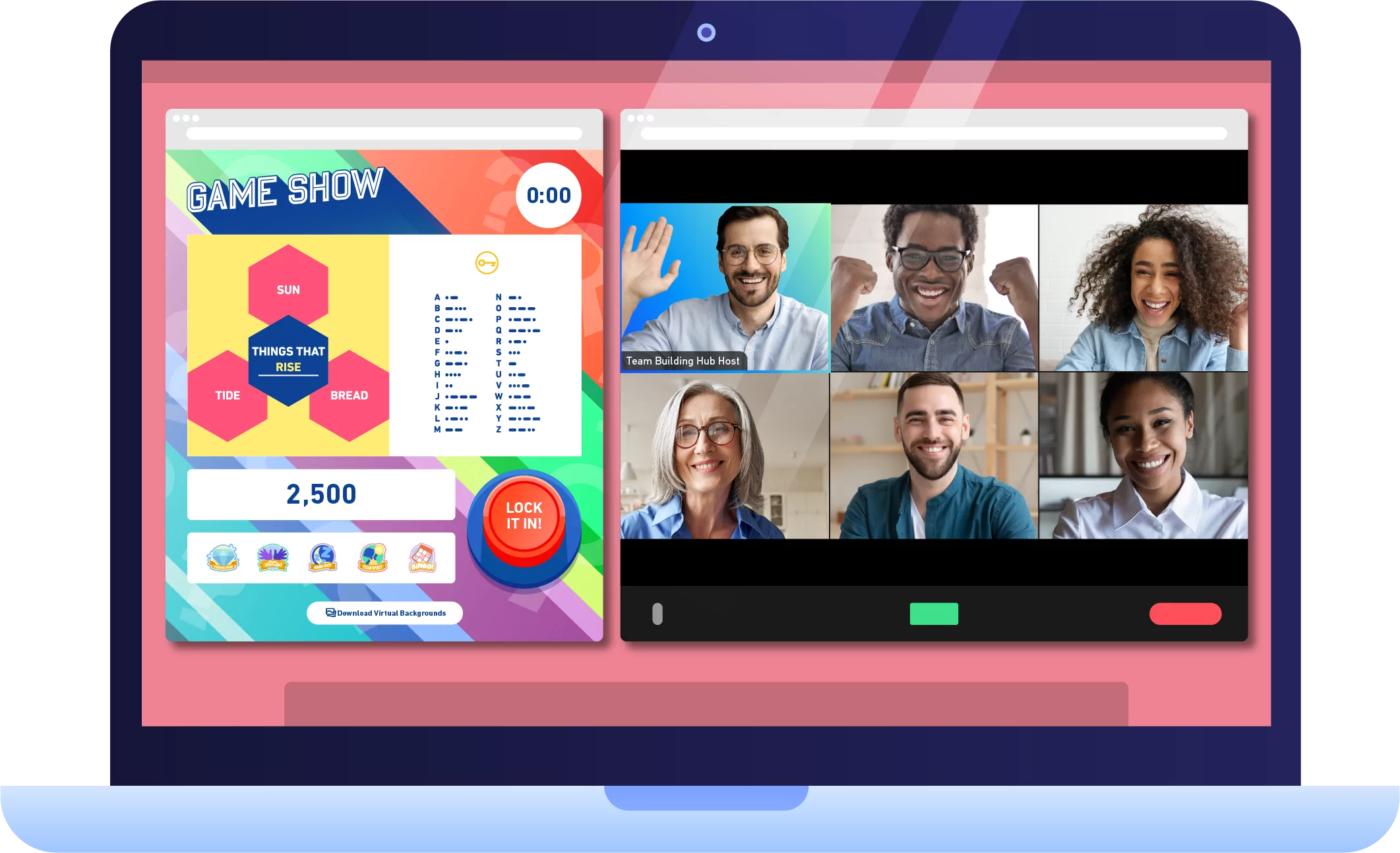 6. Online Game Shows
For a fast-paced team-based activity, play an online game show! In Team Building Hub's online game shows, players compete in five rounds where they're challenged with puzzles, brain-twisters, and word games. The team that collects the most points and badges earns the top spot on the leaderboard. The team with the most points at the end wins! You may want to have prizes for added fun! Be sure to give the retiree a prize, if he or she isn't on the winning team.
7. Virtual Scavenger Hunt
Another virtual retirement party idea is to play a virtual scavenger hunt. This game is practically the same as in-person scavenger hunts except that the players aren't physically together. Whatever remote location they are playing from, players rush to find items on a list and then regroup over your video-conferencing platform. The list can contain objects that are likely to be found in someone's home or images found on the Internet.
Make the game fit the occasion by including retirement-related items in your list. For example, a book, a remote control, a golf ball (or an image of a golf ball found online), or any other stereotypical item that retirees would have. If everyone at the party knows the retiree fairly well, fill the list with items relating to the retiree's hobbies, office habits, or dream destinations.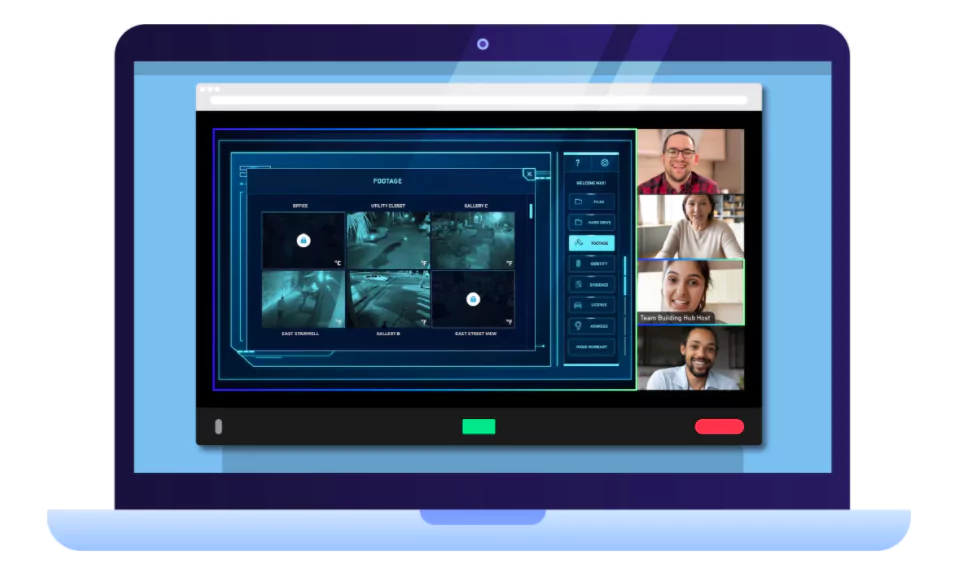 8. Online Mystery Games
Is your retiree a Law and Order addict? Do they have a bit of Hercules Poirot or Nancy Drew in them? Then playing an online mystery game will definitely delight your guest of honor. Teams race against each other as they search the Internet for clues. Using virtual dashboards, they can review surveillance footage, psych reports, and other forms of evidence.
If any team is stuck, a live host is present to provide a clue. The first team to solve the mystery wins! You may want to have prizes for the winning team like gift cards. If the retiree is on the winning team, that gift card is an extra perk in addition to what is waiting for them after their last day!
9. Virtual Pictionary
The premise is simple. A player chooses a random object and draws it. The other players must guess what it is in a set amount of time. The player who guesses correctly the most wins. You can play as teams if your group is large or as individuals if it is a small gathering. Since you're playing virtually, you can use Skribbl for free. The game generates objects for players to draw, times rounds, and tallies scores for you. The party guests simply join with an invite link to the game! The worse the guests draw, the wackier the guesses and the funnier the game gets.
10. Never Have I Ever – Office Edition
Never Have I Ever is a classic party game that has everyone revealing a bit about themselves. If ever there was a good time for your retiree to let you in on some of their secrets, it's at their retirement party since they won't have to face everyone the next day! Never Have I Ever can be easily transformed into a virtual party retirement game and is playable on most video-conferencing platforms.
To start the game have everyone at the party hold up five fingers, or ten if you want the game to last longer. Pick someone to go first and tell them to say something that they have never done. They must begin their statement by saying the words "Never have I ever…" followed by the thing they have never done. Anyone who has done this before lowers one finger. Once a player has all fingers lowered, they exit the game.
Normally the questions in this game are quite personal, and even a bit risque. For a retirement party, you probably want to keep the questions work-related. Some examples: "Never have I ever played Wordle during a Zoom meeting" or "Never have I ever stolen a ream of paper from the copy room". Just because the party is virtual, the retiree and guests may have been in the office before going remote. Even though the game won't delve into people's deep dark secrets, it can be surprising what some colleagues reveal about themselves. You may never look at them (in the office or on Zoom) the same way again!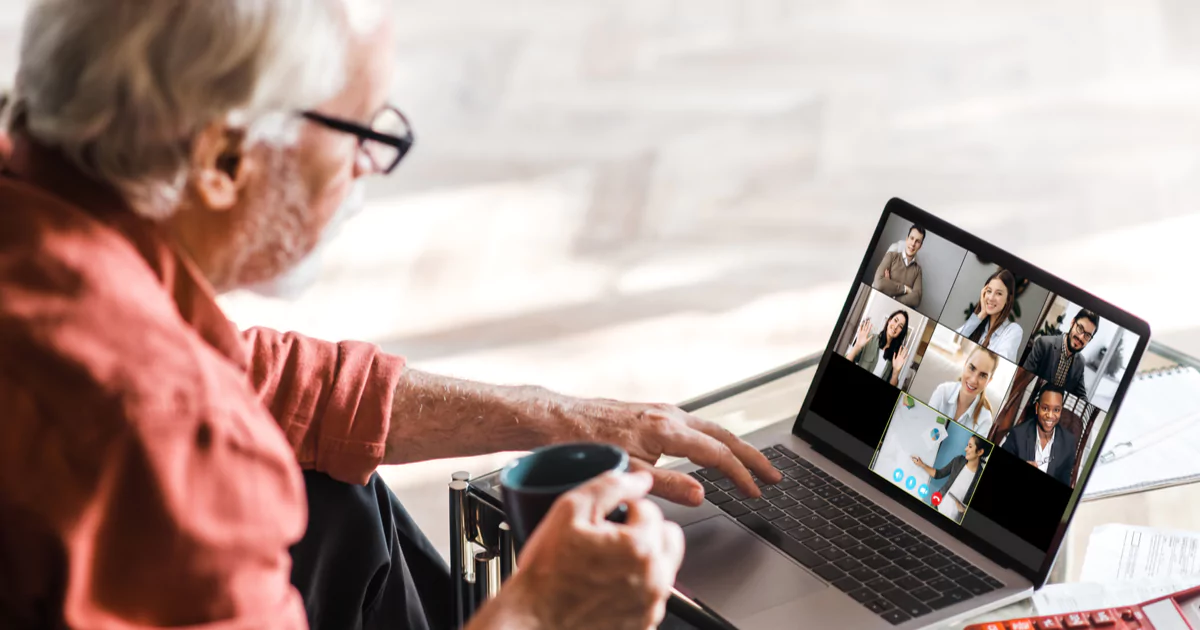 11. Virtual Wine Tasting
For the sophisticated retiree or one who wants to develop a new hobby, have a virtual wine tasting! Send virtual wine tasting kits to party guests from one of these online companies: tastings include:
Make your retiree even happier with a virtual wine and cheese tasting!
12. Word Cloud
Ask everyone to email you a few words they think best describe the retiree. Enter them into a word cloud generator. Present it to the retiree during the party and email them a copy as well. You can also laminate it and mail it to them. A word cloud is a simple but creative and personal way to let the retiree know how highly their colleagues regard them.
13. Airbnb Virtual Experiences
If you have a decent budget, look into Airbnb Virtual Experiences. Choose from dozens of unique experiences that you can participate in virtually. If the retiree is a history buff, opt for this highly-rated 'True vs False' Funny Historical Game, one of the highest-rated experiences. Does your retiree like to cook? Here are some yummy virtual group cooking courses you can take together over Zoom!
14. One More For The Road
If your company culture is a bit boozy (think happy hours or even craft beers-on-tap in the office), then there's no reason your virtual retirement party can't borrow a few ideas from this list of games to play at a virtual happy hour! One experience that's ideal for the occasion is a virtual mixology class where the retiree and party guests learn to concoct the perfect cocktail. Once stirred and shaken, raise glasses and toast the guest of honor!
15. Toast The Retiree
Finish your virtual retirement party with an opportunity for the guests to make a toast to the retiree. If it is a large group, ask people to keep their well-wishes to about 30 seconds. For smaller, intimate groups, let guests know they will each have a couple of minutes. So no one feels put on the spot, you may want to ask a few people in advance to prepare a speech.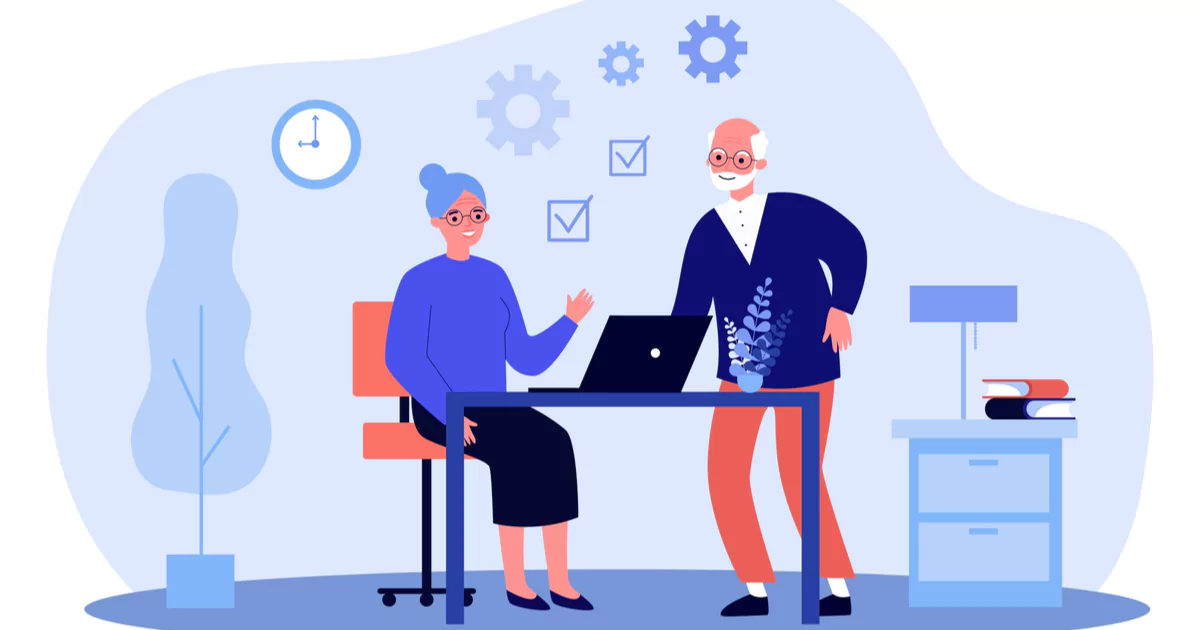 Final Thoughts
Retiring is a milestone in one's life to be shared with friends, family, and colleagues alike. Despite the distance between everyone, you can still host a remote celebration of your retiree's achievements. With the above ideas for a virtual retirement party, you'll be sending off your colleague with memories to last a lifetime.