One of the biggest priorities in a workplace is to have a unified team! Connected teams work well together and are significantly more productive than those who aren't. In fact, research shows that cohesive teams generate quicker results, experience lower levels of workplace stress, and have higher job satisfaction. It appears that teamwork really does make the dream work! Virtual team building activities are the best way to keep your team strong.
The challenge, however, is figuring out how to create a unified group, especially when coworkers may be remote. That's where team building activities come in! Having recently grown in popularity, these activities connect team members, strengthen skills, help employee engagement, and develop company culture. Many sources even call team building efforts the "most important investment you'll make." Keep reading for some awesome virtual team building activities to try with your team!
Table of Contents
Team Building Hub Activities
1. Virtual Escape Room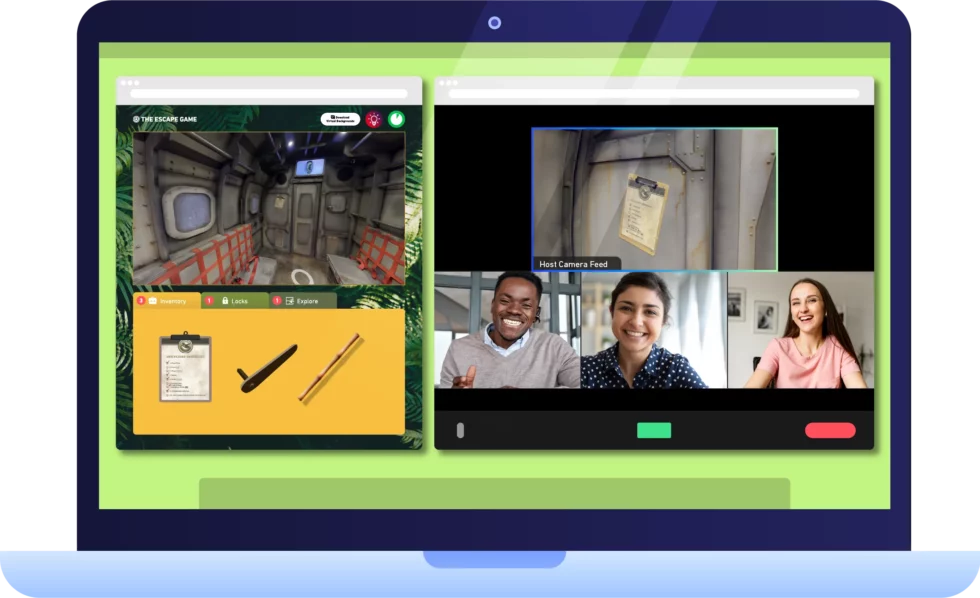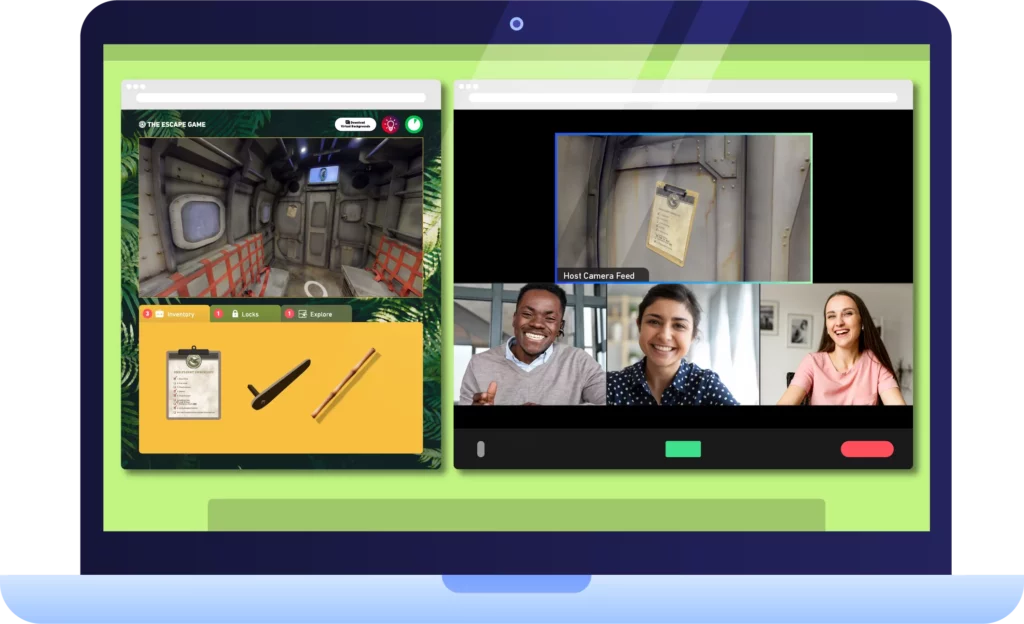 These are real escape rooms you can play from your home or office over Zoom! All 60-min games are live and feature a Host, who runs the experience, and a Game Guide, who serves as your team's eyes, ears, hands, and feet inside the escape room.
If your goal is to build morale and strengthen communication on your team, few experiences do that better than a virtual escape room. Your team will be talking about the event for a long time to come! Find more virtual escape room options here.
2. Mystery Games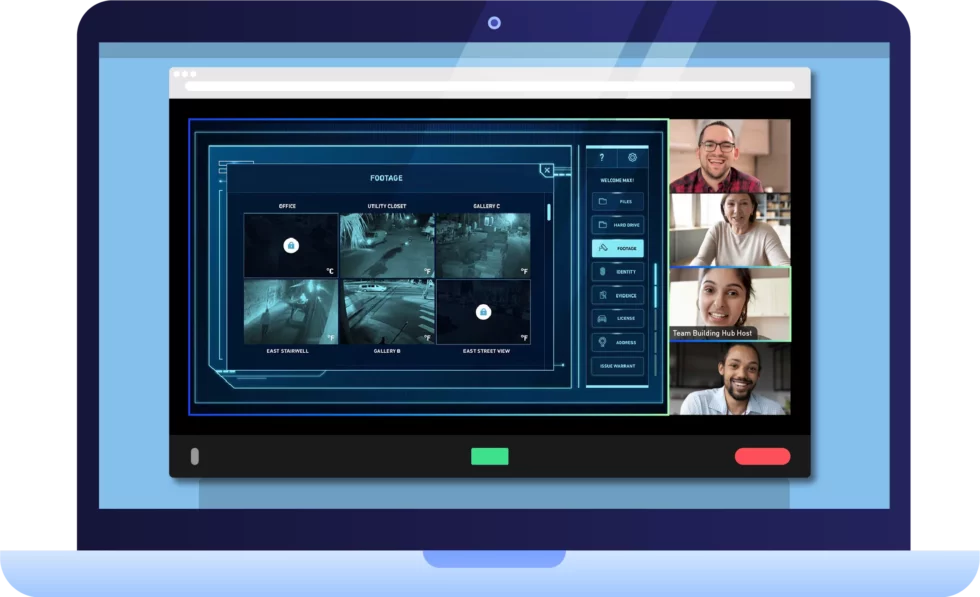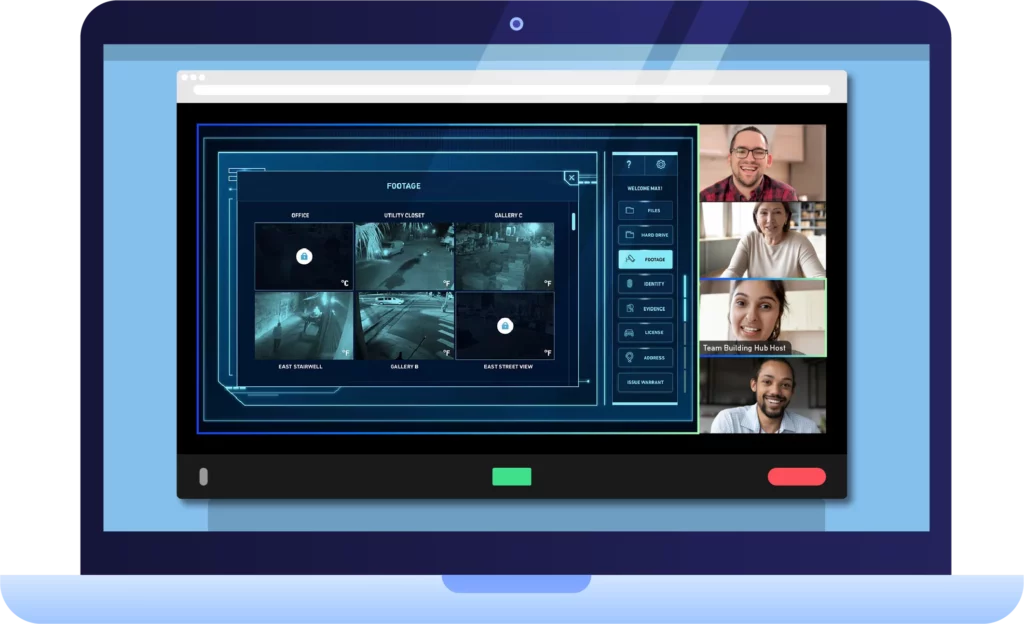 In these mystery games, teams are split into groups of secret agents tasked with completing a top-secret mission! To play, they'll race around the internet to sleuth out clues and piece together evidence, working together to solve the mystery. From games that focus on escaped art thieves to rogue scientists, it'll be up to your team to collaborate on clues together and crack the case.
This experience is also competitive! Depending on the size of your group, they will be split into smaller teams of 7-8 agents trying to solve the mystery before everyone else. What's even better, our mystery games can accommodate an infinite amount of players, so this is a great activity for your whole company!
3. Online Game Shows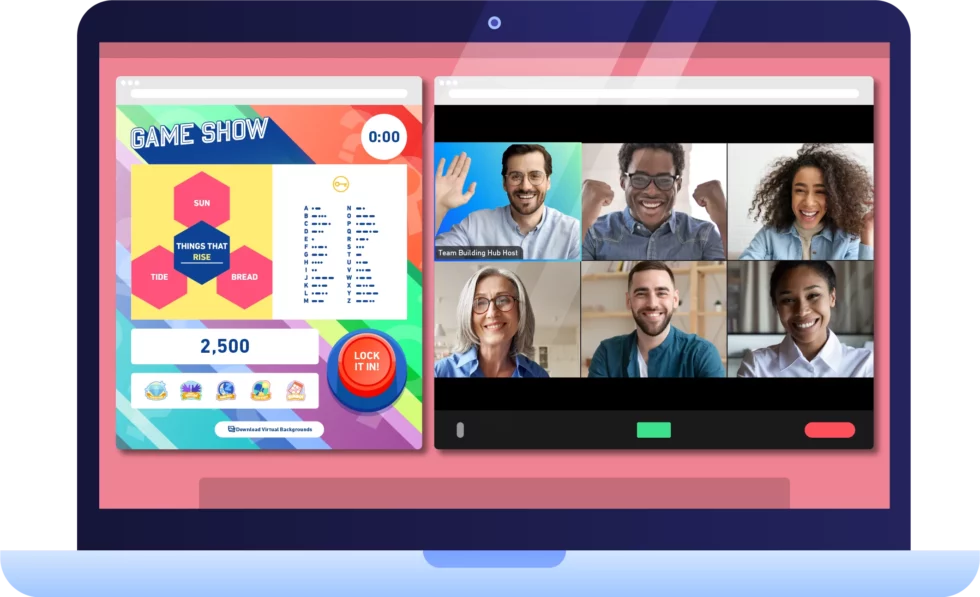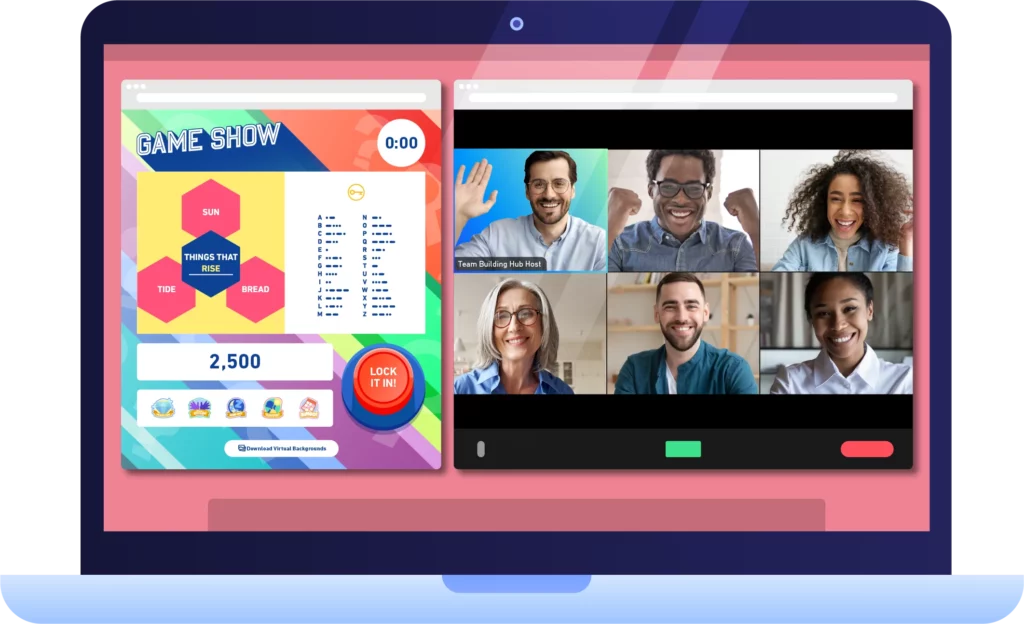 Our interactive online game show brings the experience of watching a game show to actually being part of one, right at home or the office! Your group will split into smaller teams who compete in exciting competitions for points, badges, and the ultimate office bragging rights! There are five unique rounds that consist of activities like brain teasers, code solvers, and tongue twisters.
This event moves quickly and the surprises don't end, so your team will definitely enjoy the experience from start to finish! The team with the most points at the end of all the rounds wins! Our online game show also features a host for each team, who keeps the good times rolling and helps out the team through the entire experience!
This experience is also competitive! Depending on the size of your group, they will be split into smaller teams of 7-8 agents trying to solve the mystery before everyone else. What's even better, our mystery games can accommodate an infinite amount of players, so this is a great activity for your whole company!
Team and Skill Development Activities
Each one of these activities focuses on the skills absolutely necessary for high-performing groups – communication, creativity, and critical thinking.
4. Virtual Murder Mystery Party
Ever wanted to play the board game Clue in real life? Well, now you can do it online! That's right — with the Whodunnit app, you can attend a murder mystery party right from your home. With detailed instructions on how to host, attend, dress up for, and participate in the virtual party, your team can try and figure out who the killer is! A virtual murder mystery party is perfect for a fun-loving group who can appreciate the theatrics and has a flair for the dramatic.
5. Virtual Scavenger Hunt
A custom scavenger hunt is a great activity to get your team moving and exploring! With Scavify, you can "mix and match challenges that educate, encourage exploration, create interaction, increase team building, or align with anything else you want to achieve."
Within the app, you can also create customizable scavenger hunts that suit the needs of your group from tourist destinations, university campuses, and itineraries specifically tailored to remote employees! Then users can reference their digital dashboards to stay updated on their progress and track their completed items.
6. The Pitch
Get your large team collaborating on a common, work-related goal that's still a ton of fun. In this virtual team-building activity, teams create a "pitch" to present to the host/rest of the team. First pick a type of idea to pitch, like "write a company jingle" or "pitch a commercial idea." Then, the large group divides into smaller teams that meet in Zoom Breakout Rooms to work on their plan. After the allotted time runs out, teams present their pitches and a panel of judges chooses the winner!
7. Mock Shark Tank
Put your team's creative, persuasion, and presentation skills to the test with a game of Shark Tank! In this game, the team leader acts as the "investor," and groups come up with a fictional product to pitch to the investor. The team whose pitch gets picked is the winner!
8. Blind Origami
This is a great game for teams to use if they want to build trust and strengthen their listening skills. Break your team up into pairs and send one person in each pair an origami pattern with instructions. You can easily find them on a variety of craft sites like origami.me. Either over video or instant messenger, the person with the instructions will guide their partner through each fold and rotation of the paper until they have finished creating their masterpiece. Whoever's result is as close to the actual design wins!
Virtual Team Building Games
Sometimes to improve employee engagement, your team just needs to have a little fun! Depending on your company and group culture, some friendly competition may be the best virtual team-building activity you could choose.
9. Quiplash
Quiplash is a fun, quick, and easy game that allows teams a chance to collaborate and laugh together. First, players pull a virtual "card" containing a prompt like "Give a better name for France." Then, players come up with the funniest answer that they can think of and the rest of the group will vote to choose the best answer. Whoever's answer wins, wins that round! The game accommodates up to 8 players, but up to 10,000 audience members can weigh in on the votes. So, if you have an extra-large team, everyone can take turns playing and voting!
10. Fishbowl
Looking for a cross between Taboo and charades? Fishbowl is it! Using cards with various words on them, teammates will have to get a bit silly in order to win! Players alternate to try and get their team to guess as many words as possible in the allotted time. There are three rounds in each game: first Taboo, then Charades, and finally a Password. The team that guesses the most cards in each round is the winner!
11. Team Trivia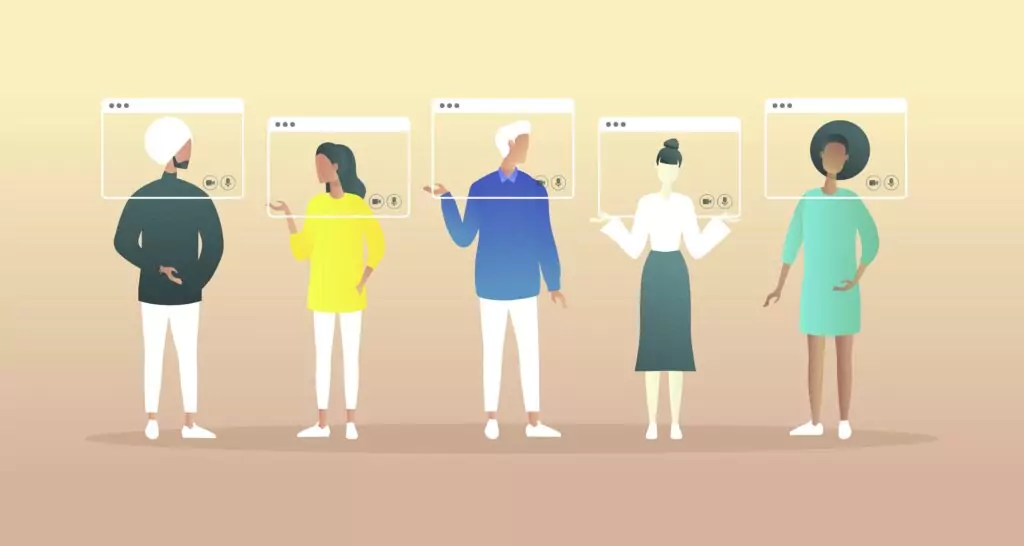 To really build connections between team members and improve employee engagement, you can create a virtual trivia game based on each individual! Of course, keep things fun and light with questions like, "Where was _____ born?" or "How does ______ take their coffee?"
A super easy activity, team leaders can do this at the beginning of meetings to lighten the mood or as a more competitive event with prizes for the people who get the most answers correct!
12. Virtual Pictionary
Pictionary is a classic game where a player tries their very best to draw an object or phrase and have their team guess what it is. Scribbl designed a virtual Pictionary game that can be played in private, online rooms. You can also create your very own Pictionary game by gathering a list of topics ("cards") for your team to choose from and then draw out on a piece of paper. Just make sure the paper is visible to the whole team while you're drawing!
13. Game Night With Jackbox Games
Sometimes, there's nothing like a good, old-fashioned game night. Well, since this one is 100% digital, perhaps it's a good, NEW-fashioned game night! Either way, Jackbox Games has a variety of games that you can play with 3-8 players and hundreds to thousands of audience members. You can choose from standalone games or purchase an entire party pack so your team can choose from a few different games each time you play. No matter what you pick, your team is sure to have a blast with each other!
14. Kahoot!
Kahoot created a fun software that allows team leaders to create quizzes for their groups. They're a great way to get team members involved with each other by asking questions that are pertinent to their jobs, the company, or themselves. You can keep things light and fun with this virtual team building activity by asking questions that don't carry any weight – you want to inspire your team to think about their answers without putting them in a mindset that feels like they're right back at work. Or, have each team member send in a fact and create a quiz where people try to guess who it belongs to! Remember, this is all fun and games that have the added bonus of bringing team members closer together.
15. Virtual Game Night In
Game Night Out was originally created to be an in-person event where teams of people would go out and have a game night together, rather than going to a host's house. When social distancing rules were put into place, they created Game Night In so everyone could safely participate from their own homes, but still benefit from having a host provided by Game Night Out. Your group will be divided into multiple teams for this virtual team building event and play games that focus on skill, logic, strategy, pop culture knowledge, and more.
16. Virtual Game Night
For a team of people who can get down with a good game night (or a game afternoon!), try Virtual Game Night! With trivia options, memory games, and word teasers, there are plenty of activities to entertain the team.
17. Mario Kart Tour
Sometimes, there's just nothing like a throwback video game. This version of Mario Kart can be played right from each individual's iPhone or Android, and it's completely free to play so you don't have to worry about making sure everyone has the same gaming console at home. Mario Kart allows you to race through worlds as a team to instill a little bit of friendly competition. Note: each team member will have to play a few rounds until the multiplayer option is unlocked.
18. Psych! App
Outwit your teammates with this fun app designed by comedian Ellen DeGeneres. In this team-building exercise that you can play on Zoom, one person will have to make up fake answers to trivia questions, with the true answer hidden among them. If someone chooses the real correct answer, they get a point. However, if they choose the Psych! answer, the player who provided that answer would get a point for each person that guessed it.
Activity-Based Events
Competition isn't for everyone! Maybe your team would benefit better from an activity solely focused on bonding through a shared experience!
19. Recipe Swap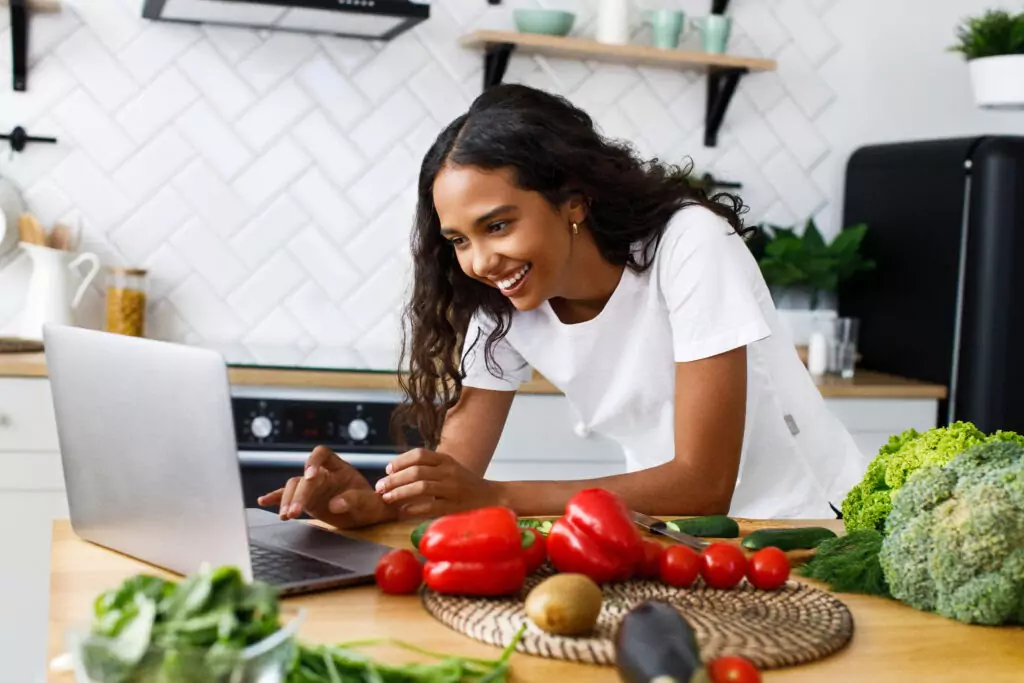 Everyone has to eat so why not make a little fun out of it? Have each member of your team write down their favorite recipe and send it to another person in the group. You can either send everyone off to make it themselves and report back with pictures and their thoughts on the recipe, or you can make it a group activity by having everyone hop on Zoom at the same time while they make their assigned dish. The latter method can be great for building team communication and employee engagement because each original recipe holder is right there to answer questions!
A super easy activity, team leaders can do this at the beginning of meetings to lighten the mood or as a more competitive event with prizes for the people who get the most answers correct!
20. Tiny Virtual Campfire
Can't get the team together for a camping trip? Not a problem. Bring the camping trip and employee engagement to your home – complete with a campfire! Okay, not a real one. This virtual team building exercise is hosted by Tiny Campfire, and they provide everything that your team needs to feel like they're sitting around a campfire with the team. One week before your scheduled event, they ship out a tiny campfire kit that includes a mini candle, wood matches, and s'more ingredients. During the event, a Camp Counselor facilitates team building activities like little competitions, ice breakers, ghost stories, and more!
21. Virtual Farm Tour
Is there anything that makes people happier than seeing farm animals living their best lives? It's debatable! With a virtual farm tour from Sweet Farm, you can brighten up everyone's day with a livestream of various rescued animals. Once you've signed your team up for a "Goat-2-Meeting," the host will send you a link for the video conference. During the event, they will give a brief farm tour and introduce your team to the animals that they see along the way. It's the perfect way to end a long, hard week at work!
22. Movie Night
If you're looking for a virtual team building event that is just about kicking back and relaxing together, a movie night is the way to go! Teleparty connects right to Hulu, Netflix, Disney+, and HBO Max, synchronizes the video on each viewer's screen, and opens a chat feature so people can make comments about the movie without interrupting anyone's viewing experience.
23. Pasta Con La Nonna
Have you ever wanted to learn how to cook Italian delicacies like an Italian grandma? Now, you can with Airbnb's virtual team building events. There is a different recipe for each day of the week, so your team just has to decide which recipe sounds the most enticing (or easiest), book a date on the calendar, and then show up to the event! The host will send out information for the live streaming event along with a list of ingredients and tools each person will need.
24. Painting Class
Paintly takes a concept that was popularized by "Paint and Sip" events and transfers it to the virtual world! They make it super easy for everyone to get involved in this virtual team building event, so all your team has to do is sign into the video conference on whichever platform you choose. Paintly will send an instructional video and a customizable paint kit to each team member. You can even ask them to add a snack or beverage! Settle in, maybe grab a glass of wine, and put your creativity to the test – everyone's creating their own masterpiece with a virtual painting class!
25. Coffee Roasting Up Close and Personal
If your team loves coffee, they might be keen to learn where it comes from. This Airbnb virtual team building experience takes you right to Columbia, where some of the best coffee in the world comes from. They will walk you through the entire process from hulling the coffee beans, to roasting them, and finally, grinding them up to brew a cup of coffee. This is a great activity for teams that don't want to have too much interaction with the event – all you have to do is watch and enjoy!
26. Virtually Explore Central Park in NYC
Through an Amazon live virtual experience, you and your team can travel the world without leaving your homes! New York's Central Park is a sight to behold, especially in the wintertime when the snow falls. The virtual adventure takes you on a "walk" that is a half-mile long. Along the way, a virtual guide will share some secrets about the park's past as well as point out significant monuments. Keep in mind that this Amazon experience can only be viewed by one computer, so you may need to set up a screen sharing system with your team.
27. Virtual Cooking Class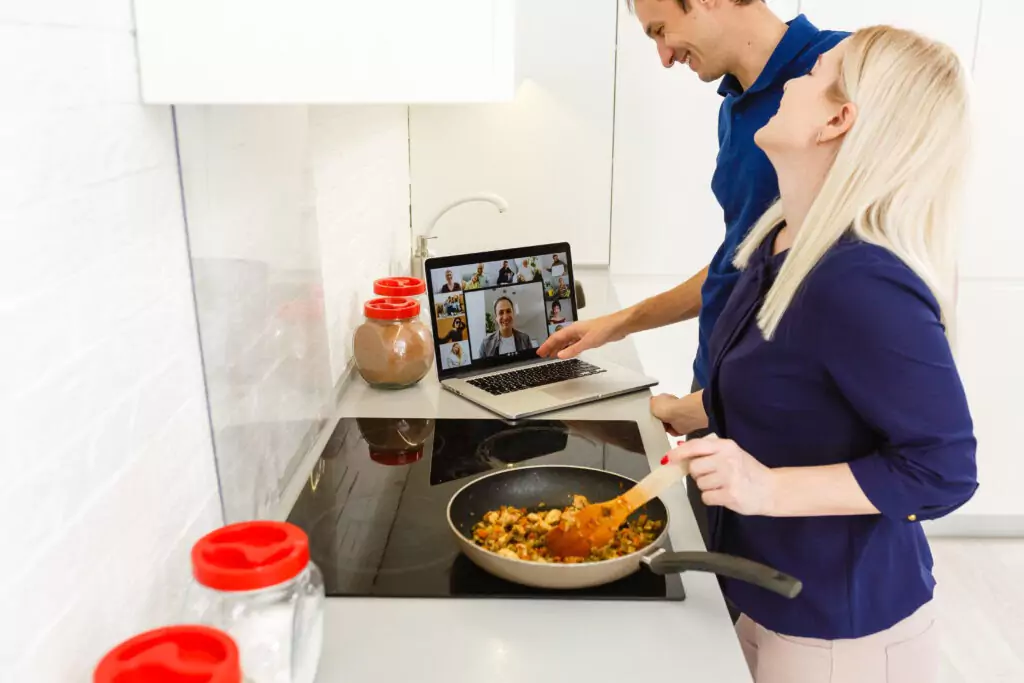 To get your team to participate in a virtual team-building cooking class, send each member the ingredients that they need to buy and have someone take the lead in showing everyone how to make an epic lunch! Take notes on each meal's appearance and have each person give tasting notes, too. When everyone is done eating, have a vote for whose meal came out the best! If the first round goes well, you could make this a weekly event by having the winner choose next week's meal.
28. Meet My Bees
Head off to Portugal and meet Joana and her bees in this Airbnb virtual experience. She will introduce your team to her beehive and teach everyone about their super pollinating powers, anatomy, and how to bring more into your own garden! There will also be a fun quiz during this team-building activity to see how much you already know about bees. If you book around the holidays, you can take part in a special Christmas tradition with Joana and her bees.
29. Virtual Open Mic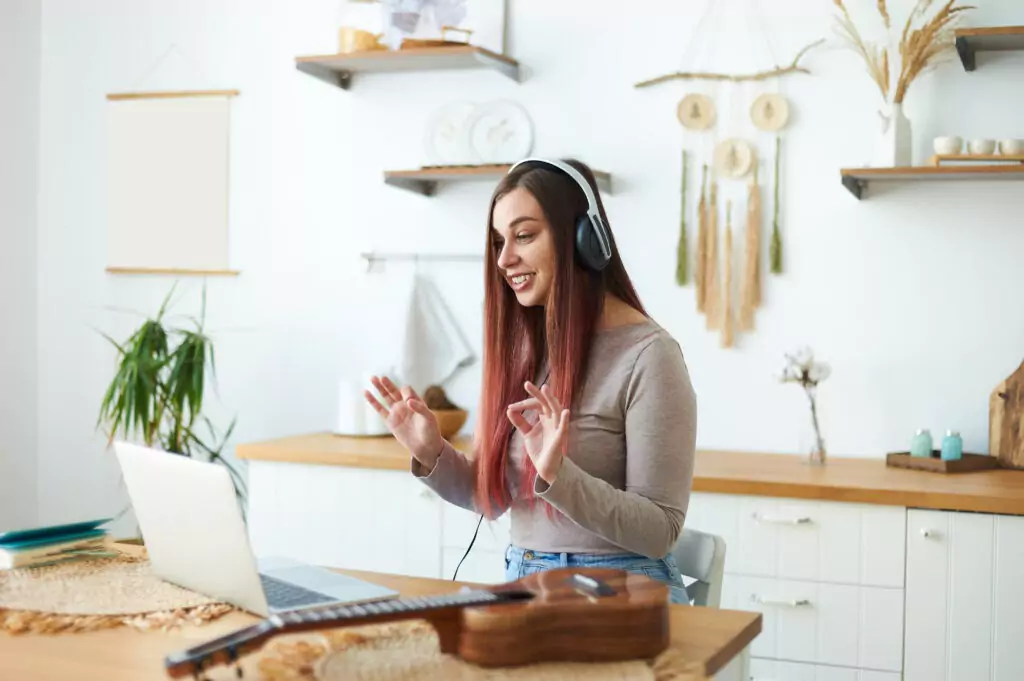 A virtual open mic may seem terrifying but can be a great employee engagement virtual team building activity for an outgoing group! Either have people share a selection with a musical instrument or just sing along to some favorite tunes!
30. Learn How Leather is Made with Hardmill
Go on a journey through a small leather workshop in Seattle and see how leather is made, learn how to identify quality leather, and shop for some exquisite pieces for yourself after the tour! Keep in mind that this Amazon experience can only be viewed by one computer, so you may need to set up a screen-sharing system with your team.
31. World's Top Coffee Masterclass
Finally, you can learn how to brew that perfect cup of coffee! Be careful with this one… your team might be asking for some new coffee equipment the next time you're all in the office together. Most people rush in the morning to get their caffeine fix and they don't care much about what is in their cup as long as it perks them up. This class teaches the nuance of coffee so your team can craft their own perfect cup every morning and make coffee an experience that they can truly enjoy.
32. Virtual Tour of Prague
For one hour, a host will walk you through the streets of Old Town Prague. While weaving stories of the town's history into your tour, the host will also point out significant landmarks like the church that inspired Cinderella's castle, the world's oldest functioning clock, and the location where Mozart conducted the premiere of Don Giovanni. Keep in mind that this Amazon experience can only be viewed by one computer, so you may need to set up a screen-sharing system with your team.
33. Virtual Happy Hour
A virtual happy hour is a perfect excuse to kick back with the team and connect. These work well if you have a group of people who are already well-acquainted and comfortable with one another. This can help bridge the gaps between a team with good rapport who don't see each other in person as much as they'd like.
Virtual Museum Scavenger Hunts
Quick And Free Virtual Team Building Activities
39. Virtual Coffee Break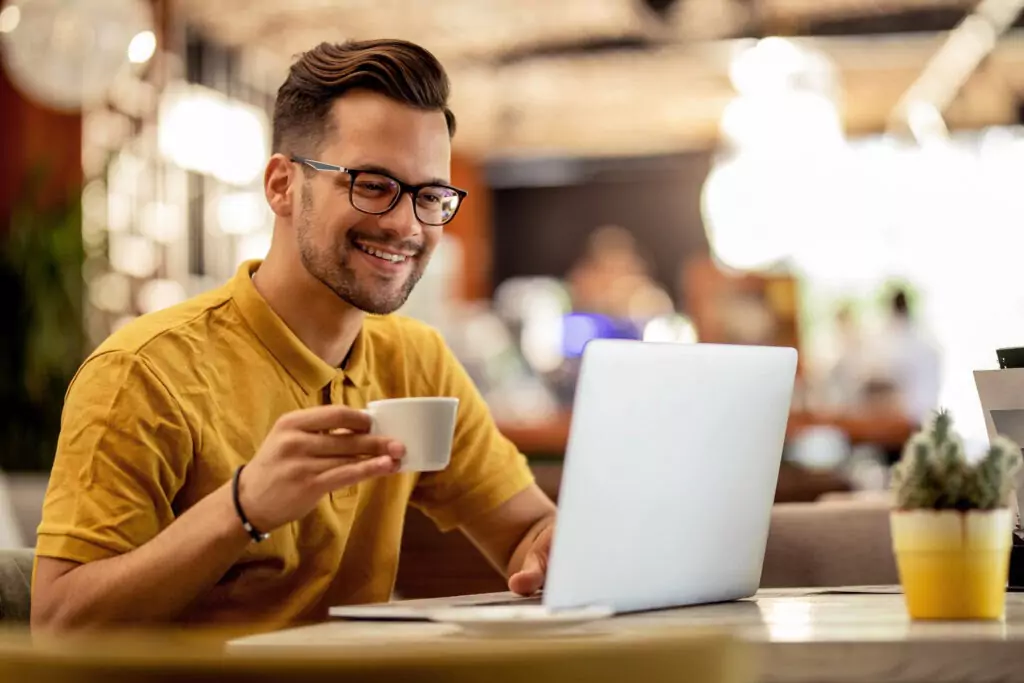 Taking a coffee break is an important part of office culture in some workplaces and an effortless quick team building activity. If your team has been sent home to work remotely for the foreseeable future, they might be missing these small moments of casual camaraderie with their co-workers. Schedule an optional virtual coffee break into your day and have everyone sign into your Zoom conference room. Just let the conversation flow freely for 10-15 minutes and give everyone a chance to clear their head before they get back to work and experience some solid employee engagement.
40. Team Dictionary
One of the most interesting things about language is that it can be manipulated and changed to suit different needs. Heck, it can even be completely made up sometimes! When you spend a lot of time together, there's bound to be some words and phrases (real or fake) that spark certain memories. Grab a notebook and a pen – or open a Google Doc… it is 2021 after all – and start compiling a list of all the terms that stand out to your team. Write down their definitions, too! It will be fun to reminisce on old memories and have a language that only your group understands will strengthen ties.
41. The 5-Minute Personality Test
This quick and fun personality test is perfect for team building because it helps each participant discover a little bit about themselves – and about their team members. Learning how different people work will enable each person to understand them a little bit better and hopefully give them insight into their strengths and weaknesses. Once these have been uncovered, you can get a clearer picture of where each person fits within the team. For example, this five-minute personality test divides people up into four categories: Lions, Otters, Golden Retrievers, and Beavers. If you have a lion in your midst, you may want to put them in a position of leadership. Once everyone is finished, spend a few minutes discussing the results. Do you agree? Why or why not?
42. A Penny for Your Thoughts
This game was created by Michelle Cummings of Training Wheels, an online team building service. Each team member brings a penny to the event with them. They check the date on the penny and tell a story about something significant that happened to them that year. Encourage the group to get creative here! If the date was before their time, have them try to think of something that happened in history that may have created a butterfly effect and led them to where they are today.
43. Map Your Team
Create an interactive map on Pollev and have each member of your team put their current location on the map! This activity is especially fun if your team is all over the world. If you are all in the same area, you could map our significant locations. For example, the farthest place they have traveled, their favorite place to get dinner, or where they went to school.
44. Show and Tell
Challenge your team's quick thinking and creative skills by asking them to grab an object within arm's reach and tell a story about it in one minute. The story doesn't have to be true! It can be as funny and bizarre as they like.
45. Daily Get-To-Know-Your-Team Questions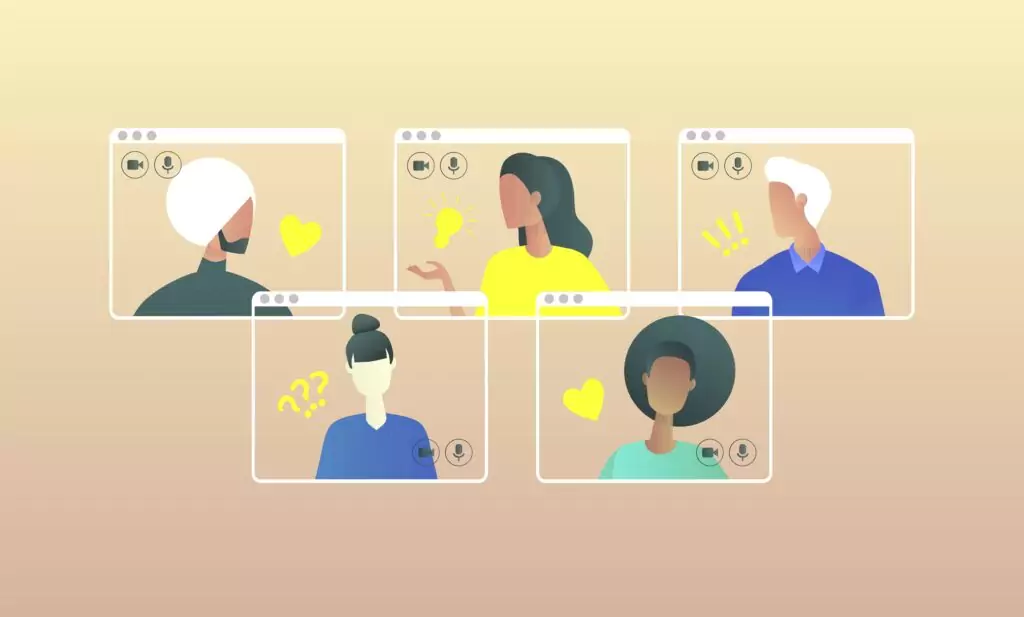 This activity can be really easy to implement into your team's everyday routine. Say you have a meeting every morning to kick off the day. You can do a quick little team building exercise at the end of every meeting by asking each member of your team to answer a question about themselves. This might be "what was your dream job when you were 8 years old?" or "where do you most want to travel to?" To add some competition and extra employee engagement to this remote team building exercise, you can have a quiz at the end of each week to see who learned the most about whom!
46. Virtual Dance Party
Leave your team on a good note at the end of every day by hosting a mini virtual dance party! Have each person take turns picking a song that everyone can shake off the stress of the day t0o. It can be fun to see the different music tastes that you have floating around in your group, and you might find a new favorite song or two!
47. Typing Race
Put your team's typing skills to the test and see who has what it takes to out-type the rest! This remote team-building exercise can be a fun way to fill some time with a little bit of friendly competition. Plus, it might ignite a fire in your team to sharpen their typing skills! One great aspect of this test is that it can be done individually at any time. If your team is in different time zones, it might be hard to get everyone together for a single group activity. With this typing test, everyone can take it when it's convenient and record their scores in a shareable document like a Google Doc. If you're looking for more like this, here is a more comprehensive list of other typing games.
48. Two Truths and a Lie
This game is a really fun way to learn about your team while putting their quick-thinking skills to the test. Each person goes around and thinks of one fact about themselves and two lies. The other members of the group will have to determine which one is the lie!
And there you have it! 47+ awesome virtual team-building activities! Still have a few questions? We've got answers!
Frequently Asked Questions
1. How Much Should I Budget For A Virtual Team Building Event?
On average, team building events can range from as little as $25 a person to thousands of dollars for large events, so it really depends on the size of your team! There are also many virtual team-building events that are completely free! At Team Building Hub, our events range from $28 – $36 per person with the option for a few premium upgrades!
2. What If Part Of My Team Works In The Office And Part Of The Ream Is Remote?
The great thing about virtual team-building events is the fact that they can be done from anywhere! Your team that works in the office will just need access to a computer and an internet connection to participate in the event.
3. How Often Should I Plan Team-Building Events?
On average, about 20% of companies team-build on a monthly basis. However, 73% of employees wish their company would invest more in team building. Planning quarterly team-building events is a manageable timeline that ensures your team is getting in time to grow together! Team building can also be great for celebrating milestones, or onboarding new team members, so don't be afraid to plan more events for special occasions!
4. How Far in Advance Should I Plan My Team-Building Event?
You should start planning your event at least one month in advance. It's important to give yourself ample time to plan and also to give team members enough notice. One essential part of team building is making sure that everyone can participate so having a consistent team-building schedule can help with that!
5. Why Do Some Team-Building Events Fail?
If your team-building exercise encourages too much socialization over skill-building, or creates too much competition between team members, it may not work. You want to find events that meet somewhere in the middle – that facilitate bonds while pushing team members to do their best and accomplish a task at hand.
Other team-building activities fail because they were planned by someone that doesn't understand their group very well. For example, if you have a group of people who work well together, but they're pretty introverted otherwise, an open mic night might make them uncomfortable.
We hope that answered all of your questions about engaging in fun, dynamic virtual team building activities! Click to learn even more about virtual team building or find some unusual virtual team building activities here.