More and more companies are turning their attention to team building and for good reason – it's really important! According to a recent survey, 73% of employees wish their company would invest more in team building. This shows that not only can team building activities boost morale, improve communication, and get your team exercising more creativity, but also that employees expect to do some team building!
However, as the concept of "team building" grows in popularity, many teams can over complicate it. We're going to give you all the ins-and-outs so you can stay focused on what's most important and take full advantage of the benefits of team building. Within Team Building Hub, we've leveraged the insights of industry experts in employee culture and team building so that we can provide you with definitive resources to help your team grow together, become more efficient, and improve your company's bottom line
What Is Team Building?
It might seem simple enough but team building is a broad concept with a lot of different applications. "Team building" encompasses everything from 5-minute standup meetings to 75 minute events or week-long, off-site retreats.
For the by-the-book definition let's turn to Oxford Languages. Team building is "the action or process of causing a group of people to work together effectively as a team, especially by means of activities and events designed to increase motivation and promote cooperation."
Not clicking? Yeah, that didn't make a lot of sense to us either. Let's break that down!
Simply put, team building is any activity that you do with a group of people to improve their performance as a team. That's what team building really is.
Again, those activities can range from simple to elaborate but the truth is, if you're spending time with your team, you're team building. The question is, are you doing it well?
Why Does Team Building Matter?
Team building takes time and hard work so it's reasonable to question why this is something you should care about or focus on. Well, there are plenty of reasons and we'll break down just a few of them here!
1. Your Team Will Work Together Better
Whenever you talk about the benefits of team building, improving collaboration has to be right at the top of the list. We've all heard "two heads are better than one," but that might not be true if those two heads can't get along! Team building events are a relaxed, low-stakes environment where your team can learn how to best work together before they get into the real stuff at the office.
You might say your team already works well together but there is a difference between teamwork and collaboration. Teamwork is a group working together under the corporate, hierarchical structure we expect – bosses dictating to employees. It's boring and it doesn't always get the job done as effectively as it could be. Collaboration is when a group of people work together as equals. They work as a self-managed collective who are freely exchanging ideas, pitching in wherever they can add value, and ultimately just concerned with getting the best end result. This is where the magic happens!
In fact, a joint study found that companies that promoted collaborative working were found to be 5 times more likely to be high-performing. When struggling with facing an underperforming team, collaboration can be the key to unlocking the potential of your team members.
2. Boosting Morale
Positivity is a prerequisite for creativity. If your team isn't happy, engaged, and feeling good about their work, then your company won't be getting the best results! It might seem too good to be true but a study in the Journal of Corporate Finance was able to directly link employee satisfaction to improved company financial performance. So, doing right by the team will absolutely affect your bottom line.
When companies treat their teams to truly exciting and engaging team building experiences, team members light up and take that energy with them to their roles at the office.
This can be especially true with remote or hybrid teams. If your team is operating virtually, on any level, then virtual team building is a must! Virtual team building allows your entire team, no matter where they are located, to collaborate in a fun and unique way that ultimately brings them together.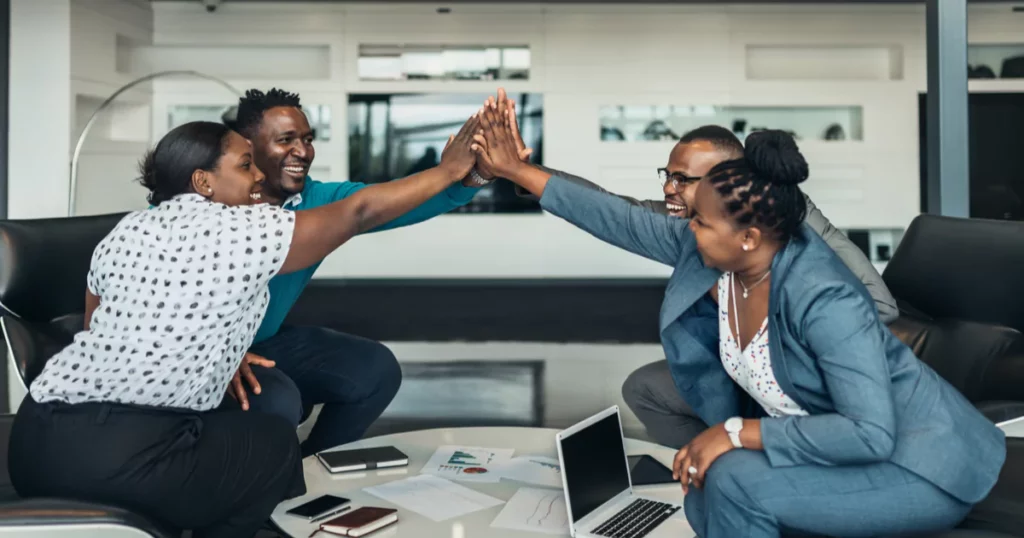 3. Identify Leaders
This is a frequently overlooked benefit of team building. However, team building activities can be an opportune time to see co-workers in a new way and discover the next crop of leaders within your organization.
When you put your employees in a brand new environment, you learn all sorts of things about who they are. Even Plato said, "You can discover more about a person in an hour of play than in a year of conversation."
These events allow you to uncover hidden talents, identify leadership traits, and find some shining stars in your organization that you might have totally missed otherwise.
According to Fast Company, empathy, high employee engagement, and remarkable communication are among the skills needed in great leadership. Team building activities are an opportunity for you to see all of these qualities and more on full display in some of your team members as they work together.
In a well-run team building event, your employees will find themselves in a space where they can really be themselves and show off their talents in a way you would never have seen. These are huge opportunities to develop your team, build their confidence, and grow a unique skillset.
4. Employee Retention
One trillion dollars. That's what U.S. Businesses are losing each year to voluntary employee turnover, according to Gallup. The cost to replace an employee can range from one-half to two times that person's salary. That doesn't count the toll turnover takes on an organization's culture and morale, either. So, when it comes to retention, make sure you are checking all the boxes.
Nowadays, team building is an expectation. Employees not only expect team building to be a focus but they want their companies to invest more into it! The fact is, the job market is as competitive as it has ever been. So, to keep your team and attract new team members you simply have to be team building.
If you're still looking for proof about the importance of team building, check out our team building statistics article. We surveyed hundreds of employees across multiple organizations to get their thoughts. The results were fascinating!
5. The Biggest and Best Companies in the World are About Employee Retention
Team building isn't a brand new phenomenon only being utilized by a niche group of people. The most successful companies in the world have made the practice a focus within their organizations.
Zappos, a company  known for having arguably the most happy and engaged workforce in the world, makes team building a huge priority. They do plenty of normal events but they take team building as far as having a group from their offices participate in a 8,000 meter hike every year!
And Ted Baker, CEO of Qalo, has talked about how important the right type of team building is to his company. "We're not going to do cheesy trust falls in the conference room. We build camaraderie by getting active… Stuff like that really brings out the humanity in people and makes them more confident in their jobs."
How You Can Host A Great Team Building Event
All this sounds great, right? Well, there's a little bit of a catch. Most team building events stink. They're downright awful in fact. This leads to team members looking for any excuse to get out of another corny event, awkward game of "two truths and a lie", or God forbid another Zoom happy hour.
But when done well, team building is amazing. And you can do it – we believe in you!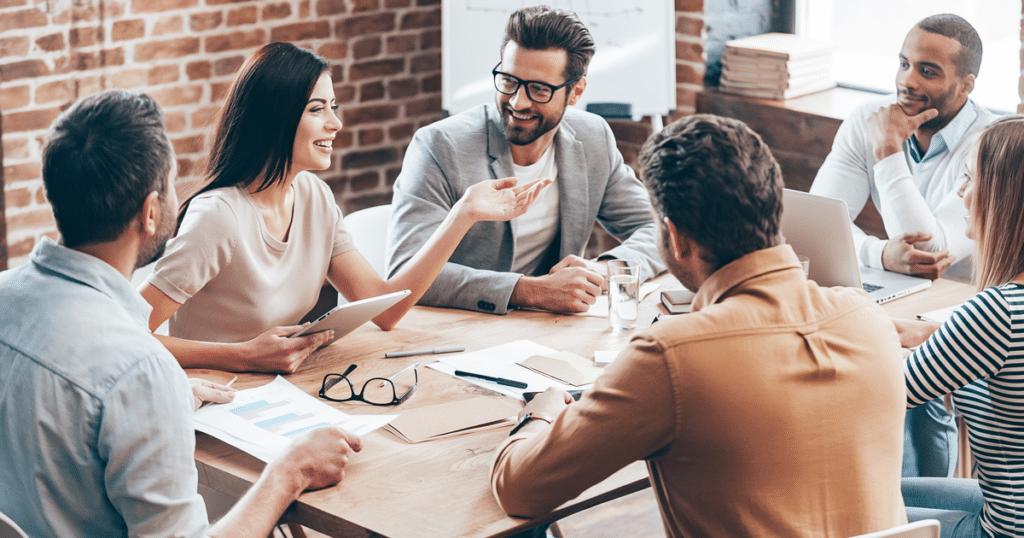 Pick the Right Activity
Trust falls, dress up days, and happy hours are so 2010. Team building has evolved! So, pick an activity that works best for your team because you have options.
Are they a competitive bunch? Try something like an online game show! Have you got a group of smarty pants on your hands? Maybe they would love a game of trivia! Is your team looking for adventure? You can even play a real, live escape room right through Zoom! (Seriously, it's awesome.) No matter the team, the right event is out there. So, do your research and pick a killer activity they will love.
There are a ton of options. And, truthfully, there are even a lot of free team-building activities you can try. However, if you're looking to step up your game, here at Team Building Hub we do team-building activities the right way. Fun games, super simple booking, and a team of enthusiastic hosts who are there for you every step of the way. Check out our games to learn more and get started planning whenever you're looking to book an event.
Have an Excited Host
Unfortunately, events like this have gotten a bad reputation for being cringy and boring. A great host can solve all of that.
When the host of the event shows a level of excitement and professionalism, that increases the buy-in from the participants. Once your team is putting max effort into the event and really enjoying it, that is when they will start to see the real benefits.
Ultimately, like most things in life, you get out what you put into these events. So, if you're looking for major results, make sure to bring your A-game!
Meet With the Team After the Event
You planned this big day, got everyone together, and had a great time doing your activity. Isn't it over now? It can be, but don't overlook the value of talking about your event after it has happened. You and the team can learn a lot from a proper post team building activity debrief.
Asking your team which parts of the event they enjoyed most and what parts they didn't like so much can give you great insight into other games they might like to play together. Also, have the team share what they learned about each other and how they enjoyed working together or competing against each other. This sort of exchange of ideas can sometimes prove more valuable than the activity itself.
As Brian Scudamore, Founder and CEO of 02E Brands said, "Most team-building falls flat because it's a one-time activity – done and then forgotten." It's essential to find ways to keep the excitement going. The challenge is creating opportunities for people to connect and interact in meaningful ways, outside of regular meetings or presentations."
While it is a challenge to keep that momentum going, that is what can take a team-building activity from a ho-hum afternoon at the office to a culture-changing event your team will always remember.
Virtual Team Building for Remote or Hybrid Teams
With the number of teams that are dispersed across the globe, working remotely either part or full time is only growing. This can have a lot of benefits, but it also creates a lot of challenges, especially in regard to teamwork and company culture.
If your team is doing remote work, we recommend you read about virtual team building. On the virtual team building page, you will hear from industry experts who can educate you on the challenges of virtual teams, how to facilitate virtual events, and the best types of activities for quick virtual team building.
To ensure that virtual team building efforts are successful, ensure that you take into account the following key aspects of virtual team building:
Virtual Team Building Benefits – What can your team expect to gain from a well-executed virtual team building event? Go into your event planning stage with a clear plan for what you would like to accomplish with your team members.
Virtual Team Building Icebreakers – Even for teams with plenty of experience interacting through video conferencing software, there can be some awkwardness to work through when first getting on a call. Icebreakers are the perfect antidote to Zoom call awkwardness.
Virtual Holiday Parties – Holiday parties are one of the most common uses of virtual team building activities. However, a holiday party can be treated much differently since the objective is often to just have fun and not place such an emphasis on improving team communication and creativity.
FAQ: Common Questions (and Answers) on Team Building
If you've found yourself on this page, in all likelihood you're on a deep dive of investigative research learning all you can about team building. Below we are going to answer some of the most common questions people Google about team building.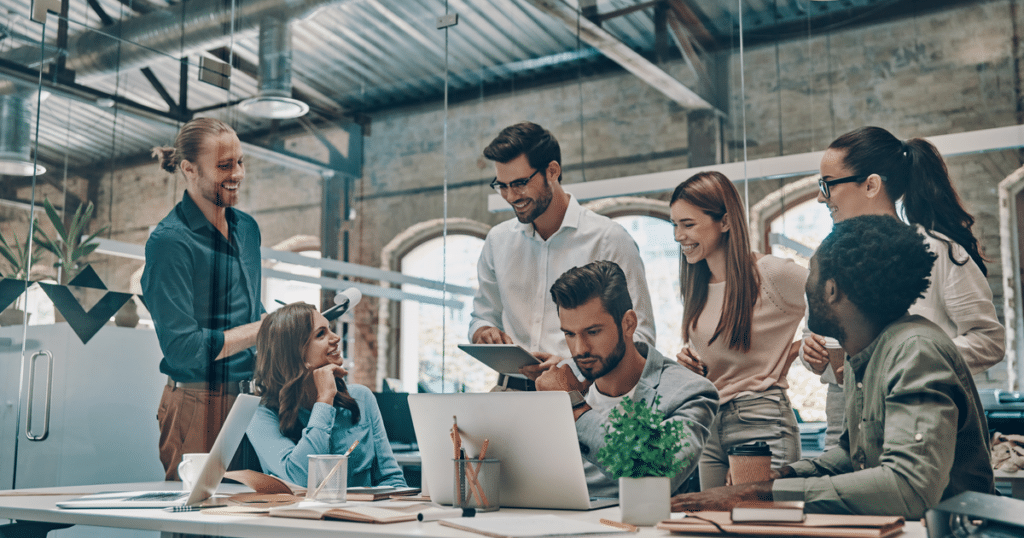 What is the main purpose of team building?
The purpose of team building is to get your team excited about their work and work together efficiently.
Team building is the process by which your team will improve their communication skills, boost their overall morale, and develop new skills they can utilize in the workplace. Allowing team members to have a team building experience together gives them new opportunities to learn from one another, strengthen what they do well, and address the areas of improvement.
What skills are needed in team building?
Here are the essential skills to team building:
1. Analysis
Some of the biggest benefits of your team building event will be seen in the analysis you do afterwards. Discuss with your team what went well, what challenges they faced, and what could better help them improve as a team.
2. Passion
Setting up a successful team building event isn't always easy and if you only do it half way, you won't see any benefit. Make sure you're passionate about the event, the growth of your team, and the business as a whole.
3. Goal Setting
If you don't go into your event with a clear goal then you will be doing yourself, and your team, a disservice. When you set a goal, your whole team is able to get behind it and share a common vision for what success looks like. That sort of motivation is invaluable.
Make sure everyone knows what part they need to play to hit your goal and you are much more likely to succeed.
4. Communication
If we could list only one skill necessary for team building, it would be communication. This is the baseline for everything else. You can't analyze your event without communication. Setting a goal, but not communicating it to the team effectively, means that you did not set a goal. And lastly, communicating with passion indicates to the team that what they're doing truly matters.
What factors improve teamwork and success at a company?
1. Communication
Communication isn't a choice. It's a requirement for any successful business. Ensuring you are communicating effectively means that your entire organization, top to bottom, will be on the same page about goals, strategy, and priorities. When leaders effectively communicate, this creates a two-way street for everyone at the company to feel safe opening up. When this happens, problems reach the surface more quickly, brilliant ideas are brought to the forefront, and your team is more likely to stick together.
2. Motivation
When a team is excited about their work, the energy in the office is palpable. A motivated workforce provides the necessary level of commitment and determination to attack some of an organization's biggest goals. You may think your team is excited, but according to Gallup, 63% of employees worldwide are not engaged at work. That means rallying the team will take some effort but once you put in the work, you will see results.
3. Determination
When trying to accomplish difficult tasks, teams inevitably hit that "wall" and when they do, determination is the defining factor that gets them to push through it. The most determined of your team will not only contribute to their own tasks but will also inspire others around them to do their best work too.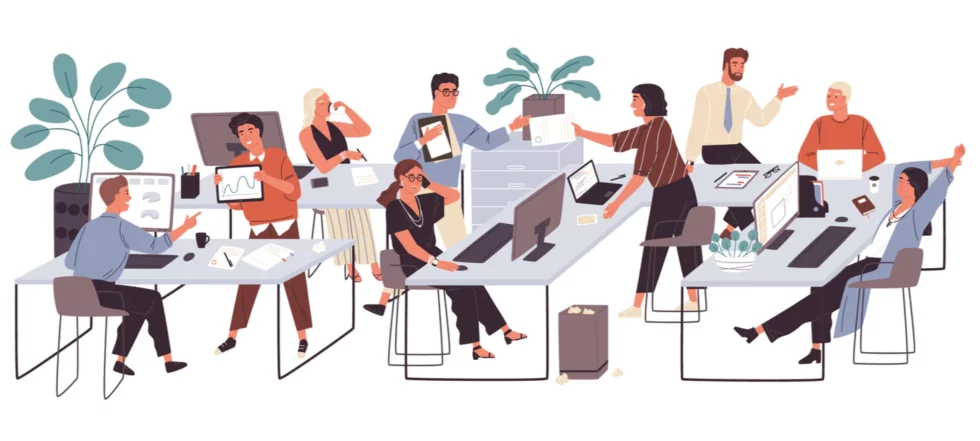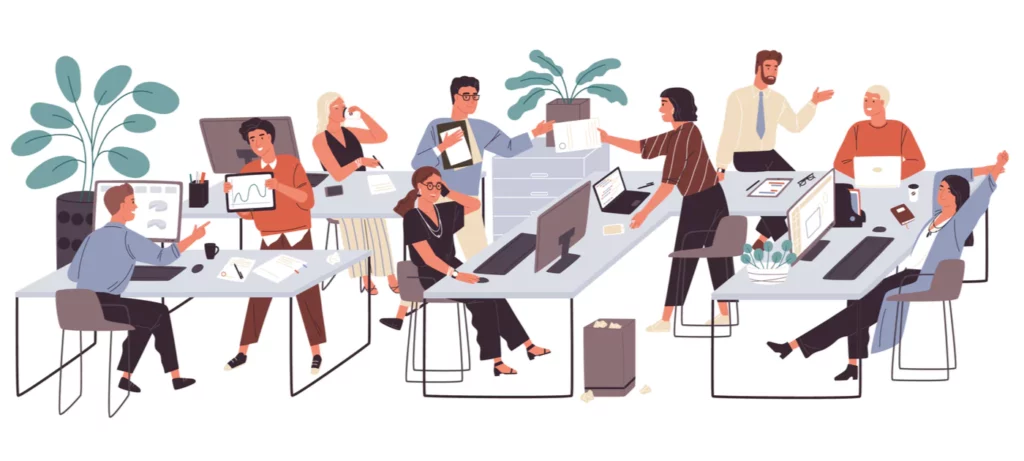 How do you build an effective team?
Building an effective team is not an easy task and takes distinct action. You need the right talent who are focused on singular goals and united on your vision.
Here are three ways to build and maintain a truly effective team:
1. Find the Right People
Finding the right candidate to fill an open position is the most difficult and important part of this process. And it is only getting harder in today's competitive job market.
Step one is to determine the type of candidate you are looking for. 
What skills are 100% necessary? What would be nice to have, but you can live without? What type of degree is necessary, if any, for the position? Answer all these questions and more before you even write the job description.
Step two is to write an appealing job description. 
Not only are you hiring the candidate but they are hiring your company. The interview process is a two-way street, so make sure your job and company are as appealing as possible.
Step three is to talk about culture and personality in the interview. 
Of course, the candidate's skills will be discussed, but in all likelihood, hundreds of candidates will have the skills on paper to do the job. But are they a culture fit for your organization? You're not hiring a resume, you're hiring an individual.
Step four is to make a good offer.
Be realistic about what you're asking of the candidate and do your research on proper benefits packages for similar positions. If you're not offering enough, you won't find the best person for the job.
2. Clearly Set and Measure Your Goals
Goal setting is paramount to a team's success. If your people don't know what their goals are then their work won't be focused and effective. Use a framework, like the 4 Disciplines of Execution, to set your team up for success.
3. Celebrate Success
It's not as simple as checking a box and moving on to the next thing. If you do that consistently, your team will get burnt out and turnover will be high. Publicly recognize the team members who go above and beyond. Send a personalized thank you to members of your team. Cater a team lunch as a fun reward and break from the day-to-day.
Whatever the celebration is, just make sure to genuinely care for the team and recognize their success. Indeed.com has confirmed that employees who feel appreciated are happier, perform better, and have an improved sense of belonging to the company.
What is the difference between team building, team bonding, and teamwork?
Team building is bringing a group of people together towards a common goal, teamwork is what they do to accomplish that goal, and team bonding is basically how much they enjoy doing it together.
When you build the right team up, the work they do can seem to outweigh the sum of their parts. That teamwork is the result we see in championship teams who might not have the best players but were able to work as a unit to overcome more talented competition. The book Culture Code by Daniel Coyle cites team culture as the differentiator for teams who seem to outwork their potential. Not only does culture have an impact within sports, but it can also be seen on your bottom line – A Harvard study of over 200 businesses says a strong culture increases net profit by 765% over ten years. 
Great leadership and clear communication are sure to start your company culture off on the right path. Make it a priority and it will certainly lead to more success in the long run.