When a team isn't functioning well, productivity, employee engagement, and company morale will suffer. Fortunately for San Francisco-based companies and organizations, there are lots of fun and effective team building activities in your city to get your team back on track!
Unify your team members through fun activities and games to improve their communication, collaboration, and group problem-solving abilities. Go on outings to let your team relax and get to know each other better. They'll learn to laugh together, play together, and ultimately will work better together back at the office!
Below are 24 awesome team building activities and games you can do right here in San Francisco!
Table Of Contents
24 Fun Team Building Activities in San Francisco
1. Play An Escape Room
Escape rooms are an exciting and engaging team building activity where your team is 'trapped' in a themed room with just 60 minutes to escape! They'll have to use their very best problem-solving skills to decipher clues and answer riddles or they will be stuck with each other…forever!
The Escape Game San Francisco has five unique escape rooms designed to strengthen your team by requiring them to use their very best out-of-the-box thinking and collaboration abilities.
Whether your team must break out of a cramped 1950s prison cell or investigate mysterious happenings at a market, your team will be challenged like never before! Afterward, they'll feel proud of what they have accomplished together!
For companies that are fully or partially remote, The Escape Game also offers virtual escape rooms! The Escape Game can accommodate groups of all sizes, so no one will be left out of the fun!
2. Plan An Event with Team Building Hub
Team Building Hub specializes in planning fun team building events and can take care of your event from start to finish. They will customize your event to meet your team's goals. Whether you are a small team or a large company, Team Building Hub can handle your team building event! They will help you decide if an in-person event is best or are virtual games more appropriate for your group. 
Here's how it works. When you contact Team Building Hub, you will be connected the very next day with a dedicated planner to discuss your options. Your planner will work with you to coordinate your event and manage all the logistics so your event runs smoothly and you can join your team in the fun!
3. Solve A Mystery
Online mystery games are engaging activities that call for collaboration to quickly find and interpret clues from surveillance videos, hidden internet puzzles, and other evidence to solve a mystery and stop a crime.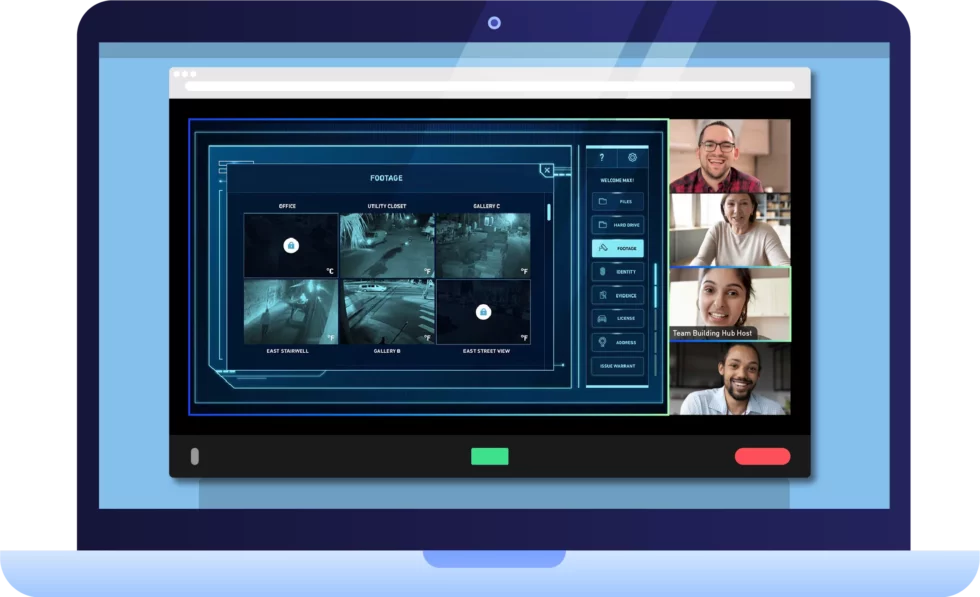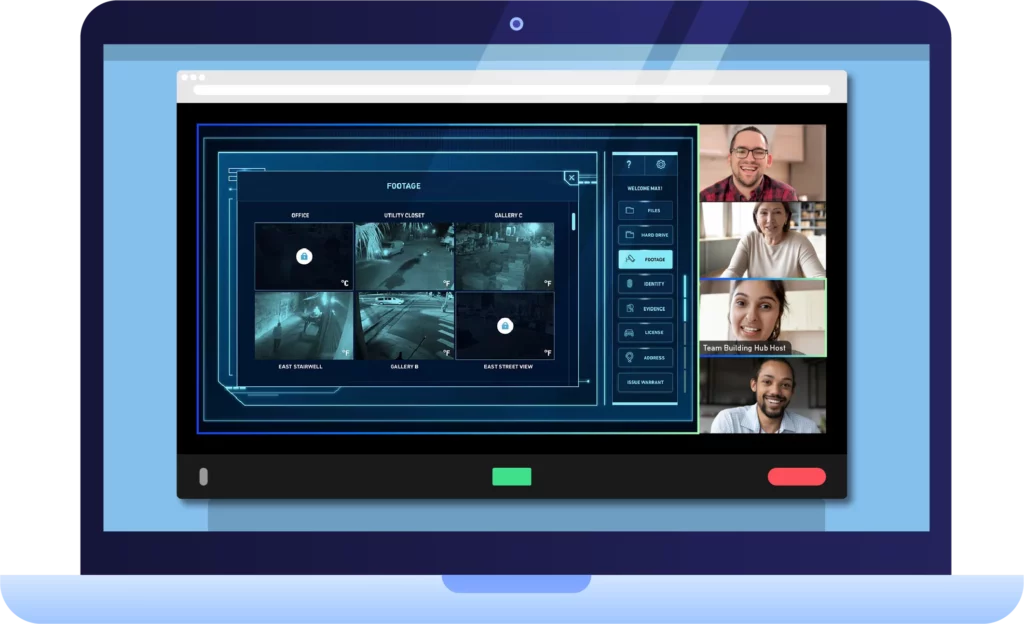 These games improve creativity, problem-solving, and communication. Choose from different storylines, like hunting down a notorious art thief or stopping a rogue scientist before he takes his dangerous genetic experiments too far!
Let the Nancy Drews and Hercule Poirots on your team work together to solve a crime. If they can succeed at this challenging game, they can succeed at anything!
4. Overcome Obstacles With A Ropes Course
If your employees enjoy being outdoors, then doing a team building obstacle or ropes course in the San Francisco area is ideal! These sorts of activities improve communication and team awareness. They can particularly help people learn how to identify which team members need support and how to help them.
The ropes course at John McLaren Park can be reserved for your private event. It's run by Outward Bound, a group that specializes in expeditionary learning. Their instructors know how to tailor activities to suit an entire group and not just a few members who may possess advanced skills.
The ropes course has a series of 'low' challenges that are a few feet off the ground. Tackling low challenges is great for beginners. These challenges help develop individual confidence and team cohesion.
The 'high' climbing activities offer team members to try challenges several feet off of the ground. They'll be secured in harnesses for safety and a sense of security. Several of these challenges involve multiple team members and require good collaboration to succeed. 'High' challenges help individuals build trust in themselves and their teammates.
As team members support each other to overcome their fears at any level of the course, your team will discover just what they are capable of when they work together!
5. Play A Virtual Game Show
If you have a team that thrives on friendly rivalry in the office, play an online game show! Through several rounds of challenging word puzzles and brain teasers, teams will use their very best problem-solving abilities and creative thinking to win.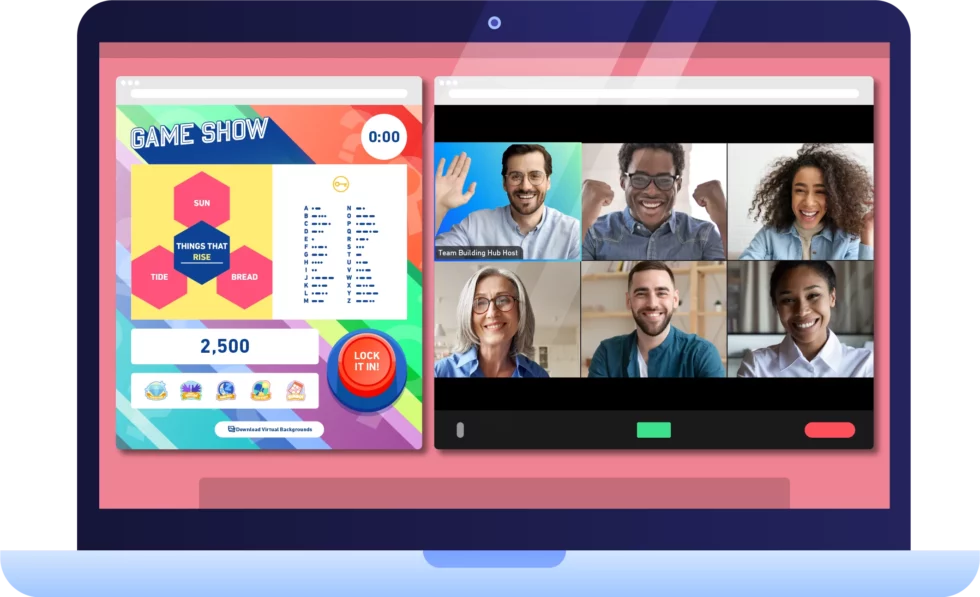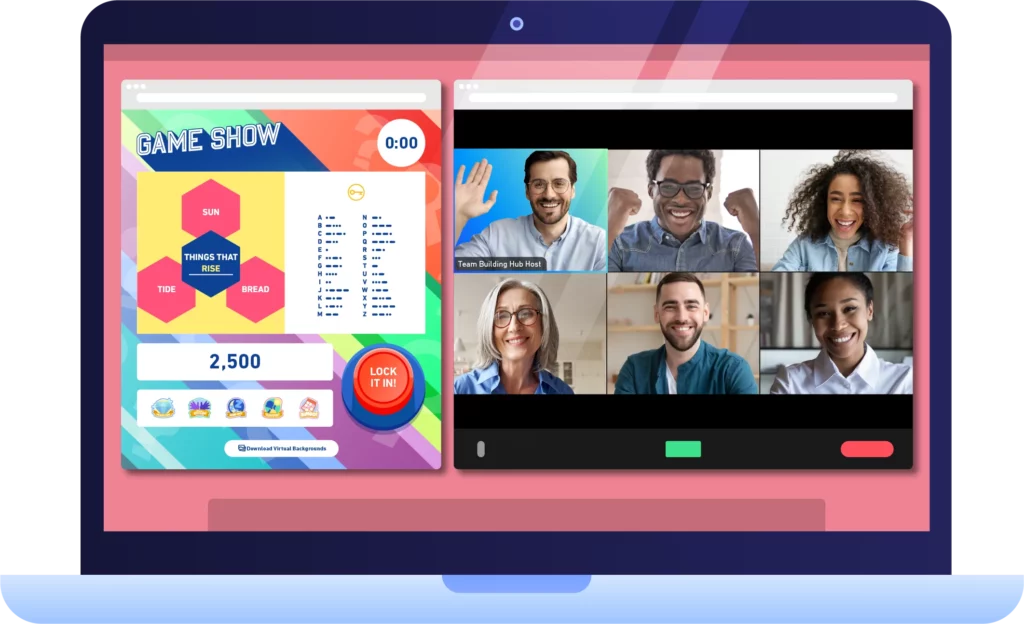 Team Building Hub's online game show is a live, hosted competition played over Zoom. The game has a unique interface designed to enable players to see each other while playing. They'll see each other's excitement grow throughout the game as if they were in the same room!
You have a lot of flexibility when playing this online game show as you can schedule it for the most convenient time for all your team members. The game can accommodate between 10 to 150 players, so big or small, all your employees can battle for bragging rights!
6. Test Your Team's Trivia Knowledge
Team trivia games are not just fun, they are an excellent tool that strengthens your team's abilities. Playing trivia encourages collaboration and creative thinking. Team members must be active listeners as they draw from each other's knowledge to come up with the right answers.
Individual teammates who may be reluctant to share ideas in the workplace have an opportunity to speak out now! This builds confidence as well as an understanding of each other's strengths and weaknesses. It also brings out a bit of healthy competition.
You can play trivia at many bars and pubs in San Francisco. Here are some suggestions for trivia night venues. If you don't have a local trivia venue nearby, you can integrate a trivia game into your company happy hour by playing one of the many virtual trivia games out there.
Playing trivia gives your team a chance to have some energizing game time while they practice their team skills without even realizing it!
7. Improv To Improve
Improv and comedy classes are a lot of fun and encourage your team members to get out of their comfort zone. Improvisation teaches people to:
Think fast on their feet
Be mindful of the people around them
Let go and enjoy themselves
Take risks
Get creative
Be patient
Listen to other people's ideas before responding
Feel confident speaking up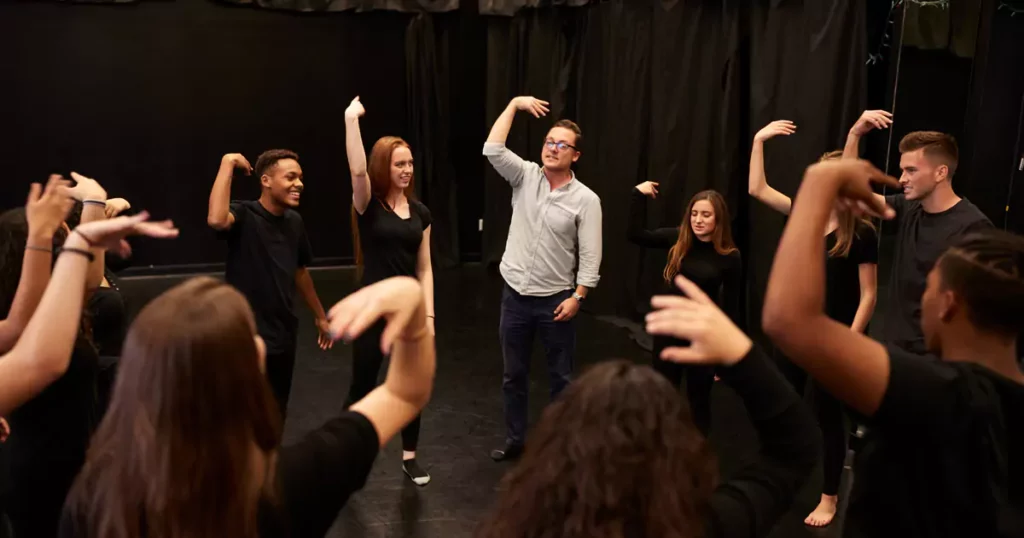 These are important skills that come into play in a business environment. Working on improving these skills with some comedy is both fun and valuable team time.
Quick improvisational exercises also enable people to work with a lot of group members in a short space of time. They can help to break the ice within a team or department. Check out the Corporate Team Building session with the Leela Improv Theatre in San Francisco!
8. See A Comedy Show
If your team would rather see live comedy than be the comedians, head to a comedy club! On a night out at a comedy show, your team members will get to know each other better while laughing together.
Since they will be watching performers most of the time, there won't be any awkward pauses during the evening. In between performer sets, they will have some time to chat. Laughing as a group is always an excellent way to boost company morale!
9. Stir Something Up With A Cooking Class
Team building activities are a great way of allowing your employees to try something new. Cooking classes are the perfect way for them to learn new skills and find common ground. After all, we've all got to eat!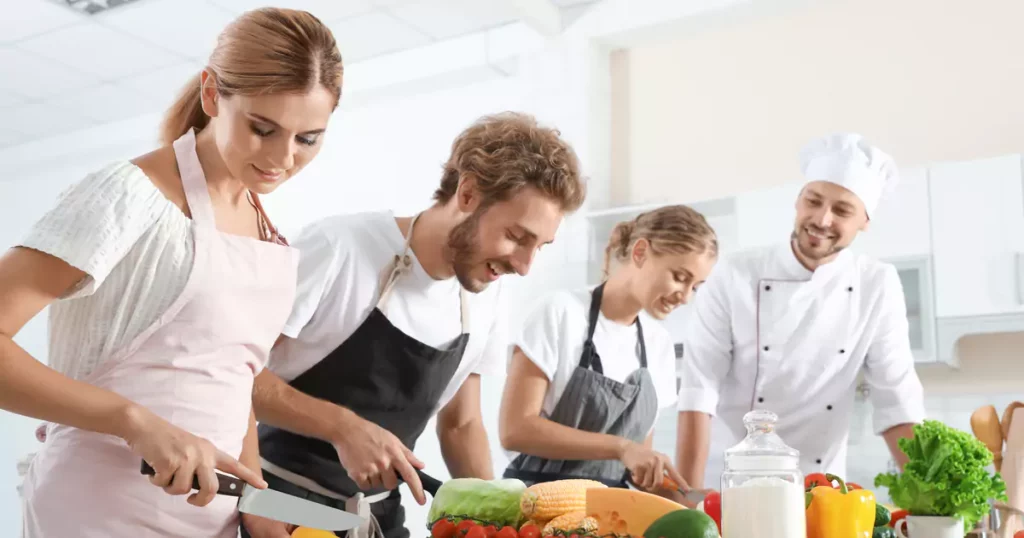 Parties That Cook offers corporate team building cooking events held at various venues in San Francisco. Their events are designed to work on team building skills such as communication, collaboration, and time management.
Your team can take one of their competitive courses. Split your group into teams who battle it out in a "Sushi Showdown" or a "Cupcake Challenge". The "Kitchen Challenge" class is an Iron Chef-style competition. Teams have just three main (and sometimes unusual) ingredients and access to a full pantry to create a culinary masterpiece.
For a laid-back, no-pressure cooking experience try their "Small Plates" class. Your team can mingle while creating international appetizers. Whatever class you choose, your team will have some pretty tasty fun!
10. Do A Scavenger Hunt
San Francisco is a stunning city and a scavenger hunt is a perfect way to combine seeing the sights and team building!
If you have a decent budget, check out Urban Adventure Quest's scavenger hunt. It's affordable and good for small groups. If you have no budget, don't worry! You can easily create your own scavenger hunt. Take a look at Goosechase for inspiration.
To play, you will need to divide your group into two or more teams and give them a list of things to find or several clues to follow. Give teams a time limit to complete the hunt and the first team who does, wins the game!
Make sure you have a prize on hand for the team that finishes first. Maybe even throw a little party to celebrate all of the teams' efforts!
11. Go Paintballing
Paintballing is one of those team building activities that are a little light on skill improvement and heavy on the thrill of the game. Still, there are some skills that successful teams will need to use.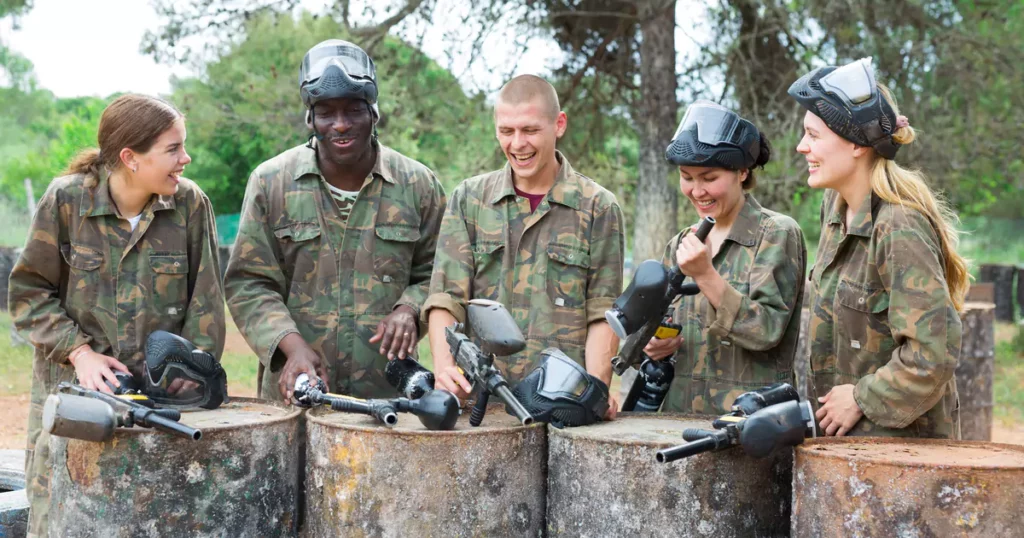 To succeed team members have to use clear, concise verbal and non-verbal communication. Since your group will be split into teams who compete to knock out other team players, the game provides some healthy competition.
Paintball is also a great activity for potential leaders to emerge as members often step up to lead the team to victory.
If your group members do not know each other well, try switching up teams so everyone has a chance to interact and share the fun together!
12. Construct Then Destruct
Launchy Birds offers one of the wackiest team building events in San Francisco using "construct and destruct" game mechanics. What is "construct and deconstruct"? First, teams construct a castle out of miscellaneous materials. Then they compete to knock each other's castles down using odd projectiles!
Your event starts with some ice breakers. Then your group is divided into teams and is given miscellaneous materials to construct the strongest castle possible. Teams also receive more items like a catapult and birdies to deconstruct each other's castles. The team whose castle stands at the end is the winner!
The Launchy Birds event is 90 minutes long and can be run anywhere. They can come to your office if that is the most convenient for your company.
This chaotic, playful, fast-paced activity is great for both large and small groups. But beware…it may get your team members throwing projectiles to deconstruct each other's desks!
13. Do Good Deeds Together
Volunteering might not seem like the most obvious team building activity, but it can help to bring people in your team together.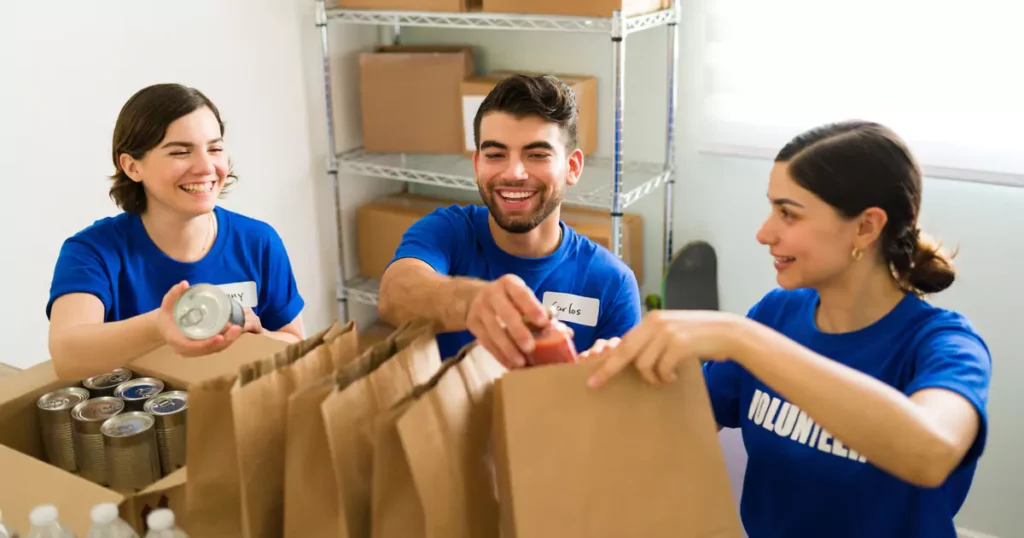 It gives them a common goal to focus on and promotes empathy within the group. Volunteering locally also gives your staff an opportunity to give something back to the community.
There are plenty of great San Francisco-based charities that you can support on volunteering days. These include:
The San Francisco-Marin Food Bank
The St Anthony Foundation
Friends of the Urban Forest
Meals on Wheels
The Open Hand Project
Studies show that people who volunteer are more satisfied with their work-life balance than those who don't volunteer. Moreover, volunteering can reduce stress and it makes people feel good! The benefits of volunteering as a team are plentiful!
14. Team Graffiti
1AM San Francisco offers a unique team building activity that none of your team members have done before — as far as you know! 1AM's personalized team workshops teach your team the basics of spray painting and creating graffiti.
After they've had some freestyle practice, their instructor will guide your team in designing and painting your group artwork on their large wall or on an optional 4' by 6′ canvas. Also, each team member will create their own tote bag with a customized stencil and spray paint.
A team graffiti mural will look awesome in your office! It will be a reminder of a one-of-a-kind team experience that you'll all think back to and say "What a cool team we are!"
15. Play With Clay
Clay By The Bay's Team Building Ceramics Class takes place at their ceramic arts school located in the beautiful San Francisco neighborhood of Nob Hill.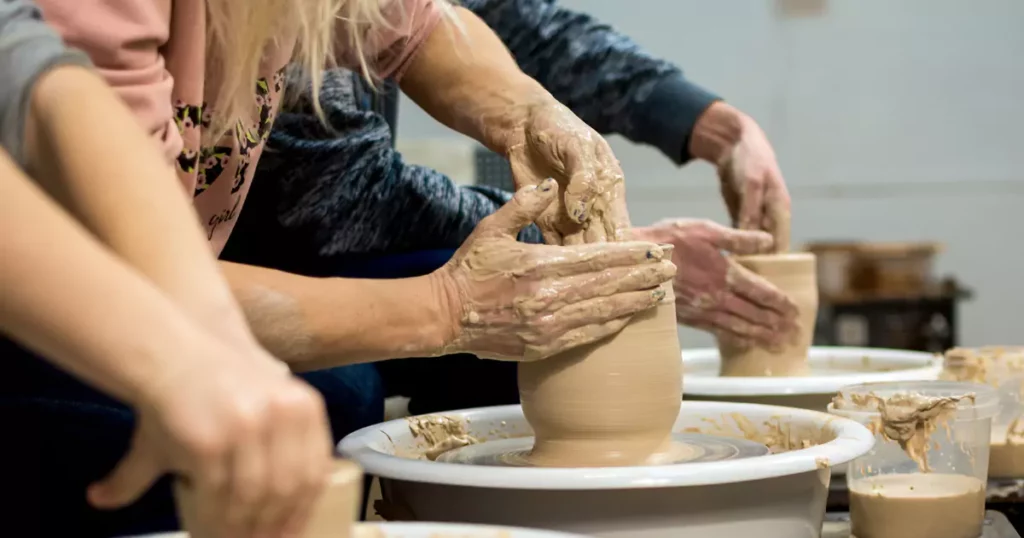 The staff will guide your team through the process of pottery-making in their two-hour private class. Your team's clay creations will be fired and glazed once your class ends and ready for pick up within four to six weeks.
Classes can accommodate up to 25 people. They are open Mondays through Fridays, with extended hours on Friday starting at 10 am so you can schedule your class during work hours.
A class with Clay By The Bay will get your team to put down their phones and get their hands dirty!
16. Take A Team Sailing Lesson
SF Charters offers sailing lessons designed for team building. Their structured event or provide a less structured event. These lessons can accommodate parties of 6 to 48.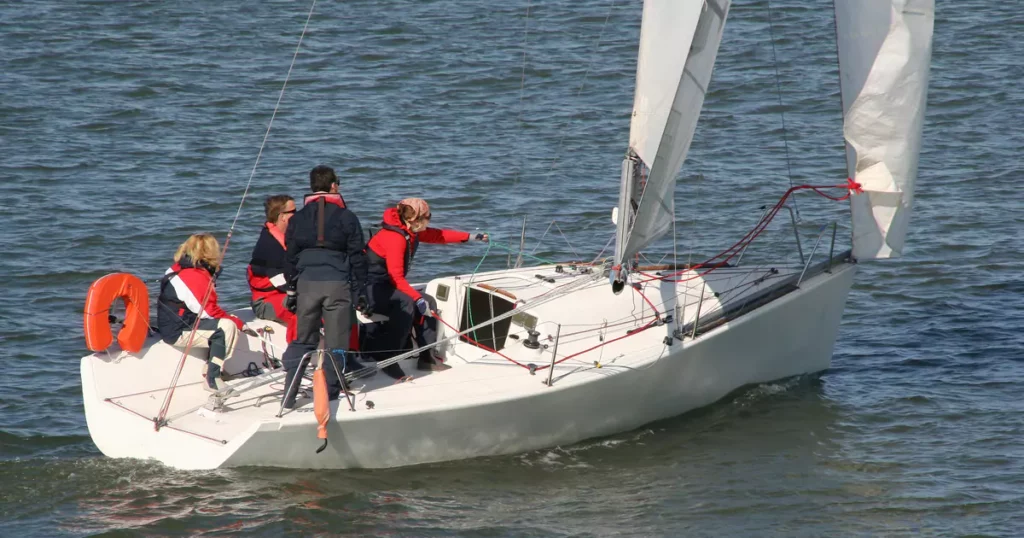 Every team member is assigned to different roles (trimming sails, steering, calling tactics, etc). Then they will rotate roles so that everyone will have a chance to try all the different aspects of sailing.
During their team challenge, team members learn the basics of sailing the boat and then each take turns steering the boat. Since steering must happen in coordination with the sails, team members must work together to make sure the boat sails.
If you want your team to enjoy some time on the water without any structured activity, take one of SF Charters' sailing trips that will have our team enjoying the breeze and each other's company!
17. Create A Terrarium
A workshop with Flourish helps your team members create their own succulent terrarium to bring some green into their workspace.
They provide all the supplies and instruction needed. By the end of the workshop, any team members who did not have 'green thumbs' before may feel more confident about working with nature.
A bit of nature on one's desk can do wonders for reducing stress at work. Less stress makes for a more productive team!
18. Try Indoor Rock Climbing
Try something new with your team and go indoor rock climbing at Mission Cliffs! It's a great activity in which individual members gain confidence while team members support each other as they try to climb just one step more!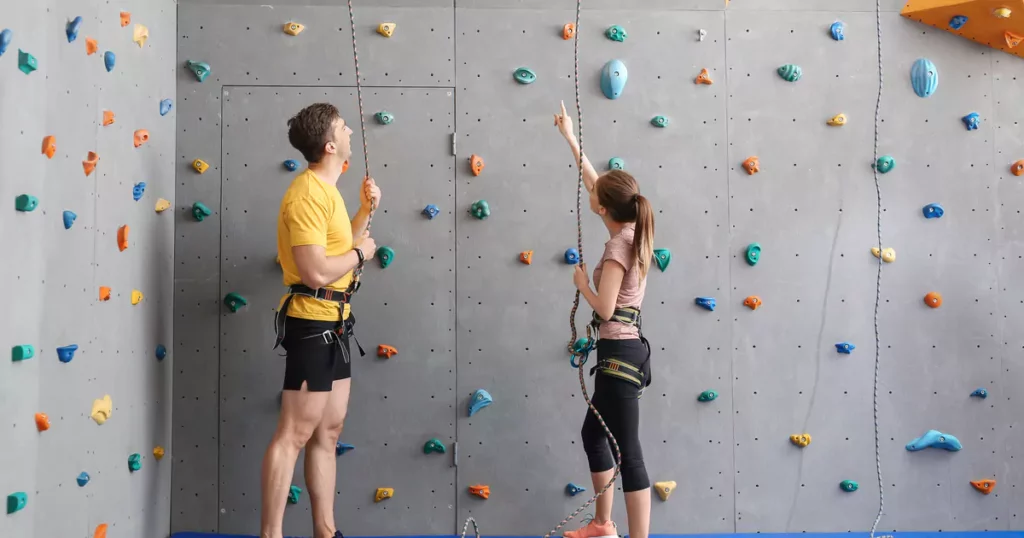 This activity requires your team to use their problem-solving skills in a scenario that they aren't used to. Rock climbing asks climbers to find the best route to climb as high as possible. Every step they take leads to the question "Where should I step next?"
Indoor rock climbing also fosters camaraderie as team members can cheer on fellow climbers!
19. See A Sporting Event
Who doesn't love going to a baseball game? When you treat the team to a trip to Oracle Park to see the San Francisco Giants!
Going to a game allows your team to socialize in a fun, easy-going atmosphere that's entirely different from work. When coworkers see each other in different settings, it can add a positive layer to your team's dynamics.
Take them to a game during work hours so they don't have to give up any personal time. You can make the group outing extra special by giving out extra tickets for friends and family!
20. Have A Picnic In The Park
Take a bit of time out of the work day and spend a relaxing afternoon in one of the city's parks. This is a nice and easy way to show your employees that you value their contributions to the company. Buy a catered picnic lunch for the team as an extra-special thanks.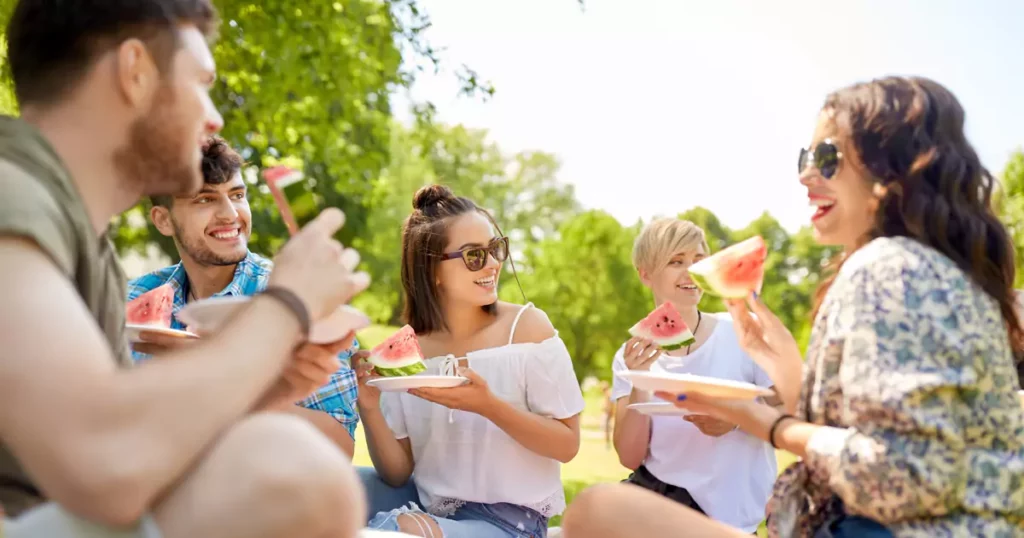 San Francisco has more parks than any other city in the United States so you won't have trouble choosing one that your group will enjoy. Some choices are Mission Dolores Park, Buena Vista Park (if you don't mind a bit of an uphill hike), and Golden Gate Park where your tea can enjoy a breeze from the water.
If you have a team that generally doesn't mind spending time outside of work hours, hold your picnic on a weekend so your employees can bring along their family and friends. It will give your team members a fuller sense of what makes their colleagues tick!
21. Form A Sports Team
The skills relied on by professional sports teams are very much like what teams need to do in the office. To be a successful team, your members will need to make decisions under pressure and be creative ways to score the next point. They'll have to be able to communicate well, both verbally but also sometimes through non-verbal cues. Of course, no team can win without collaborating — that's a given!
For those on your team who enjoy some form of a team sport (be it softball, frisbee, soccer, etc.) start up a company team and encourage employees to join. Be sure to invite everyone to be part of the fun even if they don't want to play. Every team needs support from the sidelines!
If you are a large company, create a few teams, perhaps organized by department, so people who don't interact much at work have a chance to get to know each other. This arrangement can also bring some healthy competition into the workplace. Provide teams with financial resources to get team T-shirts. ZogSports can organize your private league and create a schedule of play. If you have just one team, they can also arrange for your team to join a corporate intramural league. Let your team get onto a field and show your business competitors who's who!
22. Try Indoor Skydiving
For a truly unique and challenging team building experience, take the team to learn how to indoor skydive in a private session at iFLY San Francisco. iFLY instructors are trained in team building and can customize your experience to suit your team building needs.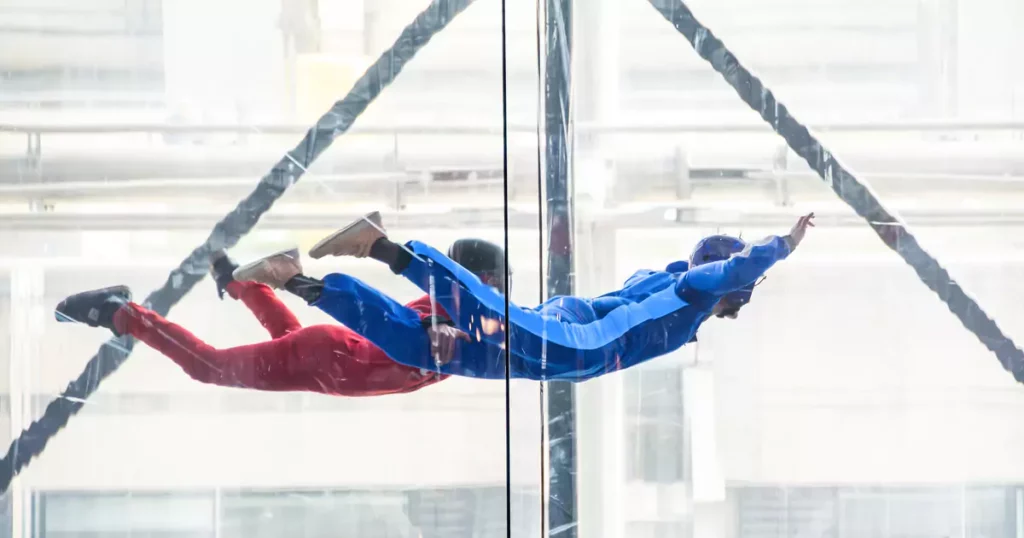 Indoor skydiving can be a thrilling experience, but some team members may be quite nervous about giving it a go. Here's where the team building comes in! Team members will have to support each other to take that leap of faith!
Indoor skydiving is an activity that your team is not likely to forget soon!
23. Bad Axe Throwing
When your team needs to blow off steam, a night of axe throwing might be just the thing!
You can arrange for a private axe throwing session at Bad Axe Throwing. You'll get private throwing lanes just for your team. Before anyone starts throwing anything, one of their staff will teach your team to throw.  
Bad Axe Throwing allows you to bring your own food at no extra charge which is great if you are on a budget. If you prefer a catered event, they will work with you on planning one.
Good food, great co-workers, and sharp axes make an unforgettable time!
24. See The World With A Live Virtual Tour
From the comfort of the office (or home if your team is remote), your team can go anywhere! Take a virtual walking tour of Rome or a virtual trip to India!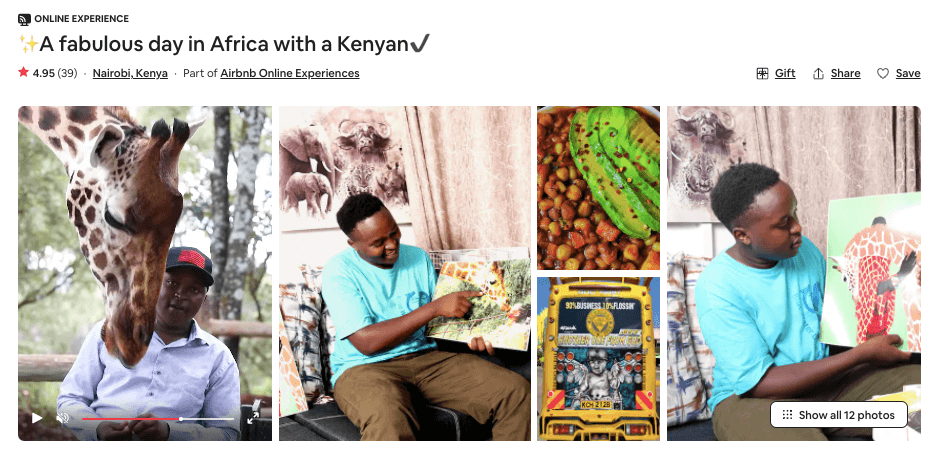 Woyago offers virtual experiences hosted live from other countries like Paris! Their hosts will get your team connected with ice breaker questions and then teach them some hilarious French vocabulary. Your session will wrap up with your team collaborating to answer wacky Parisian trivia!
Airbnb virtual experiences offer so many variations you are sure to find an experience that everyone in your team will love! Try a virtual meditation session with Buddhist monks. Go on a Sri Lankan safari! Spend a day in Nairobi, Kenya.
These unique virtual experiences build camaraderie as team members bond over the one-of-a-kind adventures they'll experience together!
What To See On Your Team Building Trip To San Francisco
If you and your team are visiting San Francisco for business, you should take some time to see the wonderful sights of the city! Not every minute of your visit has to involve team building.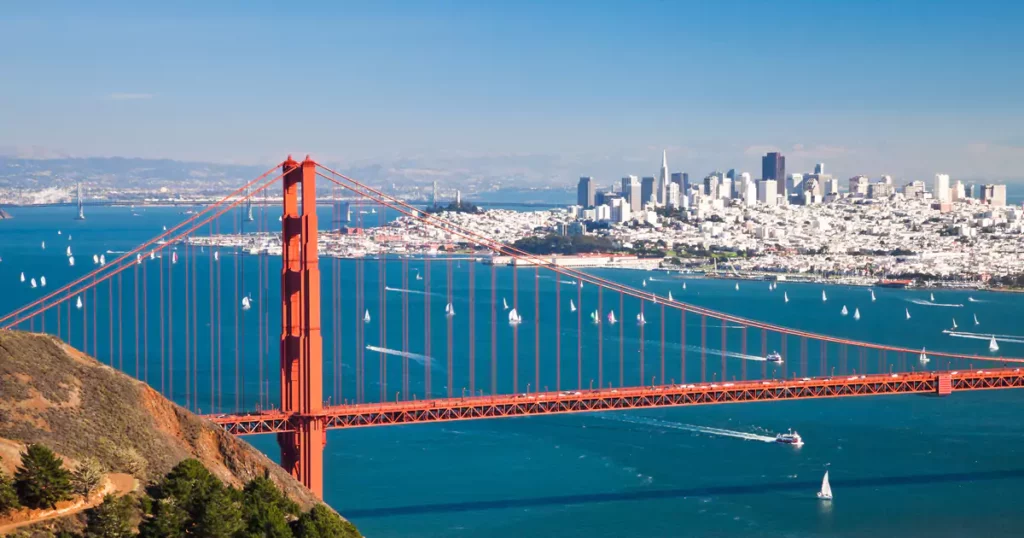 Sharing the experience of being in a new place allows your team to experience each other's personalities out of the office. This will help build a cohesive team that works well together.
Of course, the team building activities listed above are not exclusively for San Francisco-based companies. Several of them combine the benefits of team building with your exploration of San Francisco. Take your pick from any of the activities in this article. Your team will love any one of them!
Take A Guided Walking Tour
There's no better way to see San Francisco than with a guided walking tour. The city has so many different neighborhoods, you may only be able oy explore one if your trip to town is a short one. Free Tours By Foot offers public and private walking tours of various neighborhoods of San Francisco at very affordable rates for those with a low team building budget.
Their two-hour Original San Francisco tour provides an overview of the city. If you have more time to spend, take their San Francisco One Day Tour. It's five hours, but giving your team a whole day to see San Francisco is a great way to show them your gratitude for the work they put in every day.
Their Lombard Street, Little Italy, Fisherman's Wharf tour takes you through one of the most picturesque areas of San Francisco including Lombard Street, the world's "crookedest street"! On any one of these tours, your team will see the city and have some casual catch-up time!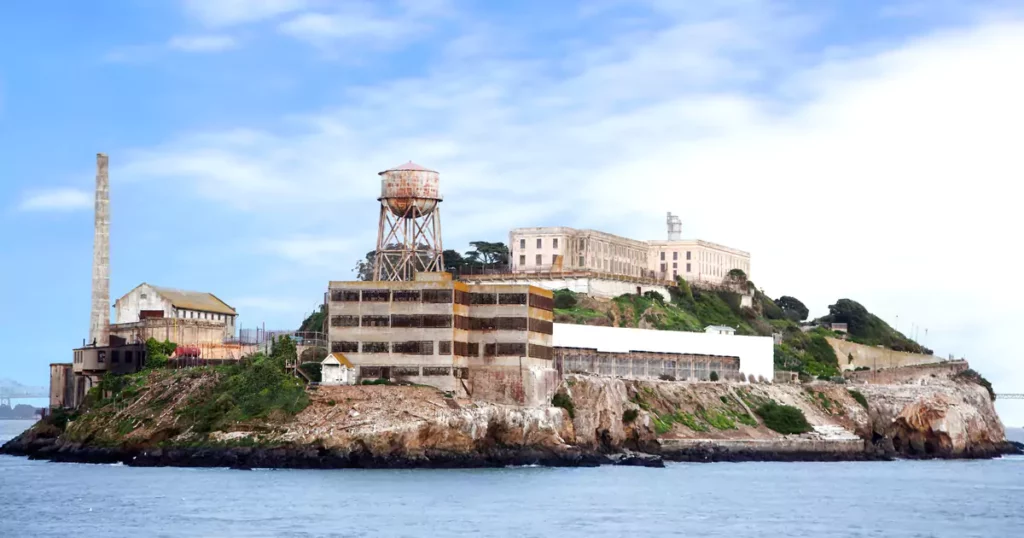 Go To Jail
A tour of Alcatraz isn't just for tourists! Many San Francisco natives have never been to this famed prison making this a great team building outing! The guided tours are fascinating and all your team members will enjoy this activity.
Alcatraz is accessible only by ferry and your team can spend that time talking about things other than work!
Extend your visit to Alcatraz by playing a Prison Break Escape Room! This game is also available to play virtually!
Try A Food Tour
Food tours are especially popular in San Francisco thanks to the wide variety of culinary delights found in the city. These tours create a structured way for your team members to spend time with one another. They are also incredibly interesting as they combine food, history, and culture in one place!
One tour to check out is Sidewalk Food Tours' popular Mission District Food Tour that brings you to this famous neighborhood to try Latino specialties and see the colorful markets and murals of the Mission.
SF Native Tours' Original Tour covers the downtown area, the historic Jackson Square ("Barbary Coast"), Little Italy, and Chinatown. All along the way, the tour stops at delicious food shops, including Ghirardelli. No trip to San Francisco is complete with this world-known chocolatier!
Find many more food tour options here.
Visit Muir Woods
Take your team to the spectacular Muir Woods. Your team members have probably each been there before. But they haven't experienced the awe-inspiring Redwood trees together.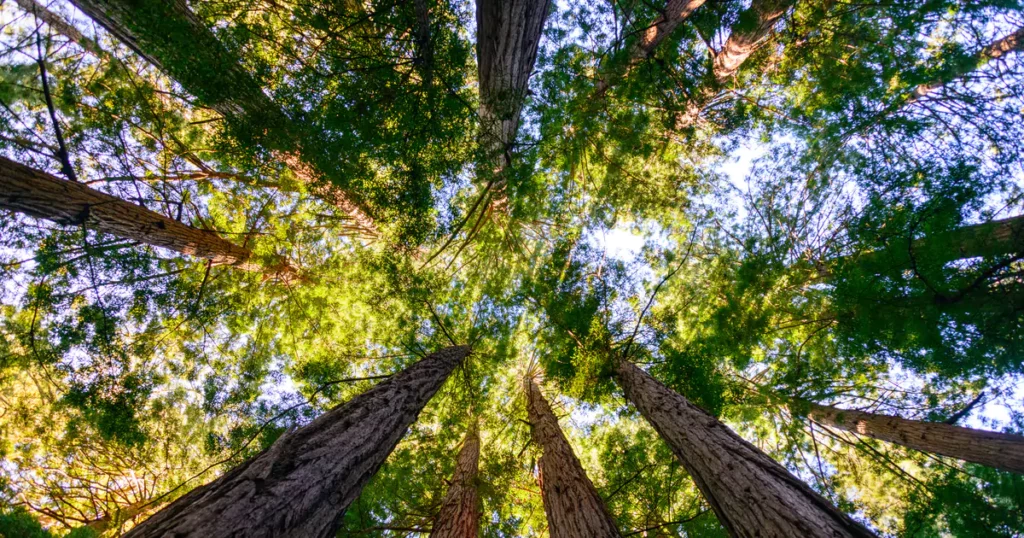 The lack of structure in nature breaks down barriers that exist in the office that separate people and prevent meaningful relationships from forming.
A trip to Muir Woods lets your team members bond with nature and each other.
See The Sea Lions At Fisherman's Wharf
Perhaps one of the best sights in San Francisco is the community of seals that hang around the docks of Fisherman's Wharf. You can see them at the Pier 39 marina, where they bark, nap, and otherwise socialize!
There's plenty to do at Fisherman's Wharf so combine our sea lion sighting with another activity, perhaps a company meal out!
Cross The Golden Gate Bridge
This orange bridge crossing the blue waters of San Francisco Bay is the most photographed site in the city. You can walk over it or, as many locals do, bike across it. On the other side of the bridge is the quaint waterfront town of Sausalito which itself is worth a visit.
The bridge is open to pedestrians and cyclists only during daylight hours. Pedestrian access is on the East Sidewalk and bicycle access is on the East and West Sidewalks.
Ride A Cable Car
An iconic sight on the streets of San Francisco is the cable cars that traverse the city. Buy your ticket, hop on, and hang on as you go up and down steep hills! We think the Powell-Hyde line is the most exciting route as the views are amazing.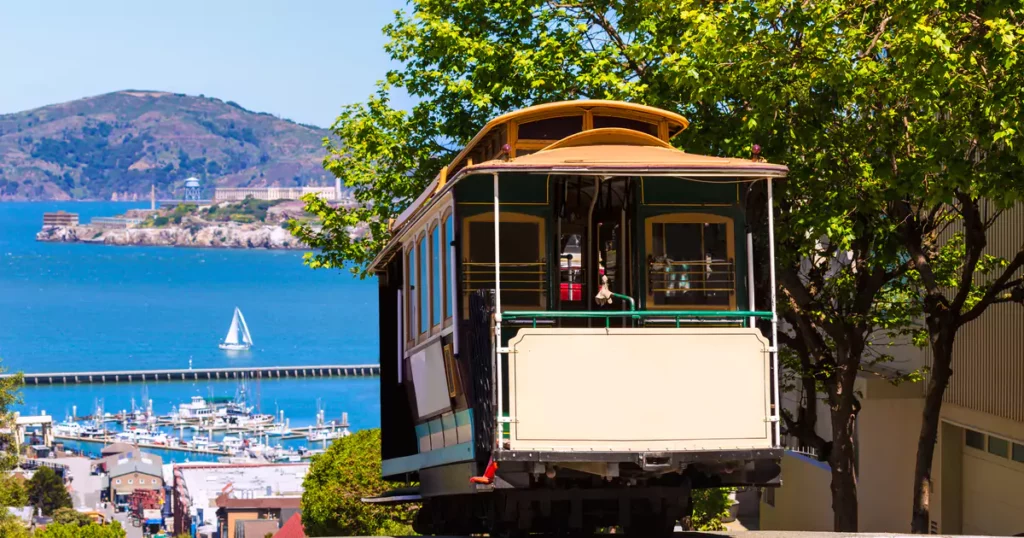 As you ride this cable car, you'll get views of San Francisco Bay, Coit Tower, and Alcatraz Island. After passing through Union Square, the route goes up to picturesque Nob Hill where the views are spectacular.
As the ride continues up (and up, and up) to Russian Hill, you'll cross Lombard Street, known as the "Crookedest Street in the World".
It may be hard getting a team photo while hanging on the cable car rail, but a picture like this may be worth the risk!
Go To A San Francisco Museum
There are dozens of museums in San Francisco. Granted not all of them are for grown-ups, and some are highly specialized. But the top museums in the city are worth a visit. Here are the best museums:
San Francisco Museum of Modern Art (SFMOMA) – One of the largest and most prestigious modern art museums in the United States.
Asian Museum of Art – This museum has an impressive collection of 18,000 items relating to Asian Culture.
Musee Mecanique – This most unusual museum located on Fisherman's Wharf has old-fashioned game machines, pinball machines, and mechanical games some of which are as old as 100 years.
de Young Museum – Housed in an architectural gem of a building, this museum is located in Golden Gate Park. The museum's collection has thousands of pieces of art by many of America's most famous artists.
Visit Wine Country
Though this will be a day trip, if you and your team have the extra time, look into a wine tour of Sonoma Valley or Napa Valley (Sonoma is closer to San Francisco). These tours aren't about drinking lots of wine and getting giddy. Both valleys are beautiful regions of northern California.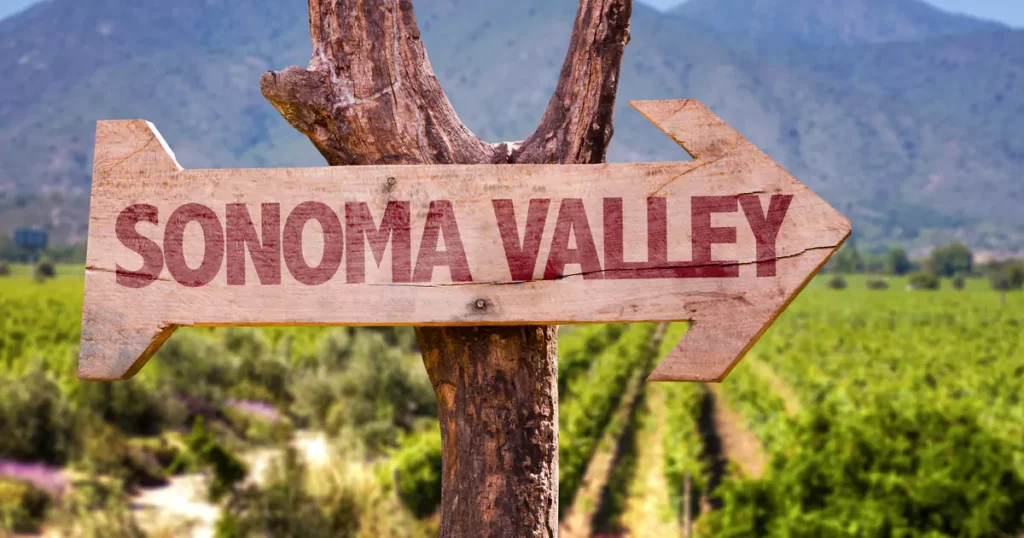 Ine country tours include samples of wine but also include team time together taking in gorgeous views and enjoying a picnic lunch outdoors. Platypus Tours offers customized wine tours for your team. They can organize tours for groups of between 10 to 500 people!
Start Your Team Building In San Francisco Today!
Planning a great day out for your employees can help bring your team together for memorable fun times. Team building can increase your team's productivity and develop a strong sense of camaraderie. When you integrate team building into your company culture your teams will be unstoppable!
Get in touch with Team Building Hub today to find out how we can help you plan the perfect team event!