Take a team building trip to Westlake, Ohio! You'll find a lot to appreciate about this Cleveland suburb and the surrounding area, including the opportunities for your team to develop and strengthen their individual and collective skills. Keep reading for a list of the best team building activities in Westlake.
Table Of Contents
21 Team Building Activities in Westlake
What to See on Your Team Building Trip to Westlake
21 Team Building Activities in Westlake
Team building is essential for any team that wants to strengthen their everyday work abilities as well as the results they produce. In a team, everyone brings something different to the table, and team building helps you as a leader see how those skills can best gel together.
While you can certainly stay at the office and do some quick team building activities to bring everyone together, a team building trip can bolster unity and boost morale, no matter how long your team has been working together! Take your team to Westlake, Ohio, for a chance to build synergy and have a bit of fun along the way.
Here are 21 of our favorite team building activities in Westlake for your group!
1. Break out of an Escape Game
In Westlake, you can find one of our favorite team building experiences, The Escape Game! Your team will have 60 minutes to escape from a locked room filled with clues, puzzles, codes to break, and a unique storyline that'll make you wonder how you got there in the first place. The Escape Game has locations all around the US, but you can be sure that at each one, your team will grow in communication skills, problem-solving, and teamwork. You'll get to see who the natural leaders are in your group and even give others a new chance to lead. Your team will also have a ton of fun trying to escape!
2. Book an experience with Team Building Hub
Along with having your definitive guide to all things team building, Team Building Hub can give your team a great team building experience that will produce results! Our crew of team building experts know what's best suited for your team, no matter what size or industry you're part of. Choose from an in-person, virtual, or hybrid experience in Westlake. We've got the tools and resources to build the best activity for your team, and we'll make sure that everyone has a blast at the same time. We also provide resources, tips, and blogs for you to explore and learn more about strengthening your team.
3. Conquer obstacles at Urban Air Adventure Park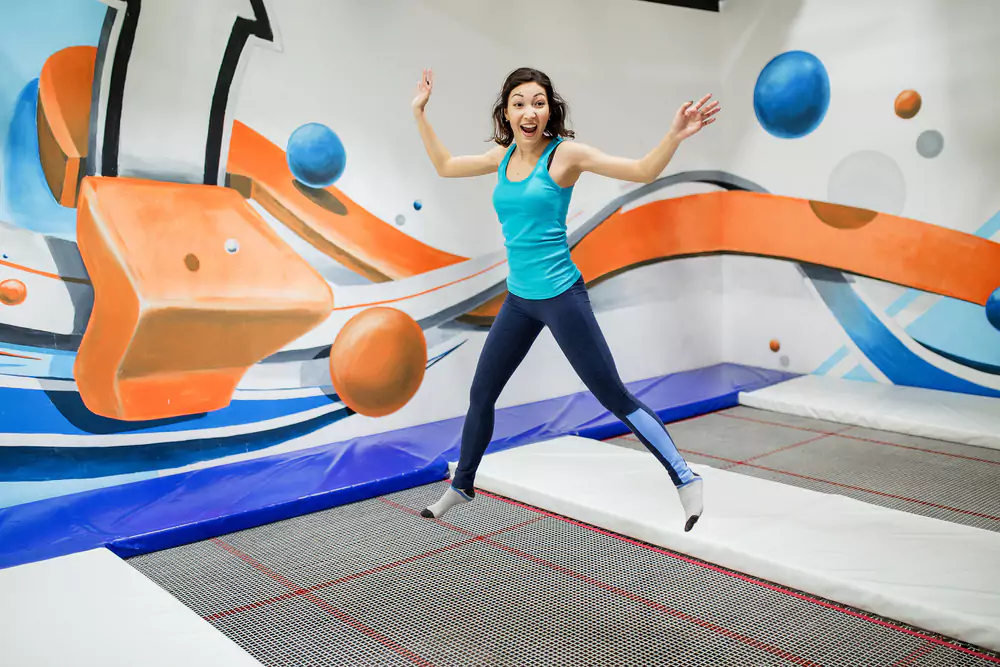 Your team will have a blast at Urban Air Adventure Park! The park includes trampolines, obstacles courses, and bumper cars. Urban Air even offers specific team building packages that can work for you. They include different indoor obstacle courses and games, like their Warrior Course, Climbing Walls, Battle Beam, and Dodgeball. You have the opportunity to customize your team building experience to fit your team's abilities. Your teammates will get the chance to be kids again while problem-solving and getting beyond their comfort zones. Check out their team building page to schedule your adventure!
4. Make your own wood sign at Board & Brush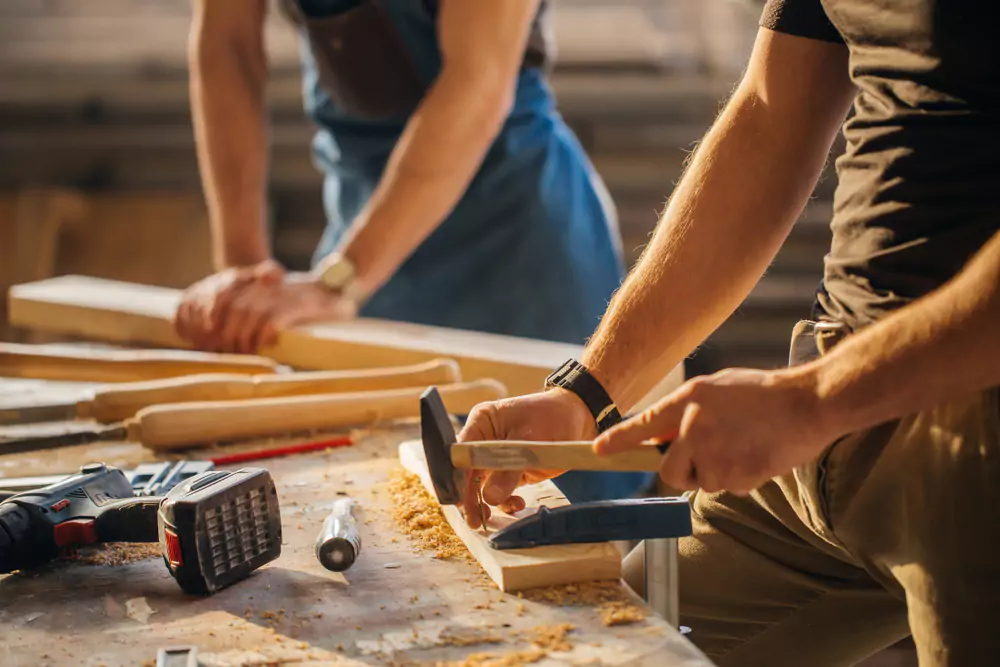 Are there a couple of DIY-ers on your team? Even if you don't, Board & Brush will be a great opportunity for your team to stretch their creative muscles together. You'll get a chance to make your own wood sign at a workshop, and you can even purchase a beer or glass of wine on-site. Board & Brush will provide you with all the materials and instructions you need to make a sign, and they've got different designs for you to choose from. Be sure to reach out and see when you can add this activity to your team building list!
5. Try your hand at a virtual game show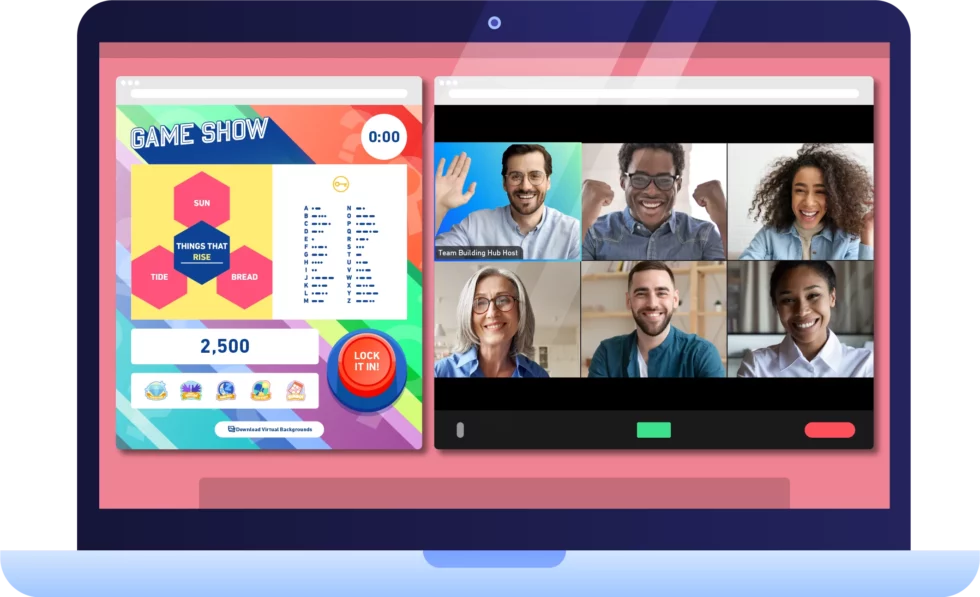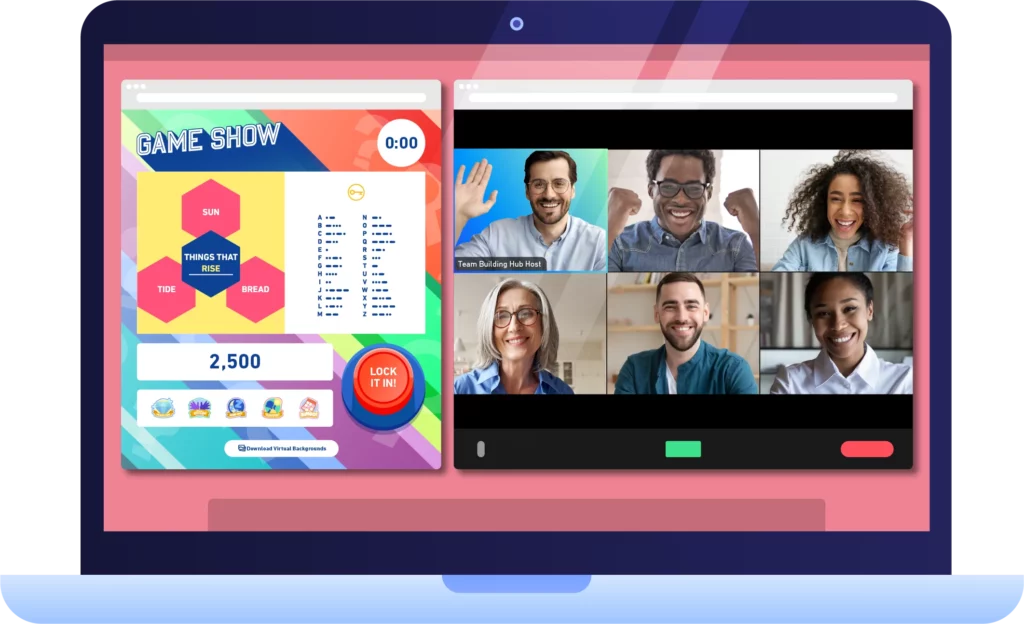 Looking for more than just a regular ol' game show? Try a virtual game show! Through Team Building Hub, you can book an online game show experience that will leave your team on their toes and laughing. You'll work with a game show host who knows how to keep each person on your team involved and engaged. Virtual game shows will build excitement and a little competition between your teammates, which is great for unity and creating memories together. This team building activity is great for small to large teams, as the game can host groups between 10–150 people. All you need is an internet connection, Zoom, and a team ready to have some fun.
6. Book a fun day at Swings-N-Things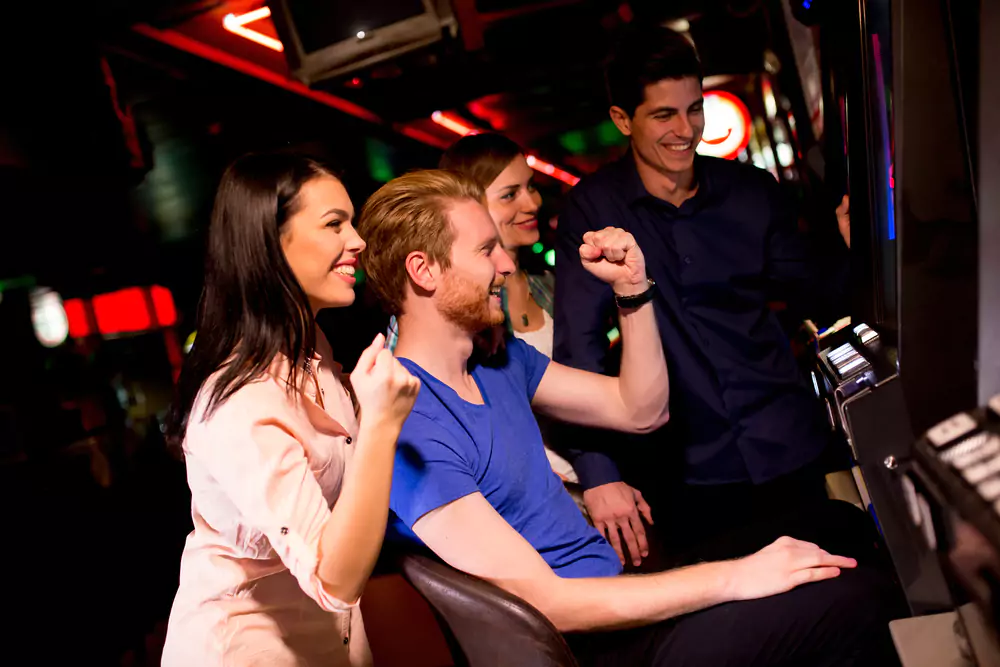 Swings-N-Things is full of fun activities for your team to enjoy together. From batting cages to laser tag, go-karts, and miniature golf, there's bound to be an activity that's perfect for everyone on your team. You can give your team free-range of the park or book a team building package to battle it out in "Office Olympics." They offer different activities based on the season, but no matter winter or summer, you'll be sure to enjoy yourselves. Friendly competition will drive your team together and allow great memories to be built! Your team will get a morale boost as they cheer each other on and have fun together.
7. Go through an indoor ropes course at Play Adventure Parks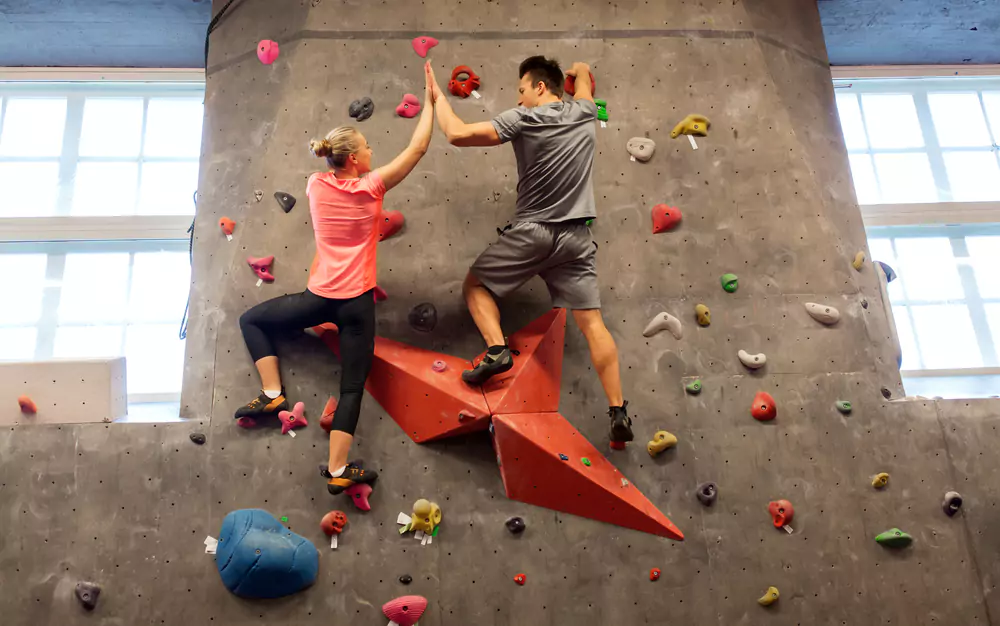 Take advantage of Play Adventure Park's 25,000 square foot entertainment center! You could spend all day here on their indoor ropes course, rock climbing, ziplining, and more. The park even offers food and drink for when it's time for your team to refuel. Physical activities are great team building opportunities for teams who are able—your coworkers will have a chance to push themselves individually and grow tighter as a group as they encourage their other teammates. Everyone will have a chance to step outside their comfort zone at Play Adventure Park, and they'll be prepared for upcoming challenges in the office as well!
8. Have a fun day at Main Event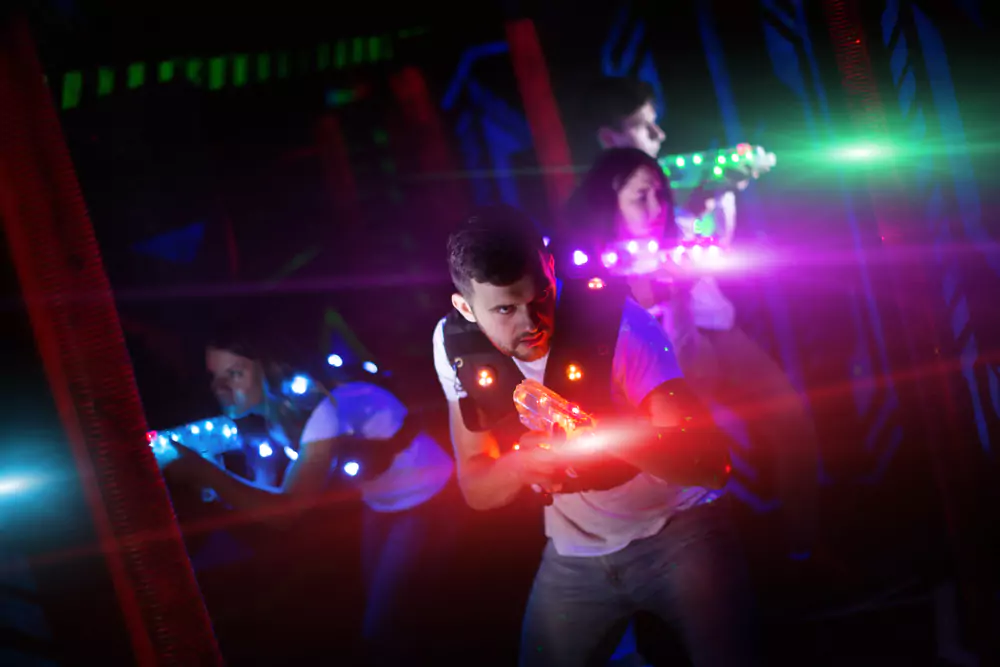 When your team has fun together outside of the work environment, they strengthen their team dynamics back in the office. At Main Event, you'll have a chance to see your team grow relationally and have tons of fun and laughs together! There are over 100 games that your teammates can play together, and the venue can help you out with booking the perfect team building experience. Before your team explores all that Main Event has to offer, send them off with different challenges that they can complete individually or as smaller teams. Who can complete the gravity ropes the fastest? Who can beat you at a game of billiards? Give them incentive to do different games together, and don't forget prizes for whoever can complete your challenges!
9. Knock down some pins at a bowling alley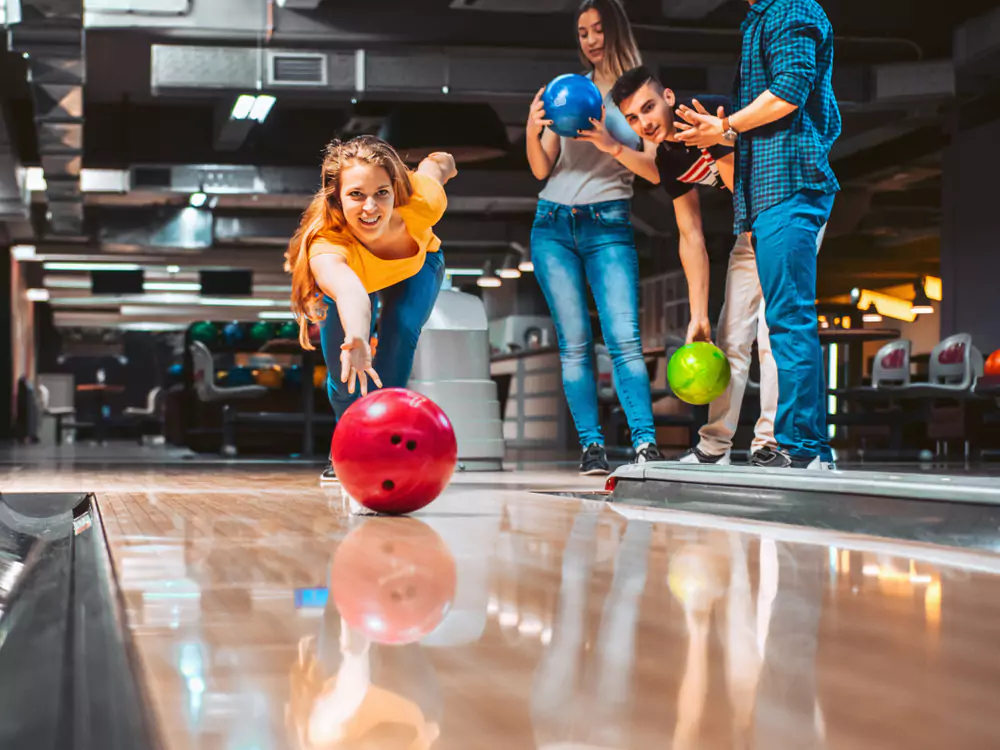 Bowling is an easy way to let your team kick back, have fun, and do some team building together! Bowling alleys bring back a sense of nostalgia for most people, and as you split your team into smaller teams to compete against each other, they'll get an opportunity to encourage one another. To add to the nostalgia, you can offer prizes for the "best dressed and most believable" bowling team. Let them know a few days before your trip of the award so they can start planning their looks. No matter how you add to the fun, your group will have a blast together. Book a few lanes at Nautical Bowling and get your bowling shoes on!
10. Challenge each other in a friendly game of paintball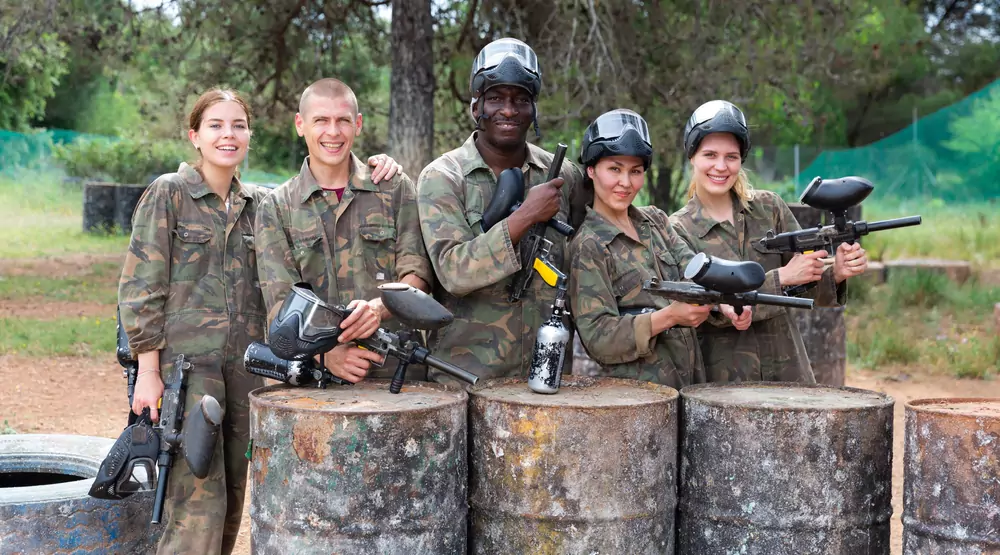 Paintball can be friendly, right? Book a paintball game at Synergy Woods, and let your team's competitive spirit come out! You can split them up into smaller teams or play a game where every man is for himself. Paintball is a great way for your teammates to form bonds and connect on a playful level. This helps strengthen trust and can build community within your workplace! Before you book a game of paintball for your team, make sure everyone is up to the challenge of running, ducking, jumping, and having loads of fun.
11. Try your hand at a virtual mystery game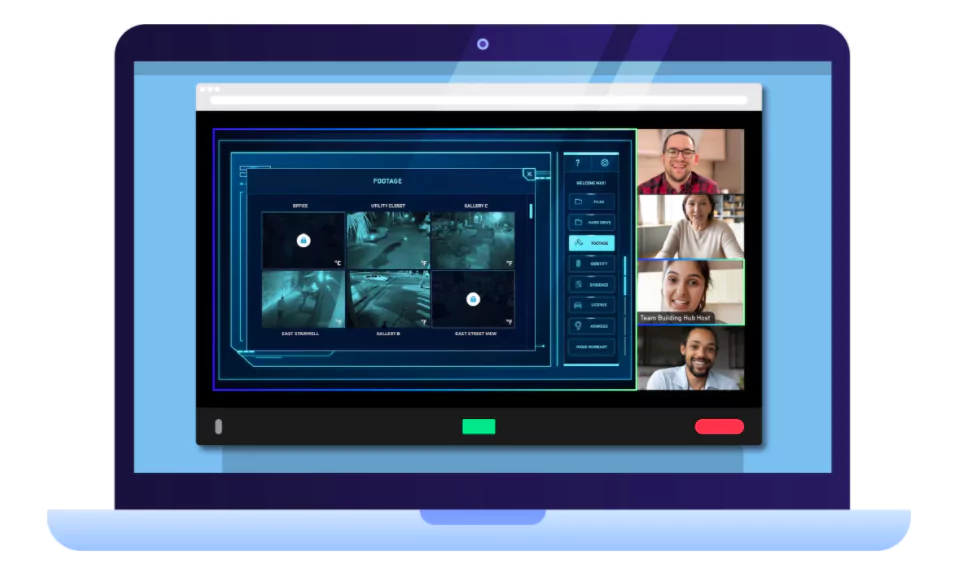 Do you think your teammates are ready to solve their first virtual mystery game? Check out Team Building Hub's online mystery games to work their observation and problem-solving skills! You'll use the best elements of competition to strengthen your team's camaraderie and boost morale. Your team, whether 15 people or 1,000 people, will be split into smaller teams and given a list of clues in order to solve the same case. It's a race to finish as each team works to figure out the mystery before the other teams! Be sure to up the ante with prizes for your first place and second place teams.
12. Zipline through the woods at Go Ape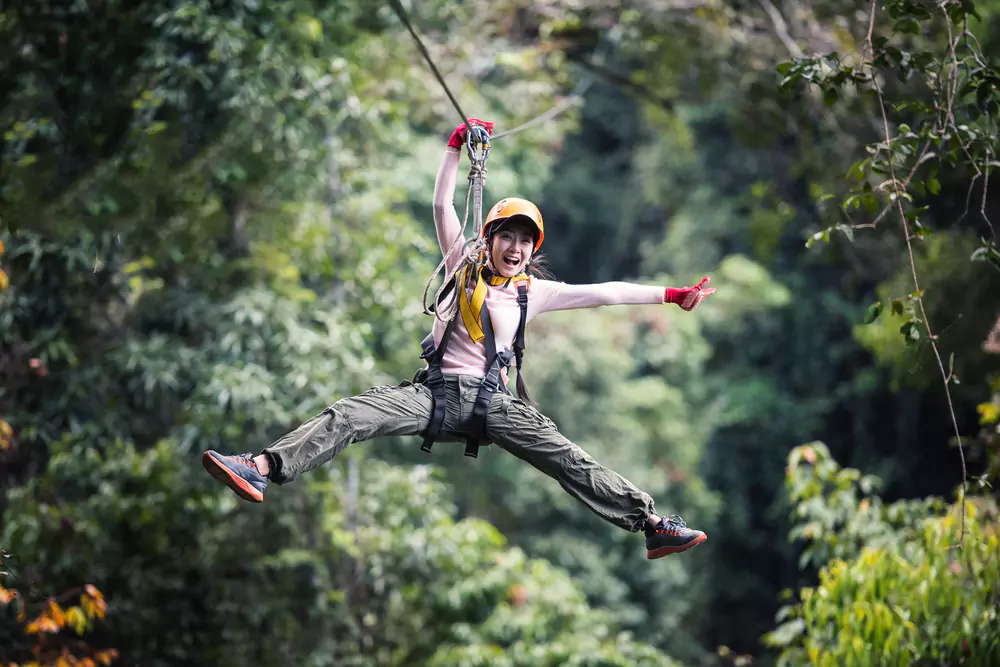 If your team loves adventure, make sure you take them ziplining at Go Ape! Your teammates will have to overcome obstacles, work on problem-solving, and learn how to work together to get through different challenges as they zipline. Go Ape has instructors who will teach you how to properly and safely get through the courses while having as much fun as possible. There are even some on-the-ground adventure options for anyone who doesn't like heights. Go Ape does require each participant to have gloves for their ropes courses, so make sure everyone can bring their own pair, or take advantage of a group discount on gloves at the park.
13. Kick back for a picnic at Lake Erie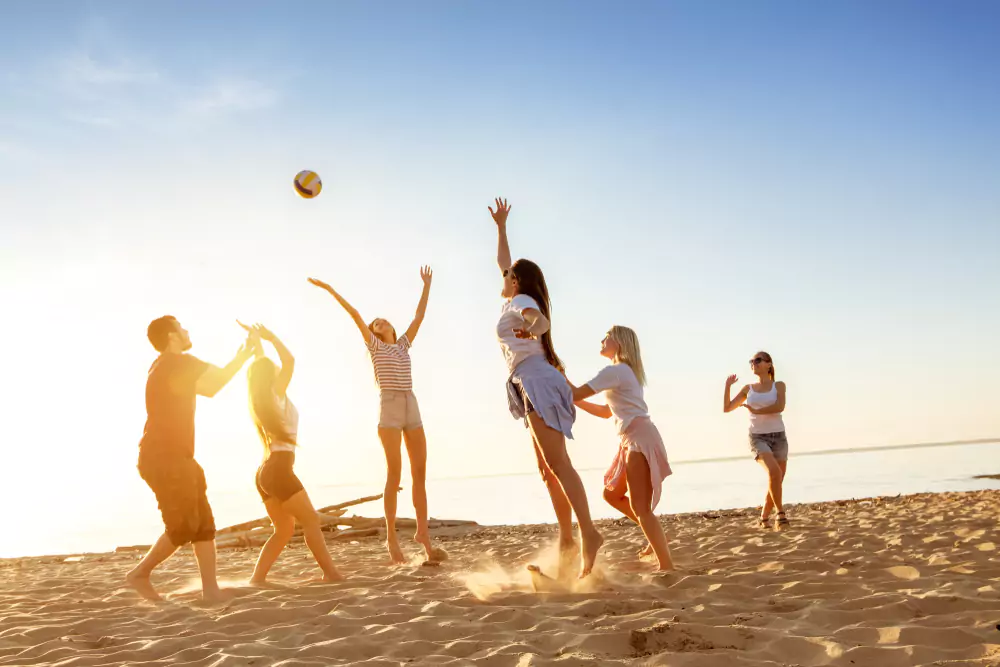 Looking for a more relaxing way to team build? Put together a picnic at a beach on Lake Erie! A simple beach day can boost morale and positivity as your team hangs out and eats together. If you've made it through some tough projects together, this is a great way to reward your team for a job well done. There are a number of different beach sites to choose from near Westlake, including Huntington Beach, Rocky River Park, and Columbia Park. Bring some beach blankets, a frisbee and other games, and don't forget the food!
14. Bounce around at Sky Zone Trampoline Park
Sky Zone is a great place to do team building in Westlake! This trampoline park is perfect for your team to jump around, have fun, and try new challenges together. Choose from different activities at the park, including a Ninja Warrior Course, their Sky Ladder, and Ultimate Dodgeball. Since the park is full of physical activity, check with your team if they are up for the challenge of jumping and falling (they'll be safe though!). You have the option of booking the entire trampoline park, or if you have a smaller team, book a group party rate.
15. Take the team for a game day at Dave & Buster's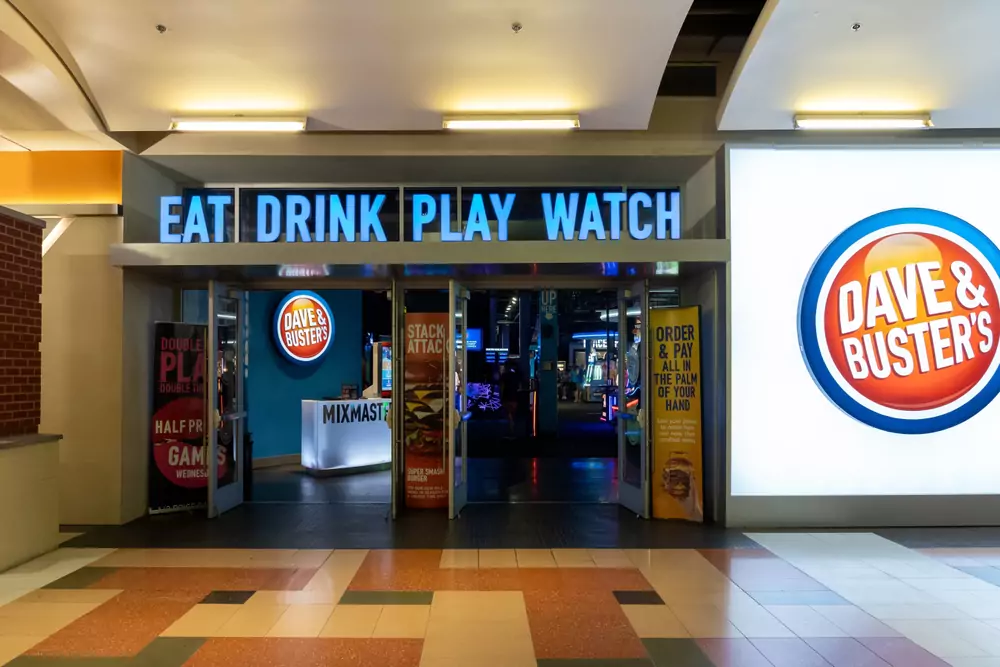 For those team members who appreciate a good video or arcade game, Dave & Buster's is a great option for team building in Westlake! They'll have dozens of games to choose from, including different types of games. Your teammates can break up into pairs or teams and challenge each other. Who can get the most points throughout the day? Who can stay undefeated in Dance Dance Revolution? Come up with some unique challenges for your team to complete, including ones where they have to work together. One of the best things about Dave & Buster's is that, when it's time for lunch or dinner, you can pick off a great menu and continue hanging out!
16. Grab a beer and tour through a local brewery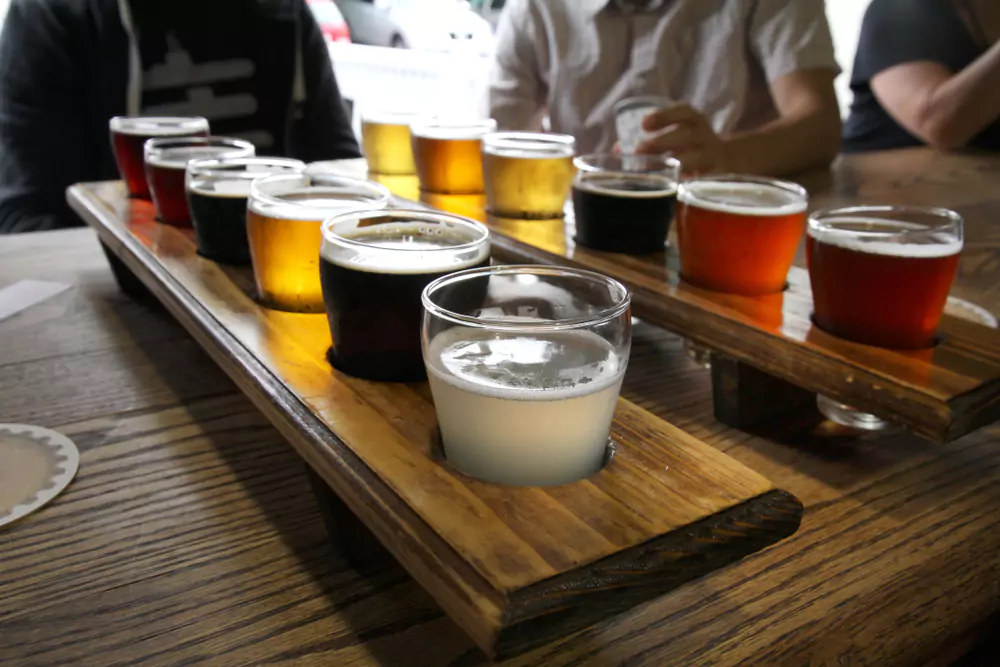 For a fun and unique experience for your team, take them to a local brewery! Each brewery offers something a little different on their tour and in their tastings, so you can make a fun weekend out of visiting different ones. A handful that you can choose from include:
Brewery tours are relaxed and informative, plus you'll get to see the science behind making beer. Before you take your team to a brewery, make sure that everyone is of age and comfortable around alcohol.
17. See some animals at the zoo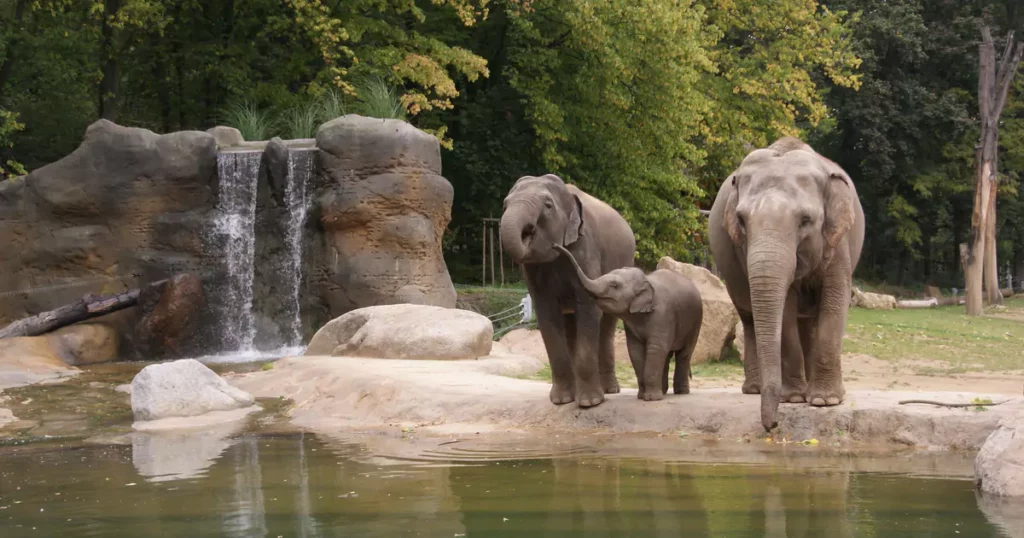 Zoos are a great way for your team to have fun together and build unity! As you walk around the Cleveland Metroparks Zoo together, you'll get to marvel at different creatures and take some time to bond. Unity is a key outcome in team building, and wandering through a zoo is a great way for conversations to start naturally. The Cleveland Zoo offers different programs throughout the year as well, so get your team together for something they might not normally do!
18. Hike to the Berea Falls Overlook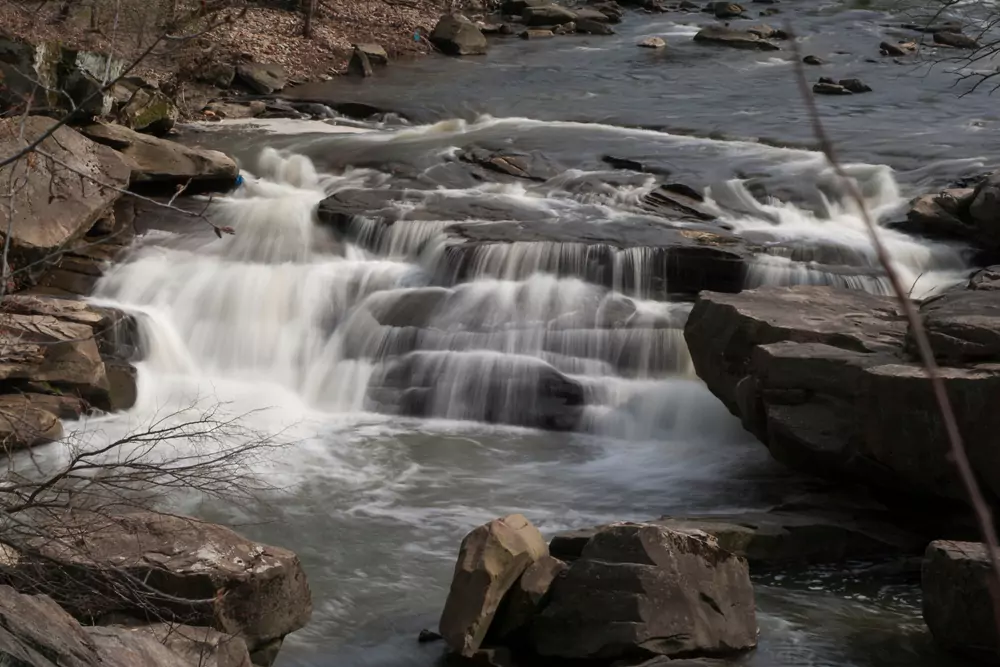 Get your team out in nature! You'll find the Rocky River Reservation less than 20 minutes from the center of Westlake. Berea Falls, located on the south end of the park, is a beautiful spot to pause and enjoy the great outdoors. The Falls come from post-glacial water that runs over sandstone, making it quite a sight to see. The hike to Berea Falls will allow your team some quality time together and get a chance to relax. Pack some hiking essentials for your team to get to the scenic overlook, like water bottles and sunglasses.
19. Go to the range in a safe and virtual way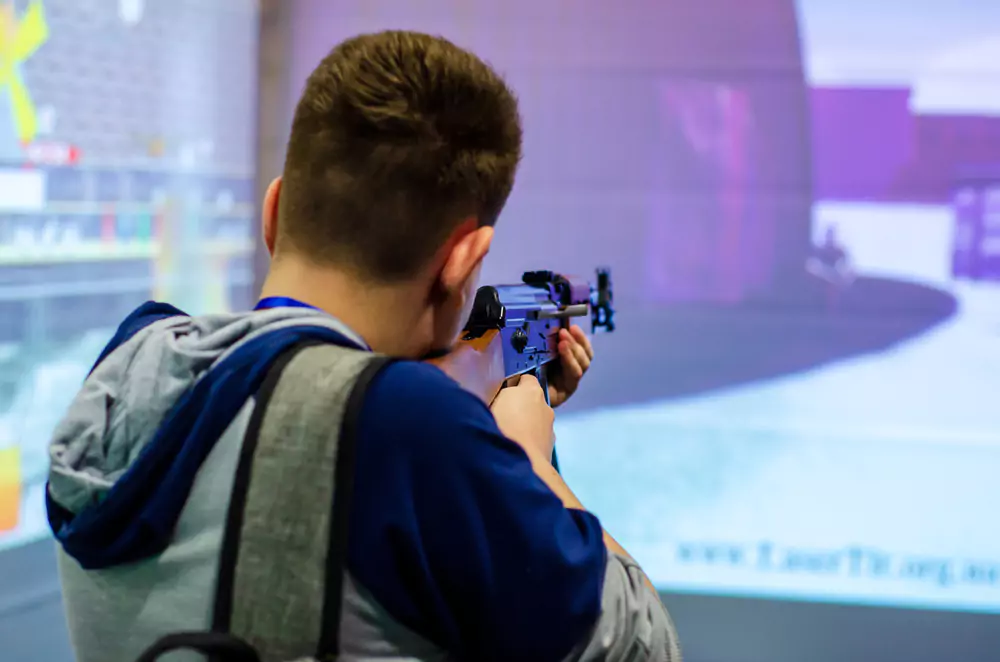 Engage Virtual Range is a safe way to learn about shooting! They offer options for your team to learn, play, and compete in different courses and activities, plus they have specific group outing experiences for your team. Their team building package will strengthen your team's collaboration and communication skills! You'll even have a chance to compete against each other and track your scores throughout the day.
20. Speed around a go-kart track together
Do you have a need for speed? Take your team to BOSS Pro Karting for a great day of team building and racing! Go-karting is a fun and exhilarating sport that's easy for anyone to pick up. Speed around a track and try to make it to the finish line first! Your team will walk away with some great (and fast!) memories of go-karting together. BOSS Pro Karting even has a unique track that changes configuration throughout the year, so if you end up back in Westlake, don't expect the same challenge twice!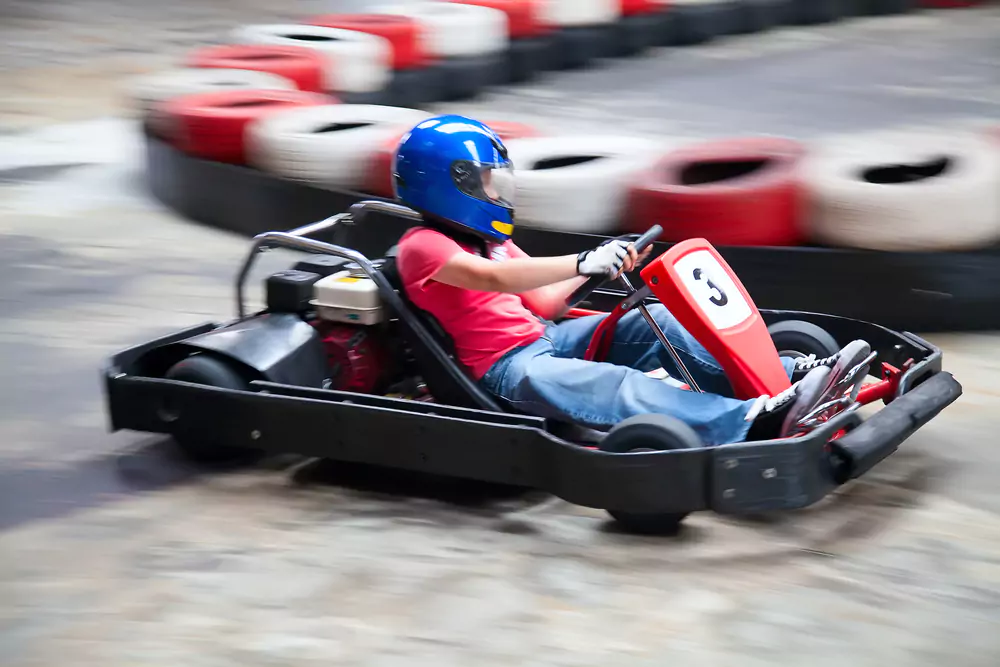 21. Test your aim at Battle Axe Cafe
If your team likes to live on the edge, Battle Axe Cafe is the place for you. This opportunity for team building in Westlake will get your blood pumping and help your teammates create unique memories together! What other team in your office can say they threw axes together? Battle Axe Cafe is a safe environment for your employees to learn how to throw axes with accuracy while trying something new. You're able to book one lane, half the venue, or even the entire venue if you have a large team, plus you can bring your own food and drinks!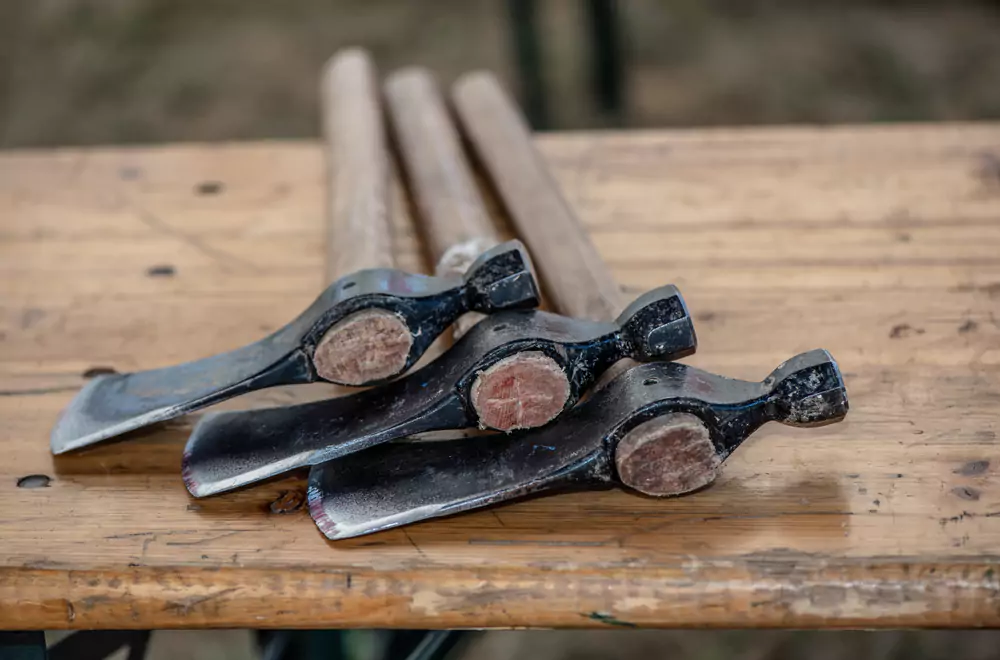 What to See on Your Team Building Trip to Westlake
While Westlake might seem like a little suburb in Ohio, there's a lot to see and a lot of team building to do here. Take your team to see some sights on your team building trip, whether you're there just for a day, a weekend, or longer! Here are some sights to see while on your team building trip to Westlake.
1. Crocker Park
Crocker Park is an outdoor mall that your team will love. Let them loose and give them a chance to shop around for some clothes, souvenirs, jewelry, and more! There are lots of big name stores here like Coach, Lush, Urban Outfitters, and Apple. Even if some of your teammates aren't the biggest shoppers, there are different events that they can experience at Crocker Park throughout the year. As a bonus, food trucks come to the mall on Tuesdays, so aside from the dining the mall has to offer, your team can try out some local eateries.
2. Rocky River Reservation
For a scenic time together, make sure you visit the Rocky River Reservation. There are lots of different activities that your team can do here, but if all you want to do is enjoy nature, then this is the place to do it. You'll see wildlife year-round, including different bird species and white-tailed deer. There are many hiking trails to choose from if you'd like to get up close and personal with nature, or you can stop in the nature center to learn more about the Reservation. There are also golf courses if anyone happens to pack their clubs!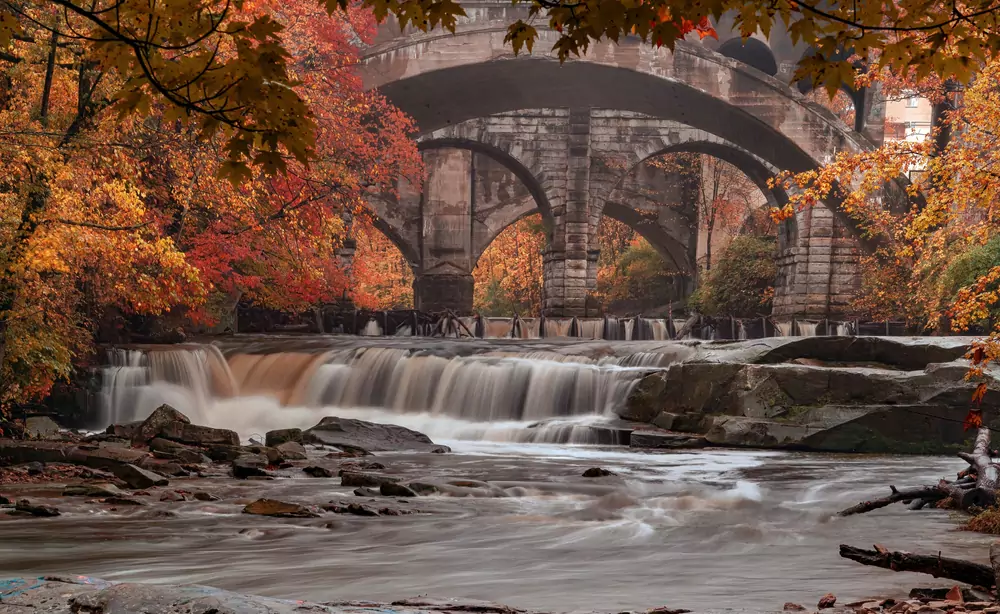 3. Clague Playhouse
Clague Playhouse is a sweet spot for anyone on your team who is interested in theater or arts! Stop in to watch one of their in-season shows and see local actors light up the stage. Your team will be inspired to push their own creativity! Make sure you visit the playhouse's box office online to see what plays are going on before you drop by.
4. Progressive Field
Peanuts and Cracker Jacks, anyone? Cleveland's own Major League Baseball team, the Guardians, have played at Progressive Field since the 1990s! There's a lot to explore at the ballpark and different districts that your team can wander around through in the area. If you start to get hungry, your team can choose from a dozen local restaurants at the park. Even if you're not there to catch a game, soak in America's favorite pastime by exploring Progressive Field!
5. "A Christmas Story" House
A Christmas Story is one of those well-loved, classic Christmas movies, and the house from the movie happens to be in Westlake! It's open year-round for tours and even overnight stays. See the leg lamp and Randy's infamous snowsuit! Your visit can include a stop in the movie's museum where you'll see props, costumes, and behind-the-scenes photos from the film set. There's even a gift shop where you can buy your own bunny suit pajamas. Feel free to drop hints about this visit by quoting from the movie every once in a while!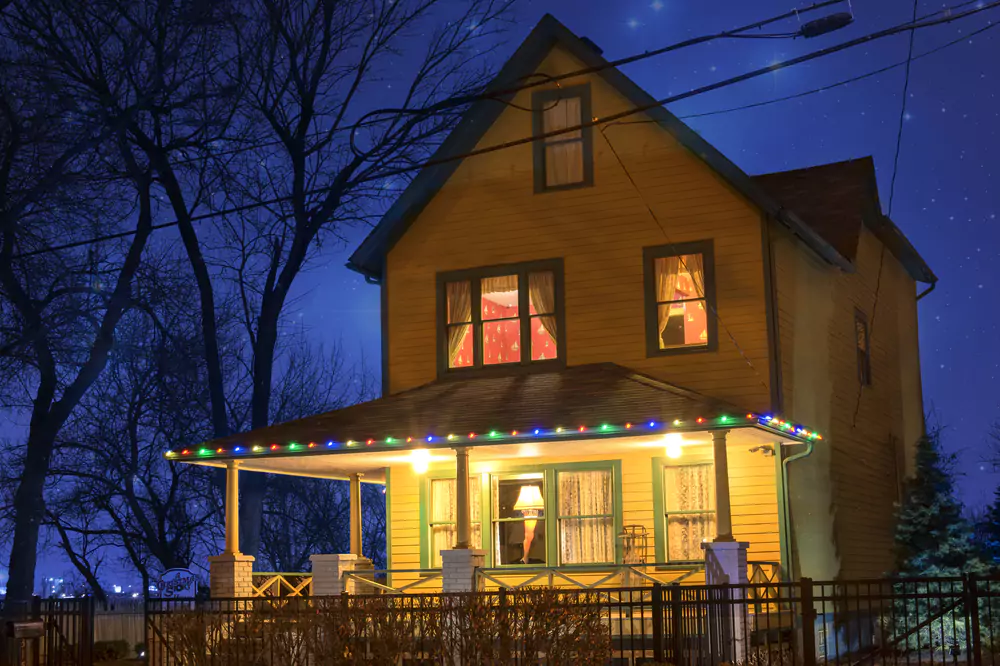 Book your team building trip to Westlake!
Westlake is a hidden gem near Cleveland, and your team will enjoy going as a group to do some team building there! No matter what time of year you go or who's on your team, you'll boost your team's skills while giving them a trip to remember. Book your trip now!