Fun team building activities located in Houston are a great way for teams to learn more about their colleagues while fostering camaraderie and boosting morale! Other benefits of team building are advanced problem-solving skills, clearer communication, enhanced creative thinking, and stronger collaboration.
The best thing about team building is that more often than not your employees won't realize they are engaging in a work-related activity because they will be too busy having fun! Below are 26 team building activities to do in Houston, including in-person activities, virtual games, team outings, and in-office exercises!
26 Awesome Team Building Activities in Houston
1. Try An Epic Escape Room
Playing an escape room at The Escape Game Houston is an exhilarating way for your team to practice these skills in a fun environment where the only pressure is to complete their unique challenge in under 60 minutes!
To succeed at an escape room adventure, teams must decode cryptic clues and solve puzzles by using their very best problem-solving skills, creative thinking abilities, and their collaborative spirit.
The Escape Game Houston has six unique escape rooms with imaginative challenges like breaking out of a 1950s prison, recovering a stolen masterpiece in a museum, or investigating ominous goings-on lurking at the bottom of the ocean.
The Escape Game Houston has two locations. One at The Galleria and the other at CityCentre. For companies that are remote or working with a hybrid model, you can play one of The Escape Game's virtual escape rooms so no one is left out of this amazing team building activity!
2. Bring The Fun To You With Team Building Hub
If you are new to planning a team building event or are short on time to explore options, let Team Building Hub help you from start to finish. They specialize in creating fun team building events customized to meet your company's goals!
Here's how it works. Contact Team Building Hub through their website and provide some details, such as your group size, location, etc. Within one day a professional event planner will reach out to you. Your dedicated planner will work with you to design an unforgettable and engaging event for you and your team.
Once your event plans are finalized, your event planner will give you everything you need to run your event. Let Team Building Hub create your Houston event. You will not be disappointed!
3. Solve A Mystery
Trying to solve a mystery is more entertaining and less stressful than trying to solve a work-related problem. Playing a mystery game keeps your team engaged in a fun activity while they practice important team skills.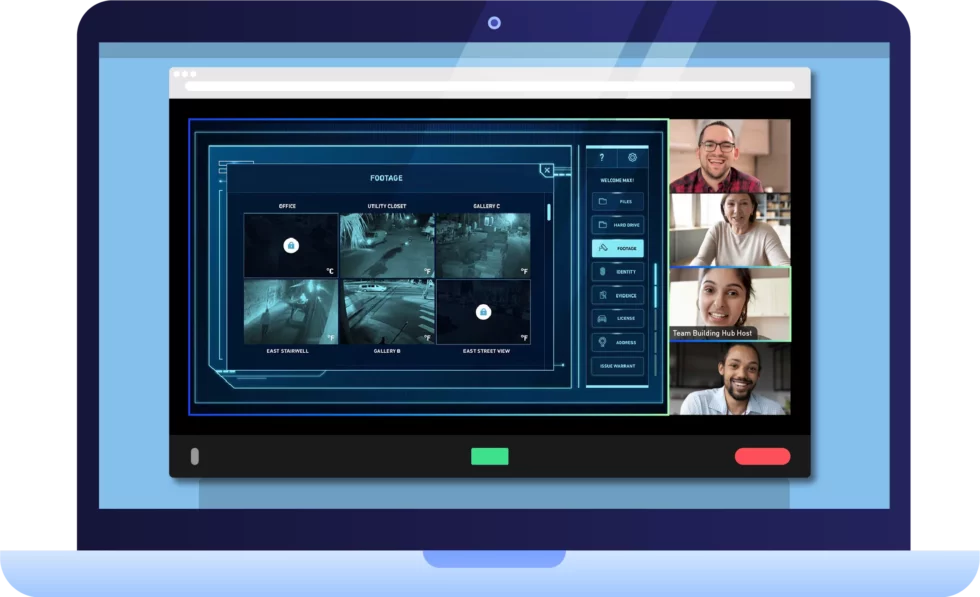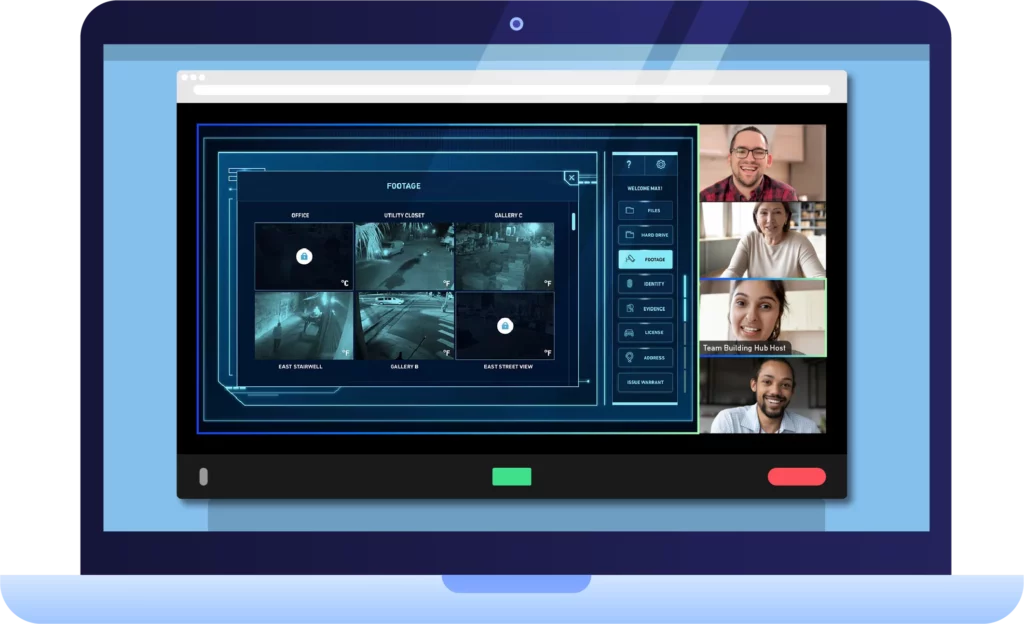 Your group is split into teams and must work fast to decipher clues by reviewing surveillance footage, psych reports, and other evidence to solve the mystery before it's too late! Their detective skills will come in handy when seeking a solution to a real-life problem back at the office!
4. Do A Scavenger Hunt
Doing a scavenger hunt in Houston is an awesome team building activity that challenges your teams to solve clues to find objects or reach destinations. They develop team collaboration and communication. Their creativity and critical thinking are needed if they want to win!
If you have a reasonable budget, Operation City Quest offers group scavenger hunts for up to 500 players! If you have a low or no budget, make your own free scavenger hunt with GooseChase. Note that their free version is for teams of no more than 15 players.
If you are operating remotely, your crew can still enjoy the fun with these virtual scavenger hunt options!
5. Play An Online Game Show
Let your in-person or remote teams get their game on by playing an online game show! Team Building Hub's online game show is a live, hosted event in which players compete to solve puzzles and crack secret codes. Problem-solving and creative thinking will come into play as well as some team rivalry as groups compete for the top spot on the leaderboard!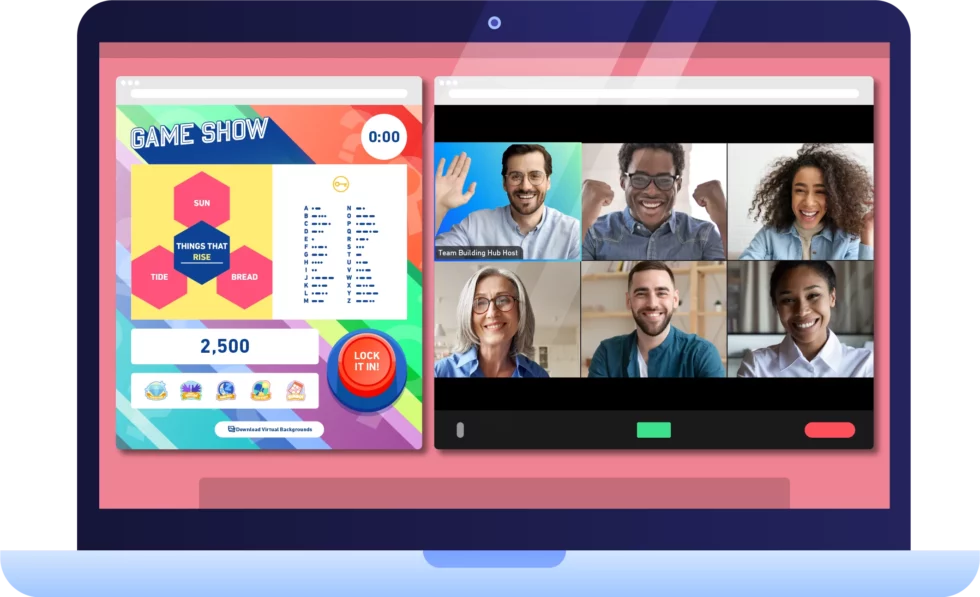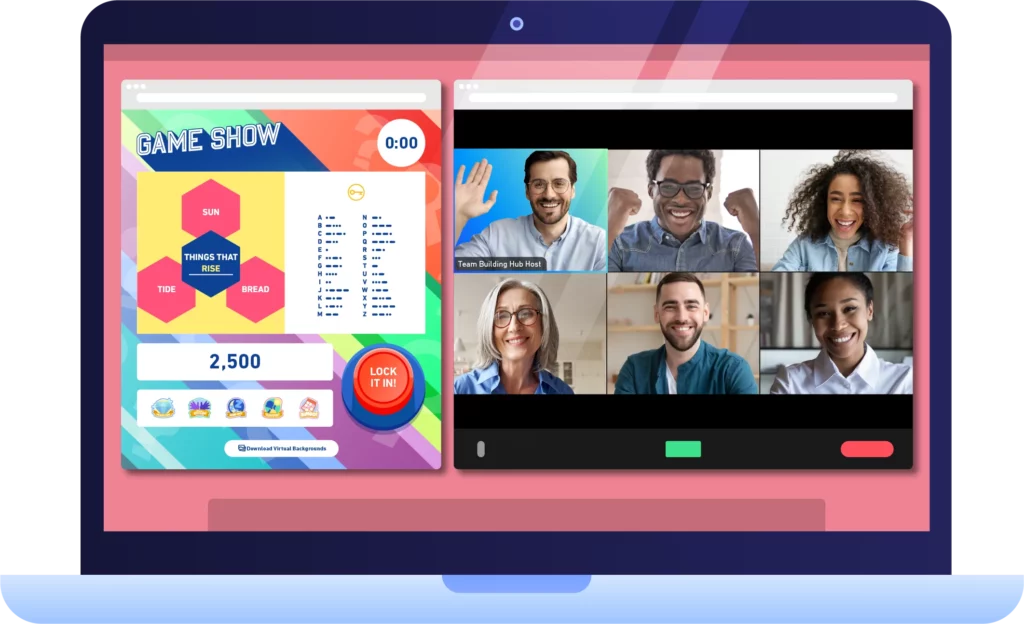 6. Do A Ropes Course
Texas TreeVentures in Houston has over 72 physical and mental challenges that focus on personal development and team building. With three levels of difficulty, your team members (individually and collectively), can move at their own pace.
Some activities are meant for team collaboration while others encourage individual members to experience success doing an activity they haven't tried before.
Your team will enjoy being outside enjoying the fresh air and being in a neutral setting among the trees. After their time having fun, your team will be stronger, as individuals and as a cohesive unit.
7. Volunteer As A Team
Partnering with community organizations like Habitat for Humanity in Houston is a wonderful corporate team building activity. Your employees get to provide a valuable service. Plus, your company is helping provide a valuable asset to the community.
Habitat for Humanity is known for building houses for those in need. A community build can happen in different ways. One allows your employees to register for an upcoming project. Another allows you to host a "frame-up" event in your company parking lot where teams build different components of a house offsite.
The skills and life lessons learned doing a team build will follow employees wherever they go. They'll learn how to work with a team and how to reach a goal successfully. Plus, they walk away knowing their efforts improved a family's quality of life.
8. Have A Paint Party
Hosting a paint party is an activity for team building in Houston. The biggest obstacle is choosing a painting everyone will enjoy. Scenic backdrops, flowers, and signs are popular choices.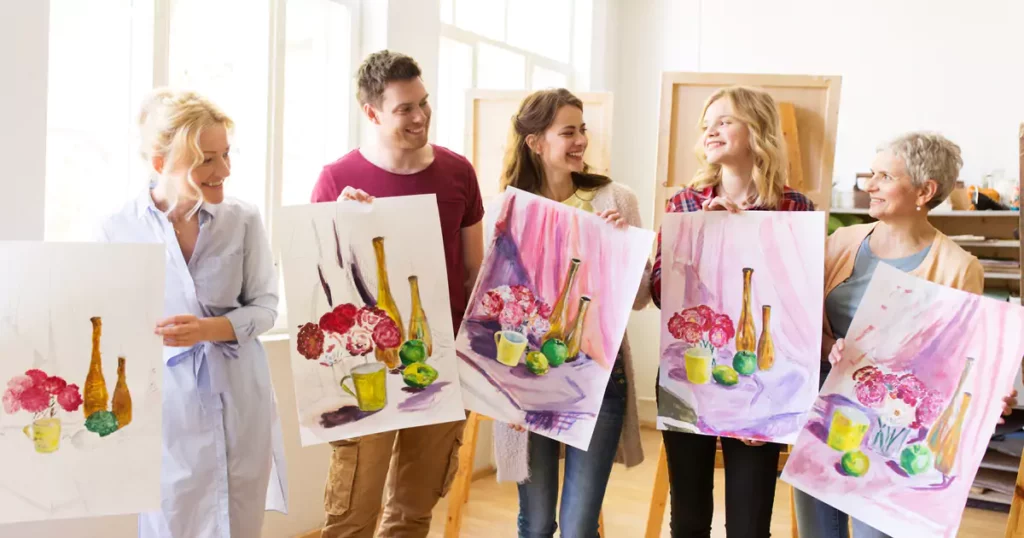 Some paint party companies prefer that your team come to their studio. However, some companies do offer on-site parties. In Home Paint Party will bring the party to your workplace!
One of their instructors comes with a piece of art from their gallery for your team to model their painting after. Your team is supplied with all the materials they will need to create their own version.
Following the party, showcase the employee's beautiful creations in a central location like your break room. You can also encourage employees to display their paintings at their desks to engage others in conversation. Take lots of photographs of your event to post on your social media sites.
The biggest takeaways from paint parties are they require good listening skills and an understanding that mistakes aren't permanent. Teams learn to be creative and flexible problem-solvers. If your painting of the sun isn't coming out well, turn it into a sunflower!
9. Get Cooking
The Cookery Houston has private cooking classes that bring team building benefits into the mix! A professional chef will teach your team to create a three-course meal. Your team will practice their active listening skills in order to follow instructions.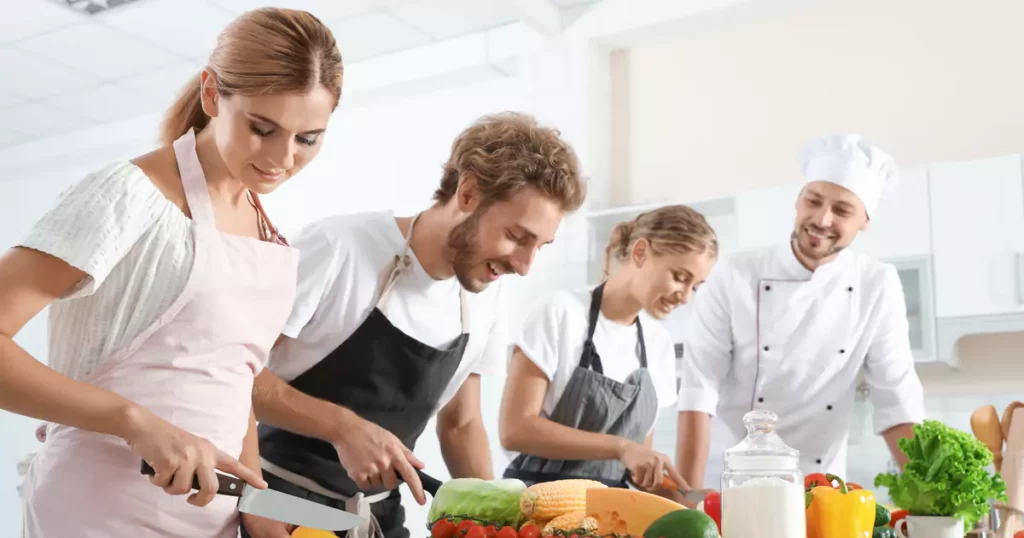 Learning new culinary skills instills a sense of accomplishment and camaraderie in team members. Once the meal is finished, your team will enjoy the fruits of their labor!
Remote teams can take an online cooking class from the comfort of their own kitchen!
10. Plan an Expedition
Are you looking for opportunities to bring your team together with executive and management members? There are loads of beautiful outdoor spaces and recreational parks in Houston where you can find team building activities.
These one-day outings are more than just networking opportunities. They build trust and provide chances for employees to have meaningful dialogue outside the corporate structure. You may want to consider inviting spouses or significant others as they play a vital role in a team member's success at work.
11. Go Paintballing
Going to Urban War Zone's Houston's Corporate Team Building with Paintball Games will get your team messy but in tip-top shape afterwards!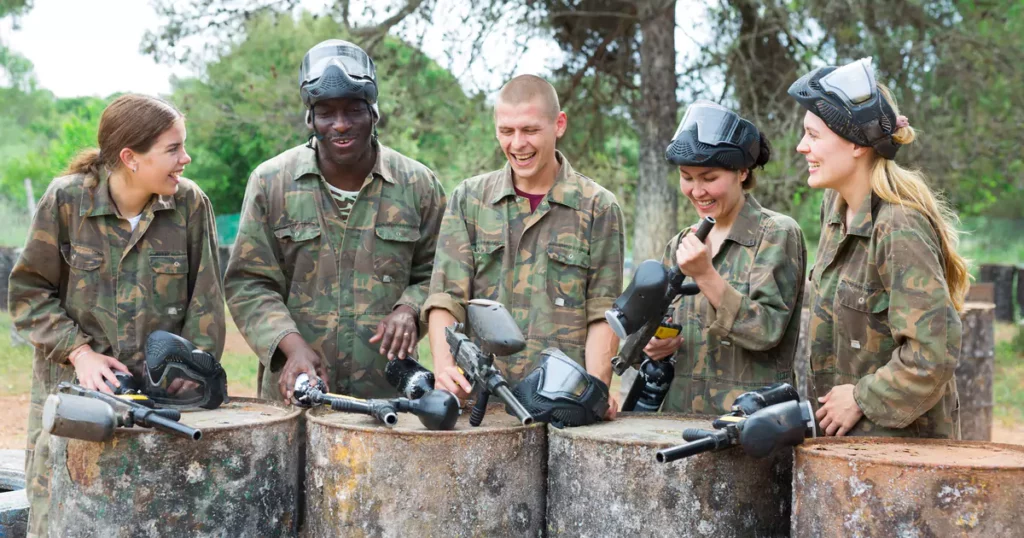 Playing paintball will bring out the best in your team members strategic planning and decision-making abilities. Team games like paintballing offer opportunities for leaders to emerge.
Paintball games are exhilarating and will build camaraderie among your team members!
12. Start a Sports Team
Houston works with companies to grant access to parks and sports complexes. Your company can celebrate the league winners with a pizza party and sportsmanship trophies and certificates.
The ultimate goal is to introduce employees who may never have an opportunity to meet during the workday. Family and friends attend the games, and employees often realize they have more in common with each other than they ever imagined.
Softball teams can require a sign-up process. Team members can be selected randomly or you can create teams based on departments. The number of teams determines the length of the season. A well-balanced league will last about three months. Games are played once a week, on a weeknight.
Bowling leagues have more flexibility and can run year-round. Teams can work together to decide what days and times they want to bowl.
Kickball leagues are a lot of fun and operate similar to softball leagues. Expect a lot of competitiveness and employee networking to build strong teams.
Pickleball is a paddle game similar to tennis. Employees that may not have the ability for strenuous activities can still join in the fun or company leagues.
Do not make joining a company sports team a mandatory activity. Some people prefer to watch sports rather than play them! In that case, take them to a sporting event, the next item on our list!
13. Take Them Out to the Ball Game
Taking your team to a sporting event is a great group outing that also shows them that you appreciate their contributions. Attending a game together provides a venue for networking between employees who may not cross paths at work regularly.
Houston has several professional sports teams:
Houston Texans – Football
Houston Astros – Baseball
Houston Rockets – Basketball
Houston Dynamo – Soccer
Find out in advance which sports your team members prefer by sending out a simple poll or email. If you can afford more tickets, let employees bring family along!
14. Walk & Talk
Walk & Talk activities are perfect for promoting healthy lifestyles while providing an opportunity for employees to get to know one another. Encourage employees to walk and talk with coworkers during breaks and lunch periods.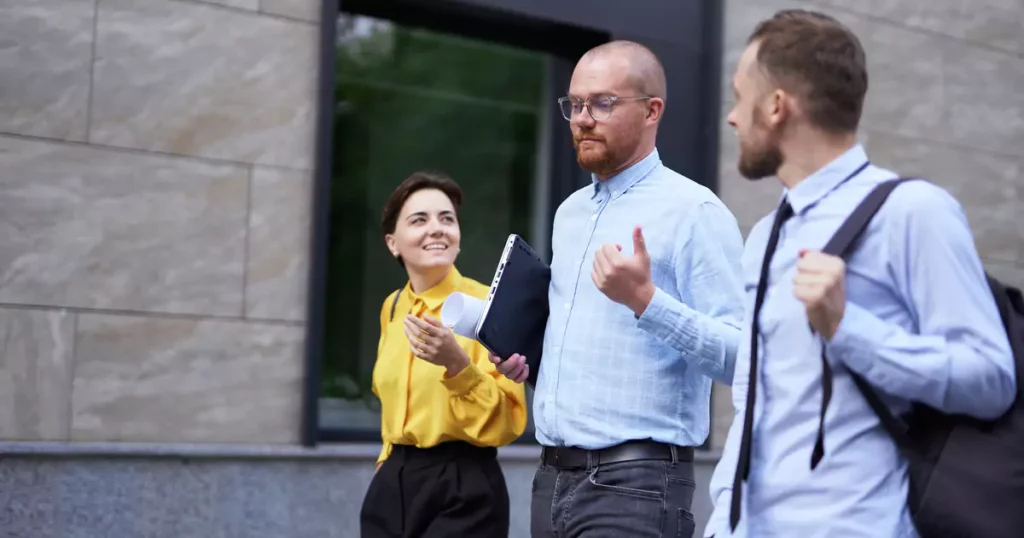 You might even want to consider a walking meeting which is another way to get your employees up and moving without losing productive time during the work day!
Motivate your employees by offering free healthy snacks and beverages for their walking excursions. Check with your insurance provider to see if they will cover the cost of pedometers or step-counters.
You can turn the team building exercise into a competition by having employees chart miles walked and steps are taken. Acknowledge all accomplishments on the company intranet and newsletters.
It's been shown that even a small amount of exercise, including walking, can reduce stress. Stress can wreak havoc in the workplace and is the main reason that employees experience burnout.
To help your employees lower their stress levels and live healthier lifestyles, you may want to look into starting a wellness program within your company. Read more about the benefits of corporate wellness programs.
15. Celebrate Diversity
By celebrating diversity in the workplace, you create an inclusive environment where individuals get celebrated for their differences.
There is a day to celebrate everything under the sun. Create a calendar of days your company plans to celebrate. It's best to limit these opportunities to once a month.
Team building activities centered around culture use cultural dishes to bring people together. At lunchtime events, display images that represent different cultures. They can come from museums, parks, and businesses. Invite guest speakers and community performers.
Following the events, engage employees with team building ideas that demonstrate what they learned. Host group talks to discuss the impact the event had on them. What did we learn, what viewpoints changed, and how can the company work towards a more inclusive workplace.
16. Learn Improv For Business
The Station Theater's Houston Team Building class included a trained instructor who leads your team through custom team building exercises like those that comedic improv teams use to prepare before performing.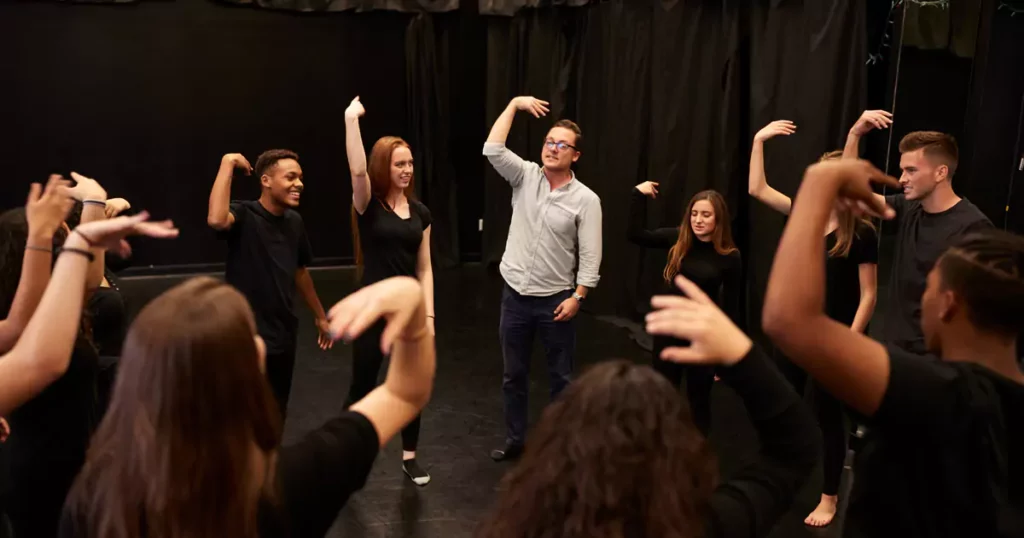 This program will not only boost communication but also creativity and team trust. The benefits of improv-based team building are proven to be effective just as much as they are proven to make your team laugh their socks off!
17. See A Comedy Show
If your team's tried improv and you want to thank them for doing a team building activity out of their comfort zone, treat them to a night at a Houston comedy club! During sets, your team members have a chance to catch up.
If your team is made up of people who don't know each other well, or if you have a new team member, seeing a comedy show can prevent any awkward pauses in conversation as everyone will be watching a hilarious performance. Moreover, laughter is an excellent way to boost company morale!
18. Co-Worker Feud
Playing a company version of this popular TV game show Family Feud is a great way to break the ice between team members who might not know each other well.
Teams can be created based on departments, teams, or by letting employees make their own teams! The company can schedule the competition during lunch hours. Order in lunch to encourage employees to participate. Play as many rounds as needed, so all teams get a chance to play. You can generate your own questions for this game or find questions online.
Schedule the games on a designated day every week in a common area where employees can root for their teammates. Co-worker Feud makes for an excellent activity during a company happy hour.
Be sure to offer prizes to winning teams. You might want to include consolation prizes for all the teams so everyone feels good about playing!
19. Let's Dance
We all need a dance break now and then. There are different ways to incorporate dance into the work day. Companies with a PA system can lighten the mood anytime during the workday.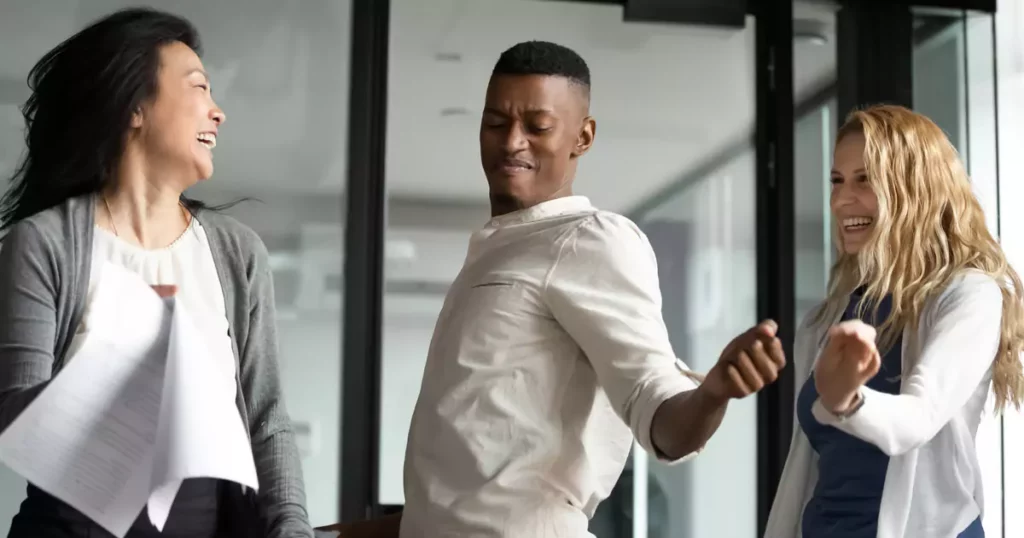 Surprise team members by playing popular dance tunes like the Macarena, Cha Cha Slide, or Cupid Shuffle. Encourage them to get up and dance. If a colleague doesn't know the dance, offer to teach them.
Hosting a dance-a-thon equipped with a dance instructor allows your employees to raise money for a common cause. Plus, they can learn new moves. The goal is to create a compassionate workforce while building bonds, growing trust, and expressing creativity.
20. Name That Tune
With today's digital technology, employers can send short snippets of popular songs throughout the week via email. The goal is for employees to name the song and artist.
A "Name That Tune" quiz gets sent out at the end of the week. Employees have thirty minutes to complete the quiz. The gag is that the quizzes are computer-generated and may not include the same songs in the same order.
Employees are encouraged to ask coworkers for help in naming the songs as quickly as possible.
21. Plant a Community Garden
Team building ideas appeal to different sectors of your employee population. This one, in particular, is for those who want to give back to the community. Planting a community garden can take place on your campus or property designated by the city.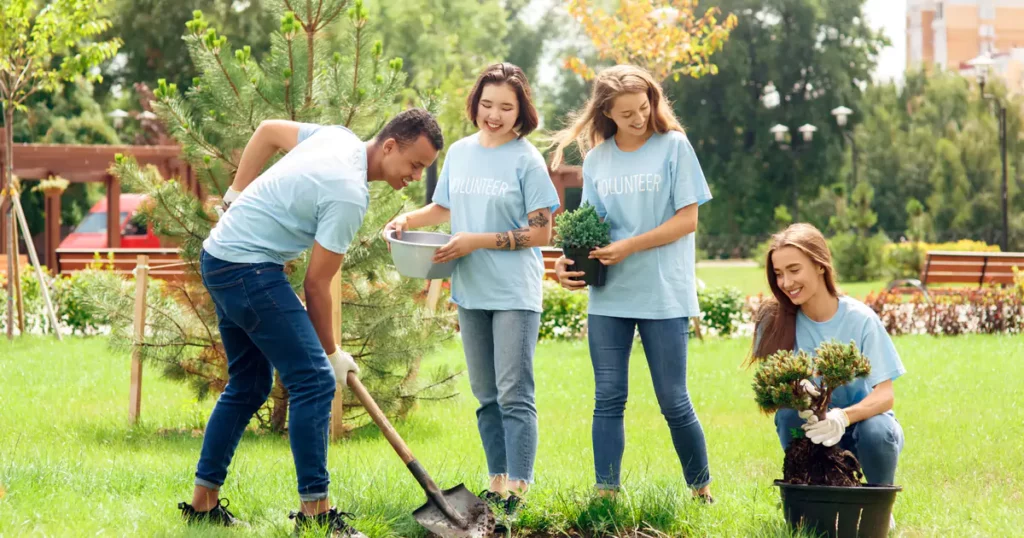 Allot employees a set number of hours each month to work on the community garden. Distribute hours in the form of comp time or extra paid time off. You'll need to devise a method to ensure hours are accurate and the employee was indeed working on the garden.
Enlist the help of an experienced gardener. The person can work for your company or a non-profit organization. The items grown are donated, distributed to employees, or sold as a fundraiser to keep the garden going.
The objective is to build teams and teach life skills. The more employees you have, the better outcome you'll receive!
22. Team Trivia
Studies show that playing trivia games can induce a rush of dopamine (known as the "happy hormone") in our brain. Get your team together for some trivia and you'll find yourself with a bunch of happy people practicing their team skills without even realizing it!
Playing trivia games is a terrific tool to enhance many of your team's skills. Players must listen actively to each other's suggestions for answers. Team trivia also encourages collaboration and creative thinking.
During a game of trivia, a team member who doesn't share their ideas in the workplace due to a lack of confidence may feel comfortable sharing their trivia knowledge. Thus their individual confidence gets stronger. Better still, players will gain an understanding of each other's strengths and weaknesses.
You can play trivia at many bars and pubs in Houston. Here are some suggestions for trivia venues. Instead of going out for trivia, you can play a virtual trivia game with your team at the office or at a company happy hour.
Team Building Activities for Meetings
A perfect opportunity to offer team building exercises is during meetings. Many companies learned during the pandemic that virtual team building games are an awesome icebreaker. They're also a good way to break up a meeting slated to last for an extended period.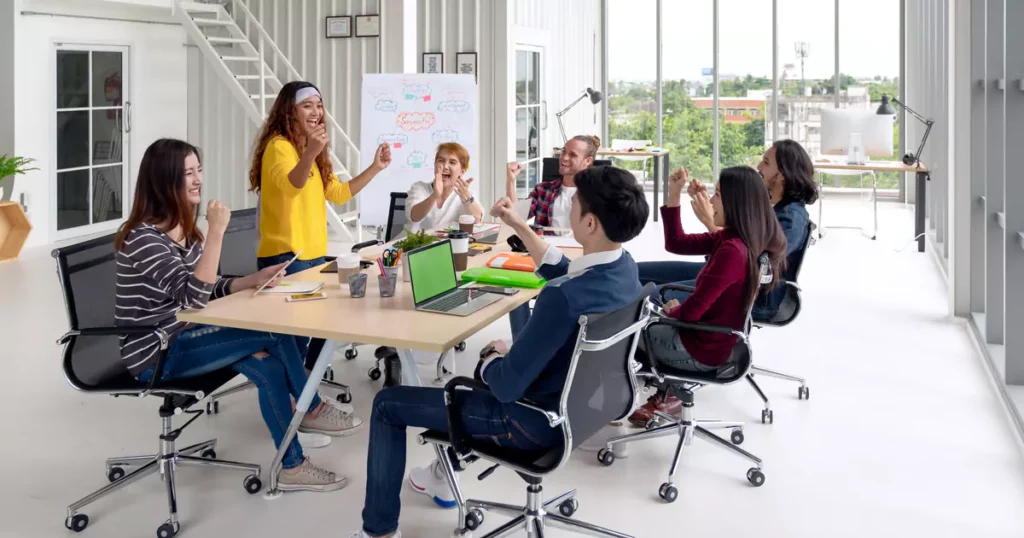 If your meeting is a half or whole-day session, pencil in a short team building exercise every two hours. Schedule the activities as a lead-in to breaks and lunch. This way everyone can take a breather and come back to the meeting re-energized.
For in-person meetings or Houston group activities, the employees have a common theme to discuss while on break. Since remote work is still an option for many employees, turn on the chat feature and encourage dialogue between sessions.
We've put together a few suggestions for team building ideas you can introduce during team meetings and staff training. Assign points by the order teams answered. Provide prizes and crown the strongest team at the end of the meeting.
23. Name That…
Team building ideas that involve guessing games are always a popular theme. Similar to Jeopardy, "Name that…" is a team building exercise that can cover any category.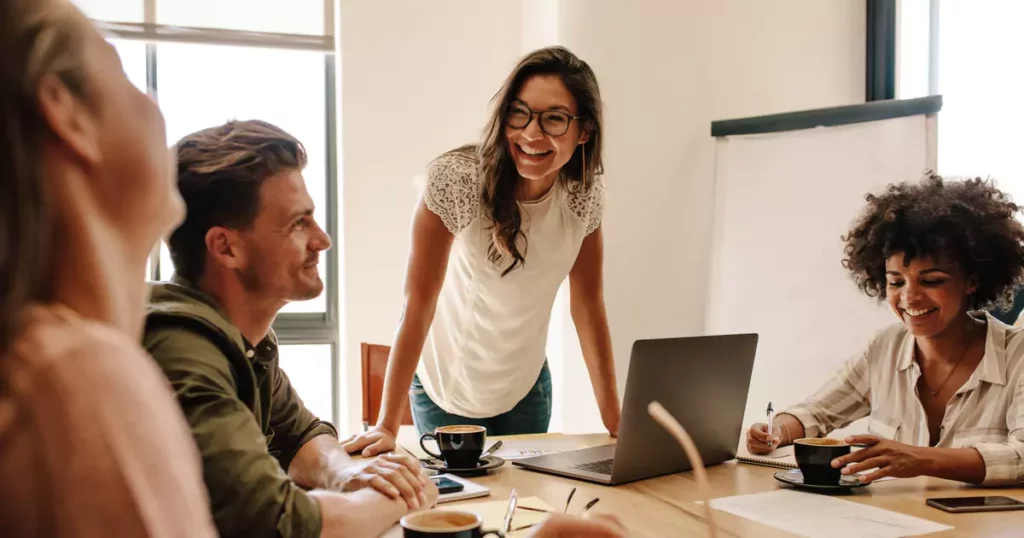 Name That is simple, yet fun, to play. Come up with categories, but do not tell teams. Provide the employees with clues, and they compete to name the topic.
Determine how teams get created. In a meeting setting, it's best to create teams based on each table. If a table has one or two people, have them join another table. Before the game starts, each team appoints a spokesperson.
Consider having a buzzer or other device that notifies the meeting facilitator the team has an answer. The notification process will make it easier to determine which team goes first. Allot ten to fifteen minutes for each activity.
Once they are called on to provide their answer, it must get relayed in the form of a question, similar to Jeopardy. The game continues until all teams have attempted to provide their topic and answer. Award points for each correct response.
You can make the activity more interesting by having a set of clues unique to every table. Each member receives a different clue. Together they brainstorm to find the answer. Here is an example category to demonstrate how you formulate the game rounds.
The category is "Best place to visit in Houston". The clues are:
Houston Museum of Natural Science
Miller Outdoor Theater
Japanese Garden
McGovern Centennial Garden
Houston Zoo
The answer: What is Hermann Park?
To play the game with remote teams, download the Jeopardy slideshow template from Jeopardy Labs and input your questions and answers.
When coming up with categories, throw in some work-related topics to keep your team on their toes!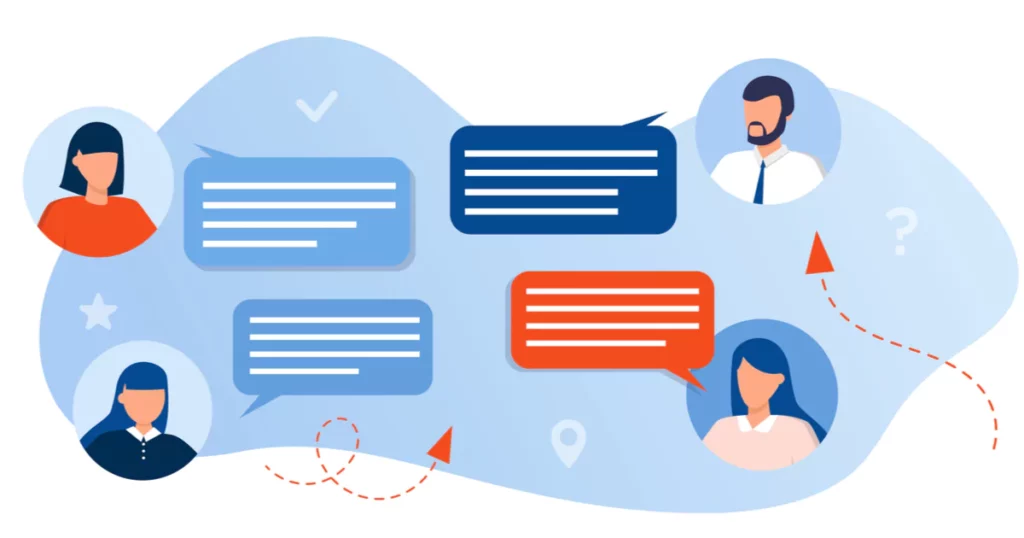 24. Who Said That?
There are multiple ways to make this game exciting. Who Said That is a game using team building quotes. For this exercise, provide teams with quotes to determine who said it first.
Scrabble
Each person receives a word or part of the quote. If any word is out of place, the answer is incorrect. The team must work together to recreate the quote in its correct form. Once the facilitator has acknowledged that the quote is correct, the team must tell who said it.
That Doesn't Go There
Add extra words to the list of words in the quote. Teams must now try to figure out which words don't fit. You'll be amazed how this added touch will confuse team members who think they know popular quotes.
In either version, the team selects someone to stand up and read their quote and who they believe said it. Extra points are given if they can name things like when, where, and why the person said what they said.
If teams struggle to solve the quote or the author, you can offer up to three clues to help them out. A clue example for "Life is what happens when you're busy making other plans." by John Lennon.
A very popular Beatle
Their thoughts on life
Don't become too busy
You can use other clues if you know when or where the quote was said: things like during a magazine interview or when interviewed by someone.
25. Speed Networking
Speed networking is a corporate team building activity similar to speed dating. The activity is perfect for organizations where employees rarely interact with colleagues outside their department. The goal is to get everyone out of their comfort zone to meet new people.
First, place employees in two groups. One group represents various departments within the company. Seat them on one side of a table.
Next, have the remaining employees line up for an opportunity to speak with each person seated at the tables. For example, a company has 36 employees representing six departments. Six to twelve individuals are seated at the table to field questions.
The remaining employees are awaiting their turn to ask questions. Each group has five minutes. When the time is up, they get up and allow the next group to ask their questions.
The objective is for each person to network with at least three people seated at the table.
Then, participants return to their seats. The facilitator then calls on individuals to share at least three things they learned about their colleagues. The three things can include:
Their name
Job title
Department
Years with the company
College alma mater
It could be anything their colleague shared during the discussion. A twist to the exercise is participants can't repeat what has already been said by someone else.
Prep the panel beforehand. Suggest they share different information with each person. Afterward, ask the panel member if their coworkers got it right.
This game tests whether the panel members are good communicators and if their coworkers are active listeners.
26. Build A Bridge To Success
Building a bridge to success is a popular team building idea designed to help team members work together. Two teams must collaborate to build a bridge with random materials but they must do so only with verbal communication as the teams will work from separate spaces and not be able to see what the other team is doing!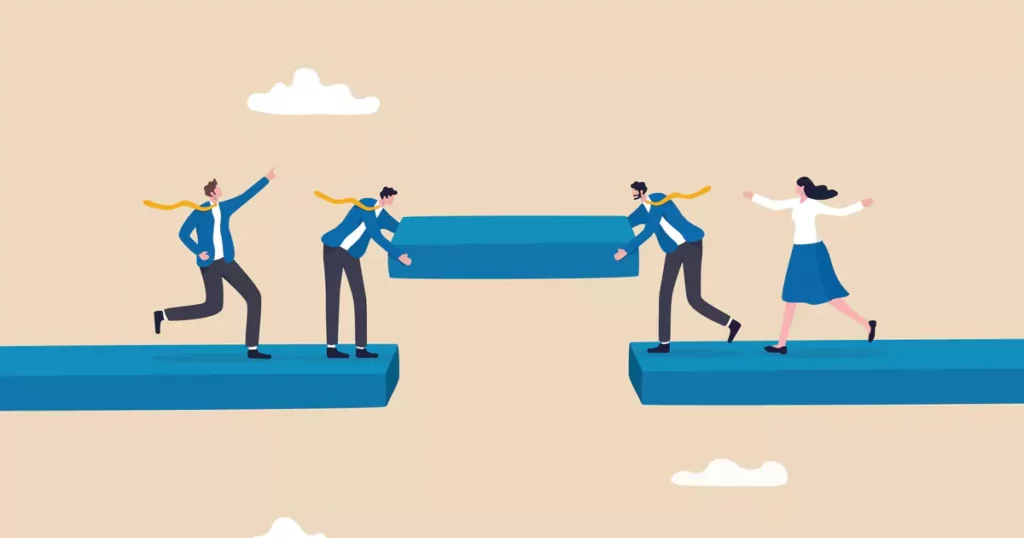 You can separate teams by placing teams in separate rooms or creating partitions with a whiteboard for example.
The task takes about one hour to complete. Allot a set number of minutes for each stage of the process. You can time the stages or use timekeeping as one of the skills the task will teach.
The teams need to focus on specific aspects of the project. Here are common goals they must achieve to have a successful project:
Setup
Design
Building
Inspection
Group presentation
Q & A
Once the project's timer starts, teams cannot communicate with other teams. Ensure they are far enough apart to deter conversations with anyone outside of their team members.
Your project budget will determine the materials used for this exercise. You can purchase prepared kits or use a list of common materials found around the office, such as books, pens, tape, cardboard boxes, straws, paper clips, etc.
The more materials you can think of, the more creativity your teams can display. The ultimate goal is to build a sturdy bridge. Following the exercise, do a team debrief.
The benefits of this game are that teams learn to communicate effectively, listen actively, strategize, solve problems, and show creativity.
Team Building Activity Considerations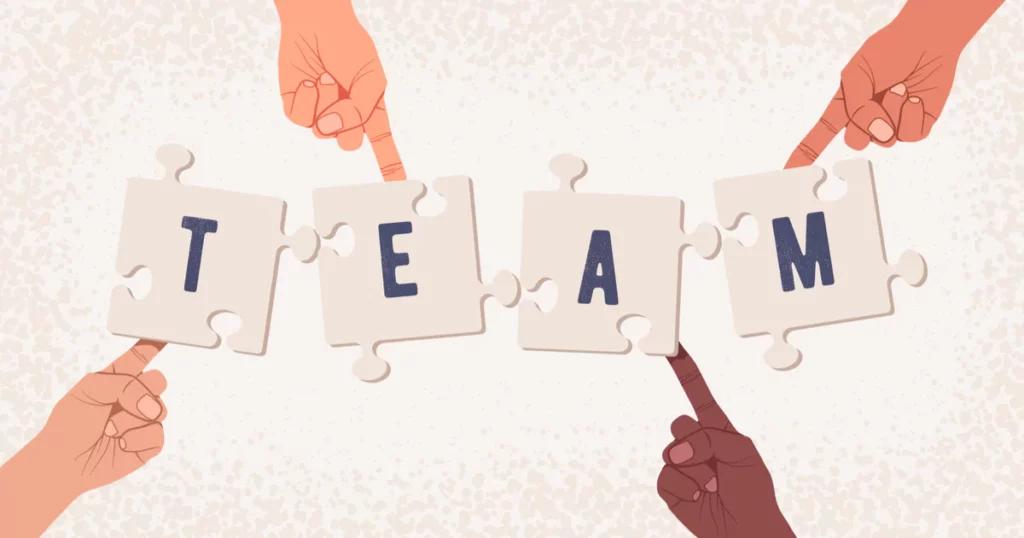 Virtual Vs. In-Person Team Building Activities
Team building ideas are easy to implement whether the employee is working remotely or in the office. It's essential to include virtual employees when planning team building activities.
You can use the opportunity to bring remote workers into the office or at designated locations. It will help bridge the gap and connect them to the in-person team members.
For companies with remote workers around the country, investing in virtual team building activities is a must.
Team Building Activities For Specific Teams And Needs
Team building activities come in many shapes and sizes. Depending on the desired outcome, you'll need to create activities geared towards the participants if you want to get a better response.
For example, team building for executives and managers has an emphasis on teaching leadership skills. The focus is on working well together and creating a great work community for everyone else.
For especially big companies that are working remotely, choose large group games that can be played over Zoom.
If you are constricted by time or budget, play short team building activities or free team building activities.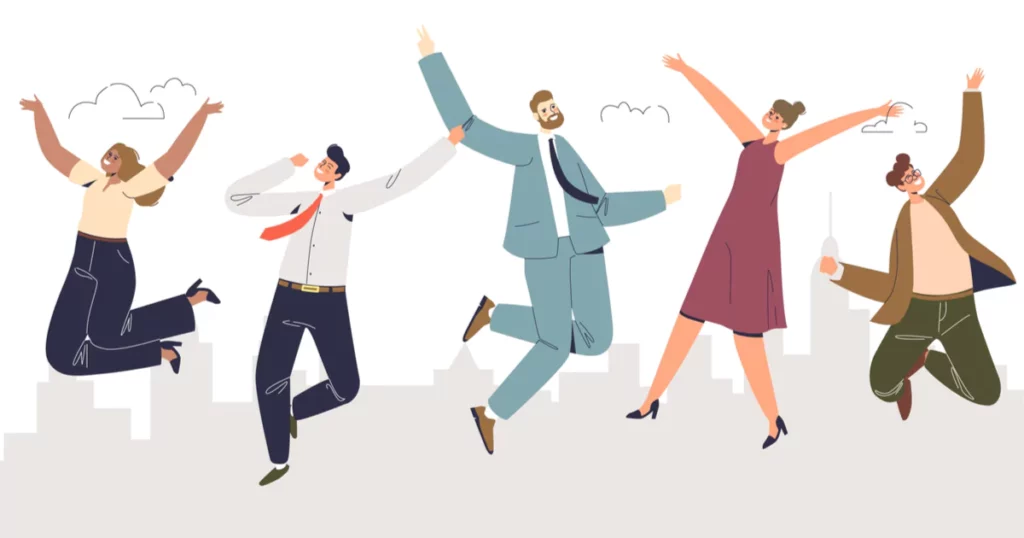 What Is The ROI On Team Building?
It's not always easy to measure the return on investment of corporate team building. The main reason is that you're not receiving a per-person financial return in actual dollars. Plus, there is no way to guarantee how many employees will take advantage of team building opportunities.
One way to measure ROI is at your employee retention rate. If you find employees are happier and staying with the company longer, that's a positive return. Employees who are showing more engagement in the workplace are another positive measure.
Another sign that your team building program is working is the improvement in communication between departments. Employees are more engaged and interested in new positions and process improvement teams.
Create a team building program that runs all year. Build a team that consists of people from all levels of the company, from management and staff. Promote your team building agenda as an exciting experience that employees should look forward to participating in!
Start Building Your Best Team Ever
Team building activities in Houston can go a long way in turning your team into a powerhouse! No matter the size of your company, team building activities can help build a strong, trusting workplace community.
If you are looking for other types of team building activities and games that are not in this article, take a look at Team Building Hub's website for more ideas. Also, reach out to us, we would love to help! Get started planning your Houston team building activities today!