More Orlando Guides
What To Do In Orlando For Adults
What To Do In Orlando At Night
What To Do In Orlando When It Rains
What To Do Near Orlando Airport
What To Do Near Universal Studios
What To Do In Orlando Other Than Disney
What To Do In Orlando For Couples
If you want your Orlando-based teams to reach their potential, team building may be just what you need! Team building activities enable your team to practice the important skills that every team needs to function well. Collaboration, communication, problem-solving, and creative thinking all come into play during team building activities and games.
By getting out of the office setting, coworkers will see each other in a new light. Even in-office or virtual team building activities can work wonders for your team! Below are 25 out-of-office, in-office, and virtual team building activities that your employees will love!
Table Of Contents
Team Building Activities Around Orlando
Team Building Activities For the Office
What To See On Your Team Building Trip To Orlando
How To Plan The Perfect Team Building Activity
25 Best Activities For Team Building in Orlando
Team Building Activities Around Orlando
1. The Escape Game
One of the most exciting, engaging team building activities is playing an escape room at The Escape Game Orlando! Escape rooms are immersive adventure games designed to strengthen your team's ability to collaborate and improve their problem-solving skills. Your team will have just one hour to solve riddles and interpret clues to find a way out of one of several uniquely-themed escape rooms!
Whether your team must break out of a cramped 1950s prison cell or track down a priceless painting, they will have a fantastic time! When they succeed, your team will feel proud of what they have accomplished!
2. Plan An Event With Team Building Hub
Team Building Hub offers everything you need to have a great team building event. The service allows companies to get together, share a laugh, and make a memory in person or virtually.
Team Building Hub helps you create a meaningful experience for you and your team. Planning an event is as easy as just reaching out to an event planner. Even if you don't know exactly what you want quite yet, reach out and they'll get you started with everything you need. Events range from 30-90 minutes in length and cost $28-32 per person.
After initially reaching out, you'll be contacted by an expert event planner. They'll help you schedule the games of your choice, make all arrangements, and coordinate the event. If you have any special requests, let the event planner know and they can help!
Team Building Hub offers several in-person events and virtual events that will challenge your team. The activities you'll play are super engaging and create an atmosphere your team won't want to leave!
3. Online Game Shows
This Zoom event offers five rounds of quick and fun questions led by their own host. Online game shows will have your team thinking quickly on the spot to answer questions to gain more points. Each online game show is $28 per person and features 60 minutes of gameplay. Each theme can accommodate anywhere from 10 to 150 players.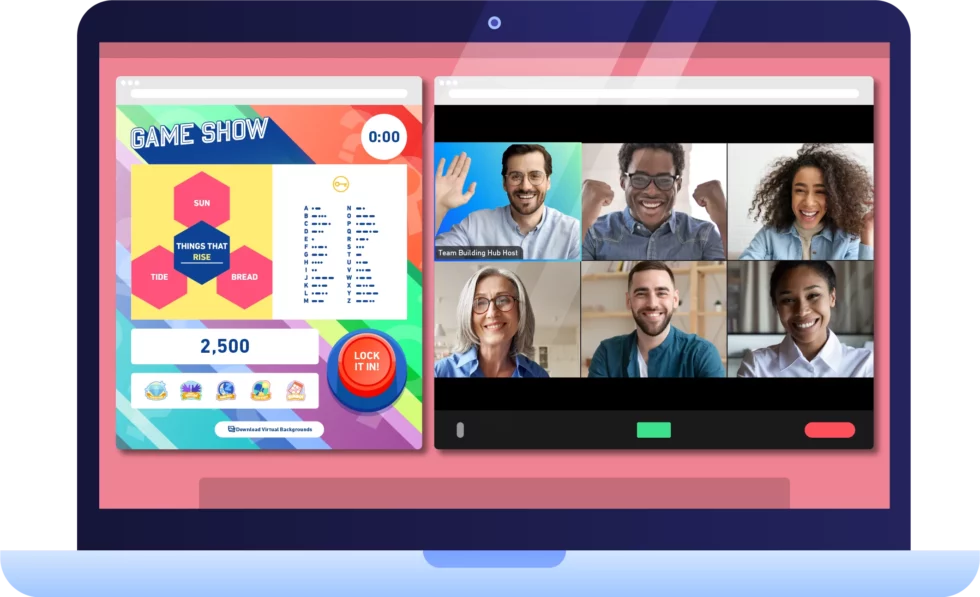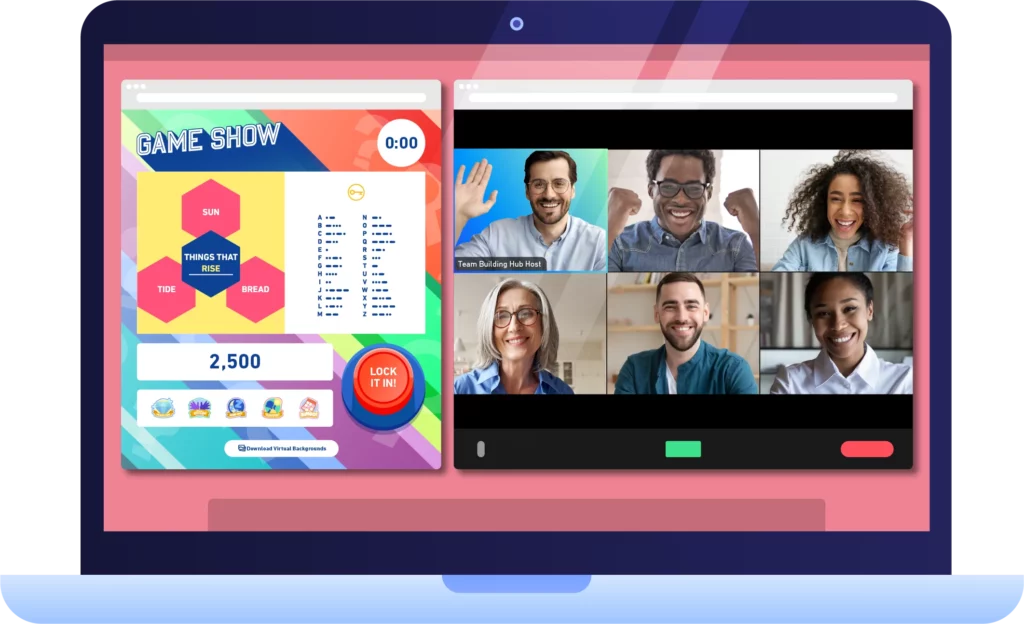 The Puzzle Game Show requires teams to compete head-to-head. Each round will have new and exciting word puzzles and brain teasers. Teams must work together to gain points so they can claim that top spot on the leaderboard. There are several challenging twists and turns throughout the duration of the game show.
For the holiday season, play the special edition Holiday Game Show. The game has contestants compete in five rounds of holiday games. Throughout the game show, there are several holiday-based questions and increasingly difficult rounds. This is a perfect opportunity to enjoy the holidays with coworkers.
Both these online games can be played by remote and hybrid teams so that no one is left out of the fun!
4. Amazing Painting Experience
Painting With a Twist is sure to make everyone laugh and have fun. Participants can bring their own wine and try their very best to paint. There is no requirement for artistic ability, the only requirement is to bring your own wine.
This is a super calming option and won't have everyone competing. Painting With a Twist is a great way to allow employees and coworkers to engage in "outside work" conversations.
5. Solve A Mystery
Virtual mystery games challenge you and your team to work together to solve a mystery by solving puzzles, riddles, and clues. Collaboration, problem-solving, and communication will need to flourish in these games if teams want to succeed.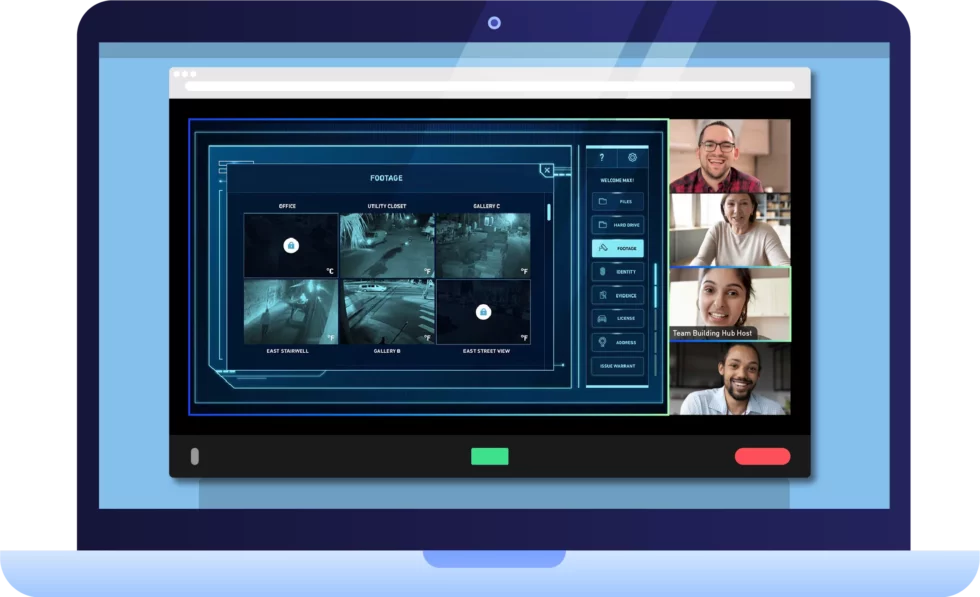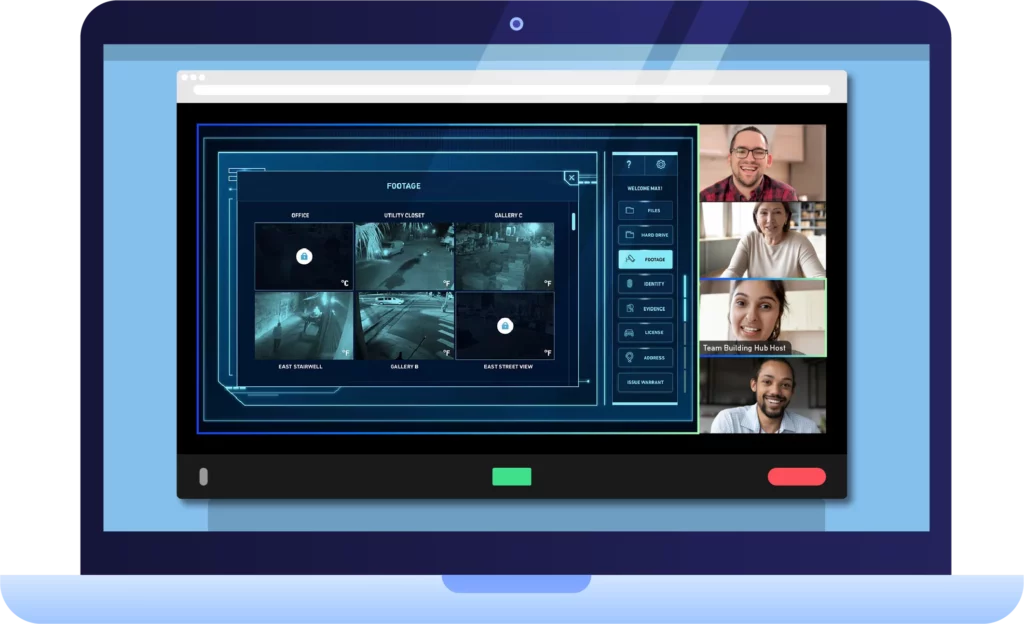 Each game has a live guide to make sure your team is heading in the right direction. There are several themes for mystery games including:
The Art Thief: Chasing Hahn makes your team take control of a serious situation. Your team needs to track down the infamous art thief Vincent Hahn. Clues and files have been left to use for evidence. Bring him to justice before time runs out!
The Art Thief: The Silk Road: features the same infamous art thief, Vincent Hahn! Just as he did in the first mystery game, he left a breadcrumb trail for you to follow and piece together the evidence.
Rogue Scientist 1990: You and your team are tasked with finding evidence to stop this scientist gone rogue with his dangerous genetic experiments. Create a case against the doctor and stop him in his tracks before his experiments go too far!
Each Zoom event is $28 per player and takes 75 to 90 minutes per challenge. 15 to 1,000+ players can be accommodated!
6. West Orange Trail
The West Orange Trail has several offerings for your team outing. If you are looking for an exercise-based team event, the West Orange Trail has you covered.
West Orange Trail Bikes and Blades offers team building activities like incredible biking tours that last from two hours to multi-day tours. Based on the size of the group, they can plan the trip to fit any accommodations or needs.
They also partner with local charities in Charity Bike Builds, where your team will assemble bikes with parts and instruction from one of their coaches, and then present the bikes to the children who receive the donated bikes.
Whether your team is enjoying biking in the fresh air or feeling good about giving back, Orlando's West Orange Trail is an ideal place for any team building activity!
7. Virtual Escape Rooms
Just like in-person escape rooms, virtual escape rooms offer your team the same exhilarating fun and opportunity to strengthen their team skills, like problem-solving and collaboration.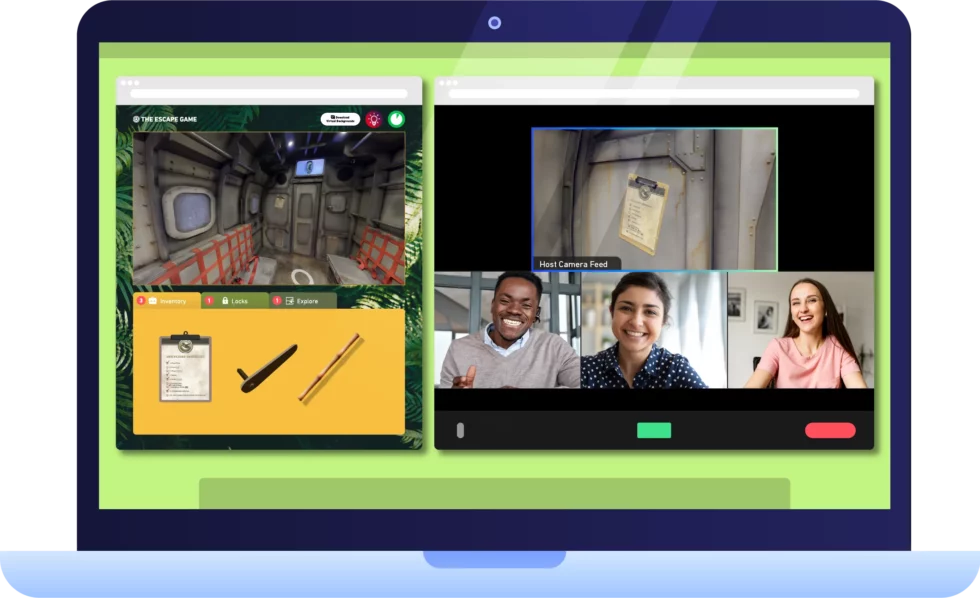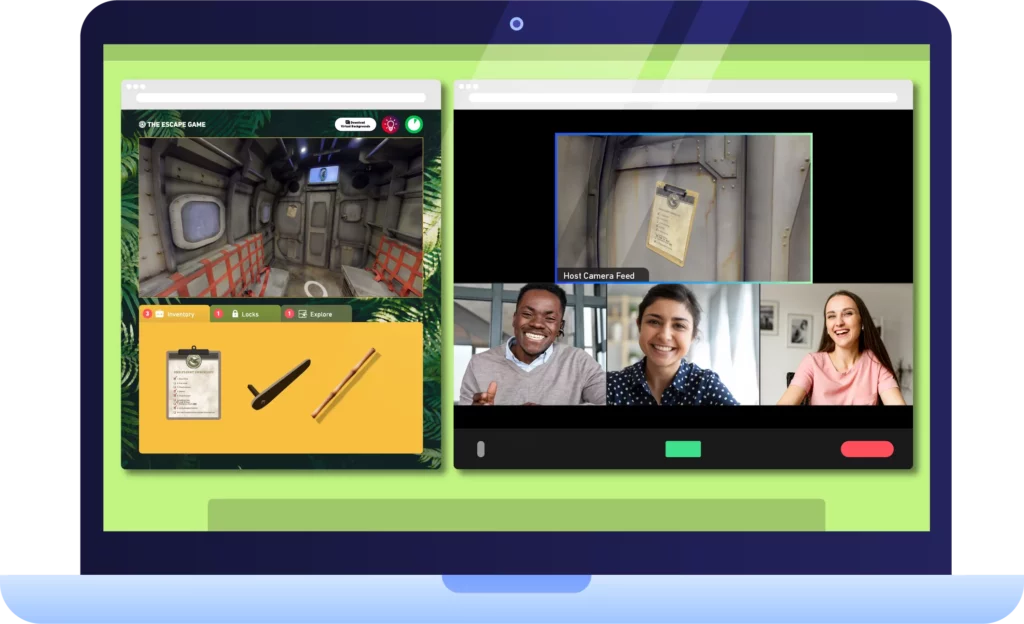 Your team will find answers and solve problems to complete each challenge. Each virtual escape room has a 75-90 minute event time and a 60-minute game time. Each theme costs $32 per player and can accommodate 4-400 players at the same time.
Pick and choose from several different themes:
The Depths: After videos surface of odd experiments being performed at the bottom of the ocean, it is up to you and your team to discover what happened at a mysterious undersea lab. Just be careful because you never know what dangers are lurking in the water…
Prison Break: You were wrongfully accused of a crime but nobody will believe you. You need to take matters into your own hands and escape while you have the chance!
Gold Rush: You are in California for the gold rush of the 1800s. Solve the mystery of where Clyde Hamilton left his hoard of gold before someone else gets the fortune!
The Heist: As an espionage agent, it's up to you to retrieve a recently stolen priceless painting. You'll have to find your way into a museum curator's office, track down the painting, and escape before it's too late!
Ruins: Forbidden Treasure: Become a jungle explorer when you and your team take on ancient ruins. When your airplane cruise takes a turn, you'll need to quickly and carefully navigate through mysterious jungle ruins to find hidden treasure before time runs out.
Playground: If you think you are smarter than a grade-schooler it's time to find out. This escape room theme sends you back to school to get straight A's on your report card through a series of wacky assignments.
8. Play A Scavenger Hunt
Scavenger hunts are a fantastic team building activity where Orlando is the backdrop for your team's quest to decipher clues that lead them to the next location on the route.
Scavenger hunts help teams practice problem-solving and reaching consensus. They also require strategic thinking and creativity. Scavenger hunts get your team out of the office and into the fresh air where they discover more about Orlando and each other.
If you have a decent budget, Operation City Quest runs group scavenger hunts that can accommodate teams from 10 to 500 players!
If you have a small or non-existent budget, create your own scavenger hunt for free with GooseChase's scavenger hunt creator. Note that it is only free for teams of 15 players or less.
With these virtual scavenger hunt options, your hybrid or remote team won't feel left out of the fun!
9. Challenge Course
The UCF Challenge Course is fully equipped with everything you need for a great time. The high ropes course located at the University of Central Florida will challenge more than your fear of heights.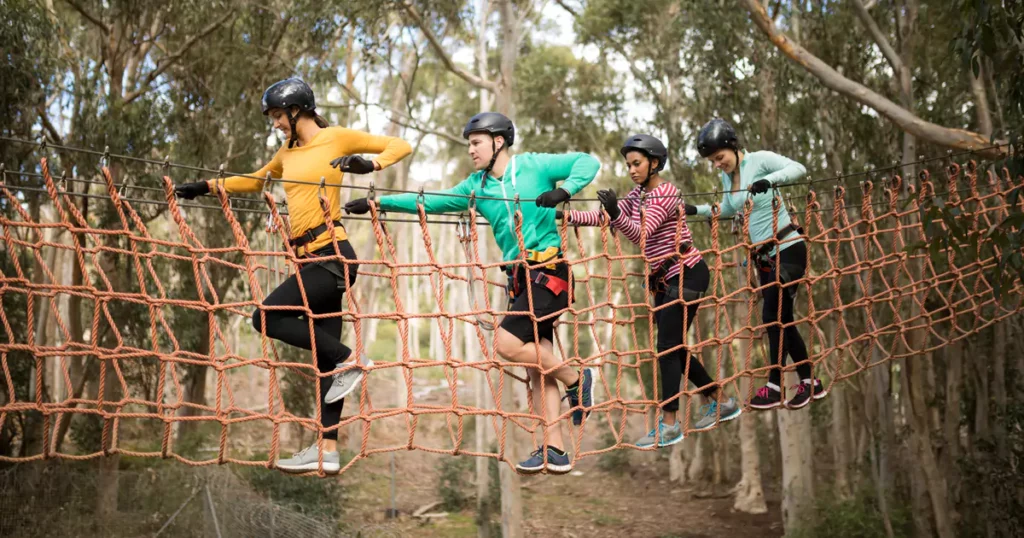 This experience will allow everyone to generate important team skills. Participants will utilize communication, teamwork, self-awareness, and interpersonal skills. This obstacle course will build team trust and will be a great time for all!
10. Build Your Team At Legoland
Every team needs to be built. Build your team at Legoland! Legoland has several multi-day educational programs about being a team and building together.
You can also explore the historic and legendary park. You and your team will be able to make designs and get creative together. Let your employees and coworkers let out their inner child and have fun at Legoland!
11. Relax Together At Lake Eola Park
If you want to have stunning views and a lakefront, Lake Eola Park is a perfect choice. Lake Eola Park has several options that fit any want and need for a corporate event or activity.
Experience Orlando team building at its finest. Here you can catch a concert or play at the Walt Disney Amphitheater, have a picnic, or rent swan-shaped paddle boats. A reservation for a larger event is also acceptable as well as reserving Eola House.
12. Go Kayaking
Experience the true beauty of the water and wilderness with a tour from Earth & Water Adventures. You can visit desolate and uninhabited islands and waterways to experience one-of-a-kind moments with your team. See manatees, dolphins, and other natural life along your tour.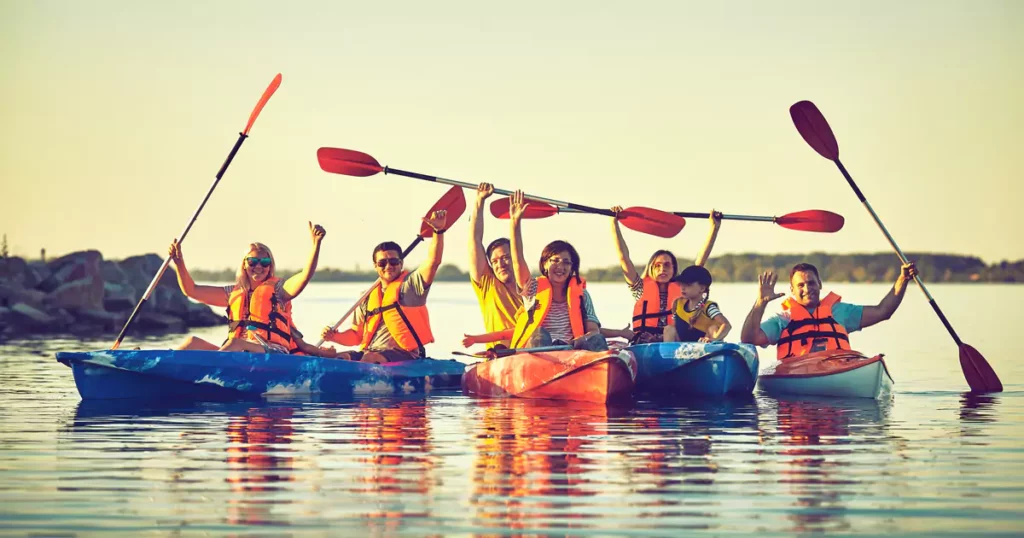 To get the most out of the experience, book the overnight team building adventure. This way you will be able to camp as a team and grow even more together!
13. Have A Field Day
You can create your own fun at a field or park. There are many green spaces in Orlando that allow for a multitude of fun team building activities. Kickball, softball, tug of war, three-leg races, and so many other options are available to you.
With access to a field, you can also create a sports league of your choosing. This could be several week-long events or something as short as a week, there is no right or wrong answer!
14. The Slingshot
This is the most ambitious event on the list. The Magical Midway Slingshot is sure to get everyone out of their comfort zones. This heart-pounding event will have everyone laughing, yelling, and having a great time.
The Slingshot fires you 100MPH into the air while harnessed into a seat. The park also offers several other fun activities such as bumper cars and other fun rides and slides.
15. Wrangle Cows
Suhls Rodeo has a one-of-a-kind team building experience just outside Orlando. They teach teamwork through cow-wrangling cows.
This fast-paced activity requires that your team communicate verbally and with non-verbal cues. They will develop trust as they learn new – and unique – skills together. Team bonds will be forged and memories created.
Trade your pen for a lasso at this unique venue!
16. Take A Food Tour
Orlando Food Tours allows you and your team to explore the city. On your private tour, you can learn about local food shops and scenes. The tour stops at 5-7 restaurants where you can sample local dishes from the chefs.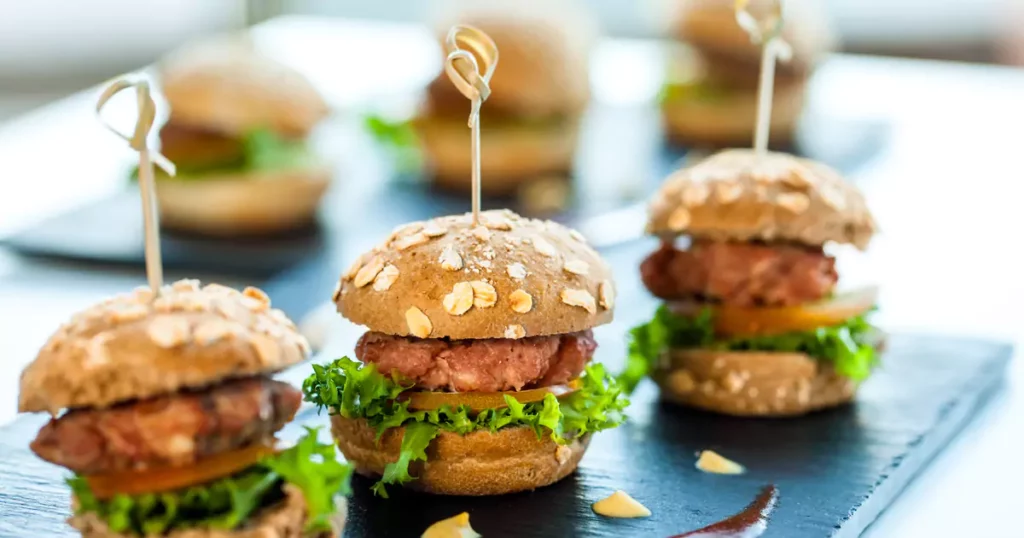 Walk around and explore Audubon Park and Winter Park on your private tour. Participants can indulge in local beer, tea shops, chocolate, coffee, and so much more. Walking around the outdoors will allow team members to connect on a more personal level.
17. Try Axe-throwing For Team Growing
"Companies that throw together, grow together!". That's according to Stumpy's Hatchet House in Orlando, where you can schedule a private team building event. Axe-throwing takes people out of their comfort zone and challenges them to try something new. It allows your team members to release stress and let their walls down.
Throwing axes isn't for everyone, but Stumpy's has a full bar lined with craft beers and drinks where team members can socialize.
If you think that your employees might enjoy axe-throwing, Stumpy's coaches can organize a company tournament where the winning team gets bragging rights to bring back to the office!
18. Take Your Team To New Heights
From a hot-air balloon, you and your team will be able to enjoy Orlando like never before. This one-of-a-kind team building event allows participants to travel to new heights!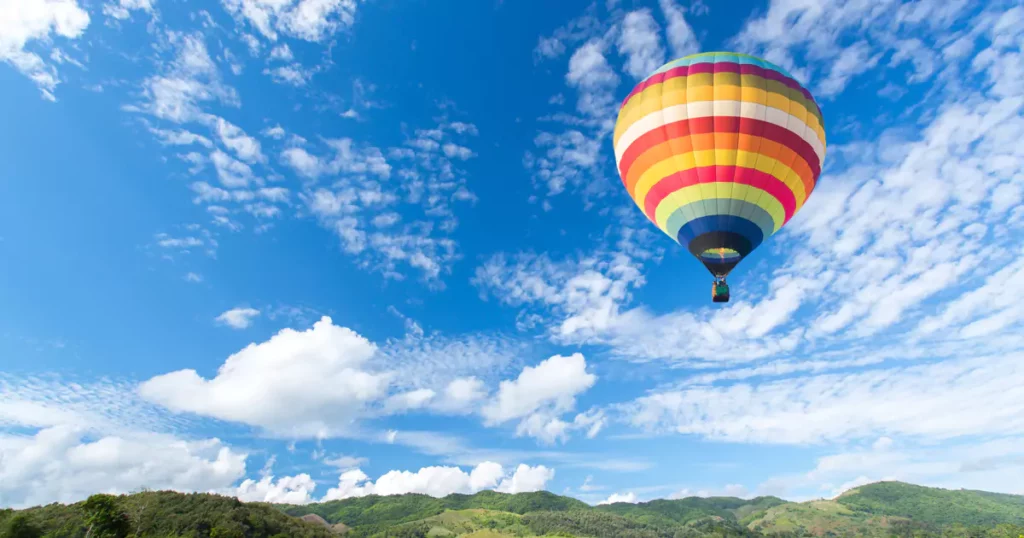 You'll be able to fly above all your competitors! Aerophile Orlando offers co-workers the chance to experience something breathtaking together!
19. Go Fishing
Florida has some of the most bio-diverse waterways in the world. This means a fish will always bite – even if you have no experience. With several lakes, fishing in Orlando is still a great option.
Native Bass Fishing will get your team onto the water to compete with each other for the biggest catch of the day!
Team Building Activities For the Office
Leaving the office is fun. Staying in the office can be even more fun if you know what to do. There are loads of team building activities for your Orlando-based team to play. They practice team building skills and also bring laughter into the workplace!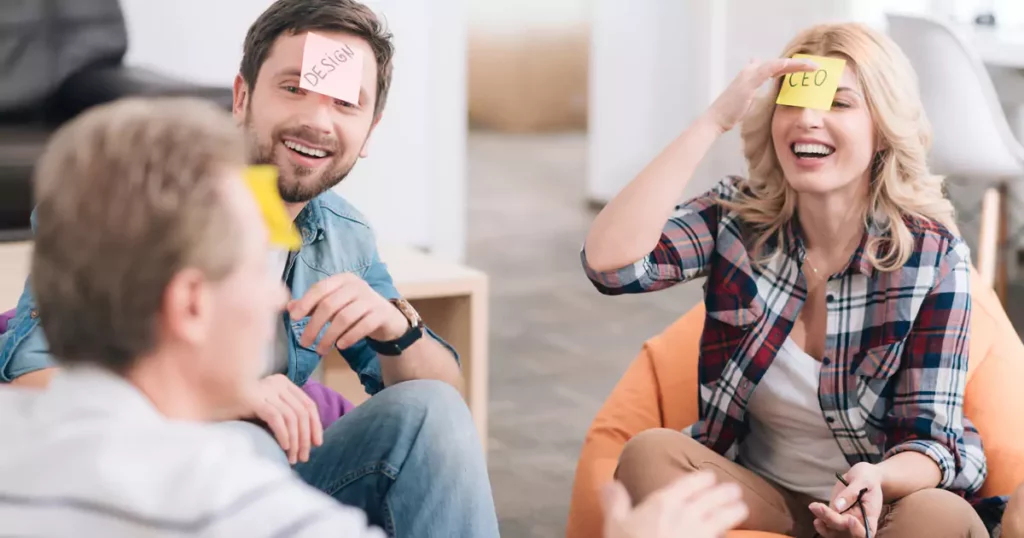 20. Airband Battle
You've heard of Battle of the Bands, but have you heard of Battle of the Airbands? For this competition and event, you will only need to bring your phone and a speaker. If you are really feeling it, you can build a stage too).
Split into teams of 1-5 people depending on the size of the artist/group and have a competition. No instruments, just people lip-syncing and playing air instruments.
21. Office Trivia
This is a super easy team building activity. For this corporate team building activity, all you need to do is make questions with correlating answers before it starts.
This activity can be done within a day or over a long period. Split employees into teams and create a head-to-head style of competition. Longer competitions can be 1v1 style in a bracket format while shorter competitions can be several people on a team in a few games.
22. Marshmallow Challenge
Think you have great engineering abilities and skills? Give this fun team building activity a try. For this activity, you will need uncooked spaghetti, a spool of string, duct tape, and a bag of marshmallows.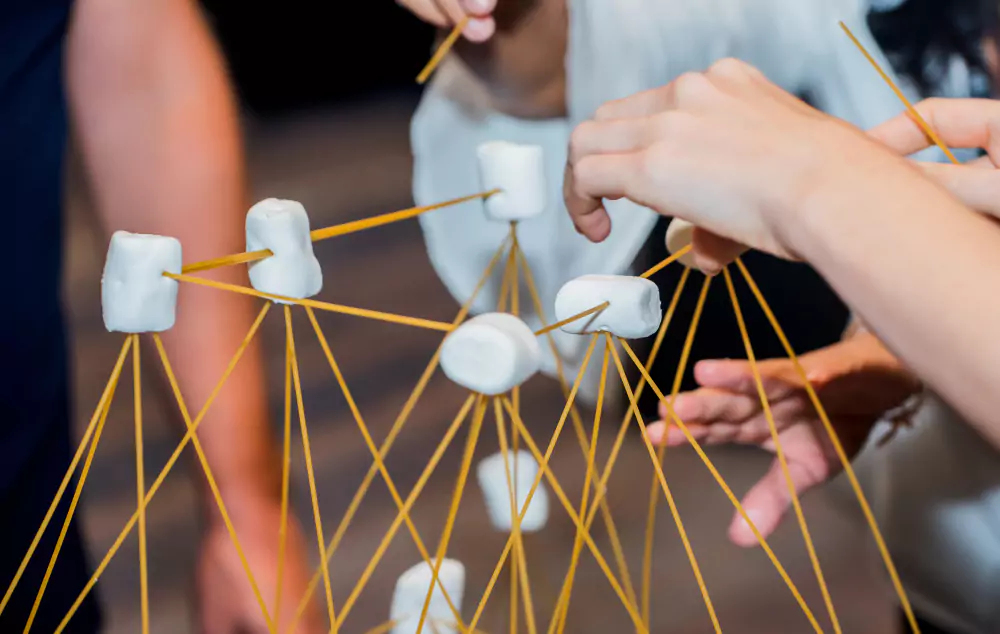 The instructions are simple. Create the sturdiest bridge or tower that can hold the weight of a marshmallow. For the bridge, create a distance between two tables and let teams build the best bridge they can in a certain amount of time.
Once the time runs out, put several marshmallows on their bridges. The bridge that can hold the most marshmallows is the winner.
For the tower option, have teams build their towers in a certain time window. Once the window is up, have them balance a marshmallow on the top of the tower.
If the tower survives the marshmallow, give it the earthquake test (start light and give more and more shakes). The one that endures the most is the winner.
23. Duo Game
There are several amazing duos in the world. Peanut butter and jelly, ketchup and mustard, the list goes on and on. For this exercise prepare tape, pens, and small pieces of paper for each employee.
Have each participant write corresponding duos onto two pieces of paper. Example: Salt on one, pepper on the other. Tape the duos on different people's backs and have them try to guess their words. Once they have their own word, then they can go and try to find their duo.
24. Create A Masterpiece
Painting in the office can be a fun and relaxing event for everyone who takes part. It can allow people to mingle and learn about each other. All you will need is paint, paintbrushes, canvases, and a TV/laptop.
Go onto YouTube and search for "Bob Ross painting tutorial" or bring in a picture for everyone to replicate. The idea is to have everyone participating make the best painting they can. This is not a competition and is more of a relaxing way for employees to grow closer together.
25. Scavenger Hunt
You don't have to wait for Easter to find hidden gifts. All you need to prepare for this exercise is whatever you want to hide. Could be a tennis ball, could be a plastic egg, could be a deflated balloon, there is no wrong answer.
Hide certain items around the office and give correlating prizes to those who find the items. This could be an event that takes place during one day or could be a long-term activity depending on the size of the hidden items and office.
What To See On Your Team Building Trip To Orlando
If your team has come to Orlando for business, perhaps for a convention or a conference, take time off to spend time together and enjoy everything that Orlando has to offer!
Being in a new environment away from the pressures of work allows your team to get to know each other better. It's been shown that people who know each other well work better together.
As your team members spend a fun time exploring Orlando as a group, they are actively solidifying the team's strength!
Go To One Of The Theme Parks
There is no way to get around mentioning Orlando's theme parks. They are popular for a reason – – because they are an absolute blast to go to! They do also have some adult-only elements such as fine dining and veneers that serve alcoholic beverages.
Visit The Kennedy Space Center
Located down in Cape Canaveral, less than one hour from Orlando, the Kennedy Space Center is not just a place to explore anything and everything related to outer space-related, but it is also an active rocket launch zone!
Here your team can see rockets and space shuttles. They'll learn about astronomy and astronaut training and enjoy interactive exhibits and simulators.
What will become apparent at the Kennedy Space Center is that the amazing human achievements here took a team of people working collaboratively.
Relax At Wekiva Springs
Located just a few minutes from downtown Orlando, Wekiva Springs State Park is one of the best places to swim in a crystal clear spring. You can swim, canoe, or relax on the shoreline. Besides the beautiful water, there are miles of hiking trails. There is something for everyone on the team!
Go Hiking At Shingle Creek Nature Preserve
Ticked away in southwest Orlando is the Shingle Creek Nature Preserve. Though it's a short trail that runs along a creek, you will see plenty of wildlife such as otters, alligators, woodpeckers, blue herons, and more. A visit here is a great way to get away from the artificiality of the theme parks and out of the city.
Swim With Manatees
There are several ways to interact with the "gentle giants", most of which require that you take a tour. Most manatee tours include transport from Orlando, and then a guided boat ride where you will spot manatees and with some tour companies have the chance to swim with them!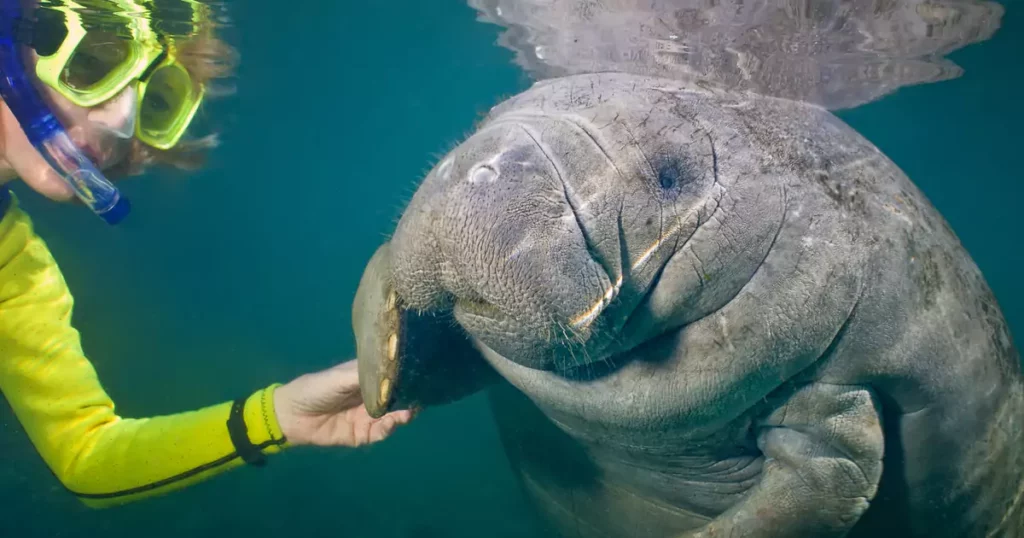 Take An Airboat To Explore The Everglades
A visit to the Florida Everglades in an airboat gives you a chance to see some amazing wildlife up close. You'll see Florida's diverse wildlife including plenty of alligators, birds, turtles, and more. Here are some airboat tour companies to check out.
Orlando Museum of Art
When you have had your fill of theme parks and nature, head to the Orlando Museum of Art for a dose of culture. They have a well-rounded collection of works ranging from American Art that includes works of art from the Colonial period to the 1960s.
There is also a collection of objects from across the African continent as well as Ancient Americas. Their contemporary art collection is impressive and their visiting exhibitions are always intriguing.
Team Building Benefits
When you have team building events, there is guaranteed to be increased communication efforts and skills. When working together in a new setting, people will communicate with each other in new ways. This new relaxed environment encourages people to work with each other on certain tasks at hand.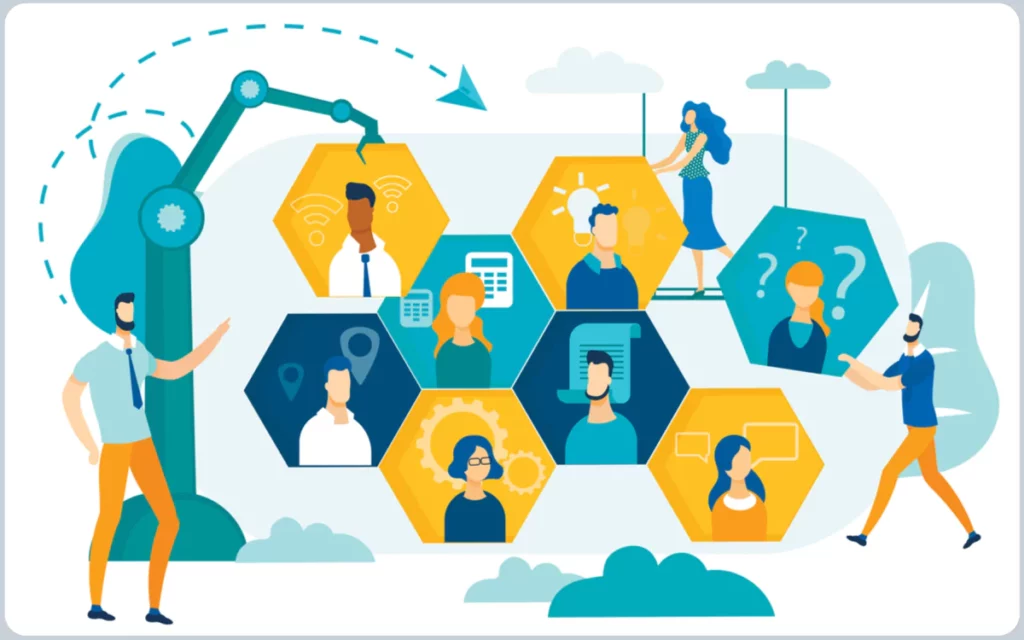 By communicating with each other in new and fun ways, productivity can be increased. Improved communication has been proven to lead directly to improved productivity. There will be far less confusion and duplication while employees are working together.
Team building events draw out emerging leaders. There are several activities that will need someone to take the initiative. By creating an open space for everyone to be themselves, natural leaders will be easy to spot.
You will be able to see everyone's true work style. In an office setting, everyone is required to work towards a common corporate goal. But once they are taken out of that setting, they can work as freely as they like. This will allow managers and directors to see what each employee is truly like.
Read more about the numerous team building benefits and how you can develop your team to a new level of excellence with team building activities.
How To Plan The Perfect Team Building Activity
Team building can be a hard activity to start. Once the ball gets rolling, however, you will keep the momentum going.
Orlando offers great team building events. Whether you are staying in the office or traveling to a venue, Orlando has you covered. No matter where the event will take place, you need to cover all your bases and take several steps.
Create A Planning Team
To create the best event possible, it is a good idea to create a planning team or committee. This group will be responsible for all things team building events. Having one person create an entire event can be extremely draining and impractical.
With a team, the event will be planned efficiently. Everyone will have set tasks that will help reach the overall goal. With more people helping, comes more opinions and communication which will help with all facets of the event.
Finding the right people is easy. Simply ask coworkers over email or in person if they would be willing to help you create a team building activity.
If this seems like a lot of work, reach out to the crew at Team Building Hub who can organize your team building event in Orlando, from start to finish!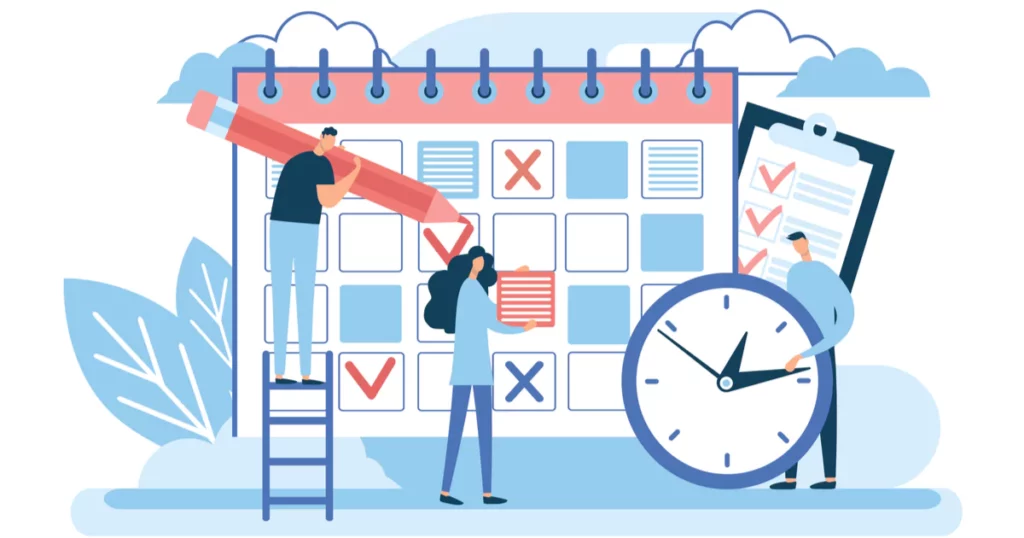 Secure A Date
If you want to have a good team building event with lots of participants, you need to get it on everyone's calendar soon. Without a date or time in mind, the event will likely fail. The more time you have to prepare, the easier the planning will be.
It is wise to allow for a longer period for planning when you are expecting a group of 100+. With smaller groups, you won't need nearly as much time to plan.
Once you have selected a date and time, you can start moving forward with the team building activity.
Define A Goal
What are you trying to achieve with the activity? Are you looking to have participants collaborate? Is this an event for people to meet each other? You will need to create a comprehensive goal.
The classic "W" questions can help you create a goal for your event. Answer Who? What? When? Where? and Why?
The answers to those questions will create a clear objective and goal for the team building activity.
Make A Budget
Without a budget, the event has the potential to be a disaster. If you are unsure about budgeting for the event you can ask your boss or executives for advice.
The budget needs to be very realistic and not blown out of proportion. Make sure to leave room for unexpected expenses that could arise around any turn.
In your budget map out venue expenses, travel expenses, food, drinks, parking, and insurance if there needs to be any. Having all these expenses accounted for will allow for the best experience possible.
Determine Who Is Invited
A company-wide team building activity can be challenging to organize depending on size. Moreover, making a guest list can be difficult and you might make certain groups feel excluded. Take care to consider who must be in attendance, who might like to be included, and if the activity will work with groups of different sizes.
When creating the list, include employees who work together regularly. This allows for the best communication and workflow opportunities. Additionally, getting your team members out of the office and into a fun, no-pressure setting will allow them to get to know each other even better.
Select A Venue
Selecting the venue will require you to factor in several variables. You need to answer the following questions:
Are you looking for indoors or outdoors? How many people can the venue hold? Are you looking to be active or relaxed?
Do I need a lot of special equipment? What is the weather going to look like?
Create a Checklist
Above all else, use a checklist on the day of the event. Make sure to check off items such as transportation and parking, waivers if you need them, food and drink options, accommodations if you need any, and everything else that you have planned so far.
You will need to make sure that everything is accounted for, otherwise, the event might not turn out as well as you hoped.
Enjoy Your Team Building In Orlando
After planning everything, enjoy the activity! You have been working hard on this task and you need to enjoy yourself.
Create a day-of-event agenda to make sure that everyone and everything is going according to plan. Check everything off the list as the day goes on and have a good time!
Corporate team building activities are meant to be fun. They are a great way to get to know people, laugh, and break the ice with everyone who is there.
Start Planning Your Team Building Event Today
Team building can be a great way to create trust and strong bonds between employees, both of which are essential elements of a high-functioning team.
Activities and group outings offer opportunities for team members to work on their communication skills and ability to collaborate effectively.
Moreover, they are a fun and engaging way for your team members to get to know each other better, which will increase camaraderie and boost morale!
Get started today on planning your team building event in Orlando!