The phrase team building is often associated with predictable exercises that take place at work. But the concept of team building is ever-evolving and is no longer confined to the office! Team building can take place anywhere and Washington DC has plenty to offer!
Fun group outings in DC will let team members get to know each other without the hovering pressures of work. Your employees will see each other as people with lives and interests beyond work and not just another person at a desk. New work friendships can develop, and according to Forbes, these relationships are key to team camaraderie which leads to greater team effectiveness. The many other benefits of team building include increased collaboration, improved communication, stronger problem-solving, and enhanced creative thinking.
Below we list 22 awesome, and somewhat unconventional, activities and team outings for team building in Washington DC!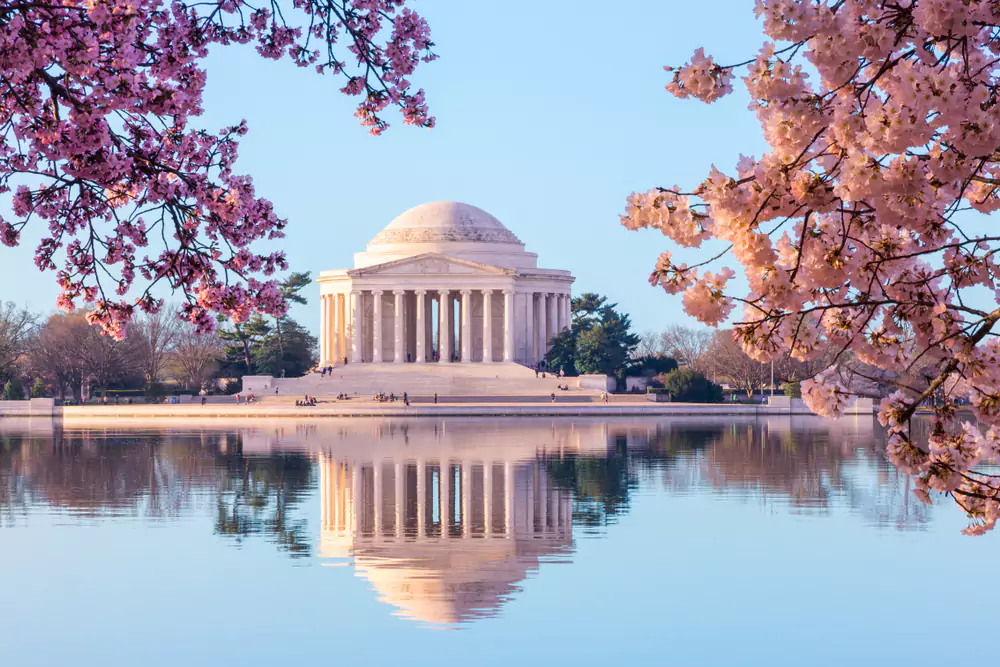 Table Of Contents
22 Great Activities For Team Building in Washington DC
1. The Escape Game
The Escape Game DC offers exciting, immersive escape rooms that put your team's abilities into play. In one of several race-the-clock scenarios, your team's problem-solving skills will be tested to the max. Collaboration and clear communication are essential to winning!
Whether they are 'trapped' in a 1950s prison cell with just 60 minutes to break out or are heading to the depths of the ocean to stop a crazed scientist from conducting dangerous experiments, your team must work together to succeed!
The Escape Game DC has two locations, one in Georgetown and one Downtown. Since they're open all day, you can schedule this team building activity during work hours. Escape rooms allow for smaller groups (between six and twelve players). If our group is larger, contact The Escape Game DC so they can work with you to arrange for your whole group to come along for the fun. For remote and hybrid companies, or those who want to play from the office, try a virtual escape room!
2. Plan An Event With Team Building Hub
Team Building Hub has expertise in creating customized team building events for big and small groups. They provide everything you need to have a great team building event. If you are looking for a fun and engaging way to bring your team together, Team Building Hub can do this for you!
Working with Team Building Hub is a breeze. Here's how it works. The first step is to reach out to their team. After you complete a simple form on their website, you will hear back from an expert event planner the next day.
You don't have to know the specifics of your group size and what kind of experience you are looking for before you contact Team Building Hub. When you speak with your dedicated planner, they will go over the choice of activities with you. You can choose from in-person events or virtual events.
Once you've decided what event arrangement works best for your group, your planner takes over setting up the logistics. Every step of the way someone from Team Building Hub will be there to help you run a seamless event planned so well that you will be able to be part of the fun instead of running the show behind the scenes.
Team Building Hub will deliver an epic event for you and your team that won't soon be forgotten. Get started with your team building in Washington DC today!
3. Play A Virtual Game Show
For teams who thrive on some friendly competition, play an online game show! These live-hosted virtual games get your team to split into smaller teams who then work together to answer riddles, solve brain teasers, and crack codes. This is a great activity to incorporate into a virtual meeting or company celebration. You can also play a special Holiday Edition game show during your office holiday party!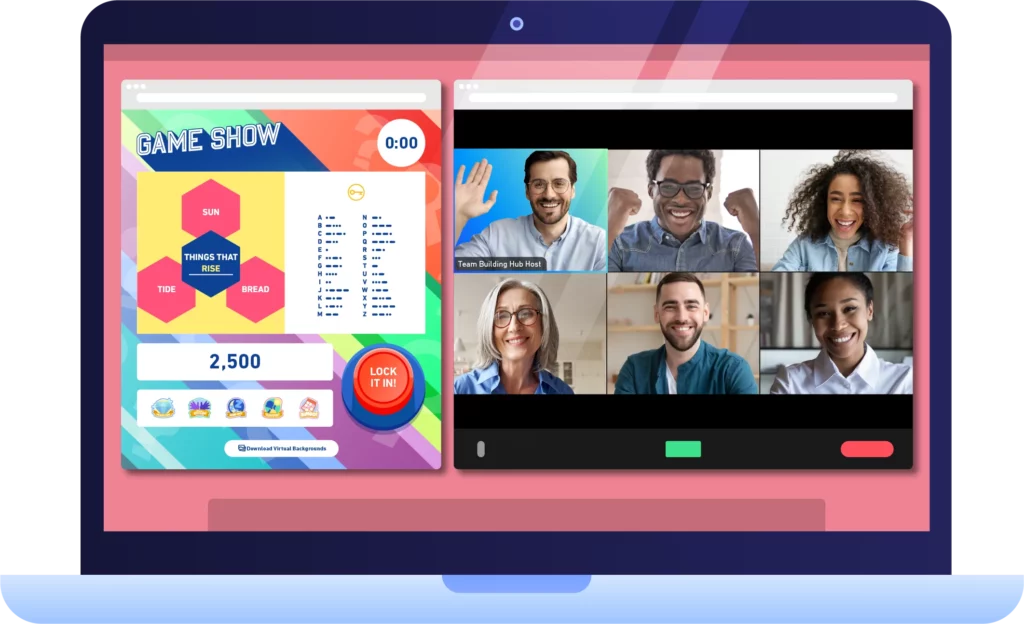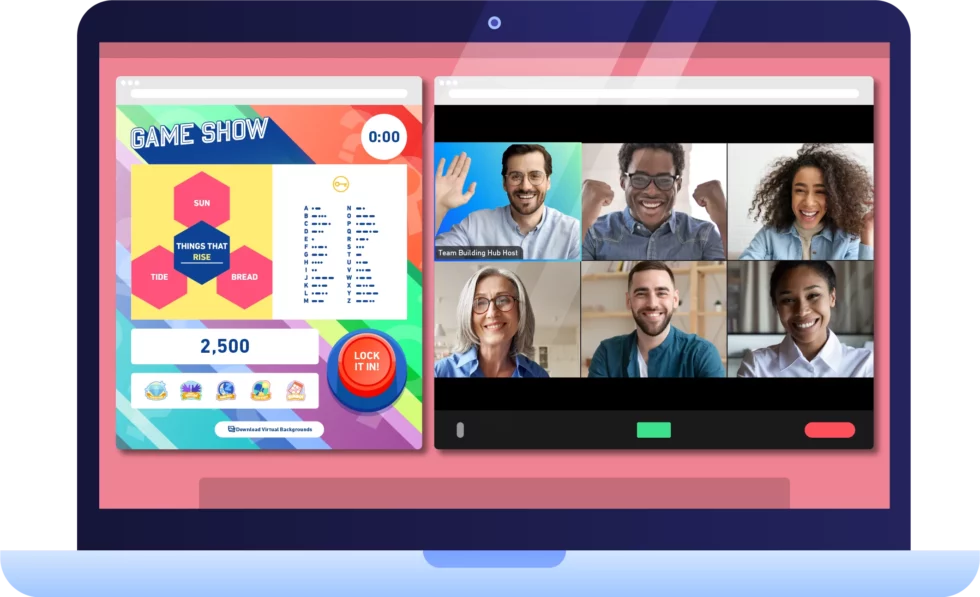 These virtual games offer a lot of flexibility. From 10 to 150 players can participate so that activity is awesome for groups big and small. If remote team members are working in different time zones, you can schedule your online game show for a time when all your employees can join in!
Team Building Hub's Online Game Show has a unique interface that allows players to see each other at the same time as the game challenges and the leaderboard. This design helps team members feel as if they are in the same space playing the game in person. After several rounds of Team Building Hub's online game show, your team's problem-solving skills and creative thinking will be flying high! They are guaranteed to have a great time playing.
If you want to learn more, try out a 30-minute live demo of the game and also ask questions about logistics.
4. Do Good Deeds In DC
Studies show that volunteering can reduce stress. Studies also show that pets like cats and dogs can boost people's moods and lend a sense of calm. All the more reason to volunteer as a team with the Humane Rescue Alliance's Partners for Pets Program!
This program is designed specifically for employees of companies and organizations.
The Humane Rescue Alliance understands what it takes to make a great team. They believe that when employees give back to the community they become more engaged and productive. They're also happier in general.
When your team volunteers to make a meaningful difference to the animals of DC, they'll feel good about themselves.
Imagine how much a stress-free, happy team could accomplish!
5. Solve A Virtual Mystery
Online mystery games engage your team members by placing them in the role of detective and tasking them to solve a crime before it's too late!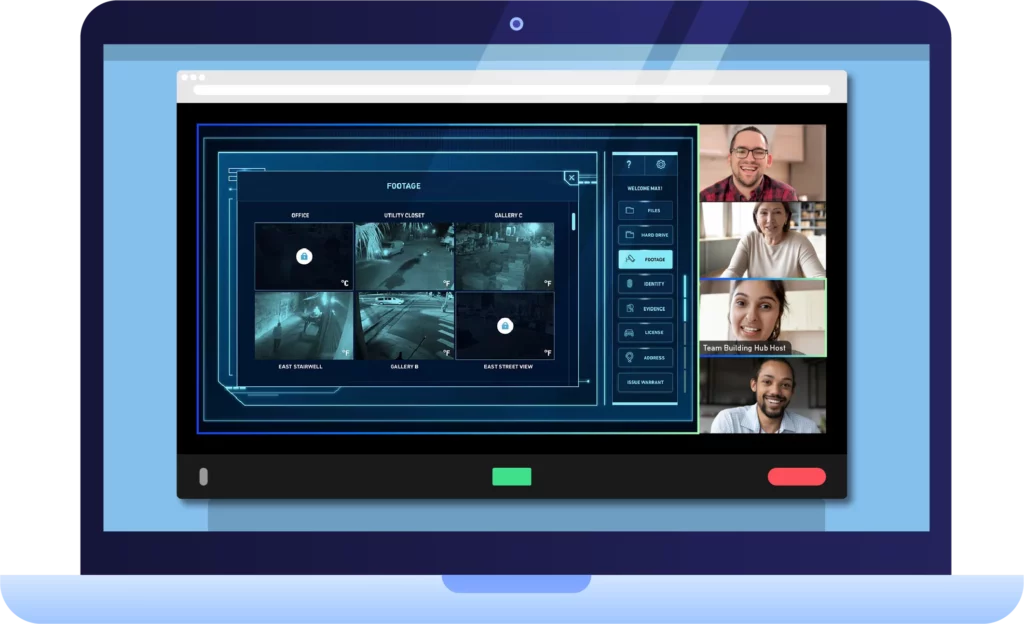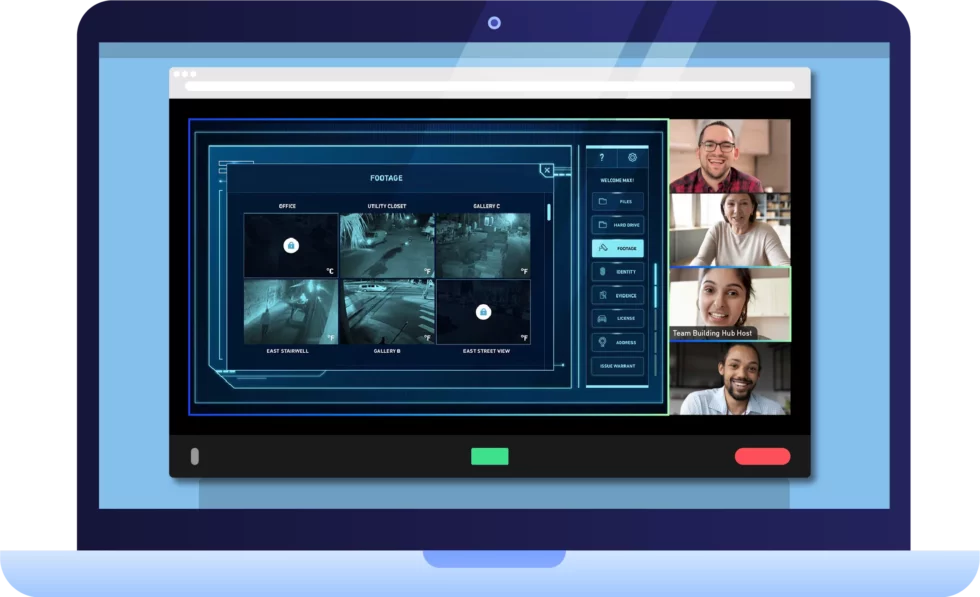 From a virtual dashboard on their computers, teams will examine a digital dossier containing surveillance footage, psych reports, and other evidence. The team that solves the mystery the fastest wins the game! Have some prizes like gift cards on hand. This will motivate teams to sink their teeth into the game.
These games allow your team to practice the important skills of collaboration, problem-solving, and communication. But an online mystery game is much more than training. It's a ton of fun!
There are three mysteries to choose from:
The Art Thief: Chasing Hahn has your team tracking down the notorious art thief Vincent Hahn. Piecing together clues, your team must come up with enough evidence to put Hahn behind bars! evidence. Bring him to justice before time runs out!
The Art Thief: The Silk Road: Vincent Hahn is back to his thievery again. Once again your team must follow a breadcrumb trail of clues and evidence to stop him from depriving the world of another art mater[piece!
Rogue Scientist 1990: You and your team must put together a solid case of evidence to stop a scientist gone rogue before his nefarious experiments go too far!
Unraveling one of these capers will finetune your team's problem-solving power! They will be unstoppable when seeking a solution to any work-related problem!
6. Teamwork In The Trees
Terrapin Adventures, just outside of Washington DC, has a wonderful team building program that includes group games, obstacle courses, and aerial challenges. Terrapin Adventures are specialists in creating customized programs to strengthen teamwork and help groups reach short-term and long-term goals.
The staff formulates games and activities based on what your group seeks to accomplish. Some teams need to work on to help with communication techniques and collaboration skills. Other teams need their members to have more confidence so they won't hold back ideas that would help the team.
As individual team members challenge themselves to attempt new feats, whether it's completing the high ropes course or riding down a zipline, the rest of the team will be there to cheer them on. Back at the office, that spirit of support for each other won't be forgotten!
7. Learn Improv For Business
DC Improv knows a thing or two about team building through improv! Their two-hour workshop is built upon the notion that the principles of improv can be translated into methods of managing team challenges.
Their trained instructors understand that learning improv can promote trust among team members, demonstrate the power of collaboration, and improve communication. Your team will develop "in-the-moment" thinking and stretch their creative muscles.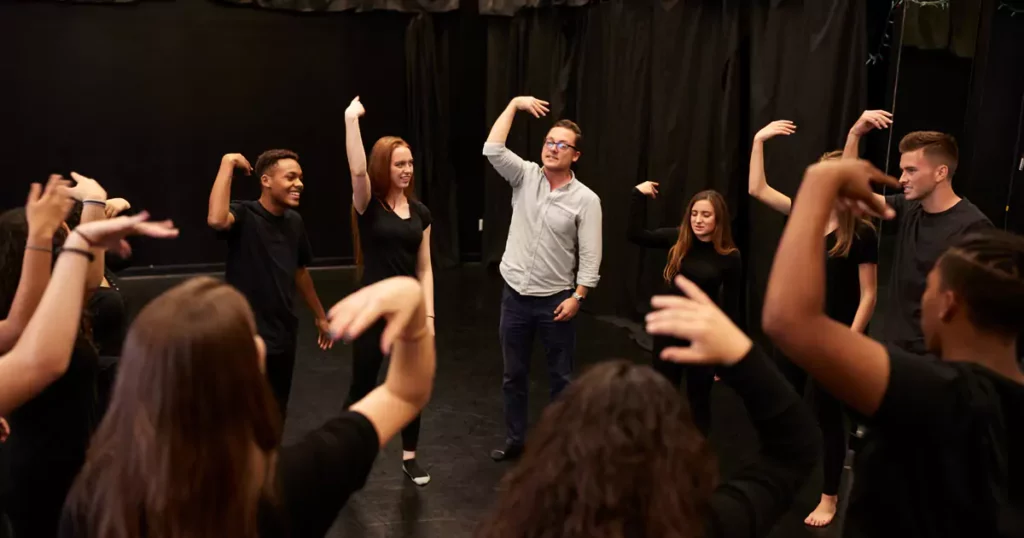 Through experiential learning, DC Improv teaches your team in a way that is playful, not boring. A team building session at DC Improv is one of the best ways in Washington DC to help your team grow through laughter and not lectures.
8. See A Comedy Show
If your team would rather see some comedy than create some, DC Improv is one of the very best comedy clubs in town. Going to a comedy show is a great way for your team to unwind and spend some fun time together.
If you have new team members coming on board, a comedy show is an excellent way to help them get to know the team. As there will be performers most of the time, there won't be any awkward pauses throughout the evening. Instead, your team members can have brief chats in between sets. This reduces pressure on the new kid in town!
9. Mix It Up With A Cooking Class
Mangia DC private cooking classes held in various beautiful venues across Washington DC make for a tasty team building activity. It may surprise you to learn that a group cooking class is a fantastic way to develop team skills.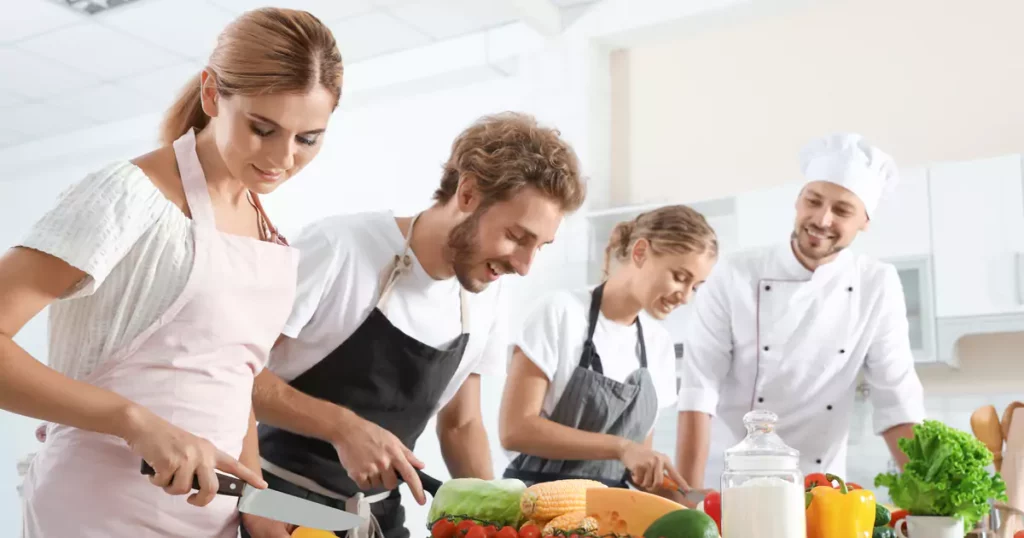 Private cooking classes can build individual confidence in team members who have no experience at all. Your team members support each other as they each learn simultaneously. The environment is non-competitive. The group goal is to end up with delicious food.
As a professional chef teaches your team to prepare a dish, your team members can practice their active listening skills. The team will collaborate as they ask each other for some help with a technique they may not be getting right the first time.
For remote teams, there are many virtual group cooking classes that can be enjoyed from the comfort of everyone's own kitchen.
Sharing a fun learning experience and then enjoying the fruits of their labor afterward builds team camaraderie as they enjoy dining together on their creations!
10. Form A Sports Team
The same skills you need in the office to be a highly-efficient team are quite similar to the skills relied on by team sports. The best professional teams know how to communicate through non-verbal cues in fast-paced situations. Team athletes are always looking for creative ways to score the next point. No team can win without collaborating — that's a given!
For team members who enjoy some form of sport, encourage them to form a company team. Find a sports league in DC where corporate teams can sign up to play each other. Then provide your company's sports team with financial resources and time for them to get onto a field and show your business competitors who's who!
Be sure to invite everyone to be part of the fun even if they don't want to play. Every great team needs cheering from the sideline!
11. Kayak On The Potomac
Since 1999, Potomac Paddlesports, located a few minutes from Washington DC, has been hosting corporate outings such as kayaking for team building.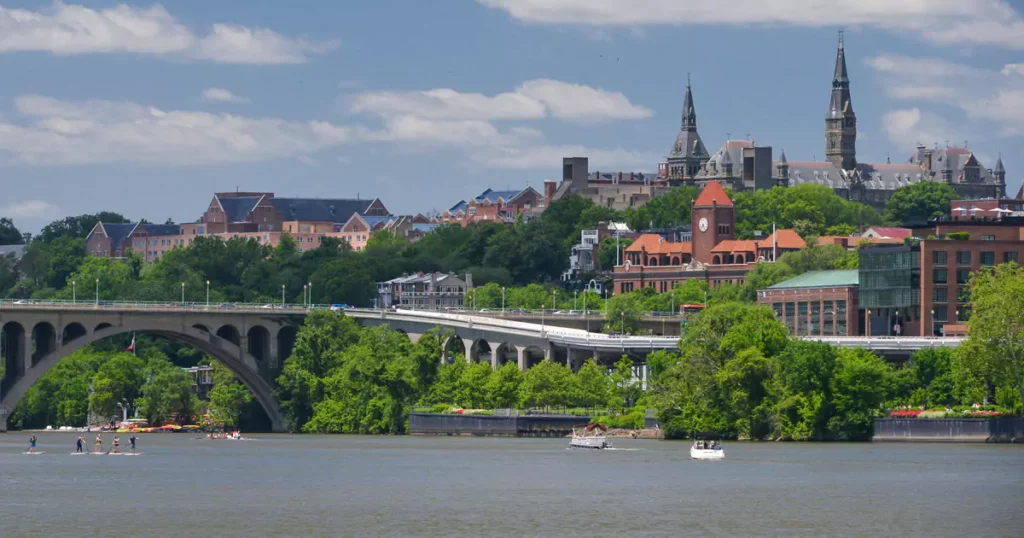 Their 3-hour Beginner C&O Canal Kayak Tour focuses on providing a relaxing time for your team rather than pushing them out of their comfort zone. This tour can accommodate from 10 to 50 people.
It starts with a brief kayak lesson for beginners which is then followed by a leisurely tour along a scenic flat water route teeming with wildlife. For teams ready for a more challenging adventure, you can try their 3-hour Beginner Whitewater Rafting Trip.
If you are welcoming new employees, some of whom may have just moved to DC, try the 3-hour Beginner DC Monument Kayak Tour. This tour can take 20-30 people and offers unparalleled views of the Washington Monument, Lincoln Memorial, the Tidal Basin, and many other significant sights of historical interest.
The goal of any of these tours is for your team together to enjoy themselves. No need to worry if any specific skills are being taught. Fun, recreational outings are important for team building too!
12. Paint And Sip
Your team can satisfy their inner Picasso while sipping on adult beverages and nibbling on snack food at the Muse Paintbar.
Paint And Sip team building painting events are a casual way for your group to mingle while expressing themselves in a new way. Group painting also encourages creative thinking.
Also, the easygoing nature of painting can relieve stress which is important if you want your employees to avoid burnout.
At a very reasonable price, your team can take a private painting session with a patient and helpful instructor. The price included all art supplies needed.
Paint and Sip donate 5% of their profits to local charities. Yet another reason your team members can feel good about the time spent with a paintbrush instead of a pen at work!
13. Play With Clay
The District Clay Center in Arlington, just outside of Washington DC offers two team building events, each focusing on different but valuable team skills. Both events come with an optional specially-focused Team Building Discussion Guide that participants can use.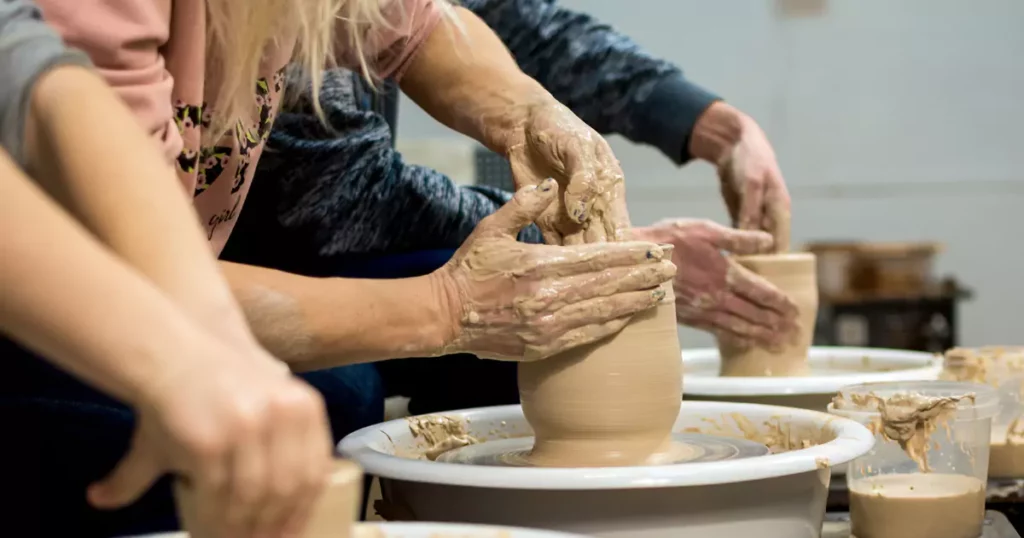 The Corporate Wheel event lets team members work on the lottery wheel which can be challenging but also rewarding. Hand-to-eye coordination and careful hand placement are needed so the ability to focus and concentrate is practiced.
This course also exposes team members to the notion of facing an imperfect result. Team members who are so hard on themselves that they are self-sabotaging at work can interrupt a smooth team flow. Working on a clay wheel can be frustrating and doesn't always yield a perfect result.
The Handbuilding event sets individual team members off on their own creative adventures. Each person will start with nothing but a slab of hard clay, but by the end of the session, they will have created a beautiful painted ceramic bowl.
This event is intended to encourage individuals to be inventive with design choices and colors.
They will also learn to work creatively within a group and gain an appreciation of each team member's unique approach to creating something new.
14. Do A Scavenger Hunt
There's so much to see in Washington DC, so a scavenger hunt is a perfect way to combine seeing the sights and team building! Watson's Adventures citywide scavenger hunt, takes participants on a trek throughout DC, from famous monuments to malls.
Their scavenger hunts will have your team walking, riding the Metro, and even stepping foot into a limo to find the clues that will lead them to the treasure!
If you don't have a budget, you can easily create your own scavenger hunt. Take a look at GooseChase. They offer a free scavenger hunt creator for teams of 15 players or less.
If your team is hybrid or remote, try one of these virtual scavenger hunts so everyone is in on the action!
A unique team building scavenger hunt found only in Washington DC is offered by the International Spy Museum. You won't find such a high-quality spy museum anywhere else in the U.S.
This hunt challenges teams to answer 20 questions in 90-minutes. They'll have to race through the elaborate spy exhibits to complete their quest. Once a team completes their hunt, they will be scored not just on the accuracy of their answers but also on their speed in completing the task.
Just like the talents used by spies, your team will need to use their sharpest problem-solving skills and innovation to find the answers. Though spies may not collaborate overtly, no single spy can gather all the intel they need. Your team will learn that their missions at work need everyone's inner secret agent to participate.
15. See DC By Segway or Bike
At first, it may feel a bit silly riding around town on a segway, But when you do this as a team does this together, you can experience that feeling together. Group silliness is a wonderful bonding tool!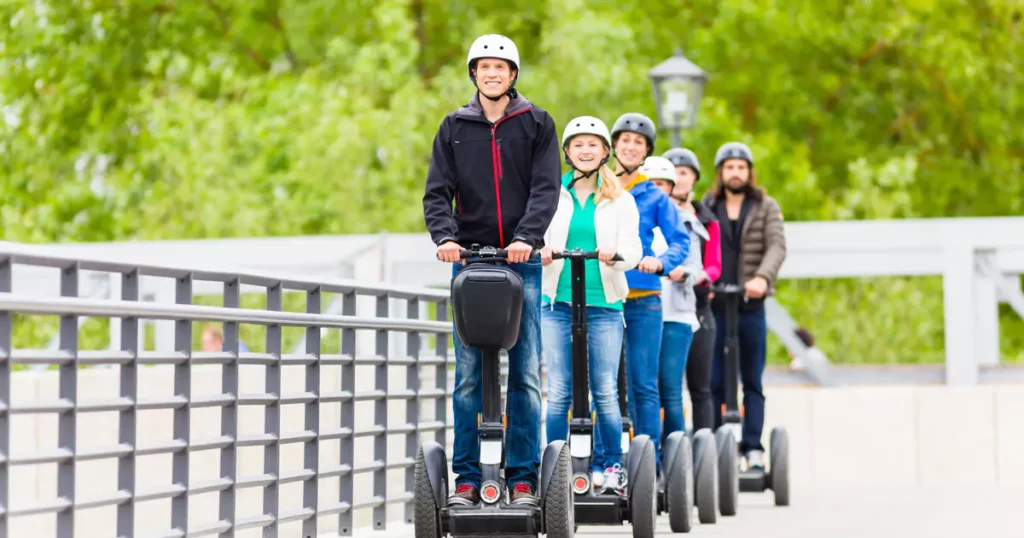 Capital Segway Tours can accommodate small or large groups and customize the tour to suit your team's goals.
While segway tours are fun and easy as your team gliding effortlessly on two wheels, they do not offer your team the health benefits that come with a leisurely bike ride. Exercise even in short amounts can keep your team members feeling fit and stress-free. A bike tour is a nice way to get the team out of the office to spend pressure-free time together.
These two companies, Bike and Roll DC and Fat Tire Bike Rentals can work with your group to customize your DC bike tour.
As a side note, if you feel that asking your employees to engage in even mildly active team building outings, don't make the team outing mandatory. However, an employee's physical wellness should be of some concern to you.
When your employees are healthy your company can save on health care costs. Also, the more sick days employees take, the lower your team's output will be.
For employees who prefer not to join in on any physically active team building activities, consider introducing an employee wellness program so individuals can choose aspects of their health to work on.
16. Take A Walking Tour
For a less demanding physical activity, take your team on a walking tour. Private Washington DC Tours with Free Tours By Foot are a very affordable, and very fun way to get your team out of the office to see parts of the city they may not have been to previously.
Their guides are personable and entertaining. They know how to keep a group engaged and laughing while teaching them some little-known history of different neighborhoods of DC.
In addition to neighborhood walking tours, this company offers uniquely themed tours:
True Crime & Ghosts
Justice Walk & Civil Rights Tours
Women's History
Iconic DC & Must See
Your team will get to know the city as well as each other better!
17. Relax On The Grass
Take time out of the work day to let your team spend some relaxing time in a DC park or nature preserve. This is an easy way to show your employees that value the hard work they put in and that they deserve some time off to chill together.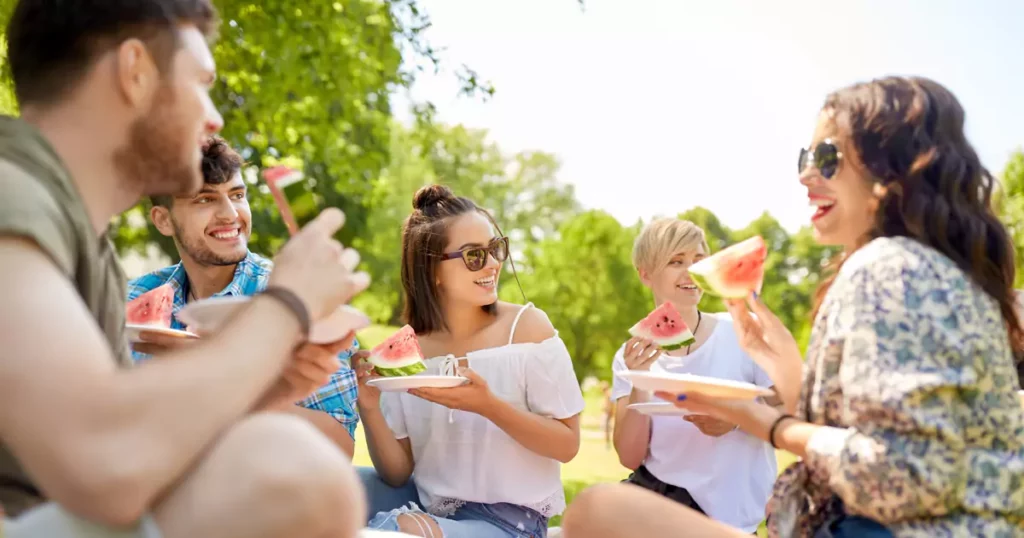 The DC area has many great green spaces that are accessible by the Metro. Rock Creek Park has 32 miles of urban hiking and biking trails. It's a beautiful park with a rock-filled creek, picnic areas, and a nature center to visit.
Huntley Meadows Park in Alexandria, Virginia has a mile-long boardwalk through a lovely wetland. There are also more than 10 miles of accessible trails. Anacostia Park has lots of wide-open green spaces to sit and picnic. There is also roller skating and boating available.
An afternoon in a park is also an opportune time to invite family and friends along.
18. Go To A Sporting Event
Bring your team to see a sports team for a fun group activity. They'll see teamwork in action! Washington DC has plenty of sports teams to choose from.
Consider inviting your team's family and friends to whatever sporting event you go to. Your team members have lives beyond work that involve people near and dear to them.
Spending time with family is essential for an employee's work-life balance. When friends and family join a group outing, team members gain insight into the teams behind the scenes!
19. Have A One-Of-A-Kind Virtual Experience
From the comfort of the office (or home for remote workers), your team members can engage in unique experiences offered through Airbnb Virtual Experiences. These experiences are extremely affordable and convenient. The variety of options is enormous. You can find something for everyone.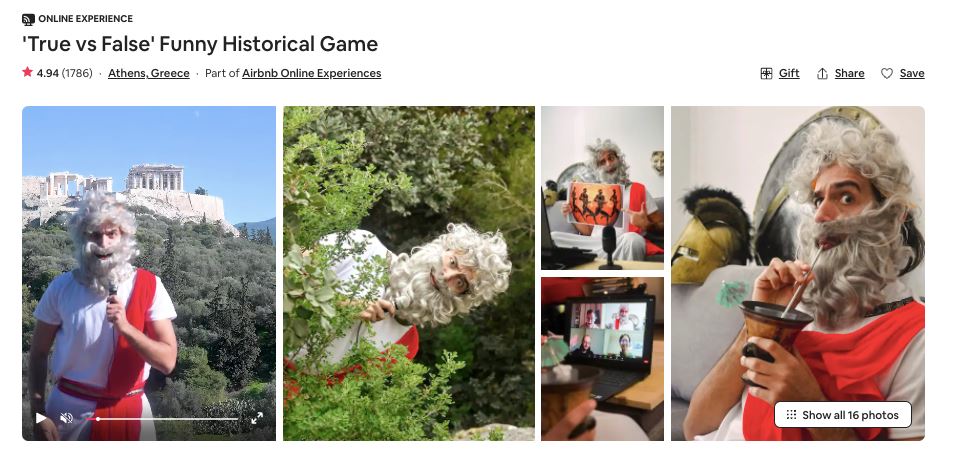 One of the most highly rated virtual experiences is this 'True vs False' Funny Historical Game. If this game isn't right for your group, there are plenty more to choose from! Take a look at these other Airbnb virtual experiences.
20. Team Build In Paris
Head to Paris for your team building activity without leaving Washington DC!
Woyago offers live-hosted virtual events that can accommodate between 10 to 300+ people. Their hosts are located in Paris and will get things going first with some wacky ice breaker questions. Then your team will introduce them to some hilarious French vocabulary and then finish up with some Parisian trivia!
This team building activity is great for in person, remote and hybrid teams. If your team gets the travel bug, take a virtual trip to India or a virtual walking tour of Rome!
21. Visit A Winery
A visit to a local winery gives your team a chance to interact in a casual environment while they learn about wine culture. Take a look at these team building activities in Washington DC's District Winery.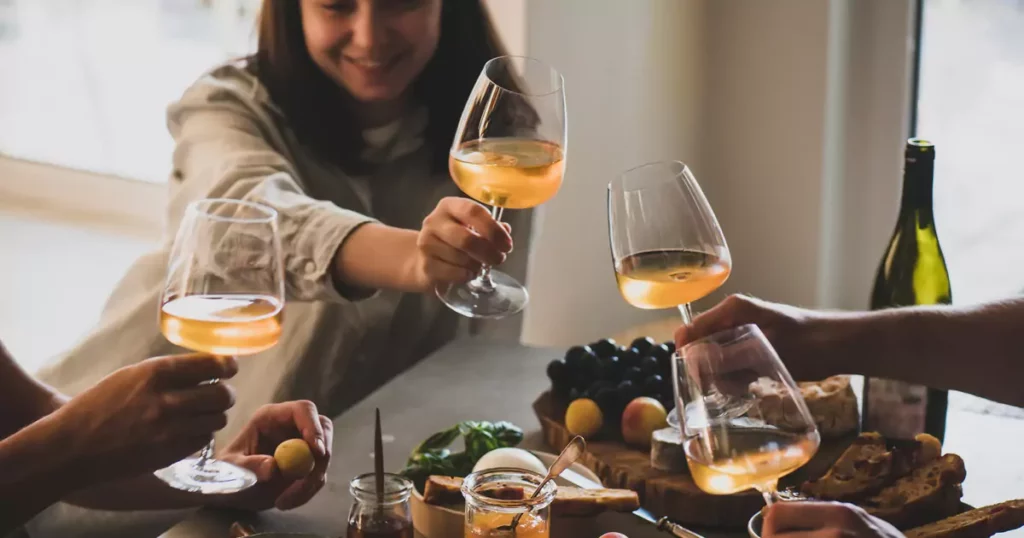 Wine Games
District Winery offers a fun wine game session that combines trivia, blind wine tasting, and even a wine bottle label-making contest! These games bring out your team's collaborative abilities as well as offer some healthy competition!
Trivia in particular is a wonderful team building activity! Playing trivia allows team members to improve skills like collaboration and decision-making as they work together to find the right answers. Trivia games also allow team members to learn about each other's interests.
Studies show that playing trivia causes our bodies to produce more dopamine, the "happy hormone". Playing trivia while sipping wine is an especially good way to ensure your team will have an awesome time during your winery visit.
Wine Blending Session
In a wine blending session, a winery professional shows your team how to use established flavors to create new variations of wine, just like wineries do themselves!
When you wine blend with a team, you learn how each team member approaches creating a new product. Team wine blending reveals your team's willingness to get creative and think outside of the box. You also learn what kinds of wines they like, so when you plan that next office party you will have an idea of what to purchase!
Wine + Cheese Walkabout
In this activity, your team explores the facility while the winery staff teaches them how to pair wine and cheese. This activity focuses on learning something new and provides insight into the way your group learns.
Listening to the winery experts explain what makes a good pairing requires active listening, a very important team building skill. Team members also practice communication skills as they discuss their newly gained knowledge.
Learning how to pair wine and cheese will come in handy when you plan company celebrations and gatherings and are looking for an engaging activity that everyone on the team can partake in.
22. Experience The Joys Of Trivia Games
Studies show that playing trivia games causes a rush of dopamine (the neurotransmitter that sends feelings of joy) to our brain. Get your team together to play some trivia and they'll have so much fun they won't notice they are sharpening their team skills.
Split your group into smaller teams who then compete against each other. Teams that want to win badly enough have to be willing to actively listen to each other as possible answers are tossed about.
Everyone must feel comfortable sharing their ideas or the team may not come up with the right answer so teams learn to create an atmosphere of trust. Teams who do not communicate clearly or are unwilling to collaborate will not succeed in winning.
In the DC metro area, there is an abundance of hosted trivia events at bars and pubs. You can also hire District Trivia for private events.
As an alternative, you can play trivia games in your office at any time. During lunch, or after a meeting. You can make up your own trivia questions or use one of these virtual trivia games to do the work for you. Virtual trivia games are perfect for remote or hybrid teams!
What To See On Your Team Building Trip To Washington DC
If your team is in Washington DC for a convention or other business, take some time off to see the landmarks and cultural attractions of the city. Not every minute of your Washington DC visit has to involve team building!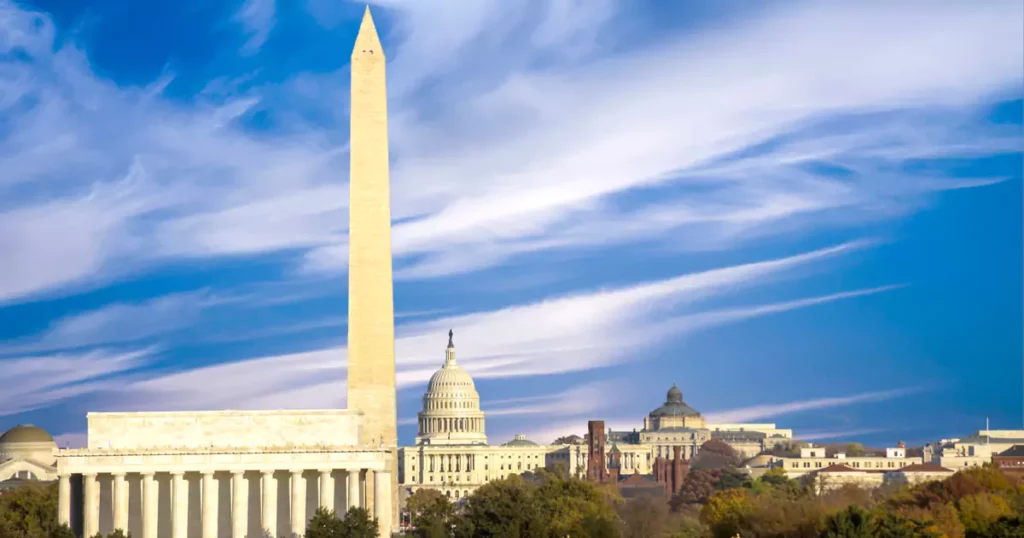 Just sharing the experience of being in a new place allows your team to get to know each other better. This can have a positive impact on your team's functionality because people who know each other well work better together!
Walk The National Mall
Known as "America's Front Yard" the National Mall is visited every year by over 24 million visitors from around the world. The Mall is where some of America's most iconic memorials are located. Also, ten of the Smithsonian Museums are alongside The Mall.
The Mall has been home to protests and inauguration crowds. Most of the time, The Mall is calm and majestic, although there are always people sightseeing there.
The distance between the Lincoln Memorial on one end of The National Mall and the Capitol at the other end is two miles. If you pace yourself well and don't stop to see every memorial and museum along the Mall, you should be able to see the major sights in under a day.
Below are the highlights along The Mall. For a full list of all the memorials and museums along the Mall, see here.
Lincoln Memorial
The Lincoln Memorial, made of marble, was designed to resemble a Greek temple, itself modeled after the Parthenon.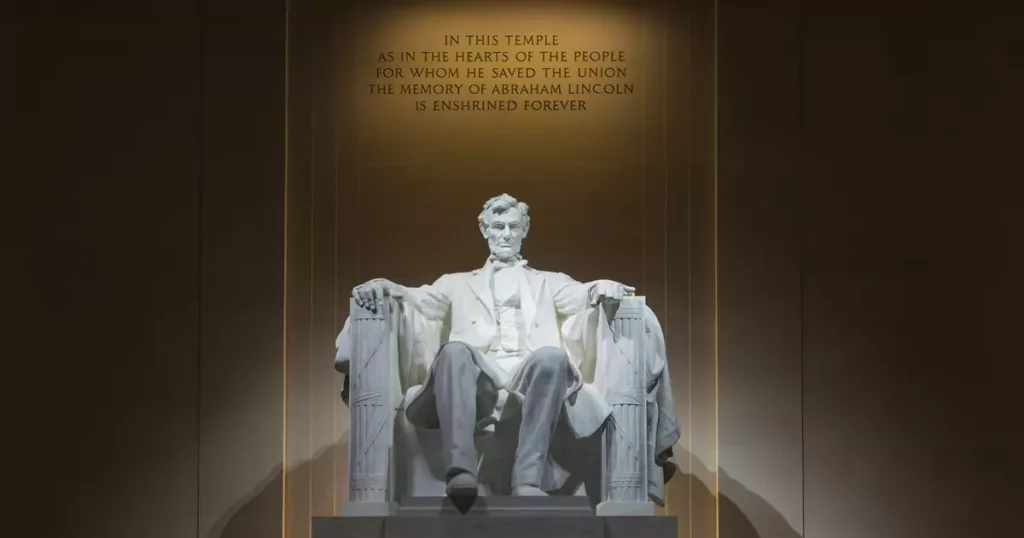 Vietnam Veterans Memorial
Dedicated in 1982, the Vietnam Veterans Memorial Wall includes the names of over 58,000 servicemen and women who gave their lives in service in the Vietnam conflict.
Washington Monument
This obelisk, dedicated to America's first president, is the tallest structure in Washington DC, at a height of 555 feet. It is also the world's tallest obelisk.
The Capitol
At the eastern end of the National Mall is the United States Capitol. Visiting the Capitol requires reservations months in advance, but you and our team should pose for a selfie!
The White House
Arranging a visit to the White House is a long process so unless your team is begging to go inside, opt for a close-up view and a group photo. The best view is from Lafayette Square looking at the North Lawn. You can walk all the way up to the fence, and with your camera placed between the bars, you can get an unobstructed photograph. Have your team gather for a group shot!
Take A Sightseeing Bus Tour
If you would prefer to see more of the city in a shorter amount of time, take a comfortable bus tour. Hop-on, Hop-Off bus tours let you get off the bus at any of the stops along the route and then get back on to move on to the next location you are interested in seeing.
Take a look here for some of the bus companies that run Hop-On, Hop-Off tours.
Visit A Museum
There are dozens of incredible museums in Washington DC. To see them all, your company would have to have a lot of business trips to DC!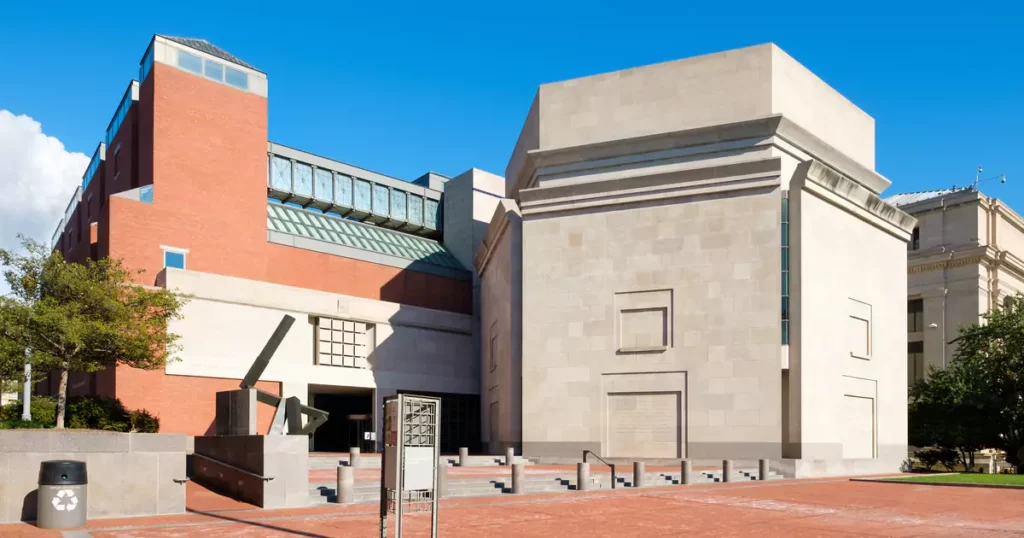 The Smithsonian Museums are free which means that your budget won't take a hit. Consider treating the team to lunch during your team building exploration of Washington DC's museums! Here are those that we think deserve a visit on your first trip to DC.
National Museum of African American History and Culture seeks to educate the public about the depth and diversity of the African American experience and how it contributed to the development of the United States.
National Archives Museum is where you can see the originals of the Declaration of Independence, the Constitution, and the Bill of Rights. Reservations are not necessary but recommended and free.
Hirshhorn Museum and Sculpture Garden is for modern art lovers, visit the Hirshorn. The museum building itself is a sight to behold. It's a massive cylindrical building.
National Air and Space Museum is quite interesting and covers the history of flight and space travel.
United States Holocaust Memorial Museum tells the story of the Holocaust through an enormous number of artifacts, films, photos, and oral histories. This is a very somber museum but a must-see. This museum is not part of the Smithsonian museum cluster, but it is free.
Try A Food Tour
Food tours are a structured (and scrumptious) way for your team members to spend time with one another in DC. These tours are perfect for getting a taste of DC, not just its food but its history and culture!
Neighborhoods that are visited in most food tours are Georgetown, Capitol Hill, Dupont Circle, Adams Morgan, U Street, and more. Some recommendations are DC Metro Food Tours, Mangia Washington DC Neighborhood Food Tours, and Carpe DC Tours.
Explore Georgetown
Georgetown is DC's oldest neighborhood and is filled with Federal-style architecture and cobblestone streets. The entire neighborhood is designated a National Historic Landmark.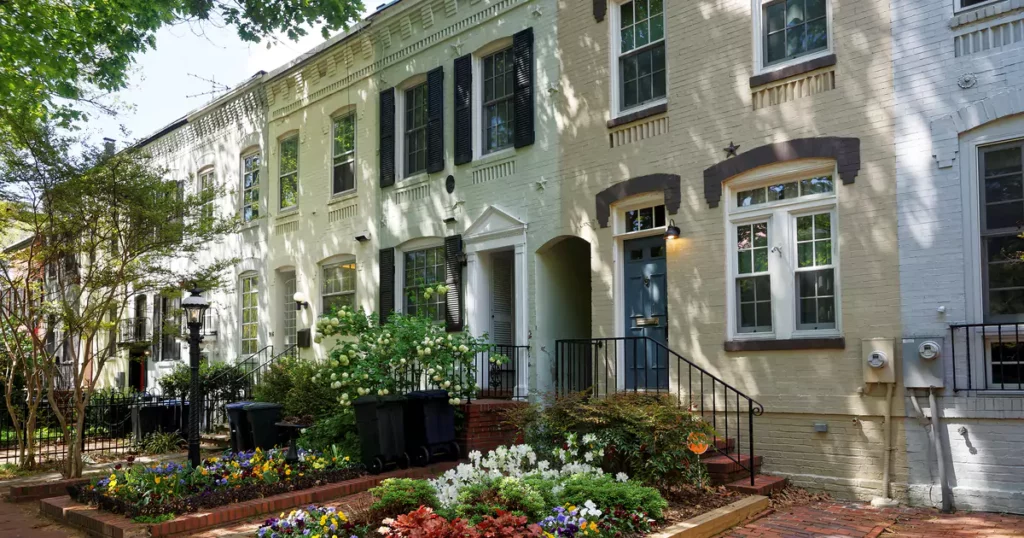 In addition to its many charming residential streets, Georgetown's main avenues are lined with shops, restaurants, and, eys, college bars. After all, Georgetown University is right there!
Georgetown has some outstanding restaurants so why not take the team for a nice meal to let them know that you greatly appreciate all they do for the company!
Start Planning Your Team Building Event Today
Team building can work wonders for teams that are struggling. Whether you are playing games or learning something new, team building allows for employees to get to know each other beyond the work environment.
During fun, yet structured activities and relaxing, recreational outings, you'll discover that team building is a real game-changer!
Get started planning your epic team building event in Washington DC!