Focusing on team building activities can dramatically improve the productivity of your team, as well as your team's engagement, morale, and employee retention! For teams based in Minneapolis, there are plenty of engaging and exciting team building activities to get your team feeling stronger and better connected.
Enhance your team's ability to work efficiently together with the 21 fun activities for team building in Minneapolis listed below. Through laughing, exploring, and unwinding together, your team will return to the office feeling better connected than ever before.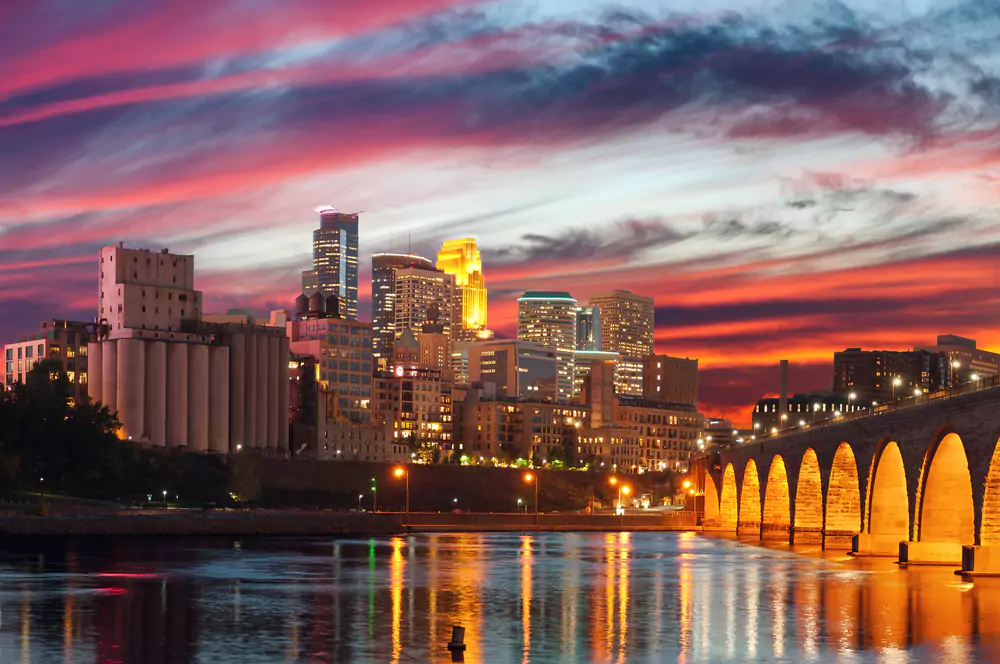 Table Of Contents
22 Team Building Activities in Minneapolis
What To See On Your Team Building Trip To Minneapolis
22 Team Building Activities in Minneapolis
1. Play An Escape Room
Escape rooms are fantastic team building activities. They encourage your team members to communicate with each other, promote a sense of camaraderie within a team, and encourage team members to use their problem-solving skills.
The Escape Game Minneapolis has five themed escape rooms that need to be completed within 60 minutes. Whether your team decides to pull off the ultimate museum heist, break out of prison, combat an international crisis at a spice market, partake in an exciting gold rush, or head on a mission to mars, an experienced game guide will help your team through the experience and encourage them to work together to solve riddles and clues.
If this sounds like a fantastic team building activity, but your team is fully or partially remote, the Escape Game also offers virtual escape rooms! In these games, a virtual guide explores the room with a camera on their head as your team gives them instructions to solve the clues and break out of the room in time!
2. Plan An Event With Team Building Hub
Team Building Hub has a team of experts that specialize in planning fun and influential team building events for any workplace team. The experts at Team Building Hub take care of the entire event, which is customized to match your team's specific goals, strengths, and weaknesses.
You can do an in-person event in Minneapolis, or you can do a virtual event. To organize your personalized team building event, contact Team Building Hub, where you will be connected to an experienced event planner who will manage all the logistics of your event. It's a fantastic, stress-free way to arrange a team building activity in Minneapolis.
3. Sporting Event
Sport is a huge part of Minneapolis culture and therefore you should use it to your advantage as a fun team building activity. Watching a sports game together can form a sense of community and cohesion as your team relax together and cheer on their favorite team!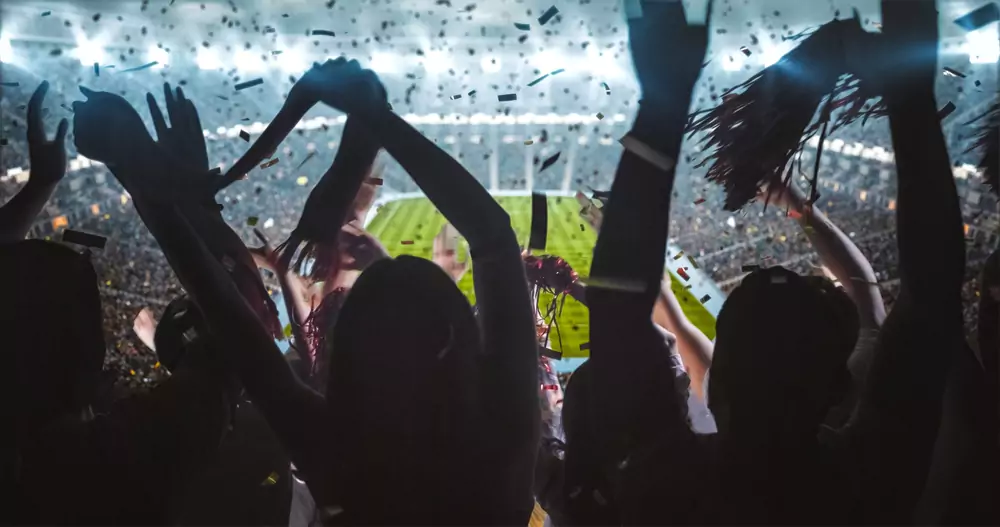 There are plenty of energizing and exciting sports events to get involved with in Minneapolis! You can watch the Minnesota Twins baseball game at Target Field, The Minnesota Vikings football game at the U.S Bank Stadium, or you can watch a Minnesota Lynx basketball game at the Target Center!
4. Explore Minneapolis on a Bike
Seizing the opportunity to explore Minneapolis by bike is a fantastic way to encourage your team to get immersed in a fitness activity, get some fresh air, and connect with each other.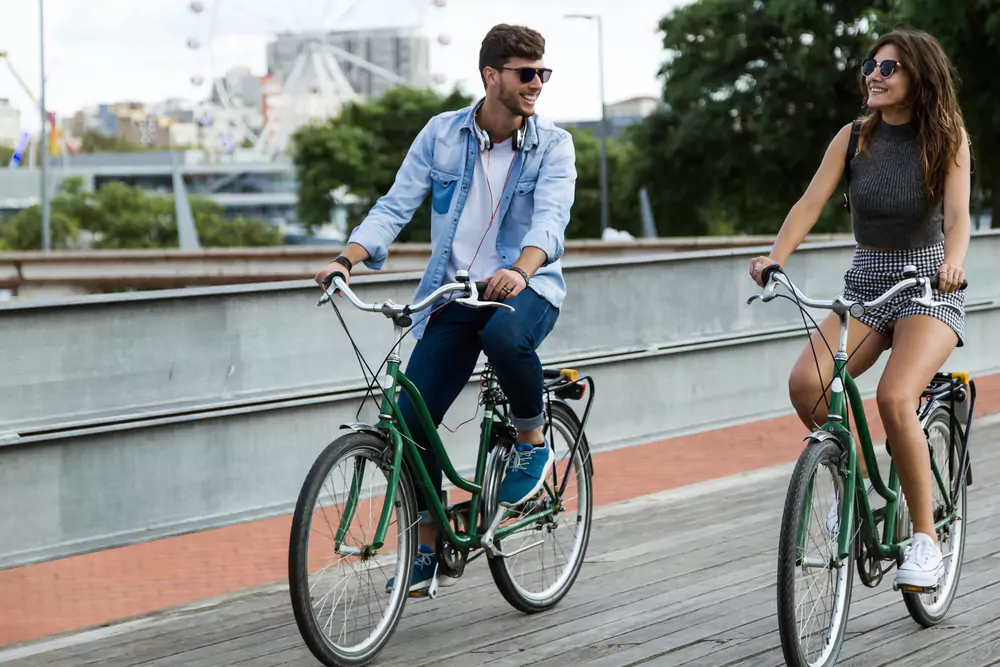 Bike rental places like Minneapolis Bike Rental at Tangletown Bike Shop can help you to find some wonderful local routes and trails that will be guaranteed to get your team laughing!
5. Explore Lake Minnetonka with Paddle Tap Minneapolis
If you're looking for a unique and entertaining way to help your team unwind and create memories together, Paddle Tap lets your team explore Lake Minnetonka in a different way.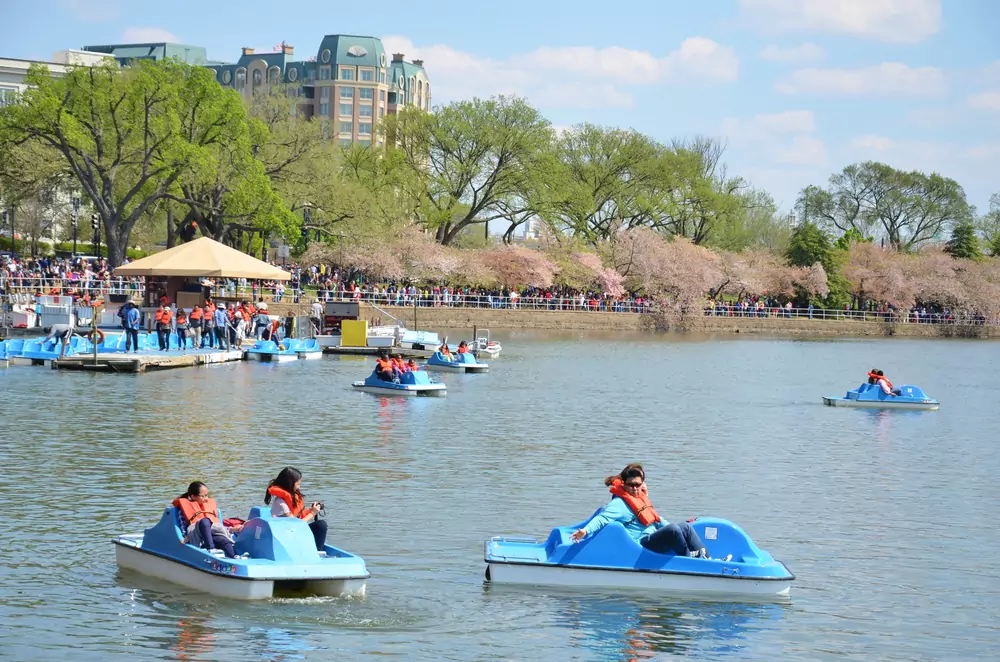 Starting at various points across the lake, your team will use their legs to paddle their boat through the water and explore Lake Minnetonka. It is an out-of-the-box way to get your team working together and communicating better.
6. Explore the City with a Segway Tour
If riding a bike (or peddling a boat) sounds like a little too much effort for you, why not explore all that Minnesota has to offer through a segway tour? Segways can be an incredibly powerful tool to develop collaboration, trust, and communication as your team will have to navigate not crashing into each other! They also allow empathy to develop, as your team members will have to look out for each other.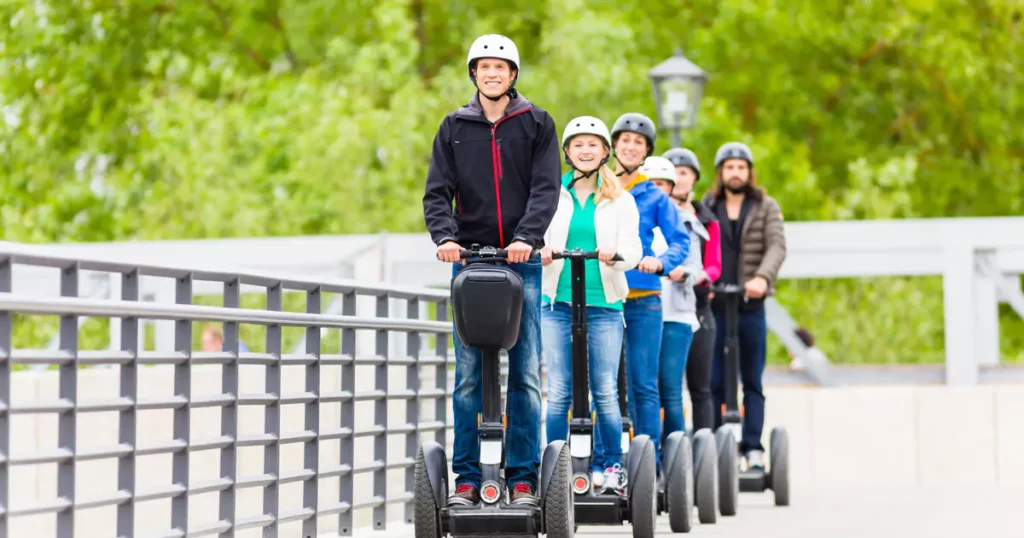 Human on a Stick is one of the best segway team building activities in Minneapolis. With various routes, such as a history tour or a sculpture tour, your team can effortlessly become immersed in Minneapolis' many hidden stories and secrets.
7. Get Creative with Skylab Glass Arts
This is one of our favorite team building activities in MN and twin cities. The Skylab glass arts is a unique lampworking facility in Minneapolis that offers various classes to allow your team to unleash their creative spirit.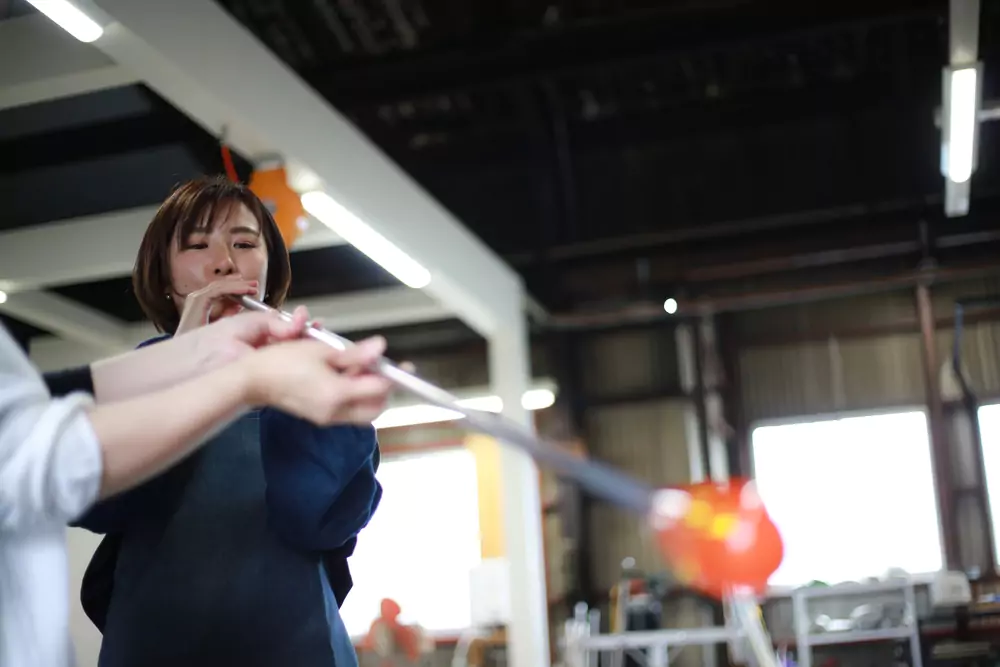 Under the supervision of an experienced artist, your team can learn the basics of glasswork and even put their skills to the test to make holiday ornaments. It is a fantastic activity to get your team's creative juice flowing and to get them to learn a new art skill.
8. Mystery Game Online
Team Building Hubs online mystery game has been designed by team building experts to create a sense of friendly competition, as well as to promote problem-solving, teamwork, and decision-making.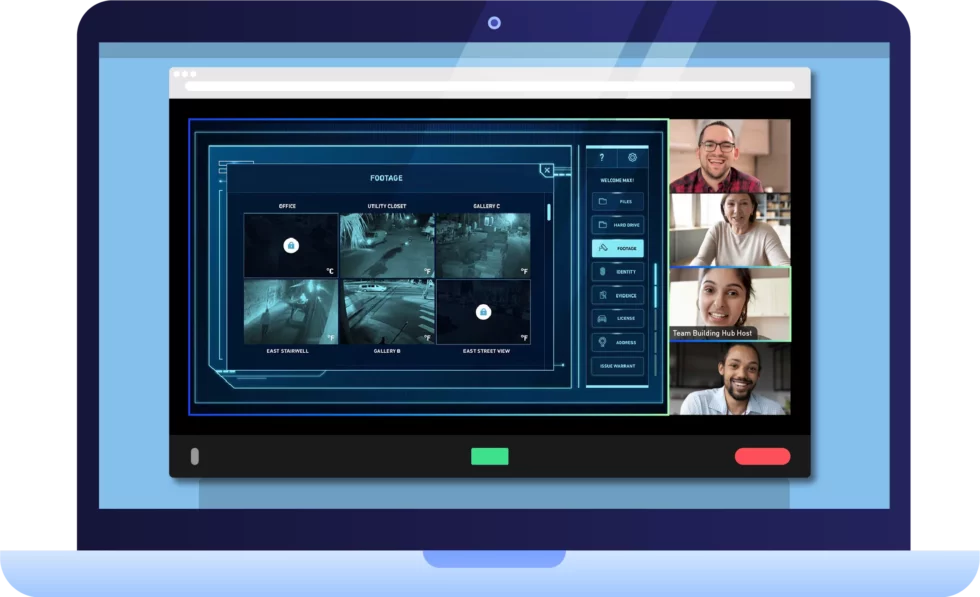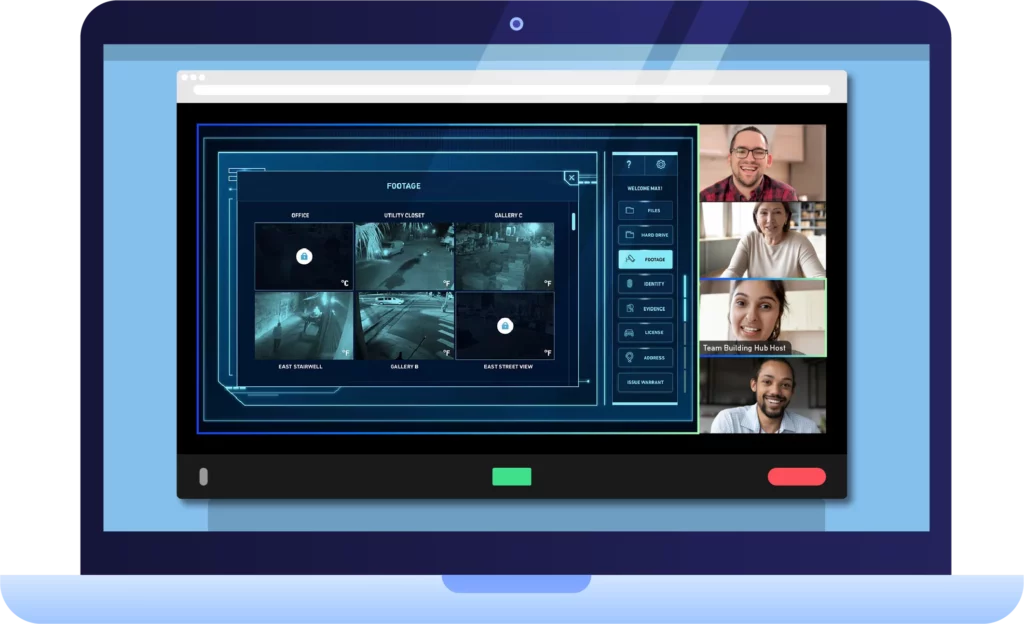 Accommodating anywhere between 15 to 1,000 players and taking up to 90 minutes to complete, Team Building Hubs online mystery game turns your team into a group of detectives who are competing to solve a crime first. They will explore surveillance videos, websites, and phone numbers and work to solve the mystery before any other team!
9. Zero Gravity Trampoline Park
Zero Gravity is one of the most exciting team building activities in the twin cities. It is a form of exercise that can help boost your team's creativity, increase their energy, and even lower their stress! Also, when your team supports each other, as they push themselves through trampolining challenges, they are developing positive relationships with each other.
10. Get Hands-on with Sandbox
For teams that have an adventurous spirit and boisterous nature, Extreme Sandbox is a truly unique activity for team building in Minneapolis.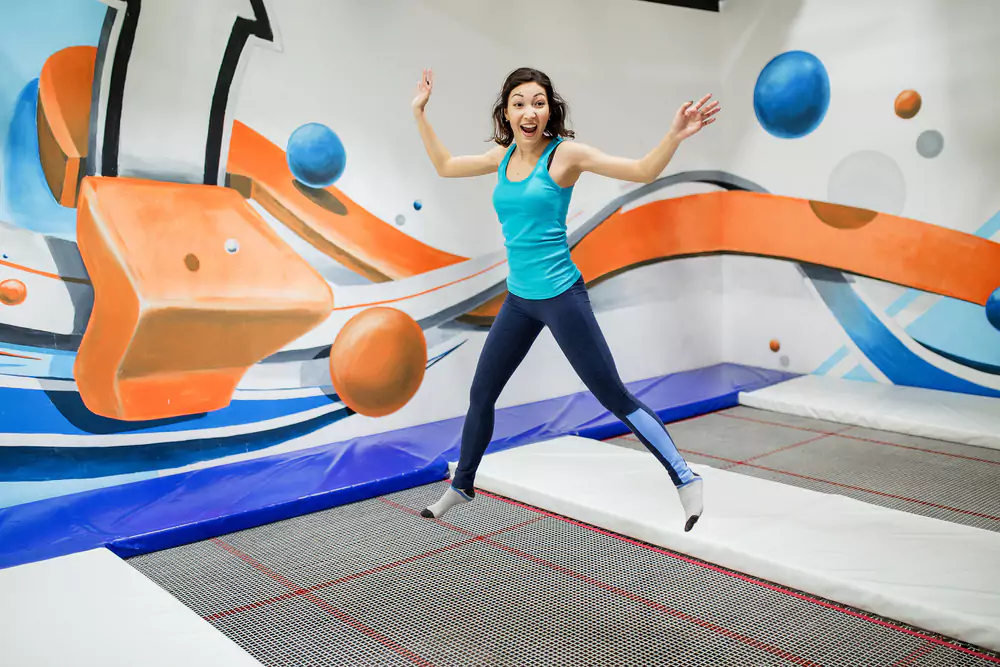 Designed for corporate events and accommodating groups of 10 to 100+ participants, your team will work together, using large construction equipment, to complete a team building challenge. It is a popular way to challenge your team dynamic, push them outside their comfort zone, help them to learn to work together, and, as a result, leave them feeling connected with each other.
11. Face New Heights with Rock Climbing
Rock climbing centers, such as Minnesota Climbing Cooperative, can offer you an excellent team building Minneapolis experience!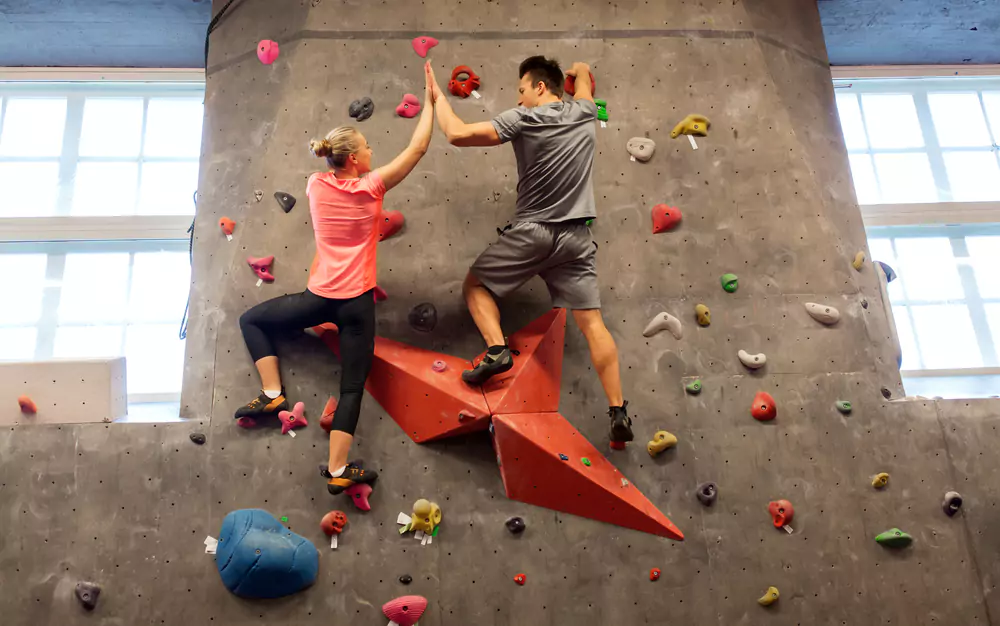 Letting your team face the challenge of climbing a high wall is the perfect activity for creating trust and cohesion within a team. Essentially, one person cannot get up the wall without the help of guidance from the other player, which forces them to put their trust in them and will therefore allow them to leave this activity feeling better connected than ever.
12. Stir Something Up with Cozymeal Cooking Classes
Your team can form lasting connections by experiencing the joys of cooking as a team building activity in Minneapolis. Cozymeal offers a range of cooking classes, from authentic homemade pasta to feel-good treats and Mediterranean cuisine.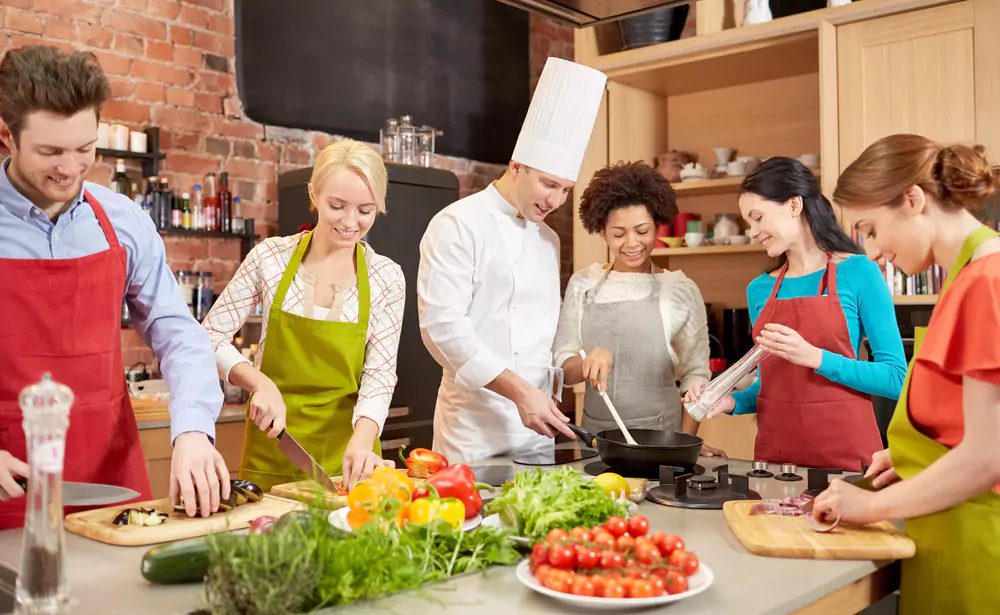 Cooking class pricing starts at $75 and there are numerous dates to choose from for your event. Some chefs will travel to your team, while others require you to meet at a Minneapolis location.
So whether you fancy working together to create a seriously tasty carbonara, or want to get a taste of Hawaiian cuisine as a team, this cooking team building Minneapolis activity will get your team hungry for success!
13. Have a Picnic at Lake Harriet Park
Lake Harriet Park is one of the most picturesque spots in Minneapolis. With views of both the lake and the city, it is the perfect place for a team building Minneapolis-style picnic!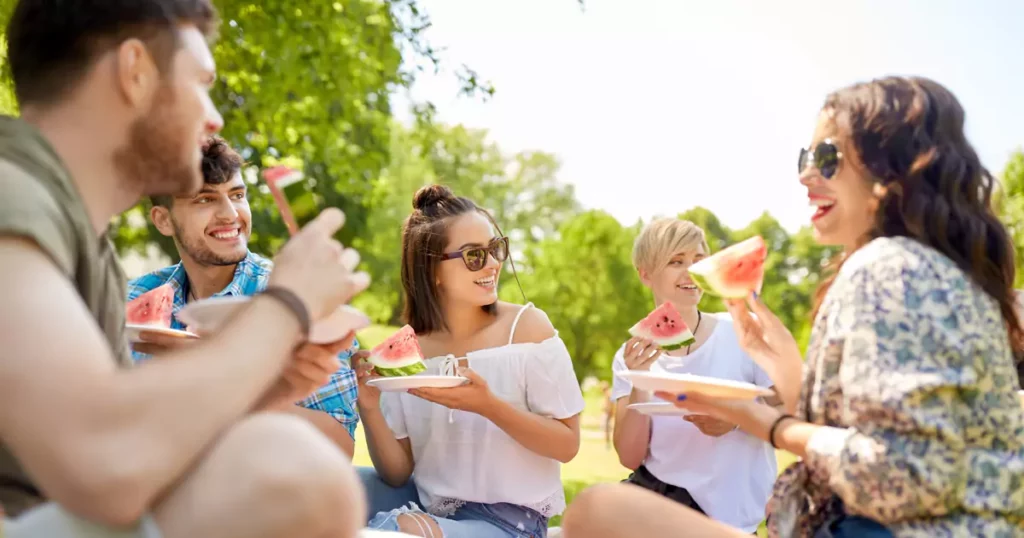 Picnics allow you and your team to unwind and relax whilst immersing themselves in nature and breathing in some fresh air! Encourage every team member to bring something to your picnic in Lake Harriet Park that they can share with others. This gives them something to talk about, which will help them to feel confident talking to each other!
14. Take Your Team on a Minneapolis Scavenger Hunt
Scavenger hunts are great team building tools because they create a fun sense of adventure whilst gently encouraging your team to work together and use their problem-solving skills.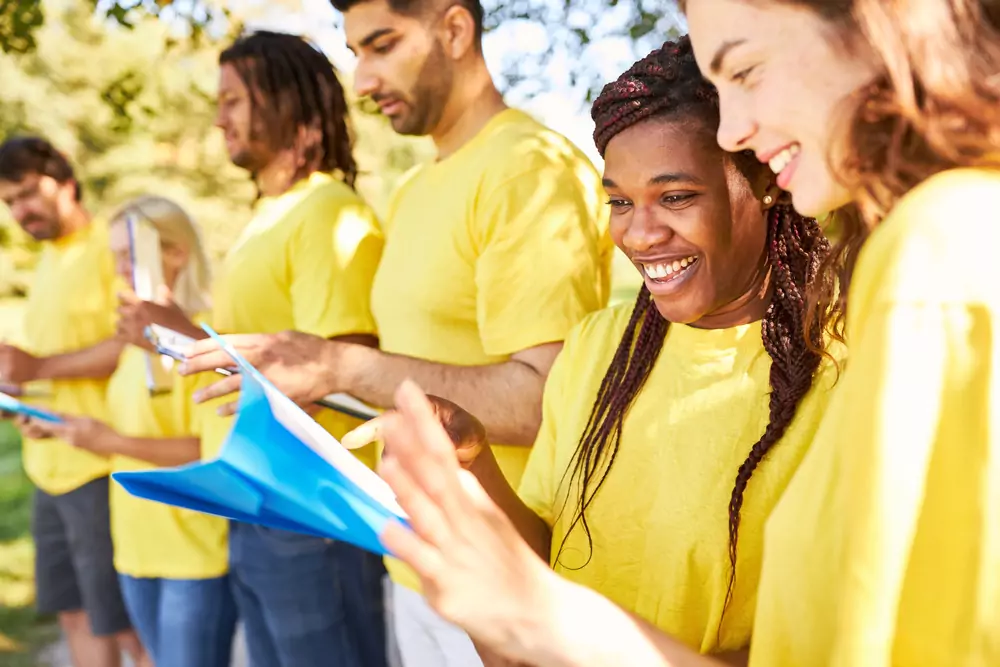 This is one of the best team building activity Minneapolis because you can do it completely for free! Create a list of landmarks and other significant places that you want your team to find within a time limit. Then, separate your team into smaller teams and send them on a wild scavenger hunt around the city to find these objects, ensuring that they take a photo with each one! The first team to take photos with all the correct objects is crowned the winner.
15. Play a Virtual Game Show
If you're wanting a Minneapolis team activity that promotes friendly competition and encourages your team to use their problem-solving and intuition skills, then an online game show is the perfect activity for your team.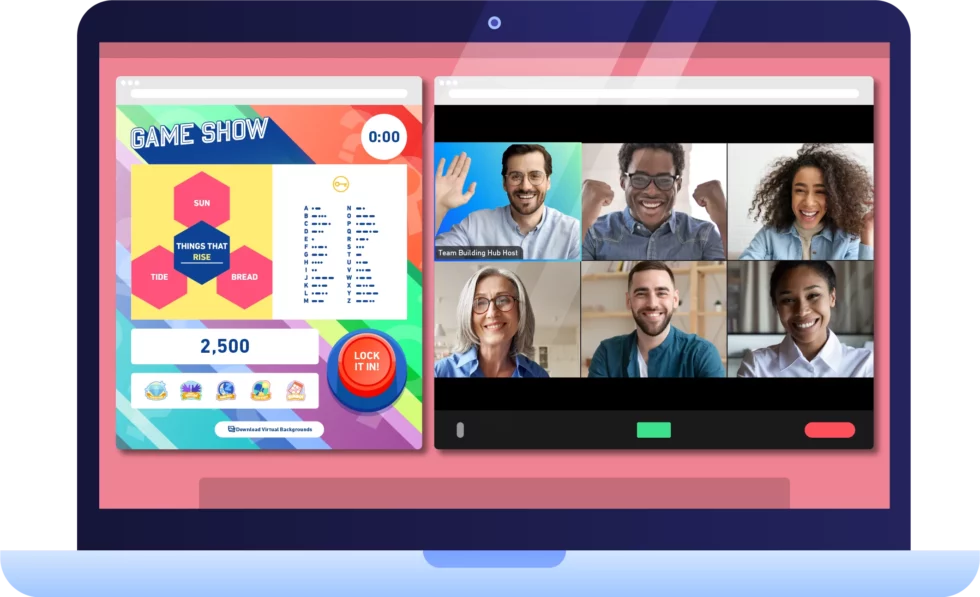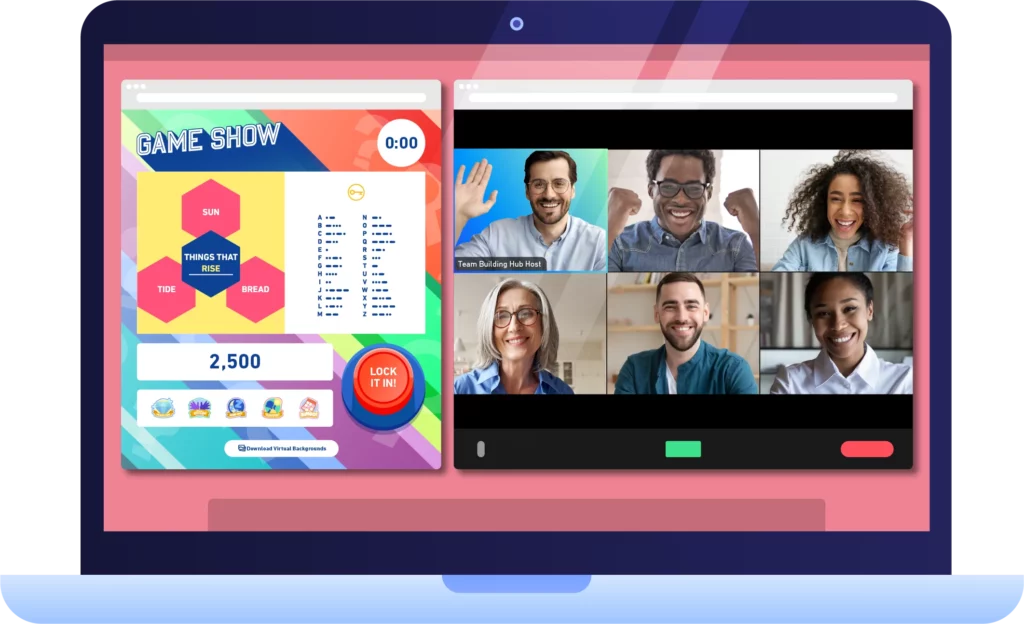 Team Building Hubs online game show is designed by team building experts to bring the best out of your team. Hosted on Zoom, your team can enjoy 5 rounds of fast-paced fun that will leave them feeling energized and better connected. With the ability to accommodate between 10 to 150 players, your team will have a game show host to lead the entire event. You can even pick a theme for the game show to make it even more exciting and engaging!
16. Take an Improv for Business Class
Improv is a great way to bring a team together and help them learn and engage with each other. Improv creates custom workshops that are designed to meet your team's needs and give them transferable skills and lessons that they can easily apply to their office life. Your team will engage in carefully planned games and exercises that align with your specific team goals.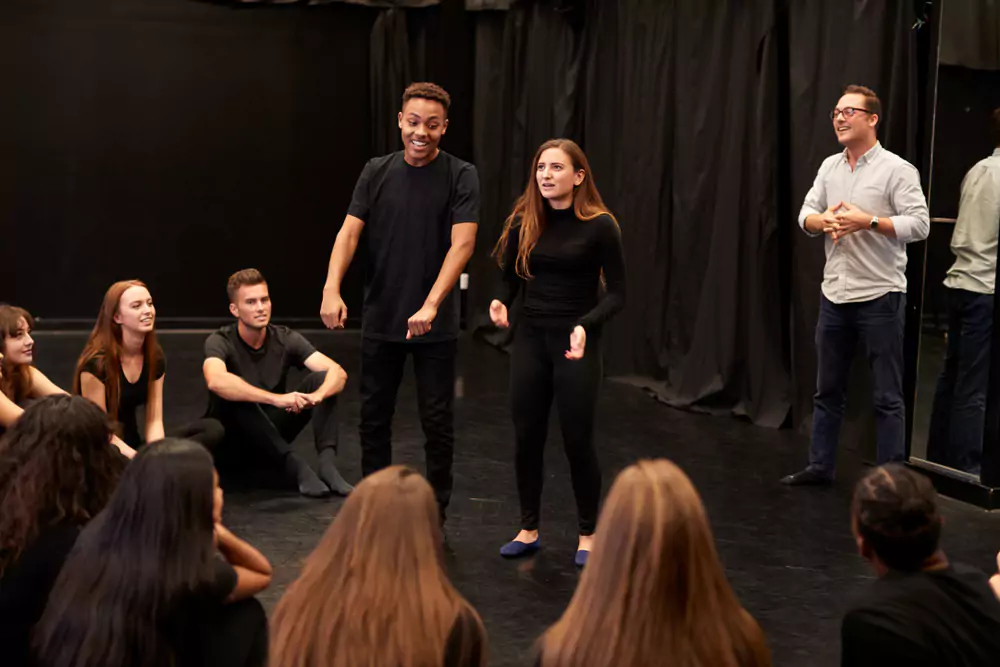 You and your team can attend an Improv workshop at their Minneapolis theater or invite them to come to your office.
17. Host a Sports Day in the Park
Exercise has been proven to make us feel good by releasing chemicals called endorphins. These endorphins allow us to feel energized and positive. As a result, a fantastic team building Minneapolis activity is to get your team involved in a sports day!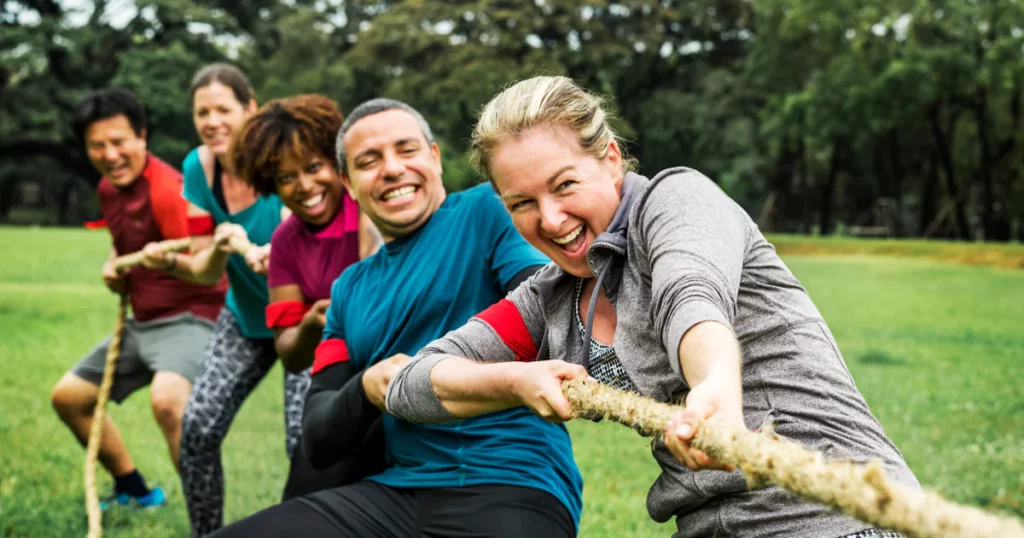 Find a green space that is large enough for some exciting games. You can then set up a tug of war, relay race, egg and spoon race, or sack race. Watch as your team immerse themselves in friendly competition, works together, and leaves feeling elated.
18. Get Moving with a Paintballing Game
Not for the faint-hearted, paintballing is a fast-paced and challenging game that will put your team's problem-solving, communication, and intuition skills to the test!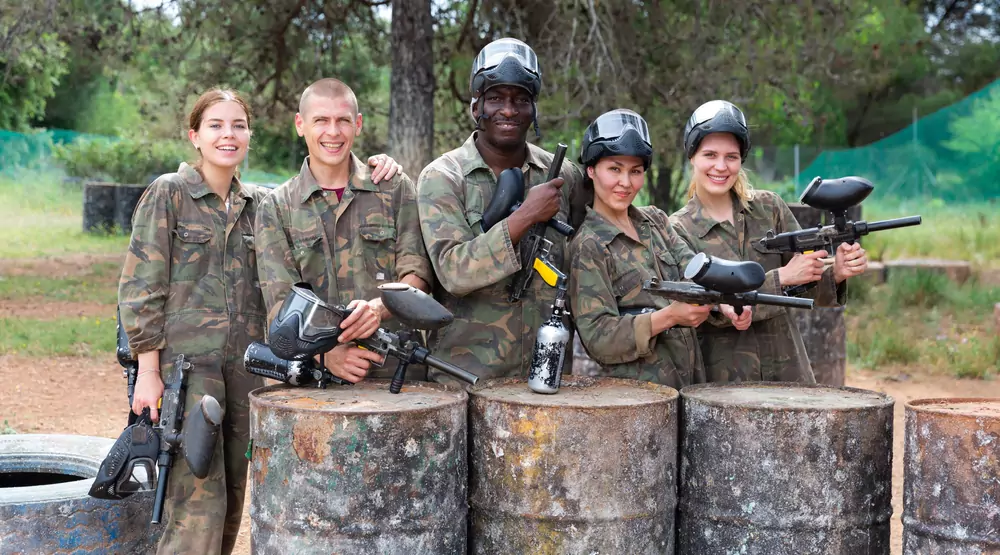 Splatball offers one of the best paintballing team building activities in MN around. With more intense games, and games designed to be lower impact, you can find an activity that your entire team can play together.
19. Play a Nerf Gun Battle
Nerf gun wars are less intense than paintballing battles, but they still create the same sense of fun and friendly competition and, therefore, have the same team building benefits!
Tactical Urban Combat team building in Minneapolis is Minnesota's largest indoor nerf arena, and it's an arena that your team is going to LOVE. Your team will play a series of five-minute games, in which they will have to complete certain tasks such as capturing flags or destroying objects. Suitable for up to 20 people at a time, this nerf gun battle is guaranteed to have your team feeling relaxed and connected.
20. Relax Together with a Pottery Class
Pottery classes are excellent creative team building activities in Minneapolis. Minneapolis' Northern Clay Center offers ceramic classes for adults. They have beginners' classes, and classes geared towards more experienced artists so that you can find something for everyone to enjoy.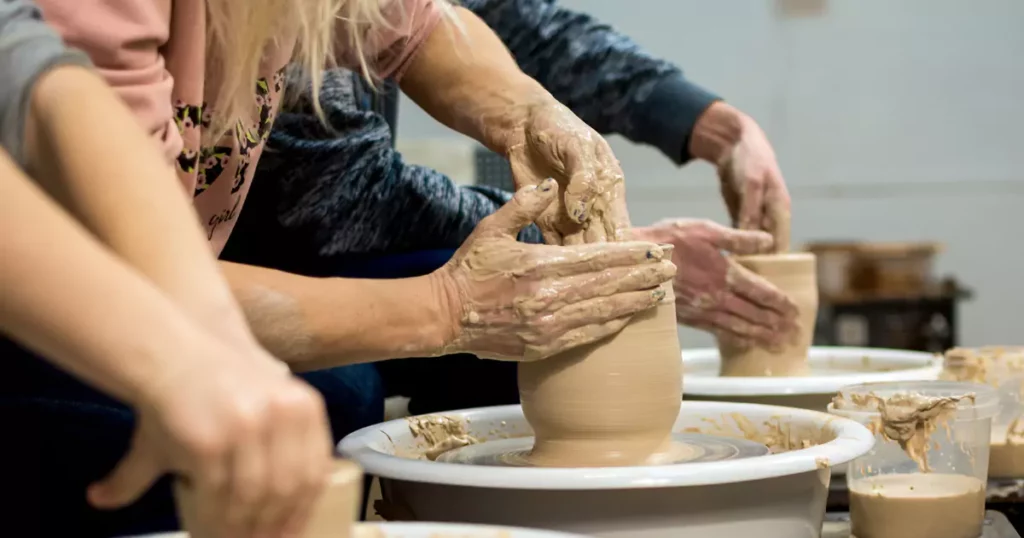 On top of this, the Northern Clay Center also hosts exhibitions from ceramics artists, so your team can unleash their creativity further as they explore the work of others.
21. Explore Minneapolis with CityHUNT
Minneapolis is full of beautiful scenery, friendly people, and lots of culture and art. Your team can explore all this exciting stuff in an organized City Hunt team building Minneapolis tour. As a combination of a scavenger hunt and a treasure hunt, your team can explore Minneapolis' museums, iconic buildings, lakes, parks, and many hidden secrets.
By the end of this fantastic Minneapolis team building activity, the positive vibes will be flowing and your team will feel more relaxed and comfortable with each other.
22. Volunteering
Team volunteering allows members to give back to the community. Studies have shown that people who volunteer are more satisfied with their work-life balance, so this team building activity in Minneapolis will not only develop a sense of empathy within your team and help them to be a stronger team, but it will also leave you with team members who are happy, fulfilled, and less stressed!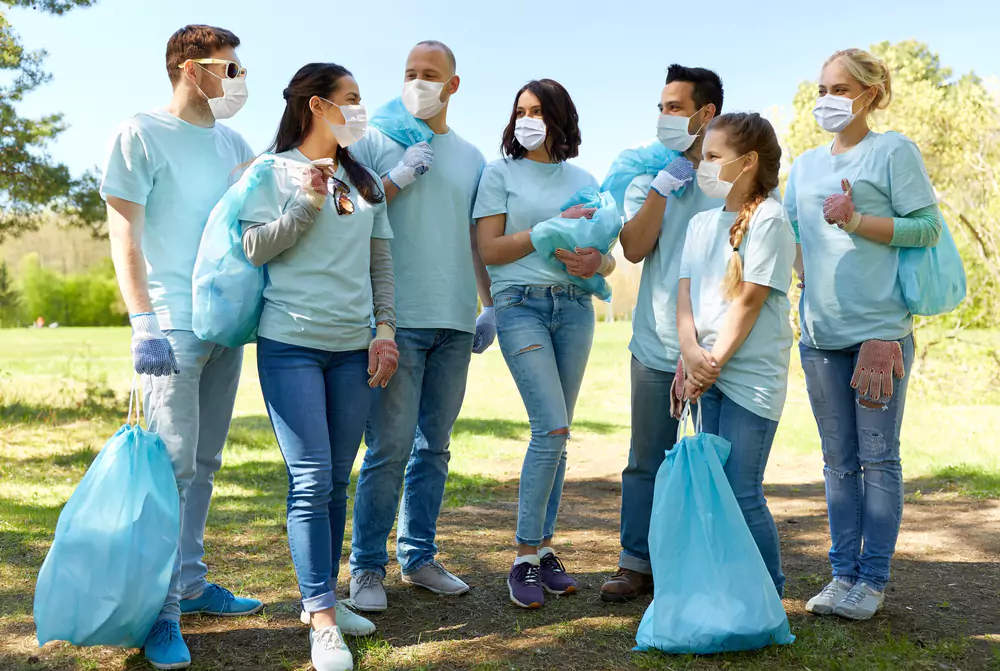 Some Minneapolis-based charities in need of help include:
What To See On Your Team Building Trip To Minneapolis
There is much more to Minneapolis than just team building activities. As a center of culture, art, and history, any team, whether you are visiting Minneapolis for business or whether you're based here, will have plenty of things to do outside the typical team building activities.
Exploring together outside of typical team building activities gives your team some time to relax and get to know each other outside of work. It reminds us that our colleagues are normal people, just like us!
If you're wanting to explore Minneapolis outside of your typical team building activities, here are our 6 must-see places!
1. Cafe Meow cat cafe
If you have a love of cats then you and your team must explore Minneapolis's' first-ever cat cafe, The Cafe Meow! Serving organic and fair trade certified coffee, and having plenty of cats for you to cuddle, this is any kitty lover's dream coffee stop.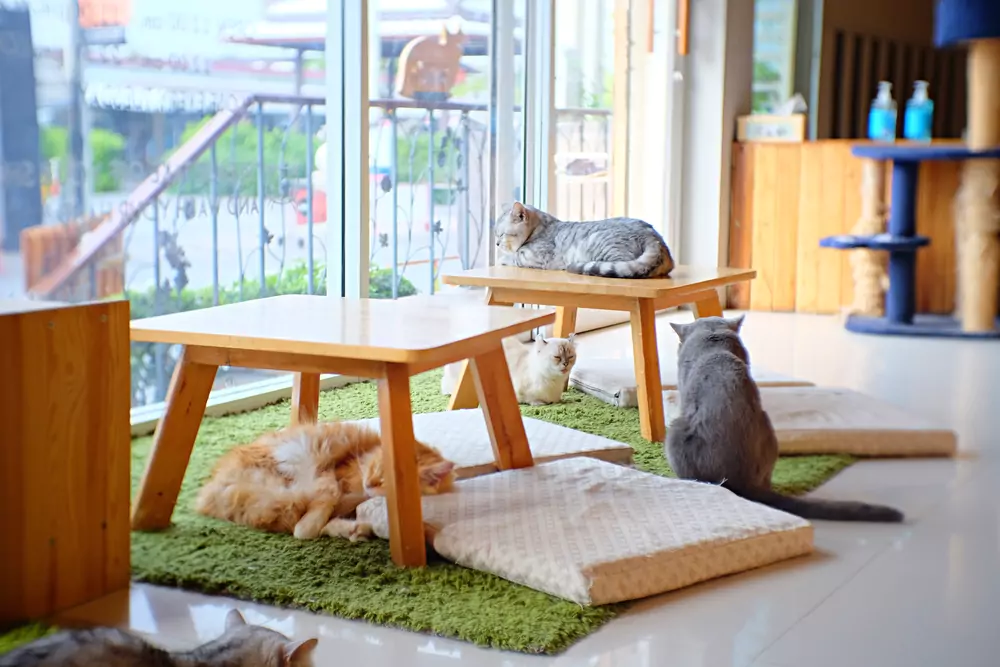 You can make a reservation for your team through the website and then use this time to unwind, drink some good coffee and cuddle some lovely cats (who, by the way, are all available for adoption if you're looking for an office mascot).
2. Take a Trip to Paisley Park Museum
Situated 20 minutes from Minneapolis, Paisley park draws visitors from across the world and is not a destination that you and your team want to miss!
Paisley Park is an active museum that celebrates music, culture, and art. It has many phenomenal collections that are once-in-a-lifetime opportunities to see. For instance, Prince's custom shoe collection and some ultimate fashion designs of all time. There are also plenty of events that you can attend in your spare time, such as Jazz events and after-dark DJ events.
3. Visit Minneapolis Center for Book Art
If you want to find a unique place that celebrates the art of the book, then take a visit to the Minneapolis Center for Book Art (MCBA). Founded in 1983, MCBA is one of a kind. In your free time, you and your team can practice letterpress printing, bookbinding, hand papermaking, paper marbling, and more.
You can even explore one of their many exhibitions, which contain traditional and contemporary books, and you can visit their shop to purchase art supplies and unique artwork.
4. Explore Minnesota's Ice Castles
Minnesota's ice castles are a great way to break the ice and get your team shivering with excitement (pardon the pun!).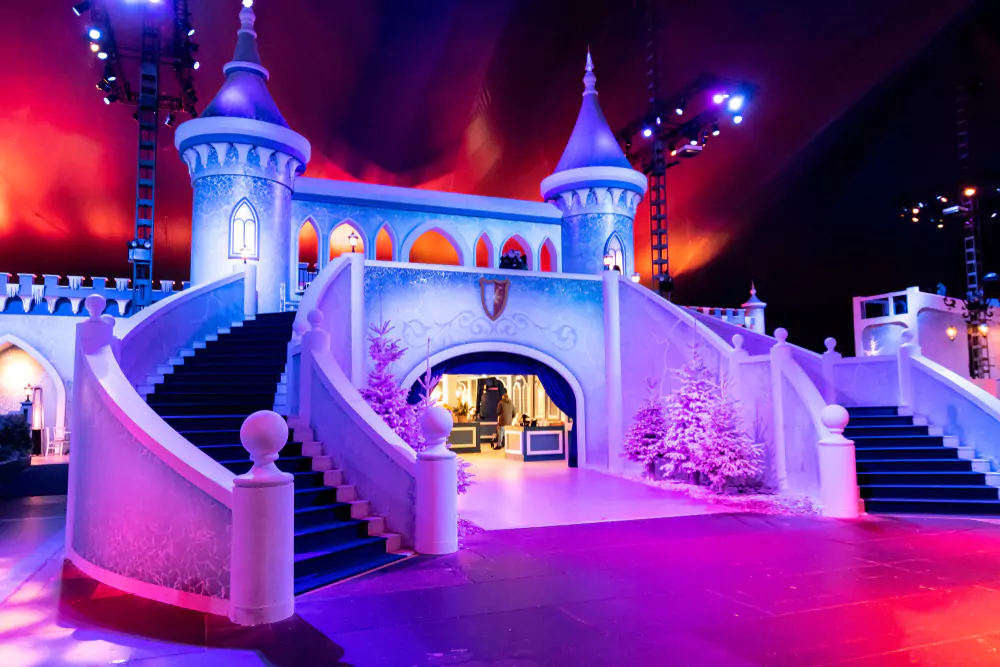 A truly unique experience, you can spend an afternoon exploring entire ice castles. You can race down slides, pass through ice-made passageways, and marvel at beautiful icicles. After, there is also a frosty ice bar to explore where you can all chill out!
5. Go to Como Zoo and Conservatory
If you have a passion for animals then Como Park Zoo and Conservatory is a must-see destination.
It is completely free to visit (although we do recommend making a donation!) and there are plenty of fun attractions to see. You can discover how different animals, such as flamingos and seals, live in their natural environment. Next, you can explore the beautiful flowers in the well-kept garden. There are also many beautiful sculptures to explore and some carousels to ride on!
6. Forest Bathing
Don't worry, forest bathing does NOT mean that you and your team must go and take a communal bath in a forest! Minneapolis has lots of beautiful forests and forest bath simply means immersing yourself in the forest air and experiencing the forest with all your senses!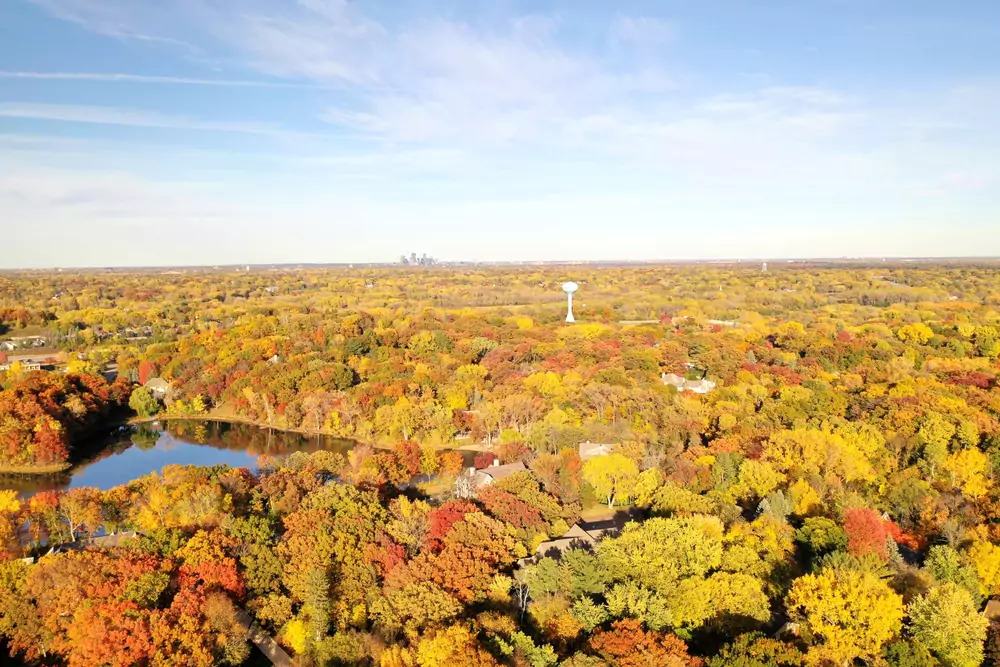 Find one of Minneapolis' many routes to get immersed in nature. Put down your phone, disconnect from technology and fully immerse yourself in nature. You can take this time to explore large oak trees, process your thoughts after a busy day and unwind in the company of your team!
Start Your Team Building in Minneapolis Today!
Team building activities can create unbreakable bonds within your workplace team and, as a result, can dramatically increase your team's productivity, engagement, and morale! If you want to create an unstoppable team, don't wait any longer to start planning the perfect Minneapolis team building activity!
Get in touch with Team Building Hub and let us help you plan the perfect Minneapolis team building event!