When team members are disconnected from each other, you no longer have a team. Instead, you have individual employees who prefer to work at their desks alone and not in a conference room sharing ideas and solving problems with colleagues. To change this dynamic, integrate some fun team building activities in Dallas into your company's culture!
Bring your team members together with fun activities that will develop their communication, collaboration, and group problem-solving abilities. They will also get to know each other as people, not just as co-workers. Strong bonds are created and your team will become a united powerhouse!
Below are 25 awesome and effective team building ideas activities located right in Dallas!
25 Fun Team Building Ideas in Dallas
We've organized these activities into categories, all of which have team building benefits but draw them out in different ways.
First, we list tried and true, team building activities that allow your team to practice and strengthen their team skills in a fun setting.
Second, we suggest activities to encourage individual creativity with a hint of health competition.
Third, we include team building outings for employees to get to know each other better while enjoying all that Dallas has to offer.
Next up are adrenaline-pumping activities for your team members to get out of their comfort zones and into the fun!
Lastly, we list team building games you can play in your office or via Zoom for remote or hybrid teams.
Let the games begin!
Fun And Focused Team Building Activities
1. Play The Escape Game – Top Rated Dallas Escape Room! ⭐ ⭐ ⭐ ⭐ ⭐
One of the most thrilling and engaging team building activities is The Escape Game Grapevine and The Escape Game Grandscape! When your team enters one of their themed escape rooms, they'll have just 60 minutes to solve riddles and interpret clues to find a way out.
Escape rooms are designed to enhance your team's ability to collaborate and strengthen their problem-solving skills. Whether your team must break out of a cramped 1950s prison cell or track down a priceless painting stolen, they will have a fantastic time! When they succeed, your team will feel proud of what they have accomplished!
The Escape Game can accommodate small to large groups so no matter what size your group is, everyone can play along. If your company is remote or hybrid, you can play one of The Escape Game's virtual escape rooms, so no one misses out on the fun!
2. Plan An Event With Team Building Hub
If you'd like a company that specializes in team building events to do the planning for you so you can get straight to the fun, consider Team Building Hub! They specialize in planning customized team building events to suit your company's needs. With expertise in corporate gatherings, Team Building Hub offers engaging experiences in both an in-person and virtual format.
When Team Building Hub plans your event, the process is easy! Reach out to Team Building Hub here, and within one day a professional event planner will contact you. Your planner will work with you to design an epic event for your team.
Once your event has been arranged, your event planner will provide you with all the tools you need to run your event. When you let Team Building Hub organize your event, you will not be disappointed!
3. Solve A Mystery
Online mystery games engage your team members by asking them to solve a crime by interpreting clues and reviewing surveillance footage and other types of evidence to solve the mystery. With a limited amount of time, your teams must work fast – and to be successful they must work together!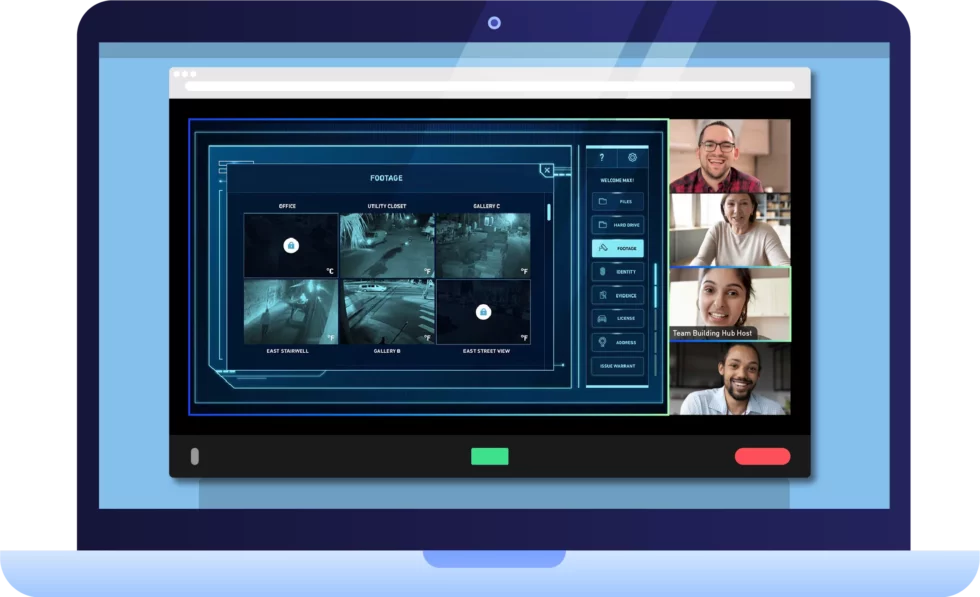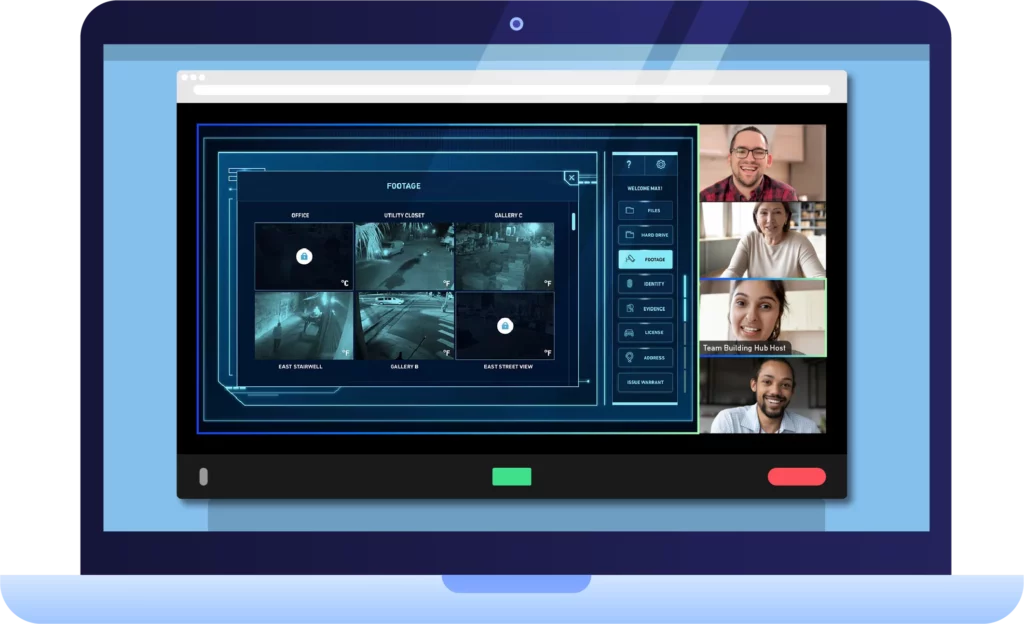 Unraveling a mystery will hone your team's problem-solving power and enhance their ability to collaborate to find a solution to any work-related problem. Plus they will have an awesome time playing detectives!
4. Try A Ropes Course
Trinity Forest Adventure Park in Dallas specializes in outdoor team building workshops that provide opportunities for team members to learn something new as a group as they learn about each other.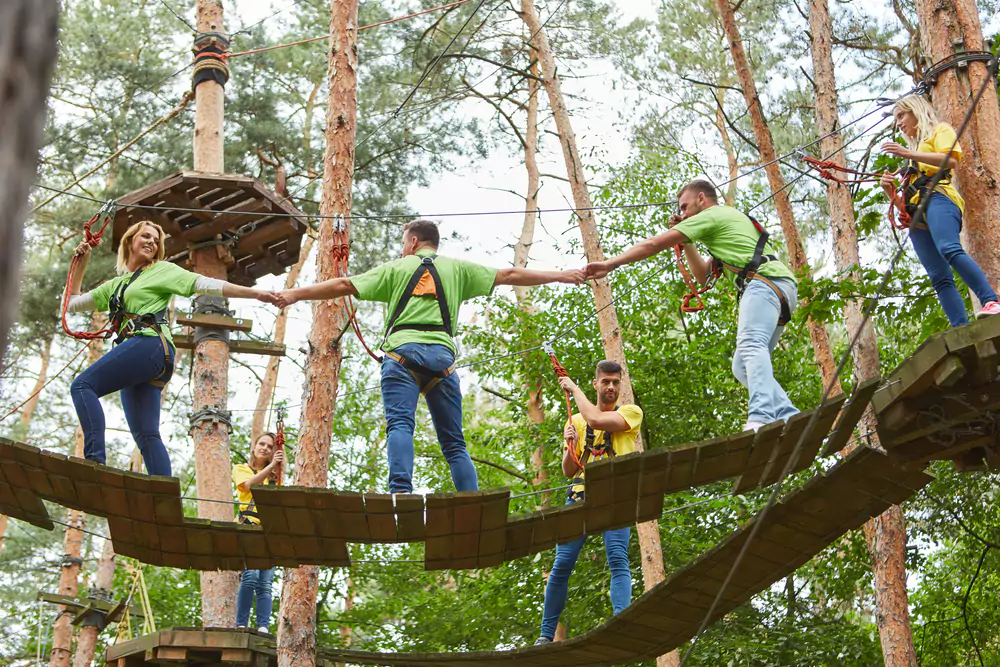 Their ropes courses foster team spirit and collaboration. Being challenged to complete a series of games and physical tasks enables your team to build trust and camaraderie. These activities also offer opportunities for natural leaders to emerge.
5. Play An Online Game Show
Your entire team can be contestants on a game show without leaving the office! Playing an online game show from Team Building Hub is a fun and fast-paced activity that can accommodate between 10-150 players!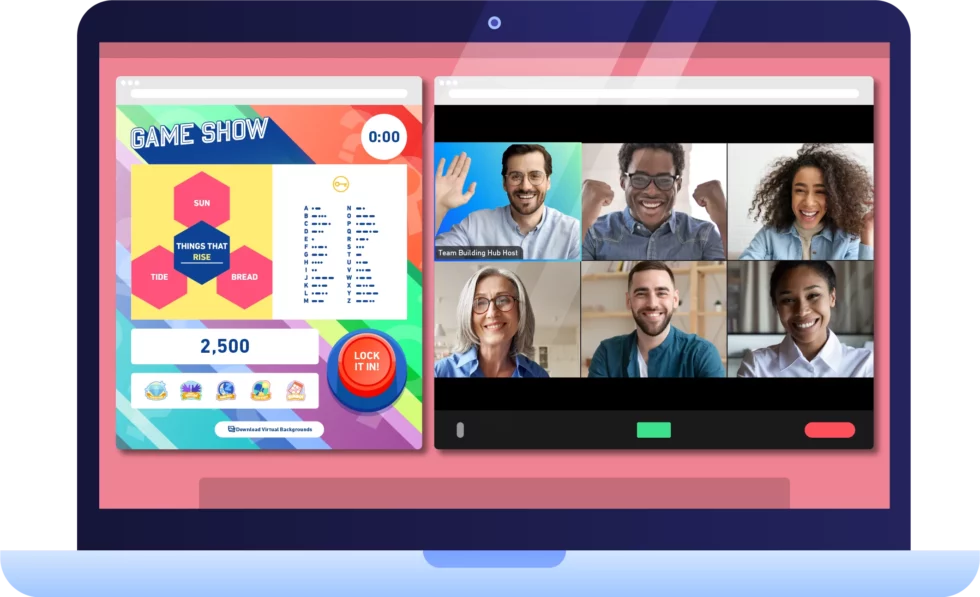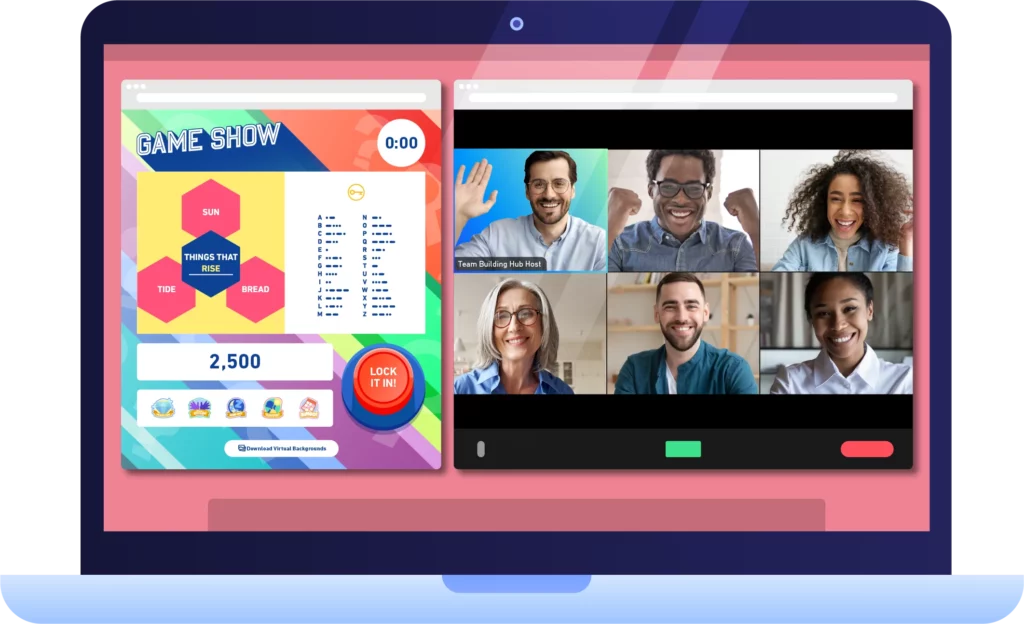 The game is a live, hosted competition played virtually but the unique platform allows players to see each other and the game dashboard at the same time. Teams compete to rack up points and collect badges to reach the top of the scoreboard and have bragging rights!
Players don't have to be tech-savvy to participate and the enthusiastic host ensures that everyone has a great time! Have some prizes handy for the winners, like gift cards, to get them extra motivated! Not only will your team be improving their team skills like problem-solving and communicating, but they'll also finish the day with stronger team bonds.
6. Do A Scavenger Hunt
Scavenger hunts are an awesome team building activity in which Dallas becomes the backdrop for your team members to solve riddles and decipher clues that will lead them to the next spot on the route. Scavenger hunts improve problem-solving, group decision-making, individual creativity, and critical thinking. They are a fun way to get your team out of the office and into the fresh air as they learn about their city and each other.
If you have budgetary constraints, GooseChase offers a free scavenger hunt creator for teams of 15 players or less. If you have a nice-sized budget, Operation City Quest offers group scavenger hunts that can accommodate teams from 10 to 500 players! With these virtual scavenger hunt options, your hybrid or remote team won't feel left out of the fun!
7. Go Indoor Rock Climbing
Oso is one of the very best places to try indoor rock climbing! You can take a private course where your team will learn the basics and then do some climbing on their own. This will encourage individual team members to gain confidence as they try something new. This activity also builds camaraderie as team members support each other as they try to climb just one step more!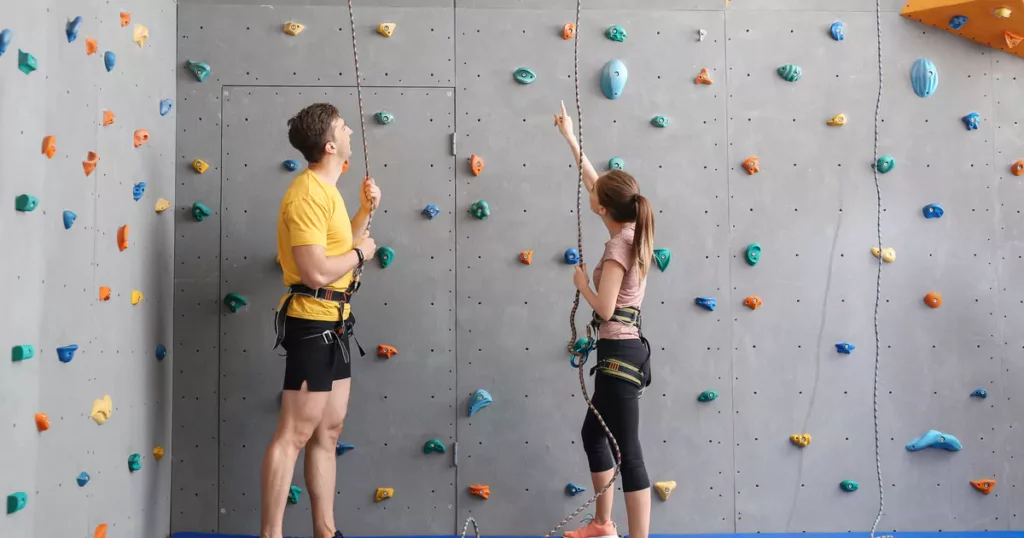 If indoor rock climbing doesn't suit some members of your group, Oso has so much more to do. Its 36,000 square feet indoor space has fitness classes, free weights, aerobic machines, a premium yoga studio, and…a lounge where your team can chill out with beer, wine, and healthy food. An afternoon at Oso is an all-around team building adventure where your members can decide what activity they'd like the most.
8. Get Messy With Paintballing
Playing paintball is more about fun and less about strengthening soft skills. Still, don't underestimate the power of team members playing together. Paintballing brings out some healthy competition among people.
Head to Gat Splat, a private paintball game provider who offers team building events at any of their three locations in the Dallas/Fort Worth area. After the game, your team will enjoy catered refreshments. Paintball can strengthen your team as it requires strategic thinking and affords opportunities to practice leadership skills. To give people the chance to interact with others in the company they may not know or see very often, switch up the teams!
9. Perform Improv For Business
Improv to Improve has taken improvisation principles and translated them into effective strategies to improve professional and interpersonal skills. Their workshops can help increase team productivity by practicing communication, active listening, and collaboration. Your team members will be asked to think outside the box and come up with innovative solutions.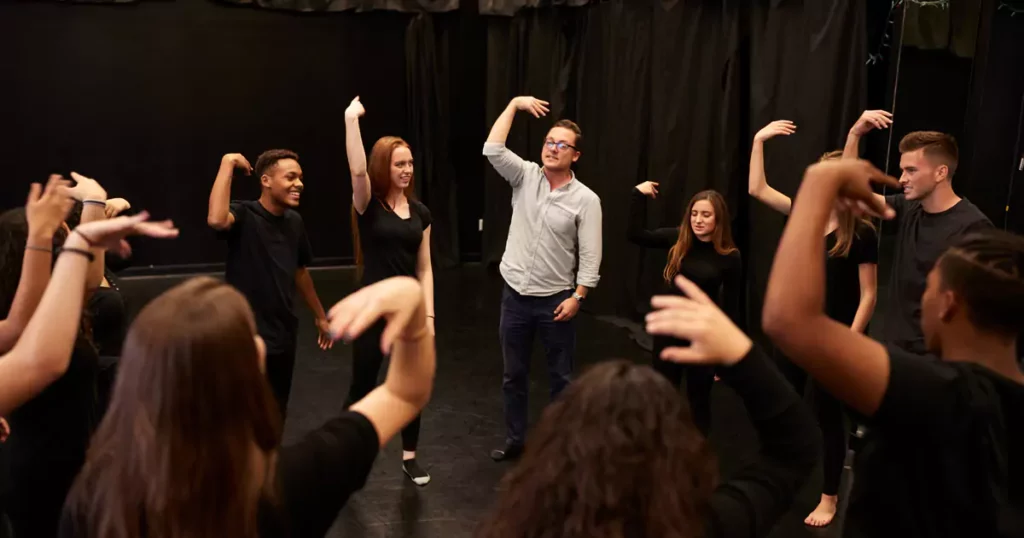 ​Another outcome of taking a team improv class is that it can foster empathy among members and a better understanding of one another. Whether you can book a standalone workshop that lasts a few hours or a full day of improv, this team building activity will have your crew laughing! Performing well at work may not be as fun as doing improv, but both are rewarding, for your team and your company overall.
10. Do Good Deeds
Volunteering as a team in Dallas is a great way to engage in a corporate socially responsible activity while boating company morale. Volunteering, in general, has been shown to contribute to the work-life balance that employees need so very much these days. There are dozens of volunteering opportunities for your team. Some to look into are Dallas Doing Good and Habitat For Humanity. When your team does good deeds together, it's a reminder that work isn't just about work, it's about making a difference.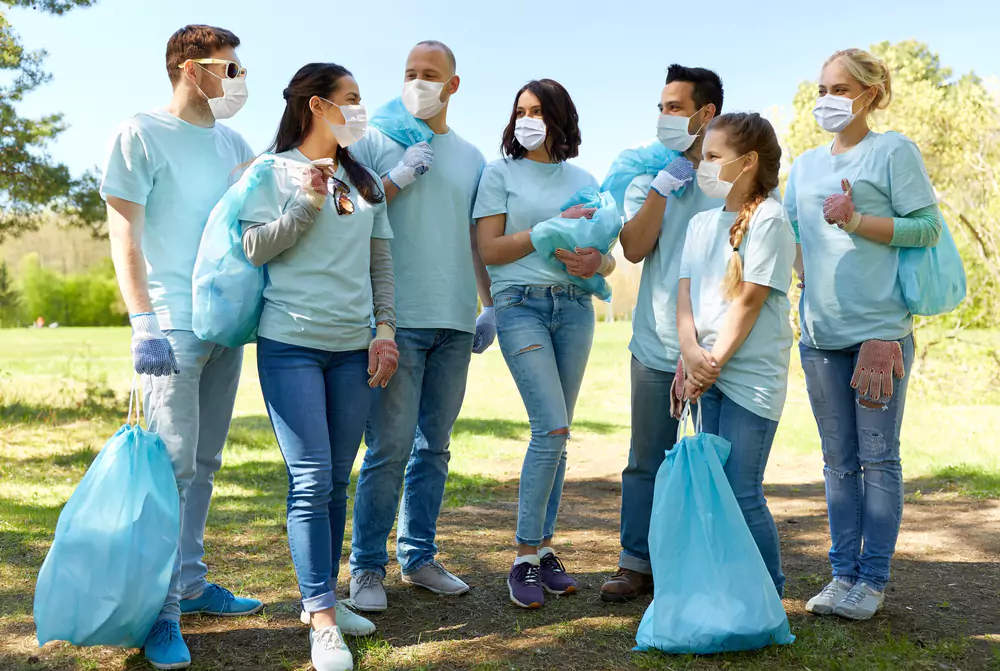 11. Group Dynamix
Group Dynamix offers several physical activity-based team building courses that use fun activities and exercises to bring out the best in your team. Through fun challenges, your team will learn to overcome obstacles and develop problem-solving skills. Their team activities will boost team trust and camaraderie.
After your session with Group Dynamix is over, they provide a customized 'debriefing' and assessment of your group's performance so that your team can continue the work beyond this one session to get to the next level!
12. DFW Adventure Park
Dallas's DFW Adventure Park has lots of high-octane activities just for fun and a team building challenge course that can be customized to your team's goals. Your team can play paintball, skeet, laser combat, airsoft, and more. The activities here are appropriate for all skill levels. However, the instructors will push everyone gently outside of their comfort zones.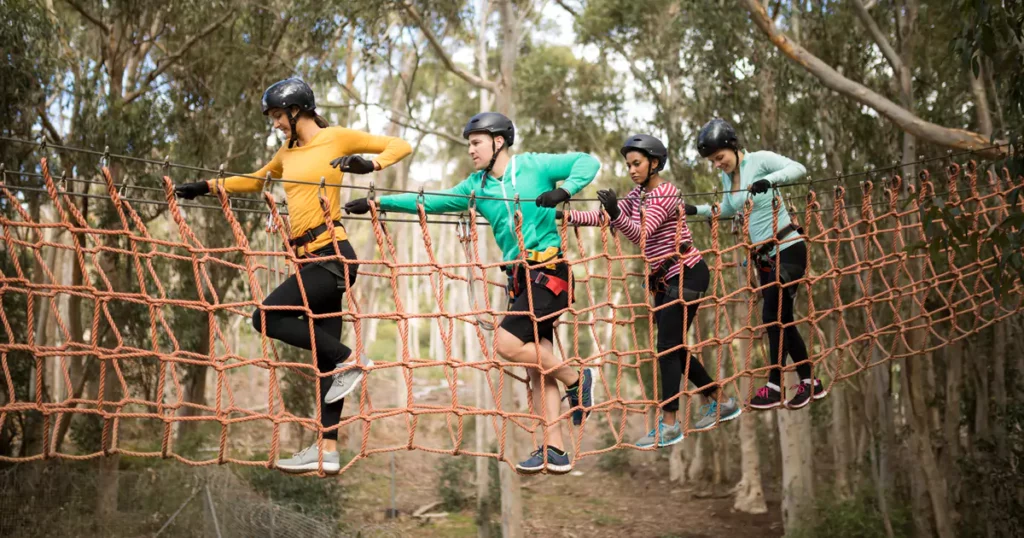 Between activities, a park facilitator will lead a discussion about the concepts of collaboration, leadership, communication, out-of-the-box problem-solving, and building team trust. An afternoon at DFW Adventure Park is a way for teammates to play some and learn some!
13. Explore Dallas In A Kayak
Kayaking in Dallas is a great team building that gets your team out of the office, away from the bustling city, and into a peaceful natural environment. With Dallas's Trinity River Paddling Trail right there, it's easy to book a group outing with one of the many kayaking companies in the area like Trinity River Kayak Company.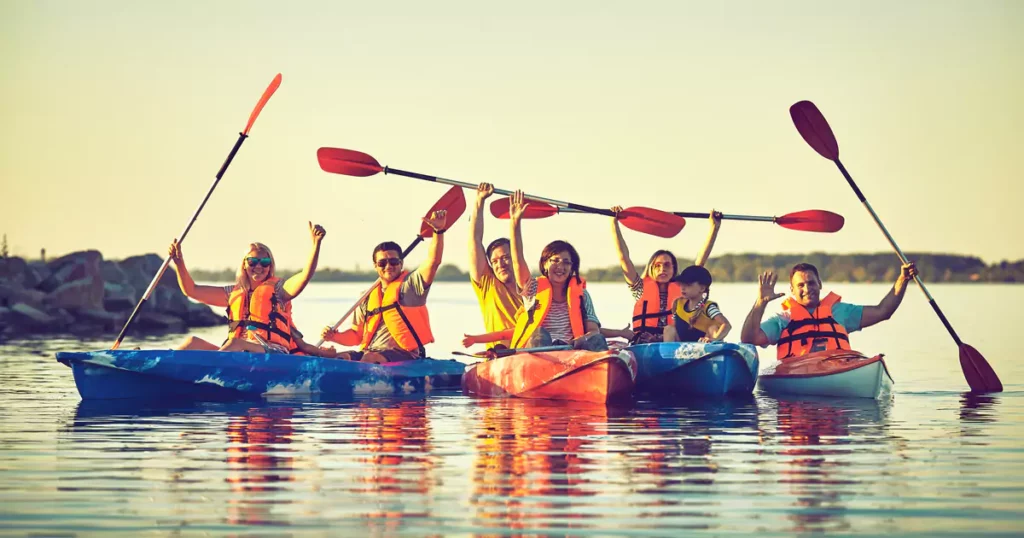 Team kayaking is an opportunity for team members to get to know each other in a low-stress and natural environment. With the artificial barriers of the office gone, team members will see each other in a new light. They'll bring that new perspective back to work and team bonds will be stronger than before.
14. Visit The Dallas World Aquarium
One of the most magical places you can bring your team is the Dallas World Aquarium. The aquarium is not only sea life! They have several environments to visit where your team can experience the wonder of nature.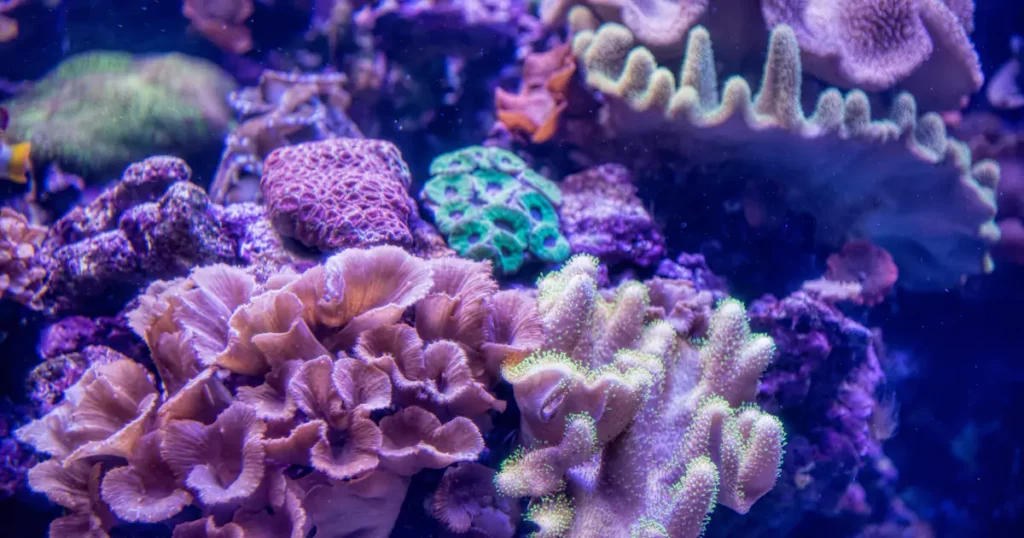 The aquarium has an impressive array of sea life as well as mammals and amphibious creatures from regions of the world. Their environments include a Cloud Forest, the Orinoco, and Mundo Maya regions, and animals from South Africa and Borneo.
A team outing to the aquarium is perfect for team members to bring along family and friends. This allows them to learn about their colleagues' life beyond the office. Understanding each other's life priorities creates empathy among team members. It's also just nice to meet the people who are important to your coworkers.
Get Your Team's Creative Juices Flowing
15. Painting With a Twist
A creative team building activity is available at Painting With a Twist. Your employees will learn how to paint while sipping on wine. The facilitators here will offer workshop options that are customized, so you can find the perfect option for your team building exercise.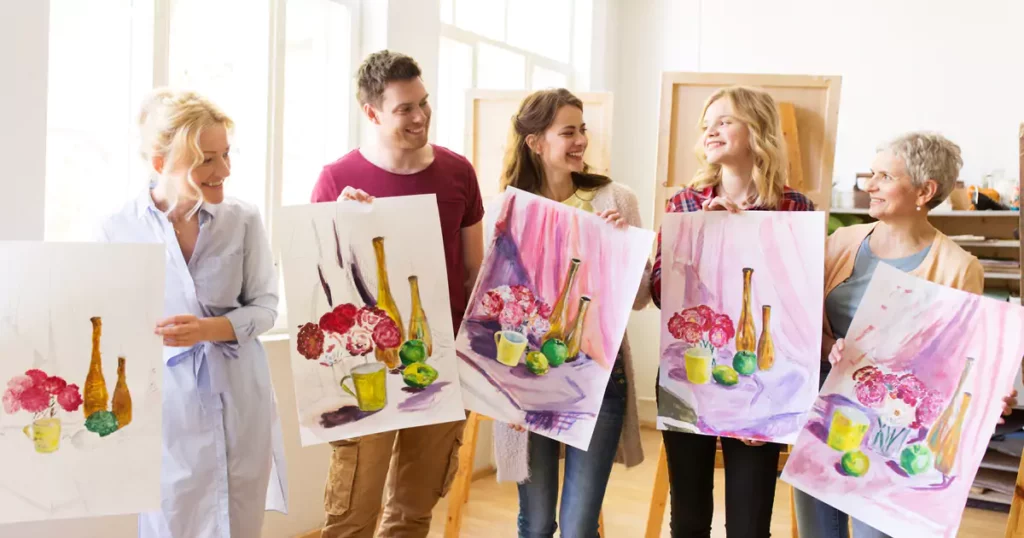 A great idea is to choose the collaborative option where all your team members will paint a big canvas together. They can build memories while they do this, too, and you can show the final product off at your office.
The twist is that you can bring in wine and other alcoholic beverages if you'd like. But it's not a requirement to have fun! Being with your team creating masterpieces is all you'll need for a beautiful time together!
16. BBQ Like a Champ
Cooking up some BBQ can get juices flowing too! With BBQ Like a Champ, your employees will learn to create their own BBQ recipe from expert Larry Moody, a former Food Network judge.
Your private event starts with BBQ & Grilling #101 where your team will learn tips and tricks used by competition and professional BBQ chefs. Then onto the BBQ Mini-Contest! Your team members will be divided up between those who want to judge and those who want to cook.
The cooks will create their own BBQ rubs and sauces and grill up their homemade steak or chops! The judges will make their decisions and whoever has made the best tasting BBQ wins bragging rights and a trophy!
Though this team building activity is not heavy on the skills needed to be an efficient team, what would Dallas be without some amazing BBQ! When it is time for a company picnic, the contest winner can grill their secret BBQ recipe for the team!
17. Mix It Up With A Group Cooking Class
At a private group cooking class, your team will build skills by creating an edible masterpiece! The Cookery Dallas has private cooking classes that integrate team building benefits into the mix! A professional chef will instruct your team to create a three-course meal. Along the way, your team members practice their active listening skills as they must closely follow instructions.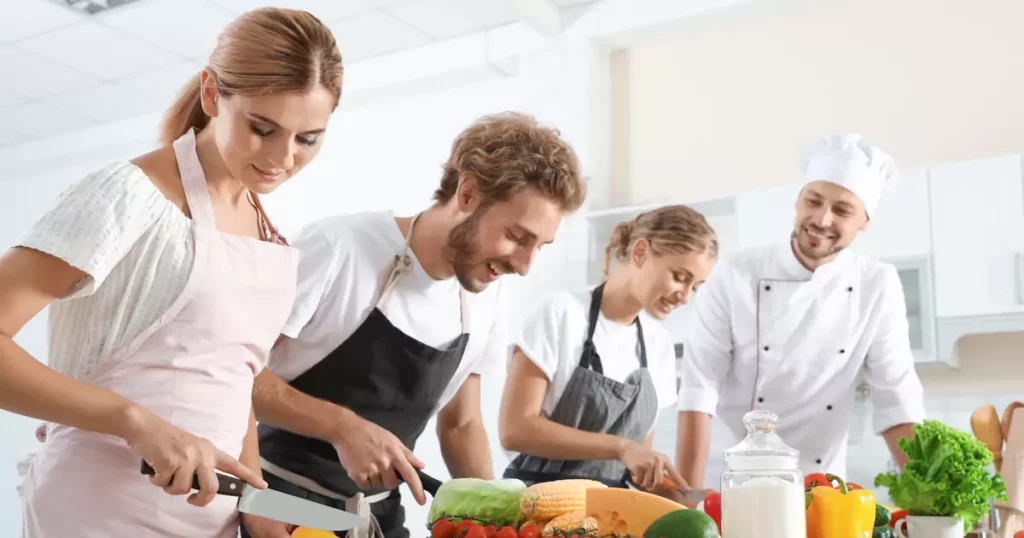 Remote teams can get cooking as well with any one of these wonderful online cooking classes.
Learning new culinary skills instills confidence in individual team members and fosters camaraderie as your team enjoys the fruits of their labor once they have finished cooking!
18. Invite Art Into Your Workplace
With The Creative Pantry, your employees will learn to create art together without leaving the office! This mobile crafting company brings all the tools and materials you need for your employees to explore their artsy side.
They offer instruction in a variety of crafts like string nail art, painting wooden signs, making canvas pillows, and more. Your team members can pick a craft that is perfect for their level of skill and move at their own pace.
Your team can collaborate on their projects and even create art for the office. When your session is complete, your team will walk away with their finished products and their memories of a fun time!
Heart-Racing Thrills in Dallas
19. iFly Indoor Skydiving
If you are looking for a unique and exhilarating team building experience, check out iFLY Dallas. Instructors are trained in team building so they can work with you to customize your outing to fit your group's needs.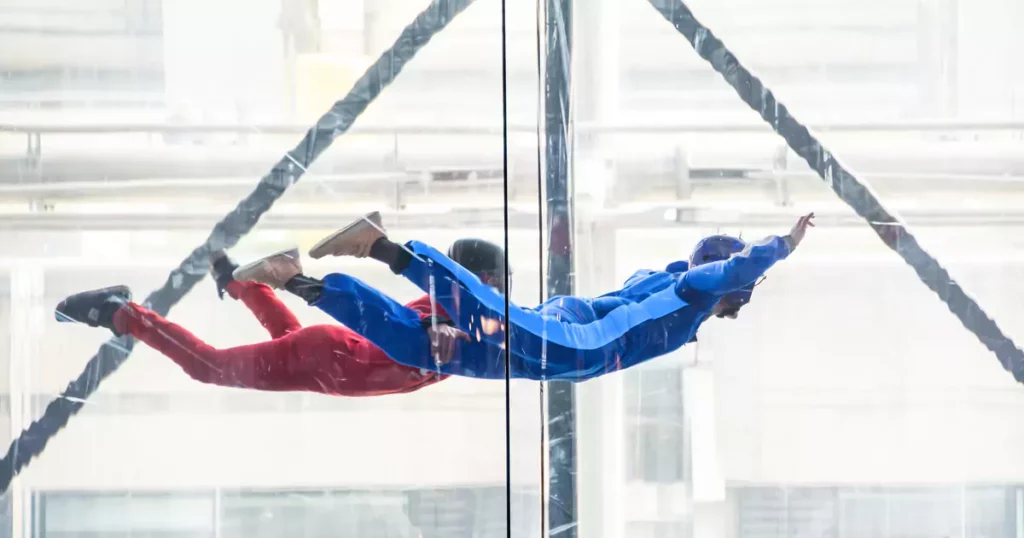 Indoor skydiving can be thrilling but some team members may be reluctant. Here's where the team building comes in! Team members will have to support each other to take that leap of faith! Indoor skydiving is an activity that your team is not likely to forget soon!
20. Bad Axe Throwing
When your team needs to blow off steam from trying to satisfy a fussy client, a night of axe throwing might be just the thing!
When you plan a private event at Bad Axe Throwing, you get as many private throwing lanes as you need to accommodate your group size. Before you start throwing anything, one of their axe-throwing coaches will teach your team to throw. Then you'll split into teams and play a round-robin style tournament.
Bad Axe Throwing allows you to bring your own food at no extra charge which is great if you are on a budget. If you prefer a catered event, they will work with you on planning one.
Great colleagues, good food, and sharp axes make for an awesome and unforgettable time!
21. Mario Andretti Racing Experience
Car racing at the Mario Andretti Racing Experience in Dallas doesn't immediately jump out as a team building activity. But the benefits are hidden behind all the flash!
Their private corporate group sessions feature custom competitions and challenges that can improve your team's active listening skills, collaboration, and camaraderie. There are even opportunities for team members to take on leadership roles!
Reward the speed demons in your office with this thrilling adventure!
21. Electric Shuffle
Get your shuffleboard on at Electric Shuffle! They are all about bringing teams together to unleash their competitive side while indulging in craft cocktails and delicious food while enjoying their beautifully designed venue.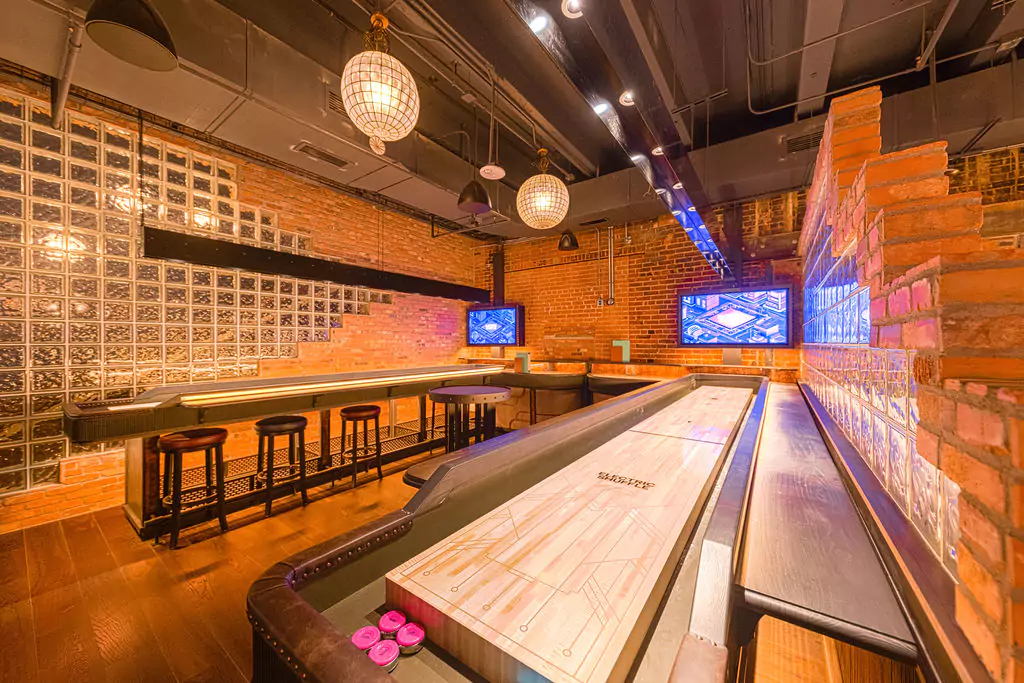 Ideal for groups from 25 to 400, Electric Shuffle Dallas features 17 high-tech shuffleboard tables with 5 unique game options to choose from. With Tournament Mode, teams can compete against each other with live leaderboards and your own dedicated Gamesmaster. Food & bar packages are also available to help make this a team building event everyone is sure to remember.
Team Building Games For The Office
Whether your team is based in Dallas or working as a hybrid or remote team, here are some in-person and virtual team building activities designed to address specific team skills.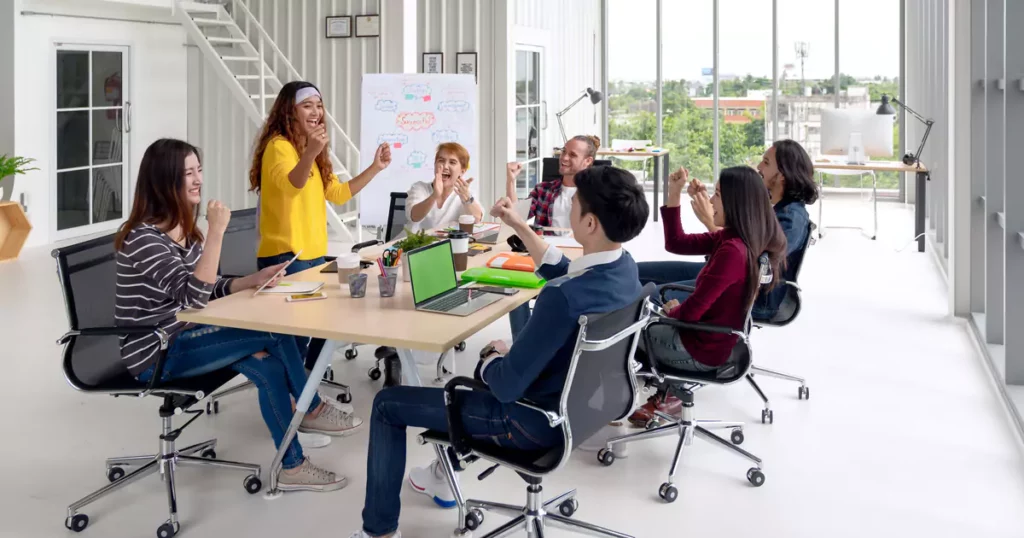 These fun games will improve communication and enhance collaboration. Your team will practice problem-solving in no-stress scenarios and apply creative thinking. Trust amongst team members will grow and strong bonds will develop and boost morale!
Another benefit of these activities is that they can be scheduled for a convenient time during the workday. Better still, most are free or low-cost!
22. Office Scavenger Hunt
Just like an outdoor scavenger hunt, your group will be split into teams. Each team must collaborate to solve clues and hunt down objects found in your office from a list you create. The first team to complete the task wins! Offer a prize, like a free lunch, to motivate your teams to get into the game!
Also, there are virtual scavenger hunt options so your remote team can share in the fun!
23. Shark Tank-Style Competition
Inspired by the TV show, your teams will compete to develop a product. A Shark Tank-style activity encourages collaboration, promotes out-of-the-box thinking, and develops leadership skills.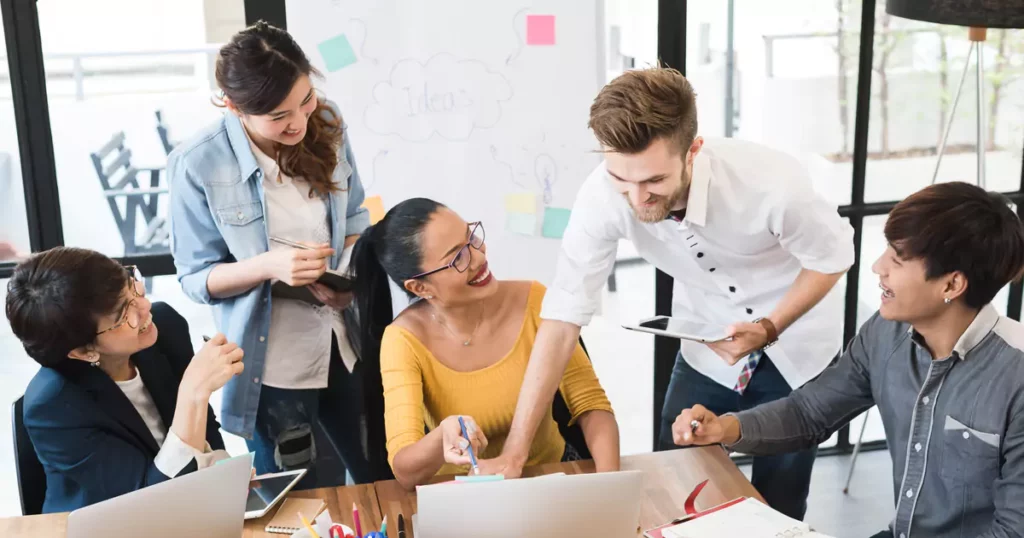 To play, split your group into teams who must come up with an innovative product in just 60 minutes. In addition to devising their product, they must create a business plan and a marketing plan.
When time is up, teams pitch their product to the team leader who will act as a judge and pick the best product. While there is pleasure in winning, there is an extra pleasure when there is a reward for hard work! Have gift cards handy or treat the winning team to a free meal.
24. Marshmallow Challenge
This team building game can be played in less than 30 minutes and costs about $3 total! Split your group into teams of 3-4 players. Tell them they have just 18 minutes to build a free-standing structure using 20 sticks of spaghetti, one yard of tape, one yard of string, and one marshmallow!
Though the instructions are simple, the task is anything but! The Team with the tallest tower wins! This silly game is one of the best team building activities as it facilitates collaboration, creativity, and problem-solving.
Treat the winning team to a free meal, perhaps a bowl of spaghetti and meatballs?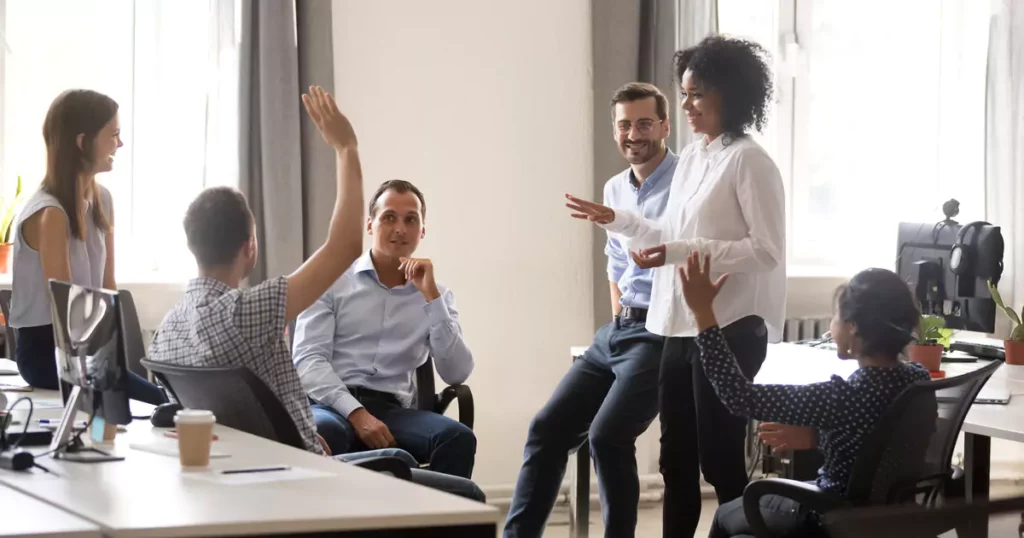 25. Play Trivia Games
As teams work to come up with the right answer to trivia questions, they practice their collaboration and decision-making skills. They also learn about each other's interests and areas of expertise!
An excellent and free online team trivia game is Kahoot! You can play Kahoot! in-person and can customize the game time to include company or industry-related trivia. There are plenty of virtual trivia games for remote teams too.
What To See During Your Team Building Visit To Dallas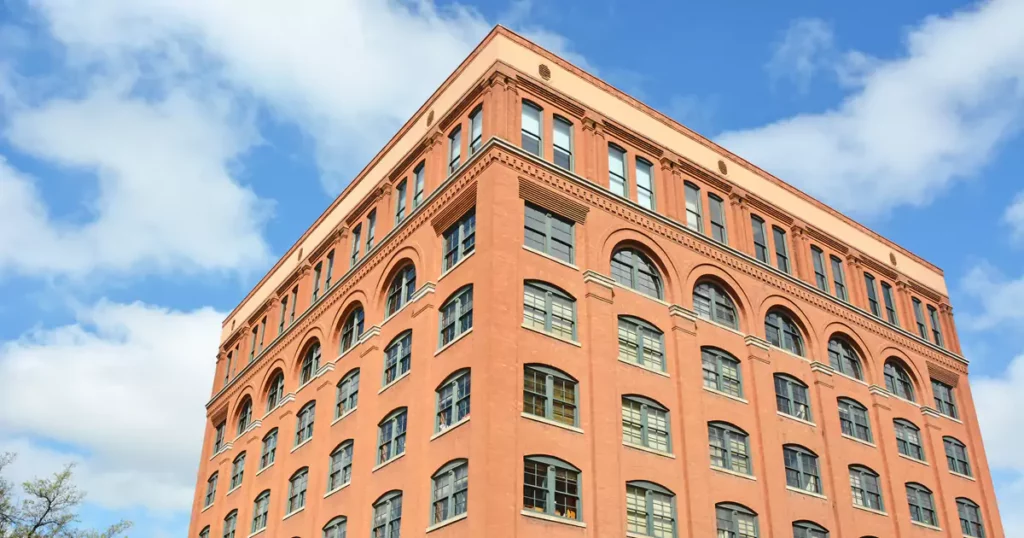 The Sixth Floor Museum at Dealey Plaza
This museum is housed in what was the Texas School Book Depository, known for being Lee Harvey Oswald's vantage point when he shot and killed President John F. Kennedy on November 22, 1963.
The museum is on the 6th floor of what is now the Dallas County Administration Building. It is one of the most visited sights in Dallas, not surprisingly, as the JFK's assassination is one of the defining moments in the United States' history.
When you first enter the museum you will see multimedia exhibits that introduce the historical context of the years leading up to JFK's assassination. This is followed by the details of the days leading up to his ill-fated trip to Dallas and his movements on the day he was killed.
Beyond this exhibit, you come to the infamous sniper's perch in the corner window of the Book Depository from where Oswald fired the fatal shots. The corner has been recreated to match the crime scene as it was found.
The remaining exhibits are about the following investigation, the national and global reaction to the assassination, and John F. Kennedy's legacy.
See the official website for The Sixth Floor Museum for more information.
Dallas Holocaust and Human Rights Museum
Located in the West End, the Dallas Holocaust and Human Rights Museum is unique in that seeks to educate the public on both the Holocaust as well 20th-century genocides. Its mission is to "teach the history of the Holocaust and advance human rights to combat prejudice, hatred, and indifference." The museum is housed in a stunning three-story copper-clad building with 55,000 square feet of exhibits.
There are a number of highlights, but without a doubt, the stand-out, and somber, exhibit is that of an actual Nazi boxcar that carried Jews and other targets of Nazi hatred to concentration camps. It is the very first boxcar brought to the United States, in 1984, and the first put on display in a museum anywhere in the world. The Dallas Holocaust and Human Rights Museum is an outstanding museum and deserves a few hours of your time.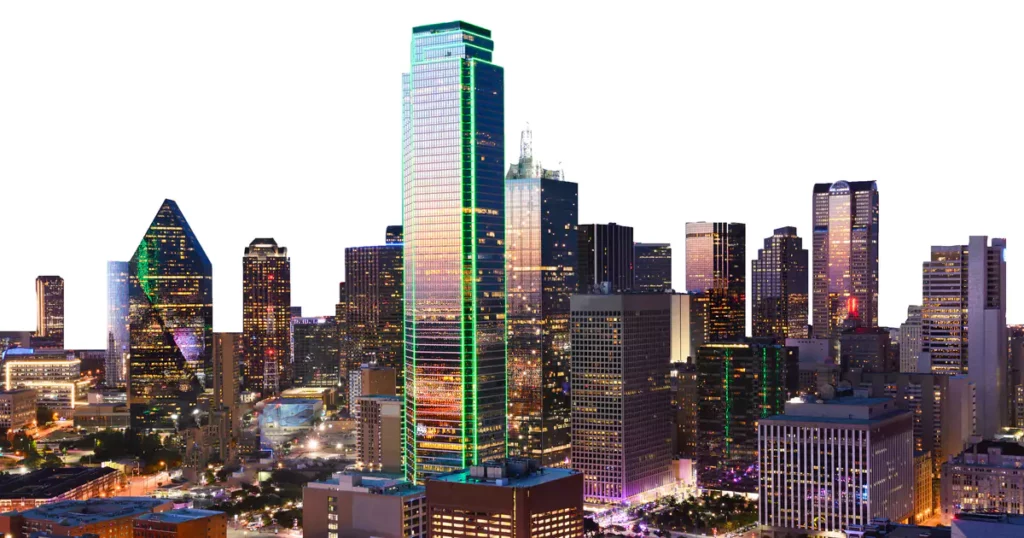 GeO-Deck At Reunion Tower
An iconic sight of Dallas, Reunion Tower is the place to go for spectacular 360-degree views of the Dallas skyline. At the top of the 470-foot-high observation tower, is its revolving outdoor GeO-Deck.
In addition to the outdoor deck, there is an indoor space with lots of interesting features, such as high-definition zoom cameras that give visitors 360-degree views of the city and beyond. There is also an interactive tool that allows you to create your own constellation.
The tower is open both during the day and at night so you can schedule your group outing during work hours or after your business day is done.
Check their calendar to see what special events are going on, such as wine tasting sessions and yoga at sunset! Find out more about Reunion Tower here.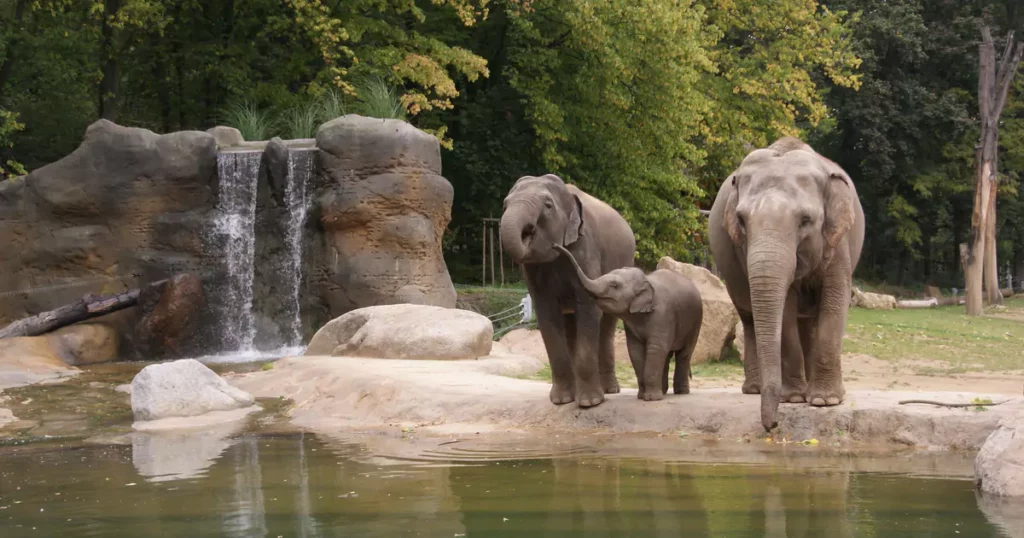 The Dallas Zoo
A trip to the Dallas Zoo is just as good as a trip to the Dallas Aquarium as your team will see over 2,000 animals from over 400 species. From the grasslands to the rainforest exhibits, your team can see penguins, spot cheetahs, and feed the giraffes. The zoo's 11-acre 'Giants of the Savanna' is the only zoo exhibit in the U.S. that places elephants and other species in the same habitat.
If you want a fuller experience, you can take a 90-minute backstage safari for an enlightening behind-the-scenes tour. Be sure to make a reservation for this special attraction.
If you go on select dates, you can explore the zoo and stay for live music and dancing during the Zoo's Safari Nights.
Dallas Museum of Art
Opened in 1903, the Dallas Museum of Art is one of the ten largest museums in the U.S. Its collection is huge, with more than 24,000 pieces of art and objects, spanning a period of 5,000 years.
Its contemporary art collection is excellent with several paintings by Jackson Pollock, Andy Warhol, Cy Twombly, Julian Schnabel, Salvador Dali, and more. The 19th-century collection is also quite good as is its ancient arts and artifacts collection.
Explore Dallas On A Tour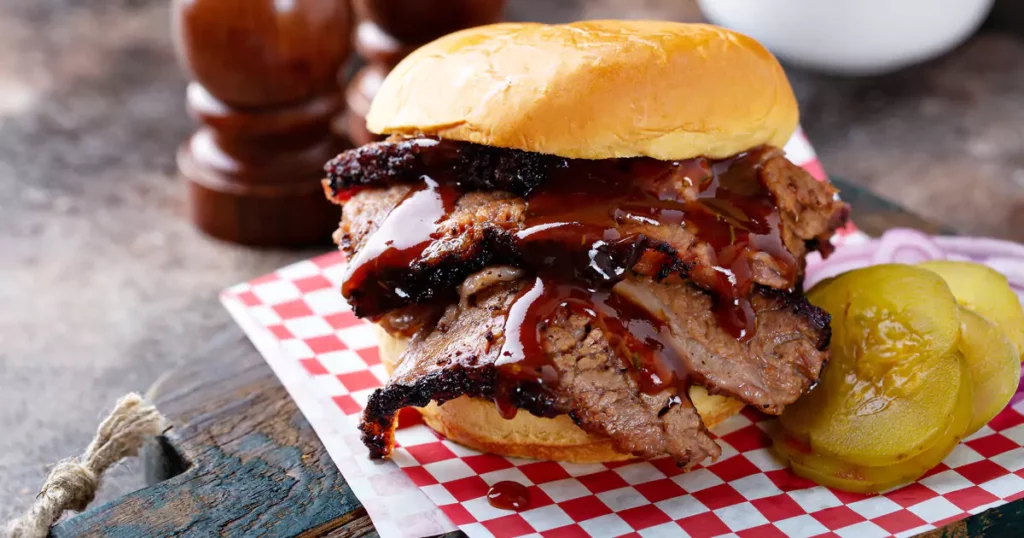 Food Tours
Dallas's food scene is both sophisticated cuisine and down home cooking. Food tours let you try some of the best-known foods of Dallas while seeing the sights of the city.
One food tour company, Dallas by Chocolate, offers team building events so that you and your group can have a private tour and experience the bites and sights of Dallas. Their private tours can accommodate 6-150 people and can be scheduled for any day of the week.
Their BBQ & Brewery tour speaks for itself. You'll be driven in a motorcoach to the best barbecue joints in Dallas including local favorites and some hole-in-the-wall secret gems. A visit to a local brewery is also included.
If you are up for walking, try Dallas Secret Food Tours. This is a walking food tour and lasts three hours, but you'll only have about 30 minutes of walking as you will be stopping along the way for some Southern food favorites.
The tour takes place in the Deep Ellum neighborhood, where you won't find any skyscrapers but instead, historically landmarked buildings and vibrant streets. Food included are "cowboy style" BBQ brisket, chili con carne, handmade biscuits with local honey, old-fashioned candy, drunken pecan pie, and a 'Secret Dish'!
Bus Tours
Dallas can be very hot. On days with high temperatures, you might want to take an air-conditioned bus tour. This tour by DFW Tours takes you to the city's iconic sites as well as some off-the-beaten-path locales. The neighborhoods covered are Deep Ellum, the Bishop Arts District, Downtown Dallas and more. The tour requires a minimum of 6 people and lasts three to four hours.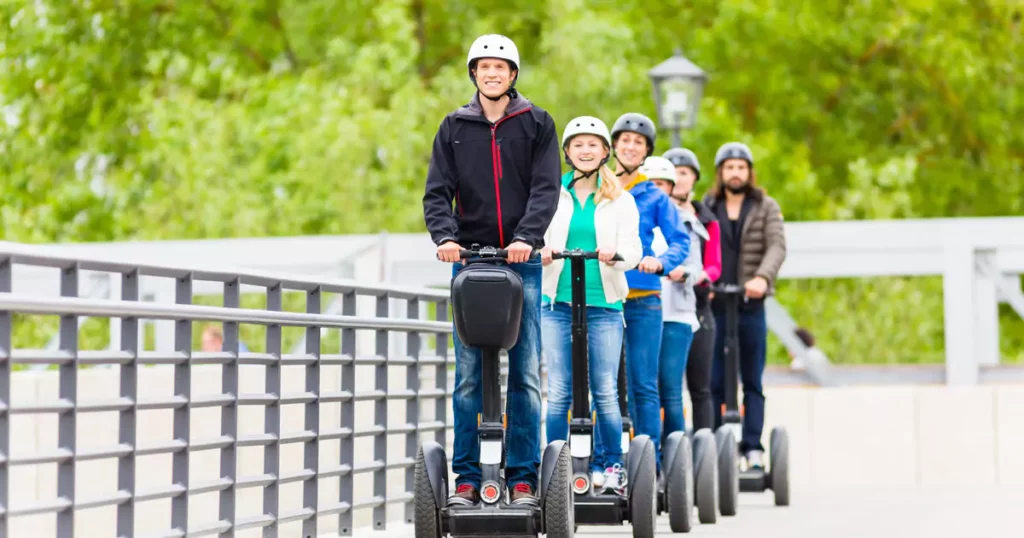 Segway Tours
Dallas Segway Tours can create a team building tour to accommodate all your members on one of their three tours: JFK & Dallas Arts District Segway Tour, Historical Landmarks and JFK Segway Tour, and Dallas Arts District and City Lights Segway Tour.
Trolley Tours
Big D Dallas Trolley Tours is a relaxing way to see the historical sights of Dallas with your team. Tours offered are a Dallas hop-on hop-off tour, a City of Dallas tour, a JFK tour, a holiday lights trolley ride, and an adult-only (BYOB) holiday lights tour.
Party Bike Tour
How about seeing Dallas on 30 wheels? Dallas Party Bikes' team building events let teams of up to 15 members pedal together on a 15-seater bike! Their two-hour fun-filled pedal pub party goes through Downtown and Deep Ellum and is led by a certified party bike pilot.
With 15 seats, these vehicles are already flashy! Add LED lights and a sound system and you have an extraordinary bike like no other! Need more seats? No problem! You can rent multiple bikes and have enough seats for everyone, as long as your group is 75 people or fewer.
If your group dynamic is such that bike and booze-oriented activity isn't ideal, try an electric bike tour with In-City Wheels.
For information on all sorts of guided tours of Dallas, look here.
Want to Learn More About Team Building in Dallas?
If your team is not as unified as it could be, the fun and engaging team building activities above can work wonders. As your employees get to know each other beyond the work environment, they will come to see what makes each of them unique, as team members and as individuals.
Whether you choose a structured activity or a casual, fun group outing, you'll see that team building can turn your team into a cohesive, effective, and happy team!
Get started planning your epic team building event today!