Team building activities are a game-changer when your team doesn't function as a cohesive unit. Fortunately for your company, Austin has countless fun and engaging activities so organizing team building activities and events here will be a cinch!
Team building activities are so much more than predictable games or trust falls. Many are highly engaging and exciting, so much so that teams won't realize that they are doing something work-related!
While they are busy having fun, they'll be improving their communication and problem-solving skills. Team building games and activities encourage creativity and innovative thinking. Sharing experiences outside of work develops group bands and camaraderie.
Incorporating team building activities and games into your company culture is easy to do, especially in Austin. There are so many things to do, that you may be overwhelmed by the options. Below we share with you our recommendations for the 25 awesome team building activities in Austin!
25 Awesome Team Building Activities and Games in Austin, Texas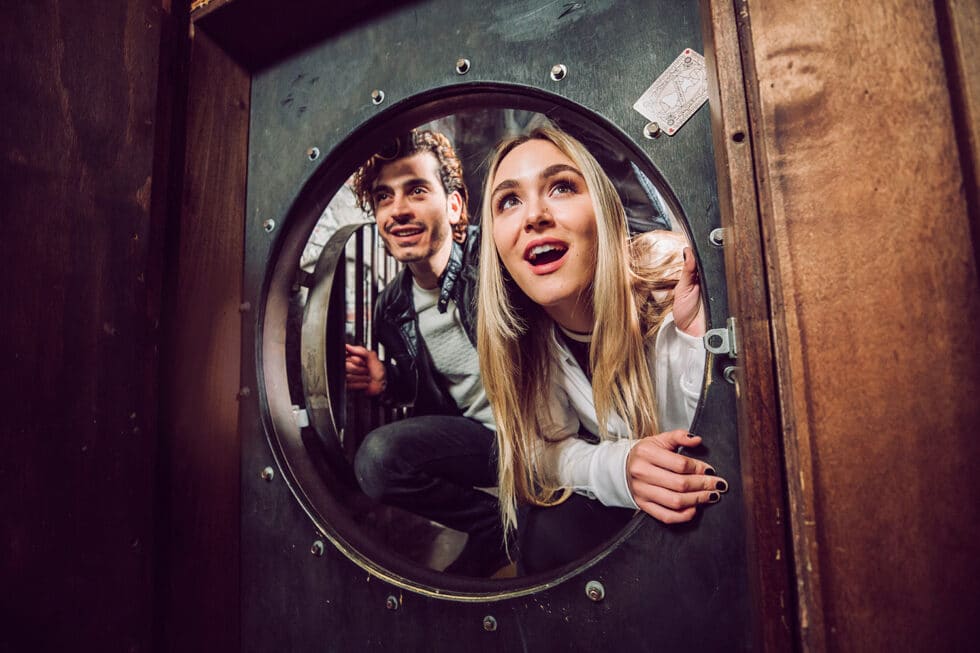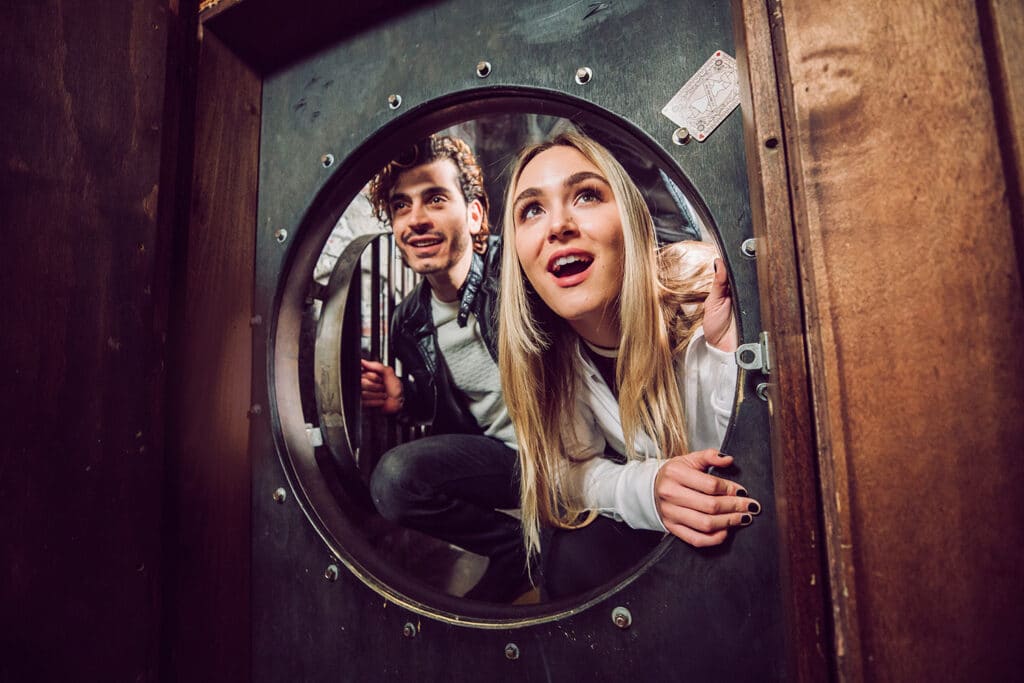 1. The Escape Game Austin
The Escape Game Austin offers your team an exhilarating and engaging team building activity! When your team enters one of several uniquely themed escape rooms, they have just one hour to escape! Working together to decipher clues and puzzles to find a way out of the room can help build a stronger team. Escape rooms push your team members' problem-solving skills to the limit. Strategic thinking is essential to escaping as is clear communication and collaboration.
Each of the escape rooms presents your team with different challenges, but of equal complexity. Choose from these great escape rooms:
Classified
Your team is now a top-secret military group. They're tasked with getting to the bottom of a major international threat. The problem is they only have 60 minutes to hack the attack and prevent these high-level perpetrators from hatching their heinous plan!
Gold Rush
In this mad dash for your dearly departed's hidden gold, team members will work together to find the stash before the locals catch wind of the old man's death and come to claim it for themselves.
The Heist
If you're ready to bring the difficulty level up a notch, The Heist is for you. Your team will work together to recover a priceless painting from a scheming museum curator's office before he makes it back onsite. Collaboration and effective communication are essential to stop the criminal in his tracks.
Prison Break
The most difficult of the offerings at The Escape Game Austin is Prison Break. It's the 1950s and your team has been wrongfully imprisoned and confined for life into some cramped prison cells. You've got an hour to escape before your freedom is gone forever.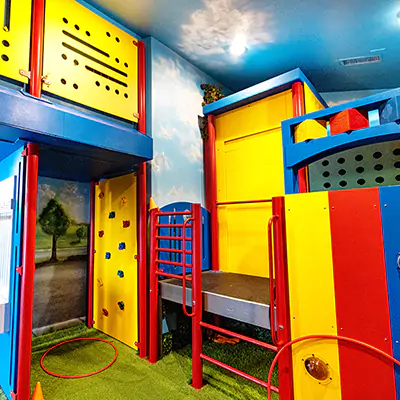 Playground
The premise of the game is to escape the last day of school by solving some unique lessons that your eccentric teacher has given you. If you don't succeed, say goodbye to summer break!
The Escape Game Austin can accommodate small to large groups. If your team cannot play in one room, they can be split into small teams and play in different rooms. That will spice up the game with some friendly competition of which team can escape first!
For companies that are operating fully or partially remotely, The Escape Game also offers unique virtual escape rooms. These experiences can accommodate groups of up to 25 or more.
Whether your team must break out of a prison cell or recover a priceless painting curator, they will have a fantastic time!
2. Plan An Event With Team Building Hub
Team Building Hub specializes in creating engaging and fun team building events tailored to meet your team's goals! They are experts in creating exciting experiences for both in-person and virtual events.
Here's how it works. Reach out to Team Building Hub through their website and provide some details, such as group size, location, etc. Within one day a professional planner will contact you and will work with you to design an unforgettable event for you and your team.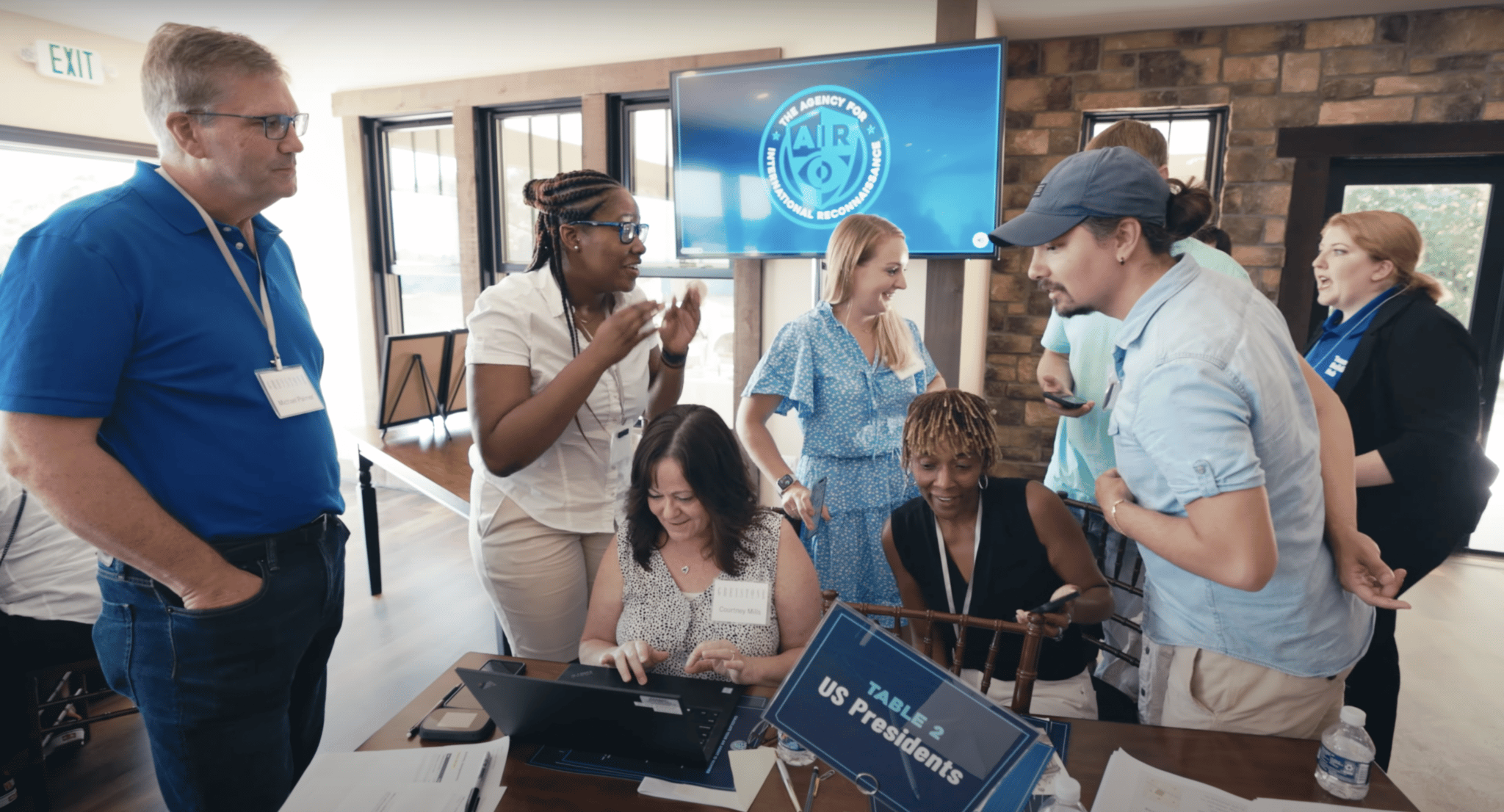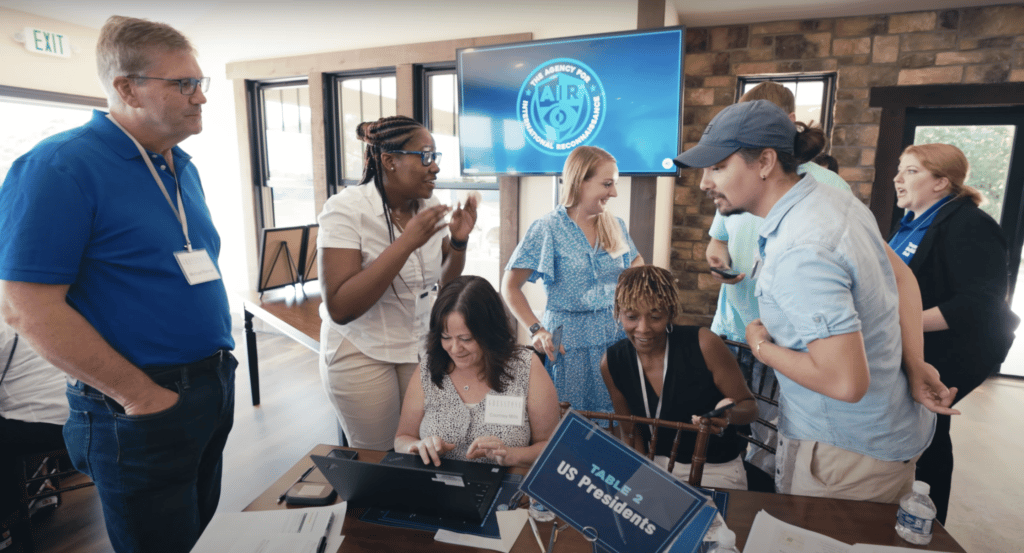 Once your event details are finalized, your event planner will give you everything you need to run your event. If you've chosen an in-person event, just bring your team to the venue! If you have planned for a virtual event, simply click on the link your event planner has sent to you. Someone from Team Building Hub will be there every step of the way
Whether your event is for five or 500 people, who are located in the same place or around the globe, let Team Building Hub plan your next team building event. You won't be disappointed!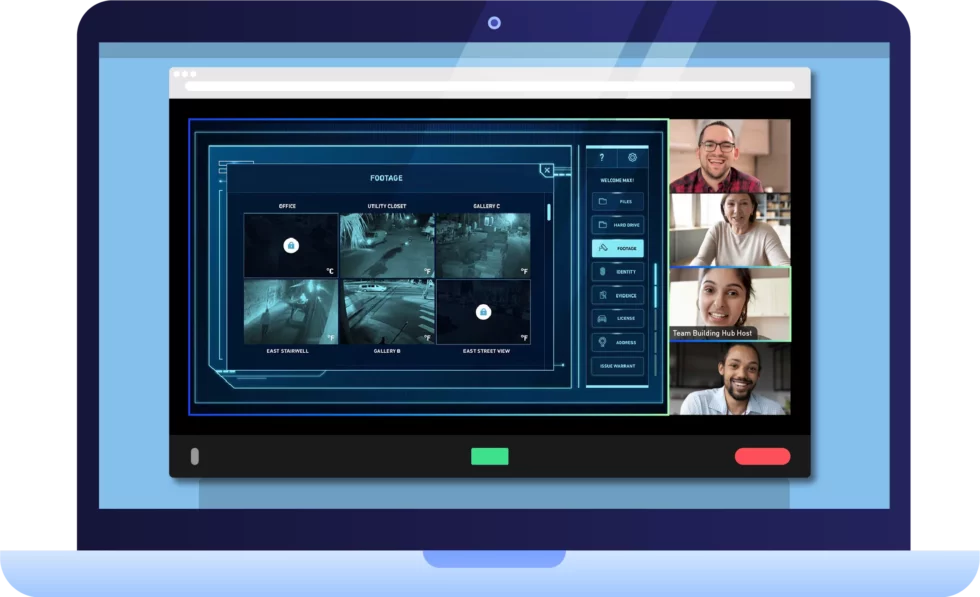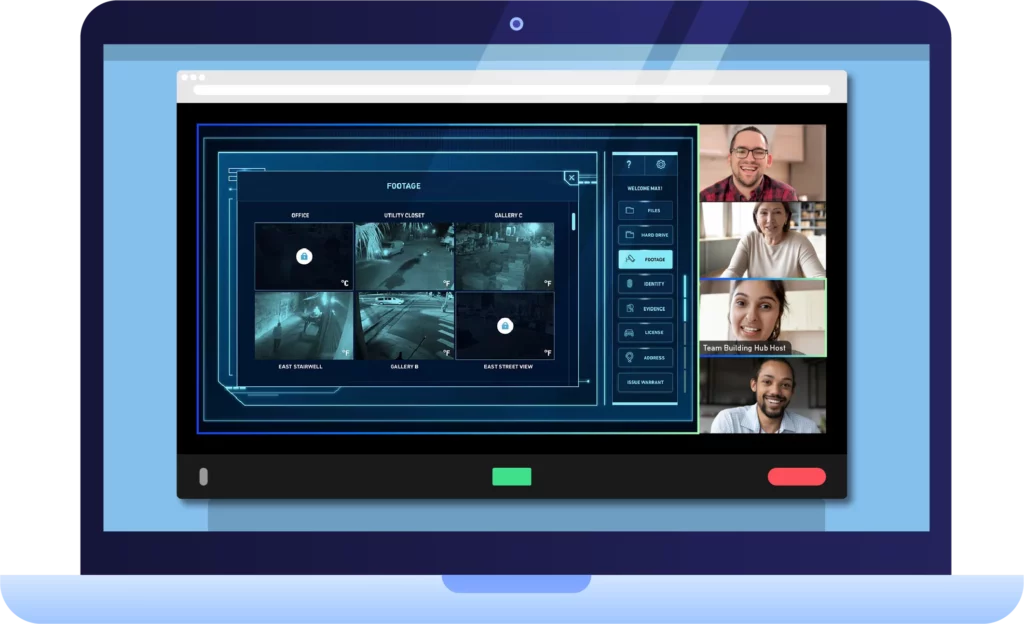 3. Solve An Online Mystery
Whether your team is operating remotely or in your office, playing a virtual mystery game brings your whole team together to do something they haven't done before — solve a crime before it's too late! Of course, we don't mean real crimes. But the mystery they must unravel is complex. Because these mysteries are a simulation of a high-stakes scenario, your team can work on their team skills without any consequences, other than their own disappointment should they not solve the mystery in the allotted time.
These mystery games are played over Zoom and have a live host to guide your team through the game. Your group is split into small teams who will race each other to solve the mystery first. To win this riveting game, teams will have to think creatively and strategically. From a virtual dashboard on their computers, teams can review surveillance footage, psychological reports, and other evidence to put the pieces of this puzzle together.
The team that solves the mystery the fastest wins the game! Be sure to have a prize to award the winning team, like a free lunch or gift cards. Next time you are looking for an entertaining way to connect your company, you don't have to hunt one down. Play a virtual mystery game!
4. Do A Scavenger Hunt
Scavenger hunts are an awesome team building activity where all of Austin is the game board on which teams hunt down clues that will lead them to the next location! Doing a scavenger hunt draws out your team's fast problem-solving skills as they search for answers to riddles.
Teams have to work on consensus reaching to decide what steps to take next in the hunt. They have to think strategically and creatively if they want to be the first to complete the hunt. They also require strategic thinking and creativity.
If you can afford to, look into a professionally run scavenger hunt like cityHUNT. They offer traditional scavenger hunts as well as some other interesting games. They can customize your hunt and tailor it to the needs of your team.
Whether you're looking to build relationships, increase communication skills, or develop outside-of-the-box thinking, they promise it will be a memorable experience for all!
If you have a no-to-low budget, create your own scavenger hunt for free with GooseChase's scavenger hunt creator. Keep in mind that it is only free for teams of 15 players or less.
If your company is fully or partially remote, these virtual scavenger hunt options will make sure that everyone is part of the quest for glory!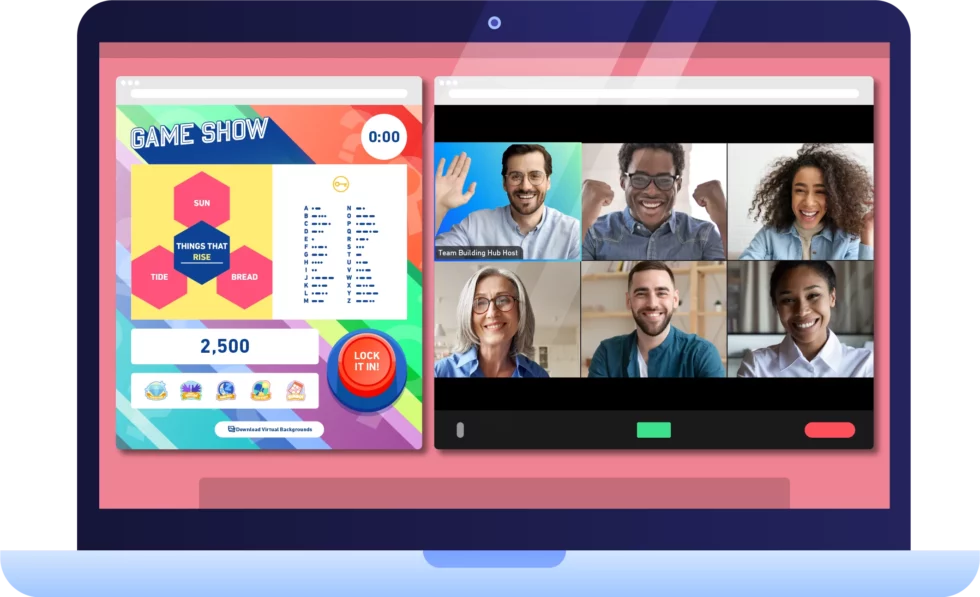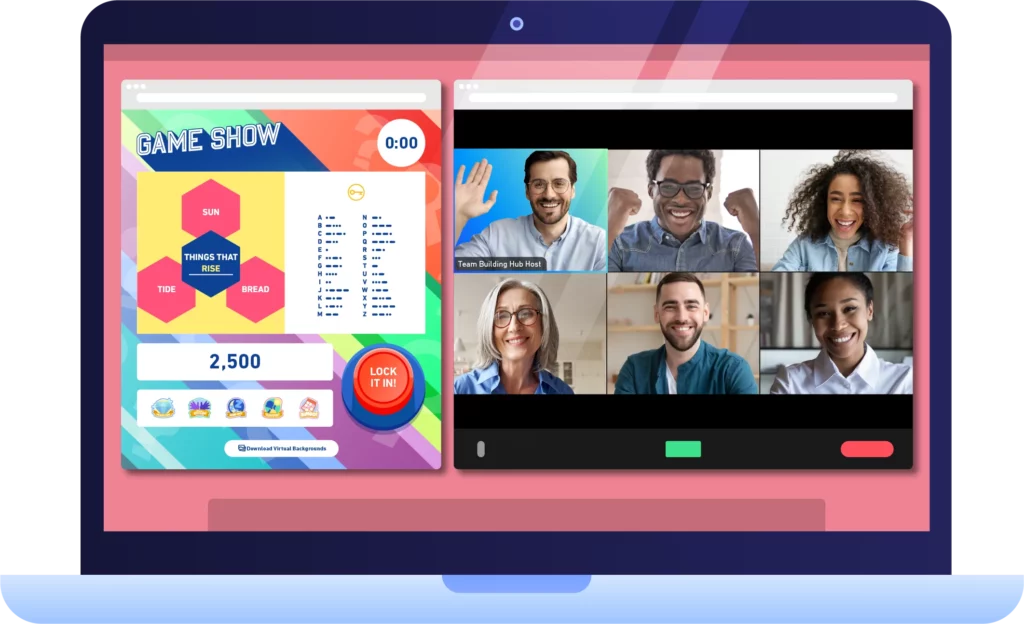 5. Play An Online Game Show
Team Building Hub's online game shows are a super way to bring your teams together through some healthy competition! These live-hosted games played online pit teams against each other to solve riddles and brainteasers to rack up points and reach the top of the leaderboard.
These online game shows have a unique interface that allows players to see the game challenges, the leaderboard, and each other at the same time. Team members will feel like they are playing the game in the same room!
Choose from either The Puzzle Game or a special Holiday Edition game show (perfect for office parties around the holidays!) Each game comes with about 60 minutes of gameplay, which is just the right amount of time to host a team building activity. Why not play an online game show at your next company happy hour?
From 10 to 150 people can play, so these games are great for teams both big and small. If you have remote team members working in different time zones, you can schedule your online game show event for a time when all your employees can call in and play!
Several rounds of Team Building Hub's online game show will have your team members' creativity and problem-solving skills soaring, all the while having a blast together.
6. Expeditionary Learning At Its Best
The Expedition School in Austin has been providing groups with outstanding team building experiences and outdoor learning since 2006. They offer customizable expeditions tailored to meet your objectives such as improving team effectiveness, sergeant collaboration, or building trust among team members.
You can choose from a customized team building event that can integrate hiking, high ropes and low ropes courses, kayaking, stand-up paddling, and canoeing. No matter what activities your team engages in, your session will be impactful and fun!
The Expedition School is a 501(c)3 non-profit organization that donates proceeds to free outdoor education for all — one more thing that your team can feel good about!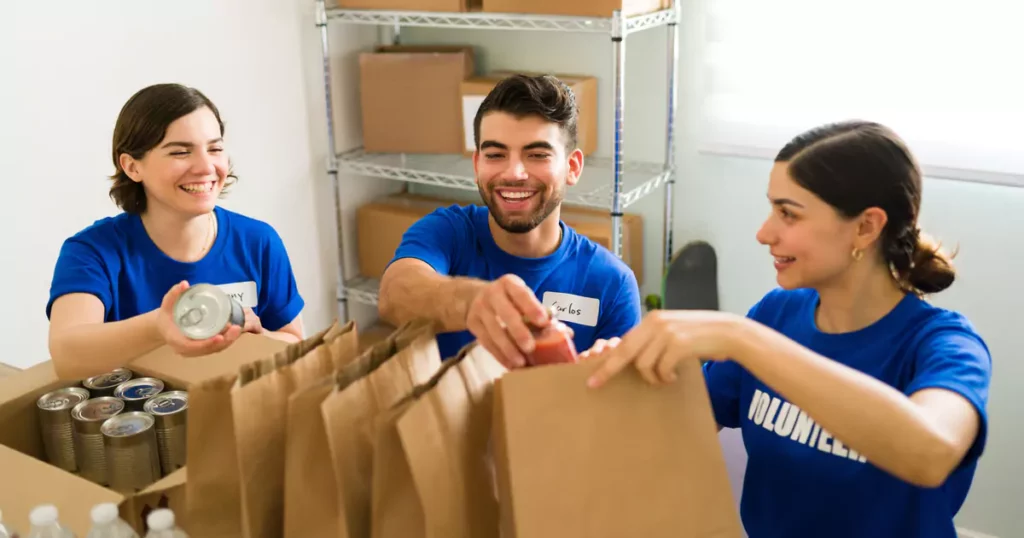 7. Volunteer As A Team
When employees volunteer as a team they are strengthening the community and forging strong bonds amongst themselves. It gives them a common goal to focus on and promotes empathy within the group. Volunteering locally also allows your staff to give something back to the community.
Studies show that people who volunteer achieve a better work-life balance than those who don't volunteer. Volunteering reduces stress and it makes people feel good! The less stress among the team, the better, especially in a deadline-driven situation.
There are many group volunteering opportunities in Austin.
If you want to do good deeds at a time that is convenient rather than signing up for pre-set times, contact Together We Rise. They can send kits to your office or any location that your team then assembles.
Their Superhero Box project lets your team decorate and assemble individual kits for foster children. Each kit comes with a cape, a mask, power cuffs, a pillowcase, and a Superhero registration card. Some great kids out there will feel special and your team can feel special for taking the time to give back!
Giving your team a chance to volunteer together will make them feel united and also allow them to take pride in working for a socially responsible company. That's something you too can feel good about!
8. Build A Food Truck
Austin is known for its fantastic food trucks. With Austin Detours, you can have a truly unique team building experience. Your team will build a food truck! Well, a mini-food truck.
Austin Detours' Food Truck Challenge sets your coworkers into battle to build a 1/8 scale food truck. It's not just about building a little truck. There's so much more to do, as your teams must
have to approach this task like first-time food truck owners!
First, your group, split into small teams, will get started on creating a menu and a business strategy, then work on branding. Once the conceptual aspects have been worked out, each team is given materials to build and decorate a ⅛ scale size food truck based on their concept.
Talk about getting creative juices flowing! Your team's best brainstorming abilities are needed if their food truck will make it in this business!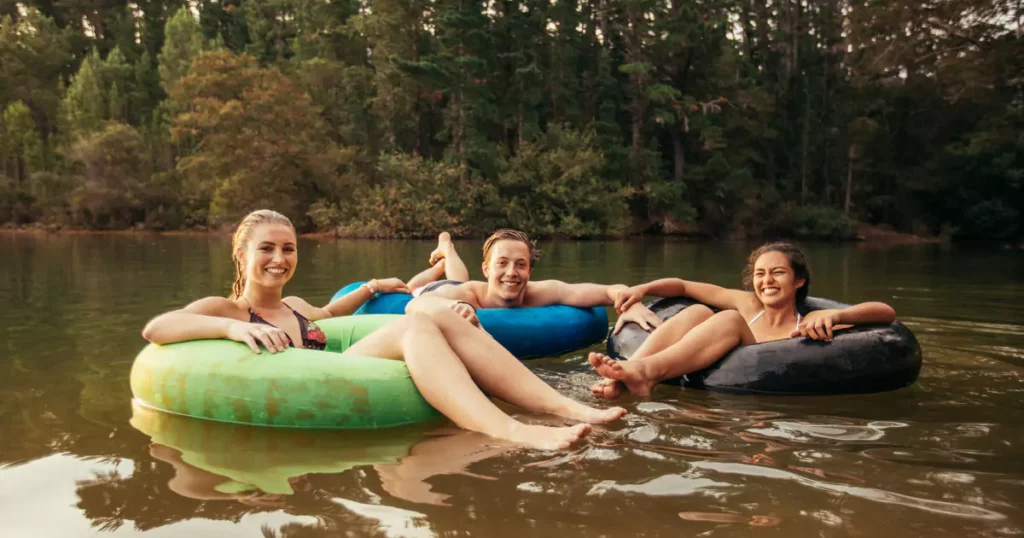 9. Float Down A River
On a downriver float on inner tubes, your team is forced to unplug, from tech gadgets, from work pressures, from everyday life minutia. Being free from these constraints, your team will be at ease.
While tubing is a social activity it still demands team collaboration as no one person is a chosen leader. The inner tubes are tied together so individuals must paddle as a team to avoid obstacles in the river.
Nature has a way of breaking down artificial barriers. Away from the office and out on the river, friendly conversations about life beyond work will start up. Your team members will get a glimpse into what makes each other tick and lasting connections will be formed.
For a refreshing team building activity, try Austin Tour Company's River Floats or ATXcursions.
10. Play Team Trivia
Playing team trivia is a super fun way to grow your team's skills. When teams are pitted against each other to come up with the right answers, they must actively listen to each other as possible answers are contemplated. Everyone must feel comfortable sharing ideas. Collaboration and consensus are essential to winning the game.
Moreover, studies show that playing trivia games can induce a rush of dopamine (the "happy hormone") in our brains, increasing our feelings of joy. Trivia games bring teams together and make them feel good!
Austin has tons of bars and pubs that host trivia nights and you can probably find a trivia game near your office. If you don't have a local trivia venue nearby, play one of the many excellent virtual trivia games during your company happy hour!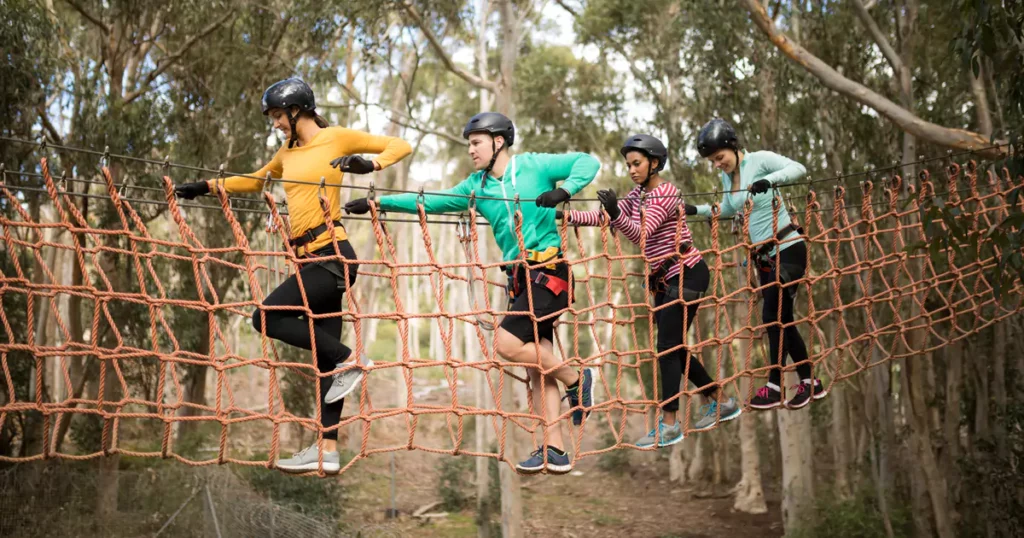 11. Reach Your Peak Performance
If you can drive about an hour from Austin for a day of activity, try the Lone Star Peak Performance Experiential Learning Team Building Program. Their philosophy is that the best learning happens outside one's comfort zone. Lone Star customizes its experiential learning to your team's needs.
Let them know what are some weaknesses in your team's functionality, and they will choose activities to address them. If you are interested in seeing leadership potential, they will select challenges to draw out that untapped power. Whatever you want your group to improve upon, Lone Star can create an activity to fit that goal.
Here are some of their outdoor activities to facilitate team building. They promote friendly competition, cooperation, decision-making, and problem-solving.
Leadership Reaction Course
High Ropes Course and Low Ropes Course
Team Orienteering Challenge
4 x 4 Challenge
Team Paintball (with hostage negotiation element)
If you are thinking this sounds like a boot camp, there are plenty of less physically challenging recreational activities like fishing, soccer, football, baseball, horseshoes, basketball, archery, skeet shooting, and more.
When your team conquers the challenges they are presented with at Lone Star, they'll be ready to take on anything!
12. Group Graffiti
Creating art as a team can bring people together as a community while also allowing individual members to shine. Color Cartel, run by some of the most talented graffiti muralists in Austin offers a unique graffiti team building program customized to fit your group's goals and dynamics.
Their Graffiti Group Experience staff first teaches your team how to create graffiti art. Then your team will work together to design and execute a group wall mural! Designing a large team graffiti mural calls for group planning, role delegation, and reaching consensus, all skills needed for any effective team.
As your team members exercise these skills, they will come to recognize each other's approaches to creating something new. Back at work they will tap into those different approaches and be more innovative as a team.
Although your team can't take the wall with them, they can take pictures of their collective work of art. They'll also walk away with colorful memories of this shared experience.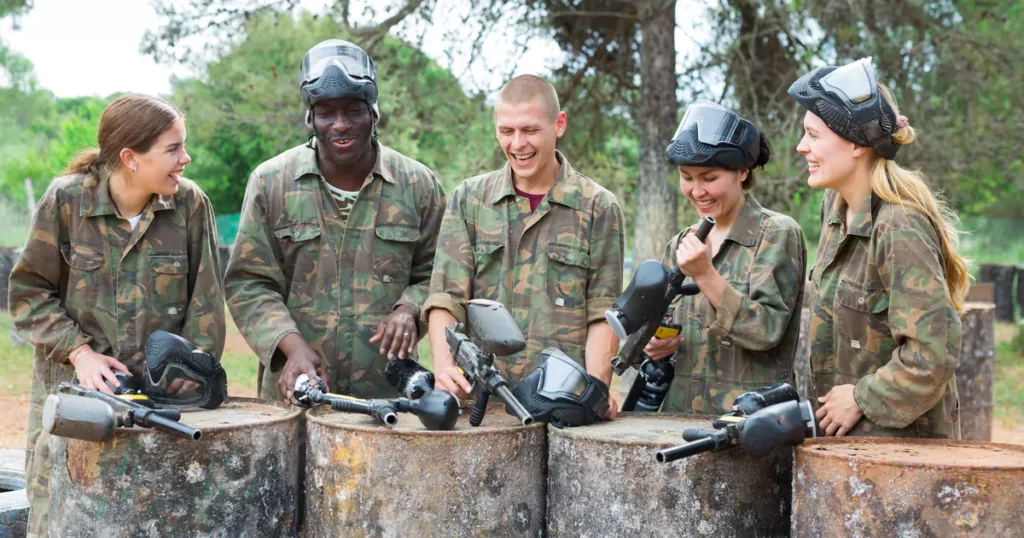 13. Go Paintballing
Texas Paintball, about 40 miles from Austin, is a highly-rated paintball park with staff experienced in team building who can customize your event to fit your goals.
Playing paintball brings out the best in your team's strategic planning and decision-making skills. It can highlight a team's weaknesses and strengths and also offers opportunities for leaders to emerge.
Try switching up the paintball teams to allow group members to interact with people they don't normally have the chance to at the office!
Your team may look a bit rag-rag afterward, but they will be in tip-top shape back at the office!
14. Group Dancing Lessons
If you want to encourage some of your team to break out of their shell, give group dancing lessons a try! Austin Dance With Me understands the fundamentals of team building and employee wellness.
Not often do you come across a company that understands so well the alignment between the skill they teach and the benefits of those skills to employees and teams. Austin Dance With Me gets it. Their customized classes touch on team building, employee wellness, and just good old
Many dances require people to pair up and develop trust between people. Line dances need group coordination and build synergy. Dance classes foster fun interaction and boost morale!
Whether you learn the salsa, swing dance, or a Waltz, your team can try out their new moves at the next company party!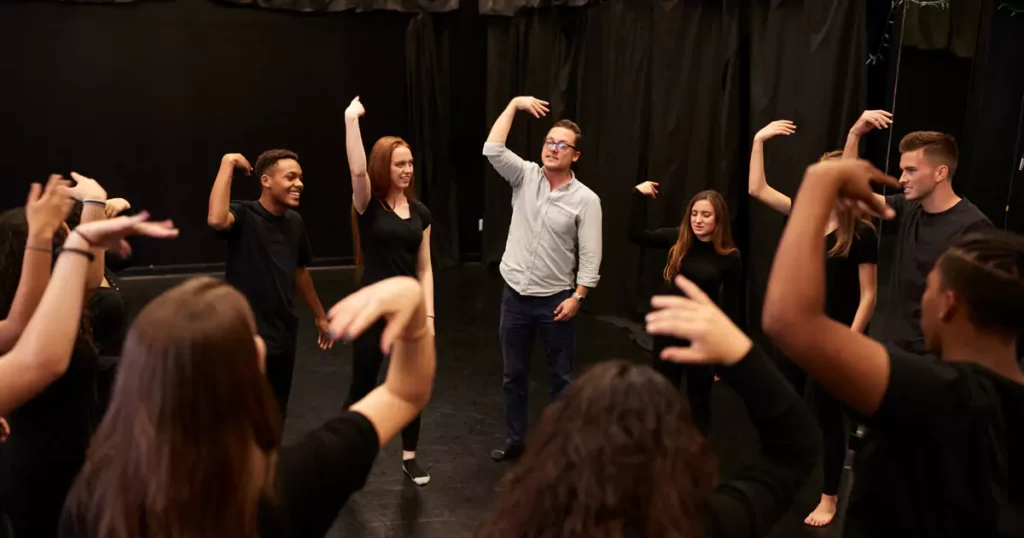 15. Learn Improv
Fallout Theater Improv takes their comedy very seriously when it comes to team building. They understand that the skills learned when studying improv comedy translate into the business world.
Improvisation comes with an element of uncertainty (just like many situations in life and at work). The scenario you start with may go in unexpected directions. Working through the unexpected together as a team builds trust, collaboration, and innovation.
Improv also includes risk-taking. With every risk, there is the possibility of failure. Improv is a safe environment in which one can take risks and not feel the sting of failure. A failed endeavor in an improv class may rally the team to give it another go!
A team building improv session is one of the very best ways in Austin to grow your team through laughter and not lecture.
16. See Austin By Bike
If your team enjoys being physically active, check out Austin Bike Tours for some unique, fun team building tours around town!
Taco 'Bout Austin Bike Tour
On this tour, the team can see some historic and culturally significant sites on the way to…you guessed it…eat tacos at local taquerias! Pair that with some tasty drinks, and your team will go home full of yummy tacos and great memories of a fun afternoon with the team.
Yoga Specialty Tour
A healthful and relaxed team is a team that performs well. If your team needs a dose of active-restive play, try this tour. It leaves from downtown and rolls through the Rainey Street District on the way to Butler Park. Once there, your team will take part in a one-hour yoga class with the challenge and experience level of your choosing.
After finishing the practice, you then have the option to cool off in the beautiful and famously clear spring water of Barton Springs. This specialty tour is one of the few "custom" tours offered by Austin Bike Tours & Rentals, so it is by reservation only.
Haunted Boo-Cycle Tour
This tour will give your team a glimpse of Austin's spookier side as they explore some of the city's historic districts and visit the Littlefield Home, The Driskill, and, of course, the bat bridge.
On these unique bike rides, your team will learn new things about their city while spending time learning about each other in a fun and healthy way!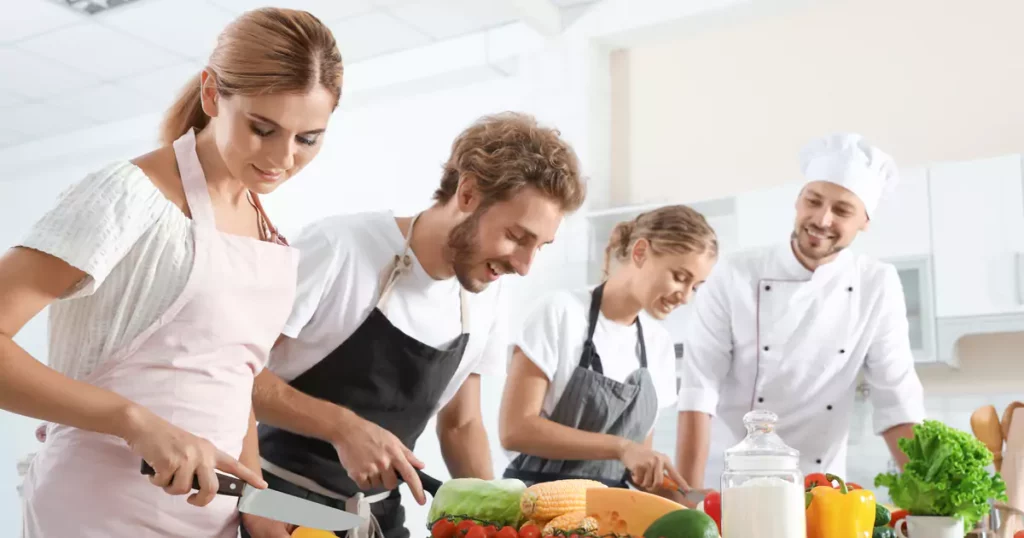 17. Get Cookin'
Whether your team members are culinary artists or not, this fun team building event is sure to cook up camaraderie. With a private event with Freda's Kitchen, your team will learn cooking techniques from one of the greats. Freda's has a few different offerings:
Corporate Cooking Events
Specifically designed for team building, Freda's corporate cooking events focus on demonstrating the importance of team building and sharing cultural stories while working together to create memorable dishes.
During a corporate cooking event, you can expect a home cook or cultural exchange chef to teach you culturally diverse dishes. To make the experience even better, each team member gets to take home a cookbook with the recipes of the dishes they've prepared. Your team members can then recreate their skills at the next company pot-luck party!
Iron-Chef Style Cooking Competitions
If you or your team members are fans of competitive food cooking shows, this is the ultimate experience. Your group will be split up into smaller teams and assigned a cooking coach to provide suggestions and limited assistance.
The Executive Chef will introduce the rules and the three dishes teams need to complete. There will be a mystery ingredient, too! Making things harder is that teams have just one hour to complete their dishes!
Private Group Events
These smaller events are perfect for small businesses, startups, or local businesses. Each event is completely customizable and focuses on learning new techniques to perfect classic foods.
Your team will be taught by a professional chef to make a four-course meal which your team will enjoy together and share the satisfaction of having created a culinary masterpiece!
If your team is remote or hybrid, look into an online group cooking class. No matter how far apart, food brings people together.
18. Whoosh Down A Zip Line
Zip Lost Pines, just 30 miles from Austin, offers a private team building customized zip-line experience. Their experienced facilitators guide your team through activities that increase your group's ability to collaborate effectively.
If you have specific goals you want to focus on, Zip Line Pines will handpick from their hundreds of activities to help your team reach its objective. Some areas of focus they can work on with your team are
Problem Solving
Communication & Sharing
Time Management
Conflict Resolution
Collaboration & Group Cohesion
Getting to Know One Another
Trust Building
Building Team Morale
Zip Line Pines also works hard to make sure your team has fun! Who wants to feel like they are working when they are there to play!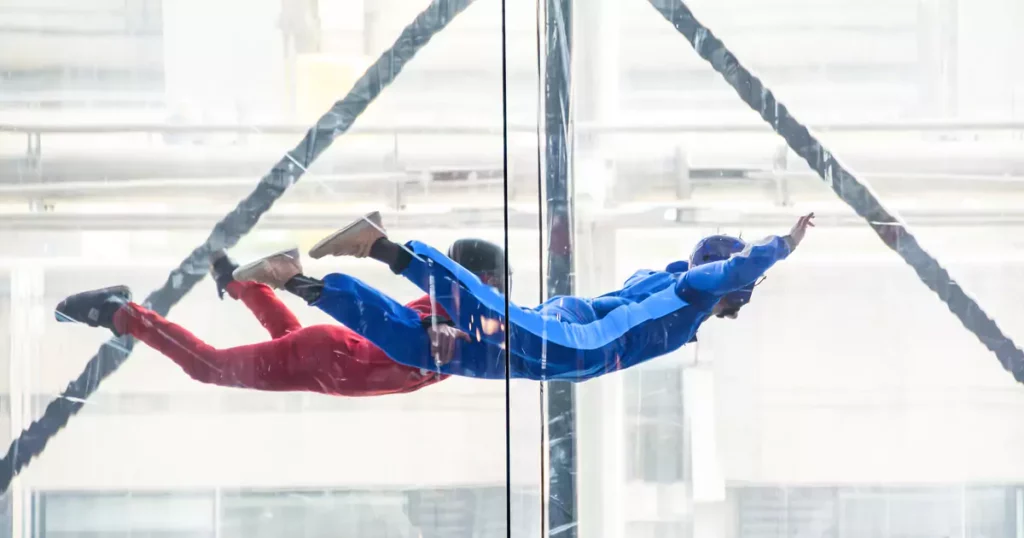 19. Indoor Skydiving
Indoor skydiving at iFLY Austin is the kind of team building experience that your team will not soon forget! At iFLY, your team will be led by instructors trained in team building. iFly can customize your indoor skydiving experience to fit your team building objectives.
Indoor skydiving can be an exhilarating experience– for some. Encourage your team to lend their support to those with hesitations about giving it a go. What a way to develop camaraderie!
When teams share unusual experiences, strong bonds and powerful memories are formed. Your team's time at iFLY Austin will create shared team memories that they will look back at many times in the future!
20. Supercar Track Experience
If you are looking for an activity for your Leadership team, Xtreme Xperience's Driveway Austin offers a very different kind of team building activity. This activity costs quite a bit more than the other activities on this list, but a trip to Xtreme Xperience is a great reward to give a motivated and engaged leadership team!
At Xtreme Xperience, your leadership team members will be behind the wheel of super fast cars like Ferraris, Lamborghinis, Porsches, and more. After receiving instructions, your team is let loose on a race track. Imagine the memories your team will create while cruising behind the wheel of a world-class sports car!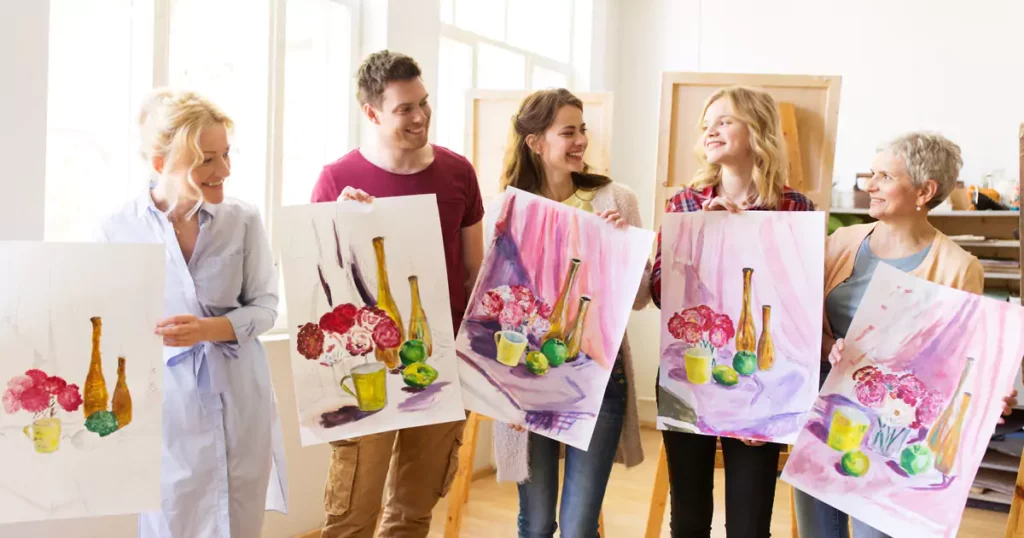 21. Painting With a Twist
The nationally known Painting with a Twist has an Austin branch that hosts customized painting workshops, perfect for an artistic team building activity. Painting parties give teams time in a calm environment to try something new.
The "twist" in Painting with a Twist is the option to bring your own wine or other beverages. As team members sip and paint they will see their coworkers in a new light in a relaxing atmosphere.
After the session, display your employees' beautiful artwork in a central location like your break room. Encourage your employees to display their paintings at their desks as a reminder of the time the team spent together. It also serves as an ice breaker between colleagues.
If you choose the collaborative option, all team members paint a big canvas together. You can show the final product off at your office. Take lots of photographs of your event and the finished products to post on your social media sites. Let the team see how proud you are of them and their creative efforts!
22. Hold Your Team Building Event Somewhere New
If you don't want to go off-site for a team building activity but you have too many participants to accommodate in your office, you may need to rent a venue. You will certainly need to find a venue for an in-person gathering if your company operates remotely and you don't have an office!
When looking for a venue, take a look at Peerspace, which offers several different venues that range in size and decor. You can opt for their concierge service to help with whatever needs you have to organize your event.
Even if your office in Austin has the space for your team building event, you should still consider an off-site venue, if your budget allows. When people are in a new space, they may feel free to break out of their everyday mode.
Your team may display more creativity and out-of-the-box thinking. They may participate in activities more freely when away from the office setting. It's just nice for a change of pace to bring your team to a new place to inspire new ways of being together!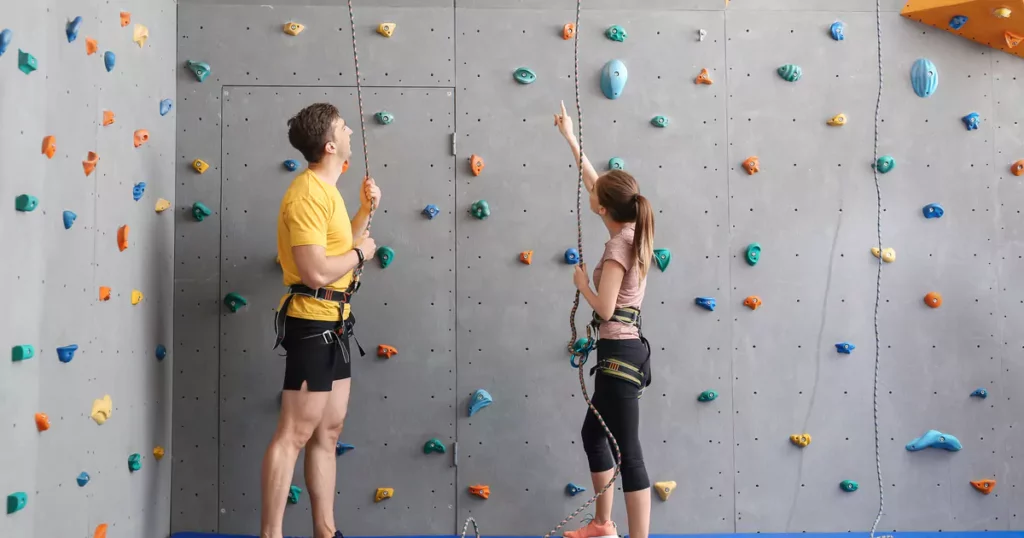 23. Go Indoor Rock Climbing
Austin has wonderful outdoor climbing experiences, it also has some great indoor (and air-conditioned) climbing walls. The Austin Bouldering Project offers group sessions for 10 or more people for a two-hour session of team building at a very affordable price.
Indoor rock climbing can help individual team members build confidence as they master a new skill. With their teammates there to cheer them on, your company camaraderie will reach new heights!
24. Inner Space Cavern
The stunning underground Inner Space Cavern, with five caves, will bring your team on a subterranean voyage to see a 10,000-year-old underground treasure? There are a few group options to choose from, depending on your team's comfort level.
Adventure Tour
This classic tour of the cavern is for beginners. A guide will lead your team along a paved and lit trail inside the cave to see their largest rooms and formations. You'll learn about the history and discovery of the cavern during this one-hour tour.
Wild Cave Tour
Billed as "one of the most authentic caving adventures in Texas," the Wild Cave Tour is only for team members who aren't afraid to get dirty. This 3.5 to 4-hour-long climb will take participants into the true nooks and crannies of Inner Space Caverns.
Saber Tooth Zip Ride
If you've got team members that are a little claustrophobic or just aren't interested in going below ground, they also have the Saber Tooth Zip Ride. The Saber Tooth takes riders 13 stories in the air and 630 feet backward. Then riders will get that dreaded "pause," and then they drop back to earth. If that is too scary, there's a delicious fudge bar!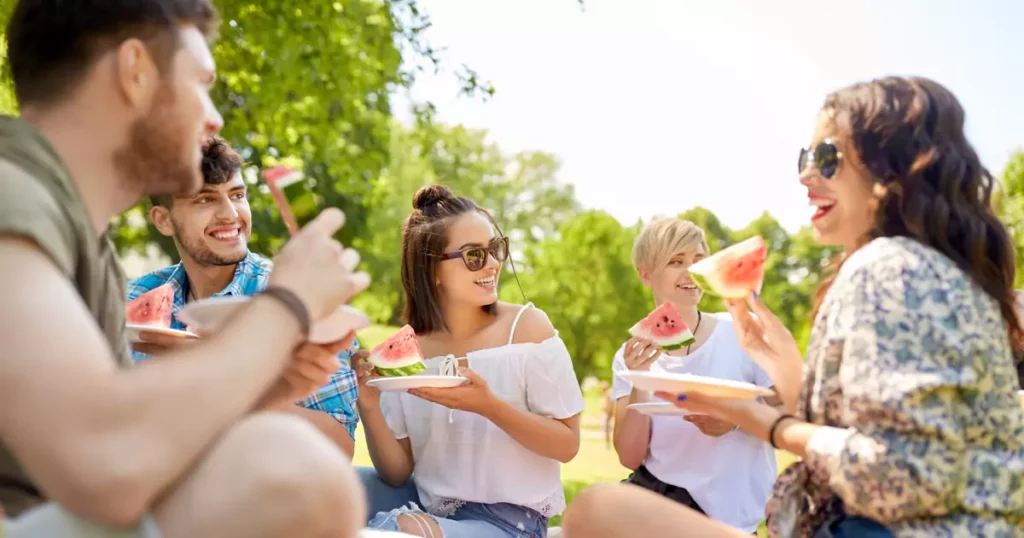 25. Relax On The Grass
Team building doesn't only happen through games or structured activities. Any leisure time together provides an opportunity for your team members to interact in a friendly environment. Work friendships may develop, and according to Forbes, work friendships are key to team camaraderie which in turn leads to greater team effectiveness.
Austin has a large number of parks and gardens right in the center of the city. Among the nicest and most centrally located are Auditorium Shores, Barton Creek Greenbelt, and Zilker Metropolitan Park.
For something different, take the team to Umlauf Sculpture Garden and Museum, with 50 sculptures in a peaceful 6-acre garden near Barton Springs. They offer free tours, so your team will enjoy both learning and leisure time.
Let your employees know that you appreciate their efforts day-in and day-out by taking time out of the work day to relax in a park. In this casual atmosphere, team members can get to know each other better, which helps develop a smooth team dynamic.
 Start Planning Your Team Building Event Today
Not only are team building activities fun, but they can also have an enormous positive impact on teams that are struggling. After engaging in a few team building games and activities, you can expect to see improved communication and better problem-solving.
Your team will begin evolving into a cohesive and efficient unit. Team trust and camaraderie will grow. Knowing this, how can you say no to team building?
Get started on planning your epic team building event in Austin!