Have you noticed recently that your employees are disengaged from their work and that productivity is stagnating? Is your company morale low? This might be a good time to look into team building activities in Chicago to re-engage your employees, motivate your team, and fuel your company's growth.
Below are 29 great Chicago team building activities! This list can help you avoid the search for activities and get straight to the good part — watching your team as they improve their communication and collaboration skills, forge strong bonds, and get to know each other better!
29 Great Activities For Team Building in Chicago
1. Play The Top Rated Chicago Escape Room! ⭐ ⭐ ⭐ ⭐ ⭐ 
Playing an escape game is a highly engaging and exhilarating activity for team building in Chicago! In an escape game, your team is 'trapped' in a themed room and they have just one hour to escape! Your team must work together to decipher clues and solve puzzles!
The Escape Game Chicago is a premier escape room experience led by team building professionals. Their games are designed to strengthen your team by calling on them to apply their very best problem-solving abilities and out-of-the-box thinking. Strong communication and collaboration are also essential if your team wants to escape the room before it's too late!
Whether your team has to break out of a 1950s prison cell or recover a priceless painting, they'll have a blast finding solutions. Afterward, your team will feel proud of what they have accomplished together.
The Escape Game can accommodate small to large groups so no matter what size your group is, everyone can experience the fun. For companies that are operating fully or partially remotely, The Escape Game also offers unique virtual escape rooms. These experiences can accommodate groups of 25+ participants. Virtual escape rooms are a great add-on activity to any social gathering event from company celebrations to retirement parties or even weekly happy hours!
2. Plan An Event With Team Building Hub
Team Building Hub specializes in creating unique, fun, team building events customized to meet your company's interests. They have expertise in organizing small, corporate team events as well as large games for hundreds of people. Team Building Hub delivers its exciting experiences for in-person, virtual, and hybrid teams!
Team Building Hub's in-person Chicago events are tailored to meet your company's needs, taking into account group size, duration, and budget. Virtual games are around 60 to 90 minutes, making them ideal for a company team building event or during a weekly-happy hour.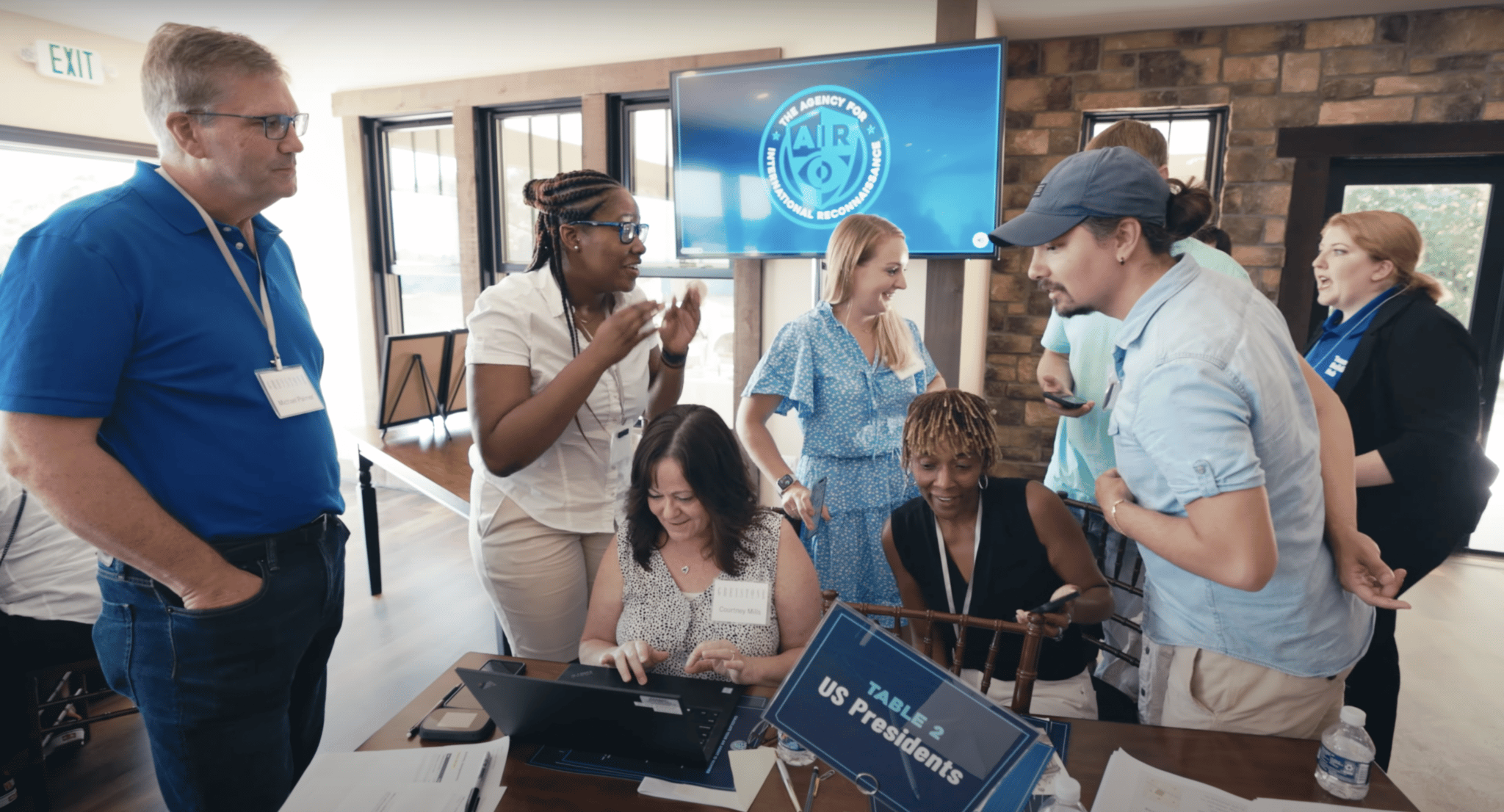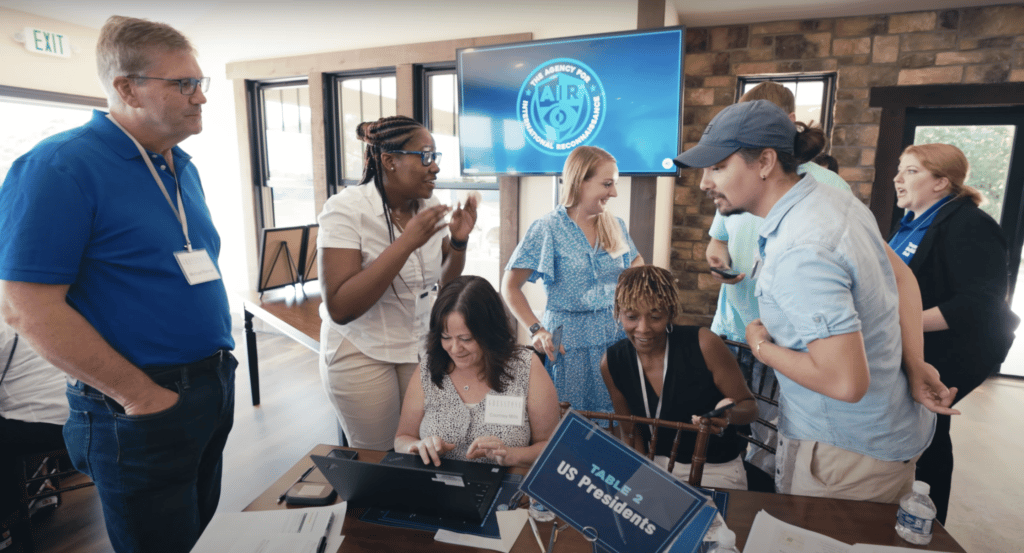 When you reach out to Team Building Hub, you'll get connected with a dedicated event planner to discuss what kind of experience you are interested in. Your planner will work with you to create and coordinate your event. They manage all the logistics so that your event goes off without a hitch!
Whether your company event is for four people or 400 people, located in the same place or dispersed around the globe, let Team Building Hub plan your next team building event. They'll surpass your expectations.
3. Challenge Your Team With a Ropes Course
If your team is a bit lackluster, try getting them out of their comfort zone with the kind of challenge they won't find in the office. Try a ropes course!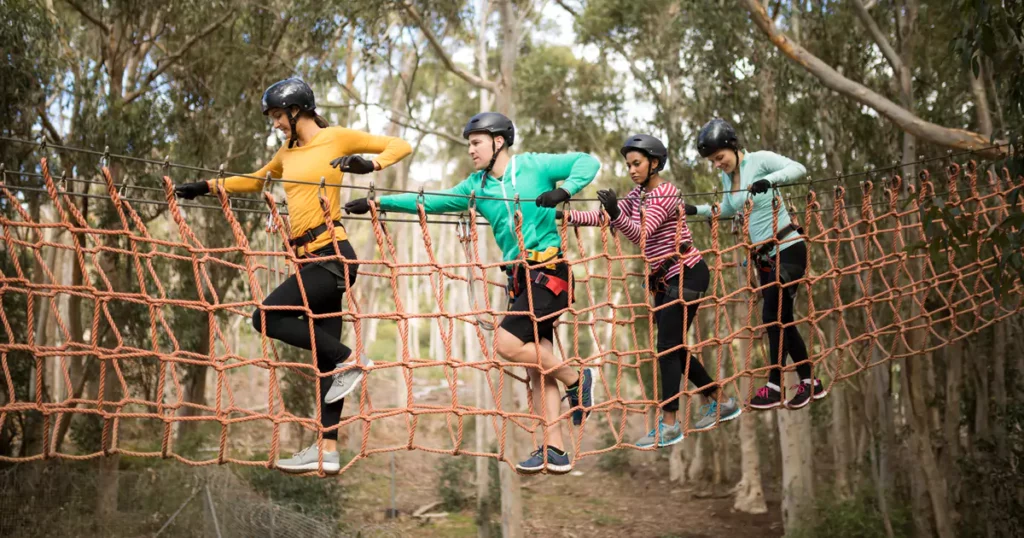 Rope courses take place outdoors at a professional location and include a series of physical tasks for teams to overcome. Tasks include things like balancing the whole team on a seesaw.
Ropes courses are an excellent team building activity because they touch upon many team building benefits. These activities develop team skills like collaboration, problem-solving, and communication. They also foster trust and build team bonds. 
If this kind of team building experience sounds like what you are looking for, head to Chicago's The Forge.
The Forge offers three corporate team activities. Their Low Ropes Course + Nature Adventure is a guided team building experience lasting four hours. Activities in this experience take place no more than 12-18 inches above the ground so any member who is uncomfortable with heights will not feel excluded.
For teams that want a faster, higher adventure, try The Forge's six-hour Climbing + Ziplining + Nature Adventure. This experience will have your team harnessing up to tackle high ropes, where they can shoot down a 1000-foot zipline, rappel off a tower, and rock climb!
If your team would rather keep their feet on the ground, The Forge's Outdoor Rec & Nature Adventure Package includes activities like laser tag, ax throwing, archery tag, mountain biking, and more.
No matter what package you go with, your team's adventure at The Forge will be an unforgettable one!
4. Play An Online Game Show
If you have a corporate team that enjoys some friendly rivalry, play an online game show! During a live-hosted game show, your team members will compete against each other to solve brain teasers, crack codes, and answer riddles.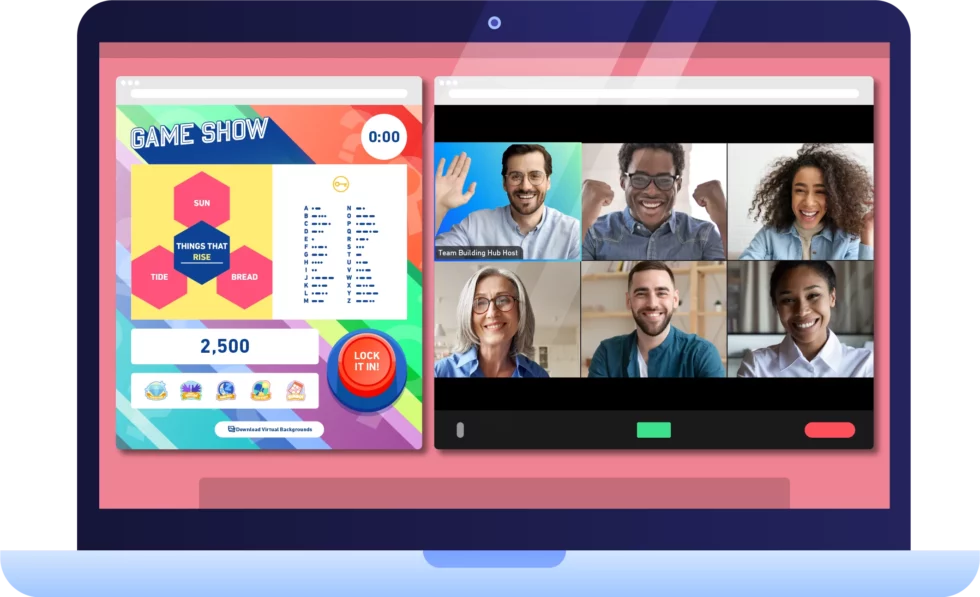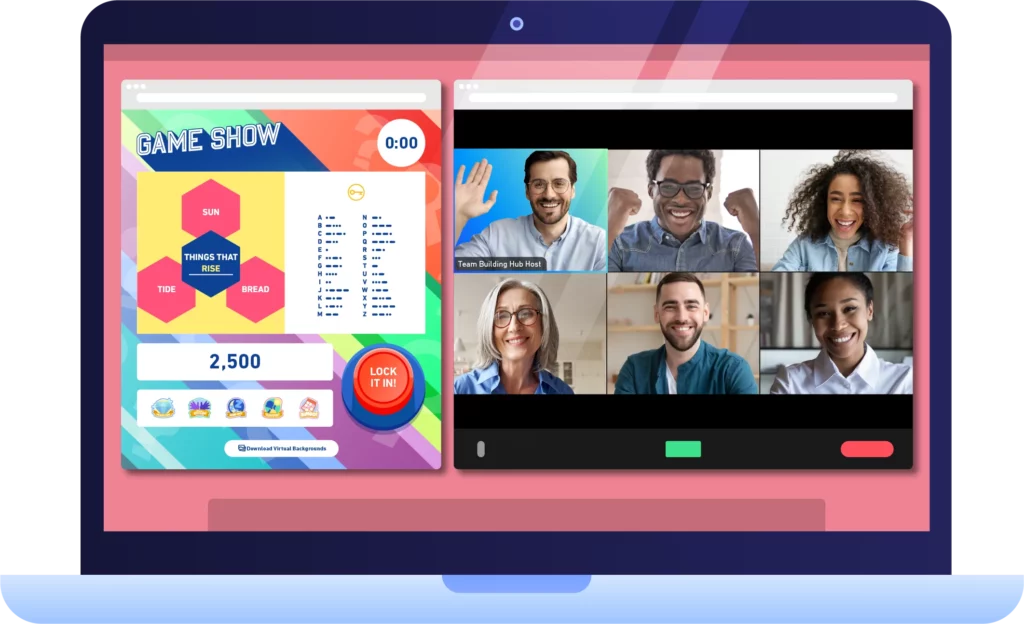 A game session includes 60 minutes of gameplay which is perfect to tack on team building to the end of a virtual meeting or incorporate into a company celebration. There is even a Holiday Edition perfect for an office holiday party!
Because the game is played online, there is a lot of flexibility in who can join in and when you can play. Anywhere from 10 to 150 players can participate. For teams who work odd hours, schedule your online game show for a time when all your remote employees can join in!
Team Building Hub's Online Game Show is played over Zoom. The game has a unique interface so that players can see each other as well as the game challenges and the leaderboard. The game design is as close to having your team in the same room playing a game show.
To see how this all works, try out a live demo. These demonstrations last 30 minutes and you will be able to ask questions about logistics. Bring colleagues along with you to see what they think!
Several rounds of Team Building Hub's online game show will have your team members' creativity and problem-solving skills soaring, all the while having a blast together. 
5. Kayak On The Chicago River
Kayaking is a unique way for your team to spend time together in an environment that couldn't be more different from the office! For a choice of excellent private tours, take a look at Wateriders' offerings.
Tours typically last two hours. Their narrated tours have a 30-person maximum and group paddles can accommodate 60 people. On their Guided Group Paddle tour, trained guides accompany your group to teach paddling skills and be on hand for any safety issues. Choose from a day, sunset, or moonlight paddle.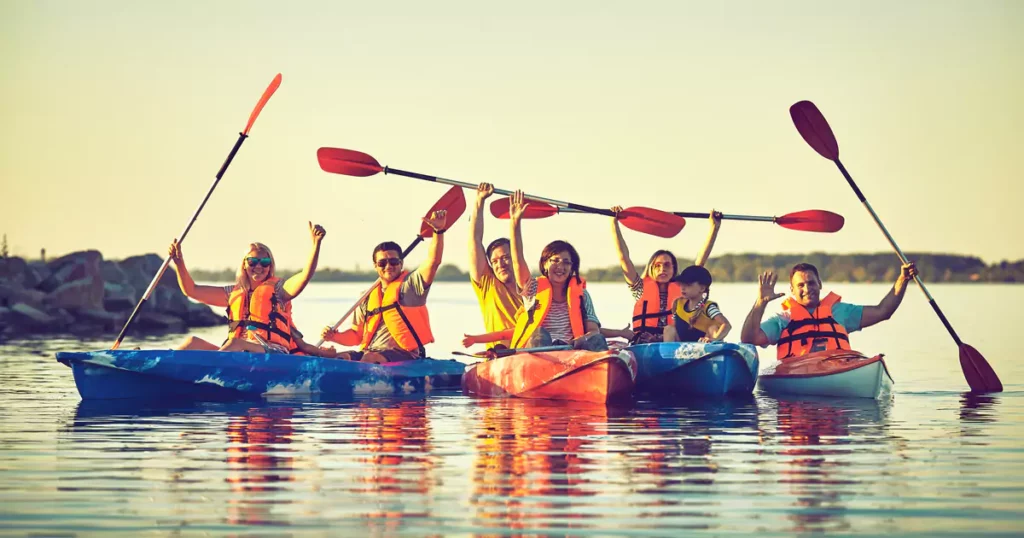 Wateriders' daytime Architecture and History tour will teach your group about the Windy City's development from its early days through to current times while your team paddles along the Chicago River and under some of Chicago's operational drawbridges.
Their Ghosts and Gangsters tour starts at sunset. As your team kayaks, your guide tells you about Chicago's notorious gangster history. The stories are great and the views are even better!
6. Solve A Virtual Mystery
Whether your team is working remotely, in the office, or a bit of both, playing a virtual mystery game brings your whole team together to solve a crime before it's too late! First, a live host running the game through Zoom splits your group into teams who will compete to solve the mystery first.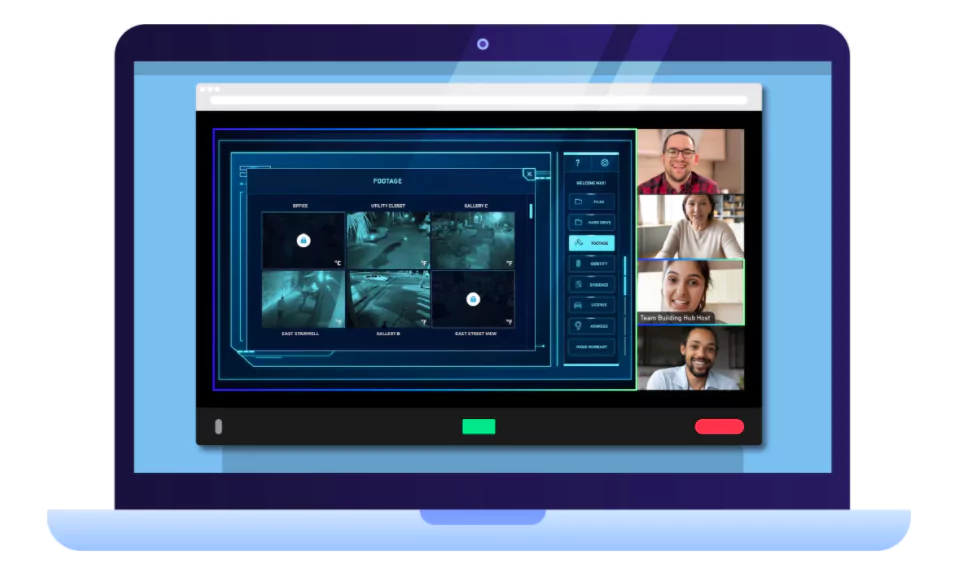 Then, teams will put on their collective thinking caps as they scour the Internet for clues. From a virtual dashboard on their computers, teams can examine surveillance footage, psychological reports, and other evidence to put the pieces of this puzzle together. The team that solves the mystery the fastest wins the game! A nice touch is to offer a prize to the winning team, like gift cards or free lunch on the company.
The ever-growing abundance of virtual games means that every employee can play, no matter where they are or what time zone they are in. When we say every employee, we mean literally every employee! Many virtual games can accommodate over 1000 players. 
Next time you are looking for a fun way to connect your entire company, you don't have to hunt one down. Play a virtual mystery game! 
7. Get Cooking With A Chopping Block Class
There's something about food that brings people together. With a corporate cooking class, your team will take the communal pleasure of food a step further by cooking their own food!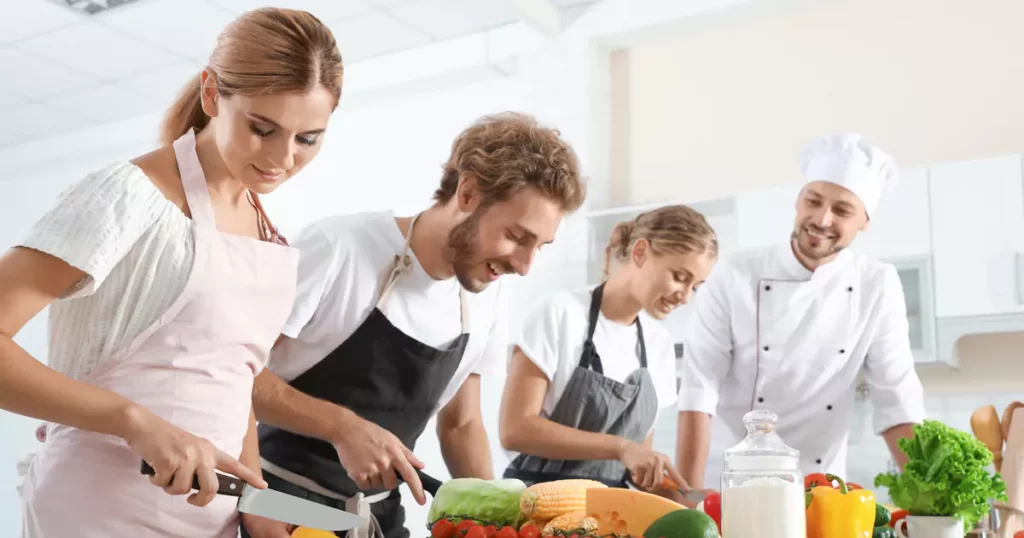 The Chopping Block offers private group cooking classes led by professional chefs who will guide your team through the creation of an entire meal. Your team will learn new culinary skills to bring home to their own kitchens. At the same time, they will be enhancing their communication and collaborative skills to bring back to the office!
In addition to a multi-course menu, beverages are available, including their food-friendly wine list, local and imported beers, and a full-service bar.
Classes last two hours, including 30 minutes for your team to enjoy their food. The Chopping Block can accommodate up to 150 people so you can bring the whole company out for a wonderful evening of food and fun!
8. Eat Chicago-Style Deep Dish Pizza
Team building activities don't always overtly practice team skills. Being together, talking about life outside of work, and getting to know each other translates into team unity back at the office.
Next time you have an occasion calling for an office pizza party, surprise your team with a meal out for some of Chicago's best deep-dish pizza!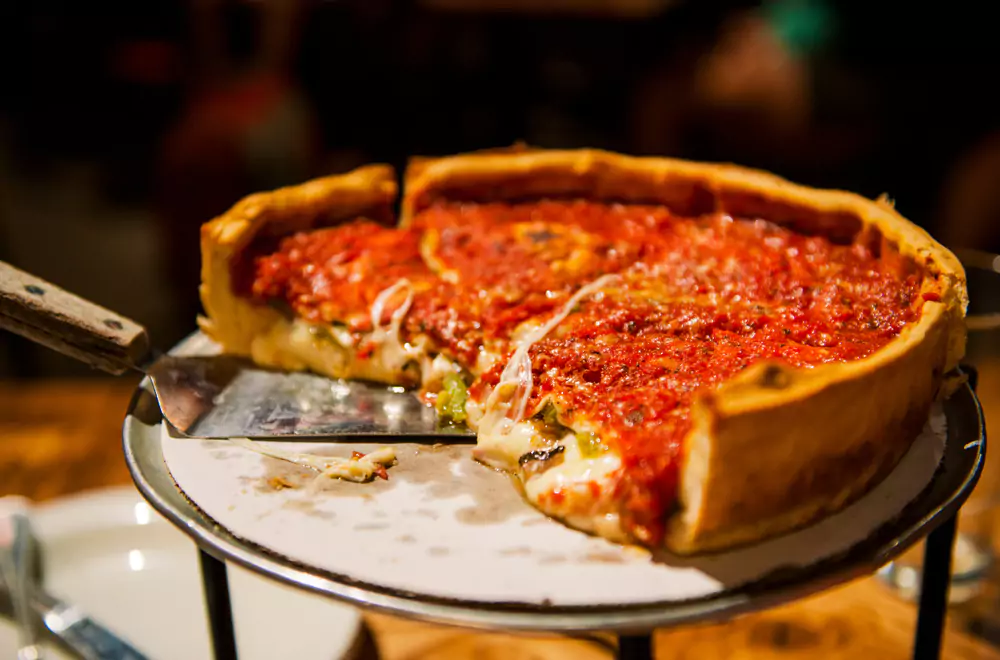 Lou Malnati's is a favorite in town for a reason. With over 60 Illinois locations, Lou Malnati's knows a thing or two about serving proper Chicago-style pizza.
They are considered by many to be the oldest family name in Chicago pizza. Lou even worked at the first Chicago deep-dish pizzeria, which opened in the 1940s. Since Lou Malnati's was opened in the 1970s, they've been making the highest quality hand-made deep dish pizza.
If you are a Chicago-based company or have brought your team to town for business, taking your employees out for a true deep-dish experience is a must.
9. Go Indoor Rock Climbing
Indoor rock climbing with your team is a great and safe way for your employees to be physically active while using their problem-solving skills. Indoor climbing requires climbers to find routes to reach the top. Every step taken leads to the question "Where should I step next?"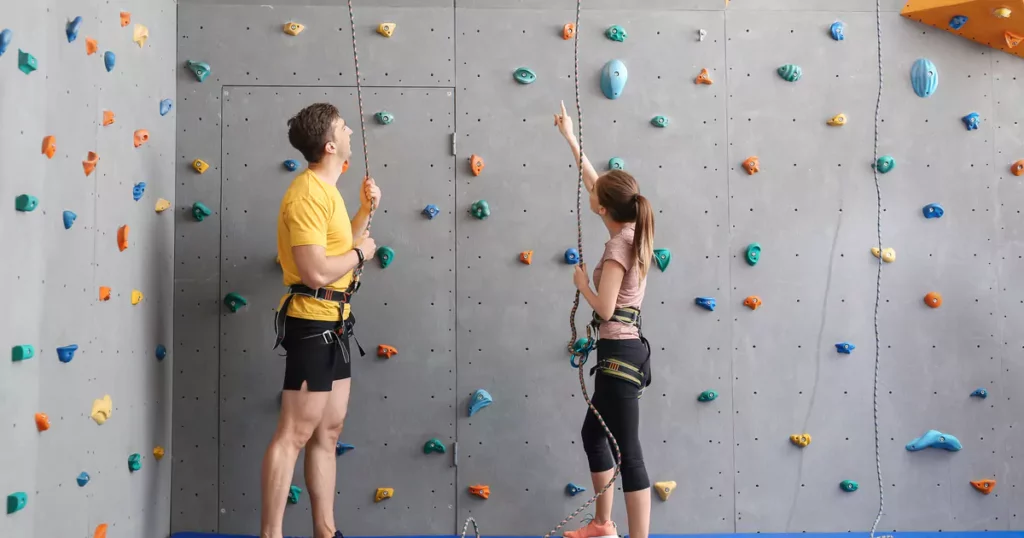 Brooklyn Boulders is the place to go to try indoor rock climbing! They have two locations with different models of climbing. The West Loop gym offers higher walls that are scaled using ropes and harnesses as well as bouldering walls.
The Lincoln Park gym focuses on bouldering, which is rock climbing from the ground up without any special equipment. The climbing walls are only fifteen feet tall and large pads on the ground allow you to fall with ease. The Lincoln Park gym has over 11,000 square feet of climbable wall space so there's more than enough room for your group!.
Though not for everybody, indoor rock climbing can be an incredible way to get your team to try something new. Indoor rock climbing also fosters camaraderie as team members can cheer on fellow climbers!
10. Test Your Team's Knowledge With Trivia Games
Playing trivia is an amazing way to grow your team's skills. As your team members compete against other teams, they must actively listen to each other as potential answers are tossed around. Everyone must be comfortable sharing their ideas or the team may not come up with the right answer. Communication and collaboration are also critical to winning the game.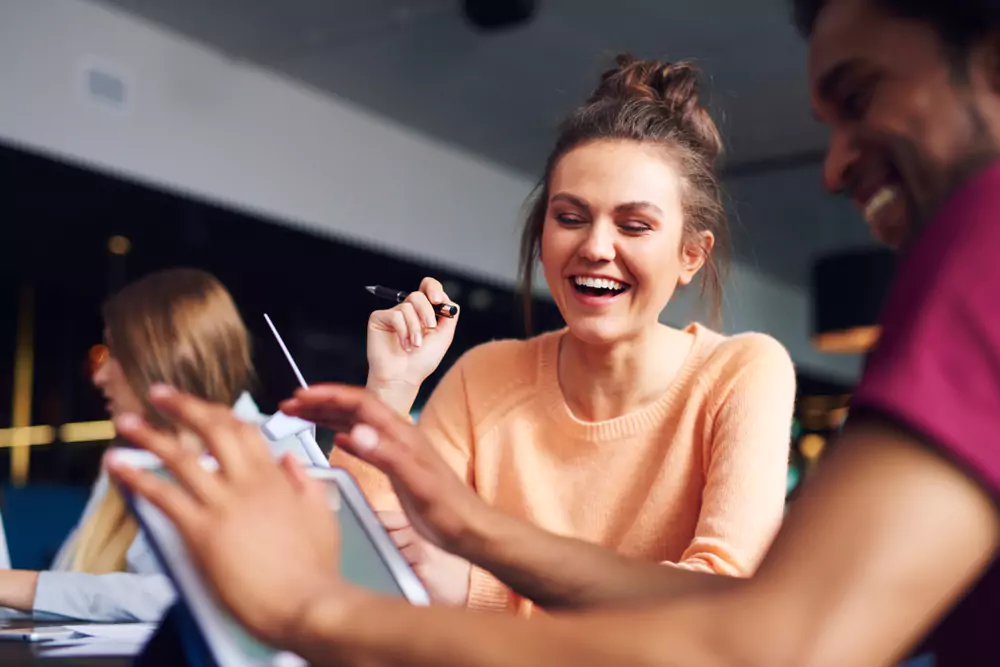 In Chicago, there are loads of bars and pubs that host trivia nights and you can likely find a trivia game near your office. If you don't have a local trivia venue nearby, you can integrate a trivia game into your company happy hour by playing one of the many virtual trivia games out there!
If not all team members are comfortable being in an alcohol-drinking setting, you can play traditional trivia board games in the office during the work day. This allows all employees to be included in the fun and not lose any personal free time by staying in the office beyond work hours.
Virtual trivia games are a cool variation of trivia board games as they can be customized to your company and can accommodate dozens of players!
11. Sip And Paint
A private painting class at Sip and Paint Chicago is a team building activity that lets your team members show their true colors!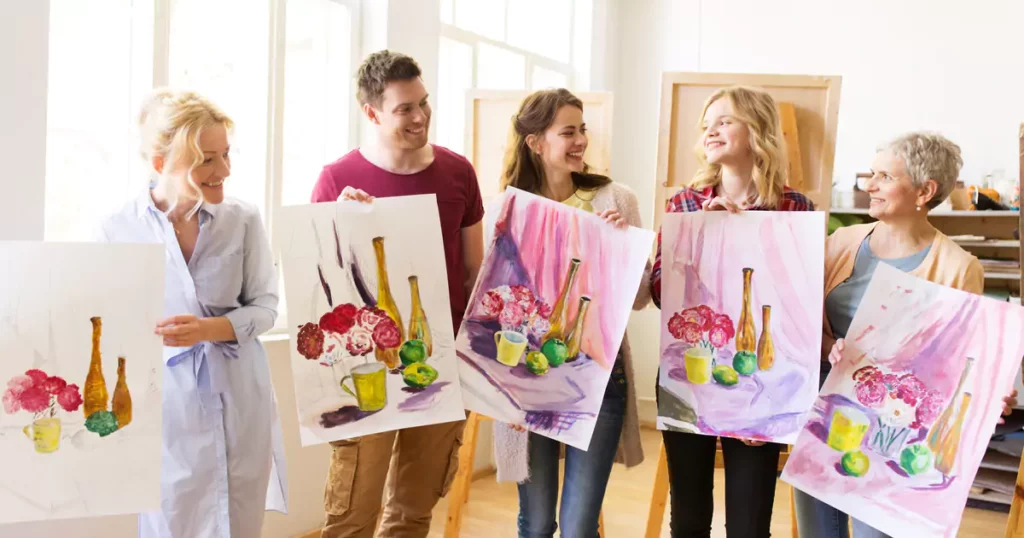 Sip and Paint provides an instructor to teach your team some basics. Classes come with all the art supplies you will need. Unlike other sip and paint events in town, this one does not come with a wine pairing. In fact, this venue does not offer any food or drink. It's all BYO (bring your own).
This is a great option for teams who aren't focused on catching a buzz. You can bring in your own food and beverages (both alcoholic and non-alcoholic are fine). Glasses, ice, and bottle openers are on hand.
12. Do A Scavenger Hunt
Scavenger hunts inspire team members to put their heads together to solve clues that lead to the locations they must reach in order to win the game! Collaboration, quick problem solving, and group decision-making all come into play when you do a scavenger hunt.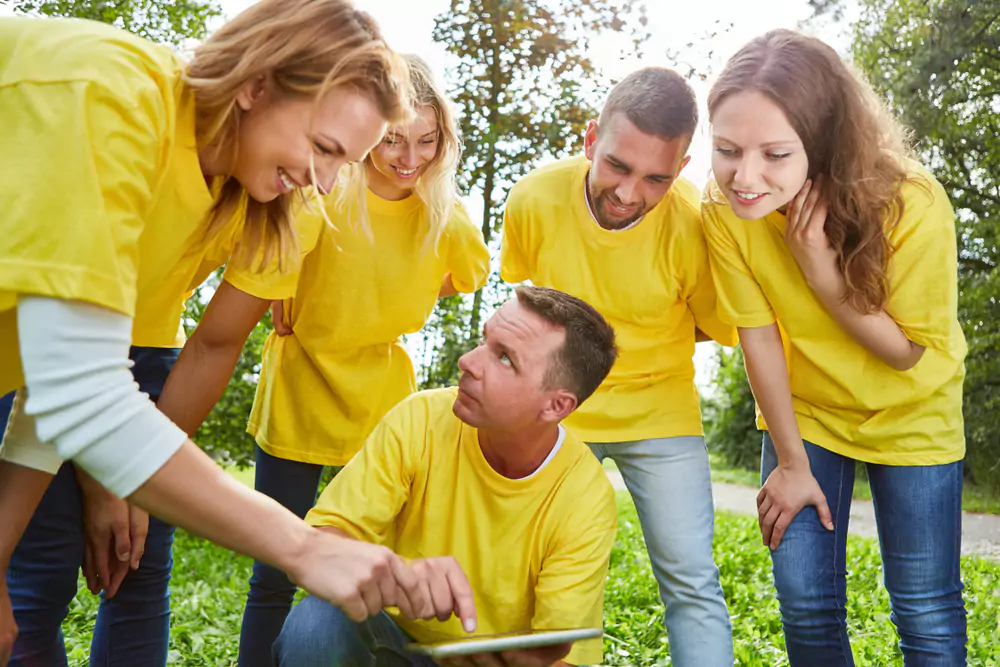 For companies with a low, or no budget, you can create your own scavenger hunt for free with GooseChase, an online platform that helps you organize and run a digital scavenger hunt. The free version is only good if your team is 15 members or less. Another option is this free downloadable photo scavenger hunt!
If you have a budget, Watson Adventures is a highly rated scavenger hunt company. They offer hunts of The Loop, West Loop/Fulton Market, the Museum of Science and Industry, the Lincoln Park Zoo, the Brookfield Zoo, the Art Institute of Chicago, and the Chicago Museum of History.
A scavenger hunt in Chicago is a fun way to learn about your teammates while team building. If you can't get out of the office or have a hybrid or remote team, see these virtual scavenger hunt options!
13. Learn Improv For Business
Taking a StageCoach improv class for business will strengthen your team's soft skills without them even knowing it! Improvisation is all about collaboration. Every team member must contribute a little something to create their skit.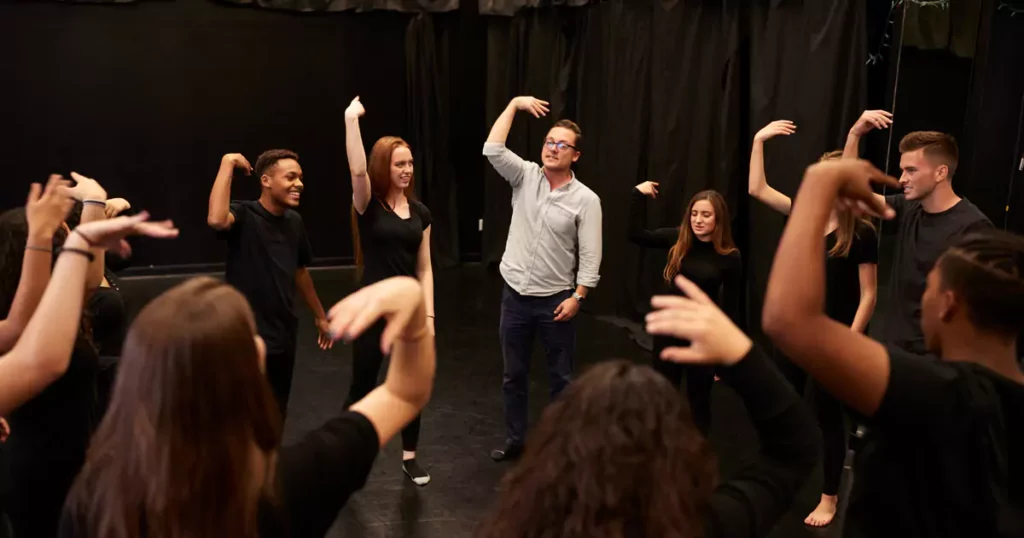 Improv participants must work together smoothly to keep the rhythm of their skit going. Other soft skills that are essential to successful improv are out-of-the-box thinking, clear communication, and trust in one's other team members.
Performing improv is so fun that your team won't even notice that they are working on their team skills!
14. See A Comedy Show
If your team prefers to watch comedy and not create some, head to a comedy club! Going to a comedy club allows your team members to converse and get to know each other better. Since they will be watching performers most of the time, there won't be any awkward pauses during the evening. In between sets, they have some time to chat.
For teams based in Chicago or those in town for a short trip, spend a team building night out at Second City's 110th Mainstage Revue, the premier comedy experience in the city. They offer high-quality comedy shows every day of the week except Monday nights.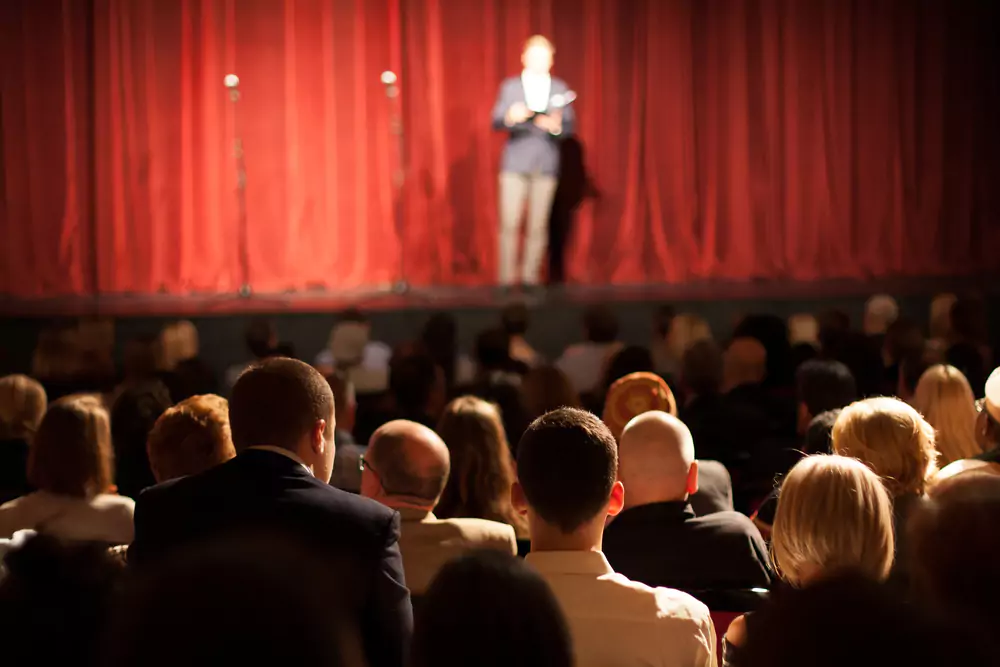 There are three levels of ticket prices so your budget shouldn't be an obstacle to taking the team out to a comedy show. There are general admission, value, and premium tickets. The theater is relatively small so you will have close seating regardless of what level ticket you purchase.
Second City also offers incredible in-theater dining, a perk you'll miss if you go elsewhere. They have small bites, but their drink menu is where they excel. You can grab a local craft beer and sit down for a show that will leave you holding your sides.
Note that their shows are rated R, so it might not be the best club for all your team members. Luckily there is no shortage of comedy clubs in Chicago. Your team may love seeing comedy so much together, you can try all the joints in town!
15. Kick Back By The Water
A great Chicago team building activity does not have to be a structured event! Sometimes your team needs a chance to chat and catch up with each other. This casual time for connection contributes greatly to positive company culture.
The Navy Pier Beer Garden is one of Chicago's best outdoor venues for your corporate event. It has unparalleled views of both the lake and Chicago skyline and can accommodate up to 400 people. The food and drink offerings are diverse enough that everyone on your team will find something to eat and sip!
16. Give Back To The Community
Doing good deeds is very rewarding. When employees volunteer as a team they are strengthening the community while forging strong bonds amongst themselves.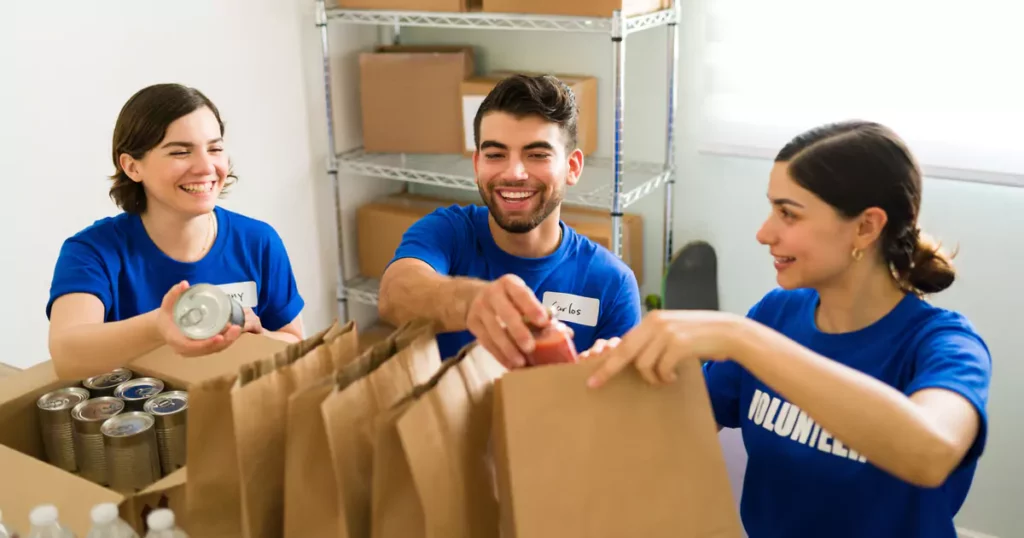 Studies show that volunteering can reduce stress which is good for your team. The less stress among your team members, the better, especially in a crunch time! Also, people who do volunteer work tend to have a better work-life balance than those who don't volunteer. Reach out to Chicago Cares for your team building volunteer options. 
Giving your team a chance to perform volunteer work together will make them feel good and give them a sense of pride in working for a socially responsible company. That's something you too can feel good about.
17. Take Up A Team Sport
If you sense that your team might enjoy playing a team sport, there are many opportunities to join sports leagues around Chicago. Of course, you will need to suggest a sport that your employees feel fit enough to play. Any employee who doesn't want to participate in the game can still play an important role — cheering their colleagues on from the sideline!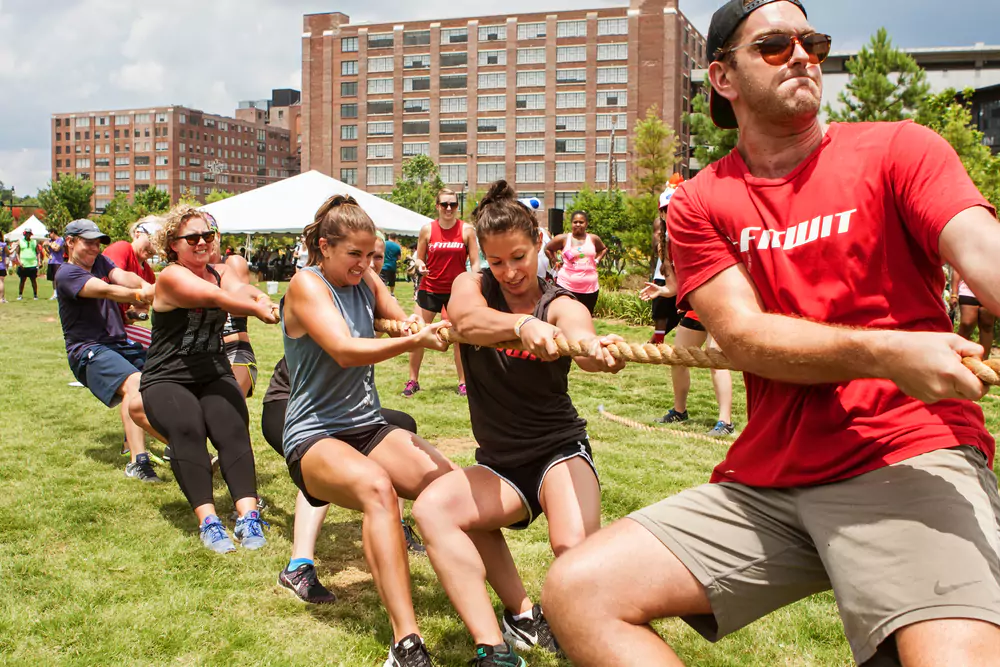 Sports are inherently a team-based activity. Even professional athletes must be skilled at working together with others. If you want to know who to throw the basketball to you must know how to read non-verbal cues.
A competitive spirit and team camaraderie will help push your team over the finish line! If you join a city-wide league, your team may even end up playing a business rival. Now that will get your team working harder than ever to win.
18. Go To A Sporting Event
Another way to integrate the thrill of sports into your team culture is to take the gang to a sporting event! Sporting events are a fantastic way to treat your team to an outing they might not often go to.
Your team will have time to socialize in an environment completely different from work. It's good for a team's dynamic to know some things about one's colleagues and a sporting event will help team members see each other in a new light.
A no-brainer choice for a team building sports outing is to go see the Chicago Cubs! Home games are held in historic Wrigley Field. Your team might also like to take a private tour of Wrigley Field prior to the game!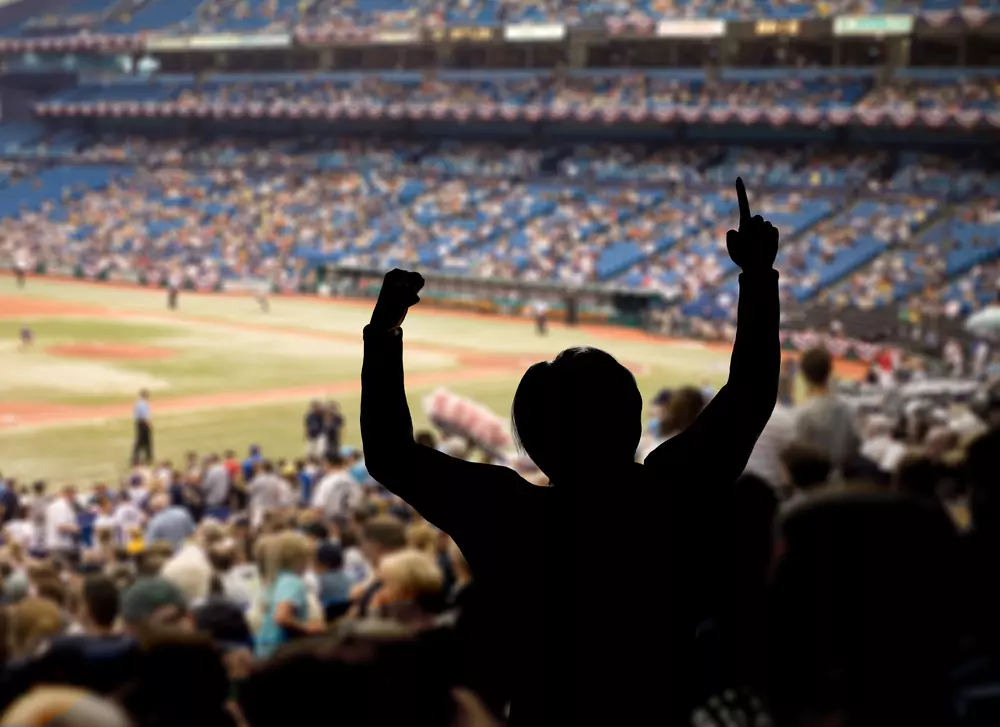 The Cubs often run game and ticket specials, meaning you can select a game that will work best for your budget and your schedule. You may even want to consider buying tickets in bulk which will save you some money if you are on a limited budget. Group seating starts at 15 tickets.
An alternative to baseball is to see an ice hockey match. Professional ice hockey is one of the most exciting sports to see live! experiences of any professional sports team. The home team is the Chicago Blackhawks. Tickets are pretty affordable, especially if you are a group of over ten people.
For an additional fee, groups over 50 people have two additional activities to enjoy! You can take a tour of the arena or get a group picture out on the ice!
If it turns out that your team loves watching ice hockey, propose to them that they put on some blades and go ice skating together at a morning skate session!
19. Try Indoor Skydiving
Learning to indoor skydive in a private session at iFLY Chicago is a unique team building experience. When a team shares an unusual experience, they bond in a way that's much more special than simply spending social time together.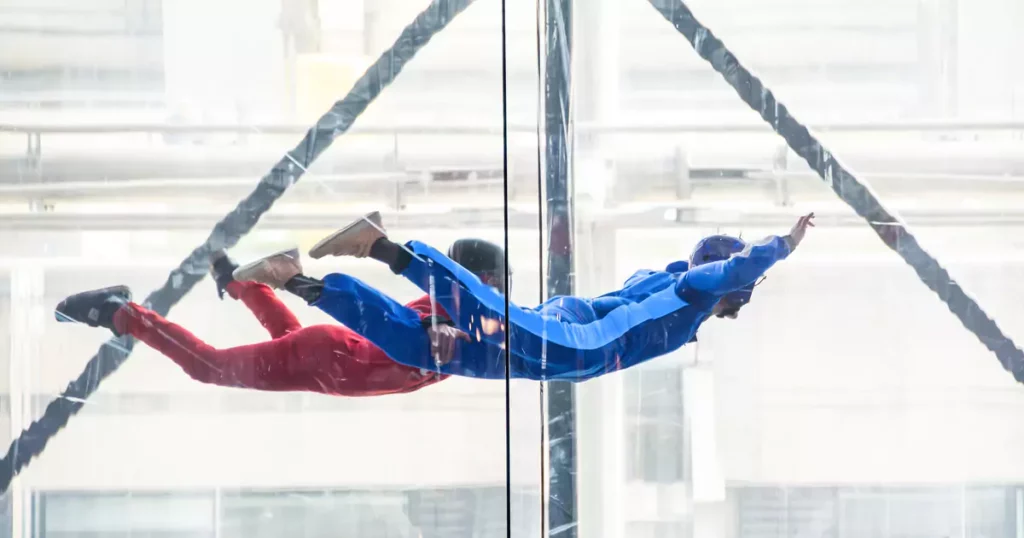 Indoor skydiving can be a thrilling experience but some individuals in your group may be nervous. That's where the team comes in! You'll all need each other's support to take that leap of faith! The instructors at iFLY in Chicago are trained in team building and can customize your experience to suit your team's needs. Your time at iFLY Chicago will create shared team memories that they will look back at in the future!
20. Learn To Sail
If you have a budget that is on the high end, consider a corporate sailing lesson.
Chicago Sailboat and Yacht Charters team building sailing lessons strengthen so many skills needed to be an effective team. They work with professional facilitators who design the lesson to address specific issues plaguing your team. Active listening, mastering new skills, communicating clearly, and collaborating all come into play when you learn to sail a boat!
21. Take A Segway Tour
Let's face it, it can feel a bit silly riding around town on a segway so when your team does it together, everyone can laugh at each other as a group! Shared silliness is a wonderful bonding tool!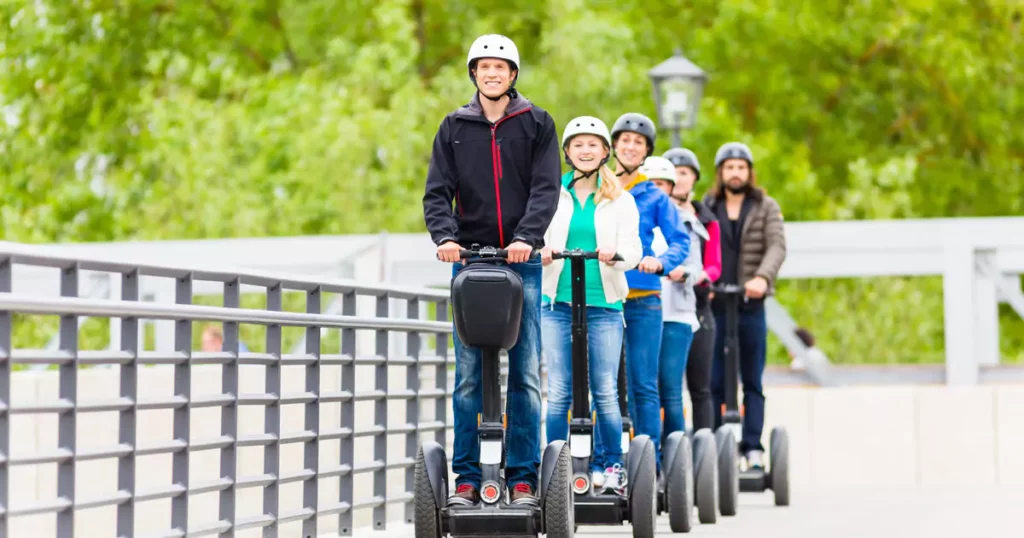 Chicago Segway Tours can create a team building event tailored to your group's needs and interests. They can combine your segway tour with some fun contests that create some healthy interoffice rivalry. If your team has taken a liking to scavenger hunts, Chicago Segway Tours can run one for you.
All in all, team building on a segway adventure is a memorable way to spend an afternoon in Chicago!
22. Take A Sightseeing Cruise
If hoisting sails is too much of a challenge or cost-prohibitive, take your team on a sightseeing cruise! There are so many choices for cruises in Chicago it's easy to find one, yet hard to pick the right one! If you want a private team building experience, then go with Chicago's First Lady.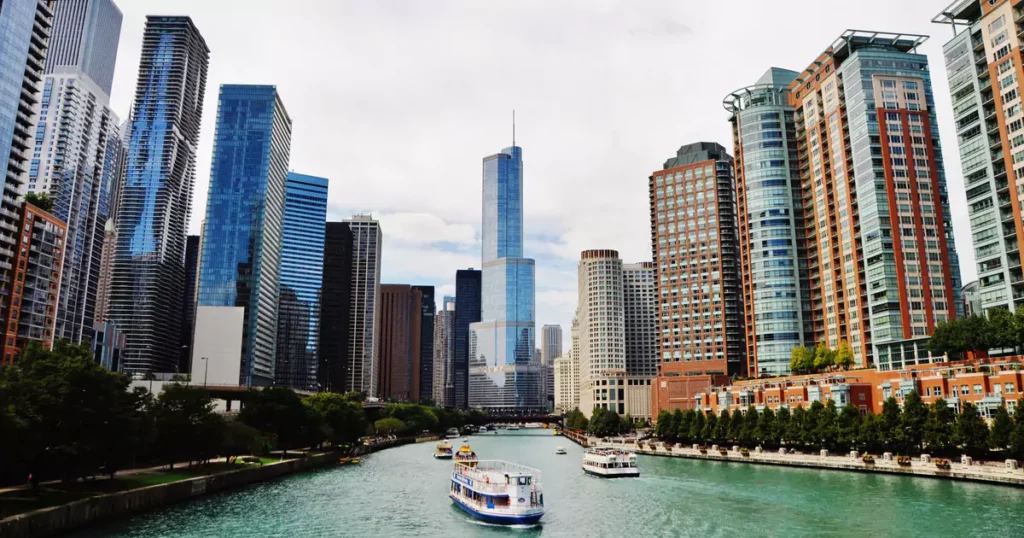 You can take a sunset cruise on Lake Michigan with cocktails and appetizers or for inquiring minds, try their Chicago Architecture Foundation Center river cruise. These private cruises are a perfect choice for larger teams with a sizable budget.
If you are a smaller group with a lower budget, you can join a public cruise and receive a discount if your team is at least 20 people. Yor 'crew' can relax on the water, catch a breeze, and get to spend some downtime together!
23. Take A Guided Walking Tour
Private Chicago Tours with Free Tours By Foot are a very affordable way of getting your team out of the office and stretching their legs!
Your team will learn about their hometown from guides who are personable and interactive. They know how to keep a group engaged and laughing while showing them the sights of the Windy City!
You will have lots of photo ops for team pictures at sights along the way!
24. Team Build In Paris
Thanks to the wonders of the internet, your group can get out of travel from Chicago to do some team building in Paris!
Woyago offers a live-hosted virtual 60- 90 minute event that can accommodate between 10 to 300+ people. Their hosts, located in Paris, will get your team connected with absurd ice breaker questions, teach them some hysterical French vocabulary, and get them collaborating to answer wacky Parisian trivia!
This team building activity is great for in-person, remote, and hybrid teams. If everyone gets the travel bug, take a virtual walking tour of Rome or a virtual trip to India!
25. Try A Virtual AirBnB Experience
From the comfort of the office (or home for remote workers), your team members can engage in unique experiences offered through Airbnb Virtual Experiences. They offer dozens of virtual activities that will have your team laughing in no time! They are affordable and convenient too!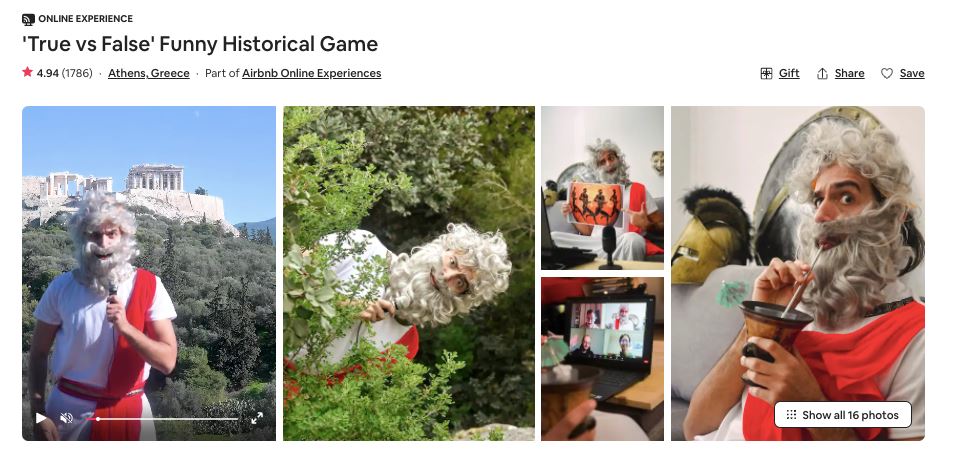 One of the most highly rated virtual experiences is this 'True vs False' Funny Historical Game. If this isn't a good fit for your group, there are plenty more to choose from! Take a look at these other Airbnb virtual experiences for team building.
26. Play Posh Ping Pong
Playing ping pong is a super fun activity for teams with competitive members or with members who simply want to have a good time in a casual environment with light recreation.
Head to Spin Chicago is an upscale table tennis venue that takes everyone's favorite childhood activity and transforms it into an after-work dream! Spin Chicago has done an amazing job of turning ping pong into a popular social sport, they now have nine locations across the country including New York, San Francisco, and Washington DC.
You can order from a curated food menu that offers plenty of great dishes (they even have vegan options!). There is also a full-service bar to quench your team members' thirst no matter their beverage of choice.
Spin runs a ping pong league with weekly games of both single and doubles matches. If your employees turn into real table tennis enthusiasts, form a team and join the league! Playing against a team from outside the company will have your group binding like never before!
27. Visit Chicago Riverwalk
Chicago Riverwalk has enough goings-on to last a lifetime. Running more than a mile between Lake Michigan to Lake Street, there is something here for everyone on your team to enjoy.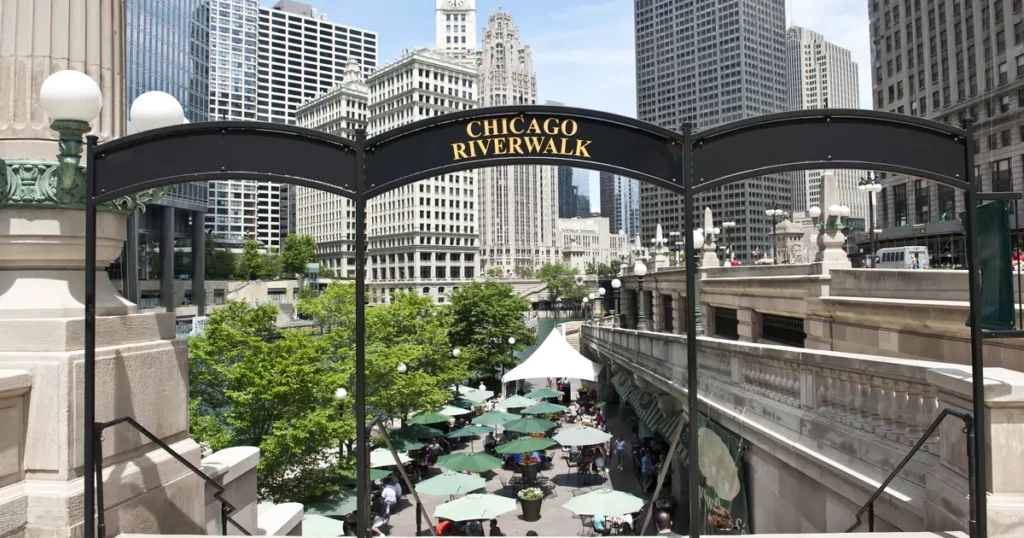 Your team will learn about each others' interests as you explore all that Chicago Riverwalk has to offer. There is plenty of public art such as murals and sculptures. Your team can go bird-watching with the Audubon Great Lakes Society.
You'll find lovely outdoor dining and drinking establishments, beautiful architecture, and museums. Also, this is where kayak tours and sightseeing cruises depart.
28. Interactive Dining
Chicago Dine-Around offers an unusual twist on team building by combining interactive games in a restaurant setting! Their Salsa Lesson and Dining experience is a festive way to spend time with your team.
If most of your team members have two left feet, perhaps they might make good private eyes! In a Murder Mystery game, your team will collaborate and problem-solve together to find the murder suspect — who is in the restaurant with them!
For a game show experience, you can play a scavenger hunt-like "supermarket challenge". Teams must decipher clues that lead them to grocery products. The team that adds the most groceries to their shopping cart within a set period wins! Since you will start the game with a delicious meal, everyone wins!
A team visit to Chicago Riverwalk will have your group talking and laughing while enjoying one of the nicest parts of Chicago!
29. Stay And Play In The Office
If just looking at this list has you exhausted, may we suggest that you consider some in-office team building activities? We certainly endorse whole-heartedly the items on the list above.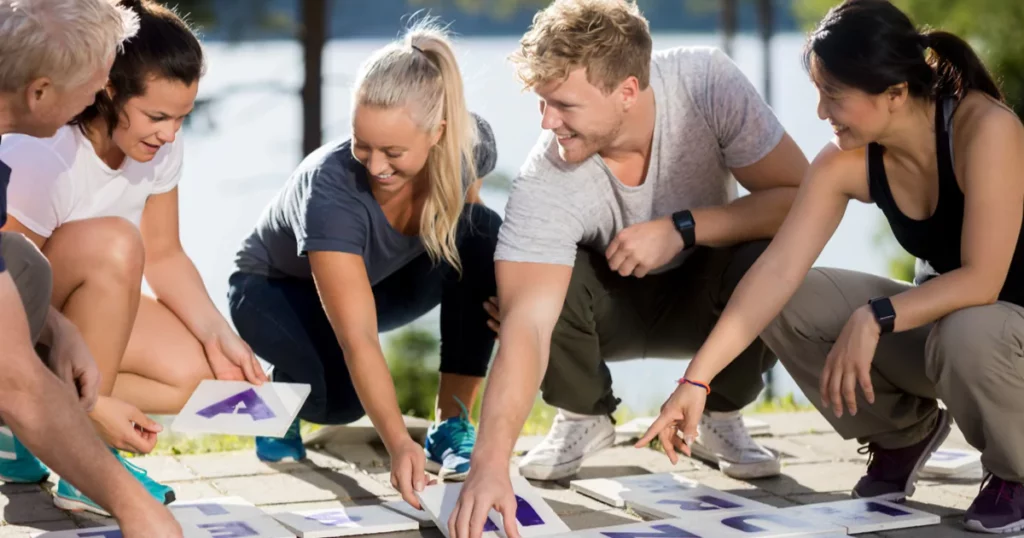 But we know that not every company can find the time or the budget to get out of the office. Instead of looking for fun beyond your office's four walls, bring the fun inside!
There are dozens and dozens of team building activities that can be played in your office. Some are quick, some longer and more complex. They can be played before or after a meeting, or during a specially scheduled team building meeting. Though compared to the items above they might seem dull, they are a lot of fun and pretty effective!
One game, Minefield, is great if you are looking for a leadership team building activity. It also helps create trust among team members. In Minefield, you'll create an obstacle course using commonly found objects in your office: chairs, cardboard boxes, garbage pails, or any other large objects on hand.
Once you have created the course, divide your team into groups and select a leader for each group. Before starting the game, blindfold all game participants except team leaders. Then have team leaders instruct each team member through the obstacle course. The team that can get all its members through the obstacle course wins the game!
Here are even more fantastic in-person team building activities and virtual team building games.
Team Building That Chicago Employees Will Love
The above team building activities for business teams will bring your employees together in ways that you never expected. Whether you opt for a structured team building activity or a gathering to spend recreational fun time together, you'll find that any team building efforts you make will turn your team into a cohesive, effective, and happy team!
Get started on your next corporate team building Chicago event today with a custom team building experience.