Virtual teams need opportunities for team building if they want to stay engaged in their work and grow in their skills. Online team building games are productive and fun solutions to keeping your employees happy at work and invested in your company. Keep reading to get the know-how on free and fun online team building games!
Table of Contents
Why start a virtual team meeting with an activity or game?
Do all virtual team building games cost money?
How do you get virtual team building games for free?
What are the best online team building games for free?
Why start a virtual team meeting with an activity or game?
Activities and games are great ways to grab your team's attention at the beginning of a virtual meeting. They can also give you an opportunity to do some team building with your online team or make a meeting fun!
Working outside of the traditional office space can present some challenges to a team working together. For starters, they have to learn how to effectively communicate, how to trust each other, and how to stay engaged in their work. Something like a quick team building activity at the start of a meeting can help boost employee engagement and keep your team members productive throughout the workweek.
You can even consider hosting a virtual happy hour near the end of the workday. These moments give your team a chance to relax together and chat about something other than work. The benefit you see on a daily basis is a team that's able to trust each other more and that has high relational equity.
Do all virtual team building games cost money?
Not all virtual team building games cost money, which is great news for teams who are adjusting to working remotely or facilitating team building online. Team building is definitely worth the investment. However, free options help iron out any kinks with the team before you start adding virtual activities into the budget.
Free online team building games give you the testing opportunity to see what video platform might work best for your team, such as Zoom, Google Meet, and Skype. You can also pique your employees' interest with these free games before going into paid games.
Team building truly is a valuable investment for both your employees and your company, especially if you work with an online team. By surveying business professionals, we found out that 63% of leaders felt team communication improved after participating in team building activities, and 61% of leaders felt team morale improved. These activities are worth your time to explore when thinking about how you can develop your employees, better your team, and boost your business.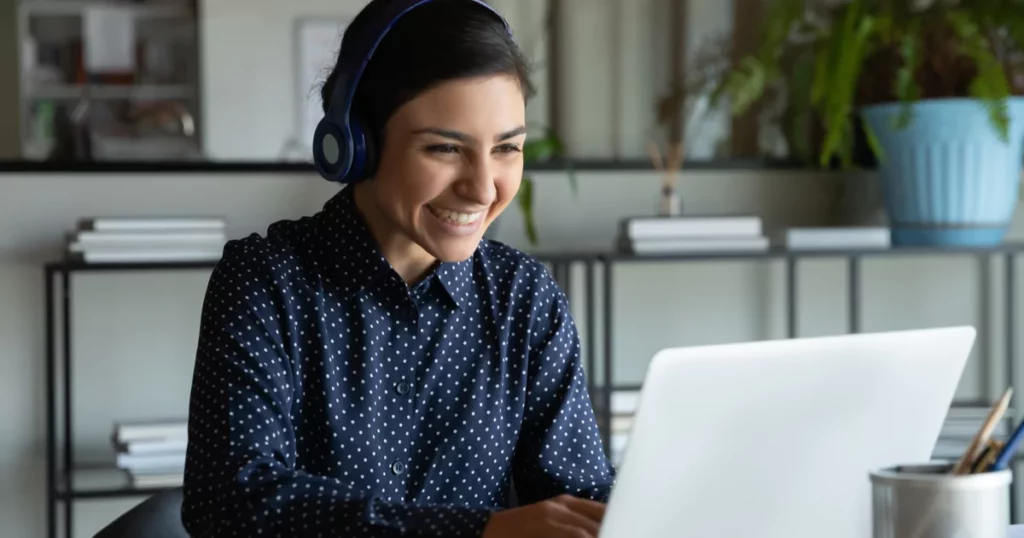 How do you get virtual team building games for free?
There are lots of free online team building games that you can play and plenty of sites that list them out (including our list below and our list of unique virtual activities!). Some games are hosted on third-party sites, or you can play a game through your virtual meeting platform. Depending on what you want to get out of team building, you can select a game that centers on communication, teamwork, fun, or creativity.
The key to playing these games is planning before you play. Someone who's organizing a virtual team building game has to take a few things into account—schedules, length of meetings, virtual platforms, and how to keep engagement. Don't let those stop you from putting a virtual team building game on the calendar! They're just factors to be aware of. Your team will appreciate the effort you put into their employee and team development, and your company will benefit from more engaged employees. Once your team has gone through some of these free online team building games, you can try something really exciting with them like a virtual escape room, which is perfect for problem-solving, communication, and creativity!
Check out our list below of some of the best online team building games you can play for free and tips on how to make your activity fun and successful!
What are the best online team building games for free?
We've gathered 16 of the best online team building games, from the easiest ones to organize to the ones that will take you the most time to explain and jump into. There is a myriad of games hosted on third-party platforms, but there are also online team building games where you just need to gather your team on a video call, lay out the rules, and get playing.
Free Online Team Building Games Hosted on Third-Party Platforms
If you opt for an online game that is hosted on a third-party platform (even something that can be played on a mobile phone while teammates are chatting live on Zoom), you save some time and effort in planning and gathering material. Third-party platforms might require your team members to create accounts to play, but they're really engaging with sounds, graphics, and videos.
1. Skribbl
Skribbl is basically an online version of Pictionary, but the challenge comes in having to draw each picture using your cursor! Each team member will have a chance to draw a generated word while everyone else tries to guess what the word is. Team members rack up points with each correct guess in the allotted time, and the members with the highest score win!

We suggest creating a private game room for your team. There's a lot of customization that you can use in these rooms: choose how long your team has to guess each picture, how many rounds you will play, and even input your own words or phrases that your team will have to draw.
2. Words with Friends
If you're unfamiliar with Words with Friends, you might recognize it when you see the virtual game board. Each player is given seven letter tiles that they must use to create (real) words on the board, and they must connect their new word to an existing letter on the board. This virtual, interactive kind of Scrabble allows your team to stretch their creativity as they look for solutions.

Each player signs up with their email address and a username, and Words with Friends has the option to search for people that you want to play. Have everyone create a username ahead of time and have them written down in a Google doc or somewhere everyone else can see so they can search for each other. If you want to make it interesting, create a tournament-style order of play!
Scattergories is a fairly easy game to both explain and play, and it's so much fun, your team might not want to stop! Pick as many categories as you'd like (or you can even create your own) and the Scattergories site will randomly pick a letter for you. Fill in the blank with an answer that starts with that letter in the time frame given, and play as many rounds as you'd like. At the end of the rounds, the site automatically shows you who the winner is, so no counting necessary! This is a great individual game to build up competition and fun, but you can also create smaller teams so that people can work together!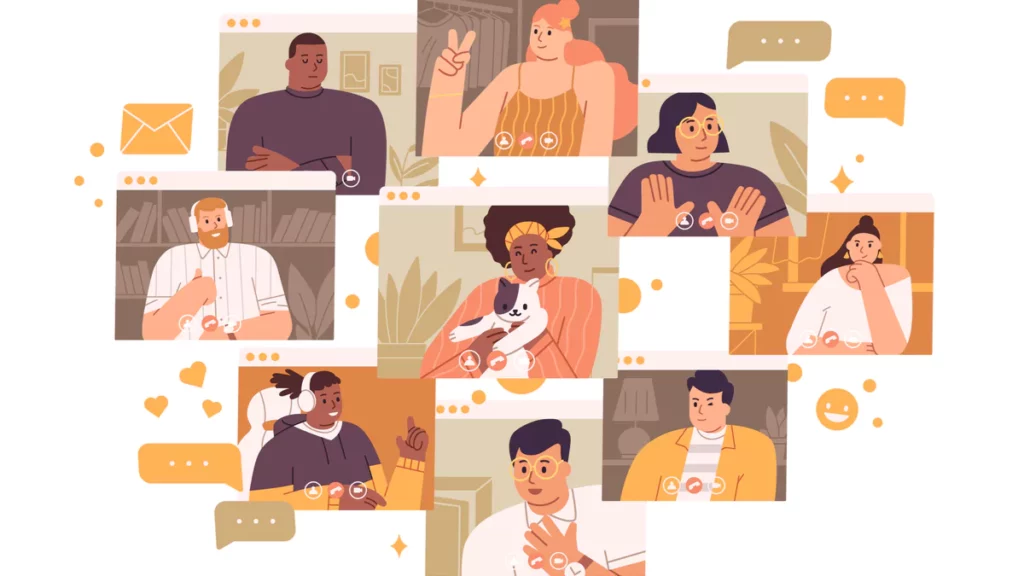 4. Playing Cards
Playing Cards has nearly 60 free games for you to choose from for your online team building activity, including well-known games such as chess, rummy, and go fish that require little to no explanation for most people. All you have to do is jump on the site, create a room code to share with your team, and gather everyone on a video call to play (there's even a handy Overview page that gives you the basics of how to play). Most of their games are multiplayer, but this site is full of great options for smaller teams where your teammates can face off in a little friendly head-to-head competition.
5. Games on Slack
If your team uses Slack for communication during the workday, you should know about the free games and apps that are available to you right on the platform. There's a variety of apps that you can explore and download that will connect your team, even through appreciation notes and gifs. Some online team building games that you want to search for on Slack in their Social & Fun category include
6. Typing Test
This might not seem like the most fun online team building game, but with the right attitude (ahem, a little competitive attitude), a typing test will get your teammates rooting for one another and working hard at a skill that they might not have practiced since high school. This is best played as an every-man-for-himself kind of game, and your team members can leave their cameras on as they type as fast as they can. (Though you might ask them to use headphones or earbuds to minimize keyboard clacking.)

Like Words with Friends, you can create an order of play like a tournament, and the last person standing with the fastest score wins. You can also customize the test time to either be 1 minute, 2 minutes, 3 minutes, or more. We suggest setting the time limit lower to keep engagement higher!
Sudoku is a great game that stretches the brain and, even though it's usually not played on teams, can be used for team building if you get a little creative. Utilize breakout rooms on Zoom or whatever chat system your team uses, or have a list of specific sudokus that each team must solve to win.
On Web Sudoku, difficulties range from "easy" to "evil," and you can find the exact number of a game so that everyone on your team can find it and play the same game. There might be a slight learning curve for beginners (here's a one-minute video explaining how to play) but play a couple of practice rounds so they can get the hang of it!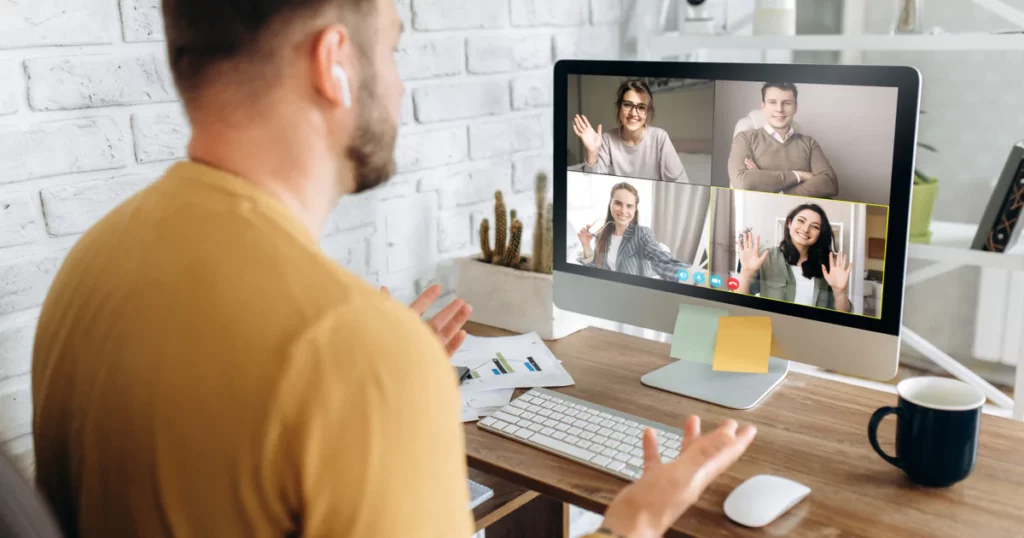 Free Online Games that You Can Play through Zoom
Since your virtual meetings take place on Zoom or a similar platform, your team will be familiar with how to use it and won't have to download additional software or go to an outside website.
An added bonus for these games is that your team will get to test more features of the platform that they might not have been aware of. For instance, on Zoom participants can change their video backgrounds, meet in breakout rooms, use the "raise your hand" feature, or flash an emoji on their square.
8. Trivia
You can't go wrong by choosing a virtual trivia game as a team building activity! The rules of trivia are fairly well-known, and these games can include topics that your whole team will be invested in and will push their memories as well as bring out a little competition. Make sure you decide ahead of time if you want your team to play as individuals or if you want to divide everyone up into teams. Depending on the video call platform you choose, you can use breakout rooms for teams or use whatever chat system your team uses on a regular basis for them to talk through answers. Be sure to scroll through our list of virtual trivia games for trivia ideas and tips that will help you in this team building game!
9. Virtual Scavenger Hunt
Virtual scavenger hunts make for great online team building games because there's barely any preparation that needs to go in these games! All your teammates need to do is search for something. We've got all your virtual scavenger hunt needs right here. Make sure you read through all 25 of our ideas to get the best game going for your virtual team!
10. The Exciting Sponge Game
This game is perfect for boosting your team's creativity and giving each other something to laugh about! Give each player 30 seconds to find something random around them, 30 seconds to brainstorm an elaborate story about that object, and 60 seconds to tell the most exaggerated story they can about it. Whether they grab a sponge, a piece of bread, a pillow, or something else, they should be able to come up with something goofy and fun!
While a lot of online team building games can be about competition, this one focuses more on creativity and pushing your team members out of their comfort zones. Sixty seconds may not seem like a long time to tell a story, but when all eyes are on you, you've got to be able to brainstorm quickly and speak confidently. This will help with communication and problem-solving skills as your team starts making up stories.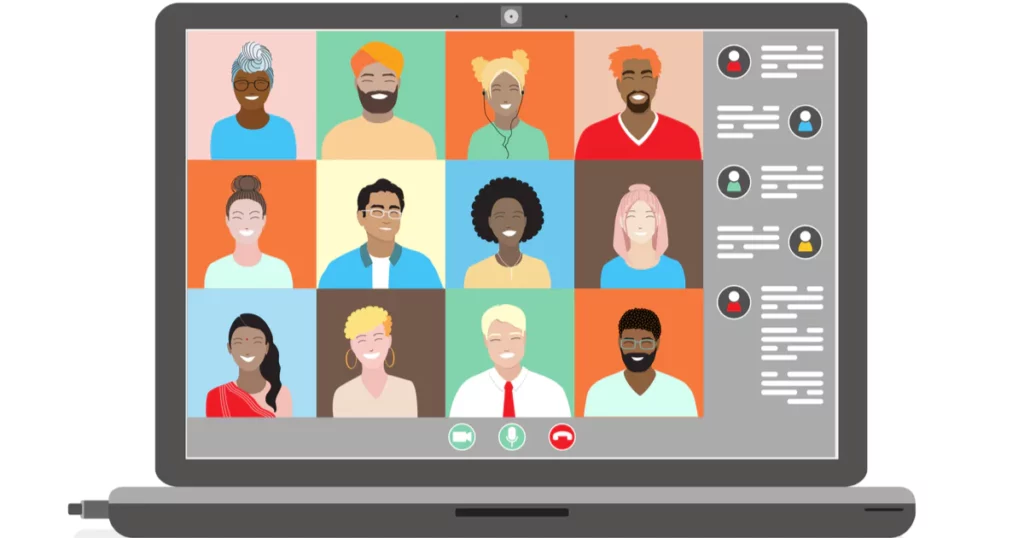 11. Two Truths and a Lie
This game tests your employees' knowledge of one another, and it's a quick and easy icebreaker to play if you are running a little short on time. You can even pair it with a longer team building game if you want!

Teammates will give three facts about themselves, two of which are true and one that is not true. It's up to the rest of the team to decide which of the facts are the real ones. This game is a great start for teams that are just getting to know each other, or if you have a couple of new members on your virtual team. You might find that it's trickier to play this game online than it is in person because you don't have the added bonus of seeing all of someone's body language as they tell their facts!
12. Five Clicks Away
If you've ever read through a Wikipedia article, you know that each page is full of internal links to other articles. Much like in conversation, it's easier than you think to go from reading about the Titanic to Rudyard Kipling. This game tests your logical abilities in using those internal links to get from one topic to another in just five clicks.

Choose a starting topic and an ending topic (like Titanic and Rudyard Kipling), and when you say "Go!" your team must get from the first to the last topic using only internal Wikipedia links. This might take some practice in the beginning, but the more rounds your team does, the quicker they'll get. This online team building game will test your team's ability to think quickly on their feet, and they'll also have fun seeing how far they can get in the logic chain in just five clicks.
13. Zoom apps
Zoom recently launched an app store within their platform that includes dozens of free apps, including different gaming apps that you can use for team building. Access games like Heads Up! and #AskAway, which is a great icebreaker-question game, all for free within the Zoom platform! Most companies have a paid Zoom account, so you can include as many of your teammates as you want in these games and set your meetings for as long as you want.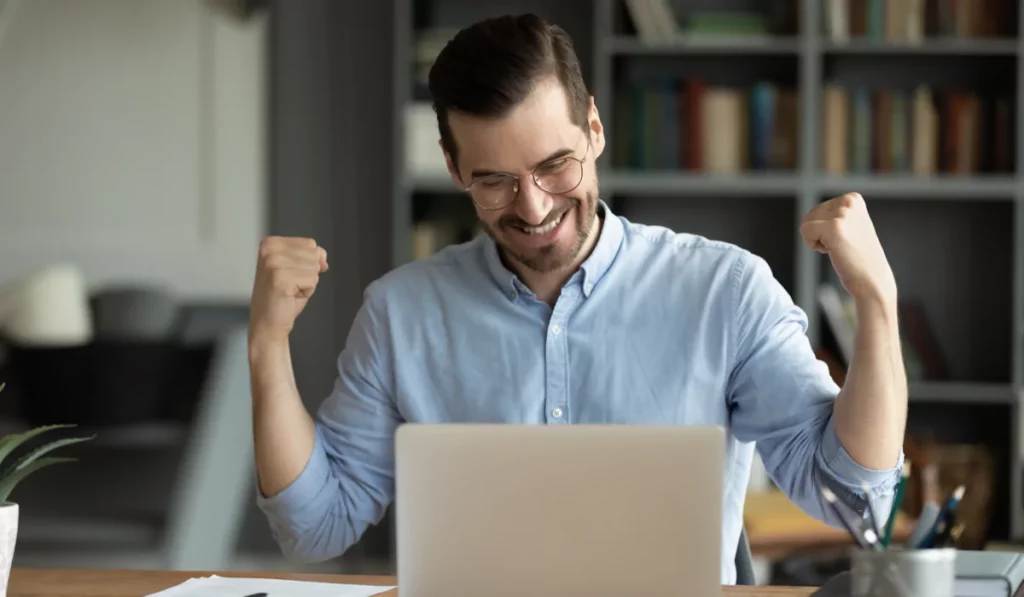 Free Online Team Building Games for Those with Time to Plan
If you and your team have a little more time on your hands to prepare for your online team building game, here are a few fun options to bring to your meeting!
14. Virtual Bingo Cards
Bingo is one of the easiest online team building games you can play for free, and there are a couple of different ways you can play it. If you want to go for a virtual happy hour with your teammates, you can easily play the classic bingo game with numbers and choose someone to be the number caller. If you're making your own scoring sheet with work-specific words or actions, it can take some time to come up with the answers and lay them out in a grid. You can even play a game of "human bingo" where each team member has to find someone who matches a description or characteristic—e.g., "someone who is left-handed" or "someone who has been to Greece"— in the answer box.

My Free Bingo Cards is a great resource if you have a team of 30 or less playing. They will generate up to 30 cards for free, and their virtual version will even provide a bingo caller for you! Whichever way you decide to play, offer a fun and unique prize at the end that your team would want, like a coupon to "come into the office" an hour later than normal. Build up the competition!
15. The Game of Things . . .
Your family might have this game at home, but it's easy enough to play it without a boxed set. Let each team member come up with two or three topics—each number of topics will be the number of rounds your team can play—that start with "Things that . . ." (Some examples include "Things that I would bring on a desert island," "Things that I eat before bedtime," "Things that I take on a road trip," etc.)

For each round, choose one person to read the prompt and have everyone else send the reader a private message with their answer. After all the answers are in, the reader reads off each one, and it's up to each player to determine who they think wrote each answer. The reader reveals each sender at the end of the round, and the person with the most correct guesses wins that round. Keep a tally mark of how many correct guesses each person has throughout the whole game, and whoever has the most at the end of the game wins!
16. Spreadsheet Battleship
This game combines two of our favorite things: Battleship and spreadsheets! Okay, so they might not be two of our favorite things, but this creative way to play a classic board game will get your team excited and help them build relational connections with one another. You will need to use either Google Sheets or Microsoft Excel for this game, and make sure you leave aside about 10 minutes for players to get set up. For a quick explanation of how to play and set up your spreadsheet, watch this YouTube video. You'll only use columns A through J, rows 1 through 10, and you'll use two different tabs—one for your board and another for your opponent's.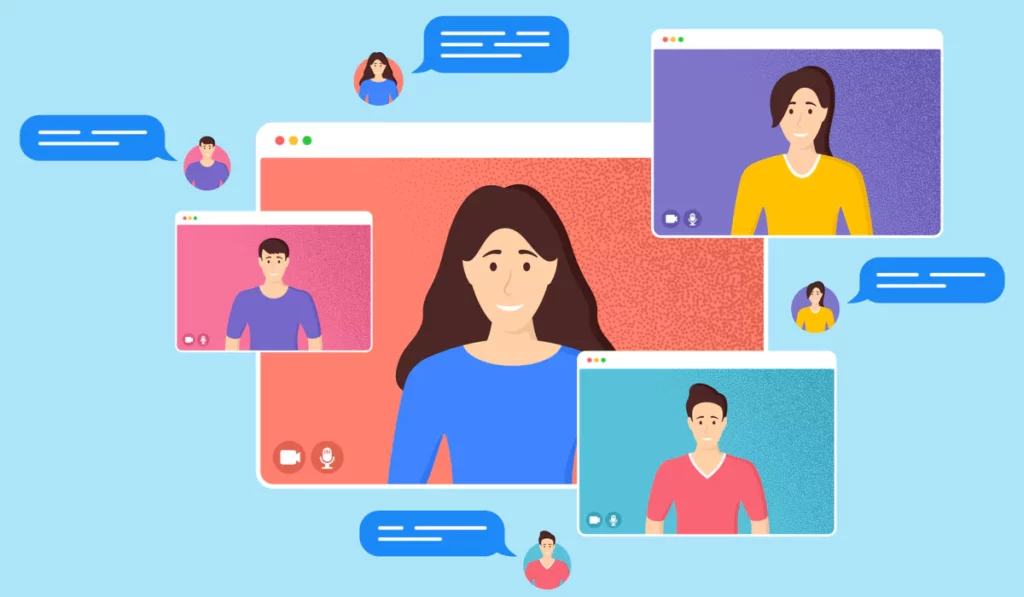 How soon should I start doing online team building games?
As soon as you can! Team building, especially for virtual teams, is a major key to a successful team that works well together, trusts each other, and can communicate well. This list of free online team building games is just a small portion of what you can do to improve your team. Check out our list of virtual team building activities for more ideas!