When employee engagement dips, everything else takes a hit too. Team building is your secret weapon to boost team engagement, morale, retention, camaraderie, and communication. But that doesn't have to mean lectures or trust falls, you can incorporate some fun team-building activities. And, if you do it right, team members might not even realize it's a team-building activity.
You're in luck if your team is in or near Rancho Cucamonga! There are dozens of out-of-the-box ways to engage your team. Your team will get a chance to bond, communicate, problem-solve, and strategize — all while having a blast! 
With so many things to do, it can be tempting to feel overwhelmed. Below we've narrowed it down for you with our 21 recommendations for team building in Rancho Cucamonga! Below you'll find something for any and every team dynamic.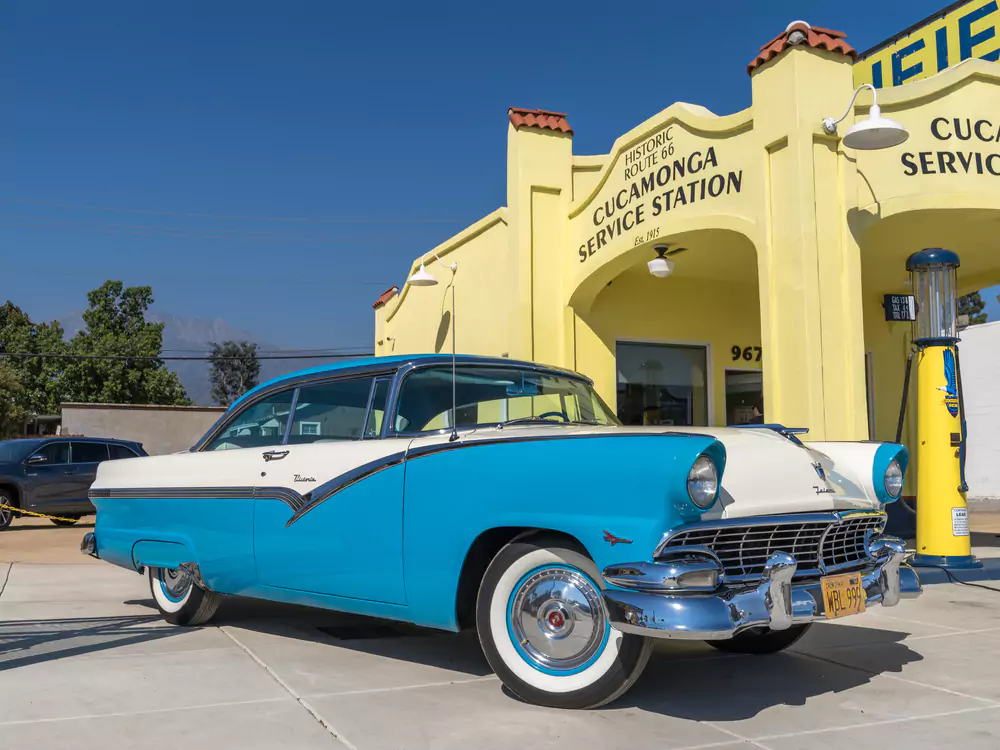 Table Of Contents
21 Awesome Team Building Activities in Rancho Cucamonga
What To See On Your Team Building Trip To Rancho Cucamonga
21 Awesome Team Building Activities in Rancho Cucamonga
1. The Escape Game in Rancho Cucamonga
Multiple rooms per game, unlimited hints, and unexpected "wow!" moments await your team. With more than 5 million players since 2014 across all its locations, The Escape Game in Rancho Cucamonga knows a thing or two about designing a wicked experience for your team.
This location features five immersive escape rooms with varying difficulty levels and a refreshing variety of game themes. Regardless of your chosen themes, rest assured that your team is participating in one of the most effective team-building exercises.
2. Plan An Event with Team Building Hub
Looking for a completely unique experience in Rancho Cucamonga? Team Building Hub specializes in building experiences that increase team communication and engagement through surprisingly fun events. Team Building Hub has a team of experts in organizing corporate events, from small teams to large company-wide conventions. Whether you need in-person or virtual — they've got you covered. Hybrid teams are welcome, too!
Here's how it works. Team Building Hub makes event planning easy for you and fun for the whole team. Fill out a quick form with as many details as you know. Within one day, you'll hear from one of their professional event planners!
Your planner will design a custom event that supports all your team-building goals and will provide everything you need to host this event. Take the stress out of planning your next team-building event so you can have a blast too. By joining forces with Team Building Hub, you will not be disappointed!
3. Take a Hike at Etiwanda Falls
Nestled and tucked away in the Etiwanda foothills of San Bernardino County, the 3.4-mile Etiwanda Falls Trail is a breathtaking hike, suitable for everyone. Soak up the great Southern California scenery and snap photos on this picturesque hike. Learn as a team as you journey past informational markers that explain the significance of conserving this area and how it protects the local ecosystem and sensitive species in the surrounding area.

The trail is easy to follow, just look for signs that point to Etiwanda Falls. At the end of your hike, your team is rewarded with a stunning view of the 15-foot waterfall.
4. Visit Universal Studios Hollywood
Universal Studios Hollywood awaits — located just an hour away from the Rancho Cucamonga area. As a team, you can enjoy the CityWalk at Universal, which features a range of shops, dining experiences, an 18-screen cinema, and a seven-story IMAX theater. The CityWalk also has a number of indulgent snacks and treats for your team to taste.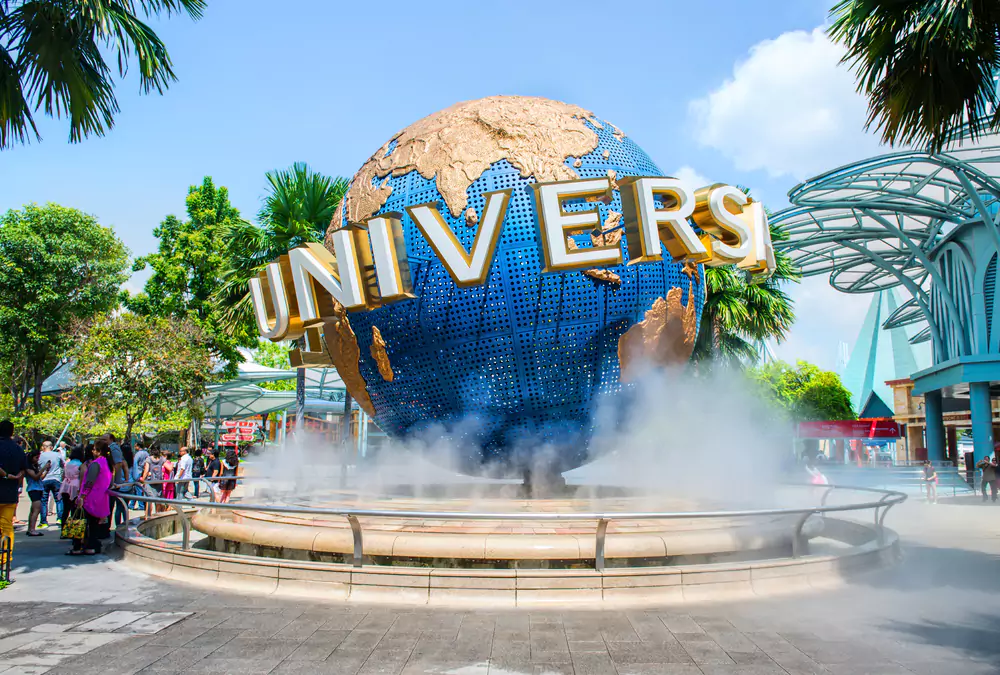 Explore together, bond, and enjoy the rides and thrills around Universal Studios Hollywood. Challenge your team to snap photos and videos near rides, restaurants, or with certain characters to rack up points throughout the day!
5. Have a Beach Day
Bring some towels, umbrellas, snacks, and a volleyball to enjoy a nearby beach. Huntington Beach City Beach is a 3.5-mile stretch of pristine shoreline for your team to enjoy! Known as "Surf City," Huntington Beach features a world-famous municipal pier and is a surf mecca for more than 8 million annual visitors.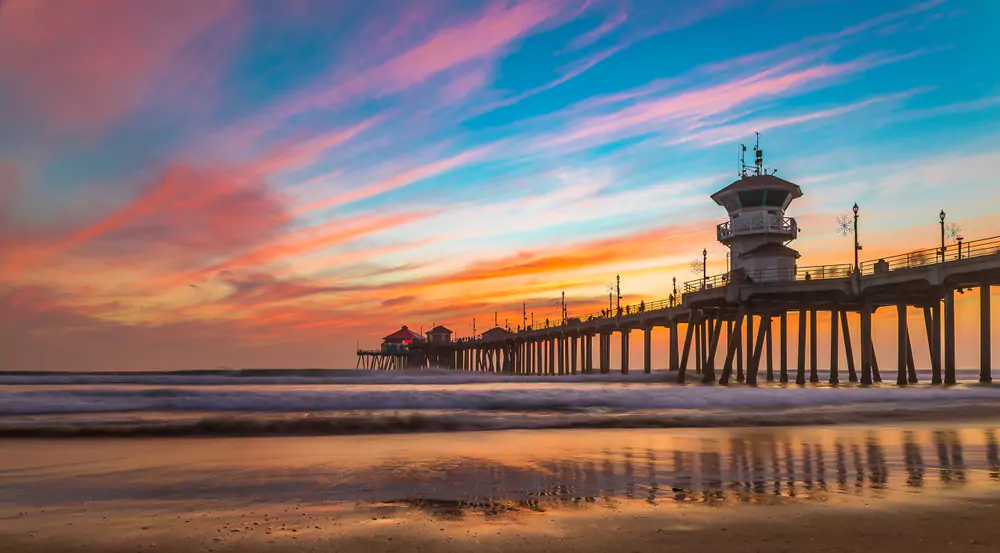 Lounge near the water, play beach games and socialize as a team in this relaxing atmosphere. Sometimes the best way to build your team is to learn how to take time to unwind and chill out near the water together.
6. Check Out the NHRA Motorsports Museum
Learn about hot rods, customs, race cars, speed records, and the people who made them possible at this iconic museum near Rancho Cucamonga. This museum celebrates the impact of motorsports on American culture, displaying influential vehicles and artifacts that demonstrate America's affection for automotive speed in all its various forms. Here you'll find dragsters, land-speed vehicles, and race cars that tell a story.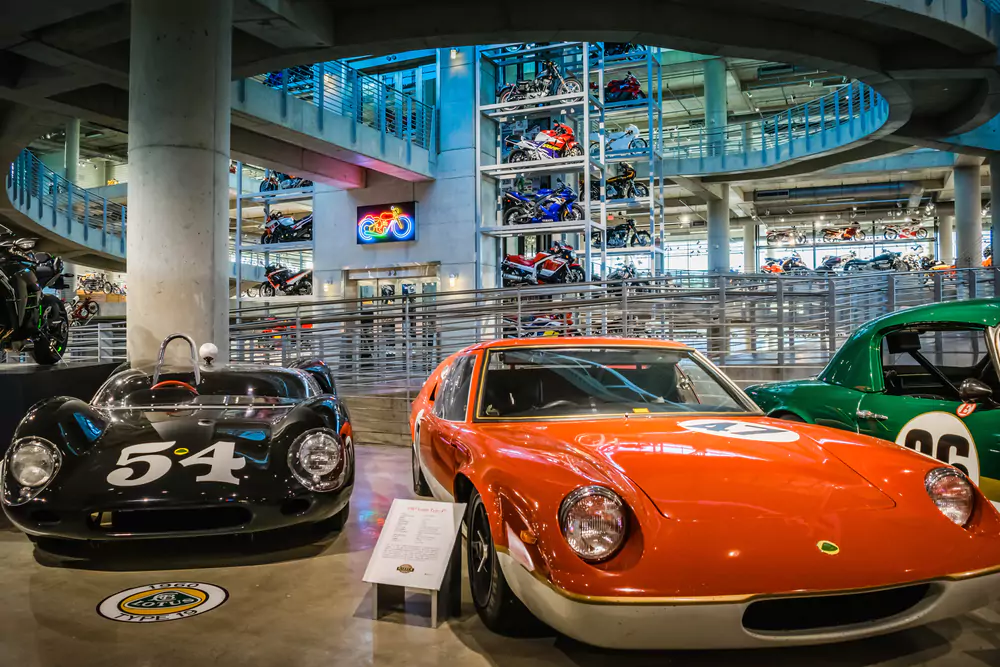 For a fun, team-building challenge, you can turn your visit into a museum scavenger hunt! Scope out the location before and make a list of the most popular exhibits. When your team visits, hand them the list and give them an hour to find everything. The first team to complete the list wins!
7. Solve a Mystery
Any Nancy Drew or Hardy Boys fans on your team? Then an online mystery game might be for you! Your team will get a chance to play as detectives and compete to solve a crime first. Evidence is everywhere. From unlocked surveillance videos to hidden websites in the far corners of the internet, an online mystery game is your sure-fire way to make your next company meeting an epic team-building competition!
Choose the theme your team will love best or put it to a vote!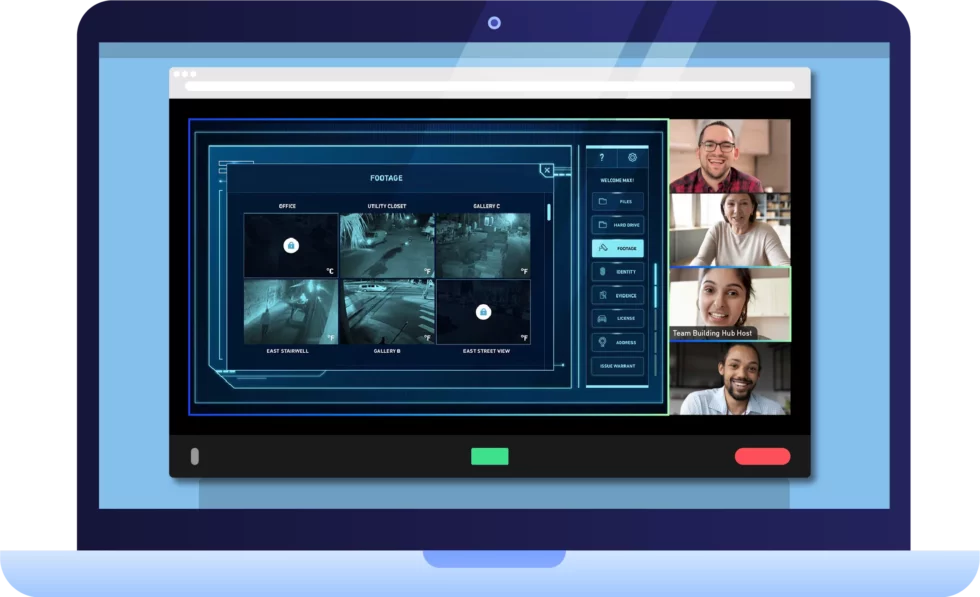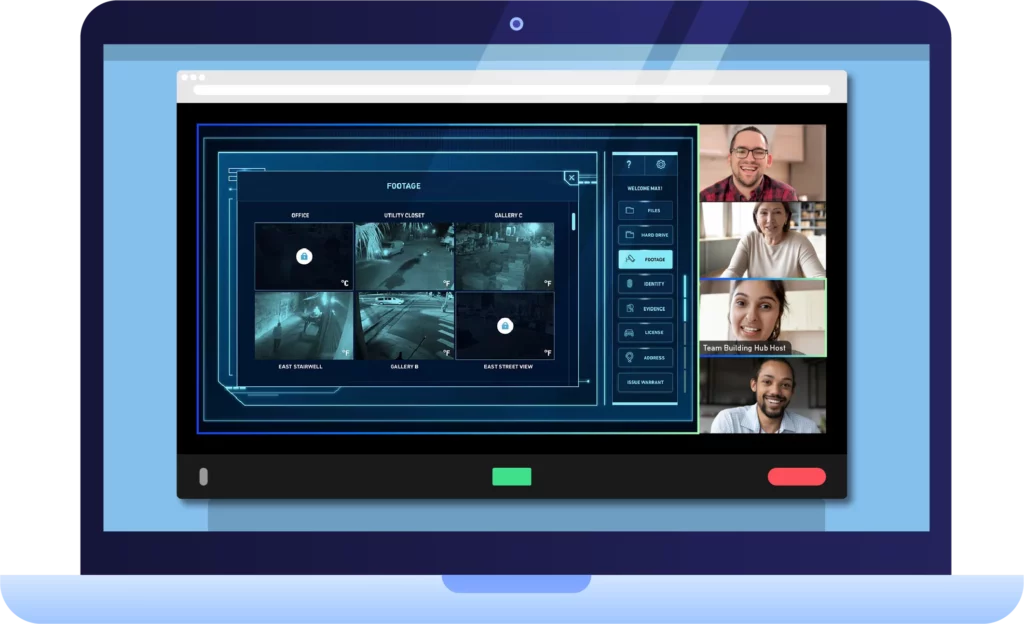 The Art Thief: Chasing Hahn
Notorious art thief, Vincent Hahn, strikes again. Track down this criminal as a team using clues from the case files. Collaborate as a team to piece together the evidence, find where he's hiding, and bring him to justice!
The Art Thief: The Silk Road
The infamous Vincent Hahn is back at it again. He's slick and elusive — does your team have what it takes to piece together the evidence he's left behind?
Rogue Scientist 1990
Dr. Humphrey is in hot water for his dangerous genetic experiments. Your team needs to support the Agency for International Reconnaissance (AIR) by uncovering clues and building an airtight case against Humphreys. Can you track him down before he takes his experiments too far?
8. Paint with the Purple Easel
You're in for an evening of artistic fun at the Purple Easel, southern California's largest paint and sip studio. Your team will be equipped with everything they need including easels, canvases, aprons, paint, and one-on-one guidance. Unlock the inner artists in your team members without pressure or the need for experience – you'll have instructors guiding you every stroke of the way!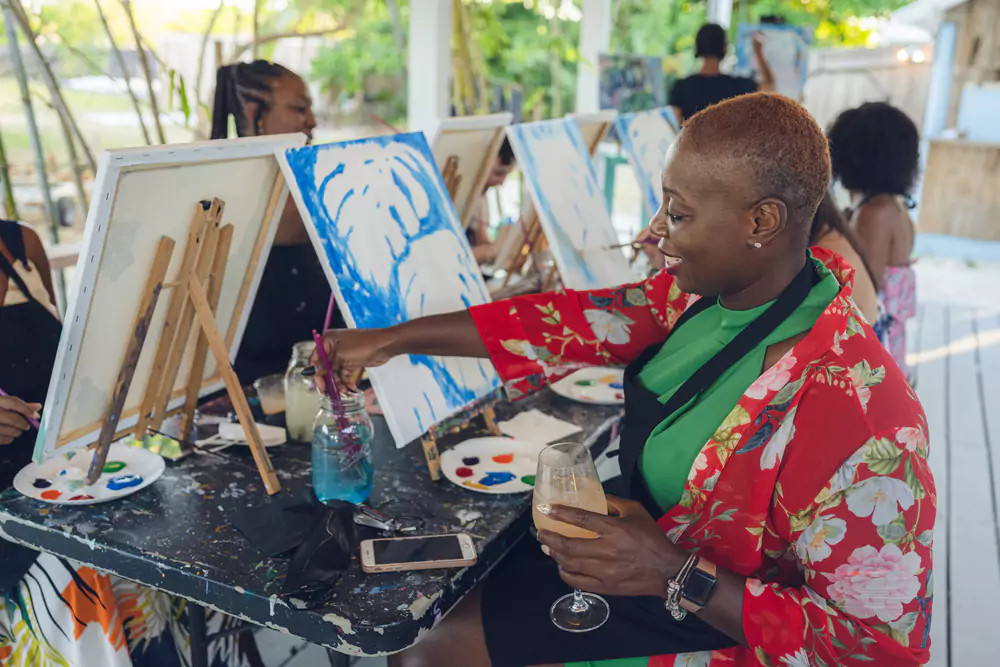 This is a great way to make memories as a team and share an experience that's guaranteed to have them asking for more team-building activities!
9. Play an Online Game Show
There's never a dull moment with an online game show! As a team, you'll rack up points, earn badges, and race to the top of the leaderboards in this competitive battle of wits. No cumbersome tech or complicated rules, just five rounds of fast-paced fun led by an energetic game show host. Be on the lookout for surprise bonus rounds and hidden chances to rack up points!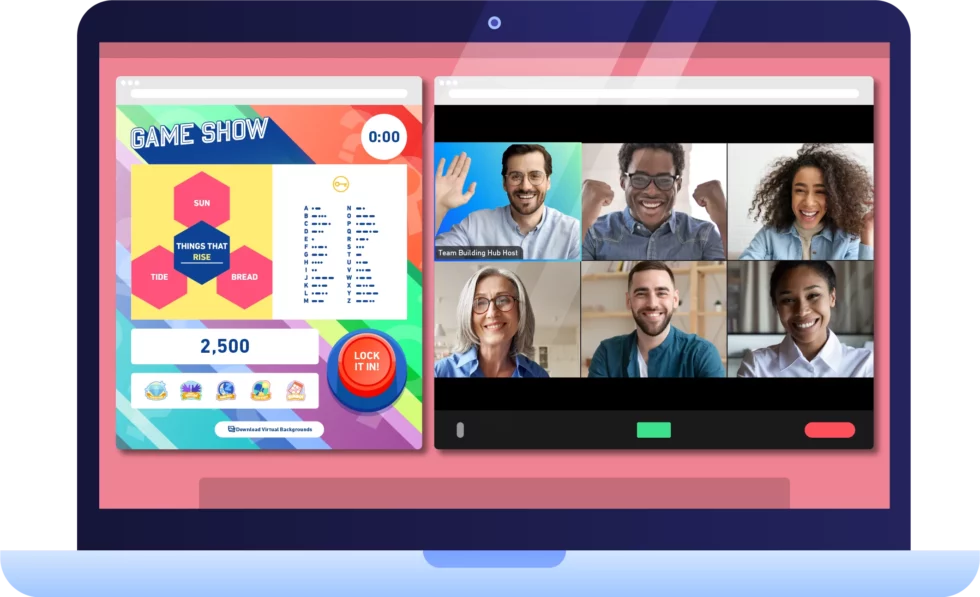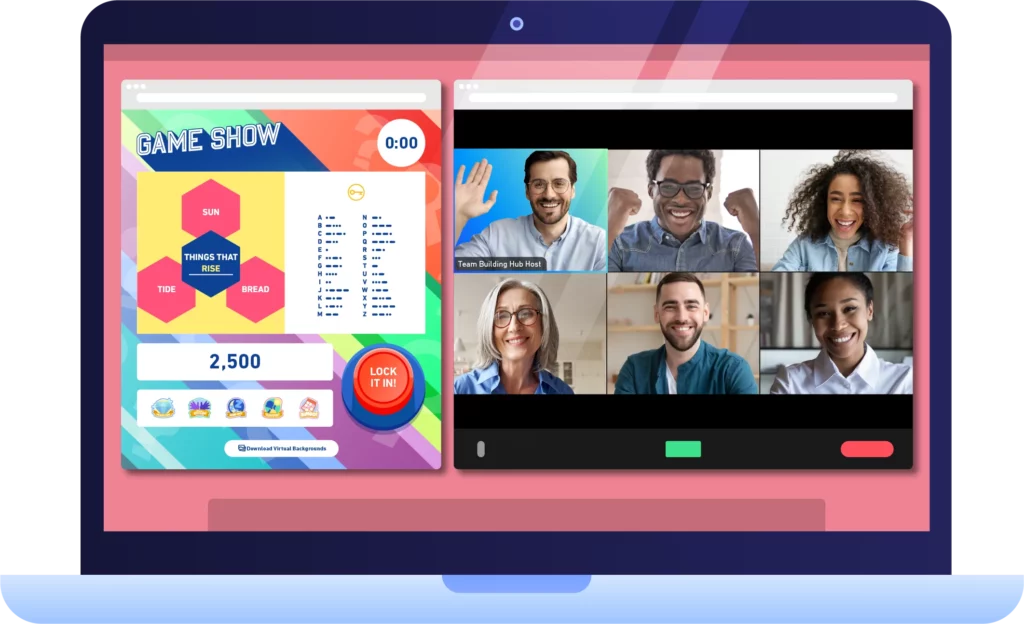 10. Go Indoor Skydiving
iFly Ontario is a one-of-a-kind team-building activity that's sure to dazzle your folks! Gear up together and experience the sensation of flying in iFly's state-of-the-art vertical wind tunnel. You'll have a blast making a unique memory and learning about the science and technology that allow you to defy gravity! Both challenging and rewarding, your team will be thanking you for years to come.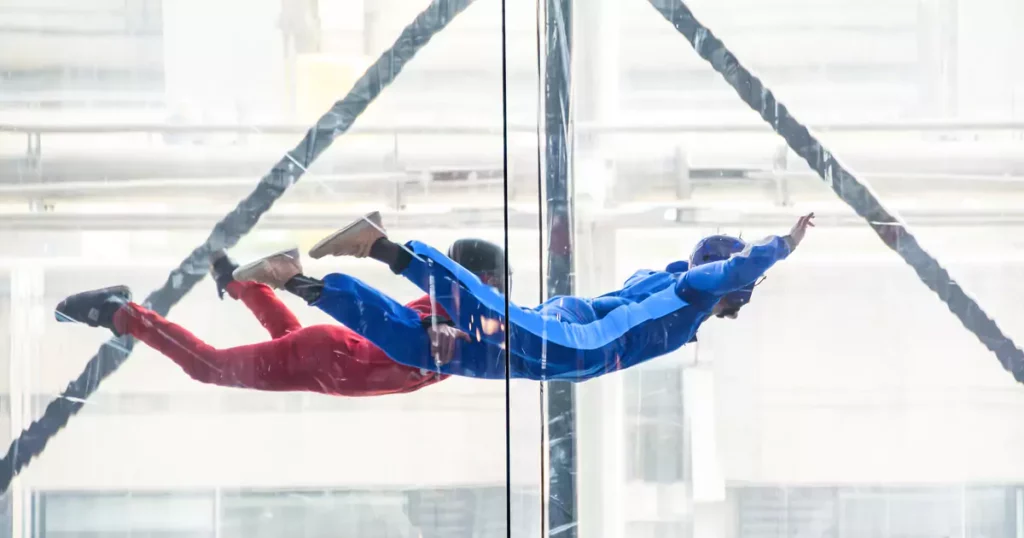 11. Try the Immersive Gamebox
Play games together at the Immersive Gamebox in Rancho Cucamonga! As a team, you'll select your games and enjoy an immersive gaming experience filled with motion tracking, touch screens, surround sound, and drinks delivered during your game. Perfect for a team, you can choose from exciting options like Squid Game (based on the hit Netflix series) or an Alien Aptitude Test as you and your team attempt to survive the scrutiny of extraterrestrials.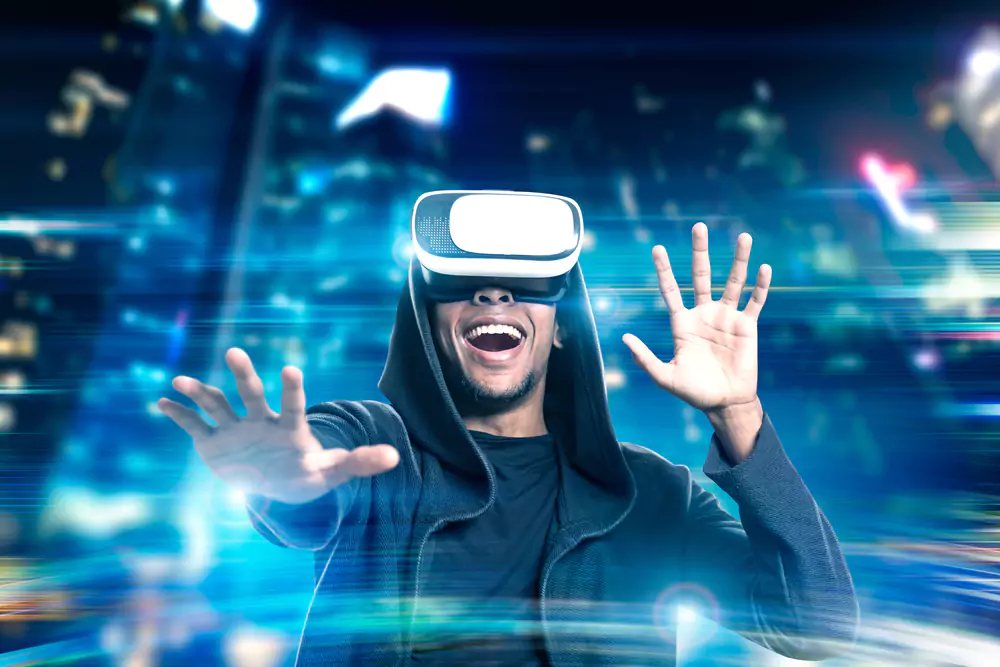 12. Test Your Team Trivia Knowledge
Trivia is always a guaranteed crowd-pleaser. Practice your active listening skills and collaborate to come up with the right answers for each question. You'll encourage each team member to speak up and contribute to the fun. Check out the local bars and pubs for trivia night or play one of the fantastic virtual trivia games during a company happy hour!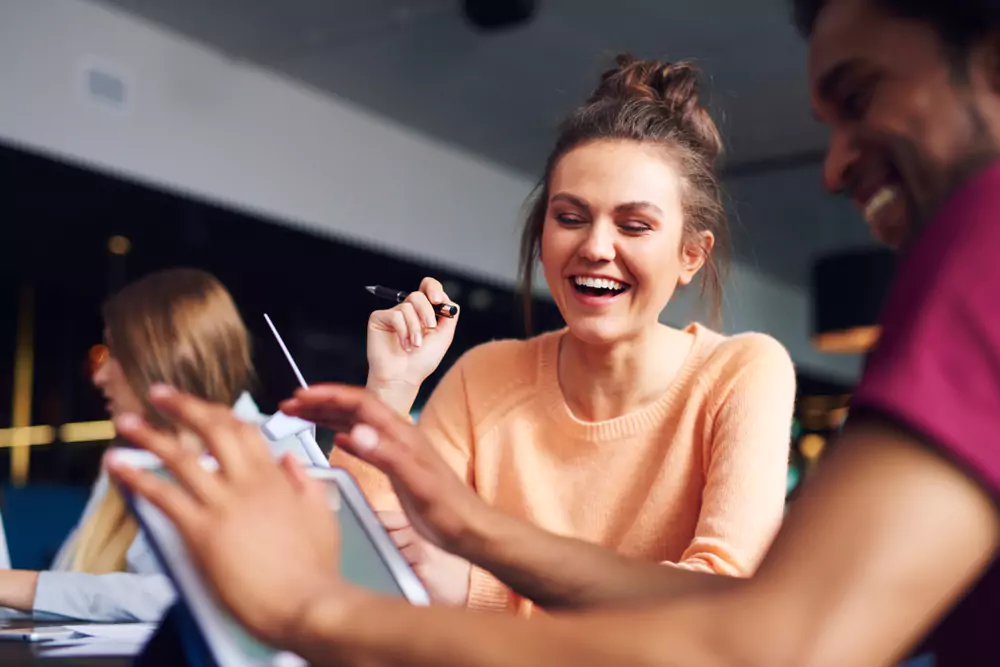 To mix things up and get outdoors, you can visit Red Hill Park, lay down some blankets, and enjoy several rounds of team trivia while soaking up the sun or lounging in the shade.
13. Visit Hammer & Stain
Spend a few hours together as a team at the Hammer & Stain SoCal studio creating wooden, painted masterpieces. Choose from a selection of stains and paint colors to craft your creation. In this hands-on workshop, everyone can move at their own pace as they create their unique piece of art. An instructor is never far if you need support or tips and tricks. This is a great way to bond as a team while creating your own DIY projects that can last forever!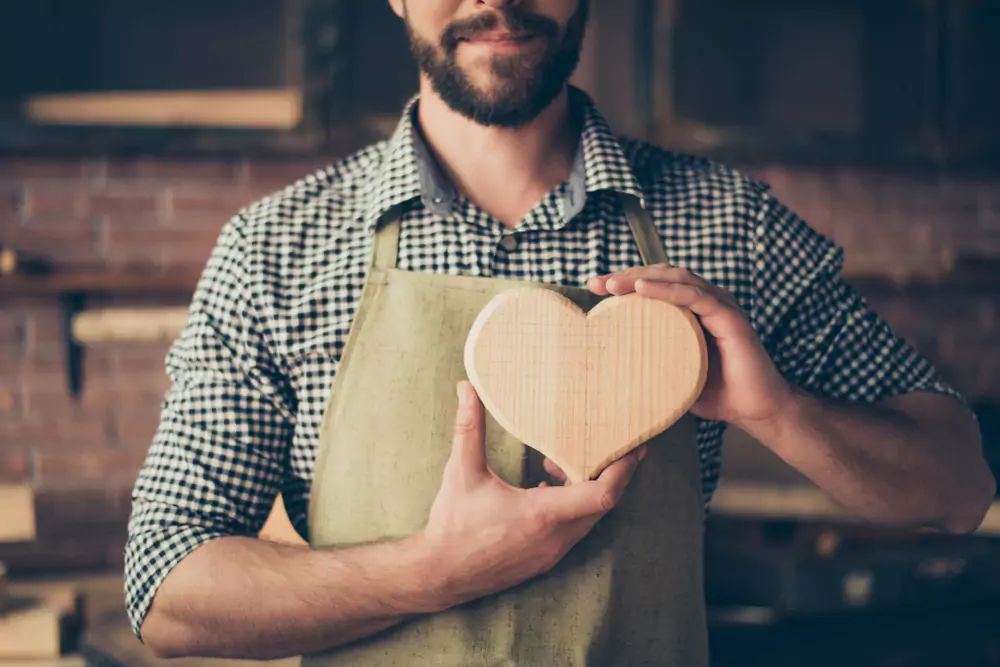 14. Plan a Scavenger Hunt
You'll be hard-pressed to find an activity more engaging and collaborative. Scavenger hunts are easy to explain and a fantastic way to get your team up and active! You'll foster a myriad of team-building skills like creativity and critical thinking as the team races to complete tasks and find items before the clock runs out. Encourage the team to snap photos and videos of all the fun as they race around Rancho Cucamonga to complete tasks.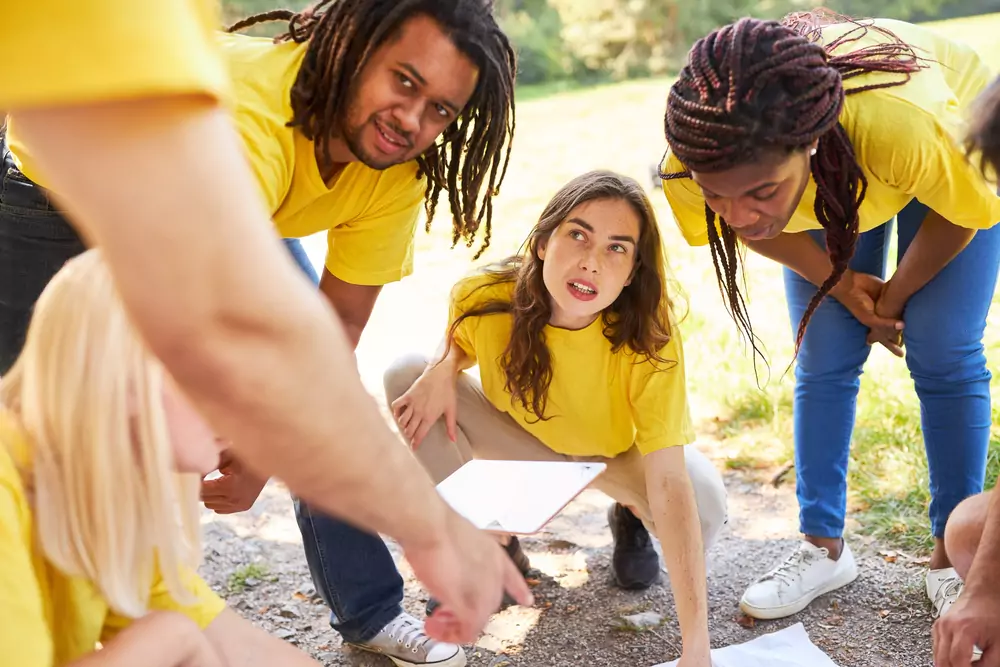 For an affordable price, you can use GooseChase, an app that lets you build and design your own scavenger hunt. And if you have a hybrid or remote team, you can still capitalize on the team-building benefits by exploring these virtual scavenger hunt options.
15. Visit Victoria Gardens Mall
At Victoria Gardens Mall, there's always something going on. Try any of the several in-store demos and classes or attend a wide variety of entertaining events and activities.
The events change from season to season and week to week. You'll find horse carriage rides or The Gathering, a crafters' night market with vendors for vintage items, apparel, jewelry, and more.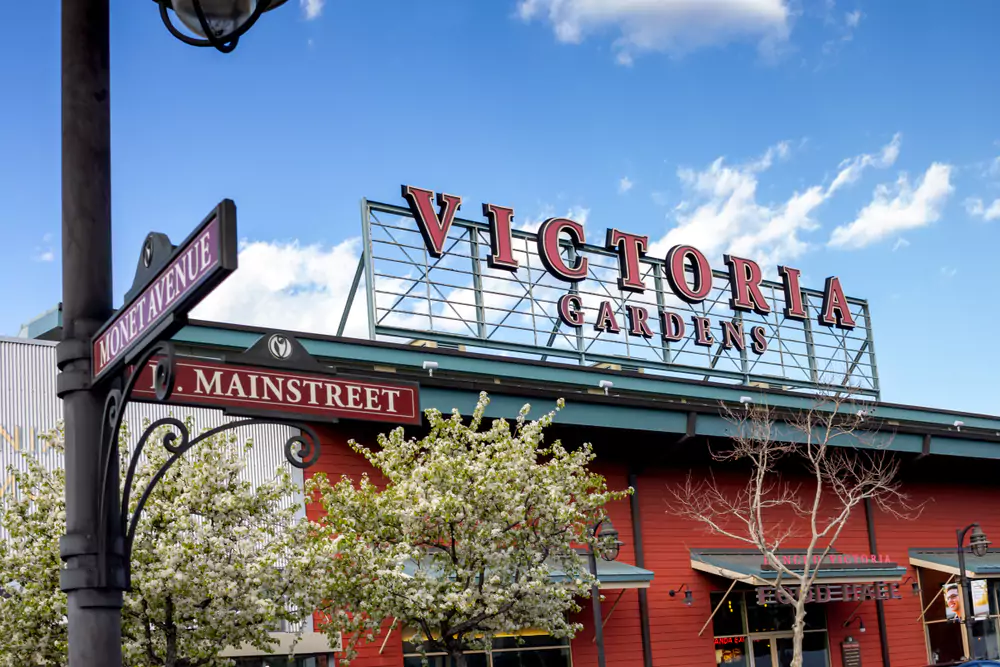 After you've had a chance to explore and attend events, take a break, and share a meal at one of the sit-down restaurants. The Brio Tuscan Grille is a casual, white tablecloth option that serves northern Italian cuisine your team is sure to enjoy.
16. Race Go Karts at K1 Speed
Calling all thrill-seekers! At K1 Speed, your team can experience more than just racing at your next team-building event. In this two-hour event, you'll experience a host of additional activities designed to make your team more cohesive and collaborative. You'll race together, complete a relay challenge, and even get a chance to function as a pit crew!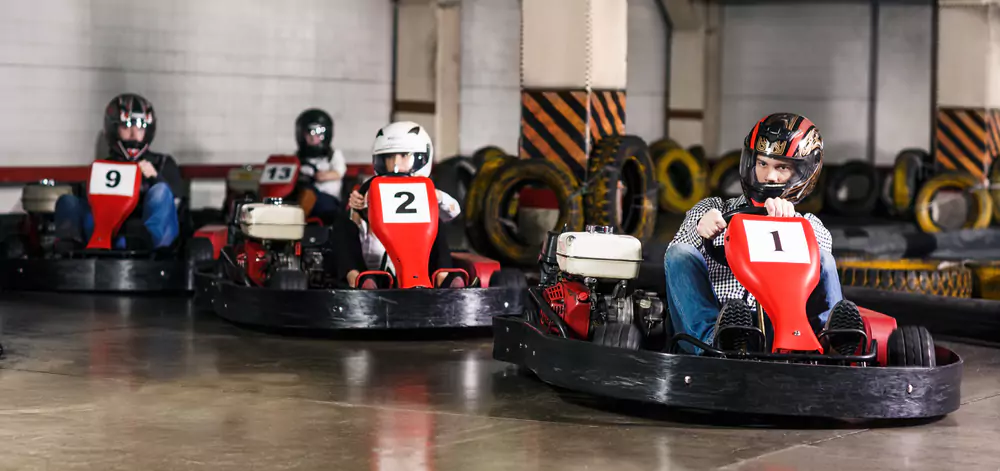 17. Visit Cucamonga-Guasti Regional Park
Cucamonga-Guasti Regional Park boasts 150 acres for outdoor recreation activities. Your team will find a wide range of activities including two lakes for fishing, a swim complex with water slides, a splash pad, and group picnic shelters perfect for your team-building event.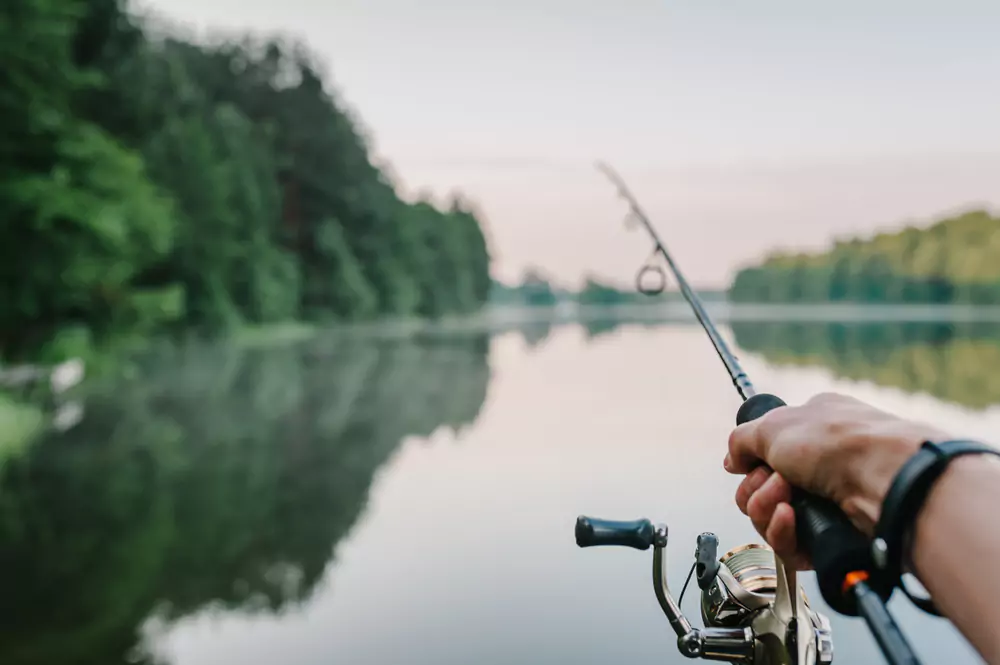 Bring some food and board games and enjoy the great outdoors while bonding as a team.
18. Do Good Deeds Together
Spending time doing acts of service for the local community is one of the best ways to team build while boosting employee wellness. Giving back and volunteering are highly associated with feelings of well-being.
To set up some team-building volunteer opportunities near Rancho Cucamonga, check out Habitat for Humanity, Project Boon, and Feeding America.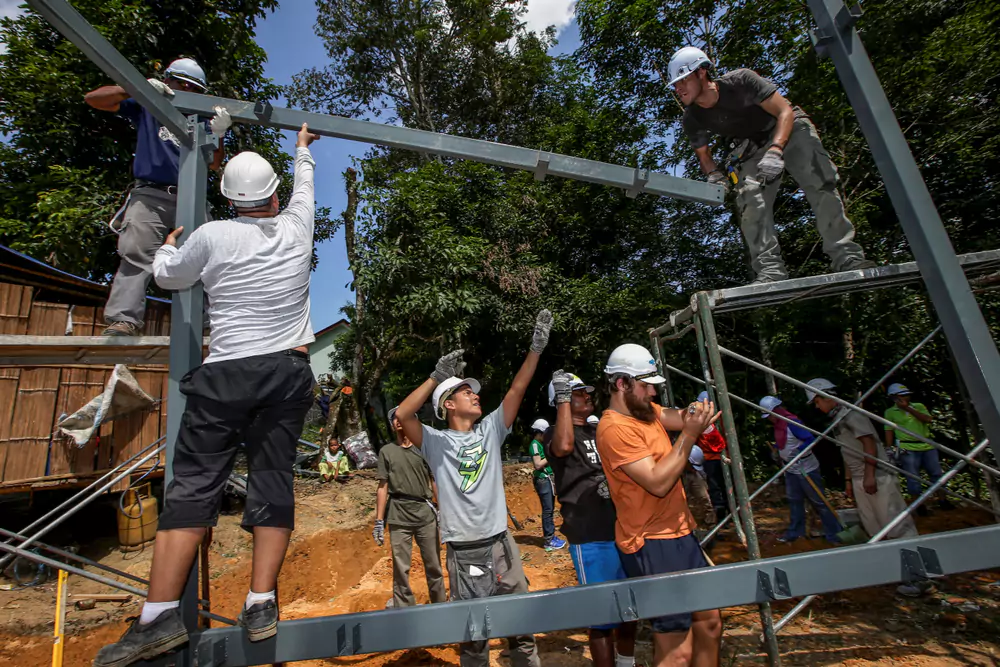 You'll demonstrate your company's ethics and commitment to the local community while making meaningful memories as a team.
19. Hit Golf Balls at Top Golf
Enjoy climate-controlled hitting bays for year-round comfort at this TopGolf location. It features HDTVs in every bay, a sports bar, and a restaurant. You'll have everything you need as a team to enjoy taking aim at the giant outfield targets. Playing is simple: Rack up points as the high-tech balls score themselves after you take turns hitting them toward the targets in the distance. When you plan a team-building event with TopGolf, dedicated staff is on hand to help make your event run smoothly.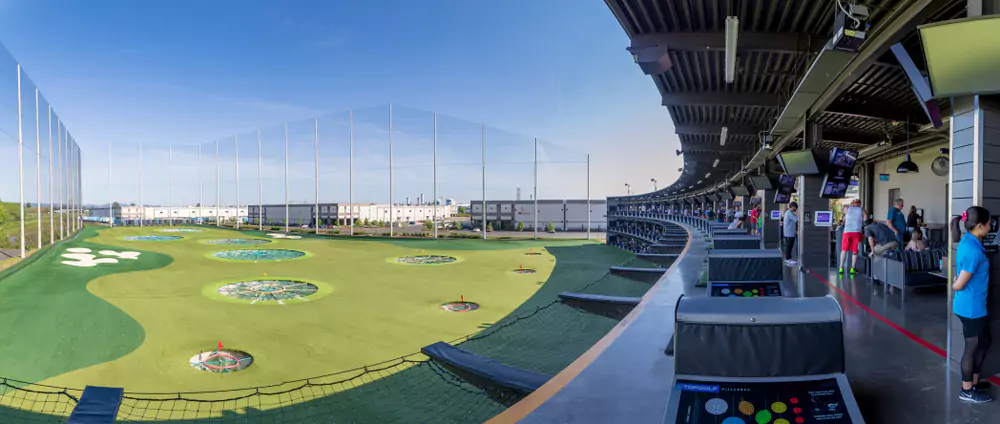 20. Survive a Zombie Apocalypse
Playable anywhere, Zombie Scavengers is a quick, fun way to get outdoors and active as a team. Here's how it works. As a team, you'll use an app on your smartphone to scour the area for food, supplies, shelter, and transportation to survive the zombie apocalypse! This creative scavenger hunt encourages you to complete challenges and answer trivia questions in order to survive. Whoever finds all the items first, wins!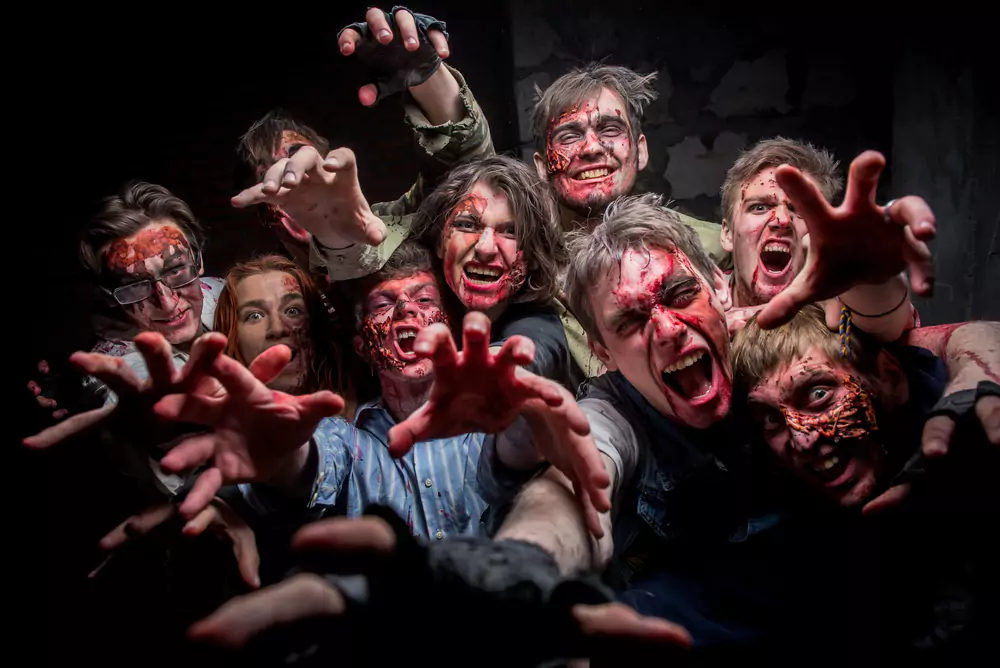 21. Take a Thrill Ride Together
Shoot, soar, and save the day at The Ride 7D. As a team, you'll have an immersive and interactive motion ride experience. Feel the thrill of an amusement park ride and the sheer excitement of a state-of-the-art laser-blasting game all in one! Armed with 3D glasses to make on-screen visuals pop, your team will also experience other special effects like motion, wind, interactivity, and scoring. After all, companies that play together, stay together.
What To See On Your Team Building Trip To Rancho Cucamonga
1. Visit Old Pasadena
This historic district spans 22 blocks and is home to more than 300 businesses. You and your team will find premier shopping, world-class dining, entertainment, and activities year-round. With lots of parking, navigating Old Pasadena is simple. You'll get a chance to explore historic streets and alleys, perfect for wandering and discovering this city's unique character.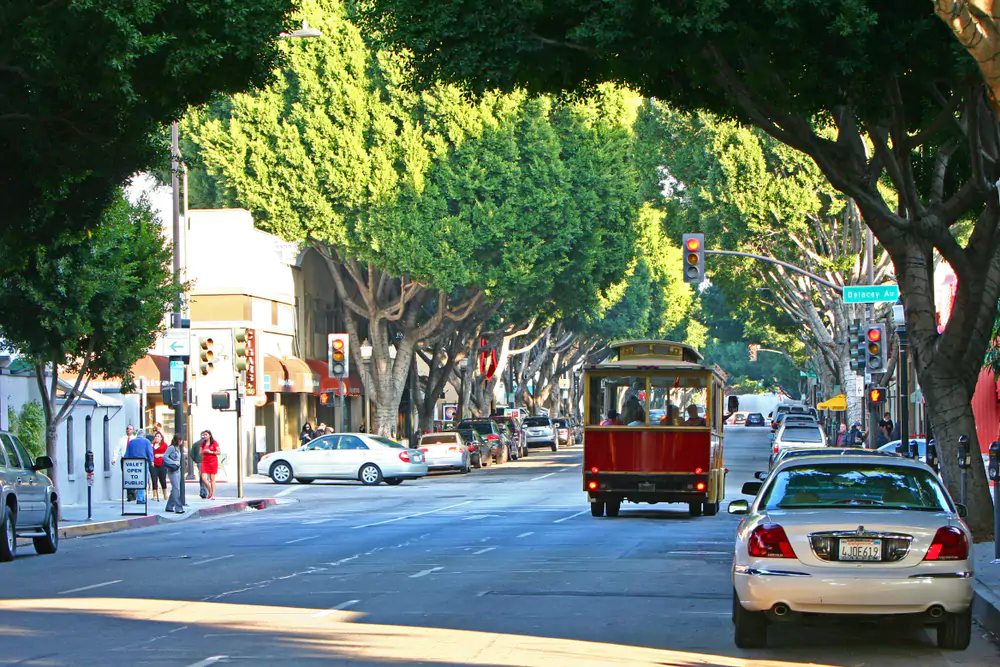 2. See the Sights from Cucamonga Peak
Boasting one of the highest peaks in the San Gabriel Mountains, the Cucamonga peak has stunning views of the surrounding area. The hike to the top is tough, but not brutal, and the scenery and sights are worth it.
3. Rancho Cucamonga Epicenter Entertainment & Adult Sports Complex
A stunning 52-acre sports complex, the Rancho Cucamonga Epicenter Entertainment & Adult Sports Complex features a baseball stadium, two standard-size soccer fields, three adult softball fields, and an open-air plaza with covered pavilions. There's always something going on so be sure to check out if any events are happening!
4. Smell the Local Roses at California Botanic Garden
The California Botanic Garden is the largest botanic garden entirely dedicated to California native plants. It's a living museum featuring curated collections of more than 22,000 California native plants, some rare or endangered. The sights and plant life are stunning — a definite must-see on your trip.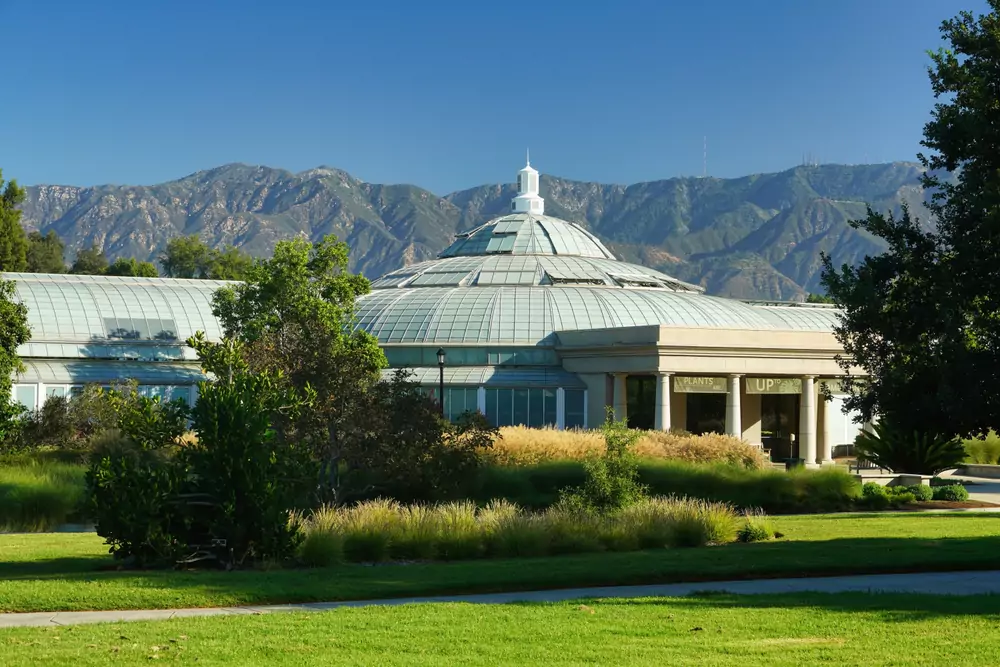 Year-round, the California Botanic Garden also offers classes and events to build your connection to and knowledge of California native plants. Be sure to check out what events are happening during your visit!
Start Your Team Building in Rancho Cucamonga Today!
Remember team building is supposed to be fun! If you need additional support or advice to plan your event from start to finish, Team Building Hub is an excellent resource to help design a completely custom and engaging event for your teams.
If you're ready to dive into all the team-building fun Rancho Cucamonga has to offer, find out how Team Building Hub can help you take it to the next level and get started today!