A virtual going away party is the perfect opportunity to capitalize on an often overlooked, yet key moment in the employee lifecycle: retirement or departure. It's important to show appreciation and express gratitude to employees for all their years of service at your company. And with more and more of the workforce going remote, it's time to learn how to host a fun and memorable virtual going away party! But it doesn't have to be intimidating. Keep reading to learn how to plan and execute a memorable party, including 14 fun ideas to help make it special.
Table of Contents
What is a Virtual Going Away Party?
Why are Virtual Going Away Parties Important?
How to Plan a Virtual Going Away Party
Best Virtual Going Away Party Ideas
What is a Virtual Going Away Party?
A virtual going away party is your moment to say farewell in style to someone who's leaving. In essence, it's no different from an in-person party, except that it's hosted online for your virtual attendees.
The exit is an inevitable part of the employee lifecycle. With life or career changes and retirement, even the most dedicated employee won't work with your company forever.
Below you'll find a bevy of platforms, tools, and virtual party tips and ideas that help you organize a crowd-pleasing event without too much stress and strain.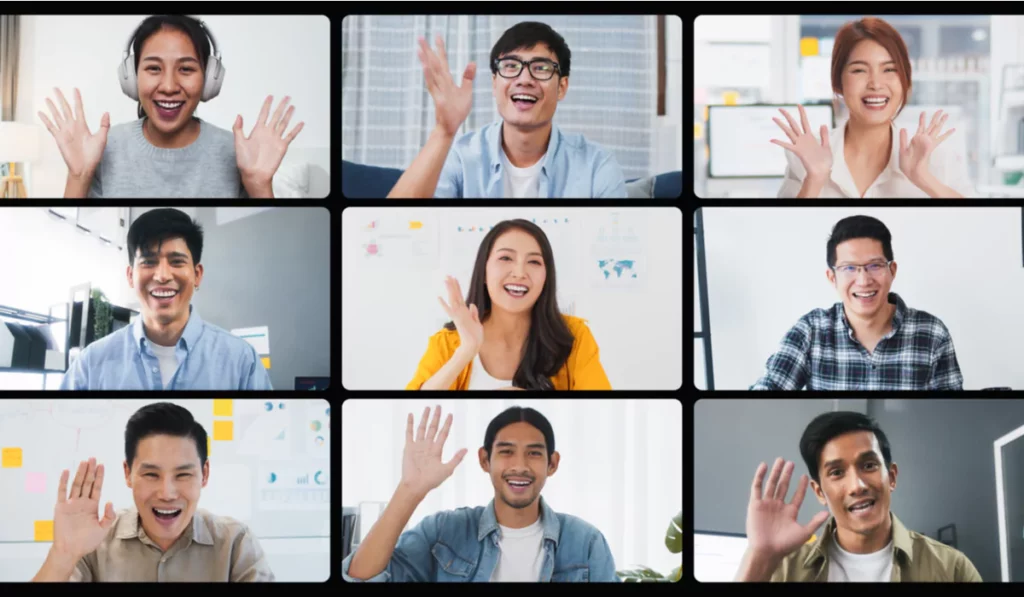 Why are Virtual Going Away Parties Important?
Showing employees that you appreciate their entire journey with your company is a great reason to host a going away party. However, there are other business benefits as well.
Demonstrates to Your Team That You Care
With 44% of leaders citing retention as a challenge over the last year, pausing to convey your gratitude to an employee for their work shows the rest of your team that you care about their experience from start to finish too.
Influences Future Hiring
It's worth the effort to leave a good impression. Research from Lever suggests that 52% of employees would consider returning to a former employer. These "boomerang employees" (folks who leave but return to work for a company again later) may be the next dominant hiring trend in the coming few years.
And as Fast Company notes, hiring boomerang employees benefits both employer and employee. A former worker is already familiar with your business, industry, and ways of working. Onboarding is often shorter, and these boomerangs return with new skillsets and ideas that help level up your organization.
Creates Lifelong Company Ambassadors
Don't miss out on the opportunity to create a lifelong company ambassador. According to Zippia, 45% of referral hires stay at a company longer than four years, compared to only 25% of job board hires. And as previously noted, retention has been a big issue in the last couple of years.
You want to ensure that the folks on your team and anyone leaving have a positive impression of your organization. Research consistently shows that the cost-per-hire for referrals is lower on average and that they are often the best culture fit.
How to Plan a Virtual Going Away Party
1. Decide on a Hosting Platform
More than likely your company has a preferred video conferencing platform like Microsoft Teams, Google Meet, or WebEx. Zoom is perhaps the most popular conferencing platform today, with more than 300 million daily meeting participants. You can check out this complete guide to Zoom to ensure you're maximizing functionality for your virtual event!
2. Plan the Agenda
First things first, formulate an idea about how the virtual party will unfold. By thinking through the agenda as one of your first steps, you can better prepare your guests when you're ready to send out invitations.
Theme
Themes can help structure the party planning by influencing what activities or gifts you choose and what attendees may end up wearing. When choosing a theme, keep the guest of honor in mind and make it relevant to their interests. Themes can range from favorite TV shows and movies to decades like the '70s or '80s. If the going away party is for someone who loves dogs, games, or friendly competition, incorporate that into your selected theme!
Timing
At the longest, your virtual going away party should be no more than 90 minutes, depending on the activities planned. You don't want to rush through the event, but most folks get intimidated by seeing long meetings on their calendars.
Balance
You want the right mix of fun and sentimentality. As you read through the best virtual going away party ideas in the next section, keep in mind that every activity on your agenda does not need to center around the employee who's leaving – especially if they don't love the spotlight!
Depending on the person's preferences, you might only reserve only a handful of minutes on the schedule where the focus is entirely on them and expressing thanks for their contributions. The rest of the time can be spent doing group activities and just taking time to have fun together. We've included several ideas in the next section for how to do just that.
3. Send Out Invitations
Now that you have an idea about how the event will unfold, it's time to invite people! Skip the email or text message and spend a few minutes creating a virtual invitation. Tools like Evite or Punchbowl offer easy-to-use templates that help you design a beautiful invite in minutes!
When drafting your invitation, let guests know the selected theme and planned activities in addition to details like the date, time, and event platform.
Scheduling
To make finding time for the virtual going away party easy, Doodle offers powerful group scheduling features. With the Group Poll functionality, you can choose time slots to offer and share that with your guest list. Guests can say what times do and don't work for their schedules. When all the responses are in, Doodle visualizes which times work for everyone. It's a piece of cake!
Reminder: The fun doesn't have to be confined to coworkers. Consider reaching out to invite the family and friends of your honored guest.
4. Create Fun Virtual Backgrounds
While you can't quite decorate for a virtual going away party, you can definitely have some fun with virtual backgrounds!
Try these tools to easily whip up a few options for attendees to choose from. Don't forget to make an extra special one for the employee that's leaving!
With thousands of animated and static templates and backgrounds to choose from, the VistaCreate platform allows anyone to create visuals in no time – design skills optional.
Choose from plenty of free designer-made backgrounds and add some fun and sophistication with Canva. Featuring millions of images, illustrations, icons, and hundreds of fonts, you can easily customize a stunning virtual background in minutes.
If you decided on a themed party, be sure to incorporate the selected theme into your virtual background.
5. Send Out a Gift
Yes – your party is virtual, but the gift shouldn't be! So much of this party is already digitally based. Add that extra touch by sending a tangible gift with clear instructions that it should not be opened until instructed during party time. Mailing a gift builds anticipation, shows your thoughtfulness, and creates an agenda item: gift unwrapping!
To Surprise or Not To Surprise?
As an employee prepares to leave, those last few days and weeks could be somewhat stressful. As they plan for what's ahead, they are also transitioning information and responsibilities over to other team members.
With all that in mind, there's no need to plan a surprise party. In fact, by giving the heads up, you can gain a better understanding of their preferences and learn what types of activities sound most fun to that employee! You can also use that conversation to encourage them to add their friends and family to the guest list.
To keep an element of surprise, you can maintain some mystery around certain features of the party like the gift!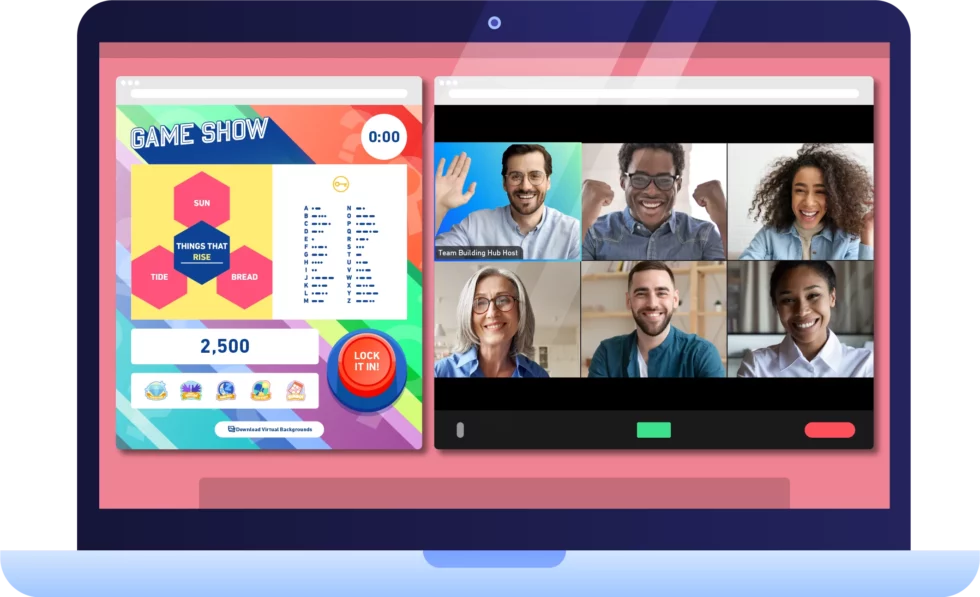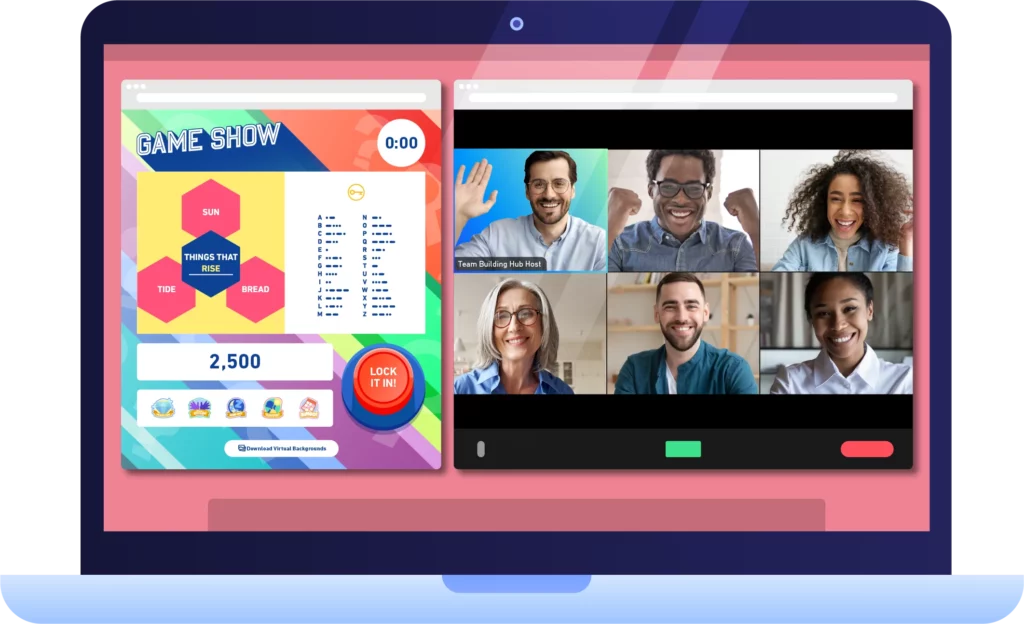 Best Virtual Going Away Party Ideas
Activities
1. Include a Puzzle Game Show
Including a team-based activity takes the focus off the employee who's leaving. Plus, it's super fun! In an online game show, your group splits into different teams to rack up points and earn the top spot on the leaderboard. Teammates crack word puzzles, decipher codes, and solve brain teasers in a classic game show format. Expect the unexpected as you encounter surprises, twists, and opportunities to score bonus points!
---
Get Your Free Game
The 3-Minute Non-Cringey Ice Breaker for Your Next Meeting
A ready-set-go game to run at your next fully remote or hybrid meeting without the hassle or added pressure of developing a team-building exercise yourself. Get it here →
---
2. Trivia
Most people love trivia — it's an easy and fun crowd-pleaser. Several platforms can make adding trivia to the agenda easy. Here are a couple to consider:
Virtual Game Night features multiple options and custom plans to create an entertaining trivia night for the team. The experience includes a live host who handles the gameplay and keeps the energy high.
CrowdPurr is ideal for live crowd trivia and lets you fully design and customize your trivia gaming experience. For added convenience, participants can also play from mobile devices.
Tip: Partner with the guest of honor in advance to gather information, like their favorite movies, snacks, or fun facts. Then, during the virtual going away party, test which coworkers know them best!
If trivia sounds like the kind of activity your team will enjoy, check out these additional trivia games, ideas, and tips!
3. Play This or That?
This is a quick game that doesn't require additional platforms, just use the chat functionality! To play, make a list of questions in the style below and have the departing employee answer ahead of time. During the virtual going away party, pose the questions to the group and have attendees answer via chat to see who knows that employee best. Have some fun with your questions!
Sample questions:
Coffee or Tea?
Dogs or cats?
Call or text?
iOS or Android?
Cake or Pie?
Toilet paper: Over or Under?
Pour Milk or Cereal first?
4. Share the Career Journey
This agenda item works particularly well when saying goodbye to long-time employees. More often than not, when individuals have remained at a company for several years, they've worn different hats and held different roles in that duration. Share this journey via slideshow or PowerPoint and don't forget to include photos! The benefits are twofold: honoring the history of the employee and demonstrating your company's job flexibility and upward career mobility to other employees.
Tip: In the weeks before the party, reach out to attendees to see if they have any photos you can include.
5. Play Guess Who?
Spread the attention around by playing a guessing game that gets all the attendees involved.
Here's how it works:
Have guests share a favorite book, baby photo, or embarrassing moment ahead of the call.
Compile the submissions into a slideshow without revealing who it is.
Have attendees guess who the book, photo, or moment belongs to!
You can get creative with what you ask attendees to send or share for the guessing game.
6. Reminisce and Share Memories
When sending out invitations, ask attendees to respond with any pictures, memories, or short 10- to 15-second selfie videos describing a fond memory or reason they liked working with the employee who's leaving. Stitch all the submissions into a video that plays during the call!
By asking in advance, you account for any folks who might want to share a memory but are unable to attend. It also helps you manage your party agenda by controlling how long people speak.
After the party, send this video file to the departing employee as a nice digital gift.
7. Play Mini-Games with Weve
Weve keeps your going away party interesting with a range of mini-games and the option to self-host or rely on a Weve-provided host. As teams, you can play classic games including Pictionary or Two Truths and a Lie. For teams that are especially outgoing, you can even compete in a lip sync battle!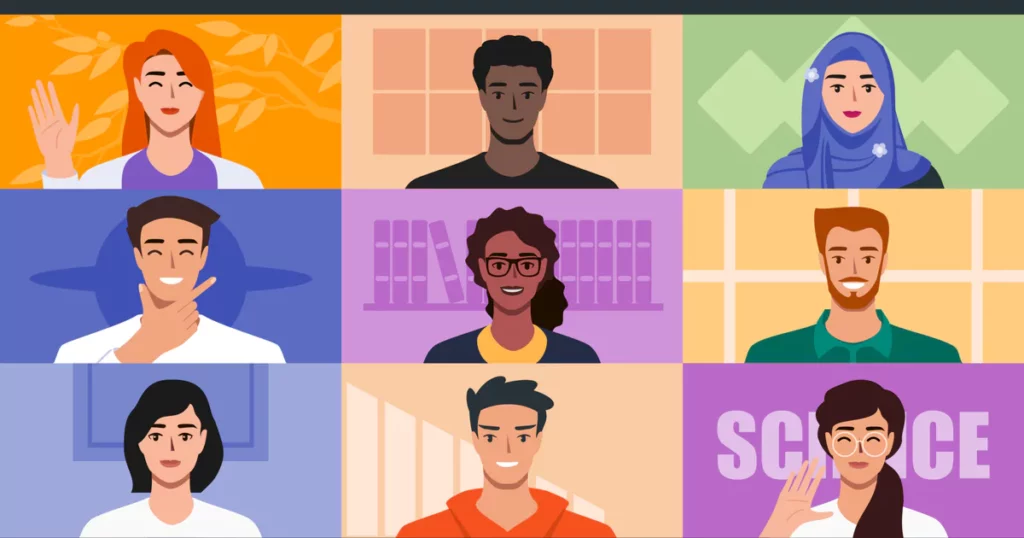 Gifts
8. Circulate and Share a Virtual Card
In all likelihood, gone are the days where you secretly pass a card around the office to collect signatures and well wishes. Try a virtual one instead!
Kudoboard allows you to celebrate someone with an online group card filled with messages, GIFs, photos, and even videos! Create the kudoboard, add your own contributions, circulate the card, and then deliver! You'll be able to share it online, print it as a poster, or play it during the virtual going away party as a slideshow!
Thankbox is another great option that allows you to say goodbye in style. Customize your Thankbox icon and background to best suit the recipient and party theme, choosing from dozens of designs. You can add your team's name and it even allows guests to include a monetary gift. Create, share, and send! It's that simple.
9. Create a Memory Book
Take the virtual card one step further by creating a memory book! Memory books combine images with a short story that accompanies each and explains the significance. Think of this as a kind of virtual scrapbook.
With Mixbook, you can customize everything to your liking with unique, on-trend designs and a powerful editing tool. You can add, move, or delete photos and text, adjust the layout, choose from thousands of stickers, and even upload your own designs.
You'll create one-of-a-kind photo goods that truly reflect your employee's personal style and history with your company. Mixbook also offers the ability to print on cards, calendars, and home décor, including canvas, metal, acrylic, and poster prints.
Similarly, Newlywords is a powerful tool that helps you create a one-of-a-kind memory book. But with this tool, you're able to collaborate with attendees to collect letters and photos. Once you start a collection page and choose the templates in the book, you can invite others to contribute pictures, messages, memories, and well wishes.
For those attendees who are less tech-savvy, you can manually add their contributions into Newlywords. Once you review and edit, you can adjust the final layout and hit print! You'll also be able to download a PDF immediately as you wait for the book to print and ship.
10. Turn Your Employees Yellow
Is the employee a fan of The Simpsons? Think outside the box with this creative gift that allows you to commission the Turned Yellow team of artists to recreate a photo in an art style that resembles The Simpsons. You can choose a photo of the employee alone or select a team shot!
11. Send Flowers and Tasty Treats
Fresh floral arrangements are a classy farewell gift and companies like 1-800-Flowers.com have something for everyone! 1-800-Flowers actually includes a family of brands that provide gifts designed to help people or companies express gratitude and other sentiments. Undoubtedly, you'll find a thoughtful gift for your departing employee within this family of brands:
12. Make a Photo Blanket
When people leave, it's all about capturing the memories you've shared over the years. Consider creating a photo blanket! Collage.com offers various sizes and fabrics to choose from as you display your memories in sharp detail on a blanket.
13. Create a Word Cloud
A word cloud allows you to visualize a collection of words, depicted in different sizes. The larger or bolder the word, the more important it is. When sending out invitations, ask attendees to think of one word that reminds them of the guest of honor. Capture that list and create a word cloud using a tool like WordArt.
This gift reflects the entire group sentiment and emphasizes which of the employee's characteristics or qualities resonated most during their time at your company. With WordArt, you can also order a gift that captures this unique word cloud on mugs, shirts, mousepads, sweatshirts, and more!
14. Send a BoxFox Gift Box
Personalized gifts just got easier. BoxFox does all the heavy lifting by sourcing the best products from far and wide. With boxes for coffee connoisseurs, pasta lovers, whiskey drinkers, or those in need of some relaxation, there's something for everyone!
Shop prepacked curations or build a custom box, completely tailored to your employee. Whichever way you go, your box will tell a story and show your intention.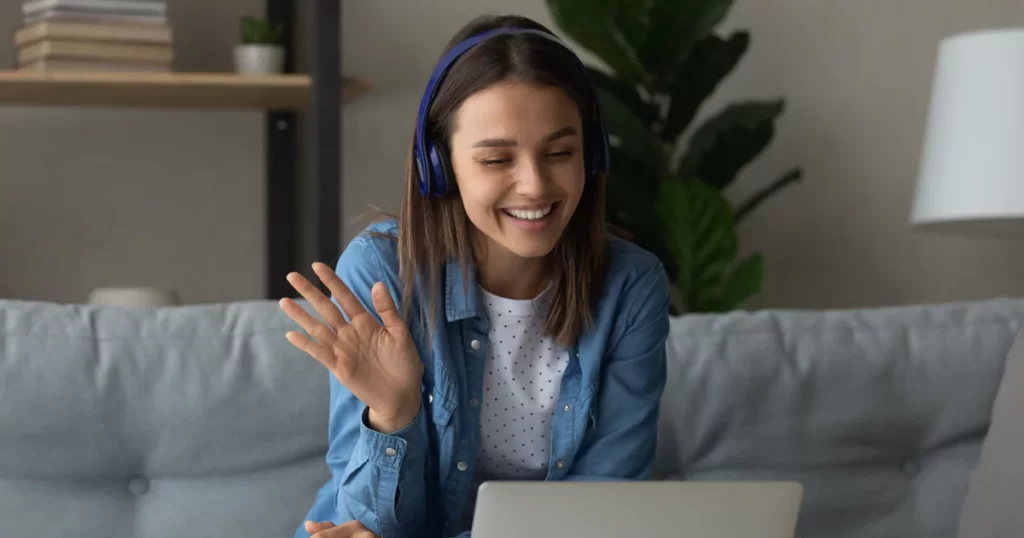 Conclusion: Moments Like This Matter
When people have worked at your company for several years, it's crucial to thank and honor them for their contributions. Saying farewell leaves a lasting positive impression on the departing employee and those that remain.
As you plan, remember that these are the moments that matter. Chip and Dan Heath, New York Times bestselling authors, said it best:
"…And that's the charge for all of us: to defy the forgettable flatness of everyday work and life by creating a few precious moments." (The Power of Moments: Why Certain Experiences Have Extraordinary Impact, 2007)
By taking time to plan a thoughtful party, you demonstrate in action that you appreciate an employee's time and effort and value them enough as a team member to acknowledge it. But party planning doesn't have to be time-consuming or overwhelming! Use the ideas and tips above to make organizing your next virtual going away party a breeze.