Known for its bright lights, casinos, and world-class cultural offerings, Las Vegas has enough excitement to last a lifetime. Whether your team is based here or is planning to visit, you'll find plenty of fantastic team building activities to enjoy!
Below are some of the very best fun team building activities in Las Vegas for thrill-seekers, food lovers, mystery solvers, climbers, golfers, and more! So grab your group and get ready to have your strongest, most connected team ever!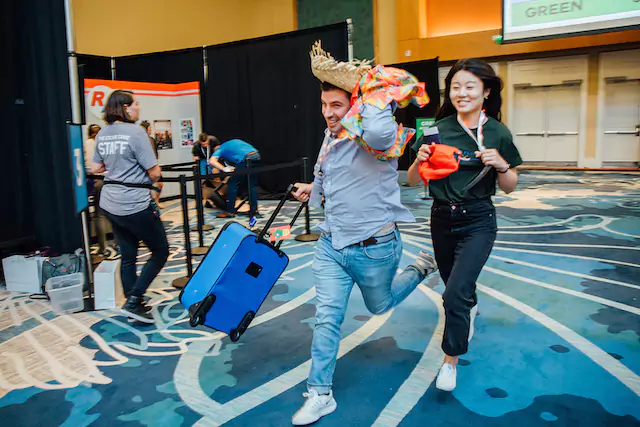 Table of Contents
Fun Team Building Activities In Las Vegas
Small-Group Team Building In Las Vegas
Las Vegas Challenge Team Building Games
Team Building Providers in Las Vegas, Nevada
Fun Team Building Activities In Las Vegas
Team building is an effective and fun way to help your team to reach its potential by improving communication and collaboration. They enhance problem-solving skills and promote creativity. Team building also builds trust among teammates and can even boost company morale!
When you think of team building activities, you likely picture games like Ice Breakers or Two Truths and a Lie. While these are both dependable team building activities, they aren't nearly as exciting as the many fun team building activities in Las Vegas!
Here are 36 of the best Las Vegas team building ideas!
1. Unleash The Adventure With The Best Escape Game In Las Vegas 
For escape game team building in Las Vegas, look no further than The Escape Game Las Vegas. They offer immersive and exhilarating 60-minute adventures that will challenge your team like never before! Faced with challenging puzzles, riddles, and clues, your team members must pool their very best problem-solving skills and collaborative efforts to complete their mission!
With six escape room themes to choose from, there's something for everyone! This escape room for team building in Las Vegas is suitable for both small and large groups so bring the whole team along, no matter what size!
Plan your Las Vegas Escape Room at The Escape Game.
2. Bulldoze With Dig This Vegas
Dig This Vegas puts the 'building' into team building! Your team will learn to operate bulldozers and then accomplish construction challenges together. Practicing collaborating in an unfamiliar setting for fun will prepare your team for anything ahead!
Activities are suitable for corporate teams as small as four players or as many as 100. Better still, Dig This Vegas can be customized to meet your team's unique dynamic.
This Las Vegas team building activity will give your team a newfound sense of accomplishment they can take back to the office with them!
3. Hunt For Gold In An Escape Room
Imagine finding out that your recently deceased relative has given you a chance to claim their massive gold fortune for yourself. That's exactly what happens in Gold Rush!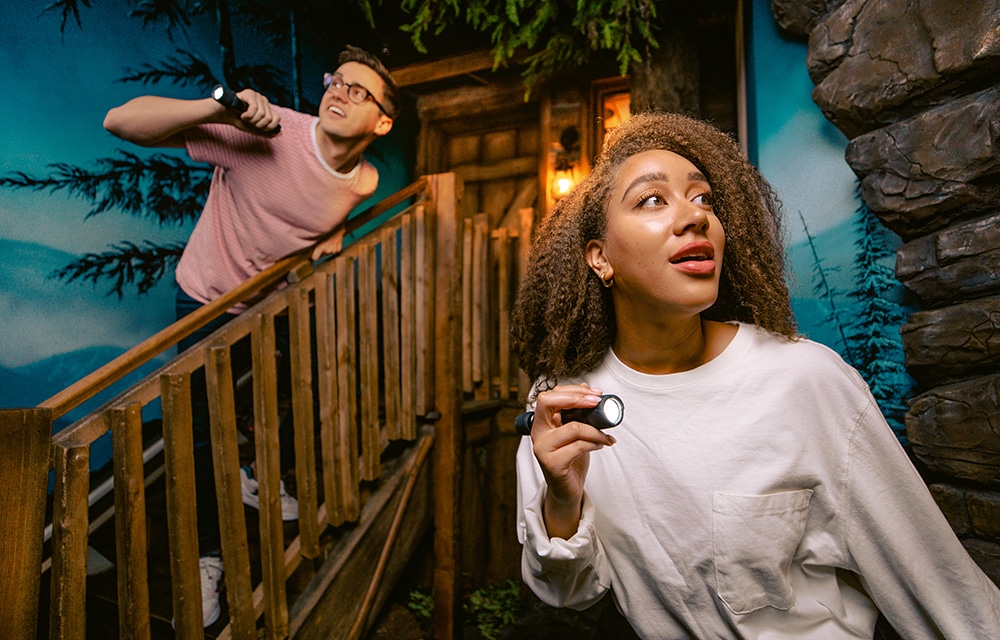 In this escape room, you'll have to work quickly to decipher clues and locate the gold before the news spreads to the nearby town! Your team definitely will have to get creative and work together if they want that gold for themselves!
Plan your Gold Rush Escape Room Las Vegas.
4. Try A Creative Arts And Crafts Class
Not all team building activities in Las Vegas involve time travel, escaping a locked room, or playing at a construction site! Let your team have some relaxing downtime to give them time to get to know each other through meaningful conversation.
An instructor-led crafts course at the Corks N Crafts studio is perfect for teams looking for creative bonding opportunities. With the option to go to their studio or for them to come to you, your team can exercise their creativity and collaborative skills by deciding on one project and working on it together!
5. Break Out Of Prison
Take your team back in time to 1955 when you play the Escape Game Las Vegas's Prison Break escape room. Your cramped jail cell was once home to an inmate who vanished without a trace. Did he escape or was he murdered by someone inside the prison? No one knows for sure, but now you've got a chance to attempt an escape for yourself!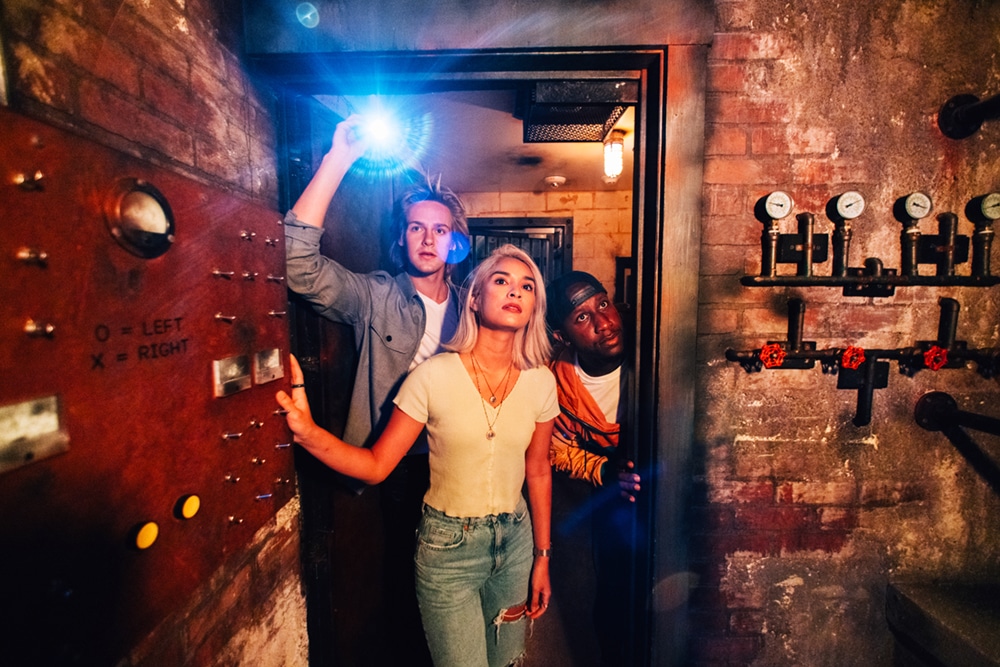 Suitable for up to 8 players, this team building activity is designed to test your team's problem-solving and teamwork skills, making it the perfect way to strengthen your team!
Book your Prison Break escape room.
6. Play Archery Tag
If your team members drive each other a little nuts from time to time, Impact Archery's Archery Tag is a fun and unusual way to let them blow off some steam by shooting arrows at each other! Don't worry, they are foam-tipped arrows!
Starting for as little as $25 a session, Impact Archery Archery Tag is a bit like paintballing but with less mess. This entertaining team building activity gets your team laughing and creating unforgettable memories!
7. Take A Business Improvisation Workshop
Could your team members be better active listeners and communicators? Do they collaborate well but need guidance to get them to that next stage of excellence? Improv for Business can help you improve your team's skills while providing your team with a very fun time!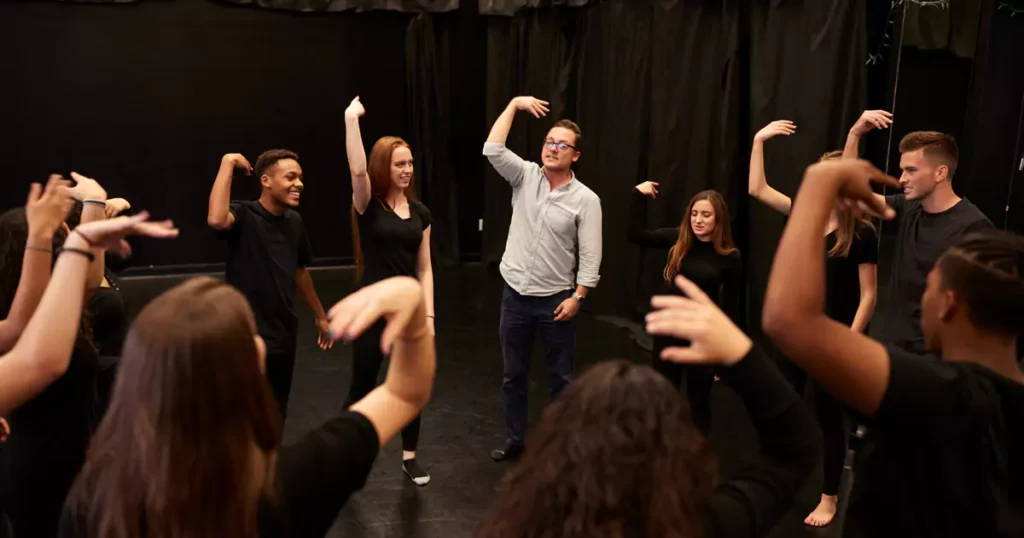 Improv for Business prides itself on being able to offer unique, customized workshops to meet your team's needs and will create an excellent team building activity for your team.
All of their improv exercises are designed to actively engage your team while they learn new skills to apply moving forward. Your team will walk away from their improv workshop with more robust communication and collaboration abilities!
8. Uncover The Truth On A Special Ops Mission
Along with your fellow special operations agents, you are sent to investigate a local market. It's late at night and the area is quiet. You sense that something's not quite right. But what could it be? Your team must use out-of-the-box problem-solving and collaborative skills to diffuse an ominous situation and save mankind!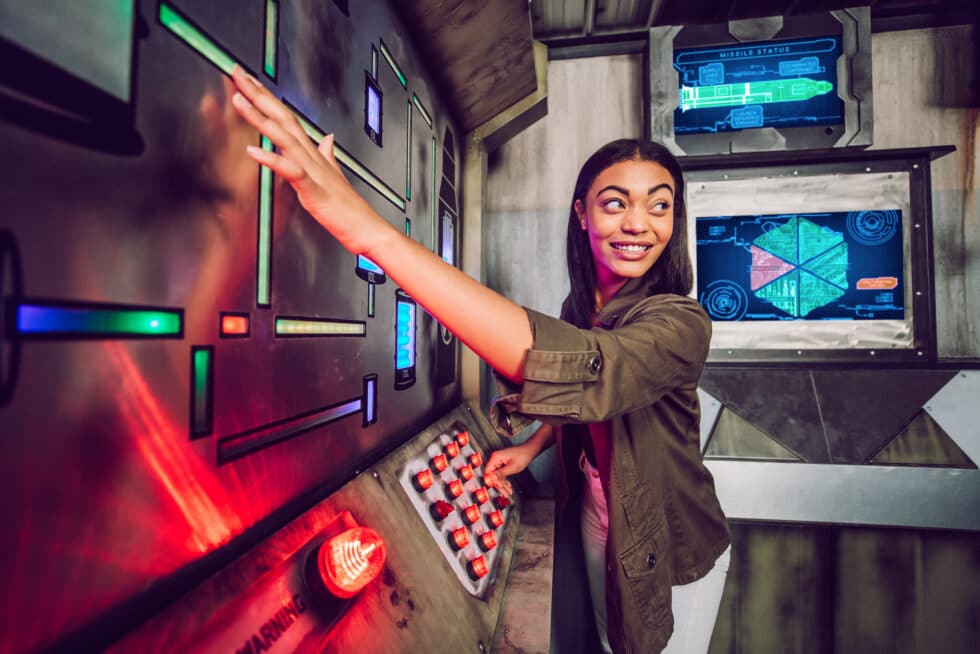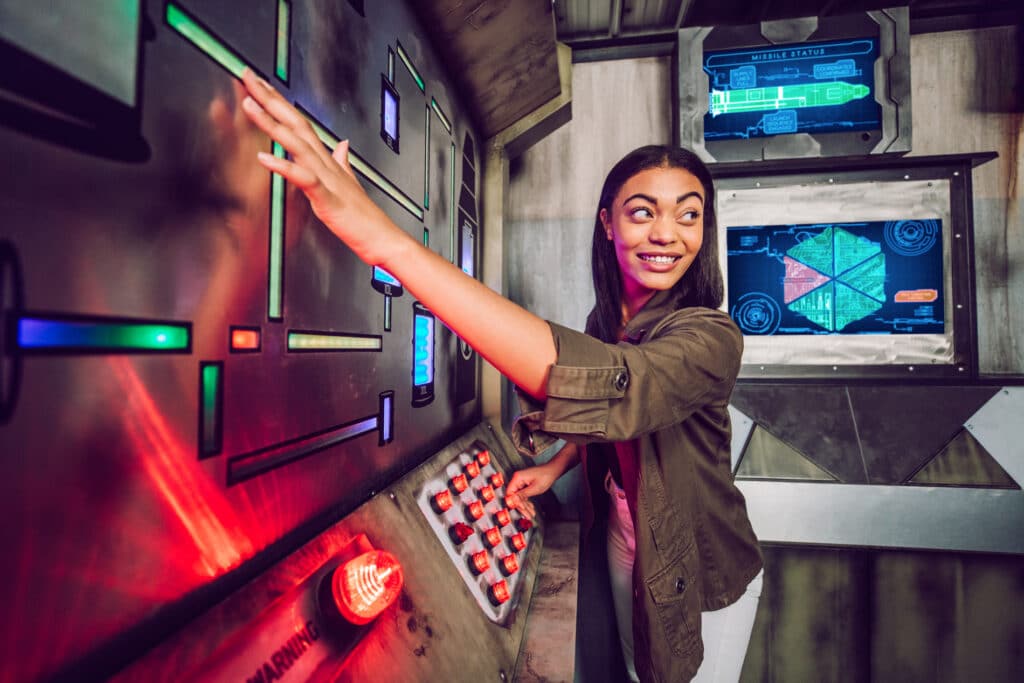 Book your Special Ops: Mysterious Market Escape Room.
9. Explore Las Vegas On A Scavenger Hunt
Scavenger hunts are a fantastic team building activity because they require team members to collaborate, communicate, and think fast on their feet.
You can create your own Las Vegas scavenger hunt by writing clues that lead players to places in the city. Here is a great free Las Vegas scavenger hunt template to use. Once you have your list ready, split your group into teams and send them on their way!
Give them a certain amount of time to find each location and take pictures as proof. The first team to complete the hunt wins. If you want to make this game competitive, award a prize to the winning team! Not only are scavenger hunts fun, but being outdoors will re-energize your team when they are back in the office!
10. Recover A Priceless Painting
In The Heist escape room, your team has been sent to a world-class museum to find a priceless masterpiece recently stolen by the museum's curator.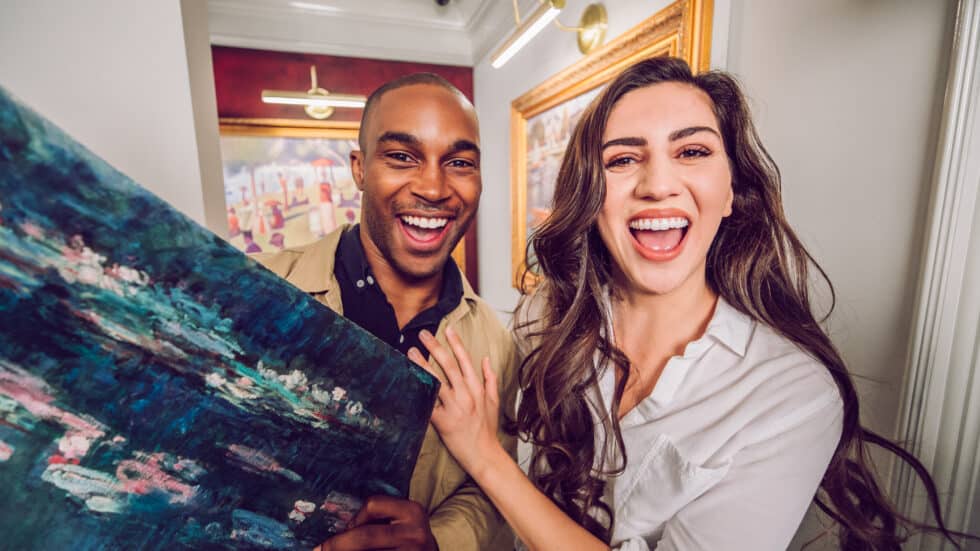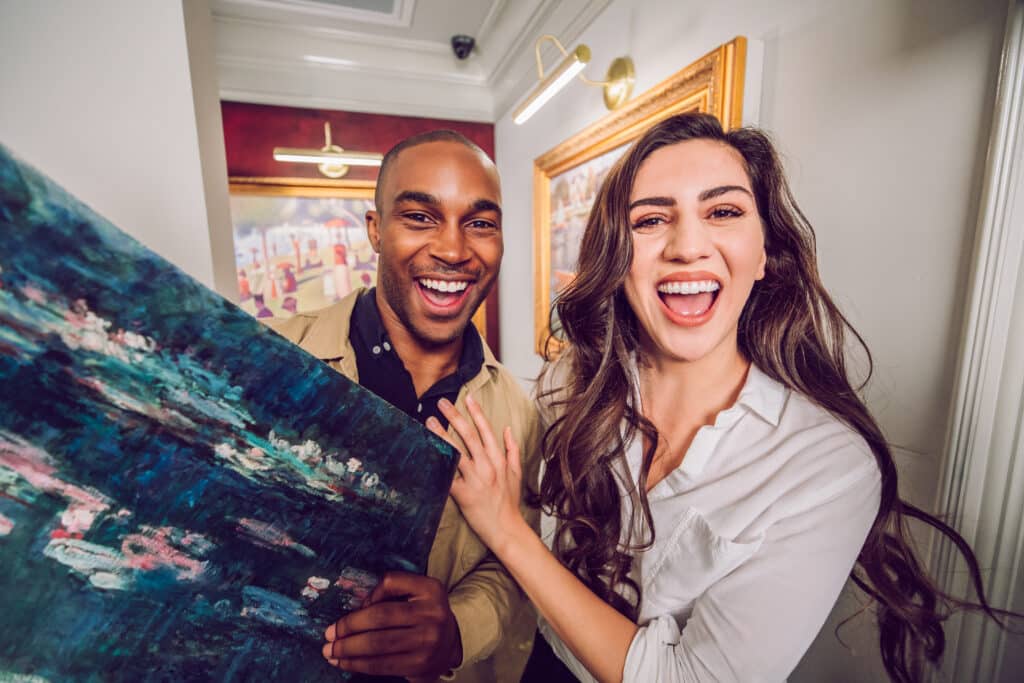 Assisted by an outside intelligence agent, you and your team must use your very best communication, collaboration, and problem-solving skills to figure out a way into the curator's office, find the painting, and escape before he returns!
Book your The Heist Escape Room.
11. Learn To Concoct A Fancy Cocktail
If your team has a bit of a wild side, consider taking a cocktail-making class together!
A mixology class is a casual team building activity in Las Vegas that lets your team loosen up and get to know each other better!
The classes along the Strip are a light-hearted way for your team to learn about their favorite cocktails. Afterward, you can make a team toast to future success!
12. Mob Mystery Game
At the Mob Museum in Las Vegas, your team can play a scavenger hunt and search the Museum to find answers to provocative questions about the history of the battle between organized crime and law enforcement.
This game is suitable for groups of 10 or more and the museum can custom-design a scavenger hunt to fit your team's individual needs. This engaging and collaborative Las Vegas team building activity is not one to be missed!
13. Go Indoor Rock Climbing
Encourage your team to reach new heights by going indoor rock climbing! Rock climbing is a challenging team building activity that builds trust, enhances communication, and fosters collaboration!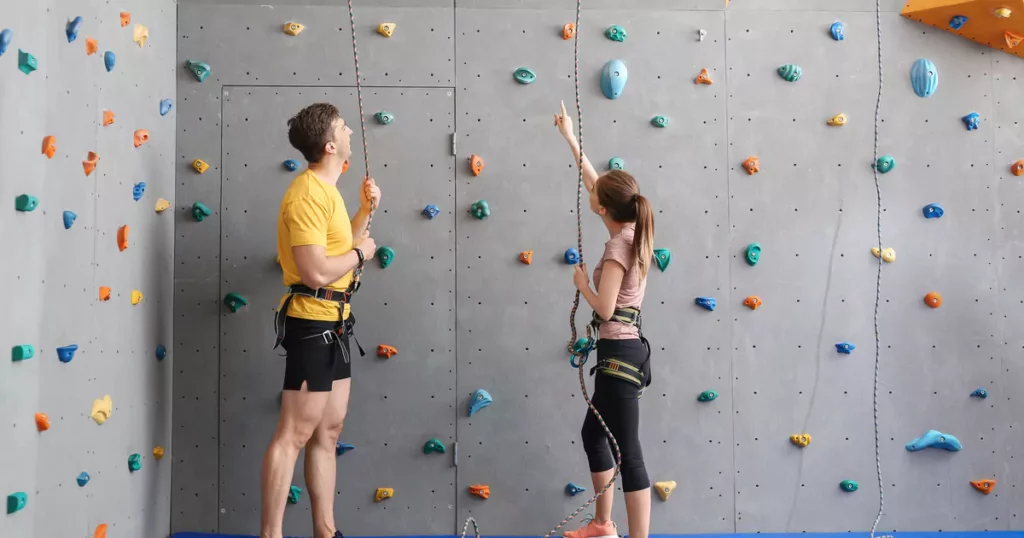 Las Vegas has a variety of indoor climbing walls available, each with equipment and an experienced instructor to talk your team through the correct technique to avoid injuries.
Red Rock Climbing Center offers team building workshops in which their professional facilitators will customize a climbing program to suit your goals.
14. Commit The Money Heist Of The Century
Based on the Netflix series "Money Heist", this team building activity from Escape Kit is an excellent money heist experience in Las Vegas!
Your mission is to assist the greatest thief of all time in breaking open the vault in the Central Bank of New York and stealing millions of dollars! You've got just one hour to complete your criminal caper.
Join your team as they excitedly work through quizzes and clues to deactivate an alarm and complete the heist of the century before they get caught!
Plan your Money Heist experience.
15. Get Cooking With Somethin's Cooking
Great food brings people together like nothing else! A class with Somethin's Cooking is a scrumptious way for your team members to learn something new while getting to know each other outside of work.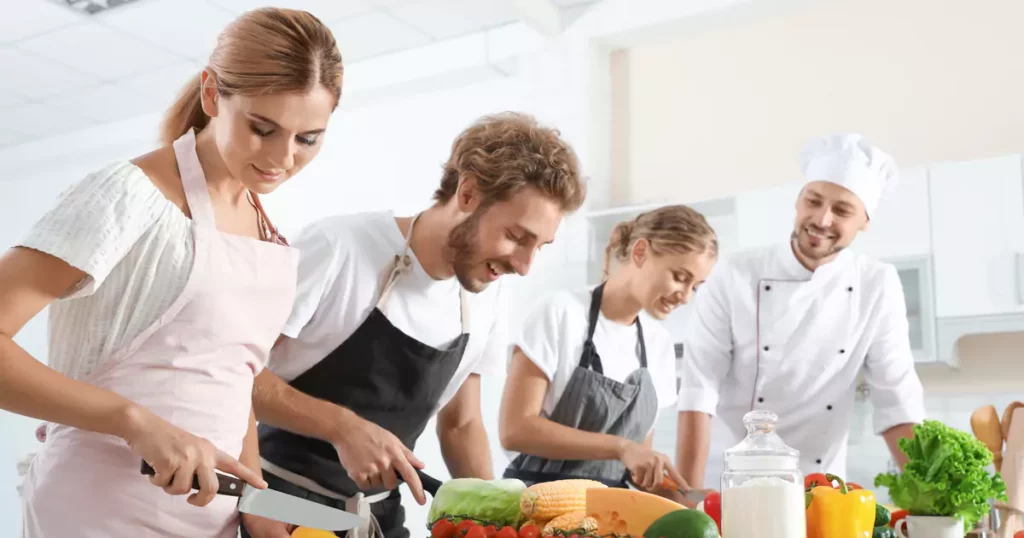 With classes starting at $75 per person and $150 per person for a private chef, Somethin's Cooking offers the perfect cooking team building activity for groups that love good food and fun times!
Plan your Las Vegas Cooking Team Building Experience.
16. Hit The Slot Machines
If you're going to Las Vegas, you may as well head out for an entertaining team outing to some world-class casinos. While this may not be a conventional team building activity, your group will have a chance to bond over their winnings — or commiserate their losses!
17. Solve A Mystery At The Bottom Of The Ocean
In The Depths escape room, a mysterious, undersea laboratory has been rumored to be conducting some very troubling experiments. Your team's mission is to take a deep dive into the laboratory and get to the bottom of the mysterious goings-on. You'll have to piece together clues and codes to complete the mission and return to the surface in just 60 minutes. But beware…dark turns await in these waters.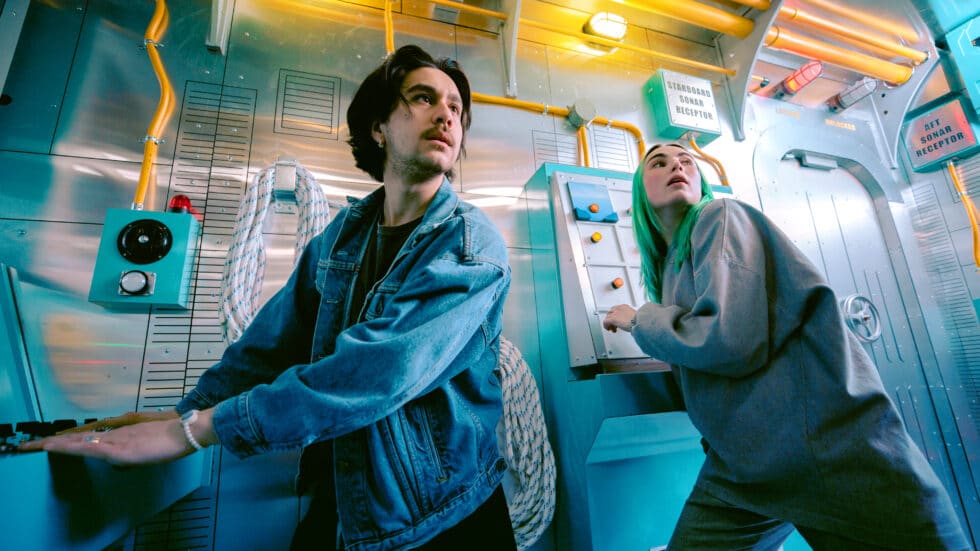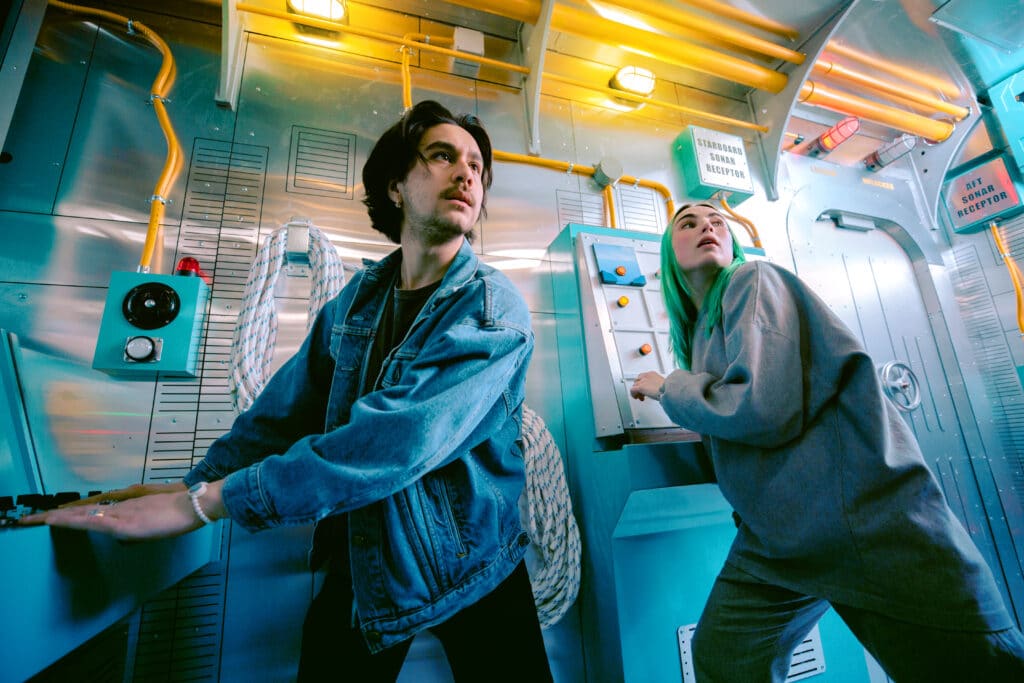 Book your Las Vegas Escape Room The Depths.
Small-Group Team Building in Las Vegas
Corporate team building activities in Las Vegas for small groups are an essential practice for companies who want to perform at their very best. Small groups work so closely together that things get intense, especially on high-stakes projects.
Small group team building is an excellent way for the group to spend time together away from work and come back with a better understanding of what makes each team member tick.
Below are a number of our favorite ideas for small group team building in Las Vegas.
Department Outing Ideas
Companies often consist of several departments each contributing to the company's overall mission and goals.
For example, a sales team promotes the growth of a business and customer retention. Human Resources helps the personnel aspect of a company run smoothly. The IT department keeps the company's technology infrastructure up and running. But different departments may not interact often.
Small group team building activities are a terrific bridge that gap and create opportunities for interdepartmental bonding. Employees in different departments may have similar backgrounds, skills, and interests, which makes team building activities for departments easy to organize.
Here are five of the very best Las Vegas small group team building activities.
19. Private Wine Tasting Event
A private wine tasting may not seem like a team building activity, but in fact, your team will be learning about wines together, practicing their active listening skills with a live instructor, and using their communication skills in a relaxed setting as they discuss the wines they taste.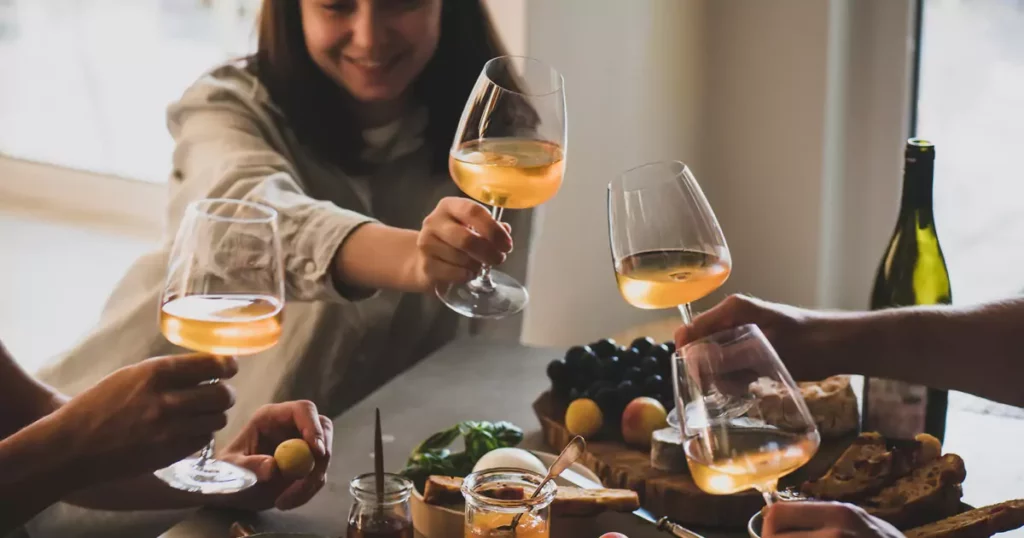 You can find a certified sommelier, wine educator, or wine entertainer to host an event for your small group team building in Las Vegas through the Sommelier Company.
20. Tour The Valley Of Fire
If you have a half-day available for team building, take your small department team on an excursion to the Valley of Fire. Just outside of Las Vegas, the Valley of Fire is the state's largest park covering 40,000 acres.
Your small department team will travel to the park in a luxurious minivan and once there, explore the park's amazing natural wonders, from Atlatl rock to its stone cabins. The breathtaking scenery will make for great group conversation and even better group memories.
21. Volunteer Together In Las Vegas
Get your team together to give back to the community and make a huge difference! Volunteering is a meaningful experience and also great fun when your small group does it together.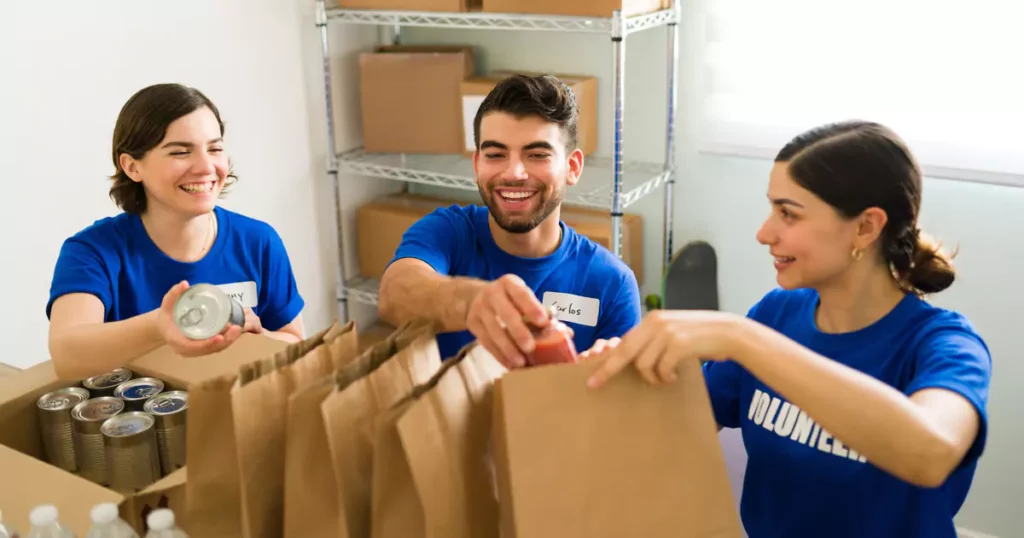 Your team will be proud that they work for a company that believes in corporate social responsibility.
Volunteering at one of Las Vegas' homeless shelters, animal rescue sites, or community centers brings your group together as they work towards a common goal! Find Las Vegas volunteering opportunities here.
22. Go See A Comedy Show
Laughter is a powerful team building tool! Going to a comedy club with team members from different departments is an entertaining way for them to get to know each other.
A group gathering that is centered on enjoying a performance is an Ice Breaker. It lessens any awkwardness of meeting colleagues for the first time. In between comedy sets, team members have a chance to chat.
Laughing together in a casual environment builds group bonds. Back at work, your teams will connect better to problem solve and collaborate!
There is no shortage of comedy clubs in Las Vegas. Our recommendation is the Comedy Cellar. It's affordable and has top-notch comedians!
23. Relax With A Yoga Class
Work can be stressful at times. Encourage your team to unwind with a gentle yoga class. Check out Camp Rhino's 'On-the-Strip' Yoga one-time class for your small group.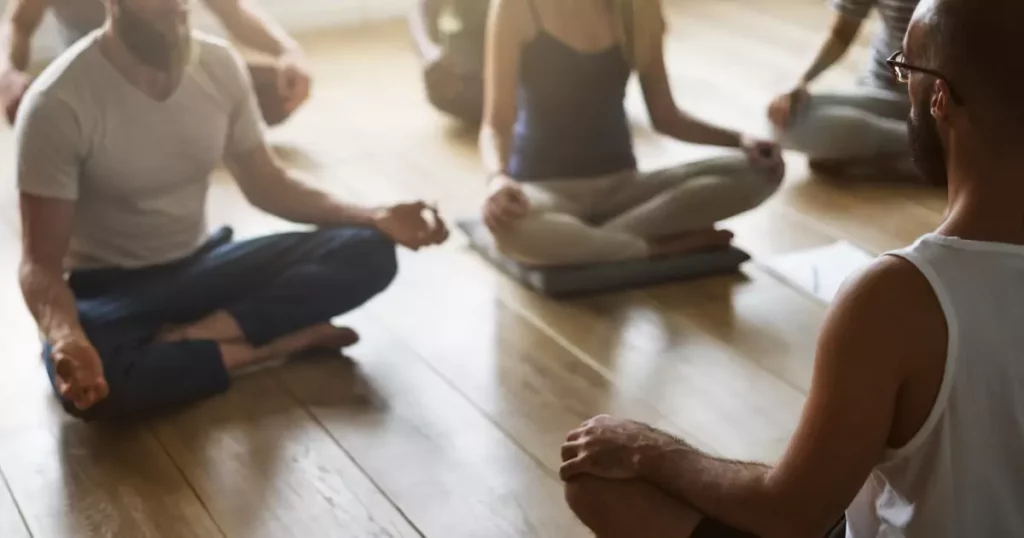 Feeling relaxed and rejuvenated, your team will generate fresh ideas!
Small Business Team Building Ideas
If you run a small business, spending time and resources on team building is one of the best investments you can make.
By necessity, employees in small businesses must work closely together. If your team's dynamic is weak, members may spend more time focusing on their conflicts than getting the task done.
Team building improves communication among team members which cuts down on misunderstandings. It also fosters group bonds that will enhance their collaborative skills. Your small business team will be more productive and engaged in their work together.
Here's a list of Las Vegas's best small team building activities.
24. Experience New Flavors Together
Las Vegas is known for its world-class food and wide array of global cuisine. Take your team to Block 16 Urban Food Hall where together they can experience a variety of meals with bold flavors.
Your team can eat everything from cake to caviar! Their choice of food will spark conversation and provide an excellent small group team building activity in Las Vegas!
25. Painting With A Twist
Participating in a private workshop with Painting with a Twist is a great way to give your small team some time in a calm environment to try something new and creative.
After the workshop, be sure to display your employees' artwork in a central location in your office like your break room. Encourage your team members to show off their paintings at their desks. This will serve as a reminder of the team's time together. It can also be an ice breaker between colleagues who don't know each other well but pass by each other's desks occasionally.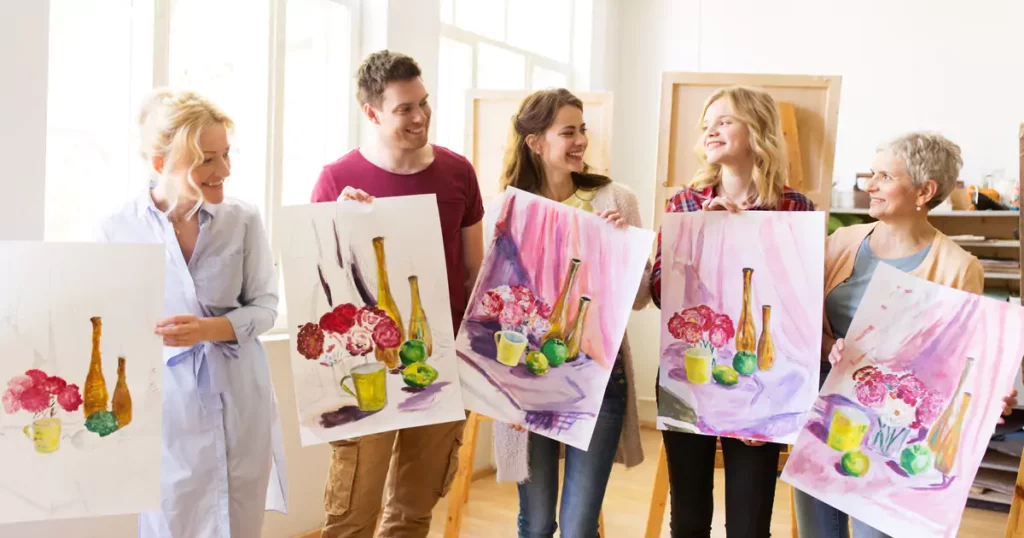 You can choose a collaborative option where all team members paint a canvas together. Hang the piece in a prominent spot in your office. Take plenty of photographs of your event as well as the finished products to post on your social media sites.
The "twist" in Painting with a Twist is that you have the choice to bring wine or other alcoholic beverages. Not that alcohol is required for your team to enjoy each other's company!
26. Have A Lip Sync Battle
Create a wildly entertaining and truly memorable experience for every member of your small team by organizing a Lip Sync battle in Las Vegas! Companies, such as R & D events, have designed their very own Lip Sync competitions. Team members can pick a song and an outfit and then hop on stage to perform their songs.
If you want something a little more work-related, you can pick songs that reinforce the company's core values such as "Respect" by Aretha Franklin or Dolly Parton's "9-5"!
27. Take A Go-Kart For A Spin
Go-karting is an engaging way to bring your team together in a care-free environment. Your group can be broken up into small teams and race against each other for some healthy competition. Your team will let go of office stress as they race at full speed.
Book your Las Vegas Outdoor Go Karting Trip here.
28. Ride The High Roller
Las Vegas's High Roller is the largest observation wheel in North America, with its highest point being 550 feet above the Las Vegas Strip! It offers an exhilarating way to take in the city's breathtaking views.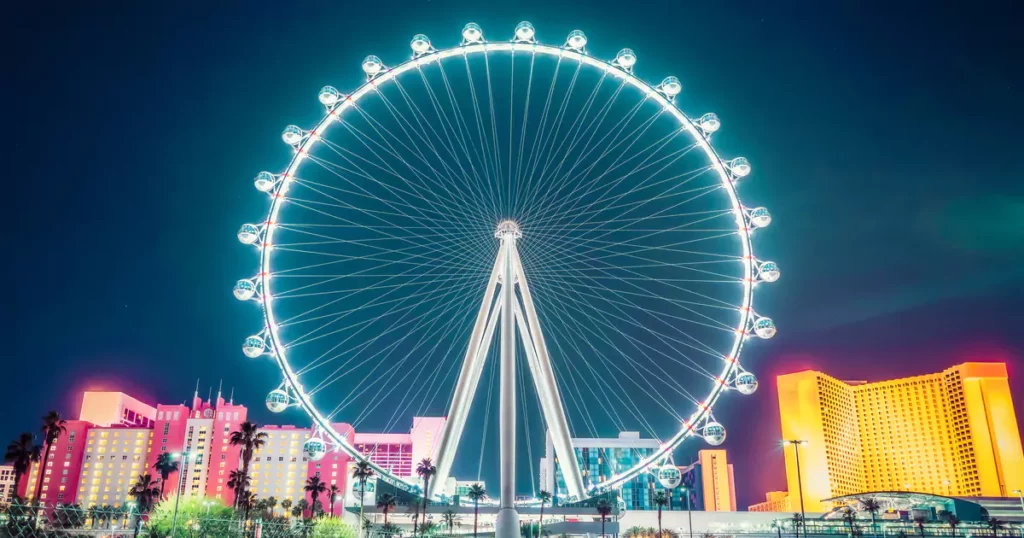 The Las Vegas High Roller can accommodate up to 40 people per pod so your entire team can share this unique and memorable activity together. A full rotation is 30 minutes so your team will have time to mingle. You can even add a happy hour to your ride for more fun!
Leadership Team Activities
Keeping your leadership team motivated, connected, and trusting of each other ensures that these same values and ethos will work their way down your company's other employees. When leadership is happy and working well together, your entire crew will be all the better for it.
29. Dinner In The Sky
Your leadership team has likely been dedicated and committed to your company for a long time, so why not give them the treatment that they deserve?
Dinner in the Sky Las Vegas is a fun and high-flying way to experience fine dining. Reward your leadership team for their constant efforts with a one-of-a-kind dining experience with unparalleled views of the Las Vegas skyline.
30. Take A Supercar For A Spin
At Speed Vegas, your leadership team will have the opportunity to drive classic, super-fast cars like Ferraris, Lamborghinis, Porsches, and more. Watch them gleam with delight as they whizz around a race track, making memories to last a lifetime.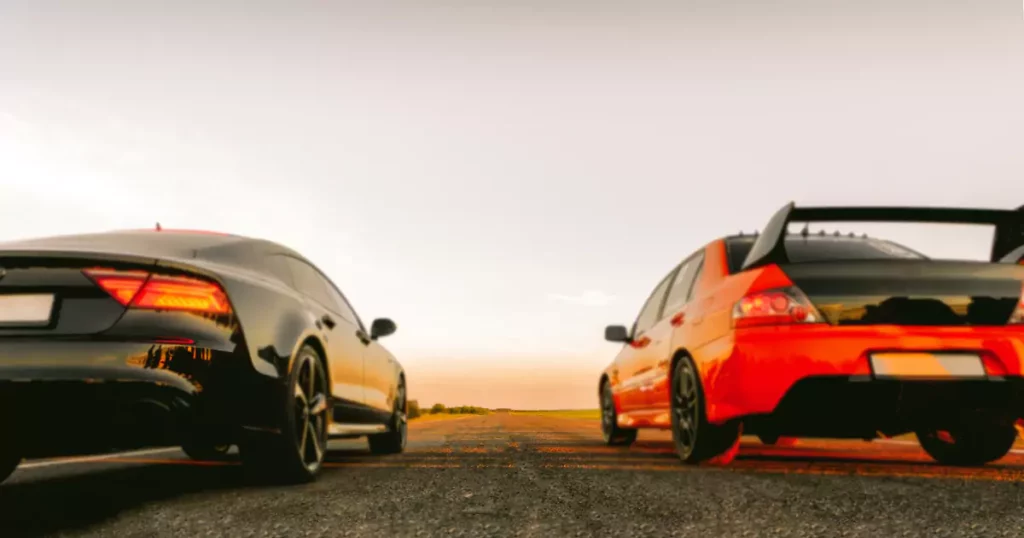 This team building activity option costs more than some other activities on this list, but we think it's a small price to pay to reward a highly successful, motivated, and engaged leadership team!
31. Find A New Space To Host A Meeting
There is no denying that sometimes being stuck in the same old place can cause boredom and stagnation. One way to overcome this is to find a new location to host your small group team building! Websites such as Peerspace allow small corporate teams to rent unique spaces across Las Vegas.
From intimate workshop spaces to large industrial warehouses, you and your leadership team can find a space here to enhance creativity.
32. Tee Off Together
Suitable for small teams, TopGolf Las Vegas is a great way to encourage some healthy competition and get your leadership team bonding in a nontraditional environment.
Open from 10 am to 12 am, you and your small team can either play a few friendly rounds of golf or you can make an evening of it by attending the sports bar and getting some food afterward.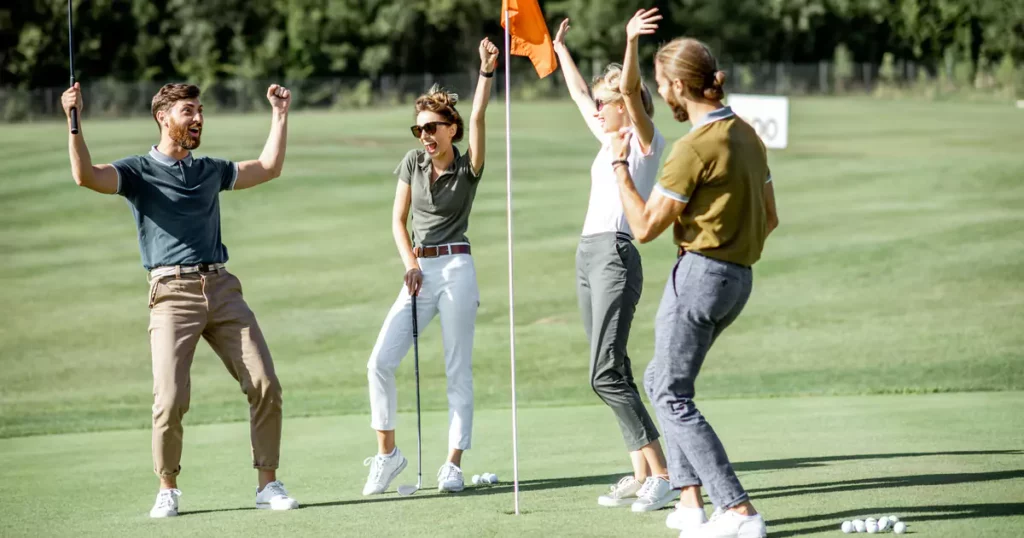 Las Vegas Challenge Team Building
If your team has a penchant for thrilling new experiences, the activities below are just right for them! Each of these fun team building challenges in Las Vegas will push your team out of their comfort zone and encourage them to try something new and exciting!
33. Take Your Team Skydiving
Skydiving is an exhilarating way to develop team bonds. Skydiving fosters trust among your team. It builds confidence in individual team members, and creates long-lasting memories of an unforgettable experience!
If you're looking to take your team skydiving as a fun and team-building activity, we recommend shopping around for companies that can offer a large group or corporate discount.
34. Have A Go On A Zipline
This is another challenging team building activity, although check with everyone before booking to make sure no one is afraid of heights as the Slotzilla Zipline is 11 stories high and 1,750 feet long!
Your team can go in groups of four and share this adrenaline-pumping experience together. The Slotzilla has been voted the best extreme adventure ride in Las Vegas and one that your team will never forget.
35. Go Paintballing
Paintballing is one of the best team building, morale-boosting games in Las Vegas. Your group will be split into teams who compete to knock out other team players. Paintballing increases your team's communication, ability to work together, and the likelihood of forming positive relationships.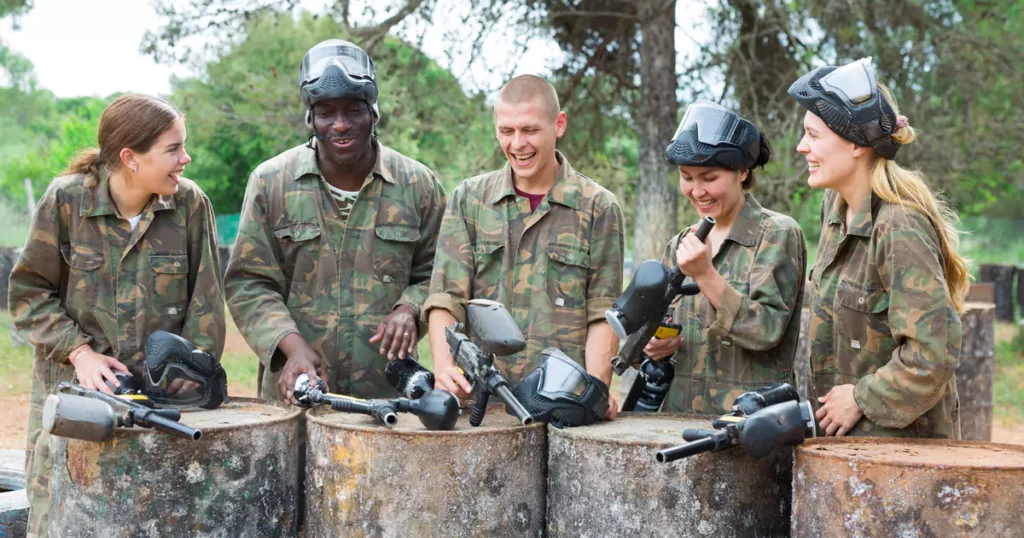 It is also a great activity for budding team leaders as someone usually steps forth to lead the team to victory. It's a great morale booster as well! For just $20 a player Combat Zone Paintball can provide your team with all the equipment and fun they need.
36. Head Take An Off-Road Trip In A Dune Buggy
Situated in a desert, Las Vegas has ample opportunities to create challenging team building activities… and a sun buggy is one of these incredible activities.
Your team can hire out several dune buggies, from companies such as Sun Buggy Las Vegas, and head out into the desert to have a whale of a time. With buggies for one to six people, teams of any size can spend the afternoon racing across sand dunes and taking team building to a whole new, exhilarating level.
Team Building Providers in Las Vegas, Nevada
With so many team building ideas in Las Vegas to choose from, picking one may be difficult. One way to narrow down your options is to reach out to some highly-rated businesses for team building activities in Las Vegas Nevada.
These companies can create a team building activity or event that is tailored to your group's interests, needs, and size.
Here are the best team building providers in Las Vegas, Nevada.
What are people saying about team building in Las Vegas, Nevada?
"We couldn't have asked for a better experience." — Peter Z, Director of Sales Enablement, Sprout Social (about Team Building Hub)
"At the end of the day, you helped my group get jazzed and motivated about working as a team!" — Susan Andrea Sztuka, SVP, Human Resources, Willis North America
Build Your Team in Las Vegas Today!
We hope our extensive list of the best team building activities in Las Vegas, Nevada can assist you in finding the right one for your team. From relaxing group yoga classes to bulldozing together, your team has dozens of experiences to choose from.
Each of these will allow your team to improve their collaboration and communication, enhance their creativity and problem-solving skills, and let them get to know each other better in a fun environment!
More Fun Team Building Ideas
If your team is not able to make it to Las Vegas, then check out our other posts on virtual team building activities that your team is guaranteed to love!