Virtual award ceremonies are celebratory moments for you and your virtual team! With the chance to relive achievements and encourage everyone to keep up the good work, why wouldn't you host one? Read on for steps and tips for a successful virtual award ceremony.
Table of Contents
What Is A Virtual Awards Ceremony and Why Host One?
10 Steps for How to Do a Virtual Awards Ceremony
7 Tips for How to Make a Virtual Awards Ceremony Fun
What Is A Virtual Awards Ceremony and Why Host One?
A virtual awards ceremony is a chance for you to celebrate and recognize your virtual team. Through this one event, your employees can feel encouraged and know that they have a valuable part to play in your organization. This kind of recognition can be a boost to employee engagement and relationships on your team, both employee-leader relationships and employee-employee relationships.
Studies show that 40% of Americans would put more energy into work if their leaders gave them more recognition (for instance, an awards ceremony) for what they do. Recognition impacts everything from employee retention to business outcomes, and you can read all about them on Vantage Circle's list of 25 important employee recognition stats. While recognition doesn't always have to be in the form of an awards ceremony, virtual events like these, holiday parties, going away parties, and retirement parties are opportunities for your employees to be appreciated and for the team as a whole to celebrate each other.
Virtual awards ceremonies can celebrate a number of things: work anniversaries, performance growth, leadership abilities, years of service, or even fun superlatives like "most likely to be eating during a meeting." It's up to you as a manager to decide how you want to recognize your employees…just make sure you do it! As studies show, it's worth the investment of time and effort to appreciate and celebrate your team.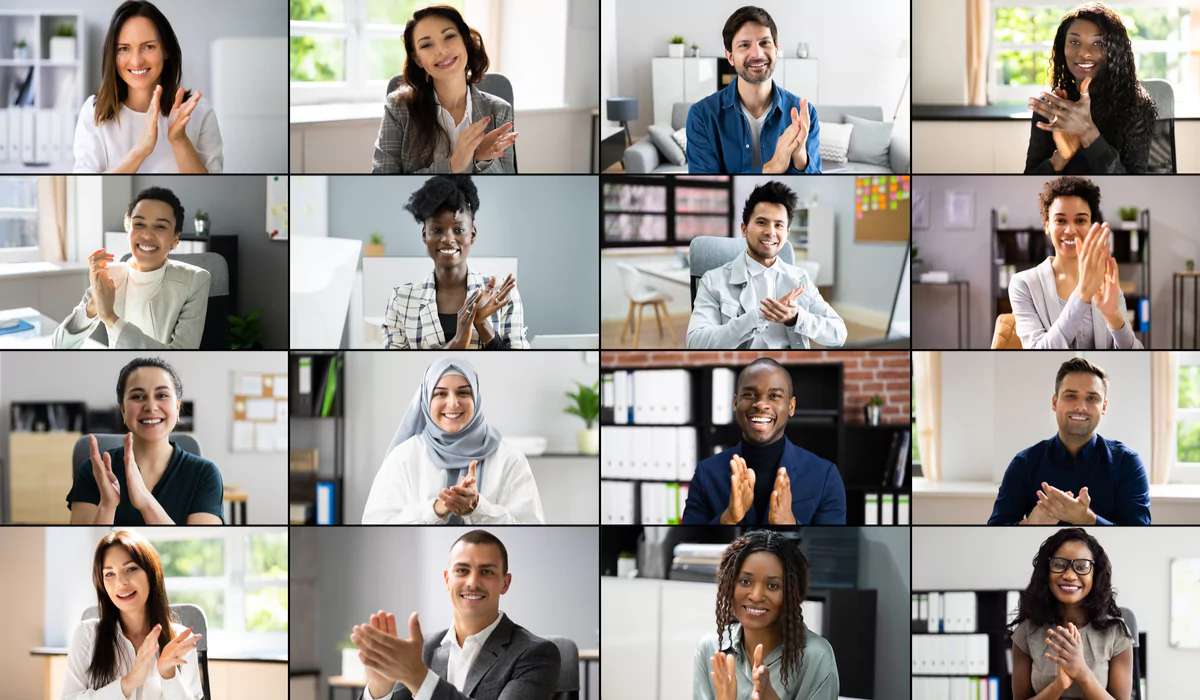 10 Steps for How to Do a Virtual Awards Ceremony
Hosting a virtual awards ceremony, especially if it's your first one, might sound a little daunting, but we've got all the steps you need to do it well. When your team hears that there's going to be a virtual awards ceremony, hype it up and be confident that it's going to be great!
1. Determine the awards categories
Is there something specific that you'd like to celebrate with your team? Have a number of your team members completed something significant or grown in their skills? Or are you hosting an end-of-the-year event where you can look back on a year's accomplishments?
Determining the awards categories for your ceremony might be one of the hardest things to do, but you don't have to start from scratch. Think about how your employees have improved over a set time period or while they individually have been members of your team. What are some company values that your employees have held and shown?
Some ideas for your awards categories include:
Years of service
Meeting a company value
Most skill development
Best customer service
Best team player
Fun superlatives
2. Select the judges or collect nominations
After you determine what the awards will be, you'll want to make sure that each award goes to an employee who really deserves it. To do this, you can bring in a handful of judges who would know your team well enough to assign each award. This can include other managers in your organization. If you're not sure other managers would be able to judge properly or you work in a smaller company, spend time yourself deliberating who should receive each award and do your best to remove any biases that you might have.
Another way to determine who should receive each award is to collect nominations from your team and then have them vote. You can set up a survey through a platform like Google Form, SurveyMonkey, or TypeForm. Make sure you list all awards that are up for nomination and send out a secondary survey with the top nominees to let the team make their final decisions. If you have one or two big awards, like an Employee of the Year award, you can leave that off the list and choose that recipient yourself.
3. Choose a ceremony team
Chances are, you might not have all the skills, time, or patience to run a virtual awards ceremony all by yourself. Don't feel like it's necessary for you to know all the ins and outs of running a virtual event—teamwork makes the dream work. Pull on a small number of people from your team or from your office to help you run your event. You'll want to have someone who can create graphics, someone to host on the video platform, someone to host the event, and a couple of people to consult when creating the program. Although your ceremony team will be behind the scenes for the event, make sure that they are also noticed and appreciated for their work, like giving them on-screen recognition at the end of the event.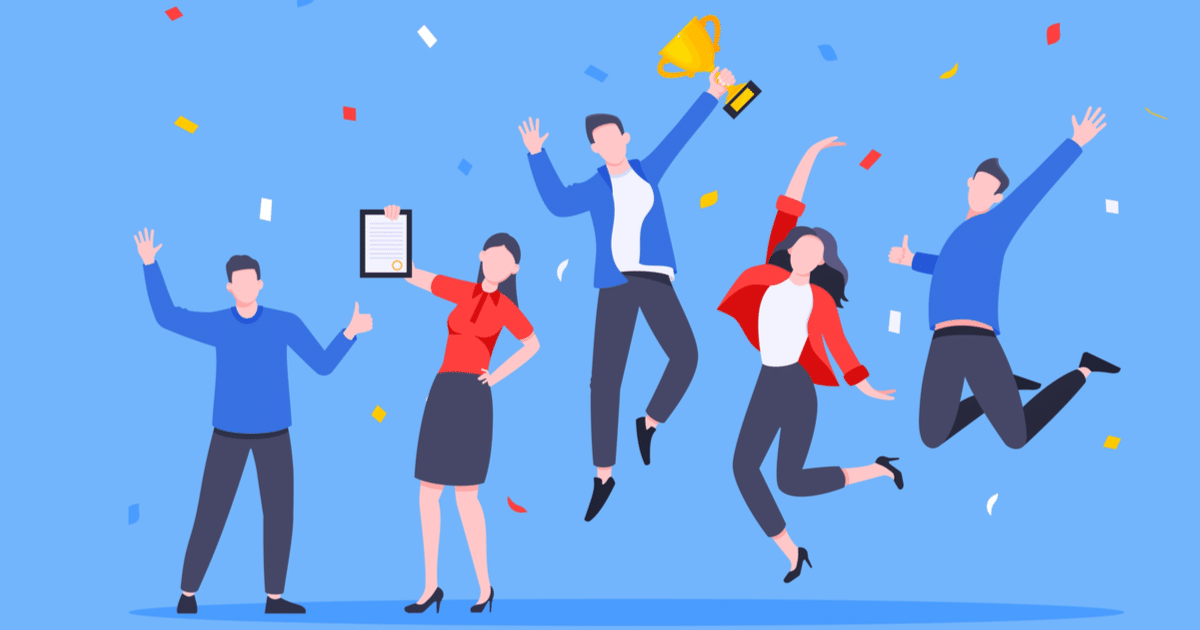 4. Choose a video platform
Host your virtual awards ceremony on a video platform that your team is familiar with or that is easy to use. Most teams function on Zoom nowadays—Zoom has great options for backgrounds, pinning screens or sharing screens, playing videos, and recording. There's also a chat function if your team wants to chatter before or during the actual ceremony (there's no stopping people from talking during a presentation, so you might as well keep them on the platform so they can still participate in the event!).
A couple of other great options for hosting your virtual awards ceremony include Google Meet, Skype, or live streaming your event on a platform like YouTube Live or Facebook Live. Live streaming your event has its pros and cons, such as being able to pre-record something or technical issues that might arise, but it is something that can make your virtual event more fun.
Whichever video platform you choose, make sure you test it out for all the functions you will need it for during your program!
5. Schedule the ceremony
Find a date and time that works best for as many people on your team as possible. If possible, clear your team's calendar so work doesn't get in the way of this function. Of course, you want the award recipients to be able to attend the ceremony, but make sure other employees can be there so everyone can celebrate together. There's no "i" in "team," and you definitely don't want to leave anyone out!
6. Send out the invites
Don't forget to send out the invitations! Obviously, this is a big part of how your team will show up to your virtual awards ceremony. You can build excitement through your invitation by the graphics and words you choose. Evite or Paperless Post are great options for emailing nice invitations to your team. They also offer different ways you can remind attendees to RSVP or that the ceremony is coming up, like a text or email reminder. For these email invitations, make sure that you have the correct emails for each of your team members, and personalize each e-vite by including their name in the invitation.
If you use one of these virtual invitation services, make sure you still tell your team about the event, whether in a meeting or through personal emails. If you have a shared team calendar like a Google Calendar, make sure you add the ceremony to that calendar and invite everyone.
Be sure to include these things with your invitation:
What they're being invited to (don't just call your event a "virtual awards ceremony")
What time the ceremony starts and how long it will last
How attendees can join the ceremony (include the video link or online meeting passcode)
A rough outline of the program
Nice graphics (you can create them with a platform like Canva)
Dress code (Find more information on this here!)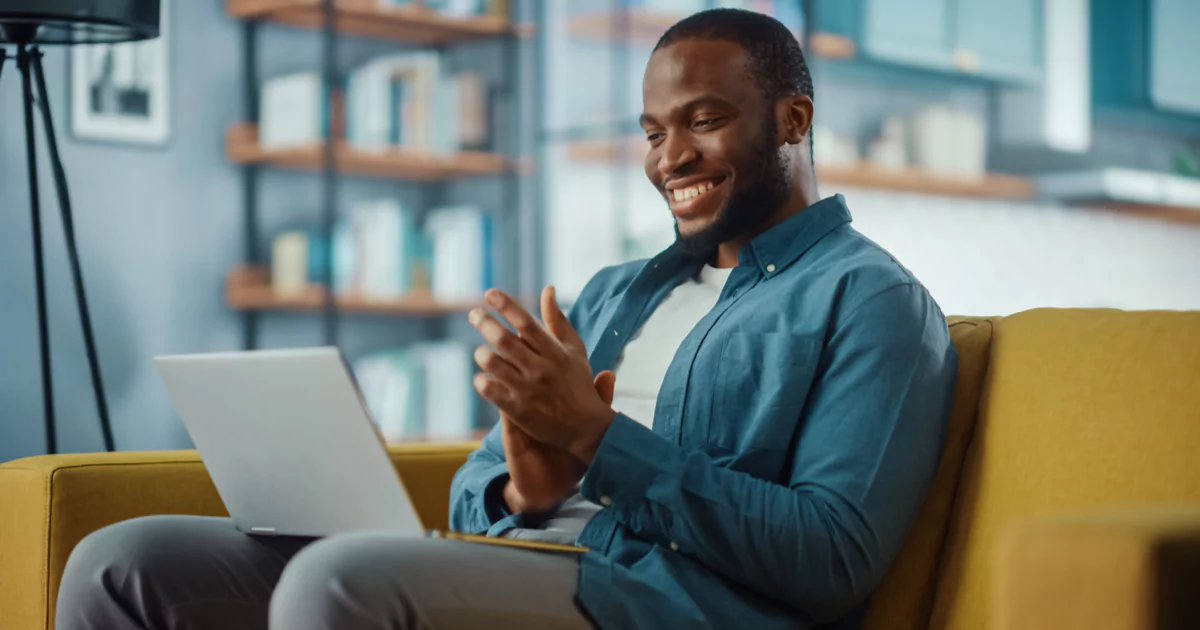 7. Create the presentation and schedule for the event
Your program is one of the biggest pieces of your virtual awards ceremony. Create an outline of the program, and try to be as detailed as possible with every minute of the event. If you've got a team working with you, make sure everyone has access to the program outline by using something like a Google Spreadsheet where changes can be seen in real-time. Include time for the presenter to say something about each award recipient after their name is called.
Audience engagement is key when it comes to planning your presentation, so make sure you plan some fun! Include videos, graphics, and theme colors, and give your presenters a good background to use. If you're using videos throughout the event, pre-recorded videos are a good option for some segments because you'll know exactly how long they are and there's less that could go wrong.
One thing to consider is hosting the event from a location where your ceremony team can all be together, including your presenter. If this is an option, it would cut down on any communication errors that might take place, and it would be easier to troubleshoot any last-minute issues that come your way. You could use high-quality cameras and equipment, and the energy that your team would have being together would translate into the awards ceremony.
8. Set up the awards
The awards are the reason your team is being brought together! There are different kinds of awards you can choose from, from plaques to glass trophies to certificates and generous gift cards. Make sure that the awards are visible throughout the program, and explain each award well before you hand it out. Give time for the presenter to say something about the recipient, including why he or she is receiving that particular award.
Also consider how you want to deliver the awards, especially if you have a virtual team that meets in different time zones. Packing and shipping options vary between FedEx, USPS, and UPS, but we suggest getting the awards to the winners as soon as possible, so you might want to look at two-day or expedited shipping for the awards.
9. Prepare and practice
After you've sent out invitations, determined all the award winners, set all the logistics in place, created the presentation and program and made a plan to distribute the awards, you've got to have a rehearsal. Set a time where everyone who is working on the event can be together, at least two days before the scheduled event, however, your team will be running the ceremony (either all virtual or at the event space). Run through the entire program, start to finish, and take notes of anything that might need to change before the actual virtual awards ceremony. For your rehearsal, include someone who can be a test attendee who will watch the ceremony like a guest.
A rehearsal time will allow you to work out any kinks in the technology, test the flow of the ceremony, and give you time to make any needed changes before showtime. There are certain things you might not be able to run through (like improvised banter between hosts or any interactive pieces of the program), but you'll at least have an idea of how the event will go.
10. Show up early
Don't just show up on time for your event—show up early! Almost every team has that one team member who shows up right on-time for meetings and functions, and for an event like this, hopefully, you've created enough hype where your team is excited to participate and celebrate with each other. If you're using a video platform that has a waiting room for attendees, you don't want to leave your team members waiting for too long. Anticipate that they will show up! Remember, a virtual awards ceremony is a great opportunity to recognize your employees for the outstanding work that they do and the contributions that they make to your company. If you can show up on time, you honor their commitment to the team.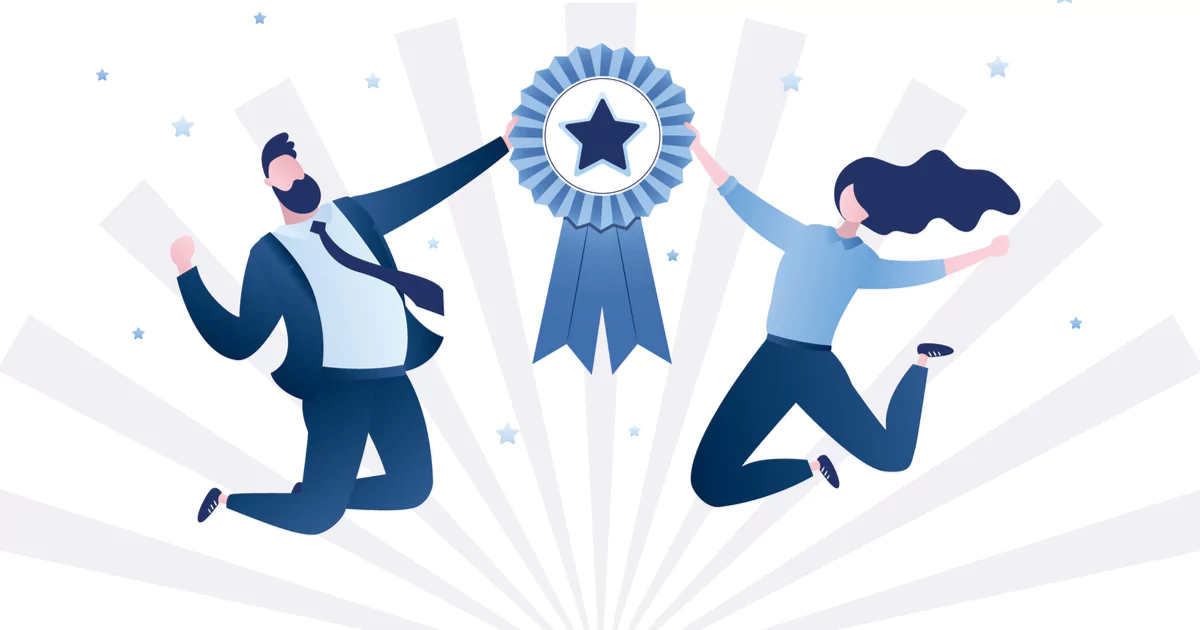 7 Tips for How to Make a Virtual Awards Ceremony Fun
Your virtual awards ceremony should be a moment of celebration for your team. This ceremony can boost your team's morale, and sprinkling in some fun bits and pieces can create some memorable moments for your team as a whole. Here are some tips on how to make your virtual awards ceremony fun and engaging.
1. Choose the right presenter
Choosing the right presenter or host is one of the biggest parts of any awards ceremony. You'll want someone who is naturally engaging, with or without a script. A good presenter can be relatable while staying on top of the schedule. Your host can be someone who is on your team, or you can consider hiring someone else for this momentous occasion. One option that you have for a host is actually having two people host the event. Depending on your team and the program that you build, two might be better than one! Bring in a couple of people who can flow well, build off each other's energy, and feel natural in a room together. Remember, your presenter (or presenters) are the face of the event, so tap into someone who your team would be excited to see.
2. Encourage a dress code
Just because this is a virtual event doesn't mean it can't be a nice awards ceremony! A dress code sets the tone for the event, especially if you're giving honors to people. Your virtual team might be used to wearing sweats or casual wear to work every day since they work from home or out of the traditional office space. An event like this, even though it's still online, gives them an opportunity to wear some other things in their closet that don't see the light of day very often.
A work awards ceremony can simply be business casual, but the language you use on the invitation can still be fun. Saying something like "Wear your Sunday best" or "Dress like you're going to the office" can give your team a better expectation of what they should wear. Let your presenter(s) know what the rest of the team will be wearing, and have them wear something special as well. Between segments, they can add something to their wardrobe (like a Mickey Mouse hat or an ugly Christmas sweater) if they want to be silly for a fun part of the program.
3. Host a pre-awards show
Before your awards ceremony begins, do a fun pre-awards show like a "red carpet" or virtual happy hour. You can even have something that's pre-recorded, like funny interviews with team members about working from home or working with this particular team. Set aside about 30 minutes before the virtual awards ceremony starts for your pre-awards show, and be sure to include it in the e-vite. Communicate to your team that this portion of the event isn't mandatory, but it will be fun!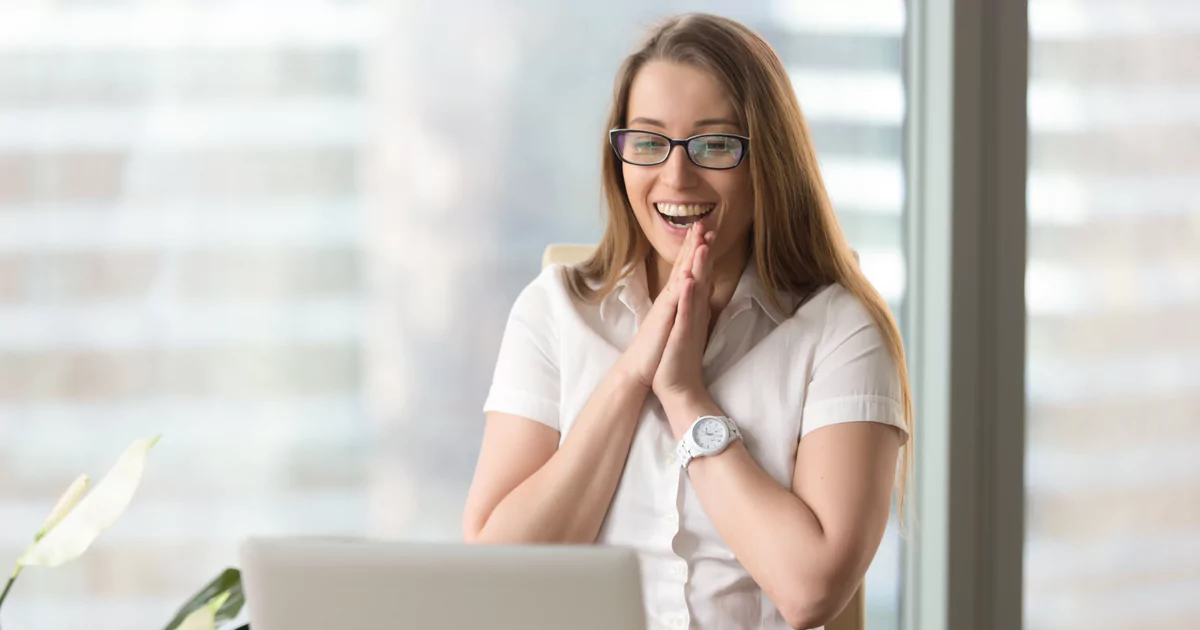 4. Incorporate a game
This could also be part of the pre-awards show, but incorporating a virtual team building game somewhere in your awards ceremony can increase your participants' engagement throughout the event. You can plan something like a scavenger hunt or an "I Spy" with items to look for throughout the ceremony. Zoom also has game apps that your team can download and play either during or before your ceremony.
---
Get Your Free Game
The 3-Minute Non-Cringey Ice Breaker for Your Next Meeting
A ready-set-go game to run at your next fully remote or hybrid meeting without the hassle or added pressure of developing a team-building exercise yourself. Get it here →
---
5. Include a live stream
A live stream of your virtual awards ceremony can be a fun option for employees who might want to share their award moment with family and friends or for those who want to relive the event. You can create a private link through YouTube Live or Facebook Live, or if you want to see other options besides social media, check out this list and blog from Dacast. Some live streams don't allow attendees to participate as much as you might have planned in your schedule, so make sure you find the best option for you and your team.
6. Use video and other media
Video, photos, moving graphics, and sounds are great ways to keep your audience engaged with your virtual awards ceremony. These media elements are helpful for moving the presentation along in unique ways throughout the event. You can use colorful graphics, funny videos and sounds, or show photos of the team to help make your ceremony fun. For those who are building the media for the program, this is a great way you can encourage them to stretch themselves and be creative!
7. Have an element of surprise
Adding an element of surprise to your virtual awards ceremony is a great way to keep your attendees engaged, and it creates memorable moments for your team to reminisce on together! Anyone who might be helping run the event should be aware of this unexpected piece of the evening. But, even though a handful of people might be aware of it, make sure that they can enjoy the moment of surprise. Here are a couple of ideas for your element of surprise:
Give mini-awards to everyone
This could be something as simple as sending out virtual Starbucks gift cards to everyone who is in attendance. A mini-award like this gives everyone on your team a bit of recognition. This is a quick and easy way to say "thank you" and gives everyone something that they can "take home" with them. You can surprise your team by handing out these mini-awards at the end of your program as a kind of party favor.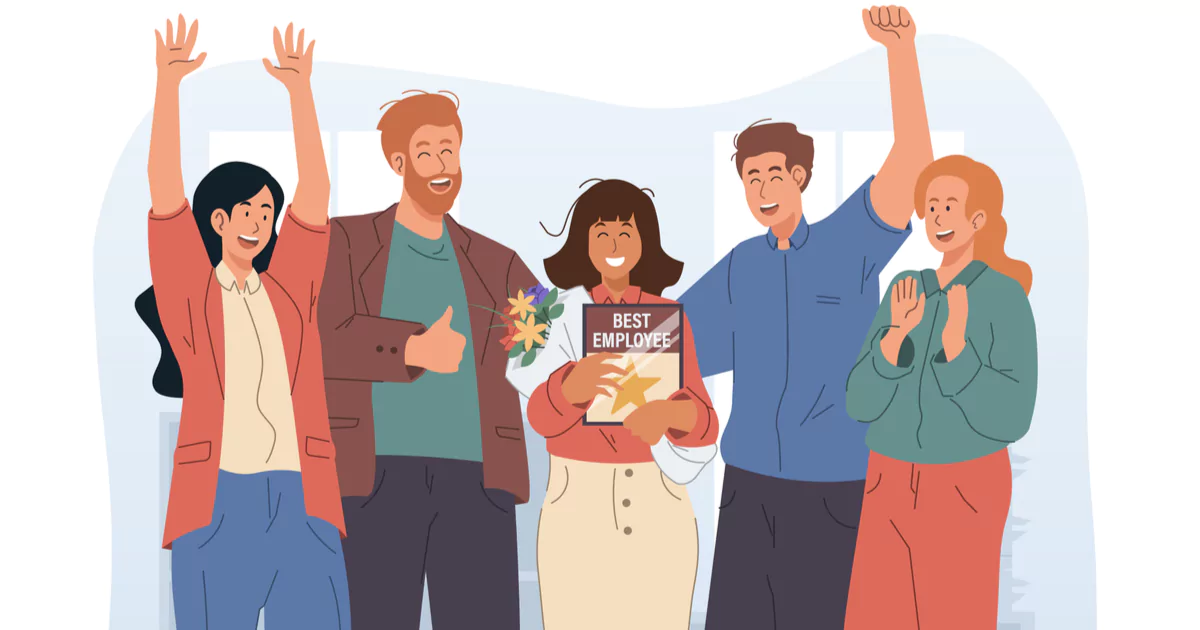 Invite a surprise guest
You know how a live TV audience gets excited when a celebrity guest shows up unexpectedly on a TV show? Although you might not be able to get a Hollywood celebrity to pop into your virtual awards ceremony, brainstorm some ideas about people who are important to your company, your team, or your industry. Reach out to a handful of these people well in advance and invite them to the ceremony. Make sure you give your special guest an idea of what your team will be celebrating, and invite them to cheer on the awards winners! Your guest might not be able to stay for the entire event or for a long time, but have them join where there might be a lull in the timeline to give a fun greeting or a virtual pat on the back.
Time to run your virtual awards ceremony!
Now that you've got the basics of hosting a virtual awards ceremony, it's time to start working on those invitations! Your team will appreciate the effort that you put into hosting a good ceremony. When you take the time to properly recognize them for the work that they've put in, you'll see a positive ripple effect in other areas of work as well.
Make sure you visit our blog on virtual events and party ideas for more of the best tips on how to host a virtual event like this one and learn more about virtual team building here!