If your team's productivity is down, it may be because your team members are not communicating or collaborating well. If you want to turn things around, try team building, an effective and fun way to get your team back on track! With the huge number of team building activities in NYC, you'll have no trouble finding at least one to try.
When you integrate team building into your company culture, you can address the problems that are holding your team back. Poor communication and lack of collaboration impede team problem-solving. As these challenges continue to mount, company morale can suffer and your bottom line can take a hit. Team building can tackle these problems and more!
There are so many benefits of team building in addition to the ones listed above. Even when your team is performing well, why not take things up a notch and use team building activities to help them reach a higher level?
For New York City-based teams as well as teams planning a trip to the Big Apple, we've prepared the below list of team building games and activities to bring your team back together!
26 Awesome NYC Team Building Activities
1. Play An Escape Game
The Escape Game New York offers exhilarating, immersive adventures that test your team's ability to solve riddles, decipher clues, and crack codes. Your team can only succeed if they collaborate and put their heads together to find the way out of one of several uniquely themed escape rooms.
Each escape room is masterfully crafted with twists and turns around every corner to keep your team engaged and entertained. Themes include breaking out of a 1950s prison, recovering a stolen artistic masterpiece, or investigating ominous nighttime activity at a mysterious market!
Rooms vary in level of difficulty and number of players. Rooms can accommodate between 8-12 players. If your team is large, you can split up into smaller groups who each play in a different room. Then they can compete against each other to see who can escape fastest!
So break your team out of the office and head over to The Escape Game New York. They'll have a blast racing the clock to find a way out of their escape room or else they'll be 'trapped' with each other forever!
If your team is working remotely or team members are in different offices outside of NYC, The Escape Game New York offers virtual escape rooms as well! 
2. Plan A Customized Team Building Event
Given the sheer number and type of team building events in New York City, you may feel overwhelmed and even concerned that you might not choose the best activity for your group. In that case, reach out to Team Building Hub, experts in creating customized team building events and activities. 
Team Building Hub delivers its exciting experiences both in-person and virtually. They can also work with hybrid teams! Its in-person events are hosted in some of New York's best corporate venues. Your team will participate in a range of activities from playing virtual games to escape rooms, and just have a ton of fun with their coworkers.
Here's how it works. The first step in getting started is to reach out to their team via the Team Building Hub website. Even if you don't know all the details like the number of people attending or what kinds of activities they may be interested in, contact Team Building Hub to see how they can help you.
Next, you will be contacted by one of their expert event planners within one day. They'll explain the options and then help you decide on what will work best for your team. Your planner will help schedule the games of your choice and make all arrangements and coordinate the event.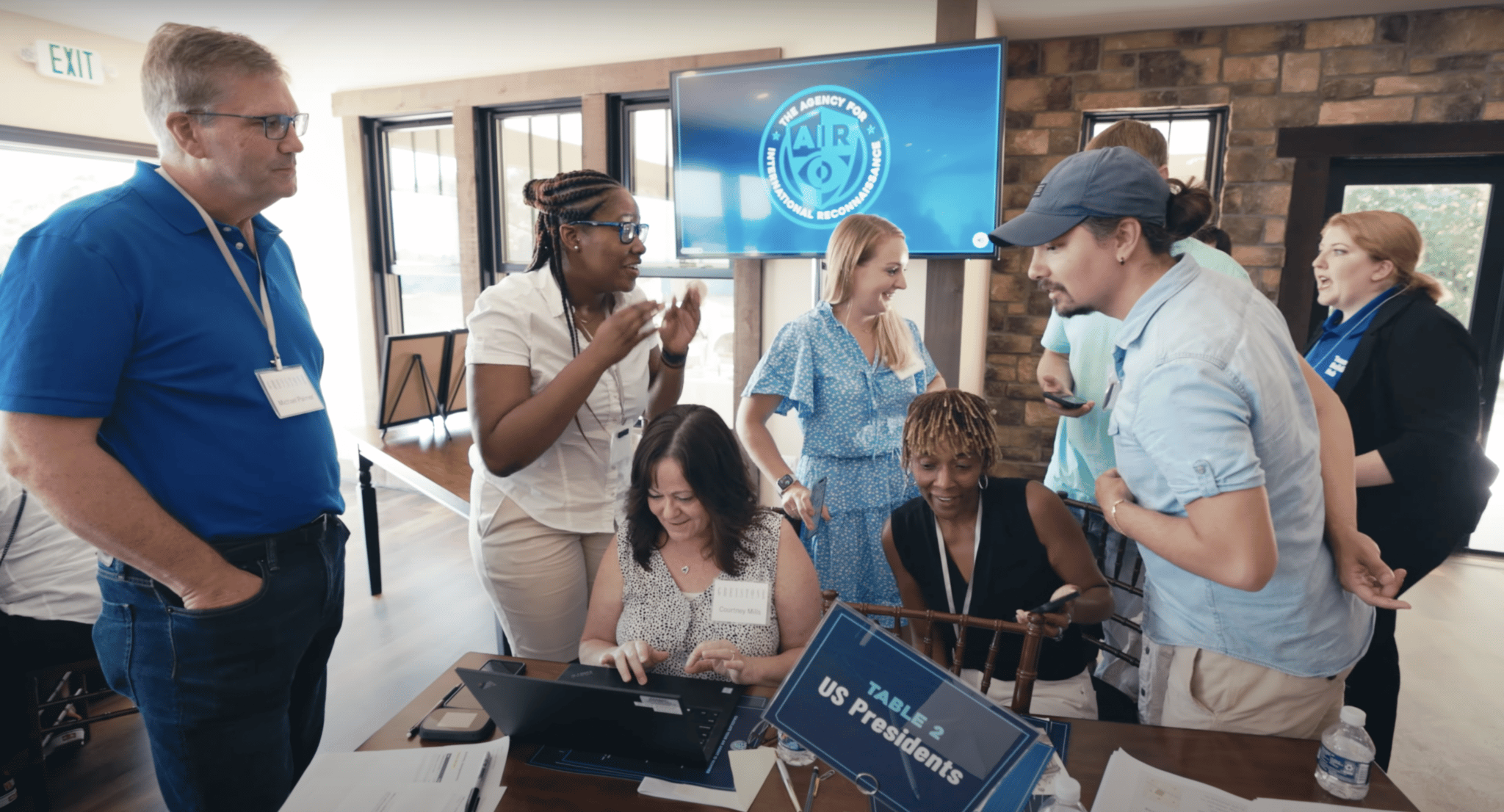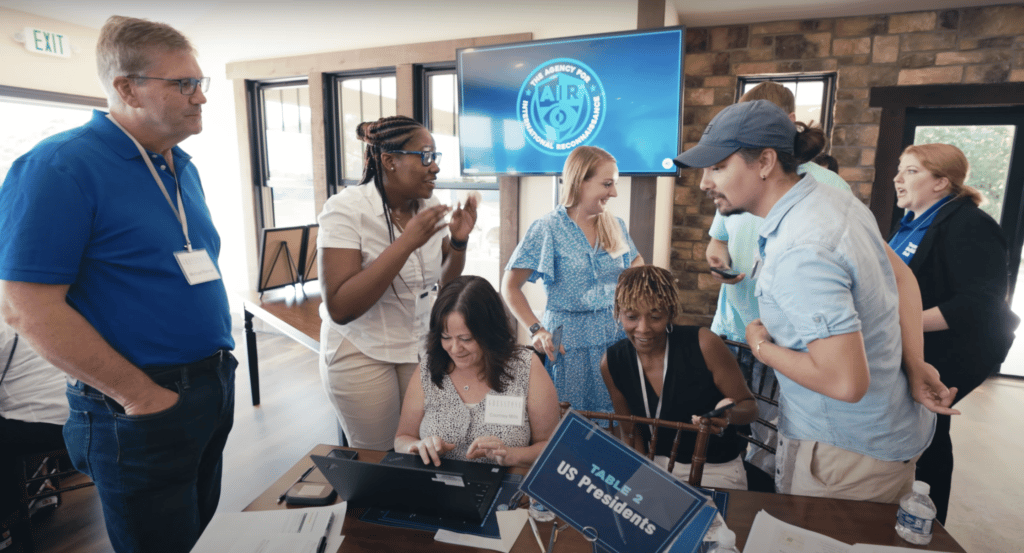 Lastly, your expert planner will give you a confirmation or Zoom link, and then you are ready to go! Throughout your event, there will be someone from Team Building Hub to make sure your event goes smoothly. 
Join a free live demo to see how their games work. You can ask questions about logistics as well. Demos are 30 minutes long and take place over Zoom. Feel free to invite teammates along so they can see for themselves how fun all the activities can be!
---
Join Us For A FREE Demo!
See exactly how our games work, ask questions about logistics and add some energy to your work day. Demos are 30 minutes long and take place on Zoom. There may even be a DoorDash giveaway!
---
3. Solve A Mystery Game
There's something about whodunits that thrill everyone. Playing mystery games allows your team members to put on their collective sleuthing caps and utilize their problem-solving abilities to the test.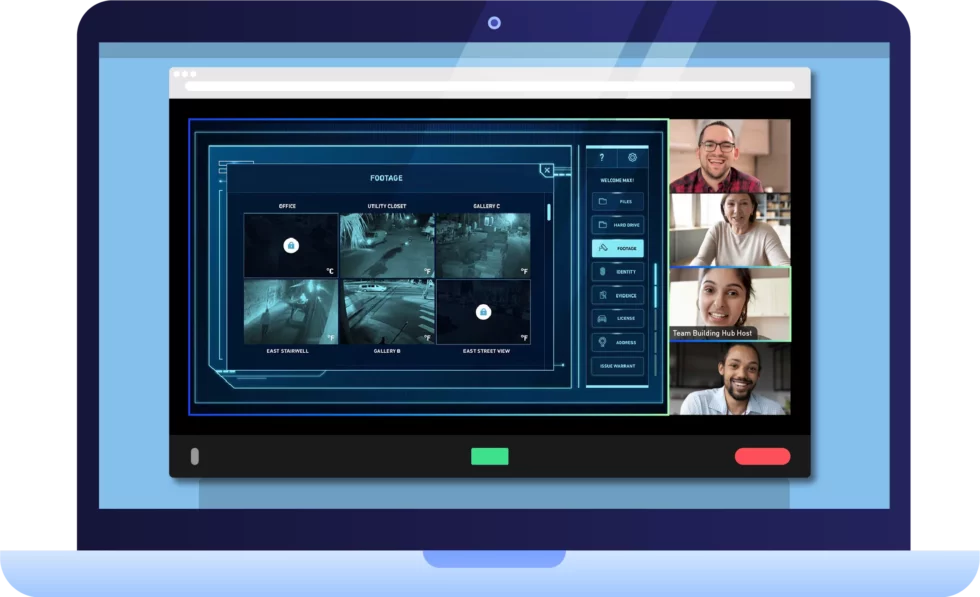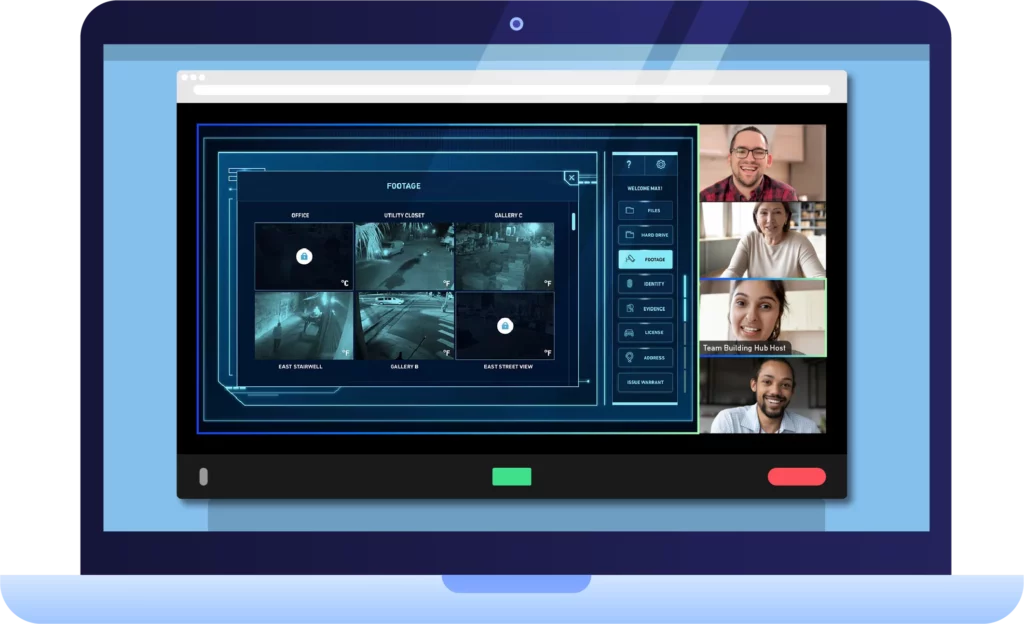 Team Building Hub offers engaging virtual mystery games for teams played over Zoom. Your group will split into smaller teams who compete against each other to solve the case first!
The game's unique platform lets team members review evidence such as surveillance footage and psyche reports. They'll also have to scour the internet to find answers to clues. The first team to solve the mystery wins the game!
You may want to have a prize on hand, like gift cards, to provide extra motivation for teams to throw themselves into the game. But your team will have so much fun unraveling the mystery, they won't need much motivation to give it all they've got!
4. Do A Scavenger Hunt
Scavenger hunts are a great team building activity where your team must be able to think fast on their feet, work collaboratively with one another, and brainstorm like they never have before! Problem-solving and group decision-making are essential to get to the finish line first!
An NYC team building scavenger hunt run by cityHUNT is so much more than a race to win. They provide a comprehensive event that is customized to meet your team's objectives. After the hunt is over, they point out areas in which your team performed well. Additionally, they discuss areas that need improving and tools you can use to address these issues.
If you are on a tight budget, you can create your own scavenger hunt for free with GooseChase. The free version is only good if your team is 15 members or less. Another option is this free downloadable scavenger hunt made by the City of New York!
5. Play An Online Game Show
Though it's not easy to become a contestant on "The $100,000 Pyramid" taped in New York City, your team can still have the same fun when they play a live-hosted online game show!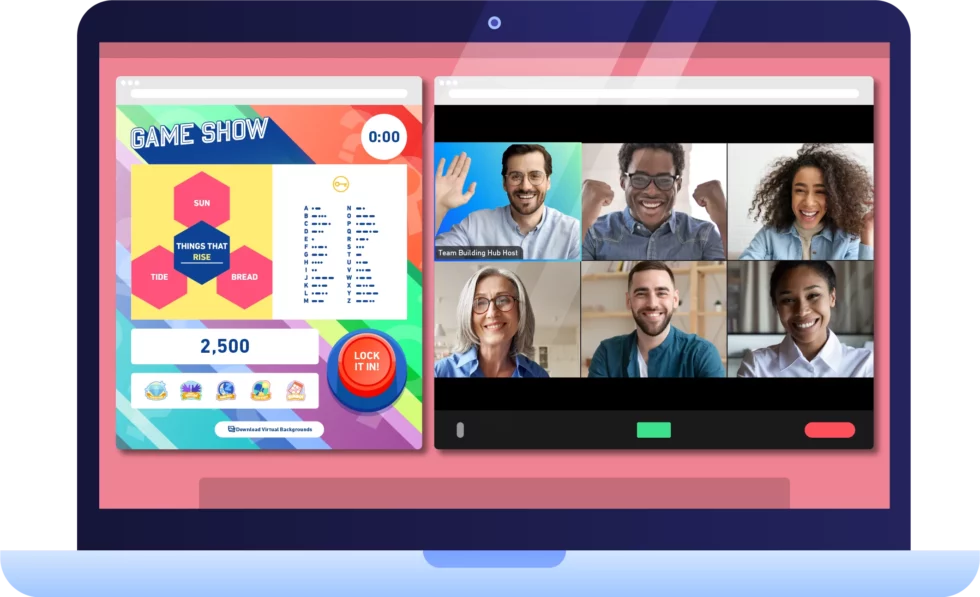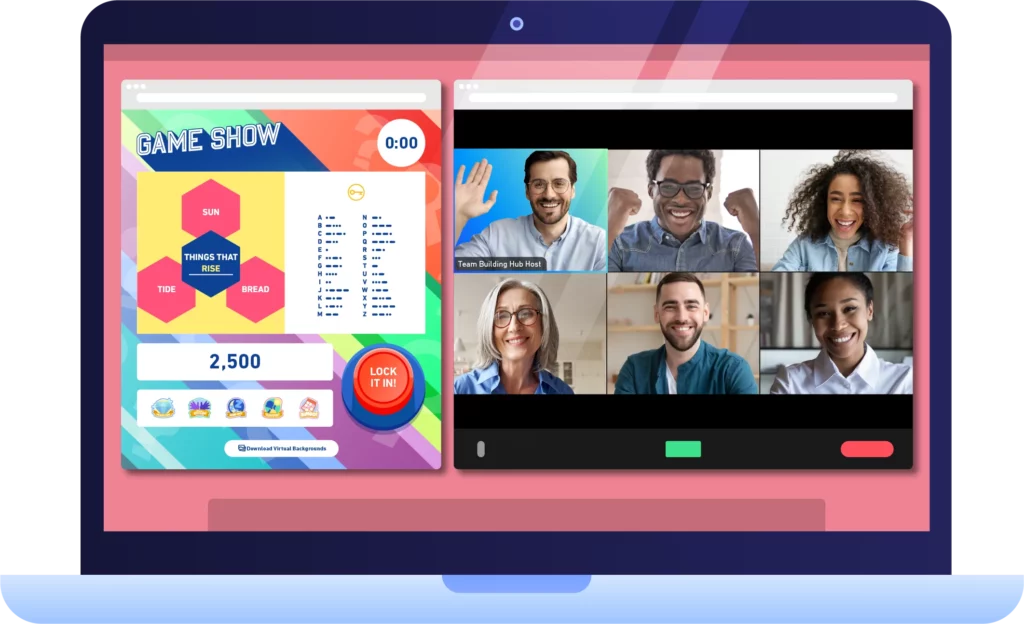 Playing an interactive online game show is an awesome way to get your team energized and also stir up some friendly rivalry in the office. These games also require your team to employ creative problem-solving, clear communication, and strong collaboration if they want to win. 
During an online game show played over Zoom, the show's live host leads the players through five exciting rounds of puzzles, brain teasers, and riddles. Your host greets your whole team through a Zoom call and then, after a few ice breakers, you'll be split up into smaller teams who head off into breakout rooms and compete for the highest score!
Team Building Hub's virtual game shows have a special interface that allows players to view the gameboard and their teammates at the same time. Your team will feel as if they are in the same room working together to beat the other teams and claim bragging rights!
6. See A Comedy Show
New York City is a hub for some of the best comedy clubs in the nation! Taking the team to a comedy club is an excellent way to allow team members to get to know each other better without the pressure of having to keep the conversation flowing non-stop. Seeing live comedy provides structured entertainment with time in between sets for your team members to chat and catch up.
Laughing brings people together like nothing else! If your group doesn't have enough time or reason to laugh heartily at work, a comedy show fits the bill!
7. Take An Improv Class
Your team members don't need to be naturally born comedians. Improv classes aren't just about getting laughs. They teach valuable soft skills that teams need to function well. The Pit offers one excellent improv for business classes.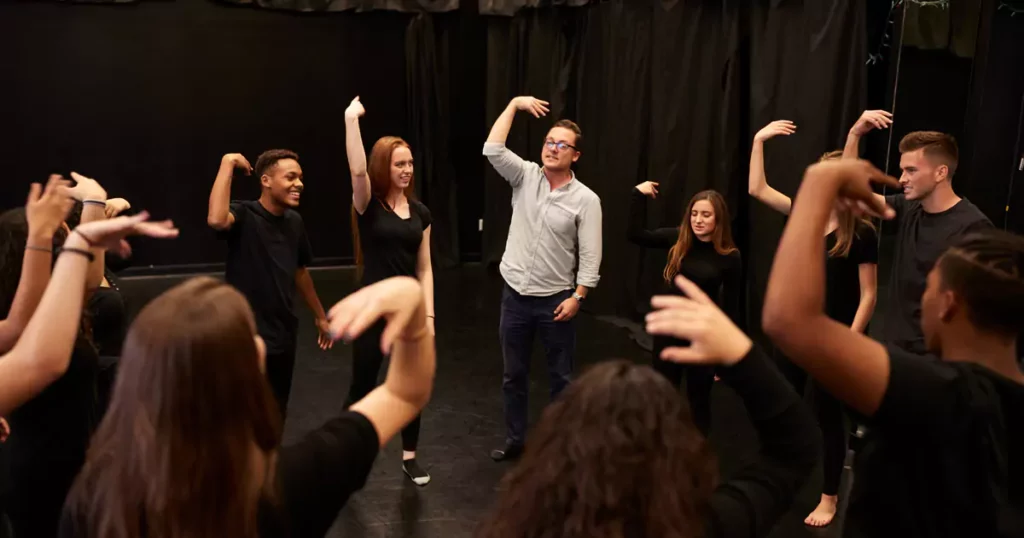 Collaboration is at the heart of improv as individuals riff off each other to keep the skit moving. Improvisation calls for creative thinking and quick decision-making. Active listening is critical as is communication, especially the ability to read non-verbal cues.
After taking an improv class, your team will bring their honed skills back to the office while feeling proud about what they have achieved together.
8. Play A Team Sport
If your team demographic is suited for physical activity, look into forming a sports team and joining a sports league. Team members who aren't interested in playing can provide valuable support from the sidelines!
Whether playing softball, kickball, or ultimate frisbee, nearly every benefit of team building will be utilized. Sports teams who want to beat the competition have got to collaborate and communicate both verbally and non-verbally.
If your company has a large number of employees, you can create several teams with employees from different departments. This way people who don't have a chance to interact much in the office can do so on the playing field!
ZogSports can organize your private league and create a schedule of play. If you have just one team, ZogSports can schedule the team to join a corporate intramural league.
Purchase team T-shirts to amp up the healthy competition and the camaraderie! Let your team shine on the playing field to show your business competitors who's who!
9. Go Indoor Rock Climbing
Rock climbing is probably not the first thing that comes to mind when you think of New York City. But indoor rock climbing is incredibly popular in many urban cities.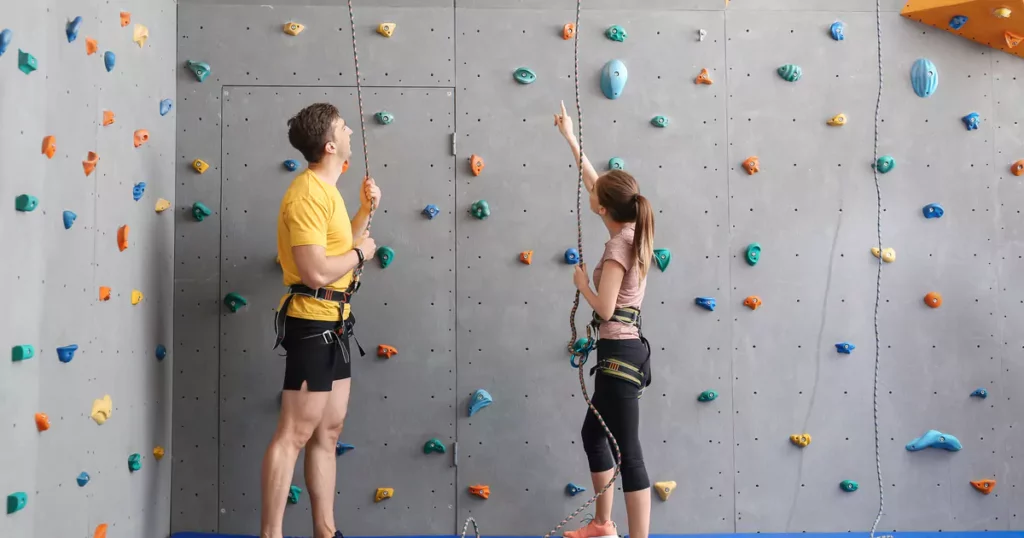 Indoor rock climbing is a challenging team building activity that builds trust, enhances communication, and fosters collaboration! Two great spots are The Cliffs at DUMBO and The Cliffs at LIC, both easily reached by subway. Both locations offer private group climbing led by an experienced instructor.
You can help your team reach new heights by taking them to a team building session at one of the many indoor rock climbing venues in NYC!
If you prefer to walk on a mountain horizontally, take a hike outdoors at nearby Bear Mountain, about 90 minutes from New York City.
10. Play Team Trivia
Playing trivia induces a rush of dopamine (the "happy hormone") to our brain causing us to feel joy! When you play trivia as a team, you get the bonus of good feelings that come from team success!
Trivia games are one of the best team building tools. Colleagues must collaborate to find the right answers. Communication is improved as team members must listen to each other, and not talk over each other if they want to win the game!
In New York City there are hundreds of trivia nights in bars and restaurants. Most likely there's a trivia night within a few blocks of your office! If your group wants to trek over to a live trivia night, you will have no problem doing so!
But not all employees are keen on giving up their free time for a work outing. If you want to make sure everyone is included, play virtual trivia games at work! Playing a game in the middle of the work day isn't likely to upset anyone!
11. Take A Group Cooking Class
Some say New York City is the food capital of the world. There certainly are countless restaurants and food trucks around town. But when your team takes a group cooking class, they will literally enjoy the fruits of their labor!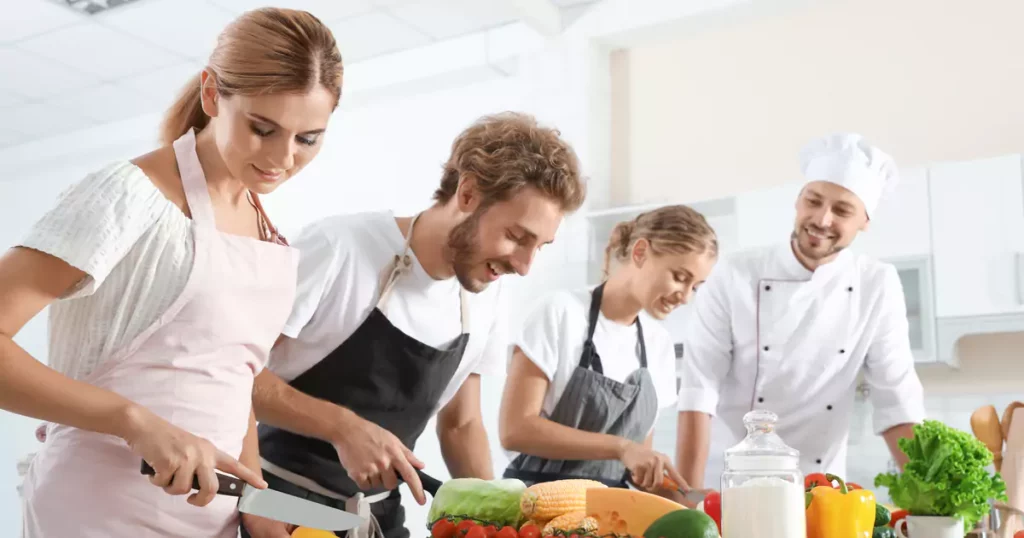 In a group cooking class, everyone is challenged to try something new in a non-competitive environment. Team members will practice their active listening skills as they must carefully follow instructions or risk creating a disaster instead of a masterpiece!
EVÈNTO is a popular culinary event host that specializes in fun, educational team building activities suited for teams of all sizes. Their mission is to build camaraderie through cooking simple recipes, drinking tasty beverages, and sharing laughter.
Remote teams can experience the same joys of cooking by taking a virtual group cooking class!
12. Be Accomplices
Take your team for a night out to the theater… or rather outside of the theater! When you book an event with Accomplice The Show, your team will experience a unique form of entertainment known as 'adventure theater'.
Accomplice The Show offers an immersive adventure that is one-part walking tour and one-part scavenger hunt! Your team won't know anything about their adventure in advance other than that they meet in a specific location in Greenwich Village.
Once at the location, they'll be sent forth into the neighborhood following clues and encountering characters until they reach their final destination. Along the way, they will rely on their collaborative skills and creative thinking abilities. Problem-solving plays a big role as well! It wouldn't hurt if someone on the team has a good sense of navigation!
13. Go On A Treetop Adventure
A trip to the Bronx Zoo is a nice way to spend time with your team, but an even better way is to take a Bronx Zoo Treetop Adventure.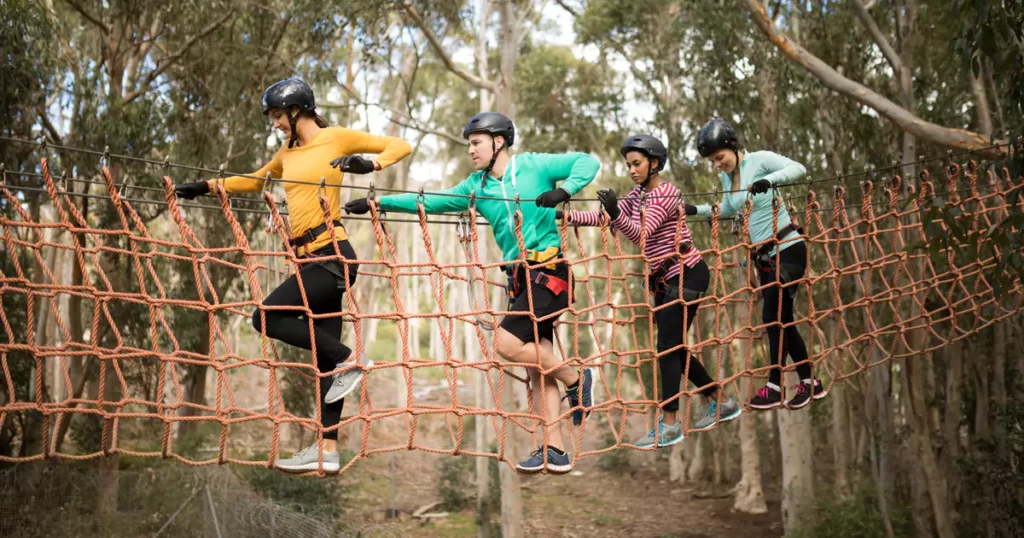 This amazing team building experience held at one of New York City's top attractions has 90 obstacles, ten zip lines, and ten rides. Their Climb & Zip Adventure is great for groups whose members have varying levels of skill and courage!
Individual team members can test their outer limits and try some things they wouldn't normally try without the support of others. When a group is there to cheer you on, people are willing to take risks they might not otherwise.
Doing a Bronx Zoo Treetop Adventure will bring your team together, build camaraderie, and provide everyone with a fun-filled day away from the office!
14. Romp Around At Area 53
Sometimes just playing together is a good team building activity. Letting loose and blowing off steam in a fun way helps team members see a different side of each other. Area 53, a massive indoor adventure park, has so many fun activities that everyone on your team will find a game they enjoy!
Activities available are rock climbing, roller skating, ninja course, laser maze, slides, battle beam, skeeball, basketball, pool, foosball, and air hockey.
It's true what they say…the team that plays together works better together!
15. Volunteer As A Team
Deloitte's annual Volunteerism survey found that 70% of employees wanted to volunteer more but didn't have enough time to do so. Show you appreciate your employees by giving them a day to volunteer together.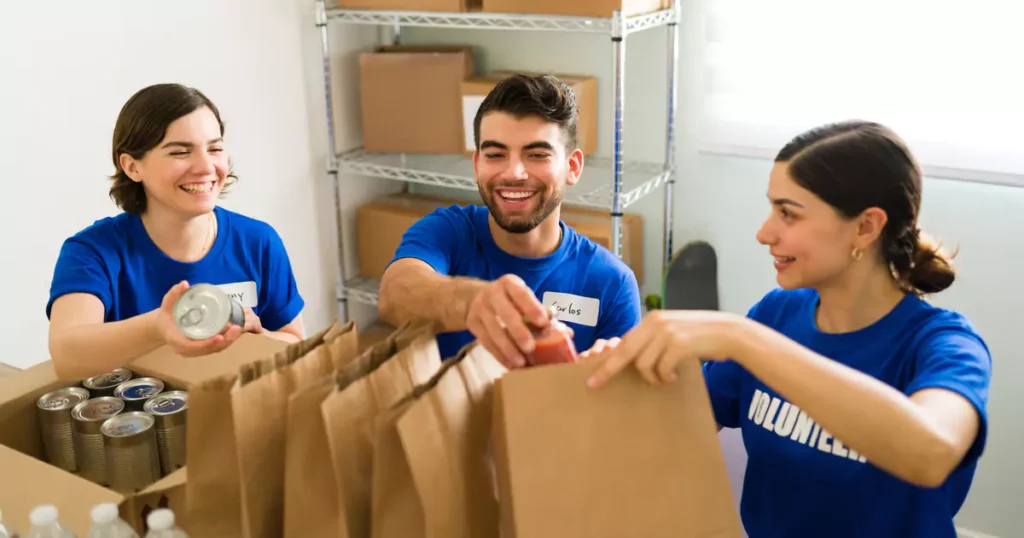 Volunteering as a team is wonderful for team building and NYC's neediest. There is certainly no shortage of local non-profit organizations who could use a hand — or several pairs of hands!
New York Cares works of ten with corporate groups and will implement a volunteer program tailored to the needs of your team. They'll work with any size group and can organize one-time volunteer opportunities or an ongoing program.
Studies show that people who volunteer are typically more satisfied with their work-life balance than those who don't. Moreover, volunteering can reduce stress! Make time for your team to volunteer together and you'll find them happier, less stressed, and more productive as a team!
16. Catch A Killer
Many people enjoy solving mysteries. Having your employees solve a murder mystery encourages them to investigate and communicate with coworkers they may not often interact with during their day-to-day. You can choose from many virtual murder mystery party options
If you want to play an in-person murder mystery game, there are venues across New York City that offer this most unusual team building experience!
Murdered by the Mob is an iconic dinner theater famous for its immersive and comedic storyline that takes your employees through the heinous murder of Big Pauly Castello. The story is full of mobsters and other characters like the Politician, the Grieving Widow, and the new Mob Boss Johnny. Your team will need to use their best judgment, clues, and detective skills to figure out whodunnit!
Murder mystery games are more than just fun. They come with lots of team building benefits. Your team will have to use creative thinking and problem-solving skills to find the killer.
Spending time together in a setting so completely different from the office lets team members get to know each other better. Who knew that murder could build camaraderie?
17. Get Creative
Team building isn't always about improving team skills. It's important for the team to spend relaxed time together away from the pressures of the office. It's through these moments that team bonds are formed.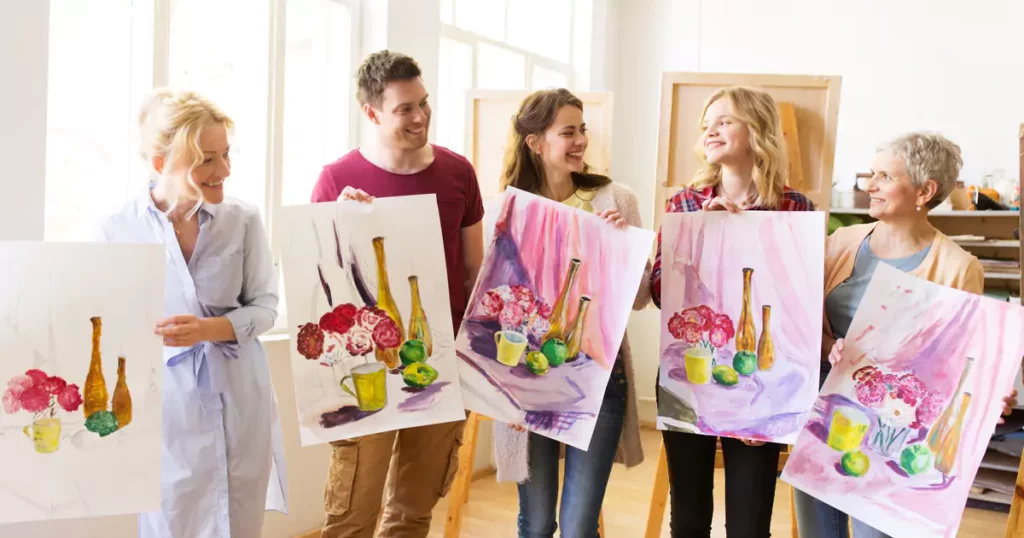 If you have a creative team, they will love painting a beautifully composed canvas of colors at a Paint Nite venue. Sip on a beverage of your choice while an instructor guides the group through an acrylic painting tutorial.
Your group will have tons of fun learning a new craft while also socializing over a pint of beer or glass of wine. If you have a small team, you can book tickets for an existing class, or reach out to an event coordinator to customize a corporate event of your own. Ticket prices cover everything you need including canvas, brushes, and paints.
If your team is operating remotely and you'd prefer to do a virtual version of this activity, mail your team their painting supplies and hold the event on Zoom.
Regardless of artistic ability, let team members show their true colors! After the paint's all dried, hang your team's masterpieces in a common space like a break room or office kitchen. This way they will be reminded of the fun time they had painting!
18. Learn To Make Pizza
There are many things New York is famous for, and pizza is one of them. A workshop with Pizza School NYC will teach your team how to make incredible pies, taste their own creations, and enjoy a festive reception including beer, wine, and specialty sodas.
Pizza School NYC is one of the tastiest team building activities around! It's a way for your employees to have some casual time together to catch up while learning new skills. It'll be a fun, food-filled experience they won't soon forget!
Team Building Meets The Best Of NYC
19. Discover Central Park
Central Park is one of New York City's most famous and beautiful green spaces. Its lush green lawns, meadows, wooded areas, and historic monuments make Central Park a special place to bring your team any time of year.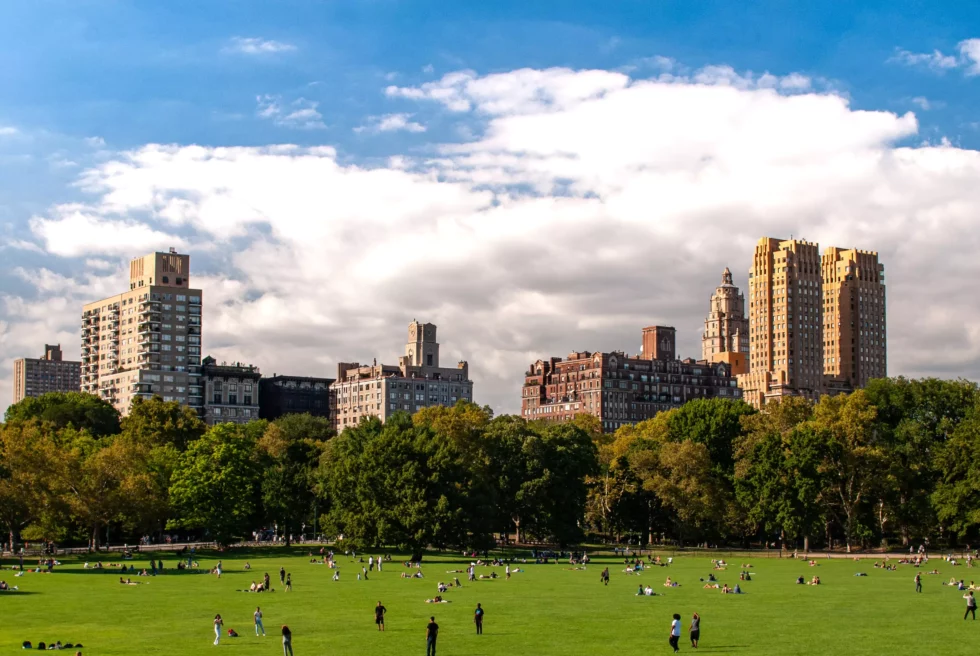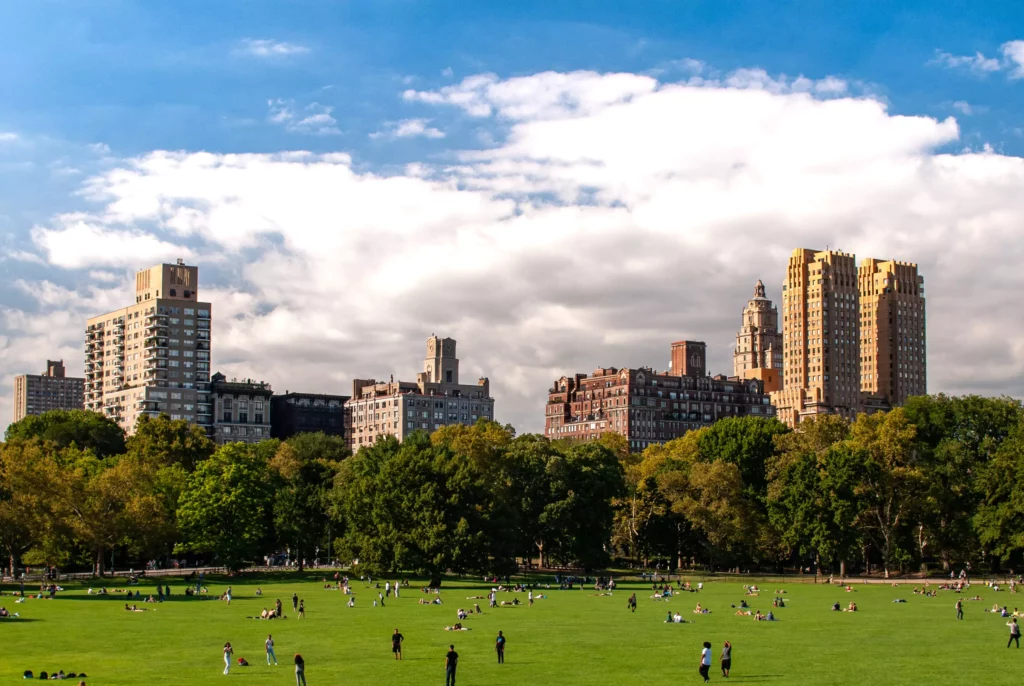 Spending time outdoors allows your employees to connect with nature and each other. When people are away from the office they tend to relax and are more open to connecting with colleagues.
While it costs nothing for your team to have a group stroll in the park, you may find that a guided private walking tour will provide some structure to your team's visit. There are lots of private tours focusing on different aspects of the park.
One company, the Central Park Conservancy, offers a variety of tours. A popular tour is their Birding Basics: Ramble Tour takes you through one of the park's most beautiful sections. The Ramble is a woodland habitat with many different bird species.
For active adventures in Central Park, check out the variety of sports activities available, like tennis, basketball, baseball, soccer, boating, and even bouldering!
Taking in some fresh air is a good way to reinvigorate your team, especially if they have been cooped up for days working to meet a tight deadline. Getting outdoors and exercising can increase employee wellness, another major factor in keeping your workers and your company thriving!
20. Take A Guided Walking Tour
There's no better way to see New York City than on a walking tour. Taking a tour is a fantastic way to get your team out of the office to stretch their legs and discover parts of the city they may not know much about.
If your team is in NYC for a business trip or a convention, a walking tour is a fantastic way to explore the city and get a sense of what it is all about!
Free Tours By Foot offers public and private walking tours of so many New York City neighborhoods, all at very affordable rates. Their guides are personable and know how to keep a group entertained and laughing while sharing amazing insights and little-known history about NYC.
Just a few of their tours are:
SoHo, Little Italy, and Chinatown
Brooklyn Bridge, Brooklyn Heights, DUMBO
Harlem
Chelsea and the High Line
Greenwich Village
Lower Manhattan
Grand Central Terminal
Lower East Side Food Tour
On any one of these tours, your team will see the city and have some casual catch-up time! Plus, you will have lots of photo ops for team pictures along the way!
If you are from out of town, post your pictures on your company's social media sites. If you are based in New York City, maybe it's better that you don't post your photos, lest your clients know you are playing hooky from work!
21. Visit The Statue Of Liberty
If you're here on a company trip, many of your team members might like seeing this iconic New York monument. Even if your company is based in NYC, it's surprising how many locals have never been there!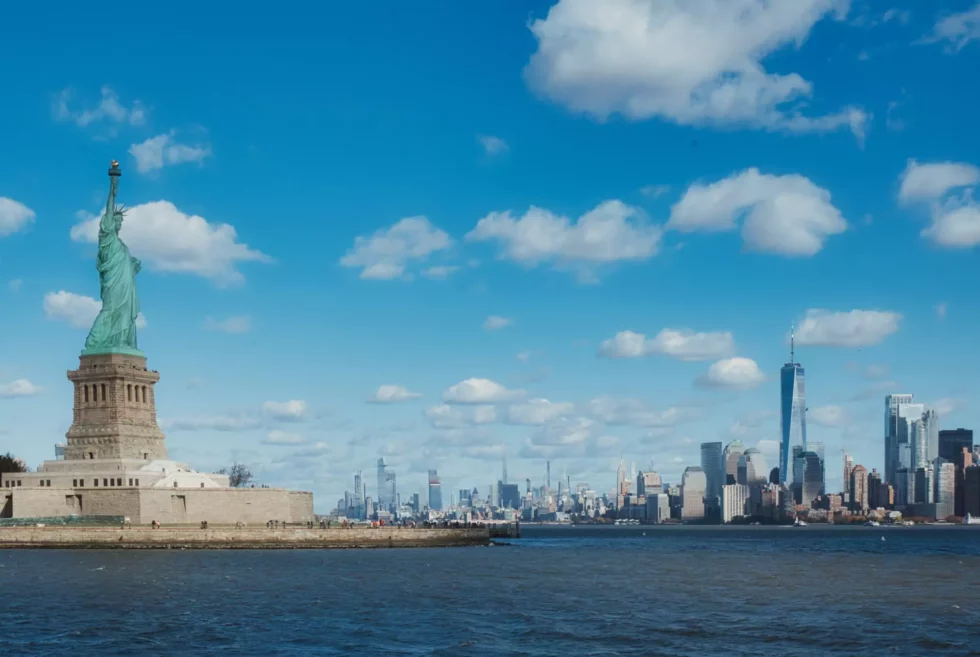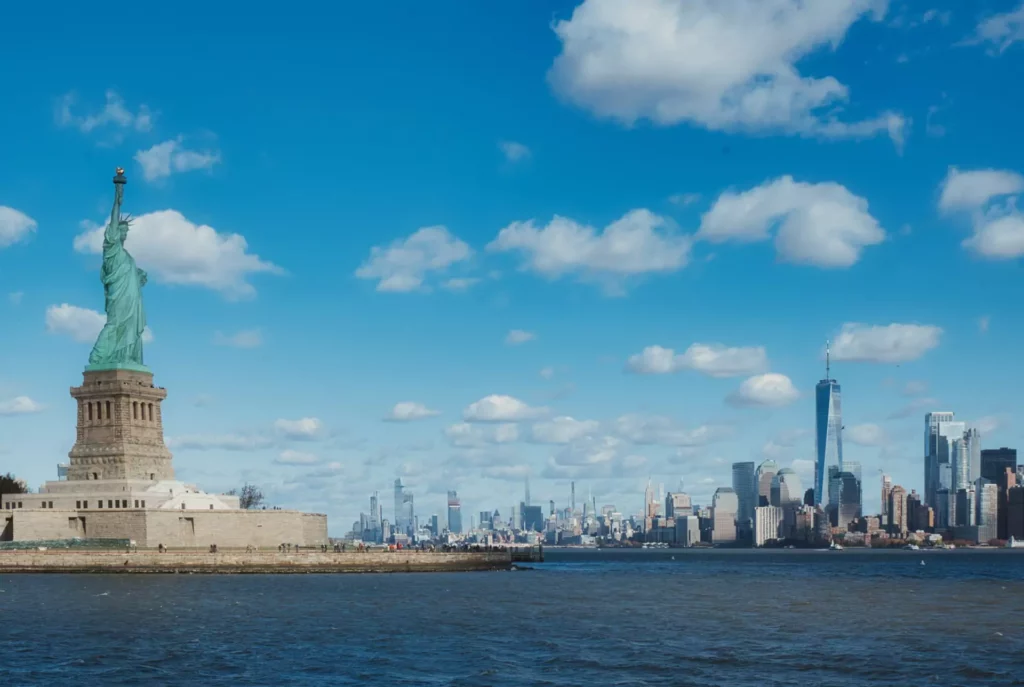 To get to Liberty Island, you must take the only ferry permitted to travel there. run by Statue Cruises. Once on the island, you can take a free tour led by Park Rangers.
These tours can last anywhere from 30-45 minutes and are included in the cost of every ticket. No additional tickets are needed to take the tours.
Several tour companies will ride with you on the ferry and walk you around the island to show you the most impactful sites rich with culture and the American Dream.
Some of these tour companies can customize your visit to Lady Liberty or your team. Embark on an adventure of a lifetime and share some laughs while learning all about one of the most historic immigration inspection stations in America.
22. Enjoy A Broadway Show
There's nothing like seeing a Broadway show! Whether you are an NYC-based company or a team visiting the Big Apple, treating your employees to a night at the theater is a meaningful way to let them know that you greatly value their contributions to the company. Let's face it. Broadway tickets aren't cheap! Your team will appreciate your generous gesture!
23. See New York City On A Bus Tour
For out-of-towners, a great way to see a lot of NYC in a short amount of time is to take a bus tour. They are an especially good option in the summer months and winter months when temperatures are not particularly welcoming. Take a look here for some of the bus tours.
24. See NYC From Way Up High
For incredible panoramic views, take your team to one of the city's skyscraper observation decks. They will be blown away by the amazing 360-degree views each of the five decks has to offer.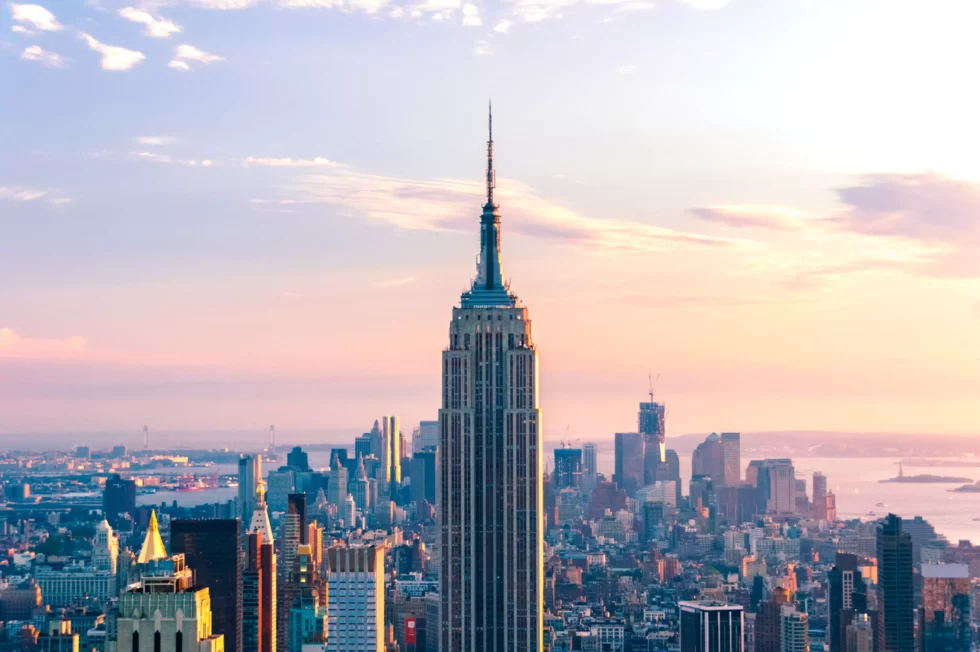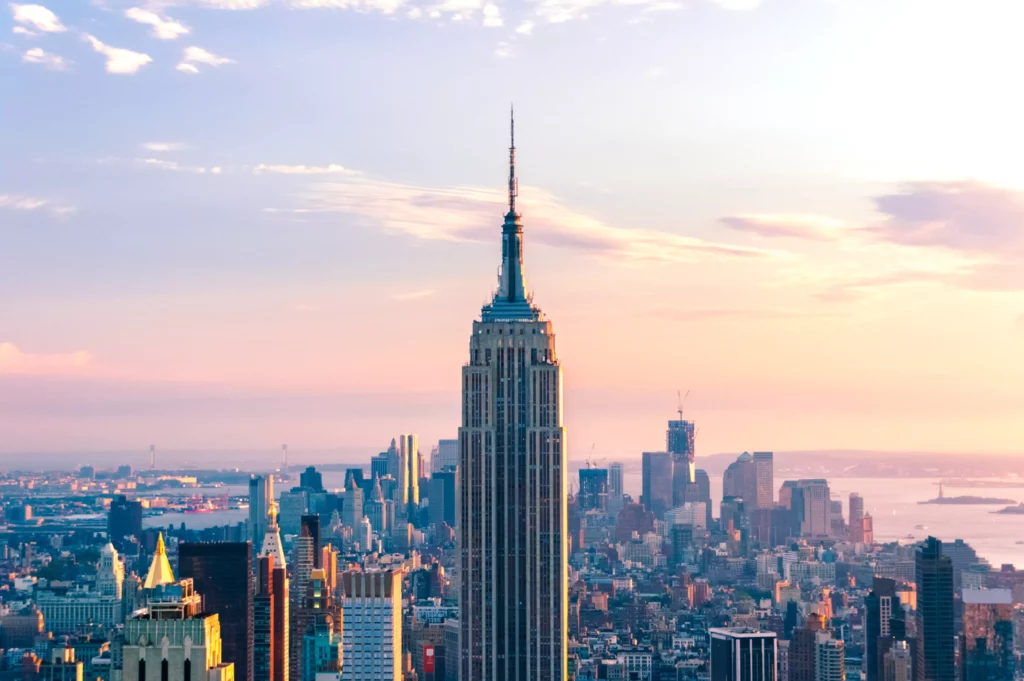 Choose one (or all) of these one-of-a-kind New York City observation decks!
Empire State Building
One World Observatory
Top of the Rock
Edge at Hudson Yards
Summit One Vanderbilt
They each offer unique experiences, so you may want to look into the pros and cons of each before buying tickets. Regardless of which you ultimately go to, your team won't soon forget this amazing experience!
25. Visit A World-Class Museum
With dozens of museums to choose from, it can be hard to pick one that your entire team will enjoy. Although this article is about team building in NYC, we do think that in this case, give your team members free time to go to a museum of their choice. Here are the top museums:
Metropolitan Museum of Art
Museum of Modern Art (MoMA)
Guggenheim Museum
Whitney Museum of American Art
American Museum of Natural History
9/11 Memorial and Museum
Tenement Museum
When you meet back up, your team will have a lot to talk about as they describe their museum visit. Sharing personal experiences with each other allows team members to get to know each other better which translates into better teamwork.
26. Walk Across The Brooklyn Bridge
Local or not, your team has got to walk over this icon of NYC. This historic and stunning bridge is loved by both locals and visitors because of its sweeping views of the city and New York Harbor.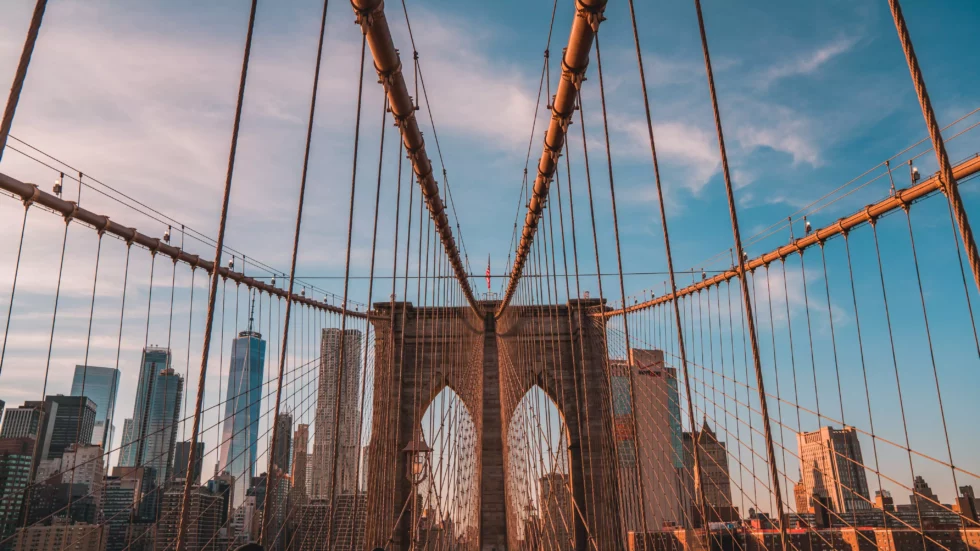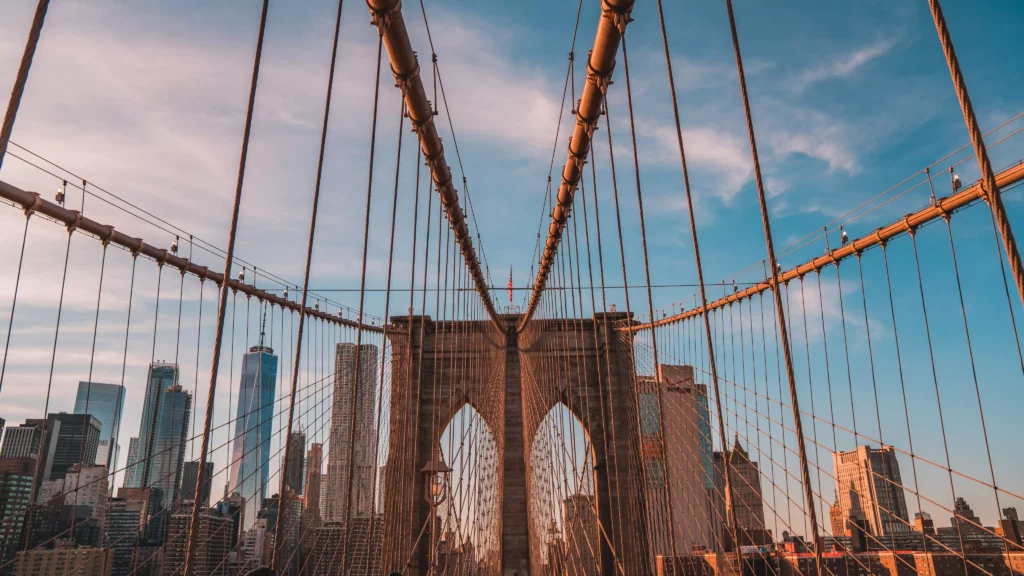 One feels a sense of freedom on its pedestrian boardwalk. Moreover, the bridge's history is fascinating. Read more about it here.
Be sure to have your phone charged to take team selfies!
Choosing The Right NYC Team Building Activity
Before you go on your team building adventure, there are a few things you need to consider. Choosing the right activity for your team starts with an awareness of the three formats of team building activities.
The Three Team Building Formats
In-Person NYC Team Building
Having a team building event in person is a great option for teams already in NYC and companies in town for business.
Virtual Team Building
Remote teams and groups who cannot travel or are on a tight budget can enjoy virtual events. These may include things like virtual game days, online scavenger hunts, and more.
Hybrid Team Building
Hybrid activities are perfect for teams that have part of their staff in-house, and part working from home. Virtual and hybrid activities are held over Zoom, Skype, or other apps.
Know Your Audience
Another major consideration is knowing your audience. Active groups usually enjoy outdoor activities like hiking, walking, or cycling, while competitive groups enjoy games and healthy competition like laser tag, bowling, or trivia.
Keep in mind that not everyone can travel or participate in live events because of timing, personal life engagements, or limited accessibility.
If you aren't sure about people's interests, take a poll and ask for input. Be sure to encourage your team to pick the best solution for everyone, and find creative ways to get everyone involved.
Start Planning Your NYC Team Building Event Today
Team building can have a major impact on teams that are struggling. They are a fun and engaging way to help your team practice and improve the essential factors that make a team great.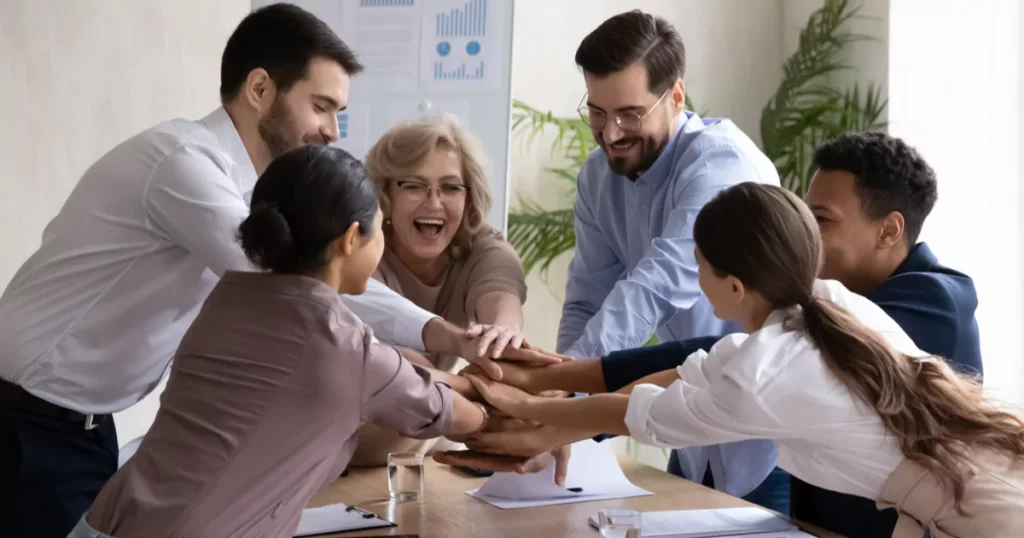 You can expect to see improved communication and problem-solving. Team members will take risks and think outside of the box. Your team will collaborate more effectively and there will be newly found camaraderie.
Knowing all of this, how can you say no to team building? Get started on planning your epic team building event in NYC!