If you've ever thought of getting your team together to play escape games online, but you aren't sure where to begin, this is for you! In this article, we'll share everything you need to know about virtual escape games including what a virtual escape room is, how virtual escape rooms work, how to do a virtual escape room on zoom, and more.
An online escape room is an excellent alternative to in-person escape rooms. Between scheduling conflicts, location, physical abilities, and workplace structure, it can be a challenge coordinating a physical gathering — even an hour. There are too many factors at play! Luckily, teams can play online escape games from home, the office, or wherever they're located.
Once you've decided to plan an online escape room event, you'll need to understand how to choose an escape room and a host platform, as well as schedule a time and date for the event. It's also important to make sure there's room in the budget, so we'll also cover how much virtual escape rooms cost for teams. Let's dive into everything you need to know about planning, executing, and winning a virtual escape room!
Table of Contents
What is a Virtual Escape Room?
How Do Virtual Escape Rooms Work?
How Much Do Virtual Escape Rooms Cost?
What is a Virtual Escape Room?
A virtual escape room is an online augmented reality game that challenges your team to work together, solve puzzles, and complete a mission before time runs out! Participants can play virtual escape rooms right from each player's respective computer, rather than in person. This activity is a great way to get your team together for some fun and friendly competition, and the best part is that everyone can participate right from their desk!
Online escape rooms are perfect team building activities for students, work teams, and friend groups. They can help determine who has leadership potential, which are creative thinkers, which have amazing problem-solving skills and give everyone a chance to have some fun together for an hour or so.
Online escape rooms give you a certain amount of time to work through the room and put clues together. Generally, a virtual escape room event will last for about 75 minutes. Everyone gets signed into the meeting and introduced to the host and game guide in the first 15 minutes. From there, everyone will work to find clues, solve riddles, and break free in the 60 minutes that follow!
That being said, some escape game companies might skip the introductory 15 minutes while others might have 75-minute timers for the action.
Virtual escape rooms for groups and in-person escape games are played very similarly. The biggest difference is that your group will be working together and solving the puzzle through virtual communication instead of hands-on. If your game has an in-person game guide, you will use your excellent communication and teamwork skills to direct your game guide through the room.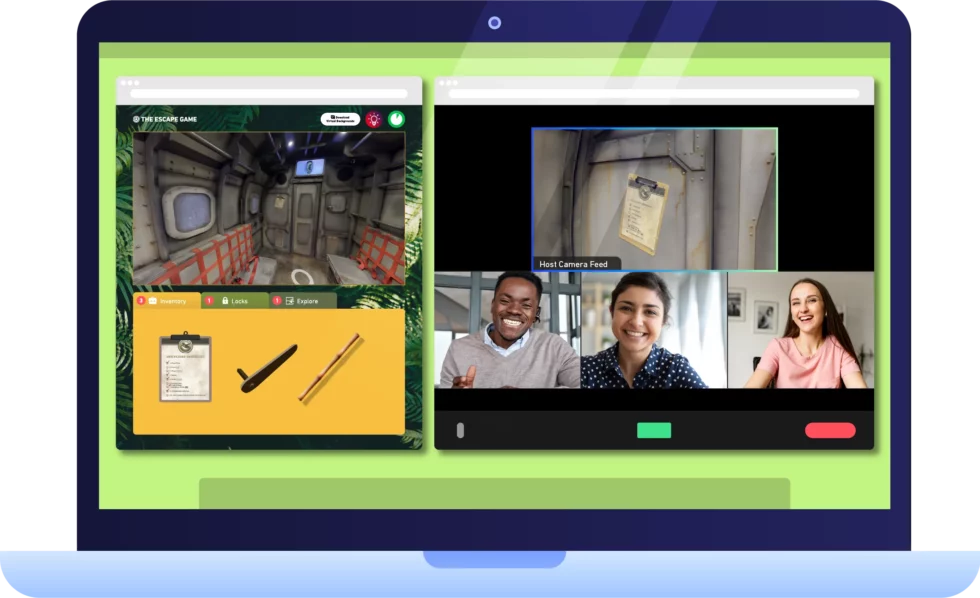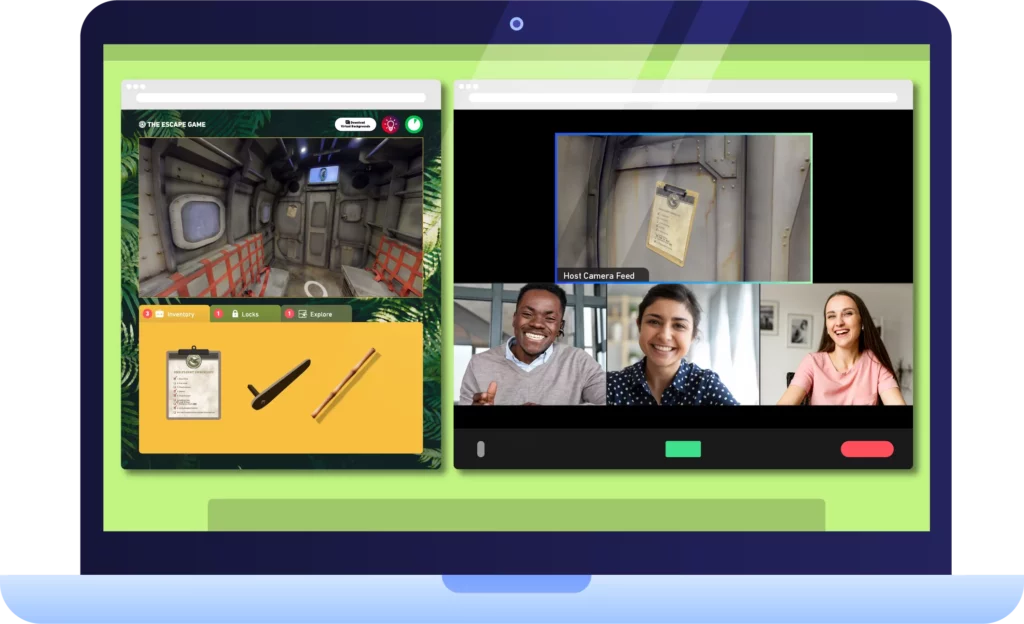 Can You Do an Escape Room Virtually?
You absolutely can do an escape room virtually! Many people think that escape rooms are only playable in person because the games involve moving around to solve problems hands-on. However, in today's day and age, practically anything can be done virtually, even an escape room. All you need is an enthusiastic team ready to hop onto a Zoom call and the event host handles the rest!
Between the right video platform, an engaging virtual host, and an awesome escape room theme, your team will definitely be able to enjoy a virtual reality escape room without a problem (so long as everyone has a good WiFi connection, that is!). The experience is surprisingly realistic. You might forget you're playing with team members in different locations!
---
Get Your Free Game
The 3-Minute Non-Cringey Ice Breaker for Your Next Meeting
A ready-set-go game to run at your next fully remote or hybrid meeting without the hassle or added pressure of developing a team-building exercise yourself. Get it here →
---
How Do Virtual Escape Rooms Work?
Virtual escape rooms work by using the strengths of your teammates to complete tasks, solve riddles, and accomplish a common goal — which is escaping! Every person in your team has unique abilities that make them perfect for a certain role. For example, the creative problem-solver on your team will be able to look at issues from a different perspective than most people might; the leader on your team will rally everyone together and keep everyone headed in the same direction; the person with the best communication skills will be the one to communicate with your game guide, so they can execute the actions your team wants to take.
Your game host meets your team when the event begins. They'll introduce themselves, the game guide, and the type of escape room your team is about to enter. They'll also go over the rules, offer basic tips for a successful game, and let your team know what to do if they get stuck!
Online escape rooms from Team Building Hub have both a Game Host and Game Guide, while some event hosts only have one. Typically, there's a live camera feed in the escape room and your group directs a Game Guide through the experience. You'll collaborate to solve each puzzle, overcome every challenge, and complete your mission!
Before your team can dive into playing the game, an event organizer takes the time to plan the best virtual escape room for team building.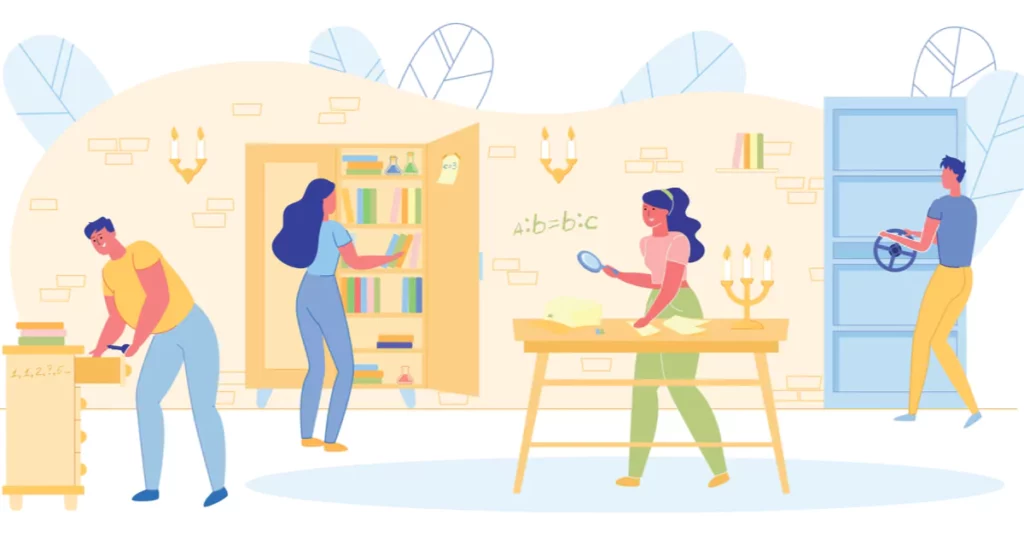 Here are three steps to getting a virtual escape game to work well for your team:
1. Choose a Platform
There are many online video chat platforms to choose from. If your team already has a platform that you love, let your host know! Most virtual escape rooms are run through Zoom, but can typically function just as well on any video conferencing software! Popular platforms include Zoom, Google Meet, Microsoft Teams, and Skype.
2. Plan
Once you've decided on a video conferencing platform for your remote escape room event, it's time to start planning! Planning well in advance will allow everyone enough time to work their schedule around the event. Send everyone an email invite that they can add to their calendar and get them excited for what's to come! Send them a link to the escape room company website and let them know which escape room they'll play on the day of the event. You might consider sending them links to helpful articles about tips and tricks for solving escape room puzzles.
Giving team members Friday afternoon off for the event is a great way to foster excitement about the event and help employees feel cared for by their company. "No matter how much they may love their job, nobody wants to put in extra time on evenings or weekends to attend a mandatory work event" (Biz Journal). People are much more likely to participate and enjoy the experience if it happens during work hours!
Send out a reminder email in the weeks and days leading up to the event to make sure no one forgets about it! You should also receive an invitation link for your virtual escape room that you can share with the team.
3. Host
On the day of your event, everyone will get together 15-minutes before the event starts. This time can act as a buffer so everyone has time to sign in to the meeting and get mentally prepared for the event! It can be difficult to end a work task and immediately switch gears. You want your team to decompress a bit so they can shake off the workday before having some fun together! Many escape room companies will build this buffer time into the event. Double-check with your game host to see if this is true for you or if you'll have to plan your own buffer.
Your virtual escape room host joins at the start of your event. They'll greet the team, often ask for introductions, and get everyone ready for a great time! During their introduction, they'll explain the rules of the game, give a little bit of background information about the escape room you'll be playing in, and tell you how to interact with your virtual surroundings. Your host might stick with the team throughout the duration of the game to offer hints and answer questions if you find yourself stumped on a clue.
Some online escape rooms will have a game guide on location (inside a real escape room) to act as your team's eyes, ears, hands, and feet. The guide will have a live-streaming camera attached to their body that gives you a first-person point of view of the escape room. They will look left, right, up, and down as you direct them to, pick objects up, turn dials, pull books off of shelves, and complete other directives that (hopefully) get you closer to escaping the room.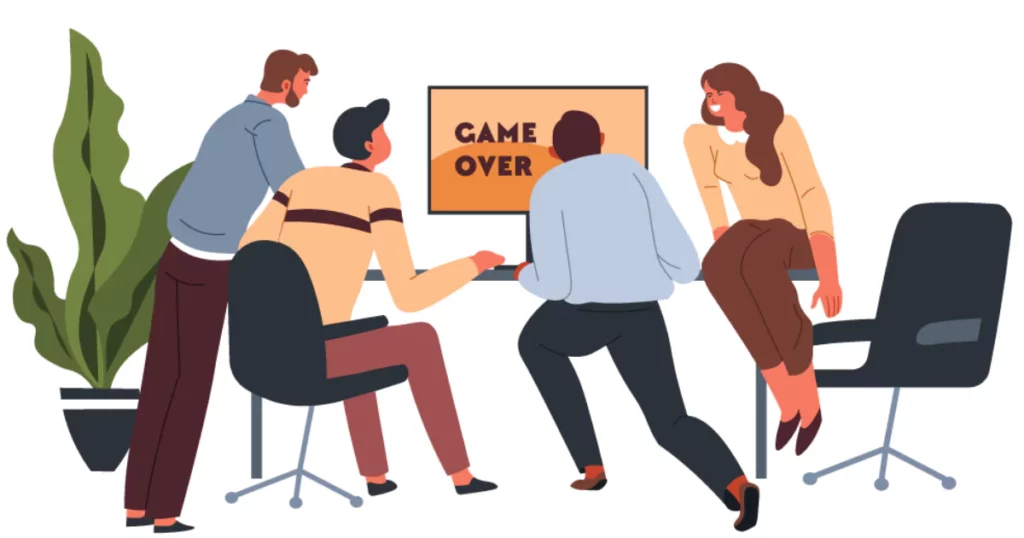 How to Do a Virtual Escape Room on Zoom
You can read our complete guide on how to use Zoom, but here we'll just give a quick overview!
1. Download the Application
Download Zoom by clicking on the Download button under "Zoom Client For Meetings."
Once the download is complete, install the Zoom application onto your computer.
You don't need an account to use Zoom, but creating an account will allow you to display your name and an image.
2. Experiment with Backgrounds
Zoom has free backgrounds that allow users to hide what's going on behind them. This is a great feature for anyone who forgot to clean up before the event!
3. Join a Meeting
Once you open the Zoom app, you can join a meeting in one of two ways:
Through a link. When you're invited to a Zoom meeting, you will get a link. Simply click the link under "Join Zoom Meeting," and you'll be in the conference "room"
Meeting ID. You may also receive a unique meeting ID along with an invitation. This number can lead you to the conference "room" and give you a passcode to enter. 
4. Utilize the Chat Feature
Participants can chat with one another or with the entire group through Zoom's messenger. This feature is great for larger teams that play escape games together because it prevents everyone from talking over each other!
5. Record the Meeting
Zoom has the option to record the call, which is great if you'd like to look back on the event, see what worked, and evaluate what could go better next time. Everyone will get a notification when the button is pressed, so there aren't any surprises!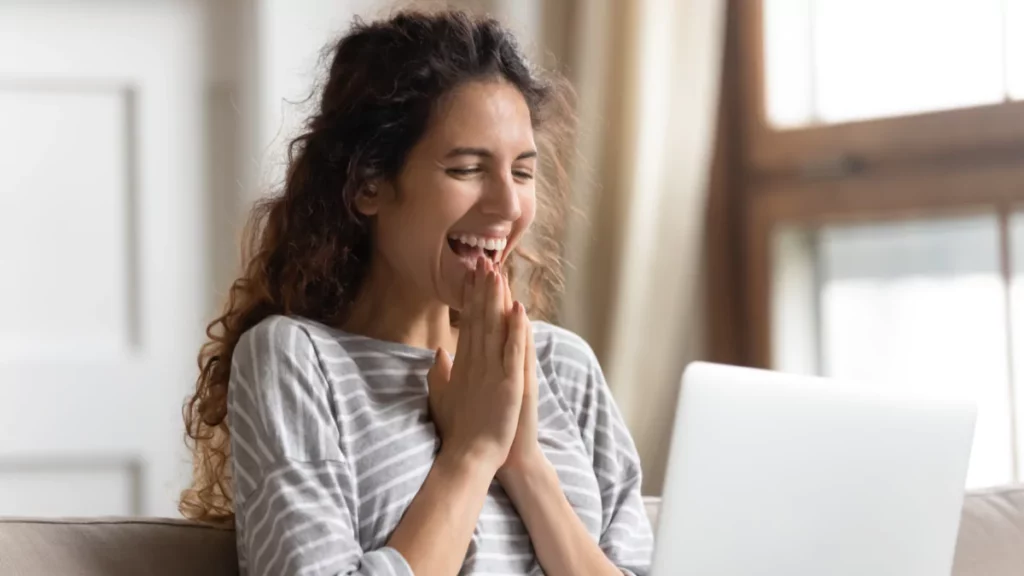 How Much Do Virtual Escape Rooms Cost?
Virtual escape room prices vary from company to company, but you can expect to spend anywhere between $25-$100 per person, plus tax. The cost of a virtual escape room should be thought of as an investment in your team's happiness and success.
According to former Forbes contributor Brian Scudamore, "team building is the most important investment you can make for your people. It builds trust, mitigates conflict, encourages communication, and increases collaboration."
Here's a real-life example from Brian:
"A few years ago, we took our top-performing franchise partners NASCAR racing. It wasn't a fortune at $350 per person, but it was still a sizable chunk of change for a growing company. At the end of the day, it was a totally worthwhile investment. The team felt appreciated. The experience – screeching around a track at more than 145 miles per hour – was absolutely unforgettable and we all felt like champions."
What Are the Best Virtual Escape Rooms?
There are many different virtual escape room ideas, and the best one will depend on your organization. You might want to take the following suggestions, put them into a survey, and distribute the survey to everyone who will participate in the event. This will give you an idea of what everyone is genuinely interested in, so you don't have to assume.
Here is a list of the best escape rooms: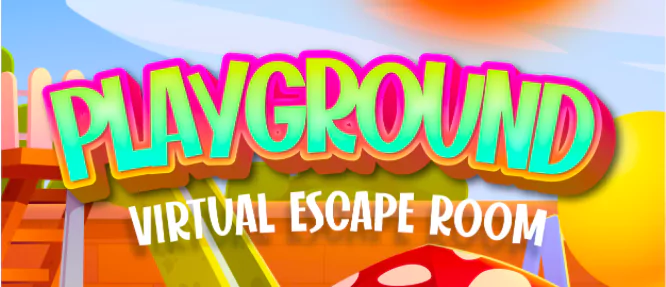 1. Playground
School's out! But, unfortunately, not for you just yet. If you and your teammates want to enjoy your summer vacation, you have to finish your homework! When you sit down to complete the assignments, you realize that these problems are unlike anything you saw all year long. Can everyone put their heads together to pass this group project? It's the only thing that stands between you and freedom! Learn more about the Playground escape room here.
2. Gold Rush
In Gold Rush, the hoarder of a massive gold fortune has passed on from this life. What will happen to his fortune? As the distant relative of Clyde Hamilton, you and your team have to figure out where he's stashed all that gold. Together, you'll examine his last will and testament, play Clyde's little game, and claim for inheritance. Quick! If you don't hurry, everyone in town will find out and start their own search!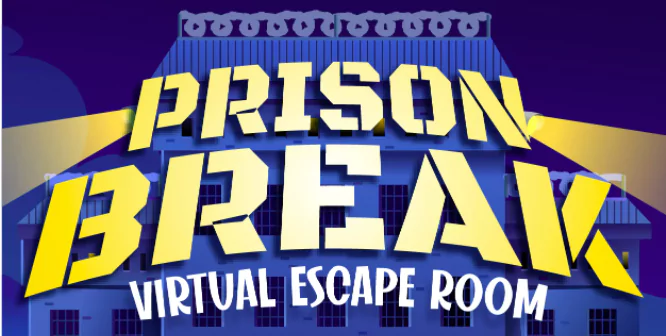 3. Prison Break
One of the most classic escape games of all time — Prison Break. It's 1955, you're in prison, and you're innocent! What's worse, you've been sentenced to life in prison without the possibility of parole. There are rumors swirling that the last inmate who occupied your cell escaped… is it true? Can you find his escape route?
4. Heist
You've got another classic theme The Heist! A priceless painting has gone missing from a prestigious art museum, and the museum's curator is the prime suspect. Can your team break into his office and recover the painting?
5. The Depths
There are tons of mysteries in the ocean, and it turns out some of them are born in an underwater research lab. Your team will have to dive to The Depths in a submarine to uncover exactly what kind of experiments are happening in this lab! Be careful and move quickly. You never know what is going to swim up behind you!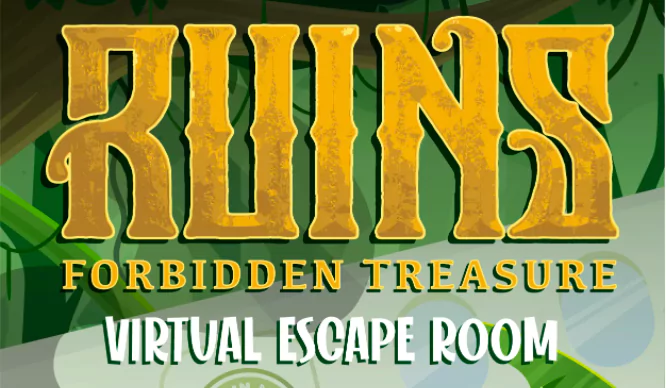 6. Ruins: Forbidden Treasure
Your team comes across ancient temple Ruins after your leisurely aero cruise over the jungle turns into a devastating plane crash. Thankfully, everyone survived the crash! But can you navigate through the ruins and get back to civilizations?
7. The Dark Tower
You and your team have all been turned into wizards and transported to the land of Seradel. In The Dark Tower, you will have to learn new spells, tame magical creatures, and defeat a dark sorcerer before he completes his ritual that will doom your beloved homeland. Can you take him down before it's too late?
8. Ghosts of Craven Manor
Boo! Your family of ghosts lives in the abandoned Craven Manor. You have fun scaring the locals, making things disappear, and messing with teenagers who try to mess with your home. The neighbors have finally had enough of your antics and decide to call in an exorcist! Can you banish the exorcist before he banishes you?
9. Space Defenders
Your job is to protect the universe at all costs. There is a threat on the horizon, and you have to stop them from destroying the planets where trillions of creatures – human and alien – live! You and your team of Space Defenders will travel to different planets, meet other players, stop the evil force, and save the galaxy. Note: Multiple teams play this game at the same time!
10. Shackleton's Great Escape
This escape room is loosely based on the true story of Shackleton's legendary expedition around Antarctica. The trip is filled with danger, surprise, and heroism. Can your team navigate through the treacherous waters, the below-freezing temperatures, and the barren tundra to get back to safety?
11. Catch Meme If You Can
In Catch Meme If You Can, an online hacker is turning embarrassing private photos into memes! Can you figure out who it is and put an end to the madness before he ruins any more reputations?
12. Race for the Lost Tomb
The world is full of mysterious ancient places, and your team has found yourself stuck inside one of them! You're in the sunken city of Atlantis and you only have 60-minutes to make your way through the city, find the Lost Tomb, and save Atlantis.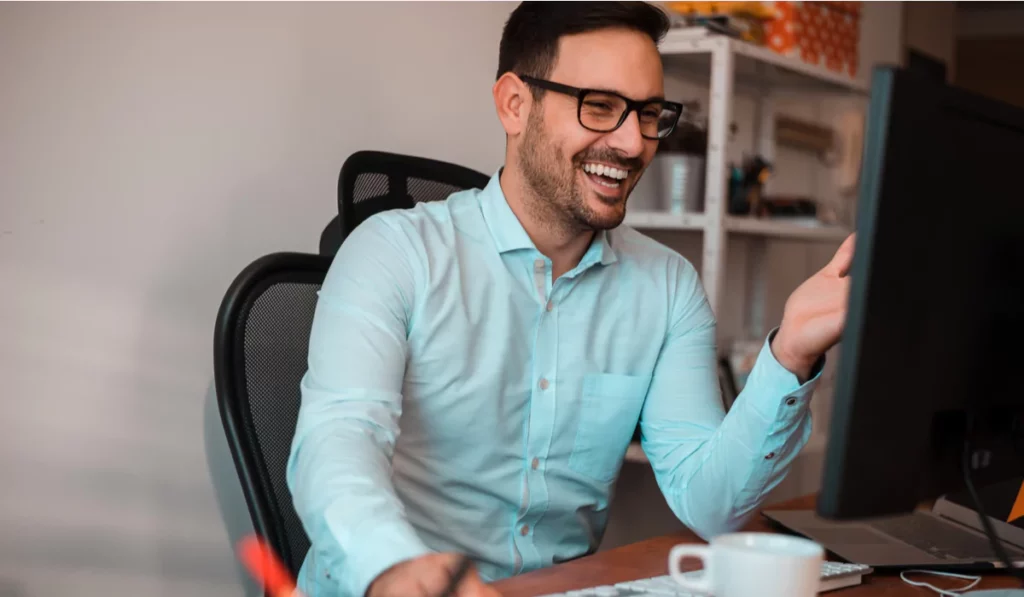 13. Alice in Puzzleland
The Mad Hatter has been accused of stealing the Queen of Hearts' tarts! No one knows where Alice in Puzzleland has gone, but, thankfully, your team has dropped into Wonderland just in time. Can you prove that the Hatter is innocent before it's "off with his head"?
14. Escape to Alpha Centauri
Jet off to the future in Escape to Alpha Centauri where space travel is the norm. It's 2097 and we have made incredible advances in space exploration technology! In this virtual escape game, you and your team have to get to Pluto as fast as you can while solving puzzles and riddles.
15. Black Noir Murder Escape
There are multiple rooms inside the Black Noir Murder Escape game. Each room has a different theme that focuses on different problem-solving skills! If your team loves intense mysteries that keep you on the edge of your seat, this "whodunnit" style virtual escape game is for you.
16. Modern Genius
Modern Genius is a fun play off of real-world inventor Elon Musk. In the game, mad scientist and billionaire Ilan Tusk invented a teleportation device and then disappeared. Can your team, guided by his butler, search through Ilan's mansion and find clues to his whereabouts? There's a reward if you can bring him back!
17. Grand Theft Escape
In Grand Theft Escape, Mr. Gautheri has put your team up to solve a mystery. If you succeed, you'll be handsomely rewarded! You'll have to act quickly, though – there's another inventor with a high-speed contraption that is also gunning for the prize!
18. Cabin Fever
Hopefully, you don't have a fear of the open water because in Cabin Fever you've just discovered that your team is trapped on a cruise ship… and everyone else has disappeared. Make your way through the ship, solve riddles, and get back to dry land!
Final Thoughts
These ideas and tips for planning an online escape game event will help you and your team have the best time! Remember, it isn't about how much a virtual escape room costs or whether you win or lose. It's about getting co-workers together for some team building fun and showing them that they're appreciated! Through these events, your team will deepen connections, develop their skills, and realize that their organization genuinely appreciates their hard work!