Table of Contents
Why consider team building events for work?
What are the costs for team building events?
23 Engaging Corporate Team Building Activities for Your Event
Corporate events are great opportunities for companies to do team building with their employees. These events are usually centered around building skills, relationships, company values, and more. Team building captures these goals while increasing employee engagement in fun ways! Read on to find out just why and how to incorporate team building into your next corporate event.
Why consider team building events for work?
Work events present opportunities for employees to grow in their work skills, usually from an informational side of things. Team building activities can help strengthen practical skills like communication and collaboration that employees will take with them and put into practice in an everyday way. 
No matter what kind of work event you are planning, you probably want to keep a tight schedule to move things along seamlessly so employees can get the most out of the event. Speakers are lined up and prepared, ready to impart best business practices and case studies to attendees. To make the most out of your event, as you begin planning and thinking through what's important, consider adding team building into your schedule.
Team building has a positive effect on employees, teams, and companies overall.
It helps boost morale, which is important for employees' overall wellness.
If your employees are well and know that you care for them, then they know they're with a company and group of people who are worth working hard for.
Employees will also experience a better work-life balance when team building is done right. They'll see that their organization knows what is worth putting time, effort, and energy into, and that doesn't always mean making teams work harder or longer.
There's room to smile and have fun at work, and pressures that they might have felt at work begin to feel a little lighter!


Teams that invest in team building also will see a rise in employee engagement, more productivity, and better teamwork within departments and across the board. When companies utilize team building on a normal basis and invest in their employees in this way, they will see better retention of their staff. That helps build synergy for companies to achieve their overall goals. Team building activities are also helpful in team onboarding and employee training, and are great for running effective meetings!
So what does all this mean for you as you start planning your event?
Since you have the power to shape an event's schedule and know what's important for an organization, you have the ability to make the most out of any event that has any number of employees there! Work events by nature are meant to grow and develop employees and teams, and what better way to do that than by incorporating team building? Usually, events, conferences, or retreats are off-site, giving you a chance to create a space where team building can have a good effect. An entire event doesn't have to focus on team building, but you can weave it throughout your event in ways that feel natural and exciting.
Team building activities can be included in events of any size, from big conferences for an entire company to small retreats for an executive team. They can be small moments or you can set aside entire sessions for different team building activities. As you begin planning, think about weaving team building activities throughout your corporate event that will allow employees to have fun and grow in helpful skills for their work and team.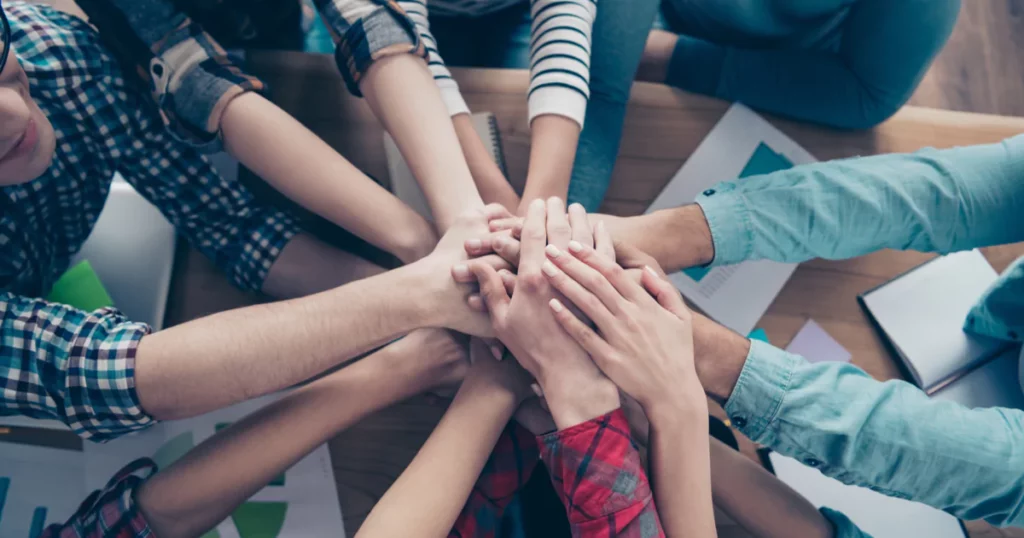 What is the point of team building exercises for corporate events?
Corporate events can seem like mandatory meetings that just help get employees back on track with what a company is doing. While the event might be beneficial for the company, there's an opportunity to help employees (and even executive leaders) buy into the overall vision and outcome!
Team building activities are fun and help develop both individual and team skills. There are lots of benefits to team building, and it can help create a corporate event that employees look forward to. It isn't just helpful for individual departments or employees, either. These kinds of activities are beneficial for team leadership, business owners, and even HR professionals.
You can use a whole session during your event for team building exercises, dedicate half a session to them, use them as ice breakers, or even put people on small teams for the duration of the event and bring them back to team building every few hours! No matter how you choose to weave team building into your event, employees will appreciate a break from "all business" in the schedule.
What are the costs for team building events?
Four factors that determine the cost for team building events are time, materials, shipping, and travel. According to The Leaders Institute, most team building activities can range from $35 to $75 per person, and there are plenty of free options for teams as well. But don't think of this as a cost—see it as an investment!
Team building activities might be charged per person or at a flat rate, so you'll have to coordinate with the company concerning the budget. But the benefits of team building will most likely outweigh the costs.
The costs you might run into as an event planner are timing and cohesiveness with the rest of the event. If you can successfully bring team building into a corporate event, employees will stay engaged throughout the event and can even start looking forward to the next one you plan.
23 Engaging Corporate Team Building Activities for Your Event
Picture this: you're planning your next corporate event, conference, or retreat. You want to include team building but know that you have a particular niche of an audience who might not want to participate in some activities. Well, we've got some solutions for you!
We've broken up these activities into four sections: activities for easy fun, activities to make people think, competitive activities, and activities to get people moving. You might not just stick with one team building activity throughout your event, so be sure to scroll through all of them and pick out your favorites!
Team Building Activities for Some Easy Fun
1. Daily Ice Breakers
Ice breakers are some of the easiest team building activities that you can incorporate into any workspace. As you plan a corporate event, especially one that is more than just one day, you can include an ice breaker at the beginning of each day or each session. These are quick and simple ways to prepare employees for a day of skill-building, meetings, and anything else you might plan for them during their event. Ice breakers can be as easy as giving employees a list of questions to ask each other or leading a three-minute stretch session!
2. Happy Hour
A happy hour can be a great option for the last session in a corporate event. You can plan the happy hour to be at the same venue as the event, and you can convert an adjacent room into a lounge area where employees can have a chance to relax, chat about what they've been learning, and get to know each other. Don't forget to bring the appetizers and drinks!
3. After Party
Much like a happy hour, an after party is an opportunity for employees to gather together and have fun! You can plan for your after party to be at a different location and bring in some excitement, fun, and games. Some ideas of entertainment you can bring in are carnival games, food vendors, live music, and door prizes to take home.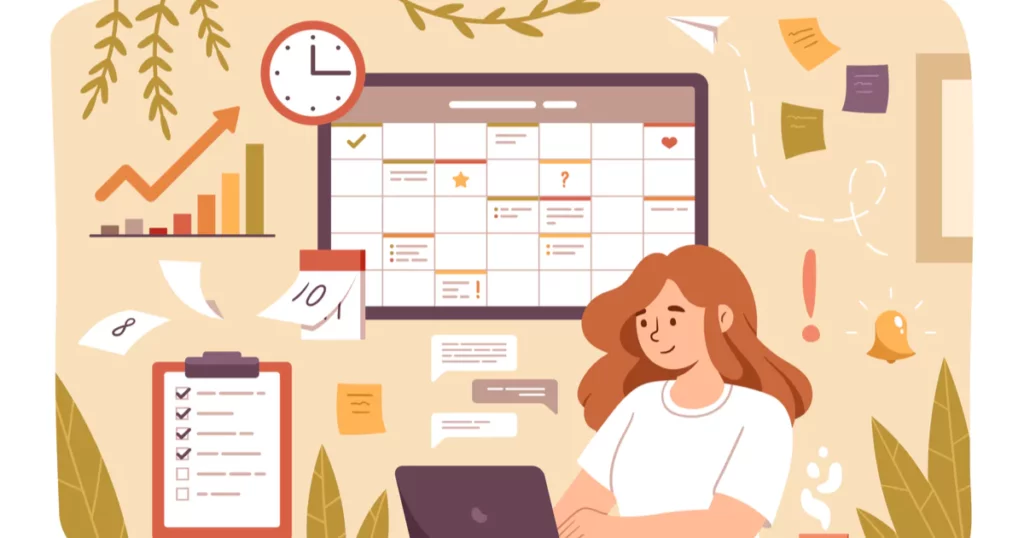 4. Art Class
Pull out attendees' creative side with an art class! You can hire an art instructor and provide the essentials, like canvases, paint, and paintbrushes. An art class gives people an opportunity to be creative, and for those who might not consider themselves artistic, it's a chance to think outside the box. There's no pressure to perform, but they'll learn something new and build unique memories with their coworkers.
5. Mindfulness Session
Mental health is moving to the forefront of people's minds more and more. What better way for a company to show employees that they care for them than by hosting a mindfulness session? Mindfulness is simply a way to meditate or be fully present in a particular moment and space, and it can really help reduce stress and anxiety. You can weave a mindfulness session into your event as a kind of ice breaker or a start to a session, or you can offer it as something attendees can join before a day begins.
6. Human Bingo
Bingo is a well-loved game by people of all ages, leaving facilitators with little to no need for explanation. Human bingo is a fun and interactive way you can play, and this is a great way for team members to know each other a little better! It requires cards with different traits or fun facts on them, such as "someone who is left-handed" or "someone who was born in another country." Attendees can go around from person to person trying to fill up their board. You can create the cards on a site like My Free Bingo Cards, and don't forget to include prizes for the winners!
Team Building Activities to Make Them Think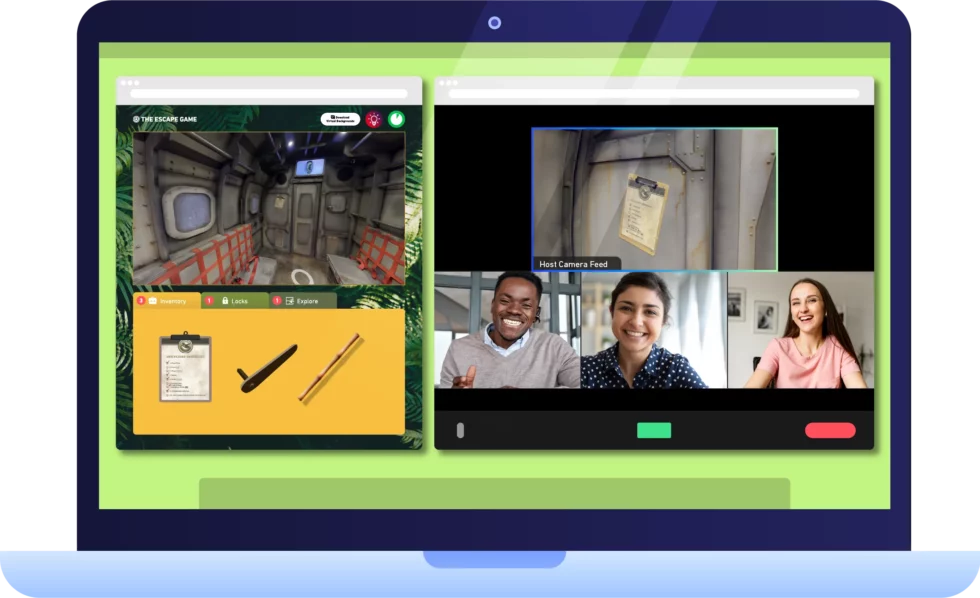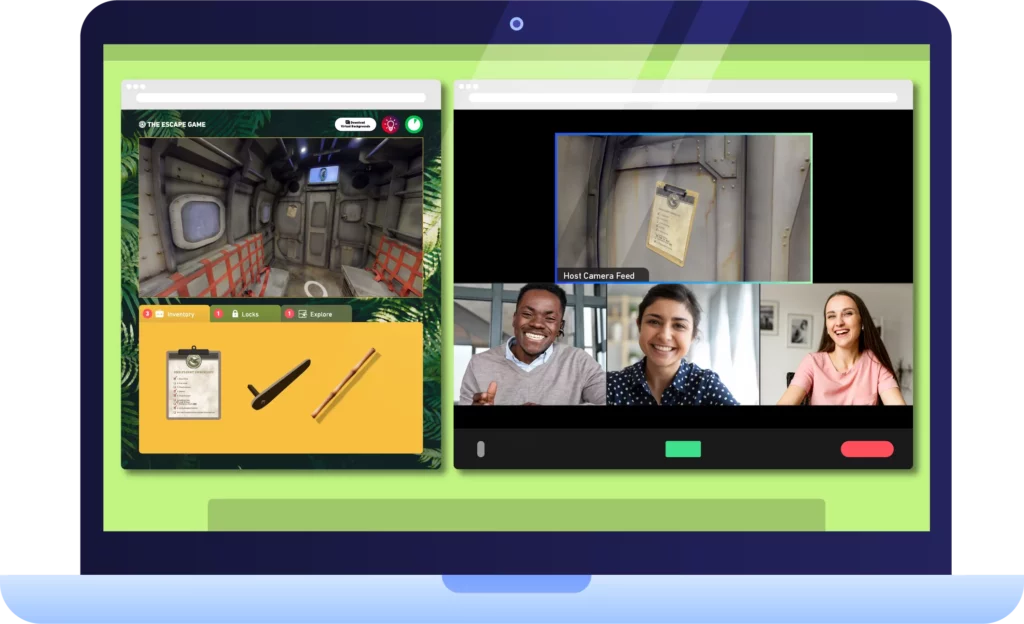 7. Escape Rooms
Escape rooms are super engaging activities that also require a bit of brainpower to complete. Luckily, the whole team can work together to solve puzzles, crack codes, and finish a mission in under 60 minutes. Escape rooms are immersive adventures and you can find six different themes virtually right here: virtual escape rooms. Your team will grow closer, practice working together, and make unforgettable memories as they pull off an escape.
8. Trivia Games
Everyone loves a good trivia game! Set aside part of a session—or even time in between sessions—for employees to grab a couple of teammates and test their knowledge. This would be a fun way to include fun facts about the company they represent, which can help increase employee engagement. For trivia to work well, make sure you prep a good moderator that the attendees are familiar with and give him or her leeway to have fun with it as well.
9. (Mock) TED Talk
TED Talks are known for giving unique perspectives, information, or experiences to an audience that can positively change the way they think. At your event, you can host a mock TED Talk where someone with particular expertise can help develop attendees' perspectives in their everyday work life. Depending on the speaker, employees can grow in a particular skill, can learn to think outside the box, or will learn how to work more efficiently. Plan for time (either an equal amount or a little less time) for attendees to gather in smaller groups after the talk to discuss what they learned and how they can implement it at work or in their lives. Find team building TED Talks here.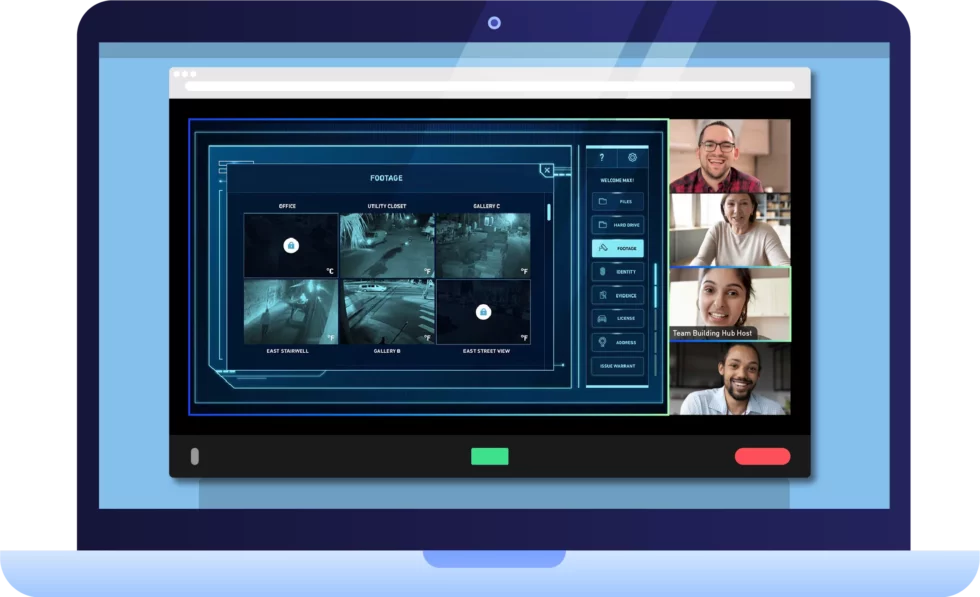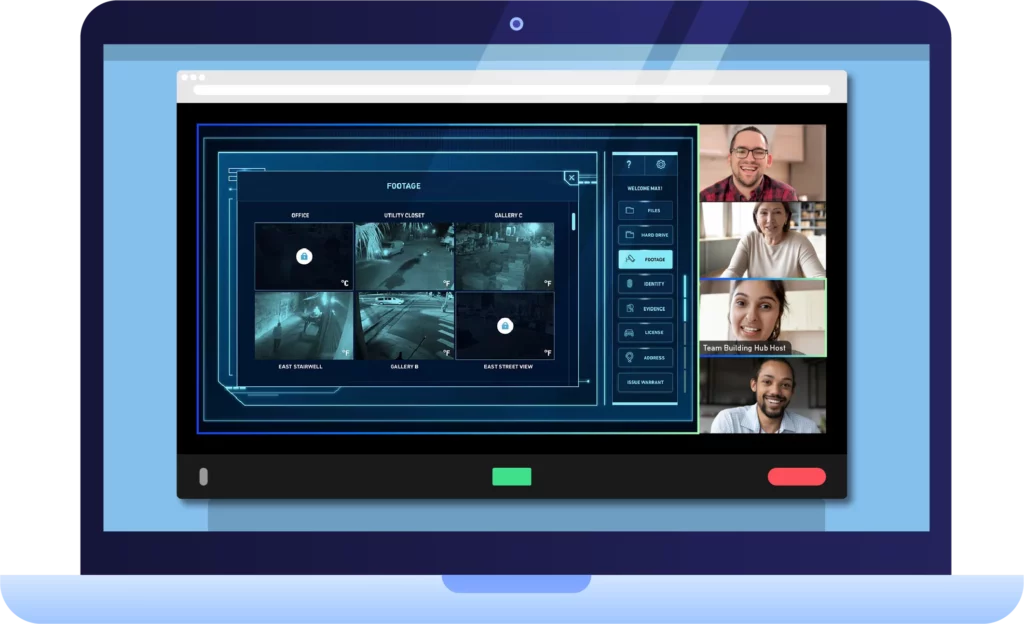 10. Mystery Games
Solving a mystery together is bound to get your team to putting their heads together. In this mystery game they'll need to sort through a set of clues, piece together evidence, and solve a crime before it's too late. This kind of activity is perfect to encourage teamwork because it's almost impossible to succeed without everyone working together!
11. Sales Pitch
Sales Pitch is a fun game to boost creativity! Give employees a box of objects, and one at a time, let them try to sell the item to their group. You can fill the box with simple yet random items like napkins, potting soil, or tennis balls, and allow each participant 30 seconds to prepare after they choose their item and 1 minute to give their entire sales pitch. At the end, the rest of their group decides whether or not it was a convincing sales pitch.
12. Family Feud
A company version of Family Feud is a great way to get people thinking, laughing, and teaming up to succeed. On TV, this game is most known as Steve Harvey laughing at ridiculous answers to the prompts, and you can expect the same amount of fun at your corporate event. This game can help break the ice between team members who might not know each other very well. You can generate your own questions for this game or find questions online.
13. Shark Tank
Shark Tank gives teams the chance to stretch their brains and pull out their entrepreneurial skills! Place people in small groups and give them ten to fifteen minutes to come up with an impressive product to win over the "investors." While they don't have to make a physical product, encourage them to draw out their invention to present. When it comes to the "investors," have a few people on the panel who can bring a variety of personalities to make the game fun. You can instruct them on how they should act—for instance, one could be incredibly kind, one could be really skeptical, and another could act extremely bored the entire time. The next great (and real!) product might even come out of this team building activity!
Team Building Activities with Competition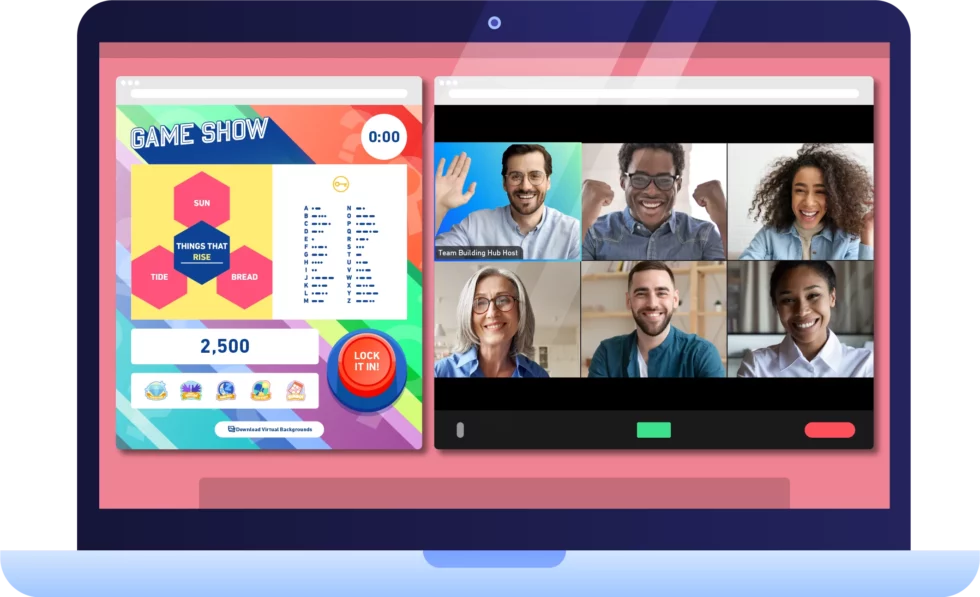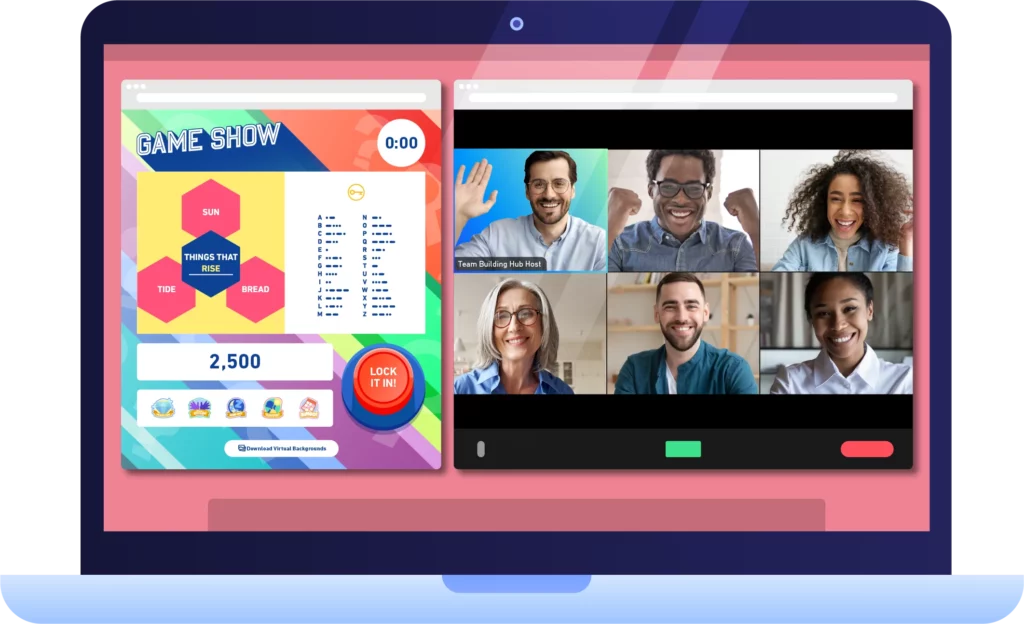 14. Online Game Show
Most people at one point or another have watched a game show on TV and thought, "Wow, that would be so fun to do!" Now you can bring that fun to your team as part of a bonding activity. In this online game show, your group splits into teams to compete for points, prizes, and the top spot on the leaderboard. Get ready for tons of laughter and collaboration in this one-of-a-kind activity.
15. Scavenger Hunt
Scavenger hunts are easy to put together, moderate, and help employees collaborate and communicate with one another. Plus they're tons of fun! You can plan for a scavenger hunt where teams have to gather items from around your event venue, or you can organize one where teams take photos of themselves doing certain tasks (for example, eating ice cream in a specific place, stopping to smell the flowers, a picture with their manager). Whether or not you give them a set time is up to you—this activity can be played in one session or you can spread it out throughout the event and reveal more clues as the event goes on!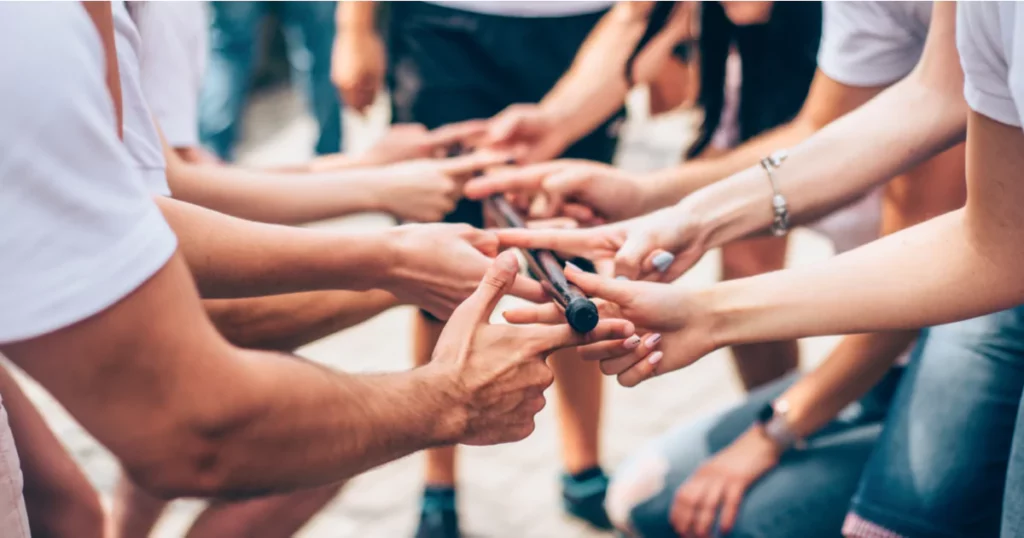 16. Board Game Tournament
Board games are easy ways to get people to participate in some team building fun! While the traditional, physical board game is always a great thing to have on hand, there are now some games you can play online or with the help of a TV. JackBox Games are a great purchase for team building in corporate events, or you can use the free service Kahoot! We suggest that you stick with simple games with minimal rules so that the maximum amount of people can participate, even if they've never played the game before.
17. Teammate Trivia
For this trivia game, employees will get clues about someone they work with and will guess which teammate the clue is about! Place them in teams or let them work individually if you're working with a small or tight-knit group. You can lean on managers for information about employees, but the easiest way to collect clues is by letting employees tell you a little-known fact about themselves. Online forms like Google Form or TypeForm can help you gather that information easily. Surveys can be sent out ahead of time to all attendees, but employees can easily fill them out on their phones if they forget before they arrive at the event.
18. Helium Stick
This game is strangely difficult even though it's incredibly simple. Divide the group into smaller teams and give each team a lightweight stick. Each team forms two rows and faces each other. Then, participants hold out both pointer fingers to balance the stick on, and starting at chest height, they have to work together to lower the stick to the ground. If at any point someone's finger stops touching the stick, the team has to start over! Usually, teams try to overcompensate how heavy the stick is, which actually makes them raise it higher!
Team Building Activities to Get Them Moving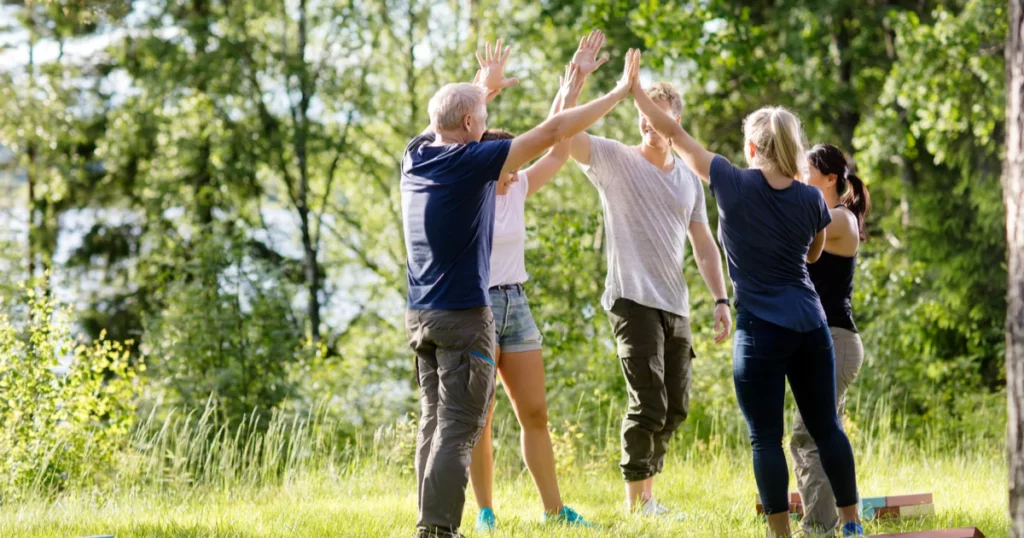 19. Field Day
For corporate events lasting more than a couple of days, you can plan for one of those days or half a day to be a field day! This is perfect for retreats or event spaces where there is an outdoor area to have fun. You can plan for games and fun activities like a potato sack race, a slip-and-slide, flag football, and more. Don't forget to prepare plenty of food and drinks too! A field day gives teammates the opportunity to have fun together, build relationally, and can relieve stress.
20. Cornhole Tournament
There are always a handful of people who get way too excited when they see cornhole boards! Cornhole is an easy game to play and doesn't require much athleticism. Players are put in teams of two, but when it gets down to playtime, bystanders usually cheer loudly for the team they're rooting for. In the official rules, cornhole boards are supposed to be placed 30 feet away from each other, but you can accommodate what space you have. Try to make it challenging, and offer a great prize for the winning team since there are only two of them!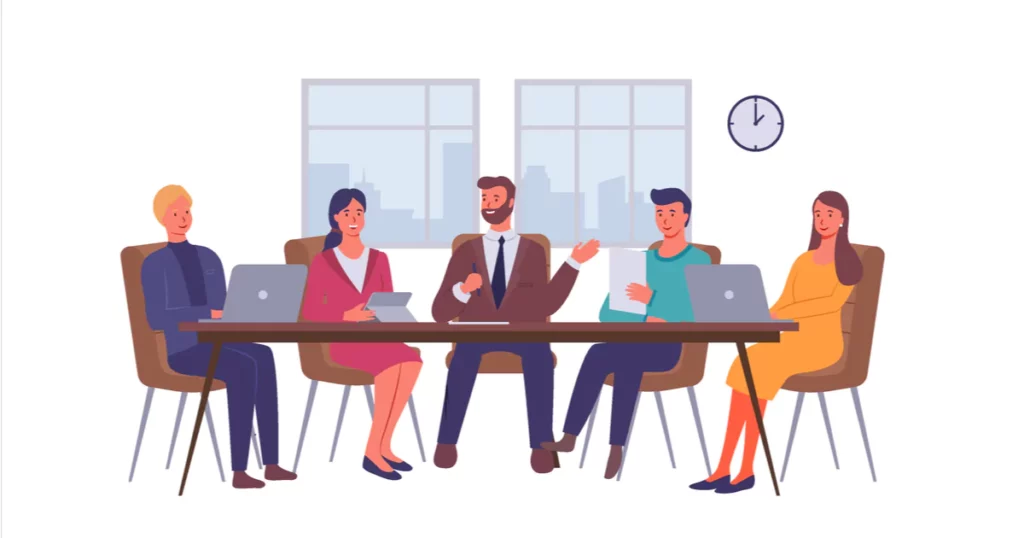 21. City Field Trip
A city field trip gives employees an opportunity to get to know each other while exploring a new or familiar city. You can book a tour with an outside company or take your group somewhere specific like a city festival that they can explore. Food tours are also a great option to get out and about a city and can even double as an extended after-party! Make sure you find out ahead of time if anyone has specific food allergies so you can make the appropriate accommodations.
22. Human Knot
The human knot game requires teams to grab hands at random and then untangle themselves from the knot that they've gotten themselves into. Depending on how many people are participating and how much of a challenge they're ready for, you can start with smaller groups of people as trial runs, then begin combining groups for more difficulty. This game is great for building communication, trust, problem solving, and for a lot of laughs!
23. The Numbers Game
This is a team building activity that helps with communication and decision making! Everyone is handed a piece of paper with a one-digit number. A moderator (with a microphone for larger rooms) yells out a multi-digit number, and participants must group together to make that number. Each time someone is able to join a group to make a larger number, they get one point. Play however many rounds you would like, and at the end of the game, the person with the most points wins!
Conclusion
Planning work events, conferences, or retreats is hard enough, but including team building activities throughout the event can help break up the regular-paced schedule of the event in a positive way. If employees can build skills in fun and exciting ways, they'll want to continue growing and will bring a positive culture to their work environment! As you start planning your next work event, add in those team building moments that can positively impact employees and the company!