A virtual office holiday party is a perfect opportunity to gather your team together for some winter-themed office fun and get everyone in the holiday spirit. It's also important to offer a chance to celebrate the successes of the year and reward each other for jobs well done!
Holiday parties are, for many companies, a tradition. But traditions can change with the times. With so many people working remotely now, it's imperative to take your holiday online and adapt it so that all employees – remote or not – can celebrate the holiday season together.
If this all sounds a bit new to you, don't worry! Below we cover everything you need, including virtual work holiday party ideas, to make your virtual work holiday party a memorable one.
Table of Contents
What Is A Virtual Holiday Party?
How To Host A Virtual Holiday Party
How To Make A Virtual Holiday Party Fun
Fun Virtual Holiday Party Games
What Is A Virtual Holiday Party?
A virtual holiday office party is just like an in-person party but you host it online using a video-teleconferencing platform. Company holiday parties usually take place around Christmas as it is one of the most widely celebrated holidays in America. Not only does the 'season of lights' lend a festive feeling to the air, but it's also during the last quarter of a work calendar. This is when people wrap up successful projects and vision cast for future exciting initiatives. Also, the date is close to New Year's Day when everyone has off! Plenty of reasons to celebrate!
Keep in mind that Christmas is technically a religious holiday. Your company may be diverse, with people who celebrate different seasonal religious holidays, like Hanukkah or Kwanza, or no religious holidays at all. Be conscious of this and consider hosting a "holiday-themed" party to be as inclusive as possible, especially because remote employees may already feel a bit left out already. Still, Christmas-y or not, the most important thing is to make it fun for everyone!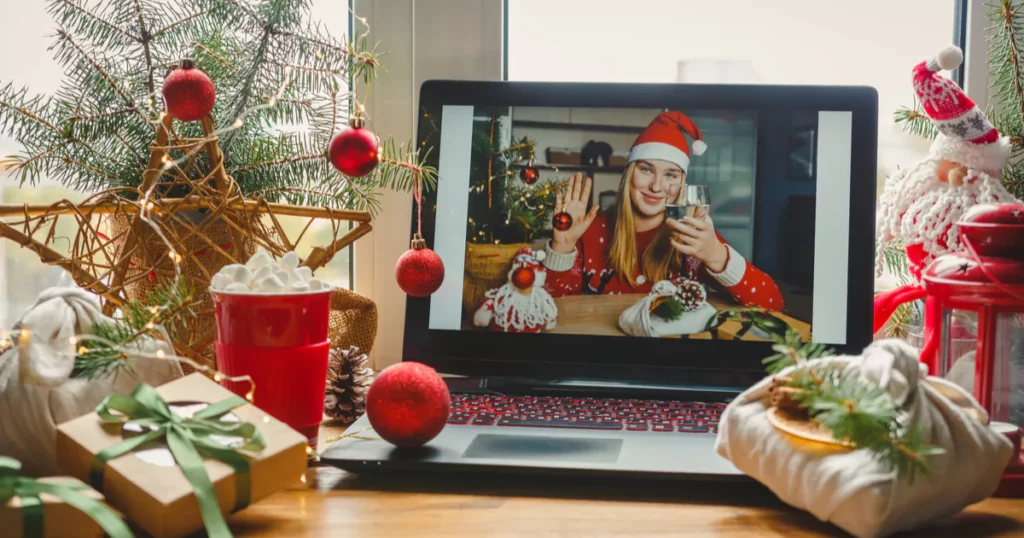 How To Host A Virtual Holiday Party
Since holiday parties happen yearly, you may already be familiar with the process of planning such an occasion. But there are some unfamiliar aspects too. Here are some of the best virtual holiday party ideas for you to use and make your holiday party planning a breeze!
1. Make A Guest List
First things first. Create your guest list. How large is your organization? Depending on size, you'll need to consider whether the party should be company-wide, departmental, or for a few teams that regularly interact with one another. Inviting employees' families and friends is another factor to consider.
If you have a budget and are considering buying gifts or sending party food packages to attendees, you should have an approximate headcount in advance. Importantly, having a rough idea of how many people to expect will help you choose activities suited to the group and a video-conferencing platform that can accommodate the number of guests
Here's a tip: if the guest list is massive, you may want to hire a virtual event planning company to take care of all the logistics so you can sit back and enjoy your Eggnog!
2. Pick A Date And Time
A good rule of thumb: don't plan your company's virtual holiday party for a date and time when employees aren't working. If your company closes for specific days around the holidays, pick a date a few days before those dates. You don't want the party to be held too far in advance of the start of company days off as it won't have that same festive feel in the air.
If you can, schedule the party for a date after any pressing project deadlines. That way no one feels distracted or that they shouldn't attend due to work obligations. Aim for a time during work hours and keep it within that timeframe. After work, people are extra busy around the holidays buying gifts, attending holiday parties, and spending time with family. While it may be next to impossible to find a date that's ideal for everyone, give it your best shot. Lastly, unless you want potentially disgruntled guests, do not make the party mandatory!
3. Select A Video-Conferencing Platform
Before picking a video-conferencing platform for your virtual work holiday party, consider which platform can accommodate the number of guests expected to attend and are the guests likely to be familiar with that platform. Some platforms to use are Zoom, Microsoft Teams, Google Hangouts, and Skype. If your company uses a certain platform, go with that one as more people will be comfortable with it already!
Zoom is especially good for parties as many games and activities can be held over Zoom. Zoom's free version can accommodate 49 screens on view at the same time. This will work great for a medium-sized party. The free version however only allows no more than 40 minutes per call. If your company pays for a Zoom plan already, you'll get more time for your virtual holiday party. Here's a guide on how to use Zoom.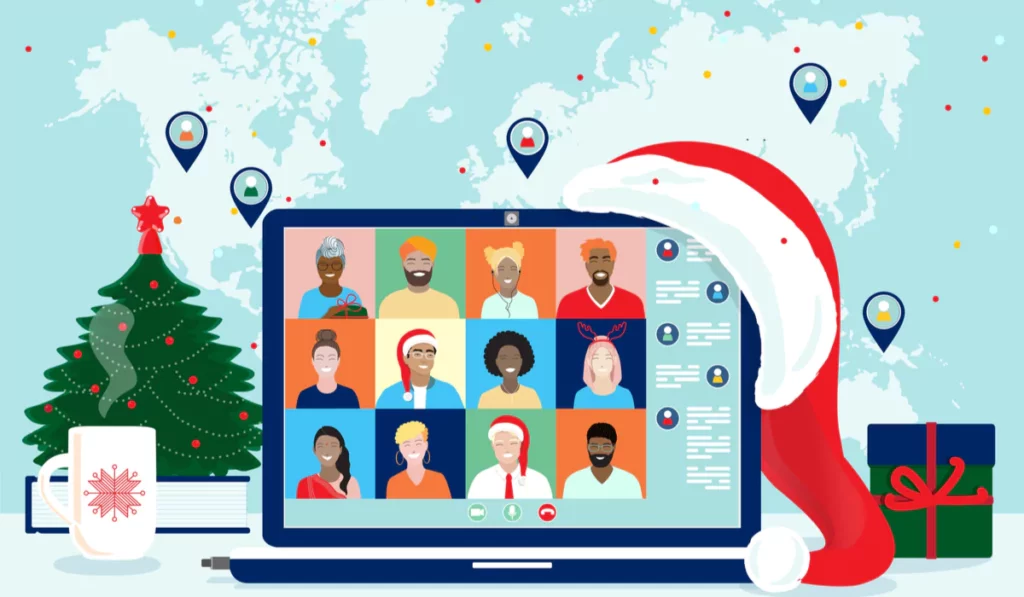 4. Send Invitations
You've made your guest list (and checked it twice!), the date is set and your virtual party has a name. You can finally invite everyone! You can always go with something simple like a G-Cal invite. But you can build anticipation by designing your own virtual holiday party invitation with digital invitation creators like Evite, PaperlessPost, and Punchbowl. All of them have holiday-themed templates and many of them are free. Here's an example from Paperless Post. Don't forget to include a video conference meeting link in your invite!
If your virtual holiday party will have a theme, indicate that in the invite. Will you hold an Ugly Holiday Sweater contest? Let everyone know in advance! To get everyone excited about the party, choose a catchy name. Rather than "Office Holiday Party (Virtual-style)", pick a name that matches the party theme or games you may play. Here are some virtual holiday party name ideas:
Swap 'Til You Drop 2022 (doing Secret Santa)
Santa's Ho-Ho-Hoedown (country-themed)
There Might Be No Christmas (playing an escape game)
There are dozens of awesome virtual holiday party themes to choose from and you can find some of the best ones below.
5. Consider Using A Background Photo Or Video
Give your virtual holiday party that extra something special by using holiday-themed virtual backgrounds! This is one of the best free virtual holiday party ideas. It's easy to replace an actual background with a virtual background with a photo or even a video.
There are so many great free virtual backgrounds available from Zoom, Unsplash, Shutterstock, Pixabay, Pexels, and other stock sites. You can even create your own with a platform like Canva! Pick one for all the guests or let them get creative and choose their own. Either way, it'll be a fun indication of how people like to decorate and celebrate the holidays, whether that be hanging tinsel or cheering on their favorite sports team.
6. Launch A Virtual Countdown Clock
Get the gang psyched for the party by starting a countdown! Time and Date lets you create your design and enter the date and time (down to the second!) in the template. They have a cute Christmas template ready to go. However, you can customize the background and the font as well if you'd like!
How To Make A Virtual Holiday Party Fun
Gifts And Goodie Bags
One virtual company holiday party idea is to send company holiday gifts to your employees and set aside time during your virtual holiday party for everyone to open them together! Make sure to send the gifts in advance. Try to pick a holiday gift that most people will like. Here are some safe bets:
Succulent plants in a box with words of appreciation.
Tech gear like smartphone battery packs, nice earbuds, laptop cases, or a fancy mouse.
Wine by the bottle or a one-year wine subscription.
Stainless steel coffee tumblers or water bottles.
Spa kits and wellness packages.
Though it's not as fun, sending online gift cards for popular stores guarantees that everyone gets exactly what they want and on time. Add a personal touch if you purchase actual gift cards and send them in the mail with a handwritten note.
Food baskets are a standard holiday gift, but there are some with unique treats one may not expect, like a holiday-themed dessert basket from Milk Bar! They offer several options featuring their famous and unusually flavored sweets like Compost Cookies, Cornflake Chocolate Chip Marshmallow Cookies, and Confetti Cookies.
For traditional holiday season food baskets, go with tried-and-true Harry and David. Etsy also has a wide assortment to choose from. Stonewall Kitchen makes incredibly delicious food baskets! Their Maine Morning Batter Bowl Gift comes with a pancake mix, Maine maple Syrup, Wild Maine Blueberry Jam, and a holiday-themed bowl and whisk. This is wonderful comfort food for the day after your wild virtual holiday party!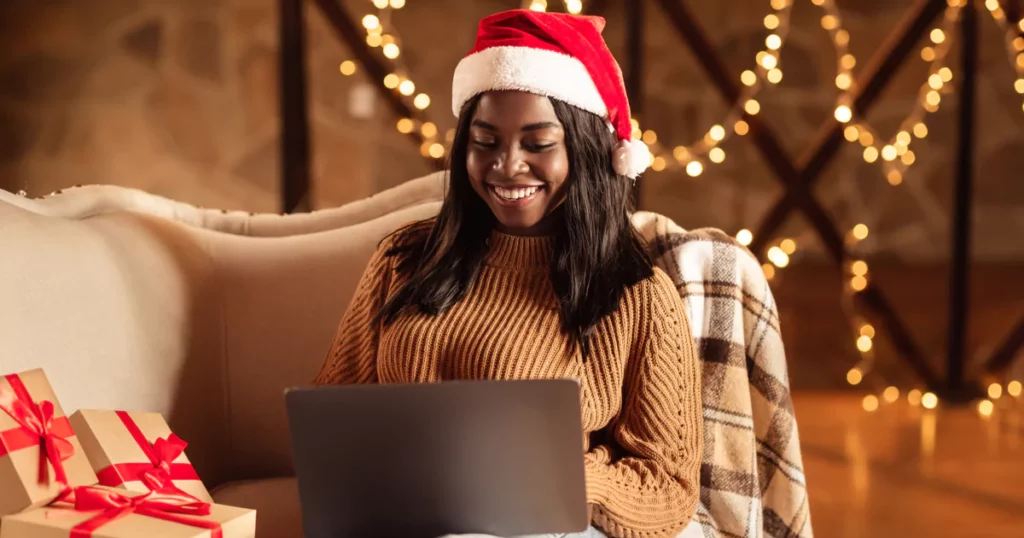 Holiday Party Themes
Spice up your virtual holiday party by adding a theme. These can be simple, like wearing seasonal clothes – think Santa hats or making classic holiday cocktails. Whatever the theme you are sure to find a virtual background to match!
1. Cookie Decorating Party
For many, decorating cookies is a Christmas tradition. Why not use it as an excuse to bond with co-workers and eat a delicious treat? If you're feeling ambitious, you can have the team make colored frosting and cookies from scratch. Otherwise, you can have people use pre-made cookie and frosting options and just focus on the decorating aspect of the activity. Either way, it will be delicious!
2. Holiday Costumes
Have your colleagues don some seasonal outfits to make your party more jolly and bright! Imagine everyone's computer screen filled with dozens of Santas, elves, reindeer, and gingerbread people. Maybe you'll even get a grinch or two!
3. A Merry, Very White Christmas
This party theme is the complete opposite of a holiday costume party! Choose a white-themed virtual background like a peaceful wintery scene with snowmen. Ask everyone to wear white and drink white cocktails or beverages (White Russians, Eggnog, Pina Coladas, even milk!). It might be a bit much to ask for all the food to be white too, but just eating sugar cookies will do the trick!
4. Cozy Drinks and Christmas Music
It doesn't get more traditional than sipping classic hot holiday drinks while listening to Christmas tunes. As part of your party invitation, ask team members to make a cozy drink to sip on during the event! You can also share some recipes with the team from Pinterest for themed hot drinks, like peppermint mochas or mulled apple cider. If you'd like to make things easier for the team, send a hot chocolate gift package like one of these from Amazon. Another option is to send them a gift card to Starbucks or a local coffee shop.
Playing the right kind of music also helps people get in the holiday spirit! You can find curated holiday playlists on almost every streaming service or Youtube. However, to make the music more personal, ask people to submit their favorite songs ahead of time to make a playlist that the whole group is guaranteed to enjoy.
5. Holiday Happy Hour With Sourced Cocktails
Depending on your location and team dynamic, you can take advantage of Sourced Cocktail's Virtual Happy Hour Program. First, set up a meeting with one of their mixologists. Then, let them know what your team is interested in. Afterward, they'll package up everything you need to craft the perfect cocktail! For an extra special touch, invite guests to dress up in some swanky outfits and pick out a virtual background to match!
Don't forget to make sure that all your party guests are comfortable drinking alcohol. If there's someone who doesn't drink, you can ask them if they'd be comfortable with a "mock-tail" option instead! On the day of your virtual holiday party, your personal sourced mixologist will meet you on Zoom to teach everyone how to make their cocktail while playing some fun virtual trivia games!
6. Decorating Party
The holidays are a time of year that brings everyone at work together, be it by decorating the office, passing out holiday cards, or bringing in yummy treats! Missing out on nice moments shared with colleagues is a real downer. To bring a little taste of what everyone is missing, have a mini holiday decorating party together. Ask everyone to pick a room in their home to decorate or let them decorate their work-from-home desk if they'd prefer. Alternatively, you can send out packages with everything they need to decorate something else, like stockings!
7. Share Christmas Gifts
It's better to give than to receive right? An easy activity that requires zero planning is asking everyone to share one thing they got someone else for Christmas! An activity like this is great if you'd like your virtual holiday party to have opportunities for people to bond and chat about the holidays while they also work on another activity, like wreath decorating or ornament painting.
8. Wreath-Making Party
Taking a wreath-making class is great for crafty teams or those who prefer non-competitive opportunities to spend time together. It also gives teammates a unique gift to put on their door once the party is over! To extend the festivities, people can share a pic of their wreaths on their front doors.
There are numerous virtual wreath-making classes to choose from that utilize different materials, so you can take your pick on which type might best suit your team. You can also just compile and send out decorating materials if you'd prefer to not take an entire class dedicated to the activity. To keep the conversation moving, ask guests to share their holiday traditions!
9. Ornament Painting
A hand-painted ornament is a timeless keepsake that team members can treasure forever. You can purchase plain ornaments and painting kits online and send those to the group. Then let your team get creative! Afterward, have everyone show off their ornaments and explain what they painted.
10. Holiday Movie Night
First, email out a survey of popular holiday movies that are currently streaming and ask everyone to vote for their favorite one. Then, use the app WatchParty to stream the movie to everyone's computers, so no one has to worry about scrambling to find the video or syncing up with each other!
If you'd like to make your movie night a little bit more of a social event, have a cocktail hour before and/or after the movie. Everyone can share their other favorite movies and discuss their favorite parts, snack on holiday cookies and beverages, and settle in for a cozy night. Encourage everyone to bring their families to the show!
11. Share Your Christmas Trees
A quick little activity the team can do is share Christmas trees with one another. You can turn it into a game by having team members anonymously submit pictures of their trees and then try to guess which tree belongs to who!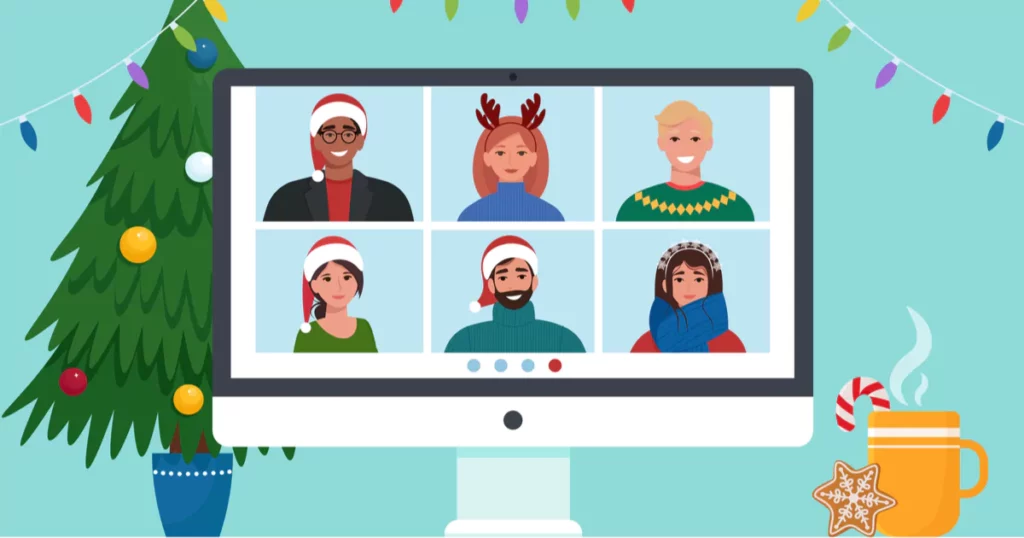 12. Secret Santa
Would a holiday party really be a holiday party without some good, old-fashioned Secret Santa gift exchange? This year, you can give Secret Santa a techie twist by using Elfster to determine who has who. Then, ask everyone to anonymously send their gift ahead of time.
If someone wants to send a virtual gift, we suggest creating a "fake" email account to send it from so they don't give the secret away. People can also send their virtual gifts through a designated moderator! We recommend setting a price limit for gifts so everyone stays within the same range.
13. Paint By Numbers
Painting By the Numbers may seem like a childish activity. However, your team can create some pretty epic paintings with the help of a holiday-themed kit! With this "Santa Gifts" option, each team member receives a canvas, paint, brushes, a reference photo, hanger clips, and an instruction guide! Depending on how well they can paint within the lines, this is the kind of virtual holiday party activity your team will be able to keep for years to come!
14. Zoom Photo Booth
When the virtual holiday party is over, don't forget to take a picture and commemorate the event! Have team members use a fun, holiday-themed background, flash their brightest smiles, and take a screenshot of the whole group! You can also email the photo to everyone later as part of a company Christmas card.
15. Wine Tasting
For a classy virtual holiday party, try an online wine tasting. Companies like In Good Taste can help plan an entire wine tasting event and ship out all the different bottles and materials to team members! Some other wine tasting kits are Wine.com, Priority Wine Pass, Wine with Chas, and Chandon. Choose a wine-related virtual background for authenticity!
---
Get Your Free Game
The 3-Minute Non-Cringey Ice Breaker for Your Next Meeting
A ready-set-go game to run at your next fully remote or hybrid meeting without the hassle or added pressure of developing a team-building exercise yourself. Get it here →
---
16. Holiday Ice Breaker Questions
Depending on what kind of virtual holiday party you're throwing and the activities you choose, there will be ample time to ask the team Christmas ice breaker questions! These are great to avoid awkward pauses, keeping the conversation flowing, and helping team members bond.
Fun Virtual Holiday Party Games
Here are 11 great games for your virtual holiday party! Since almost any virtual game can be adapted for any occasion, there are lots of other fun virtual holiday party ideas for work. See our articles about Going Away Parties, Awards Ceremonies, and Retirement Parties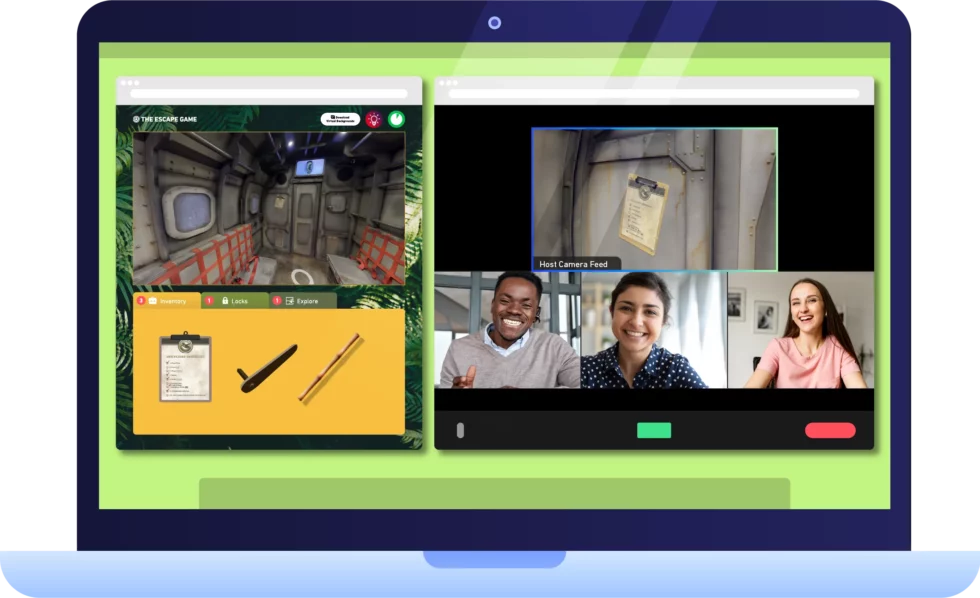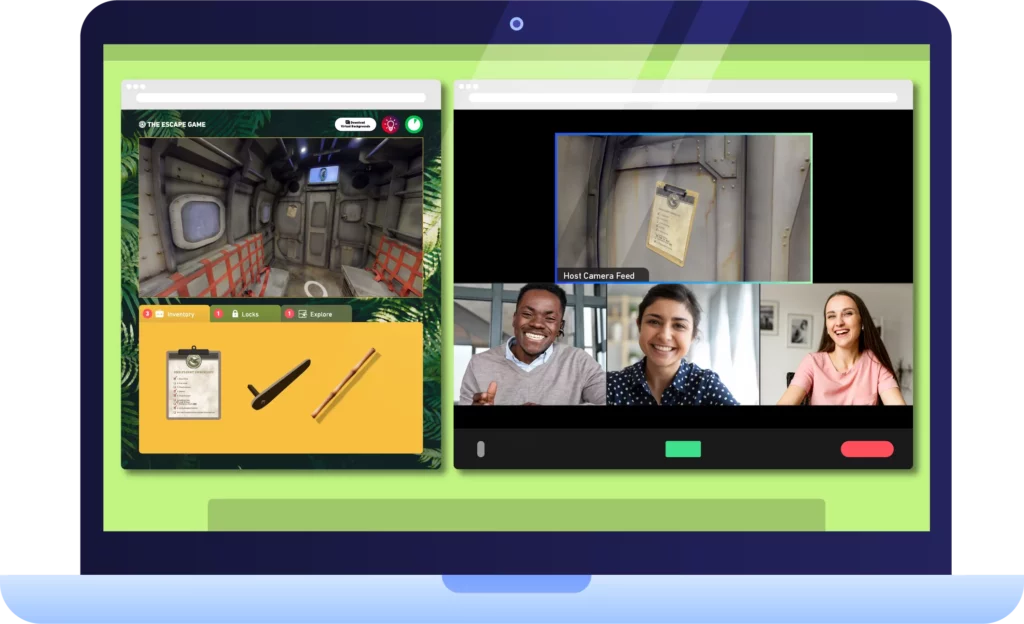 1. Virtual Escape Room
If you're looking to throw a holiday-neutral party, playing a virtual escape room is a must! Your team will have 60 minutes to escape an immersive adventure while collaborating quickly together. Everyone will have a blast putting their skills to the test solving puzzles, finding clues, and completing the mission before it's too late!
Games like this are great for strengthening team bonds, which could be especially important to keep your remote or hybrid team connected as people take time off for the holidays. Find a list of virtual escape room options here.
2. Holiday Game Show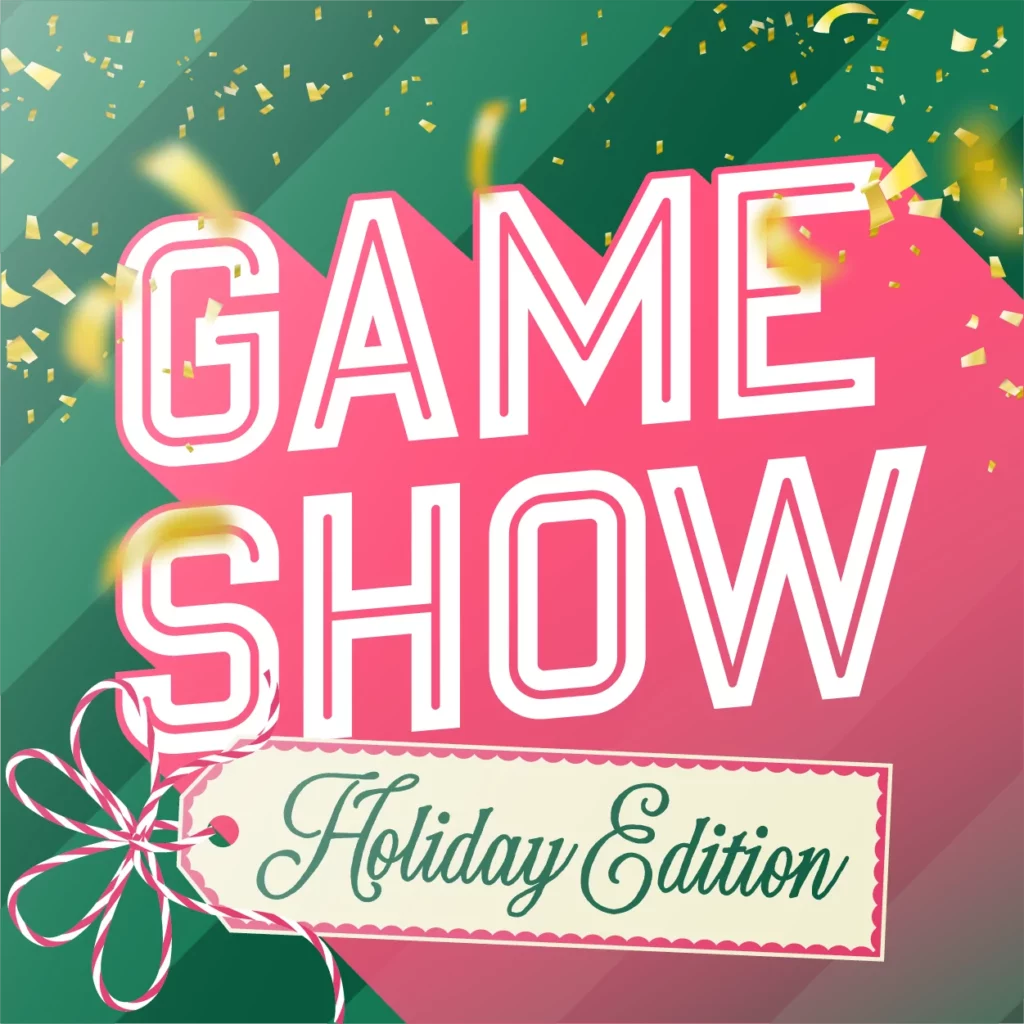 For an event filled with word games, brainteasers, and endless laughter, playing a holiday-themed game show is the way to go! Our Holiday Game Show will have your team both scratching their heads and holding their bellies as they work together to rack up points and earn prizes trying to be top-scoring on the leaderboard.
3. Cookie Bake-Off
Who doesn't love having their home filled with the delicious scent of freshly baked cookies? The holidays are the perfect time to get everyone together for a no-competition "bake-off!"
Before your holiday party, send out an email with an easy recipe that doesn't require any expensive or difficult-to-find ingredients. Snicker-doodles or chocolate chip cookies are always great options! While the cookies are baking, your group can go around, and share stories about your holiday traditions as children or talk about what you all love most about this time of year.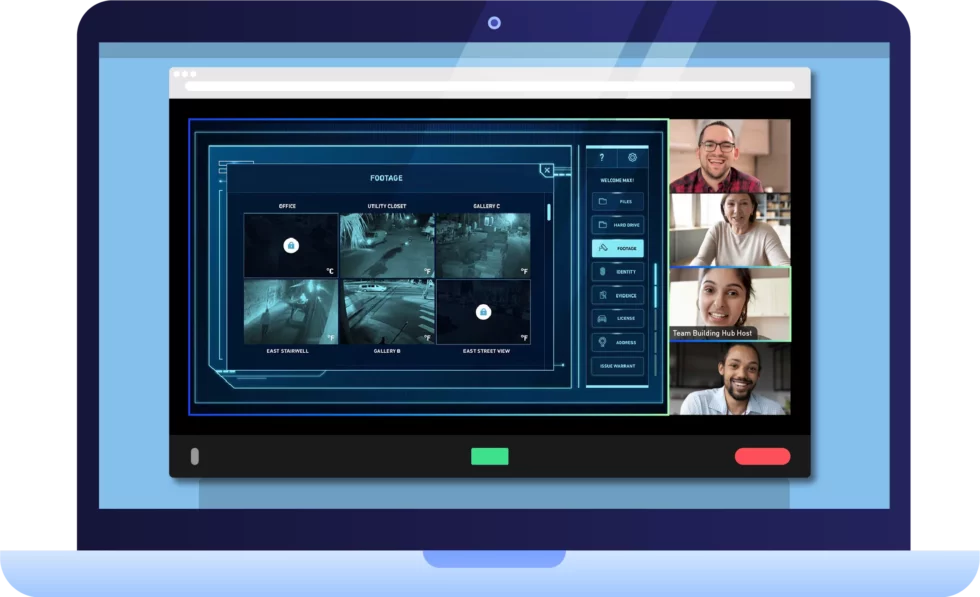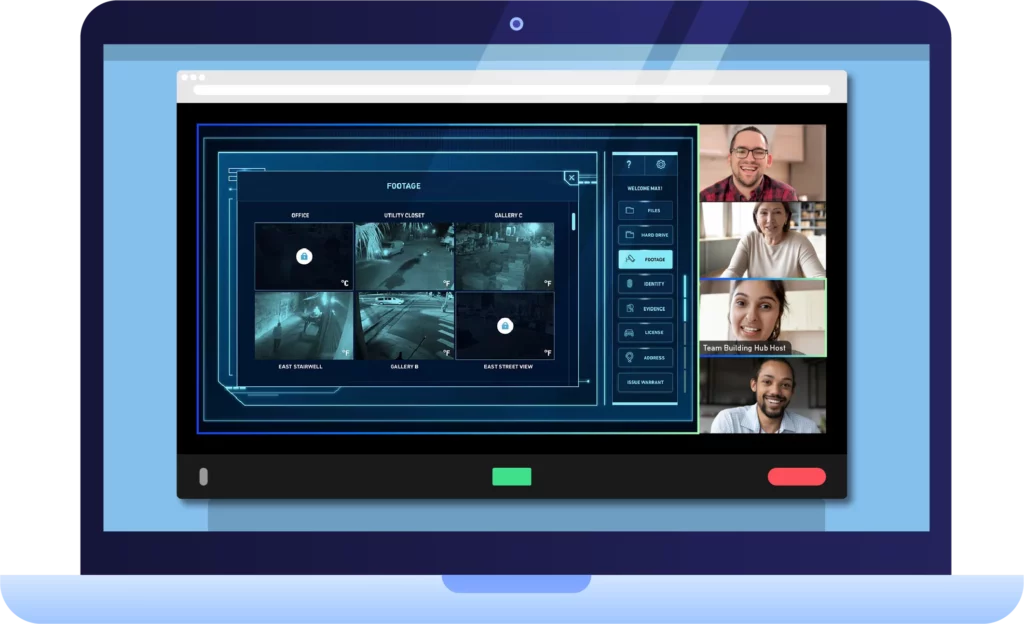 4. Mystery Games
While it may not be a traditional Christmas activity, an online mystery game is a great way to team build during the holidays! Mystery games challenge your team to solve a crime in under 60 minutes! They'll have to search the internet for clues, solve puzzles, and piece together the evidence to win!
5. Holiday Charades
Charades is a classic year-round, but it can be especially fun as a virtual holiday party game! Whether you play in teams or every man for himself, this activity is sure to get the whole team laughing. You can find charade prompts online, but here are a few to get you started!
Building a snowman
Rudolph leading Santa's sleigh
Building a gingerbread house
Opening a present
6. Name That Holiday Tune
Name That Tune, is an easy and fun alternative to karaoke if your team loves music but isn't keen to sing in front of each other. To play Name That Tune, have one person serve as DJ on the party's video call. Then, have them play the first few seconds of a popular holiday song. The first person to type the correct name of that song wins! Your fingers will have to fly if you want to score those points!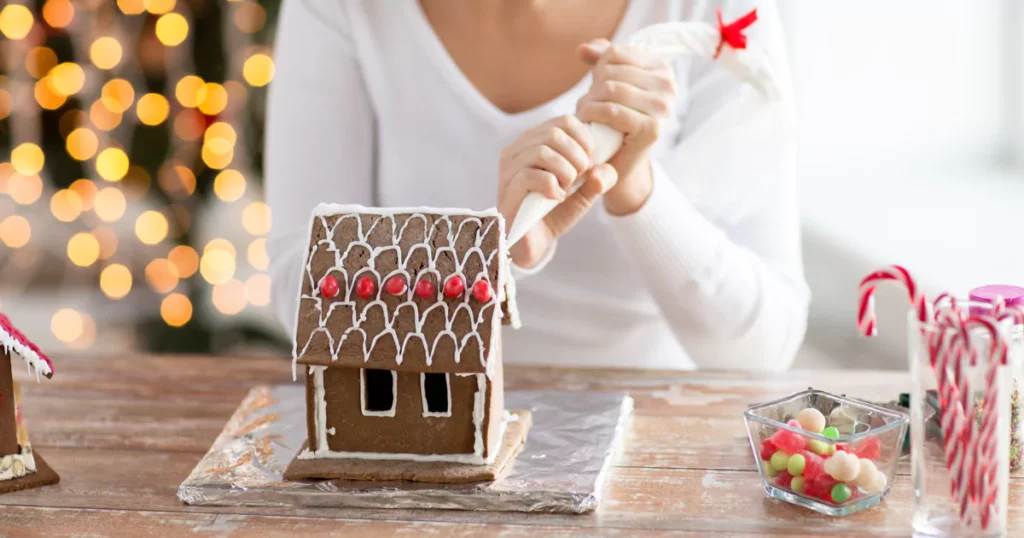 7. Gingerbread Decorating Contest
Head over to Amazon and grab everyone on your team a gingerbread house kit like this one. Send it to each team member a few days before the holiday party and let them know they've been selected to join the biggest gingerbread house decorating contest your office has ever seen! Set up a nice prize for the winner (perhaps a gift card or the opportunity to choose the theme of the next virtual office party) and tell everyone they have 30-minutes to create the most epic gingerbread house possible!
8. Virtual Murder Mystery Party
Winter holidays aren't usually the time people think about murder mystery parties. However, it can be a really fun and unique game to play together. You can play Night of Mystery's Ho-Ho-Homicide and find other virtual murder mystery party options here.
9. Who's Most Likely To…?
Who's Most Likely To is a great game for teams who already know each other pretty well. To play, you give out prompts like "Who's most likely to still be logged on to work at midnight?" and then the group picks the person they feel is most likely to do that thing. Easy! Here are a few holiday prompts for you to use at your virtual holiday party!
Most likely to…
win in a snowball fight
go all out with their Christmas decor
put off buying gifts until Christmas Eve
know all the names of Santa's reindeer
think their ugly Christmas sweater is actually pretty cute
start listening to holiday music in October
leave their tree up until February
know all of the gifts in "The Twelve Days of Christmas" song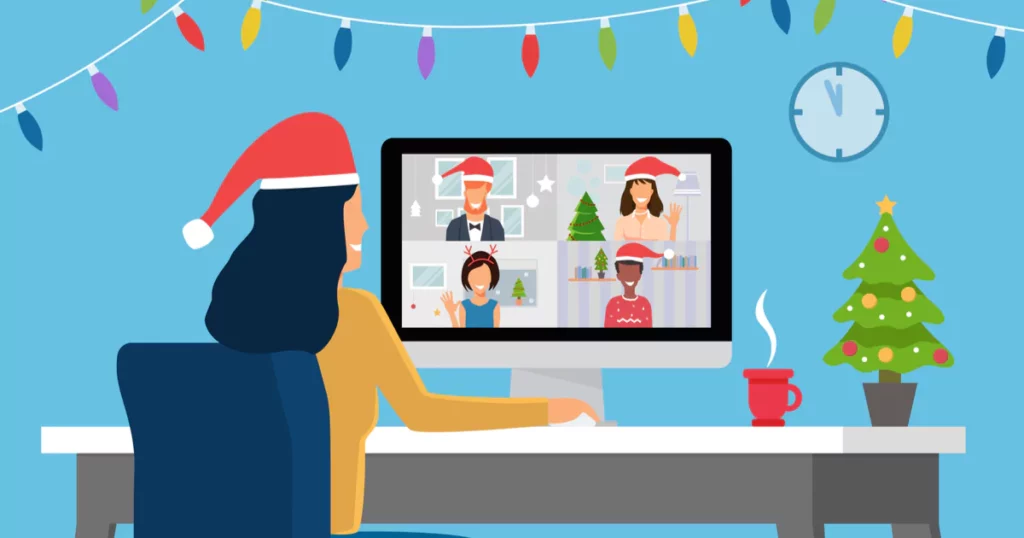 10. Holiday Pictionary
Holiday Pictionary works just like regular Pictionary only the team will be trying to guess Christmas-themed things! While the game may be easier if people are excellent artists, it's much more fun if they're not! You can split up into teams if you'd like the game to be competitive or just have everyone laugh together trying to guess what in the world co-workers are drawing. Find holiday Pictionary prompts here.
11. Christmas Scavenger Hunt
A Zoom scavenger hunt is not only a virtual team building opportunity but also an excuse for the team to take a break from sitting down! For a virtual scavenger hunt, give team members a list of items and challenge them to find them around their homes. The list can include things like a handmade ornament, Elf on the Shelf, or a stocking. You can also make it a race to see who can find all the list items first!
Virtual Holiday Party Frequently Asked Questions
What Is A Virtual Christmas Party Over Zoom?
A virtual Christmas party over Zoom is an alternative to an in-person holiday party, typically for a work team. Companies can host them to celebrate the holidays together, facilitate a virtual team building event, and engage a remote or hybrid team.
What Are The Benefits Of Hosting A Virtual Holiday Party?
Hosting a virtual holiday party benefits your team by helping them bond, breaking the monotony of Zoom meetings, and encouraging deeper connections and better communication.
How Can You Make A Virtual Holiday Party Fun?
You can make a virtual holiday party fun by playing fun games and planning engaging activities. You can also ask team members beforehand via survey what kinds of things they would like to do for a virtual holiday party!
Share Happy Holidays Together
No matter where your team is in the world or how they celebrate the holidays, hosting a virtual holiday party is the perfect way to bring everyone together. Find more virtual team building activities here.