A virtual murder mystery party is a festive way to celebrate October's spooky season with friends or co-workers. Whether you love theme parties, true crime, or just want a unique virtual team building activity, an online murder mystery party is a fantastic choice year-round!
There are many options to choose from so we've narrowed down the list for you. Here are eight top choices for an epic experience!
---
Top 8 Online Murder Mystery Parties
1. Ghost Ship Murder Mysteries
Ghost Ship Murder Mysteries offers an engaging virtual activity played in a "virtual" room, the next best thing to being together in person.
There is no shortage of themes to choose from like Murder in the West Wing, Mafia, Superheroes, Space Smugglers, and more!
Team members are assigned to play specific characters (including the murderer 👀 ) . and search through virtual rooms for clues about the killer!
Players can even walk around the virtual room and talk to other players privately – perhaps to scheme together to solve the mystery before others do!
Ghost Ship Murder Mysteries are best suited for smaller groups since their games accommodate 6-12 guests. A Ghost Ship representative runs the game for you so everyone can focus on solving the mystery!
---
2. When The Clock Strikes Murder
Virtual Murder Mystery parties aren't just for Halloween. If you are looking for a thrilling evening with twists and turns, check out When the Clock Strikes Murder by My Murder Mystery.
In the game, a mysterious business called Crime Alive hosts a midnight gala. Everyone arrives expecting to have a good time, but when the clock strikes midnight, it's clear that Crime Alive has something much darker in mind!
My Murder Mystery has several more virtual mystery games like The Manhattan Murders, Murder at the Red Rose Masquerade, and Foul Play in the French Quarter.
New themes are released monthly so the fun never has to end!
---
3. Hosted Murder Mystery Party
The Murder Mystery Co. makes for a Zoom murder mystery party your team is dying to attend!
Detective Ness (played by a professional actor) leads your team to decipher his clues and work together to solve the crime. Since a professional actor hosts the party and facilitates the game, no one on your team is left out from testing their detective skills!
During the party, there are breakout rooms within the Zoom call so team members can meet privately to discuss how best to solve the murder.
The Murder Mystery Co. encourages your team to dress up for the party and provides suggestions for costumes for each character in the game. If your whole group comes in costume, the host can give out a prize for the best costume of the night!
---
4. Black Noir Murder Escape
In Black Noir Murder Escape, your entire team will travel back in time together to solve a murder in gangster-era New York City. It all begins when a mysterious letter finds its way into your hands.
The letter leads your team through a series of crime scenes, puzzles, and suspects. Once you have all the information needed, your team must move quickly before the killer strikes again!
---
Get Your Free Game
The 3-Minute Non-Cringey Ice Breaker for Your Next Meeting
A ready-set-go game to run at your next fully remote or hybrid meeting without the hassle or added pressure of developing a team-building exercise yourself. Get it here →
---
5. Ho-Ho-Homicide
Virtual murder mystery parties are not just for the spooky season! Play a holiday-themed game that is both merry and scary with Night of Mystery's Ho-Ho-Homicide.
It's Christmas and at the North Pole, normally bustling with energy, productivity is down. The situation is so dire that not only is Santa's legacy at stake but so is his life!
With a large crew consisting of elves, reindeer, and even Mrs. Claus, anyone could be the culprit. Your team is tasked with uncovering who is plotting to murder Santa!
Make Christmas extra jolly by stopping a crazed would-be killer!
---
6. A Bad Vintage
A Bad Vintage by Red Herring Games places your party at the Grand Cru vineyards in the Loire Valley in France.
The charismatic owners regularly host wine tastings that go off without a hitch. But tonight, one of the owners is found dead in a barrel of wine. It's your team's job to figure out who the killer is!
Why not make the party more authentic by having your team members bring a glass of wine (or grape juice) and be prepared to toast when you solve the mystery!
---
7. Murder Mystery Kit
Guilty Games offers a vast array of murder mysteries, from Decade-based themes, historical mysteries, and diner party mysteries.
With games like 1920s Flapper Murder Mystery, Slaying at the Salem Witch Trials Murder Mystery, and Zombie Apocalypse Murder Mystery, there is a game for every type of team!
All the materials you need for your game (virtual host guide, character packets, intro, autopsy, and confession) are sent as a digital package ahead of time. This is ideal if your group doesn't have a person on your team who can facilitate the event!
---
8. Totally Rad '80s Prom Gone Bad
With Night of Mystery's Totally Rad '80s Prom Gone Bad, guests can attend a classic '80s prom with a chilling twist.
There are tons of perfectly cliché cast members to play, like the preppy prom queen, sporty jock, mouthy rebel, or nerdy mathlete.
Take the event to the next level by having everyone dress up in vintage-appropriate outfits! And don't forget to play some '80s jams!
Bonus option: Online Mystery Game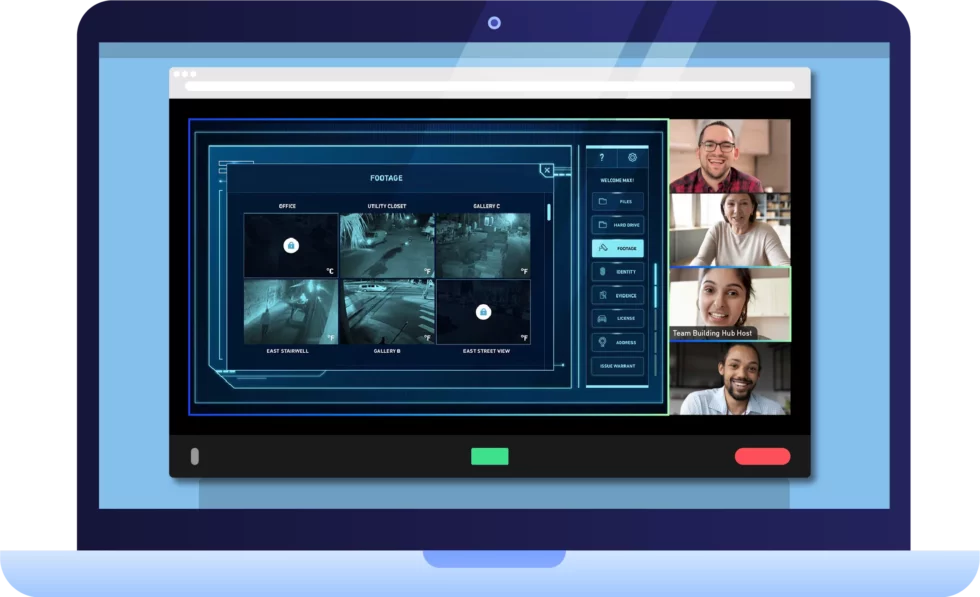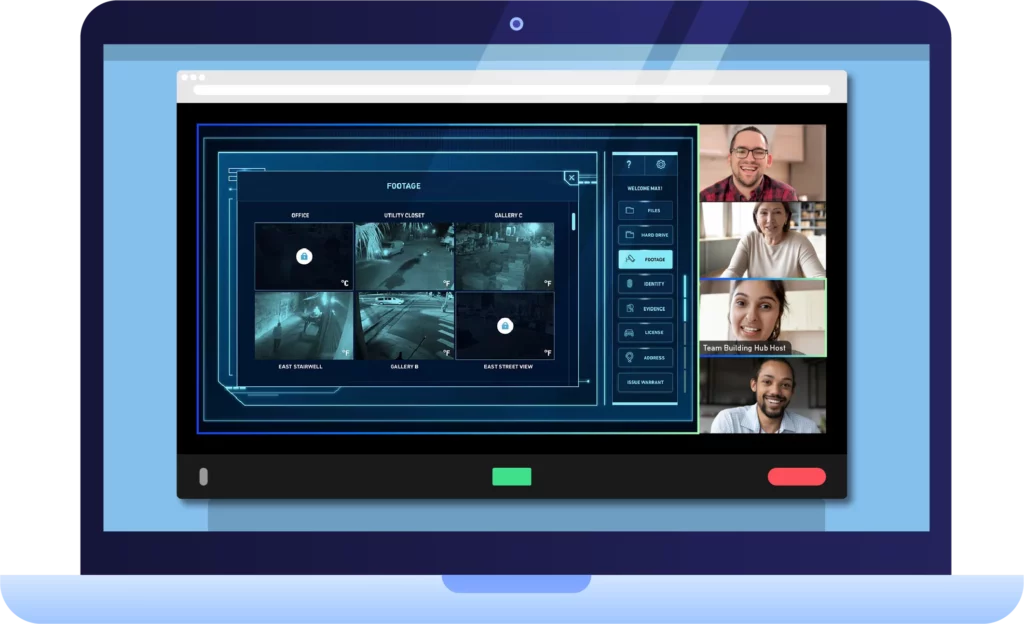 Looking for some more detective work, sans the murder mystery aspect? Try an online mystery game from Team Building Hub! In these digital adventures, teams compete to solve an art crime and bring an international thief to justice! They'll have to track down clues, decipher codes, and piece together the evidence in order to win!
---
Why A Virtual Murder Mystery Party?
Virtual murder mystery games are more than just fun! Check out these benefits:
Team building – If you're playing a virtual murder mystery party with your work team, everyone will benefit from using creative thinking, communication, and problem-solving skills. Studies show that team building exercises are essential for a team's success.
Camaraderie – Not only do these games give your team a chance to get together and do something a little different, but it's also an opportunity for them to learn some new things about each other!
Collaboration – It will take everyone working together to figure out how to solve the mystery. As a result, your team's ability to collaborate will become stronger.
Creativity – As players in interactive online murder mystery games must often act as a character, perhaps in a different era or location, your team members' creative juices will flow!
Safety – When you play interactive murder mystery games online, your team members don't need an in-person gathering. Playing over Zoom or another video conferencing platform allows for social distancing without sacrificing fun!
Good times – The enjoyment from playing a virtual murder mystery game will last forever in your memories and the screenshots you take!
Once your team has become an expert crime-busting unit, you can try out an online mystery game from Team Building Hub!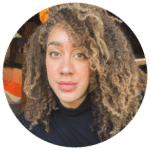 Anecia is a Nashville-based writer who believes in the power of team building. She writes a variety of content focused on creative corporate team building ideas, to help teams become more dynamic, unified, and successful.