You may have noticed recently that your team looks a bit listless. Co-workers aren't too enthusiastic about coming to work and there's not much communication between team members. But what can you do about it? Try taking your team out in Nashville for some fun team building activities!
Some team activities are designed to improve soft work skills like problem-solving, communication, and collaboration. Other activities are more of a recreational nature that allows employees to relax and get to know one another in a casual environment.
With so many options in Nashville, we've narrowed down the choices so you can stop searching and start building! Here are 23 team building activities you can enjoy in and around Nashville!
23 Awesome Nashville Team Building Activities
1. Play An Epic Escape Room Adventure
One of the most exciting, engaging team building activities is to play an escape room at The Escape Game Nashville. Your team will be having so much fun that they won't realize they are actually improving their work skills!
The escape rooms at The Escape Game Nashville are immersive adventures where your team has just 60 minutes to solve riddles and decipher clues to find a way out of one of several uniquely themed escape rooms! These games are designed to improve your team's problem-solving, communication, and collaboration in a fun but challenging scenario.
Whether your team must break out of a cramped prison cell or track down a priceless painting, they will have a fantastic time and feel proud of what they have accomplished!
The Escape Game Nashville can accommodate small to large groups. For companies that are operating remotely, The Escape Game also offers unique virtual escape rooms. Virtual escape rooms are a perfect activity to play during a team social gathering like a weekly happy hour!
2. Star In Your Own Great Big Game Show
Who hasn't wanted to be a part of their own game show? Welcome to the Great Big Game Show, the ultimate entertainment extravaganza that will leave you on the edge of your seat! Prepare to be dazzled by a series of mind-bending challenges, hilarious trivia, and heart-pounding competitions that will test your knowledge, skill, and luck.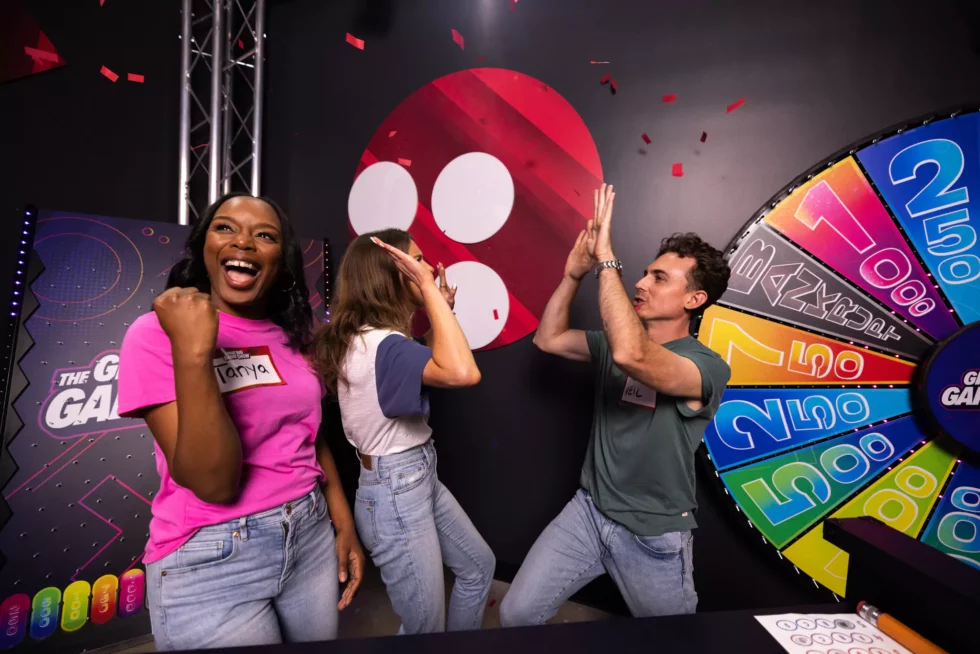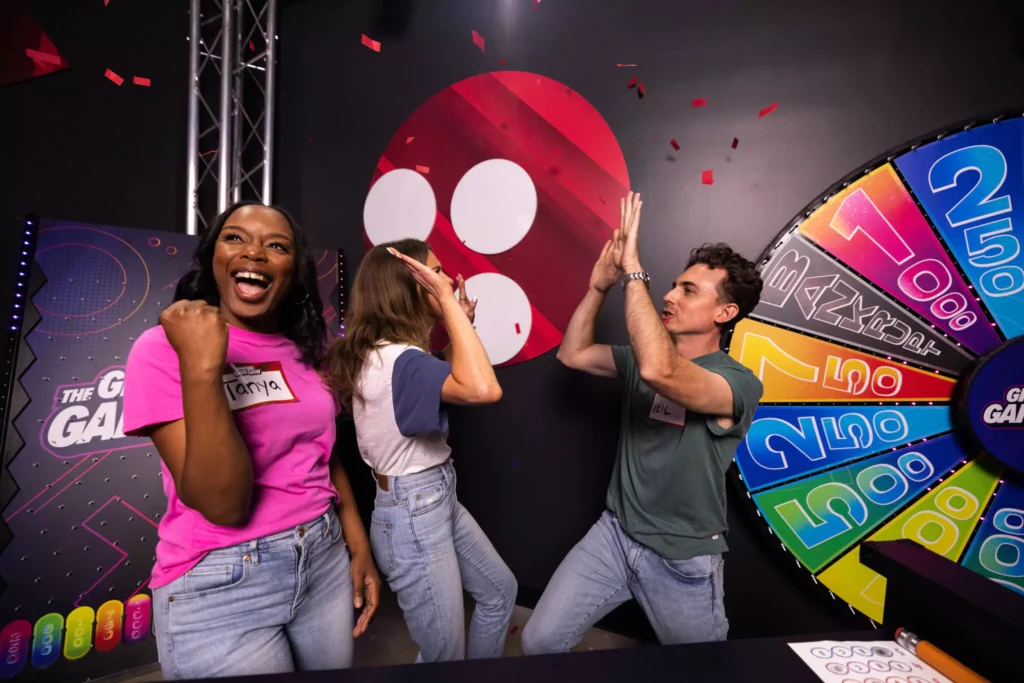 From the moment your team steps foot into the Great Big Game Show arena, they'll be immersed in a world of pure excitement. The stage is set with dazzling lights, state-of-the-art sound systems, and giant screens displaying larger-than-life visuals. Enthusiastic hosts and charismatic celebrity guests will guide you through the high-energy experience, ensuring an unforgettable time for everyone involved.
But the Great Big Game Show is not just about spectating – it's about active participation! Audience members have the chance to become contestants, battling it out for incredible prizes and the coveted title of the Ultimate Game Show Champion. Whether you're testing your trivia knowledge, showcasing your physical prowess, or engaging in thrilling group challenges, the Great Big Game Show promises an immersive and interactive experience that will keep you engaged from start to finish.
3. Plan An Event With Team Building Hub
If you want some assistance in planning an epic team building event, get in touch with Team Building Hub. They specialize in creating fun team building events tailored to your team's goals, group size, budget, and interests.
With a high level of hospitality, Team Building Hub delivers exciting in-person and virtual experiences for small teams or groups with hundreds of people. When you reach out to Team Building Hub, you'll hear from a dedicated event planner within one day. They will explain what sorts of activities they can plan for you — and there are quite a few!
Once you have finalized your event plans, your planner handles the logistics on the day of the event so it goes off without a hitch! Whether your company event is for four people or 400 people, let Team Building Hub plan your next team building event in Nashville. They'll surpass your expectations!
4. Play An Online Game Show
Online game shows are an energizing activity for teams that like a little friendly rivalry in the office. During these games that are played over Zoom, the show's live host will lead your team players through five exhilarating rounds of brain teasers, riddles, and secret codes. Creative problem-solving, clear communication, and strong collaboration are essential to winning the game!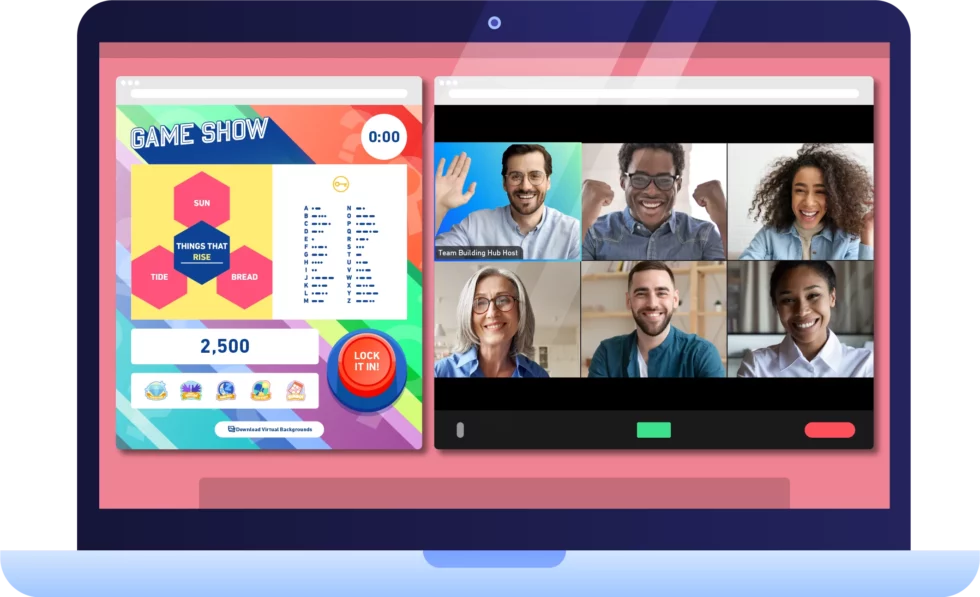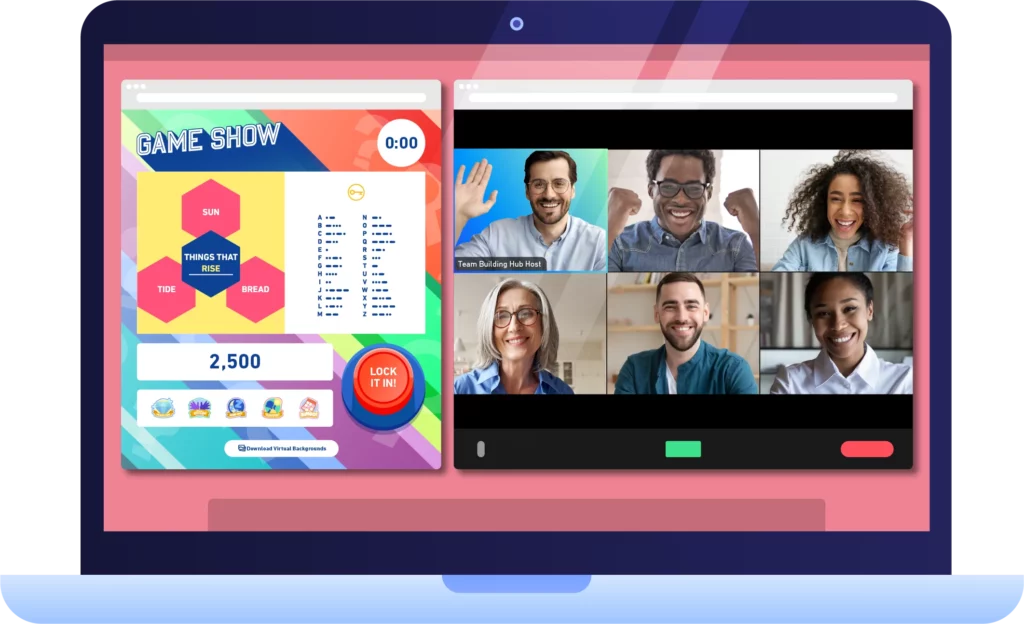 These virtual game shows have a special interface so that players looking at their computers can see each other as well as the game challenges and the leaderboard. Your team will feel as if they are in the same room battling each other for points and ultimately, bragging rights!
Want to see how this all works? Try out a free live demo. These demonstrations last 30 minutes and you'll be able to ask any questions you may have.
---
Join Us For A FREE Demo!
See exactly how our games work, ask questions about logistics and add some energy to your work day. Demos are 30 minutes long and take place on Zoom. There may even be a DoorDash giveaway!
---
5. Go On A Team Building Adventure
One of the absolute best team building activities in Nashville is an afternoon at Adventureworks.
Since 1987 they've been creating customized adventures that foster bonds among teams. They create an environment in which your team can explore their specific strengths and weaknesses.
Through partner challenges and problem-solving exercises, team members will work on their communication skills. They will be challenged with activities that seem impossible to accomplish but can be with the team's collaborative efforts. Every program they offer will include exercises to help your team:
Learn better communication strategies
Improve team trust
Introduce ideas to new approaches to collaboration
Encourage innovation and creativity
Boost confidence and morale
If Adventureworks seems a bit too intense for your team, Treetop Adventure Park at Nashville Shores has a team building program focused on getting your team moving, talking, and laughing!
6. Solve A Virtual Mystery
If your team is working remotely, from the office, or a bit of both, playing a virtual mystery game can bring your team together and turn them into a detective squad who must solve a crime before it's too late!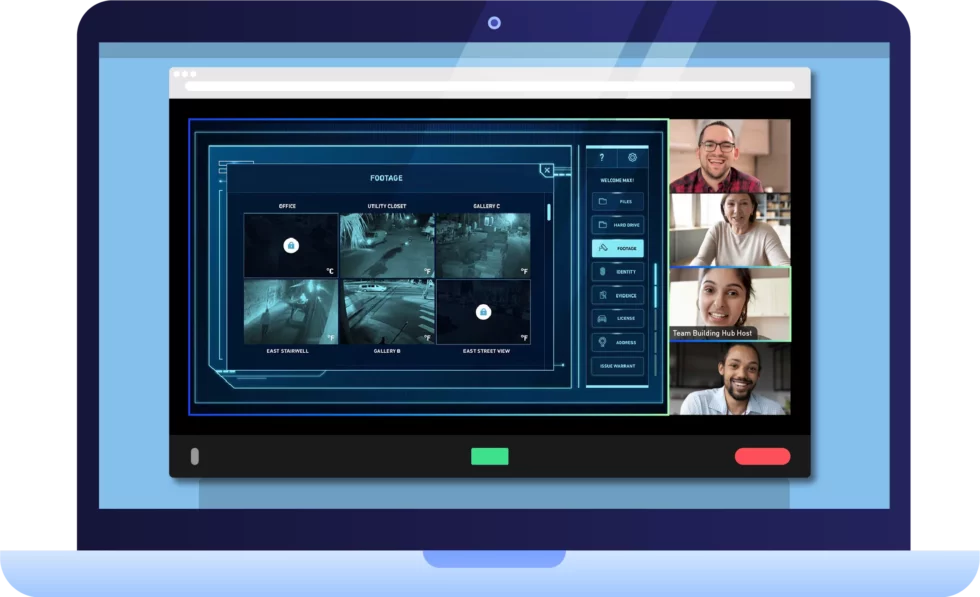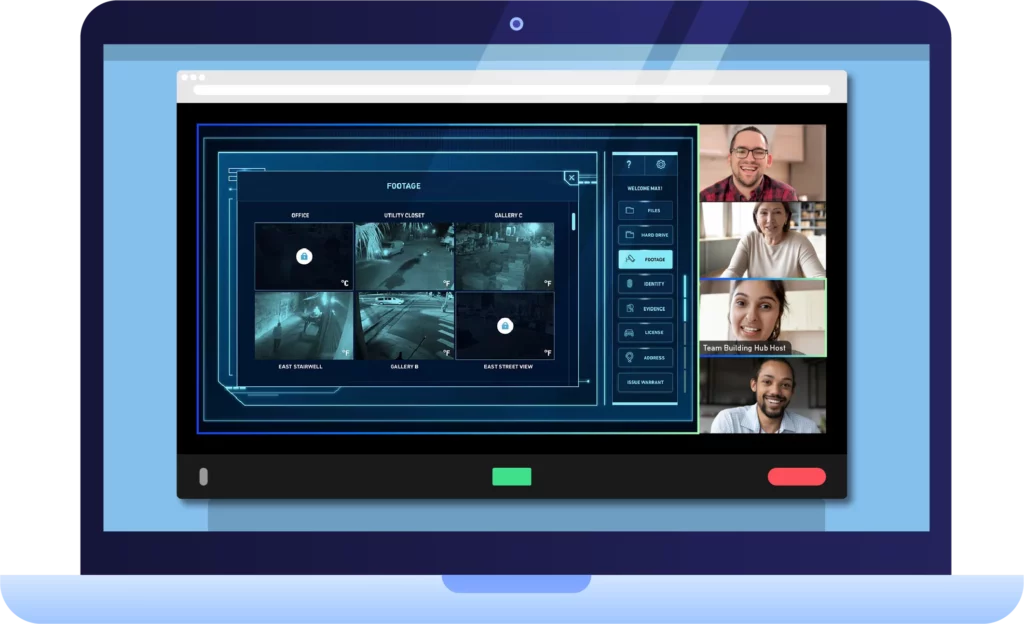 First, your live host splits your group into teams who will race to solve the mystery first. Then the fun begins! From a virtual dashboard on their computers, teams can examine surveillance footage, psych reports, and other evidence to solve the mystery before another team does.
Get your team extra motivated to play by having a prize for the winning team, like gift cards or a free company lunch. Next time you are looking for a fun team building activity, you don't have to hunt one down. Play a virtual mystery game!
7. Record A Team Theme Song
Music City is the perfect place for your team to write and record their very own theme song! At a team building workshop with Nashville's Sound Kitchen, professional musicians will guide your team through the collaborative songwriting process.
Your team can write a company jingle, a team anthem, or a comical song about the office! Whatever topic they choose, Sound Kitchen's songwriters will get your team laying down their song for posterity!
8. Do A Scavenger Hunt
Scavenger hunts are a fantastic team building activity where Nashville becomes the backdrop for your team's quest to solve clues and race to win the game!
When your team plays a cityHUNT's scavenger hunt, they will need to work together as they search for clues placed around the city at well-known landmarks, parks, and neighborhoods.
During the hunt, your team will be employing many important team skills. They'll need to brainstorm and think creatively. Effective collaboration, fast problem-solving, and group decision-making are essential to get to the finish line first!
9. Painting With a Twist
Painting with a Twist is a nationwide company with a Nashville studio that specializes in team building painting classes. They understand the importance of spending time with colleagues outside of the office so their painting sessions are not about creating perfect paintings. They are about creating team bonds and friendships.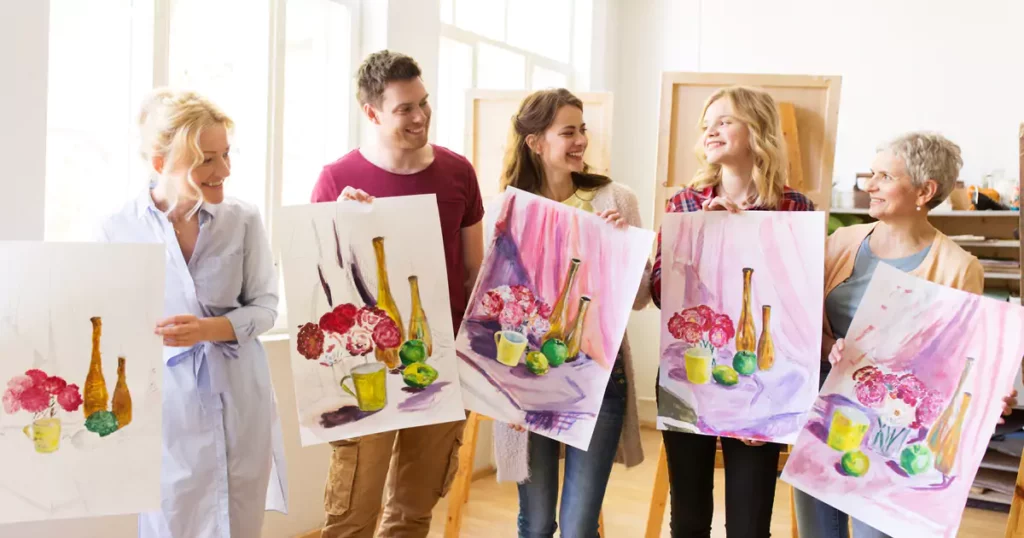 Team members can opt to do their own painting, but you may want to choose the collaborative option where your team paints a big canvas together. After the paint's all dried and you are back at work, hang their team artwork on the wall so they can look back at the fun time they had painting!
If you were wondering what the "twist" in the company's name is, it's simply that you can bring in wine and other alcoholic beverages if you'd like. But it's not a requirement to have fun. Being with your team creating masterpieces is all you'll need for a beautiful time together!
10. See A Sporting Event
Treating the team to a sporting event is a great way to let them know you value their time and dedication to the job. It also lets your team socialize in a fun atmosphere entirely different from work. You can choose the Tennessee Titans, the Nashville Predators, or the Nashville Sounds.
When coworkers see each other in different settings, it can help your team's dynamics. You can make the group outing extra special by giving out extra tickets for friends and family!
11. Try Indoor Rock Climbing
The Crag is one of Nashville's best indoor climbing facilities and they offer team building sessions where your team can help each other learn a new skill. While it may appear to be an individual sport, rock climbing is a team sport in the sense that every climber needs encouragement to climb higher.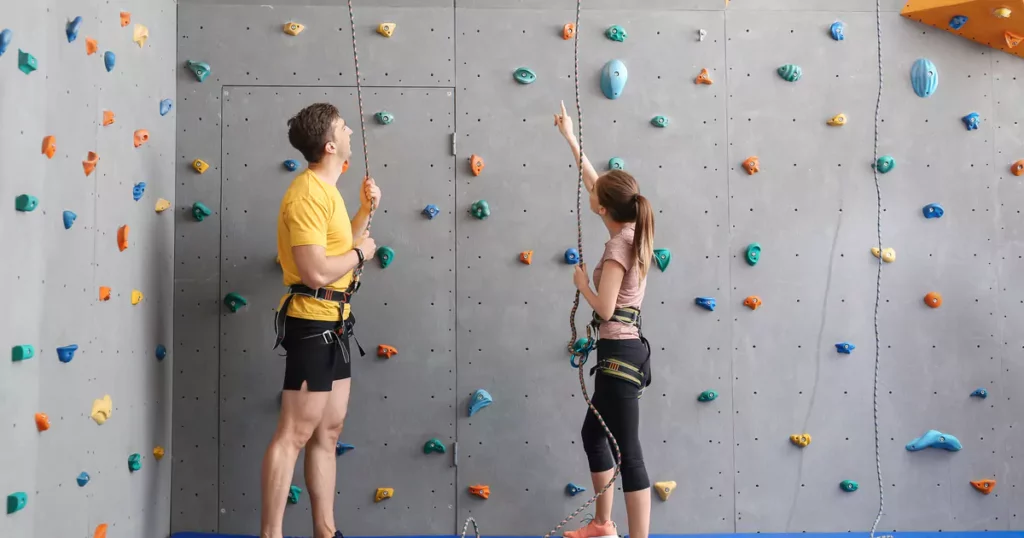 Indoor rock climbing can be an incredible way to build team camaraderie as team members can cheer each other on!
12. Make Goo Goo Clusters
Team building doesn't get much more decadent than a class making Goo Goo clusters, Nashville's official candy bar! During a hands-on workshop, your team will make their very own Goo Goo and learn how to be a chocolatier by using the shop's chocolate machine!
If your team is comfortable with adding alcohol to your time together, sign up for the Goos & Booze workshop. They'll have the same candy-making experience followed by a tasting session paired with wine or spirits.
Find out about the chocolate experiences here!
13. Take A Food Tour
If chocolate doesn't hit the spot, take your team on a food tour! Nashville Food Tours leads both public and private food tours. Here are a few of their offerings:
During these leisurely tours, your team members can munch and mingle!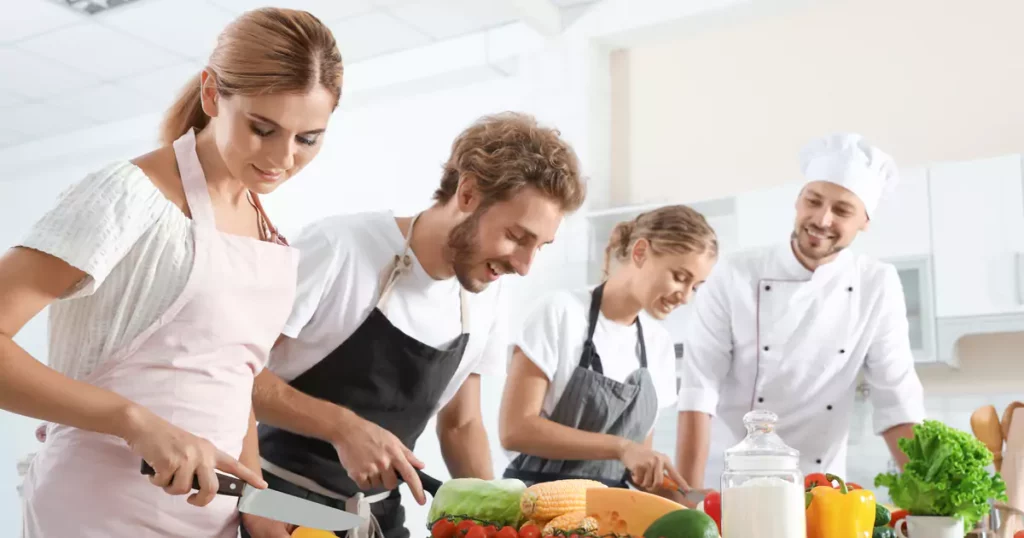 14. Get Cookin'
If you are looking for a way to get your team excited to learn something new? Try a team building cooking class with Chef JoAnna who can come to your Nashville office or other venue and show your team a thing or two about cooking! Chef JoAnna can customize her cooking classes to meet your team's interests and taste buds!
You can choose a "short & sweet" session to reward your team for a job well done. If you want to work on your team's collaboration skills, try the "Designing Desserts" class. For something a little competitive, try the "Iron Chef" Style Contest. Your group will break into small teams and compete to create the tastiest meal with just a few ingredients.
No matter what class you choose, your team will have a blast creating culinary masterpieces!
15. Tee Off Together
Playing golf is a very relaxing way for your team to spend special time together. Top Golf Nashville offers team building events at the very affordable cost of $15 per person.
These 3-hour events include ice breakers to warm the group up, a discussion on team strategy and collaboration, and three to four rounds of golf. If your team just needs to have some fun, head to Top Golf for food, drink, and a few rounds of non-competitive golf.
16. Kayak On The Cumberland River
Kayaking is a great choice for your team to spend time together learning a new skill in the lovely outdoors. For a choice of excellent private tours, take a look at Cumberland Kayak's offerings. They have a skyline kayak tour along the Cumberland River where you can get a special view of the city from a different perspective.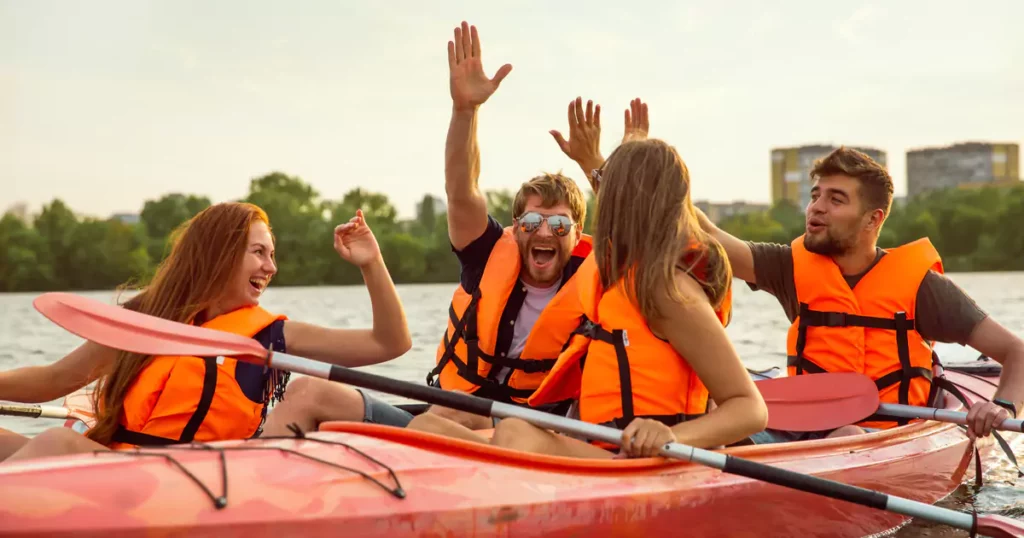 Another tour that will make you feel as if you have left the city but is still convenient to get to is their Stones River Paddle. You'll float alongside the Stones River greenway. Keep an eye out for turtles!
Cumberland's tours offer you the option of using single or double kayaks. Consider pairing up two colleagues who don't know each other well in a tandem kayak. Swap up the pairings if you make a stop during the tour. A sure-fire way for team members to bond.
17. Pinewood Social
The Pinewood Social in downtown Nashville, built inside converted trolley barns is a rec center of sorts with a bowling alley, private karaoke lounge, and… a small swimming (more like dipping) pool. The Pinewood Social has a great restaurant and bar with craft cocktails. Take your team to sip and dip!
18. Learn Improv For Business
Third Coast Comedy Club's team building improv classes feature exercises to break down barriers and improve communication. For a skit to flow, every team member should feel comfortable contributing something. Because learning to do improvisational comedy is a no-stakes situation, team members may feel more at ease sharing ideas and asking questions.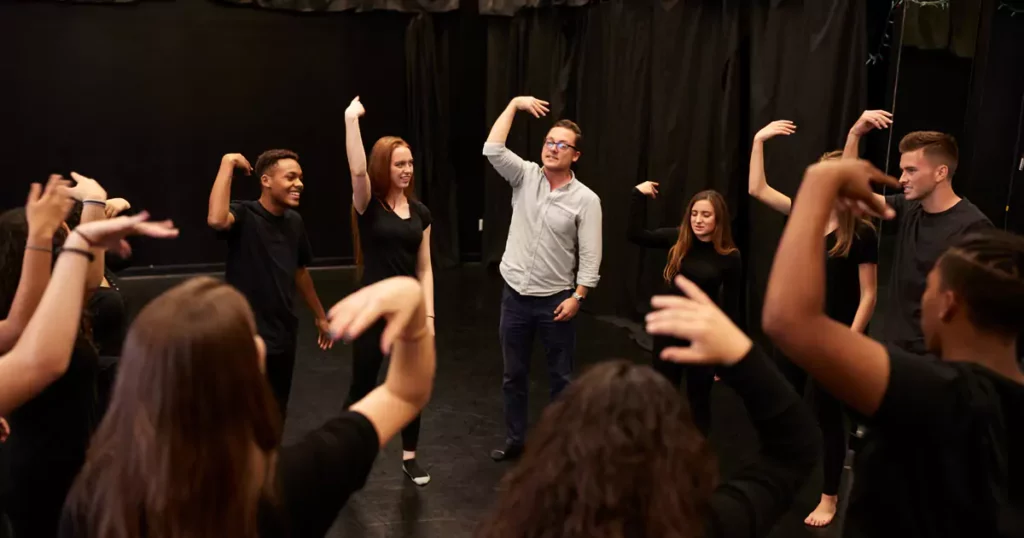 Improv also requires a great deal of collaboration as team members must riff off of each other to keep the rhythm of their skit going smoothly. Your team will practice their out-of-the-box thinking and learn to trust one another.
At an improv class, your team won't realize they are working on their team skills as they will be too busy laughing!
19. Laugh Out Loud Together
Before, after, or instead of your improv team building class, see some of Nashville's best comedy at Third Coast Comedy Club! Seeing live comedy as a team gives your team a chance to get to know each other better. The atmosphere will be easy-going and while laughing together. Laughter is sometimes just what the doctor ordered to boost company morale!
20. BATL Ax Throwing
If your team has been overly frustrated by a finicky client and is ready to scream, take them to BATL Ax Throwing to blow off steam.
Ax throwing has become the latest craze in getting out some aggression in a safe and yes, fun, way. You get an expert coach to help you learn how to ax throw, practice time, and a round-robin tournament. Most BATL Ax Throwing locations offer food and beer at their licensed bars, but you can bring your own food.
21. Volunteer
Teams that perform volunteer work strengthen their local community while also forging strong bonds amongst themselves. Giving your team time out of the work day to do volunteer work together will make them feel good and give them pride in working for a socially responsible company. That's something you too can feel good about!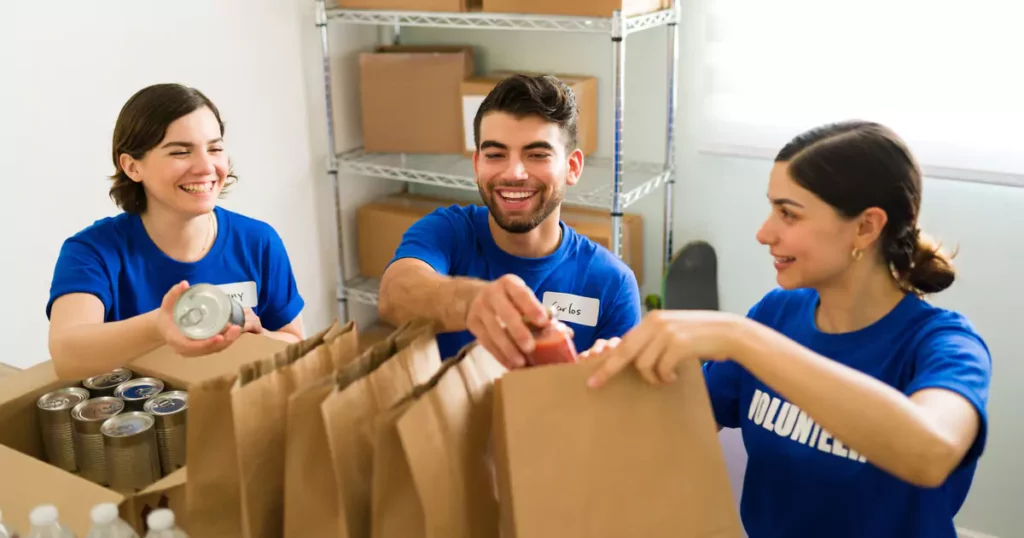 Two organizations that are ideal for group volunteering are Habitat for Humanity and Hands On Nashville. They can work with you to find a good project for your team.
Studies show that people who volunteer are more likely to be satisfied with their work-life balance than those who don't. Moreover, volunteering can reduce stress! When your team members are happy and not stressed, the team functions better and your company morale will get a big boost!
22. Nashville Shores Resort
If you're looking to host fun corporate team building activities or a company retreat in Nashville, consider Nashville Shores. Groups of 50 or more receive discounts on the general admission fee.
For less than general admission ticket fees, people on company outings get an exclusive, fully catered, all-you-can-eat lakeside dining area, free parking, horseshoes, bingo, and volleyball.
Nashville Shores offers bounce houses and arts and crafts events if the company event accommodates employees' children. You also receive Nashville's Treetop Adventure Park coupons and access to the water park, where you can enjoy the lazy river and wave pool!
If you are looking for a retreat spot, Nashville Shores is perfect. Six-person rental cabins are available with cable, Wi-Fi, AC/heat, full baths, and kitchens.
23. Picnic In The Park
Take time out of the work day to let your team spend some relaxing time in a Nashville park. This is an easy way to show your employees that you appreciate the hard work they put in and that they deserve some time off to chill together.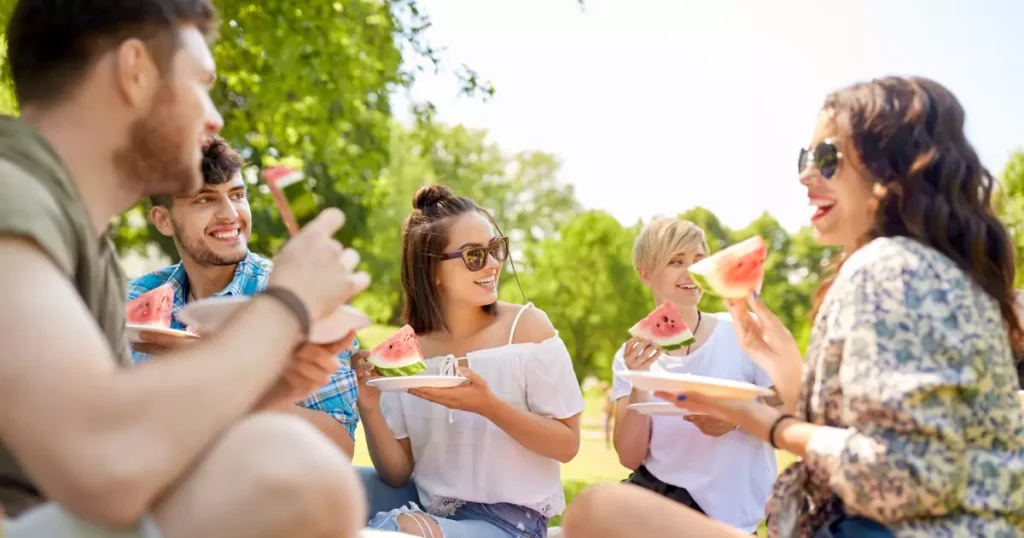 Nashville has lots of lush green spaces. An afternoon in a park is also an opportune time to invite family and friends along! You may want to buy a catered picnic lunch for the group for a special treat!
Here are a few beautiful Nashville parks to take your crew.
Riverfront Park with its scenic view of the river and access to the John Seigenthaler Pedestrian Bridge.
Centennial Park is a 132-acre park with walking trails, a lake, volleyball courts, and more.
Bicentennial Capitol Mall State Park is an 11-acre urban state park in the "shadow of the Tennessee state capitol." Visitors can learn about Tennessee's history.
Find more places to bring your team to frolic with Mother Nature and each other from this article, Fun Outdoor Things to Do in Nashville.
24. Visit Arrington Vineyard
A very pleasant way to unwind with your team is to visit Arrington Vineyard. This beautiful 95-acre property includes 16 acres of vineyards, gorgeous views, shaded picnic areas, and live music on weekends (April to November). It is open daily so you can go during work hours and not cut into anyone's personal time.
Arrington offers wine tastings for $14 per person. You can purchase crackers, cured meats, olives, gourmet cheeses, and non-alcoholic beverages on site. On Fridays, food trucks also come to the vineyard for even more variety of food choices.
You can bring your own food and sit at one of their many picnic tables. Why not make it a pot-luck for some collaborative drinking and dining!
What To See On Your Team Building Trip To Nashville
If you and your team have come to Nashville for business, you should take some time to see the wonderful sights of Music City, USA!
Not every minute of your visit to Nashville has to involve team building. Sharing the experience of being in a new place allows your team to experience each other's personalities out of the office. This will help build a cohesive team that works well together.
Below are the Nashville sights not to miss! For more things to do, check out this article Everything You Could Possibly Want in Music City.
Music Row
Nashville is famous for its contributions to the music industry, and nowhere is that more apparent than Music Row. This is where you'll find practically anything and everything to do with Nashville's music scene and history.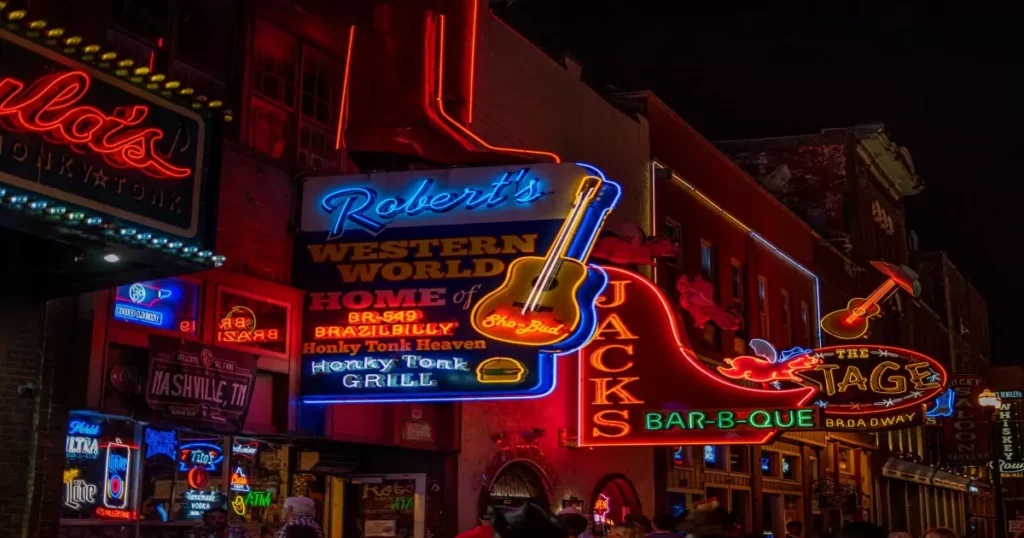 RCA Studio B, which helped many famous performers' careers, is in Music Row and open for public tours. You can visit Owen Bradley Park, dedicated to its namesake and opened in 1997.
Perhaps one of the most fun team building activities in Nashville is the Trolley Night Tour. You and your team travel throughout Music Row to the most exciting spots led by tour guides who are musicians themselves. For the music buffs on your team, this is something they will love!
Grand Ole Opry
The Grand Ole Opry, the most famous stage in Nashville, and one of the most renowned venues in the world! Here you can catch an epic performance or take a backstage tour.
Grand Ole Opry hosts weekly shows and is home to the longest-running US radio broadcast. You have the opportunity to see gospel, Americana, folk, bluegrass, and country musical performances.
The Opry helps groups larger than 15 people organize events. Parties with 15 or fewer people can fill out the group event form on the Opry website.
The Parthenon
In Centennial Park sits Nashville's Parthenon, the world's only full-scale reproduction of the famous Greek temple.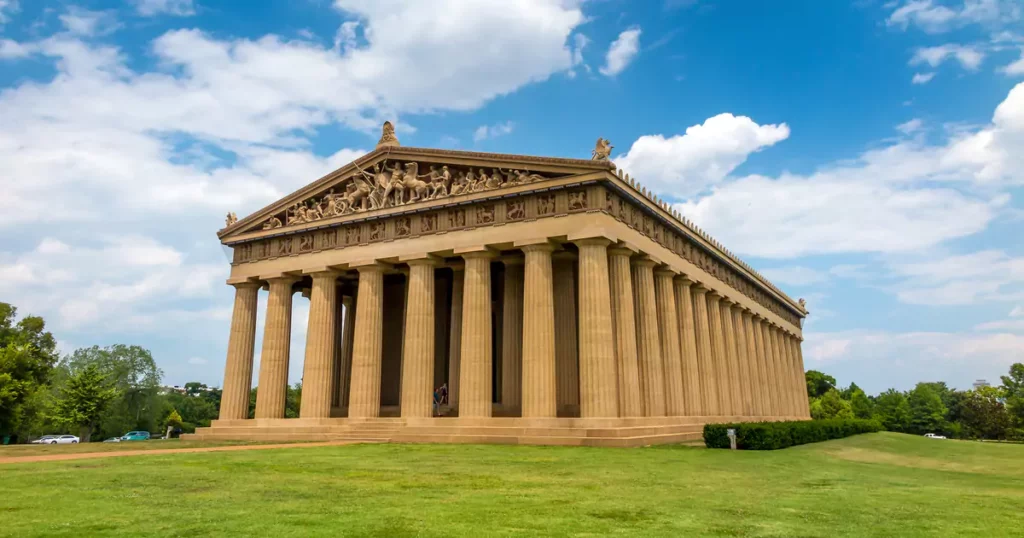 In the 1800s, long before Nashville was nicknamed Music City, Nashville was known as the Athens of the South because it had so many institutions of higher learning! It couldn't have been more fitting for the city to build a replica Parthenon for the state's centennial celebration in 1897.
The Parthenon served as the city's first art museum and to this day it houses 63 paintings from 19th and 20th-century American artists. You can also visit many of the museum's temporary exhibits and shows. It costs $6 per adult, but discounts are available for groups. You should make a reservation at least a week ahead of time if you'd like to visit.
Jack Daniel Distillery
The Jack Daniel Distillery is the oldest in the United States, registering with the government in 1866. You can take a 90-minute tour of the world-famous distillery.
Pick from a couple of different tours where your team can sample whiskey from exclusive collections and learn the history of the world's favorite whiskey.
Country Music Hall of Fame and Museum
The Country Music Hall of Fame and Museum is one of the world's largest museums with over 2.5 million priceless artifacts related to country music legends!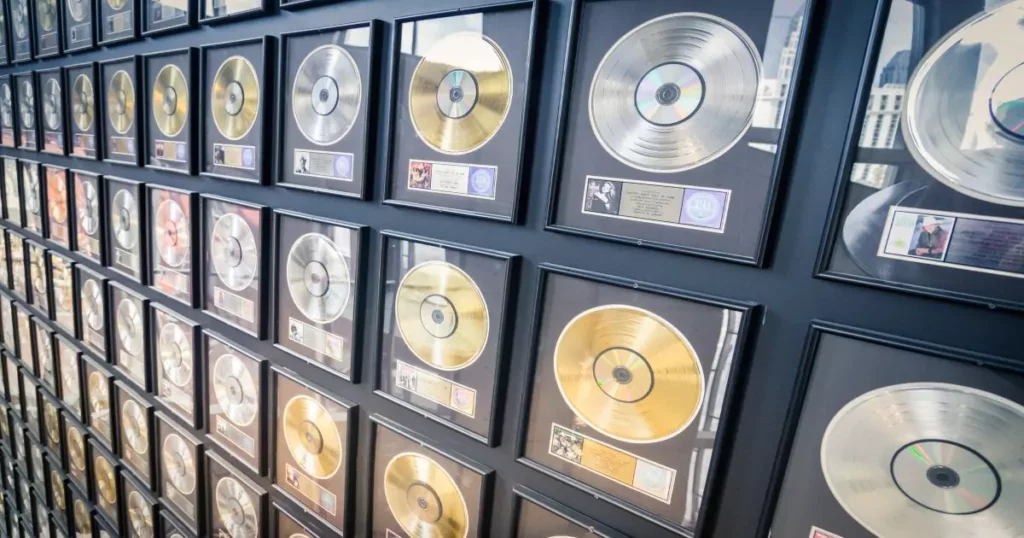 Gallery collections include countless recordings, photographs, stage costumes, musical instruments, and more. This is a must-see for any country music lover, whether you're a fan of classic artists or the more modern country crowd.
Madame Tussauds Nashville
At Madame Tussauds in Nashville, your team members can get up close and personal with some very famous people — made of wax. Madame Tussauds doesn't have boundaries between you and the wax figures. You can pose right beside the hyper-realistic models for photos. Getting through the entire attraction may take up to an hour.
Have your team pose with Elvis Presley, post the photo on your social media and announce the newest member of the team!
Printer's Alley
Printer's Alley is where Nashville's booming printing industry was located. Nashville's largest newspapers, the Nashville Banner and The Tennessean, called Printer's Alley home. It wasn't just printing presses along Printer's Alley. Saloons lined the streets and during Prohibition, they turned into speakeasies to evade law enforcement.
Today, Printer's Alley is still part of Nashville's nightlife. The area now contains an assortment of bars and clubs. Printer's Alley is a superb option if you and your team want a nightcap to take the edge off the workday.
Radnor Lake State Park
Radnor Lake State Park is one of the most beautiful and expansive parks in Middle Tennessee. One of Radnor Lake State Park's biggest draws is all the observable flora and fauna like owls, waterfowl, wildflowers, and ferns.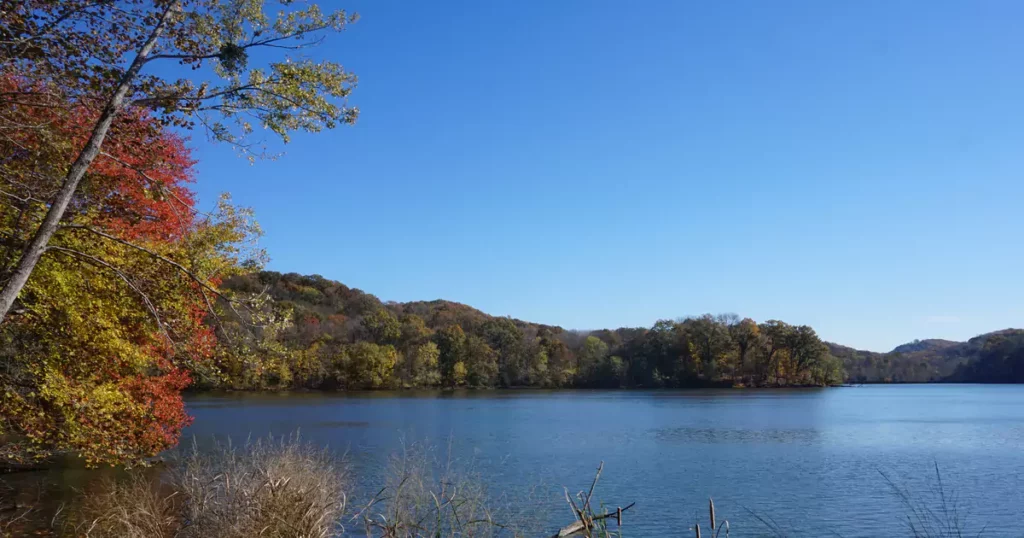 The park has seven miles of hiking trails of varying difficulty levels. The Otter Creek Road Trail is the only one where bike riding is allowed. The Lake Trail has all-terrain wheelchair accessibility.
Open year-round, your team can see some of Tennessee's nature at its best. The Park hosts events, festivals, and even art shows making it an entertaining and refreshing place to relax with your team!
Frist Art Museum
The Frist Art Museum is a fantastic way for your team to build memories and bond with each other. Adults pay $15, while groups of ten and more only pay $12 per person with advanced reservations. You can tour the museum Thursdays through Sundays.
The Frist Art Museum is inside the former Nashville main post office and is on the National Register of Historic Places. You and your team can check out the current exhibits like Beyond the Classroom or visit the Frist Cafe.
Johnny Cash Museum
Johnny Cash is an integral member of the country music industry. For anyone interested in the life of the "Man in Black" the Johnny Cash Museum is THE place to go!
The museum contains memorabilia from Cash's life, like costumes and handwritten letters. There are also instruments that Johnny Cash used and gold and platinum records.
The Walking Bridge
Get one of the most scenic views of the Nashville Skyline when your team walks across the John Seigenthaler Pedestrian Bridge, commonly called the Walking Bridge. The bridge crosses the Cumberland River in downtown Nashville. A group photo will look great hanging in a common area in your office. Post it on your social media sites as well!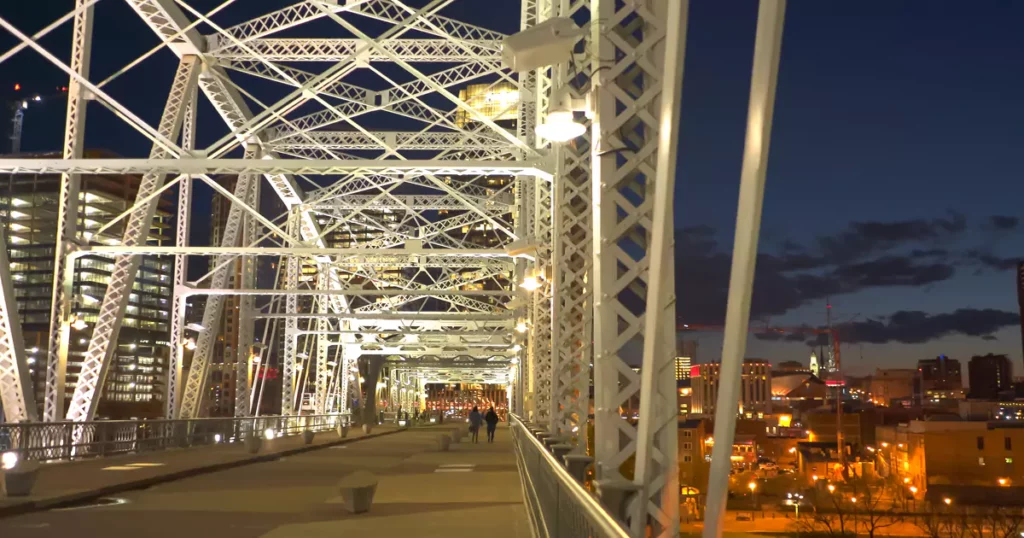 Shelby Bottoms Greenway
The Shelby Bottoms Greenway is a trail running along the Cumberland River downtown. There are over five miles of running, biking, hiking, and wildlife observation trails. Admission is free and there are no cars allowed on the trails.
A trip to Shelby Bottoms Greenway shouldn't require much planning, given how accessible the area is. Over 130 acres of Cornelia Fort Airpark provide the greenway with wetlands, streams, and great river views. Nature lovers will enjoy the sounds of the multitude of frogs and wildflowers.
Redneck Comedy Bus Tour
If your team wants a comfortable Nashville, take a Redneck Comedy Bus Tour. It's one of the most unusual bus tours around! You and your team will see most of the notable sights in Nashville, except they'll be sightseeing from inside an old school bus like the kind you rode to school in.
The guides grew up in the redneck culture. They have great senses of humor and will provide your team with a funny and entertaining look at the city.
Cheekwood Estate and Gardens
Cheekwood is a historical mansion built in1929. The grounds also house an arboretum and a botanical garden. There is also a museum to view the Cheek family collection of paintings, textiles, silver, and decorative arts.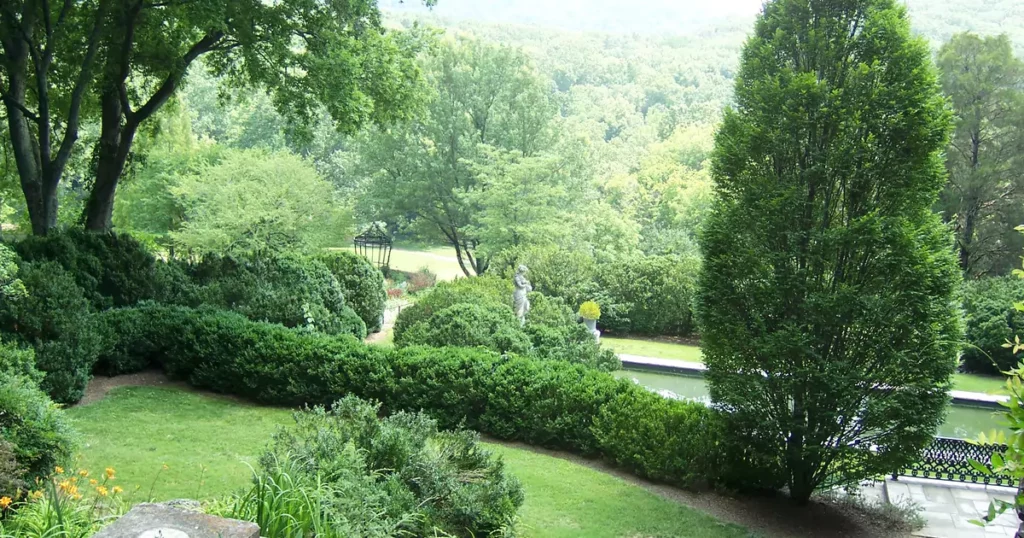 The Cheekwood Estate is for people that enjoy the arts and nature. The grounds are expansive, and it can take you and your team at least two hours to see everything the 55-acre estate offers.
There are restaurants at Cheekwood if you get hungry. Cafe 29 offers sandwiches, soups, salads, coffee, and alcoholic beverages. If you and your team would prefer to bring your food, you can arrange to have a picnic on the grounds. There are plenty of benches to accommodate guests.
You can also arrange guided tours across the property. Groups of 15 or more can have times scheduled by Cheekwood activities directors. Make sure you reserve weekend tickets to Cheekwood in advance. Tickets go fast, especially during the fall.
What Is Team Building?
Team building isn't quite like what it sounds. You're not putting a team together, but rather strengthening your existing team. You want a team that works seamlessly and effectively. While maximum productivity is an overarching goal, there are some other outcomes worth working towards.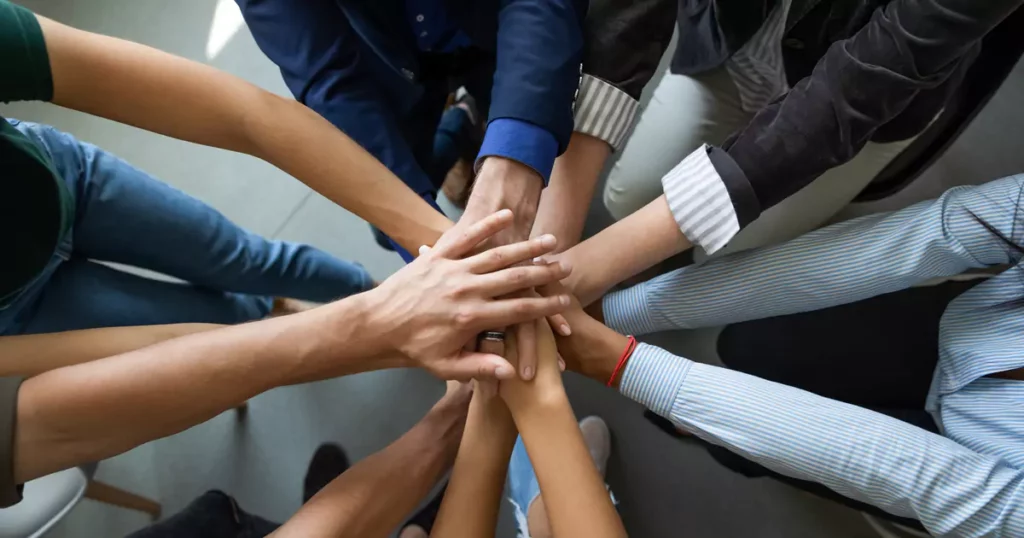 Strong teams are only as good as the individual members. Team building can keep your employees engaged in their job. Your employees will have greater job satisfaction. They will feel appreciated and recognized as a person and not just a cog in a machine.
Team building can also forge bonds between coworkers which contributes to the unity of the team. When team members get to know each other better, they develop trust and will be more comfortable sharing ideas with the team. This leads to better problem-solving, creative thinking, improved communication, and increased collaboration.
When your team spends time together outside of the office in a relaxed environment, work friendships may develop, and according to Forbes, having a friend at work makes employees happier. Team camaraderie grows and along with it, productivity.
The advantages of bringing team building into your workplace are far-reaching. Below we only scrape the surfaces of why you should give team building a go. Read our in-depth article about the benefits of team building.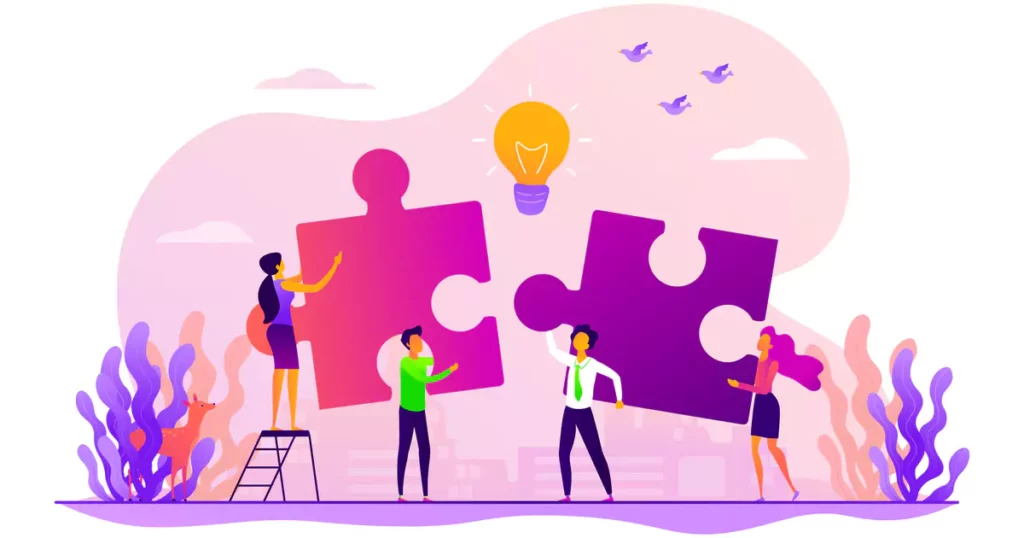 Why You Should Try Team Building
Shows You Value Your Employees
Not all team building events have to involve a structured activity. Regardless of your company's team building exercise, the goal is that the employees have fun. Taking your team somewhere they can unwind shows that you value their work contributions. A group outing to somewhere relaxing and fun lets your employees get to know each other a bit better.
Fosters Strong Bonds
Working with people you know at least a little makes one's time at work more enjoyable. Team members who've bonded from time spent out of the office are more likely to put their brains together. Increased collaboration will follow and that's a good thing!
Unites Departments
Functional workplace relationships are essential for your company's success. Team building activities are restricted to just one team from one department. Interdepartmental team building activities help all your employees get to know each other, even if they don't cross paths much in the office.
Allows for Healthy Competition
There are various benefits to healthy workplace competition. Competitiveness among co-workers encourages creativity. The more motivated people are to win, the more innovative they become. Competing against each other also serves as encouragement to do better. Workers can look back on events and feel happy and accomplished with what they've managed to do.
Do's And Don'ts Of Team Building
Team building has plenty of benefits. It may sound too good to be true. But coming up with effective and engaging team building activities isn't something perfected overnight. Here are some do's and don'ts to guide you through your journey of integrating team building into your company culture.
Do Know Your Audience
If you aren't sure what kind of activities interest your employees, ask them! Some may prefer physical activity, like taking a hike, while others prefer to exercise their brains by playing a game with riddles and puzzles.
If possible, try to combine everyone's interests by visiting multiple places or playing various types of games.
Don't Expect Results Overnight
You can't expect your team's performance to improve dramatically after one day of team building. Team building is like exercising. If you do it frequently, the benefits are felt sooner and will last longer.
You can't hold team building events once or twice a year and expect results. Lack of ongoing team building will appear as though you don't think it's worth the effort. If you don't buy into team building neither will your team.
Do Give Yourself Enough Time To Plan
Even good ideas take time to refine into something functional. It's possible to ask all your employees what they want and still mess up planning if you've left everything until the last minute. Set aside time for yourself or your planning team time to ensure you're able to set up something fun and rewarding.
Don't Plan Activities That Feel Forced
Some team building events may feel more like a hindrance than a valuable use of time. Boring team building activities can make your employees feel like they are being held hostage. Activities that elicit eye-rolls are the ones you should avoid after the first attempt!
Good planning will help you arrange team building events at the appropriate time. Don't schedule an event during a busy time when everyone could be doing work instead.
Do Enjoy The Fruits Of Your Labor
You've worked hard to organize a wonderful event that your team will love. Don't deprive yourself of enjoying the activity every bit as much as our team does!
Start Planning Your Nashville Team BuildingToday
Nashville, Tennessee is such a vibrant city with so much to do, you can find many fun and engaging team building activities!
Whether you choose a structured activity, like an escape room or group cooking class, or go on a fun group outing, you'll be pleased that you've begun making team building part of your company's culture. Your team will be happy too!
Get Started on your team building in Nashville and begin to reap the benefits of a better, stronger, happier team!