Even the best teams can benefit from working on their group skills. If your team is high functioning, take the opportunity to enhance their strength through team building activities. For teams that could use some fine-tuning, team building is a perfect way to raise their level.
Team building activities focus on team traits such as collaboration, creativity, problem-solving, communication, and more. Team building doesn't require a structured activity with classic team building exercises. Just having fun together can build strong bonds among teams.
Here are 21 fun and effective team building activities in Cleveland to try today!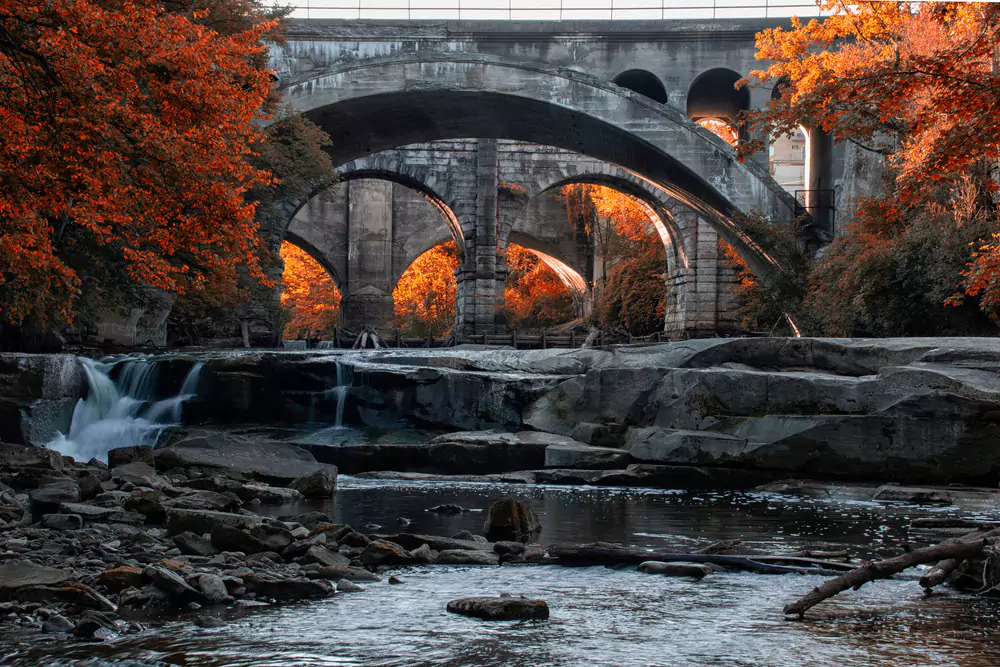 Table Of Contents
21 Team Building Activities in Cleveland
What To See On Your Team Building Trip To Cleveland
21 Team Building Activities in Cleveland
1. Play An Escape Room
Escape rooms are one of the best activities to bring your team together for some fun that also improves important team skills like collaboration and group problem-solving.
At Escape Game Cleveland your team can play one of several immersive adventures where they've got to work together to crack codes, solve clues and decipher riddles.
Your team members will practice their ability to communicate clearly and actively listen to each other as they look for creative solutions to the game.
If your team is remote or hybrid, The Escape Game offers live-hosted virtual escape rooms that will unite your team as if they are in the same place!
2. Plan An Event With Team Building Hub
For a customized team building experience, reach out to Team Building Hub, specialists in planning exciting events for in-person or remote groups of all sizes.
Within a day of contacting Team Building Hub, a dedicated event planner will be in touch to discuss your needs and group logistics. Then your planner will get to work planning the perfect team building event just for you and your team!
Team Building Hub doesn't stop at planning your event. You'll have help running the event so you can be part of the team building fun.
3. Go On A Scavenger Hunt
Scavenger hunts are perfect for a group that loves racing against the clock while racing around their city! Cleveland's cityHUNT adventures are jam-packed with challenges, picture tasks, and clues for your team to solve.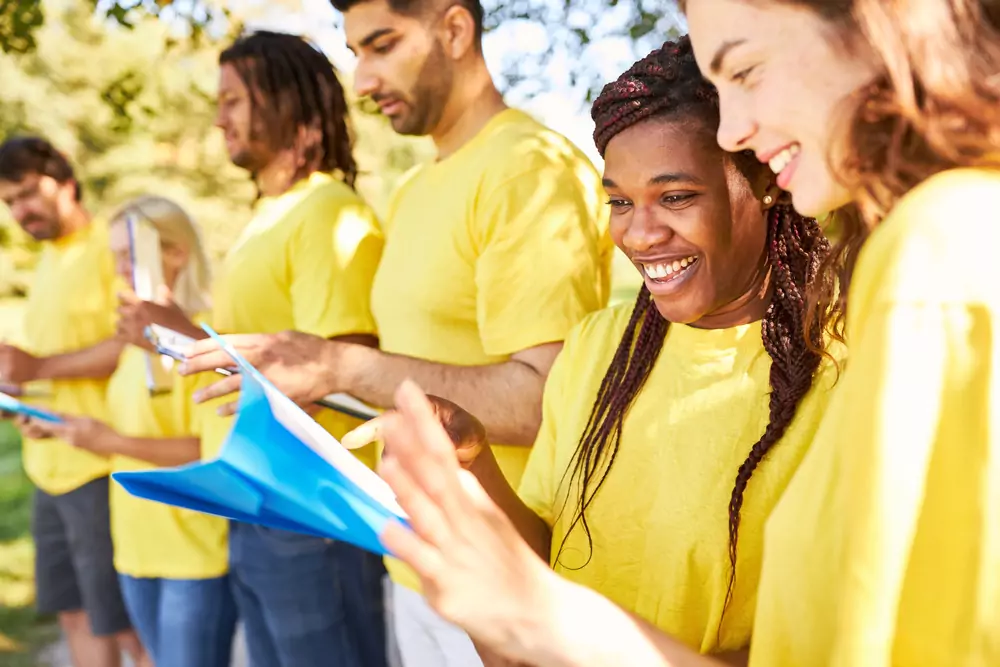 Each member of the team has something to contribute to solving the hunt. Team members will learn to appreciate each other's unique talents. A feeling of respect is built and camaraderie improves. Plus, everyone will have a blast!
4. Take a Culinary Challenge
Taste Cleveland's Culinary Challenge is a fun way to build some healthy competition into your team building.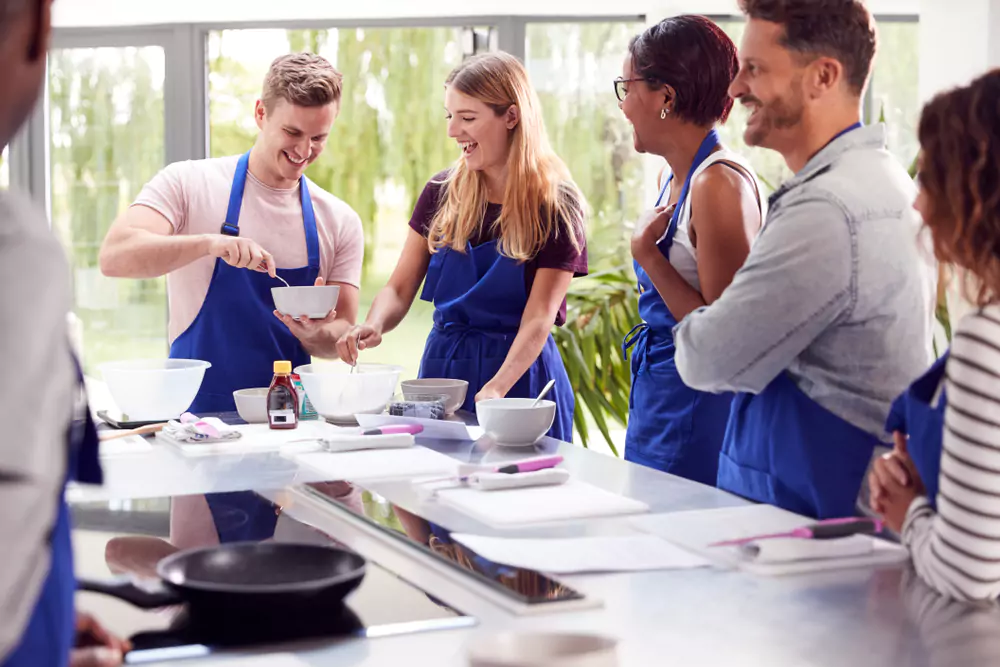 The challenge is inspired by the show "Chopped" in which contestants are presented with a secret ingredient to prepare using any ingredients available to them through Taste Cleveland. Once finished, each team's dishes are presented to a panel of judges.
Taste of Cleveland hosts are knowledgeable in the dynamics of team building so they know to keep the competition aspect friendly. The challenge fosters creativity and encourages team collaboration. Plus, your team gets to enjoy a tasty meal together!
5. Play An Online Game Show
Bring your remote or hybrid team together for an online game show where they must think fast on their feet to win the game — and bragging rights!
Led by an energetic host, these online games include five rounds of challenges. Team members must combine their creative thinking and problem-solving skills to solve the challenges quickly and take the top spot on the leaderboard.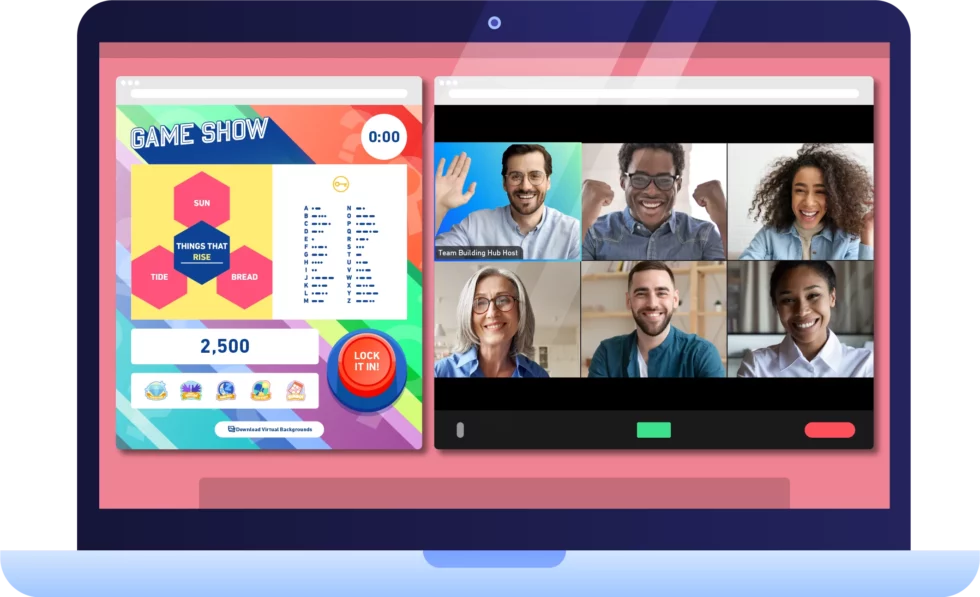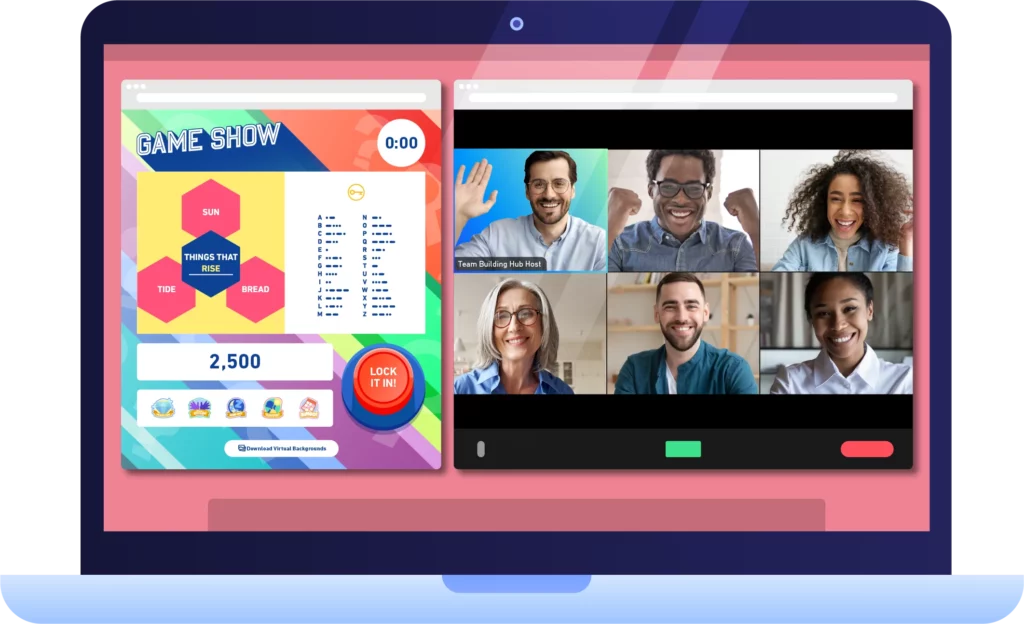 There are three games to choose from: the classic Puzzle Game with word puzzles, code-cracking, and brain teasers; a Holiday Edition and a Halloween Edition, both perfect for remote office parties.
See how much fun your team can have by joining a free live demo. You get to see how the game works and ask any questions.
6. Go GoKart Racing
Sometimes simply spending time with colleagues doing something new can strengthen a team. Activities that have built-in social time let everyone get to know each other better while having an amusing time. GoKart racing is an ideal activity for teams that thrive on adrenaline.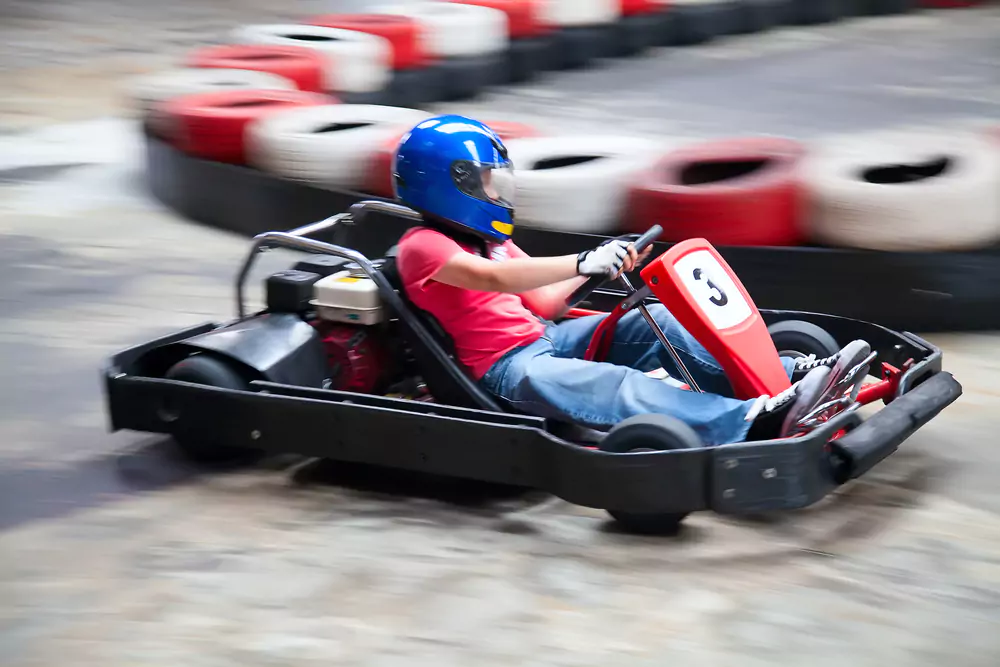 BOSS Pro Karting has state-of-the-art facilities where your team members can experience the thrill of high-speed performance racing. BOSS Pro-Karting also offers ax throwing for teams that need to blow off some steam.
7. Play A Virtual Mystery Game
Chances are your team has some fans of detective shows or books who love a good mystery. Even if you don't, a virtual mystery game will get your team members to put their thinking caps on to solve a crime before time runs out.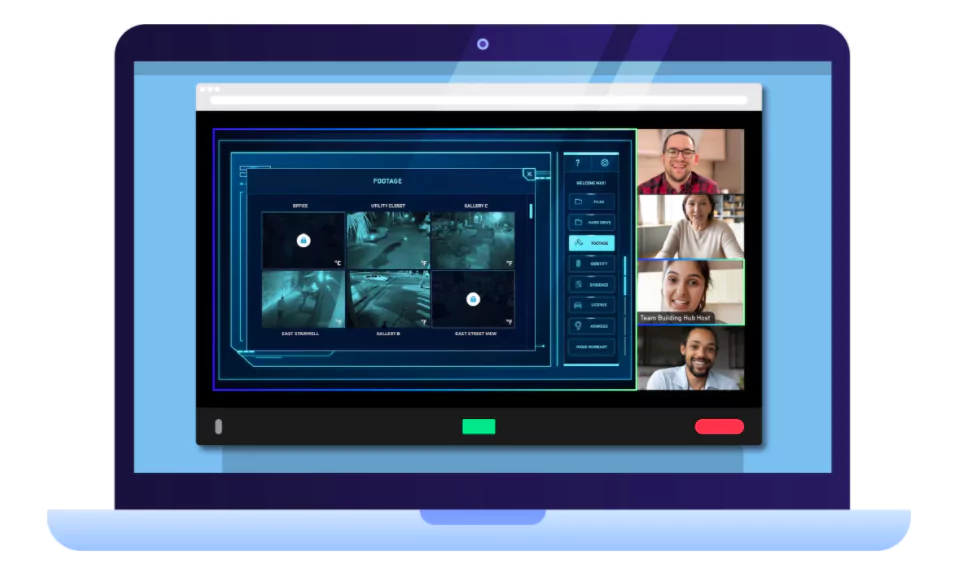 From a virtual dashboard, teams review evidence including surveillance videos and psych reports. All members will have to contribute their problem-solving skills. They'll have to be open to everyone's ideas and collaborate to solve the mystery.
It's no mystery that remote and hybrid teams can feel isolated. Virtual mystery games bring your team together even from a distance.
8. Team Trekking
For an inclusive event that has something for everyone, look no further than Trek Nation. They specialize in outdoor recreation with a variety of experiential learning exercises including rappelling, archery, creating artwork, and learning about nature.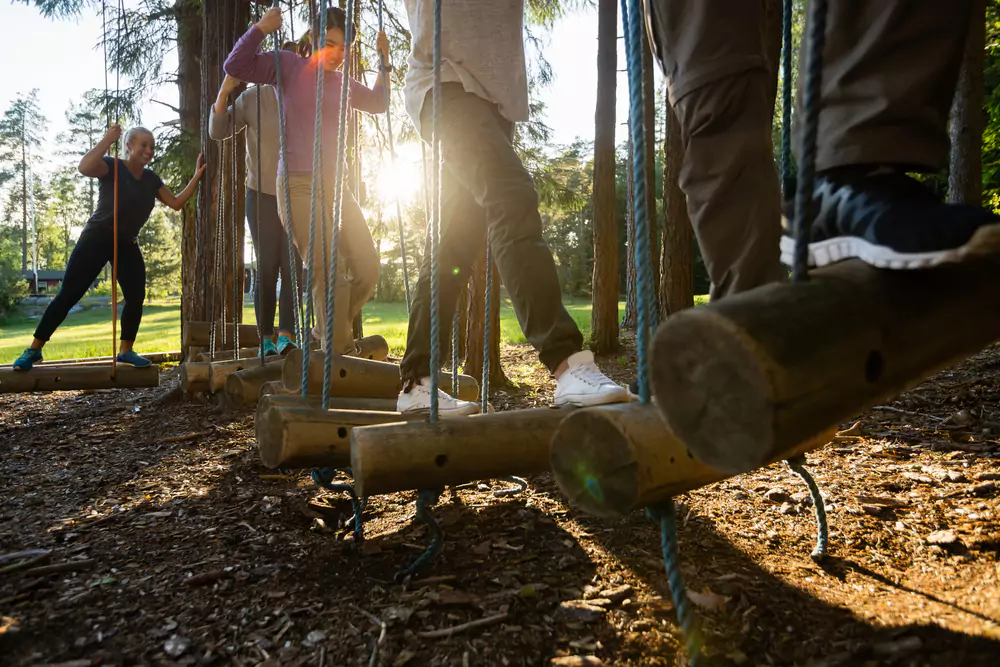 Not all team members will want to try rappelling or rock climbing. That's why your team trek adventure will have multiple activities for team members to pick and choose from.
Their staff is made up of one-part adventure guides and one-part team building experts. They encourage members to find new perspectives and new ways of understanding each other. After this time together outdoors, your team will thrive indoors at the office.
9. Volunteer Together
When your group volunteers for Cleveland Habitat for Humanity, they will help build a home while building the team.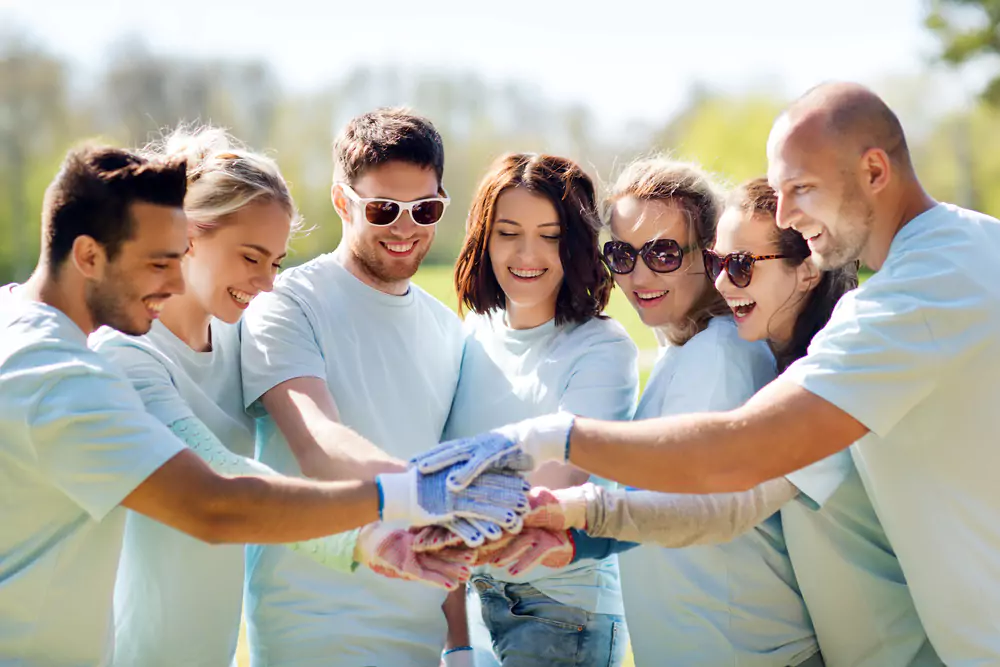 Habitat for Humanity's Corporate Team Builds include an orientation as well as placement of your corporate logo on the Cleveland Habitat website. Each team member receives a certificate of appreciation and a commemorative T-shirt.
This one-of-a-kind volunteer opportunity works on collaboration. Since studies show that people who do volunteer work generally feel happier than those who don't, your day together with Habitat for Humanity will boost morale big time!
10. Go Bowling
Bowling is one of America's most popular pastimes. It's fairly easy to play so most team members should be happy to give it a go. Not only is it great fun, but it is a surprisingly good team building activity.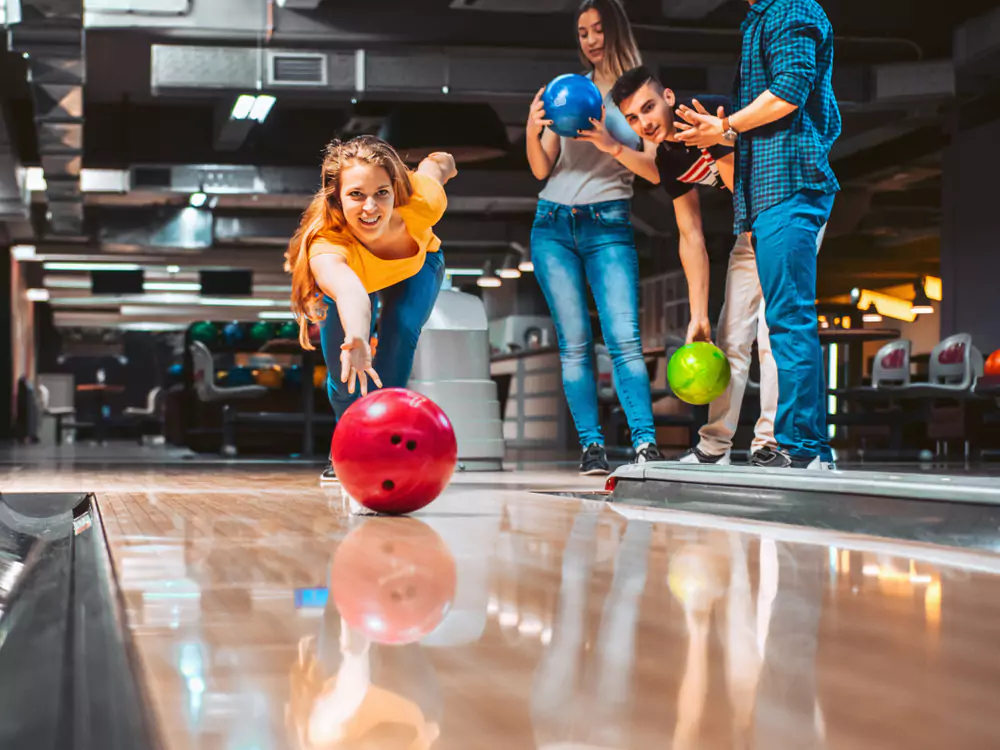 Bowling calls for team members to give each other positive support if they want their team to win. This builds camaraderie and teaches team members to demonstrate support for each other, especially when working on team projects.
Punch Bowl Social Cleveland not only has bowling lanes but also table games like Foosball, Billiards, and Ping Pong. Your team can do karaoke, or play arcade games. Teams that play together stay together!
11. Get Out On The Water
Cleveland sits at Lake Erie's shores and the Cuyahoga River runs right through the city so water sports are available seasonally. Great Lakes Watersports offers a beginner group tour along the river and an intermediate tour on the lake. Team members must work together as they steer and paddle their boats down the river.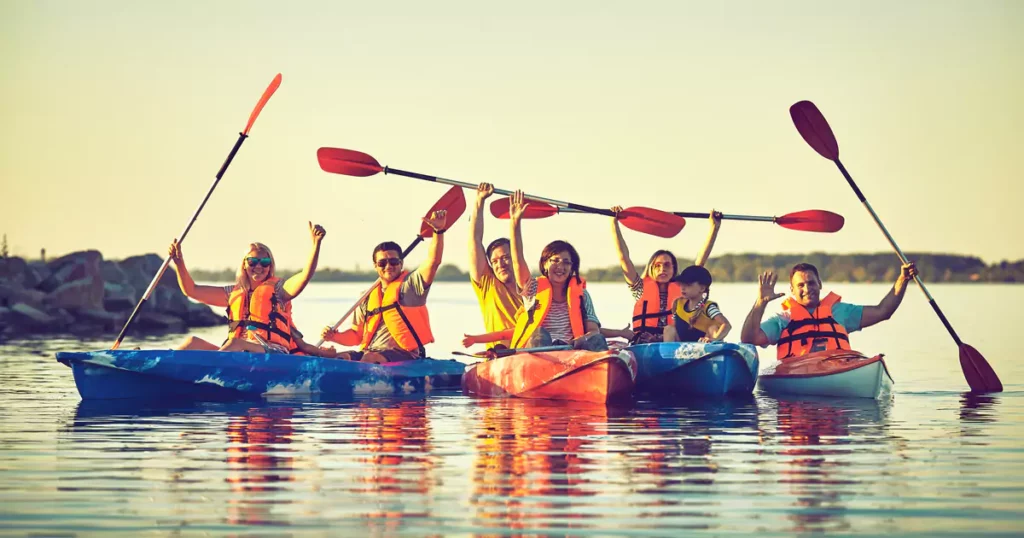 Out on the cool water, away from the pressures of work, your team can relax and let their shields down. Spending time in an environment so different from where they usually are, allows groups to see each other in a new light.
12. Paddle A Brewboat
For teams that like being on the water, but also like a good beer, take them on a Brew Boat, a pedal-powered 31-foot-long catamaran. This unusual activity run by will get your team pedaling in unison if they want the boat to go somewhere!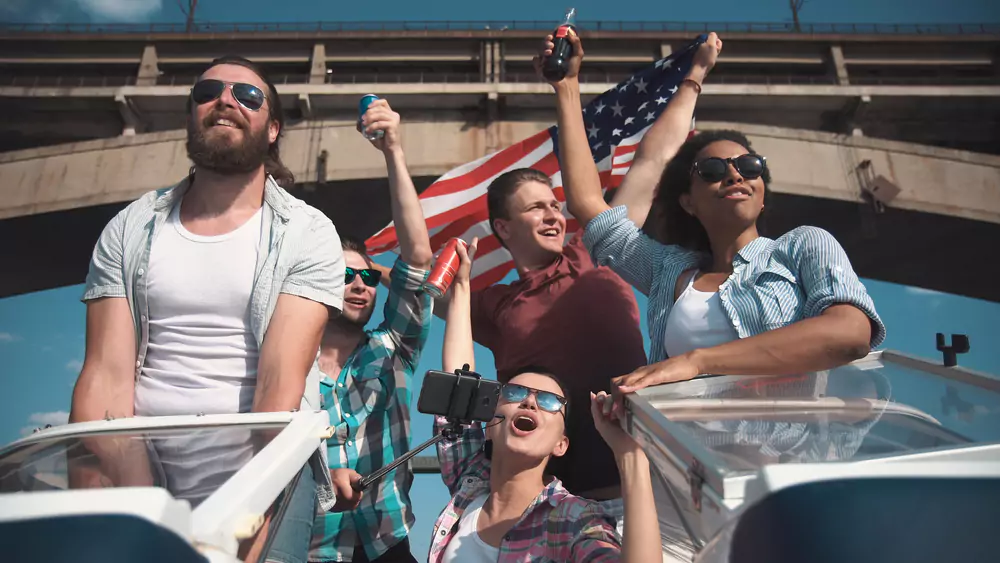 BrewBoat Cleveland has a fleet of boats that can each seat up to 16 guests at a time for a one-hour and 40-minute party cruise on the Cuyahoga River. They provide the boat, you provide your own refreshments. Beer and wine are allowed, but not liquor.
Once your team members have mastered the art of pedaling in sync, they can toast to their success!
13. Go To A Sports Game
Show the team how much you appreciate their work by taking them to a ball game! Cleveland has four professional teams so there is no shortage of games to see! Cleveland's teams are all excellent.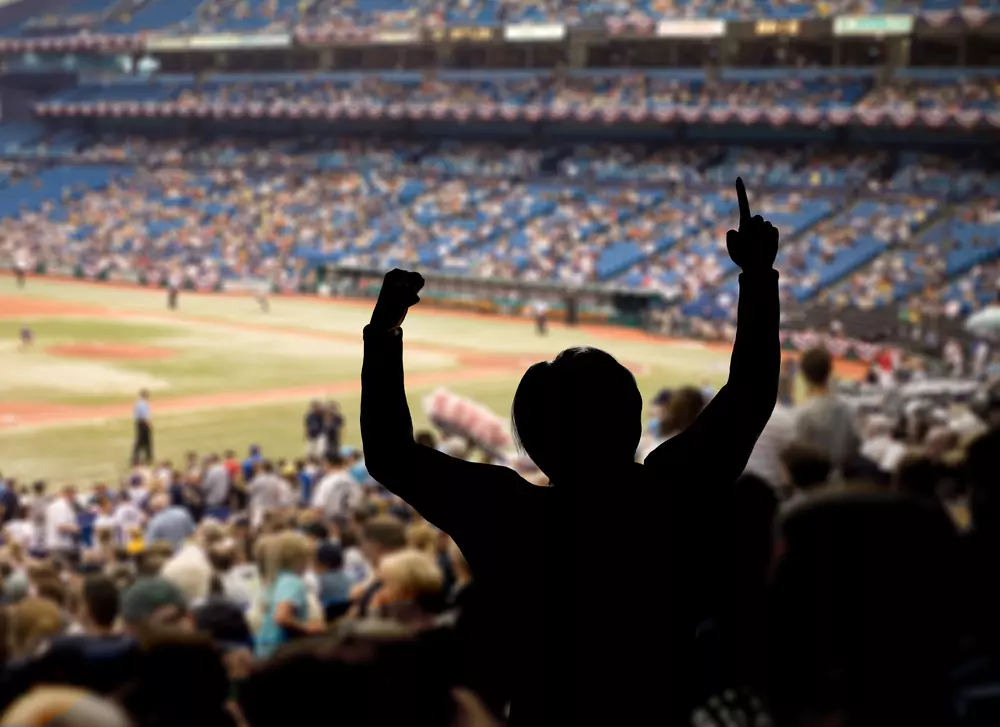 For baseball, there's the Cleveland Indians, basketball has the Cavaliers, the Cleveland Browns are the football team, and The Monsters play hockey.
Teams that can enjoy easy times socializing benefit from the chance to learn more about each other beyond their work personas. Allow team members to invite family along so teammates can learn about the important people in each other's lives.
14. Learn Improv
Learning improv is an excellent team building activity as it hones multiple team skills. Imposters Theater in Cleveland hosts team building sessions tailored to your needs.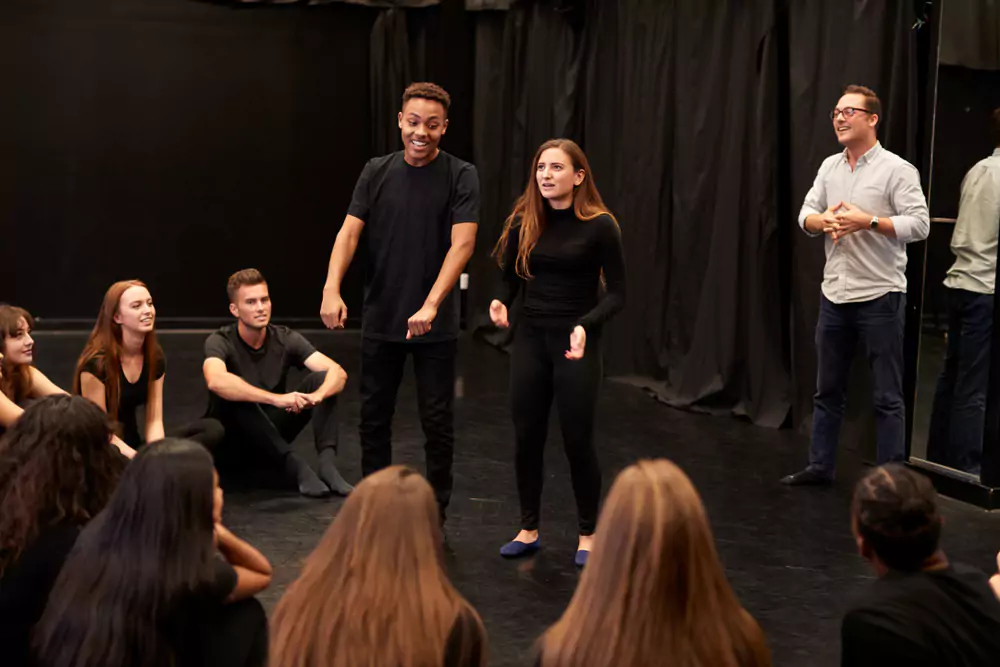 Improvising together means that team members must listen to each other and be open to suggestions if they want their skit to succeed. Teams must brainstorm and come up with new ideas in a flash.
Also, team members must set aside judgment of each other and learn to trust each other as no one will be a brilliant improv artist from the get-go. If you have a team that works a bit too hard and doesn't laugh enough, an improv class is just the thing.
15. Laugh Out Loud Together
Instead of taking an improv team building class, take the team to a comedy club where they can take their mind off everything and just laugh! Hilarities 4th Street Theatre is one of the best comedy clubs in Cleveland and has received national recognition as well.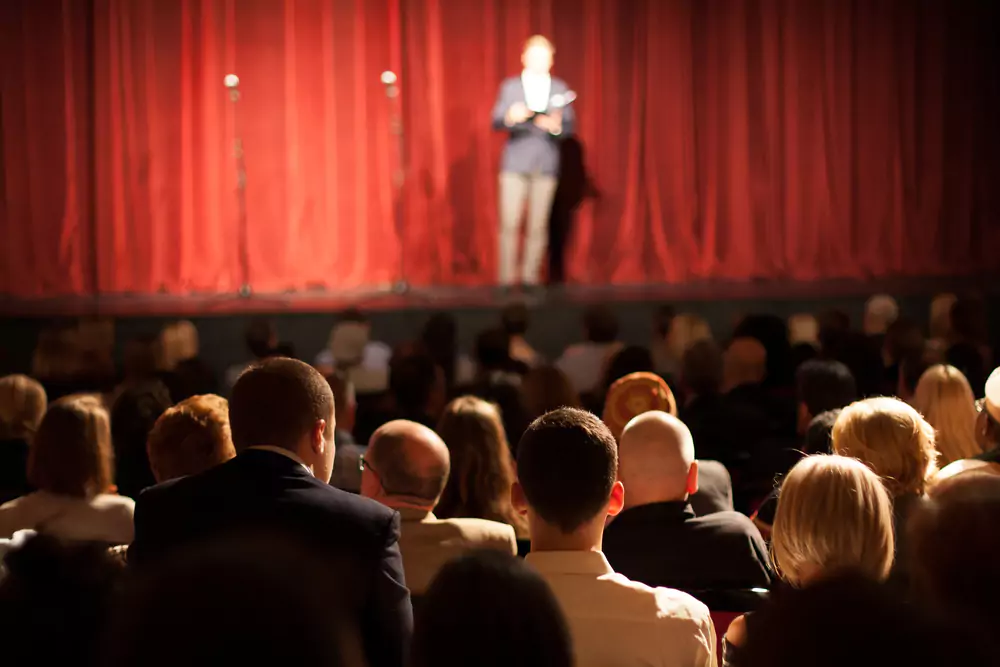 As one of the largest comedy venues in the country, you can bring your team of any size. If you are a team of 12 or under, look into renting a mezzanine skybox where your team can stop the work talk and get silly!
16. Have A Candle Party
Light up your team's day by having a "Just-A-Candle" party hosted by Cleveland Candle Company. Making candles is as relaxing as enjoying the scent of lit candles. It's also something that most of your team hasn't tried. Sharing a new experience is a wonderful way to help your team bond.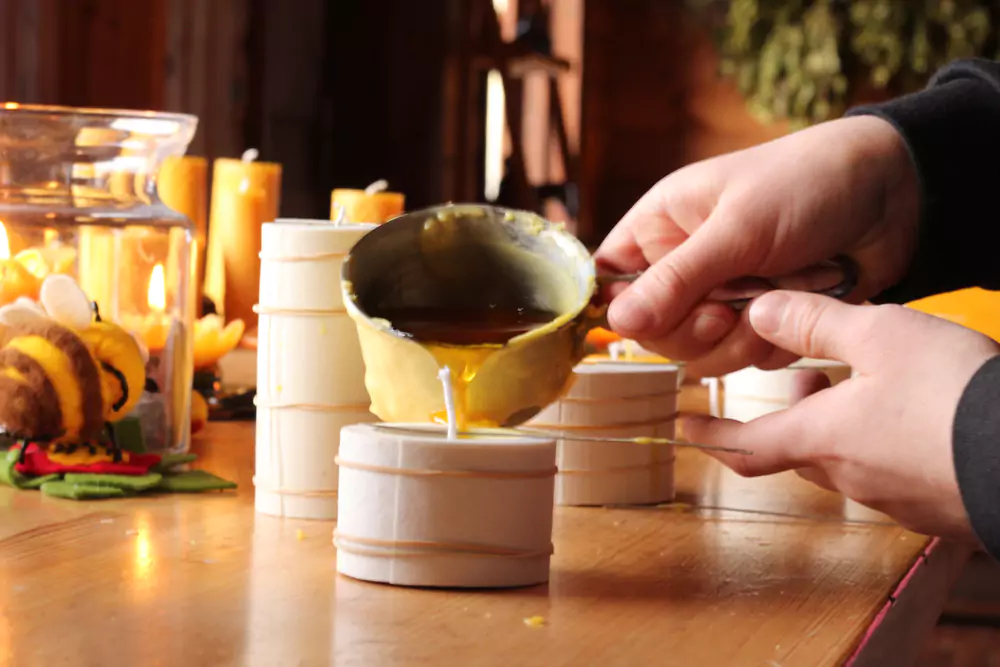 At your team candle-making party, everyone can choose a combination of fragrances from over 150 scents. They'll then stir scent oils into wax and design labels. It takes about one to two hours for the candles to cool so your team will have plenty of time to chat and catch up with each other.
17. Tour A Brewery
Cleveland's beer scene is getting better all the time and there are a number of breweries that offer tours. Instead of your usual happy hour, try Great Lakes Brewing Company's one-hour private group tour.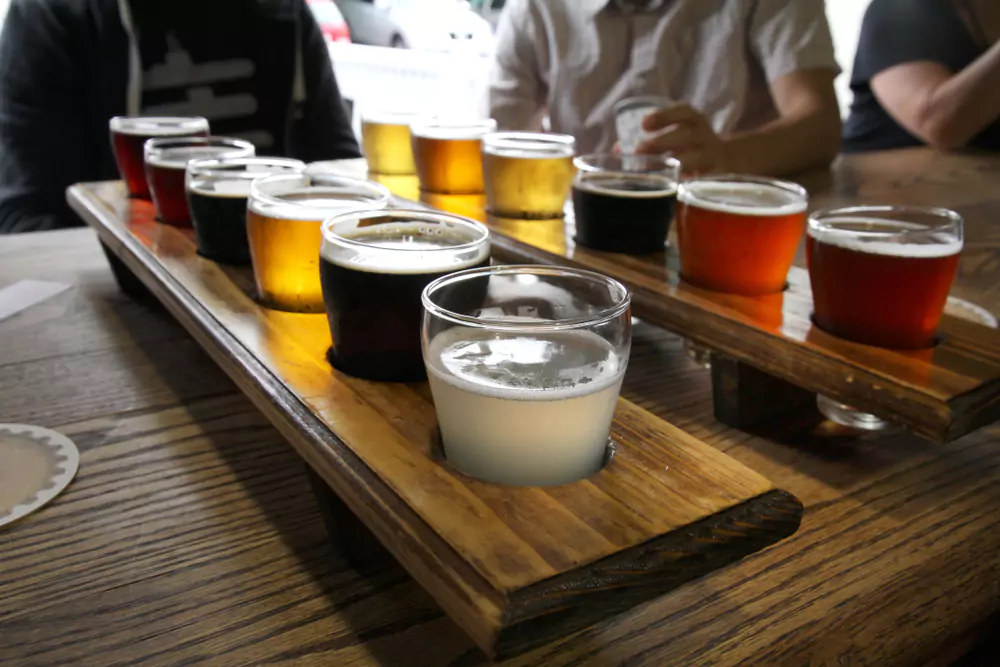 First, your team will sample the company's award-winning beer in the Beer Symposium. Then they'll head into the production facility for an up-close look at how Great Lakes produces their beer from brewing to packaging. Friendly guides explain the brewery's history and the brewing process.
Everyone gets to taste four 5 oz. samples and receives a souvenir pint glass which will serve as a reminder of your team visit.
18. Have A Picnic
For a twist on the modern company picnic, head to Mapleside Farms, a charming 120-acre property in the countryside just a half-hour away from Downtown Cleveland.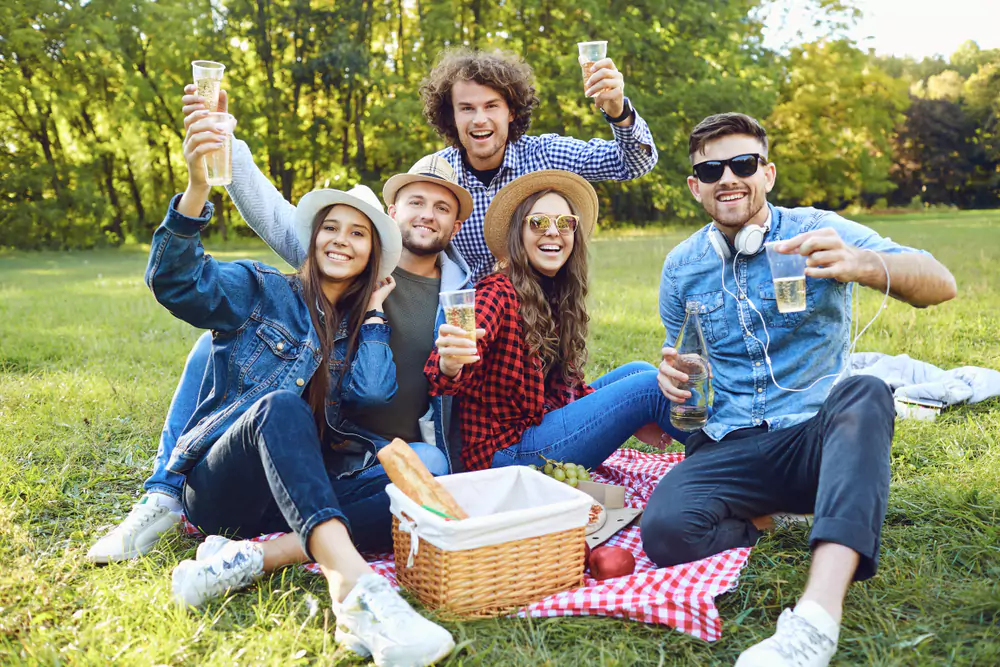 Choose from four meal options, like a classic Burger cookout, a Southern-Fried Chicken dinner, BBQ, and even a clambake.
There's more than just food, there are classic farm games like tug of war, horseshoes, bocce ball, hay rides, and more. This will be one company picnic that will not be forgotten soon!
19. Learn About Cleveland On A Walking Tour
Get your team out of the office and enjoy the fresh air on a walking tour of Cleveland. Even team members who have lived in Cleveland for years may not know about the history of the city or some of the sites you'll see on one of many Tours of Cleveland.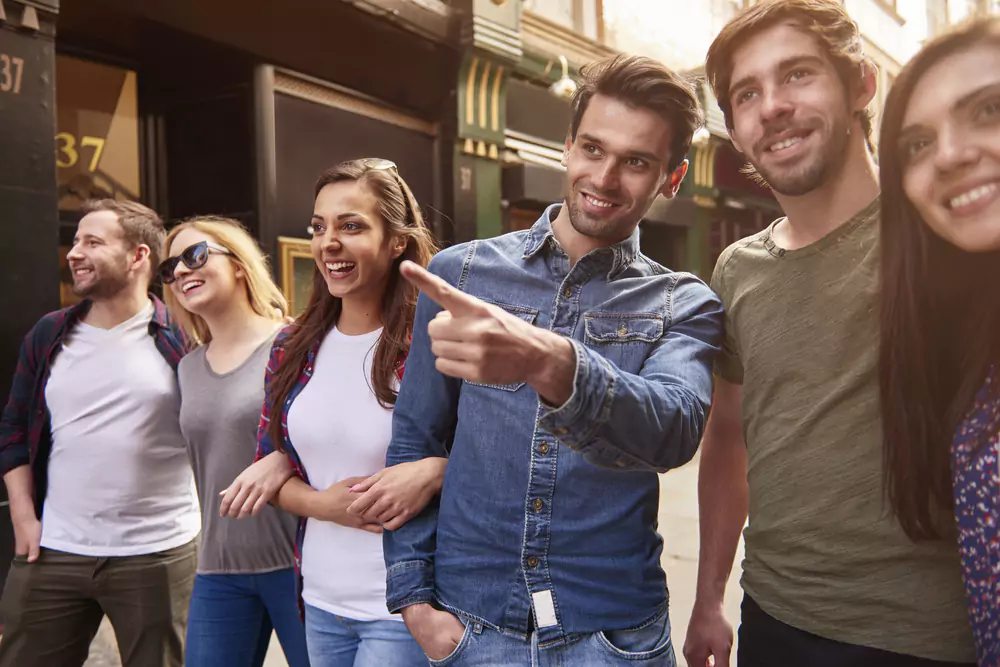 You can opt for a Downtown Highlights tour, a "Tales of Terror" haunted Cleveland tour (perfect for Halloween!), or a Downtown Public Art tour. Your team is sure to learn some new things about the city and each other on this fun field trip!
20. Try New Foods
Food tours combine two great things: an engaging walking tour with food pit stops along the way! Taste of Cleveland has tours of the most interesting Cleveland neighborhoods where one can find amazing food to try.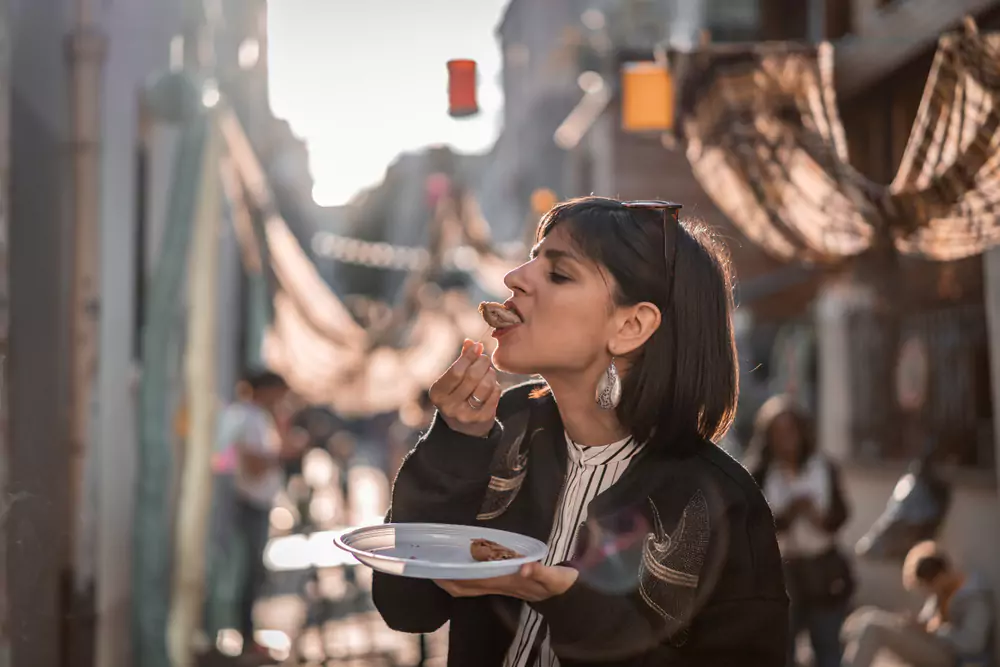 As your team learns about the history and culture of an area from an experienced guide, they'll enjoy food and drink at several restaurants. These tours are just the right length of time for a half day away from the office.
21. Do A Ropes Course
If you want to challenge your team to step out of their comfort zone, take them to a ropes course. It's a bonding experience with a rush of adrenaline!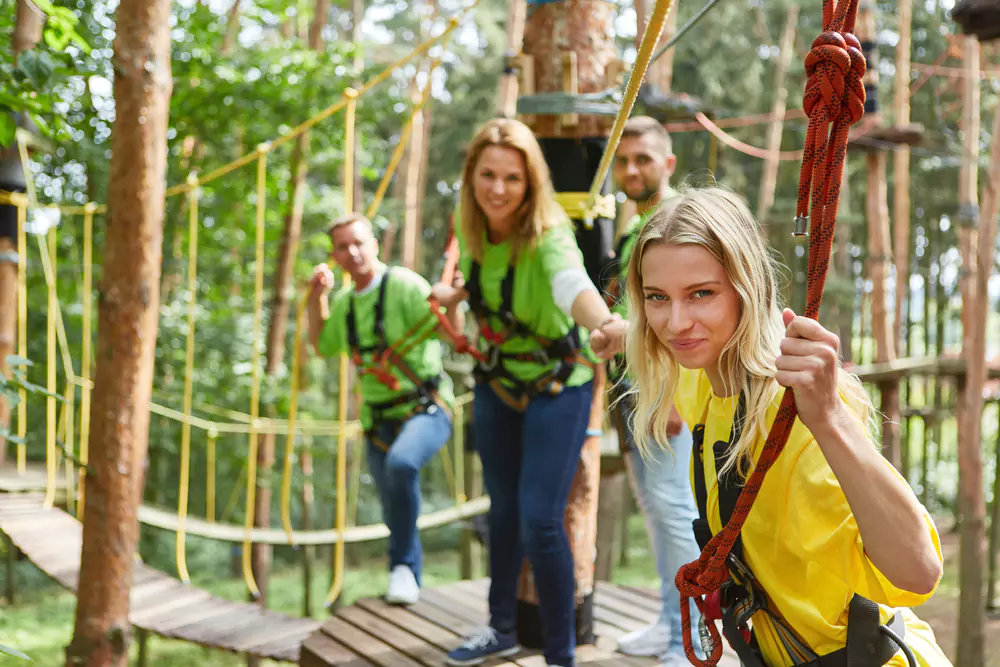 Rope courses include a range of physical obstacles and tasks for teams to overcome. Go Ape Cleveland offers team building sessions from one to three hours long that include ziplining, aerial suspension, and the chance to try their unique free drop Tarzan swings.
Team members will be there to support each other as they conquer their fears. Every step of the way, trust amongst the team is strengthened. After they complete the course, they'll have a sense of accomplishment unlike any other!
What To See On Your Team Building Trip To Cleveland
1. Rock & Roll Hall of Fame
The Rock & Roll Hall of Fame and Museum is perhaps the most famous attraction in Cleveland. It's a national destination, and not just for rock music lovers. The museum has both temporary exhibits and permanent ones all tied to iconic rock and roll musicians.
Through objects, images, films, lectures, and live music performances, the museum honors the timeless genre that changed the world.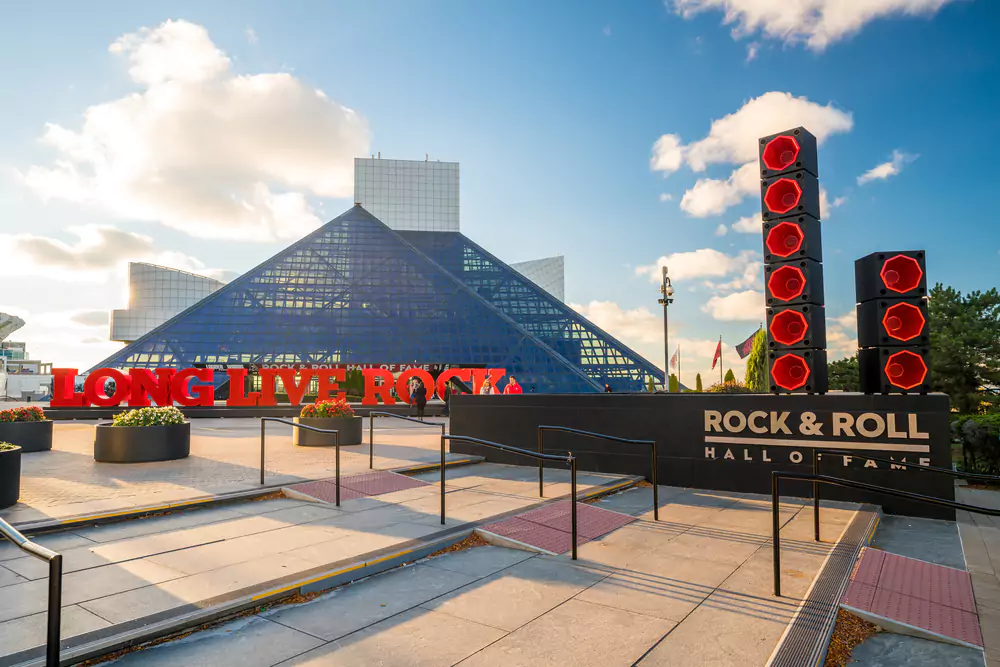 2. Observation Deck at the Terminal Tower
When Terminal Tower was built in 1928, it was the second-tallest building in the world. Until 1964, it remained the tallest building in North America (outside of New York City's skyscrapers).
The observation deck is on the 42nd floor (out of 52 floors). The views are fantastic and on a clear day, one can see for 30 miles in every direction.
3. Cleveland Museum of Art
This internationally renowned museum opened in 1916 and has an impressive permanent collection of 61,000 works of art from around the globe. It is one of the most visited art museums in the world, receiving about 770,000 visitors annually.
The museum's most significant holdings are its Asian and Egyptian art but the museum also owns paintings by Matisse, Renoir, Gauguin, Monet, van Gogh, Picasso, Andy Warhol, Jackson Pollock, and many more.
Amazingly, the Cleveland Museum of Art is free to visit.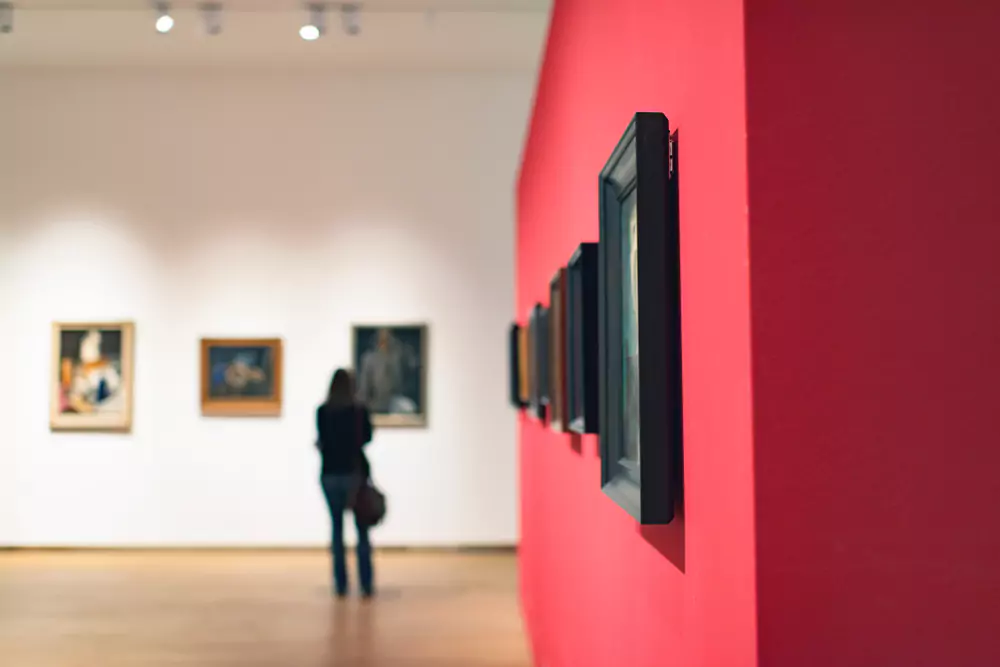 4. West Side Market 
The historic West Side Market opened in 1840, across the street from its current location. This massive food market is inside a Neo-Classical/Byzantine brick building with a landmark clock tower. There are over 100 vendors selling a diverse selection of world foods. The market is a popular tourist destination.
5. Greater Cleveland Aquarium
The Greater Cleveland Aquarium is 70,000 square feet of exhibition space with 55 exhibits showcasing an array of both local and exotic species of fish. Just a few of its eight exhibition areas are Lakes & Rivers of the World, Northern Pacific, Coastal, and Coral Reef.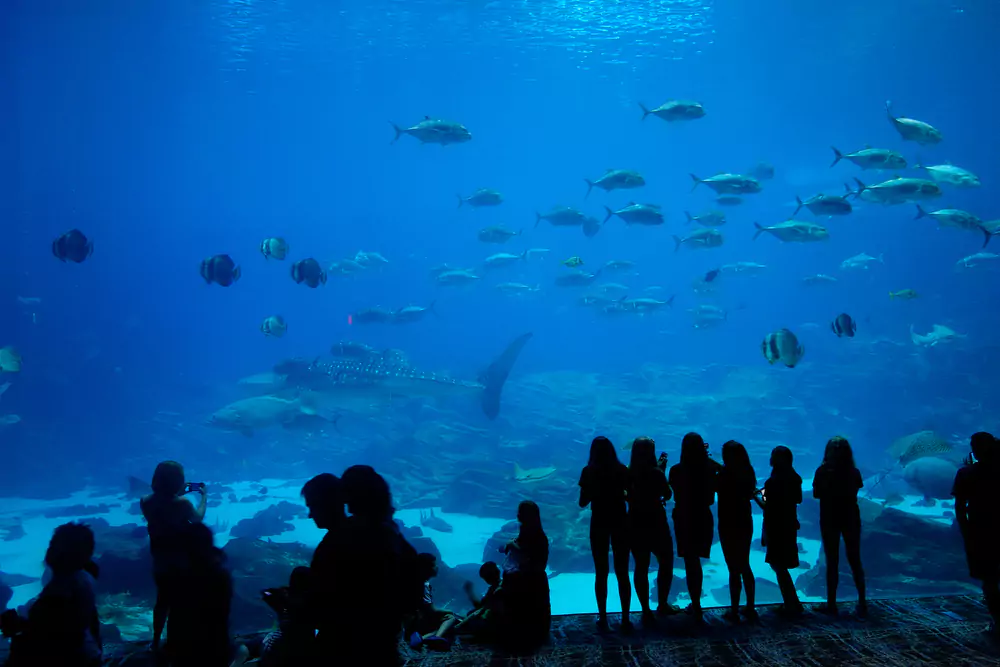 The aquarium's most exciting exhibit is the Shark SeaTube. It features a 230,000-gallon tank with a 175-foot acrylic shark tunnel with panoramic views of marine life, including various species of sharks.
Start Planning Your Cleveland Team Building Today
Cleveland has some great team building activities that can enhance cohesive teams and improve teams that need some work. From playing escape games, picnicking, and creating art together, there's something for every team in this city.
Get in touch with Team Building Hub today to learn how we can help you plan the perfect event!