As the number of companies operating remotely increases, company morale may be decreasing. According to Forbes, isolation and loneliness are the biggest concerns among remote employees. One way to combat this situation is to bring everyone together for a virtual company celebration!
Of course, we are not suggesting that every day should be a party day, though there wouldn't be much resistance from your team! Still, it's valuable to find appropriate times throughout the year to spend good times together as a company. The benefits are plentiful and the rewards you reap from virtually celebrating with your team will have you jumping for joy!
Table of Contents
What Are The Benefits Of Virtual Team Celebrations?
When To Celebrate Your Virtual Team
How To Set Up A Virtual Company Party
17 Virtual Company Celebration Ideas 
What Are The Benefits Of Virtual Team Celebrations?
Virtual company celebrations are beneficial in many ways. If your company is suffering from low morale, a celebration can inject some team spirit into your company culture. Virtual celebrations foster camaraderie and create a sense of community despite any physical distance. Virtual company celebrations bridge the gap between your remote employees, enabling them to feel more connected to the team.
Virtual team celebrations allow your remote employees to get to know each other better in a non-work setting. A LinkedIn study shows that work friendships make for happier employees which leads to increased productivity and greater job satisfaction. Virtual company celebrations should include fun games and activities to keep the party rolling. Below, we list 17 virtual team celebration ideas and games to play at company parties that are also great for team building as well!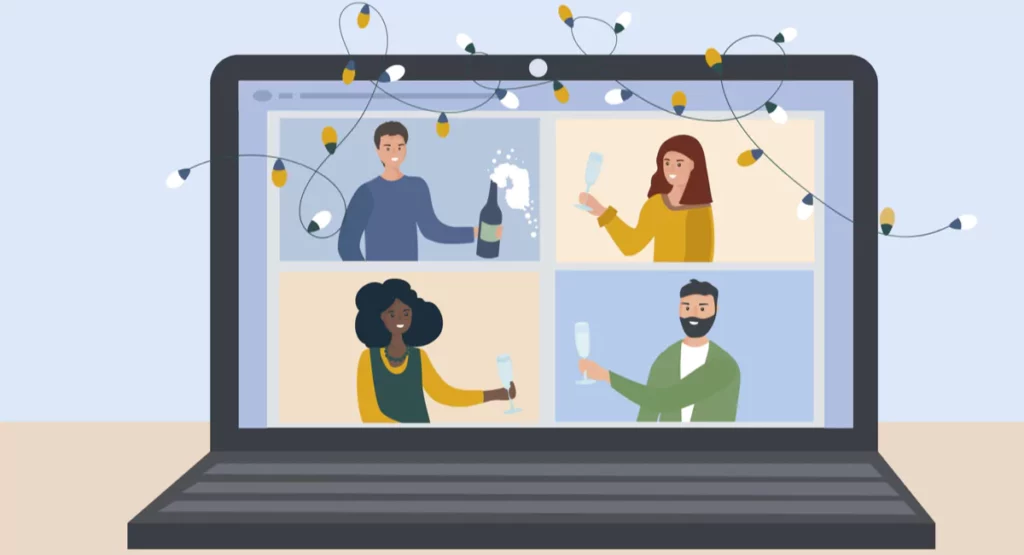 When To Celebrate Your Virtual Team
Typically companies celebrate at the end of the year. Not only is it the holiday season, but it's also a time when teams reflect on their accomplishments over the past 12 months. It just feels natural to have a company party at that time. But you don't need to wait until December for some company fun! You can celebrate any occasion at any time!
Company anniversaries are perfect for virtual company celebrations. Other times to break out the balloons and streamers are birthdays, retirements, and other employees' personal milestones. How about celebrating your team's hard work with an employee appreciation party? Why not have a virtual company celebration just for the fun of it?
How To Set Up A Virtual Company Party
Planning a virtual company party is pretty similar to organizing an in-person party. There are some differences due to the fact that you won't be in the same physical space. But if you follow the steps below, your virtual party will be more successful than you can imagine!
1. Create A Guest List
First things first. Make your guest list. Doing this before anything else helps you to pick a date when most people can attend. It also assists you in choosing fitting activities and a video-conferencing platform.
Deciding who to invite depends on the occasion. Birthdays, retirements, and employee work anniversaries are likely to be a small to medium-sized group. Whereas company anniversary celebrations should include the entire crew, no matter how big!
That's one major advantage that virtual celebrations have over in-person events. You can party with colleagues from around the world without jet lag! Company-wide events may be a bit daunting, so you may want to consider working with a virtual event planning company.
2. Schedule The Date
This is one of the easiest steps to hosting a company celebration. The party should be held as close, if not on the date of the occasion being celebrated. One exception is holiday parties when you'll need to take some seasonal factors into account. (See some virtual team holiday celebration ideas here.)
3. Select A Video-Conferencing Platform
When selecting the best video-conferencing platform for your celebration, take into account the size of the guest list and guests' familiarity with various platforms (Skype, Zoom, Microsoft Teams, and Google Hangouts). If your company uses a particular platform, choose that one so none has to acquire new tech skills to join the festivities.
Zoom is a go-to for many virtual events and parties. Your company may already have a paid plan, but if not, the free version offers 49 screens on view at once, for up to 40 minutes.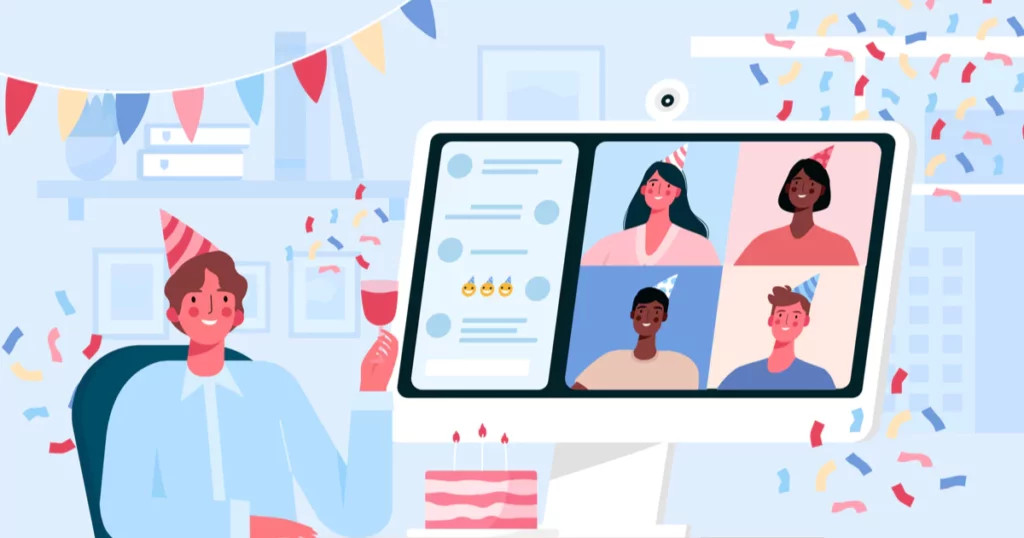 4. Pick A Background Photo Or Video
Use Zoom virtual backgrounds to create the illusion that you are celebrating in the same physical place! Just swap out your actual background with a custom virtual background. Choose a background that fits the occasion. For formal celebrations, find an elegant virtual background. For a party feel, pick a colorful background jam-packed with balloons and streamers. You can find hundreds of free virtual backgrounds on Zoom, Unsplash, Shutterstock, Pixabay, and Pexels. You can even create your own with Canva!
5. Send Out Invitations
Unless it is necessary, don't email the invitation. The invitation sets the tone for the celebration so make it something special! You can send digital invitations using Evite, Punchbowl, or PaperlessPost. Choose one of their templates or design your own invitation. Pick a design to match the occasion! Champagne glasses for company anniversaries or balloons and birthday cakes for birthday parties.
6. Launch A Virtual Countdown Clock
Build excitement around the celebration by sharing a live animated countdown clock! Time and Date allows you to make your own design. Simply enter the celebration date and time then watch the anticipation grow as the special day gets closer!
7. Send Food Or Libations To Party Guests
Your virtual celebration will go over much better if you supply party-goers with scrumptious food and tasty drinks. Sending themed party packs can also be part of the fun. A fancy celebration calls for a gourmet package of hors d'oeuvres. What would a birthday party be without everyone having a slice of cake? Send individual mini birthday cakes to the guests, but make sure the birthday boy or girl gets a full-sized cake! For other food kits, you can find a wide variety on Etsy.
8. Pick Activities Or Games To Play
With hundreds of fun virtual games to choose from, it may be hard to pick one! Some games lend themselves to specific occasions (we've already made some match-ups for you below.) You may want to find a game that suits the make-up of your group or the team dynamic. For every celebration, there is a virtual game or activity that will bring your virtual company celebration to life! Here are 17 virtual project team celebration ideas.
17 Virtual Company Celebration Ideas
Virtual company celebrations give employees the chance to laugh together and create shared memories as a team. These moments forge strong bonds that diminish remote workers' feelings of isolation. Here are some of the very best virtual company celebration ideas!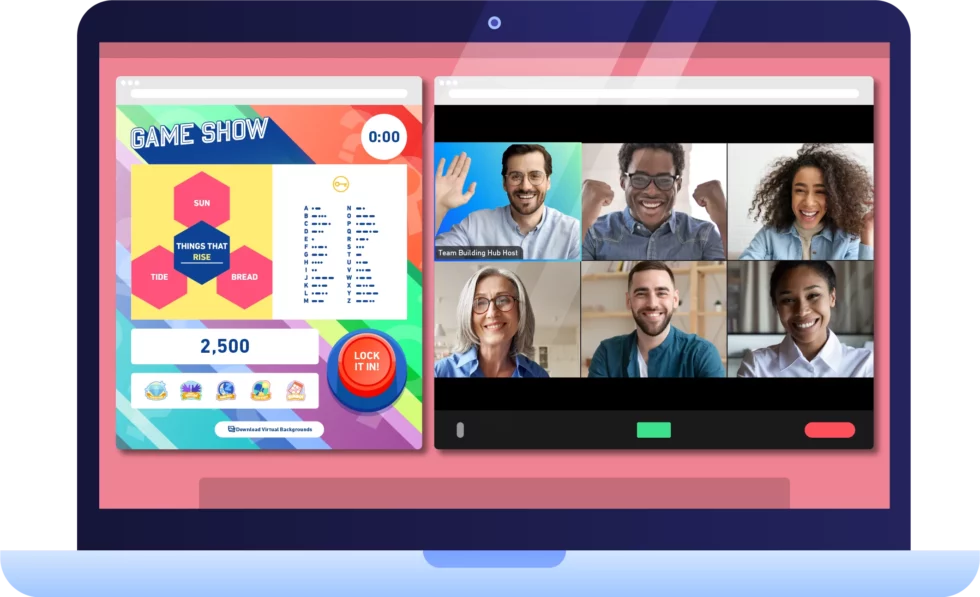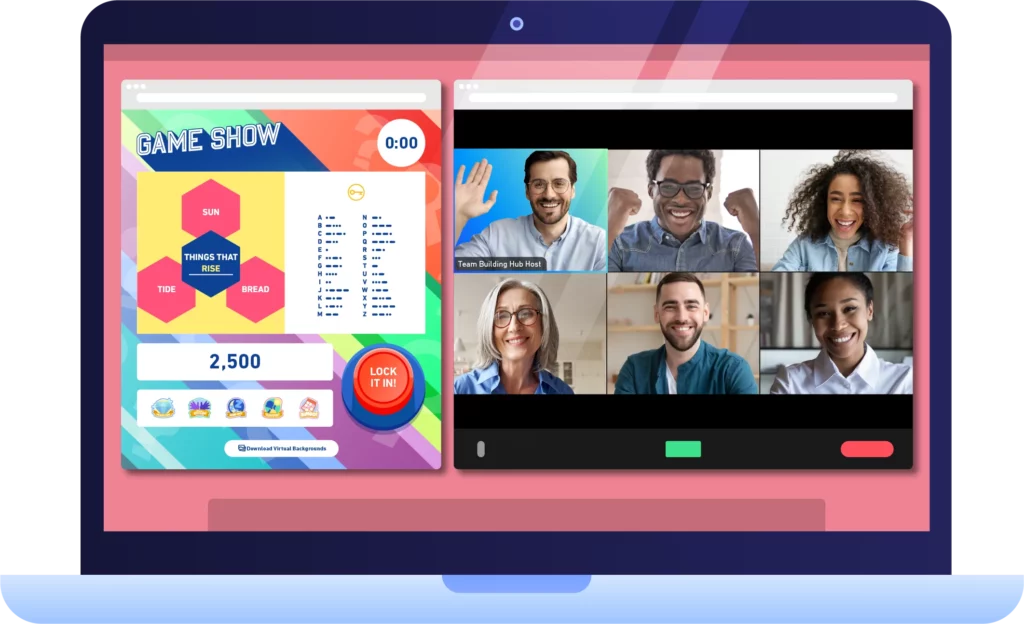 1. Virtual Company Anniversary Celebration
The most common company celebrations are for major anniversaries (at the end of the first year, the fifth year, the tenth year, etc.) Your company's lifespan is a strong indicator of success and a virtual company celebration lets employees take pride in the role they played in the company's longevity. For large organizations and corporations, company anniversaries are especially important to celebrate as they are the ideal time to bring your entire team together, whether entirely remote or hybrid.
One of the best virtual company anniversary celebration ideas for large companies is to play an online game show! Team Building Hub's online game shows can accommodate up to 150 employees. Players don't need to be tech-savvy as the game is played over Zoom. Your energetic host leads players, who are split up into teams, through five rounds of puzzles, word games, and brainteasers. The team that earns the most points and badges gets top honors on the leaderboard and wins some office bragging rights!
---
Get Your Free Game
The 3-Minute Non-Cringey Ice Breaker for Your Next Meeting
A ready-set-go game to run at your next fully remote or hybrid meeting without the hassle or added pressure of developing a team-building exercise yourself. Get it here →
---
2. Company Milestones
Company anniversaries don't roll around that often, so consider celebrating your company's milestones! These include events like landing an important new client and the successful completion of an especially challenging or lengthy project. Acknowledging milestones with a virtual company celebration gives your remote employees yet another chance to connect. They also provide employers the opportunity to reassert the company's mission and values.
A perfect activity for your milestone virtual company celebration is to make a company timeline. Use Adobe's Creative Cloud Express free timeline creator to memorialize your company's accomplishments over the years. A visual representation of your company's history can capture your growth, highlight the most significant accomplishments, and acknowledge the people who played a part in the journey.
3. Employee Appreciation Day
This non-national but widely known holiday falls annually on the first Friday of March. Forty percent of employed Americans report that receiving recognition for their efforts increased their motivation. Employee Appreciation Day is one holiday that screams out for a virtual company celebration! Take your team out for a virtual lunch! Send them digital gift cards for food delivery via GrubHub or Uber Eats. Let them choose their favorite meal while you pick up the tab! Better yet, take them on a virtual walking tour of Rome and suggest that they order some nice Italian cuisine with their food delivery gift cards.
For more activities, check out these 22 employee appreciation ideas.
4. Virtual Holidays
Holidays can be both a festive time of year and for some a little bit lonely if they are far away from family and friends. That feeling is exacerbated by the feelings of isolation that come with working remotely. The cure for the holiday blues is a virtual company celebration.
At Christmas, celebrate with a special Holiday Edition Online Game Show! Try an online group cooking class for Thanksgiving and make all the classic foods together. You can find more virtual team holiday celebration ideas here.
5. Virtual Team Awards Ceremony
Celebrate your team with a flashy virtual awards ceremony. There are a few different ways to hold an awards ceremony. The traditional way is for management to award employees for things like "best team player" or "best salesperson". Make this virtual celebration extra fun by having your remote employees come up with the categories, like "most likely to spill their coffee during a Zoom meeting" and "most stylish home office".
Send customized digital invitations with a panache. When it's time to hand out awards, go Hollywood-style! Make the event 'black-tie only'. Take advantage of virtual backgrounds like the Academy Awards red carpet or a gold stage. Make your Awards Ceremony a night to remember!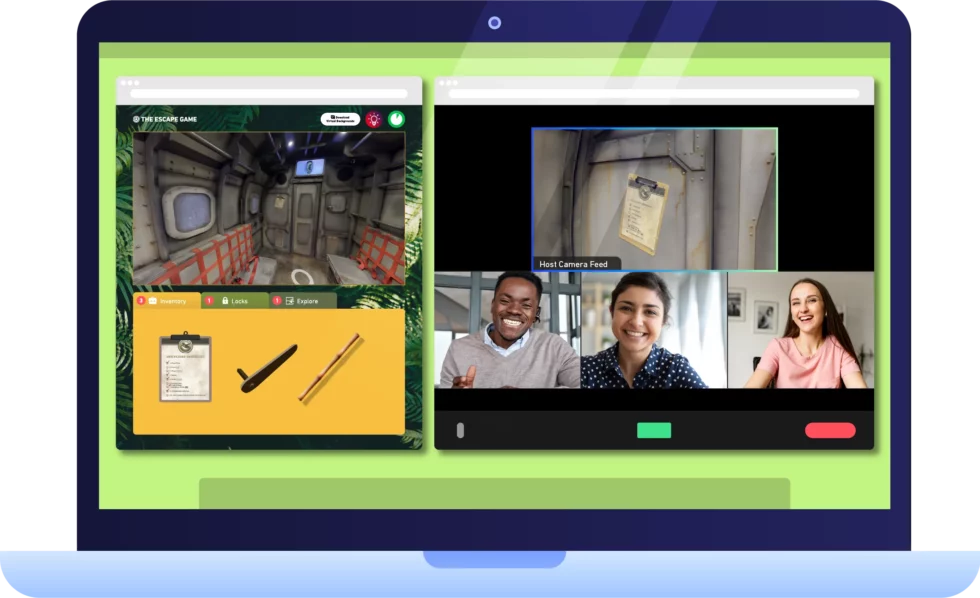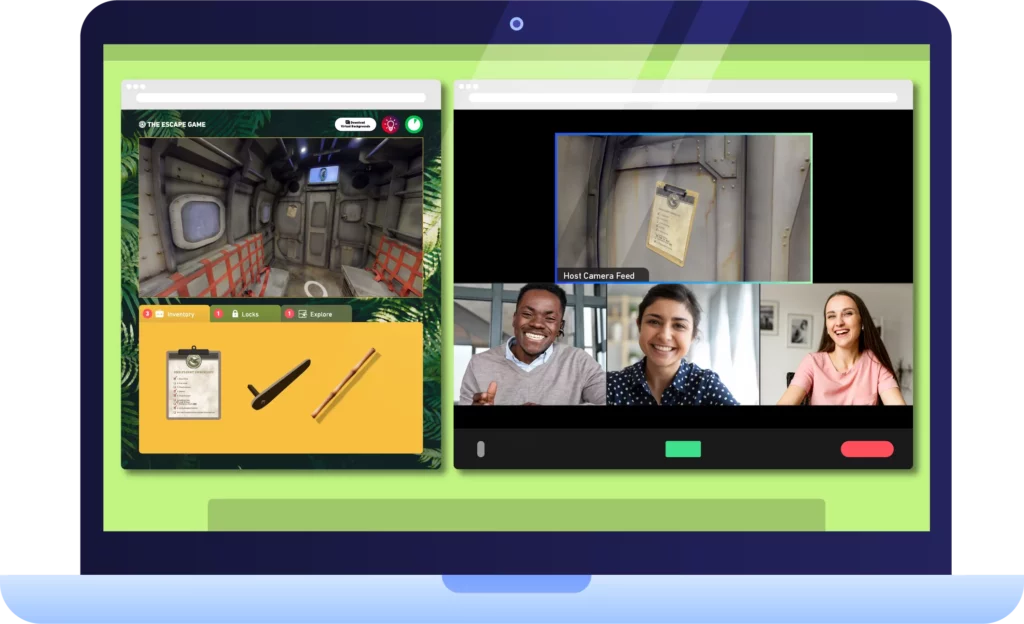 6. Retirements
Surely your departing employee is celebrating inside about their upcoming life of leisure. Help send them off with a virtual company celebration! Since they have already secured their 'escape' from WORK, play a virtual escape room! These hour-long immersive games are an exhilarating way for your retiree to enjoy a final opportunity to collaborate with the team. Find other wonderful virtual retirement party ideas here.
7. Farewells
Play a customized online trivia game where the departee is the only category! Ask the party guests work-related questions about the guest of honor, unless your team is a close-knit one. In that case, you can throw in some personal life questions as well. Just a few example questions are:
When did they join the company?
How do they take their coffee or tea?
What are their preferred means of communication?
Do they have a hobby?
Where were they born?
For something a bit more exhilarating, play Virtual Coworker Feud! Teams battle each other to answer survey questions and earn points for the win! This game is great for small to medium-sized celebrations as it can be played by 4 to 40 people.
8. Individual Work Anniversaries
Celebrating an employee's work anniversaries shows them how much they are a valued member of the team. Hold a virtual company celebration in their honor. Start the festivities with some peer-to-peer recognition! A virtual celebration with peer-to-peer recognition is good for the guest of honor, but great for the company as these kinds of activities foster a culture of appreciation.
Once everyone has joined the Zoom meeting, have each team member say something thoughtful about their co-worker. In addition, try an online mixology class where everyone will learn to make a specialty cocktail. Afterward, you can all toast the guest of honor!
9. Birthdays
The birthday boy or girl might be wondering where all the years went. Though they can't bring them back, they can use their best searching skills in a team virtual scavenger hunt! Teams work together to track down items on a list and the first team to complete the list wins.
Have prizes handy for the victorious team and an extra one for the guest of honor, in case their team doesn't win. Since pizza parties are often synonymous with birthday parties, play a virtual scavenger hunt in Italy!
10. End of The Year Celebration
Come year's end, remote teams should celebrate all their accomplishments. A great way to do this is to create a company highlight reel showcasing "the best…" of the year– similar to a "Top 10" list. Come up with several categories like "greatest team win", "funniest moment", and "best team building experience".
Using Google Forms, ask colleagues to submit their picks then collect and rank their answers. Find pictures or create images that depict the winning moments. Get the team together for a virtual celebration and present the highlights reel via a slideshow or a video. If you have a company Instagram account, create a reel. You can also pair this event with your virtual awards ceremony!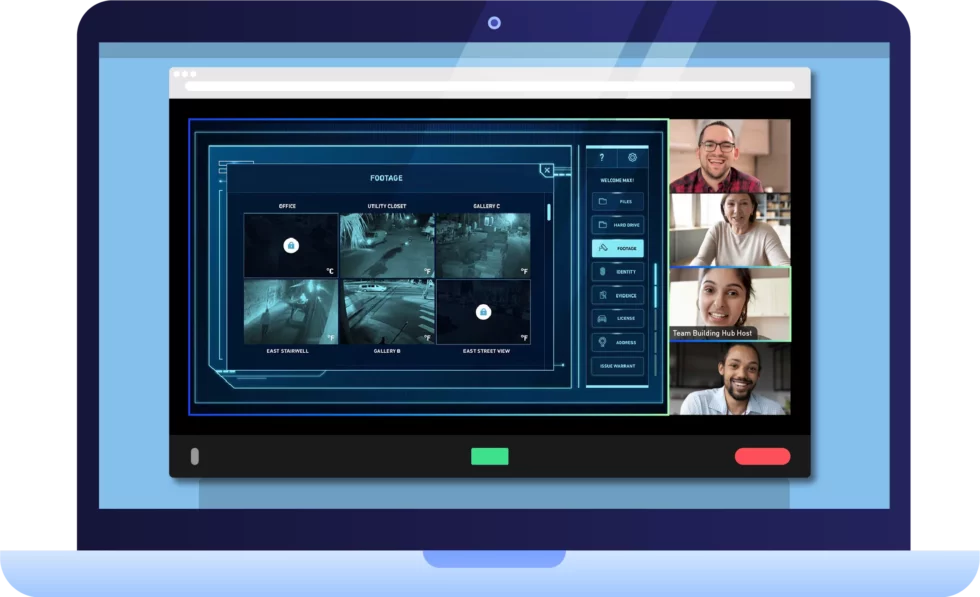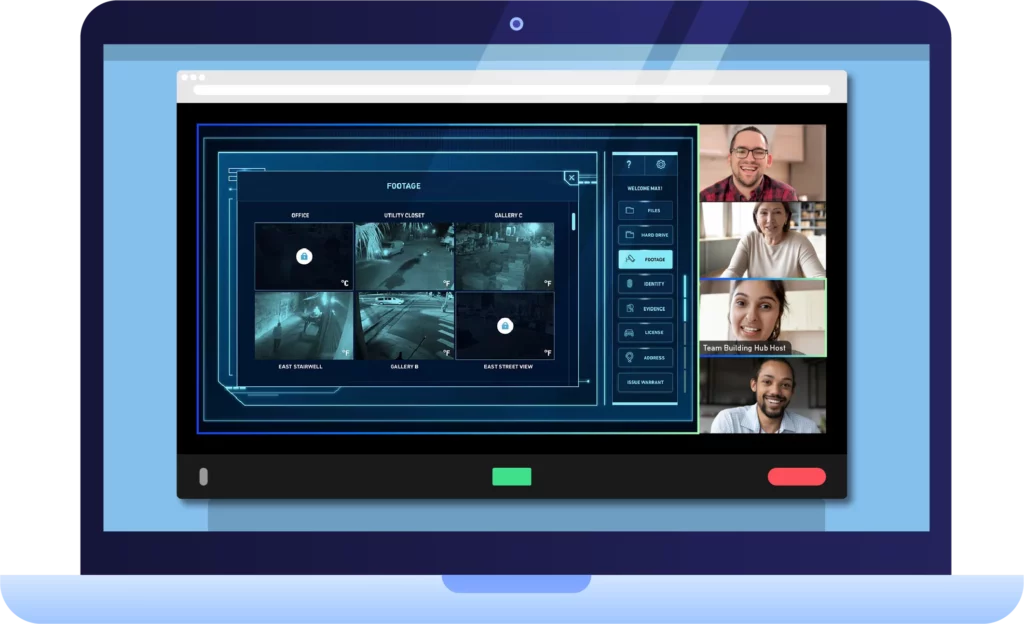 11. Halloween
Time to celebrate all things spooky! Hold a virtual Halloween costume party and play a team virtual murder mystery game! For those who like mysteries but don't want to do anything too creepy, an online mystery game will do the trick. Online mystery games from Team Building Hub are an excellent choice for large teams, even groups over 1,000! Once everyone signs into the meeting, your group is split into teams of secret agents challenged with a top-secret mission! Teams must scour the internet for clues and interpret a dossier of evidence to solve the mystery!
12. Valentine's Day
Just because teams are remote doesn't mean they should forgo the heart-shaped chocolate candy that appears in the office every February 14. Celebrate with an online group cooking class and make desserts together! Fest Cooking's group classes are perfect for Valentines' Day and include making chocolate flourless cake, chocolate fondue, and chocolate mousse. Working remotely on Valentine's Day just got a whole lot sweeter!
13. Virtual Happy Hour
It's always 5 o'clock somewhere in the world which means that you can celebrate with a virtual happy hour on any day! For added fun, make it a 'black tie' affair and ask guests to dress to the nines! Include recipes for swanky, classic cocktails like Bellinis or Sidecars.
For a casual celebration, play online board games. Jackbox Games has a fantastic selection of games and a really handy guide on how to play their remote games. Other classic board games like Scrabble and Clue are also playable for groups online. There's a virtual version of Settlers of Catan too! Tabletopia has tons of the games you grew up loving and can now beat your coworkers. Last but not least, trivia games are great for virtual happy hours!
14. Grammys Dance Party
Does anyone really need a reason to dance? But the Grammys can give you an occasion anyway! Dance parties work well on Zoom as you can see everyone at the party. You can also set up breakout rooms for people to catch up with each other!
Make a playlist of that year's Grammy nominated songs, many of which people are likely to know. Then jam out and maybe learn a few new moves from your co-workers. If you'd like even more music inspo, here's a list of the 55 best virtual dance party songs curated by Spotify. You can also ask your guests to submit songs they want to hear at the party using Google Forms or Survey Monkey.
Send the link to join the party with a fun digital invite and tell everyone to use a disco-style virtual background. Encourage people to dress up in glittery and outlandish outfits, just like celebrities wear on the red carpet. Once all the logistics are out of the way, it's time to dance! Be sure to take screenshots during the party so the team can look back at them anytime they want!
15. Wine And Cheese Tasting Party
Good wine and cheese are something worth celebrating! Send party guests virtual wine tasting kits from companies like In Good Taste, Priority Wine Pass, Wine with Chas, and Chandon. Create your own virtual wine and cheese tasting or sign your group up for one with Cozymeal.
Depending on your group's tastes, you may want to have a beer and cheese tasting party. Check out City Brew Tours' customizable Beer and Cheese Tasting kit.
16. Oscars Movie Watch Party
It's easy for remote teams to watch movies together using streaming services like Netflix and Hulu that offer a watch party option. Tell the party guests to feel free to wear their comfiest clothing (or maybe make it a black tie affair!) and grab some popcorn and candy. A fun way to turn a movie night into an event is to center it around the Oscars. Most nominations are available on streaming services these days. Watch Oscar nominees also opens up room for discussion as co-workers chat about their favorite films or which celeb they think most deserves that coveted "Best Actor" award.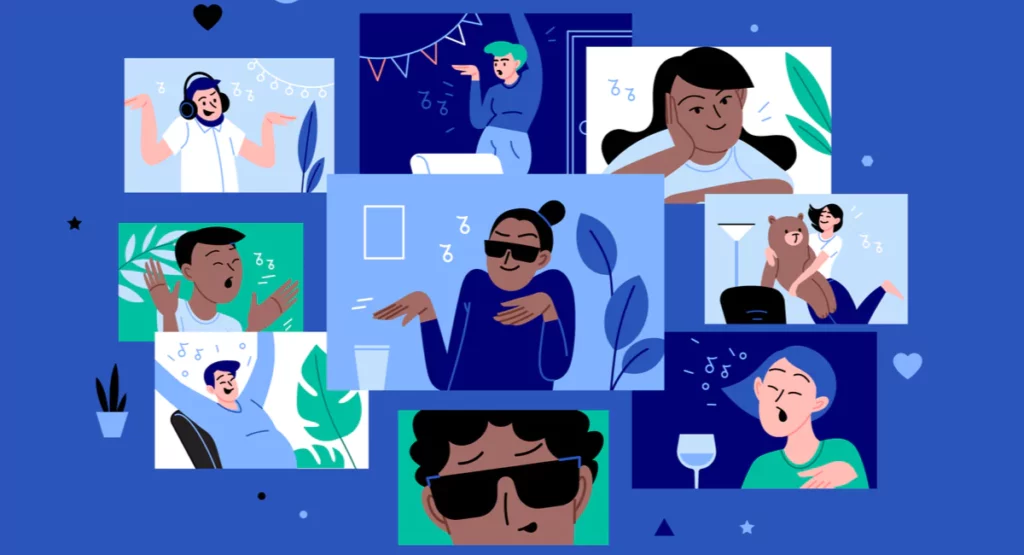 17. Other Times To Celebrate
January 14th is "National Dress Up Your Pet Day"! Celebrate by letting everyone show off their furry friends in their finest outfits! National "Beach Party Day" is on August 7th. Celebrate with beach-related virtual backgrounds and fun costumes!.
Pizza parties are popular among companies. Make your party extra special by celebrating "National Pizza Party Day" on May 19th. Schedule a virtual team lunch and enjoy your slices together! You don't need a special calendar to find an occasion because any day is a fine time for a virtual company celebration. Sharing good times with your remote team is what counts the most!
If you need more ideas for activities or games to play, check out these lists of unusual virtual activities and games, quick team building games, and free team building games.
Conclusion
Being apart doesn't mean you can't be together as a team! Celebrating remote team victories shows team members that their hard work is valued. By celebrating individual milestones, you let employees know that they are integral to the company. Dedicating time to commemorate special moments with the team will make your remote employees happier, improve productivity, and boost morale. Now that is something to celebrate!