Has your team had a happy hour yet? This is the perfect way to have fun with your team while boosting morale and encouraging conversation. A happy hour is a simple concept, but you'll want to be intentional about the planning. The goal is to ensure your team has a great time. Whether you've planned one before or this is your first time, the ideas below will help you organize your next event from start to finish. Keep reading for details on the benefits of happy hours and 20 things you can do to host a memorable one.
Table of Contents
How to Set Up a Work Happy Hour
How to Have a Happy Hour for a Virtual Team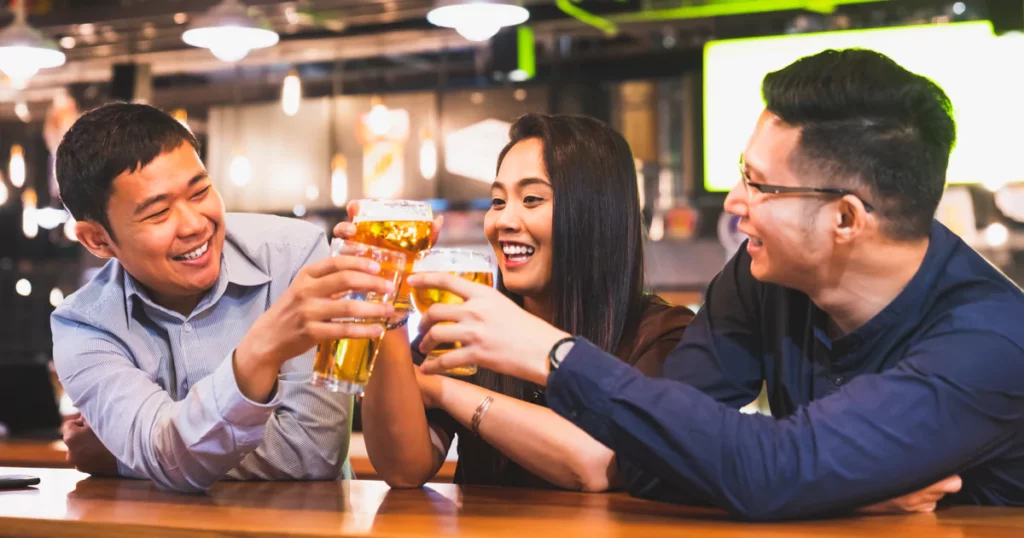 What is a Team Happy Hour?
Traditionally, a happy hour is the time of day when restaurants and bars sell drinks at discounted prices, the perfect time to bring your team together to socialize after work. A happy hour captures the essence of that but with a focus on bonding with the team. You can meet at a bar or restaurant, or have participants get together at a different venue. Teams all over can use a happy hour to socialize, participate in team building activities and learn more about one another. The goal is simply to have fun together.
Do you have a virtual or remote team? Skip to the last section where we go over how to plan an engaging virtual happy hour!
Why Host a Team Happy Hour?
Happy hours provide an opportunity to socialize and connect with one another outside of normal office hours. Has your team been especially busy and disconnected lately? Let a happy hour rectify that. You can play team building games, ask ice breaker questions, share cocktail recipes, and even dance if your team is bold enough! The main point of the occasion is to just enjoy more relaxed interactions with coworkers.
Team Building
Happy hours are a great way to connect as a team. By incorporating fun activities, you'll also give team members a chance to bond as they compete for the top score. This is a chance to meet and spend time getting to know one another in a more casual setting.
Boosts Morale
Hosting a team happy hour can help foster a sense of camaraderie which translates to increased engagement and retention. Employees get the chance to learn more about the teammates they rely on daily and appreciate that the company takes time to plan fun activities.
Increases Trust and Communication
Even when they see each other on a daily basis, the bustle of work can often lead to teams feeling disconnected. Happy hours are an easy way to encourage connection and build trust. They offer more opportunities for communication with one another — especially in a more casual setting.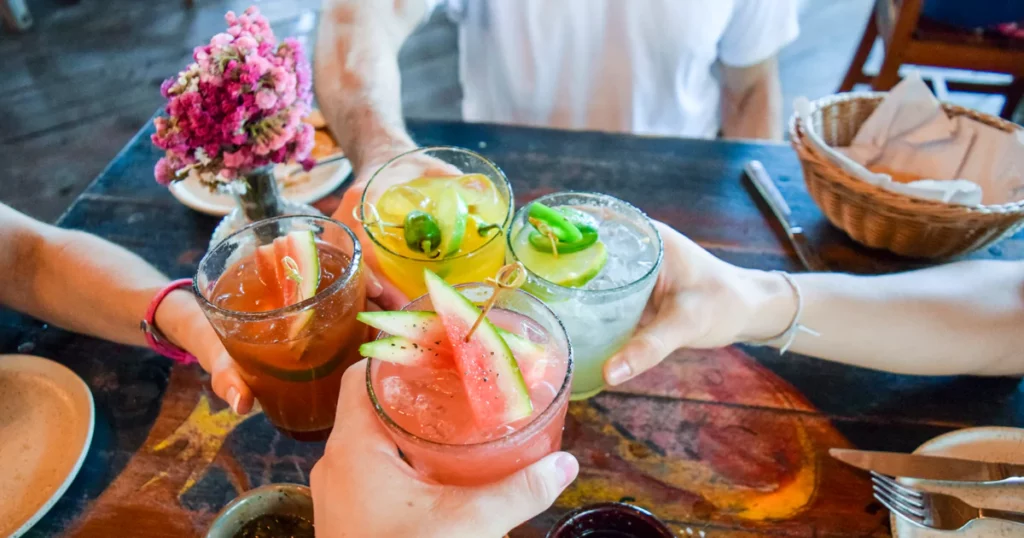 How to Set Up a Work Happy Hour
Planning your next happy hour doesn't have to be hard, but it should be thoughtful. If employees take time to join social events, it ought to be worth their while.
1. Decide on a Venue
There are several options you can use to host your happy hour with the team!
Bar or Restaurant
A bar or restaurant is a fun place to host a team happy hour that breaks the cycle of the work week.
Pros: An extensive drink menu, numerous food options, potential happy hour discount prices, a cool environment, and minimal planning for your company.
Cons: People will need to commute to the location, parking may be pricey or hard to come by, and the restaurant may be too busy to accommodate a large team. If possible, we recommend making a reservation!
At the Office
The office is a great option for a happy hour because of the convenience it provides.
Pros: Everyone is already at the location so they won't need to leave early or worry about parking, and your company won't have to worry about paying a hefty bar tab.
Cons: It may not feel like a special event if the happy hour is at the office, people may stay at their desks and resist interacting if there aren't planned team building activities, and your company will need to figure out what drinks you're providing and how to get them to the office.
Team Member's Home
If you want your happy hour to feel especially personal, consider hosting it at a team member or team leader's house.
Pros: The occasion feels more like an intimate gathering with friends rather than a formal work hand out and people are more likely to relax and get to know each other in the casual setting.
Cons: This type of environment can feel awkward or too intimate for teams who don't know each other well or work in especially formal offices. Also, the host may be expected to pay for everything unless BYOB (bring your own bottle) or costs are discussed ahead of time.
2. Pick a Theme
Is it really a party without a theme? Themes help get folks excited about the happy hour and can influence what activities, games, and icebreakers you prepare. Don't hesitate to think outside the box with your themes! You can pick a decade theme like the 70s, 80s, or 90s, or choose something like "50 Shades" and encourage team members to wear a pair of sunglasses. Or you can try other simple themes like a color and host a pink party where everyone wears something pink.
To get the team even more excited, try reaching out and asking what themes they'd like and have them vote for the one they want. When teams feel involved in the planning, they're more likely to feel more engaged and eager to participate.
Music
As you wait for everyone to arrive, it might be nice to play some tunes. Try building a playlist that reflects and coordinates with the theme. For example, if you went with a decade like the 70s or 80s, you'll want to pick music from that time too.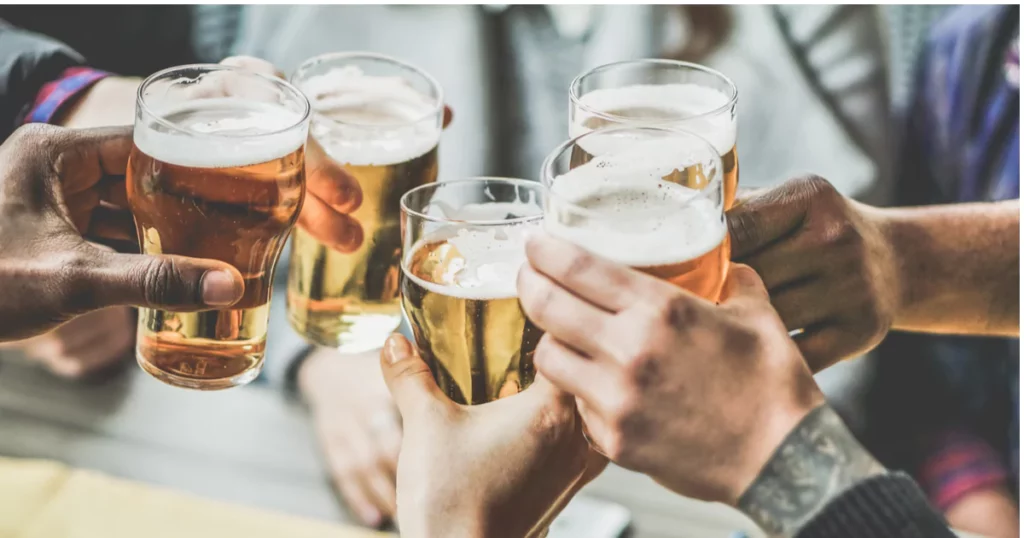 3. Plan Your Agenda
Conversation and chatter are fun but be sure to have a few planned activities up your sleeve to help get the party started. We've included 20 ideas below. You'll also want to have some ice breakers on hand to help encourage conversation before the activities begin.
4. Plan For Food and Drinks
Depending on your venue, you'll need to think through whether attendees will need to provide their own drinks or if you're paying for options at a restaurant. If attendees are providing their own drinks and snacks, try including some easy alcoholic and non-alcoholic recipes with your invite to spark inspiration.
If you want to kick things up a notch, provide a happy hour kit to your team! Companies like Happied Experience remove the hassle by handling all the preparation and mailing of happy hour kits directly to your team or office. They can even provide a virtual host which can help make your happy hour one for the history books.
5. Send Out Invitations
With most of the logistics now squared away, it's time to invite people. Rather than sending a mass email or Slack message to the team, create a quick and beautiful invitation using tools like Evite or Punchbowl which offer easy-to-use templates for any design skill level. You can also leave paper invitations on people's desks or in their work mailboxes.
Three Key Planning Considerations
Before you go too far down the planning path, there are a few things to keep in mind so that you ensure everyone has fun at your next happy hour.
1. Timing
As the name suggests, your happy hour should be no longer than about 60 minutes. While happy hours are beneficial team building activities, any more than an hour might feel like a drain to employees who have lives, families, friends, and things to do outside of work.
2. Not Everyone Drinks Alcohol
Mocktails matter too. Keep in mind that, for a variety of reasons, not everyone drinks alcohol. It's important to communicate and set the expectation from the outset that drinking is completely optional.
3. Keep it Simple
Themes are fun but don't get carried away with the complexity. Busy attendees don't always have time or energy to expend on costumes for an elaborate theme. Keep it simple and above all else, always keep it optional. Happy hours are meant to be fun! You don't want to drain energy before it starts by intentionally or unintentionally putting pressure on employees to go above and beyond to match the theme.
20 Best Team Happy Hour Ideas
The activities below are a fun way to get team members engaged and excited about your next happy hour. To get your team really excited, consider offering a small prize to the person or team that scores the most points! You'd be surprised how hard teams compete for a $10 Amazon or Starbucks gift card.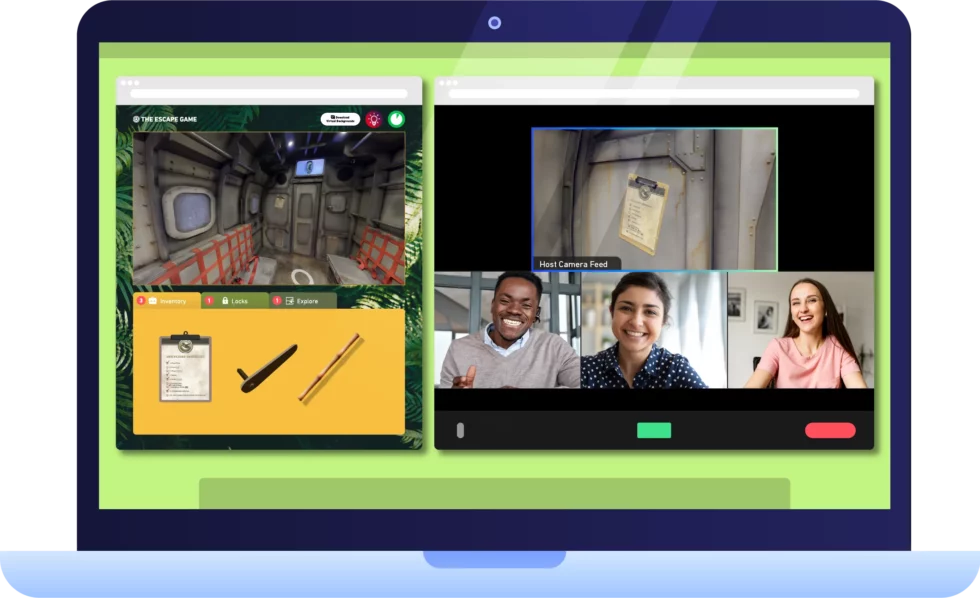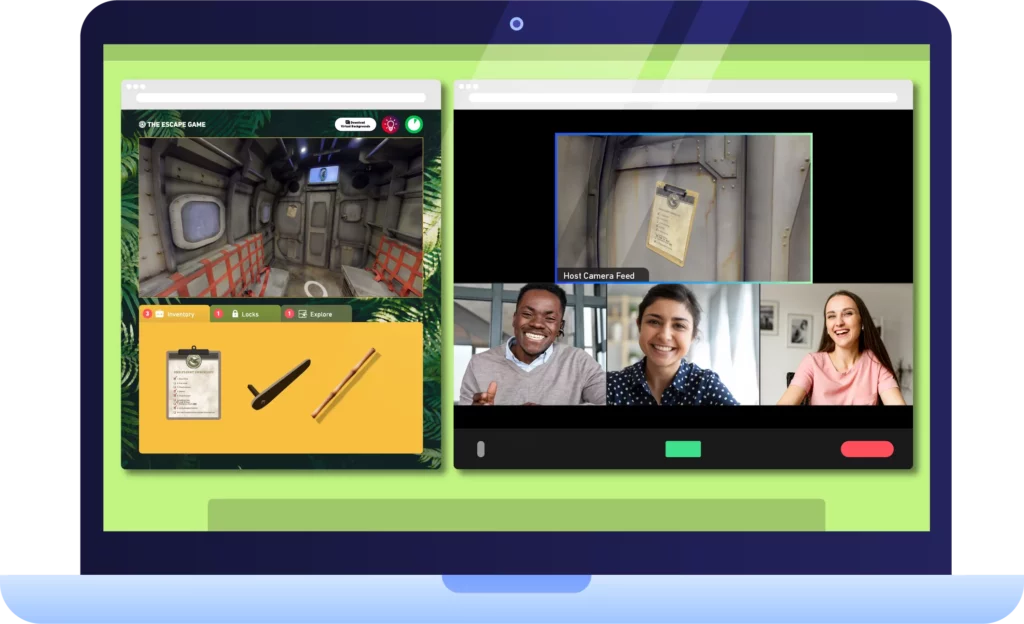 1. Try a Virtual Escape Room
Virtual escape rooms are a great team building activity to include at your happy hour! Escape rooms provide a series of engaging problems for teams to solve together and an opportunity to have fun. Suitable for large and small teams alike, escape rooms offer a way to encourage effortless socialization and conversation. Even if you're together in person, you can complete a virtual escape room as a team.
To engage teams before the party starts, consider taking a quick survey to determine which escape room sounds the most appealing to your team! Is your team interested in the crazy experiments of an undersea research laboratory or a prison break? Or perhaps your team wants to solve an international art heist or solve clues to find hidden treasure — there's something for every team!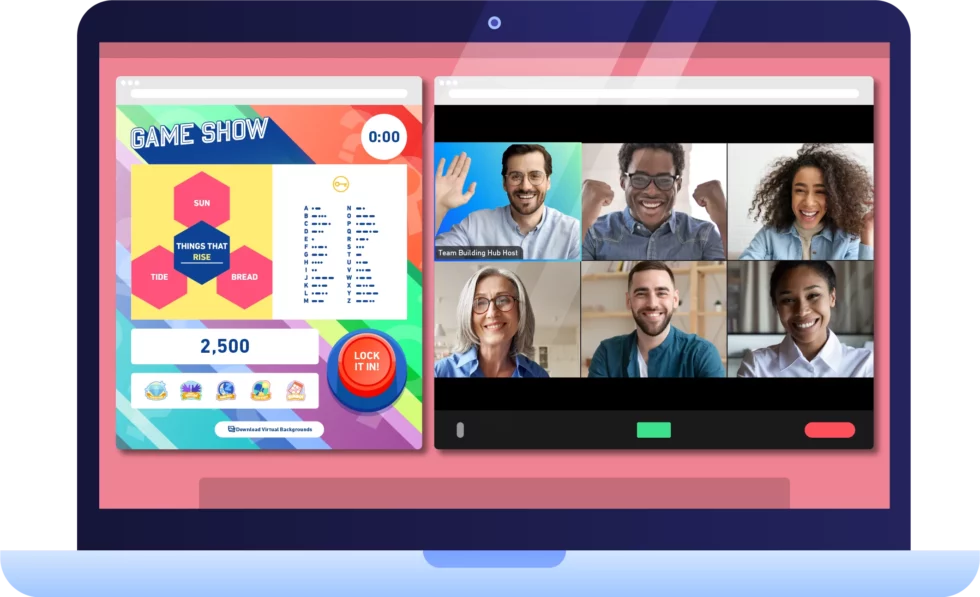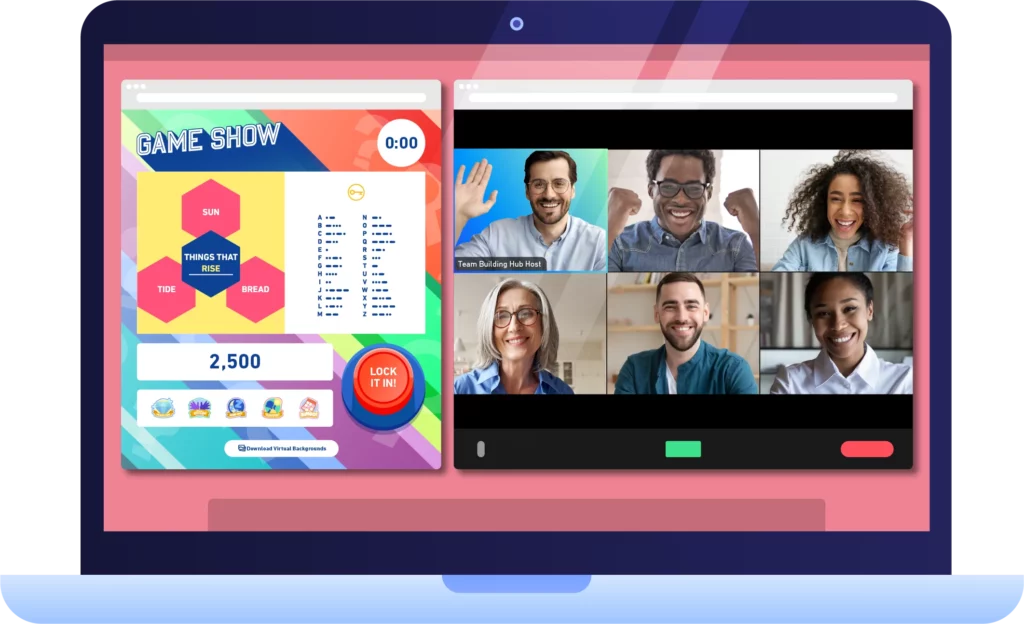 2. Try an Online Game Show
Looking for low-hassle fun with an engaging host? Try an online game show for five rounds of fast-paced entertainment. Game shows are incredibly popular for a reason — people love them!
The friendly competition is sure to get your team excited. You'll enjoy surprise bonus rounds and hidden point opportunities. After splitting into smaller teams, you'll work to solve puzzles, crack codes, and complete brain teasers to compete for high scores and bragging rights. This online game show can accommodate anywhere from 10 to 150 players.
3. Paint & Sip
Happy hours are about connecting as a team and taking a beat to socialize, have fun, and relax. Keep things casual and low stress by turning your happy hour into a calming paint and sip. You can provide adult coloring books or painting supplies to your team or try an easy, online coloring option. According to the Cleveland Clinic, coloring has been shown to relax the brain. As your team paints, use these icebreakers to encourage conversation.
4. Play Trivia
Most people love a good round of trivia — especially if the topics are fun and engaging. Tap into your team's competitive side with fun themes and topics. You can curate your own list of questions from the topics below or use a tool like CrowdPurr to create an engaging mobile-driven experience for your happy hour.
Pro Tip: Connect your trivia category to your happy hour theme! For example, if you go with a 70's theme, you can pair that with music, movie, or pop culture trivia from that decade.
Movies
Quiz your team on general movie knowledge, actors, and fun facts about the film industry and the biggest blockbusters of recent decades.
Music
From The Beatles to Beyoncé, find out who knows the most about chart-topping songs, albums, and artists. To mix things up, you can play 10- to 15-second clips from popular songs and have folks name that tune, artist, album, or release year! You can also try a Finish the Lyrics-style game. Show a popular line from a song and have teams compete to accurately complete the lyrics.
TV Shows
You name it, the choices are endless: Game of Thrones, Friends, Seinfeld, The Office, Stranger Things, Breaking Bad. Don't hesitate to poll your team on their top five TV shows ahead of time to pick the common crowd favorites for trivia.
Company Knowledge
Which team members know when, how, and where the company got started? Who can list the company values? Share information about the company's origin and history while having fun!
General Knowledge
Are your colleagues smarter than a fifth grader? Find out who knows the most random trivia like the biggest animal on earth or the largest ocean.
5. Play Would You Rather?
Get to know team members as you take turns asking would you rather questions. This game is easy to explain and get started! Don't be afraid to get creative with your questions. Here are a few you can use:
Would you rather go to the movie theaters or watch a movie from home?
Would you rather swim in a pool full of Nutella or a pool full of maple syrup?
Would you rather have a tattoo of the title of the last book you read or the last TV show you watched?
Would you rather have an office where you could wear pajamas to work or work in a really fancy office?
Would you rather work an extra hour but get an hour of break time or work with no breaks but leave an hour earlier?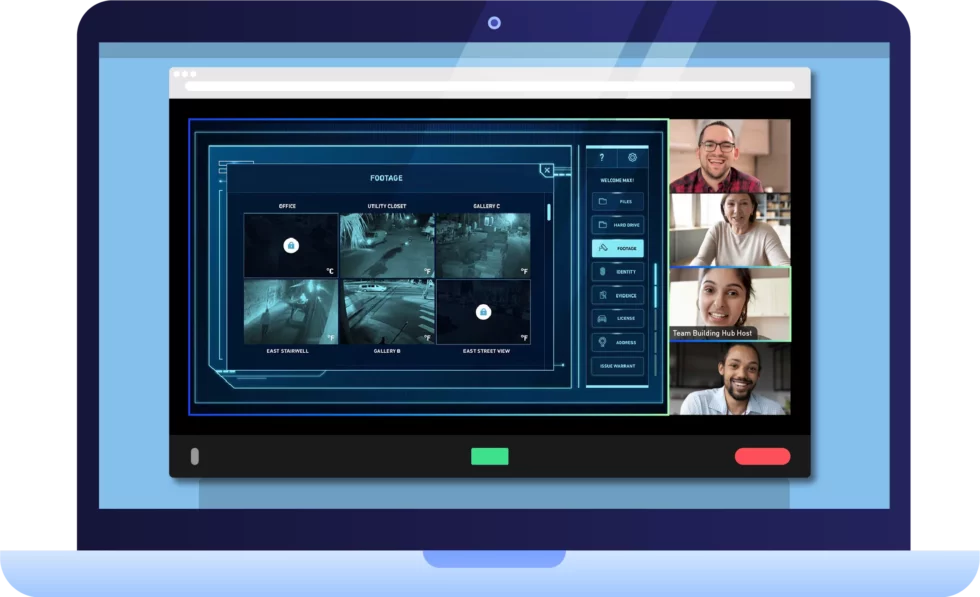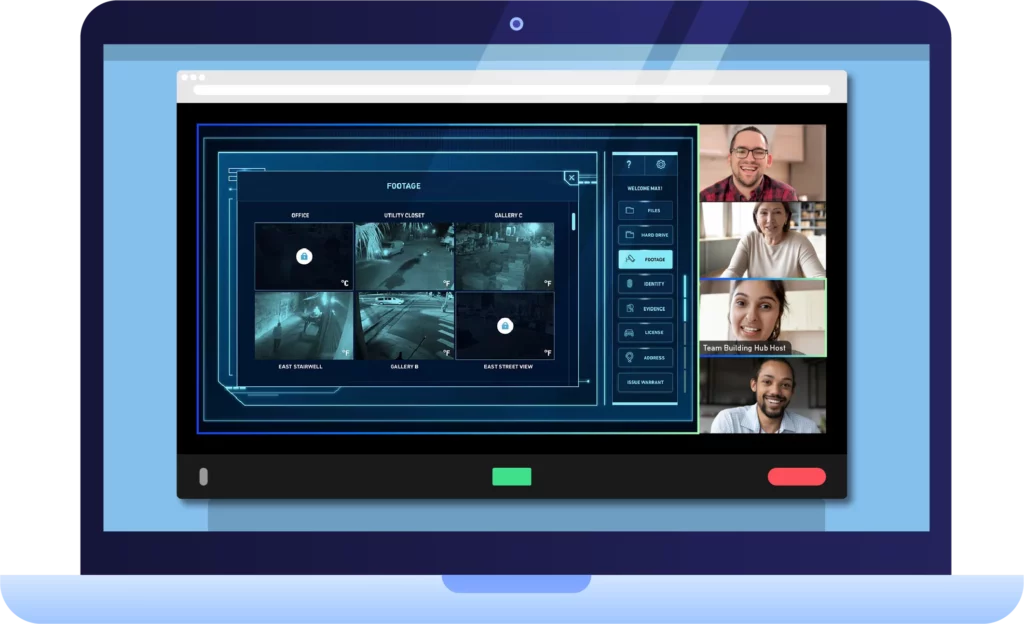 6. Play a Mystery Game
Whether your team has 15 members or more than 1,000, mystery games are sure to provide an epic experience at your next happy hour! Take the pressure off making conversation by having teams focus on working together to catch The Art Thief with this in-person team building event.
Here's how it works:
The Art Thief is a 75-90 minute experience for groups of any size delivered to your office, offsite, or convention. Think escape room meets murder mystery and with a leaderboard. Teams compete in a puzzle-filled race to track down an infamous art thief. Is your team up for the challenge?
7. Play Scattergories
A long-time household favorite, Scattergories is also easy to explain for those who are unfamiliar. Each player will quickly fill out a category list with answers that begin with the same letter and score points if no other player matches their answers. To win the game, you need to score the most points.
For example, if the words need to start with the letter 'C,' a team member's answer sheet might look like this:
City: Chicago
Animal: Cheetah
Band: Coldplay
Flower: Chrysanthemum
You can create your own answer templates and categories, use the traditional game board set, or play online as a team. Just have folks download the mobile app on their Android or iOS device ahead of time.
8. Try a Scavenger Hunt
If your team loves out-of-the-box activities, a scavenger hunt might be a great happy hour game for them! You can have attendees find items around the office or keep things entirely virtual by asking teammates to find items on the internet or within an online game.
9. Play Bingo!
Bingo is a great party game! There are few things more exciting than getting to spin the Bingo wheel, watching your board fill up, getting to yell "Bingo!" and potentially winning a prize.
10. Play Two Truths and a Lie
Learn some fun facts about your teammates as you sip, eat, and socialize. This game requires absolutely no tools or setup – just ask your colleagues to list three things about themselves, two truths, and a lie.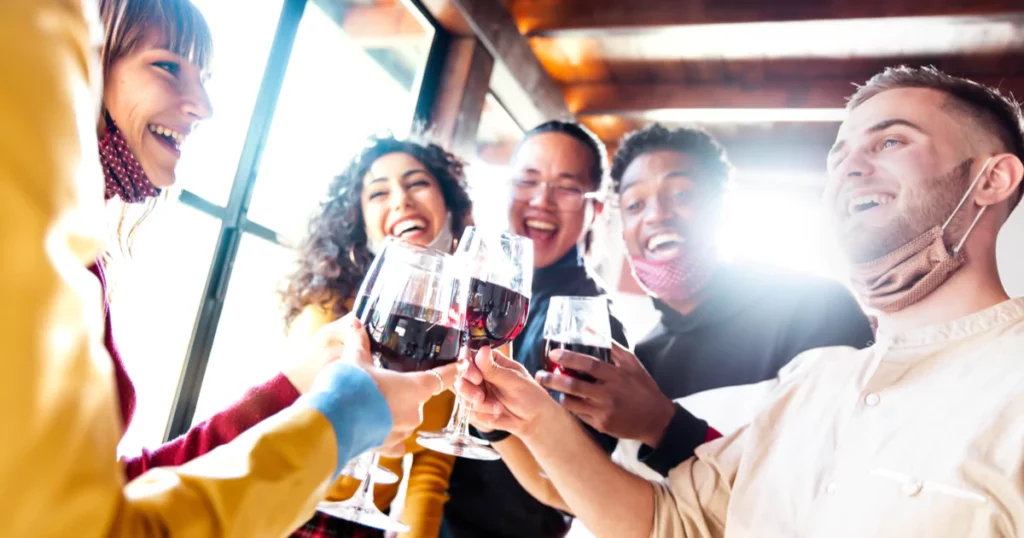 11. Play Fact or Fiction
Compile a list of fun facts about a range of topics and have team members guess whether it's true or not.
For example:
Abraham Lincoln had no middle name.
Porcupines can float.
There was no World Series in 1994.
Will your colleagues know fact from fiction?
12. Have a Show and Tell
Most people have fond memories of bringing a favorite item to school as a child for show and tell. Tap into some nostalgia and have folks share something – anything – with the team. It can be a favorite mug, a vacation photo, cool memorabilia, or more. You'll find that teammates get excited and creative with what they share. You'll learn about your colleagues while sharing a couple of laughs. Just make sure to tell them about this ahead of time!
13. Play Charades
Is your team full of people who don't mind putting themselves out there? Then try charades during your next happy hour! Consider your party theme and have folks split into teams and take turns acting out topics, phrases, or concepts related to your happy hour theme. Need help generating options for teams to act out? Try a charades ideas generator. You can even filter by topics like songs, singers, books, movies, and more.
14. Play Heads Up!
Heads Up! is a hilarious game that is bound to get everyone involved. It's simple and only requires a mobile app download. Split your group into teams and have one person select a deck of cards from the app. That person will place the phone on their forehead and try to guess what the card says as fellow team members provide helpful clues. Choose from decks about the early 2000s, Harry Potter, famous moms, music, and more. Super easy and super fun!
15. Play Psych!
From the creators of Heads Up!, Psych! challenges you to spot the real answer among your friends' fakes. You get points for the right answer and points for fooling your friends. It's as easy as downloading the mobile app to get started.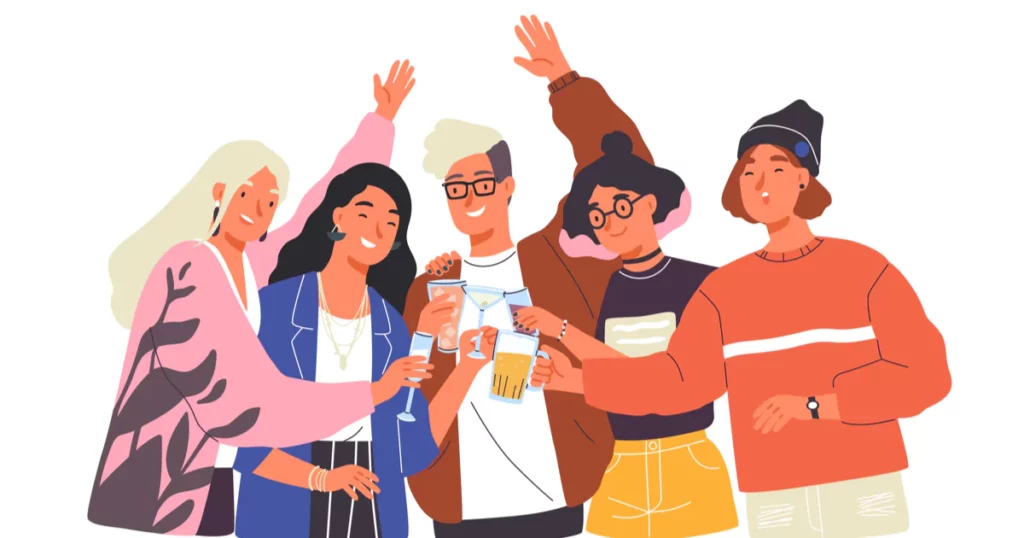 16. Play Never Have I Ever
Break out into smaller groups and have attendees take turns sharing random things they've never done as other teammates indicate, usually by raising a hand or sipping a drink, whether or not they have done that thing. Here are some fun, work-appropriate questions to get you started.
17. Make it a Mixology Class
Learn how to mix it up as master mixologists in an interactive mixology class. You can often find options in your nearest city. This makes for an out-of-the-box and guaranteed good time to spend with coworkers. It's always fun to learn something new together!
18. Play Guess Who
Get to know your teammates! Have folks submit unique fun facts or baby photos ahead of the happy hour and have everyone guess who each fact or photo belongs to. The sky's the limit here. You can have everyone submit favorite books, first concerts attended, favorite foods or drinks — get creative!
19. Play Jeopardy
Most of your team will already be familiar with the rules, and it's easy to learn if not. Choose your own fun categories or build a game around company trivia! Split your group into teams that will take turns choosing a topic category and a question in that category associated with a specific point amount.
20. Play Pictionary
Split into teams and have folks take turns playing this easy, classic game. Each team will select one person at a time to draw an image in under a minute. The drawer can use this tool to randomly generate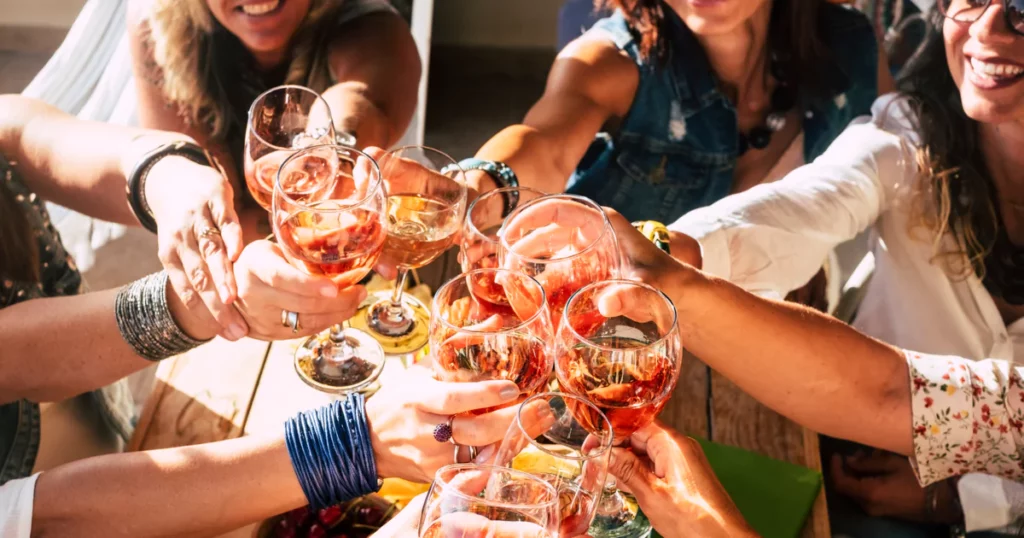 How to Have a Happy Hour for a Virtual Team
Is your team fully remote or hybrid? Don't fret! You can still host an awesome happy hour — just make it virtual! While it may feel like this takes a little more planning, most of the event runs the same. Ice breakers, activities, and of course, drinks! Check out this guide on all the ins and outs of planning a fantastic virtual happy hour.
Conclusion – Focus on the Connection
All work and no play will make your team very dull. Happy hours are a perfect way to introduce some fun while participating in activities that drive the behaviors you want to see at work like problem-solving, communication, collaboration, and out-of-the-box thinking to name a few. The ideas above are designed to encourage all this and more in easy, fun, and memorable ways. Armed with all this information, your next team happy is sure to be a hit — cheers!