If you've been hearing a lot about team building these days, that's because companies around the world are discovering just how effective team building can be! If your team is based in Los Angeles or is just visiting the city, you'll find lots of amazing team building activities to help your team be the best they can be.
As one of the biggest cities in the United States, Los Angeles has so many fun, inventive, and creative things to do, all of which are ideal for team building!
But with so many activities to choose from, you may feel overwhelmed. That's why we've created this list of 28 team building activities in Los Angeles!
28 Awesome Team Building Activities in Los Angeles
1. Play A Five Star Escape Game ⭐ ⭐ ⭐ ⭐ ⭐
If you want your team to have an exhilarating adventure while becoming a stronger group, head to The Escape Game! Playing an escape room is a thrilling team building activity in which your team is 'trapped' in a room with just 60 minutes to escape! With locations in Los Angeles, Rancho Cucamonga, and Irvine, they'll likely be close to your team wherever you are.
Due to their format, escape games are more immersive than other team building games. They challenge team members to think proactively. They must use their problem-solving skills and collaborative abilities to decipher clues and riddles to achieve a common goal: escaping!
For remote or hybrid teams, you can play virtual escape rooms. Options from Team Building Hub are designed with a unique interactive platform so you can see a 360-degree view of the actual escape room as well as all your teammates as you figure out how to escape.
If your team gets stumped at any point in the game, a live game guide can help. Choose from several one-of-a-kind virtual themes:
The Heist
Your team of operatives is sent out to the scene of a crime at the Barclay Museum. A priceless masterpiece has been stolen by museum curator (and part-time thief) Vincent Hahn. The painting is hidden somewhere in his office and your team must recover it before he returns!
The Depths
After videos come to light of ominous experiments from below, it is up to you and your team to discover what exactly is going on beneath the surface. Head to the bottom of the ocean to stop these experiments before it's too late!
Prison Break
It's the 1950s and you've been wrongfully accused of a crime. Locked away forever in a prison cell, your team must find a way out before anyone notices you've slipped away!
Gold Rush
Your team heads back to the 1880s California gold rush. As the lawful heirs of Clyde Hamilton's hoard of gold, you've got to find the stash before the local folk starts looking for it and claim it for themselves!
Ruins: Forbidden Treasure
Your team's jungle cruise has veered off course and you are stranded in the jungle where you come across the ancient ruins of a temple. It could be an adventure of a lifetime but who knows what danger you may encounter along the way!
Playground
Think your team is smarter than a bunch of grade-schoolers? It's time to find out. Head back to the classroom where you better get straight A's on your report card. Summer break is on the line!
2. Let Team Building Hub Bring The Fun To You
If you are seeking a unique event or activity for your Los Angeles team or remote workers, Team Building Hub can create a memorable occasion for all your crew! Working with Team Building Hub is simple. First, reach out to their team. You'll hear back from one of their expert event planners within a day. Even if you haven't figured out exactly what kind of event you're looking for, get in touch and Team Building Hub will go through your options, including both in-person and virtual activities and games.
Team Building Hub's in-person events will challenge your team. They are 50% competitive, 50% collaborative and 100% fun! If you are looking for fantastic activities for your remote or hybrid teams, or just want to have fun in the office, their awesome virtual activities will fit the bill!
Once you've decided on your activities, your planner will take care of all the logistics. On the day of your event, someone from Team Building Hub will be available every step of the way. Let others do the work while you and your team play!
3. Play An Online Game Show
Team Building Hub's online game shows are perfect for teams who like a little healthy rivalry! These games get your team thinking quickly and working together to answer questions, win points, earn badges and land the top spot on the leaderboard. Teams must use their best group problem-solving skills and collaborate to win bragging rights!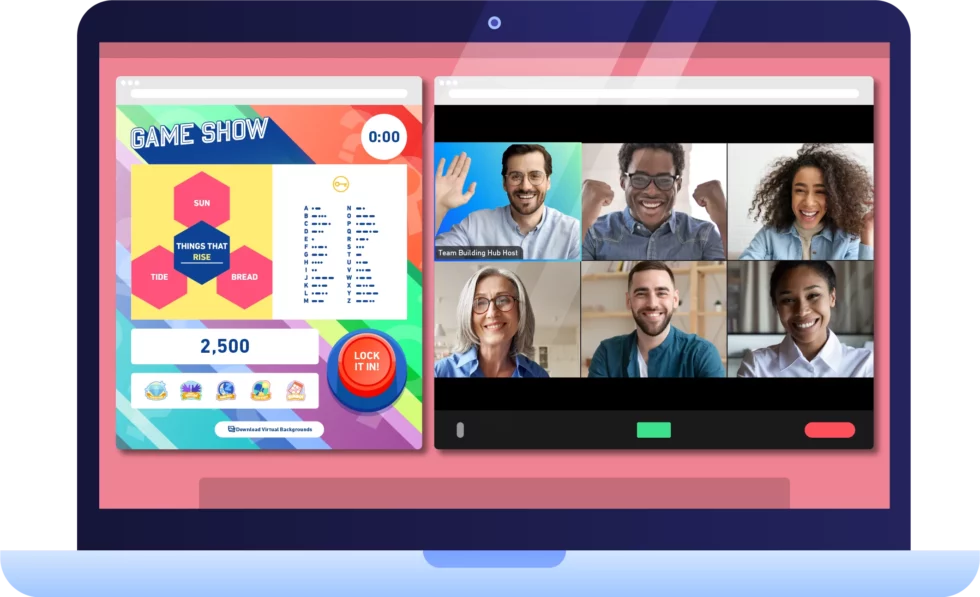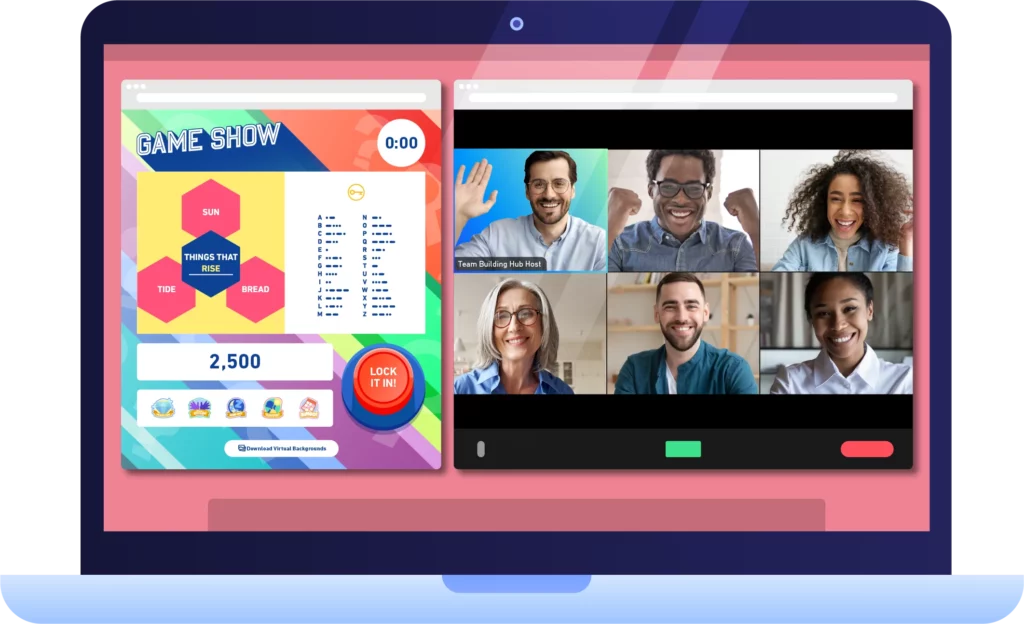 These games are played over Zoom and have a live and energetic host that runs the event in an engaging manner. With a special video conferencing platform, these online game shows let your players see each other, the puzzles, and the leaderboard at the same time. It's almost like being contestants together in a TV taping studio!
In The Puzzle Game Show, teams compete head-to-head as every round has increasingly challenging word puzzles and brain teasers. Throughout the game, your team will face several unexpected twists and turns. For the same kind of fun at your office holiday party, play a special edition Holiday Game Show!
Each of the games features 30-60 minutes of gameplay. They can accommodate anywhere from 10 to 150 players making this an excellent activity for small to large companies. If you have a remote or hybrid company, playing an online game show may be ideal for your team building event!
4. Team Trivia
Team Trivia games are not just fun, they are an excellent way to strengthen several of your team's abilities. Playing trivia will have them practice their communication and active listening skills. Team members must listen to each other as they pool their knowledge in order to win.
Playing trivia games also builds trust. Individual teammates who may be reticent to share ideas at work may feel comfortable sharing their trivia knowledge in a playful setting. Individual members begin to trust each other and feel confident about their talents.
Empathy grows as team members start to understand each other's strengths and weaknesses. It also brings out a bit of healthy competition.
You can play trivia at many bars in Los Angeles. Here are some suggestions for the best trivia night venues. If you don't have a trivia venue near your office, you can play a trivia game during your company happy hour by using one of the many virtual trivia games to choose from.
5. Solve A Mystery
In virtual mystery games, your team will be given a digital dossier of evidence including surveillance footage, psychological profiles, and clues that lead them to a secret website. In the process, your team will become a top-notch detective squad rushing to solve a crime!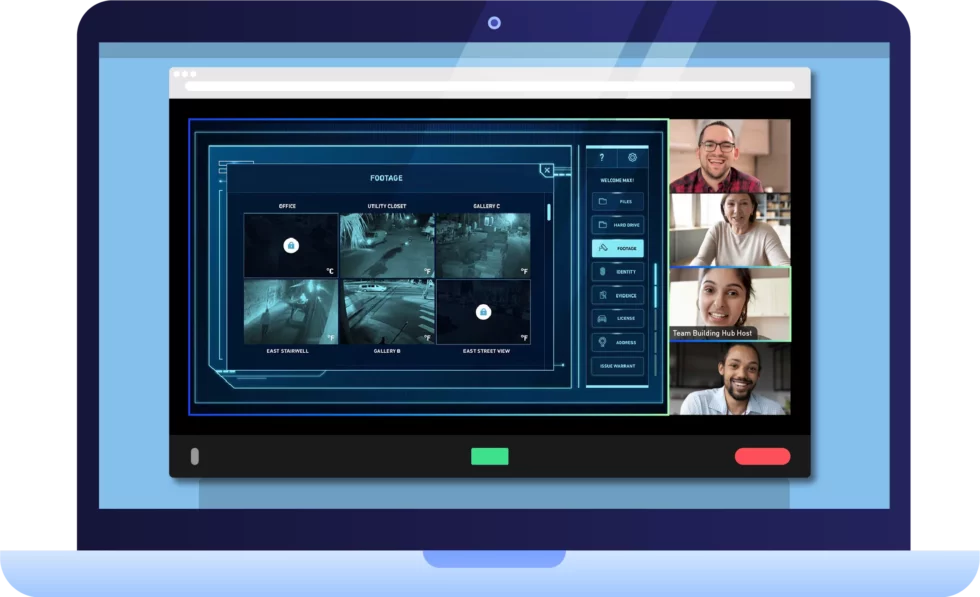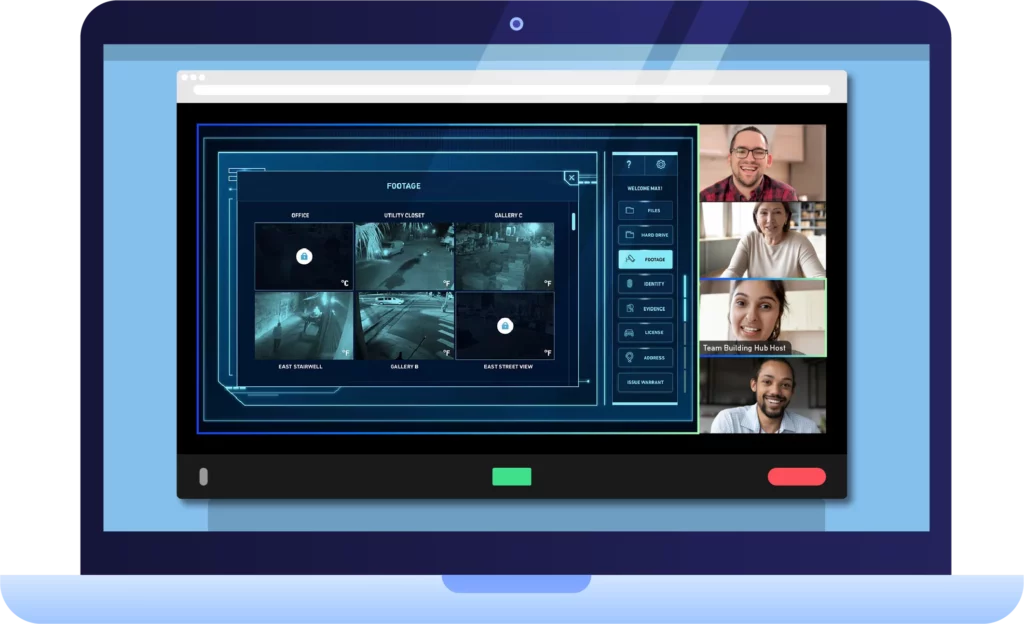 Virtual mystery games combine intrigue with teamwork. Your group will be broken down into smaller teams who must put on their collective thinking caps to solve the mystery before another team beats them to it! The game features a live guide that will make sure your teams are headed in the right direction. Each of these virtual mystery games is 75 to 90 minutes and can accommodate 15 to 1,000+ players.
In Rogue Scientist 1990 your team must find evidence of dangerous genetic experiments being conducted by a crazed scientist. Create a case against him before his experiments go too far!
In The Art Thief: Chasing Hahn, your team needs to track down a notorious art thief Vincent Hahn and bring him to justice before time runs out!
In The Art Thief: The Silk Road, Vincent Hahn is back to his old tricks. Follow the clues and piece together the evidence to stop Hahn in his tracks!
6. See Live Comedy
Take the team out to see some professional comedians in action! Not every team building activity has to explicitly focus on improving skills. Sometimes team members need a chance to unwind and catch up. In between a few sets of different comedians, your team members can chat a bit.
There is a huge selection of comedy venues in Los Angeles so grab the gang and head to one of them for your next team building event!
Encourage your team to leave the shop-talk at the door and make way for the laughs!
7. Learn Through Laughter
Learning improv is a laugh-out-loud experience. But it's also a technique to improve so many team skills! A team building session with Nerd Improv will develop your team's ability to read each other's non-verbal cues, an important aspect of good communication.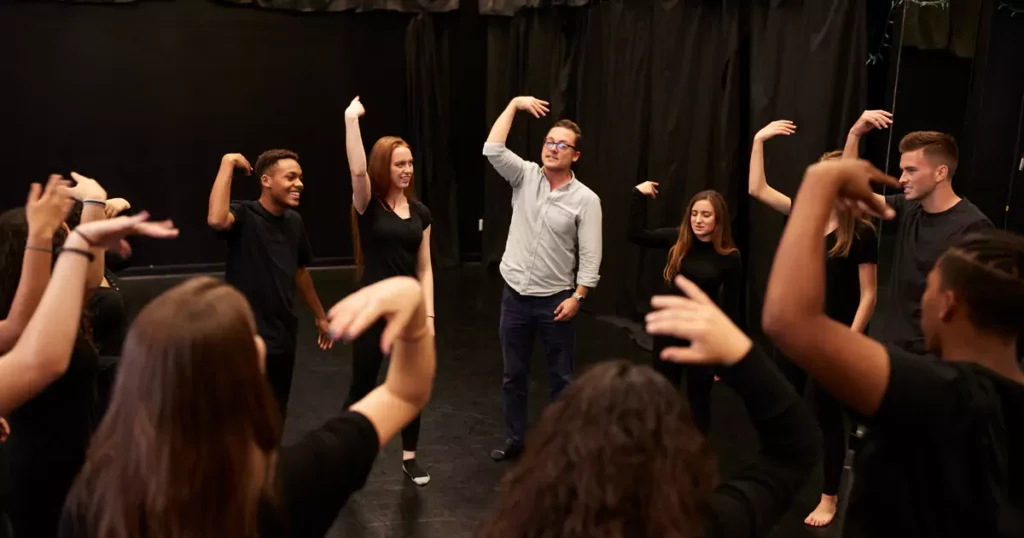 It will also get your team members using their active listening skills as your group must anticipate each other's moves. Nerd Improv can customize your session to meet whatever goals you have in mind.
One thing is for sure. Your team will learn to laugh at each other and with each other! Comedy and camaraderie go hand in hand!
8. Make Art
Building time for non-work-related creative activities encourages your team members to think outside the box. Trying new things without the pressure of deadlines allows your employees to discover new forms of expression.
When you take a team building workshop with The Art Process, an instructor comes to your office with all needed supplies and the knowledge of how to bring team members together. Their courses are mixed media so participants have the freedom to flex their artistic muscles.
Their customized workshops are structured to your company's goals and foster the sharing of ideas to develop collaboration and teamwork. Instructors make the experience a non-competitive one, and the relaxing time your employees share will contribute to a company culture of harmony!
9. Volunteer With L.A. Works
If you want a big boost to company morale, have your team volunteer and give back to the community. Deloitte's annual Volunteerism survey found that 70% of employees said they wanted to be able to volunteer more but couldn't dedicate time during the day. A team volunteer day helping the needy in Los Angeles is good for your employees and good for team building.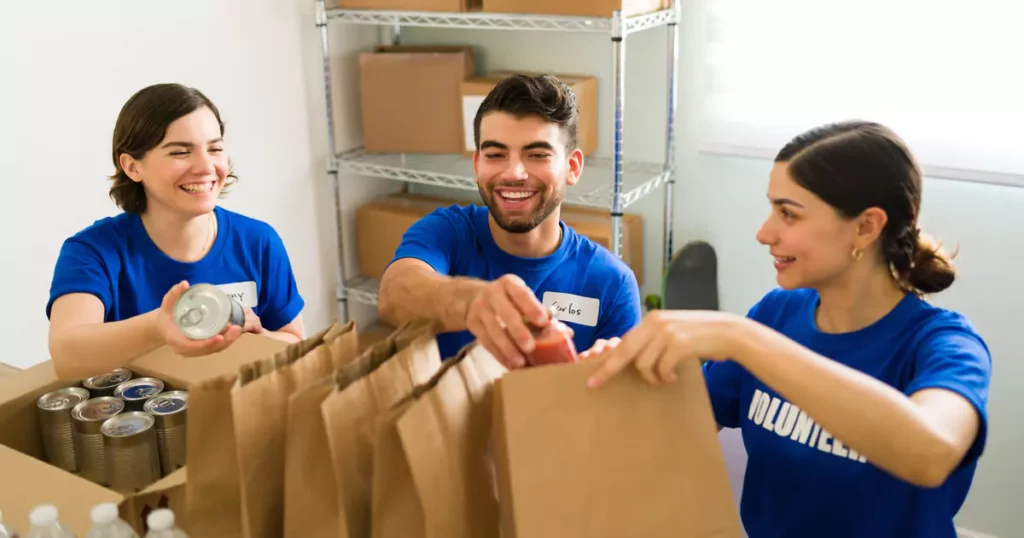 L.A. Works has an exceptionally well-organized system of getting your company involved in volunteering. They will match your team with volunteer opportunities and reserve them for you.
For example, your team can participate in a mentor program for marginalized youth and young adults. If your team has skills that would apply to those who are served by LA Works, you can hold a workshop to teach others those skills. They can pair your company with a nonprofit organization that needs assistance in areas that your team has knowledge about.
At a time when employees value corporate social responsibility and community service, a team volunteer event will make your employees feel good about themselves and the company.
10. Unite Through Music
Kidbilly Music offers your team a chance to create their own song with the assistance of a Grammy-nominated songwriter-facilitator. No one has to be a singer on your team as the staff at Kidbilly will make everyone comfortable as they lead into the songwriting process.
After some warm-up activities, a songwriter-facilitator guides your team through conversation that will evolve into lyrics. Your team can write an anthem about team spirit or a comical song about hard days at the office! However far your team wants to go, they can go for it!
Team members with musical skills who want to join in on the playing and recording of the song can. There's no pressure for anyone to perform. Not many companies can say that their memories of a great group outing have been laid down on vinyl… or more like on CD!
11. Do A Ropes Course
For an engaging and rewarding team building outing check out arcAdventure, which has several locations in and around Los Angeles. Their customized team building activities challenge your team with physical initiatives that call for communication, creativity, and, above all, teamwork.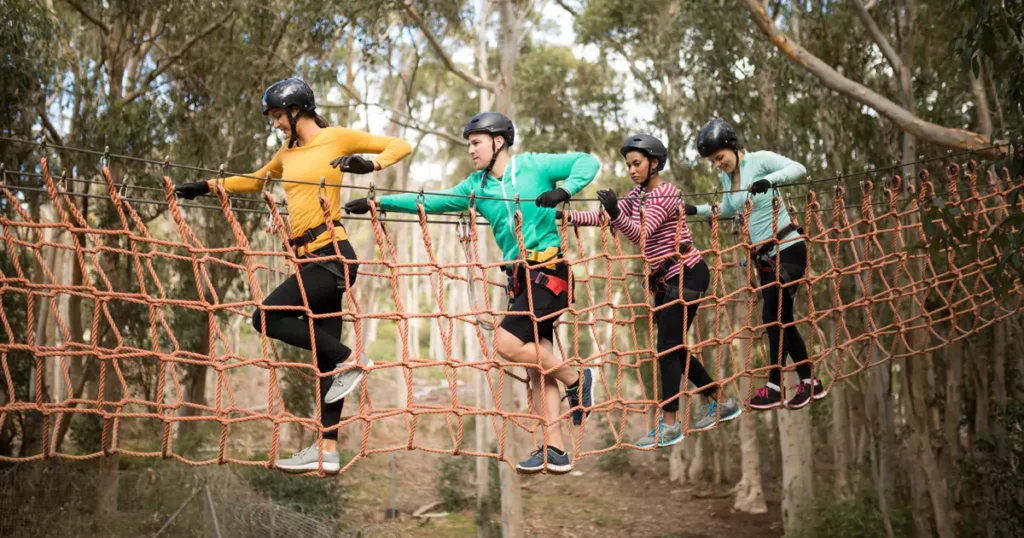 The activities include a low ropes course, high ropes course, obstacle course, an adventure race, geocaching, and even survival skills! Your team will set goals and work toward them. They'll take chances and build trust.
Teams who accomplish shared goals form bonds that aren't easily broken.
12. An Afternoon At Universal Studios
Los Angeles is home to some of the best theme parks, many of which have team building programs! Universal Studios Hollywood has a fantastic program designed to help groups improve their communication and collaboration skills as well as show them how to tap into their creative selves to problem-solve to accomplish a shared goal.
Their two-hour Ride-and-Seek program is a high-energy, interactive adventure. The Ride and Seek staff gets everyone excited about their mission: to explore the theme park looking for answers to riddles and face special challenges. Teams will experience some world-famous Universal Studio attractions along the way!
13. Cook Something Up
In some cooking classes, it's every new cook for themselves. But LA Food Works has a great approach to team building! Their group cooking classes divide your team into small groups who each create a different portion of the meal, of course with an instructor's guidance.
While this may add a bit of flavorful competition, the benefits to each small group are plentiful. They will have to communicate well with each other and work together for the best tasting result!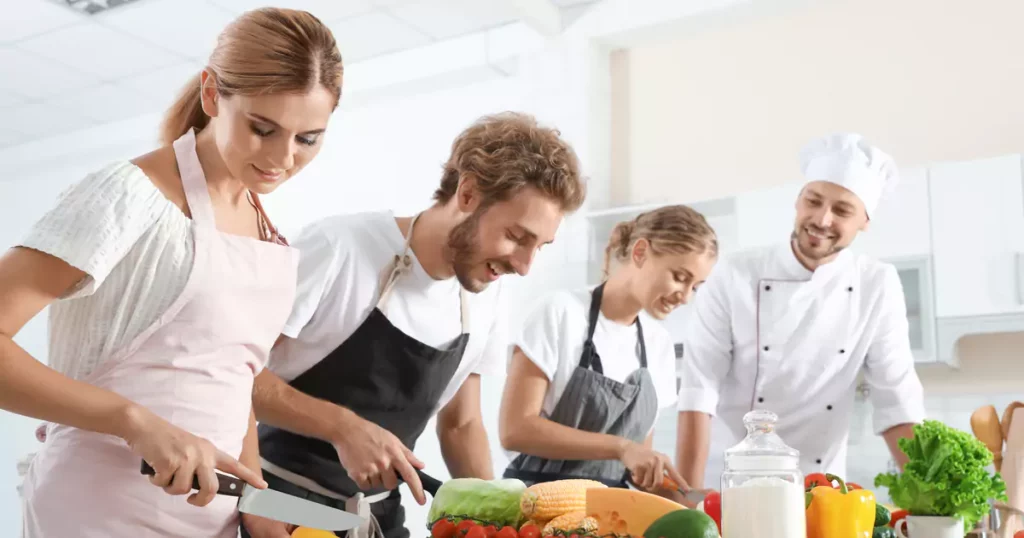 Down the road, your team can recreate the dishes they've learned to make for a company party, picnic, or potluck in the office!
14. Take A Latte Break
Avital Food Tours specializes in creating fun and hands-on team building culinary adventures they bring to your office. They offer fun and competitive challenges like edible architecture creations! Their Donut and Latte Art Break will get your team's creative juices flowing as they decorate artisanal donuts and learn to create designs on frothy lattes.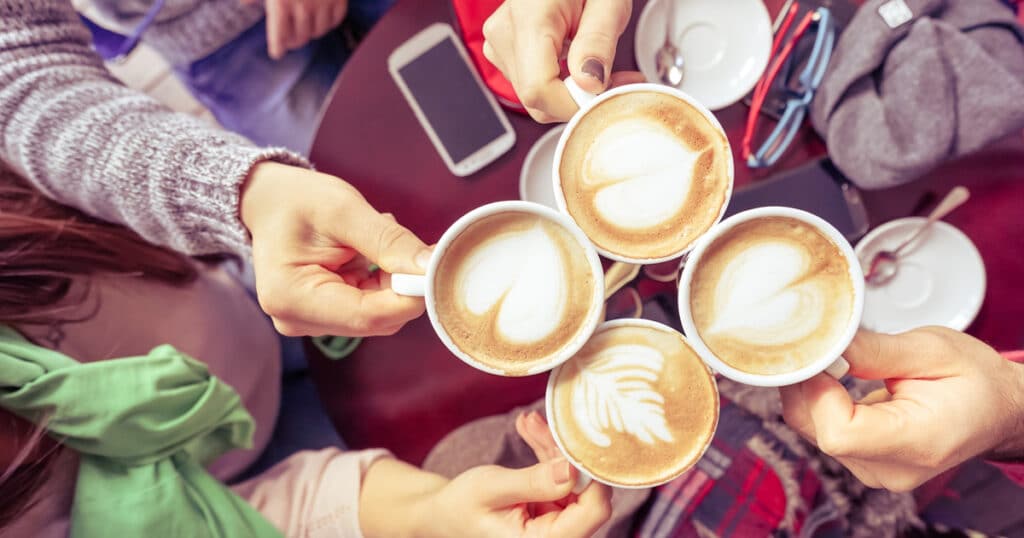 Avital Foods also offers customized tours for groups as small as 8 people or as large as 350 people!
15. Learn To Blend Wine
A wine blending class with The Blending Lab in Beverly Grove in Los Angeles is a somewhat unusual kind of team building event. Your team will learn to blend wine, in which established wine flavors are mixed to create new variations, just like wineries do themselves!
Their wine blending classes are 1.5 – 2 hours long and are instructor-led. After your team is introduced to several wines, the instructor will explain and demonstrate the wine blending process. Wine blending together allows each team member to see how the others approach creating a new product.
Team wine blending calls for your team to experiment. The team must be willing to take risks, but in this case, the risks are in a no-pressure environment without consequences. Innovation is a major aspect of success in the office, as it is in making wine!
16. Paint Party
Paint The Town specializes in hosting group painting sessions with a focus on team building to foster group bonding and collaboration. They can host painting events for group sizes ranging from 10 to up to 2,000 people.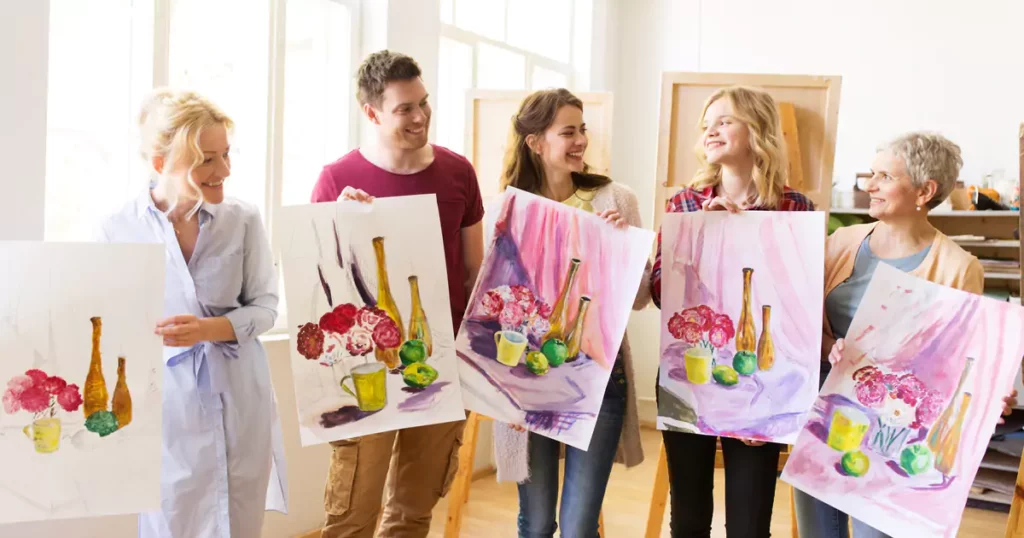 The larger group sessions will be held virtually, although any size group can choose a virtual rather than in-person session. This is a great option for remote and hybrid teams.
A less structured and less expensive way to have a paint party is to schedule a private in-office painting class with Paint and Sip, where an instructor and all the supplies come to you! The sipping is optional, the fun is not!
17. Play A Scavenger Hunt
Scavenger hunts are a great team building activity, especially in Los Angeles with so many famous landmarks to hide clues to decipher that will lead your team to the next location.
Scavenger hunts help teams work on creative problem-solving and group decision-making. Playing a scavenger hunt is a fantastic way to get your team out of the office for a few hours to stretch their legs.
If you have a budget, Operation City Quest offers scavenger hunts that can accommodate from 10 to 500 players!
If you have a tight or no budget, you can easily make your own scavenger hunt for free with GooseChase's scavenger hunt creator. Note that it's only free for 15 players or less. If you have a hybrid or remote team, try one of these virtual scavenger hunt options!
18. Climb to New Heights
Rockreation, an indoor rock climbing facility in West Los Angeles, offers two team building courses customized for your team's needs and interests.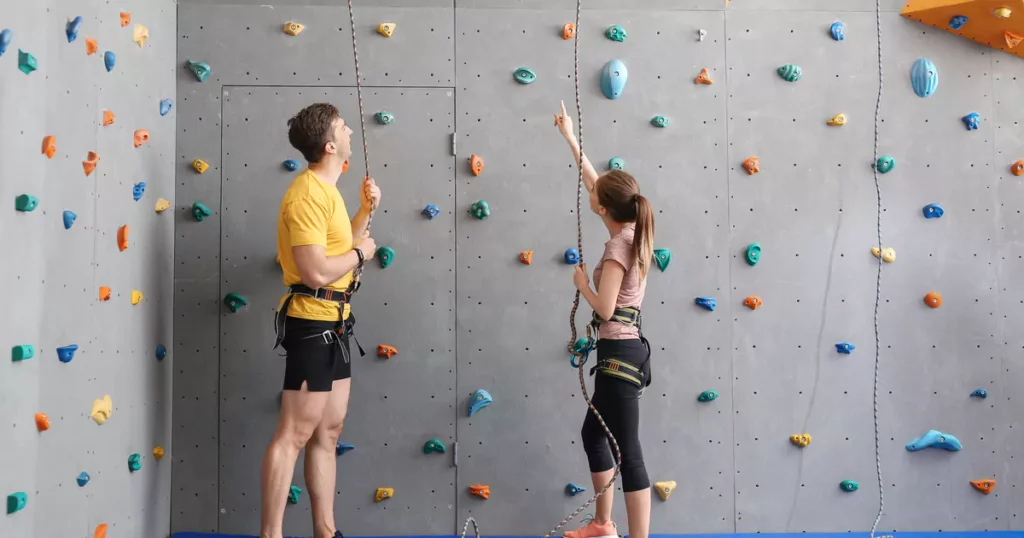 Their two-hour "Light Team Building" event is mostly climbing time with some team building exercises. Their "Full Team Building" course is three hours long with 1.5 to 2 hours of team building exercises and 1 to 1.5 hours of climbing.
Not every team needs to work on the same issues. Some may have difficulty thinking outside the box. Others may not be utilizing every team member's talents wisely. Some teams just need to have fun!
Whatever your team's goals are, Rockreation can tailor the activities for your group, while making sure everyone is having a great time trying something new together!
19. Take A Guided Walking Tour
If you want to get your team out of the office for some light exercise, a walking tour will do the trick! Free Tours By Foot offers public and private walking tours of various neighborhoods of Los Angeles at a very affordable price point for group tours.
Their knowledgeable guides are engaging and entertaining. Your team will learn about their the City of Angels and spend a relaxing time catching up with each other!
20. Leave LA With A Virtual Tour
With live hosted virtual tours, your team can see the world from the office (or home if working remotely).
Woyago offers virtual experiences hosted live from other countries like Paris! Their hosts will get your team connected with ice breaker questions and then teach them some hilarious French vocabulary. Your session will wrap up with your team collaborating to answer wacky Parisian trivia! You can also take a
Your team can leave Hollywood and take a virtual trip to India where they'll make a Bollywood movie together! Visit some European cities and learn all about local culture! Swap Los Angeles for Atlanta with Unexpected Virtual Tours, whose live guides lead you on a 60-minute virtual team building event.
For some free foreign adventures, use Google Arts and Culture's Explore feature and take 60-degree tours of a famous museum or historic sites. For quick jaunts to other cities, take a look at Google's curated Street View projects. These unforgettable escapades will expose your team to new locations and leave them with lasting memories!
21. Try An Airbnb Virtual Experience
There are so many Airbnb virtual experiences, from classes, team building activities, cooking classes, mixology classes, and more! You are guaranteed to find an experience that everyone on your team will like!
You can have a virtual meditation session with a Buddhist monk. Go on a Sri Lankan safari! Spend a day in Nairobi, Kenya! Visit the ruins of Pompeii!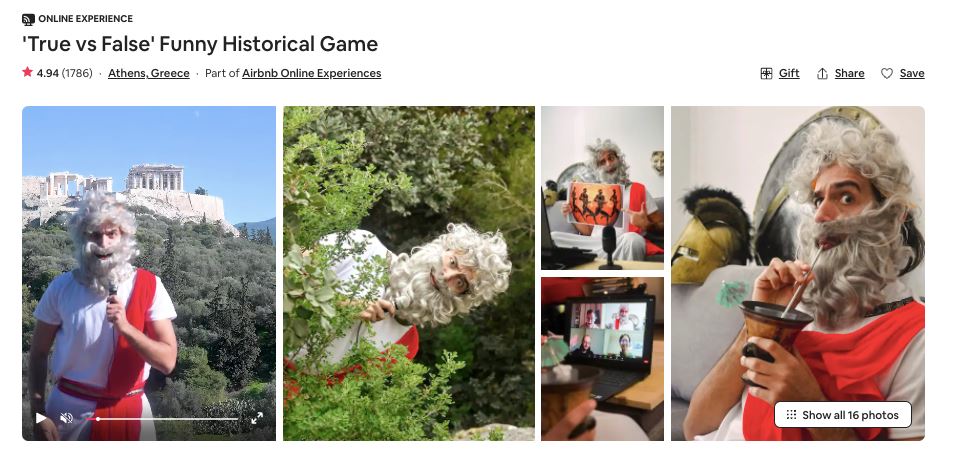 One of the most popular and hilarious interactive Airbnb virtual experiences 'True vs False' Funny Historical Game" combines bizarre stories and unbelievable facts about ancient Greece. Your team will learn the answers to such useless, but hysterical, questions like "Was the middle finger gesture first used in ancient Greece?" and "Was there a Greek god for stupidity?"
These unique, and very affordable, virtual experiences will have your team members bonding over the one-of-a-kind adventures they've experienced together!
22. Let Off Some Steam
This team building activity is a bit off-the-wall. But for teams that have just finished a high-pressure project for a fussy client, some time at The Rage Ground smashing up a car and splattering a wall with paint might be just what they need!
There are two options to blow off steam: a paint splatter therapy session or a cathartic car smashing session.
In paint splatter sessions, held in one of their creative-destruction spaces, your team will get eco-friendly, nontoxic paint with all the tools you need to go wild. For car smashing, everyone gets protective gear so you can smash everything in the room safely!
Time at The Rage Ground is something your team will have memories of for a long, long time.
23. Try Indoor Skydiving
For a unique team building activity try iFLY Hollywood! All the instructors have team building training so they can customize your group event to suit your team's needs.
While indoor skydiving can be thrilling to some, there will be team members who may be reluctant to give it a go. Supporting one another to try something new, even if a bit scary, can forge strong bonds during an experience your team is not likely to forget!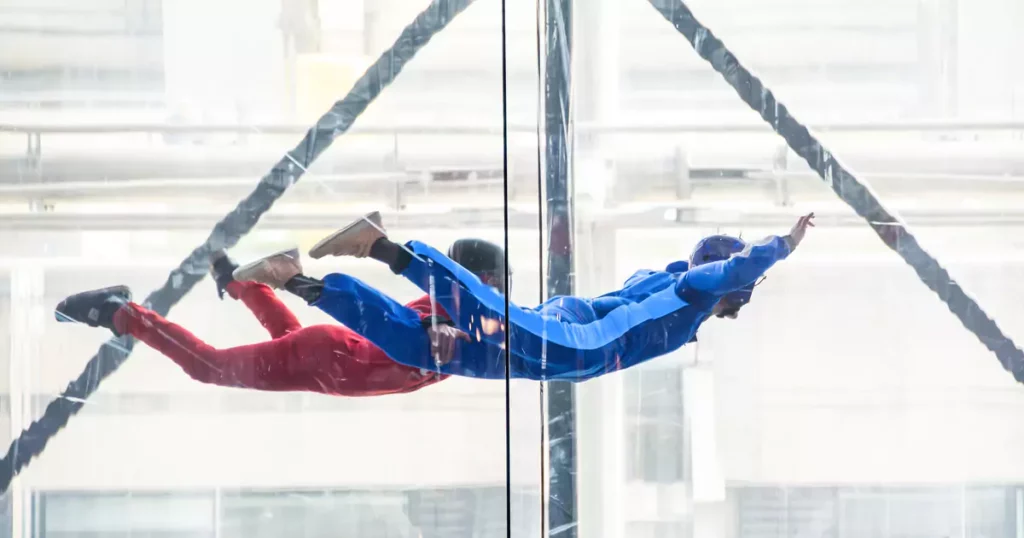 24. Satisfy Their Need For Speed
K1 Speed Torrance is one of the best ideas for corporate team building in the South Los Angeles area! K1 designed its team building activities to improve team morale and connectivity.
Once at the race track, your group will split into three teams who choose captains. This is a wonderful opportunity for those with leadership skills to step up. Your team's creative thinking is put to the test as they must come up with a team name.
Teams work together through a series of fast-paced activities including a go-kart race, a pit stop challenge, and a ball challenge relay. Participants work to score maximum points for their team and claim victory at the tip of K1's podium!
Standing on the top step of a podium is a nice feeling, but you can double the incentive with prizes, like a free lunch or gift cards.
25. Hoist That Sail
Blue Pacific Yachting is a wonderful way to tell your team you appreciate their dedication at work by bringing them out for a great day on the water.
They'll enjoy the breeze and sun as they learn the basics of sailing. Keeping a boat moving in the right direction is definitely a collaborative effort!
If sailing way too far out of your team's comfort zone, go over to the gorgeous Echo Lake Park! Wheel Fun Rentals offers fun swan pedal boat rides! It takes two to pedal!
26. AirballingLA
For teams that like their game time to come with a dash of adrenaline, AirballingLA is an ideal place to go. Choose from several different sports and games that will have you and your team coming back for more!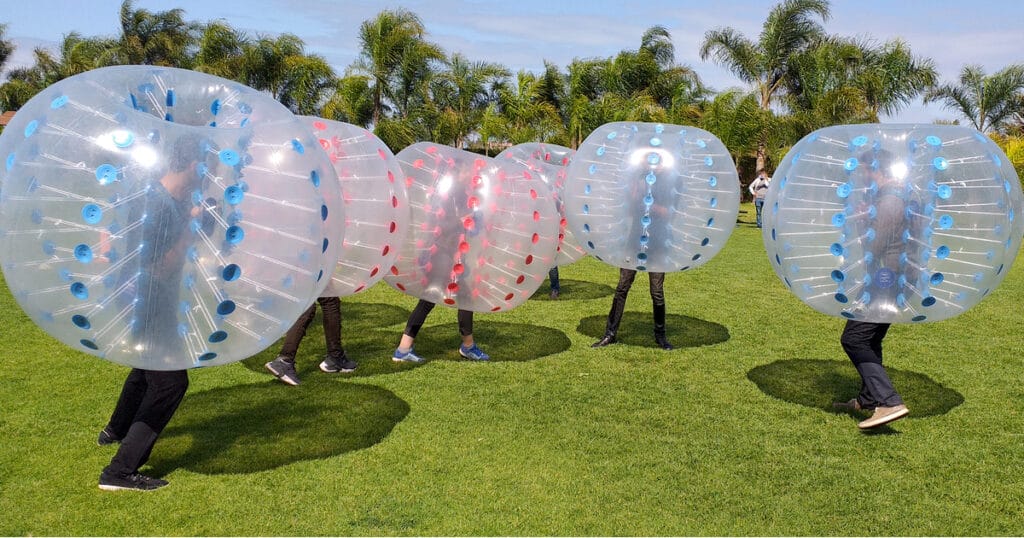 Speedball is a less intense version of paintball that gets the blood flowing. Speedball is played with pump action guns that shoot small rubber balls that hurt far less than actual paintball. Several different game modes will heighten everyone's communication and trust.
In bubble soccer players put on a massively inflated orb and play full-contact soccer with each other. Archery tag combines archery and dodgeball into one amazing team building activity. Don't worry, the arrows have foam tips so your team will all make it back to the office safely.
27. Play The Fantastic Race
The Fantastic Race, a unique experience described as "a hybrid of a sightseeing tour and interactive mystery novel", is a whole different way of seeing LA. This race is an immersive and competitive experience. The game is clue-based and will have everyone channeling their inner sleuth!
28. See Los Angeles On A Segway
One of the quirkiest ways to explore LA is on a segway. Another Side of Los Angeles offers an amazing Venice Beach tour you can take as a team building event. Some team building events are strictly for fun and a segway tour is one of those!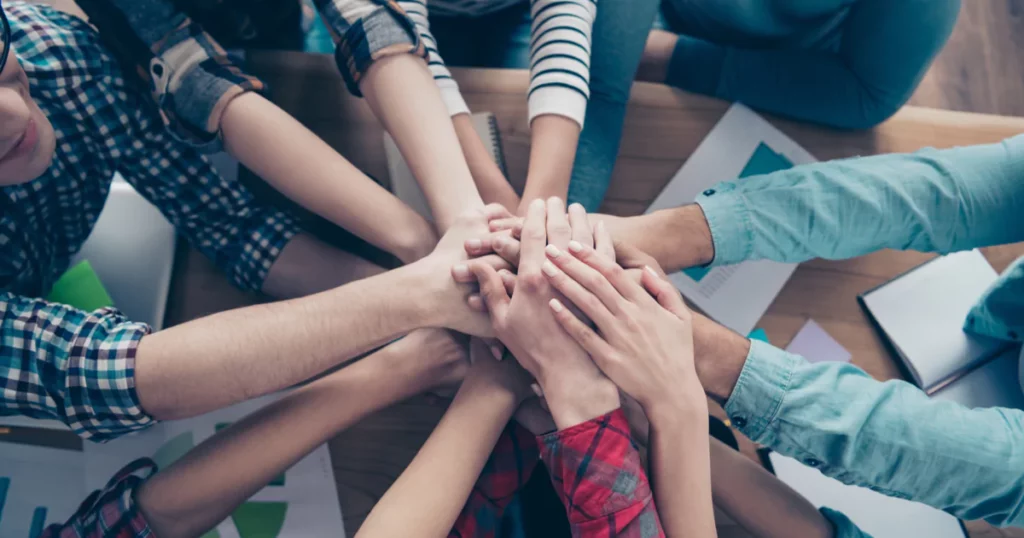 How to Plan Your Team Building Activity
The first time you create a team building activity, it can be hard. But once the momentum starts to pick up you will have no issue keeping it going. Here are steps to planning your team building activity.
Make A Planning Team
You will need a planning committee or team. The group will be completely in charge of the team building activities. Only having one person in charge of the event can be daunting. By having several members, it can be easier.
The team will work together and efficiently. In the group, everyone will have certain tasks they need to take care of so the overall goal can be reached quicker. The more people that help, the more communication and ideas there will be.
It is easy to find the right people. All you need to do is send out an email and people will volunteer!
Define Your Goal
What are you trying to accomplish with the activity? Create trust? Establish communication? Whatever your goal is, you need to have it clearly defined and put in front of you. The goal should be clear and concise. Everyone should be able to have an easy grasp of what the activity is trying to accomplish.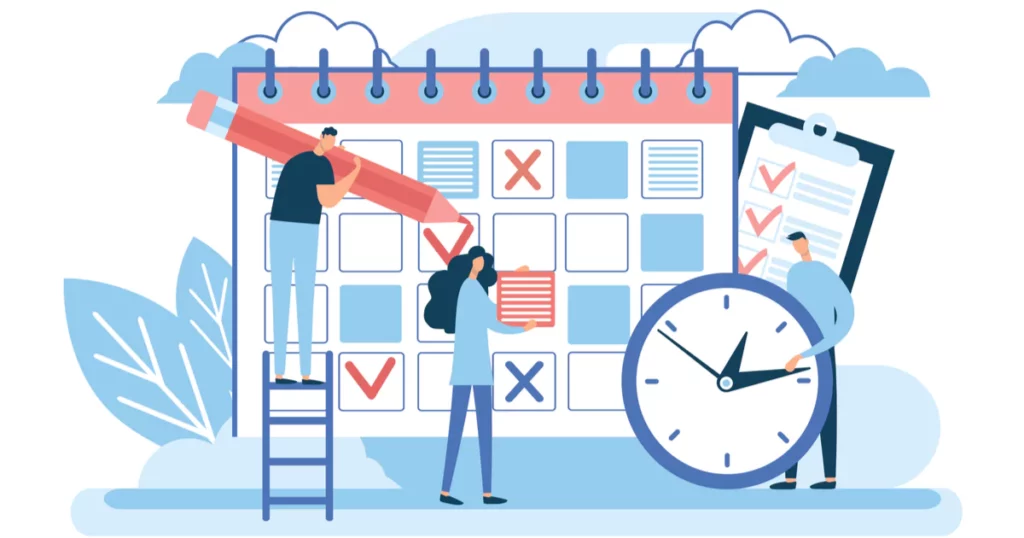 Select A Day and Time
You need to schedule your event well in advance. If you have a smaller group of 5-80 then you don't need as much time to plan. If you have a group of 100+ people you will need to plan way in advance as logistics can get unwieldy.
Establish Your Budget
You need to establish a detailed budget. If you are unsure of a budget, be sure to ask your boss or executives for advice. Make sure your budget is realistic.
Your detailed budget should be extremely in-depth. You need to account for each expense that the event will have. Account for expenses such as travel, parking, food and drinks, and other items needed for your event.
Make Your Guest List
Making a guest list can be challenging. However, your comprehensive goal can help with that. Planning for an entire company can be difficult depending on the size, sticking to a department might be easier. Make sure to include both employees who work together and who don't.
Having participants who work together regularly in the workplace on a team building excursion together will create amazing synergy. They will get to know each other better.
Employees who have little opportunity to interact will finally have a chance to get to know the strangers who sit on the other side of the office!
Choose Your Venue
When selecting the venue, you will need to factor in several variables. For example, do you want your event to be outside or indoors? How many people can the venue hold? Make sure it is easy to reach and that it isn't so far away that your activity will be longer than expected due to travel and traffic.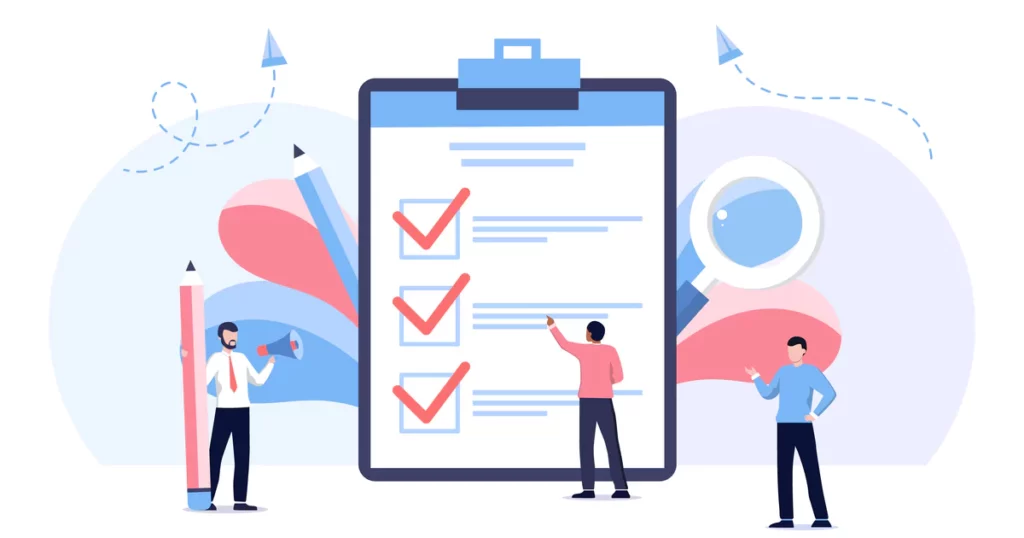 Make A Checklist
After everything has been planned, you need to create a checklist. This will allow you to stay organized. Make sure everything from parking to food to waivers has been arranged. Create an agenda for your team building event. Check things off the list as the day goes on.
Enjoy the Activity
You have been working hard to create this event. Enjoy yourself!
Start Your Team Building Event Today
Collaboration, communication, and camaraderie are just some aspects of team building that your team will work on when they have fun during any of the above activities!
Hosting a team building event will build trust among team members. They'll know that someone always has their back. They will grow individually and flourish as a group, laughing and bonding along the way.
Knowing how beneficial team building can be to your employees and company, get started on your very own team building journey in Los Angeles today!