Team building on a consistent basis is crucial for your team, and what better place for some team building activities than Irvine, California? Explore what Irvine has to offer while developing necessary skills with your employees. Keep reading for some of our favorite team building activities in Irvine!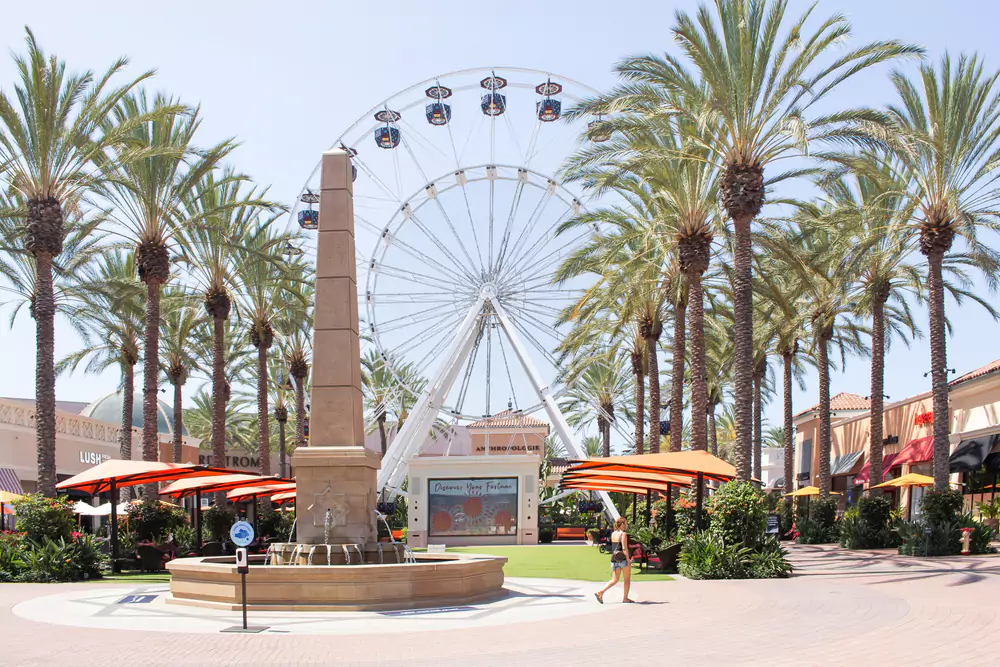 Table Of Contents
21 Team Building Activities in Irvine
If you want your team to get stronger as a team, then team building is the best way to start. Team building will help your teammates with:
Communication skills
Problem-solving
Unity
Trust
Collaboration skills
Leadership
And more!
Besides strengthening your team, team building can also be a lot of fun! If you've got the opportunity to make a trip out of it, consider packing up and heading to Irvine, California, for a day or two. Check out our list of some of the best team building activities you can find in Irvine.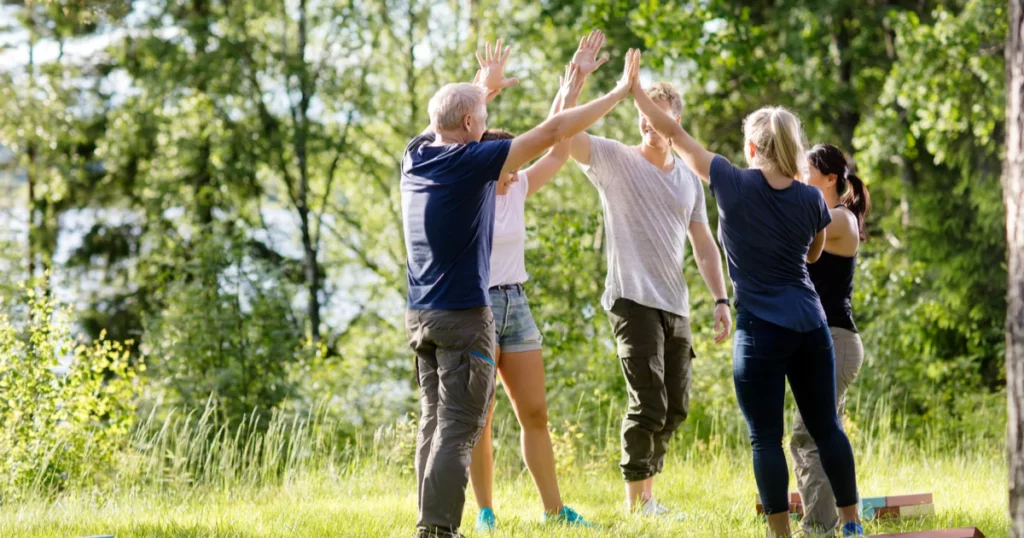 1. Book a room at The Escape Game
At The Escape Game, your team is placed in a locked room and has to solve clues together in order to get out. It might seem like a simple concept, but the crew at The Escape Game have figured out how to make this game fun, challenging, and beneficial for any team of almost any size. Whether or not your team steps up their teamwork and makes it out of the room, you can grab some Escape Game paraphernalia to help commemorate your trip to Irvine.
The Irvine location is conveniently located in the Irvine Spectrum Center, so you can do some shopping or grab a meal before you try to escape!
2. Try a session with Team Building Hub
Team Building Hub is the hub for (you guessed it) all the knowledge you need about team building! While you're in Irvine, try one of our team building activities. Our team offers virtual and in-person team building experiences that your employees will remember and have fun with. If you're not quite sure where to start with developing new skills for your team, we can help. Our experts will work with you to strengthen your team's communication skills, strategic thinking, problem-solving abilities, and more. Team Building Hub also has plenty of resources for you to check out that can help you figure out what's best for your team!
3. Get competitive with some paintball
Playing a friendly game of paintball is a great way to have fun with your team while also boosting camaraderie across the board! Paintball USA is the perfect place for people who are new to the sport. Pair up or team up and allow teammates to build trust with each other as they dodge others and work on a strategy to be the least paint-y ones in the group. Make sure that your team members are up for the challenge of running, shouting, diving, and getting hit by paintballs before you book a session!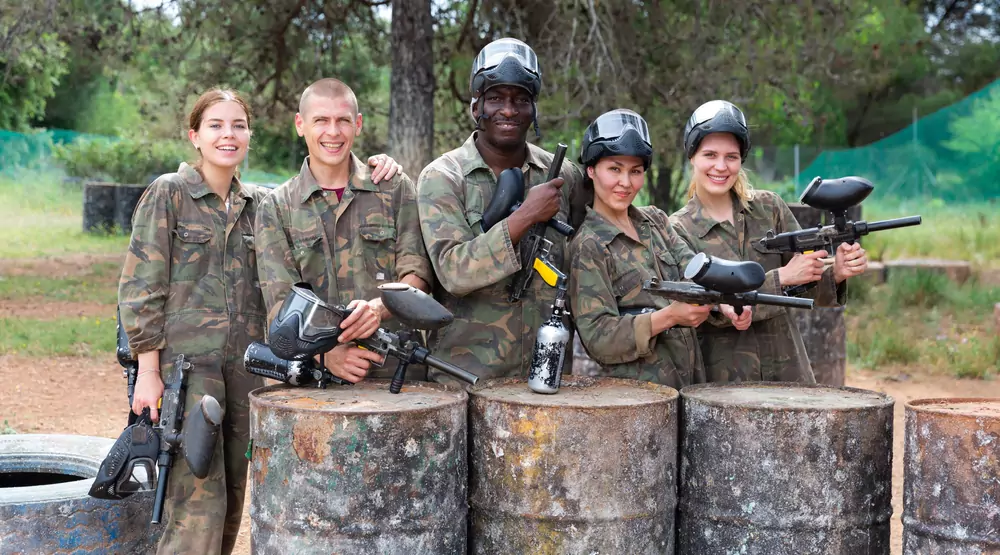 4. Do a paint and sip class
Like paint but don't want to get hit with it? Try a paint and sip class with your team! This is a great creative outlet, even for people who might not consider themselves artistic or creative. Not only will painting pull out your inner Picasso but it'll also work on your team's communication skills. They'll have to focus listening and learning from someone new on how to complete a project, all the while bringing their own personality to the task. Did we mention that you can include a little bit of booze to lighten the mood? Be sure to check out Pinot's Palette for some unique and fun team building art classes!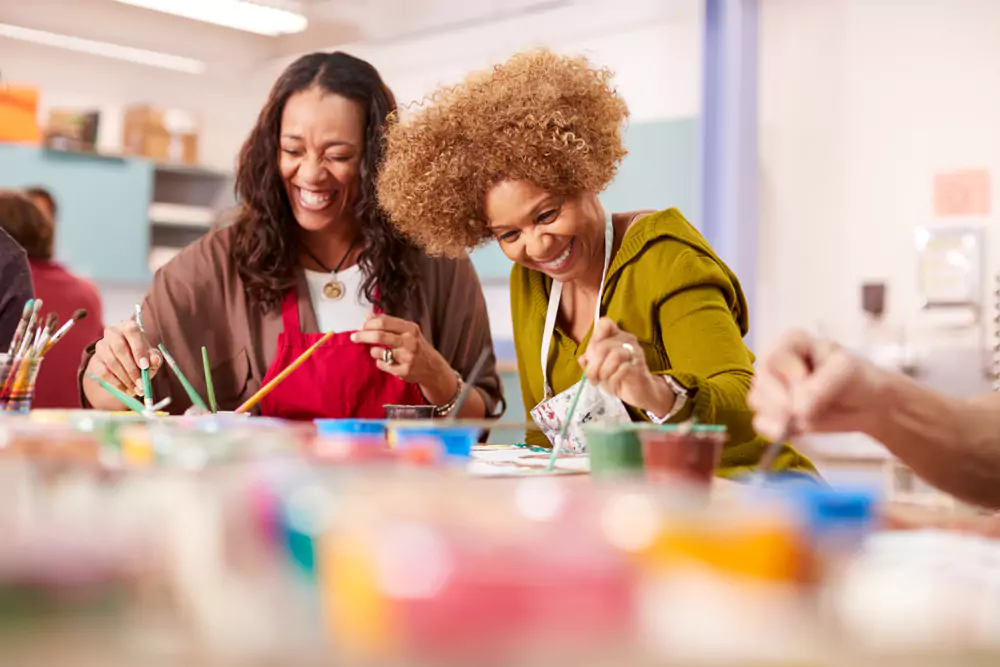 5. Take an improv class
Everyone's got a few jokes up their sleeve, so why not put them to task with some improv for team building? Improv is a great way for your teammates to use parts of their brain they might not normally use. While they may be familiar with thinking on their feet and playing off what other team members say and do, an improv class will also help their communication skills and stretch their creative muscles. ImprovCity offers team building workshops that will build these skills and more while your team has a few good laughs!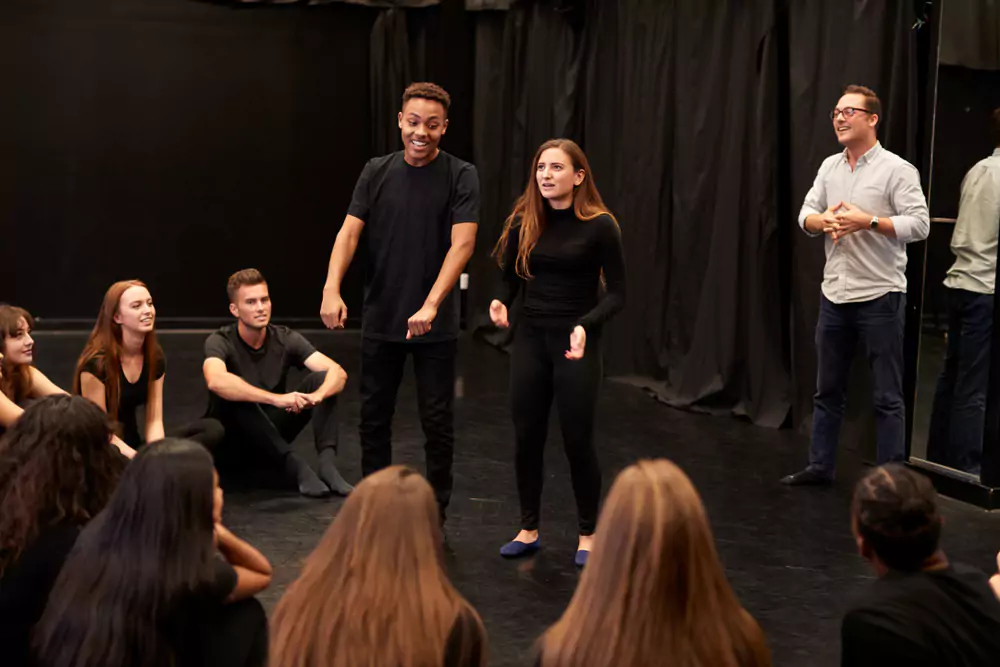 6. Play a murder mystery game
The Murder Mystery Scavenger Hunt in the Irvine area will give your team a chance to figure out whodunnit! They have scavenger hunts in the nearby Newport Beach area or the Laguna Beach area. Your team will have a blast trying to figure out clues, and as they work together they'll learn how to collaborate and communicate with each other. The murder mystery element is something unique that they'll be talking about long after they solve the puzzle!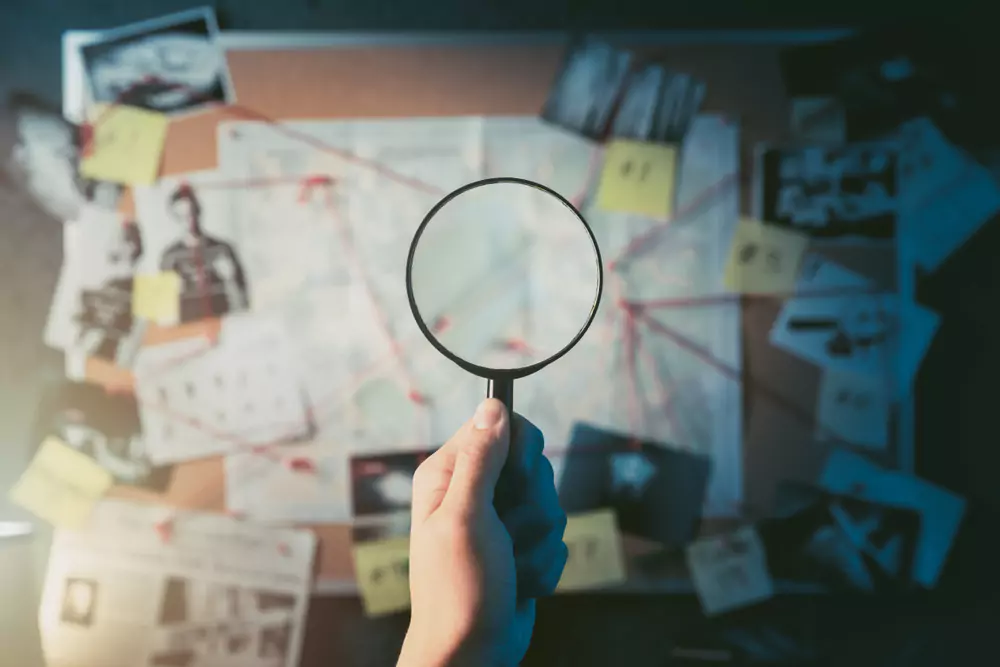 7. Learn how to have fun with plants
From terrariums to bonsai trees, there's so much to learn in the botany world. Enter Fun with Plants, which will teach your teammates how to create art with plants and appreciate nature a little more! The crew at Fun with Plants brings all the materials that you need to create something special. Your team will have a unique souvenir to take home that will light up their office space or their home. Fun with Plants will give your team some great memories and will challenge them to try something new and cheer each other on while they do it.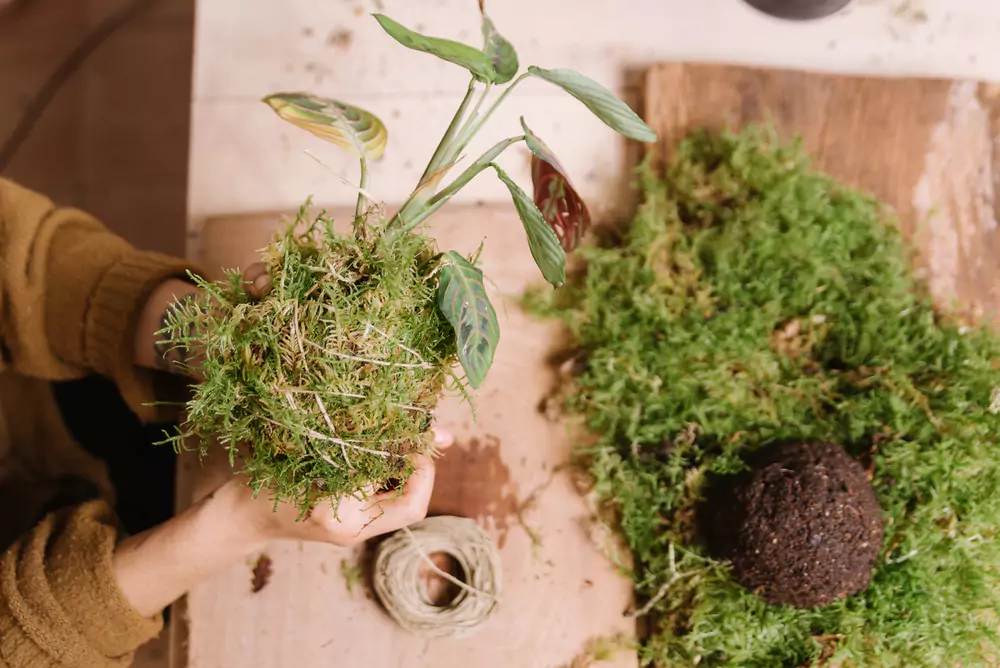 8. Do some volunteer work together
Hop on the Do Good Bus and let your team give back to the community! Volunteering is a great way to learn how to work with others while working for others. Up to 27 team members can jump on the bus. The experience includes transportation to volunteer sites, a lunch, a photographer, up to 5 hours of volunteering, and a surprise volunteer activity! Your team will work with the earth, people, or with animals during their experience. This is a great way for them to take their minds off any hard-pressing deadlines and to focus on giving back instead. Your team will appreciate the chance to make a positive change in their environment!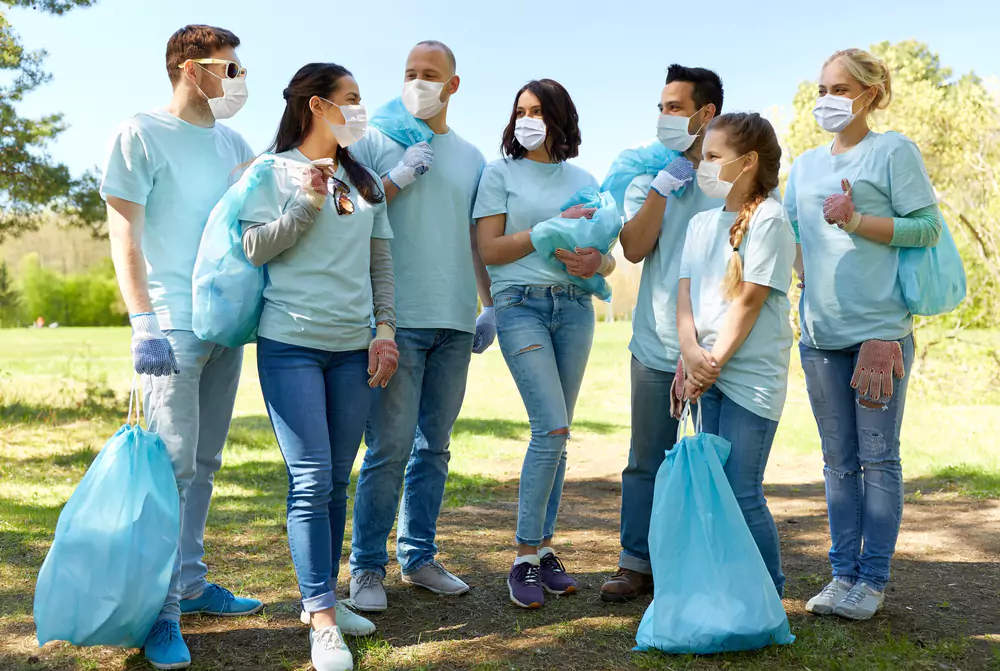 9. Play a virtual game show
Game shows are the ultimate team building activity—there's competition, communication, strategic thinking, and tons of fun! A virtual game show gives you the opportunity to book whatever venue you'd like while you provide your choice of snacks and drinks. Break your team off into smaller teams or have them work individually in the game show of your choice. Team Building Hub is a good place to start when thinking about your virtual game show. Don't forget the first- and second-place prizes!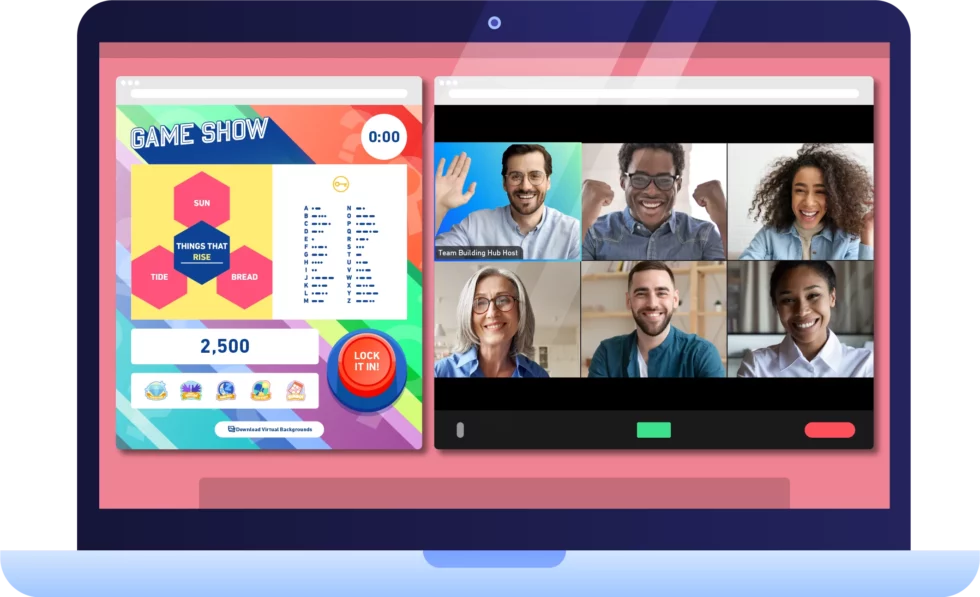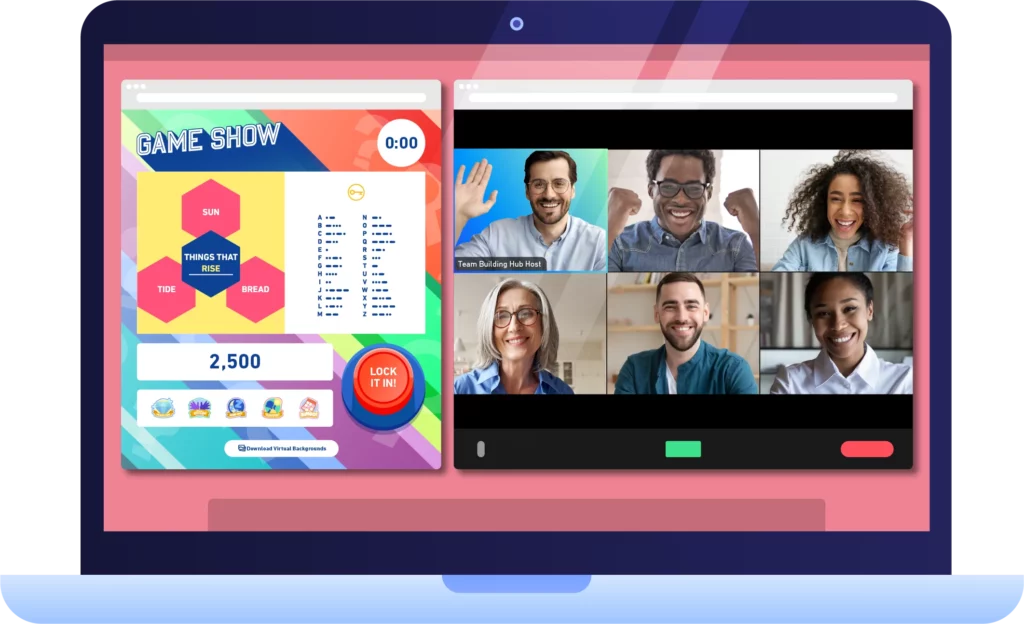 10. Embark on a scavenger hunt
Scavenger hunts are some of the easiest and most entertaining ways to do team building and explore a new city! Your team will build communication skills through fun competition as they run through Irvine on Operation City Quest's photo scavenger hunt. All you'll need is the app, a good pair of walking shoes, and some prizes for the team to complete the scavenger hunt first. Make sure everyone takes plenty of photos so you can share your findings together!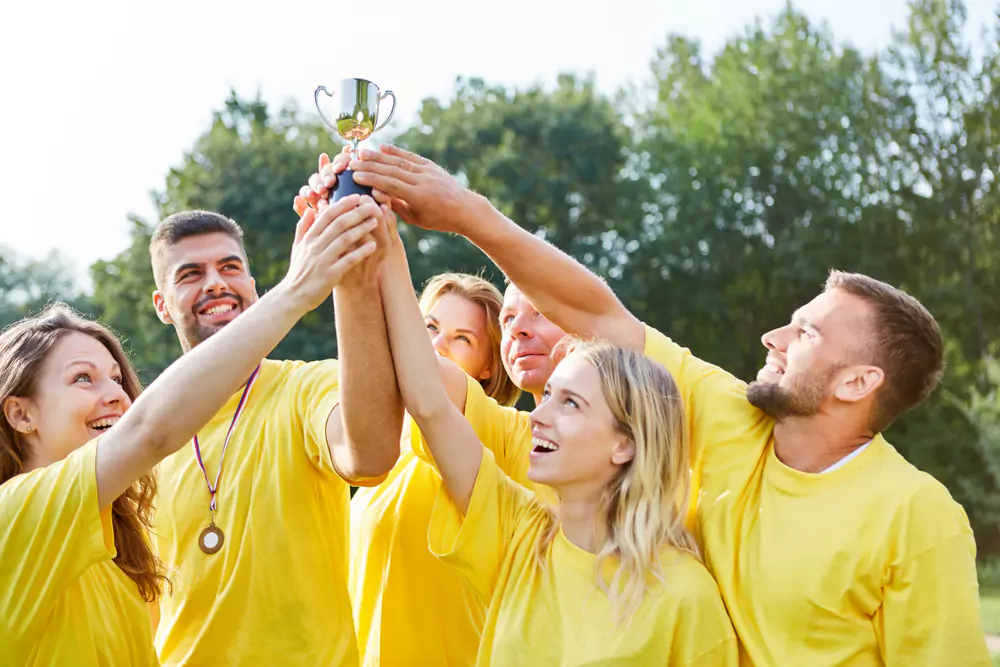 11. Test your speed go-kart racing
Who doesn't love speeding around on a go-kart track? K1 Speed is the perfect place to bring your team for a fun and fast team building experience in Irvine! Bring up to 30 people here for different kinds of team building activities on the race track that will improve your team's communication, increase morale and confidence, and more. There's even a full-service kitchen where you can hang out and refuel before going about the rest of your day in the city.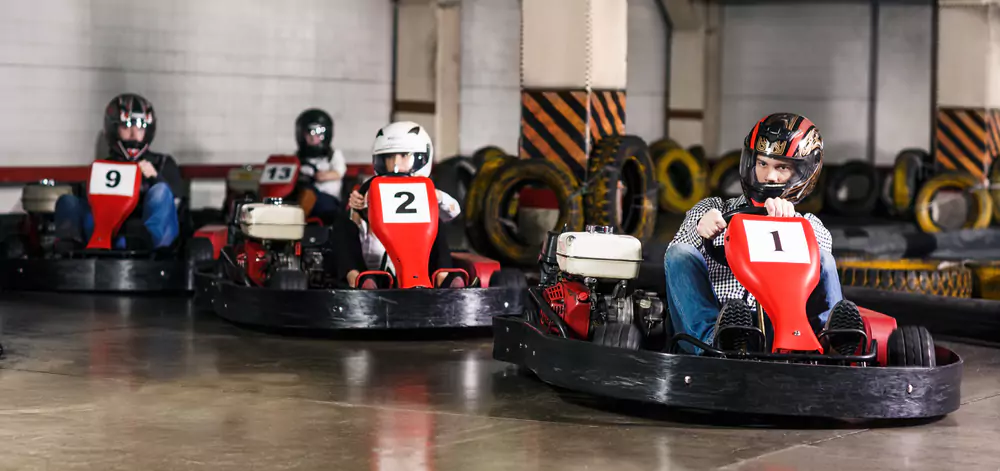 12. Go on a ropes course challenge
A ropes course is a great option for any team to try something new and push themselves to new boundaries! When it comes to team building, ropes courses can help with communication, trust, problem-solving, and more. Since these can be physically demanding on your team, make sure that everyone is up for a little exercise and a little bit of height. Orange County Ropes Course has specific team building programs that'll build your team's leadership while they learn new skills on the course!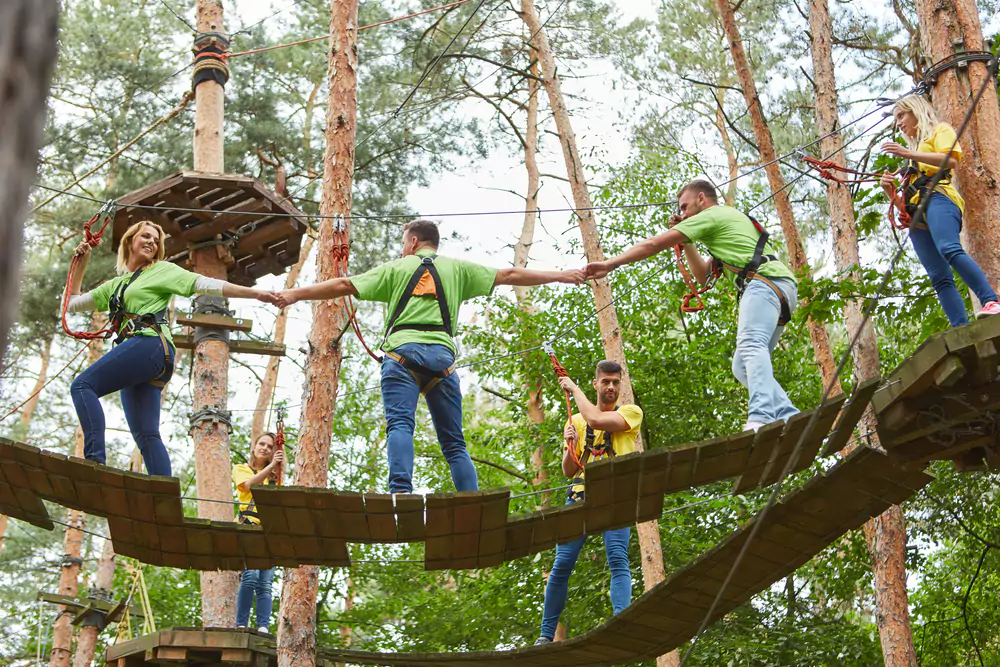 13. Explore nature on a hike
Hiking is a great stress relief! This kind of exercise will give you a better appreciation for the great outdoors while getting your steps in. Hiking trails have different levels of difficulty, so make sure to ask your team what they feel comfortable doing. You'll also want to make sure they know the right clothes and shoes to wear. Bring extra water, sun protection, and your camera to remember anything unique you might find on the trail! All Trails has the best information about trails around Irvine, so browse through their list to find the perfect hiking trail for your team.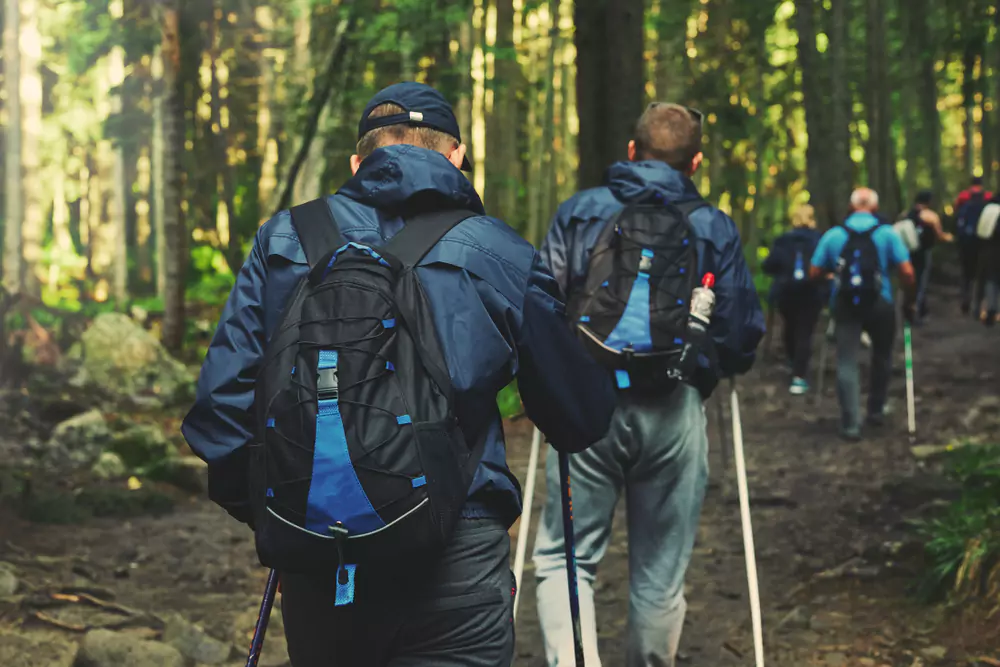 14. Throw some axes with your team
Under the right conditions (like at Stumpy's Hatchet House), axe throwing can be a great team building activity! Axe throwing is a great stress relief and will strengthen your team's relationships with each other. For those who are new to the sport, you can reassure them that they'll be safe while getting a little bit of a workout. The staff at Stumpy's will teach your teammates how to properly throw axes at a target and go after some unique challenges. Your team members will build strong camaraderie and have a team building experience to remember!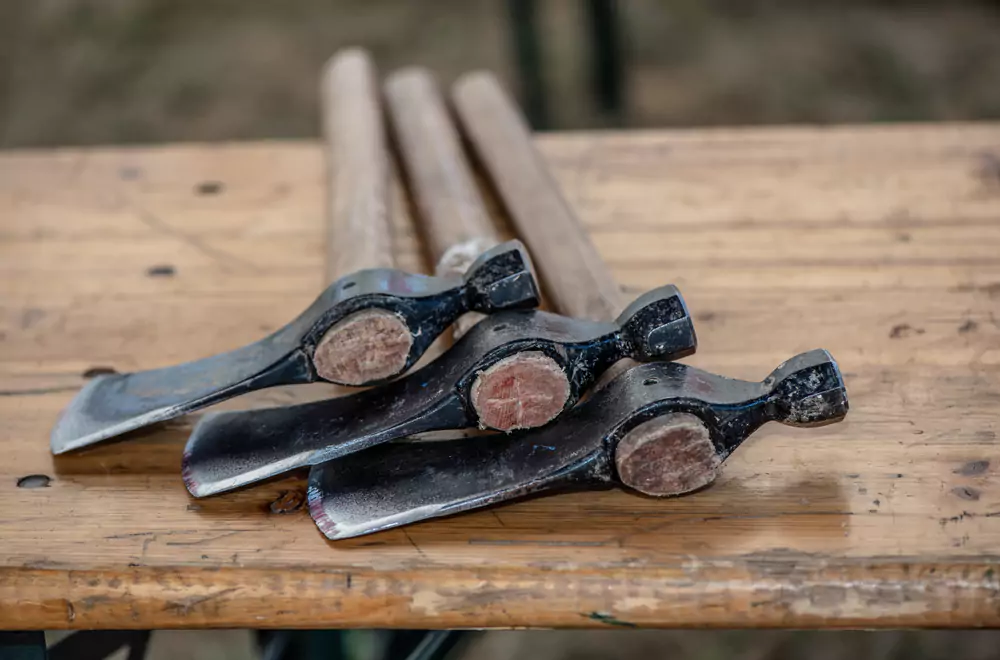 15. Take a cooking class
While your team whips up some new recipes together, they'll get some stress relief and creative inspiration for your next big project! You can choose from a variety of different cuisines, so poll your team to find out what they want to learn. Adventures in the Kitchen is a great option for culinary team building activities. And if all goes according to plan, you may see some great new dishes at your next team holiday party!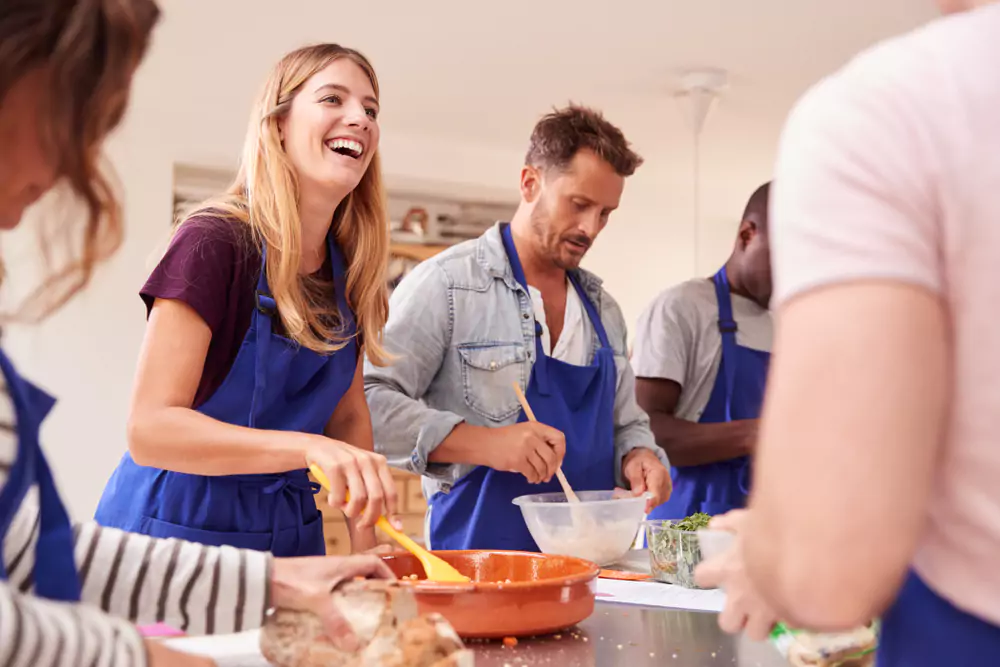 16. Engage in nature with La Vida Laguna
Explore the beautiful Pacific Marine Reserve with your team with La Vida Laguna! They offer kayak rentals, paddle board tours, surf lessons, and more. If you want to explore their team building options, you won't be disappointed. You can choose from a handful of fun, different team building activities that will get your team involved in nature. No activity is like the other—you can choose from a shipwrecked adventure, a drum circle, beach olympics, a boat building competition, or an electric bike tour.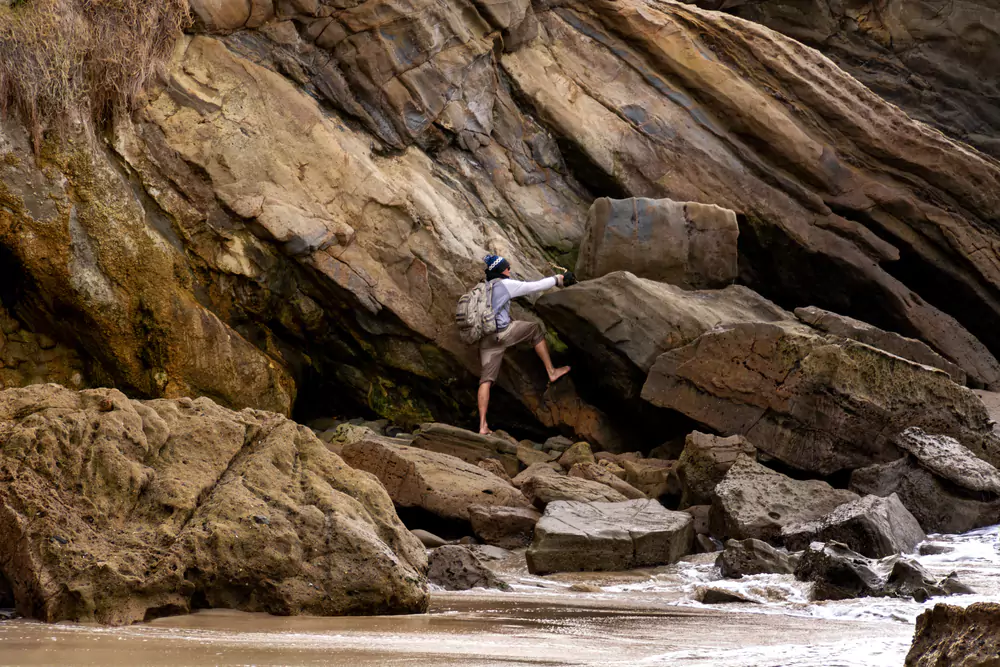 17. Play a virtual mystery game
Mystery games are like real-life versions of the board game "Clue," but we can promise that no one gets hurt! Mysteries will keep your team's attention as they work together. As they figure out clues and puzzles in a virtual mystery game, they'll build leadership skills and test out their intuitive skills. A virtual mystery game with Team Building Hub promises an hour of exciting and competitive mystery!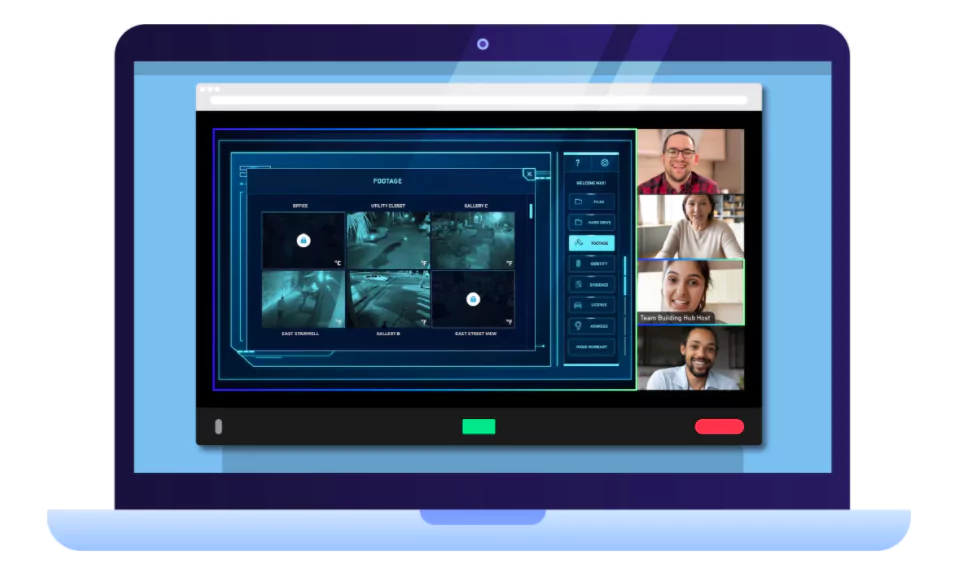 18. Host a sand castle building competition
There's nothing too childish in a team building activity! Sand castles might seem a little messy and you may be wondering how they could be used for strengthening your team. But if you've got the right tools and can fuel the competition, your team will build communication skills and get a boost in creativity! Irvine is just minutes away from the ocean, so we're sure your team would love a day at the beach anyways. You can promise them a little fun and relaxation after they compete, but make sure to get those team building moments in first! Book a competition through Creative Event Idea, and they'll provide the tools, seating, food, and more for the perfect event.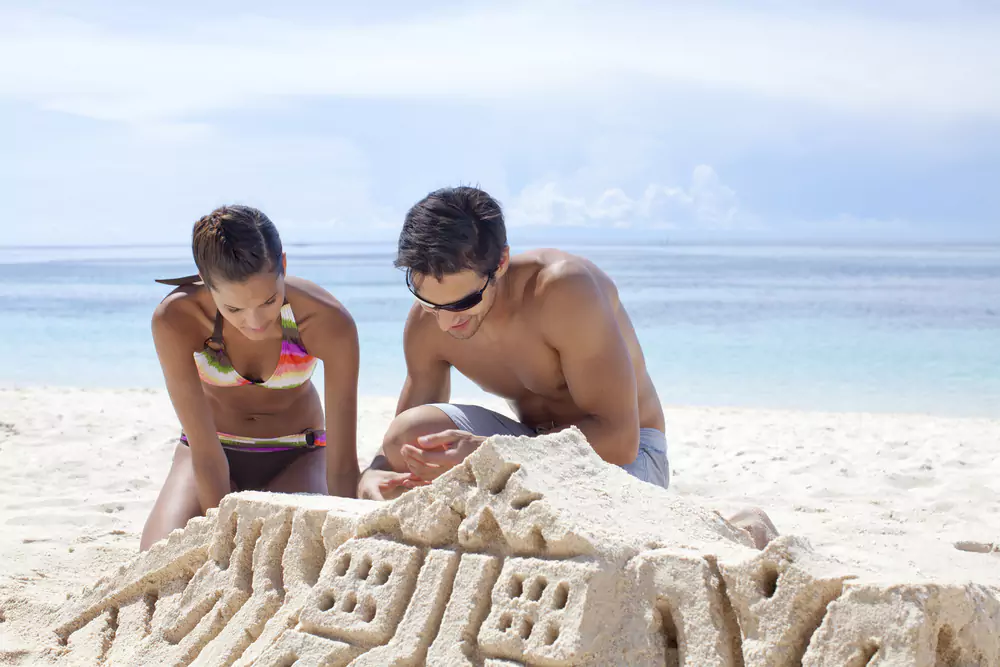 19. Book a virtual reality game
For smaller teams, a virtual reality game is an excellent choice for team building in Irvine. Each person will don their VR gear and get to play fully-immersive games with each other! As a team building activity, your team will strengthen their communication skills, even if they're not the best with video games. They'll learn the ropes of a "new world" and get to build relationally with one another. Choose from a dozen different game bundles at FireLoop VR, Orange County's premier VR lounge!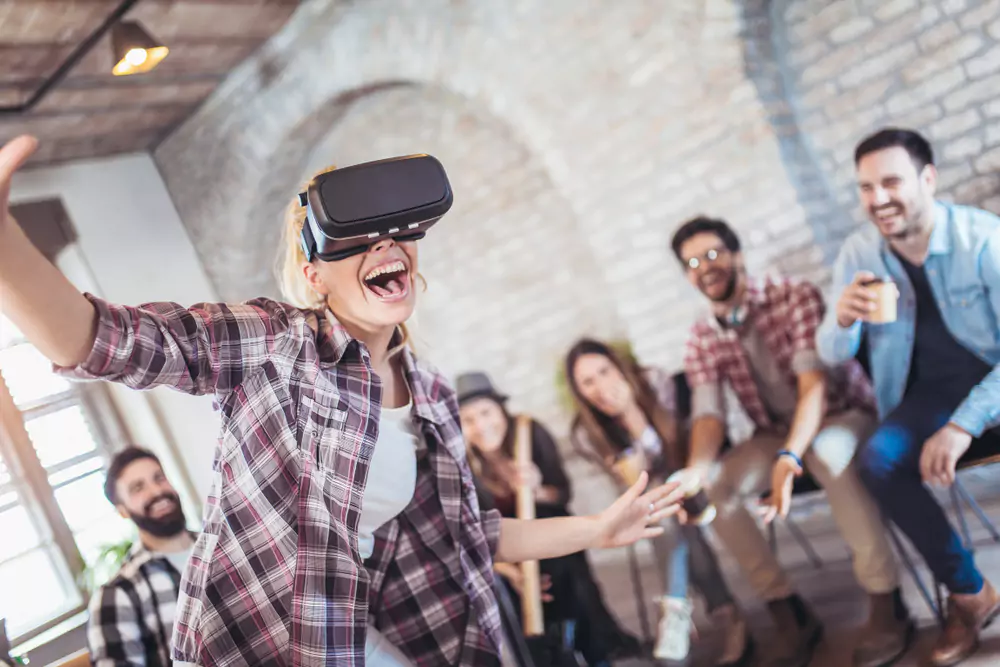 20. Go bowling with your team
If you want something a little retro for your team building activity, bowling is the best way to go! Usually, bowling is all about having fun and laughing when someone rolls gutter balls, but you can turn it into a little competition to up the ante. Irvine Lanes is a great place to host your bowling outing, and they'll even provide some food as your team adds up your highest scores. You can split up your team into smaller teams before you head to Irvine and encourage everyone to wear their best matching bowling gear on the day. Don't forget to hand out prizes to the top scorers and the top teams!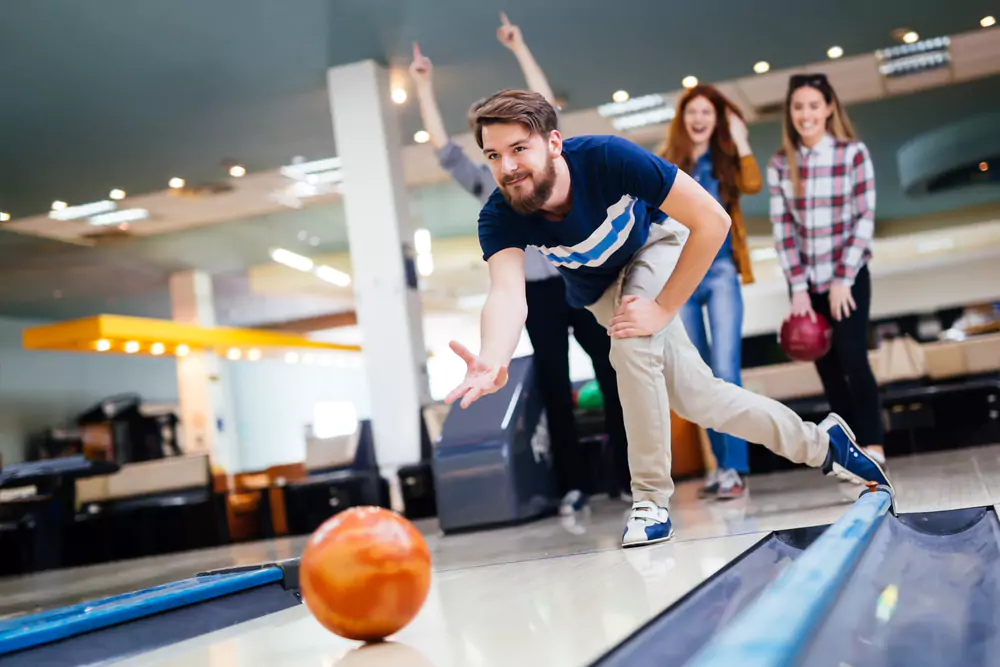 21. Take a haunted walking tour
Want something a little unconventional for your team building activity? Check out Haunted Orange County's ghost tour! Your group will get some historical background on spooky happenings in Orange County while taking a walk to remember. Choose from their Old Town Orange Ghost Walk or the Downtown Santa Ana Ghost Walk, which are both just minutes from the center of Irvine. Tours like this will give your team more to talk about at the office—as they build relationally, they'll be able to work more productively together. This haunted tour will give you more bang for your buck!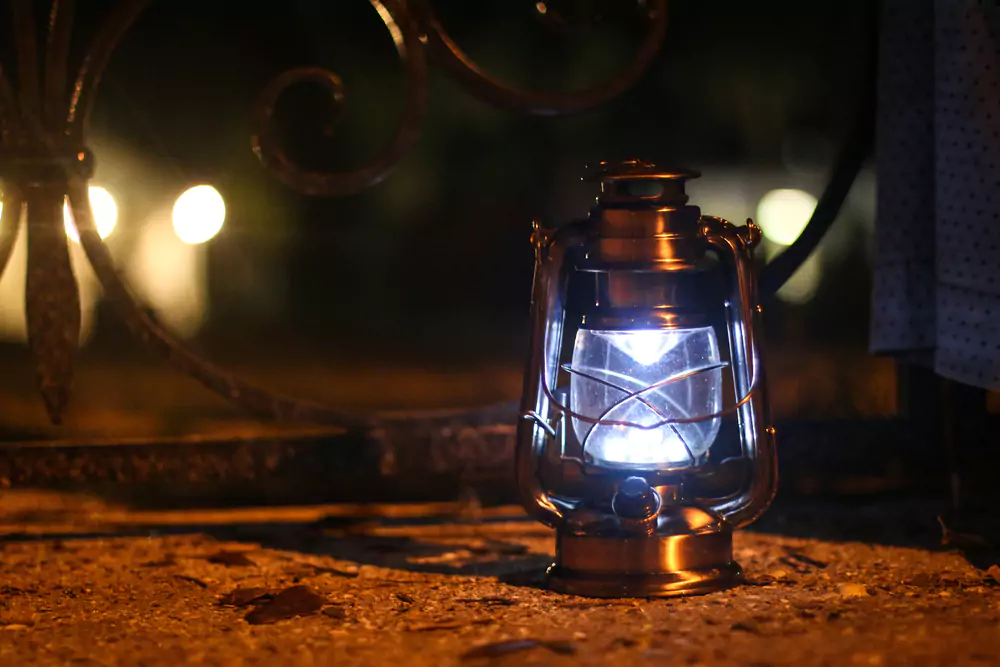 What to See on Your Team Building Trip to Irvine
Your trip to Irvine should be about more than business—it should be about fun and making memories! Believe it or not, having fun is a subtle and effective way to strengthen your team's unity and camaraderie. Whether you're planning a day trip or making weekend plans with your team, here are some must-sees in Irvine that your team will appreciate exploring.
Great Park
You can't visit Irvine without a stop at Great Park. This park sits on 500 acres and is full of attractions and shops that your team can explore, not to mention the iconic Great Park Balloon that you can ride in to see the city from up high (and the balloon ride is free . . .)! Great Park is a great place to visit if you want to give your teammates a variety of things to do. From a farmer's market to hiking trails to the Palm Court Arts Complex, there's something for everyone. Make a day out of it and explore!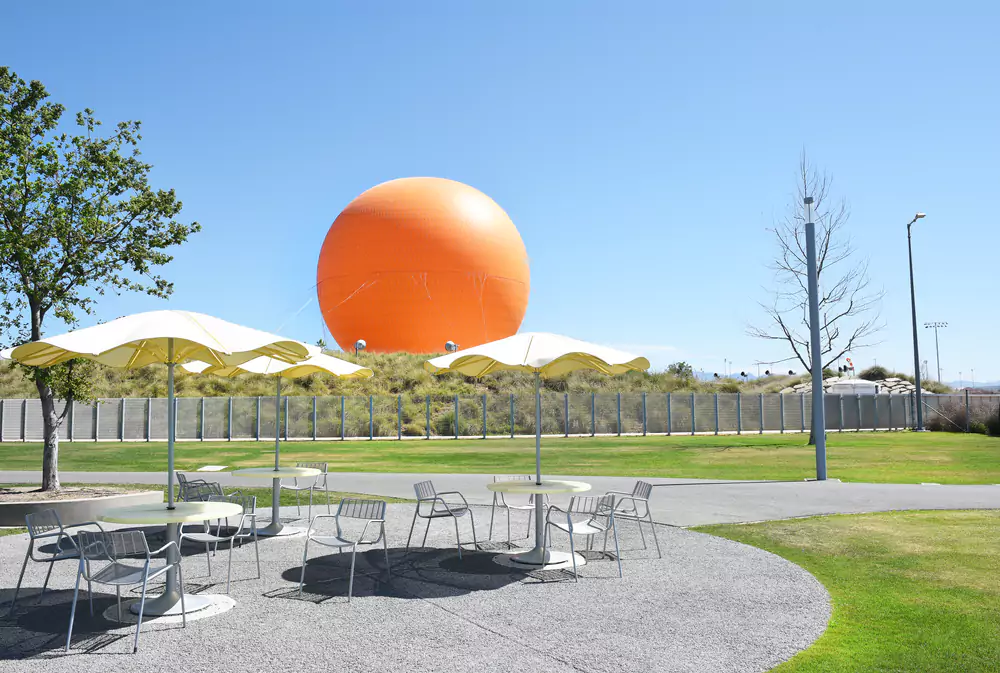 Trade Market Place
Trade Market Place is a unique spot to eat, shop, and to be well! See what "visionary restaunteers and retailers" are creating in Irvine and invite your team to try something new. There are fourteen curated eateries to choose from, as well as massage and nail salon options to help your team relax.
Irvine Spectrum Center
Everyone needs a little retail therapy now and then! The Irvine Spectrum Center will give your team an excuse to shop until they drop. Letting them go window shopping together will allow them to build some memories or buy matching socks. Aside from shopping and eating here, you can enjoy other attractions here like the Irvine Improv company and the Center's giant ferris wheel.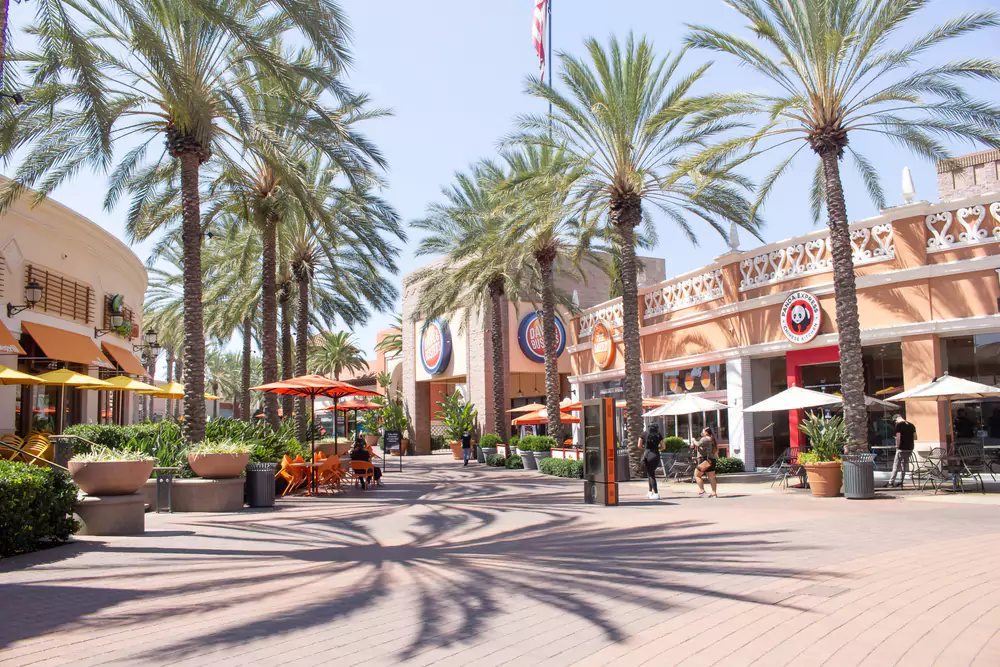 Balboa Beach and Pier
Take your team to Balboa Beach and Pier for a little fun and relaxation! If you've just come off a busy season or completed a big project together, a chill, sunny day will be a great reward for your team. There's plenty to do walking around the pier from shopping to bike rentals, whale watching, playing games at the Balboa Arcade, and ordering ice cream. Make sure everyone takes photos!
Tanaka Farms
Take a little break from the fast life in the city and see what farm life in California is like. Your team will love the options for exploring farm life at Tanaka Farms! While everyone has a chance to take some goodies home via the market stand or a U-Pick Wagon Ride, you'll also have a chance to see a farm-to-table cookout tour, a barnyard educational exhibit, and more.
Disneyland Park
Just twenty minutes outside of Irvine, Disneyland is an obvious choice to make some memories on your team building trip! Take a day to explore the magic of Disney with your team, and you can even encourage different team members to stick together throughout the day to build camaraderie. You can expect some of your favorite Disney characters like Mickey and Minnie Mouse, but Disneyland is constantly adding new attractions and dining options for your team to enjoy.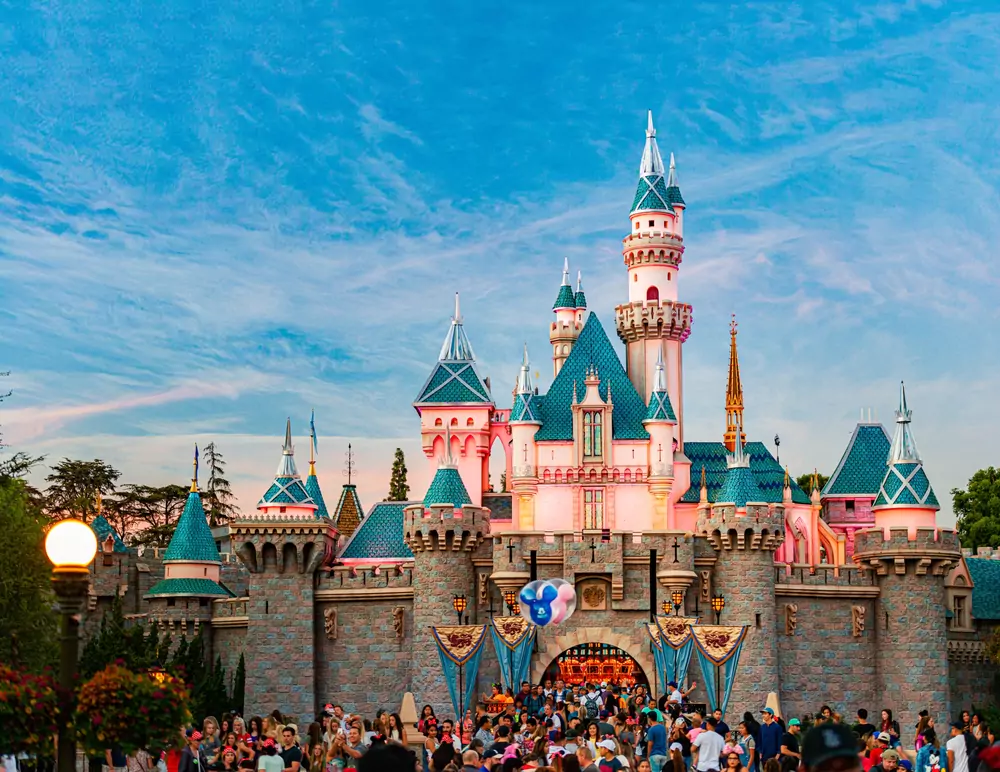 Book your team building trip to Irvine!
Irvine is full of team building options to strengthen your teammates' skills and unity! With sunny California around you, your team will be excited for a chance to grow and to hang out in the city. Whether you plan a quick day trip or a weekend for your team, start scheduling your trip to Irvine today!