When team morale and engagement start to dip, team-building activities are a great way to turn things around. Spending time together to bond boosts team camaraderie and translates to better communication, problem-solving, and innovation at work. Long story short? Teams that play together, stay together. You can reap all the team-building benefits by planning an event that gets your team together in new and exciting ways. The best activities boost team morale and help you reconnect – and Sunrise has some of the best team building available!
If you're in the Sunrise, Florida, area with your team and looking for some group activities, you're in the right place! Below you'll find 21 fantastic group activities to do with your team — with options for every kind of team dynamic. Keep reading to learn more!
Table Of Contents
21 Awesome Team Building Activities in Sunrise
What To See On Your Team Building Trip To Sunrise
21 Awesome Team Building Activities in Sunrise
1. Collaborate To Solve an Escape Room
While there's probably not one "best" team-building activity, escape rooms come pretty close. Escape rooms demand that players think proactively and collaborate to escape. At The Escape Game in Sunrise, you'll get a chance to hone your team's problem-solving and communication skills while immersed in a multi-room set. Together, you'll crack codes, sleuth for clues, and solve mind-boggling puzzles. By the end, you'll realize it's about the adventure you take together — not just escaping!
The Sunrise location is highly immersive, features unique escape themes with different difficulty levels, and includes multiple rooms. These story-driven themes will inspire team adventure and exploration. But be on your toes; although your team might not escape these rooms, you will have fun!
2. Plan An Event with Team Building Hub
Located near Fort Lauderdale, the Sunrise area has a ton of activities for teams looking to plan group activities. But with so much to do and so little time these days, having an extra hand to help plan your event is a good idea.
Team Building Hub specializes in planning team-building events that everyone can enjoy! The experts at Team Building Hub can help you design a custom event perfectly suited to your team's interests and energy levels. You'll skip the part where you get bogged down with planning logistics and make your next event a breeze.
Whether you're looking for in-person experiences, virtual events, or anything in between, Team Building Hub can take the reins to create an event your people will never forget.
Here's how it works. Fill out a quick form with as many details as you know. Within one day, you'll hear from one of their professional event planners. When meeting with your planner, share what you're looking for and what interests you. They'll take it from there to build, manage, and provide everything you need.
3. Go Indoor Skydiving
Give your team the gift of flight with a chance to soar through the wind tunnels at iFly! Indoor skydiving is an adrenaline-inducing way to get your team members out of their comfort zones. If your group is big enough, you can book a private event that delivers a one-of-a-kind experience. The folks at iFly can even provide custom branding options in addition to flight training and gear, customized event layouts, catered food and drinks, and flights for the whole team. And since it's indoors, the weather won't be an issue. There's no need for a backup plan; your team can skydive rain or shine!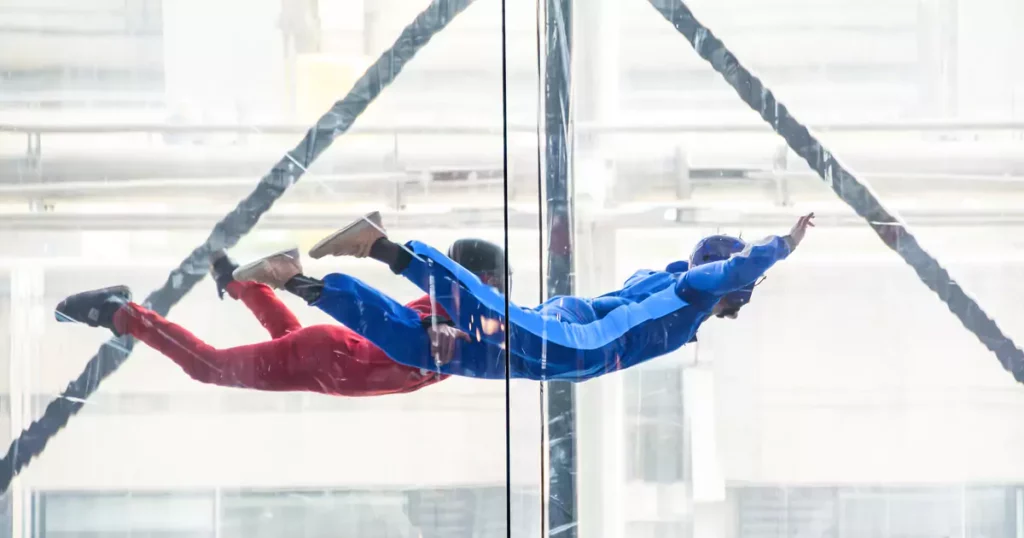 4. See the Miracle of Metamorphosis
Head over to Butterfly World with your team to learn about the entire life cycle of the beautiful butterfly. An expert guide will lead your team and show butterfly larvae and pupa on the farm display. With three giant open-air aviaries, you'll also see tens of thousands of adult butterflies soaring through the air! Then, you can wander together through the tropical bird aviaries, which house exotic birds and a slew of birds from all over the world. Be sure to snap a few photos.
5. Visit Fern Forest Nature Center
The Fern Forest Nature Center is an urban oasis and is home to more than 30 varieties of ferns, including endangered and primitive types. You can explore these plant communities and head to the nature trails and picnic areas to lounge, spend time together, and play a few ice breakers.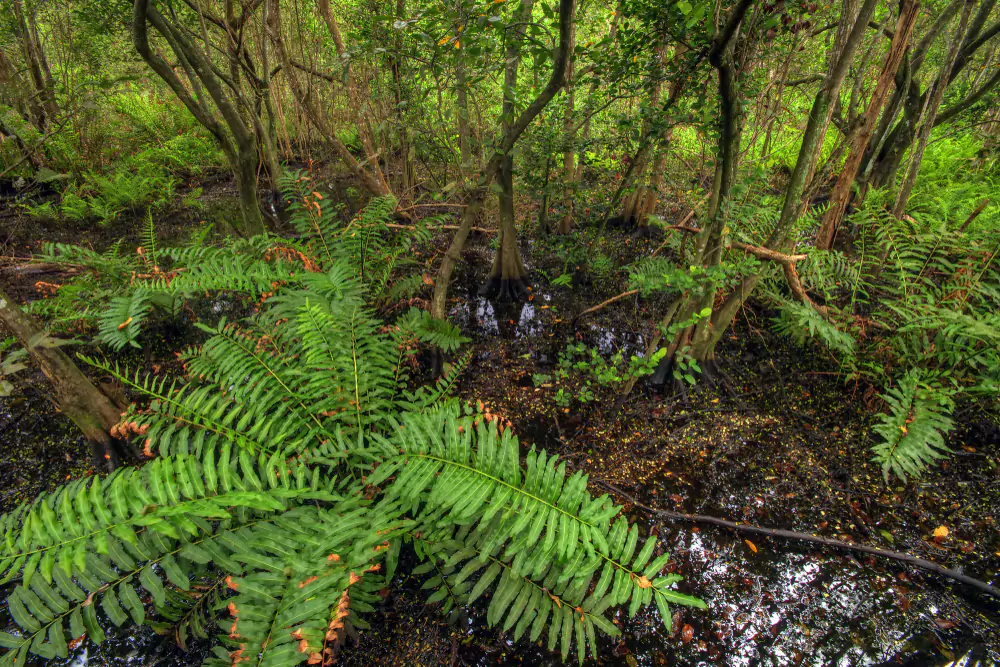 Afterward, grab a bite at BRGR Stop for some grass-fed burgers with eclectic toppings at this funky restaurant decked out with road signs and murals.
6. Solve a Crime
This activity is a blast for teams with true crime or Law & Order fans! Now, it's your turn to play as detectives who must piece together a mystery and find the criminals responsible for these online mystery games. Together, you'll need to review surveillance videos, search the deep dark web for clues, and even decode and dial a phone number. Only the most innovative teams of sleuths will get to the bottom of these story-driven mysteries in this exciting team-building mystery competition!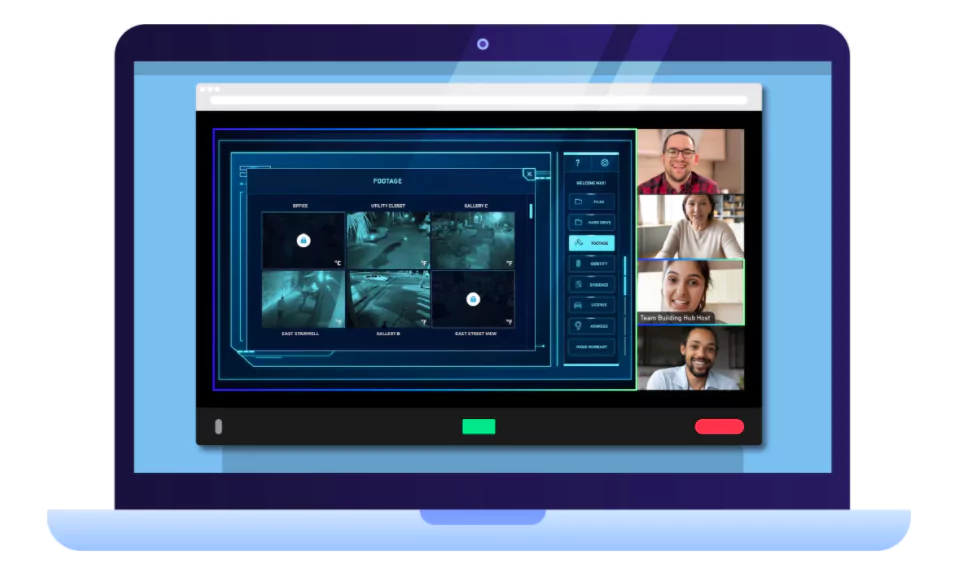 The Art Thief: Chasing Hahn
The race is on to track down known art thief Vincent Hahn. Using detective skills and clues from Hahn's case file, your team will need to find his location and bring him to justice!
The Art Thief: The Silk Road
Vincent Hahn is back on the run. When the international art thief leaves only a few clues and pieces of evidence behind, your team will need to piece it all together to take him down — once and for all.
Rogue Scientist 1990
The Agency for International Reconnaissance is calling on your team's expertise to track down Dr. Humphrey. His dangerous genetic experiments have gone too far. Can your team work together to uncover clues, build a case, and find him before things take a dark turn?
7. Head to the Beach
Fort Lauderdale Beach is located right near Sunrise! Grab your team, some beach towels, and a volleyball to enjoy an afternoon lounging by the warm waters. In addition to soaking up some sun, you can explore the beach yoga offerings and the bike-share program. The picturesque Fort Lauderdale Beach Park nearby also has everything you need to play and eat as a team — from sand volleyball and basketball courts to grills for cooking.

8. Race Indoor Go-Karts
Adrenaline abounds at K1 Speed! Your next team event is guaranteed to be a high-energy activity that everyone will remember for years to come. Be prepared to demonstrate courage, concentration, communication, and problem-solving skills. The folks at K1 Speed specialize in designing team-building events, including various activities like relay challenges using a soccer ball and pit crew competitions. You can also zoom past your team members in a 12-lap qualifying race before the 14-lap Final Event. One thing's for sure, by the end of this event, you'll know which team members are fast and furious on the track.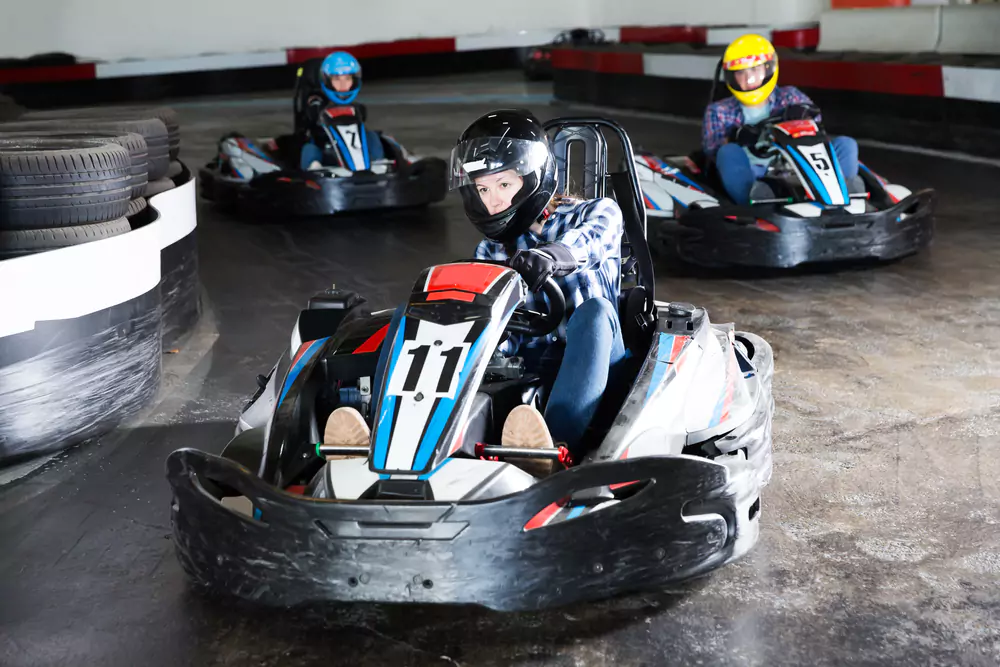 When your heart rates return to normal, enjoy a meal as a team with the catering services from K1 Speed partners. That's team building the Sunrise way!
9. Try Paddleboarding
Paddleboarding is a water sport that tasks your team members with propelling themselves forward using their arms or an oar on a board. You can stand, lay, or kneel.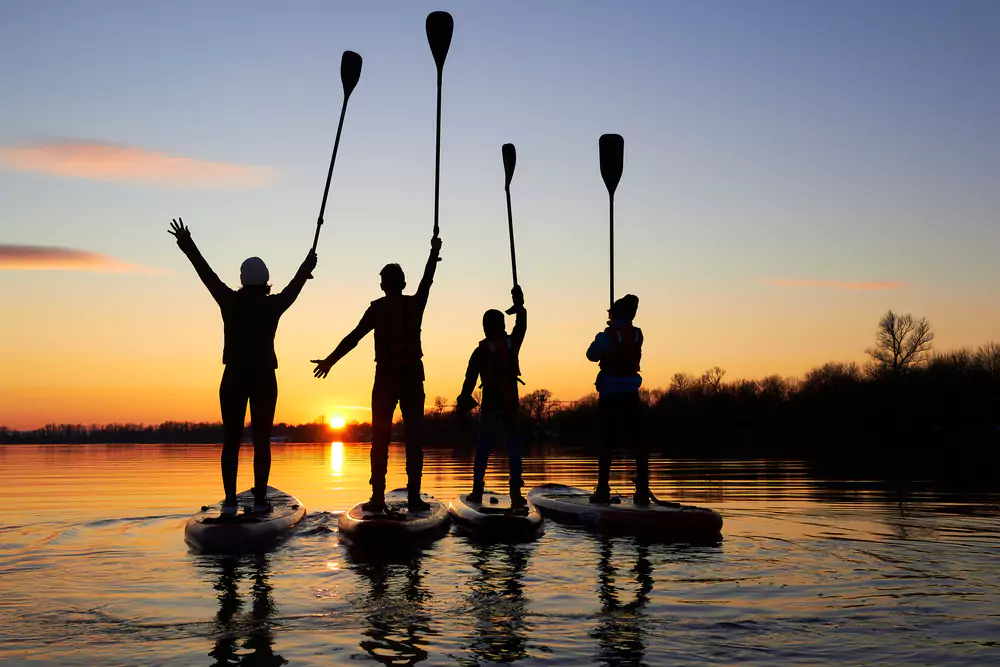 At Sunrise Paddleboards, your team can give it a try. They also have kayak tours and rentals or an electric bike tour of the area.
10. Hunt for Real-World Treasure
While you may not have heard about it, geocaching is the world's largest treasure hunt! It's a chance to take your team on an outdoor adventure. Here's how it works. Using the geocaching app or a GPS device, team members will hunt for items (called geocaches) hidden in the real world by other players. More than three million geocaches are hidden worldwide, waiting to be discovered.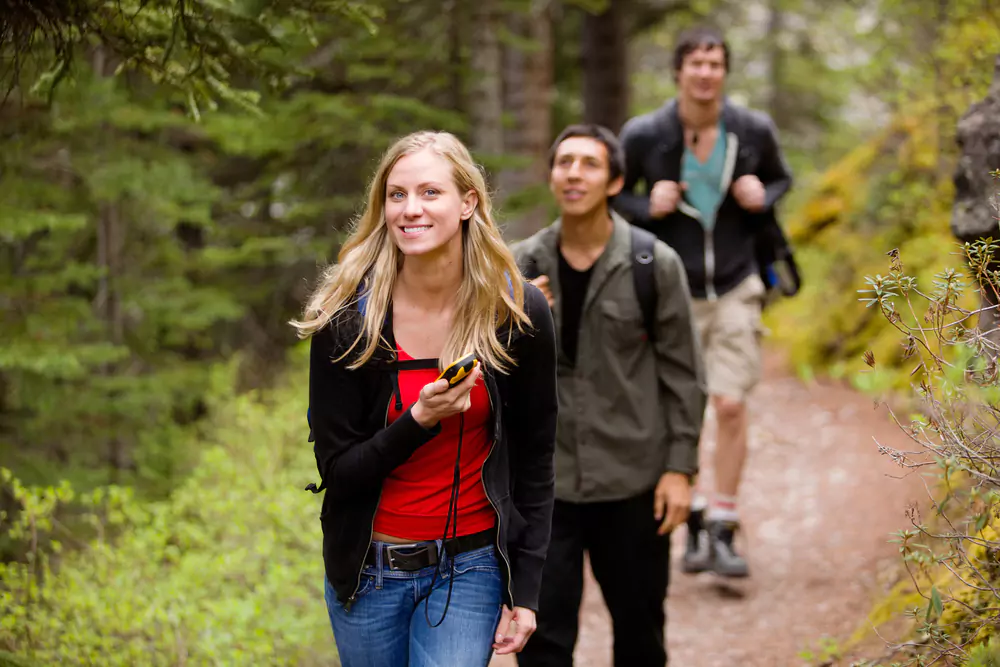 Split your team into groups and give them time to explore and track down as many geocaches as possible. Then get back together as a group to share your experiences! Geocaches can be anything from foreign currency to books and more. Best practice says if you take something, leave something. To keep things simple, ask teams to snap a photo and place the geocache back where they found it.
11. Play an Online Game Show
In this high-speed battle of wits, teams compete for the coveted spot atop the ever-changing leaderboard. No cumbersome tech or complicated rules! You'll play five rounds led by an energetic host who's an expert at getting your team excited and engaged. This is not a regular old game show; this online game show is a high-energy event with surprise bonus rounds, hidden point opportunities, and puzzles that push your team to collaborate and problem-solve. Be quick — speed counts!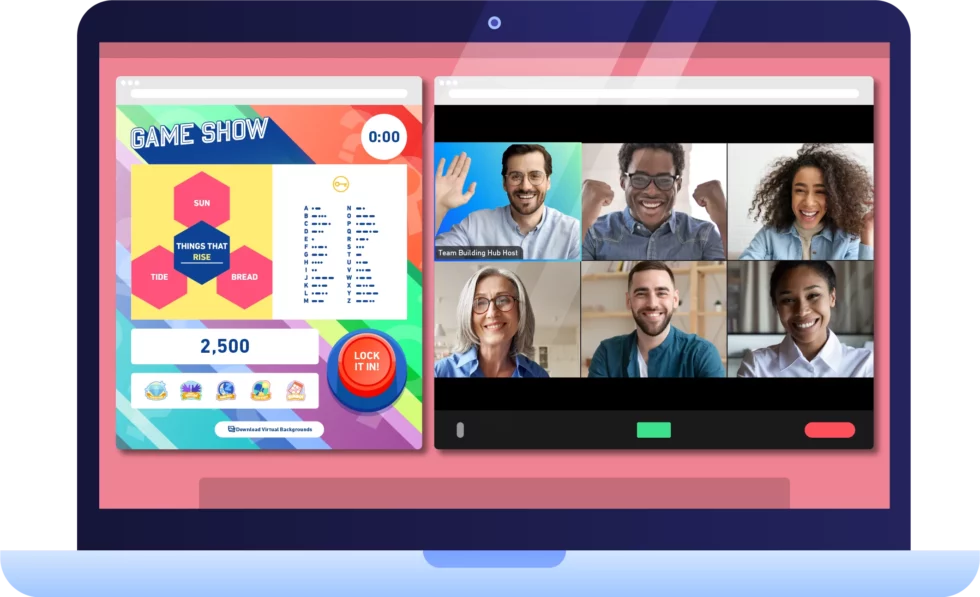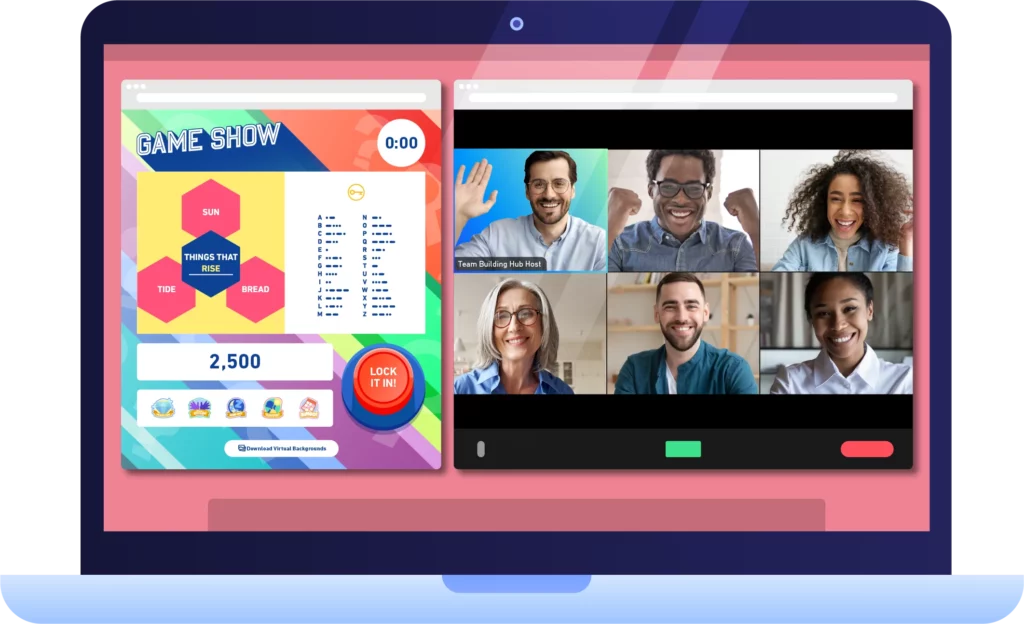 12. Flock with Flamingos
Built in 1927, the Flamingo Gardens is one of the oldest botanical gardens and attractions in South Florida. In addition to the botanical garden, your team can explore the butterfly and hummingbird garden, an arboretum, and even a wildlife sanctuary! You'll see more than 3,000 species of rare, exotic, tropical, and native plants and trees. But it's not just plant life and flamingos. Your team will catch a glimpse of alligators, bobcats, eagles, panthers, and more!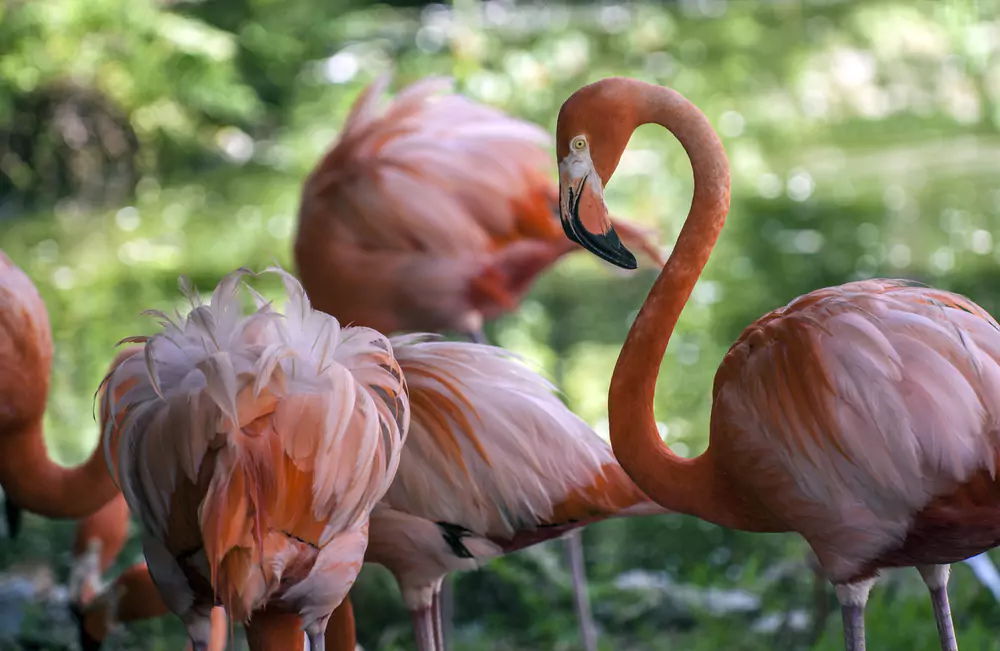 This activity is perfect for teams who want to spend time together in nature. For an extra challenge, try hosting a photo competition. Encourage your team members to snap photos of the plants and animals throughout the visit, then vote on the best ones.
13. Sip and Sail on a Cruise
Jungle Queen Riverboats offers a host of cruises and tours for your team to enjoy as you sip and sail. You can catch a glimpse of homes for the ultra-rich, see noteworthy local landmarks, and learn about South Florida's history. You'll have an expert guide who can answer any questions and provide details about all that your team will see and experience. You can't do much better for team building in Sunrise.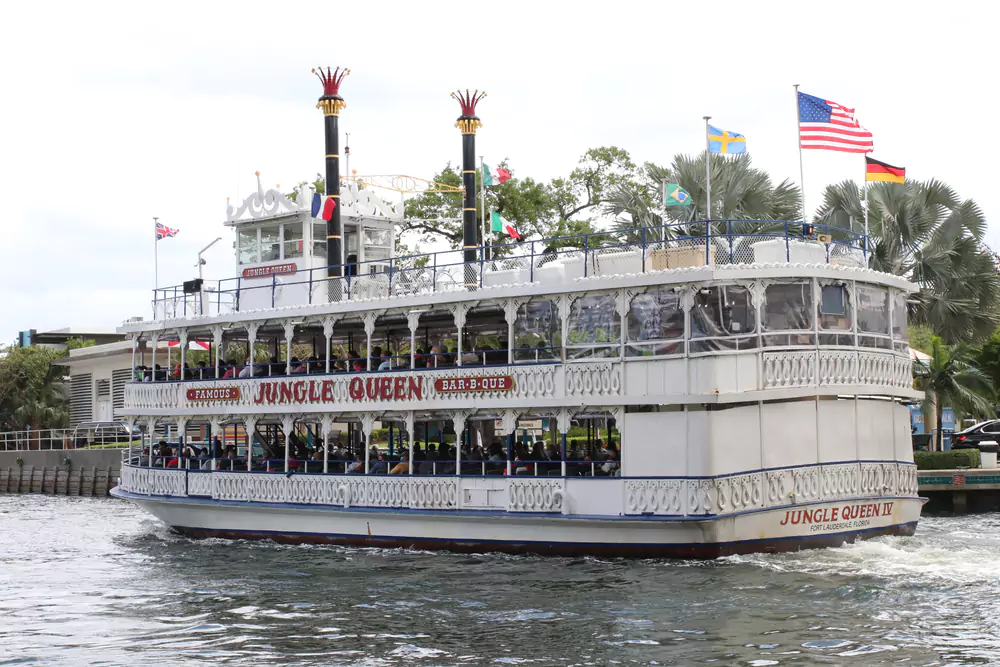 14. Have a Karaoke Party
At Off the Wall, there's almost too much to do. This fun center has arcade games, laser tag, a ropes course, axe throwing, and karaoke! Your team will have a blast belting tunes, making memories, and exploring any of these team-building activities.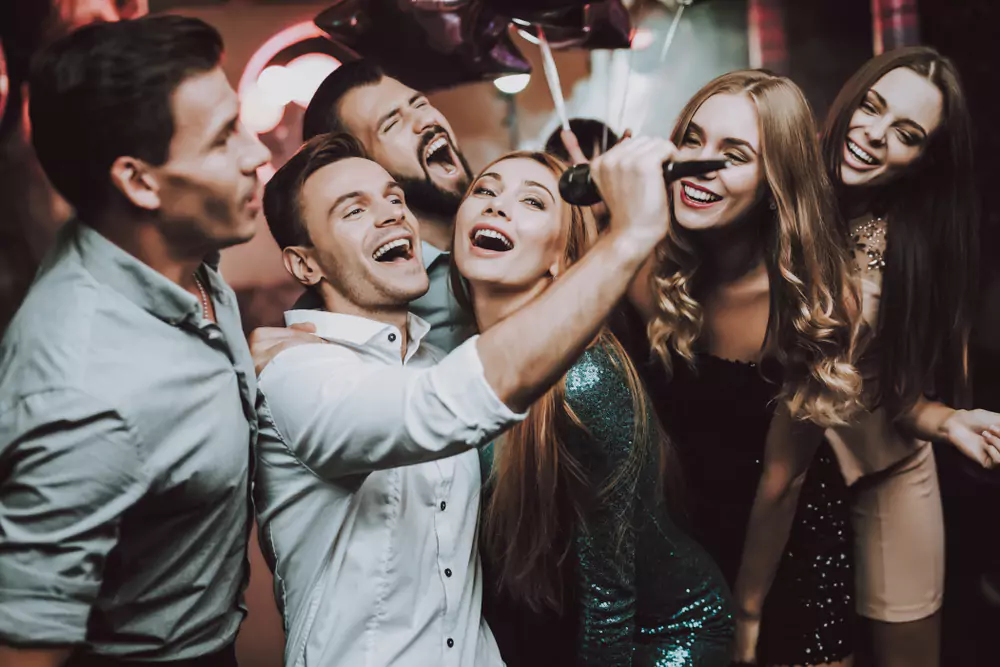 15. Try a Ropes Course Adventure
If you plan a team event at Xtreme Action Park, they'll handle everything from catering to décor. Do your team members have the skills, balance, and stamina necessary to master this ropes course? There's no time limit, but there are obstacles to navigate around! You can also bowl, play mini golf and laser tag, or try out some virtual reality games. There's no time to relax; Xtreme Action Park has it all.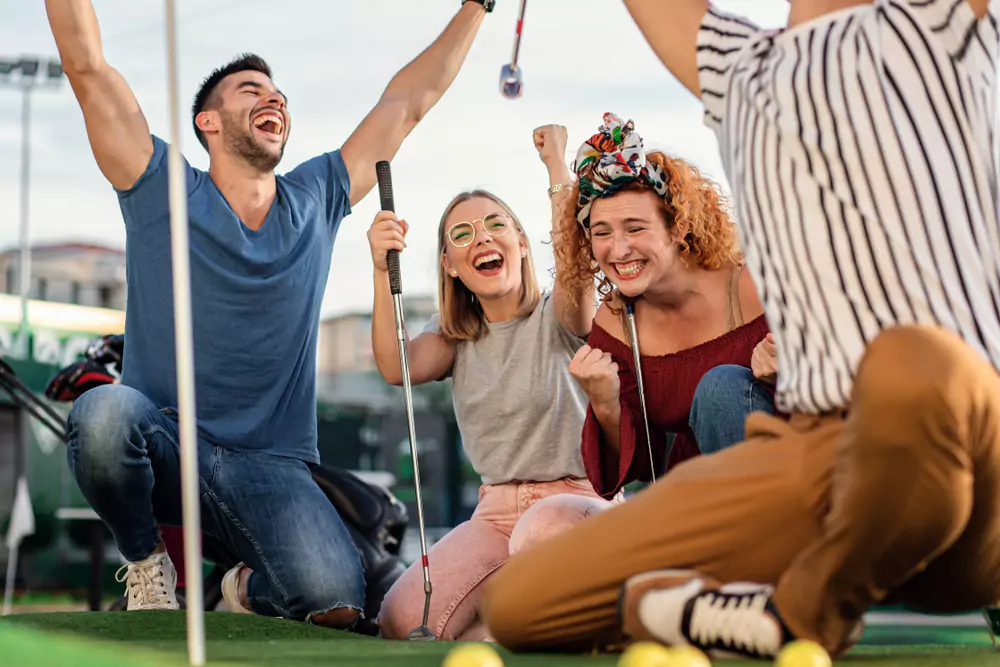 16. Have a Picnic
Grab some food, bring some board games, and lounge in the shade at Tree Tops Park as a team. The park features a boardwalk through 23 acres of freshwater marsh, nature trails, and an equestrian center.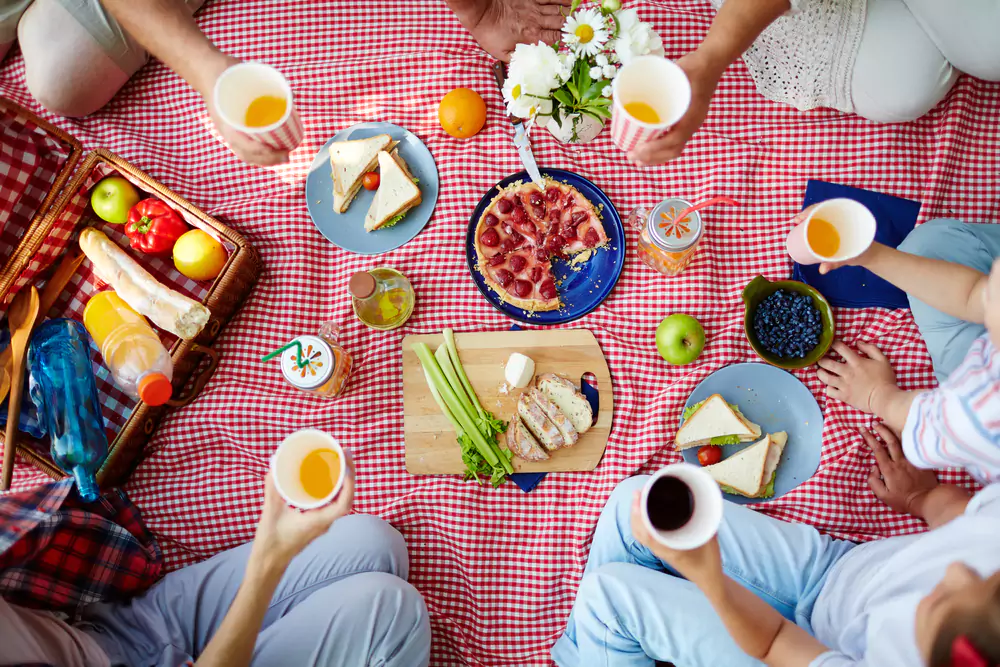 You can play some ice breakers or enjoy a few rounds of Heads Up! This mobile app game mixes trivia and charades and features dozens of playing decks to choose from. Here's how it works. One player places the phone on their forehead. Other team members will share clues or act out the answer on the screen so the player can correctly guess the answer and score for their team!
17. Have a Trivia Competition
Team trivia is one of the easiest ways to build team camaraderie while having fun. Everyone can get involved because you never know who might have the correct answer or the best guess! Trivia is also highly customizable. You can pick topics ranging from world history to your company's history. To have fun with your team, you can explore virtual trivia games or find a local bar or pub hosting a trivia night.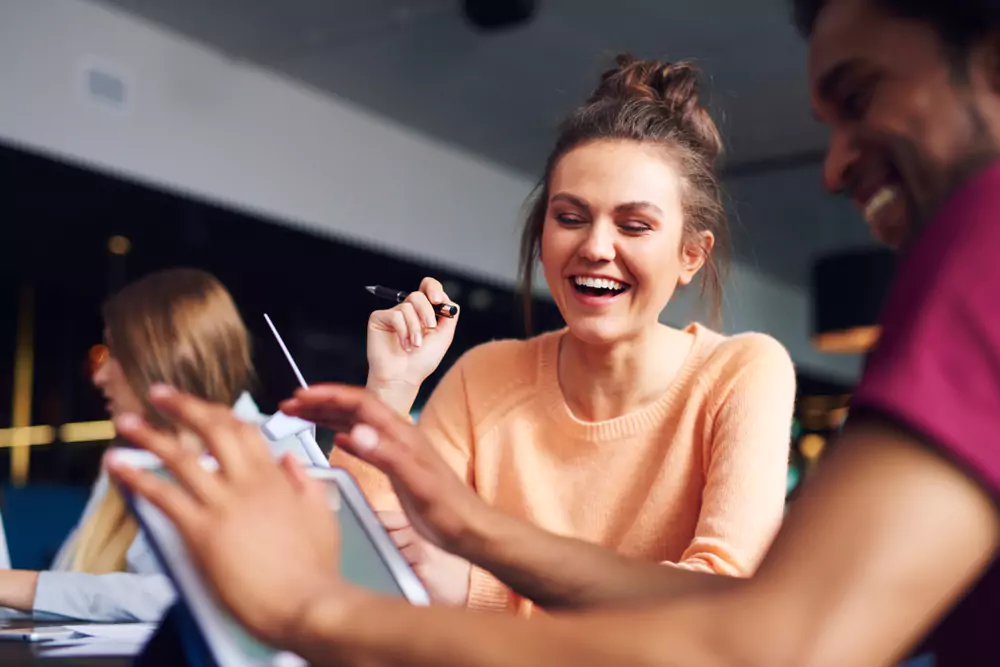 18. Volunteer in the Local Community
Build a stronger, more connected team as you give back to the local community and make an impact.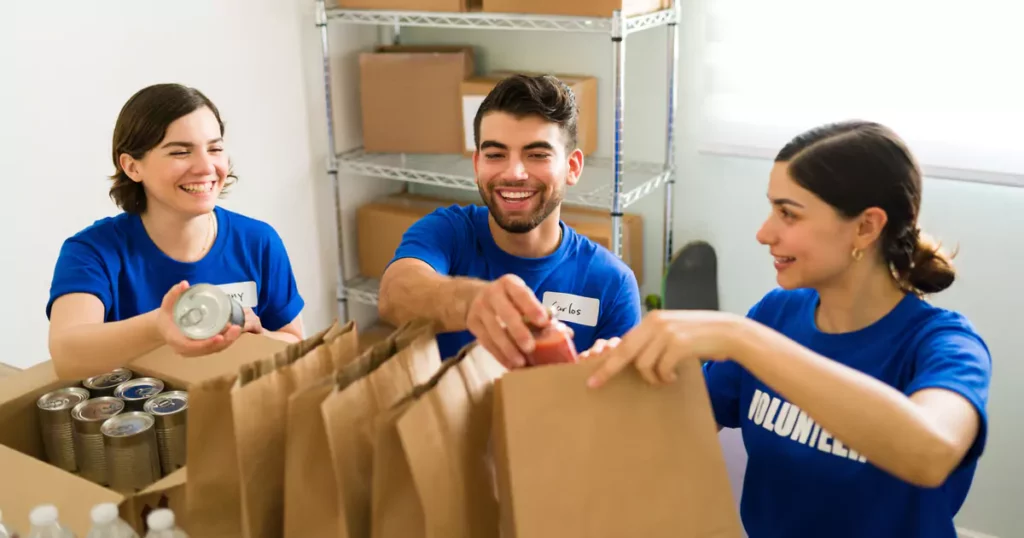 To set up some team-building volunteer opportunities near Sunrise, check out HandsOn Broward and Habitat for Humanity of Broward.
19. Head to a Trampoline Park
At Urban Air Adventure Park, you're not just bouncing around. Your team will have a fantastic time completing the Warrior Course, attempting the climbing walls, competing on the battle beam, and playing a few dodgeball rounds. You can mix and match activities for your team event or try them all! This is a surefire option for team building that doesn't feel like work.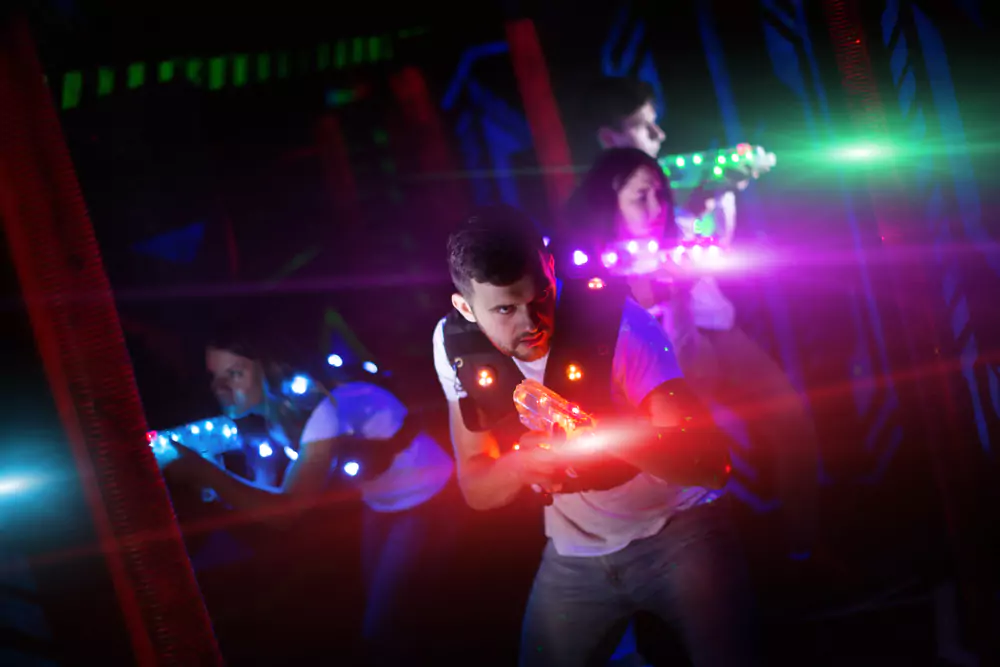 20. Go Bowling
Bowling is a fun and inexpensive way to get the team together, no matter the group size. It's a low-impact activity that gets your team members' competitive juices flowing. Strikers in Sunrise is a great place to hang with the team and see who can strike their way to the top of the scoreboard.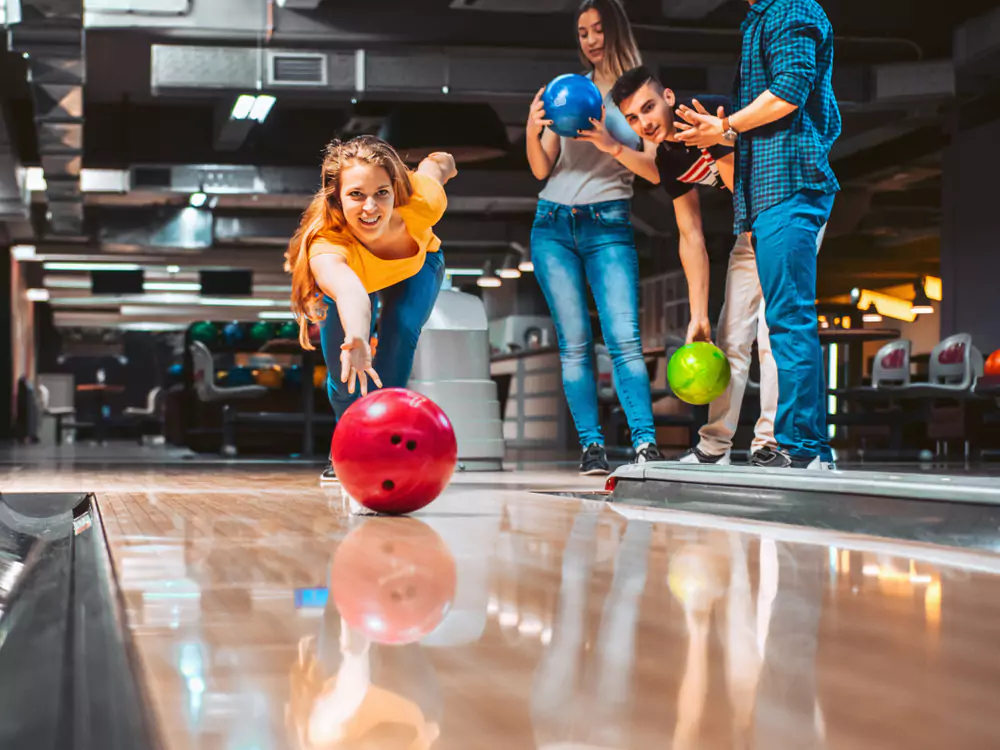 21. Plan a Scavenger Hunt
Scavenger hunts are a blast, and they also make excellent team-building activities. You'll reap all the benefits while encouraging your team members to work together and problem-solve to complete the challenges or find checklist items. You can host your hunt indoors, outdoors, or even virtually if your team is hybrid or remote.
While in Sunrise, consider designing your own! Here are a few scavenger hunt ideas to consider for your next event:
Museum scavenger hunt: Challenge team members to snap a photo of specific pieces of art throughout the building.
Photo-based scavenger hunt: Provide a list of activities (like creating a human pyramid) and require team members to show photo or video evidence.
Acts of kindness scavenger hunt: Put a positive spin by encouraging your team to do random acts of kindness to win this scavenger hunt.
If you want more options, this list of unique scavenger hunt ideas can help get you going!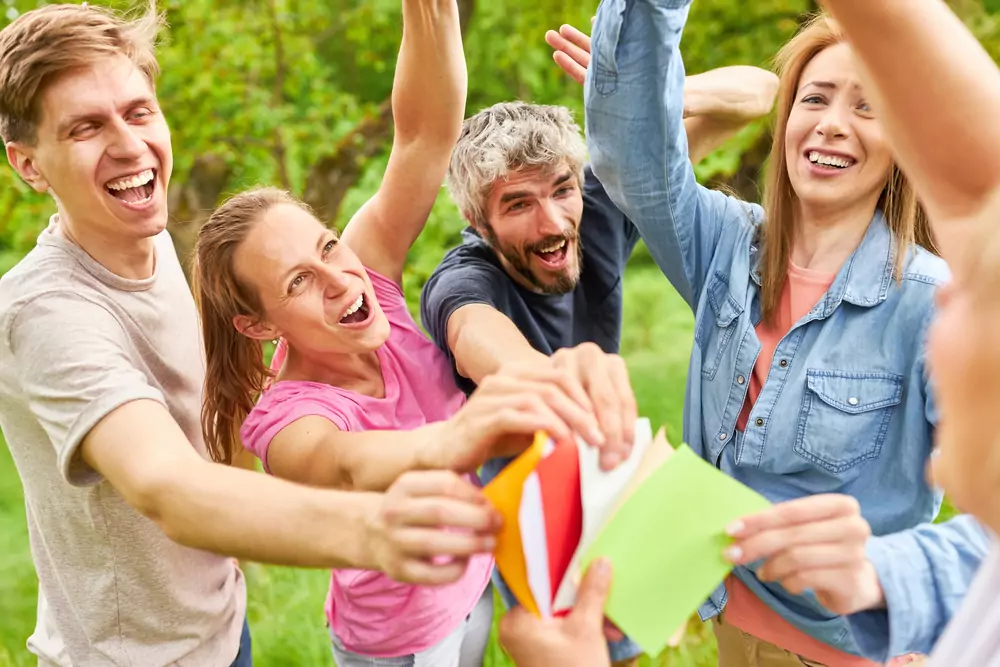 What To See On Your Team Building Trip To Sunrise
1. Dauer Museum of Classic Cars
Does your team have any classic car enthusiasts? The Dauer Museum of Classic Cars has more than 55 timeless cars from the 1930s to the 1970s that transport you back to a simpler time in American life. Your team will enjoy seeing and learning about some of America's most remarkable automotive feats and impressive innovations.
2. Broward Center for Performing Arts
Catch a show or musical event as a team at the Broward Center for Performing Arts, which is ranked among the world's top ten most visited theaters. It overlooks the New River in downtown Fort Lauderdale, not far from the Sunrise area. With more than 700 performances each year to more than 700,000 patrons, there's always something to see at this performing arts complex.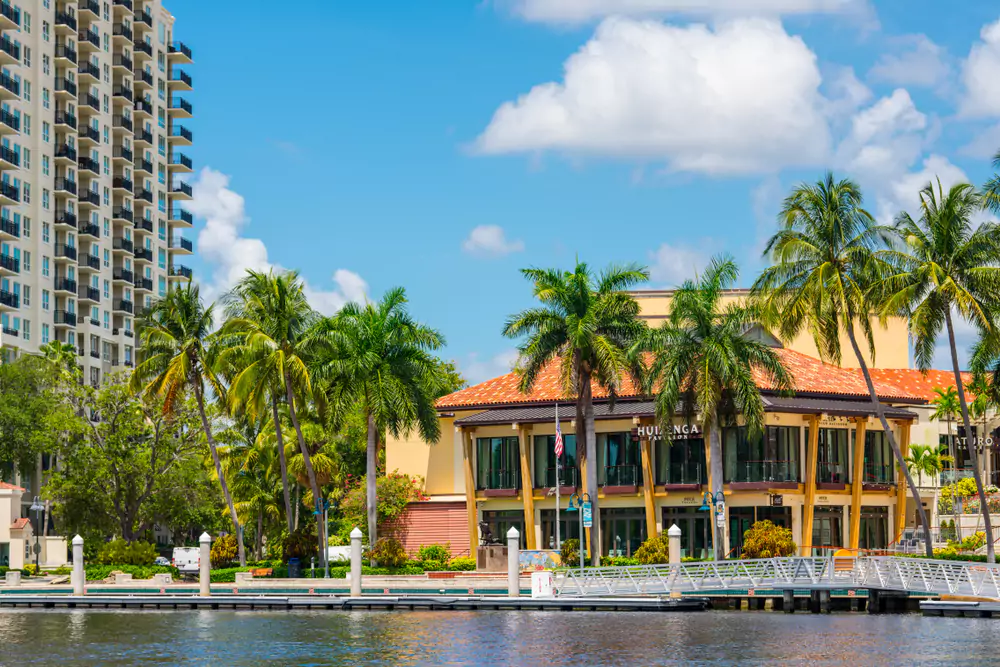 3. Bonnet House Museum & Gardens
The Bonnet House Museum & Gardens is a stunning estate dedicated to celebrating the story of Frederic and Evelyn Bartlett while preserving art, history, and the nature of Bonnet House. Frederic Bartlett was an artist who worked on mural projects, and you can find his work displayed at some of the world's best museums, including Carnegie Institute and the Art Institute of Chicago. While at the Bonnet House, you'll find examples of his easel art displayed in the studio. Your team might also spot his murals throughout the Main House.
4. Hugh Taylor Birch State Park
Hugh Taylor Birch State Park was named after a Chicago attorney who moved to South Florida and built an Art Deco home on his 180-acre estate, calling it "Terramar" or "land to the sea." This home is now the park's visitor center, so be sure to explore it! Activities including canoeing, bicycling, fishing, swimming, and picnicking are available at the breathtaking Hugh Taylor Birch State Park.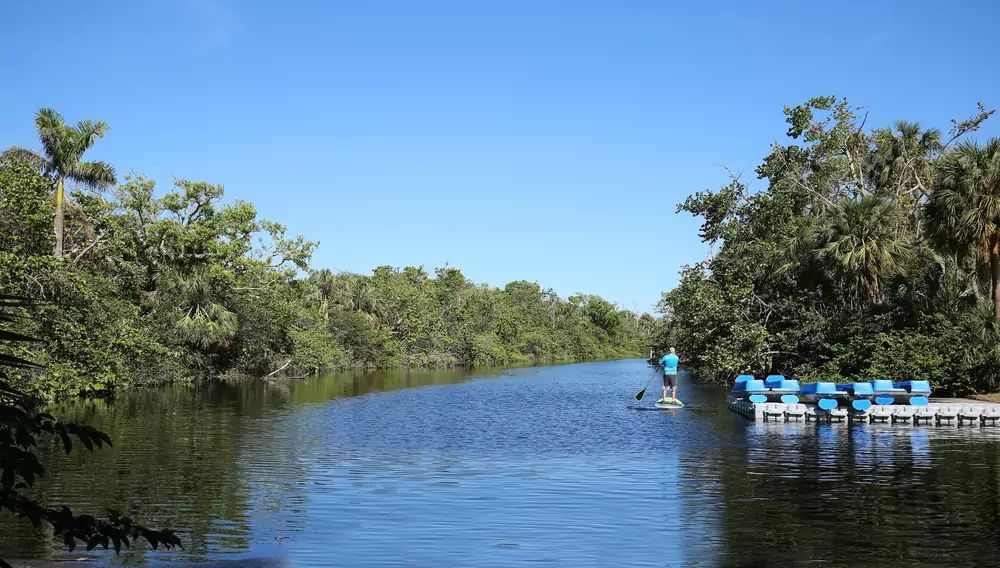 5. Museum of Discovery and Science
The Museum of Discovery and Science (MODS) champions science education, innovation, and exploration to connect its visitors to inspiring science. MODS has much to do and see, encompassing more than 150,000 square feet of interactive exhibits. Enjoy science shows, animal encounters, labs, and more! It's also connected to the AutoNation IMAX theater, which features the largest screen in South Florida, standing at a staggering six stories high!
Start Your Team Building in Sunrise Today!
Team building is vital to your success as a team and company. Although necessary, it can be a hassle to plan and execute. If you're interested in tapping into team-building event experts, the folks at Team Building Hub can help take the stress out of planning a custom event from start to finish.
If you're ready to learn about team building in Sunrise, find out how Team Building Hub can help you take it to the next level and get started today!