Planning an in-person event for a large group of people is often a daunting task and not one completed by a singular person. Add in the intricacies of a virtual event and the venture can seem near impossible. However, it isn't! With the help of a virtual event planning company, you can host a variety of cost-effective, virtual events at ease.
---
What Is A Virtual Event Planning Company?
A virtual event planning company serves as the organizer, marketer, management, and coordinator for virtual and hybrid events. As full-service agencies, they eliminate the organizational burden of those who would like to host a virtual event, but do not want to contend with the logistical headache. They allow companies and individuals to focus on the fun of team building.
---
The Best Virtual Event Planning Companies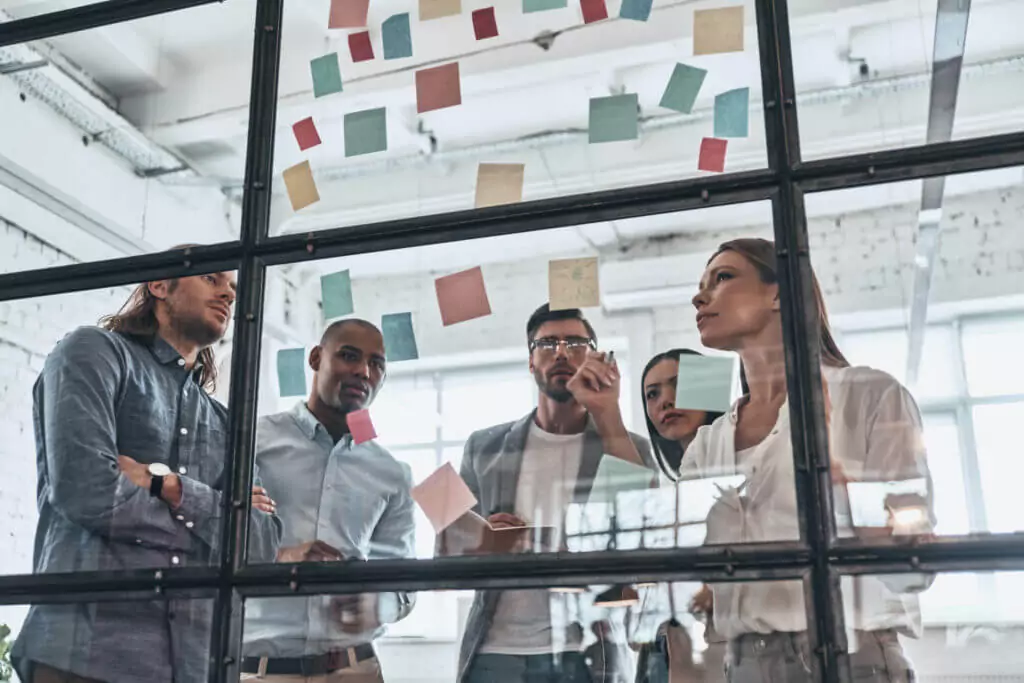 We've compiled our favorite seven virtual event management companies to help you host your next large scale virtual event with ease. These seven virtual event planning platforms also cover a wide variety of virtual team building needs so you're sure to find an option perfect for your team. No matter what type of event you're looking to plan, you will definitely find the perfect solution here!
---
1. Team Building Hub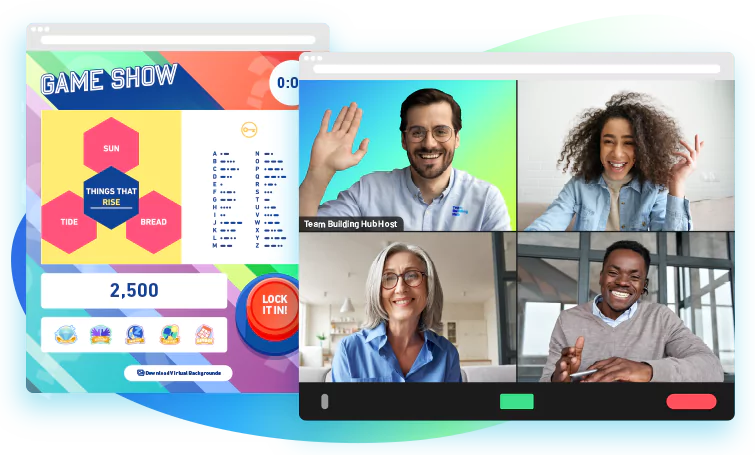 Team Building Hub helps you create an unforgettable team building experience. With fun, one-of-a-kind games and enthusiastic hosts, each activity will make your team actually want to leave their Zoom cameras on. We offer interactive virtual escape rooms, online game shows, and online mystery games that challenge your team to communicate and think outside the box to win!
To book an event, all you have to is contact our events team and they'll organize everything for you over the phone. From there, a host will guide your team through the entire experience!
Reviews:
"The virtual team building options are innovative, fun, and all-around awesome! Our employees really enjoy them and they have helped us maintain our engaging culture while working remotely!" – Paige L., Tokio Marine North America Services
"They put together amazing virtual experiences for us. Our employees loved it!" – Kathy B., SAP
---
Get Your Free Game
The 3-Minute Non-Cringey Ice Breaker for Your Next Meeting
A ready-set-go game to run at your next fully remote or hybrid meeting without the hassle or added pressure of developing a team-building exercise yourself. Get it here →
---
2. Marco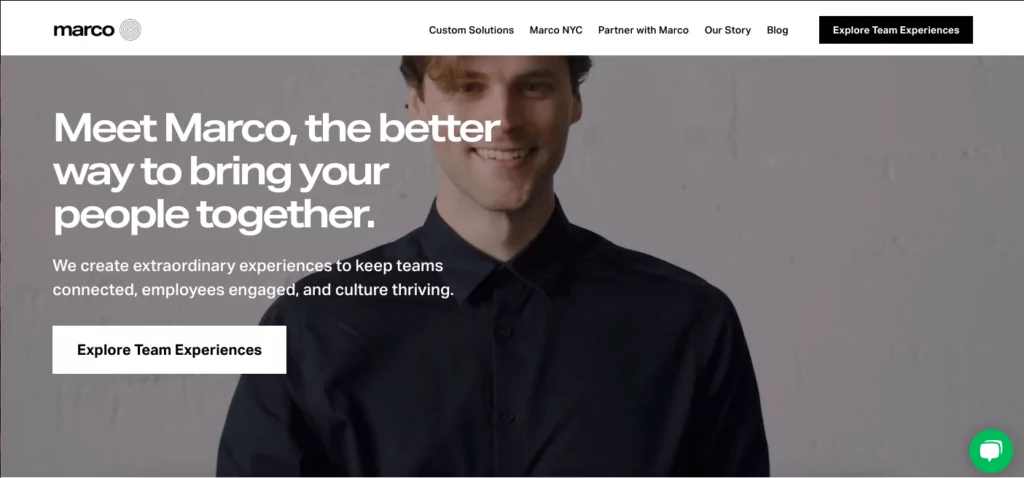 Marco will help your team create a meaningful experience together. "We believe technology can build community – but shared brand experiences create a culture." With this mindset, they focus on a cohesive, engaging, event with activities to bring your team closer and allow your company culture to thrive.
Marco also believes in hosting events for a cause. For a limited time, you can participate in an activity where the proceeds go towards a charitable cause. Using Marco, you can create a custom experience for your team.
Marco offers a quiz on their homepage to help tailor a custom experience perfect for your team!
Reviews:
"Marco has become my go-to partner for curated, thoughtful, and fun team experiences that keep our distributed organization connected and inspired." – Jenn Cornelius, Ritual
"The bar for an experience that employees truly enjoy, is high. And in a distributed world, it's a more difficult target than ever. Marco is the rare firm that understands and delivers on this." – Hunter Horsley, Bitwise
---
3. Evee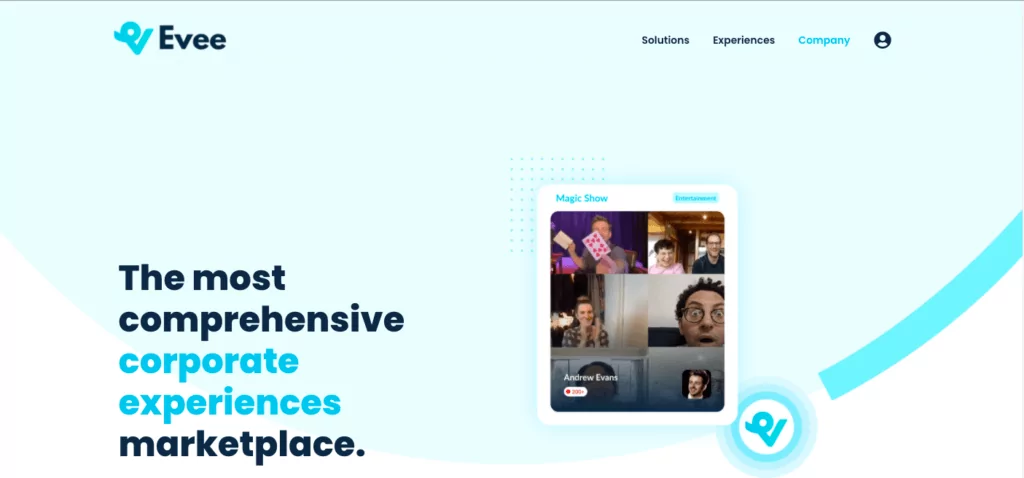 Evee works with you to plan a seamless, fun event designed to bring your team closer together. Through Evee's extensive, curated network of event partners, you can easily create a virtual team building event. They work to streamline the various, complicated aspects of an event, from guest management to location coordination. This way, all you have to do is show up, log in, and enjoy the event!
One unique feature Evee offers is a financial management service. With that, you can optimize your available team building budget and receive a visible ROI that goes towards maximizing your team's engagement. Evee's software allows you to customize and style things according to your company's branding. That means you can make the event feel personal down to the final details.
Reviews:
"Evee has incredible corporate experiences, and makes my life easier by handling registrations, event reminders, and personalized customizations that are burdensome to handle on top of my regular job duties." – Nanci Thomas, Sr. Executive Assistant at OfferUp
"Evee was so fun to work with in helping us put together fun vendors for our marketing offsite event! They helped increase our average virtual event participation by over 80%!" – Sarah Parks, Events Manager at Hulu
---
4. Access Elite
A happy team is a healthy team. Access Elite works to help your team be their best by making wellness a priority. As the first well-being-driven platform, they offer comprehensive physical, mental and emotional support, wherever your team might be.
On their platform, you can sign up for different types of mindfulness-related activities like yoga, kickboxing, meditation, and Pilates. If you're looking for holistic team-building options, Access Elite is for you.
Reviews:
"I thought it was super successful. Huge win on the number of people that attended!" – Joanne, TCW
"I am so excited. These virtual health fairs are so needed right now and we should always have them. Normally we have health fairs in remote areas through the nations, but this a great way for the organization to be connected at once." – Nuvision Event Executive
---
5. Host Events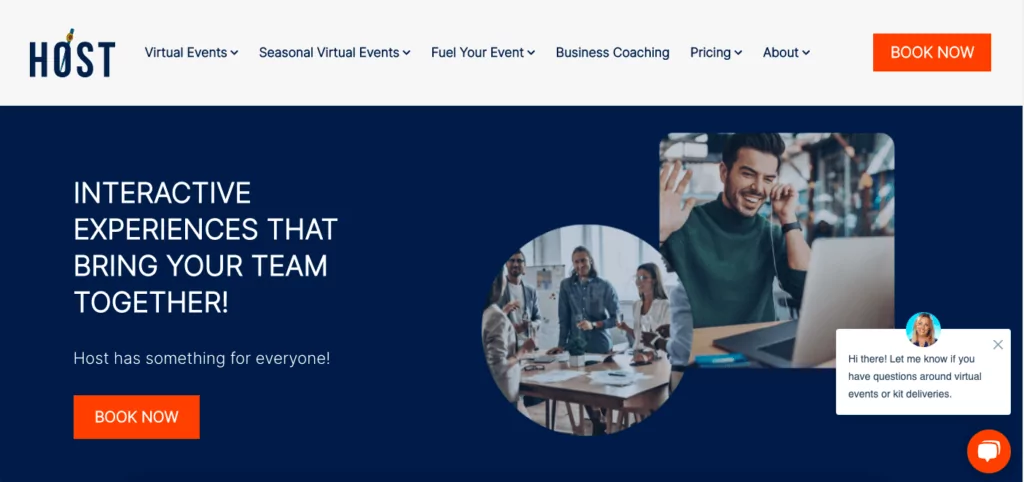 For a collection of interactive experiences, try out Host Events. Through live events and a commitment to customer service, this company aims to provide truly memorable experiences. Their event activity options include virtual happy hours, games and adventures, health and wellness options, food features, art-centered activities, and charitable activities.
Host Events also offers seasonal events, which is perfect if you're looking for something more specific with the time of year. Seasonal events can include themed cocktail happy hours, themed painting activities, or a cooking class with seasonal food items.
Reviews:
"We took a chance on HOST Events this past spring and booked five different team activities for our company. The response from our employees was so positive and we just came back to book multiple team events for the holiday season." -Jessica Pieroway, Google review
"Zoom fatigue is real, but this company is the remedy to that. We used them for a corporate event and it was not only super easy to set up…but we were able to customize it for our little group. The actual event was really fun, and the hosts were engaging…." – Toni-Ann Daly, Google review
---
6. Boombox Events
With a sizable amount of team building options, Boombox Events is a great virtual event planning company for your next private online event. They have events and activities focused on different categories like entertainment, wellness, price, and holiday. Boombox will happily help you book and coordinate your event in minutes.
Reviews:
"Convoso's Magnificent Marketing Team had a great time this week with "The Amazing Cyberspace Race" Holiday Edition, traveling the [virtual] world, and challenging our resourcefulness as we solved clues…. Thanks to our hosts and Boombox!" – Convoso
"How FUN was this virtual holiday social event we had at Cyware this evening?! Boombox hosted the event and sent everyone kits to make 2 festive holiday cocktails and we had an awesome mixologist from The Mixologer who mixed drinks with us" – Melissa Pirro, PHR, Cyware
---
7. Kapow
With Kapow, you can seamlessly find, book, and manage small corporate events. Kapow is perfect if you'd like to plan multiple activities for a singular event without having to juggle booking information for numerous companies.
Reviews:
"The wine and cheese tasting event was absolutely fantastic! We had a great turnout of key customers and decision makers that could not say enough praise on how they enjoyed this." – Megan, Splunk
---
Why Should You Use A Virtual Event Planner?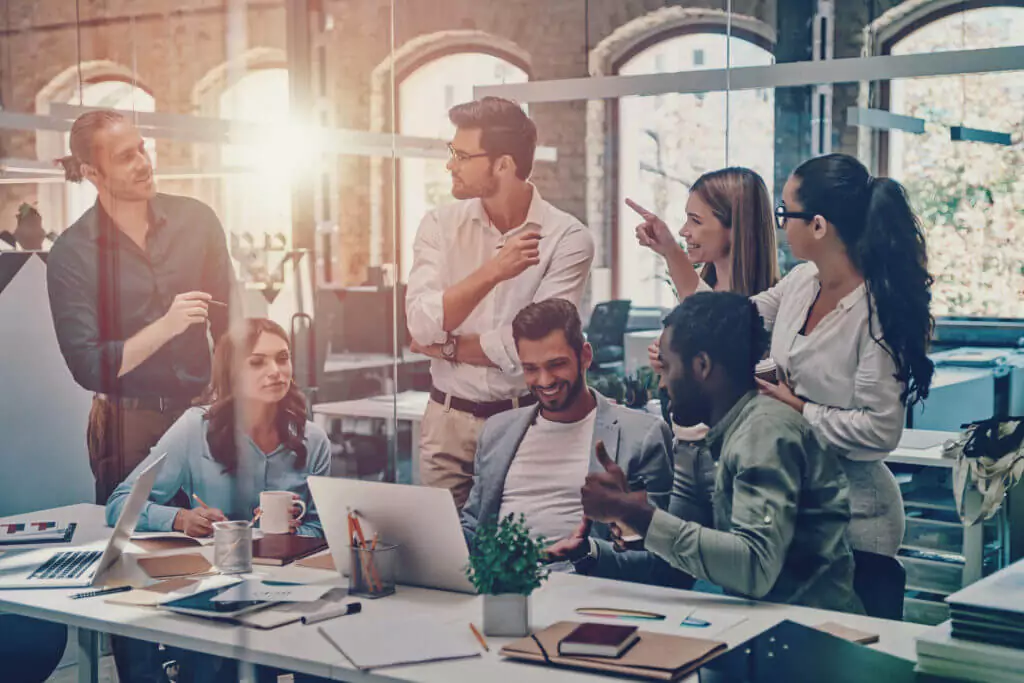 Simply put, virtual event planning companies make your life easier. They do the work of putting together an event for you. This means that you don't have to sift through countless online team building activities. They've already collected, categorized, and ranked activities that will be worth your company's time and dollars.
A planner skilled in events, virtual and in-person, understands which types of activities work to keep an audience engaged. They can also help synthesize calendar dates, financial payments, and activity information in one place. Rest assured, a planning company takes care of the headache so you can take care of your team. For feedback, try asking your team how they felt about all of the activities post-event. That way you can determine if the company you used to plan your event was helpful or not.
Don't forget to ask about live streaming! Companies can live stream the session or record for those unable to attend at the same time across the globe depending on the size and length of the event!
Check out these virtual events you can plan!
Need more help planning?
While Peerspace doesn't offer virtual tooling or games, what Peerspace does offer are physical spaces to gather your team IRL, regardless of your chosen cadence. Book a Peerspace by the hour and choose from our unique venues in cities worldwide: – Meet and collaborate in a high-tech loft. – Create together in a funky studio. – Celebrate your wins on a swanky rooftop. Either way, Peerspace enables virtual teams to ditch Zoom for a day and gather as a group in person.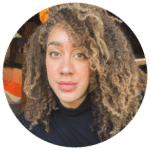 Anecia is a Nashville-based writer who believes in the power of team building. She writes a variety of content focused on creative corporate team building ideas, to help teams become more dynamic, unified, and successful.