Spending time away from work can boost well-being and mood, as well as making us more proactive, creative, and engaged. One great way to encourage your team to spend time away from work is to take your team on a corporate retreat with team building activities!
How do I make a work retreat fun?
Making your corporate work retreat fun is important for employee engagement. To make a corporate retreat fun, start by keeping it mostly light-hearted. There will be plenty of time for serious activities during a corporate work retreat, so where possible, ensure that your corporate retreat team building activities are kept fun and easy-going.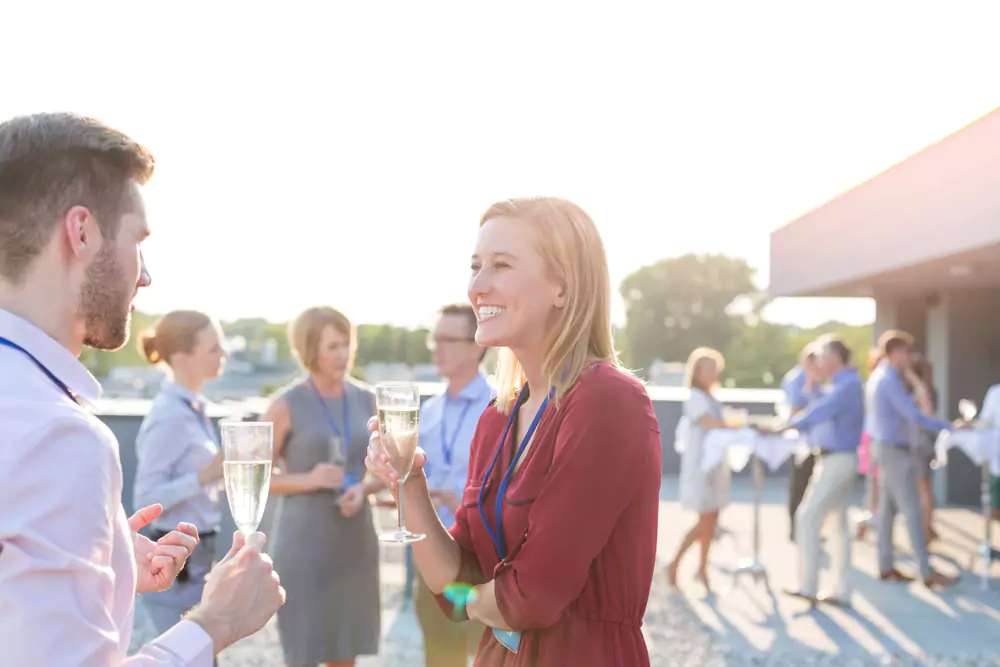 Another way to make this corporate work retreat the best retreat that your team has ever been on is to be sure to include things that people actually want to do. Don't bore your team with outdated or childish activities that feel like a punishment. Instead, include things that people enjoy doing that have been proven to be engaging.
Finally, introduce some friendly competition wherever possible. Friendly competition is a big driver of motivation, accountability, performance, and innovation and should be used whenever the opportunity arises to raise strong workplace teams!
36 Best Corporate Retreat Activities
Below are our all-time favorite team building activities for corporate retreat workshops. We've split them up into the quickest, the most time-intensive, and the most unique corporate retreat activities! Wherever you decide to take your team, and with whatever budget, we hope that you find the perfect activity for a corporate retreat!
Quick Work Retreat Activities
Quick corporate retreat activities are any activity that takes an hour or less. Here are 12 of our favorite quick corporate retreat activities.
Trivia night
Test your team's knowledge with a game of trivia. To play, split your employees into teams and call out questions that are work-related, such as "how long has our company been in business for?", or "what was our revenue last year". The team who gets the answer right first then wins the point. You can offer fun prizes to make your team trivia night the perfect corporate retreat team building activity!
Throw a welcome party
Kickstart your corporate retreat by getting everyone settled in with a welcome party. This party can include whatever you like, but we recommend including some welcome drinks and food, an introduction to the purpose of the retreat, and a chat about the itinerary and what your employees can expect. It's really important to host a welcome party in order to manage expectations and help your team feel welcomed and comfortable.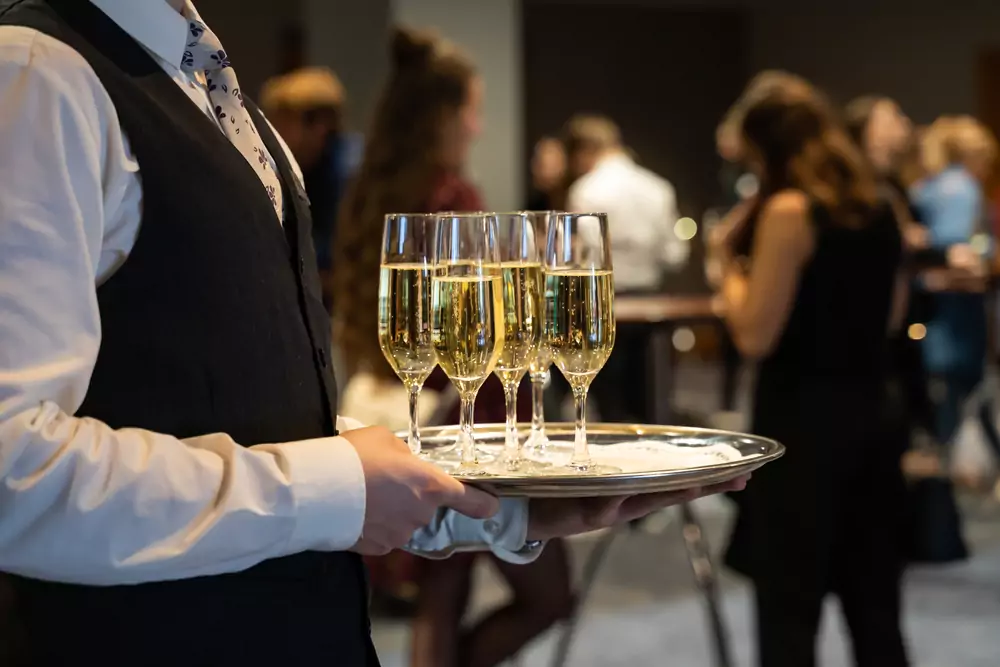 Karaoke night
Karaoke can be a hilarious and endearing way to help your team relax and feel connected. Learn who can sing in tune (and who can't!) by finding a local karaoke bar and singing the night away as a united team. Alternatively, you can hire a karaoke machine and get immersed in an evening of fun without even having to leave your retreat location!
Team hike
A team hike is a fantastic corporate retreat team building activity because it encourages your team to get up and move, whilst allowing them to connect with nature and with each other. Wherever you decide to carry out your team retreat, it's worth taking the time to find local hikes, suitable for all abilities, that you can take all your employees on.
Art class
Creativity is where most great ideas stem from. Help your team get their creative minds working by scheduling an art class. We recommend doing this in the morning so that you can get your team's creative juices flowing early, which will help them come up with excellent ideas during the rest of the day!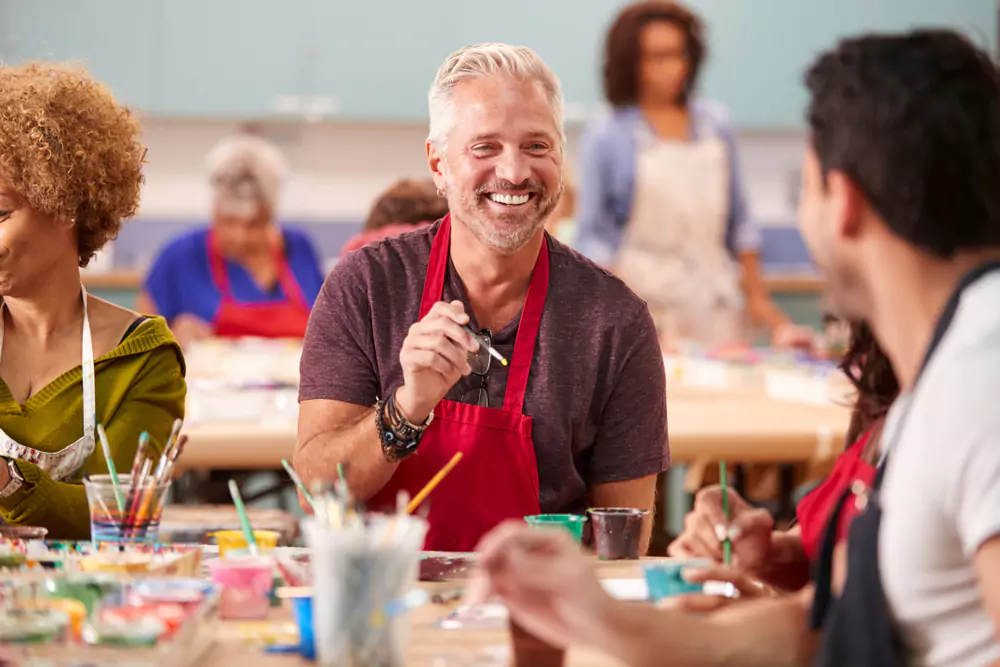 Host a bake-off
Separate your employees into different teams and give them the ingredients, and one hour of time, to bake the most delicious cake as a team. In the end, everyone can taste each team's cake and decide which team should be crowned the winner. This is a great activity to include as it encourages a team to use their problem-solving, promotes creativity, and encourages teamwork.
Go for a meal together
Connecting over food is an ancient tradition, and it works! Connect your team during your work retreat by taking them for a yummy dinner together. You can do this with your whole company going for one huge meal together, or you can separate it so that each workplace team (e.g., marketing, sales, tech support) can go for their own meals together.
Create a team scavenger hunt
A scavenger hunt is a classic team building activity and is an activity that you should definitely be including in your corporate retreat! To arrange a scavenger hunt, hide various objects around your corporate retreat site. Send your employees off in teams to find these objects in a race against the clock, with the team that comes back first being crowned the winner. Alternatively, you can send them to find objects which are already there, such as fire extinguishers, forks, or loo rolls!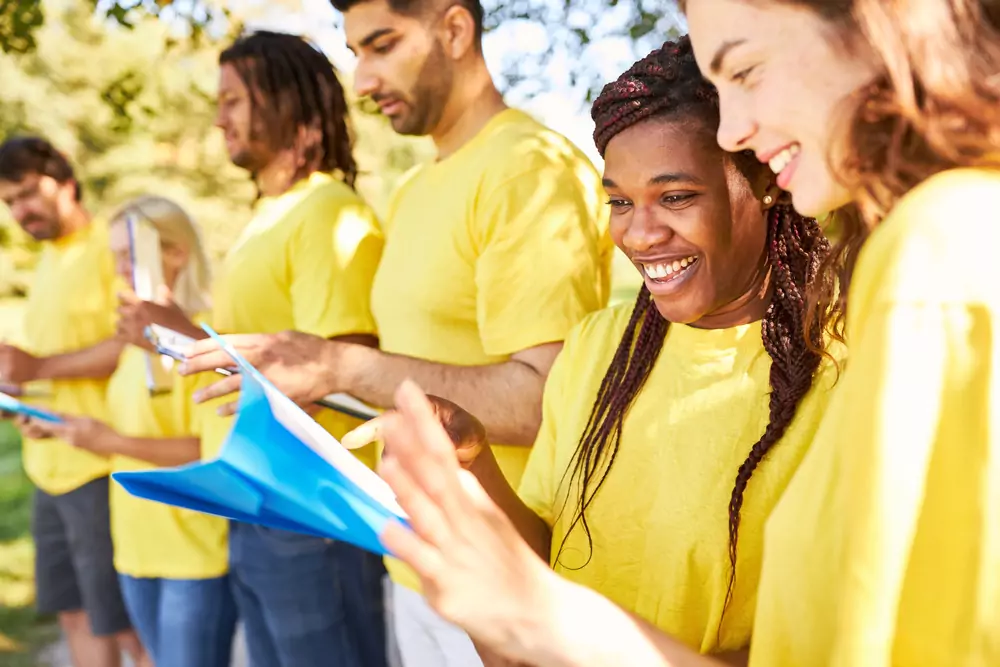 Incorporate back-to-back drawing
Working in pairs, one player must describe a shape or image without saying it. The other must then draw it! Back-to-back drawing is a great activity to add to a retreat as it promotes communication, problem solving, and creativity ahead of a busy few days.
Team jigsaw puzzles
Jigsaw puzzles are a classic childhood activity. Incorporating them into a work retreat gives your team a sense of nostalgia and stimulates their brain! Give each team a jigsaw puzzle and set them the challenge of completing it in the quickest time.
Team sunrise walk
Not suitable for everyone (some of us need our sleep more than others!) a sunrise walk is a great way to start any day. Find a beautiful route and arrange a sunrise walk for your keen early risers. To make it an extra special corporate retreat activity, kickstart a discussion on what each employee is looking forward to in the day ahead and what they are grateful for.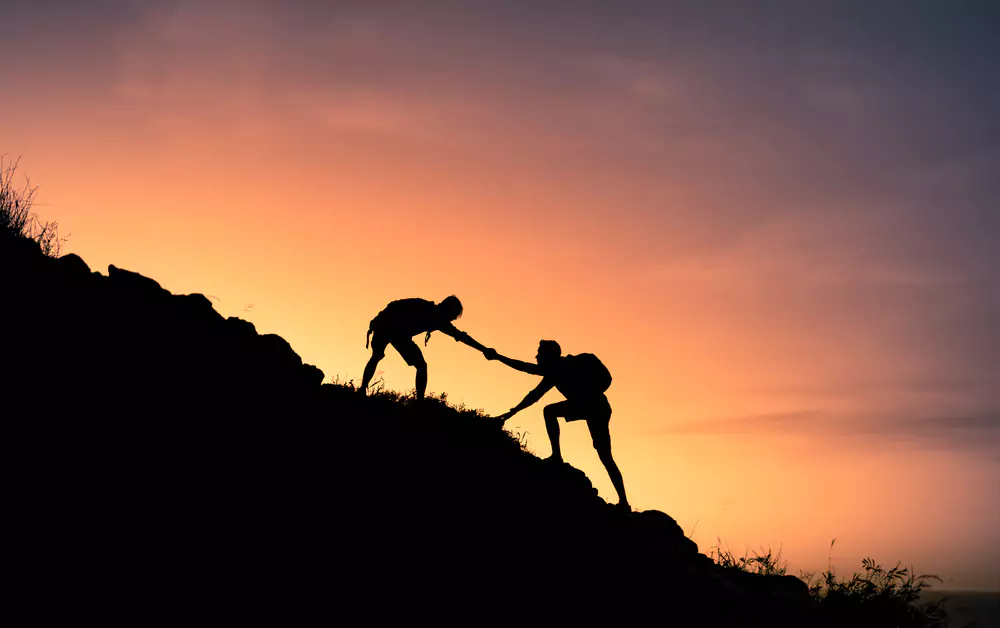 Quick-fire icebreakers
Icebreakers are excellent activities to help people get to know each other by creating warm, welcoming, and safe spaces. At the start of your corporate retreat, play a few rounds of icebreaker questions.
Time-Intensive Company Retreat Activities
The beauty of being on a corporate retreat is that you are away from the businesses of normal office life and, as a result, have far more time than you otherwise would! Spend the time on longer, more intense, corporate retreat team building activities.
Wine tasting
Take your team out for an afternoon of extravagant, boozy fun. Wine tasting, or champagne tasting if the budget allows, is a sophisticated corporate retreat activity that everyone can get involved in. To arrange, all you need to do is find a local vineyard and take your employees.
Team sports day
A great way to get your employees up, active, and competing against each other is through a friendly team sports day. Ensure that you hire a retreat location with a large ground/green area and plan a day that includes all types of sporty fun. From sack races to tug of war, egg and spoon races to 100m sprint, this corporate retreat team building activity is a great way to engage an entire team.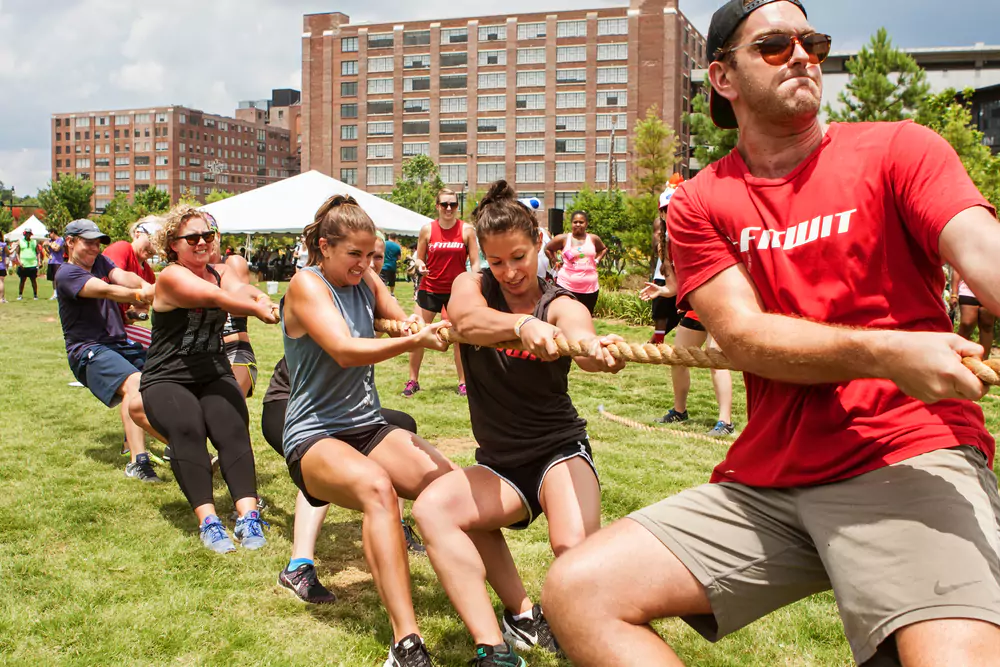 Camping trip
Make a standard hiking trip a little better by taking your team camping in the great outdoors! Make sure you light a campfire so that you can encourage your team to bond, share, and learn whilst toasting marshmallows and drinking hot chocolate!
Blindfolded tent build
If you decide to take your team camping, you could kill two birds with one stone with a blindfolded tent build: the tents get put up, and your team gets to engage in a fantastic team building activity! To encourage problem solving, teamwork, and leadership, put your teams into pairs where one player is blindfolded and must listen to instructions from another player to put the tent up. To make it competitive, you can make it a race to put the tent up the quickest.
Board game competition
Anyone who's ever played a game of monopoly knows that board games can take absolutely hours. Take advantage of the gift of time offered on a company retreat and incorporate a board game contest. You can play this by setting up the easiest board game first and getting everyone to play. The winners play the winners and losers play the losers in the next round, where the board game gets harder.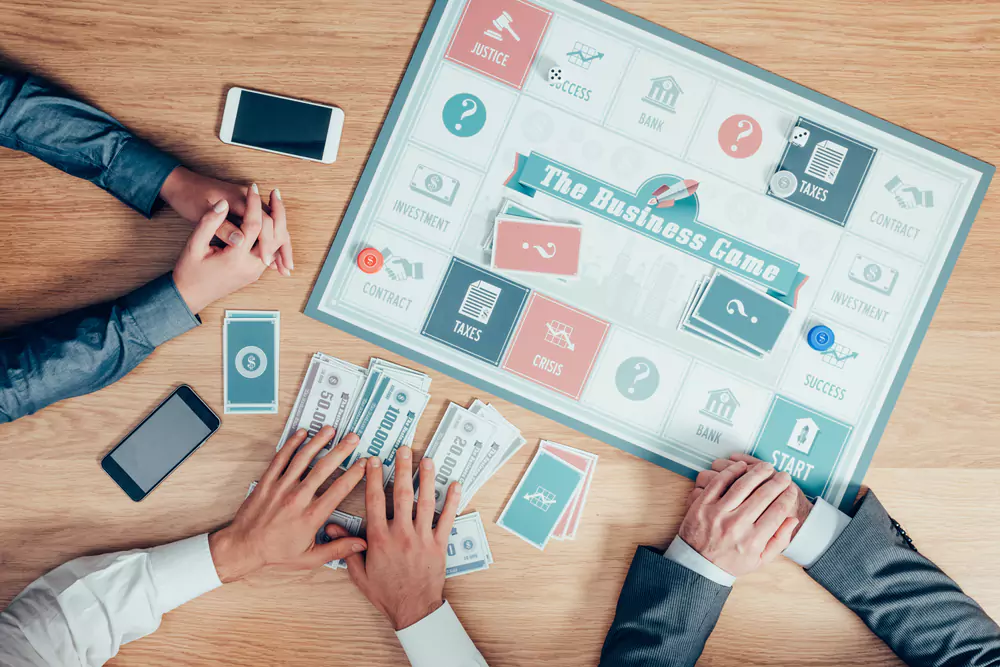 Factor in some much-needed free time
An afternoon off during a corporate retreat is quite a time-consuming endeavor, but it is incredibly important as it helps your employees to feel like they have some time away from others to gather their thoughts, recuperate, and socialize without feeling pressure. Company retreats can often be exhausting and require travel away from the family, so give people some alone time to catch up with loved ones.
Take a kayaking adventure
An afternoon immersed in nature is one well spent. Take your team on a kayaking adventure to help them bond together and enjoy the great outdoors. If you want to make it even more exciting, you could go for white water kayaking where things can get a little more hair-raising!
Pamper afternoon
With research finding that 75% of workers have experienced burnout, one goal you should always be aiming for is to reduce burnout. Burnout, which presents itself as fatigue, stress, lack of sleep, or irritability, can cause severe problems for individuals and teams. Try to prevent burn-out and increase morale in your organization by including a pamper session on your work retreat!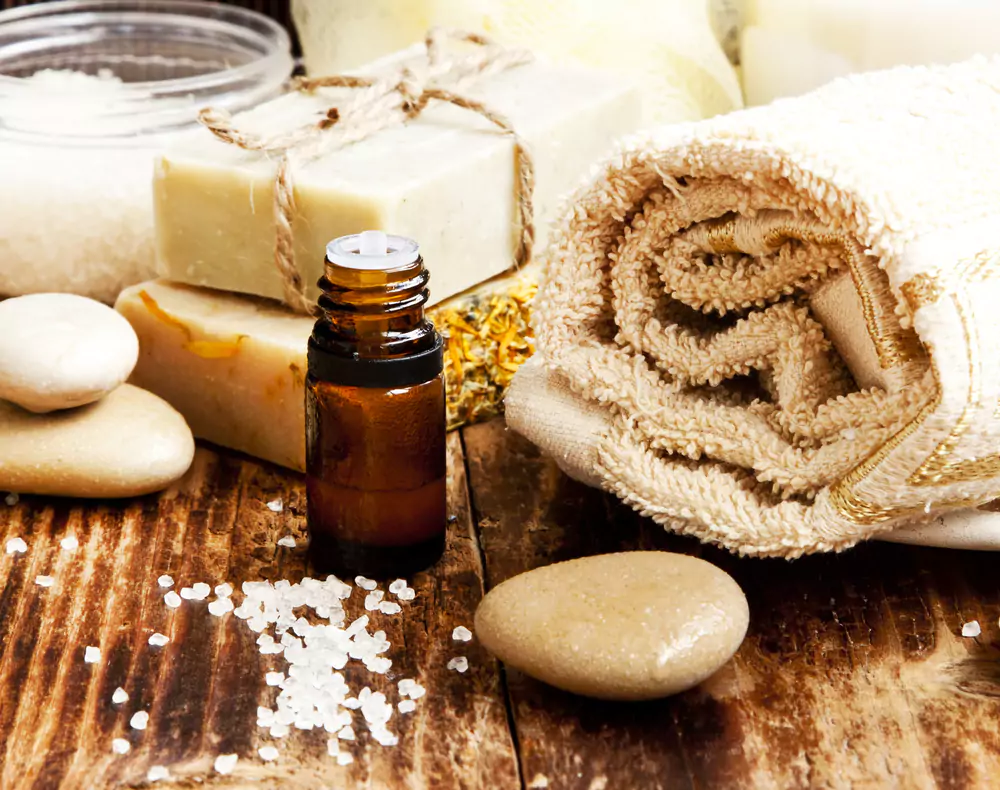 Brainstorming meetings
Time away from the boardroom is a great way to get your team thinking outside the box and coming up with show-stopping ideas. A change of scenery can boost work productivity and enhance creativity, so company retreats, away from the familiarity of the office, are promising ways to come up with some fantastic new ideas and company directions.
City hunt
A city hunt is a fantastic (and free) activity to incorporate into a company retreat. Explore a local city by sending your team to find different significant monuments or statues. To make it more competitive, teams can take photos with each object and the team who takes photos with all objects first is the winner. This is a great corporate retreat activity because it allows your team to explore, use their problem-solving skills, connect with each other, and it's easy to organize!
Mini golf
Most big cities have mini golf courses, so find your local one! Take your entire company to a mini golf course and let them unwind and relax into some friendly competition. You can even get drinks and food to lighten the mood.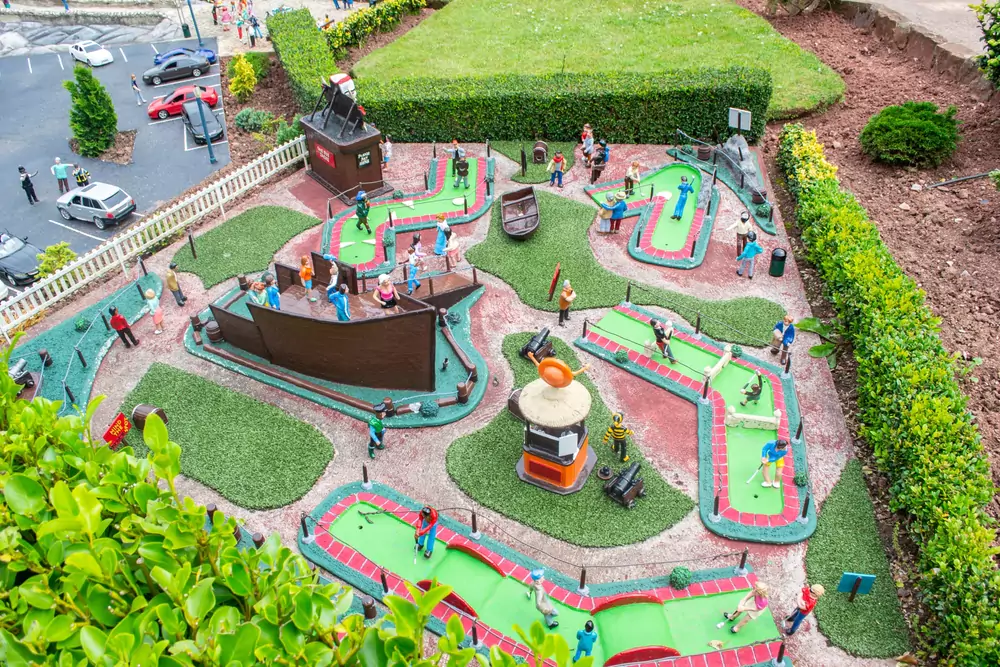 Host an awards ceremony
Take advantage of having your entire company together by hosting an awards ceremony. Ensure you find a way that is fair and includes all employees or each workplace team. You could offer awards for the most social teams, teams who have smashed their targets the most, or the kindest team. It's a great way to celebrate success and show your team that you care.
Most Unique Corporate Retreat Activities
All corporate work retreat activities have many benefits and are great ways to WOW your team. However, if you really want your corporate work retreat to stand out from any other retreat your team has been on, check out the most unique corporate retreat activities out there!
Join an exercise class
Places such as Soul Cycle or Barrys bootcamp are international fitness companies, so if you're booking a corporate retreat near a big city, you could book your team onto one of their exercise classes. With even a little bit of exercise being shown to improve our mood and make us happier, this is a unique team building activity that you can't afford to not include!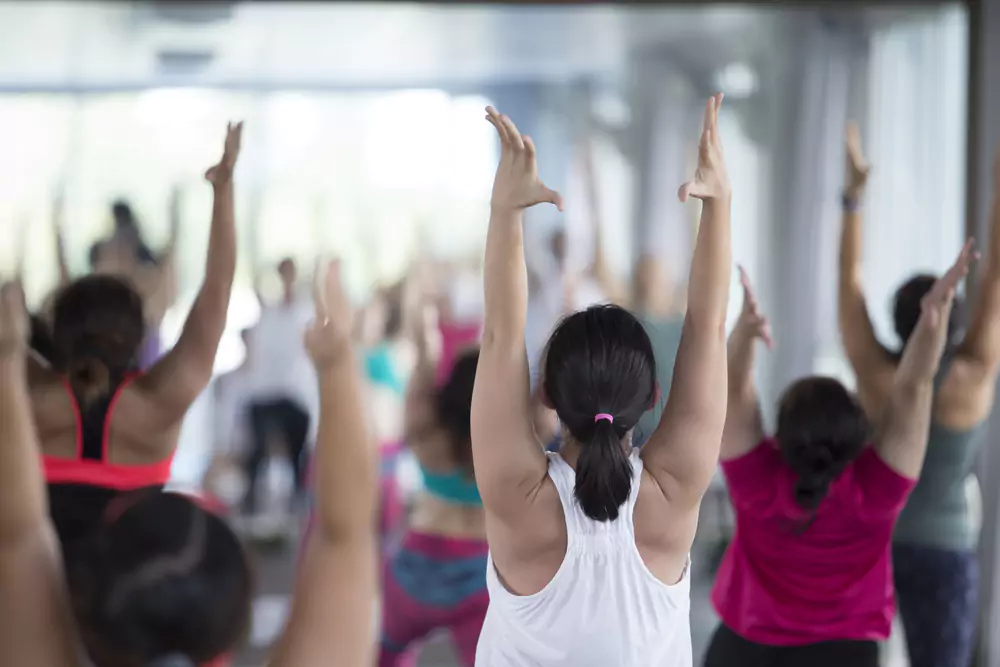 Team cooking class
You can book your team into a special cookery class at a cookery school. From pizza to sushi, Greek meze to Indian curries, there are hundreds of cooking courses out there that make unique corporate retreat activities.
Participate in an Art Thief mystery game
Built by team building experts, a great unique corporate retreat activity is to get your team involved in a puzzle-filled race that promotes communication, problem-solving, and team work! The Art Thief mystery game can be delivered to your team wherever they are. After completing a few icebreakers, your team will work through physical boxes that are filled with clues to figuring out who the art thief is.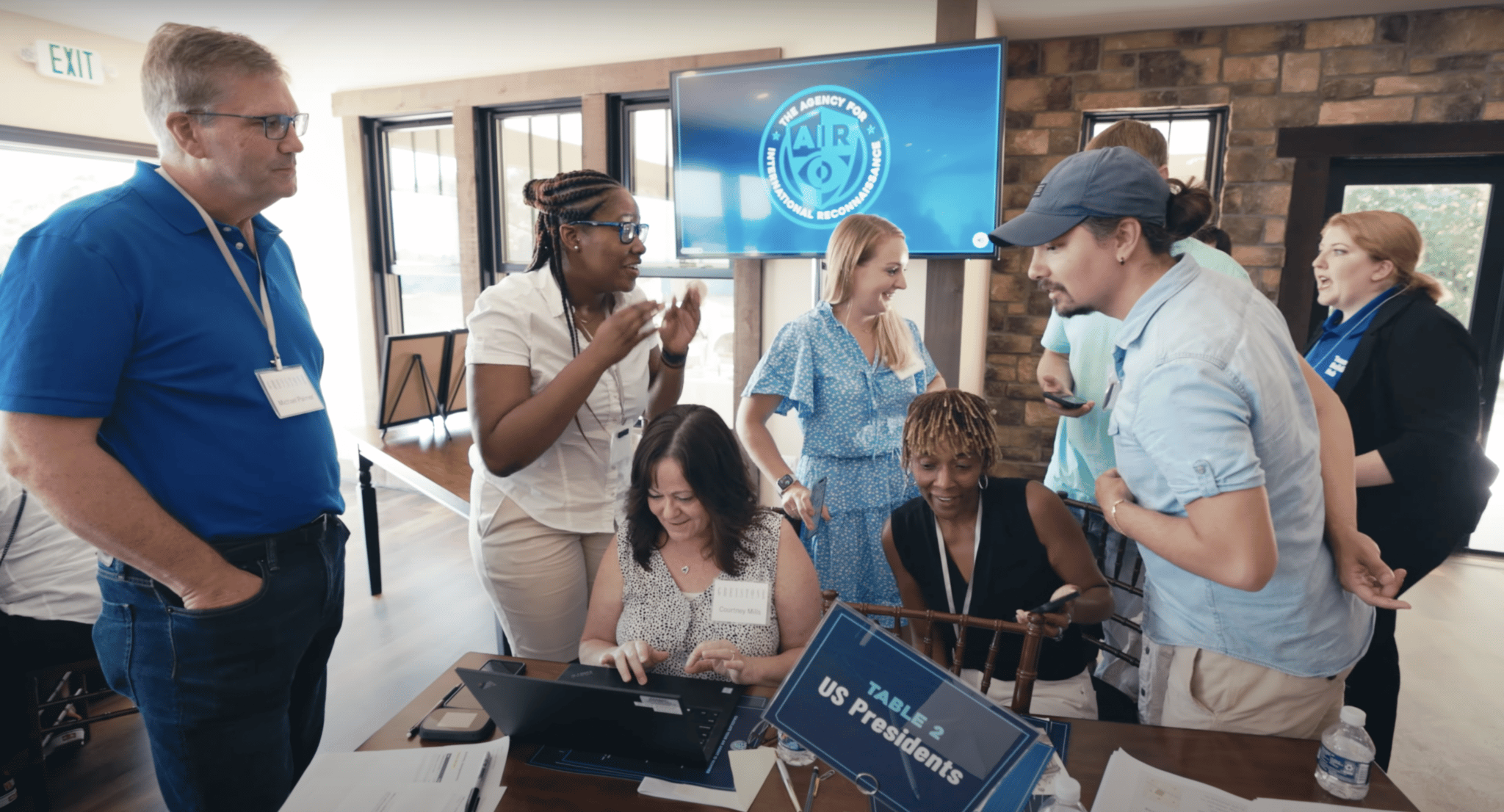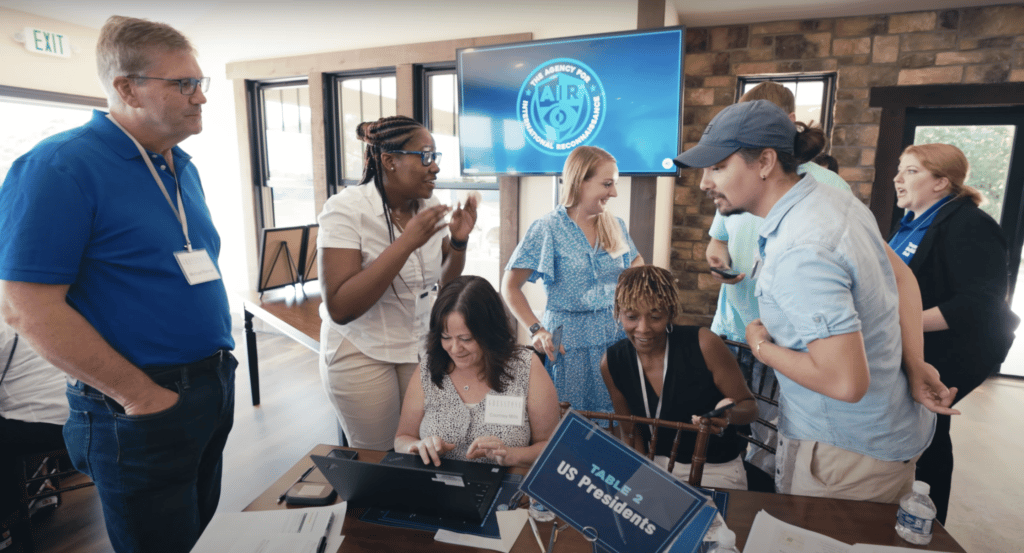 Take in local tradition
The best way to make an impact on your team's success and productivity is to change their environment. In a recent survey, 34% of participants revealed that they had their most creative ideas whilst traveling for work! So, conserve your big budget items for another time.. Immerse yourself and your team in local culture. Whether that's visiting temples, museums, or traditional eateries, allow your team to relax in these cultures to bring you the most creative results!
Escape Rooms
Escape rooms are fantastic ways to engage a whole team as they race against the clock in an immersive and engaging challenge. In 60 minutes, your employees will work as a team to crack codes, uncover clues and solve puzzles. Designed to increase collaboration, communication, and leadership, this team building activity is not one to be missed.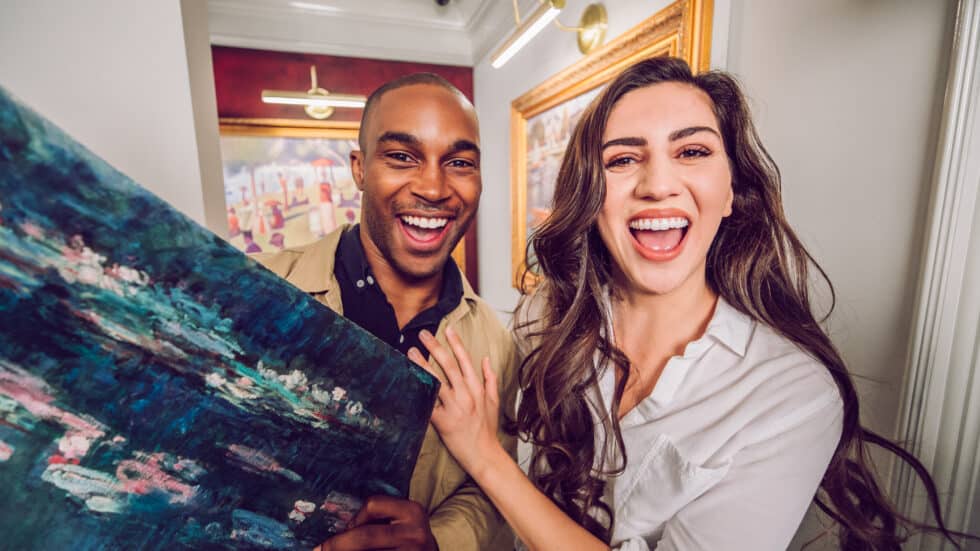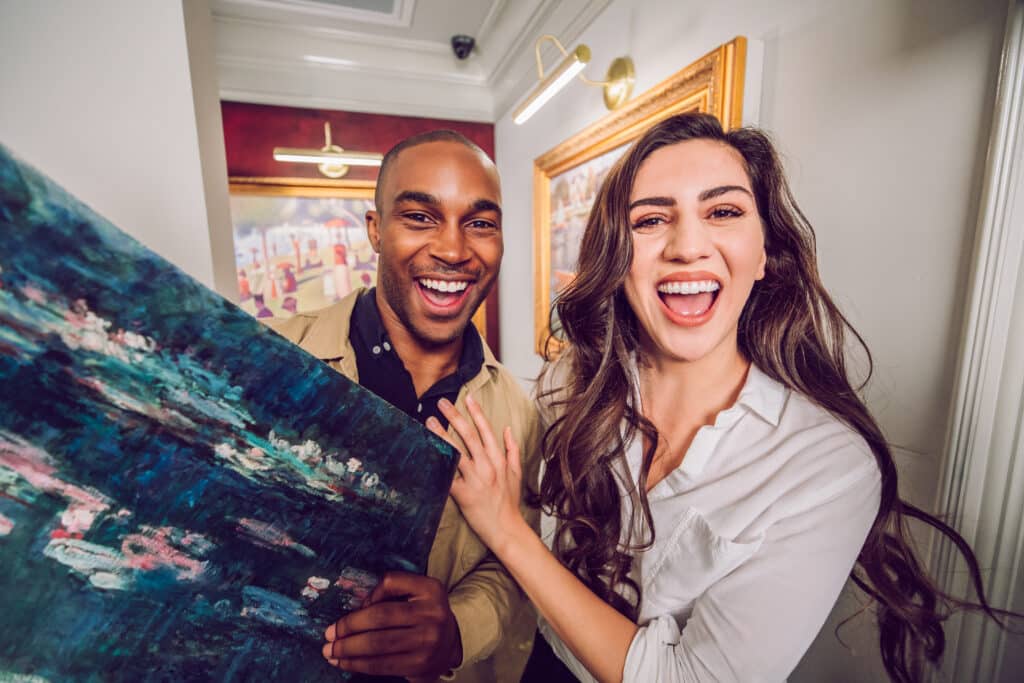 Celebrate in style with a fancy dinner
Take all the employees on your corporate retreat to a high-end restaurant and have them waited on hand and food with an extravagant dinner. Pick a budget and then pick a restaurant with a wow factor and watch as your team relax and understand how much you appreciate and value them.
Team skydive
Truly unique and truly memorable, a team skydive is sure to have your team feeling excited, nervous, but still connected. At 10,000 feet in the air, your entire company can bond as they overcome the fear and anticipation of jumping from a plane together.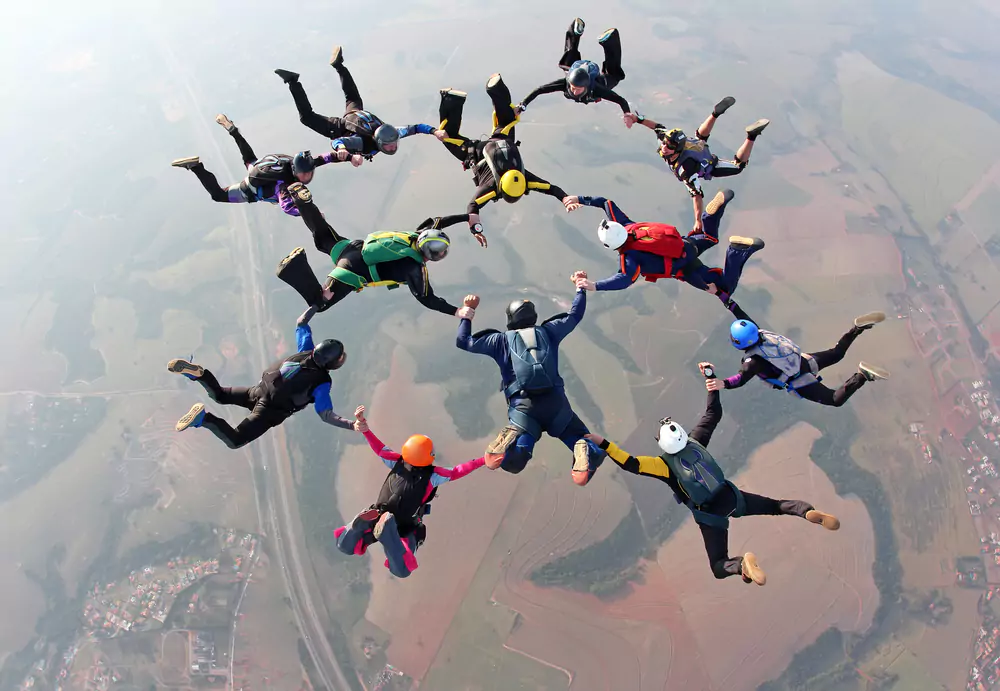 Sports car day
If your budget allows, a team sportscar day is a fantastic way to let your team bond with each other and to provide a retreat activity that is one to remember. Find a sports car experience local to your retreat venue and book for your employees to drive sports cars. If the car hire company allows, members could even sit in the same car and bond over a hair-raising experience around a race track
Invite a guest speaker
Find someone who can offer your company some educational and motivational advice and ask them to do a presentation. If you want to make this truly unique, you could bring a celebrity around to make the day as unique and memorable as possible.
Theme park trip
A great way to get your entire workplace bonding is at a theme park where they can scream their heads off as they're thrown around at 60mph. Find the local theme park at your retreat location and take everyone there. The excitement, nerves, and adrenaline are sure to help build lasting connections.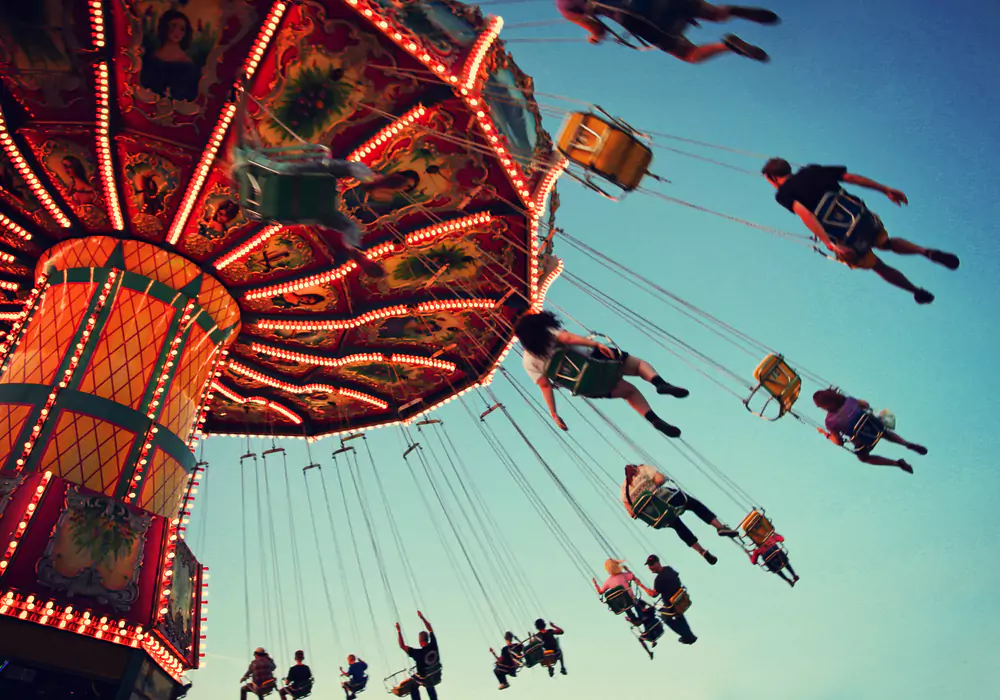 Laser tag
Encouraging friendly competition and teamwork, a game of laser tag is a truly unique way to get your team working together. Less intense than paintballing, laser tag is a sporty game that encourages critical thinking, collaboration, and problem-solving.
Mountain biking experience
Biking is a fantastic way to encourage fitness, get some fresh air, and face some people's fears! Find some wonderful local trails, rent some bikes and get your team laughing around the countryside!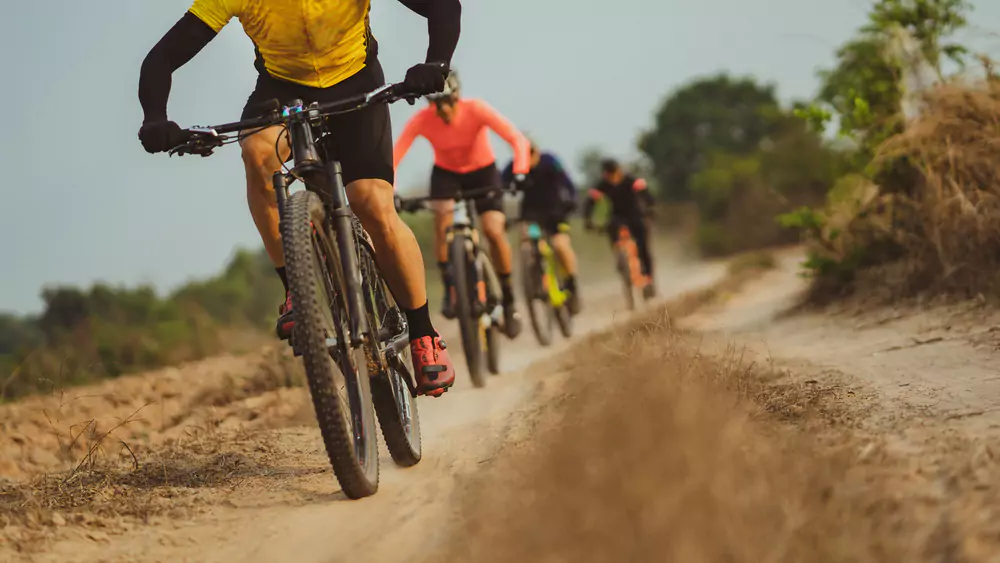 Conclusion
These corporate retreat activities are guaranteed to engage your team and give you the best outcome from your corporate retreat. By taking advantage of a change of scenery, you can foster creativity, promote communication and, ultimately, walk away with a strong and better-connected team.
---
Get Your Free Game
The 3-Minute Non-Cringey Ice Breaker for Your Next Meeting
A ready-set-go game to run at your next fully remote or hybrid meeting without the hassle or added pressure of developing a team-building exercise yourself. Get it here →
---