If you're looking for a new way to boost company morale and camaraderie, arrange for your team to volunteer together. Employees who find meaning through work are happier and happy employees remain in their jobs longer. The positive effects of performing charitable team building activities are long-lasting for both your employees and countless individuals in need.
With so many non-profit organizations looking for help, you should have no trouble finding an opportunity that your team will enjoy and also find meaningful. Below are 18 charity team building activities that can be done on-site, off-site, and virtually.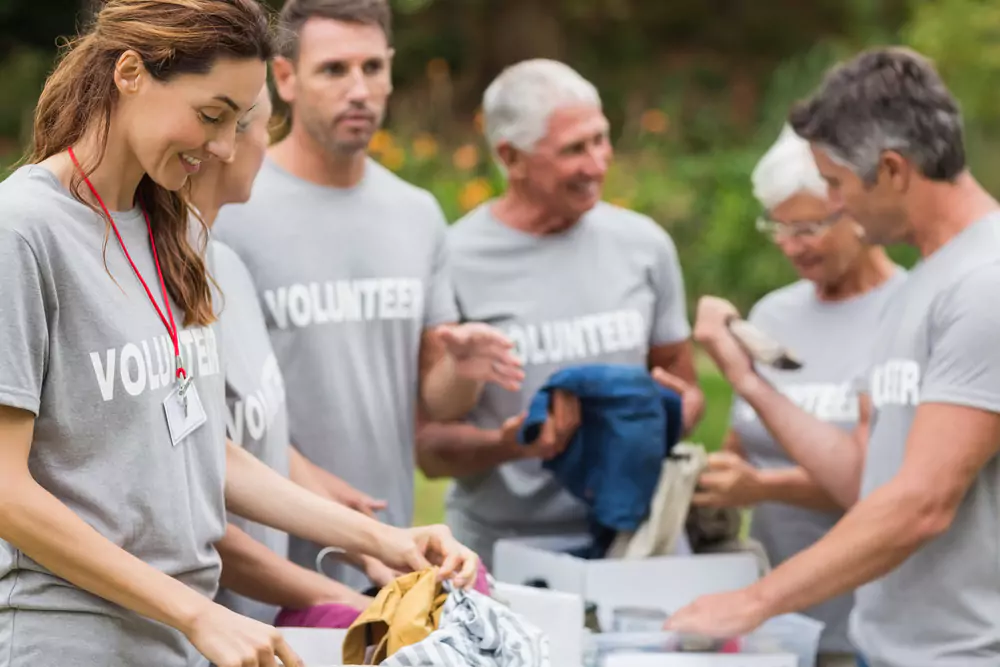 Why do charity team building?
Boosts morale
According to a comprehensive 2017 Deloitte survey on corporate volunteerism, 70% of respondents felt that volunteer activities are more likely to boost morale than happy hours. A 2022 PricewaterhouseCoopers survey of 10,000 members of the general population based in the US, China, Germany, India, and the UK, found that companies that sponsor volunteer programs see higher levels of morale. 
Higher retention rates
In its review of corporate volunteerism research, the Harvard Business Review concluded that volunteering at work improves employee satisfaction and increases retention. 93% percent of employees reported being happy with their employer. 
Further, the Deloitte survey referred to above found that millennials, in particular, who participate in a volunteer program at work are more likely to be "loyal and satisfied" employees than those who do not volunteer. 
Builds camaraderie
Camaraderie in the workplace is defined as the feelings of trust and friendship between employees. Volunteering together allows employees to get to know each other better in a meaningful environment. One study reported that 80% of employees who volunteer at work believe that volunteering with their colleagues strengthens their relationships. 
---
Join Us For A FREE Demo!
See exactly how our games work, ask questions about logistics and add some energy to your work day. Demos are 30 minutes long and take place on Zoom. There may even be a DoorDash giveaway!
---
Improves employee well-being
Volunteering improves both an individual's mental and physical wellness. A Salesforce study revealed that 76% of employees feel healthier after volunteering at work and 94% experienced a better mood. Moreover, the Mayo Clinic has found that volunteering reduces stress and the possibility of burnout at work.
7 On-Site Charity Team Building Activities
1. Work with a local food bank
Hunger is one of the biggest concerns facing America and surely one that your employees know about. Every community in the country has an organization that runs a food bank or pantry. There is always a need for volunteers to sort food donations and package meals, and many organizations can accommodate large groups. Working together to minimize the impact of hunger in your local community is something your team will feel very good about. Contact Feeding America to find an organization near you.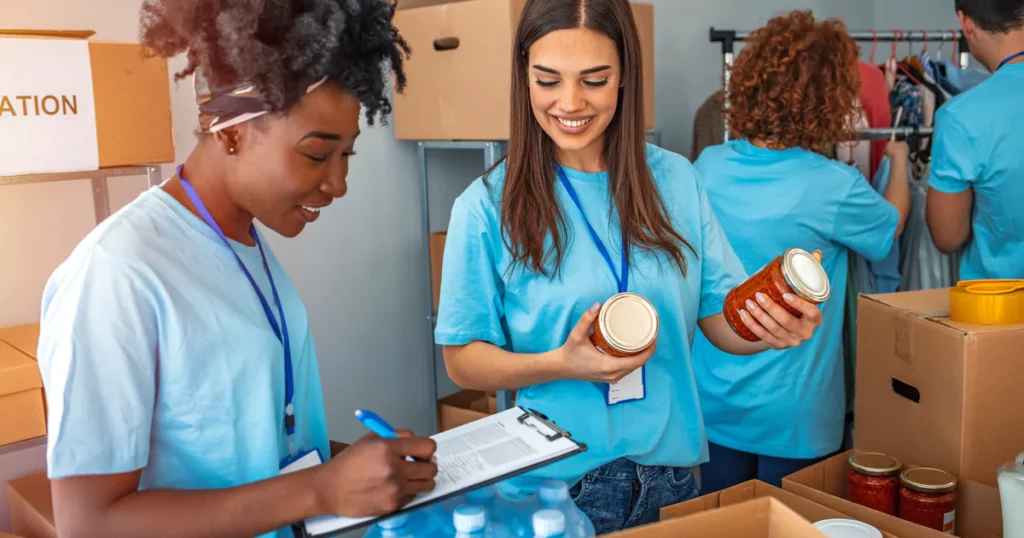 2. Pick up litter in a park
This volunteer activity lets your employees spend some refreshing time outside doing work that benefits the greater community. Some of your employees may visit the local park you choose, meaning they will directly benefit from this volunteer work. It's a win-win situation! Contact your city's Parks Department to find out where they need assistance.
3. Help build a home with Habitat for Humanity
"Group builds" with Habitat for Humanity are a unique volunteer experience. Your employees will contribute to building a home for those families in need. In some cases, volunteers may hear directly from the people whose homes they are building. Habitat for Humanity is very experienced in working with companies to create corporate volunteer opportunities making this a good choice if you prefer someone else to lead the experience.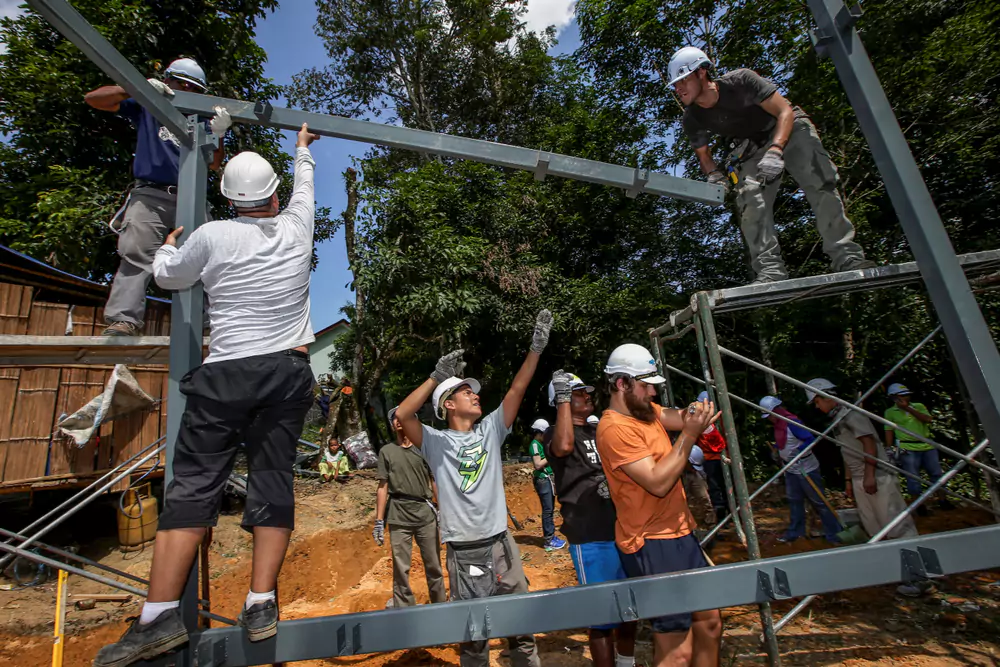 4. Perform for an audience
If you have team members who love to perform, be it singing, telling jokes, or doing magic tricks, you can volunteer to perform for those who do not have access to entertainment. Reach out to local hospitals, senior communities, rehabilitation centers, and homeless shelters – the possibilities are endless. Your team will be making others laugh while having a fun time themselves.
5. Give blood
If you are seeking a way to volunteer that is easy and doesn't need a lot of planning, arrange a group visit to a blood bank. Contact the American Red Cross. They can help you locate nearby blood drives. Just one donation of blood can help two or more patients in need. Multiply that by the number of employees who donate and that's a lot of people being helped by your team.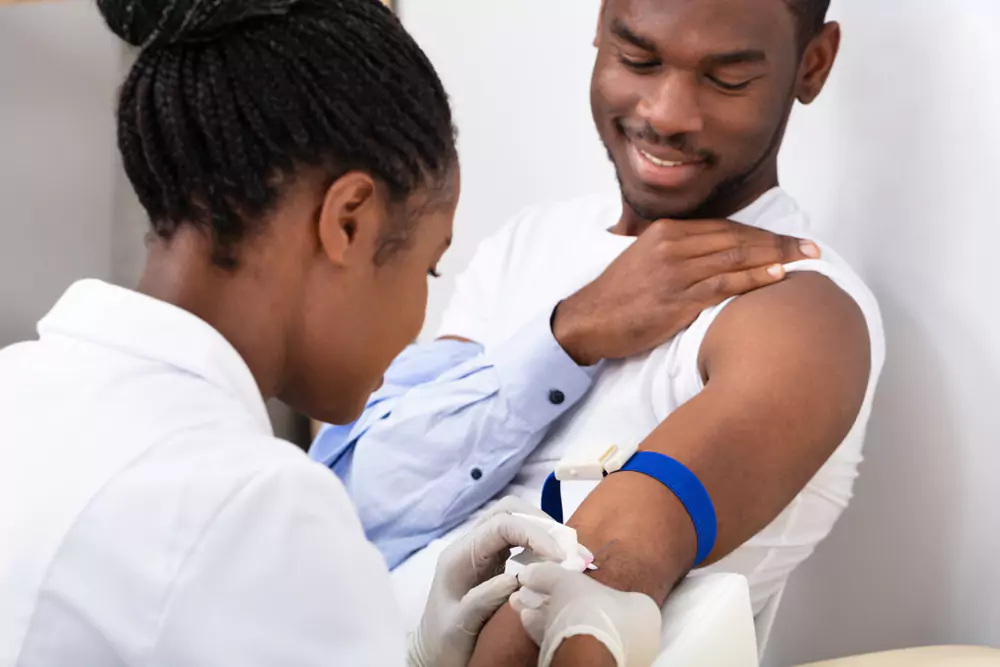 When you are done at the blood bank, go for a group lunch for your team to spend some non-work time together while replenishing nutrients.
6. Tutor students
Education and literacy in America is an area that needs more resources. Volunteer tutoring is extremely rewarding and can make a real impact on a child's life, as well as in the community. If you have a small team, you can pair up with a local school and see if they would like to have some after-school tutors. Since students need support in varying subjects, your team members can use their areas of expertise to work with students who struggle in that area.
7. Help staff charity events
You may know of local charities that hold fundraising events during the year such as 5K races, fundraising phone banks, or benefit concerts. These large events need volunteer staff to help with setting up for the event, assisting throughout, and cleaning up afterward. Contact a charity well in advance of the event to make sure they can accommodate your whole team.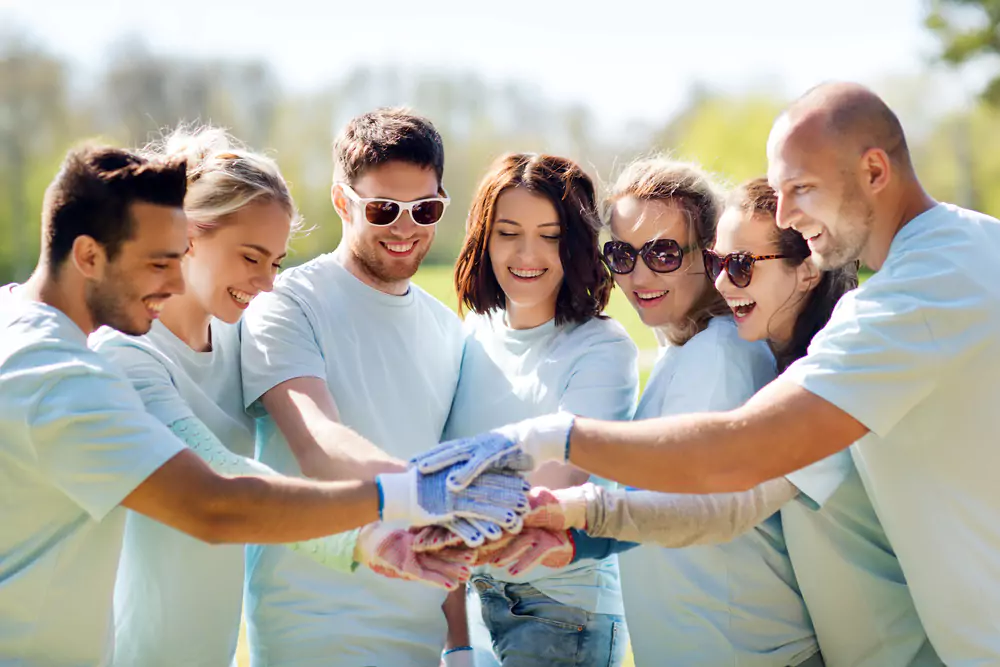 6 Off-Site Charity Team Building Activities
8. Hold a food drive
An extremely important type of volunteer work that is very easy to organize is holding a food drive. First, reach out to a local food bank or homeless shelter, and ask if they will accept the food you collect. They will generally ask for non-perishables such as canned goods or some boxed goods. Then decide who you will reach out to for food donations. If you are a very large company, you can ask for donations from employees. Place a large box in a common area for people to drop off food.
Even if you have remote employees located far away, they can have goods delivered or donate money to pay for food donated by your local staff. You can also reach out to the building your office is located in. Get permission from the building manager and then create flyers to place around the building. Once your food drive is over, drop off the goods to the organization that agreed to accept your donations.
9. Assemble gift kits for foster children
This volunteer activity is easy to organize and can be done right in your office. Together We Rise is an organization that focuses on providing foster children with gift packages that will put a smile on their faces. You purchase the kits and then assemble them. Just a few of the gifts you can assemble are Superhero Boxes, Birthday Boxes, and STEM boxes. You can also build skateboards or bikes!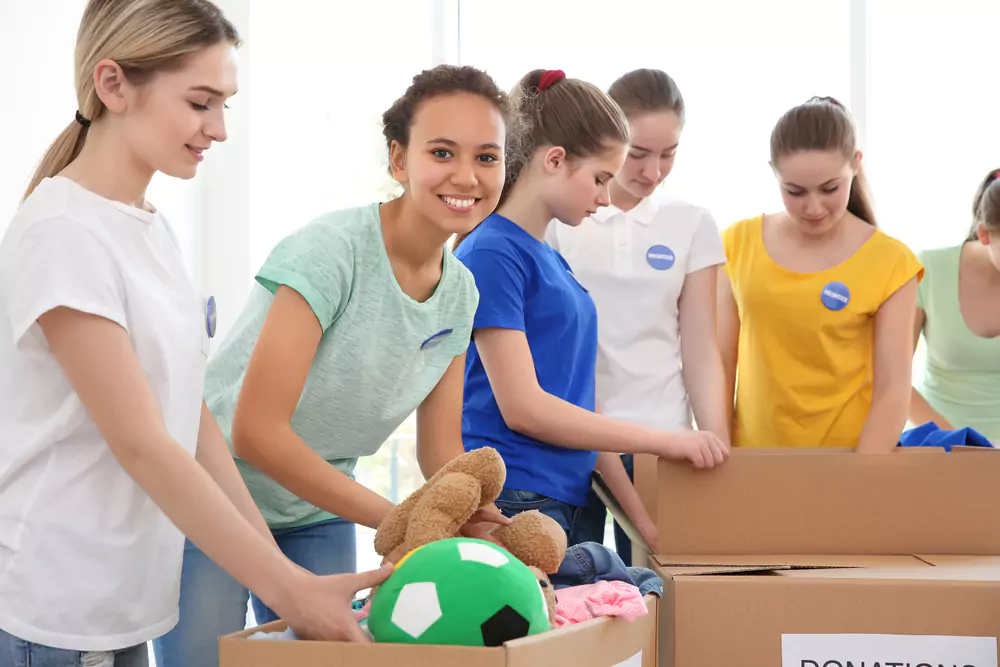 10. Teach Vocational Skills
Vocational skills are skills needed to find employment in a particular job function or trade. For members of your community seeking to advance their employability or enhance their resume, having vocational skills can be a game-changer. But many people are unable to afford vocational training. This is where your team comes in. Teaching vocational skills for free is one of the most powerful volunteer work your company can perform but it does require a bit more organizing.
Start by asking your team members what skills they would like to teach. Some examples of helpful vocational skills could be coding and basic web design, administrative skills, or even skills not typically found in an office environment, such as arts and crafts skills.
Once you know what skills your team members would like to teach, begin planning for the training sessions. You can use your office if you have enough space or you can rent a local off-site space. Contact a local school to see if you can use their classrooms free of charge. Ask some team members to work on publicizing these sessions through community groups, social media, and even through local government agencies like the employment department.
The training sessions themselves can be taught by individual team members on the same date and time. For a collaborative spirit encourage team members to pair up and teach a skill together. After the training session event or on the following day have a group lunch where everyone can share their experiences and how rewarding this volunteer work felt.
11. Donate supplies to a local school
A quick but crucial volunteer job is to donate school supplies to schools that have limited resources. Many underfunded public schools desperately need supplies for their students. Anything you can donate can make a difference in a student's education. Writing equipment, pens, pencils, chalk, crayons white board markers, and art supplies are inexpensive but greatly needed.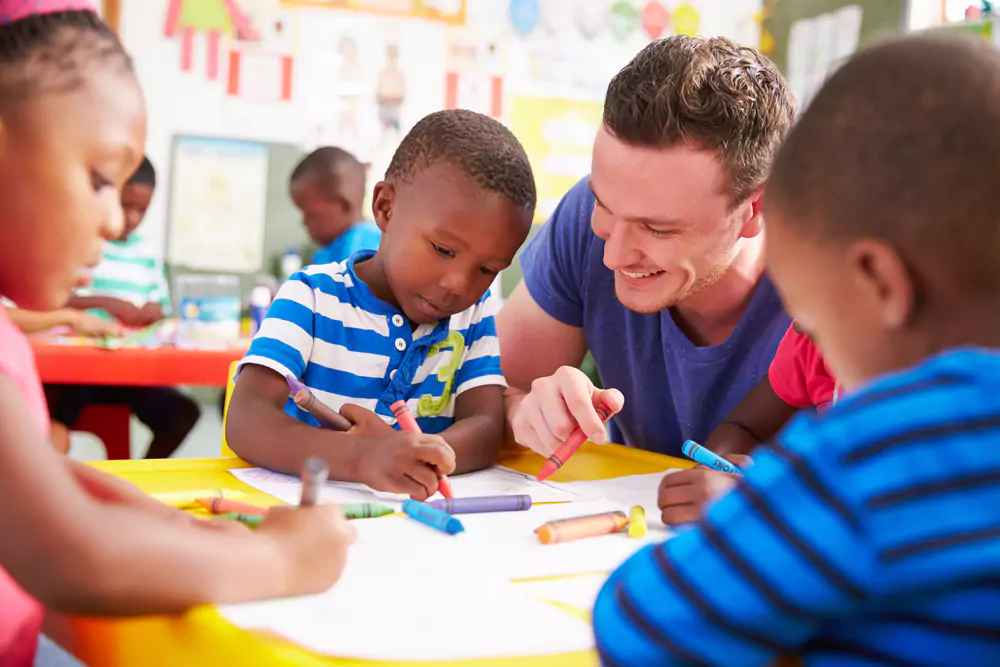 Reams of paper, notebooks and notepads, and other types of paper goods will be welcomed. Also, collect scissors, calculators, protractors, and other tools needed for certain subjects. If your company and team can go a bit farther, donate whiteboards, corkboards, and even used computer equipment. If possible, see if the school you have donated to will arrange a time for your team to go by to meet the students.
12. Put together care packages for the needy
Low-income families and individuals often go without items that we take for granted, such as hygiene products, clothing, coats, and household goods like bedding, lamps, kitchen utensils, etc. Providing these things to those living in poverty is a wonderful way to connect your team to the community.
13. Offer pro bono help to a nonprofit
Unlike nationwide charitable organizations, local nonprofits usually have limited resources and need all the help they can get. Your team members have valuable skills that can be put to work for these organizations in many ways. For example, assistance is usually needed with website content creation and grant writing, legal advice, business planning, web design, and much more. The Taproot Foundation can connect you with noon-profits who need pro bono assistance.
5 Virtual Charity Team Building Activities
14. Online tutoring
If your team cannot do in-person volunteering, they can still provide much-needed academic support to students in underserved school districts. It's relatively easy to set up this volunteer work through UpChieve which pairs students with online tutors.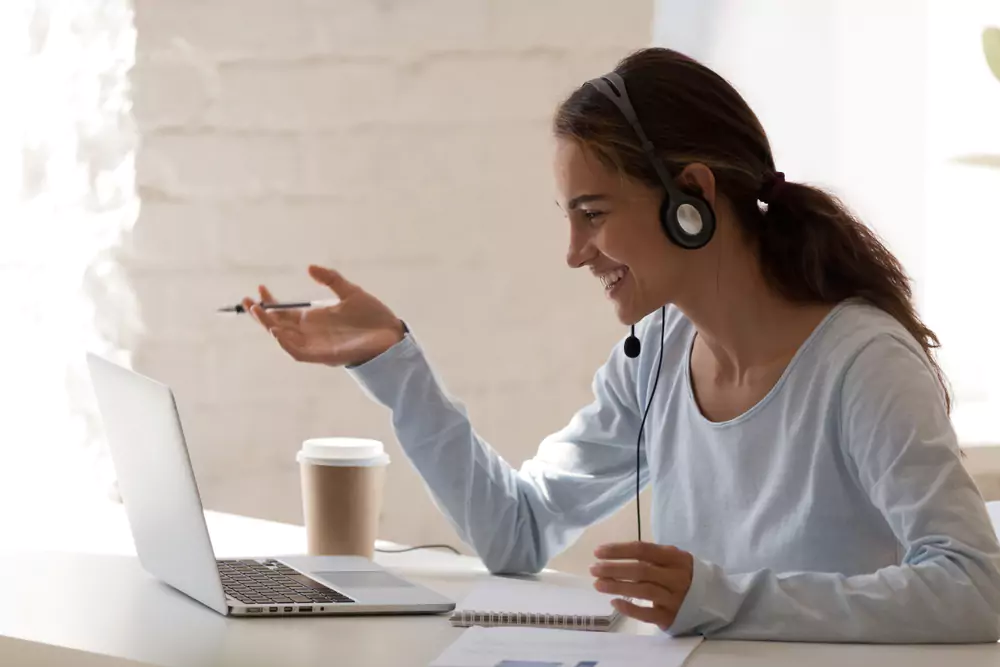 15. Mentoring veterans
Hire Heroes USA offers online mentors to veterans and military spouses who need assistance in specific areas related to their job search. Your team members can participate in one-time conversations with job seekers discussing relevant topics and fields of employment.
16. Help " tech-for-good" projects
DemocracyLab connects volunteers who have tech skills to organizations that seek to serve the greater good. You can search their database to find projects that require the skills your team members possess. Though many projects seek tech help, some projects need other kinds of assistance in areas such as business operations, marketing, accounting, legal, and sales.
17. Support those who serve
Another virtual volunteer opportunity that benefits those who serve our country is to work with Soldiers' Angels to show support to servicemen and women and their families. Your team can throw virtual birthday parties for service people, military spouses, and their children. Other activities are letter-writing, making no-sew blankets, and creating candy bags.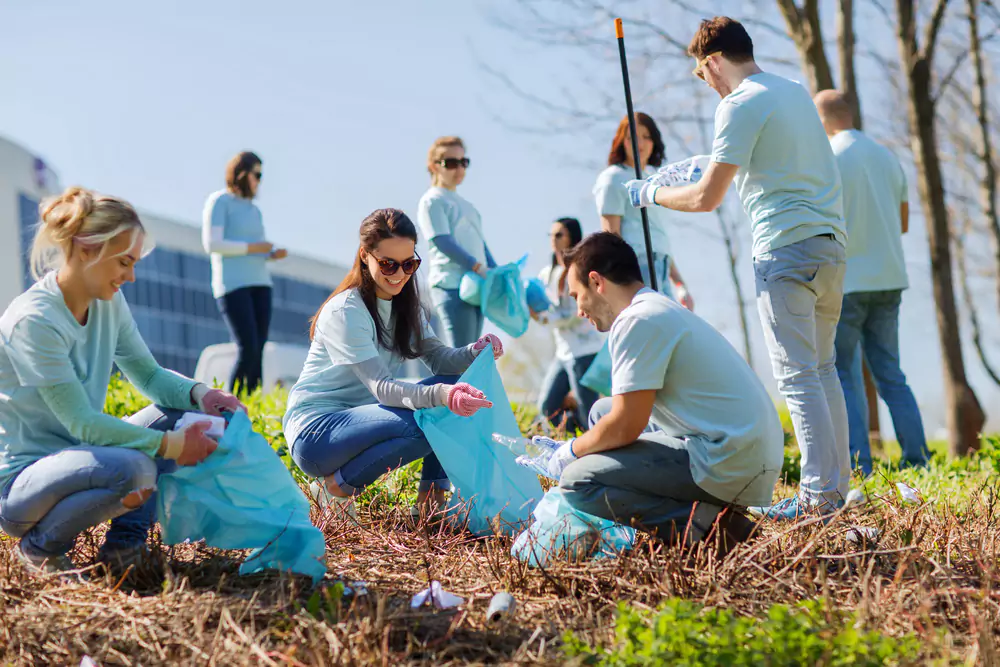 18. Other virtual charity team building activities
Numerous organizations and search engines can help you find a virtual charity team building activity that suits your team's interests, skills, and schedule. Here are just a few:
GiveBackTime, Points of Light, Catchafire, Idealist, and VolunteerMatch.
Final Thoughts
Companies that develop a culture of volunteerism will see positive returns. Employees feel more satisfied in their work and are less likely to leave their jobs. Charitable team building activities boost morale, camaraderie, and even employees' well-being. Corporate team volunteering benefits your company, your employees, and those in your community who need your support.