It's that time of year: Summer is winding down, temperatures are cooling, and Halloween décor is popping up in stores and online. You and your team should make the most of it! A fun, Halloween scavenger hunt is the perfect opportunity to gather your people for some Fall-season team building and entertainment. In this article, we'll cover everything from Halloween scavenger hunt ideas to potential clues and prizes. Keep reading!
Table of Contents
4 Halloween Scavenger Hunt Ideas for Adults
9 Halloween Scavenger Hunt Clue Ideas
17 Halloween Scavenger Hunt Prize Ideas
Halloween and Fall-Themed Prizes
The spookiest holiday of the year is right around the corner and there's no better time to host a Halloween scavenger hunt that doubles as a team building activity for your people. We'll skip the history of Halloween lesson and dive right into some Halloween scavenger hunt ideas your team won't soon forget.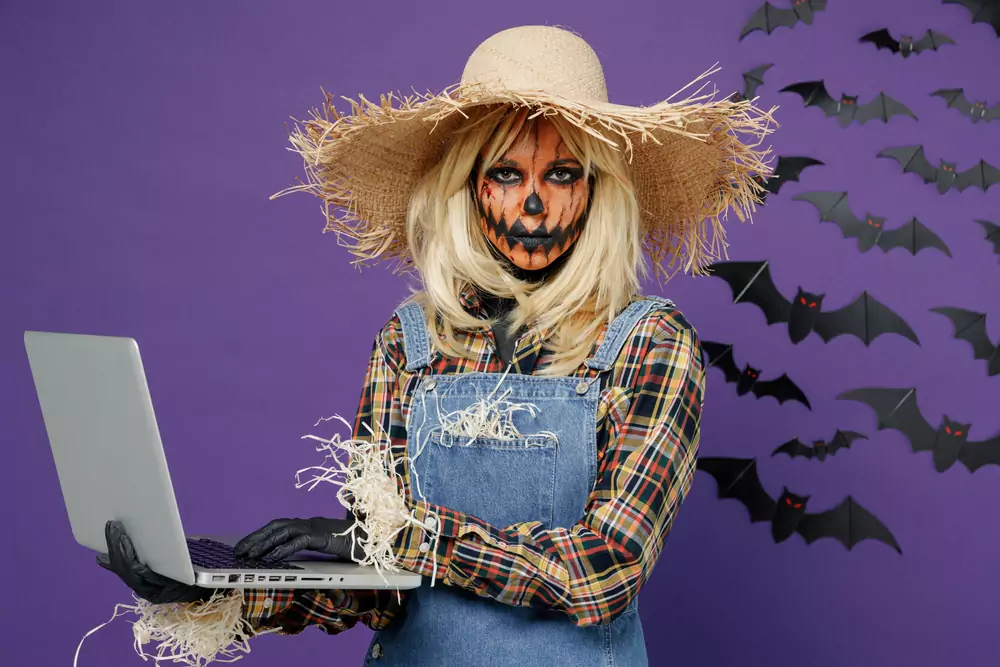 4 Halloween Scavenger Hunt Ideas for Adults
1. Use Goosechase
If you're looking for an easy-to-use platform that creates a fun, engaging experience for your team, look no further than Goosechase. As the host, you can design an experience and invite your team to play. They'll get the chance to complete missions, earn points, take photo and video evidence, check in at specific locations, and answer various questions and riddles. With a live leaderboard, Goosechase adds a layer of competition that's sure to get your team's hearts racing!
2. Host a pumpkin hunt
Scavenger hunts can take different shapes. Grab some toy pumpkins and hide them around your office or outside in a defined park area. The team to locate the most pumpkins wins! This fun spin on easter egg hunts helps keep it simple, yet active for teams who want a quick-start solution.
If you're looking for a more traditional scavenger hunt experience, hide the pumpkins in intentional spots and brainstorm a few clues to point folks in the right direction.
3. Host a virtual scavenger hunt
Is your team dispersed? No problem! Virtual scavenger hunts are a fun way to engage remote teams and ensure they enjoy a festive fall event too. Write out some riddles and clues that lead to items people could find in their homes, and set a time limit to create some pressure. When time's up, the team with the most correct items wins!
4. Host a museum scavenger hunt
Museum scavenger hunts are a fun way to host a virtual event that your whole team can enjoy! While not explicitly Halloween-themed, your prizes for the winning team can be. If you're short on time to plan, The Escape Game has pre-made scavenger hunt checklists you can use on your virtual visits to museums like The Van Gogh Museum, The Getty, The British Museum, and more!
Virtual team building activities like this have many benefits, like the added bonus of ensuring your team feels engaged even though they are miles apart.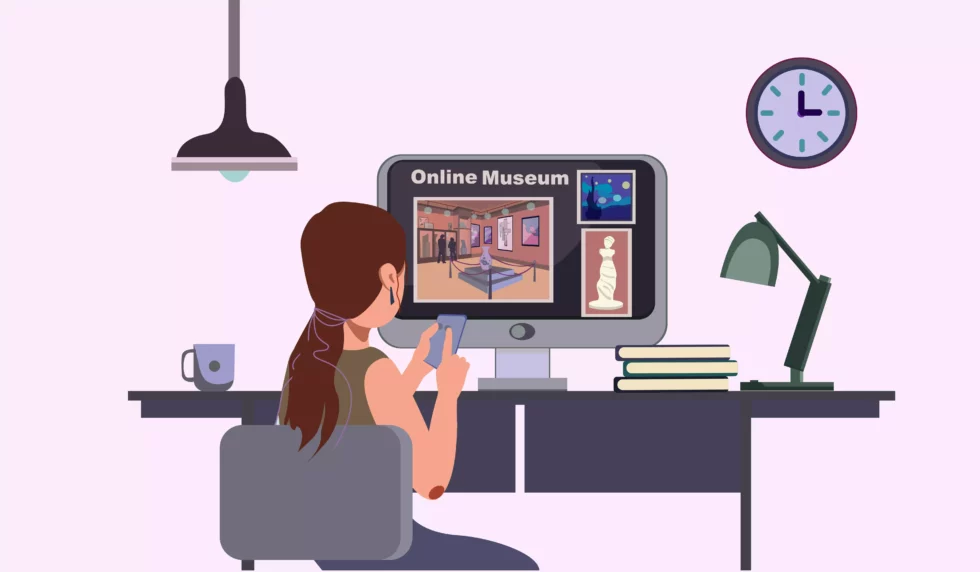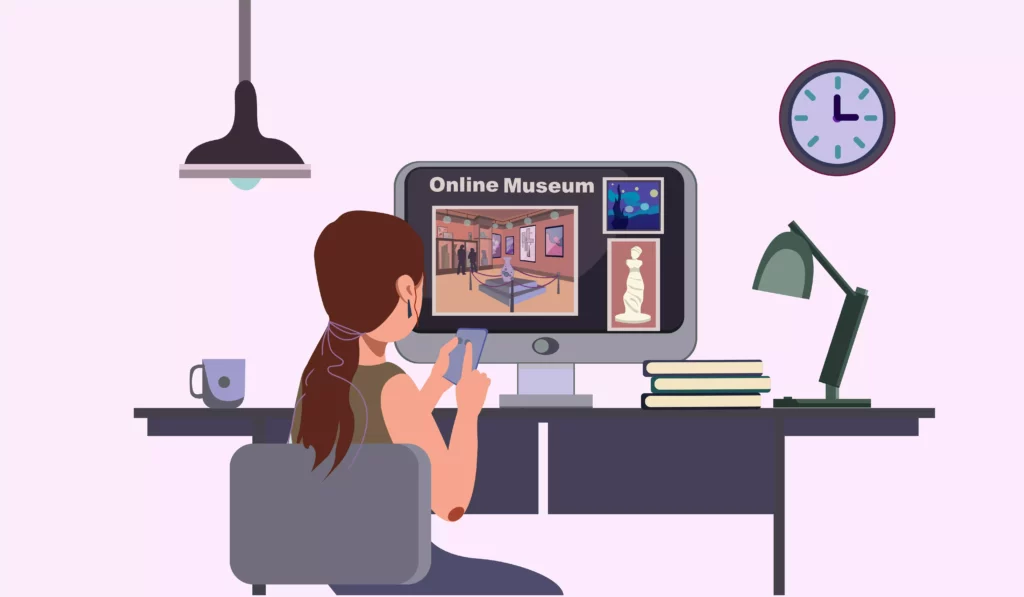 9 Halloween Scavenger Hunt Clue Ideas
1. Pumpkins, pumpkins,
Around the house.
I have lots of keys
And a mouse.
Answer: Computer
2. There is a nightmare on Elm Street,
Be careful not to go to sleep.
I cook food faster than anyone else,
And I also go beep, beep!
Answer: Microwave
3. Figures hiding in the shadows,
The eerie ticking of a clock.
My job uses lots of paper,
So be sure to always have some in stock.
Answer: Printer
4. With pointed fangs I sit and wait
With piercing force, I dole out fate
Over bloodless victims, I proclaim my might
I can eternally join with a single bite.
What am I?
Answer: Stapler
5. Now watch out for any zombie hands popping up from the ground while finding the thing a witch needs to fly around.
Answer: Broom
6. That was a close one! Now onto the next clue. Go to the place where you'd get ingredients to cook a witch's brew.
Answer: Kitchen
7. If you carve this out and then
Stick in a candlelight
The result of this should be
You give someone a fright
Answer: Pumpkin
8. The next answer that should escape your lips should be the creature wrapped up in cloth strips.
Answer: Mummy
9. If you see this hairy creature Your first choice should always be to run Otherwise you had better hope You have silver bullets in a gun.
Answer: Werewolf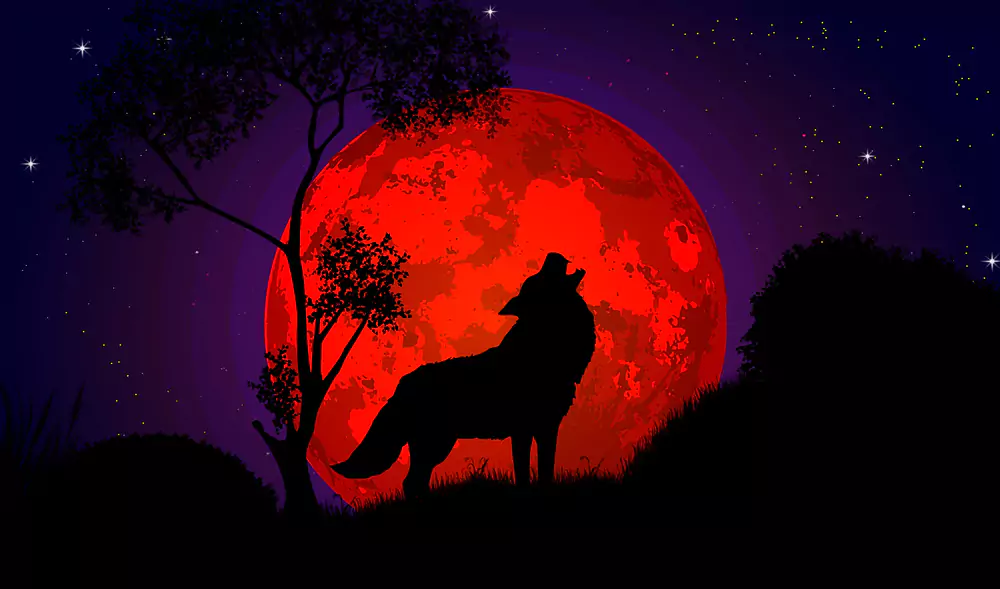 17 Halloween Scavenger Hunt Prize Ideas
Snack or Candy Halloween Scavenger Hunt Prize Ideas
It's Halloween and adults love snacks and candy, too! Below are some tasty prize ideas for your winning team.
1. Sugarwish
Sugarwish allows the recipient to choose their tasty treats — and therein lies the beauty and convenience of this user-friendly snack delivery platform. Sugarwish offers an array of candies, cookies, snacks, popcorn flavors, coffee, tea, and yes, even dog treats. It's simple: You pick the gift type and size and your recipients choose their favorites! Everyone gets exactly what they want and any potential allergies are accounted for.
2. Edible Arrangements
From classic treats like chocolate-covered strawberries to seasonal delights like pumpkin cheesecake and chocolate fruit platters, Edible Arrangements offers great prizes for your lucky Halloween scavenger hunt winners. With more than 150 options under $50, there's something for every winning team member. We also recommend browsing their fall favorites for some perfectly-flavored Halloween treats.
3. SnackMagic
The reviews are in, and folks love SnackMagic. With hundreds of five-star Google reviews, SnackMagic is a solid option for any winning team. This build-your-own snack box is super easy to give and super fun to get! Buying gifts for a team is not always easy, but SnackMagic takes the pressure out of gift giving. You pick the budget, provide the email addresses, and recipients take it from there. Regardless of team size, everyone gets to build their own box from a robust menu of more than 2000 unique options! SnackMagic includes options for every kind of eater: Vegan, vegetarian, pescatarian, gluten-free, kosher, dairy-free, nut-free — you name it.
4. Packed with Purpose
Your Halloween scavenger hunt winners will love this unique, thoughtful prize. Packed with Purpose combines social impact with gift giving, creating a meaningful experience for givers and recipients alike.
Each Packed With Purpose gift box sources products from organizations that are doing good while making quality products. For example, Packed With Purpose sells chocolates from an organization that provides job training to survivors of abuse and delicious granola from a company that provides employment to those who were formerly incarcerated.
5. DoorDash or UberEats gift card
Not every gift needs to be off the wall. Sometimes a gift card for a tasty meal is all your busy employees need. With several million active users, both DoorDash and UberEats gift cards are both great options.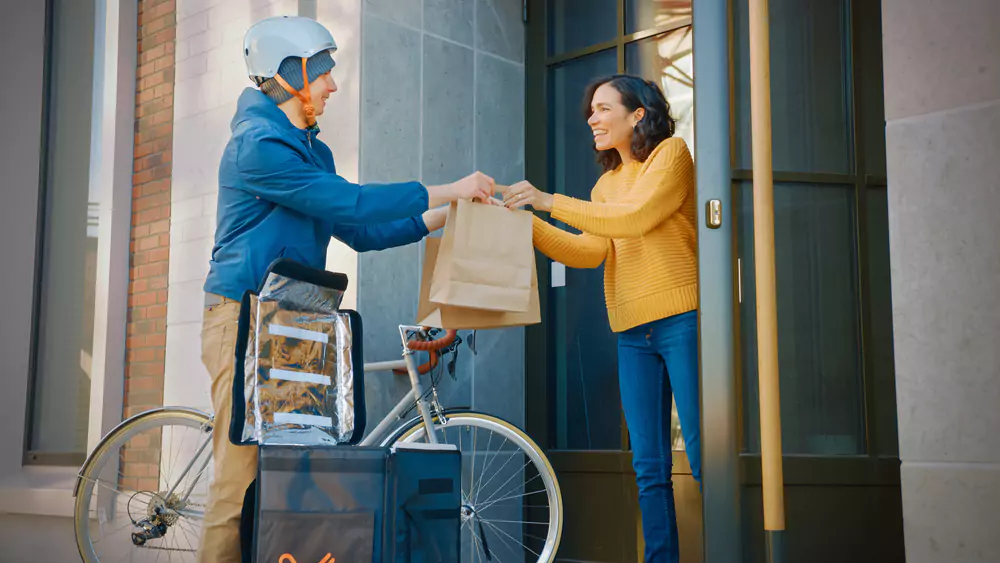 6. Crumbl Cookies
When two cousins opened a cookie shop in Utah circa 2017, the world got a little sweeter. Crumbl cookies are one of the trendiest gifts to give and your team will thank you. Crumbl famously features a weekly rotating menu of wonderfully baked cookies. After your team receives this gift, your only problem will be the jealous glances of losing team members.
7. Starbucks or Dunkin' gift card
Limited edition fall drinks are making their way back onto menus across the country. If that's not reason enough to make this your team prize, chances are high that your folks love a good cup of coffee like most Americans. Award your winning team with the choice between gift cards to Starbucks or Dunkin'.
8. Harry & David
Harry & David might be one of the best platforms to shop for food-related prizes. There are hundreds of items to choose from with expertly curated gift boxes in every price range. They offer delicious pears, chocolates, bakery sweets, popcorns, trail mixes, cookies, and pears — just to name a few. If that's somehow not enough, the Harry & David family of companies includes popular brands like Simply Chocolate, 1800 Baskets, Shari's Berries, and the Popcorn Factory. They quite literally have something for everyone! Filter by season to see what's selling for the fall season.
9. Knack
You'll want to keep Knack in your tool belt. Knack has great options for any winning team. Your team will also enjoy knowing Knack sources products from small businesses and skilled artisans. You can shop expertly curated prize options or create your own. For picky teams, Knack has a swift gift option: You pick the price point, and they select their prize. It's that easy!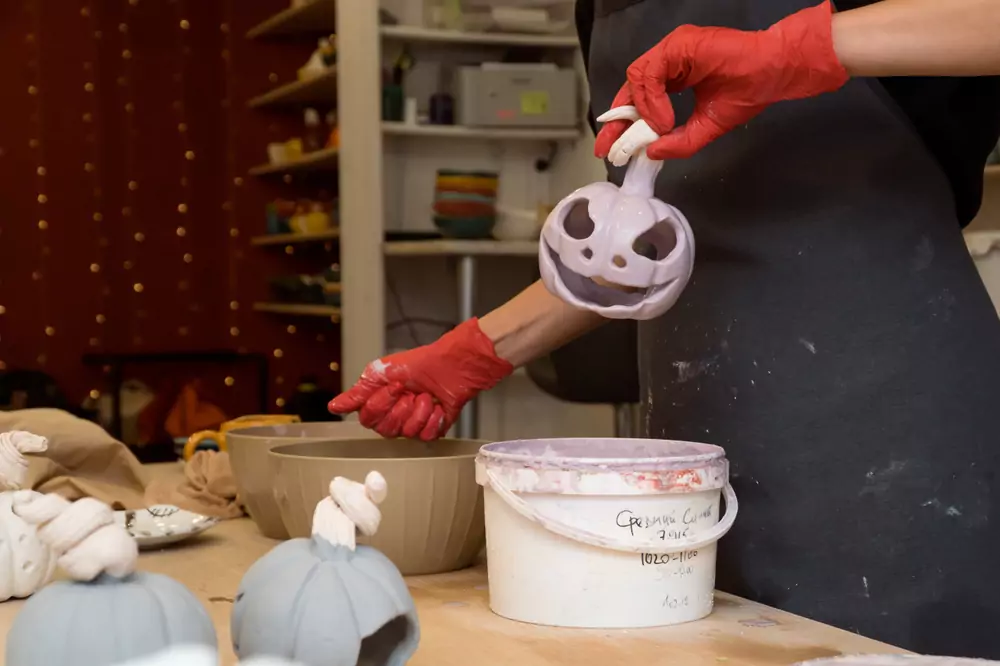 10. Goody
Goody is a great option whether you're awarding one person or a huge winning team. This gift-giving platform provides an excellent experience for the giver and recipient. All you need is a name and email, plus you can upload CSV files to save time with larger teams.
Choose from stylish cards, add a message, and even custom, company branding. As a bonus, your team members will be able to swap for an item of their choice if they don't like what you chose. No more stress about diets or picky recipients. Goody also lets you view all your prizes in one, easy-to-read dashboard, including any thank you notes that you receive.
Goody has snacks, but there are a wide array of prizes to choose from including bags, candles, and mugs — you name it.
11. Snappy
Snappy is loved by companies and teams of all shapes and sizes. This all-in-one gifting platform can help you send prizes that delight your team and make the Halloween scavenger hunt well worth the effort. Your recipients can accept their selected gift or choose something else from Snappy's curated collection of crowd-pleasing products from the best brands on the market.
To make things easy, you can browse curated collections like sustainability, employee appreciation, wellness, or even women-owned brands.
12. Caroo
From assorted brownies to portable fireplaces and monochrome notebooks, Caroo is an excellent platform to choose employee prizes. The website features custom swag options, curated gifts from today's on-trend brands, and more. Plus, they make it easy. You won't need addresses and the platform supports CSV file uploads to make prize sending fast.
As a bonus, Caroo tries to use carbon-neutral shipping, support purpose-driven brands and donate meals to Feeding America for every gift delivered — they've donated more than 20 million meals to date!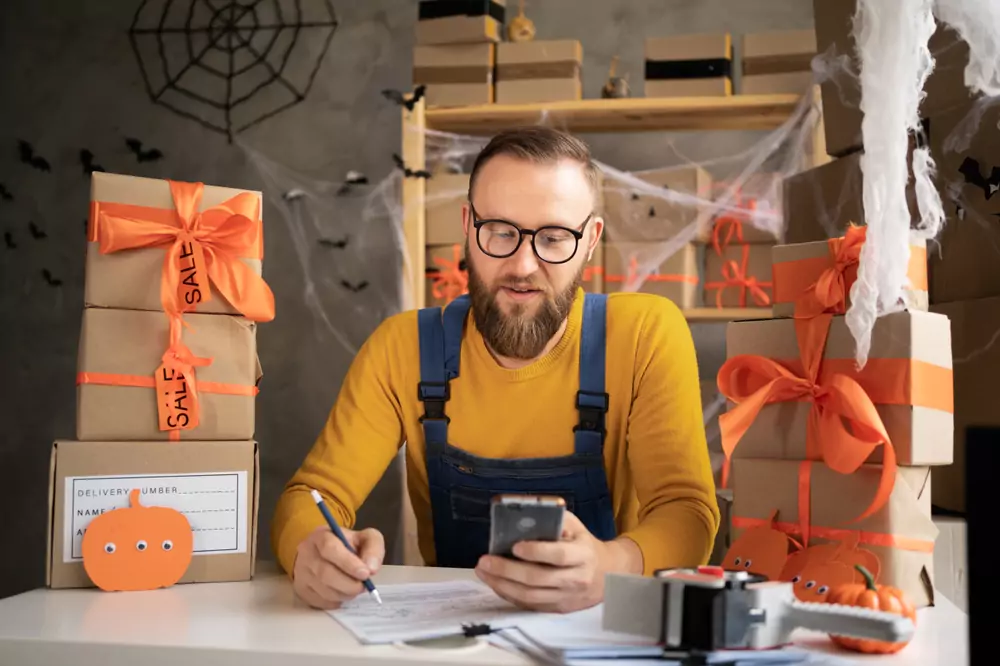 Halloween- and Fall-themed Prizes
Snacks, candy, and chocolate-covered fruits are always great prizes. But if you're looking for some non-food-related prize ideas, keep reading!
13. Firebox
Firebox claims to sell unusual items, so proceed with caution. If you're looking for uncommon, albeit edgy, prizes, Firebox might be the option for your team. From Star Wars sound effect machines to dog stacking games — you're sure to find an interesting option to send to your winning team!
14. Escape Room in a Box
In-person or virtual escape rooms are fun, so why not reward your team with an Escape Room in a Box? The perfect game to play with friends and family, this Escape Room in a Box challenges players to solve 19 puzzles and 3 locks in under an hour. Players can even connect to their Amazon Alexa to enhance gameplay.
15. Bath & Body Works
If any company knows how to do a seasonal collection, it's Bath & Body Works. Choose from a wide selection of fall-scented and spooky candles, soaps, lotions, and fragrances. Men and women alike can find something at Bath & Body Works. Plus, they have curated gifts for any price range and offer gift cards if you want recipients to choose their own prizes.
16. LEGO Halloween Owl
This adorable LEGO owl is a fantastic Halloween scavenger hunt prize. This cute bird can rotate and move its wings while standing alongside two Halloween pumpkins and pretty autumn flowers.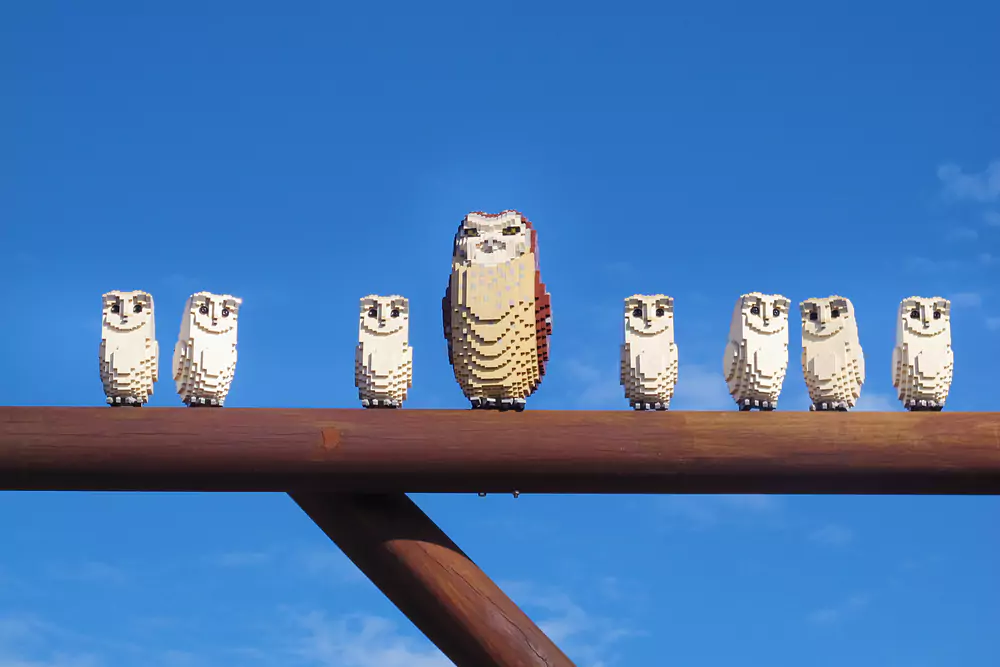 17. Halloween-Themed Socks
Kids don't always think so, but adults know that socks are a great gift! Comfy Halloween-themed socks are the perfect prize for a Halloween-themed scavenger hunt. Black cats, ghosts, skulls, bats — these assorted socks will put a smile on the wearer's face. Isn't that the point of a prize?
Conclusion
Whether your event is Fall or Halloween-themed, it's the perfect season and reason to get your team together for a team building activity. The tips above will help you craft a memorable event that boosts morale, increases team engagement, and leaves folks asking you when the next scavenger hunt is happening!
---
Get Your Free Game
The 3-Minute Non-Cringey Ice Breaker for Your Next Meeting
A ready-set-go game to run at your next fully remote or hybrid meeting without the hassle or added pressure of developing a team-building exercise yourself. Get it here →
---