Halloween virtual scavenger hunts are fantastic ways to celebrate the festive season in style and get your team forming lasting and strong connections.
A scavenger hunt is any fun-filled game where players have to collect several miscellaneous objects. They require your entire team to get up, move around and engage from the comfort of their own home! By combining reward, friendly competition, and social engagement, virtual Halloween scavenger hunts make excellent team building activities.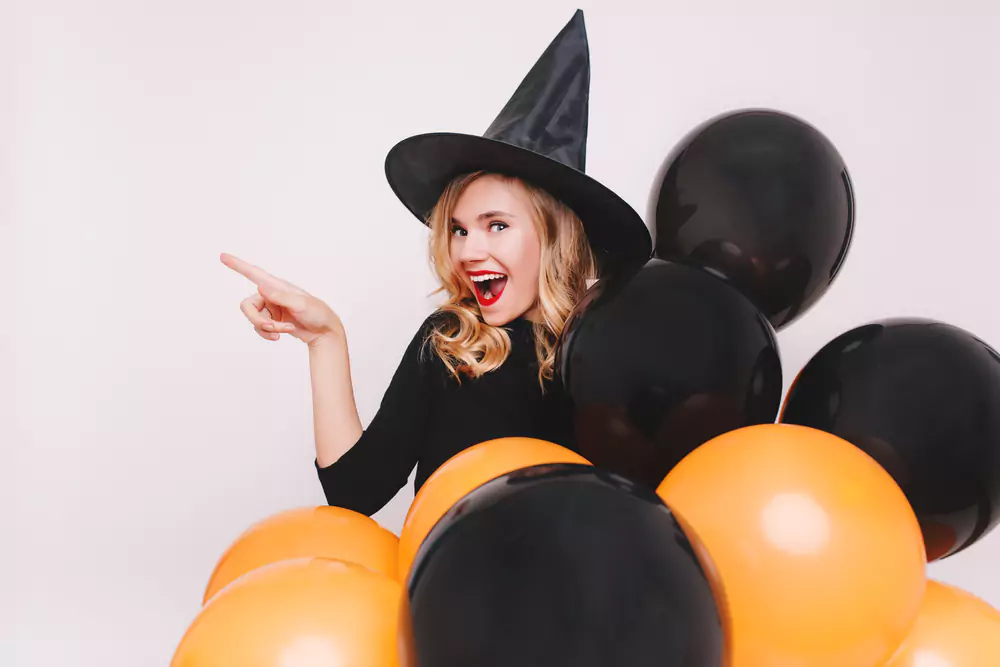 Why host a virtual scavenger hunt for Halloween?
With teams being distributed worldwide, it can feel like a minefield trying to connect and engage a virtual team. However, virtual Halloween scavenger hunts are fantastic team building activities that have many positive benefits for virtual teams.
For a start, they connect remote workers, and with research finding that a shocking 67% of remote workers feel disconnected from their colleagues, it is more important than ever to connect your remote team! By including strong Halloween-themed team building activities, you will remind your team that they are part of a solid, cohesive team.
As scavenger hunts involve searching around for objects within a time frame, they promote problem-solving skills within your team. This is important because problem-solving skills, at any level, are essential for the success of a workplace team. They allow members to organize their day and plan, prioritize and execute strategies. With these skills, teams have a strong understanding of their priorities and can tackle all sorts of challenges before they become huge problems.
Another reason to host an exciting virtual scavenger hunt for Halloween with your workplace team is that it is a great way to prevent Zoom fatigue. Zoom fatigue, which presents itself as exhaustion, difficulty concentrating, or increased irritability can cause major issues within any team. It can bring down morale and the sense of camaraderie, which can be incredibly detrimental to a team's success. Adding a virtual Halloween scavenger hunt is a great way to mix up the stimuli and provide a break from the tedious back-to-back meetings and workplace tasks.
Including a Halloween-themed team building activity, such as a scavenger hunt, means that you can include a team building activity that is accessible from anywhere! It can be used as a fun-filled activity that shows your team how much you care about them, value them, and want to build healthy workplace communication.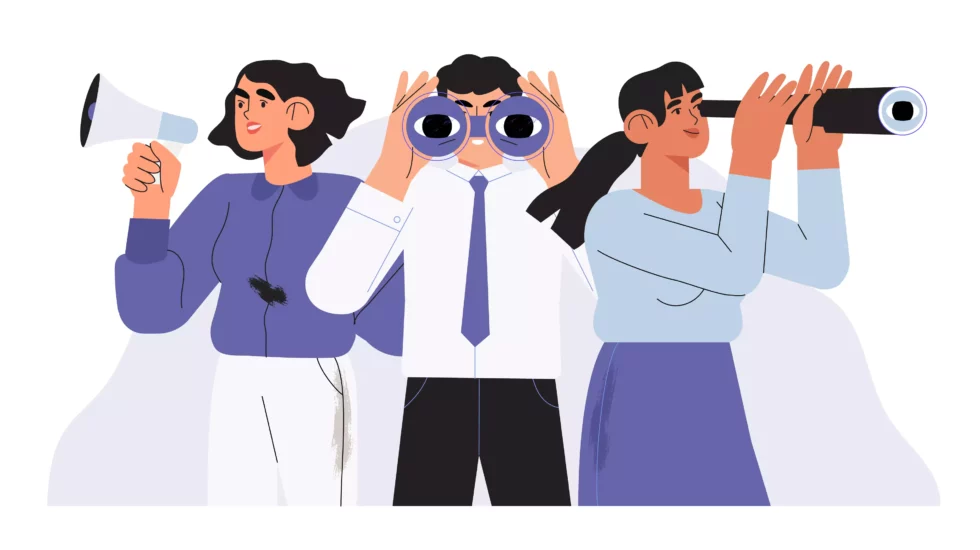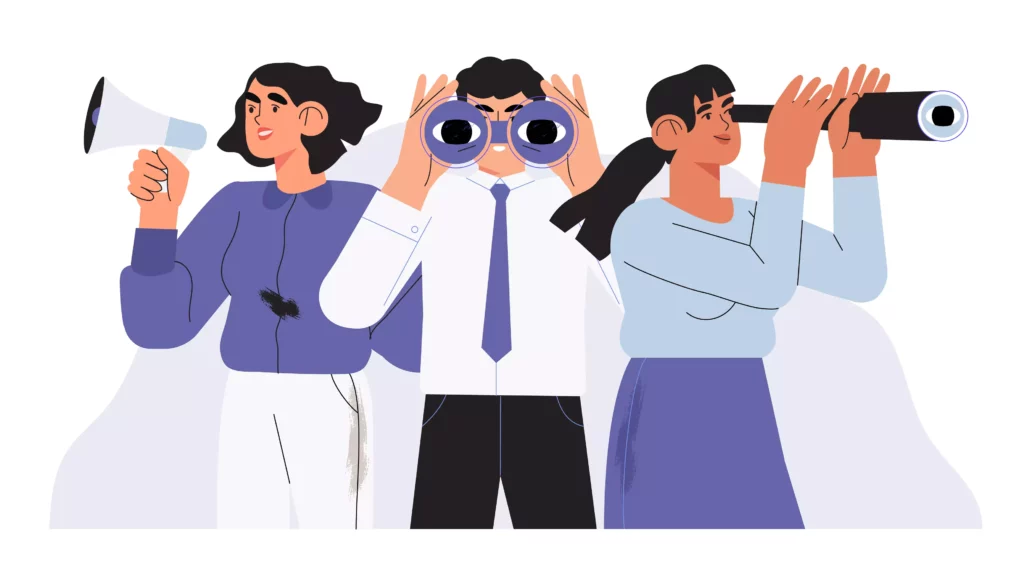 8 Halloween Virtual Scavenger Hunt Ideas
Figuring out how to plan any virtual event can be a minefield, especially a Halloween virtual scavenger hunt! A scavenger hunt typically involves sending teams off to look for objects in the office or their home. Of course, an obvious way to make this Halloween-themed is to make these objects Halloween-related. However, to make this fantastic team building activity even more exciting, you need to think outside the box. From finding images on phones to introducing activities at the start and end of the team building game, the list below is bound to offer you and your team some fantastic Halloween virtual scavenger hunt ideas!
To carry out these virtual Halloween scavenger hunts, Zoom is a great platform. You can create various channels, and share screens and music playlists online!
1. Find Halloween-themed objects!
One effortless way to spruce up your scavenger hunt is to ask your team to find objects that are Halloween-themed. This scavenger hunt is played the same as any other scavenger hunt, except your team hunts out only objects that have relevance to Halloween.
From a knife to plasters, pumpkin (or pumpkin seeds) to fake blood, there are plenty of household items that have a spooky twist and can be incorporated into a thriving game of scavenger hunt!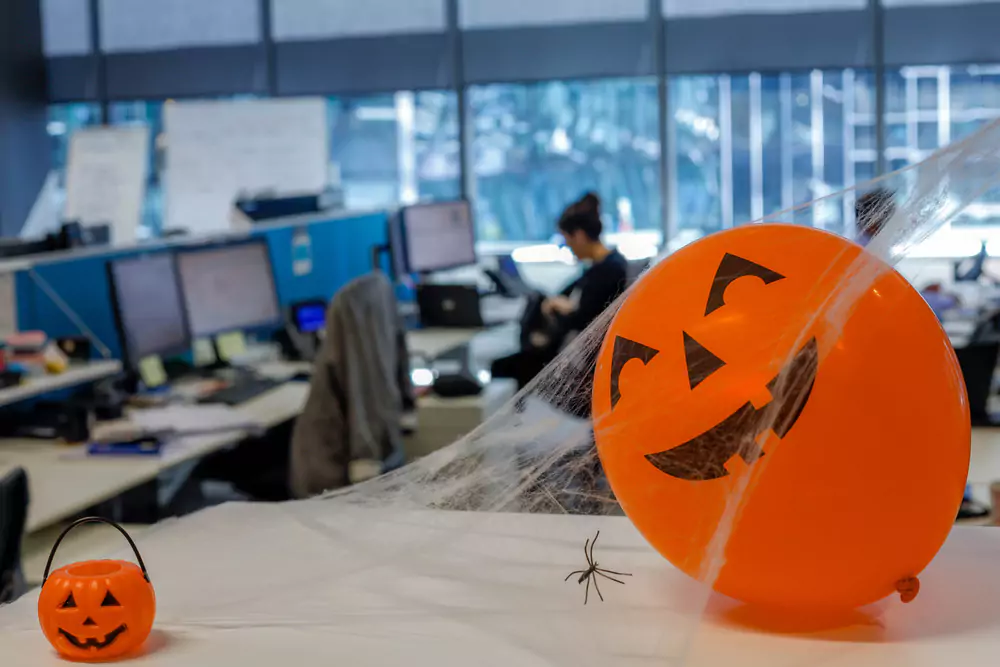 2. Make a Halloween Playlist
Music makes us feel happy, energetic, and excited. Make a Halloween-themed Spotify or Apple Music playlist to play while you and your team get into your Halloween virtual scavenger hunt.
To make this Halloween scavenger hunt inclusive and engaging for your entire team, you can allow everyone to add their own Halloween music to the playlist. Encourage your team to wear earphones so that they can hear your playlist while scurrying around the house on a mission to find objects within the time limit!
3. Encourage everyone to get into character
What's one great way to make absolutely anything Halloween-themed? Get everyone involved by asking them to dress up in their favorite Halloween inspired outfits. From a clown to a witch, mummy to a werewolf, dressing up on Halloween will take your team back nostalgically to their childhood, and will ensure everyone is actively participating.
Once your team is in fancy dress, your scavenger hunt activities can then continue as normal… people will just get some strange looks from family or onlookers as they scavenge around their house dressed in a spooky costume!
Top tip: To make this even more engaging, introduce a Halloween costume contest at the end, where you will crown winners for things such as the most realistic outfit, the scariest, and the funniest!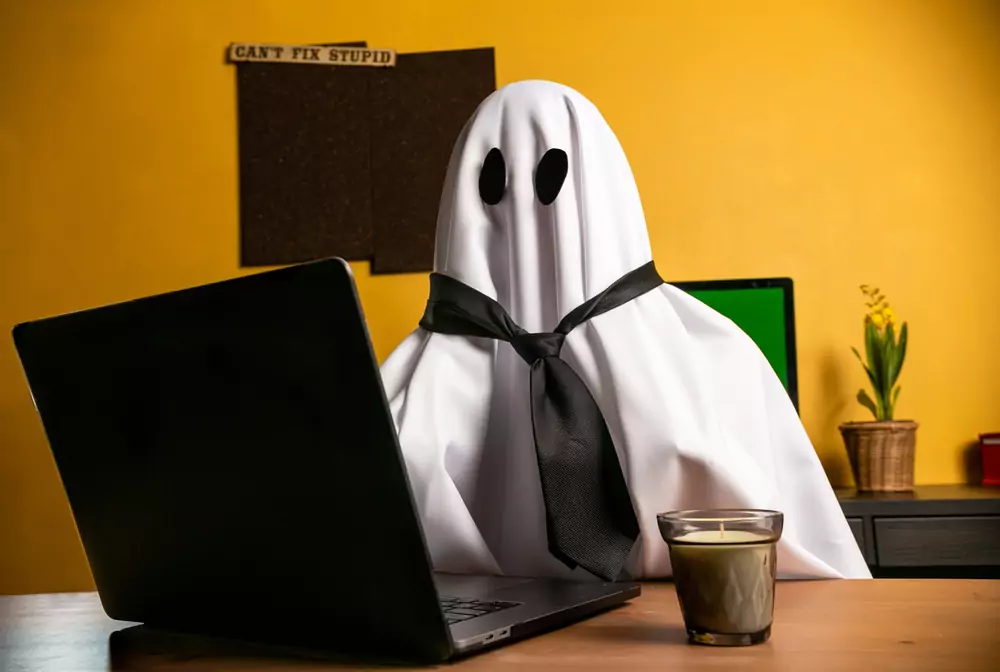 4. Find 5 photos from previous Halloweens
Instead of encouraging your team to get up and run around the house, send them on a digital scavenger hunt on their phones! Whether they flick through their Facebook or Instagram accounts or hunt through their camera roll, your team will race to find 5 recent Halloween photos of themselves, or even of their children.
They must send the photos into the chat and explain the spooky story behind it! Again, to introduce some friendly and exciting competition, you can then rate the Halloween outfits for different things, such as its realisticness or its fear factor!
5. Send some Halloween inspired food and drink in the mail
Make your mark this Halloween and show your team how much you value and care about them by sending them a thoughtful basket that includes plenty of Halloween inspired food and drink.
You can find all sorts of fantastic baskets, treats, and drinks online to send your team. Whether it's a cookie making kit or a cocktail shaking kit, we like this idea because you can gather your team together first and get them to do the activity, such as bake cookies or create a Halloween themed cocktail. After, your team can then eat and drink whilst doing the scavenger hunt.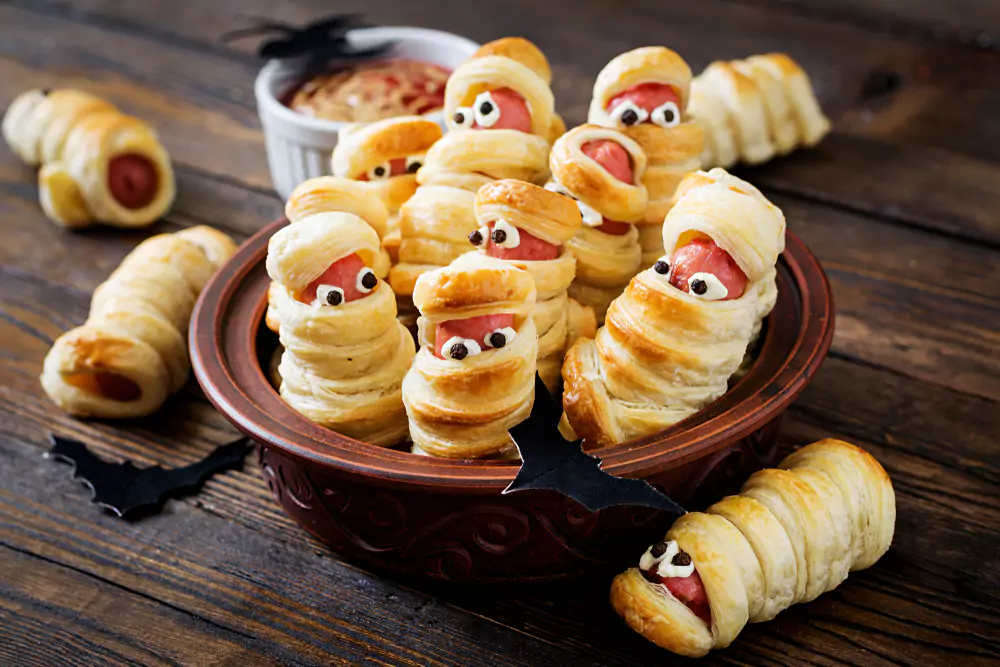 6. Include a spooky virtual event
A great way to engage a team and make your team building activity effortlessly longer, you can incorporate a scary, heart-raising team challenge into the start of it. It's a great way to lighten the mood and help everyone feel relaxed, confident, and comfortable around each other.
Team Building Hub offers a range of different virtual team building experiences that can all be included at the start of an afternoon of Halloween themed fun. A virtual escape room is a wonderful way to immerse your team in themes such as ocean exploration or prison breaks from the comfort of their own home. Watch as they work together to find clues, solve puzzles and ultimately escape the virtual room!
Similarly, online game shows are holiday-themed ways to let your team unwind before a scavenger hunt as they battle it out to be crowned the games show winner! They can use their problem-solving skills, teamwork, and intelligence to battle their way to the top. There's even a Halloween themed game show option!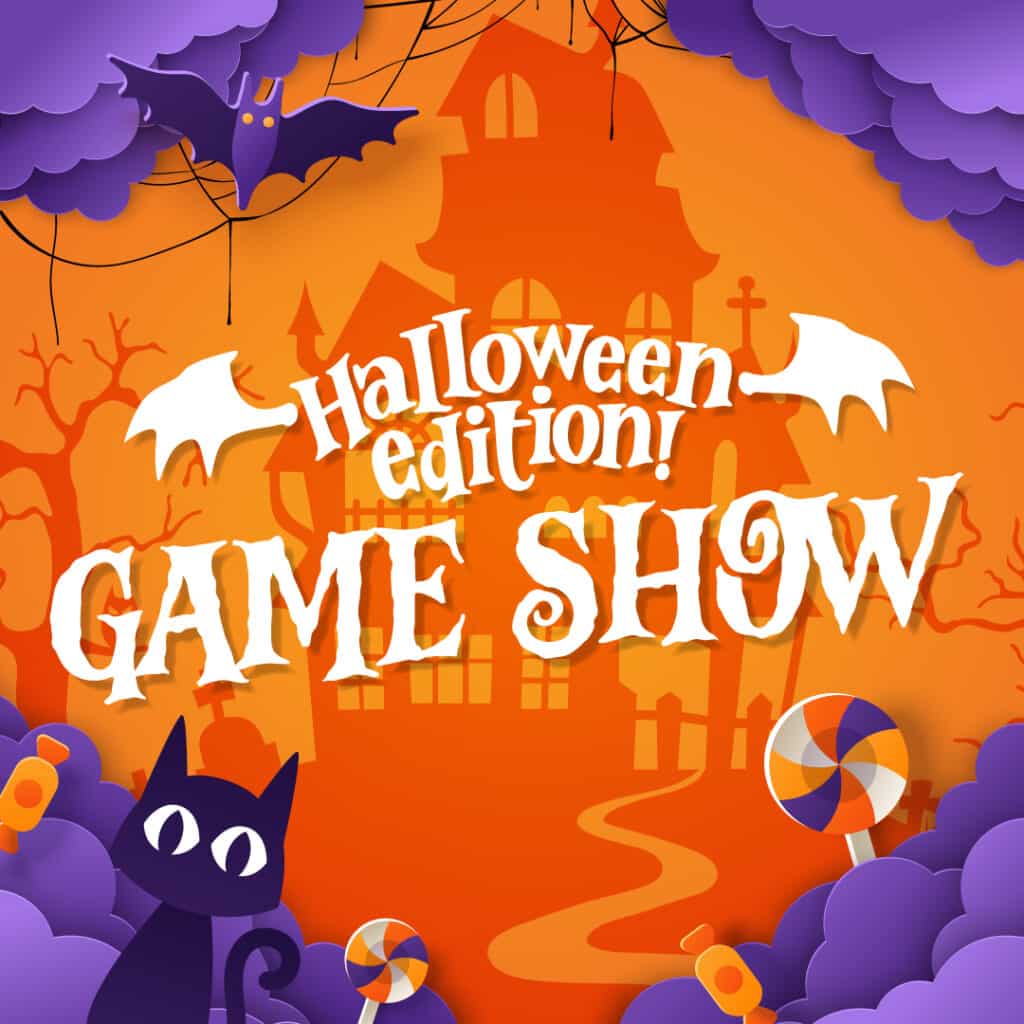 Finally, a mystery game is a great, Halloween themed activity that you could include at the start of your team building scavenger hunt. Evidence could be absolutely anywhere, and your team's job is to unlock surveillance videos and watch for hidden information. To make these even more Halloween themed, we recommend encouraging your team to dress up and get fully involved!
7. Halloween movie-themed objects
If you like Rocky Horror, Hallows Eve, or IT, you can play a virtual Halloween scavenger hunt that is inspired by these movies. Your household objects that need to be collected can be inspired by these films. For example, you may ask your team to collect items such as rice, playing cards, or rubber gloves, amongst others, if playing a Rocky Horror Picture Show themed spooky scavenger hunt!
Take some time to google the Halloween film that you'd like to base your virtual Halloween scavenger hunt around, and then watch the movie to spot key objects and items!
8. Find Halloween riddle clues
Another way to create a virtual scavenger hunt for adults that is Halloween themed is to make it completely digital and replace physical objects needing to be found with Halloween spooky riddles to be solved.
Create a separate messaging channel and send in various riddles that your team needs to answer within 60 seconds. Riddles such as 'I am wrapped, but I am not a gift. I am kept nearly in a chamber, and archeologists find me as a great treasure. What am I?' (Answer: a mummy), are great ways to get your team's creative juices flowing as they work to solve a riddle in the time limit.
How to Plan a Halloween Virtual Scavenger Hunt: 6 Easy Steps
When it comes to any online virtual event, whether it's a Halloween virtual scavenger hunt or a virtual murder mystery party, Zoom is a great online platform that allows you and your team to organize and play scavenger hunts from the comfort of their own homes. To play your Halloween virtual scavenger hunt, follow these simple tips: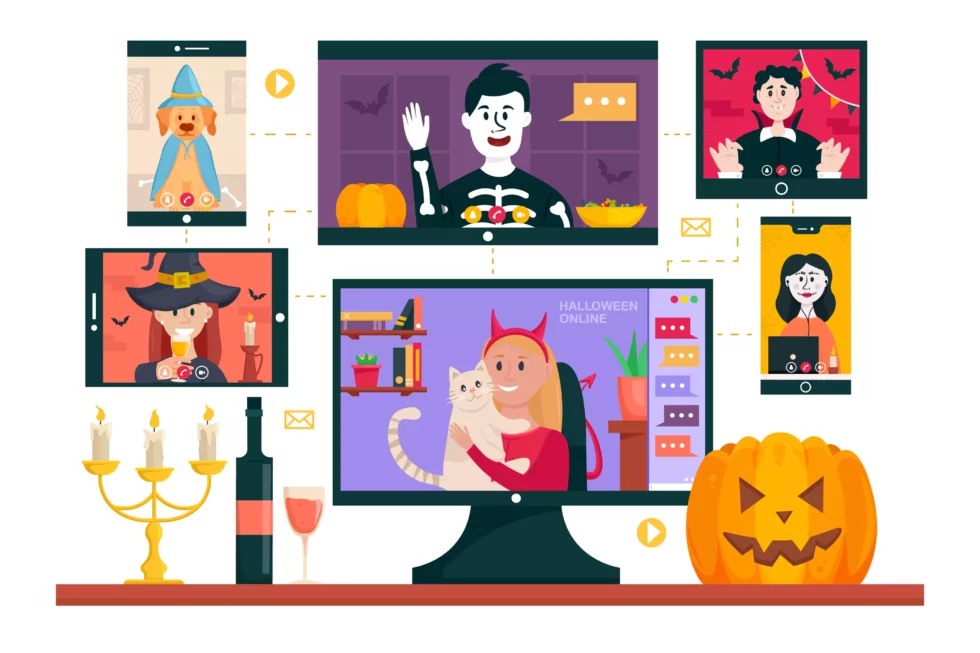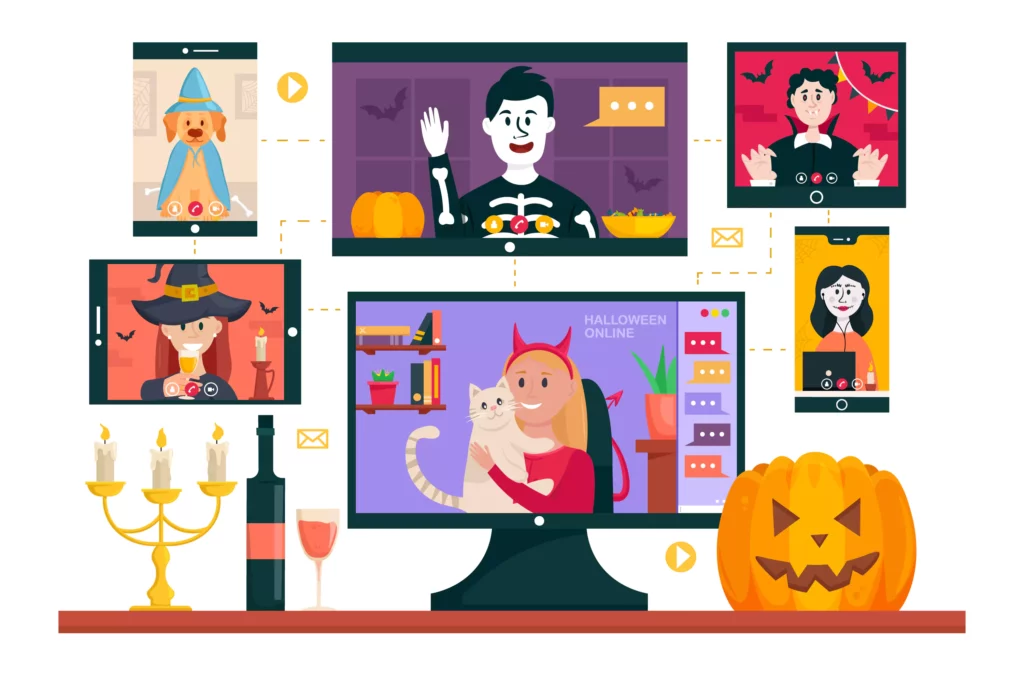 1. Find a time that everyone is free to attend and send a Zoom reminder
Depending on what virtual Halloween scavenger hunt idea you liked, you will need to allow a different amount of time and maybe pick a different time of day to do the activity. Ones that involve drinking or too much relaxing should be done at the end of the working day. Whereas ideas that are focusing on leadership, problem-solving, or team collaboration can be used during the day or during team building days to get the best result.
2. Pick how you're going to make your scavenger hunt Halloween themed
Are you going to use a Halloween inspired list of objects? Or are you going to do your Halloween virtual scavenger hunt in a Halloween costume? Whatever you choose, pick your theme and tell your team way before the event is going to start so that they have time to prepare…. Both physically and mentally!
3. Establish some rules (and stick to them!)
Before you get everyone together, you need to fully understand, and be able to explain, how the game works. Then, when your team is all together you can explain how the winners will be decided, the prizes and whether you're giving awards for second and third places! This is important because you need to keep your scavenger hunt fair to keep the trust and get the most out of it.
4. Set a suitable time limit to keep it engaging
The golden rule to any successful team-building activity is to find the sweet spot for the time you play for. Too short and you won't achieve the full benefits, too long and your team will be so bored that they'll want to join the world of the dead! Depending on which virtual scavenger hunt idea you choose, there will be different time limits. 3 or 4-minute rounds of scavenger hunts are perfect, and you can pick as many rounds as you feel comfortable with!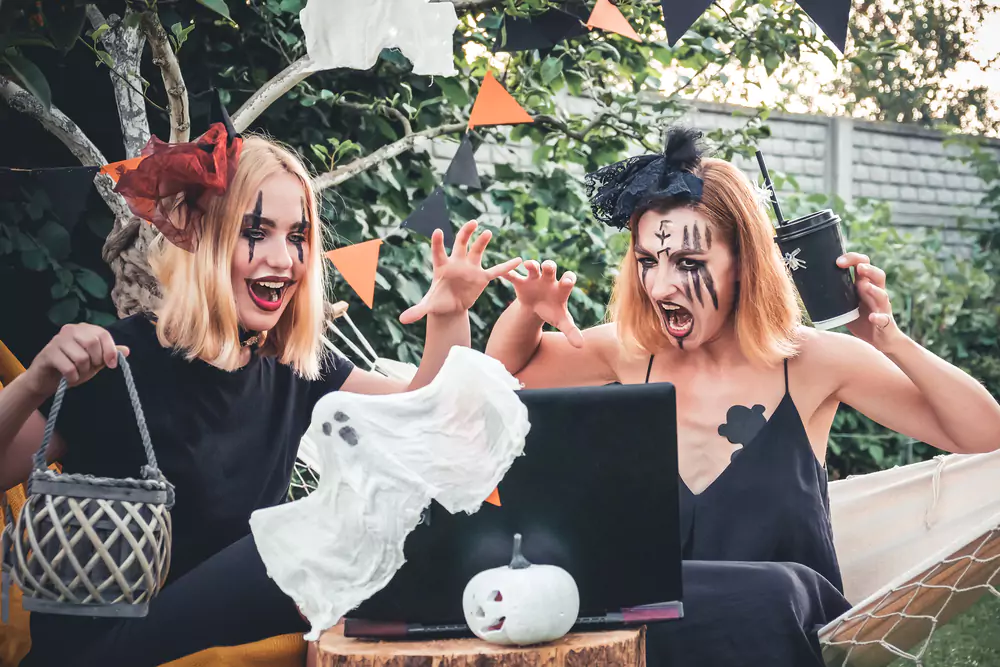 5. Plan your prizes well!
Including prizes in your virtual Halloween scavenger hunt is an excellent way to engage and motivate a team! What better way to make your team feel inspired and motivate them to get involved than by giving special prizes? Things such as coffee shop vouchers, experiences, extended lunch breaks, or alcohol are excellent prizes that are guaranteed to excite and motivate your entire team!
6. Plan a way to close the session and gather important feedback
Gathering feedback on your virtual scavenger hunt is important. If you don't know how the session went, then you can't improve for next time. When planning for a Halloween virtual scavenger hunt, find a way to close the session that involves some sort of reflection and find a way to gather feedback, whether that's verbally at the end or through a survey. Ask your team what they enjoyed, what they felt could be done better next time, and what key points they have taken away.
---
Get Your Free Game
The 3-Minute Non-Cringey Ice Breaker for Your Next Meeting
A ready-set-go game to run at your next fully remote or hybrid meeting without the hassle or added pressure of developing a team-building exercise yourself. Get it here →
---
6 Tips for Hosting a Virtual Halloween Scavenger Hunt for Adults
Make it age-appropriate. Remember, this is a virtual scavenger hunt for adults! Don't bore your team by making the games too childish or silly. Plan ideas that are suitable for the adult work team (like the ones in the list above!).
Make sure your internet connection is stable and strong enough. Nothing kills the vibe more than a dodgy internet connection and broken-up call. To avoid this, ensure that your computer is charged, Wifi is working, and your software is compatible with your tech before you fire up your call!
Send your team all the information beforehand. Team building can be a daunting and scary prospect for many people. Interacting with others can feel like a minefield and is enough to make people feel anxious. So, help people feel more settled and take away that anxiety by making sure that they are prepared and ready for the session.
Outsource a company to help. To really help you produce the best Halloween scavenger hunt ever, you can half your workload and up your game by using a virtual event company. These companies can help you find the best way to engage your team and find an activity to suit your team.
Set a budget for your prizes. Don't blow your budget on prizes. Finding things that are inexpensive, such as coffee shop vouchers or candy, are great prizes to motivate your time.
Make your prizes Halloween themed. You need to make your scavenger hunt Halloween themed to make it worth the time and effort. So, a top tip is to ensure your prizes are Halloween related without any doubt!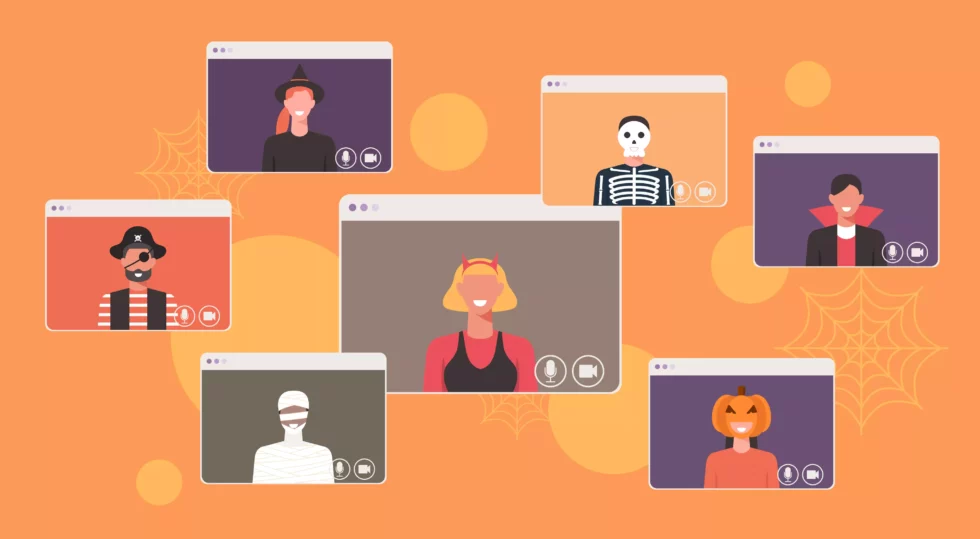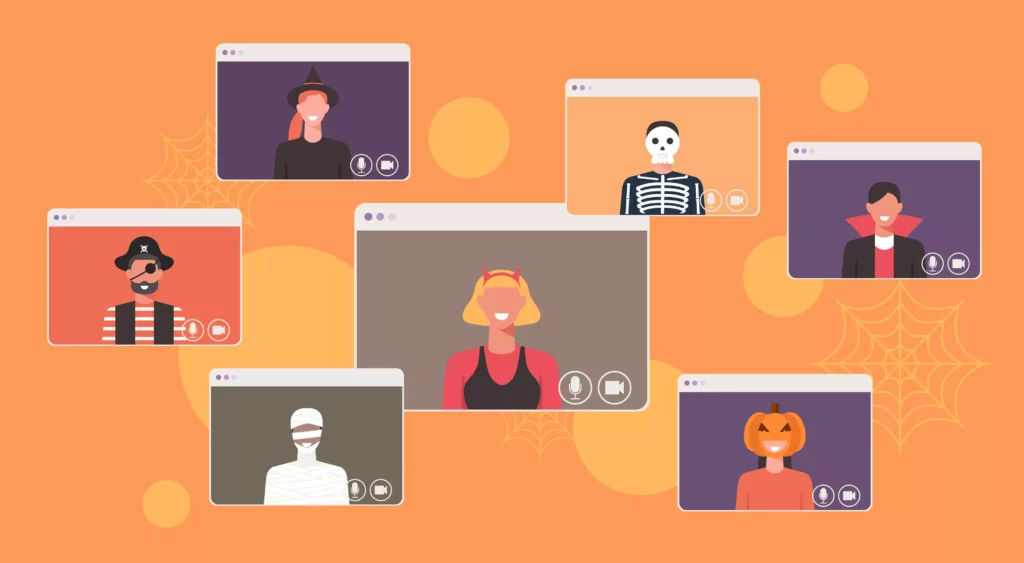 Conclusion
Whether you're looking for a list of spooky scavenger hunt items, or whether you want to host a Halloween costume themed scavenger hunt, we hope that you found some exciting, novel, and unique ideas and tips on the list above. Each idea is designed to get your team immersed in the spooky, festive fun and to help them relax, unwind and form lasting connections with their teammates.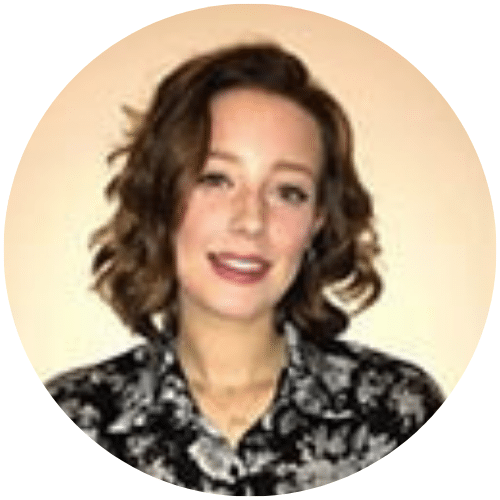 Heather Harper has a Masters in Occupational Psychological from the University of Manchester. She currently works as an editorial writer specializing in organizational psychology – helping teams work better together.