Communal dining, or eating with others, has been around for as long as people have been around. Restaurants, cafeterias, diners, and dinner tables create opportunities to share a meal with friends or loved ones. Society has long known the benefits and encouraged the practice of eating with friends or family, but those benefits also extend to the workplace. Having lunch with your team is a great way to get to know one another, encourage conversation, educate each other, and have fun. Read on for a comprehensive guide to planning a team lunch that benefits everyone.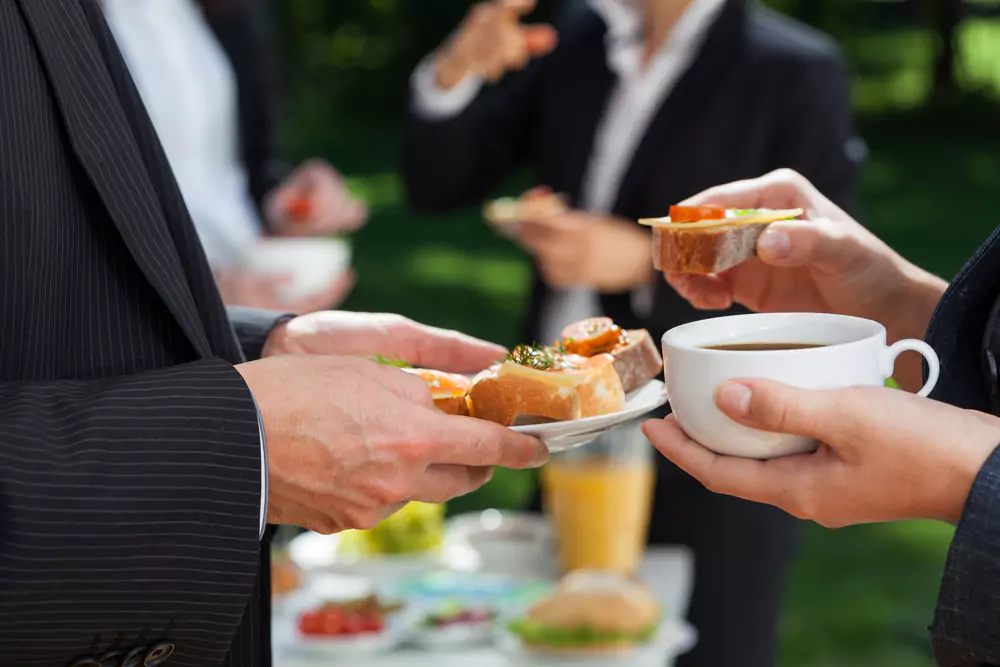 Table of Contents
How To Do You Ask For A Team Lunch?
What Do You Do During A Team Lunch?
Ideas for Engagement and Motivation
Ideas for Appreciation and Recognition
Ideas for Learning and Development
Why host a team lunch?
There's a reason food is often involved in group activities — people love it! A team lunch is a fantastic way to reap the benefits of spending time together. Whether your team is in person, virtual, or hybrid — there's a way to plan a delicious lunch that all can enjoy. Team lunches can be used to educate, inspire, train, team build, or just have fun! From lunch and learns to cooking competitions, food is an excellent way to bring everyone together to boost engagement, camaraderie, collaboration, and morale.
Here are five reasons to host your next team lunch:
1. Build Strong Teams
Strong teams don't happen by accident. Gathering to share a meal creates an opportunity for teams to converse and learn more about one another, which can lead to better working relationships. It takes intentional effort to form cohesive teams that understand how to work together to solve problems, innovate, and advance the company in new and exciting ways. Sharing lunch is an excellent example of intentional team building that leads to stronger, higher-performing teams.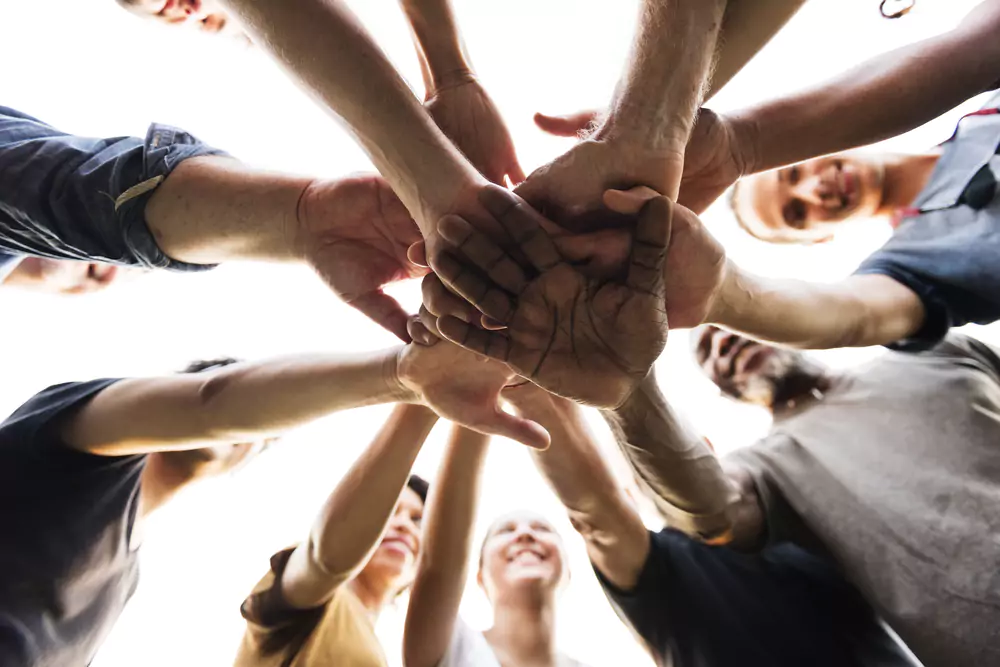 2. Increase Collaboration
Companies need teams that can come together to create something new. That's the art of team collaboration. But as most companies learn over time, getting people to collaborate is not easy. Getting folks to work at the same pace, trust each other, or communicate effectively is challenging. Team lunches create space for teams to discuss individual working styles, learn more about each other, and communicate better. But collaboration begins with trusting your teammate to do their part. A shared meal can help your teammates see one another as trusted partners in the joint effort to create something new.
3. Boost Team Camaraderie
Team camaraderie and collaboration go hand in hand — camaraderie is connected to the levels of trust required for team collaboration. Oxford Learner's Dictionary defines camaraderie as "a feeling of friendship and trust among people who work or spend a lot of time together." Your teams need time to step back from tackling critical business issues to spend time together to develop trust levels that enable them to solve problems and drive the business forward more effectively. Team lunches are the perfect way to gather, laugh, and discuss while enjoying a delicious meal.
4. Boost Team Morale
The promise of a catered meal and opportunities to learn or engage with one another can help to boost your team's morale. Have your folks been quieter lately? Have you noticed an increase in the lack of enthusiasm or initiative within your teams? You might be seeing signs of low team morale. Team morale refers to your team's confidence, enthusiasm, and discipline. When this takes a dip, a host of other problems follow. Team building activities like hosting a lunch are a great way to show your team that you care. It's a step towards rebuilding your team's confidence and enthusiasm about the work and the folks on their team.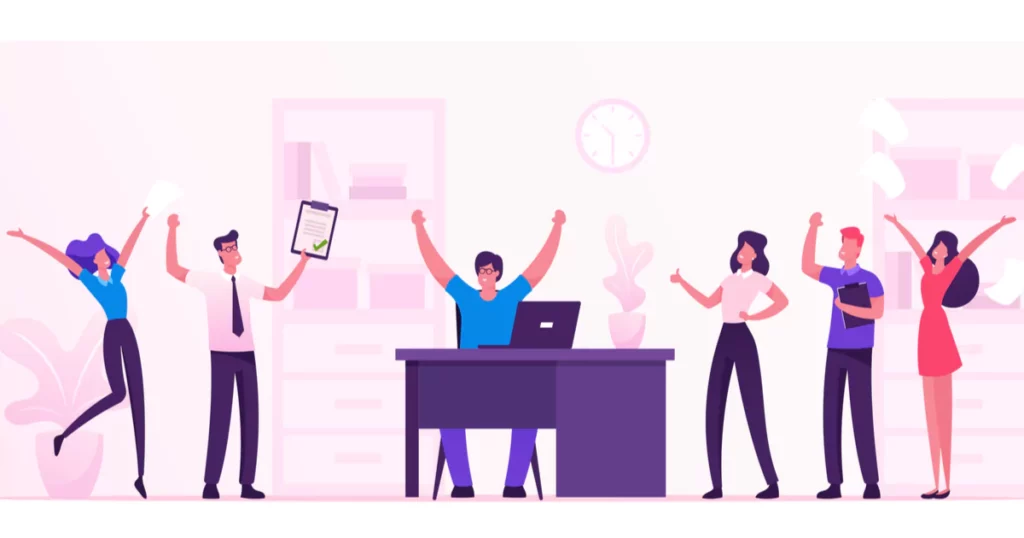 5. Drive Team Engagement
Studies show engaged employees are more productive, profitable, and less likely to leave. It matters a lot — that's why employee engagement is a popular buzzword in corporate circles. Importantly, engaged employees view the workplace and team success as their own. That's a high bar to reach, and you don't get there by staying heads down on workplace problems all the time. Team lunches offer folks a chance to spend quality time together in a different setting, doing various activities that help them better get to know one another.
How do you ask for a team lunch?
You might need to make a business case if you don't already have the budget for team lunches. When asking for a team lunch, here are a few things to consider or mention.
1. Team lunches can help bolster the bottom line. Team building activities like a group lunch can help employees feel more engaged. And highly engaged teams show 21% greater profitability.
2. Team lunches are a small price to pay compared to the cost of disengaged employees. The Engagement Institute reports that disengaged employees cost U.S. companies up to $550 billion a year.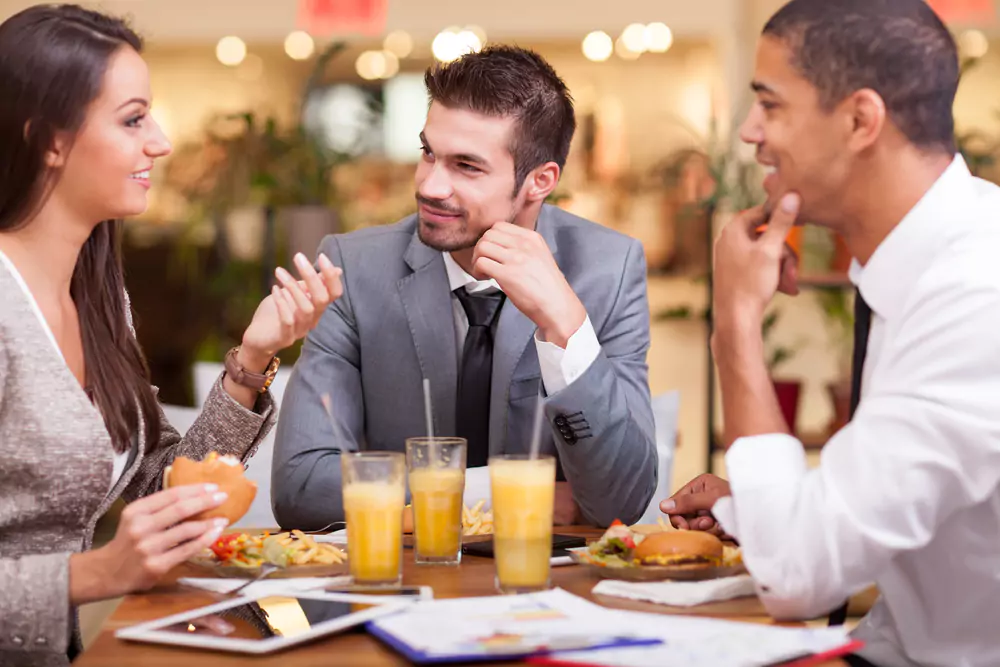 3. Team lunches can help ease burnout. The workforce has changed in recent years, and employees are feeling stress. CareerBuilder's survey reports that 61% of employees are burned out on the job. Team lunches can help teams relax, reconnect, and ideate ways to combat high stress levels.
If your team members aren't used to having team lunches, involve them in the planning process. They can vote on the place to eat and portions of the agenda, so they feel more involved and take ownership of the event.
What do you do during a team lunch?
What you do during your team lunch depends on what you want to accomplish. Team lunches can be focused on outcomes like learning and development, engagement and motivation, or appreciation and recognition. Below you'll find some ideas about what to do during your team lunch, depending on your goal.
Lunch Ideas for Team Engagement and Motivation
When it comes to encouraging team engagement and motivation, you'll get the most out of more interactive team-building experiences. You'll want to pair your lunch with activities that require folks to work or play together to reach common goals.
1. Include Team Building Activities
The best way to engage and motivate your people during a team lunch is to plan for some awesome team-building activities. Team building activities are your secret weapon to building stronger teams without making it feel like work.
Try an Escape Room
Escape rooms are one of the best ways to engage teams and work up an appetite. Together, you'll race against the clock to solve puzzles, decode clues and escape a multi-room set. See if there's an escape room near you, or try a virtual one. That's right — escape rooms can also be done virtually for hybrid or remote teams! They work the same as in-person rooms. You'll problem-solve, search for answers and work together as a team to explore undersea research labs, escape prison, search for hidden treasure, or track down a notorious art thief. The choice is yours! There are options for every team dynamic.
---
Join Us For A FREE Demo!
See exactly how our games work, ask questions about logistics and add some energy to your work day. Demos are 30 minutes long and take place on Zoom. There may even be a DoorDash giveaway!
---
Try Online Mystery Games
There's a reason TV detectives are often pictured munching on donuts — solving crimes can work up a real appetite! These online mystery games will do the same as your team competes to find evidence, review surveillance videos, and decode clues to bring criminals to justice.
Plan a Scavenger Hunt
Your people will definitely earn a team lunch after finishing a scavenger hunt! Scavenger hunts task team members with completing several activities or locating items on a checklist before time runs out. Before your next team lunch, consider planning one and reaping the benefits. If your team is hybrid or remote, there are tons of virtual options to choose from, or you can even schedule a virtual museum scavenger hunt.
Play a Few Ice Breakers
Water cooler conversations are declining with the rise in remote and hybrid work. Icebreakers are a fun way to start the conversation at your team lunch. Ice breakers can be done in person, or you can try fun ice breakers for meeting platforms like Zoom! Getting into the swing of team lunch can take some time. But if you're armed with a few icebreakers going in, you can help ease any discomfort, so folks start bonding right away.
Compete in an Online Game Show
Although sharing a meal can be relaxing, this online game show is anything but. Add an exciting twist to your team lunch and get everyone engaged! You'll race to rack up points, earn badges, and battle it out for the top spot on the ever-shifting leaderboard. Word puzzles, mind-boggling codes, and surprise speed rounds abound in this fast-paced competitive game.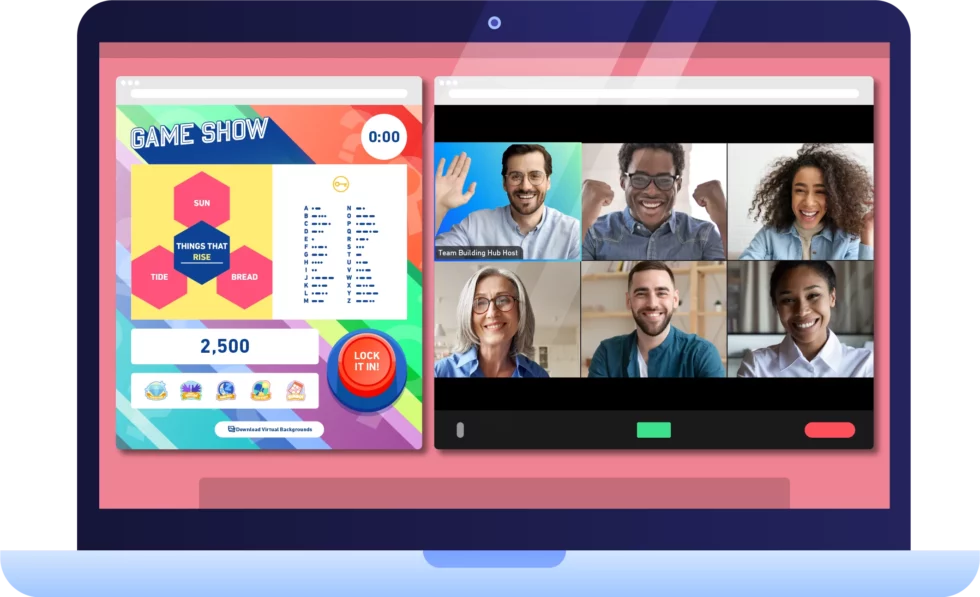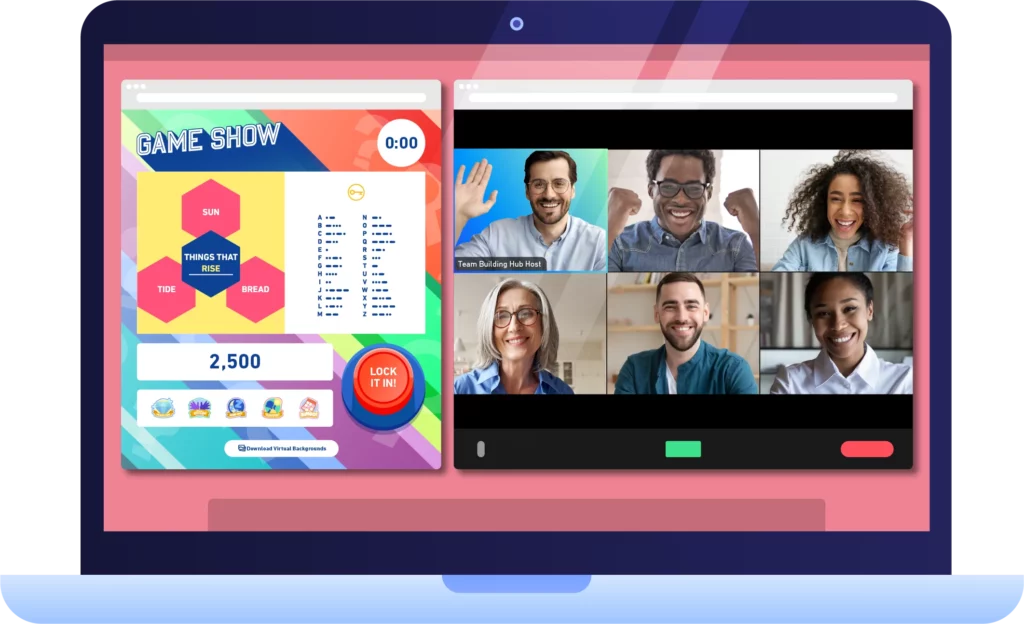 Play Board Games and Trivia
Who doesn't love games? Plan a few games for your next team lunch to inspire a bit of camaraderie and competition. Board games like Jenga, Pictionary, and Scattergories are always crowd-pleasers. You can also plan a few virtual trivia games as a surefire way to induce a rush of dopamine in your team members.
Go Outdoors
Heading for a team hike or a walk after a meal is good for the body and team. Playing a few outdoor team-building games before lunch is also a great way to bond before diving into a meal. These outdoor team-building activities will give your team some much-needed sun and serotonin.
2. Head to a Restaurant That Makes You Cook Your Own Food
From Korean BBQ to fondue to hot pots, cook-it-yourself restaurants are gaining popularity. What better way to turn your team lunch into an engaging, interactive experience than cooking a meal together? You can also head to a hibachi-style restaurant for an exciting lunchtime experience. While you won't be cooking your food, these restaurants are a fun way to create a shared memory with your team members.
3. Invite a Live Chef to Prepare Your Team Meal
In and around every major city, personal and private chefs curate custom experiences for companies that want a more intimate dining event. You can invite a chef to prepare a meal for your team while teaching them how the dish comes together. Team building and engaging your team is about spending time together — and if you can learn something new, all the better!
4. Mail Meal Kits and Prepare Them Together
Virtual or hybrid teams can enjoy live cooking experiences too! Websites like TeamClass offer hundreds of virtual experiences for groups of all shapes and sizes. You can book events to make cavatelli pasta, homemade pizza, tacos, and pickles! The best part? They'll mail kits to each team member, so no one has to go through the hassle of grabbing items from the grocery store. You'll also have a live host that guides you through every step, and you'll enjoy the same delicious dish at the end.
5. Host a Themed Lunch
If you want your team to be more engaged, give them a fun theme to get excited about! Themes invite folks to get dressed up or bring fun props that match the vibe. It'll help you pick a playlist to match the energy and create a more memorable experience overall. Themes don't have to be complicated. You can keep it simple and choose a theme like everyone wearing pink, funky sunglasses, the 90s, or famous movie characters. Every team lunch doesn't have to be educational, and themes are a fun way to get folks excited about showing up for team lunch.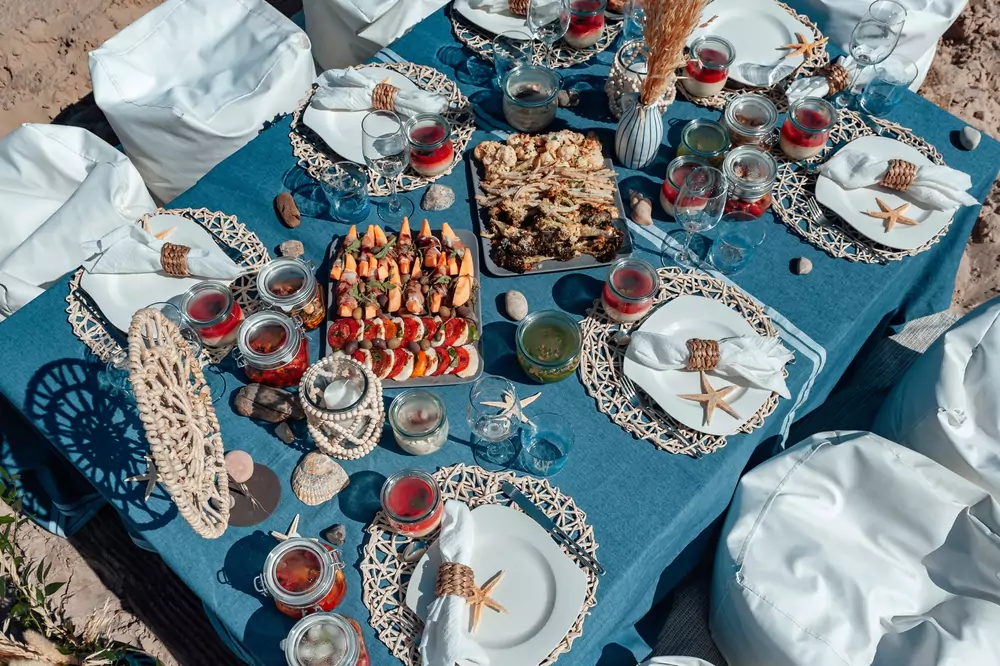 Lunch Ideas for Appreciation and Recognition
Everyone loves recognition. Employee Appreciation Day is once a year, but you can (and should) recognize your team a lot more often than that. Use your next team lunch to celebrate your folks' hard work or hard-earned milestones. Be sure to include a nice appreciation message too! If you need some help, this article will show how to write an employee appreciation message step-by-step and includes 50 examples.
1. Host an Award Show
Host an award show for your teams as often as once per quarter and definitely at least once a year. They can be as grand as an in-person event or as simple as a well-designed PowerPoint highlighting nominees, honorable mentions, and winners. Spotlight the teams that have done outstanding work recently. Make sure to encourage teams to explain the problem or challenge they overcame.
For extra fun, include a few wacky awards! Here are a few ideas:
Early Bird Award: For the team member most likely to be in the office or online before anyone else.
Night Owl Award: For the team member that's most likely to stay late
Needs Coffee Award: For the team's coffee enthusiast
Stand-Up Comedian Award: For the team member that can make anyone laugh — even in stressful situations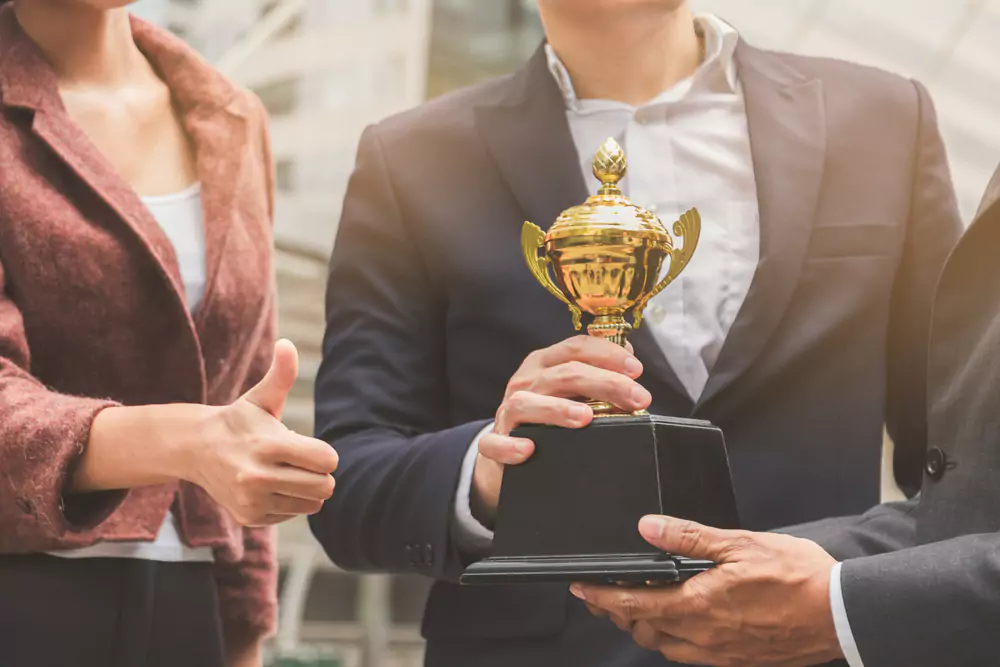 2. Give Prizes for Recent Wins and Successes
Surprise and delight team members by handing out prizes for recent team wins and successes. When it comes to recognition, team members don't always need extravagant gifts. Public recognition and acknowledgment are critical to helping team members feel engaged and valued. A free meal, prizes, and recognition for wins make a potent combination.
Here are some prize ideas:
A self-heating mug like the Ember Mug
A Sugarwish gift card so employees can pick their treats
Looking for more ideas? Here are 36 ideas for employee appreciation.
3. Honor Retiring Employees
Are any employees about to retire on your team? Turn your team lunch into a celebration for their time at your company! There are tons of ways to celebrate a retiring employee. At your lunchtime retirement celebration, you can try the following:
Asking team members to share a favorite memory with the retiring employee
Showing photos of the retiree throughout their years at the company
Playing a trivia game based on fun facts about the retiree
Celebrating retirement is a great way to demonstrate that you value the years your people spend as part of the team. Plus, it gives everyone something to look forward to! Be sure to include some fun retirement memes in your invitation!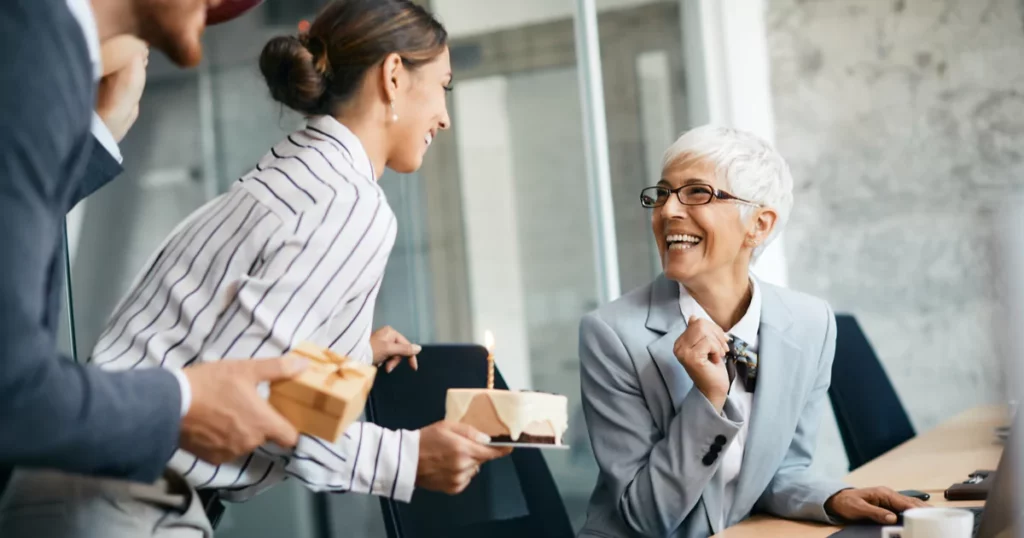 4. Celebrate Team Birthdays and Work Anniversaries
Team member birthdays and work anniversaries are another fun reason to get everyone together for a shared meal. If your teams are large, consider hosting one team lunch a month to celebrate all the birthdays. Honor work anniversaries with a gift — the longer they've been with you, the bigger and more grand the gift should be!
Lunch Ideas for Team Learning and Development
Learning and development are crucial parts of the employee lifecycle. Companies that invest in training their teams see higher retention rates and improve their bottom line. Hiring new team members is both expensive and time-consuming. That's why it's in your best interest to focus on leveling up your current team members' hard and soft skills. Team lunches won't replace the need for a robust employee training program, but it's a great way to get everyone together for an educational opportunity.
1. Invite a Guest Lecturer or Speaker
Host a lunch and learn and mix things up by inviting a guest lecturer or speaker to teach your team! Having an industry expert lead your team through an activity or training is a great way to expose the group to new ways of thinking.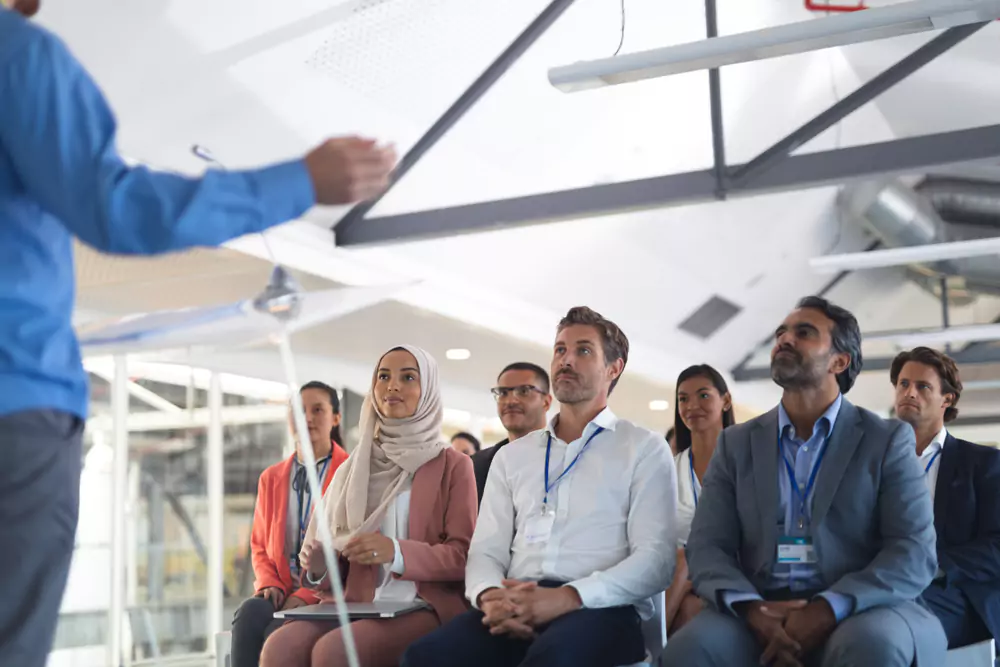 2. Share Team Wins
Fellow team members and colleagues are experts too! At your next team lunch, consider inviting team members or groups within your team to share about a recent win and the factors that led to their success. Many companies have issues with silos. Organizational silos occur when a company has departments or teams that focus on only their own success rather than sharing learnings and information more broadly. Team lunches are a great (and delicious) way to encourage teams across the department or company to share their expertise with others!
3. Share Team Failures and Key Learnings
Truly successful people and teams know that you can often learn more from failures than successes. Moreover, if you can learn from the failures and mistakes of others — that's even better. Knowing what not to do is just as important as learning what to do. Use your team lunch to remove the stigma around failing. Instead of being punished for failures, you'll encourage teams to share what they learned with the broader group so that everyone benefits and does better the next time.
4. Show Training Videos
Although training can be a drag, you'll make the learning and training experience ten times better by offering food while folks learn. Plus, the community aspect of learning and training together will foster productive discussions. And when folks ask questions during the team lunch and training session, everyone will benefit from hearing the answers.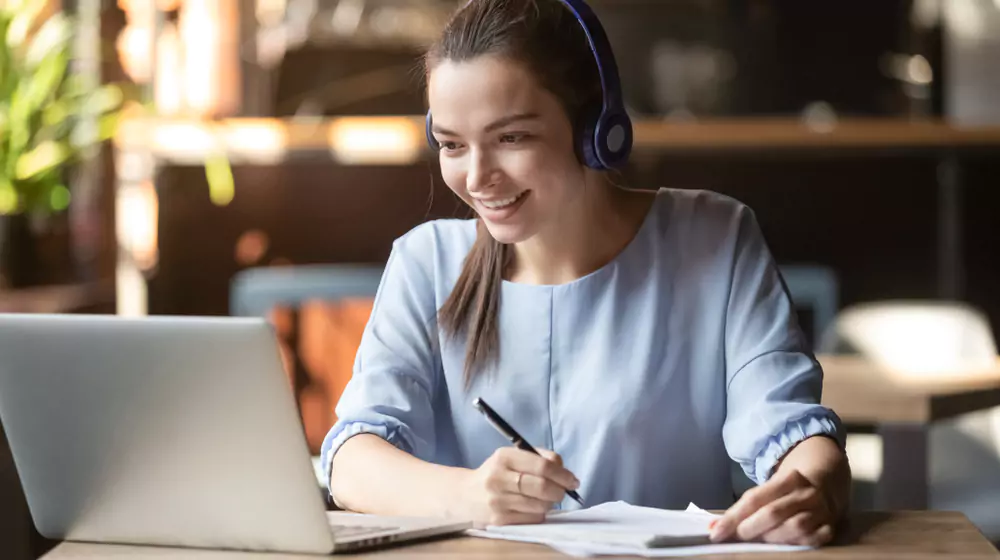 How do you plan a team lunch?
Planning a team lunch doesn't have to be cumbersome. Here are the crucial steps in your team lunch planning process.
1. Choose an Event Method
First and foremost, decide whether your team lunch will be in person, virtual, or a mix of both. This choice will impact the rest of your planning experience, so it's best to decide on this first.
2. Determine the Event Focus
As discussed above, you can host team lunches for various reasons! Decide if this lunch is designed to engage, educate, or celebrate employees. You'll want to know your focus before you pick the place because your lunch options and locations might shift depending on your selection.
3. Choose the date, time, and location (or platform)
Once you know why you're having a team lunch and if you're hosting the lunch in person, virtually, or as a mix, you can work out the details. Check calendars and pick a date and time. You can use a tool like Doodle to make things easier if you have many calendars to juggle. Platforms like Zoom, Microsoft Teams, and Google Meet are great for virtual or hybrid teams hosting a virtual lunch. If you're picking a place in person, consider doing a quick poll to see which place folks want to dine.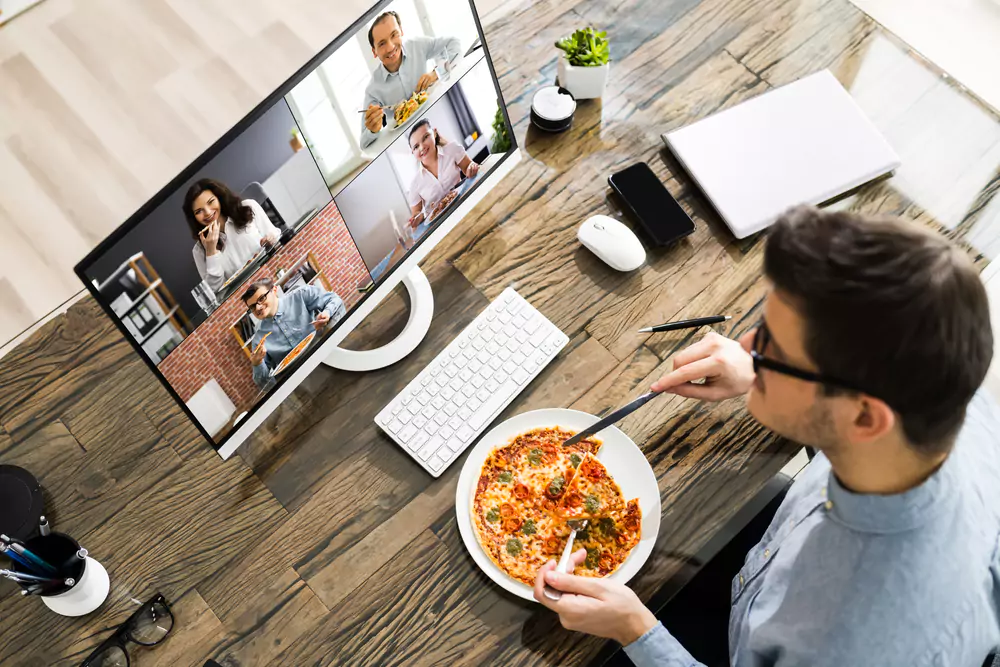 4. Plan the Meal
In-Person Team Lunches
If your event is in person and off-site, consider choosing a place that lets team members cook the food themselves! You can also consider having a private chef host the event. If there's a local restaurant everyone loves, ask them to cater! Potlucks are also a fun way to get everyone involved.
Virtual Team Lunches
Virtual team lunches are possible. Send everyone a DoorDash or UberEats gift card and have them coordinate meal delivery with the event time. If you're doing a live cook-along style event, be sure you've ordered meal kits ahead of time so that employees have them ready to go on the day of.
Hybrid Team Lunches
If your team has in-person and remote workers, consider getting food catered in the office instead of going out together. You can easily use a virtual event platform like Zoom to involve remote workers. Be sure to send them an UberEats or DoorDash gift card. They can time the delivery and enjoy their meals at the same time as everyone who's meeting in person.
5. Invite Your Team
Your final step is making sure people show up! Have some fun with your invitations and use tools like Canva to make it easy to create professional-looking invitations.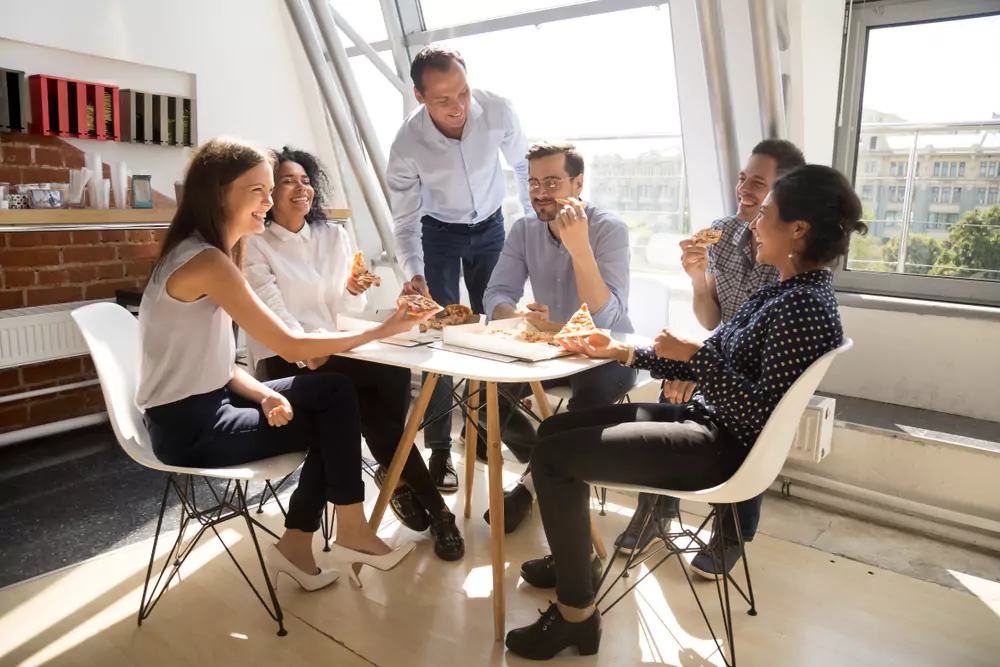 Conclusion
Food is a necessary (and wonderful) part of human existence. So use it to benefit your team! Companies of all shapes and sizes can use food to get folks together. You can plan virtual team lunches or in-person get-togethers. Whichever you choose, getting your team together for some bonding and team building over a meal will boost engagement, morale, and team spirit! Use the tips and ideas above to plan a team lunch that leaves your people asking for more. Bon appétit!