Work anniversary gifts are fantastic ways to celebrate team members as they enter milestones that show their dedication, loyalty, and commitment to your organization.
Celebrating milestones with your team members makes them feel appreciated, which is incredibly important as research has found that not only do appreciated employees feel less stress and have fewer sick days, but they are also more productive and motivated. As a result, celebrating anniversaries with a gift is mutually beneficial.
Choosing the right gift can feel daunting. You don't want to go overboard celebrating 1 year anniversaries and then have nothing left to give when someone hits their 10, 20, or even 25 year anniversary. The truth is that, unless you're celebrating over a decade of service, you don't need to spend too much money.
The best gifts are personal, relevant, and show that genuine thought has gone into them. Finding the right gift can feel like a bit of a minefield, so we've compiled a list of the best 33 gift ideas for work anniversaries.
Table of Contents
1 Year Work Anniversary Gift Ideas
5 Year Work Anniversary Gift Ideas
10 Year Work Anniversary Gift Ideas
20 Year Work Anniversary Gift Ideas
25 Year Work Anniversary Gift Ideas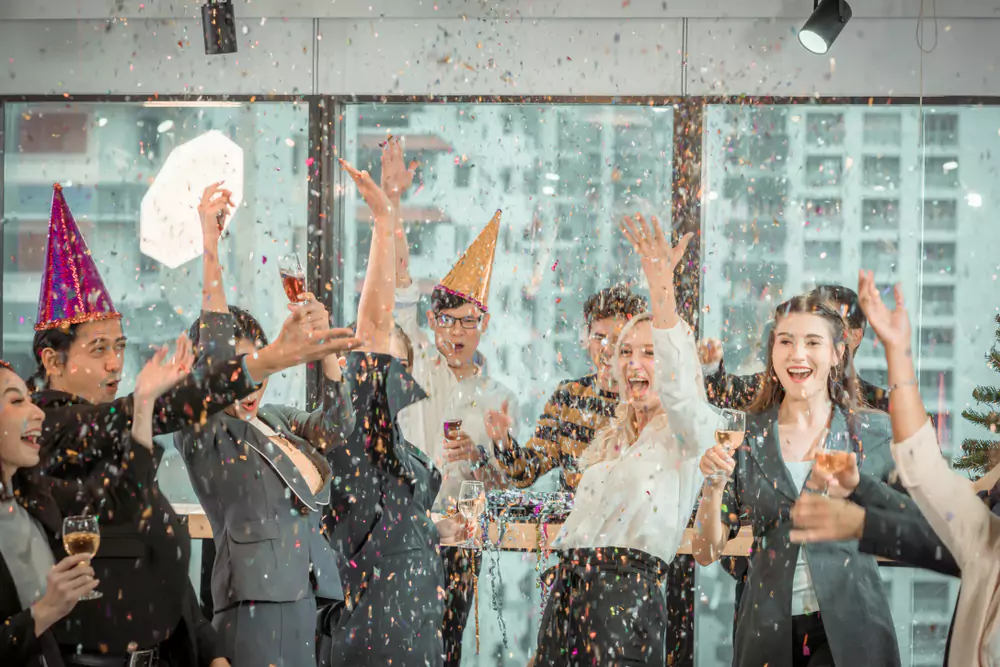 33 Happy Work Anniversary Gift Ideas by Time With Company
1 Year Work Anniversary Gift Ideas
If you're treating your employees correctly and providing them with opportunities to grow, you should be finding that nearly all of your employees are making it to their 1 year anniversary.
Celebrating this anniversary will show your team early on that you appreciate them and, as a result, will keep morale and engagement high. However, a 1 year work anniversary is not a huge milestone, so pick gifts that reflect this. Otherwise, when team members get to their 25-year anniversary it won't feel so special!
You also need to keep in mind the expense of celebrating 1 year anniversaries. If you've got lots of employees, the cost of celebrating 1-year anniversaries can quickly rack up. So pick one of the budget-friendly 1 year work anniversary gift ideas from the list below.
1. Hand-Written Card
Simple and cost-effective, the effort and time someone has taken to handwrite you a special card will never be overlooked. When a team member hits their big 1 year anniversary, hand write them a thank you card and include a meaningful and powerful message in it. For inspiration on what to write, check out our favorite employee appreciation quotes.
2. Give them company merch
Everyone loves a good quality jumper or t-shirt, so treat your hardworking employees to a company-branded one! Not only is this a great way to say well done to a team member when they hit their 1 year anniversary by making them feel genuinely part of the team, but it also promotes your brand at the same time.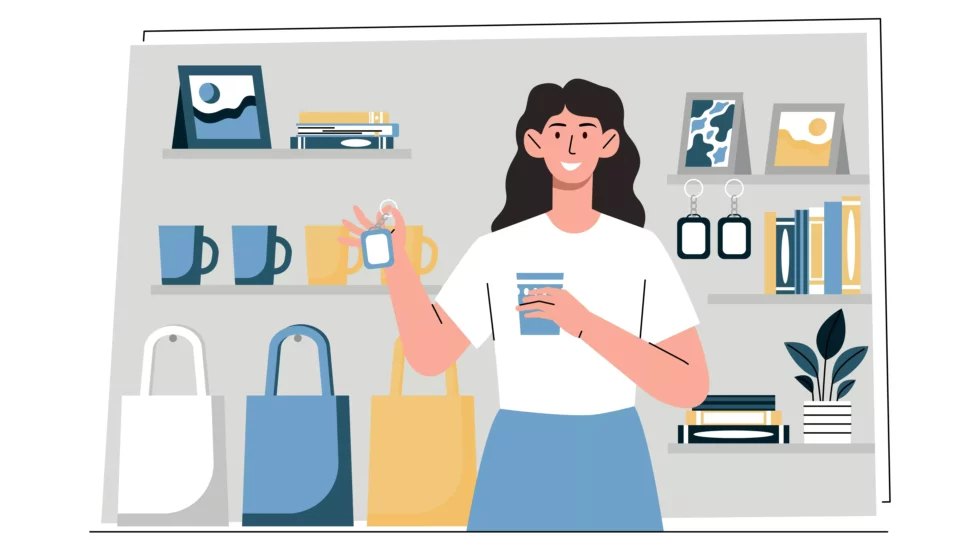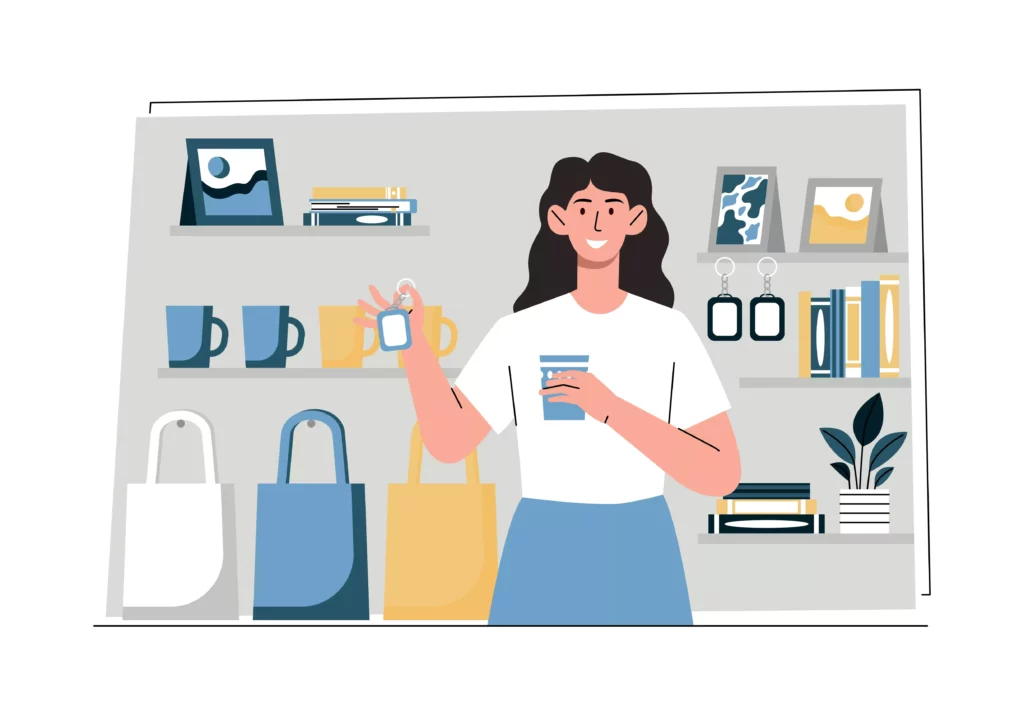 3. Give a shout-out on LinkedIn
Public recognition is bound to make your dedicated employee feel proud and appreciated. It also allows you to show off your relatively new employees to the rest of the world. To post on LinkedIn to celebrate a 1 year anniversary, you could include a picture, a message about why they are essential to your team, and how you think they'll continue to thrive over the next year.
4. Coffee shop voucher
A reasonably inexpensive way to celebrate a 1 year work anniversary is to give your dedicated employee a coffee shop voucher to spend. $10 is usually more than enough to fill anyone's caffeine addiction, and we suggest using a local coffee shop to support small businesses and make the treat feel more personal.
5. Plan a team night out
Socializing outside the office is a fantastic way to build lasting relationships and trusting connections. When a member of your team hits a 1 year anniversary, why not plan a team night out? This could either be for dinner or for drinks at your favorite local bar.
Another way in which you could do this is to plan a night out every few months for all dedicated employees who have been with you for a year. This works especially well for large offices with young teams.
6. Plan an escape room activity
Planning team-building activities are important, and using the dedication of an employee at their 1 year anniversary is the perfect excuse to integrate them. Best suited for virtual teams, the Team Building Hub's virtual escape room is an immersive and thrilling way to get your employees to work collaboratively whilst racing against the clock. With plenty of themes to pick from, your dedicated 1-year employees will feel appreciated with this unforgettable experience.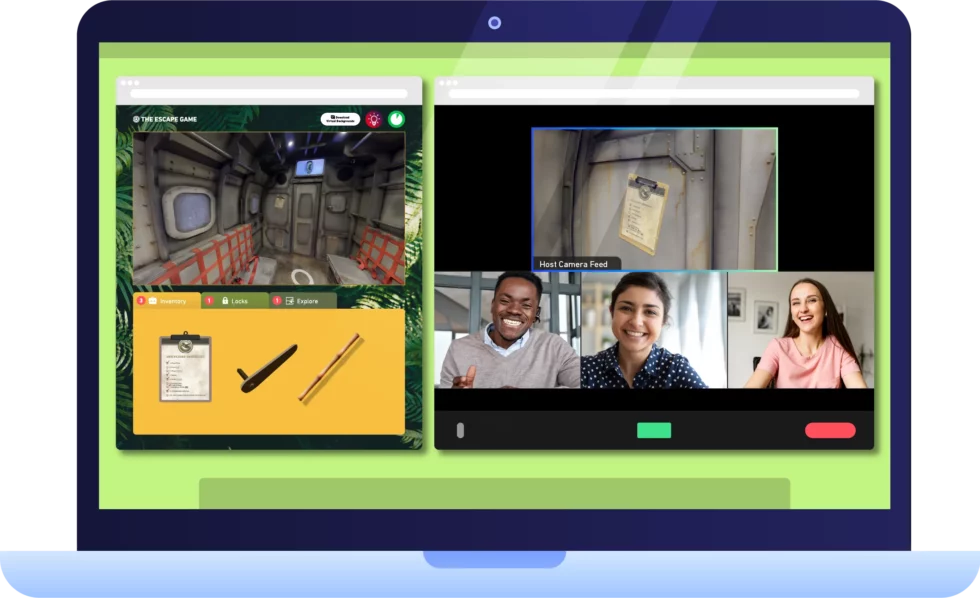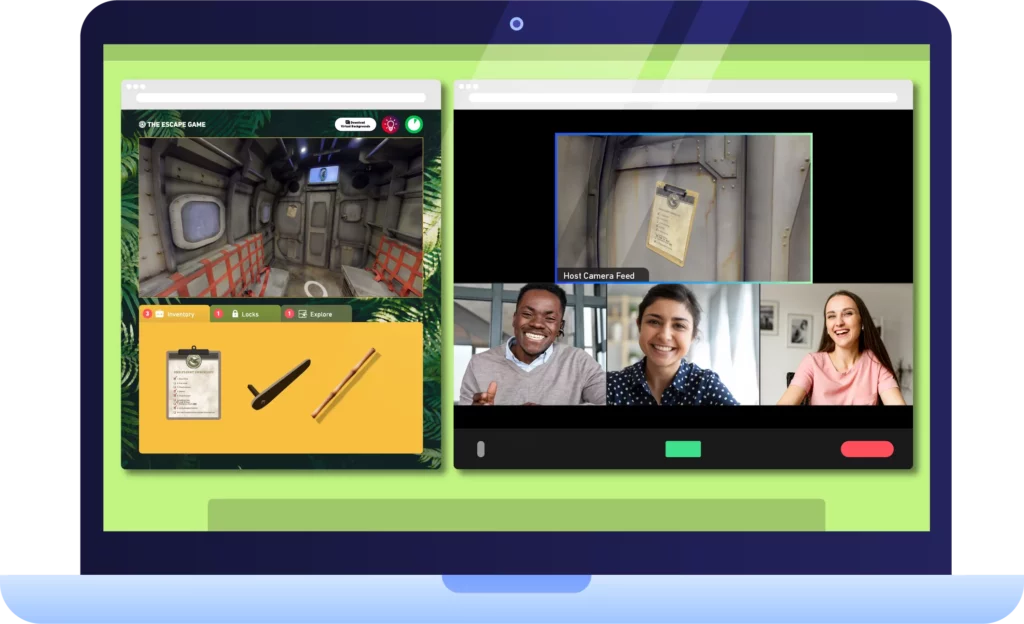 7. Send some flowers
Flowers are a simple yet effective way to show someone that you care about them and value them. Available on any budget, you can send your team members a bunch of bright flowers to mark their 1 year anniversary.
8. Provide office upgrades
Whether at home or in the office, offer team members a budget (we suggest no more than $100) for an office upgrade. They may choose to use this to order a new office chair or lamp for their home office, or they might want a new keyboard or photo frame selection for their desk in the office.
9. Take away for lunch
On the day of their 1 year anniversary, buy every employee who made it this far a takeout lunch to have in the office. As lunches typically don't cost more than around $20, this is a great low-budget way to show every employee who makes it to 1 year that you appreciate them and hope that they make it to 25 years!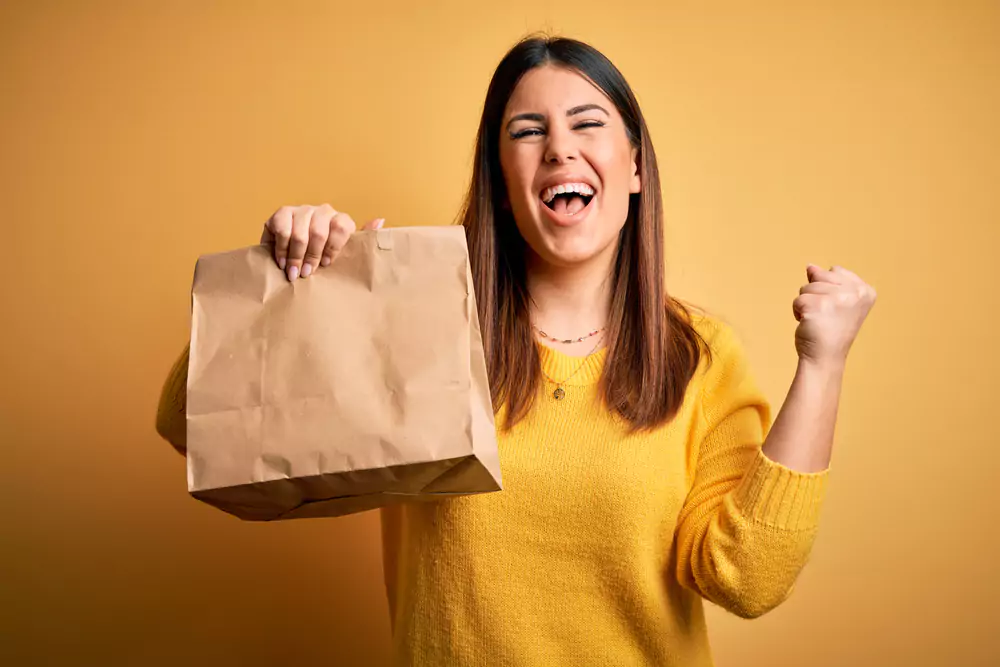 10. App subscription of their choice
Each time an employee hits that 1 year anniversary, invest in them by buying them a monthly subscription to an app, such as Headspace or Apple Books. This way, you will show your employees that you appreciate and value them as you are investing in their self-development, stress management, and mental well-being.
5 Year Work Anniversary Gift Ideas
5 year anniversary gift ideas can be tricky to decide on. It's a bigger celebration than 1 year, but many team members will make it this far, so celebrations should be more reserved than the ones for 10, 20, or 25 year anniversaries. To help make a decision, check out our 5 year happy work gift ideas.
11. Pay for an online course
At 5 years, we can become a bit stagnant in our career progression and acquisition of new skills. To keep your team growing, adapting, and engaged, pay for those who hit their 5 year work anniversary to develop their skills through online learning.
12. Make a charitable donation in their name
This happy work anniversary gift idea is great if your team member is passionate about a specific cause or organization, such as a homeless shelter or an animal welfare center. Making a donation, however big or small you feel acceptable, to a charity of their choice will make people feel appreciated and valued. This type of gift also reflects positively on your company culture and image.
13. Plan a fun games afternoon
Celebrate a team member hitting their 5 year anniversary by planning an entire afternoon of fun for the whole office. To start, you could include games such as a scavenger hunt. A scavenger hunt works well for both virtual and in-person teams, and all you need to do is create a list of office or household objects and send your team on a race to find all of them. You could also include a board game contest, trivia, and much more!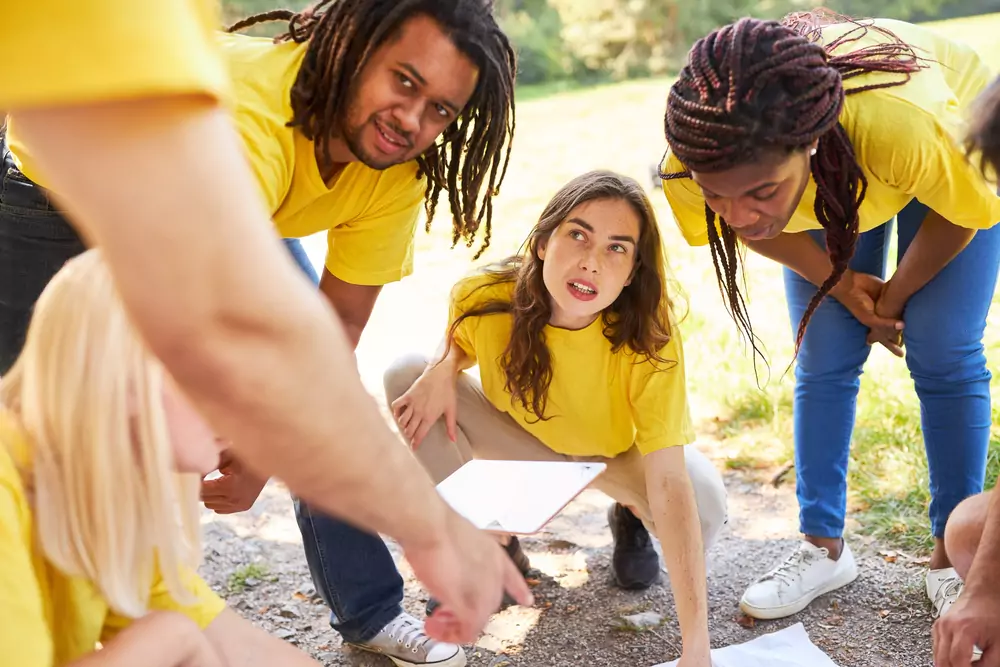 14. Introduce a wall of gratitude
There is bound to be a wall in your office that could do with being jazzed up a little bit, and creating a wall of gratitude is the perfect way to do this.
Every time a team member hits that 5 year anniversary, add them to the wall of gratitude by printing out their picture and adding a message. The message could include how they have made a huge difference to the team in the five years they've worked for you, and what you're excited to see them do next.
15. Personalized gift hamper
One way to show true appreciation is to give your employees a personalized gift hamper. In this hamper, include items that you know they'll love. For example, their favorite sweets, some bubble bath, their favorite alcohol, something useful, and/or a voucher to their favorite shop.
16. Plan a virtual games afternoon
If you have a virtual team, you might not be able to plan an in-office games afternoon. So, you could plan a virtual one instead! A virtual mystery game, for example, is a fantastic way to celebrate 5 years of dedication as your team works together to figure out clues and solve crimes. Similarly, online game shows are fast-paced and fun ways to have your dedicated team member feeling relaxed and valued. To make these games even more special, have this team member leading the team as they work through clues!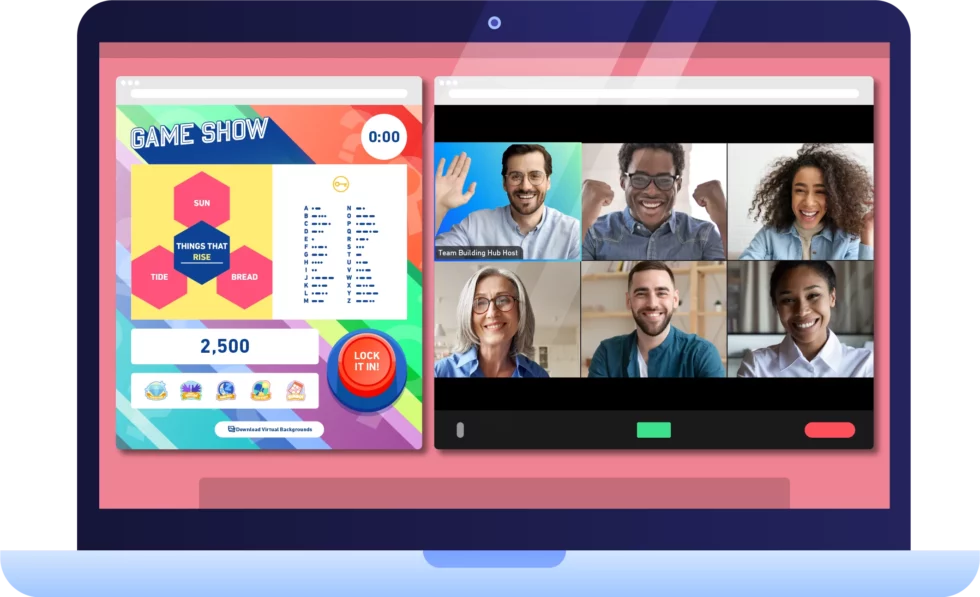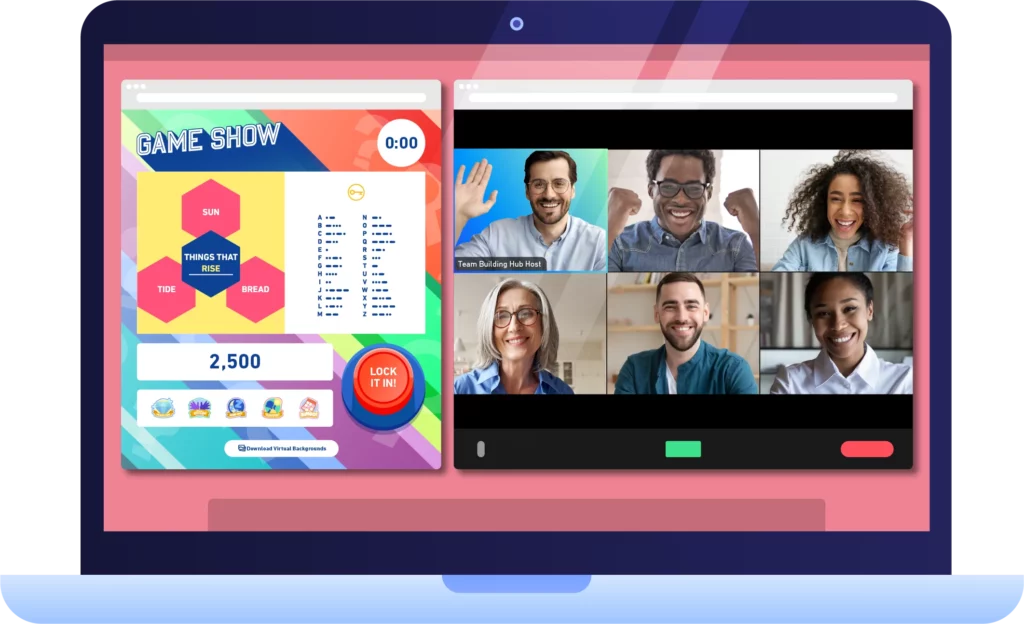 17. Send them a self-care package
46% of HR leaders say that employee burnout is responsible for workforce turnover. As we all know, turnover costs businesses money so celebrate your employees 5 year work anniversary by ensuring that they're not feeling burnt out. Send them a special care package, filled with everything they need to relax and unwind such as eye masks, bubble baths, and candles.
18. Offer them a free career planning session
As 58% of employees say professional development contributes to their job satisfaction, which is a major factor in employee retention, helping those who have committed for 5 years to plan their next steps is in everyone's best interest. Hire a professional to help your team member align their values with your business and ensure that you are all still working in the correct direction.
10 Year Work Anniversary Gift Ideas
A whole decade of dedication is not something to be overlooked. Every time a team member hits this, they deserve a pretty big celebration. Whether you're looking for 10 year work anniversary gifts for a CEO, or for your most dedicated sales representative, you'll find something suitable on the list below.
19. Meal for them (and for a plus one)
To mark a decade with the same company, pay for a meal for that special employee and their special plus one. This meal should be somewhere fancier than your local Mcdonald's but you can set the budget however you like.
20. Send them on an experience
Whether it's a cooking experience or a go-karting day, send your trusted team member on a day out they'll never forget. If you have two long-standing employees, why not send them on an unforgettable experience day together?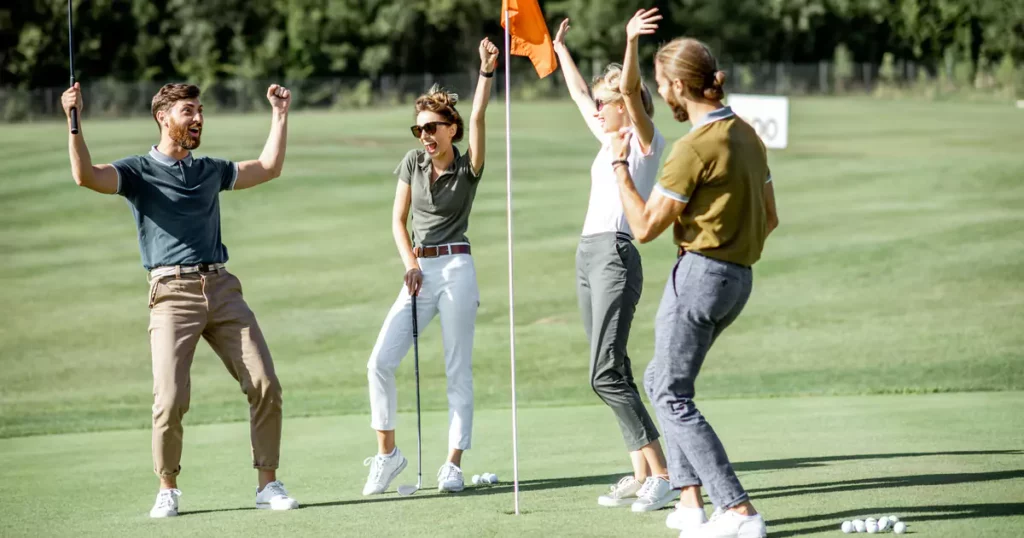 21. A day off to celebrate
When your team member hits their 10 year anniversary, give them an additional paid day of holiday to celebrate. They can take this extra day off on the week that their 10 year anniversary falls, and they can do whatever they like with their spare time!
22. Arrange a meeting with an expert
An employee who has made it to 10 years has shown a lot of dedication and commitment, so show your gratitude and arrange for them to have a consultation with an expert. This can be related to something in their professional life, such as a scientist in their field of study. Or, it could be to do with their personal life, such as a gardener to talk through plans for their new garden, or a personal trainer to help them reach their new health goals.
23. Plan an in-person team building day out
Strong teams are the foundation of any successful business, and as a team leader, you should never be missing an opportunity to build and strengthen your team. Using a 10 year anniversary as an excuse, plan for your team to take part in a fun in-person team building experience. The Art Thief Mystery Game is designed by team-building experts to create a fun, impactful, and engaging activity that involves tearing into a box filled with clues to connect the dots and solve the puzzle!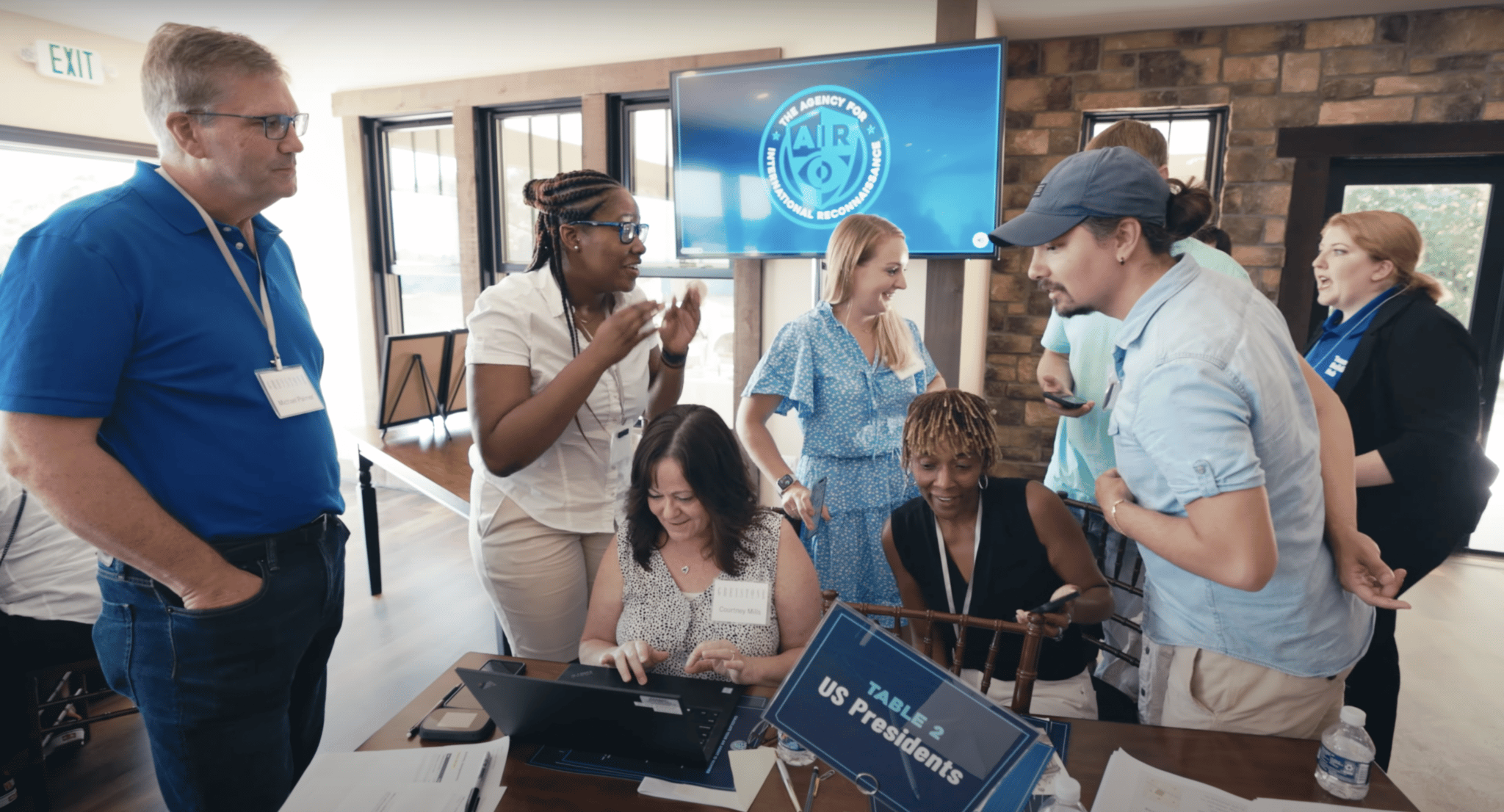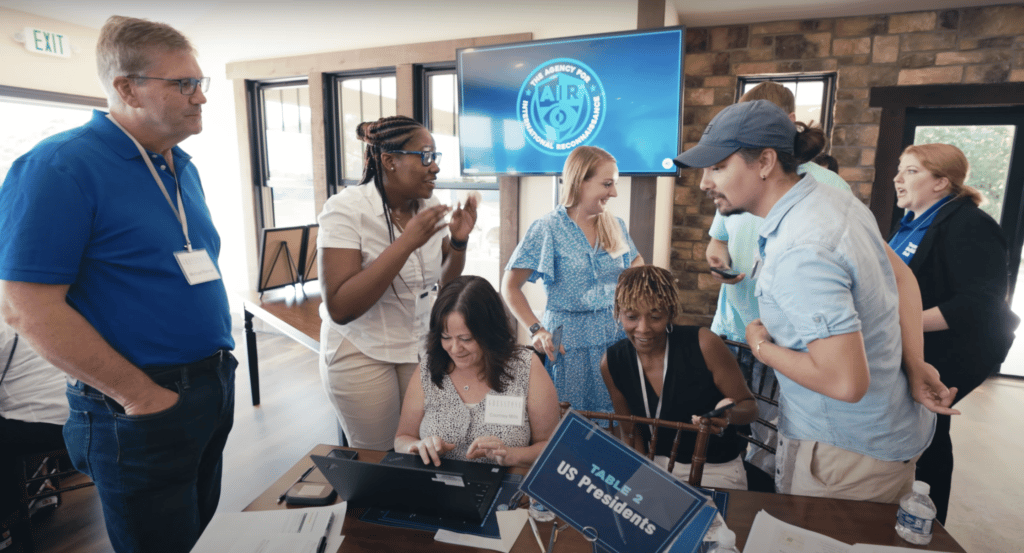 24. Gift card from a department store
Department store gift cards make great anniversary gifts because department stores sell pretty much everything, meaning that your employee is bound to find something they will like and use. 10 years is quite a tremendous achievement, so a gift card towards the $100+ mark is what we recommend. Plus, with this money, your valued team member can buy something that they'll actually use and want.
25. Weekend away package
Give your employees some much-needed time to relax and unwind by giving them everything they need for a wild camping trip. Tents, sleeping bags, firepits, and blow-up mattresses can all be cleaned and reused, making it a great budget-friendly work anniversary gift for employees. Chuck in a few extras, like marshmallows and ingredients for s'mores, and you're onto a real winner.
26. Boutique fitness class experiences
Exercise releases endorphins, which make us feel good and help us to manage stress. Based on this, why not reward your team members with a luxurious fitness experience to help them let out any frustration and spend some well-deserved time to themselves?
20 Year Work Anniversary Gift Ideas
Two whole decades is a work anniversary that should be celebrated boldly. Below are our 3 favorite 20 year work anniversary gift ideas.
27. A 20-year trophy
20 years at the same company is not an achievement that many people reach. So, why not reward those who do with a special trophy to showcase their dedication and commitment however they like? Maybe this trophy will sit on their desk, or maybe they'll display it with pride of place at home. Wherever they display it, the constant reminder of their commitment makes this the perfect happy work anniversary gift idea.
28. Throw an office-wide celebration
When someone hits their very special 20 year anniversary, you can show your appreciation to them by hosting an office-wide celebration. Everyone can take a Friday afternoon off, and you can order in the champagne and throw a low-key celebration filled with speeches of appreciation and gratitude.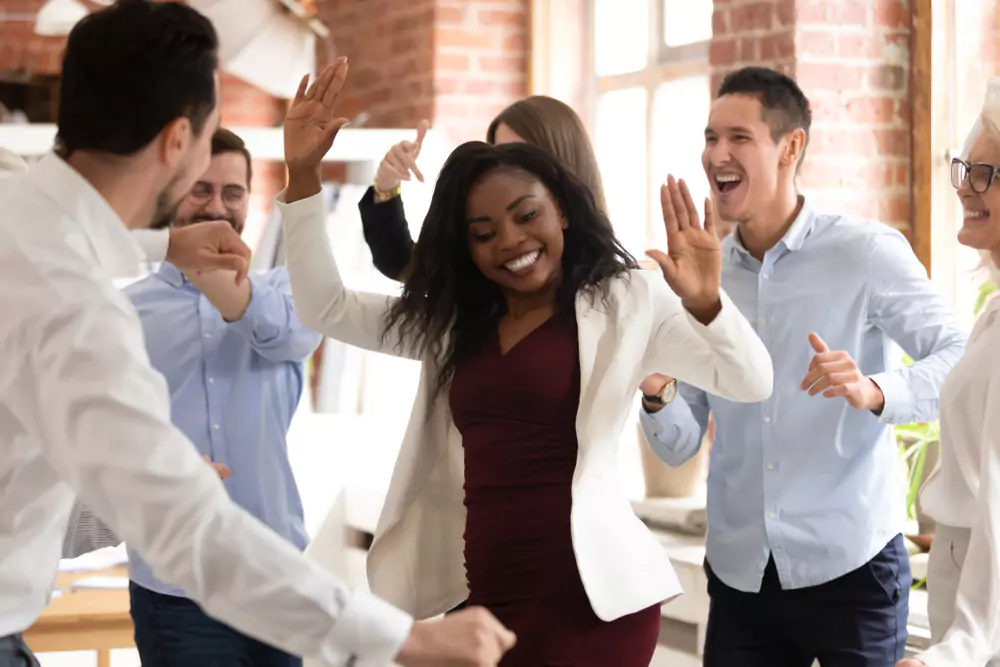 29. Monetary gift
Money makes the world go round, so use this to express gratitude to your long-standing team members. The amount you gift really depends on your organization, but it can be anything from $50 to $5000. Give this gift as a tax-free benefit to show that you are grateful for the hard work and loyalty of your team member.
25 Year Work Anniversary Gift Ideas
25 year anniversaries are special. And they don't come around very often, so you can warrant spending a bit more money on them. If you have the privilege of having such a dedicated employee, here are the 4 best ways to celebrate them:
30. Check something off their bucket list
Although this could be a huge expense, it will be worth it for your most loyal team members. Some team members may want to swim with wild dolphins or complete a skydive. Others would love to see the Pyramids or fly first class. Whatever it is, find a way to reward 25 years of dedicated service with this personalized gift.
31. Extra annual leave
25 years of commitment should be celebrated with some well-deserved time off. We're not talking about an extra PTO day, we're talking about at least a month away from work to do whatever their heart desires. Whether that's to go on the trip of a lifetime or simply spend some uninterrupted time with family, there is no better way to reward 25 years.
32. Dinner at the CEO's house
The CEO is, rightfully so, a very well-respected member of any business. So, to celebrate 25 years, give your team member the honor of being invited to the CEO's house, where they will cook for them and express their thanks and gratitude.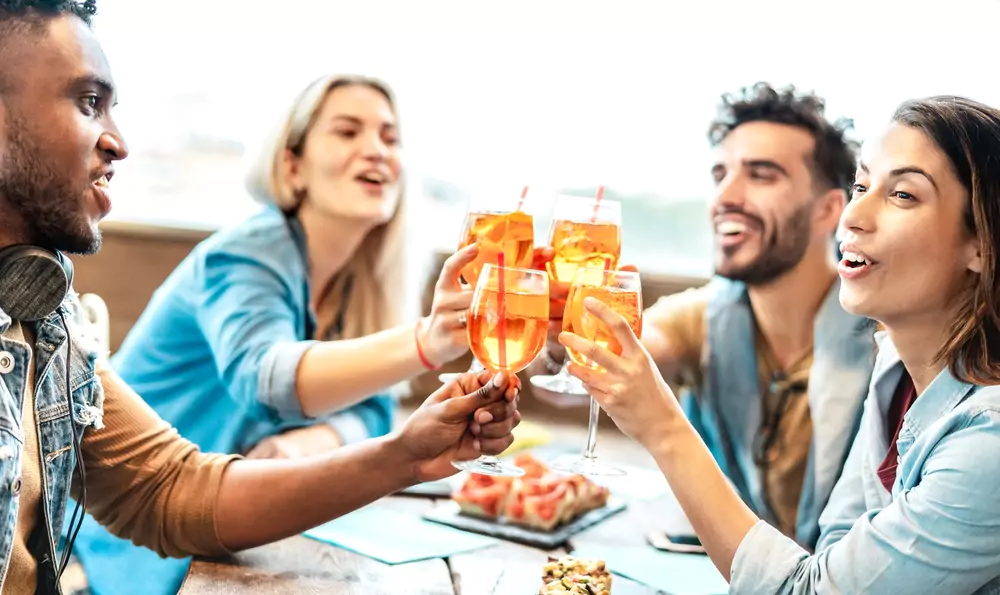 33. Prepare a custom team video
Celebrating 25 years should feel personal, so make it special by creating a video for your team members to keep forever. Go around the office and get every team member to say a few kind words on camera about what they like about your team member and why they're a great asset to the team.
Conclusion
These work anniversary gift ideas are guaranteed to make your most loyal team members feel valued, appreciated, and rewarded. With the busy lives we all lead, it is easy to miss milestones and opportunities to show employees you care. By rewarding your team for their commitment, you are telling them that you notice them and value them, which benefits both your team member and the company.
---
Get Your Free Game
The 3-Minute Non-Cringey Ice Breaker for Your Next Meeting
A ready-set-go game to run at your next fully remote or hybrid meeting without the hassle or added pressure of developing a team-building exercise yourself. Get it here →
---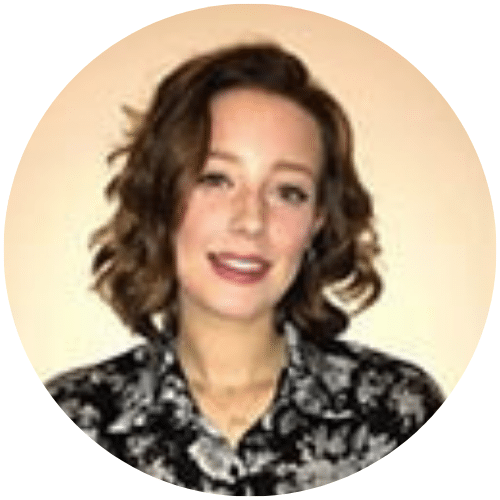 Heather Harper has a Masters in Occupational Psychological from the University of Manchester. She currently works as an editorial writer specializing in organizational psychology – helping teams work better together.