Looking to host the next, great virtual Halloween party for your team? You're in the right place! Virtual Halloween parties (or any virtual party) are a fantastic way to get the team together for some fun and fellowship. With the rise in remote work, virtual parties keep your team connected and engaged while sharing a few laughs — or frights! If you're in the market for some fun virtual Halloween party ideas, games, and hosting tips for the workplace, keep reading!
Table of Contents
Why Host a Virtual Work Party?
19 Virtual Halloween Party Ideas & Games
4 Tips for Hosting a Virtual Halloween Office Party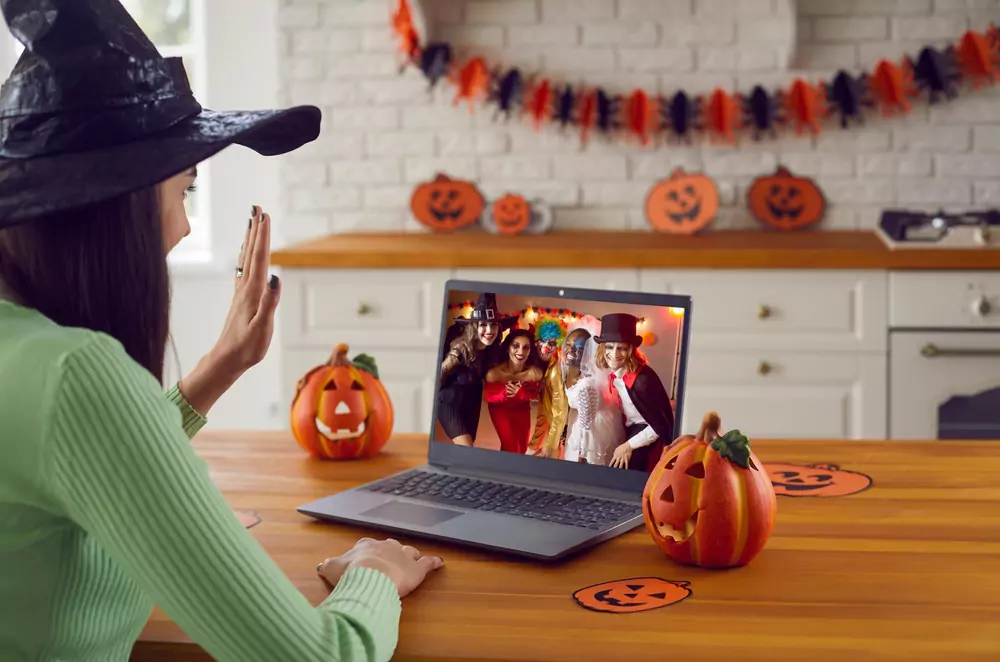 Why Host a Virtual Work Party?
Remote workers can often feel disengaged and disconnected from their colleagues. A virtual work party is an excellent way to re-engage them while incorporating elements of team building. Whether it's a holiday party, going away party, or your upcoming Halloween party, the benefits of virtual team building are clear: increased collaboration, problem-solving, increased morale, lower turnover, and more!
Virtual work parties provide much-needed time and space to connect with your team through activities that drive engagement and connection. The result? A workforce that's better able to collaborate!
That said, don't be afraid to use Halloween as a reason to get the team together — and we'll show you how! In this article, we take the stress out of figuring out how to make your party memorable. Stay tuned until the end for some tips and tricks for hosting your virtual Halloween party. For a full breakdown of how to plan virtual events, check out this comprehensive guide.
19 Virtual Halloween Party Ideas & Games
What's a party without fun and games? Below you'll find a mix of crowd-pleasing games and activities for teams of all shapes, sizes, and dynamics.
1. Try a Virtual Escape Room
A virtual escape room is practically a necessity for your upcoming virtual Halloween party! Escape rooms are excellent team building activities that demand teamwork, communication, collaboration, and problem-solving to save your team before time's up. Beyond that, virtual escape rooms are just plain fun.
The best part? You can choose the theme that suits your team's preferences. Does your team want to brave and explore the unknown depths of an underwater laboratory? Do they want to hunt an international art thief? Or would your team prefer hunting for a stash of gold? Whatever experience you choose, this immersive activity is the perfect blend of team building and Halloween fun this season.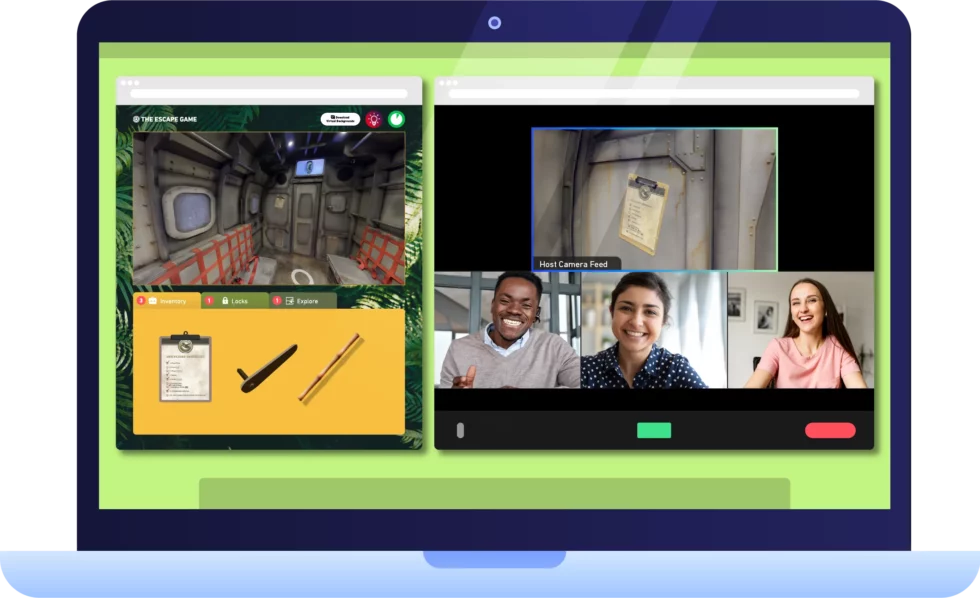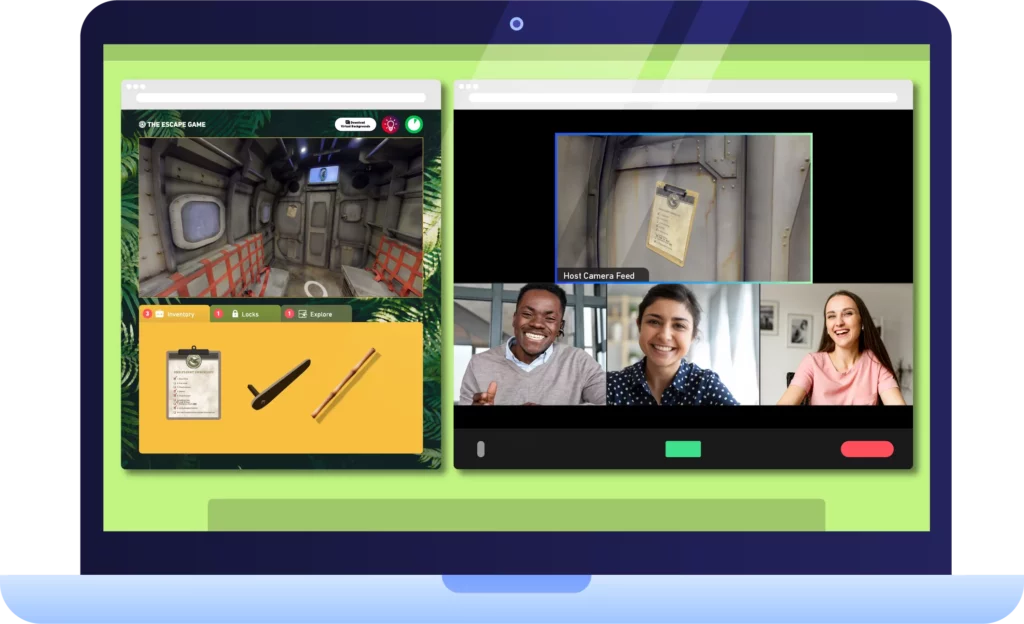 2. Host a Halloween-Themed Virtual Scavenger Hunt
Believe it or not, scavenger hunts can happen virtually! Plus, it doesn't have to be difficult.
Try this: Build your scavenger hunt using the virtual tour of the Eastern State Penitentiary (the world's first), located in Philadelphia, Pennsylvania. First, take the tour yourself and snap a few screenshots of different areas throughout the tour. Then, challenge your team to take the tour themselves and discover the locations that belong to your screenshots throughout the prison!
You can also choose to keep it simple with your virtual scavenger hunt! Just create a list of items commonly found around the home then set a timer and see which team members can grab the items first. Three, two, one — go!
3. Plan a Salem Witch Tour Activity
In keeping with the Halloween theme for your virtual party, you can design a Salem Witch Museum activity! This Salem Witch Museum offers online site tours. Craft a list of Salem witch trials trivia questions based on the facts found throughout the tour and have your team split into groups or play as individuals to answer all the questions before time runs out!
Sample questions could include:
1. What county of Massachusetts is Salem in? Answer: Essex
2. According to historian Sidney Perley, what site is located "on the easterly corner of Derby and English Streets"? Answer: Blue Anchor Tavern
3. In what four towns were the jails that housed the majority of accused witches located? Answer: Salem, Boston, Cambridge, Ipswich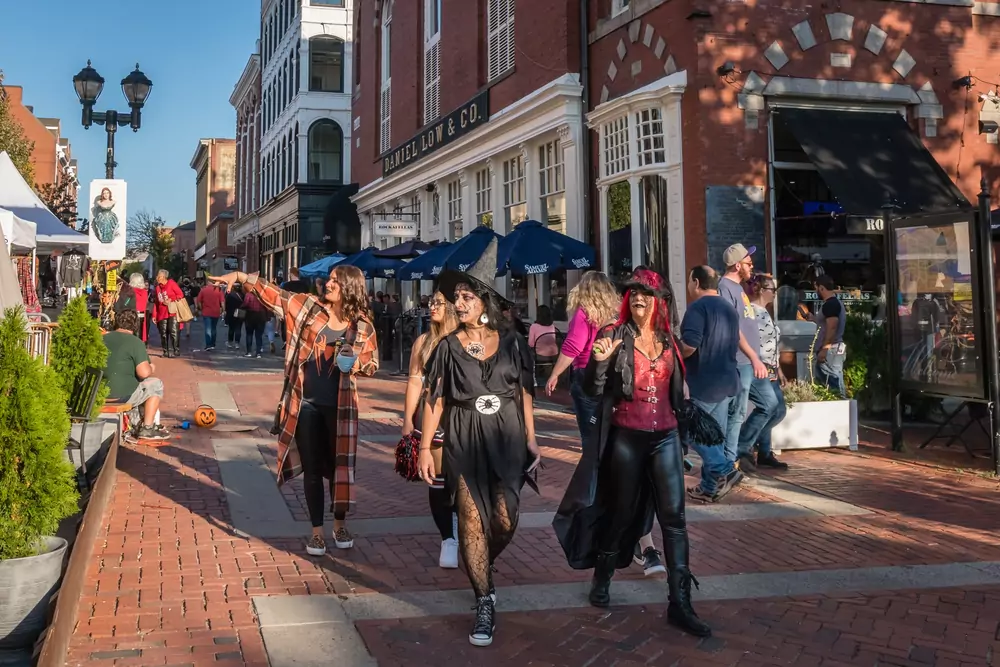 4. Play a Round of Halloween-Themed Trivia
Trivia is fun in person or virtually and is the perfect activity to play at your next virtual Halloween party. You can also sprinkle trivia questions throughout the event! Keep it on-theme by focusing on facts about Halloween or playing horror movie trivia, but any spooky questions can work too!
Sample trivia questions could include:
What flying mammal is typically associated with Halloween?
Answer: Bat
What are the names of the Addams' family pet piranhas?
Answer: Tristan and Isolde
What does the word "Halloween" mean?
Answer: "hallowed evening" or "holy night"
Who wrote the 1818 novel, Frankenstein?
Answer: Mary Shelley
5. Play Heads Up!
Halloween or not, Heads Up! is a great game to play with your team — just download the app! Participants take turns guessing the word on the phone screen, which they place on their foreheads. Everyone else provides clues or acts out the word to help the player get the right answer. This word-guessing game is one of the easiest and most exciting ways to get everyone involved in the fun.
The mobile app includes dozens of decks to choose from, but you can build your own and add some Halloween-friendly words. The scary movies and true crime decks are also great options for a virtual office party activity.
6. Try an Online Game Show
Online game shows are fun year-round. Spark some competition at your virtual Halloween party by playing an online game show with your team. No technical skills are required or complicated rules to explain, just hop on for five rounds of fun with an energetic host on Zoom. From puzzles and code-cracking to brain teasers and plenty of surprises, an online game show will make your party one for the history books!
There's even a Halloween themed version that you can book for your event!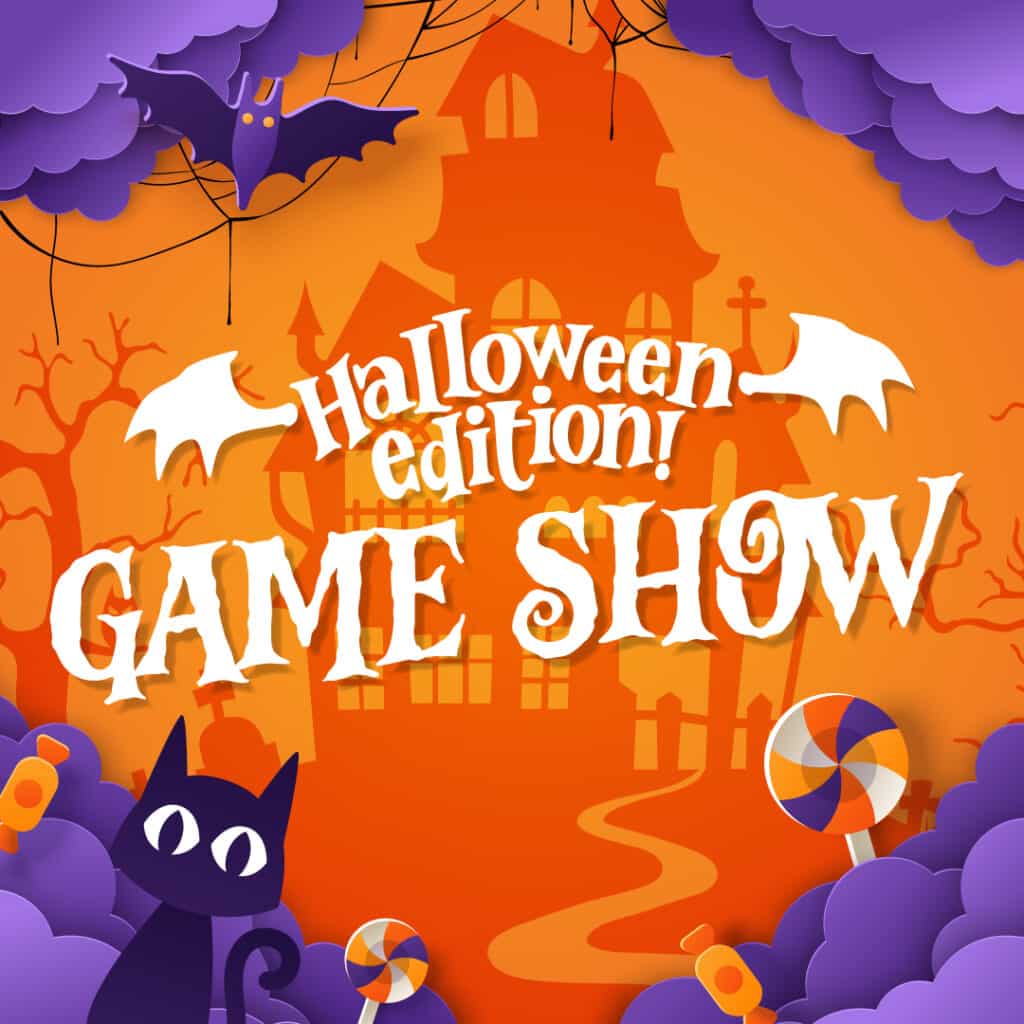 7. Play Halloween-Themed Charades
Halloween charades are just regular ol' charades with Halloween-themed prompts. Split into groups and take turns acting out spooky options. Keep score and award prizes to the team with the most points! For added fun, give out wacky awards like "Scariest Performance."
Halloween charade prompts could include:
• Mummy
• Witch flying on her broomstick
• Making a potion
• Trick or treating
• Spider
• Feeling scared
• Carving a pumpkin
8. Play Guess Who (Halloween Edition)
Have any of your coworkers been obsessed with Halloween since they were kids? This game might be for your team! Before your virtual party, invite team members to share a childhood photo of them in a costume (ideally for Halloween). At the party, share a slideshow of the images and have folks guess who is pictured. This activity is sure to earn some laughs and stir up nostalgia. For added fun, let the employee pictured share a memory associated with the photo if possible!
9. Solve a Mysterious Crime
While Halloween is often about ghosts and ghouls, hunting scary criminals is a great activity for a virtual Halloween office party. Analyzing evidence, hunting for clues, and reviewing surveillance videos are just the tip of the iceberg in these engaging mystery games for teams. Like virtual escape rooms, you can find the right theme for your team! Some teams might want to catch an elusive art thief while others might want to track down a rogue scientist. The choice is yours!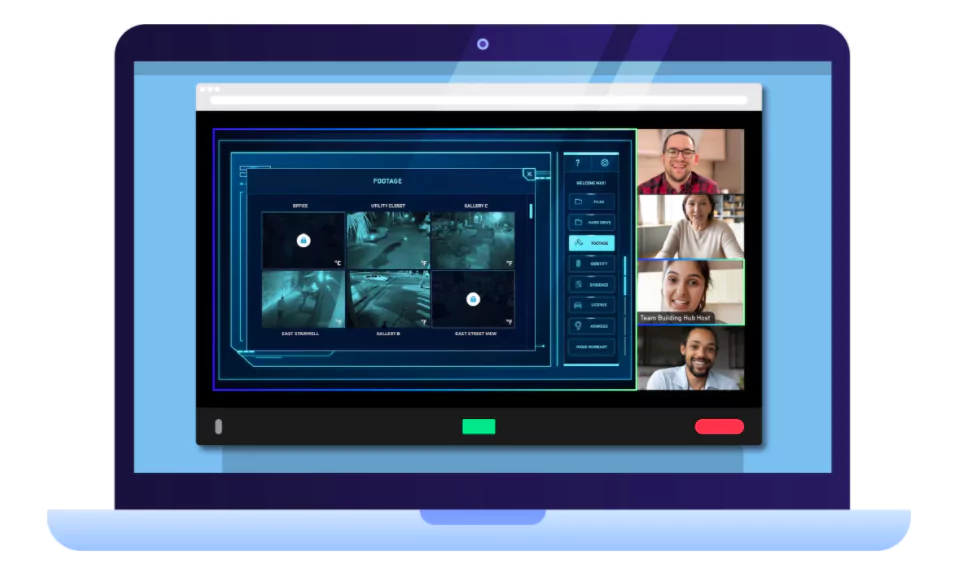 10. Solve a Virtual Murder Mystery
Celebrate the spooky season by solving a virtual murder mystery as a team! There are lots of virtual murder mystery experiences to choose from, and this list features eight, top options. Your party guests will thank you.
11. Have a Costume Contest
Is it really a Halloween party without a costume contest? Encourage your team to get creative and dress up for your virtual party! Make it worth their while by awarding prizes!
Here are some costume award categories to consider:
• Best Overall
• Scariest
• Most Gory
• Best Handmade
• Most Likely to Scare a Child
• Least Effort, Highest Impact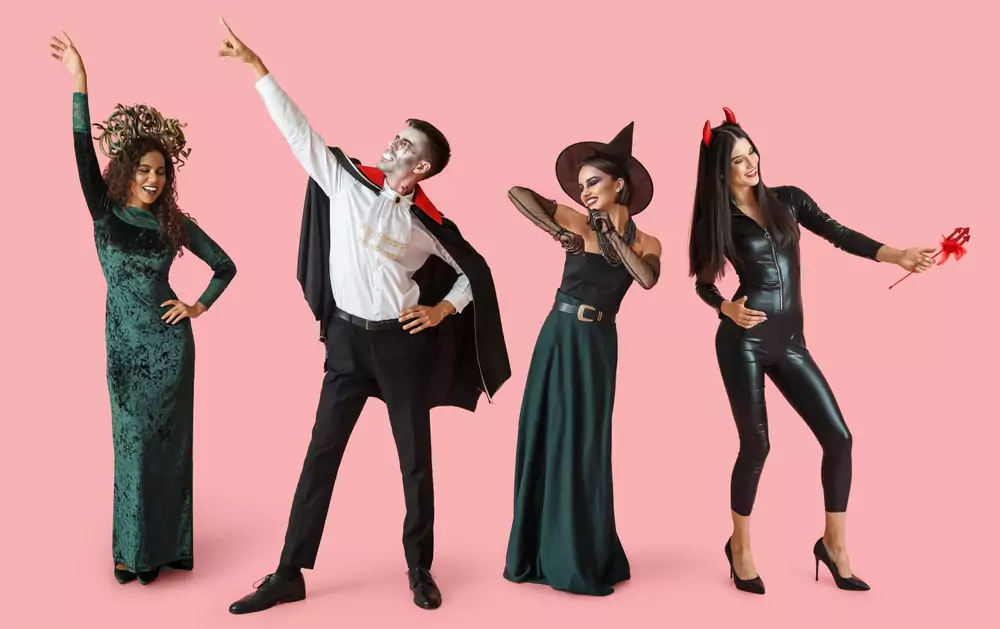 12. Include a Virtual Magic Show
It's not always about competition! Treat your team to an engaging virtual magic show. There are lots of online options, but Alan Hudson is a popular choice for virtual, corporate shows via Zoom. Hudson has been featured on Britain's Got Talent and Fool Us, the hilarious show by famed illusionists, Penn & Teller.
Smart and fun, Hudson's show isn't just for adults! Encourage the team to grab their family members and kids to enjoy this dazzling show.
13. Share Halloween and Fall Drink Recommendations
Consider sharing some fun Halloween drink recommendations with your invitation! This gives your team time to get ingredients. On the call, take turns showing and sharing the delicious creations. Following the meeting, you can share a list of all the recipes used and each person's review of the drink.
14. Try a Fun Virtual Class
With dozens of options to choose from and the ability to get kits mailed to each home, this idea is great for teams of all shapes, sizes, and dynamics! But beware, you'll set the bar high and your team might never settle for less again.
Mixology
Any bartenders on the team? Shake things up with a virtual mixology class! Your team is sure to love this out-of-the-box idea.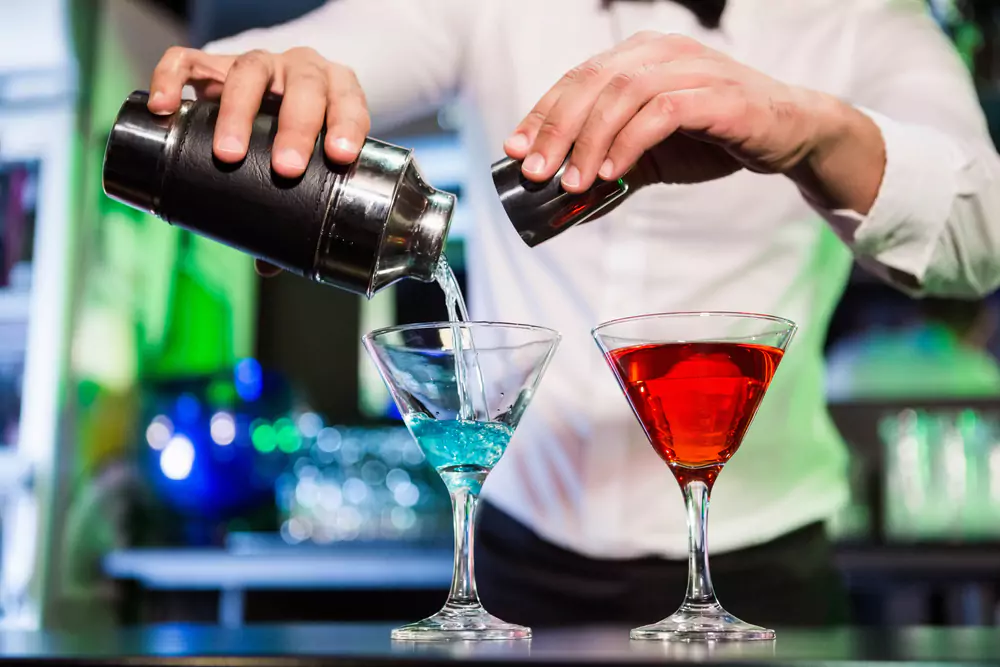 Fall Cookie Decorating
Sweet treats are just that: sweet treats. You can't go wrong with a cookie decorating class. Plus, the fresh buttercream frosting has no drying or setting time, so you'll be able to enjoy it right away!
Paint a Masterpiece
Slow down and get those creative juices flowing with a guided painting class. Unlike drinks or cookies, your team members can keep their creations forever! In years to come, they'll see their paintings and think back fondly to this fun virtual team event.
15. Mail a Trick (or Treat!)
Remember when it was exciting to get mail? Add an element of surprise to your virtual office party by mailing home gifts to your employees for them to open on camera together. Platforms like Goody or Knack can help make sending gifts home to your team easy.
16. Host a Virtual Pumpkin Decorating Competition
Pumpkins are a Halloween staple. While it would be impressive if you could get real pumpkins to everyone on your team, this site lets you color pumpkins online. Set a timer for 10 minutes and let the creativity run free! When time's up, have folks take turns sharing their screens with participants voting for the best ones. This easy activity is a nice way to start the call as folks filter in.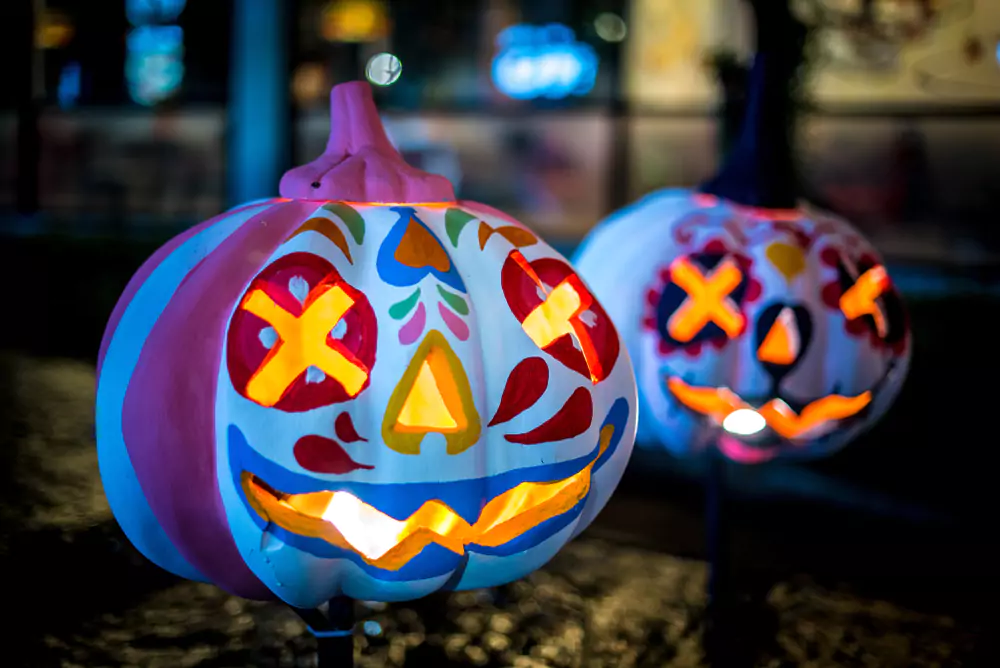 17. Swap Scary Stories
Whether you make them up on the spot or recall a haunting tale from childhood, swapping scary stories is a great, easy activity for your next virtual Halloween party. When sending out invitations, give your team a heads-up to prepare or find a spooky story if they want a chance to win a prize!
18. Tell a Group Scary Story
This is a collaborative game designed to get the whole team involved! One after another, team players will take turns building on a story. As the host, you can go first and set the scene with a few spooky lines and finish with "and suddenly" or "when suddenly…" Then, call on the next player to add to the tale! Each player finishes their lines with "…and suddenly" to tee up the next player.
Here's how a game might sound:
Host:
It was a dark, cold night and a young woman was hurrying down the deserted street in search of the bus stop her GPS said was nearby. As she scanned the map glowing on her phone screen, she suddenly felt a cold chill down her spine. Was she being watched? She glanced up ahead and suddenly….
Player 1:
…and suddenly she noticed the faint outline of a man dressed in dark-colored clothing standing under a streetlight up ahead. He was perfectly still and seemed to be studying her as she approached. He was by the bus stop, and she would have to pass him or turn back. She was just about to decide when suddenly….
Continue until every team member has gone or your team is too frightened to continue!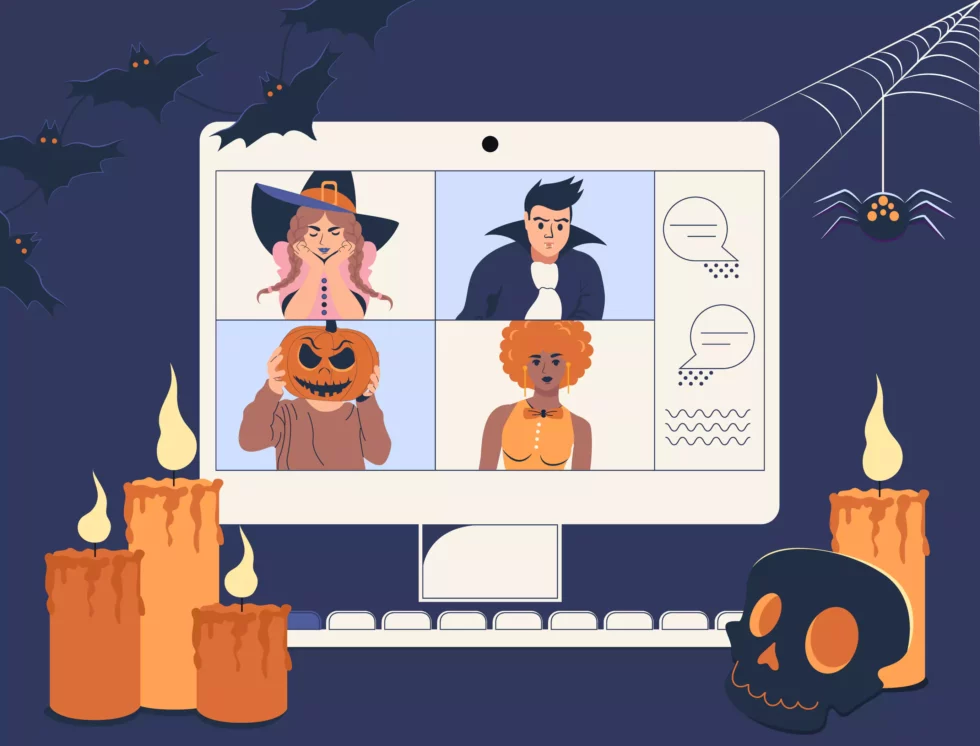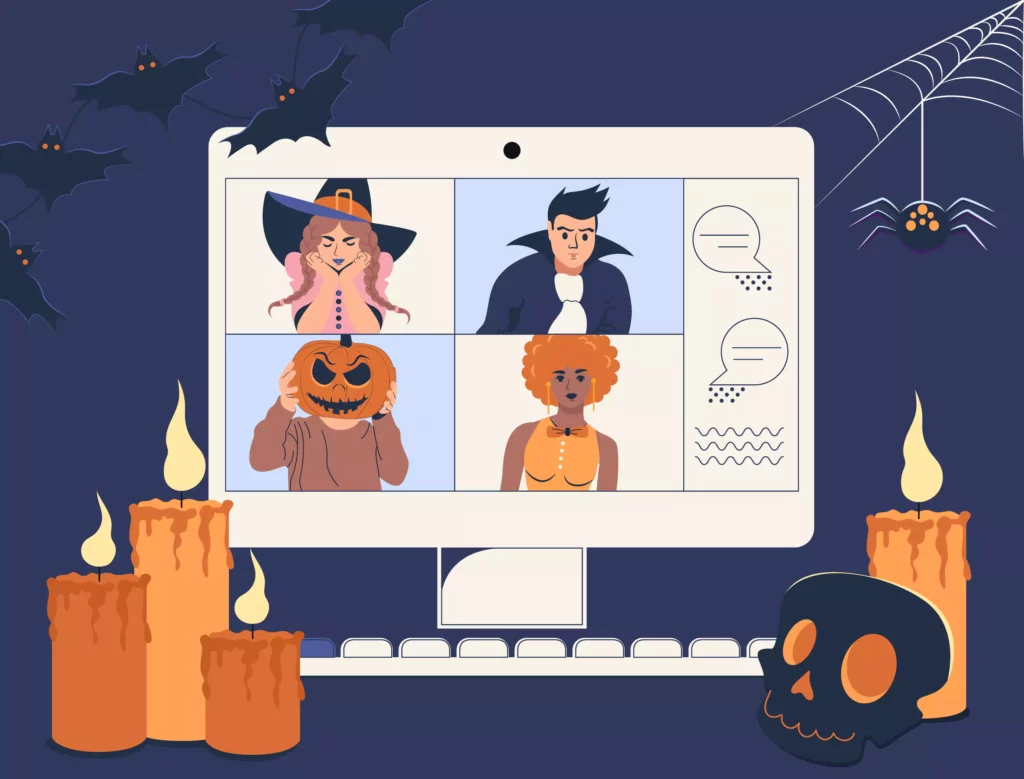 19. Give Prizes, Plenty of Prizes
Every good party has food and fun games, but every great party has prizes! For any games, fun costumes, or scary stories shared, award a prize! Yes, virtual parties are about enjoying each other's company for an hour. But parties can be powerful team building tools that help remote employees feel more engaged and connected. Gifts, prizes, and recognition are excellent ways to make your party memorable and to demonstrate that you value your team members.
You can find all kinds of employee appreciation gift ideas here, but we've included a few Halloween-themed gifts here, too:
Pro tip: Have a list of gifts and rank them for value. Before each activity, communicate what the prize for winning is worth to create excitement and drum up the competition (i.e., this prize is valued at $60!). You can even show a picture of the grand prize!
4 Tips for Hosting a Virtual Halloween Office Party
Planning virtual events can sometimes feel stressful. Keep in mind these tips to help make the process that much easier. If you're looking for a more comprehensive guide to planning a virtual event, this resource walks you through the process and shares nine key questions to ask when planning a virtual event.
1. Choose a Virtual Event Platform
Most companies are using Microsoft Teams or Zoom. If you need help navigating the ins and out of Zoom, this complete guide will walk you through all the features you might need during your virtual Halloween party.
2. Plan the Agenda
The ideas and activities above will help you fill the time but be sure to think through things like the dress code and exactly how you want to spend the time.
Make your dress code something fun but emphasize that it is optional. Not everyone wants to dress up for Halloween and that's okay!
3. Make It Spooky: Invitations, Virtual Backgrounds, and Playlists
It's a Halloween party! Your team will love the extra effort to make it feel special.
Spooky Invitations
Platforms like Evite or Punchbowl can help make your invites pop! Taking the extra step will help get employees excited about your event. If you're looking for tips and tricks for writing an invitation, this guide will help you step-by-step.
Spooky Virtual Backgrounds
Virtual parties have decorations too! Find some spooky virtual backgrounds to include in your invitations or encourage team members to make or pick their own for the call. Take it a step further and give a prize for the best virtual background!
Spooky Playlist
As folks join the call, set the scene and mood with a fun Halloween playlist. You can make your own or use a curated playlist from YouTube or Spotify.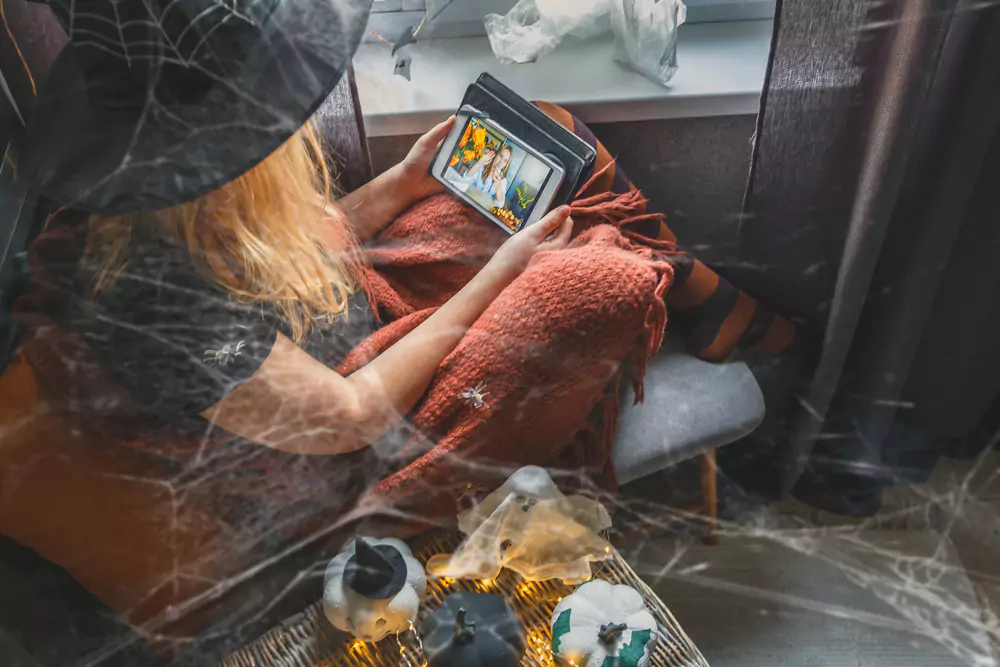 4. Use a Virtual Countdown Clock
Lastly, any event is more fun when you drum up some anticipation! Include a virtual countdown clock in your invitation. Time and Date has one that's easy to use.
5. Use a Virtual Event Planning Company
When the chips are down and time is running short, don't hesitate to outsource your planning and hosting duties. These virtual event planning companies can take the stress and strain out of planning — especially when you're busy.
Conclusion
Virtual parties can be so much fun when you take the time to plan. The team building benefits and shared laughs make it worth the effort. Whether you're in the early stages of planning or looking for a few more agenda ideas, the options above are sure to put a smile on the faces of your team members — you'll all have a fang-tastic time. Happy Halloween!
---
Get Your Free Game
The 3-Minute Non-Cringey Ice Breaker for Your Next Meeting
A ready-set-go game to run at your next fully remote or hybrid meeting without the hassle or added pressure of developing a team-building exercise yourself. Get it here →
---