With Halloween fast approaching, it's the perfect time to plan a festive-themed work event, such as a Halloween happy hour. Whether your team is remote, in-person, or hybrid, happy hours are excellent team building activities that promote trust, communication, and camaraderie in teams.
In this article, we will explore 32 of the best spooky Halloween happy hour ideas for both virtual and in-person teams, including exciting drinks, foods, and activities.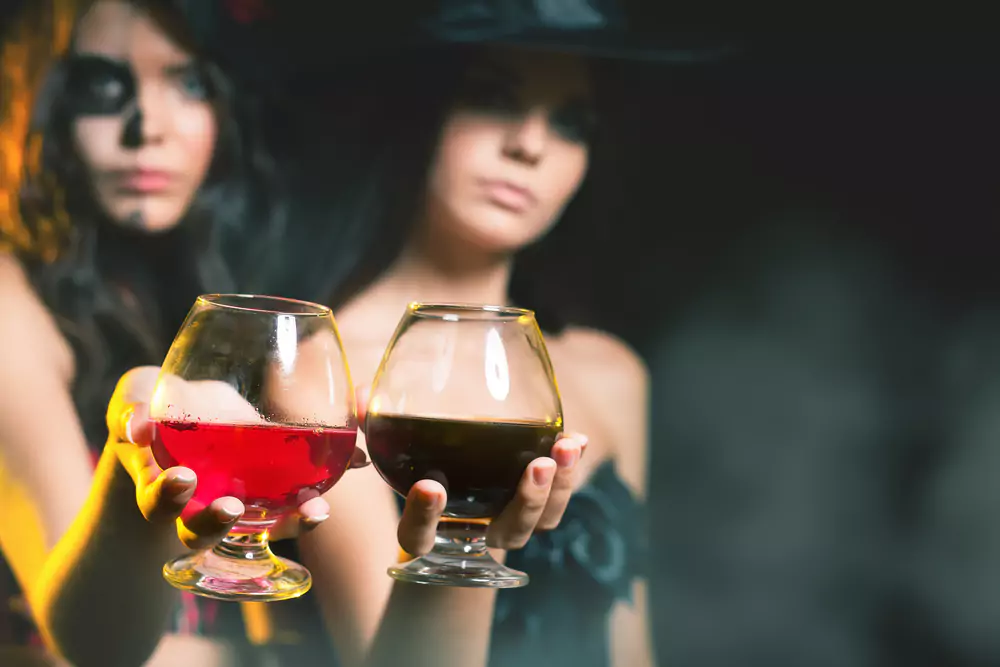 Why have a happy hour to celebrate Halloween at work?
Bringing your team together with a Halloween happy hour builds the camaraderie needed to create a happy and thriving team. In fact, a study found that happy hours are incredibly positive workplace experiences because they allow team members to create interpersonal relationships and bonds as they connect over drinks, food, and fun-filled activities.
Having a Halloween happy hour also shows others that your company cares about its culture and strongly promotes happiness at work. Celebrating at Halloween gives you an extra opportunity to make your happy hour fun and engaging – most people love Halloween and there is plenty of creative food, drink, and activities that you can get stuck into.
Real Life Halloween Happy Hour Ideas
Hosting real-life Halloween happy hours are reasonably easy to coordinate. All you need is a venue and some team members! Below are our favorite IRL Halloween-inspired drinks, food, and activities.
Halloween Happy Hour Drinks
If you're hosting an in-person Halloween happy hour, your team is bound to get thirsty! Including a drinks menu is a great way to encourage everyone to relax and have fun.
1. Seasonal Cocktail Making Class
A great Halloween happy hour idea is to get a local company to come into your office to do a spooky cocktail-making class.
From 'eyeball punches' to 'poison apple' cocktails, a local drinks company can guide your team through mixing, shaking, and pouring drinks that they can then enjoy whilst mingling with each other.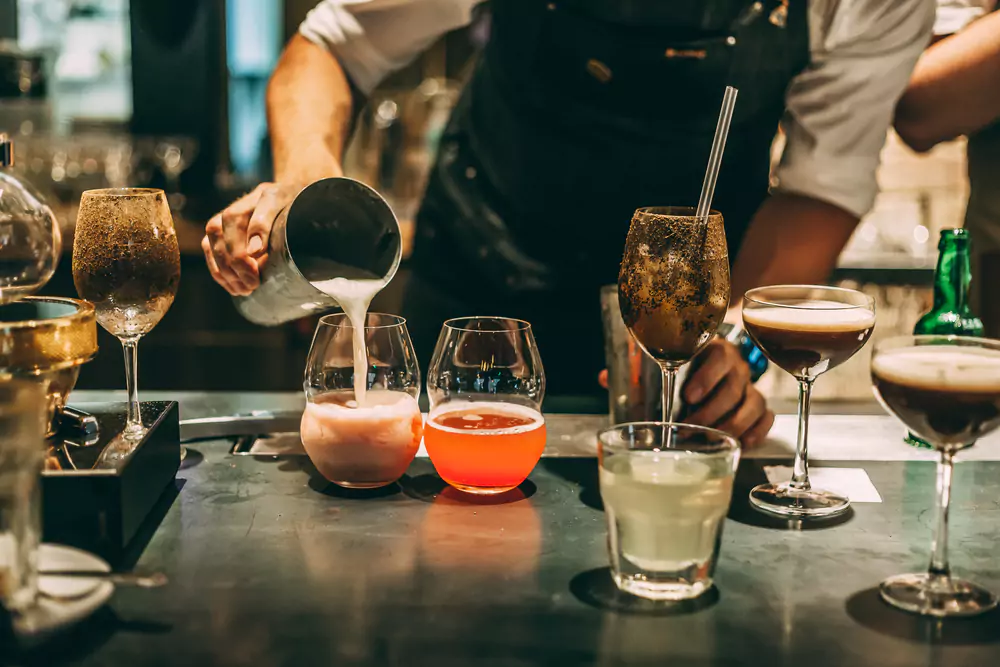 2. Starbucks Delivery
Starbucks, and other popular coffee shops, make fortunes with their themed seasonal drinks. A pumpkin spiced latte or a 'Frappula', are fantastic caffeine-filled treats that show your teams that you value them and are grateful for them this festive season!
3. Drink Swap
Drink swaps allow each team member to express themselves. Instruct each member to bring the ingredients in to make a Halloween-themed drink of their choice, whether that's alcoholic or non-alcoholic. They can then share this drink with the rest of the team!
So that your team knows what to expect, give them a Halloween happy hour menu before so that they know what is in each drink and what colleague they should go to!
Food for Halloween Happy Hour
Eating is a fantastic way to connect with others. Halloween-themed food, from eating apples during apple bobbing to Halloween-inspired scary candies, are easy to coordinate and are therefore great things to add to your Halloween happy hour!
4. Apple Bobbing
Fit in perfectly with your Halloween theme by playing apple bobbing with your team. Set up a bucket of water and put in as many apples as you have team members getting involved with your Halloween happy hour ideas!
Team members can then take turns getting an apple out of the water. To spruce it up, you could even offer spooky prizes for the player who gets their apple the fastest!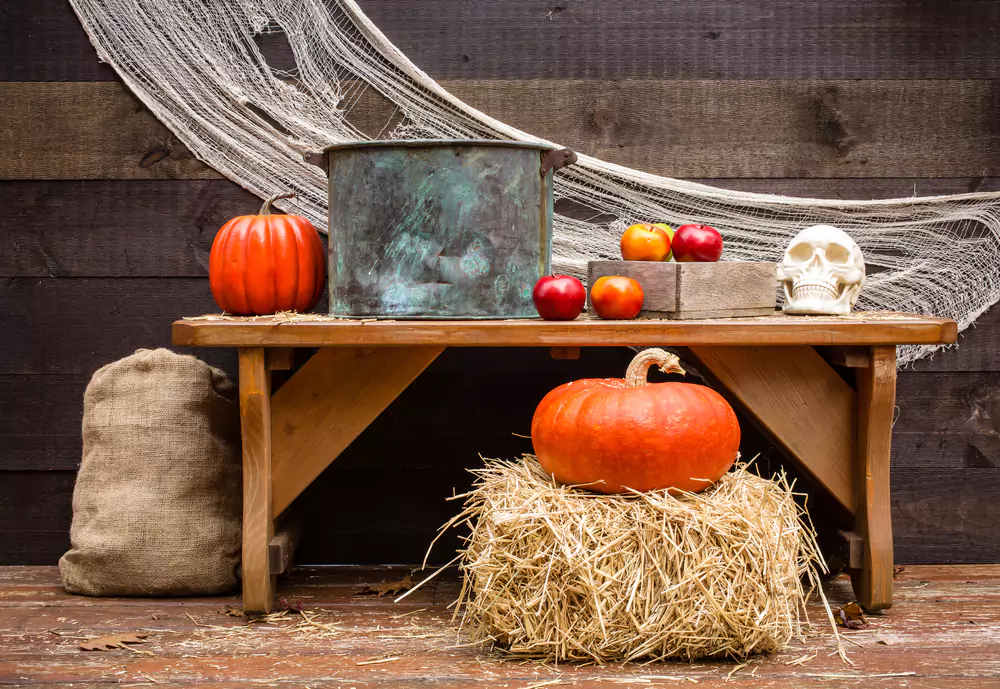 5. Make Your Own Appetizers 
Get creative and make your own tasty treats for your team to nibble on during your Halloween happy hour. Here are some great Halloween happy hour menu ideas that will wow your hungry team:
6. Halloween Candy Bags
With plenty of options for Halloween-themed candy, a great Halloween happy hour idea is to give your team some delicious candy to accompany their food and drink. To make these sweet treats even spookier, buy some Halloween bowls to display them in.
7. Team Marshmallow Toasting 
If you have the outdoor space, nothing promotes team bonding and spirit more than huddling together around a warm fire whilst toasting marshmallows and sharing stories. You could even buy some skull marshmallows to make this activity spooky-themed.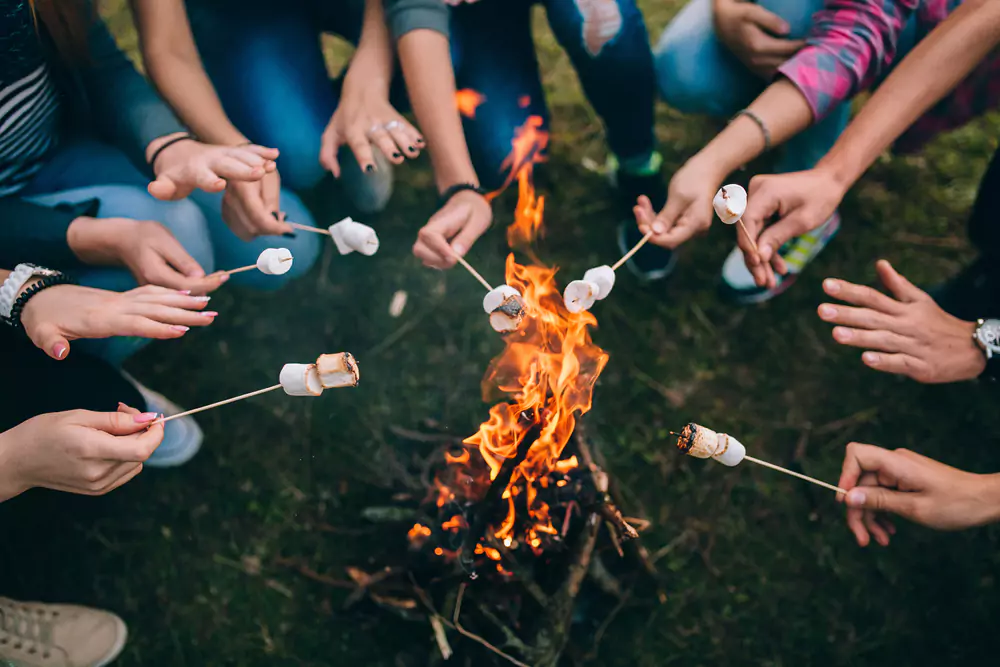 Activities for Work Halloween Happy Hour
To host in-person Halloween activities, you only need creativity, imagination, and the space to do so. So, find a large meeting room, hall, or park and get your team involved with some of the exciting Halloween-themed activities below!
8. Halloween Costume Contest 
To make your Halloween happy hour extra scary, encourage your team to dress up in the scariest, most realistic outfits they can find. Let your team mingle and enjoy the food and drink while you assess each outfit and decide who wins your contest categories. You can include categories such as "funniest", "scariest", "most realistic" or "best effort".
9. Halloween Icebreaker Questions
If your team is new or nervous around each other, Halloween themed ice breaker questions are a great way to kick off the spooky gathering and get everyone feeling confident and comfortable with each other.
You can ask Halloween-themed questions, such as "what's your favorite horror film?", "would you rather be a witch or a vampire?" or "what did you dress up for last Halloween?".
10. Ghost Stories
Get your team's heart racing by telling creepy ghost stories as a Halloween happy hour idea. Prepare your team by telling them that you are going to be telling ghost stories so they have time to prepare their most chilling story.
Go around your team and get every individual to tell their ghost story. To make it extra scary, dim the lights to set an uneasy atmosphere. At the end, you can vote on whose story was the best.
11. Office Trick or Treat 
Trick or treat will offer your team a sense of nostalgia and happiness as they remember all the fun times they had when they were younger playing trick or treat in their childhood neighborhood.
Incorporate a sense of fun by giving each team member some candy. Employees can then walk around the room during your Halloween happy hour and ask each other if they want a trick or a treat. The candy owner can then decide whether they give their teammate a yummy candy, or whether they play a menacing trick!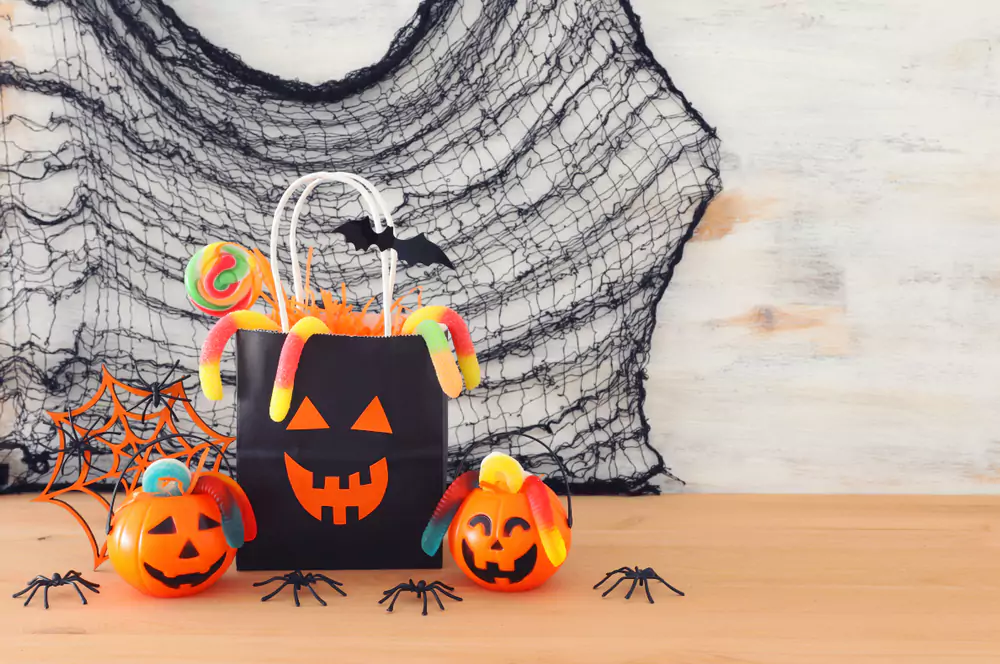 12. Pumpkin Carving Contest
Get your team's creative juices flowing by hosting a Halloween happy hour with a Pumpkin carving contest. Everyone who is attending must carve and decorate a pumpkin and they can then be put on display so that you can decide whose is the best. Prizes for the most attractive (or unattractive?!) pumpkin can be offered.
13. Halloween Human Bingo 
Halloween Human Bingo is a fun, engaging, and competitive way to get your team talking and immersed in some festive-themed fun that encourages them to work together and leave the session feeling confident.
To play, create a list of Halloween-themed human bingo statements before the game begins. For example, good statements include 'believes in ghosts', 'would like to meet a vampire', or 'watches scary movies'. Then, create some human bingo cards and print enough for each player. During your Halloween happy hour, team members must walk around the room and chat with other players to find someone that matches every statement on the bingo sheet!
14. Spooky Movie Marathon 
With Halloween meaning that Christmas is fast approaching, it is more acceptable than ever before to relax, chill out and put a great movie on. Set up a large projector screen in a meeting room and arrange chairs in a way that everyone can see the screen. Put on a Halloween-themed movie, such as Dracula or It, and get your team together to eat, drink and watch the film… although it may not be the most relaxing experience!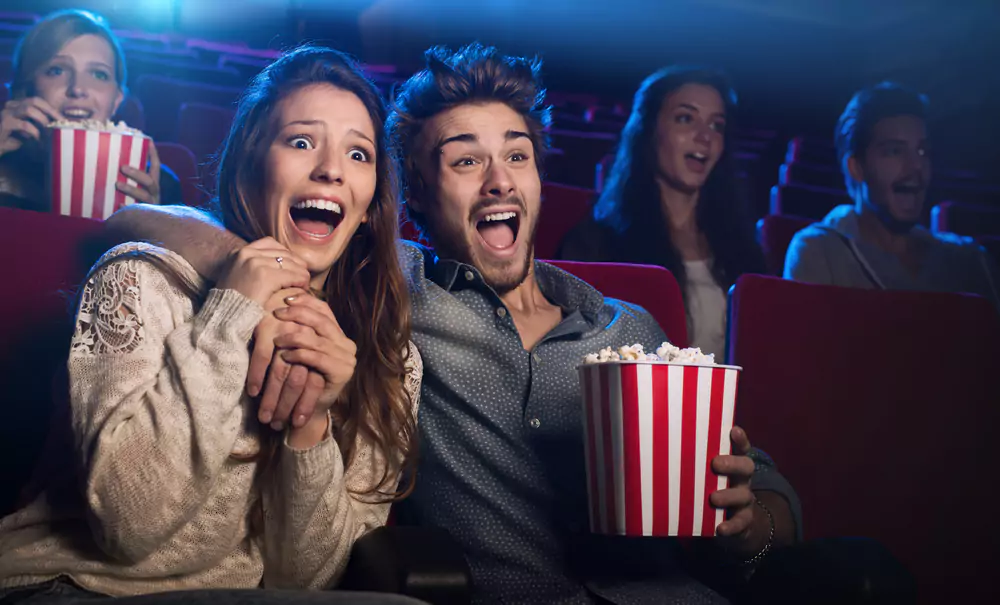 15. Theme Park Visit 
Nowhere does Halloween better than theme parks. From Zombie apocalypse themed-events to Haunted houses, there's bound to be a theme park offering Halloween-themed fun near you. If your budget allows, take your entire team to a theme park for the evening. You could even stop for some Halloween-inspired food on the way home!
16. An Escape Room Trip 
Take your team on 60 minutes of spooky, energizing fun where they can rush around an escape room in teams to recover a lost painting, bust out of prison or find gold!
Designed by experts, escape rooms are perfect Halloween happy hour ideas as they encourage your team to engage with each other, use their problem-solving skills and build strong connections!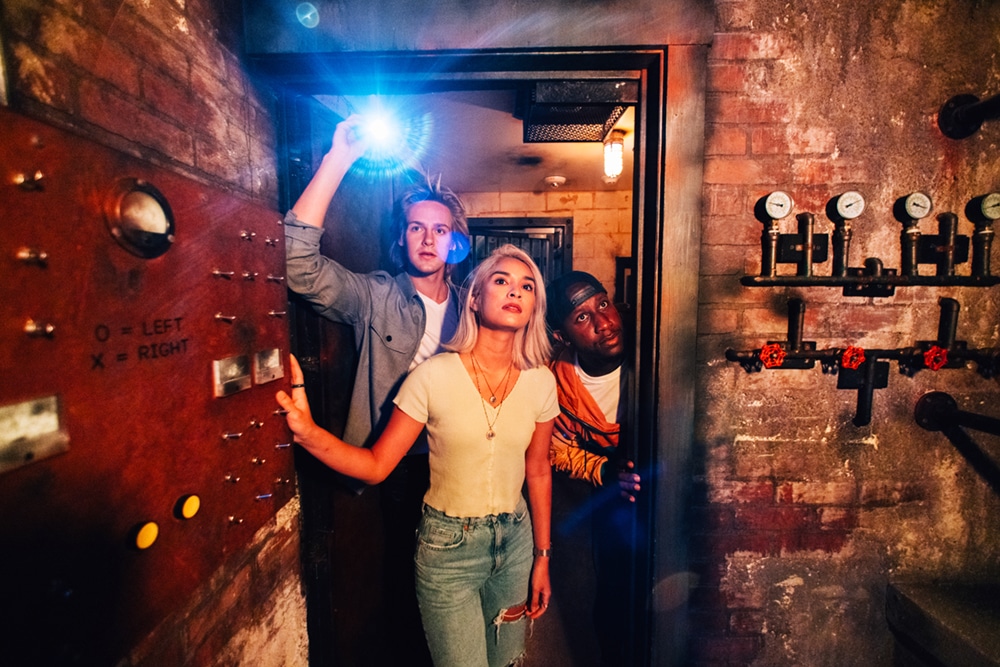 Halloween Virtual Happy Hour Ideas
More teams than ever are remote or hybrid working, with an estimated 22% of the American workforce working completely remotely by 2025. This means that you need to think of clever Halloween virtual happy hour ideas to inspire, engage and motivate your remote team.
Drinks for Virtual Halloween Happy Hour
Remote Halloween happy hours are great ways to bring camaraderie and excitement to your team. To add even more excitement, introduce some drinks to your happy hour. The best way to do this is to deliver drinks packages to your dedicated team.
17. Black Magic Margarita Cocktail Making Class
For $75 per person, you can send your team members a drinks kit to their homes and then hop on a Zoom call to make some boozy black magic margaritas. Kits are sent out to your team that includes lime, sugar, black lava salt, activated charcoal powder, dried orange slice, and even a plastic spider garnish. They will, however, need to source their own shot of tequila (if they want to make it alcoholic).
18. Cocktail Masters Kit 
We all love to try out a new cocktail, especially when unwinding after a long day and when socializing with others after work. If you want to spice up your Halloween happy hour, a great idea is to send each team member a Cocktail Master Kit, which provides your team with everything they need to make their favorite cocktail whilst on Zoom.
To get the best for your money, you can take a 60-second quiz that gives you personalized results on the best spooky cocktails for your hallow happy hour!
19. Seasonal Cocktail Making Kit 
The Bar offers a whole range of seasonal cocktails that will warm your team up. From a mango mule to a smoky Mezcal margarita, you can find the perfect, high-end addition to your virtual Halloween happy hour. From $45 per person, these kits include everything you need to have some seasonal fun.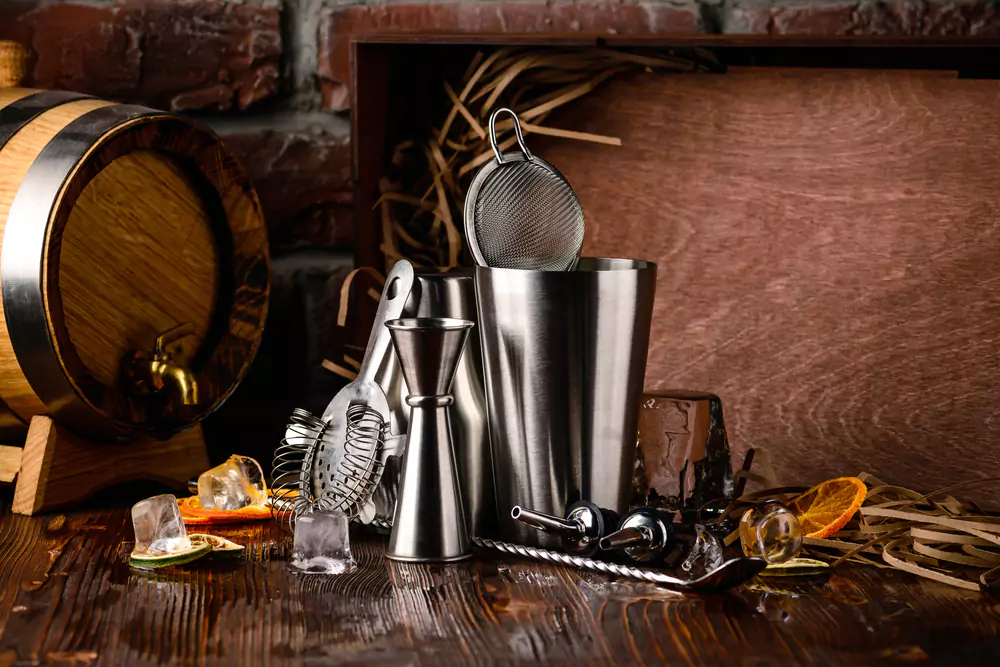 Food for Virtual Halloween Happy Hour
Sending food packages are great ways to reach virtual teams and allow them to connect during a virtual happy hour.
20. DIY Cookie Kits
Suitable for any budget, you can send your team some DIY cookie making kits. In the post, you can send each team member the ingredients they need to make some cookies and some Halloween-themed cookie cutters, such as ghosts or witches' hats.
21. Nummy Yummy Package
Surprise your team in your virtual Halloween happy hour with a home delivery of pumpkin spice doughnuts from Nummy Yummy! These Halloween-themed doughnuts are plant-based and are therefore the perfect surprise for every team member!
22. Make Pumpkin-Spice Bites on Zoom
Get your team's taste buds tingling by making some tasty pumpkin-spice treats on a Zoom call together. A kit can be sent out to each of your team members' homes which includes all the ingredients to make a delicious sweet treat. Over the hour-long course, your team can chat, cook, eat and drink together.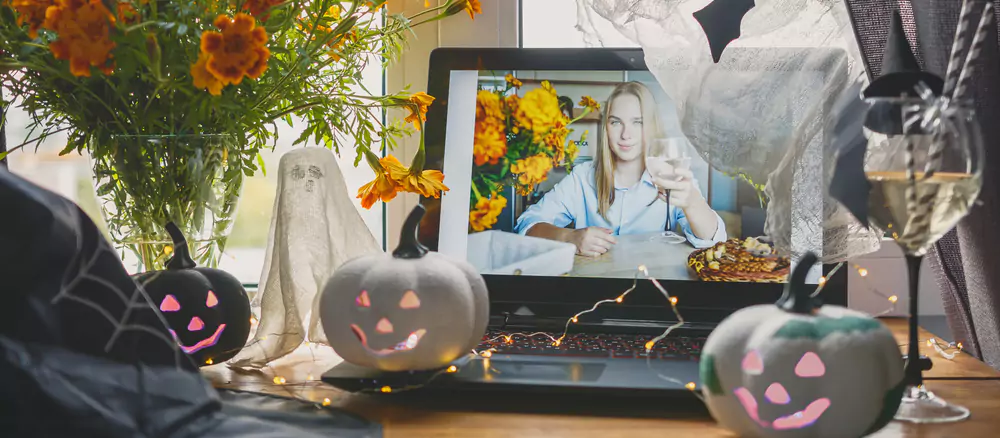 Activities for Remote Halloween Happy Hours for Work
Virtual Halloween happy hour ideas are easy to coordinate. Like when you plan any other virtual event, all you need is a Zoom, an internet connection, and some fun activities in mind.
23. Finish My Ghost Story
If you want to make your team laugh, coming up with a funny ghost story that everyone has had their input on is a great way to do it!
Start by typing an opening ghost story sentence, such as "one cold, autumn night, a full moon arose and strange things started to happen". Team members must then take turns adding additional sentences to the story. By the end of the activity, you and your team will have a fun ghost story that everyone has gotten involved with and allowed themselves to be creative with!
24. Virtual Trick or Treat
Take your team back to their childhood with a virtual Trick or Treat. To play, give each team member a digital gift, such as virtual wallpapers or online gift cards. Teammates must then reach out to each other via instant messenger and ask each other Halloween jokes, riddles, or questions. The gift giver must then give a gift when questions are answered correctly.
25. Halloween-Themed Virtual Scavenger Hunt
Scavenger hunts are great ways to get your team moving around, having fun, and feeling relaxed. To make them even more fun, you can make them Halloween-themed by adding a spooky twist.
Give your virtual team a list of items to find from around their house, but make sure these items are Halloween-themed. For example, a skeleton, a pumpkin, or a knife. Give them a time limit to collect these items and the first player back is crowned the winner! You can also contact a virtual event company to host and play scavenger hunts with your team, which takes the workload off yourself!
26. Virtual Escape Rooms 
Virtual escape rooms are fantastic virtual Halloween happy hour ideas. They encourage open communication and allow your team to relax and enjoy each other's company. To play, pick a scary theme from the Team Building Hubs' choices and then let the experts do the rest.
Watch as your team immerse themselves in a prison break or ocean exploration and work together to instruct their guide through each room to find clues that will lead to a safe escape!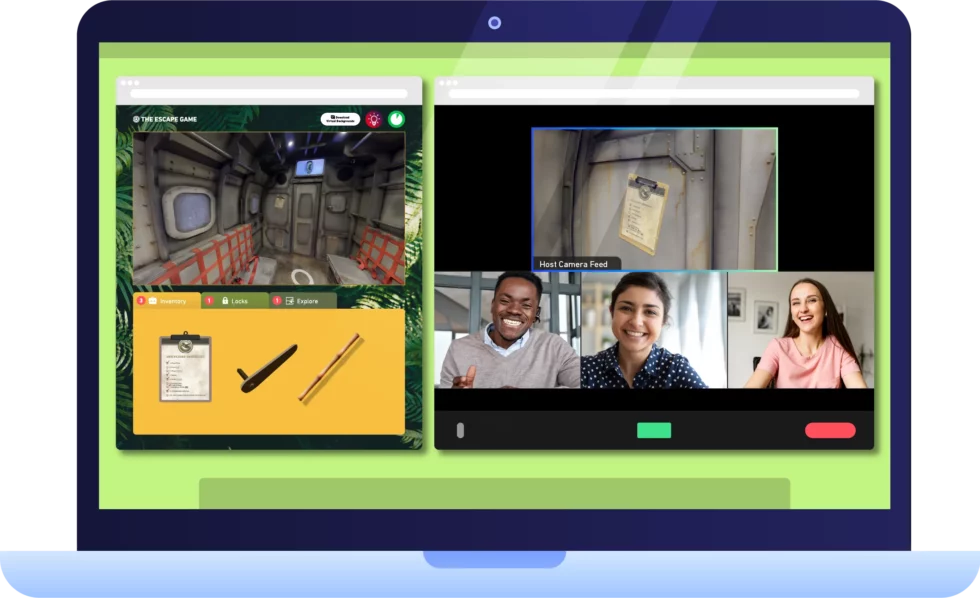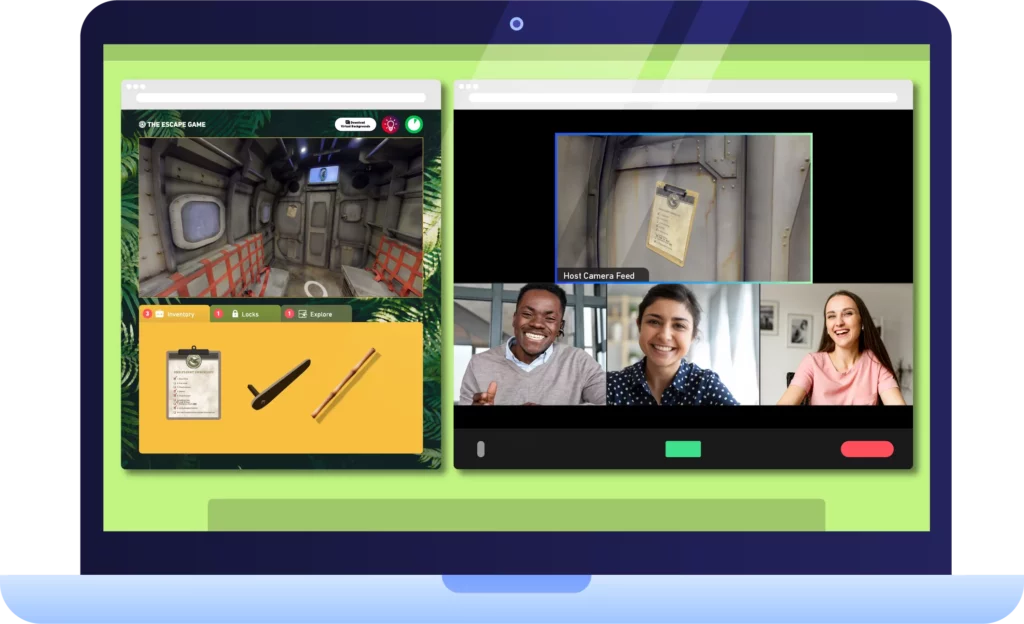 27. Virtual Halloween Costume Contest 
Like the in-person Halloween costume contest, you can get your team excited for Halloween by dressing up virtually and showcasing their favorite Halloween-themed costumes. Arrange a video call and ask your team members to dress up in a Halloween-themed outfit for this call. Take it in turns to go around the virtual room, with each team member introducing themselves and explaining their costume.
28. Halloween Zoom Backgrounds 
Whilst playing a Zoom game or team building activity in your Halloween happy hour, you can make them more exciting and with an element of surprise by asking all attendees to pick a spooky Halloween-themed zoom background to display for the entire time.
Spooky Zoom background suggestions:
Haunted house
Nighttime graveyard
Haunted forest
Abandoned hospital
Zombie Apocalypse
29. Virtual Halloween Movie Marathon 
A bit like an in-person movie marathon, a virtual movie marathon is an excellent virtual Halloween happy hour idea. Your team can pair this up with a drink or food kit that you've sent them and all watch the same movie together.
Using software such as MetaStream allows your team to all watch the same movie at the same time.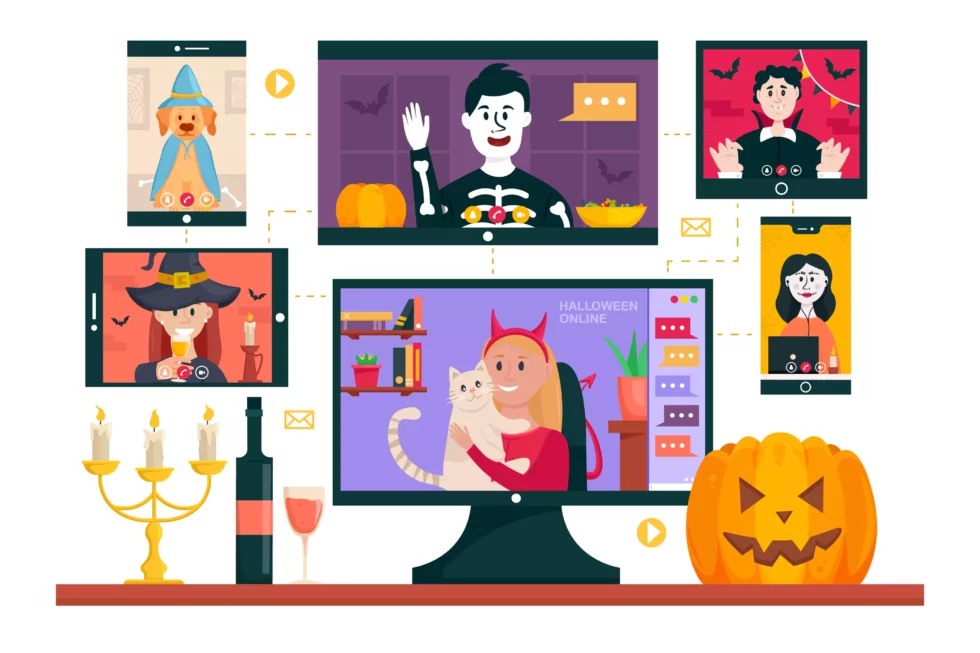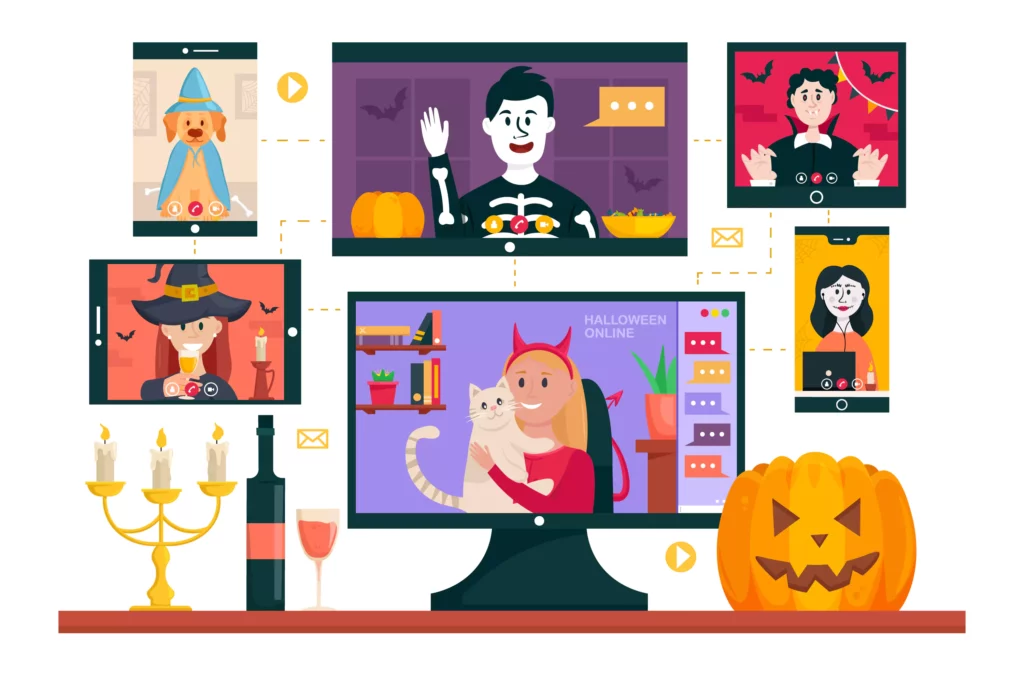 30. Guess Who… Halloween-Themed!
'Guess who' is a fantastic team building game that encourages team members to get to know each other on a much more personal basis. To play, ask each team member some Halloween-themed questions over private messenger. You must then compile a list of the questions and the other team member can then guess which one of their teammates answered which question.
Here are some tremendous Halloween-themed guess who questions:
Childhood fear
Favorite trick and treat present
Favorite Halloween joke
Favorite Halloween movie
What Halloween-themed character would you be?
31. Zoom Halloween Trivia
Zoom trivia is one of the best ways to engage remote colleagues and encourage them to develop their skills whilst having fun! In fact, playing trivia has been found to induce a rush of dopamine, which makes us feel happy.
To play Halloween-themed trivia, write a list of questions that you want your team to answer… make sure they're Halloween-themed! Then, in a Zoom meeting, call out the questions and the first player to answer correctly gets a point. We recommend asking around 20 questions to give everyone a chance of getting an answer correct.
Ideas for Halloween Trivia questions:
What is a group of witches called?
What is the best-selling horror movie ever made?
What do pumpkins grow on, stalks, trees, bushes, or vines?
What color cat is associated with bad luck?
What country did Halloween originate from?
32. Play a Mystery Game Online
Rally your virtual team together and get them playing a thrilling, fun-packed virtual mystery game that is designed to get their hearts racing and adrenaline pumping.
Experts at the Team Building Hub will guide your virtual team through this spooky Halloween happy hour. Your team must work together to unlock evidence in surveillance videos and on the internet to find out who the criminals are. This is a great team building activity because as well as being great fun, it also encourages communication and problem-solving. To make it even more fun, team members can sip on a spooky-themed cocktail whilst they play!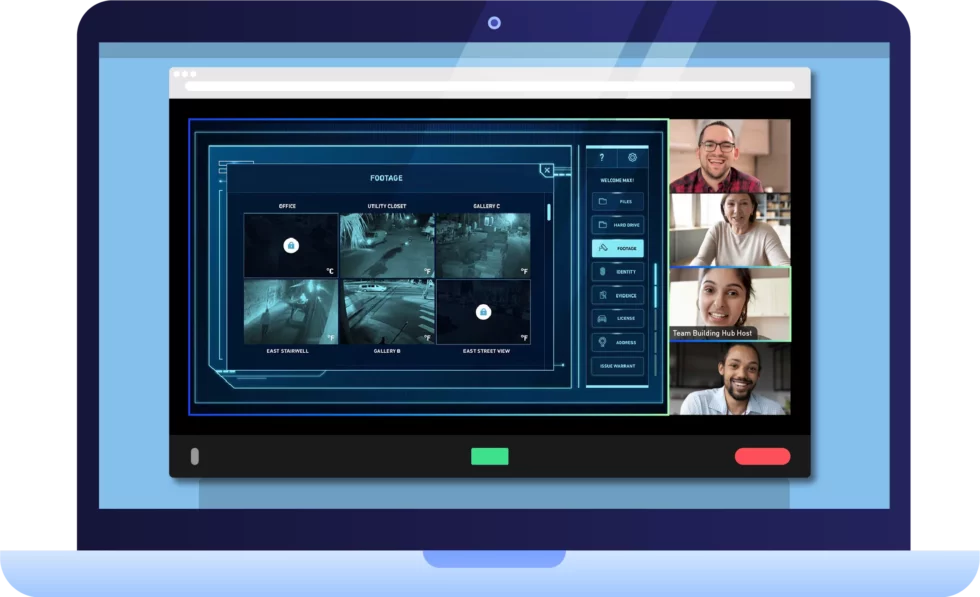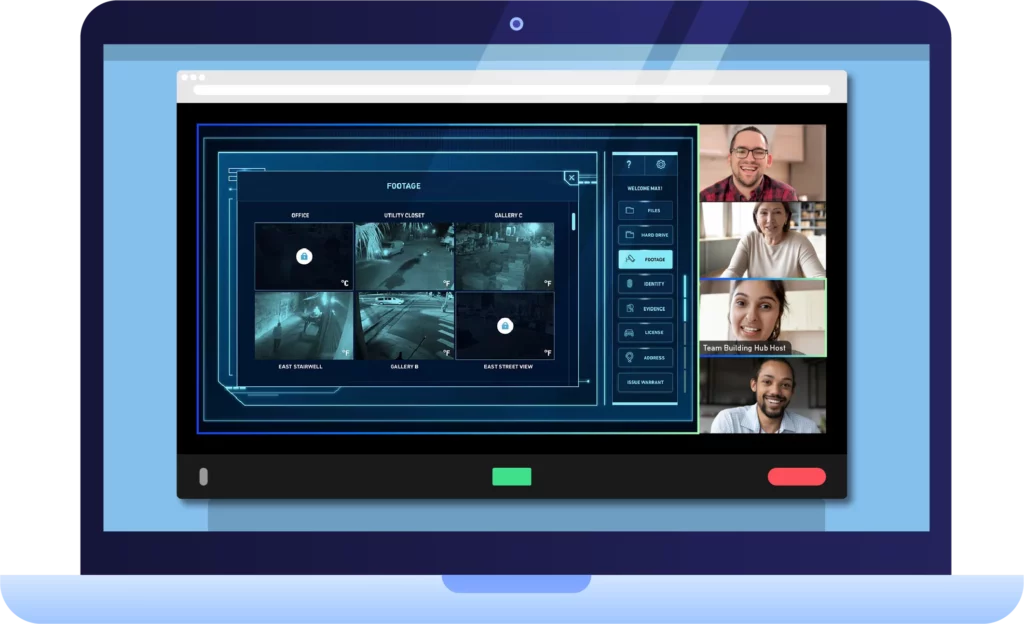 Conclusion
Whether you're looking for in-person Halloween happy hour ideas or virtual Halloween happy hour ideas, we hope that you found some exciting and unique thoughts on the list above. Each idea, whether a drink, food, or activity, is designed to get your team immersed in spooky, festive fun and to help them relax, unwind and bond with their teammates.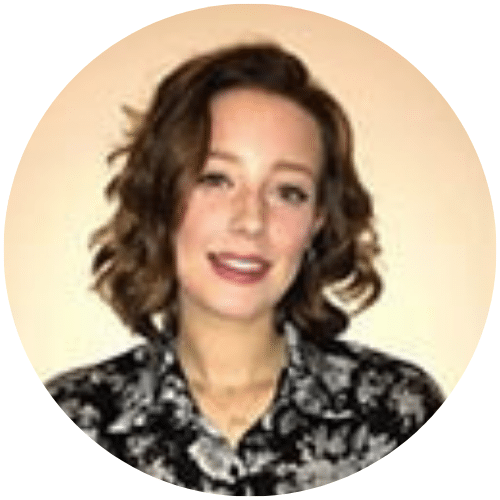 Heather Harper has a Masters in Occupational Psychological from the University of Manchester. She currently works as an editorial writer specializing in organizational psychology – helping teams work better together.