Strike the right balance of food, fun, and reflection this season at your virtual Thanksgiving party! We've compiled a list of fall-themed festivities that bring both joy and meaning as you gather to celebrate. Look no further for a wide range of out-of-the-box, team building ideas to add to your party agenda.
Table of Contents
Why Celebrate Thanksgiving with a Virtual Team?
3 Best Virtual Thanksgiving Activities for Work
19 Best Virtual Thanksgiving Party Games and Ideas
3 Tips, Tricks, & Considerations for Planning Virtual Thanksgiving Ideas for Work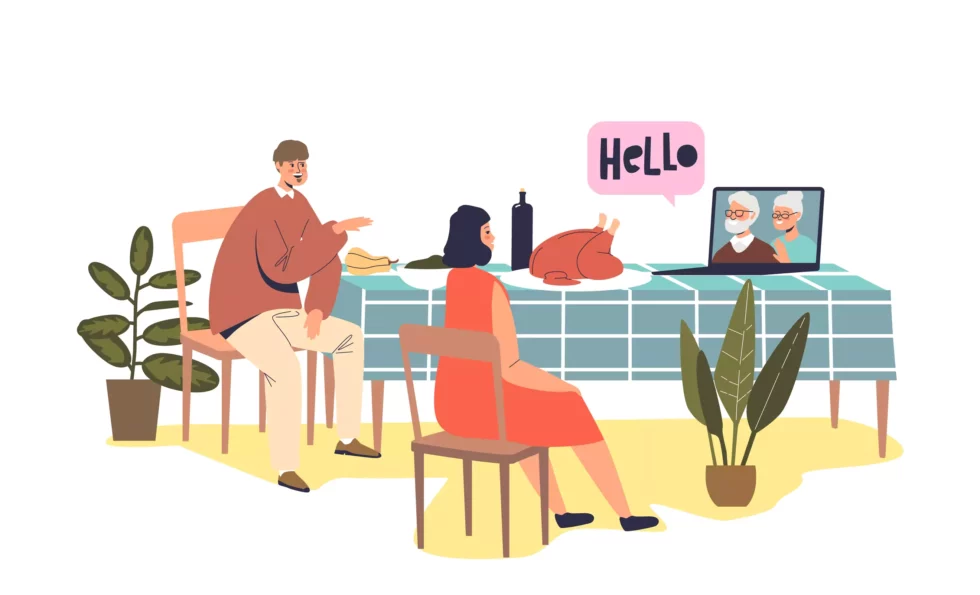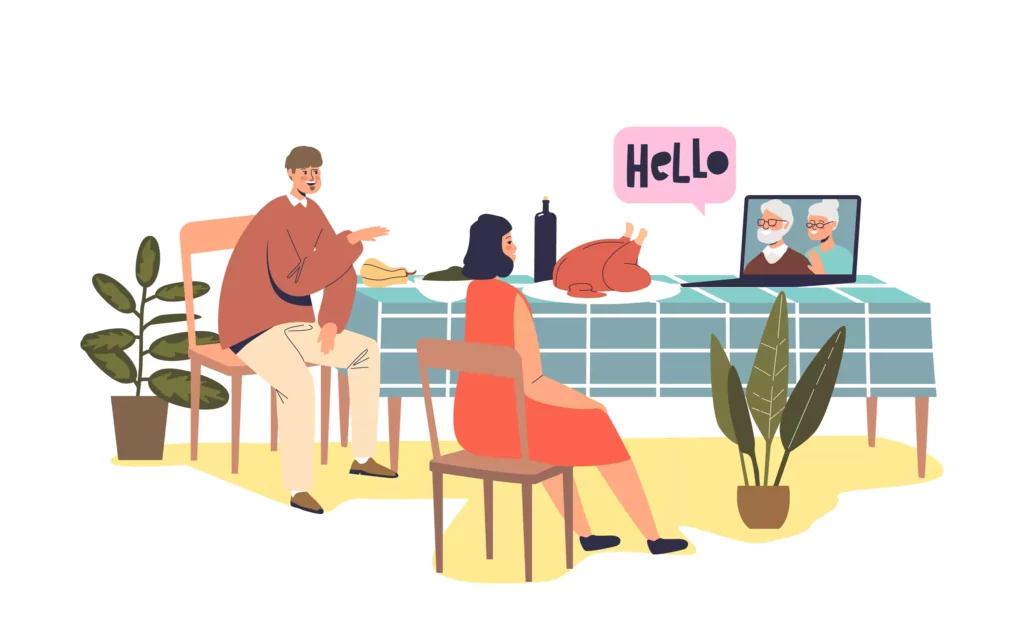 Why Celebrate Thanksgiving with a Virtual Team?
Remote teams need opportunities to connect to stay engaged and learn more about one another. If you want to boost morale, improve engagement, and demonstrate care for your team, a virtual Thanksgiving party is a great team building event to host.
But beyond connecting virtual teams, planning a meaningful Thanksgiving event is a fun opportunity to thank employees and remind them that they matter most while having a blast!
3 Best Virtual Thanksgiving Activities for Work
Thanksgiving reminds us that friends, wellness, and appreciation are part of the magic of life. The activities below are designed to fully emphasize to your team that you are grateful for them and that you care about them, and the communities they live and work in.
1. Host a Recognition Event to Thank Employees
This holiday is about gratitude, and employee recognition is critical for helping your team members feel appreciated and valued. Thanksgiving is the perfect time to host an event where managers and team members share appreciation messages detailing what they're most grateful for about each team member. You can also surprise and delight your folks with appreciation gifts that show just how thankful you are!
2. Give Employees Time to Volunteer
For a lot of people, Thanksgiving doesn't always involve virtual parties or warm home-cooked meals. Encourage your team to use a half- or full-day to volunteer in their local communities. During this season, many communities have soup kitchens and opportunities to help provide warm meals.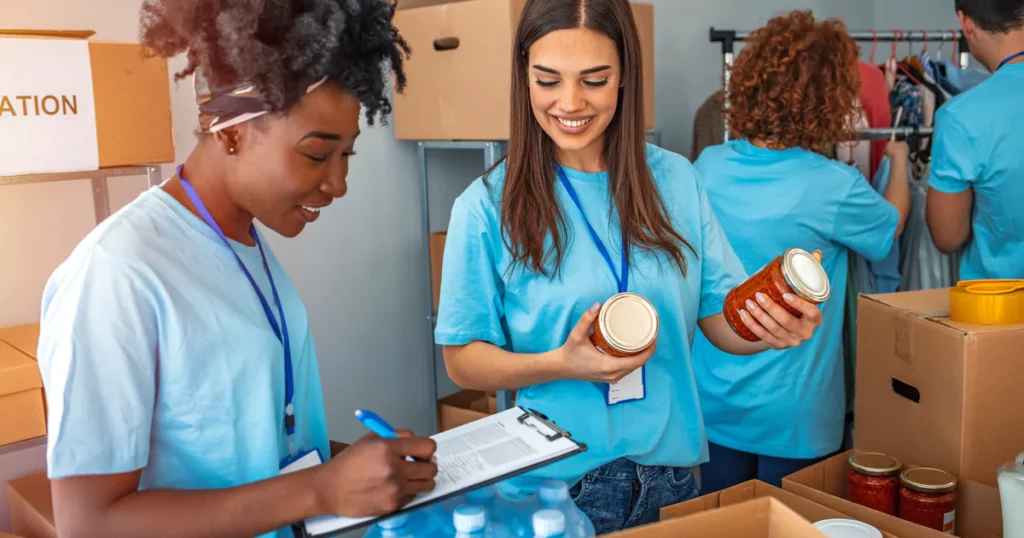 Volunteering is good for mental health and can help demonstrate that your company cares about the team members and the communities they belong to. At your virtual party, you can encourage folks to share their experiences.
3. Donate to a Charity
In honor of your team or on behalf of the company, donate to a local charity this season. Charities or soup kitchens that work to make the holidays special for the community are a great place to start. Get your team involved by encouraging them to each source one or two charity ideas, then you can all vote which to donate to!
19 of the Best Thanksgiving Virtual Party Games and Ideas
Everyone loves games — and no virtual party is complete without a few fun activities. In the list below, we've included some unique activities for your Thanksgiving virtual party, including a few fun spins on familiar favorites.
1. Use Thanksgiving Icebreakers
When your party kicks off and your team is joining one by one for those first few minutes, you'll want to have Thanksgiving ice breakers ready to go. With the increase in remote working styles, there are fewer opportunities for "water cooler" conversations between team members. Icebreakers are a great way to warm folks up and get the conversation flowing early on.
Try these Thanksgiving icebreakers:
• What's your favorite Thanksgiving dinner dish to eat?
• What's your favorite Thanksgiving dish to make?
• Who does the cooking in your house?
• What are some of your Thanksgiving traditions?
• What is your favorite Thanksgiving dessert?
• Do you have a favorite fall season or Thanksgiving movie?
• Do you starve all day as you wait for dinner or do you eat all your regular meals?
Use these or create your own Thanksgiving-themed icebreakers! If you're still running out of ideas, this list of 160 ice breakers should do the trick.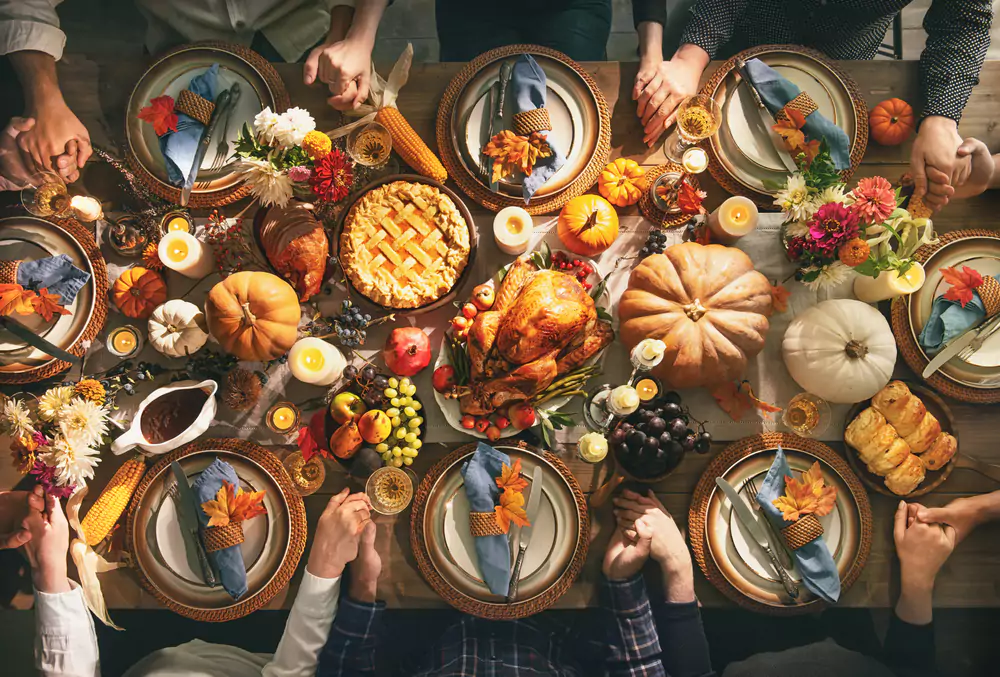 2. Thanksgiving-Themed Trivia
Is there a better crowd-pleaser than trivia? Play in teams or pose questions to the group and have them race to submit answers in chat. Trivia is a great way to get the blood pumping and inspire some friendly competition. Plus, you'll also learn a ton about the history of the holiday!
Looking for some Thanksgiving trivia ideas? Create your own or try these questions:
• When was the first Thanksgiving feast held? Answer: November 1621
• Where did the Pilgrims first land when arriving on America's shores? Answer: Provincetown, Massachusetts
• What Native American tribe celebrated the first Thanksgiving with the Pilgrims? Answer: The Wampanoag
• What city has the oldest Thanksgiving Day Parade? Answer: Philadelphia
• Do male or female turkeys gobble? Answer: Male
3. Attend a Gratitude Workshop
It isn't called "Thanksgiving" for nothing. In America, the Thanksgiving holiday is associated with reflecting on the past year and giving thanks. Gratitude is a great habit to develop within your team. In fact, expressing gratitude has long been associated with greater happiness, more positive emotions, and strong relationships.
Why not include a gratitude workshop at your virtual Thanksgiving party? In this session, you and your team will reflect on how to manage the good with the bad and learn how they can coexist.
For a do-it-yourself version of this event, carve out five to 10 minutes of your party to have folks write down what they're grateful for this year. You can have people write it in chat or invite them to come off mute and share with the team.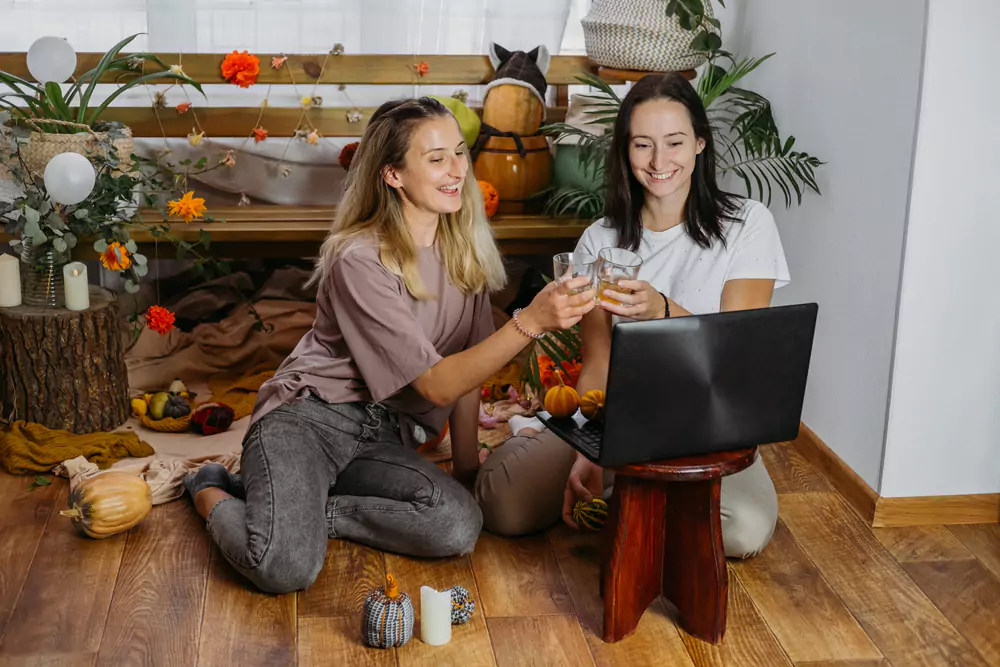 4. Try a Virtual Escape Room
Your Thanksgiving virtual party is a great time to kick back and just have fun with the team. A virtual escape room is a unique way to spend time with one another. As a bonus, virtual escape rooms promote team building without feeling forced. As you work together to solve problems, find clues, and collaborate to escape, your team will be practicing useful workplace skills.
There are options for every team. Whether your team wants to explore an underwater research laboratory or California during the gold rush, you'll have a blast while bonding.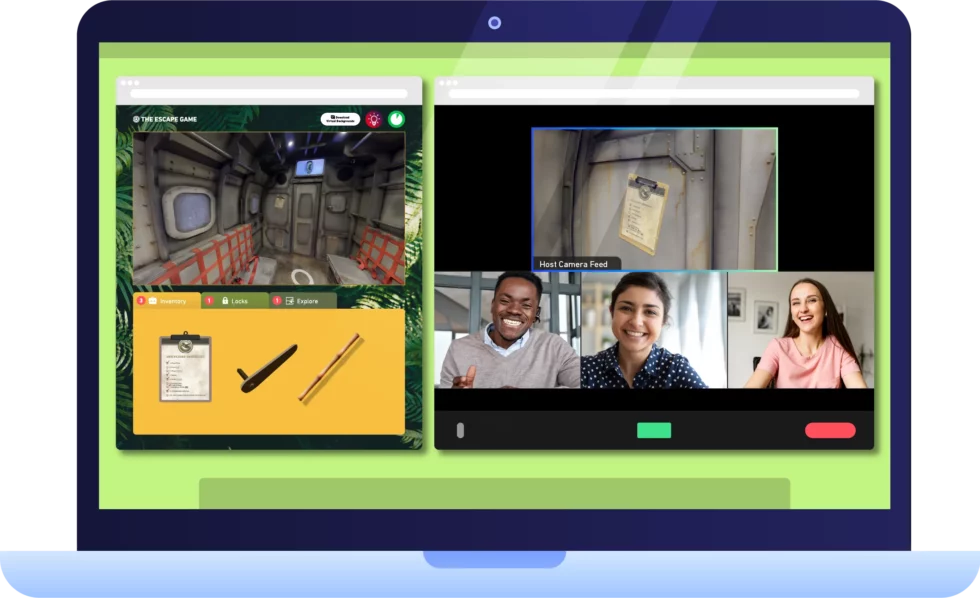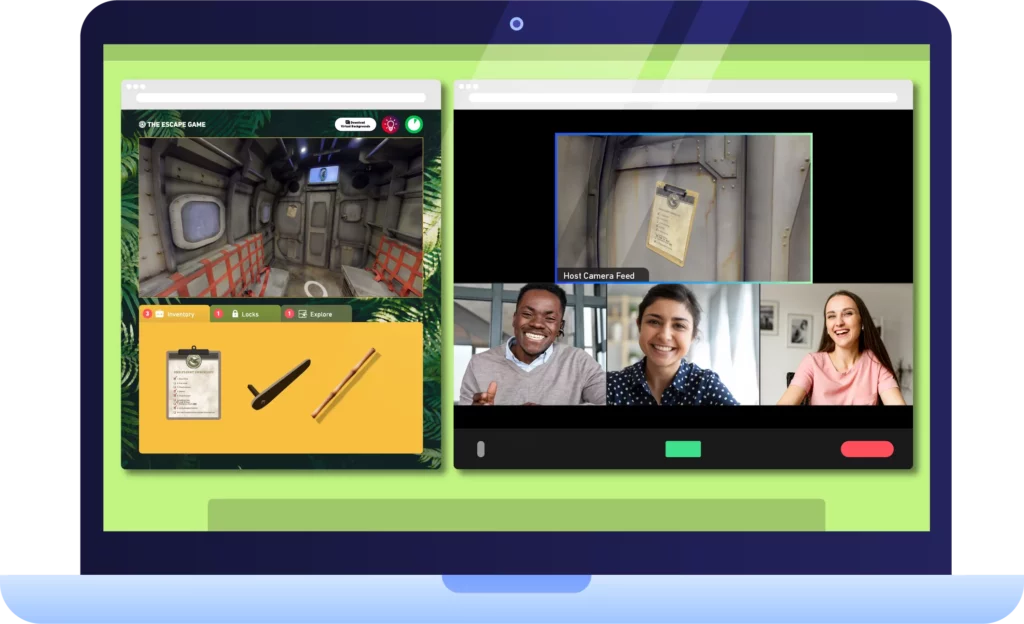 5. Share a Virtual Dinner Together
Food is inextricably linked to this holiday. Sharing a meal together will infuse your virtual party with an authentic Thanksgiving feel.
For a simple option for a shared dinner, send DoorDash or UberEats gift cards to the team and have everyone schedule their deliveries for party time!
If you want to kick things up a notch, try a live virtual cooking class! That way everyone can enjoy the same meal while learning a few fun cooking techniques.
These cooking classes include kits that are mailed to each home so no one has to head to the grocery store.
• Homemade Pizza: Shape your dough, add toppings, and end this class in pure pizza bliss.
• Handmade Cavatelli Pasta: High energy and educational, this class will show you and your team the ins and outs of making traditional pasta without any tools except your hands! This art form takes years to master, but you and the team can have a blast learning the ropes in just around an hour. Bon appétit!
Pro Tip: Be sure to consider allergies before scheduling.
6. Play "This or That" (Thanksgiving Edition)
In addition to food, you'll want to spend time during your party on fellowship. This or That is a fantastic game to spark conversation and learn more about teammates.
Simple and requiring little to no explanation, all you'll do is pose questions to the group and see which option each person picks! Alliances may form, and debates may spark, but either way, this fun game uncovers which team members are more alike than they may seem.
Here are some Thanksgiving-themed This or That questions to try with your team:
• Turkey or ham?
• Mashed potatoes or sweet potatoes?
• Pumpkin pie or pecan pie?
• Football or Macy's Thanksgiving Day parade?
• Scented candles or carved pumpkins?
• Cozy blankets or warm sweaters?
• Host a dinner or attend a dinner?
• Apple pie or apple cider?
• Appetizer or dessert?
• Sweet or savory?
For a fun challenge, have your team pair up and guess what they think their partner will say to these questions. The odds are good, 50-50 chance of being right!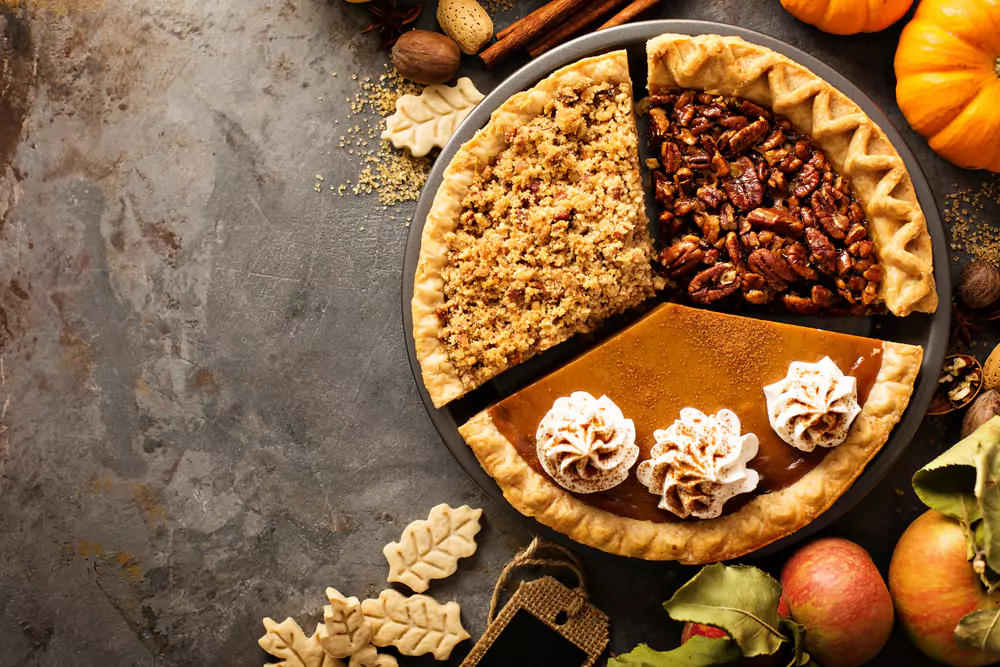 7. Attend a Virtual Comedy Show
This virtual comedy show is one of the most engaging and joy-filled classes you'll find. These corporate comics share work-friendly jokes that are ridiculously funny. Your team will have a blast! From silly games to stand-up comedy — you'll experience it all. But don't get too comfortable in the audience, there's an improvisation portion where your team can join in on the silly games, skits, and jokes.
But here's the best part: One of the comedians can also prank your team by pretending to be an expert in your field who's there to add an educational component to the party. As he speaks with authority, he'll slowly start to incorporate incorrect facts and information. Watch the puzzled faces of team members as they wonder why you'd ever invite someone who knew so little. Teams are delighted when he reveals it was all a prank!
They say laughter is the best medicine, so give your team the gift of laughter this season!
8. Play Thanksgiving-Themed Charades
The game charades is usually a great option for any virtual party or team building event. It's simple, easy to explain, and a whole lot of fun. This season, make it extra special by going with Thanksgiving or fall-related words.
You can create your own list of Thanksgiving words, and capture them on paper or in an online randomizer. To play as a group, select one player at a time to be the actor. Send that person a private chat with the randomly selected Thanksgiving word and have them act it out for the team to guess. Whoever guesses the answer right first in chat or out loud wins!
Here are some ideas for Thanksgiving-themed charades:
• Carving the turkey
• Eating dinner
• Baking pies
• Leaves
• Apple cider
• Family
• Setting the table
• Football
• Wishbone
• Leftovers
Add to this list or create your own!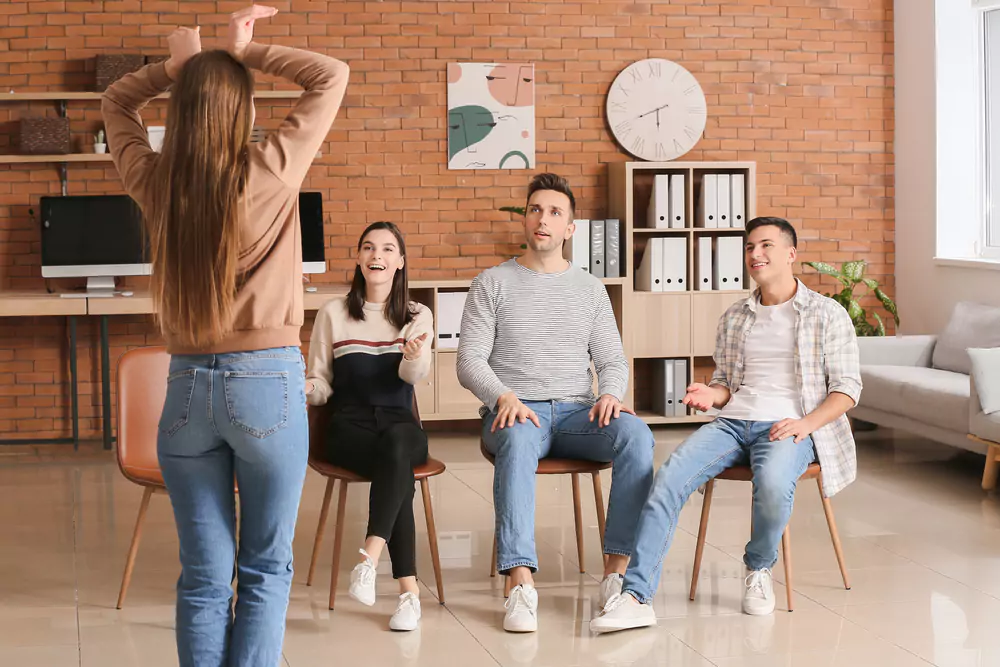 9. Draw Hand Turkeys
Adults can draw and color, too — plus it's a great stress reliever! If you're not familiar with a hand turkey, it's just a fun and easy way to draw a turkey. Has your team been stressed lately? Make this activity a relaxing coloring experience then take turns showing and sharing. Are your folks always looking to raise the stakes? In that case, have teammates vote for their favorite creation and give the winner a prize!
10. Host a Thanksgiving Virtual Scavenger Hunt
Virtual scavenger hunts are a lot of fun. In fact, it's one of the best activities you can do remotely as a team. To play, make a master list of fall-themed items your team members might have around the house or neighborhood. You'll want to make a fairly long list of potential items. Set a timer for a few minutes and the first team member to collect the most items and sit back down in front of the camera wins!
Here are some ideas for fall-themed items:
• A leaf changing color
• A fork
• A fall-scented candle
• A pumpkin (real or fake)
• An acorn
• A pinecone
• A pie tin
• Something orange
• Something brown
• Something red
• An oven mitt
• A thank you card
• An apron
• A board game
• A spoon
• A cookbook
Looking for ideas to award the winner? Check out these creative prize ideas for your scavenger hunt!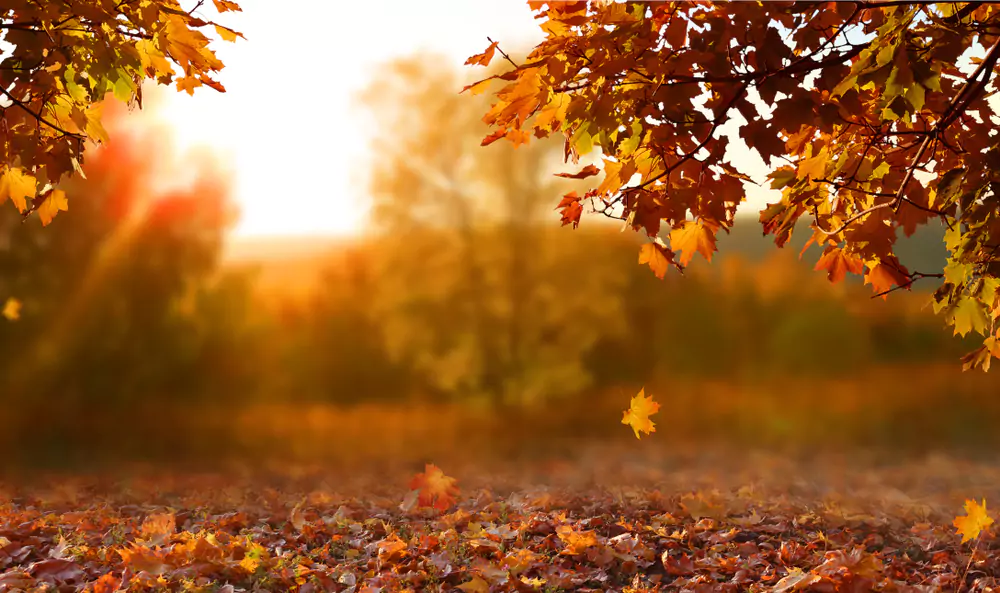 11. Paint Fall Masterpieces Together
After a long, busy year, give your team space and time for a stress-relieving fall painting class. It's the perfect way to prepare for the season. In this instructor-led course, your team will be guided through a painting activity and finish with a masterpiece of their own making. With kits mailed on your behalf to each team member's home, this activity is a breeze to plan.
12. Compete in an Online Game Show
If your team is high-energy, this online game show activity is right for you! Rack up points, race to the top of the leaderboard, and battle it out in this wild game of wits. Led by an energetic Zoom host, you'll have a memorable event that allows you to participate too.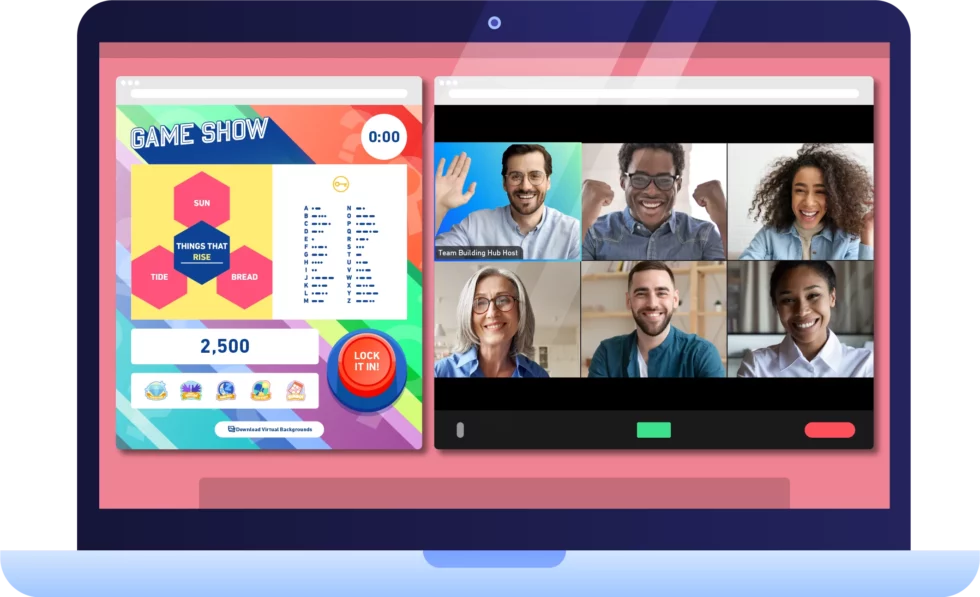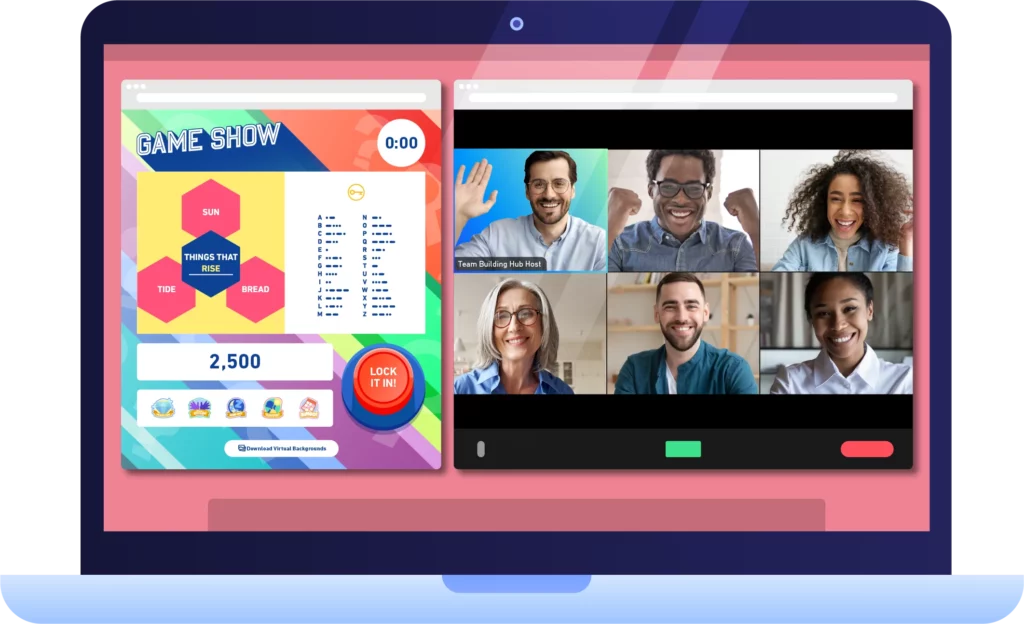 13. Host a Live Virtual Cook-Along
Have any savvy cooks on the team? Invite them to host a cook-along! Decide on a dish as a team or have everyone make their own thirty-minute creations. Take turns describing your dishes and explaining the process. After the meeting, follow up with a complete list of all the recipes shared by the team during the event.
14. Paint Festive Glassware
It's not every day you get to paint glassware. With this unique team activity, you'll have fun, be creative and put an unexpected twist on simply painting on a canvas. This glassware-based art class is an engaging virtual experience, hosted by an expert artist who shares tips and tricks for creating stunning glass projects. Craft kits are mailed to each home and include all kinds of art supplies to help your team members bring their creative visions to life! With no planning necessary, this Thanksgiving team building activity is delightfully stress-free.
15. Play "Guess Who?"
This activity requires a little preparation for the host. Ahead of the party, invite team members to share pictures of their food creations. At the event, you'll share photos and encourage team members to come off mute or type in chat their best guess for the chef behind the meal in the photo. The player with the most correct answers wins!
16. Mix Delicious Fall Cocktails
If your team loves a good happy hour, they're sure to enjoy learning how to make three fall-themed cocktails from a professional mixologist. The instructor will mail home kits with everything your team needs, so it's easy to plan for you and stress-free for colleagues. Remember, not everyone drinks so double-check that this activity is right for your team.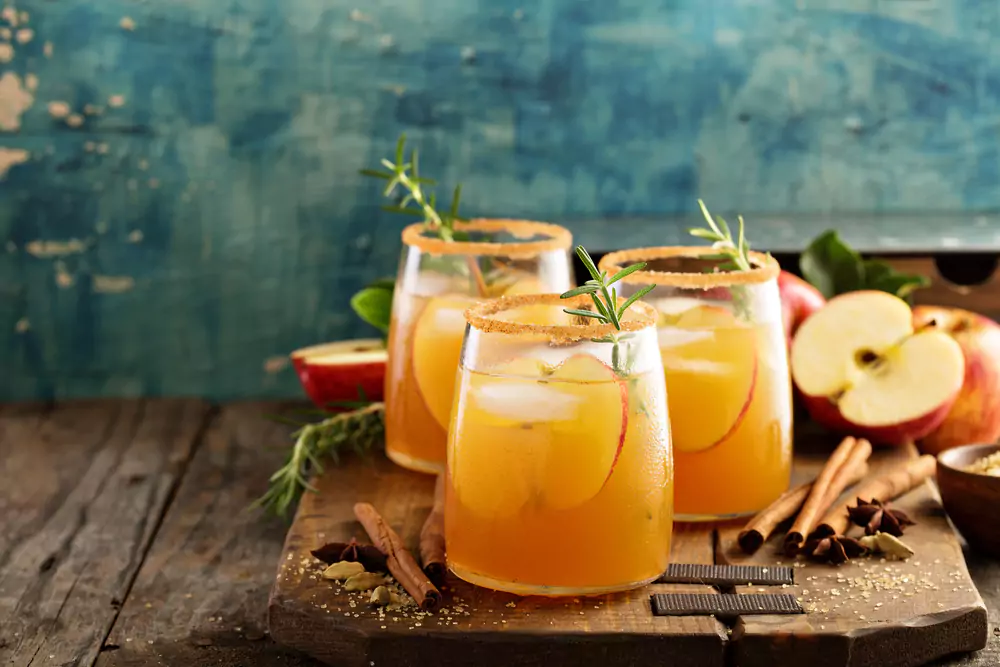 17. Create a Thanksgiving Time Capsule
If your team is good with delayed gratification, this is the activity for you! Traditionally, a time capsule is a physical storage container of objects that you bury for discovery in the future. A digital time capsule can be a fun twist and a thoughtful way to encourage gratitude and reflection throughout the team.
In your first year, keep it simple and have employees submit one to two photos from the past year and a few lines about what they're most grateful for at work. Add these items to a word document and keep it safe until next year. If you're using Zoom, you can create a whiteboard and have folks all add what they're grateful for live.
Next year, revisit the document together, reflect on memories and discuss how things have changed, then make another!
18. Play "Never Have I Ever" (Thanksgiving Edition)
Get to know your team with a fun round of Never Have I Ever, the Thanksgiving edition. The game is simple, and your team will catch on fast. Players take turns going around the virtual room sharing something they've never done. If anyone else in the room has done it, they raise their hands or use the "Raise Hand" feature or a fun emoji reaction if you're playing on Zoom.
This is a great activity to warm folks up. As the host, you can kick it off by doing a few with the team before going around the room. Try these Thanksgiving Never Have I Ever questions or create your own!
Never Have I Ever…
• Tasted turkey
• Ran a Thanksgiving Day 5K or turkey trot
• Cooked a Thanksgiving Dinner
• Stuffed a turkey
• Tried cranberry sauce
• Burned a meal while cooking
• Had a pumpkin spice latte
• Tasted apple pie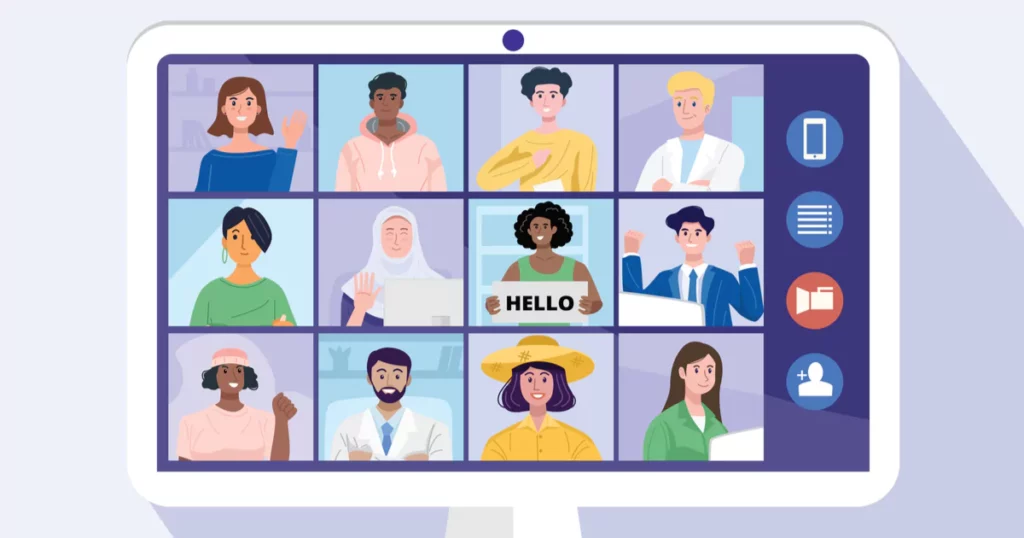 19. Play Thanksgiving Pictionary
Whether folks can draw or not, a virtual round of Pictionary is an engaging (and hilarious) activity to add to your agenda this season. No one needs to be an artist, just encourage players to take turns doing their best.
Privately message the artist their randomly selected word. Then you can use the Zoom whiteboard feature to allow everyone to see what's being drawn, or have players set up their cameras with paper in view for all to see! For more help on how to use Zoom, read our Guide to Zoom. Any players who aren't drawing compete to guess the right answer first in chat.
Here are some Thanksgiving concepts to try:
• Turkey
• Changing seasons
• Autumn
• Thanksgiving dinner
• Dessert
• Apple pie
• Ham
• Football
• Grandparents
• Celebrate
• Gratitude
• Harvest
• Bread
• Home
Use this list or create your own!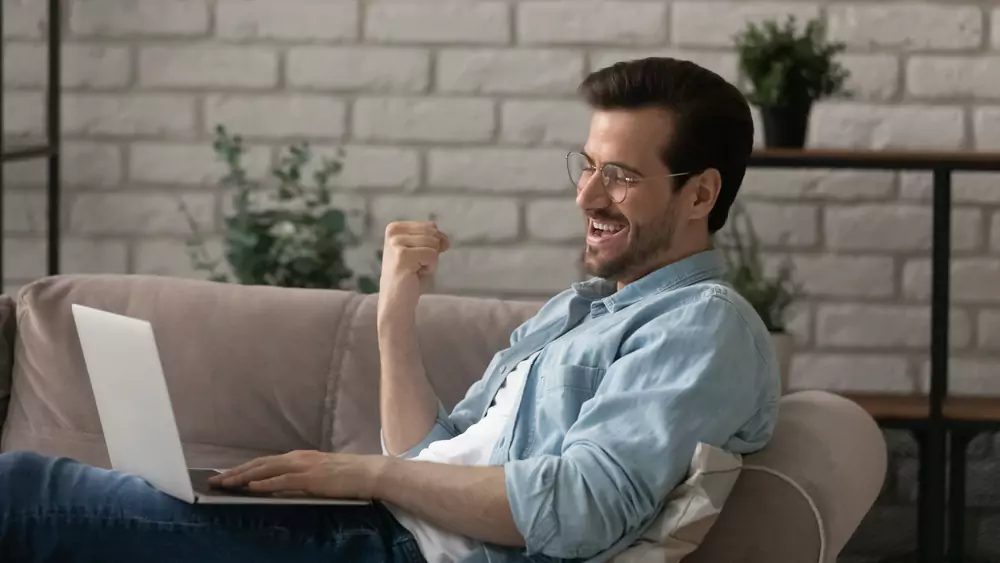 Top 3 Tips, Tricks, & Considerations for Planning Virtual Thanksgiving Ideas for Work
1. Celebrate Native American Heritage Month
Thanksgiving is no doubt a meaningful holiday to many, but you may want to take time during your event to educate or remind employees about its complicated history and emphasize that November is National Native American Heritage Month.As a team, you can watch educational videos on Native American history, then have a group discussion to reflect on any learnings.
If your agenda is already full, use the invitation or follow-up email after the party to share facts and encourage the team to learn more about the holiday's origin.
2. Celebrate Different Cultures
Your team is bound to be made up of people from all different countries and groups, and you should create space to celebrate those differences and learn more about one another. Ahead of the meeting, ask if anyone would like to volunteer to share more about how their family celebrates the holiday and how culture influences their practices. What foods do they eat? What cultural traditions (if any) does their family have on Thanksgiving?
It's a win-win: The volunteer gets to share more about who they are while the rest of the team benefits from the experience of hearing about various cultures.
3. Mail Home Thank You Cards
In a world where everything is digital, your people will really appreciate receiving a physical thank-you card in the mail. If your team size isn't too big, try writing a quick handwritten note in each card! Keep it short if you need to, one sentence per employee. Let them know that you appreciate them for everything they do — challenge yourself to name at least one specific thing!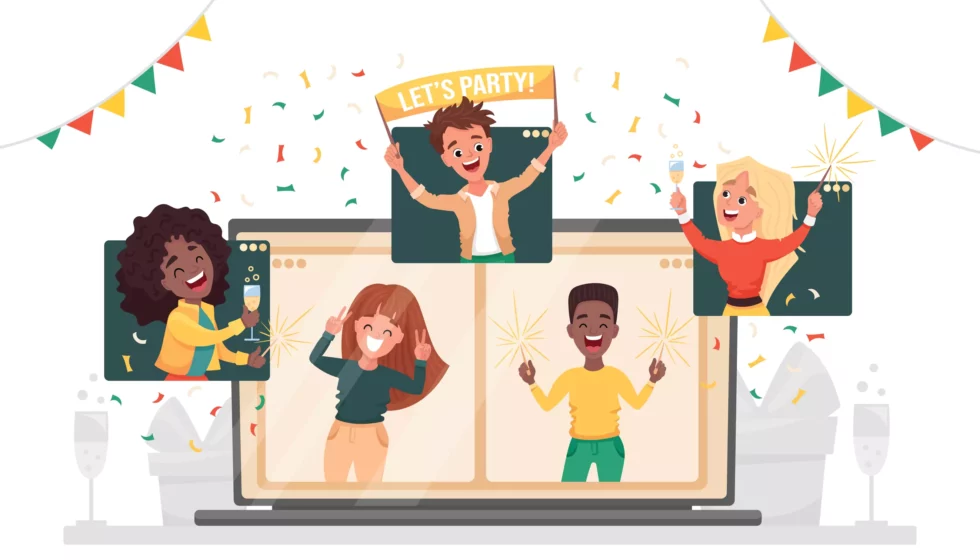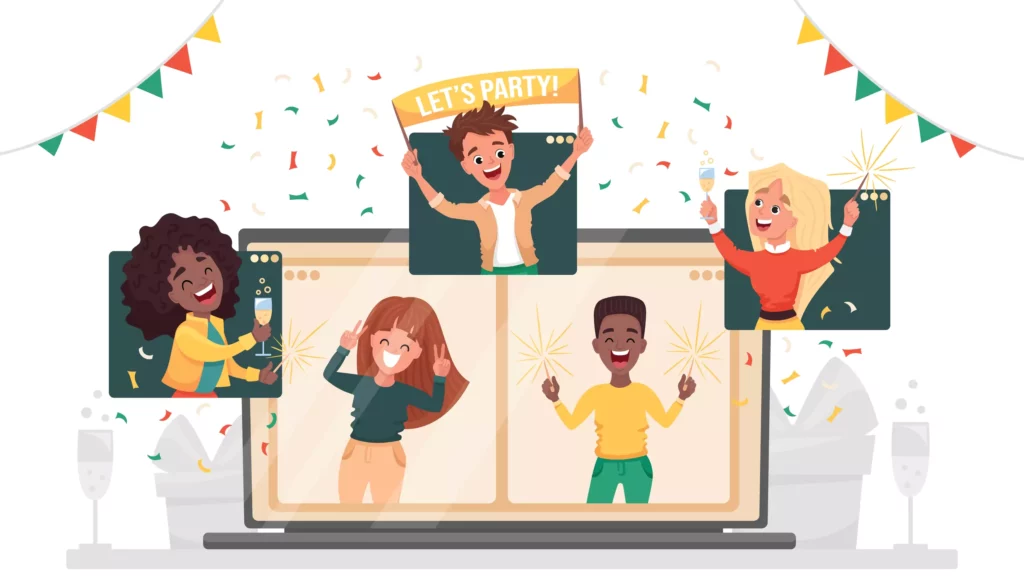 Conclusion
Your virtual office Thanksgiving party doesn't have to be boring or hard to plan. The activities above are sure to bring the right balance of fun and reflection! You can have an engaging team building event this season using these ideas while keeping what matters most top of mind: gratitude and gratefulness.