If you've got a team and the ability to gather them online, it's time to consider hosting a virtual event for them! You can use technology to your advantage, bringing your team closer together and helping them create some memorable moments at work. Keep reading for some of our favorite virtual event ideas!
10 of the Best Virtual Event Ideas
These virtual event ideas are perfect for employees who are remote, in-person, or are part of a hybrid team. Virtual social events are worth the planning and investment to see your team or company come together for a little fun. They don't require too much on your team's part—all they need is a stable internet connection and a video conferencing platform (Zoom or Google Meet are two of your best options!)
Make sure you tell your team at least one week ahead of time that you'll be hosting one of these events. Feel free to generate some hype and excitement also! Remember: virtual events can be fun if the participants have a reasonable level of expectation that you can meet (or even exceed). Make it worth their while by offering prizes, celebrating employees, or keeping surprises coming throughout the event.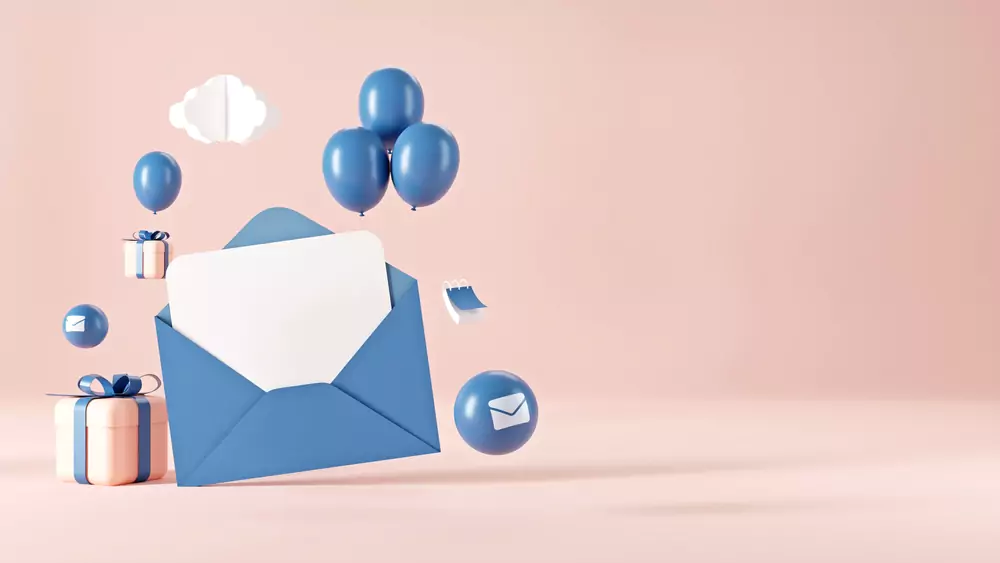 Some ideas to promote your event include sending email invitations or calendar invites (Paperless Post, Evite, and Greenvelope are great choices), reminding your team during team meetings, creating a fun graphic, and giving your event an interesting event title.
1. Virtual Birthday Party
Birthday parties are an easy win for a fun virtual event. You can take the time to celebrate one person, or, if you have a larger team, take the time to celebrate all the birthdays that happen in a particular month. Plan something special for the birthday celebrants, like asking a few teammates to say something nice about him or her, playing a "How Well Do You Know Me" game, or sending them a special gift to know how much you appreciate them. When others see how much you appreciate your team members, you'll automatically boost their morale.
Materials Needed: Gifts and party favors
Estimated Costs: $75–$100
Estimated Time Needed: 30–60 minutes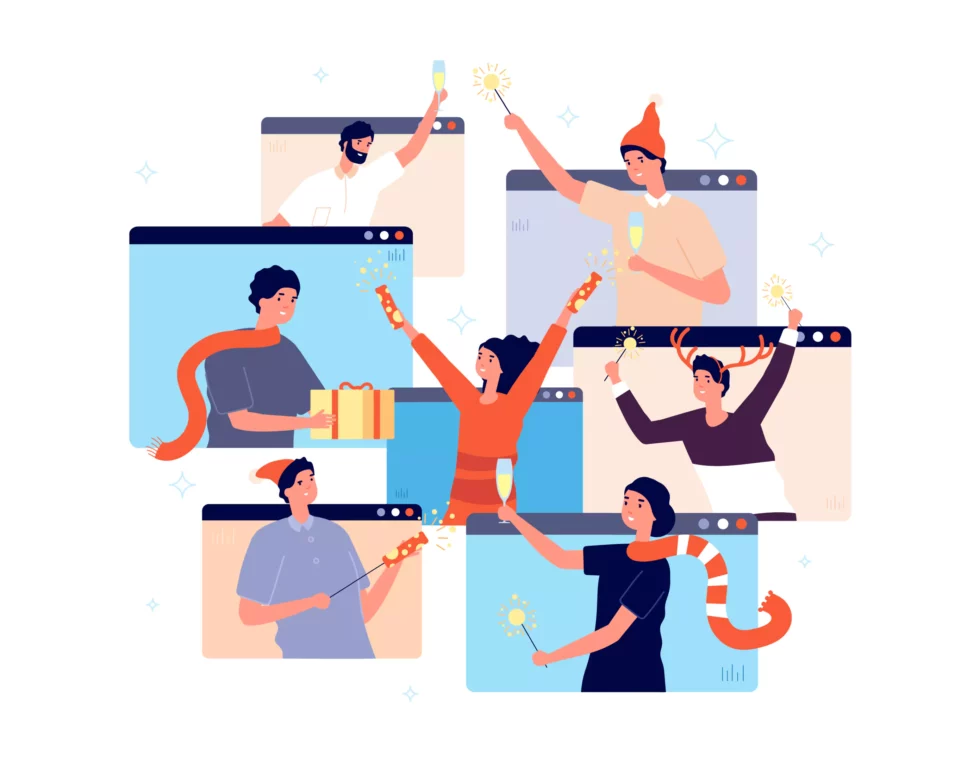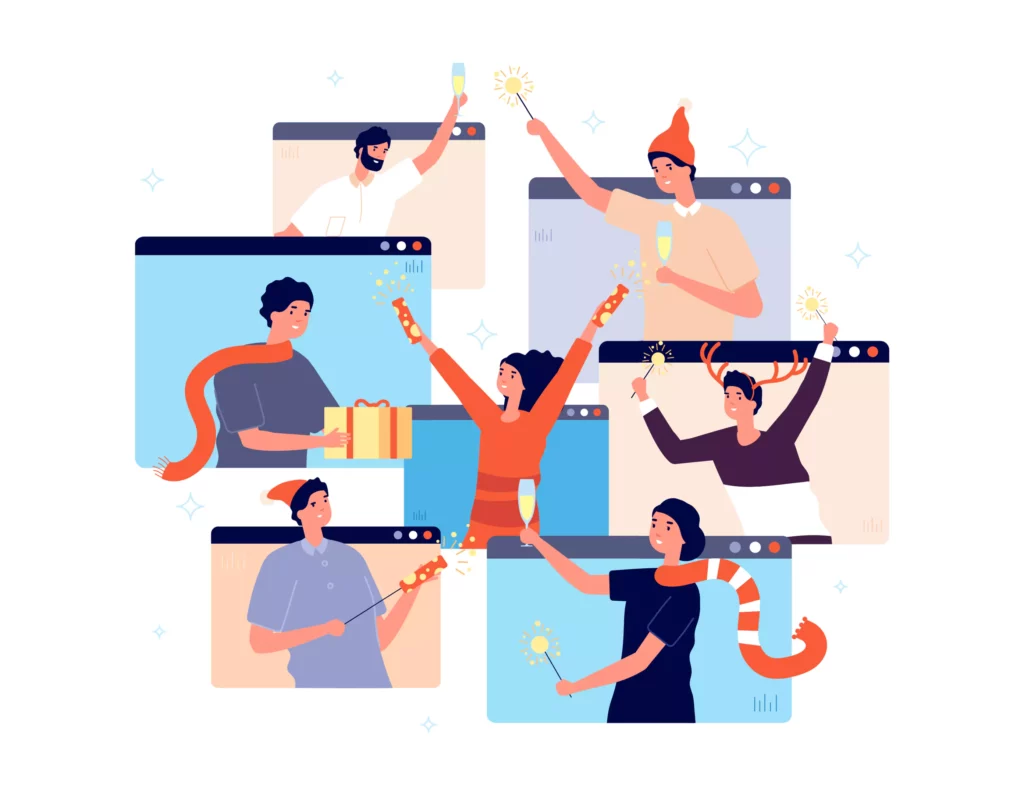 2. At-Home Show and Tell
Give your team a creative theme for this show-and-tell event like "weirdest vacation souvenir," "cutest pet," or "best blanket." Each person shares what their item is, and at the end of the event, your team can vote on who showed the best item. To make this virtual event fun, encourage your teammates to share the story behind the item and offer a first and second place prize to the ones with the most votes.
Materials Needed: Prizes for the winners
Estimated Costs: $80 ($50 for first place prize, $30 for second place prize)
Estimated Time: Give each person 3 minutes to share their item.
3. Virtual Holiday Party
You can choose whichever holiday to celebrate with your team, but make sure you go all out! Take time to create a program for your event that includes an introduction, a quick history of the holiday, games (a scavenger hunt, Kahoot! game, or Sporcle quiz would be fun!), and plenty of laughs. Think of this as a chance for you to entertain your team and keep them on their toes. If you want to put a unique spin on this event, choose an obscure holiday like National Donut Day or Popcorn Day. You'll want to ask yourself, How can I connect this holiday with my team or our company? Whatever you choose, make it fun and memorable!
Materials Needed: Holiday decoration for whoever's screen is hosting the event, holiday gift packages for your team members.
Estimated Costs: $50 for decor, $30 for each gift package
Estimated Time Needed: 60–90 minutes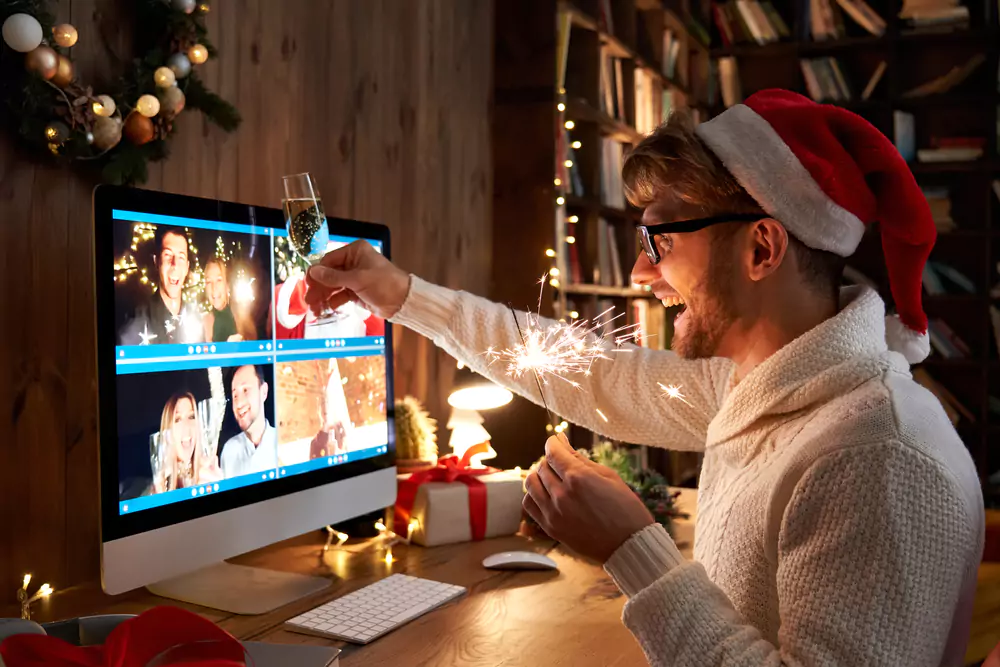 4. Teleparty
Watch a short movie, documentary, or show together with your team online! Everyone can do this from the comfort of his or her home. While each person must have an account with the streaming service you choose, this is a great time for your team to bond. Teleparty offers a chat feed next to the screen where you can pose questions or make fun comments. With Teleparty, you can stream something from Netflix, Youtube, Hulu, Disney Plus, HBO Max, or Amazon Prime.
Materials Needed: Just your computers!
Estimated Costs: N/A
Estimated Time Needed: 5 minutes to install Teleparty, 60–90 minutes for the viewing party
5. Virtual Award Ceremony
Celebrate your team's accomplishments and show them your appreciation! An awards ceremony (or show, if you want to be an entertainer) is a great way to boost morale. Get each recipient some kind of memorable plaque or trophy, as well as a little bit of prize money or gift card. Since this is a chance for you to properly show your team how much you appreciate them, you'll probably put a good amount of time and money into this event. It will also help if you have an event team that can help you make this a great time. For more details on how to host the best virtual award ceremony, check out our blog post about it!
Materials Needed: Decoration for the host's screen and awards for the category winners.
Estimated Costs: $50–$75 for decoration and $50–$100 on each award.
Estimated Time Needed: 60–90 minutes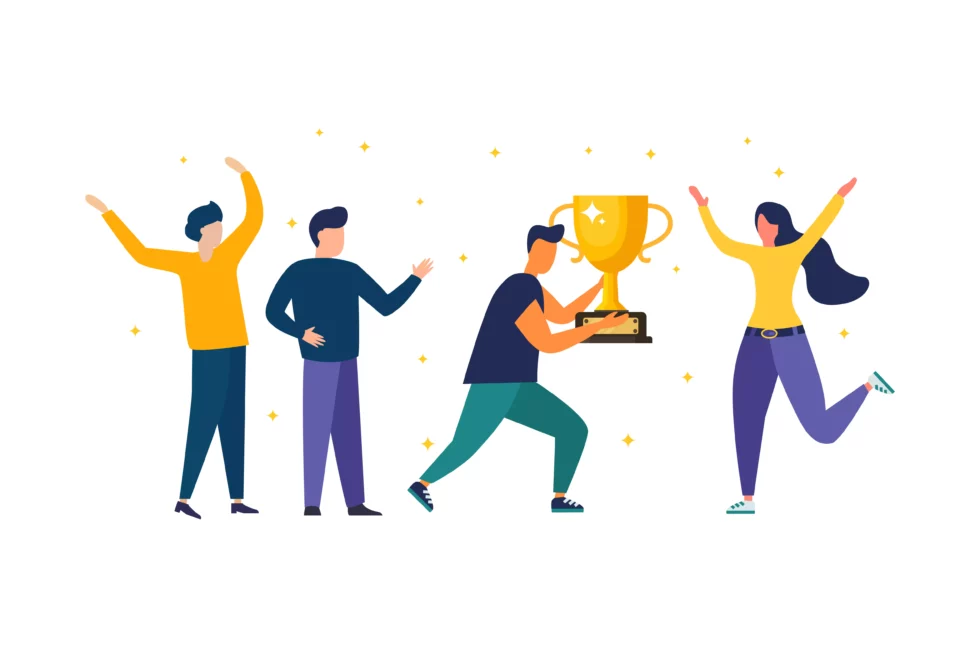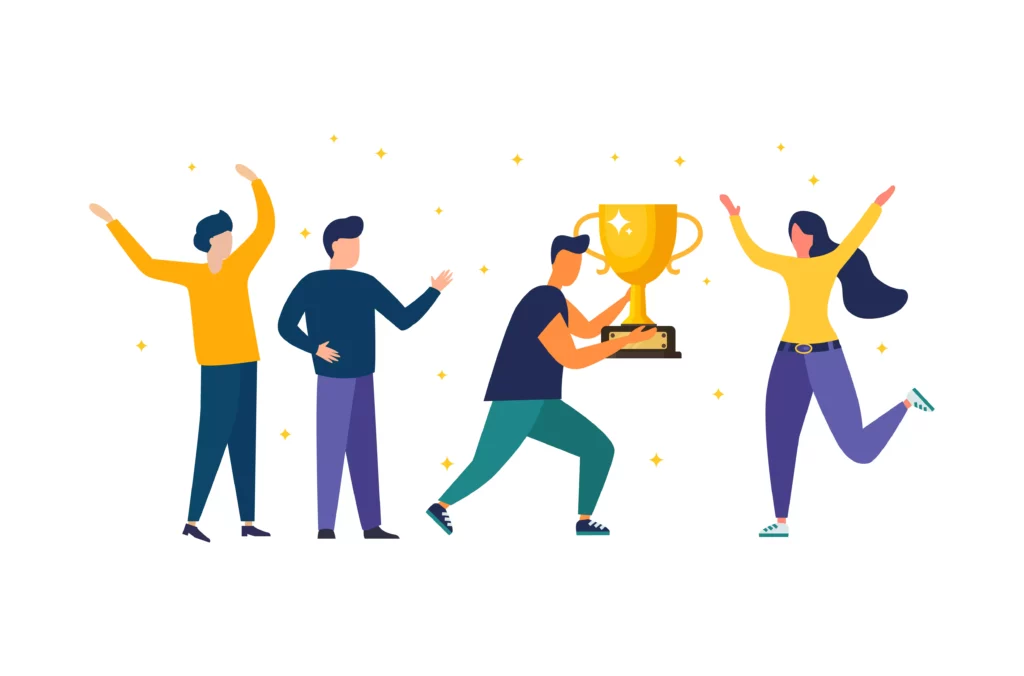 6. Online Webinar
A webinar is a unique way to host a training or to educate your team on something. You can employ an outside company to host a webinar, or if someone in your company is an expert in something, you can ask them to prepare a schedule and program for a training. Webinars don't have to be solely focused on work; get creative with them! You can bring in experts on nutrition and fitness, finances, time management, and more! It may also be helpful to send out a survey or poll on things outside of work that your teammates are interested in growing in and going from there. To encourage people to come, offer a related prize in a raffle drawing for those who show up and stay the whole time.
Materials Needed: Nothing but the computers!
Estimated Costs: $300 ($200 for booking a speaker, $100 for raffle prizes)
Estimated Time Needed: One hour
7. Virtual Happy Hour
If you want creative virtual event ideas, consider a virtual happy hour! These are great opportunities for your teammates to have some fun and get to know each other more. On a platform like Zoom, you can split up your team into smaller breakout rooms so each team member will have a chance to chat with a handful of people that they might not know very well. Encourage your team to bring a beverage or snack of their choice, and you can incorporate different games (icebreakers are great options!) into the hour.
Materials Needed: Nothing
Estimated Costs: Nothing
Estimated Time Needed: One hour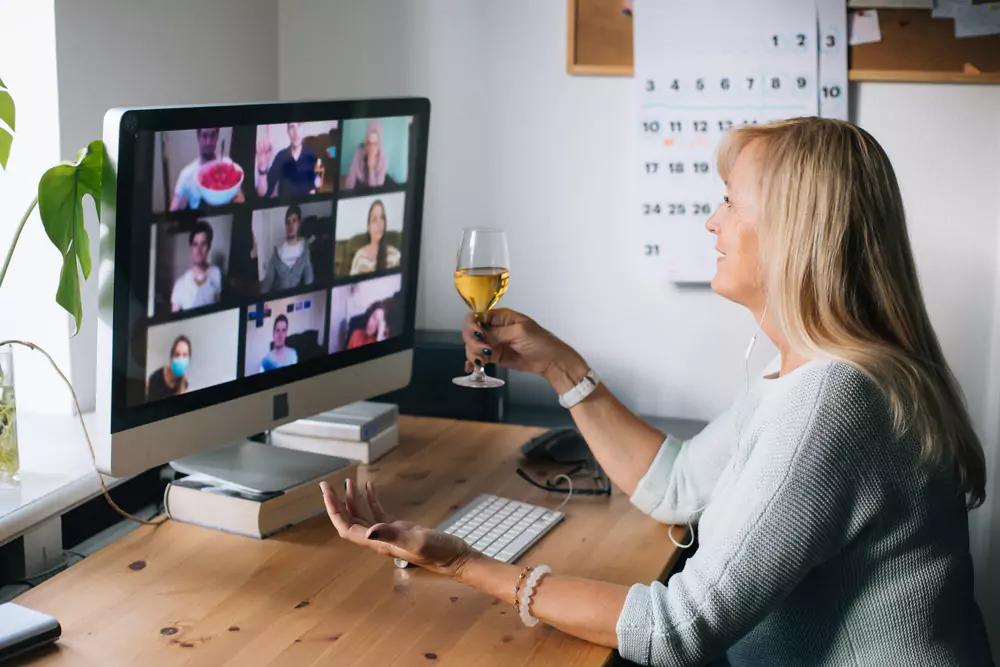 8. Virtual Trivia Hour
Trivia is a fun way to put your team's knowledge to the test. Switch up the categories so that each team or individual won't feel like they're way behind everyone else. You can pull questions from online sources or premade trivia games (does Trivial Pursuit ring a bell?), or you can create your own questions based on who will be playing! Don't forget to offer a first-place prize and include bonus rounds!
Materials Needed: A prize, trivia questions
Estimated Costs: $30 prize for each winner
Estimated Time Needed: One hour
9. Virtual Yoga Class
You may have some seasoned yogis or some nonathletes on your team, but everyone can benefit from a good stretch now and then! Depending on the skill level in your group, your yoga session can be anywhere from 15 to 45 minutes. If you have team members who have never done yoga before, encourage them that this can be a fun, new experience and there will be no judging whatsoever. That first downward dog can be a little tough! While you can find a yoga video on YouTube to stream with your team, a live instructor will be beneficialand patient with your group as a whole.
Materials Needed: Yoga mats and an instructor
Estimated Costs: $30–$80 for an instructor, depending on time
Estimated Time Needed: 15–45 minutes
10. Video Game Social
Playing video games as a team can encourage camaraderie, creativity, and fun within your team. While a game like Mario Party works better with smaller teams (and you need a gaming console to play it with), something like Jackbox Games, Uno, or Psych, can be played using a cell phone. Make sure that everyone stays connected on your video conference to get real-time reactions!
Materials Needed: Virtual game of your choice, cell phones with downloaded apps
Estimated Costs: Free–$30
Estimated Time Needed: 60–90 minutes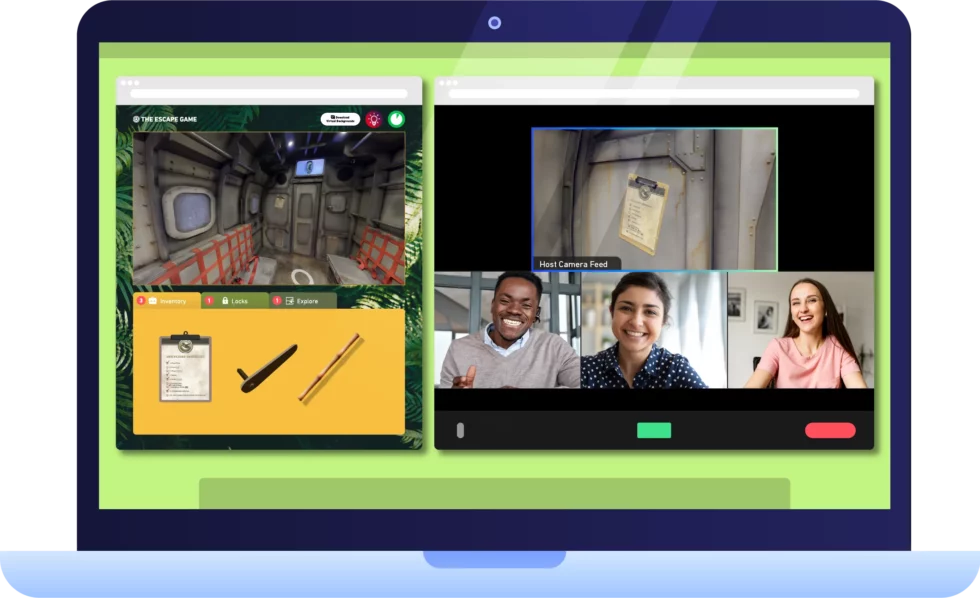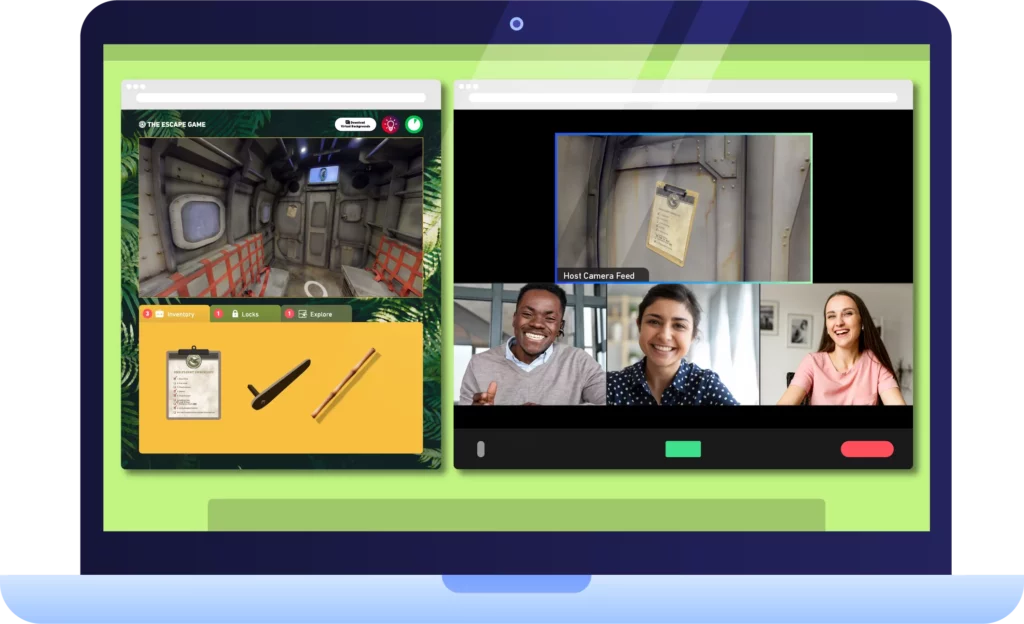 Final Thoughts
Virtual events aren't a thing of the future! Save a few of these virtual event ideas for the next time you think it's time to bring an element of fun to your team, whether they're remote, in-person, or a combination of the two. Your team will be excited to try a new experience that can bring them together and help build relationships.
---
Get Your Free Game
The 3-Minute Non-Cringey Ice Breaker for Your Next Meeting
A ready-set-go game to run at your next fully remote or hybrid meeting without the hassle or added pressure of developing a team-building exercise yourself. Get it here →
---