Many of your employees likely celebrate Thanksgiving weekend with family and friends. But there's no rule against celebrating this festive Fall holiday twice – once with relatives and again with friends – or in this case – coworkers.
Friendsgiving is the perfect way to bring your employees together for an informal gathering before Thanksgiving. Below we share the best office Thanksgiving ideas as well as tips on the best way to plan an office Friendsgiving.
What Is Friendsgiving?
In 2020, the Merriam-Webster dictionary officially added the word "Friendsgiving". This obvious blend of "friends" and "Thanksgiving" is defined as "a celebration or meal shared among friends on or near Thanksgiving Day".
Friendsgiving is a less formal occasion that's an alternative to Thanksgiving when people who are connected as friends, coworkers, or in other ways, can come together for good food and good times.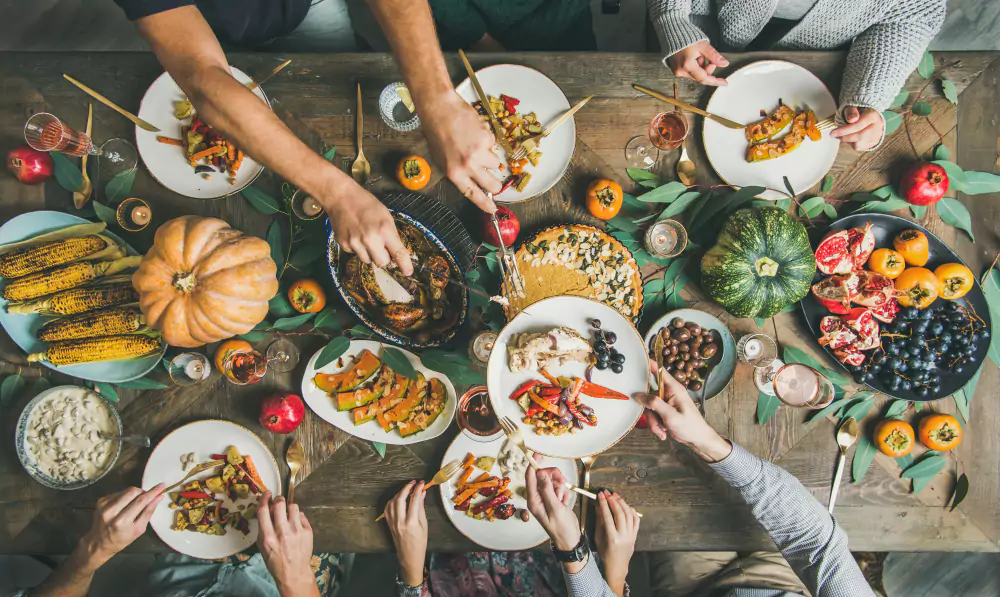 Why Celebrate Friendsgiving In The Office?
Hosting a Friendsgiving party at work brings fun and good food into the office. It allows your employees to enjoy each other's company without the pressures of work hanging over them. This is especially important in an office where not all employees have opportunities to interact.
Social time at work lets your employees get to know each other better which can increase camaraderie – an important component in team cohesiveness.
Friendsgiving is also a time when you can tell your employees how grateful you are for their efforts year-round. Your employees will always appreciate being told how valued they are!
Also, this occasion also affords colleagues the opportunity to show their gratitude for working with each other. There isn't always a formal opportunity to do so. Friendsgiving offers coworkers to say thanks to each other.
Lastly, Friendsgiving is the starting point for the build-up to the holiday season. Bring some lightheartedness into the office a little early this year!
Best Way To Plan An Office Friendsgiving
Start Planning In October
Friendsgiving shouldn't be held too close to Thanksgiving. Not many people can handle two huge meals within a few days of each other.
A good time is a week or two prior to Thanksgiving. Ask for feedback from your employees by sending an email asking them for their preferences.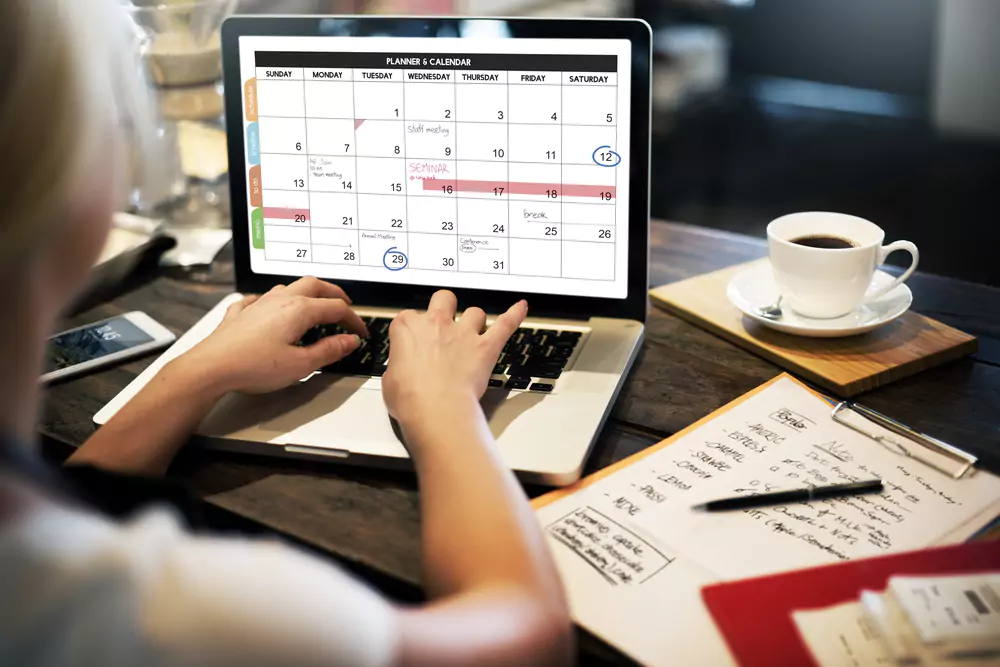 Form A Friendsgiving Committee
If you think that you'll need help in arranging the event, recruit colleagues for a Friendsgiving committee. Assign each member to manage different aspects of the celebration like handling food arrangements, decorating the office, organizing activities, etc.
Send Out The Invitations
Once you have settled on a date, it's time to invite everyone! Set the tone for your Friendsgiving by sending a digital invitation. It's so much classier than a bland email!
You can find pre-designed templates to create an e-invitation. Two websites with a decent selection of free Friendsgiving templates are Punchbowl and PaperlessPost.
Have A Sign-Up Sheet For Food
If your company is catering the event, then you can skip this step. Many offices choose to do a potluck lunch for Friendsgiving. In this case, you will need to ask everyone what they plan to bring.
You don't want to end up with four pumpkin pies and one green salad. Create categories so you can make sure that there is food for all parts of the meal: starters, sides, main dishes, and desserts. Use a shared Google or Excel Sheet so everyone can see what is needed.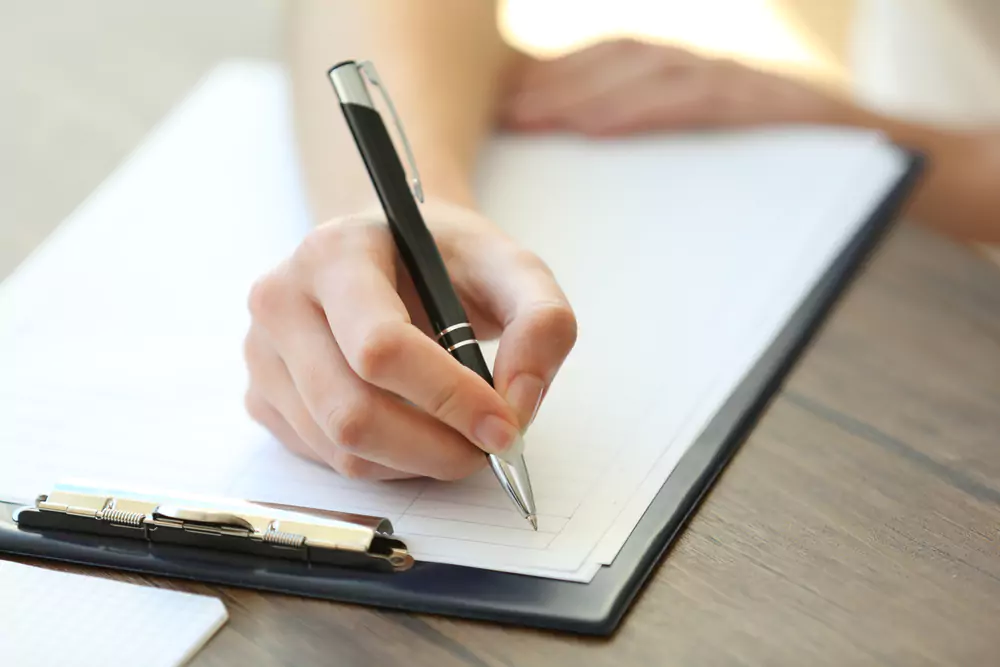 Plan Fun Activities
A successful Friendsgiving should be about more than food. At Thanksgiving with relatives, people don't need any structured activities after the meal. They have catching-up to do and football to watch!
But at an office gathering, bringing activities into the mix will eliminate any awkward silences when the food has been gobbled up. Below are a few Thanksgiving party ideas to keep everyone engaged and having fun.
Office Thanksgiving Ideas
Office Thanksgiving Party Ideas
Here are a handful of activities to make your Thanksgiving Party a memorable one.
Thanksgiving Icebreakers
Icebreaker questions can get people talking when the room becomes quiet. As the name implies, these simple questions are posed to everyone in the group. Good starters icebreakers to break the lull in conversation can include:
"Are you an early bird or a night owl?"
"What are your top 3 emojis?".
Tailor your Icebreakers to the occasion. Some examples of Thanksgiving Icebreakers are:
"If you could eliminate any traditional Thanksgiving food, which one would it be?"
"What is the strangest casserole you've ever eaten?"
"If you could have any famous person (dead or alive) at our table with us for Thanksgiving, who would it be?"
Come up with your own Thanksgiving icebreakers to keep the answers flowing!

Hold A Cooking Contest
Introduce some friendly competition with a Thanksgiving cook-off. Pick some categories like "Best Pie" or "Best Side Dish". You can also open it up to "Most Original Thanksgiving Dish". Have other employees vote on the winner. Have prizes handy, like gift cards to Starbucks or Amazon.
Thanksgiving Movie Room
Turn the conference room into a mini-movie theater and project Thanksgiving movies into a screen. Play movies like A Charlie Brown Thanksgiving, Planes, Trains, and Automobiles, and You've Got Mail.
Gratitude Wall
Thanksgiving is a holiday centered on gratitude. Encourage your employees to show their colleagues that they appreciate one another with a Gratitude Wall.
Put up a decorative banner that says "Wall of Gratitude" on a wall in a common space like the kitchen. Place a pad of yellow sticky notes and some pens nearby.
Get the trend going by leaving some notes of gratitude yourself. By the end of your party, the wall should be filled with heartwarming sentiments.
Leave the notes up through the entire holiday season as a reminder to all your employees that they are appreciated by more people than just their boss.
Pumpkin Bowling
This may be a little silly but if the intent is to get everyone laughing and having fun, then try this game. Find a small pumpkin that is as close to perfectly round as possible. Set up "pins" (empty water bottles, paper towel rolls) on a table, and let the games begin!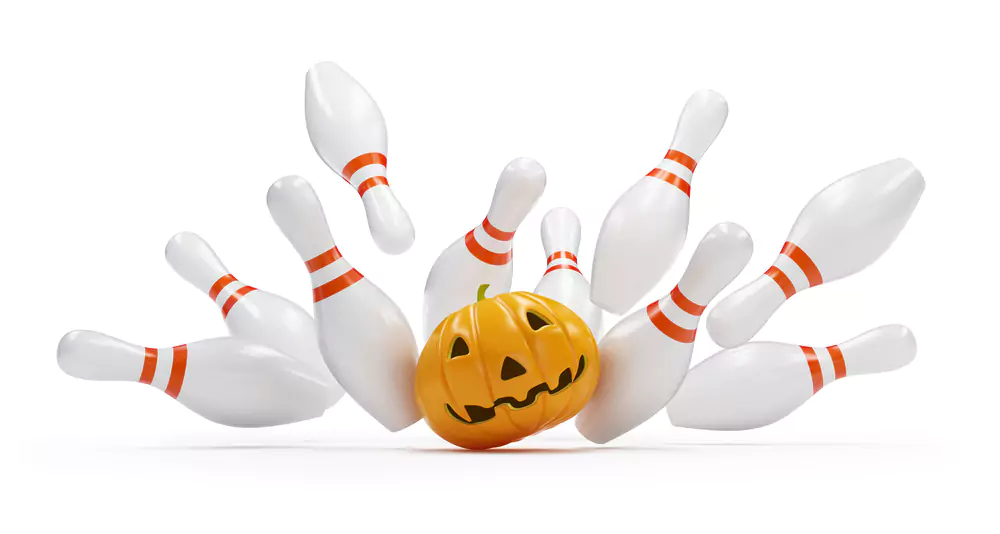 Food Donation Drive
In the spirit of Thanksgiving, ask employees to bring in nonperishable food items (canned goods are best) to donate to a nearby food pantry.
Leave a large empty box in a common area for employees to drop off their items. The day after the party, drop the food off at a local food pantry.
Thanksgiving Office Potluck Ideas
No one wants to bring work home with them so let your workers know that they need not go all out preparing their potluck dish.
Let them know they aren't obligated to make something themselves. If they want to though, provide them with recipes for dishes that are easy to make. Stuffed Sweet Potatoes are as simple as splitting a sweet potato, filling it with mini marshmallows, and baking it.
Another traditional dish is a Green Bean Casserole. This is as simple as combining a can of condensed mushroom soup with sliced green beans and baking the mixture.
Here is a list of 33 Easy Dishes to Make For Thanksgiving Potlucks at Work.
Thanksgiving Office Decorating Ideas
Thanksgiving is practically synonymous with autumn. Decorate the office with the colors of the season like deep reds, browns, and oranges. String up garlands of fake autumn leaves and place pumpkins around the office.
Play music for the holiday season like the soundtrack to A Charlie Brown Thanksgiving by Vince Guaraldi. Classical music is also nice. For an upbeat sound, put together your own soundtrack with these 47 Best Thanksgiving Songs.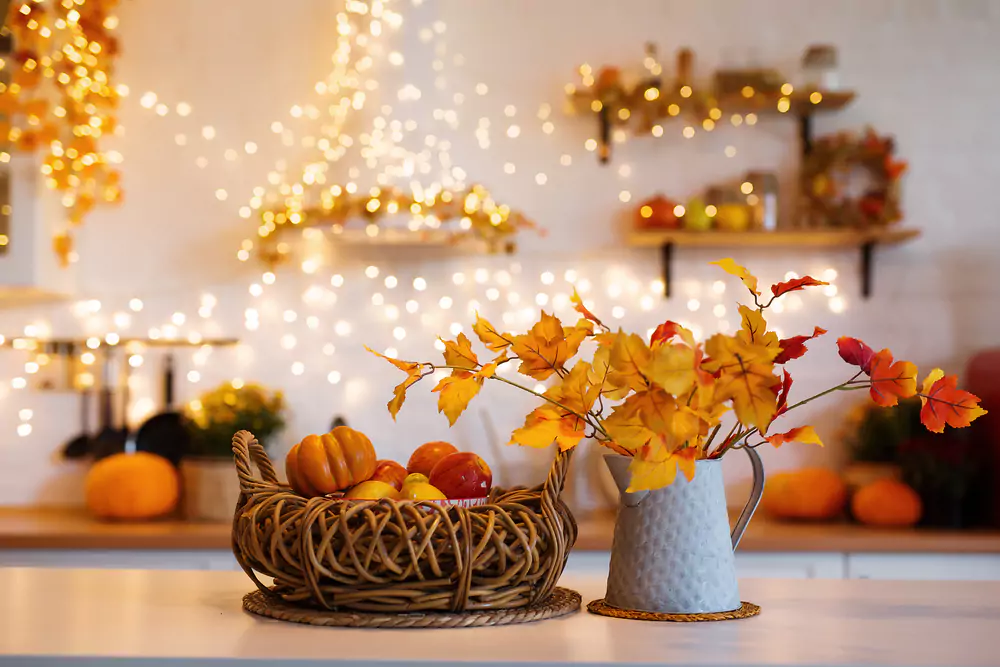 Considerations For Thanksgiving Celebrations At Work
Food Allergies
As this is a party that will include food, ask your employees to alert you to any serious food allergies they have, such as peanuts.
If someone does have a dangerous allergy to a particular food, make sure that anyone bringing food to the party knows this. Ask people to refrain from cooking with that food item, or to place a sign next to their dish that indicates the particular food item in an ingredient.
Alcoholic Beverages
As an employer, you have an obligation to provide a safe environment for all your employees. Excessive drinking can lead to an array of bad scenarios and inappropriate conduct.
If you do allow alcohol to be served at the party, stick with beer and wine. Tell people to leave the hard stuff at home.
Provide safe transportation home by offering to pay for taxis and rideshare services.
Be Culturally Aware
Lastly, but most importantly, be sure to celebrate the holiday with cultural sensitivity. Decorations of Pilgrims and Native Americans will surely offend people. Gently remind your employees in the party invitations to keep the party about thanks, gratitude, and generosity. This article contains great resources if you want to include some content on the historical challenges of Thanksgiving.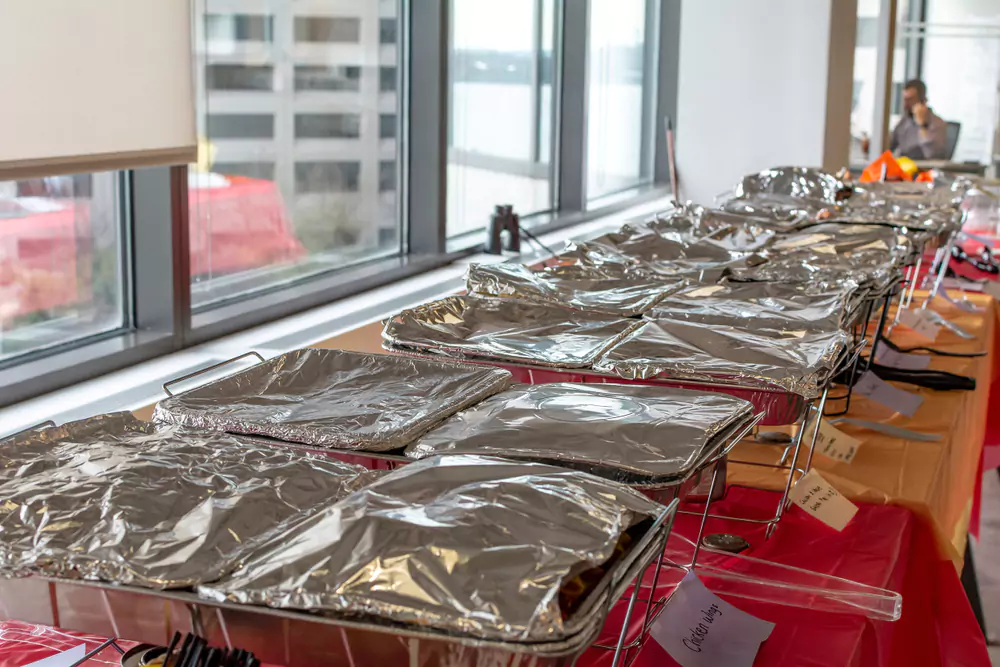 Final Thoughts
Hosting Friendsgiving at work is a wonderful way to bring your employees together to have fun. It's a time when coworkers can get to know each other away from the desks. It's also a great way to kick off the holiday season.
A Friendsgiving party brings the notion of gratitude into the workplace and the effects will be felt long after the party is over.
---
Get Your Free Game
The 3-Minute Non-Cringey Ice Breaker for Your Next Meeting
A ready-set-go game to run at your next fully remote or hybrid meeting without the hassle or added pressure of developing a team-building exercise yourself. Get it here →
---