Whether your team is together in an office, partially remote, or spread all over the world, there's one factor crucial to success: collaboration. Using collaboration tools for virtual teams is essential to keep everyone on the same page. These tools help team members understand responsibilities, monitor progress, and communicate, all in an efficient manner.
Let's face it: Communicating through email and clicking between different programs is exhausting. There's too much information in different places and too many opportunities to make mistakes.
Now that companies around the world are embracing remote work, it's never been more important for leaders to implement team collaboration tools that will help everyone stay productive while being as efficient as possible.
In order to help you make the best decision, we've compiled a list of the best collaboration tools for teams! But first, let's talk about what to consider when choosing the best collaboration software for your team.
---
5 Things To Consider When Choosing Collaboration Tools for Virtual Teams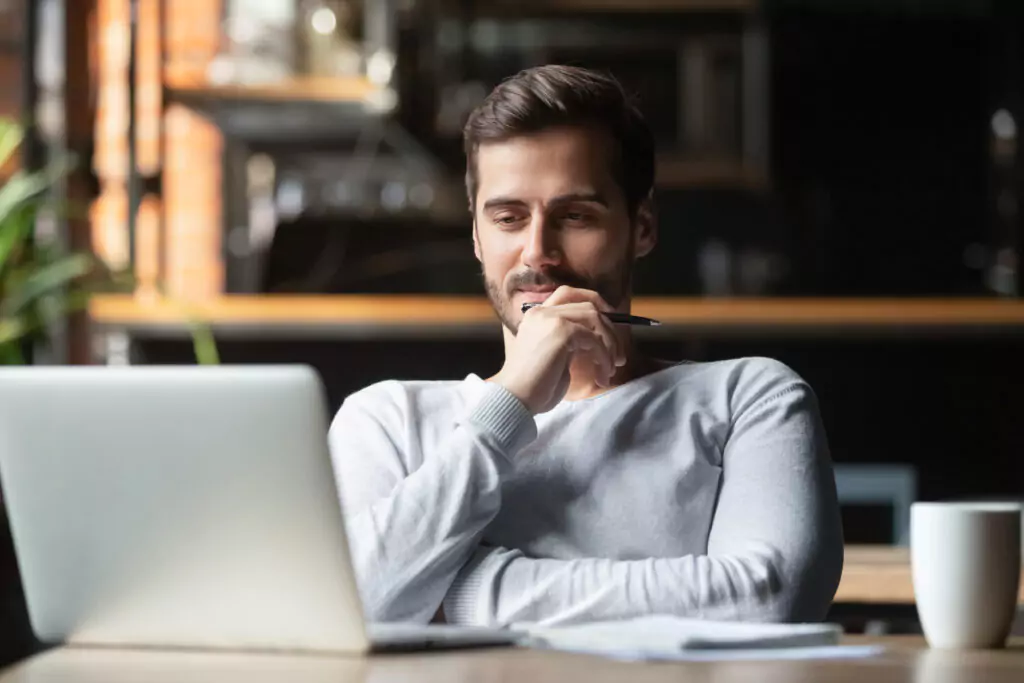 1. Features
It would help to sit down and write a list of all the features your ideal virtual team collaboration tool has. This will help guide your decision and pick the best tool for your unique set of circumstances. For example, some collaboration tools are mainly for communication while others have scheduling, goal monitoring, communication, and social media integrations. The best collaboration tool for your team will depend on what you need.
2. Complexity
You might find a collaboration tool that has every feature you could ever want, but if it's too complex for your team to learn quickly you might find that you become less efficient. Take advantage of free demos and try it out for yourself or with a couple of team members before introducing it to everyone.
3. Security
If you don't want everyone on your team to have access to the same information, you may want to implement security features on certain conversations or features. Look into privacy options before you choose the best collaboration tool for your team.
4. Cloud-Based Tools
Cloud-based collaboration tools are the best for teams that are remote and teams that work together in an office. They allow everyone to make changes together, see edits and activity, and access information from any location.
5. Integrations
Even if you find the very best collaboration tool, you're likely still going to have to use other tools and programs. Make sure your chosen tool can connect with your other tools so you can have everything in one place.
---
The 10 Best Collaboration Tools For Virtual Teams
Now that you know what to keep in mind when choosing the best team collaboration tools, it's time to dive into the options!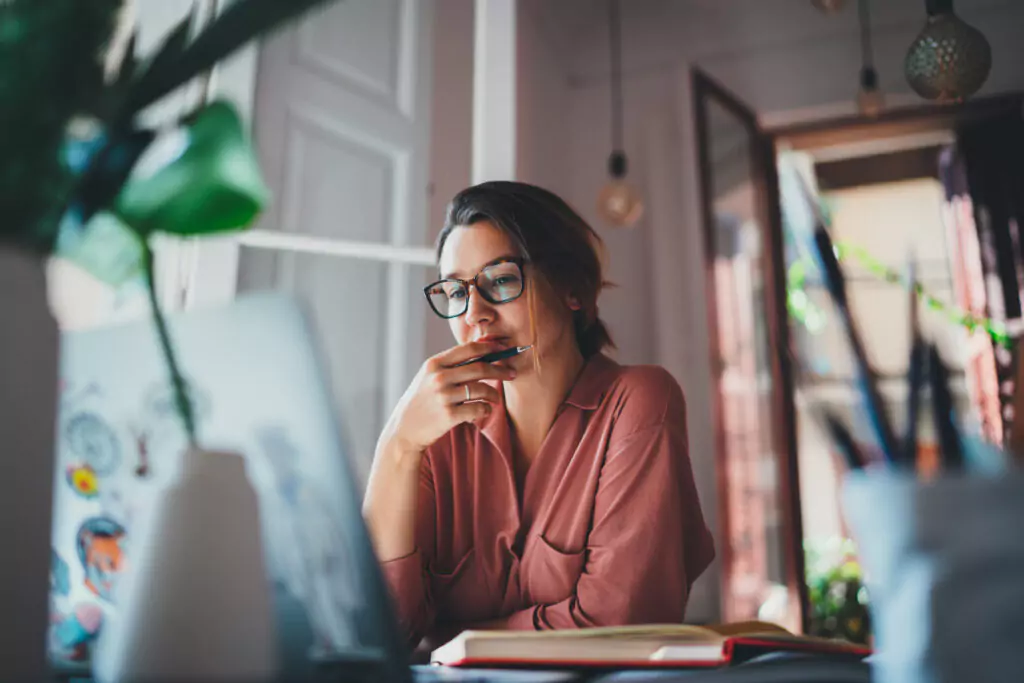 1. Slack
Slack is one of the most popular collaboration tools for teams all over the world. One of the things that people seem to like the most about Slack is the fact that it has a user-friendly interface for both desktop and mobile devices, so it can easily be used on the go.
Slack allows teams to share instant messages with each other one-on-one, in a group chat, or in separate groups, depending on who needs to be in on a conversation. There is also a video chat feature in Slack so you can get your virtual meetings in without having to branch off to another app like Zoom.
Slack doesn't have its own cloud storage system, but it does support file sharing and is compatible with Google Drive, Dropbox, and Box so your team can easily drag, drop, and share documents with one another. Slack has a free version, but you can upgrade your account to access more storage capability.
---
Get Your Free Game
The 3-Minute Non-Cringey Ice Breaker for Your Next Meeting
A ready-set-go game to run at your next fully remote or hybrid meeting without the hassle or added pressure of developing a team-building exercise yourself. Get it here →
---
2. Asana
Asana is one of the best collaborative project management tools for teams that have large projects and need to keep things organized. This collaboration tool has features that include allowing teams to assign roles and tasks, track progress, create to-do lists, set reminders for deadlines, send work requests, and more. Team members are also able to comment on things within the app if they have questions or would like to suggest changes.
Asana is a great project management software that can increase viability across your team and projects. It's easy to see who's doing what and when so you can monitor what is getting done and make sure no one is too overwhelmed with their workload. It also has a mobile app version so you can track projects even when you're away from your desk.
Once you finish a project in Asana, you can move on to the next without losing the information. There is a search feature within Asana that makes it easy to find specific things that you're looking for in both past and current projects.
3. Trello
Trello is another one of the best collaboration tools for teams because it has tons of features, yet it's simple to use. This option has desktop and mobile versions so teams can stay connected even if someone must step away from their computer for the day.
Within Trello, you can organize your projects on 'boards' or 'lists.' Once you have everything organized, each team member can view the information, assign roles and tasks, create to-do lists, and communicate. There is even a 'comment card' feature to provide feedback.
Many online apps can be integrated with Trello including Slack, Google Drive, Evernote, and GitHub. Teams that have a lot of information in different places often find Trello to be one of the best collaboration tools because they can have everything that they need in one place.
4. Nectar
Nectar is a great way for teams to collaborate with one another by recognizing achievements. It is kind of like a social media platform that is exclusive to members of your team. Within the platform, you can give out bonuses, create wellness challenges, award team members' success, and more.
Nectar is a collaboration tool for virtual teams that focuses on work differently than most. Nectar is all about keeping teams connected by boosting morale and activating your company's core values.
You can make Nectar work even harder by connecting it with other collaboration tools like Slack and Microsoft Teams.
5. Microsoft 365
Microsoft 365 is one of the best collaboration tools for teams that are larger and spread out all over the world. It's a cloud-based program that has a variety of different tools within it that can all be connected to one another for ultimate efficiency and collaboration.
Teams that use Microsoft 365 can collaborate on Word documents, Excel spreadsheets, PowerPoint presentations, and take advantage of Microsoft Teams, Microsoft's powerful communication tool.
Microsoft Teams can connect up to 10,000 people no matter where in the world they are located. It can even support users with their web version, so downloading an app is not required. This can be a huge benefit for teams to communicate with clients that don't use Microsoft 365.
6. Nextiva
Nextiva is one of the best collaboration tools for teams that operate across different time zones. Working like a traditional phone system, Nextiva also provides viability into who is connected to the network, where they are located, and their local time.
Communicating with team members that operate on opposite schedules can be very challenging. Nextiva allows teams to communicate via phone, email, SMS, and chat. It also has the option to set up a cloud-based call center, which can be incredibly helpful for international teams that need someone to bridge that gap between operating times.
7. Flock
Flock is an excellent alternative to Slack. It has similar features, but many users find that Flock is easier to use and has faster load times. Teams can communicate as a whole, one-on-one, or create a group only with certain team members.
Another thing that users like about Flock is the fact that the entire tool is searchable. You can quickly and easily find past conversations, files, specific messages, and URLs by typing keywords into the search bar.
In addition to communication and search features, Flock also allows users to create surveys, set alerts, share notes, and assign roles and tasks.
8. Karbon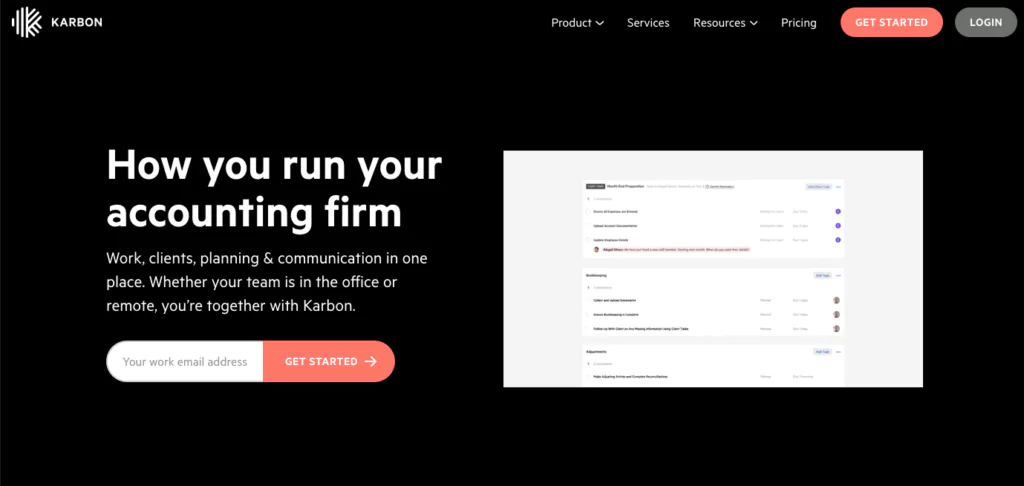 Karbon is a collaboration tool that was designed for accounting firms and companies that offer other professional services. This tool makes it very easy for teams to streamline their individual and overall workflows to maximize efficiency and deliver top notch work.
Karbon puts everything you need to communicate with your team and clients in one place. Your email, internal discussions, tasks and deliverables, Gantt charts, and timelines will all be in one spot for everyone to access at any time. Karbon has many automation features built in, which help users save a ton of time. In fact, a recent survey reported that the average Karbon user saves about 10-hours per week.
9. Google Drive
The Google Drive suite is familiar to most people. This fact alone makes it one of the best collaboration tools for teams! Your team can save time when implementing the tool and when onboarding new team members in the future.
Google Drive has all the tools team members need to succeed: Sheets, Google Docs, Slides, Forms, contacts, calendar, photos, email, and more. Because Google Drive is cloud-based, your team can access and edit files at the same time, see activity and changes, and access all of Google Drive's features from anywhere in the world – on desktop or mobile.
10. Monday.com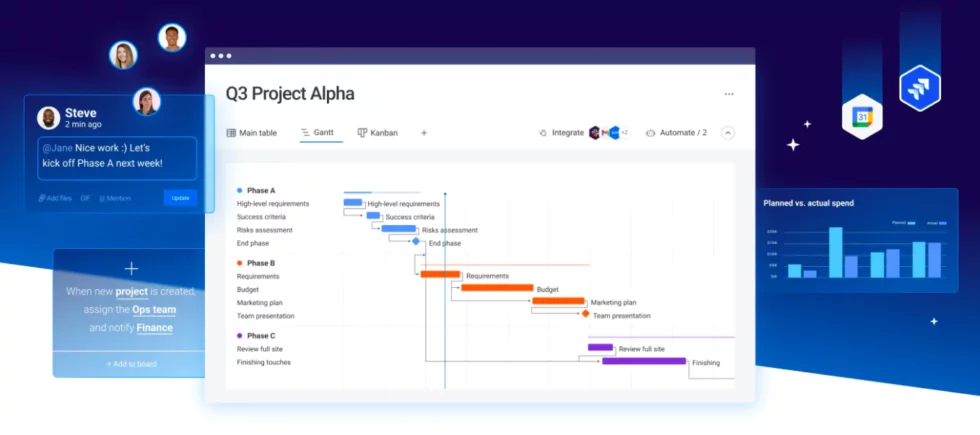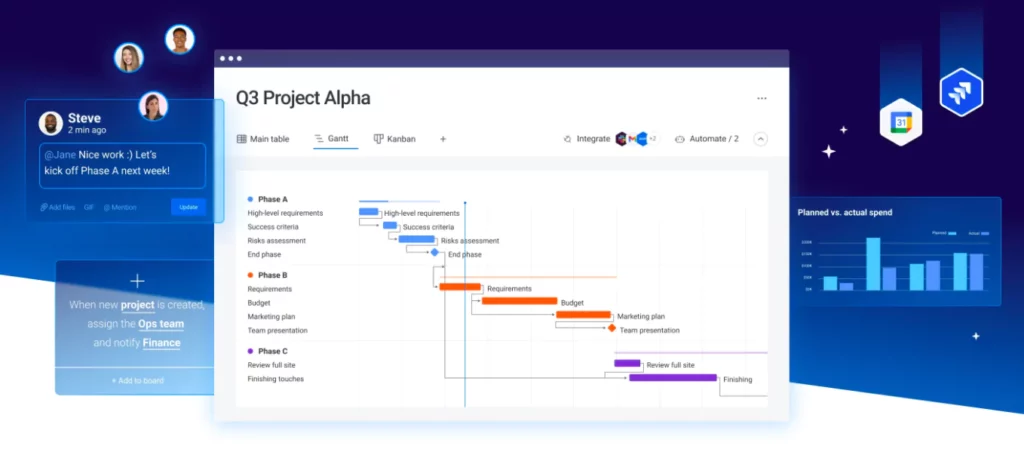 This project management software helps "manage simple to complex projects and everything in between." Monday.com allows teams to collaborate virtually on projects, marketing initiatives, design tasks, sales and CRM, and even IT. This all-in-one tool also allows users to create custom work plans and assign tasks to team members so that everyone can be aligned and working as efficiently as possible!
11. Bonus Option: Peerspace
What better way to facilitate collaboration for your virtual team than by booking a creative space⁠—whether monthly, quarterly, or annually⁠—on Peerspace and getting the group together in person. Choose from industrial lofts, sun-drenched studios, hidden rooftops, and luxurious houses with beautiful backyards on Peerspace. Book your space by the hour, so you never pay for time the team isn't using. We can accomplish so much remotely, but it makes a difference to gather in person, no matter the cadence.
---
Team Building and Collaboration
Effective team building is in itself a collaboration tool. At Team Building Hub, we understand that and coordinate plenty of virtual team building events and activities to keep your team connected and successfully working together!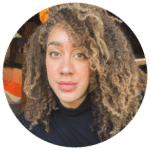 Anecia is a Nashville-based writer who believes in the power of team building. She writes a variety of content focused on creative corporate team building ideas, to help teams become more dynamic, unified, and successful.